QNAP TS-464 or the Synology DS923+ NAS Drive – Which Should You Buy?
Let's face it – this comparison was inevitably going to be one that I was really looking forward to. Over the years, I have compared hundreds of different NAS systems (with Synology and QNAP being two of the most common brands compared) and now we have a better idea of each brand's respective 2022/2023 product lineup, it was only a matter of time before I compared the new Synology DS923+ and QNAP TS-464 NAS 4-Bays. This hardware level of NAS has all too often been the prosumer and small business entry point into private server ownership (stepping away from subscription cloud services, or otherwise wanting a locally synced bare metal solution to work in tandem) and it is fair to say that the 2022 offers from Synology and QNAP have surpassed (in most ways, but crucially, not ALL – more on that later) the hardware that has arrived at this storage tier before. The QNAP TS-464 NAS was released globally in summer 2022 (the refresh to the TS-453D) and is currently available for around £550-600 with tax ($600-650 in the US and €600-650 in most of Europe) to largely high acclaim. The Synology DS923+ NAS was revealed right at the end of September 2022, with its release date looking increasingly likely to be the end of November/Early December. Both of these are targeting larger the same kind of user, both of them present numerous options for scaling their storage, network connectivity and memory as needed, both have 3 years of warranty that can be upgraded to 5 years and both are complete hardware and software solutions all rolled into a single system! So, both of these are very much flagship system's of each brand's desktop NAS lineup – BUT with so many changes to how these companies scale their systems, events in the last two years and choices in development that have changed these new servers significantly from their predecessors, never have these two similarly NAS systems somehow ended up so different! So, thats' enough rhetoric, let's get done to business! Which should you choose? The Synology DS923+ NAS or the QNAP TS-464 NAS? Which one deserves your data?
If you want to learn more information on the QNAP TS-464 NAS and Synology DS923+ independently, you can learn more via the links below:
QNAP TS-464 NAS Review – Blog HERE , Video HERE
Synology DS923+ NAS – Everything We Know Article – Blog HERE, Video HERE
Synology DS923+ vs QNAP TS-464 NAS – Design
Alot may have changed over the years with Synology and QNAP, but one thing that has seen little change is each brand's respective NAS chassis on these systems. Both are using the same casing that has been featured in their prosumer desktop solutions now for around 4-5 years. Both are 4-Bay desktop solutions that are designed to be deployed easily and pretty much anywhere, so the casing needs to be pretty compact, but at the same time make allowances for passive cooling vents and airflow, in conjunction with the rear-mounted active cooling fan(s). They are largely the same in physical volume, with the Synology DS923+ arriving the tiniest pinch larger, but both systems provide a similar level of storage on their four SATA and 2x NVMe M.2 SSD bays. The Synology has the more traditional shape of the lockable storage media bays being immediately visible, but finishes this with an incredibly modernistic shape and matt surface design. The front of the system features a single USB backup port, as well as 5 LEDs for system/drive activity and those two M.2 SSD bays are located on the base of the system. The QNAP TS-464 NAS uses a more glossy and slightly coloured design by comparison (featuring a copper side panel), with the 4 drive bays of the system being covered by a slidable and lockable semi-translucent panel. The QNAP also featured the same LED/USB present, but there are more LEDs on the QNAP and the USB here is both a USB 3.2 Gen 2 Port (10Gb/s) and is accompanied by a one-touch copy button. This is one of the early examples of how things in the NAS market have moved forward in the 2 years between these two being released and won't be the last. The QNAP TS-464 is certainly the more expensive NAS of the two, with the DS923+ being in the market longer and with a greater degree of price flexibility in 2022, but the hardware you are getting for that price tag is notably different and will become a clear divide between these two. Because of the compact design, both systems need to factor in intelligent cooling, as they will likely be in operation 24×7. This is another clear area where the brands have gone in different directions here.
QNAP TS-464 NAS

168mm × 170mm × 226 mm

Synology DS923+ NAS

166 mm x 199 mm x 223 mm
The ventilation on the Synology DS923+ is certainly more visible but in a much more 'branded' and slick way. The QNAP TS-464 features no front-facing ventilation, instead using two small areas of ventilation on the sides of the chassis and the base of the TS-464 featuring further ventilation under each of the storage bays. The Synology on the other hand has much more passive airflow, with each of the individual storage bays being surrounded by a slit of ventilation and the side panel of the DS923+ having the Synology logo featured as further ventilation. Higher-end Synology desktop models feature metal mesh panels inside these logos to capture dust, but this is less of a concern in the more compact and discreet DS923+. Overall, I would certainly say that the Synology DS923+ have more visible efforts to maintain system temperature than the QNAP TS-464 (which is a real surprise when you see how the hardware these two systems are sporting compares) but both maintain a good operation temperature.
| | |
| --- | --- |
| QNAP TS-464 NAS | Synology DS923+ NAS |
| | |
When you look at the rear of the TS-464 and DS923+ NAS, you see another big difference in how each system maintains their respective internal temperatures, with the QNAP featuring a single 120mm fan that covers the bulk of the internal hardware airflow path and the Synology featuring two 92mm fans that cover around 70% of the rear of the chassis. The newer Synology DS923+ NAS is also the first system in the brand's 2022 4-Bay history to arrive with an option to scale up the network connectivity with a 10GbE upgrade card (delivered via a proprietary PCIe Gen 3 x 2 module – more on that later) which arrives with its own on-board heatsink for the network controller, so the brand has certainly had to tweak the internal layout a pinch to allow for this additional passive cooling and airflow modification. Whereas QNAP has provided PCIe scalability on this product series at since the TS-453B back in 2018, so their system of vents and cooling remains largely unchanged internally. Of the two, I would say the QNAP TS-464 is the noisier in operation (when populated with 4x 4TB WD Red HDDs) by the tiniest of margins, but it isn't really till you entertain the idea of enterprise HDDs or drives larger than 10TB that you need to worry about ambient sound around these two systems. Both the DS923+ and TS-464 can have the rotations per minute (RPM) of their fans changed manually or left on automatic as the system changes the internal cooling to ensure maximum efficiency.
| | |
| --- | --- |
| QNAP TS-464 NAS | Synology DS923+ NAS |
| | |
Overall, the design of the Synology DS923+ is still the better-looking system of the two and although I personally really like the copper and glossy look of the QNAP TS-464 NAS, I know that the bulk of users will want to 'set up and forget' their NAS, so these aesthetic design choices are less important to them. Equally, although the QNAP fan has the potential to cool its respective system much more, I think the Synology features a better balance of active airflow and passive ventilation overall. The QNAP still wins pretty big on its inclusion of a USB 3.2 Gen 2 One Touch Copy button enabled port for faster and more manual backup options (as well as still allow automated and connection-triggered backups as the Synology), but overall on points, this round belongs to the Synology DS923+ NAS.
QNAP TS-464 versus Synology DS923+ NAS – Internal Hardware
These 4-Bay NAS dives from Synology and QNAP have always arrived as Intel Celeron or Pentium-powered solutions – but in 2022, Synology changed tac and decided to move the DS923+ to an AMD chip. Its predecessor, the DS920+ NAS from 2020, first arrived with a 4 Core Intel Celeron Processor that featured integrated graphics, 4-8GB of DDR4 2666Mhz memory and NVMe SSD upgrade slots. In the two years since its release though, Synology clearly decided to make some big changes in the DS923+ to make it considerably more scalable and general business/file-ops focused. The newer 4-Bay Diskstation features a dual-core AMD R1600 that, although arriving with half the cores of the Celeron in the QNAP TS-464, has more threads, has a higher CPU frequency and can have it's frequency increased further in turbo/burst when needed. That said, users will be surprised to learn that this CPU also does not feature embedded graphics, so therefore the DS923+ will be less CPU efficient at handling complex multimedia tasks or generally more graphically demanding operations. The double thread count of the Celeron in the QNAP will make a difference certainly, but with the R1600 CPU having a higher power consumption and threads (though more efficient) will not be as effective in operations as having more cores. You can learn more about the main user differences in our video below (in which me and Eddie take to either side of the Emb.Ryzen v Celeron debate) to see their respective strengths and weaknesses.
Though both systems feature 4GB of DDR4 memory, the DS923+ has the much higher pedigree and wins here thanks to its use of much more impressive ECC (error code correction) memory to identify and repair any bit-level write errors (AVOIDING BITROT) and can also be scaled to a considerably higher 32GB of memory (with the QNAP TS-464 NAS maxing out at 16GB). Returning to those M.2 NVMe slots, both system feature 2 bays that can be used for SSD storage upgrades, although both the DS923+ and TS-464 support SSD caching (when a pool of SSDs is used to speed up data write/read in conjunction with the larger HDD RAID array), the QNAP is the only one that also allows this to be used as a standalone storage pool and volumes. This is the first of several key differences between the QNAP TS-464 and Synology DS923+ NAS that show the divide in hardware between these units. Now, if Synology were to allow NVMe SSD usage for raw storage pools and volumes (something of a rumour that is floating around about DSM 7.2 allowing this feature – which I am still looking into at the time of writing), that would be a different story, as the DS923+ is running on PCIe3 lane architecture, with the bays inside the NAS likely being M.2 NVMe PCIe Gen 3 x2 or x4 (so 2,000-4,000MB/s bandwidth). But again, this is still a very, very tenuous rumour at this stage and therefore cannot be counted on.
| | | |
| --- | --- | --- |
| Model | QNAP TS-464 | Synology DS923+ |
| Price | £559               $650              €675 | £TBC               $TBC              €TBC |
| Storage Media Support | 4x SATA, 2x m.2 NVMe 3×1 | 4x SATA, 2x NVMe SSD Cache Bays |
| CPU Model | Intel N5105/N5095 | AMD Embedded Ryzen R1600 |
| CPU Frequency & Cores | Quad-Core 2.0-2.9Ghz | Dual-Core 2.6-3.1Ghz |
| CPU Benchmark Score | CPU benchmark 4161 | CPU benchmark N/A |
| Memory Default/Max | 4-16GB SODIMM DDR4 | 4-32GB SODIMM ECC DDR4 |
| PSU Power & Design | 90W External PSU | 100W External PSU |
| Physical Fans | 1x 120m FAN | 2x 92m FAN |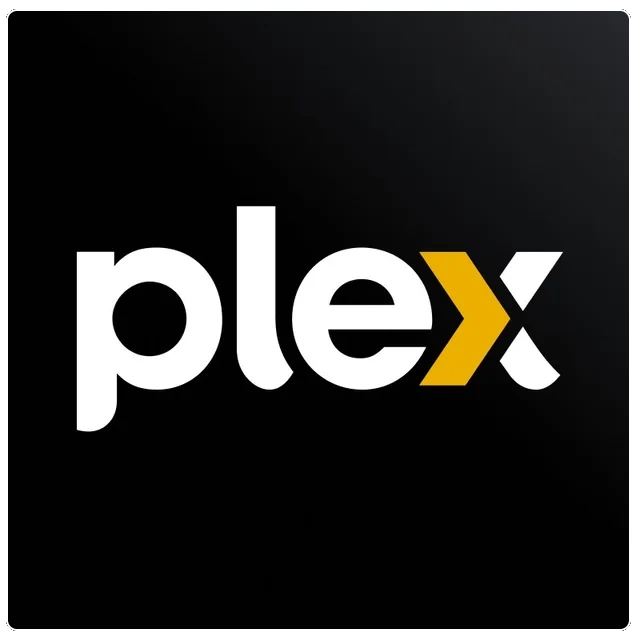 The Intel Celeron inside the QNAP TS-464 NAS and its integrated graphics are definitely going to make it more popular with Plex NAS users. Tasks that require more advanced graphical techniques, such as encode, decode, QuickSync-supported tasks, viewing images that can be manipulated in the viewer and running of anything presented in HEVC/H.265 compression are going to benefit from the graphical toolkit present in the N5105 CPU, whereas the R1600 will need to complete these tasks less efficiently, with raw power. Earlier in 2022, we compared the QNAP TS-464 against the Synology DS1522+ NAS (which also runs on the AMD R1600 CPU) on 4K Plex playback. In those tests, the both the Intel N5105 and AMD R1600 were about to playback UHD 4K Media upto 60Mbps bitrate in H.264 equally well, with the embedded graphics on the celeron not presenting any advantage. However, when it came to transcoding and converting HEVC/H.265 media in practice, the R1600 struggled (hitting 100% CPU utilization almost immediately). Now, there are lots of ways to get around the HEVC/H265 barrier. You can:
Use Media Client Hardware for watching your Plex Server Media that is powerful enough to allow 'client side' conversions
Only Use H.264 Compressed media
Use a client hardware device that includes an HEVC/H.265 Licence purchase option
However, if you are running your Plex Media streaming to mobile devices (many of which do not allow client-side hardware conversions) or an Amazon Fire Stick (same again), these will rely quite heavily on the NAS doing the heavy lifting in the event of you needing HEV/H265 content modified. So, although BOTH the QNAP TS-464 and Synology DS923+ NAS are going to be good for Plex in native playback, when it comes to media that is going to need some extra horsepower server-side, the QNAP TS-464 NAS has the better internal Hardware. Also, the power use/efficiency of the Intel Celeron in 24×7 use is going to typically be lower in like-for-like use cases (with a TDP rating of 10W on the Celeron vs 25W on the R1600 – but these represent max usage/non-typical). Finally, the Intel Celeron in the QNAP is a 4-core processor, double that of the R1600 at 2-core. 4 Cores means that you can spread those dedicated cores to other processes more effectively and present a larger degree of processing power to those tasks. Now, the DS923+ and it's AMD R1600 does counter all of these points with some impressive strengths of it's own. For a start, that much higher base and turbo frequency of 2.6Ghz > 3.1Ghz. This means that you have a much more powerful NAS at your disposal to get most other tasks done and if you are not focused on those graphical areas mentioned earlier that the N5105 favours, the R1600 is going to get most other tasks done quicker and/or have more resources to spread out to more users at once.
Synology DS923+ or QNAP TS-464 NAS – Ports & Connections
Now ports and connections on the Synology DS923+ and QNAP TS-464 NAS is an area that is INCREDIBLY diverse in it's approach by either brand. Once again, the reasons are clearly to do with that CPU revision being so different in the two years between either system being released, but also the brand's own decisions in build architecture/priorities still massively continues to be a contributing factor here. The Synology DS923+ NAS certainly comes across as the weaker of the two here in its connectivity and although a lot of the QNAP's advancements in connectivity could be described as 'future upgrades and simply facilitating extras or addons', it still manages to provide a greater deal of connectivity to the day 1 user than the Synology system here. The port(s) that almost certainly will be the one that jumps out immediately on each system is the network connections. The DS923+ NAS arrives with 2x 1GbE ports which, although allowing link aggregation to create 2GbE with a smart switch, was still a little underwhelming even in 2022 (as we had already started seeing 2.5GbE arriving at the same price as 1GbE with a number of client hardware devices). This is not the end of the road though, as Synology have now included the option in their latest 4-Bay to add a 10GbE network upgrade. Yes, the Synology DS923+ arrives with the option to upgrade its network connectivity from 1GbE to 10GbE with the Synology E10G22-T1-MINI adapter (arriving at around £129-139 in price). Now, this might be the main tipping point for many users to immediately opt for the Synology DS923+ over the now-dropping in price DS920+ NAS. With regard to performance, the full saturation of a 10Gb connection on the DS923+ is not going to be easy (maybe with full SSD RAID use, intelligence cache in place all burned in and/or enterprise-level HDDs in place) but even a single modern NAS HDD would be bottlenecked by a single ethernet port on the default DS923+ and only barely accessed fully via LAG/Port-trunking with 2x 1GbE. the option for the DS923+ to add a 10GbE connection in conjunction with that more powerful CPU in clock speed is going to mean some very good throughput is going to be possible (and with ECC memory to keep on top of data integrity in those high-speed writes too). Note – You can find my 10GbE, 4x WD Red Pro 22TB Synology Ryzen R1600 NAS (DS1522+ – same CPU as the DS923+) Tests HERE on the Blog and HERE on YouTube, where we were able to hit 1.15GB/s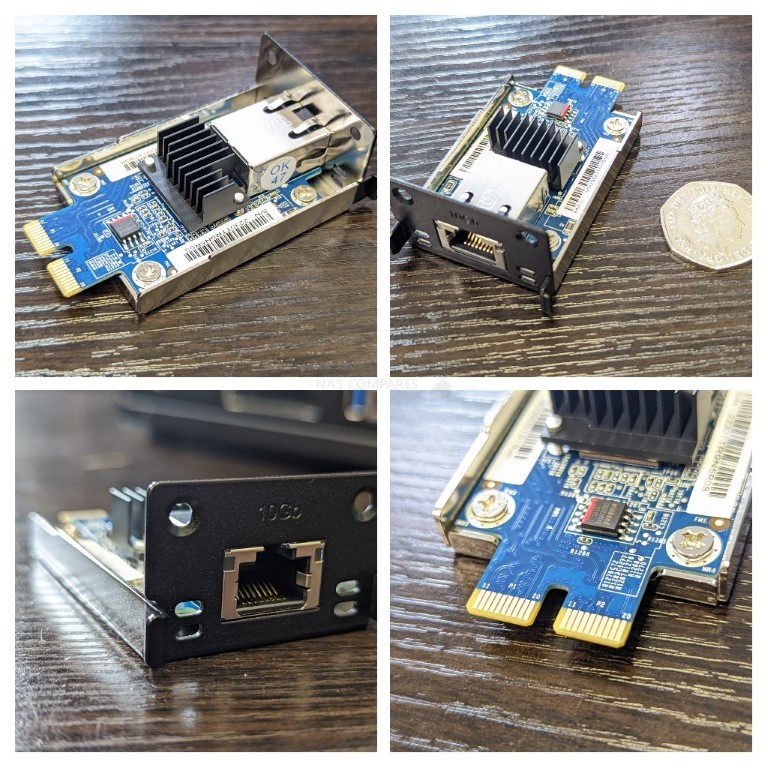 It would have been nice if the DS923+ NAS had arrived with 10GbE on board (even if it meant increasing the price a bit, many would feel) or greater than gigabit on those default ethernet ports, but at least there is some added scalability in this new release. Now. the new QNAP TS-464 features 2x 2.5GbE (so 5GbE via link aggregation and a supported switch) in it's default model, which now that some ISPs and budget switch manufacturers are providing affordable 2.5GbE solutions, will be incredibly useful. Much like the new Synology DS923+, there is also the additional PCIe upgrade slot on the QNAP NAS that allows upgrades towards 10GbE via a traditional PCIe card, dual-port 10GbE cards and even combo cards to add 10G and further M.2  NVMe bays via a single card. Again, there ARE upgrades and not something in the baseline model, but you can not argue with the more flexible future-proofing available here, as well as the larger bandwidth network connectivity on day 1. Perhaps Synology will roll out further network adapters that are compatible with the DS923+ network upgrade slot (2.5GbE, 5GbE or SFP+ alternatives), but at the time of writing, it's 10GbE or 1GbE on this system only.
| | | |
| --- | --- | --- |
| Model | QNAP TS-464 | Synology DS923+ |
| Network Ports | 2x 2.5GbE | 2x 1GbE |
| USB 3.2 Ports | 2x USB 3.2 Gen 2 (10Gb) | 2x USB 3.2 Gen 1 (5Gb) |
| USB 2.0 Ports | 2x USB 2.0 | 1x eSATA Expansion Port |
| HDMI Ports | 1x HDMI 2.0 4K 60FPS | n/a |
| PCIe Upgrade Slots | PCIe Gen 3×2 Slot (2Gb/s) | PCIe Gen 3×2 Slot (2Gb/s – Proprieatary Design for E10G22-T1-mini) |
After the network and PCIe differences that favour the TS-464, the distance between these two 2022 NAS here is further extended by the rest of the available connectivity. The Synology DS923+ features a further USB 3.2 Gen 1 (5Gb/s) port and an eSATA expansion port that allows you to add an additional 5 Bays of storage by utilizing the DX517 official expansion. QNAP counters this on the TS-464 with the inclusion of another USB 3.2 Gen 2 (10Gb/s) port, as well as some (obviously less useful) USB 2.0 ports. These USB 2.0 Ports are primarily designed to be used in conjunction with the optional visual output (HDMI 2.0 4k 60FPS) on the QNAP as a KVM (Keyboard, video and mouse) setup with the included parallel HD Station application and its tool. The HDMI and direct interface of the QNAP is still pretty niche as a service on this system, but it has a number of useful multimedia, surveillance and VM utilities that can be quite impressive. Expansions on the TS-464 are more diverse than the 5-Bay DX517 on the DS923+, with QNAP offering 2, 4, 6, 8 and 12-Bay expansion chassis (arriving in JBOD or hardware RAID enabled) that connect over USB or an inclusive PCIe card. Overall, it comes as no surprise that in terms of hardware, the QNAP TS-464 still takes the first place, as the Synology DS923+ (like most of the brand's solutions) prioritizes the DSM platform and it's tools/services over the hardware. Let's discuss the software on each of these brands.
QNAP TS-464 or the Synology DS923+ NAS – Software
When you are choosing to buy a Synology or QNAP NAS, it is always worth bearing in mind that you are not just buying a bunch of hardware, but you are actually getting a fully-featured software solution. Both the Synology DS923+ and QNAP TS-464 arrive with each brand's premium NAS software and services platform, DSM and QTS respectively. Both of these platforms include a traditional operating system level of accessibility and control, that can be accessed via pretty much any web browser or desktop OS, as well as numerous tailored mobile client applications. The Synology DSM platform is a lot more comparable in design and control with Mac OSX and is by far the more user-friendly option of the two. The QNAP QTS platform is a lot more comparable to Android in its initial GUI and then more like Windows in it's navigation, arriving as the option with a greater deal of configuration and control, but with a steeper learning curve. Another big difference between QTS and DSM is how they present their services, with QNAP providing a larger degree of support of 3rd party applications (both in the app center and in the configuration of their own range of 1st party applications. Synology DSM on the other hand proves a larger and more impressive range of fist party tools that are designed to replace/improve upon the 3rd party tools you might be using, with many of it's applications being comparable to top tier 3rd party paid tools in the market (the Synology collaboration suite, the Surveillance Station application and pretty much everything in Synology Drive, just as a start). The QNAP platform also, in it's efforts to be as widely compatible and configurable as possible, occasionally stems into over-complexity and risks the user tripping over itself as it tries to manage the larger scale of configuration Whereas, although the Synology DSM platform may seem a pinch more closed and fixed, it manages to prevent the users from accidentally ruining their own storage system. Here is a full breakdown of the key applications that are included with the QNAP TS-464 and Synology DS923+, broken down into categories:
| | | |
| --- | --- | --- |
| | QNAP TS-464 | Synology DS923+ |
| Browser Support | Supports all Browsers | Supports all Browsers |
| | Browser File Management | Browser File Management |
| | Photo/Music/Video Tools | Photo/Music/Video Tools |
| | Multimedia Console | Synology Drive |
| | AI Photo Recognition | AI Photo Recognition |
| | Edge m.2 Coral TPU Support | |
| Storage Services | | |
| | SED Drive Support | SED Drive Support |
| | QTier | Synology Hybrid RAID |
| | Hybrid Mount | Hybrid Share |
| | ISCSI Target/LUN | ISCSI Target/LUN |
| | vJBOD | |
| | Snapshots | Snapshots |
| | SSD Cache (Read/Write/Both) | SSD Cache (Read/Write/Both) |
| | Cloud Sync / QSync | Cloud Sync |
| | Ex-FAT is Free | Fast RAID Rebuild |
| | RAID Resync control | RAID Resync control |
| | Secure Erase | Acrtive Backup Suite |
| | Lots of Expansions (TR/TL) | Hyper Backup |
| | HBS 3 | Synology CMS |
| | Qfiling and Qsirch | |
| Business Applications | | |
| | QVR Pro – 8 Camera Licenses (+USB Camera Support) | Surveillance Station – 2 Camera Licenses |
| | Virtualization Station | Virtual Machine Manager |
| | Ubuntu Linux Station 18/20 | Docker Support |
| | Container Station | Active Backup 365 & Workspace |
| | Hypervisor Protector | Synology Office, Chat, Calendar |
| | QMailAgent | Synology Mail / MailPlus |
| | HD Station | Synology C2 and Services |
| | BoXafe | |
| | | |
| | Security Councillor | Security Councillor |
| | Malware Remover | Synology VPN Plus |
| | McAfee Anti-Virus Scanning | Log and Notification Center |
| | QVPN | Auto Blocking on SSH, Telnet etc |
| | Log and Notification Center | 256 bit Encryption |
| | Auto Blocking on SSH, Telnet etc | 2 Step Authentication |
| | 256 bit Encryption | Firewall App |
| | 2 Step Authentication | Access Protection and Allow/Deny list |
| | Firewall App | Synology Secure SignIn |
| | Access Protection and Allow/Deny list | Synology C2 Password |
As you can see, both NAS brands provide similar levels of software, services and features, but they are presented in very different ways. Once again, I cannot emphasise enough how much more the QNAP platform is configurable but ALSO how it can often give you too much configuration and risk overwhelming less experienced users. The Synology DSM platform, for all its comparative rigidicy, is still overall the better software experience and you definitely see that Software over hardware priority from the brand clearly here. I have made long, LONG reviews on each of the NAS brand's and their software platforms, which you can watch below for much, much more information on their respective strengths and weaknesses.
| | |
| --- | --- |
| QNAP QTS 5.0 Review | Synology DSM 7 Review |
| | |
Ultimately, it will come as no surprise that Synology comes out on top in terms of software compared with the QNAP. That is not to say that the QNAP QTS platform is not good, it really, really is and some of the applications that are included for home and business users are often genuinely impressive, unique and provide facilities to the end-user that are wholly unavailable on any other NAS platform (eg Multimedia Console as a single portal media manager, the 2-3 Click VM storages and repository that are available in Virtualization Station, Linux Station and Container Staton or the QuMagie AI-powered tool that is able to cover a greater range of subjects and categories that any other NAS photo tool out there). However, the QNAP QTS platform is not quite as polished, as user-friendly and as responsive as the Synology DSM platform overall. If you want a better idea how these two NAS software platforms compare directly (i.e face to face), then you can check out my Synology DSM vs QNAP QTS videos Playlist here on the YouTube channel.
QNAP TS-464 or the Synology DS923+ NAS – Conclusion
After all these years of comparing Synology and QNAP, rarely have I seen these two brands produce such wildly different solutions at the same hardware/end-user level. The Synology DS923+ NAS has changed it's gears since previous releases (DS916+, DS918+, DS920+, etc) towards something more business'y and although it still supports a myriad of home and prosumer-applications (some arguably better than the Celeron based predecessor), the hardware architecture that it runs on is much better suited to general file processed and throughput/latency prioritized services overall. Inclusions such as ECC memory and the dividing line that the 1GbE vs 10GbE optional upgrade only further highlight that the DS923+ is clearly trying to keep a foot in both home and business camps, but certainly leaning a little more into the latter. The QNAP TS-464 NAS on the other hand clearly has stuck to the formula that benefited its own series history (TS-453A, TS-453B and TS-453D), providing a solution that gives you a whole bunch of hardware scalability in ALOT of directions (as well as giving you a more diverse day 1 default hardware, which allows the end user to adapt the system to their needs noticeably more. Synology of course counters this with DSM, the better software platform in 2022/2023 (with promised innovations in the DSM 7.2 update that double down on the range of services it provides) which is significantly more user-friendly, responsive, polished and responsive (if occasionally less flexible). QNAP and QTS have made huge improvements in 2022, adding a wide variety of services that are unavailable on any other platform to the same level of features/3rd party integration (such as Hybrid Mount supporting 3rd party cloud, vJBOD, much more accessible AI services in photos and Surveillance using native hardware and Google TPUs, broader VM support in Virtualization Station, Linux Station and Container Station – the list goes on). But with that amount of customization and broad support, comes the fact that QNAP QTS does not feel as polished at DSM, feels like it is doing 20 things moderately well, instead of 5 things perfectly and then there are events like them being targetted by ransomware in 2022 (which has since been patched out, that they're not alone in being targets – but they are still having to continue since this and win back some trust). Ultimately, despite covering Synology vs QNAP on this blog for years now, Synology still continues to be THE brand for NAS software and 1-brand ecosystem, whereas QNAP continues to be THE brand for hardware, customization and adaptability. BOTH the Synology DS923+ and QNAP TS-464 are excellent hardware+softwarre solutions, but it's still a 60/40 ratio – with either brand choosing a side!
QNAP TS-464 NAS – Spring/Summer 2022

Synology DS923+ NAS – Winter 2022

Reasons to Buy it?

More Expansion/Upgrade Options

Faster USB Ports (10Gb/s)

More Diverse PCIe upgrade slot (PCIe 3×2)

More CPU Cores and Embedded Graphics

M.2 SSD Useable Storage Option, not just Cache

More Diverse Media Format/Compressions Playable

Reasons to Buy it?

Much more user-friendly

Synology Hybrid RAID for flexibility

Overall Better 1st Party Software

ECC Memory

Much EASIER 10GbE Upgrade

First Party Accessories (HDD, SSD, Memory, etc) Available
Need More Help Choosing the right NAS?
Choosing the right data storage solution for your needs can be very intimidating and it's never too late to ask for help. With options ranging from NAS to DAS, Thunderbolt to SAS and connecting everything up so you can access all your lovely data at the touch of a button can be a lot simpler than you think. If you want some tips, guidance or help with everything from compatibility to suitability of a solution for you, why not drop me a message below and I will get back to you as soon as possible with what you should go for, its suitability and the best place to get it. This service is designed without profit in mind and in order to help you with your data storage needs, so I will try to answer your questions as soon as possible.
📧 LET ME KNOW ABOUT NEW POSTS 🔔
Join 1,409 other subscribers
Get an alert every time something gets added to this specific article!
This description contains links to Amazon. These links will take you to some of the products mentioned in today's content. As an Amazon Associate, I earn from qualifying purchases. Visit the NASCompares Deal Finder to find the best place to buy this device in your region, based on Service, Support and Reputation - Just Search for your NAS Drive in the Box Below
Need Advice on Data Storage from an Expert?
We want to keep the free advice on NASCompares FREE for as long as we can. Since this service started back in Jan '18, We have helped hundreds of users every month solve their storage woes, but we can only continue to do this with your support. So please do choose to buy at Amazon US and Amazon UK on the articles when buying to provide advert revenue support or to donate/support the site below.

Finally, for free advice about your setup, j
ust leave a message in the comments below here at NASCompares.com and we will get back to you.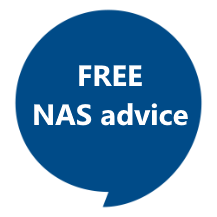 Need Help?
Where possible (and where appropriate) please provide as much information about your requirements, as then I can arrange the best answer and solution to your needs. Do not worry about your e-mail address being required, it will NOT be used in a mailing list and will NOT be used in any way other than to respond to your enquiry.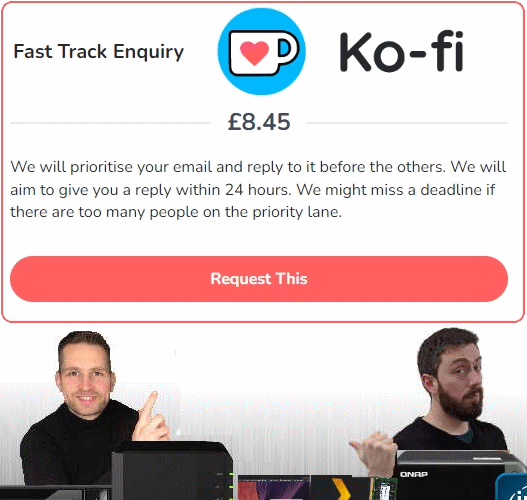 Terms and Conditions
Alternatively, why not ask me on the
ASK NASCompares forum
, by clicking the button below. This is a community hub that serves as a place that I can answer your question, chew the fat, share new release information and even get corrections posted. I will always get around to answering ALL queries, but as a one-man operation, I cannot promise speed! So by sharing your query in the
ASK NASCompares
section below, you can get a better range of solutions and suggestions, alongside my own.