The QNAP TS-464 NAS Drive Review
For those looking at making the move away from cloud platforms and towards their own private server, the new QNAP TS-464 NAS ticks ALOT of boxes. Arriving as the latest release in their long. long-running flagship series of Prosumer/SMB hardware (following the TS-453D, TS-453B, TS-453A, etc) around every 2-2.5 years, this new system is easily the best iteration of this tier of their portfolio they have ever released. That shouldn't be a surprise really, as the rest of the hardware industry improves in power, performance and efficiency, you would expect each release to be better than the last anyway. However, it is how the TS-464 has evolved from it's predecessors and an arguably more mature stance on its hardware design compared with those before it from QNAP that make this an incredibly interesting NAS to review. I have long stated that when it comes to NAS hardware, QNAP still continues to be the innovators, providing the most cutting edge hardware vs value in the industry. What makes the TS-464 series stand out further though is the sheer scope of its hardware, providing some unparalleled levels of scalability in its architecture that are unmatched elsewhere. In software, despite the brand providing its complete OS level platform, services and applications in QTS, the brand has suffered something of a tumultuous 18+ months with a spate of ransomware attacks and vulnerabilities leading to confidence in the platform being shaken. Therefore QNAP hopes that with the release of their latest software revision QTS 5, their new hardware series in the TS-x64 onwards and they're doubling down on security tools, defaults and a more lock-key approach to their platform internally, that they can move forward from these public misgivings.
Highlights of the QNAP TS-464 NAS
Intel N5105/N5095 Quad Core Celeron, 2021 Q2 Release
4-16GB DDR4 Memory
2.5GbE Network Ready
USB 3.2 Gen 2 (10Gb/s) Equipped
SATA HDD/SSD Bays and RAID Support
m.2 NVMe SSD Bays
PCIe Upgrade Slot for Network/Storage Upgrades
HDMI 4K 60FPS Output
So, today I want to review the new TS-464 4-Bay NAS, drill down to how the brand has taken a different stance on hardware this time around and break down its software platform into where its strengths and weaknesses are. Let's go!
QNAP TS-464 NAS Review – Quick Conclusion
The TS-464 comfortably arrives with the best hardware in its tier of the NAS market and that is something that QNAP has always been quite good at. Even if you rewind just 5 years, the level of hardware scalability and ease of upgradability that the TS-464 provides is frankly incredible and, fast forward to 2022, is still pretty unmatched. A Desktop 4-Bay NAS (eg Prosumer RAID 5 storage) has always been the next confident step for users who are tired of their hands being tied by subscription cloud services from Google, OneDrive and DropBox, who are looking for their own competent, flexible and fully-featured private server. In the TS-464 NAS, you find a system that is unquestionable the best hardware for your money you can possibly get right now. In software, things are a little less straightforward. QTS 5, although massively software and service-rich, arrives as a complete operating system in your web browser with multiple mobile/desktop clients and hundreds of applications and apps that can be installed at the touch of a button – which can all too often be something of a steep learning curve for many. Lacking the chewable, user-friendly nature of many of their rivals, QNAP and its software/service still have a tendency to be a bit of an information overload that can quickly intimidate the novice. However, for those that are looking for a system that is completely customizable in how/when/where you want data presented to you, as well as a wide degree of 3rd party support, QNAP and QTS 5 still manages to provide a huge degree of brand-unique service that are simply not available elsewhere. Just be prepared to invest your time wisely in its setup and more time ensuring the system is perfect for your needs.
Amazon UK 83.3 OFF (WAS 1543)
[LINK HERE]
Amazon UK 251.02 OFF (WAS 1759)
[LINK HERE]
Amazon UK 124.99 OFF (WAS 1777)
[LINK HERE]
QNAP TS-464 NAS Review – PACKAGING & ACCESSORIES
The retail packaging for the QNAP TS-464 NAS is fairly standard stuff, a brown box with a QNAP product label. As always, NAS systems such as this are almost exclusively purchased online and therefore efforts towards aesthetically pleasing retail packaging are somewhat thrown aside in favour of practicality – as the first time you see the device retail presentation will be AFTER you have already purchased! Still, it's a little smaller than the TS-453D retail box, which after checking seems to stem from the foam being used inside being a little denser.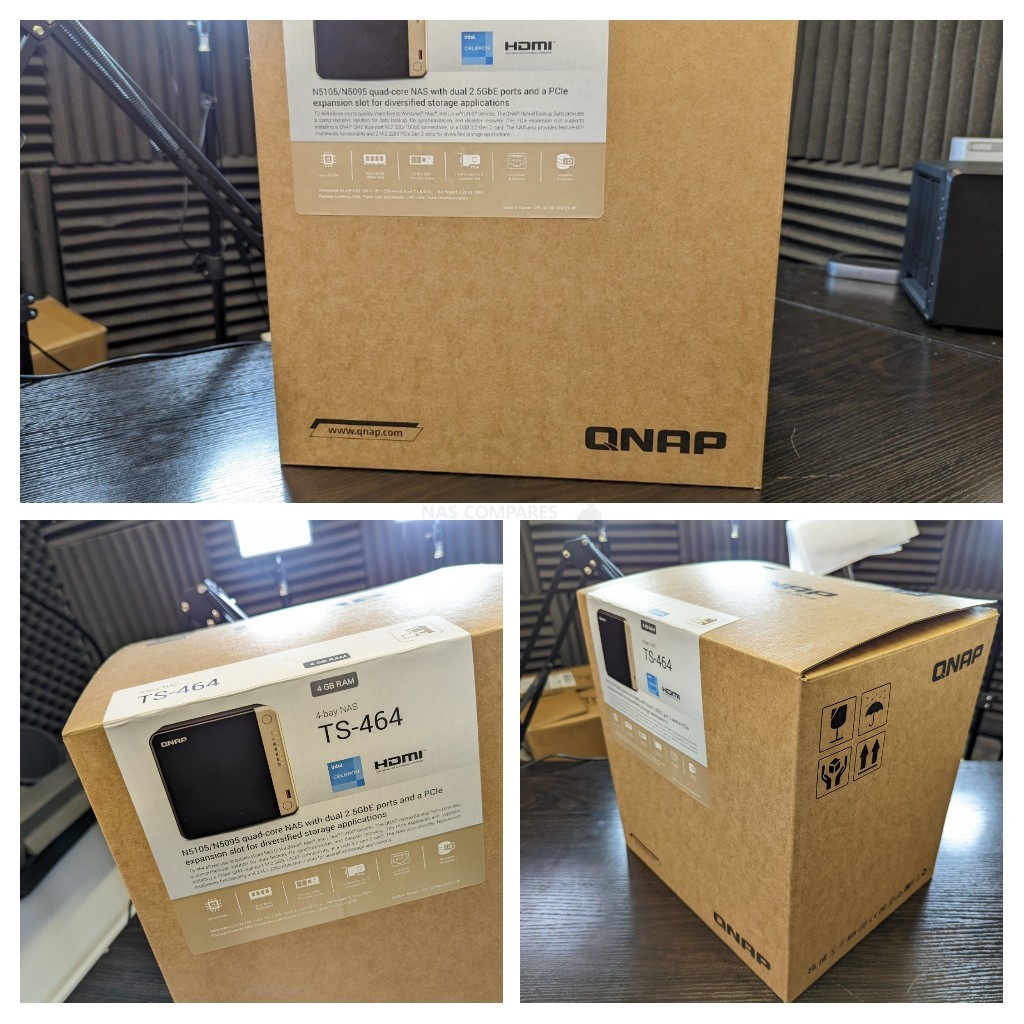 Talking of foam and packaging, I always praise any system that arrives with protection in transit being sensibly considered. It's a rather minor point for some, but the fact that these systems are generally shipped out from Taiwan production to the rest of the world means that they are going to be a fair amount of motion and shock in transit. Although they are provided by the brand unpopulated (i.e no HDDs or SSDs), silent damage to controller boards and onboard components is more common than some people think. So, any system under £1000 that arrives well protected will always get my kudos in this area – I have reviewed way, WAY too many systems that have arrived in cardboard frames and look like they had a rough time in freight!
The accessories that the TS-464 NAS arrives with are all pretty standard stuff (with one area that I am a little disappointed by), with the NAS including a setup manual, details on the 3-year hardware warranty, details on the warranty extension to 5yrs, screws for 2.5/3.5″ drives, an ethernet cable (1x Cat 5e – which is ok for this model, given its lack of 10GbE) and an external PSU. All fairly standard stuff and well packaged.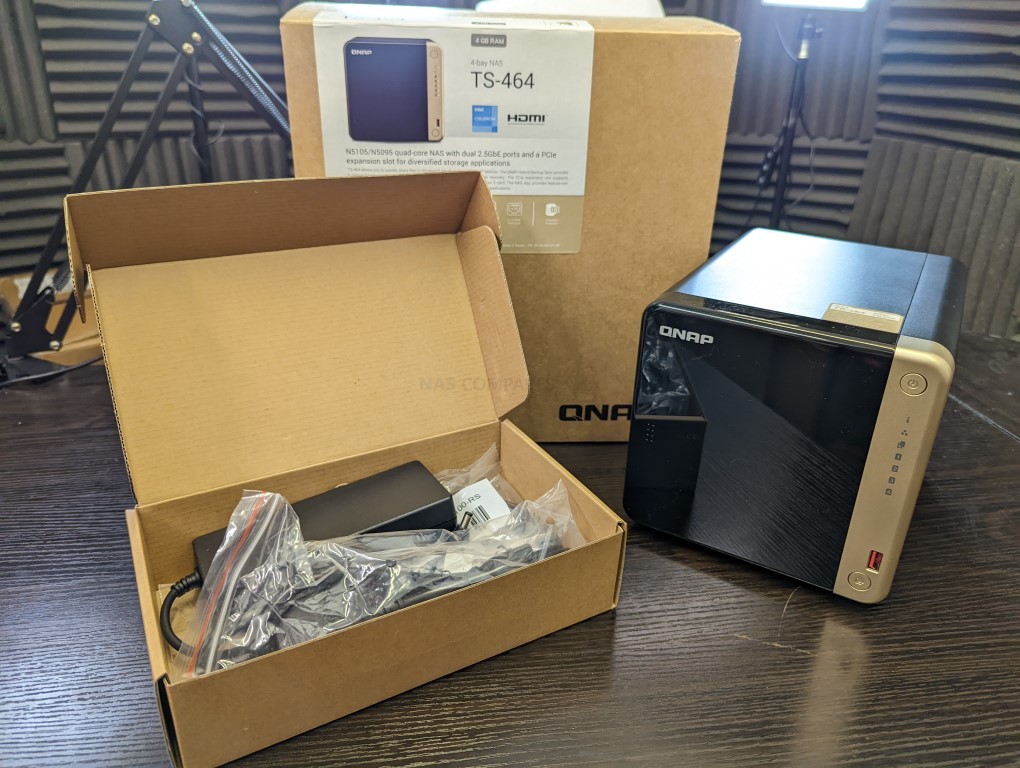 The PSU that this 4-Bay NAS arrives with is a 90W external model and although at this level of capacity, it is not uncommon for a 4 HDD device to feature an internal PSU, I am pleased that QNAP still sticks to an external model here. It is so much easier to replace when needed (as the PSU is still the 2nd most delicate thing on a NAS, after the drive media of course), is covered by your warranty, is supported by numerous 3rd party off-the-shelf alternatives as it is non-proprietary and allows you to keep a spare to hand on a shelf somewhere. QNAP reported power use at 11.3W Standby (idle) and 25.98W Active use when the system was fully populated.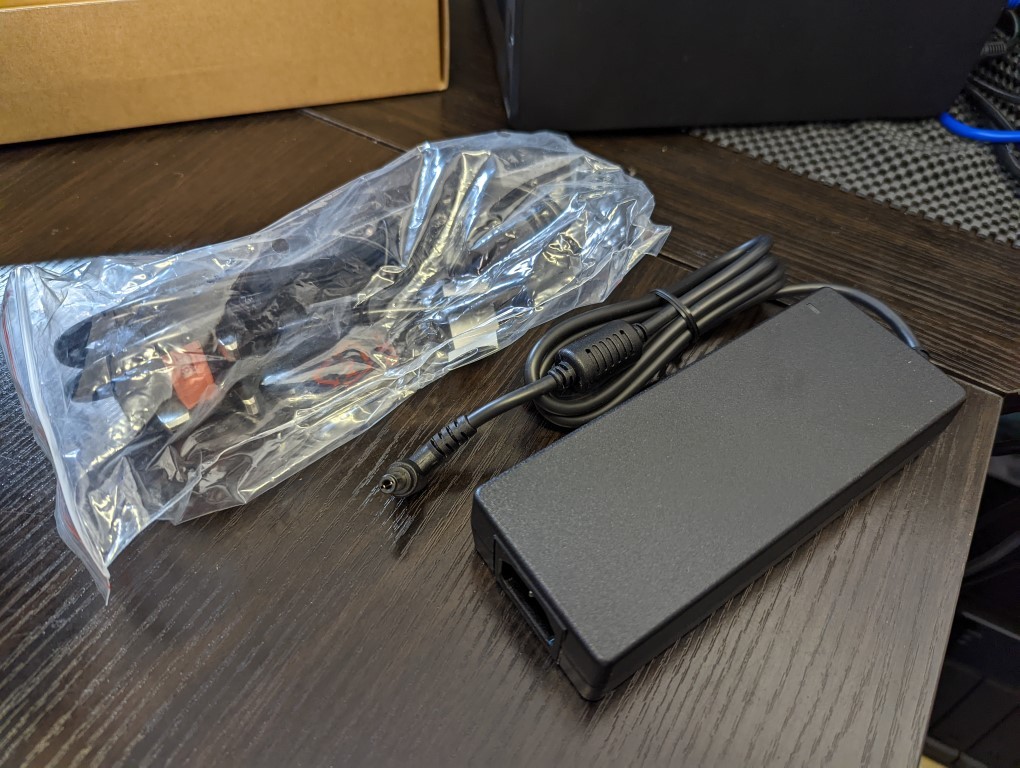 That said, one area that I am a little disappointed by is the lack of the adhesive m.2 heatsink panels that large QNAP NAS (such as the TS-473A and TVS-472XT – shown in the image below) arrive with. The reason for this (that I will touch on later in the hardware coverage in the review) is that the TS-464 features 2x M.2 NVMe SSD slots, a much faster form of media than traditional SATA SSDs in the main storage bays which can get quite hot under sustained use. As the expandability and scalability of the TS-464 is a big selling point of the system, as well as NVMe SSDD prices becoming increasingly affordable, I am sad that QNAP have not included the additional heatsink modules for this system in the same way they are with other m.2 equipped systems in their portfolio. It's a very minor point, but it did urk me a pinch!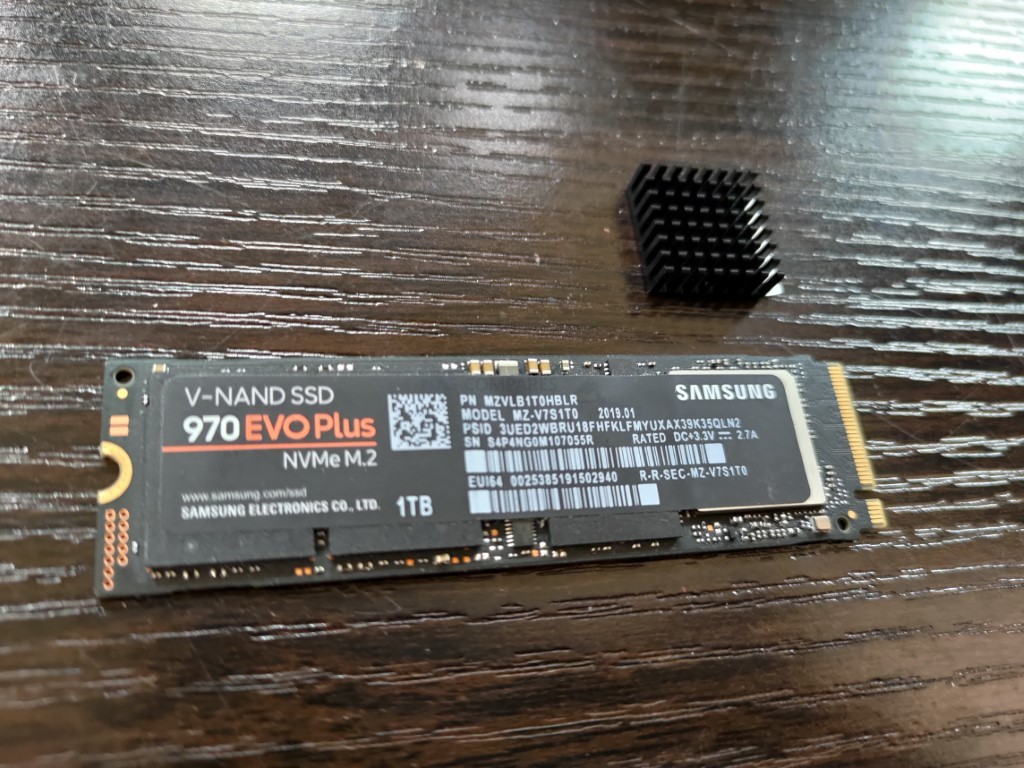 Overall the accessories that the QNAP TS-464 NAS includes are all fairly standard and certainly enough to get the system up and running (not including your HDD/SSD media of course). Let's discuss the design of this NAS and what changes have been made on the TS-464 vs the TS-453D.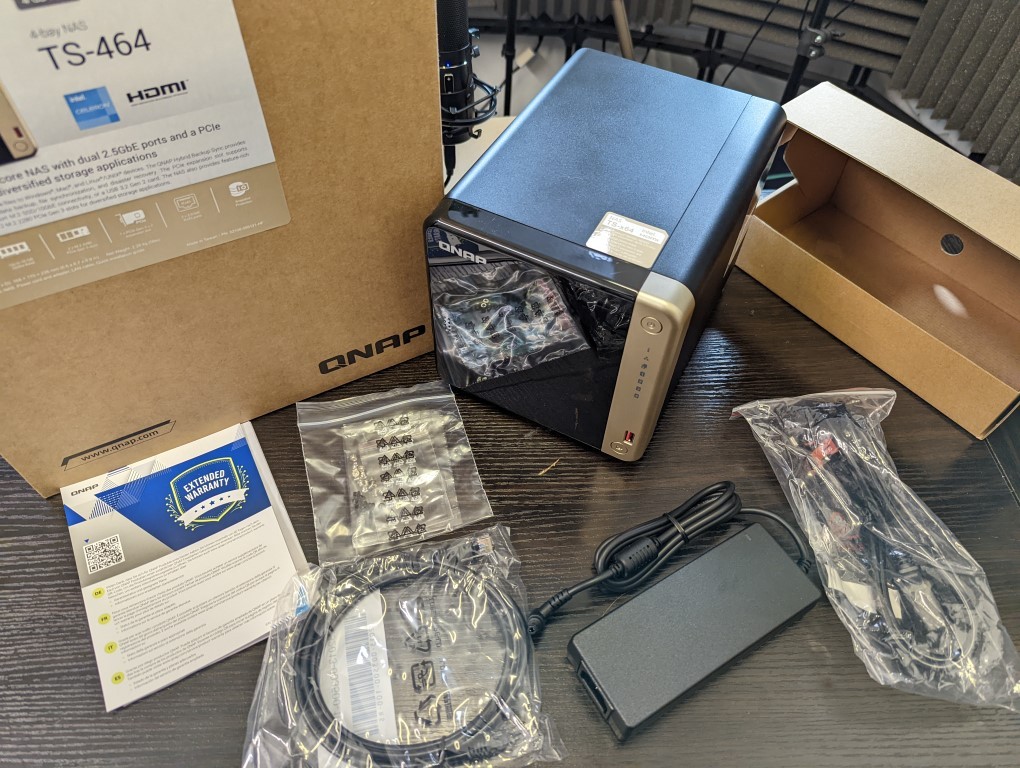 QNAP TS-464 NAS Review – Design
The chassis used on the QNAP TS-464 NAS is the same as the one that was used in the TS-453D and TS-453Be before it, featuring a largely plastic material that covers an internal aluminium metal framework. The arrangement of ports reminds largely unchanged, however, the quality and frequency of those ports have seen something of a large increase. Although the system uses a removable tray design, it also features a lockable and slidable front panel. I quite like the choice of a copper/rose-gold and black colour scheme (certainly more than the metallic blue of its predecessor) and I am surprised it has taken this long for the brand to choose this colour for this Pro/SMB desktop tier (as it has been very prominent in other NAS systems in the brand's portfolio for over 5 years in the TVS-x73, 73e and HS-453DX ranges). The chassis is remarkably compact on first glance and appears smaller than other NAS 4-Bays on the market, but this is because the TS-464 uses a much longer/deeper chassis than most, relying more on horizontal airflow, ending up far more oblong.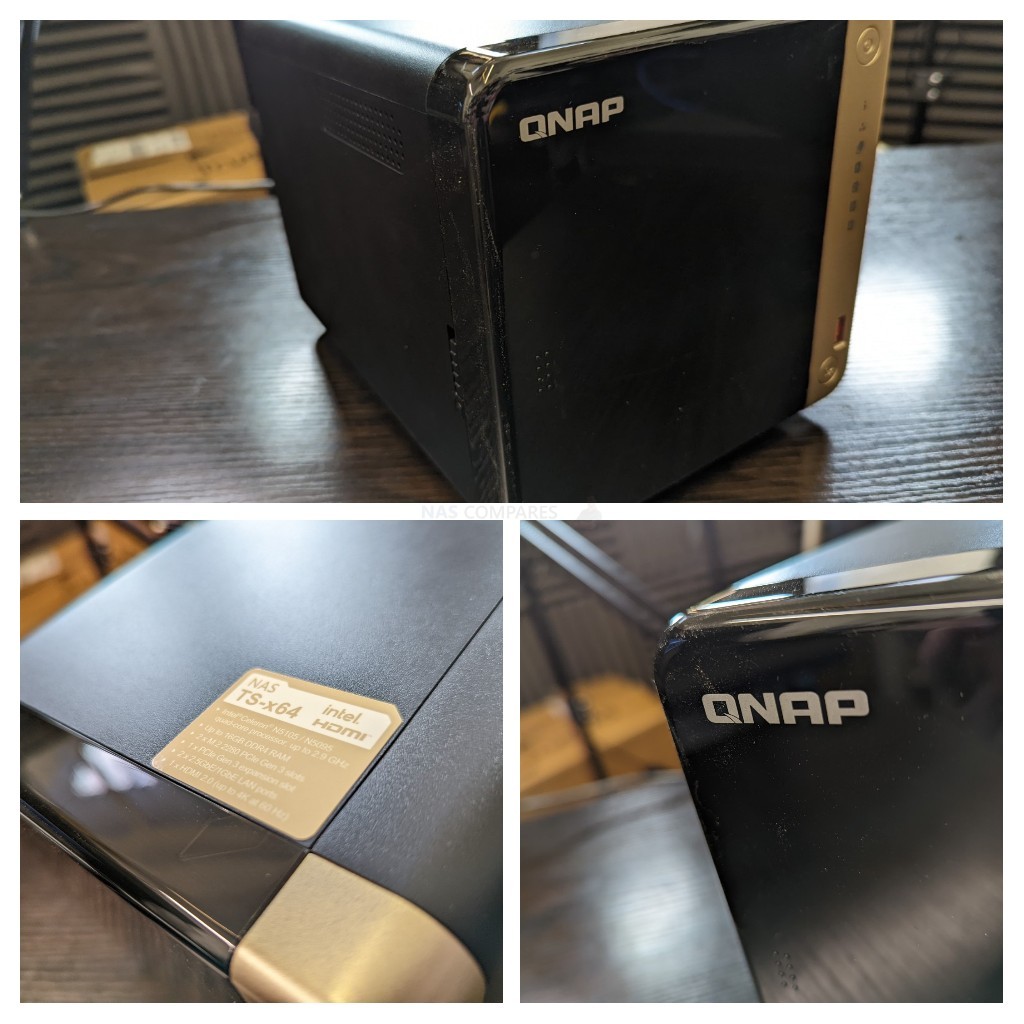 On the subject of cooling, the TS-464 have smaller vent spaces on the sides of the chassis than most other NAS, but makes up for this by having more of them, having them on the sides and base under each of the storage bays. All these vents are designed to allow users to operate the system 24×7 with that front panel on, but still allow the much larger rear fan to have enough active airflow through those passive vents. Despite it's plastic chassis, the result is that the TS-464 is a pinch noiser in operation than the likes of the Synology DS920+ 4-Bay, despite that latter system having 2x fans, but much larger front/side ventilation by comparison.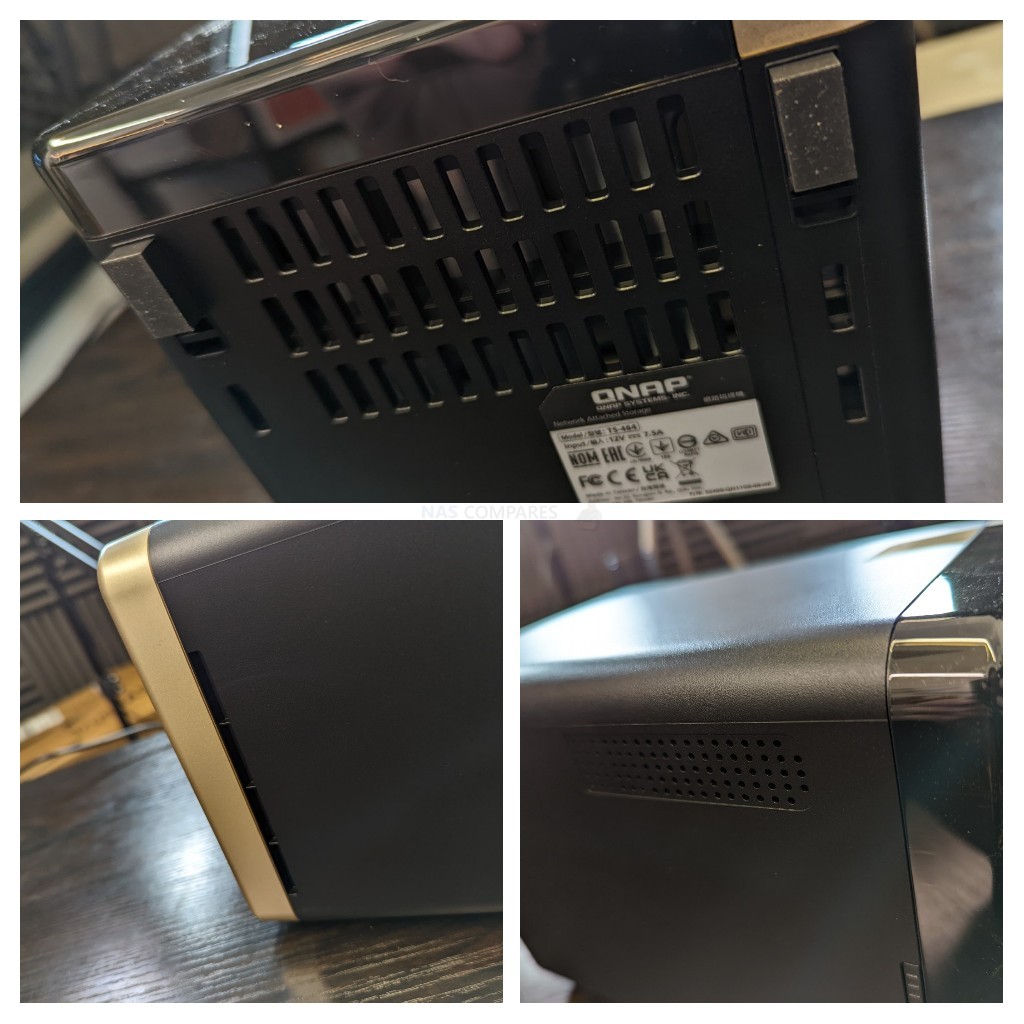 The front of the TS-464 lacks the LCD panel of larger business/enterprise NAS systems in the QNAP portfolio, relying on multiple LEDs that denote system activity, network status, copy/backup activity and individual LED indicators for the HDD storage media bays (the internal M.2 SSD bays have their own LEDs, but only visible inside the chassis.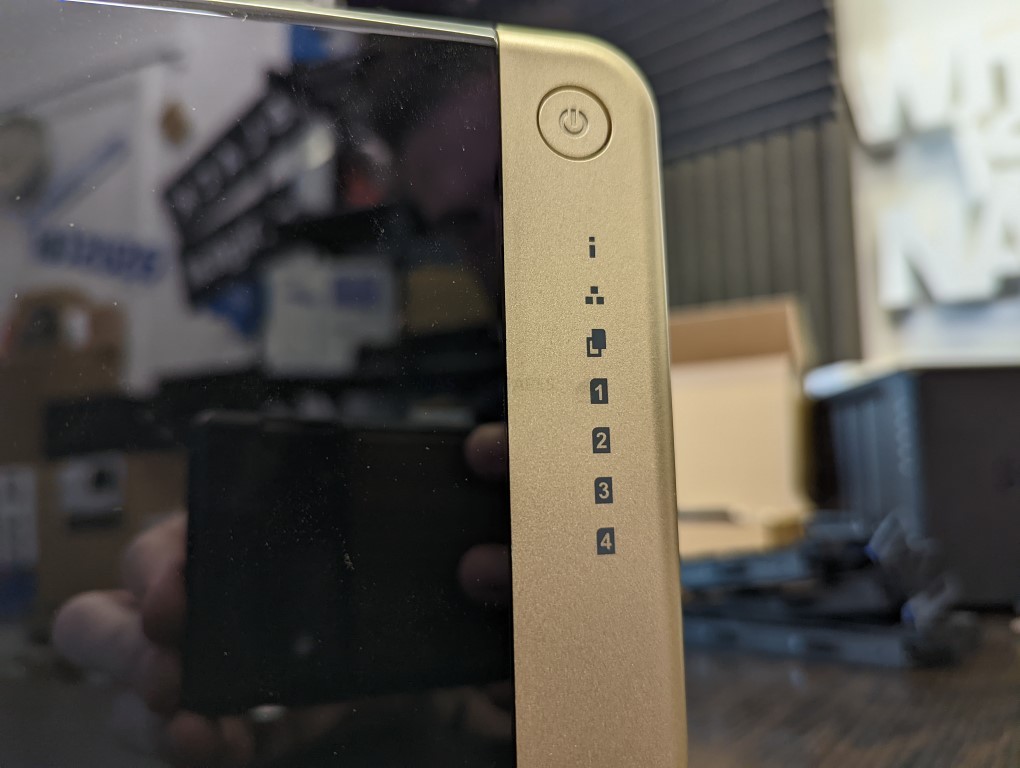 One really nice early addition to the design of the QNAP TS-464 NAS is that along with the continued inclusion of a front-mounted USB and one-touch-copy button (allowing manual backups to/from a connected USB storage drive without logging into the GUI or relying on an automated schedule – supporting full backups, differential backups and versioning), the port here is USB 3.2 Gen 2, so 10Gb/s (denoted in Red). This means that rather than the potential backup speed of around 500MB/s, you can have up to 1,000MB/s. For those backing up a substantial amount of data from the internal system RAID array or backing up daily photoshoots of high volume/capacity, you can get it done considerably faster. You still need to use USB 3.2 Gen 2 USB drives/enclosures to get that 10Gb/s speed (otherwise it will revert back to 5Gb/s) but with affordable M.2 NVMe SSD populated USB drives entering the market from WD, Seagate, Gtech and LaCie that can hit 1,000MB/s easily, the inclusion of this port will be of great benefit to photo/video editors with daily backups on fresh projects.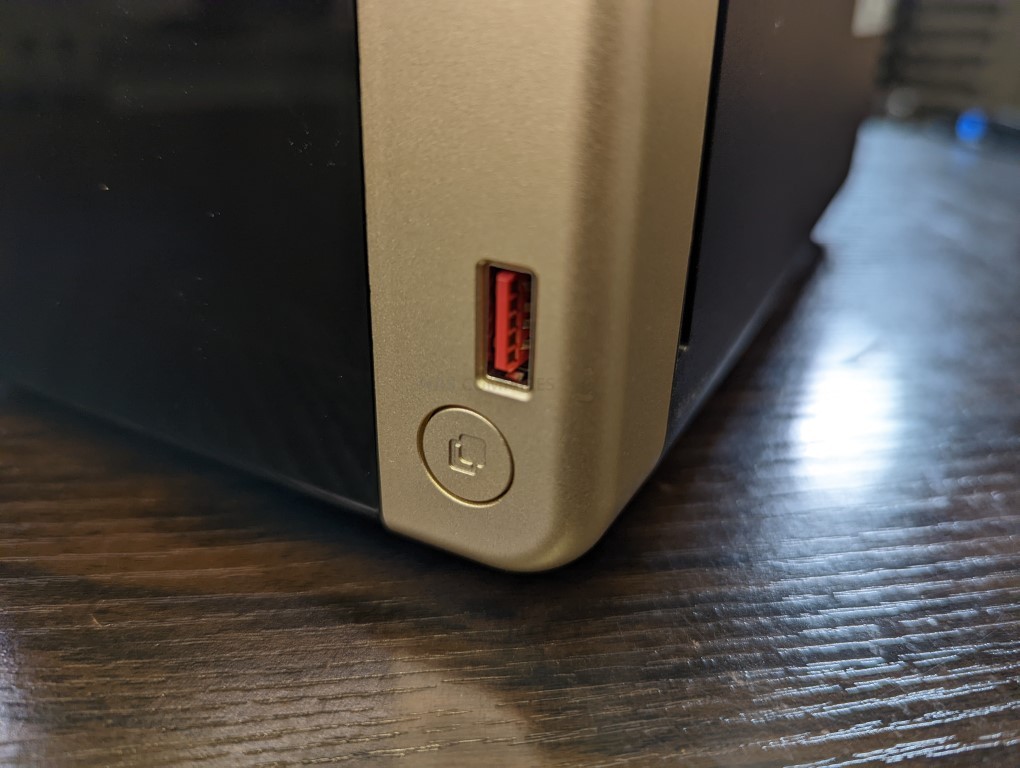 As previously mentioned, the storage bays inside the system are covered by a removable front panel, which can be locked/unlocked easily. I think it would have been nice if this was key locked for security – but it's a very minor complaint and it's clear that this lock system is more to prevent accidental removal than it is about preventing theft. Also, I am surprised that QNAP does not offer these covers in other colours. Again, an incredibly minor point, but I have visited enough people in their respective workspaces that have adorned this panel in the older units with stickers or even sprayed them. Removing this front panel, we find the four SATA storage bays. The TS-464 does not necessarily need to be fully populated and can be deployed with just a single drive if need be, though the benefits of using multiple drives in a RAID configuration for reasons of redundancy, performance and capacity obviously mean that it's better to have at least two drives on day 1. Although it is worth noting that although the system features an internal flash storage module that stores the QTS 5 operating system, applications and services, it is only there to facilitate the installation of QTS onto a primary partition of the main storage bays. So, overall the better your base level storage on day 1, the better QNAP QTS will run (much like installing windows on a single HDD, an SSD or RAID'd drives would improve boot/app performance).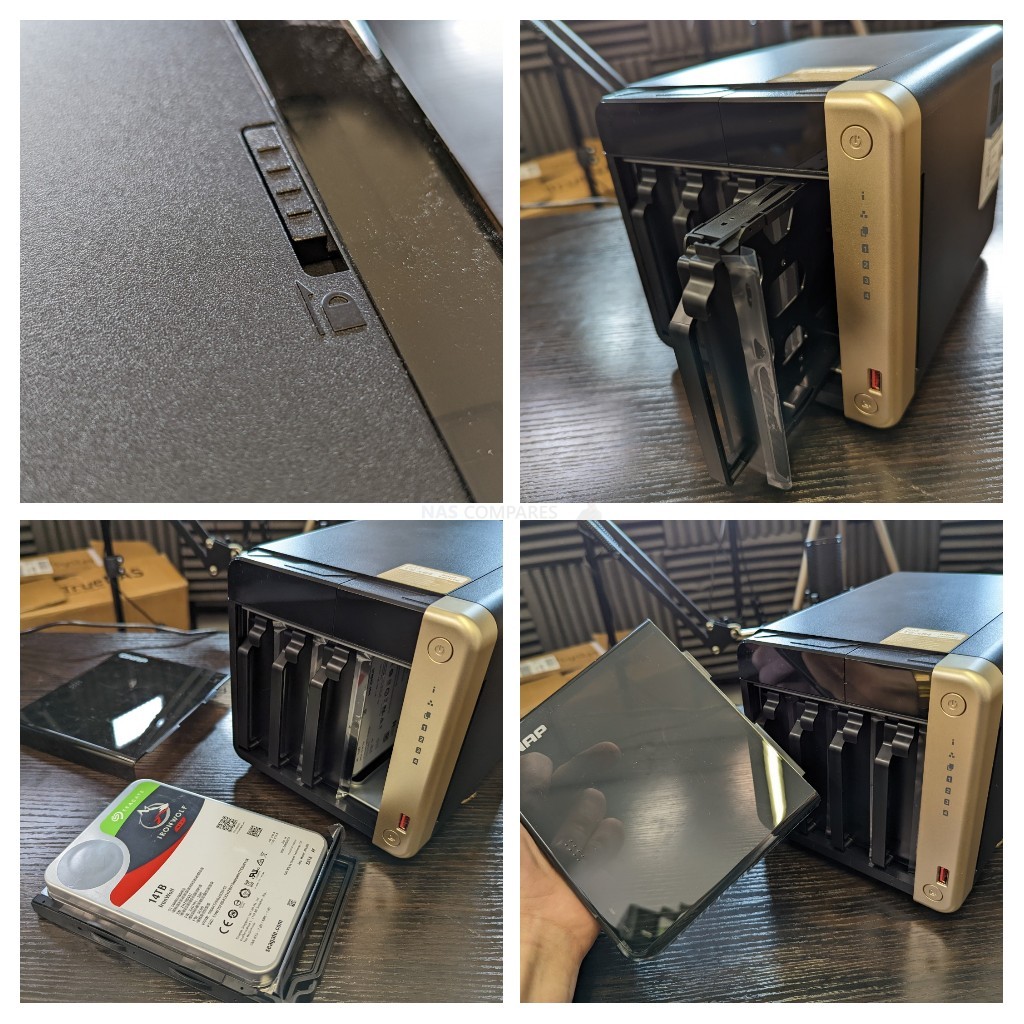 The trays inside the TS-464 NAS are plastic and screwless installation designed, whilst also providing screw holes and screws for 2.5″ media. Plastic bays have come a long, long way over the last few years and although a decade ago would have immediately been judged harshly (heat, vibration, cracking under pressure), modern plastic HDD trays are considerably more robust, are pretty faultless and actually aside in lowering the noise generated by a drive when it is spinning/accessing thanks to strategically placed rubber washers at the screw points.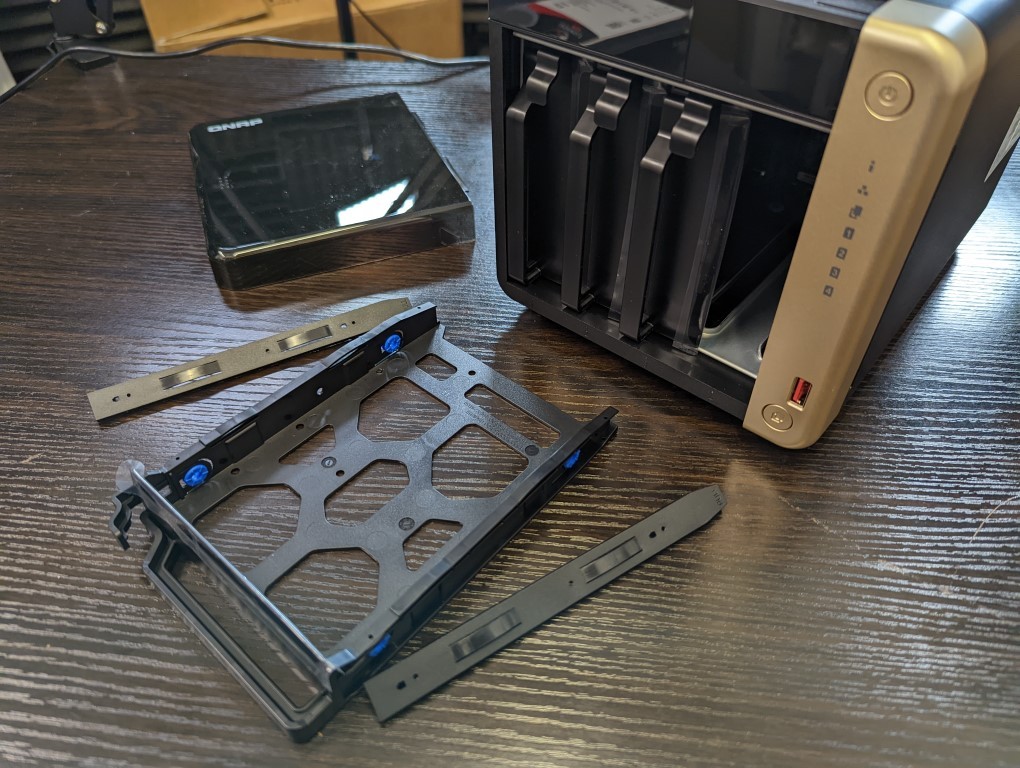 Looking inside the TS-464 storage area, we can see that the drives are connected with dual power/data connectors, so no loose wires here and the entire internal framework is heavily ventilated throughout. Inside here is where you can access the SODIMM memory slots and M.2 NVMe SSD bays (which we will cover more later). It does seem quite busy in there, but I am relieved that they have made as much airflow access as possible during 24×7 operation.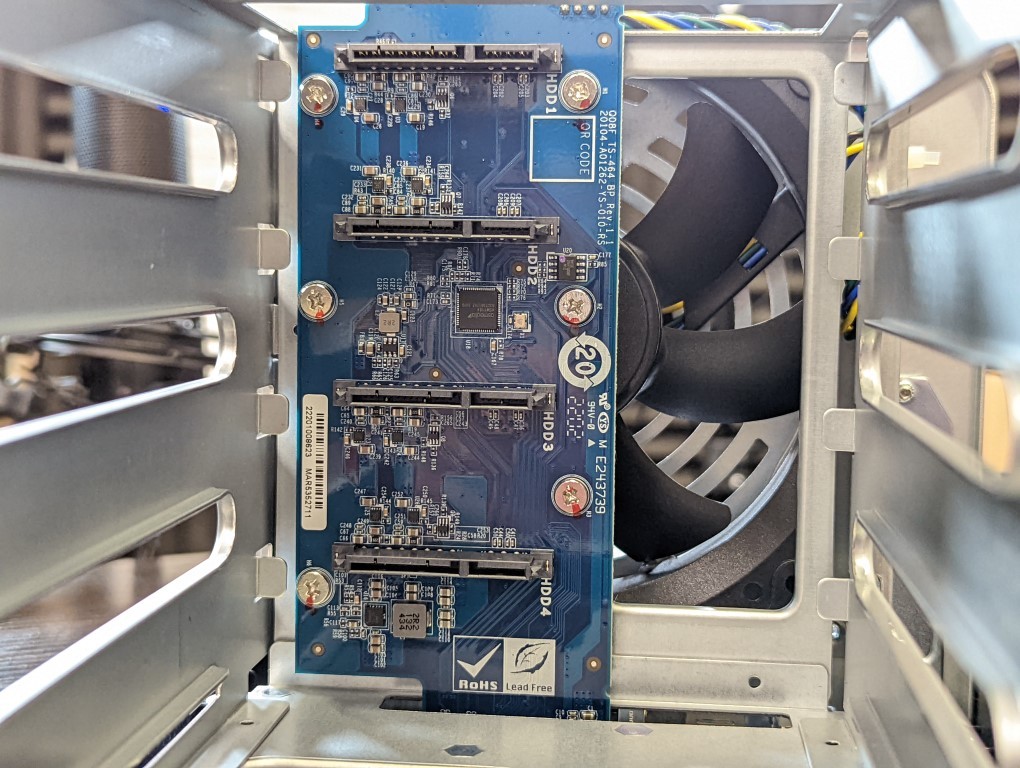 Overall, although the design of the TS-464 has changed very little on the face of it versus the TS-453D that came before it, it is still a nicely presented chassis. However, the inclusion of USB 3.2 Gen 2 on the front aside, it is in the ports, connections and internal hardware configuration that QNAP have scaled this device up noticeably compared with it's predecessor.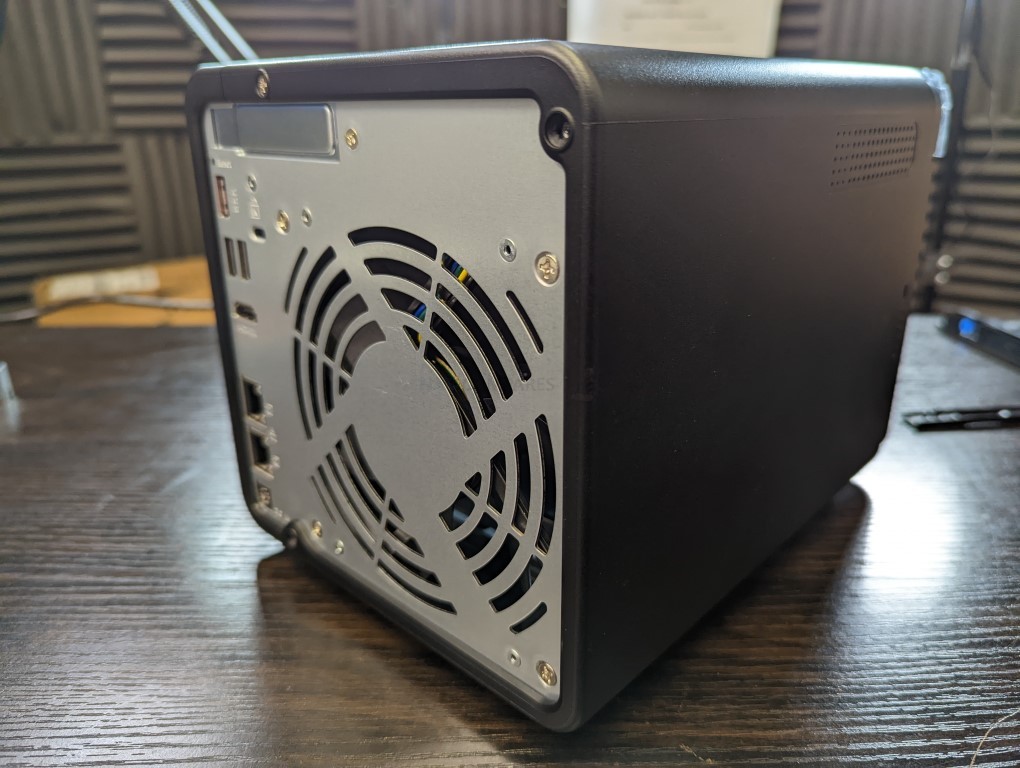 QNAP TS-464 NAS Review – Ports & Connections
The rear of the TS-464 is similar to that of the TS-453D at a glance, but there have been a few subtle changes that you might not spot without a visit to the specs sheet. Most of these changes are made possible thanks to an upgraded CPU in this new model and although the bulk of the connections here are what you would expect in this product series, it is in their frequency and bandwidth that you might be surprised. That single rear fan, at 120mm/12cm remains largely unchanged, able to adjust its operation automatically, increasing/decreasing the RPM as the system gets hotter/cooler in extended operation. This fan can also be adjusted manually if required (i.e if you need the noise reduced or you know that the factor that increased the fan operation is going to be temporary) but it is recommended to leave this as 'automatic' as the system is quite reliant on this fan drawing air over a significant number of internal components (especially if you are upgrading via all the available slots and ports).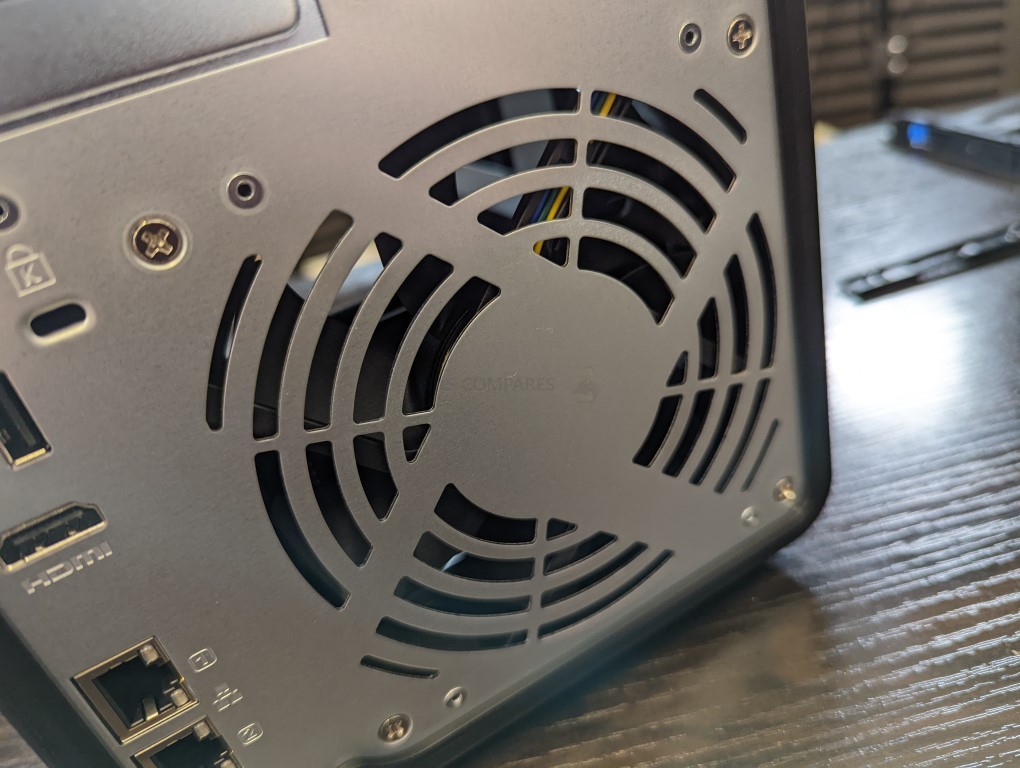 Much like it's predecessor, the TS-464 arrives with 2x 2.5GbE ports. Although the implementation of 2.5GbE on client hardware is still nowhere near dominant and as present as 1GbE (decades old at this point), it IS starting to appear more frequently in 2022 hardware, as well as arriving at the same cost as 1GbE in most cases. Indeed, 2.5GbE is now appearing in most prosumer/midrange router AND even ISP routers are starting to arrive with 2.5GbE ports (as greater than gigabit internet speeds appear more and more globally). Therefore although 2.5GbE on the 2020 released TS-453D was a nice extra, its appearance on the 2022 released TS-464 is practically mandatory! The very idea that a remote cloud over the internet has the potential to be accessed at greater than 100MB/s on an ISP router means that it would be almost criminal that your local router/switch connected NAS should arrive with a 1GbE bottleneck in 2022. Also, it is worth remembering that you can these two ports be link aggregated (aka Port trunked, or even load balanced for queued bandwidth) meaning that your 250-270MB/s bandwidth has the potential to be scaled to 500-540MB/s. PLUS you can also connect USB to 2.5GbE adaptors or the QNAP QNA-UC5G1T USB-to-5GbE adapter in order to add further network ports and substantially increase your bandwidth.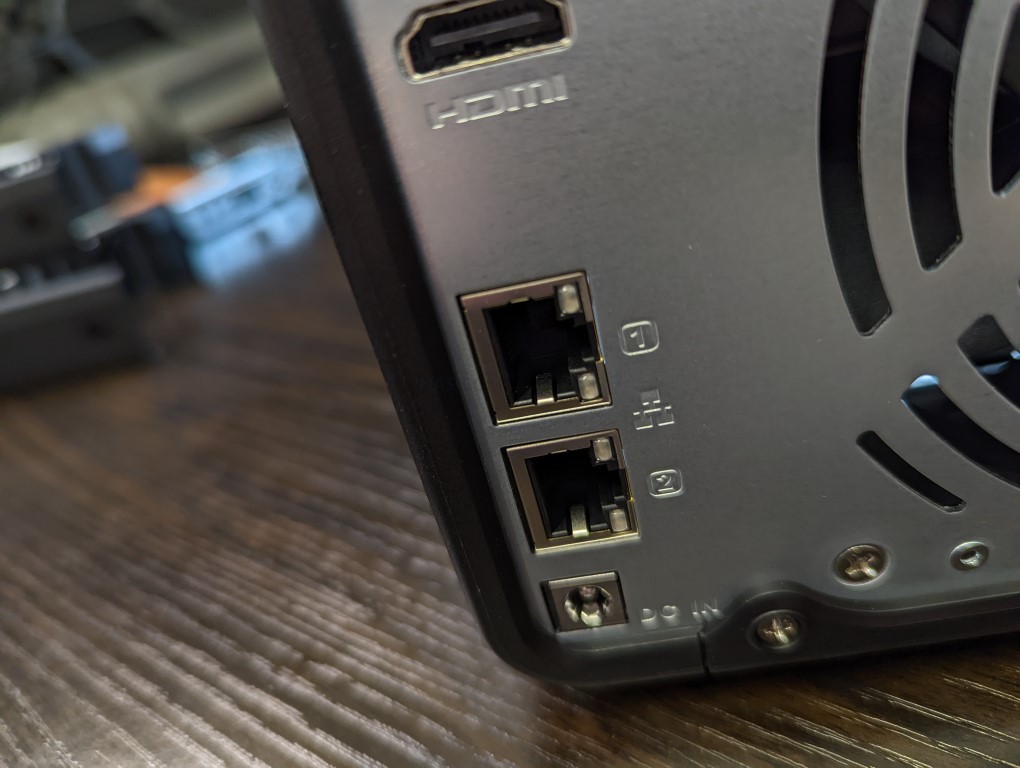 Another feature of the TS-464 is the inclusion of an HDMI output. This HDMI 2.0 port (so, upto 4K resolution at 60fps) allows you to connect a monitor or TV and allow a completely parallel GUI to be accessible (not just mirroring the web browser GUI), as well as a range of 1st and 3rd party applications to be installed. This is made possible with the QNAP HD Station application (as well as a considerably large number of applications being available over on QNAPClub.eu) and although this is an impressive application, it has not seen the frequency of updates and improvements that many other areas of the QTS/QuTS platform have seen, remaining largely unchanged for around 2 years now. Despite that, it is still a very impressive tool that allows you to enjoy your multimedia from your sofa, deploy applications that can be output graphically locally, allow you to set up a standalone surveillance system, deploy a virtual machine locally and more.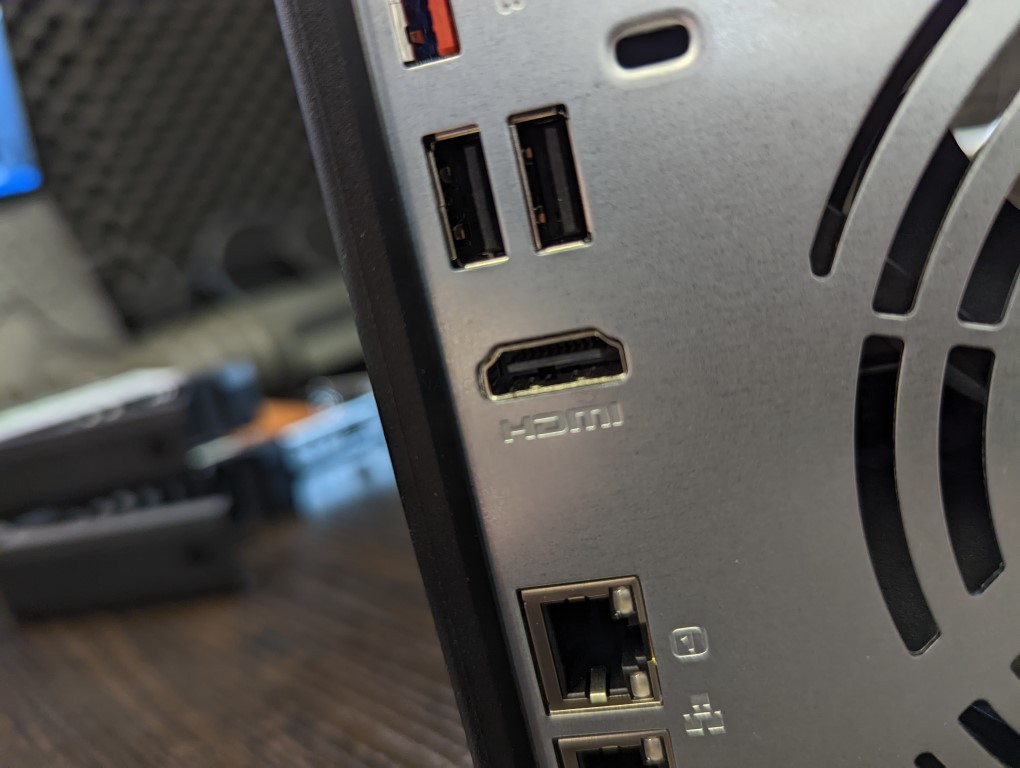 Although the highlights of the applications are still all third party (Plex, Kodi, Skype, Zoom, Ubuntu, Retro games emulation, etc), it is still pretty cool to have this option. The applications and services over HDMI can be controlled in a number of ways that range from an optionally purchased IR remote control (3rd party remotes are also supported), WiFi remote from your phone (QNAP have their own smart remote app called QRemote) and even standard KVM (keyboard, video, mouse setup) over USB. This along with the support of many other USB peripherals including speakers, controllers and webcams means that HD Station and HDMI supported software can be quite diverse on the TS-464. I wish QNAP would do more with this software/service in 2022/2023 though.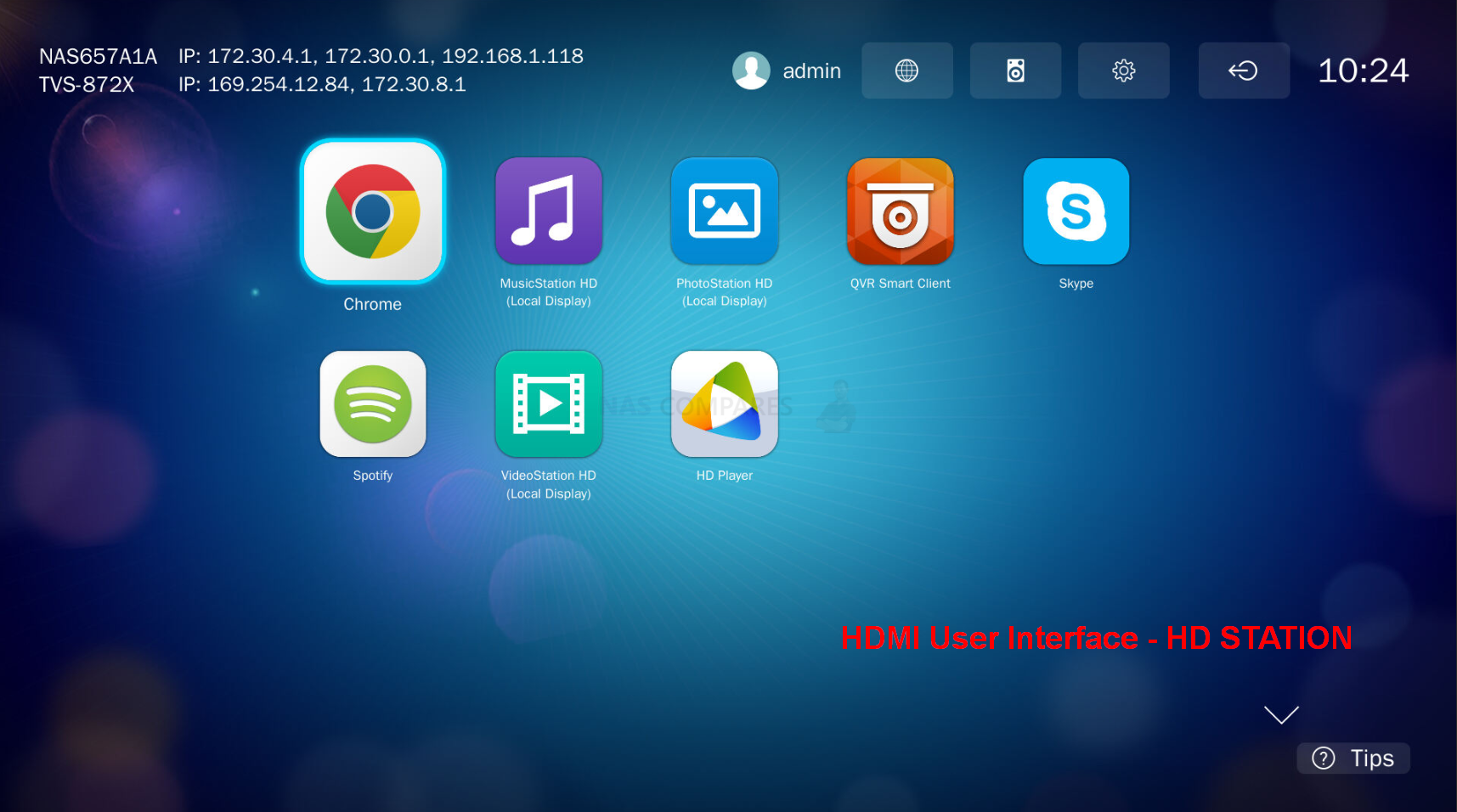 Back in early 2020, we made a guide on HD Station on what it can do on the QNAP NAS platform. We will be revisiting this subject later in 2022, but the general features, services and abilities of HDStation in QTS 5 remain largely the same at the time of writing. To find out more about it and what you can/cannot do with the HDMI port on the TS-464, watch the video below:
Along with the front-mounted USB 3.2 Gen 2 port on the front of the system, the QNAP TS-464 also features additional ports on the rear. We find another 10Gb/s USB, as well as two USB 2.0 ports. Now, normally I would ROAST a NAS that arrives with USB 2.0 (come on, it's 2022, try harder!), however in the case of the QNAP TS-464, I am going to hold my tongue a bit. This is largely due to the system arriving with those two 10Gb/s USBs and the HDMI, meaning these USB 2.0 ports can logically be used for the KVM setup. If I had to choose between this OR all four ports being USB 3.2 Gen 1 (5Gb/s), I choose this. That said, I know this might not suit everyone and given that the TS-464 NAS can be be expanded by 2, 4, 6, 8 and 12 drives (using the QNAP TR and TL series of NAS expansions), some might have preferred more USB 3.2 ports overall.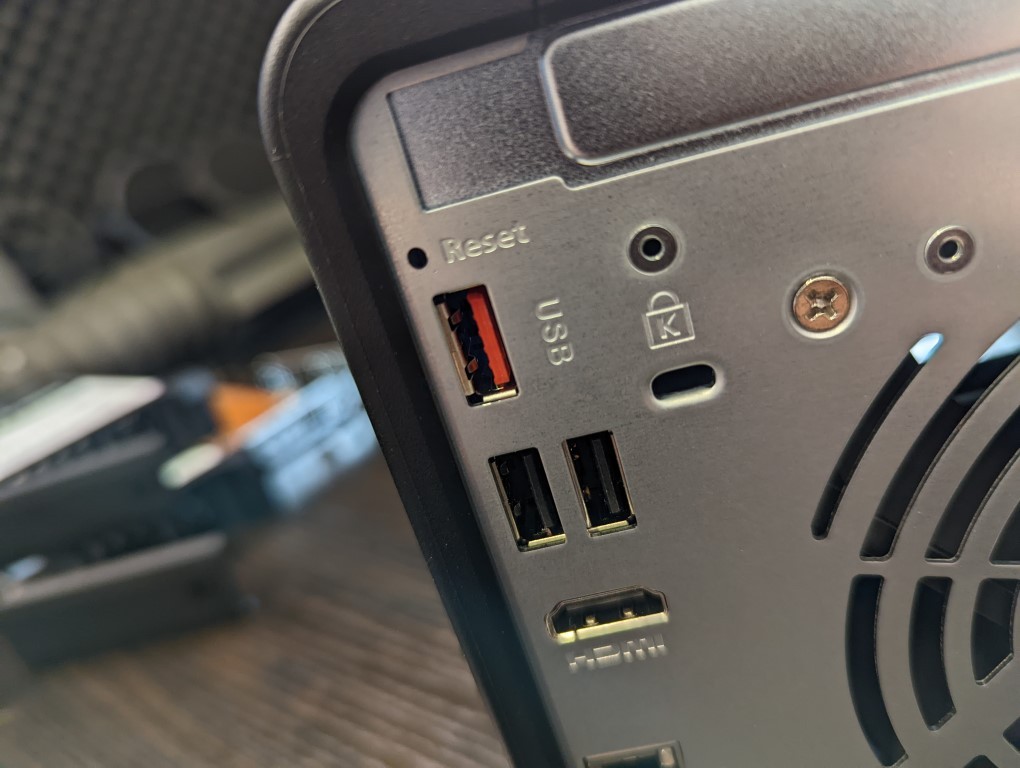 Then there is the inclusion of a PCIe Upgrade slow on the TS-464 that allows you to attach a wide variety of upgrades to the system in its lifespan that improves one/multiple areas of network bandwidth, SSD storage space, wireless connectivity and more. Now, it is worth highlighting that the QNAP TS-453D before this model ALSO featured a PCIe slot HOWEVER that system (because of an older generation Celeron CPU being used with fewer PCI lanes supported and its impact in conjunction with the chipset) featured a PCIe Gen 2×2 slot, which translates in performance internally to 1,000MB/s. So in the older generation NAS, regardless of the card you installed, you would not be able to exceed that traffic – which was a real shame with multi-port network cards, SSD storage cards and cards that combined the two. Now, the QNAP TS-464 NAS with its newer generation Celeron CPU is able to stretch itself noticeably further in some key areas and one of those is with this PCIe Slot being PCIe 3×2, which translates to 2,000MB/s bandwidth. It is still going to potentially bottleneck modern generation NVMe SSD storage and combo cards a bit, but it is still twice the possible communication between the system and an upgrade card in the TS-464 than there was in the TS-453D. QNAP are STILL the only brand at this price point for a 4-Bay NAS to provide a PCIe upgrade slot and those thinking of graduating to 10Gbe over one or two ports (which would be slight overkill on this 4-bay to be honest without SSDs or an expansion) will really appreciate this.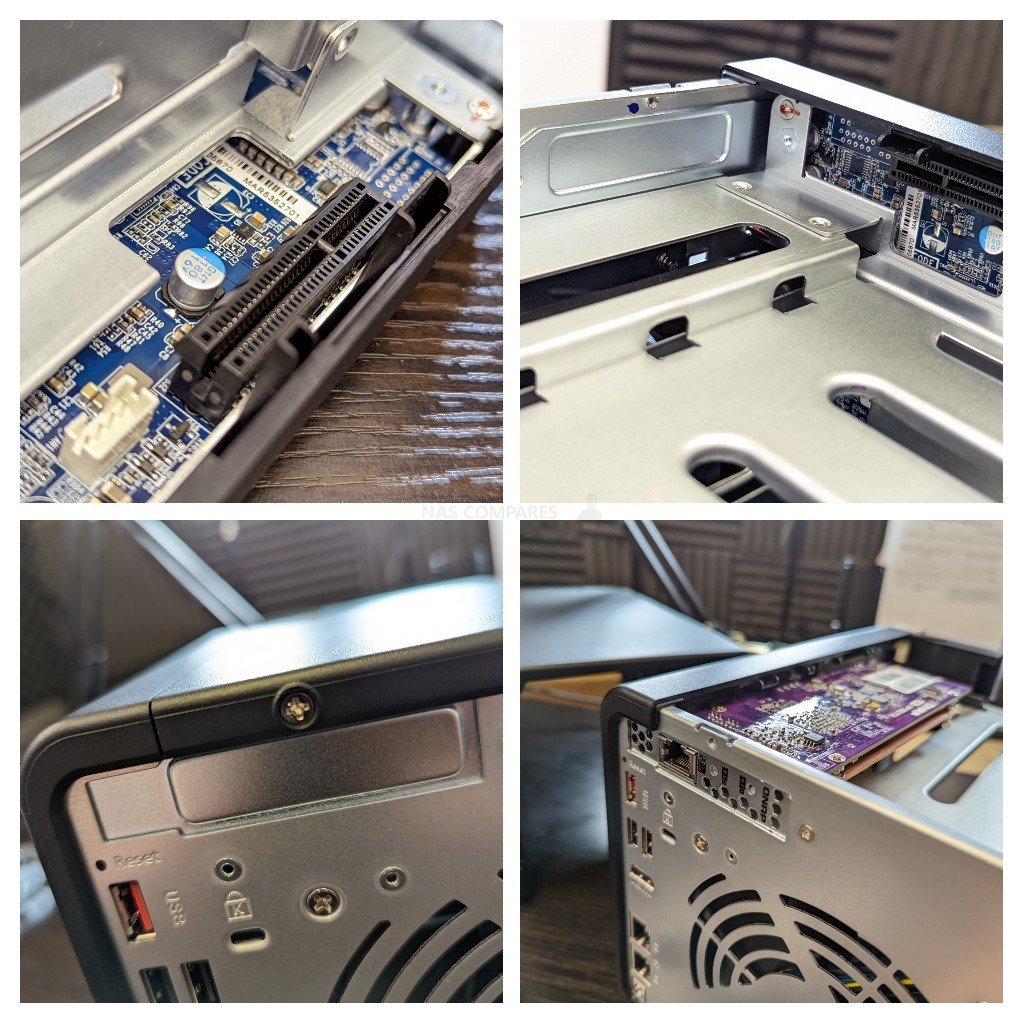 Overall, you really cannot fault the ports and connections available on the QNAP TS-464 NAS, when the price has changed very little between this and the TS-453D 2 years before it and TS-453Be 4 years ago. Maintaining that tier of pricing, whilst effectively doubling down on the connectivity, expandability and upgradability in this 4-Bay in most areas is genuinely impressive. Lets discuss the internal hardware of the TS-464 and see how things have changed for better or worse in this system over its predecessors.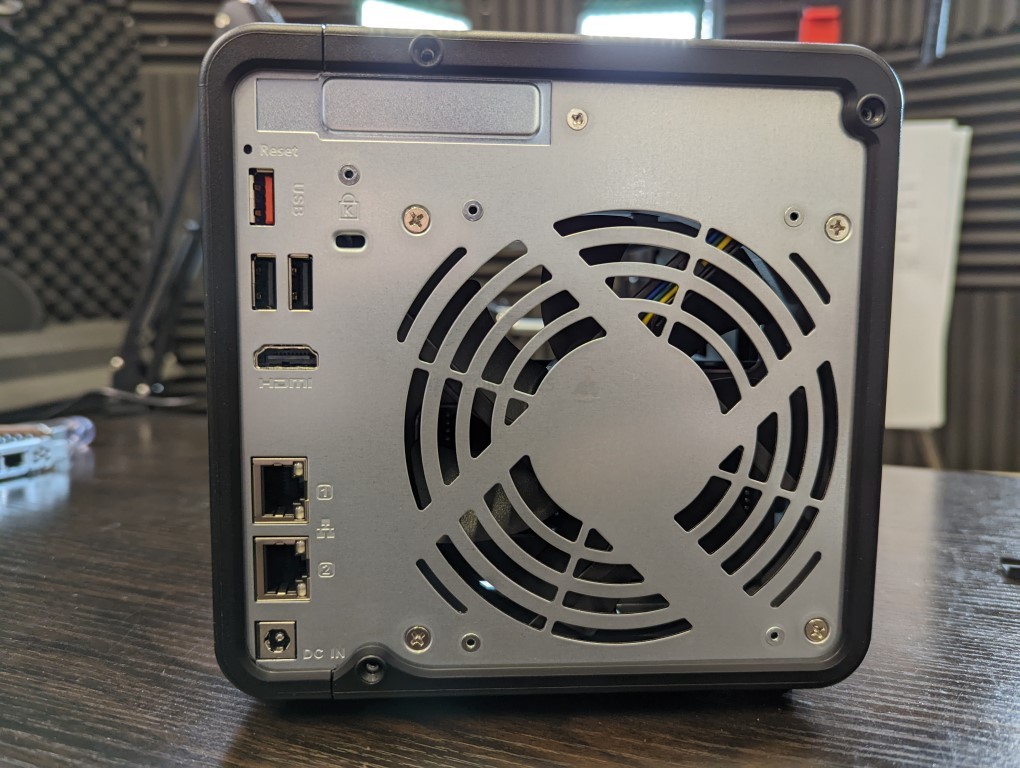 QNAP TS-464 NAS Review – Internal Hardware
Much like any NAS brand, when a brand decides to release new hardware, it is most often triggered by changes in the wider tech industry that can range from the point of manufacture to simple changes in consumer demands. In the case of QNAP and the TS-464, the brand tends to refresh this particular series every 2 years and often because the CPU manufacturer Intel has refreshed their Celeron series of processors. The Intel J4125 used in the TS-453D is/was a very popular CPU and is still very much in circulation with several key NAS servers still available to buy. However, in 2020/2021, Intel started refreshing this series towards the N5105 and N5095 processors, but due to a multitude of reasons (including but not limited to the supply chain impact by the pandemic, hardware shortages, climate issues, changes in demand by end-users who changed their routines throughout the pandemic, etc) instead of a single CPU being featured, most brands have phased in either of these near-identical CPUs. This si the processor that the TS-464 features and it is the main reason that a number of features are possible in this system, albeit a pinch slimmed down (you will see what I mean shortly). To access the inside of the TS-464, you need to unscrew the three rear screws and slide the side panel off.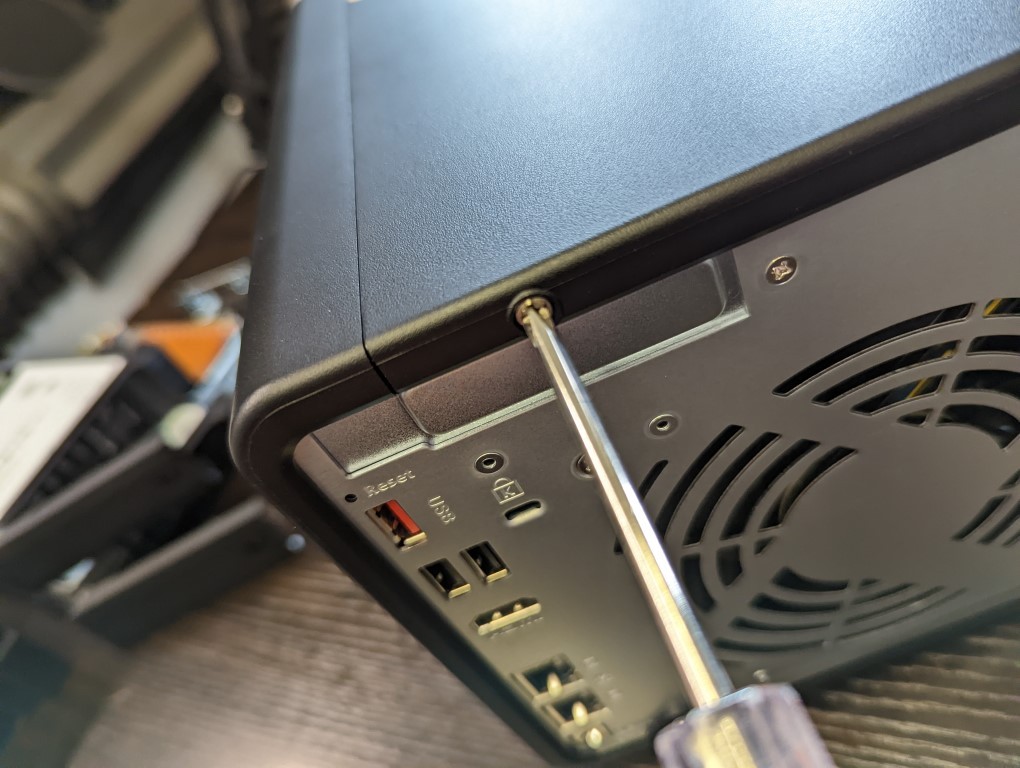 Removing this side panel exposed the larger SATA HDD storage bay cage and allows us to take a closer look at the key components of the TS-464. The Intel N5105/N5095 found in this NAS is located under a large, black heatsink (no active cooling fan as found in a desktop PC, for reasons of power, efficiency and noise). This is fairly common in desktop NAS systems at this scale and the CPU fan is directly in line with the rear active cooling fan.
The N5105 CPU in this system is the tiniest higher in encode/decode (ie graphically by the thinnest margin) when compared against the N5095 processor, but the two CPUs are otherwise near enough identical. This particular Intel Celeron CPU is quad-core in architecture, has a 2.0Ghz clock speed per core that can be burst up to 2.9Ghz, features embedded graphics capable of handling/transcoding 4K & 1080p media and has an onboard 256-bit encryption engine. CPU benchmark rate this processor at the time of recording at 4161, which is more than 1000 higher than the J4125 in the TS-453D and is a solid choice of processor for this system in terms of managing all that storage, those network ports and also allows increases in memory over many of the TS-464's predecessors from QNAP.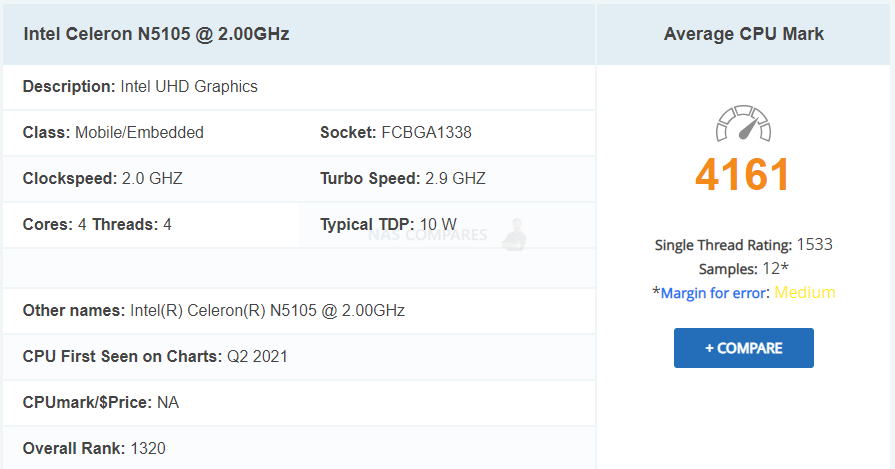 The TS-464 features two SODIMM memory slots on board that support DDR4 2666Mhz memory (non-ECC), with the default system arriving with 4GB of memory (1x ADATA 26666MHz module) and can be upgrading to a maximum supported 16GB (2x 8GB). This is twice the maximum storage that the TS-453D, TS-453Be and TS-453A supported. The 4GB by default is already a solid base of memory to start using the system with, however, if you are going to manage hundreds of file shares at once, a surveillance user looking to use the TS-464 as your primary CCTV and NVR center, or maybe you are a VM/Container user looking to create multiple systems – the option to easily upgrade to 16GB of memory is going to be hugely beneficial later in the system's life. Equally, if you plan on using high-frequency storage management methods such as deduplication, large scale small file but high number databases or even 10GbE in a sustained manner, that is when that larger memory limit will be massively beneficial.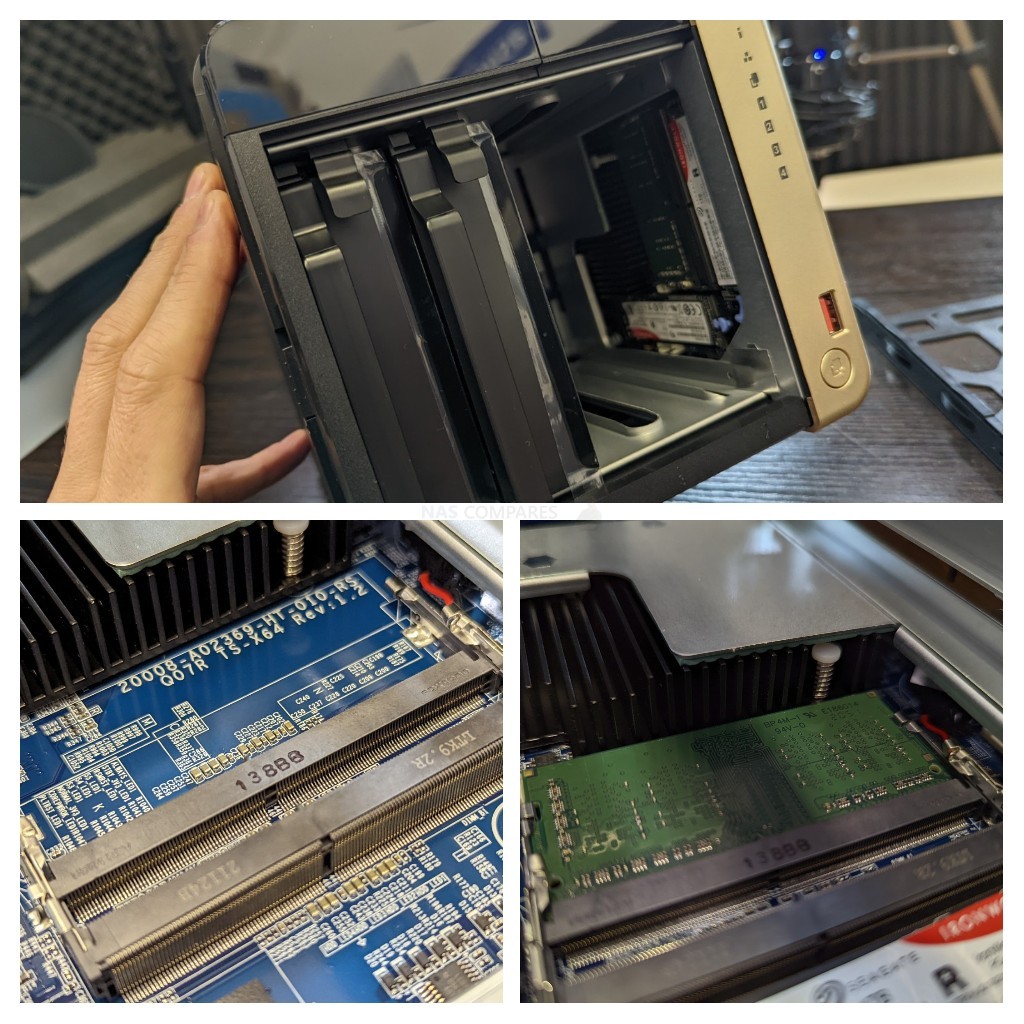 That N5105 CPU inside the TS-464 has also allowed QNAP sufficient available PCIe bandwidth to also include two M.2 NVMe SSD slots on the NAS too. This is something that QNAP has only tended to provide on their rackmount systems and much higher-end desktop solutions, despite their biggest rival Synology providing this for almost 5 years now at the same hardware tier. Now as good as this sounds (i.e to have a PCIe upgrade slot AND the m.2 NVMe SSD slots) there is good and bad news. The good news is that unlike Synology and its inclusion of M.2 NVMe SSD slots, the 2280 slots inside the QNAP can be used for more than just read/write caching. The use of SSD caching to provide performance benefits to a slower, but larger and more affordable Hard Drive RAID away are quite well established in the NAS industry, using the SSD space to either write files to the system faster (acting as the primary write area, before moving the data) or increase the speed of accessing commonly requested files on the NAS (making copies of those files onto the SSDs, though largely tiny files are optimized and do not really affect larger block/sequential data). However, though the QNAP TS-464 supports SSD caching on these bays, it also supports their use in QTier. This is similar to caching but in QTier the available HDD and SSDs are combined into a single storage area and it intelligently moves files periodically to the appropriate storage media as it analyzes their access and requests. Finally, if you wish, you can use the NVMe SSD bays for just a fast accessing and performing storage pool and volumes of it's own. These two bays, plus the 4 HDD bays, plus adding a PCIe SSD storage card in the available bay mean that the TS-464 has enormous storage potential. These m.2 bays can also be used for system upgrades, but these are still quite few in reality and it is only the google TPU m.2 upgrade that increases AI system processes that is recommended in 2022 so far.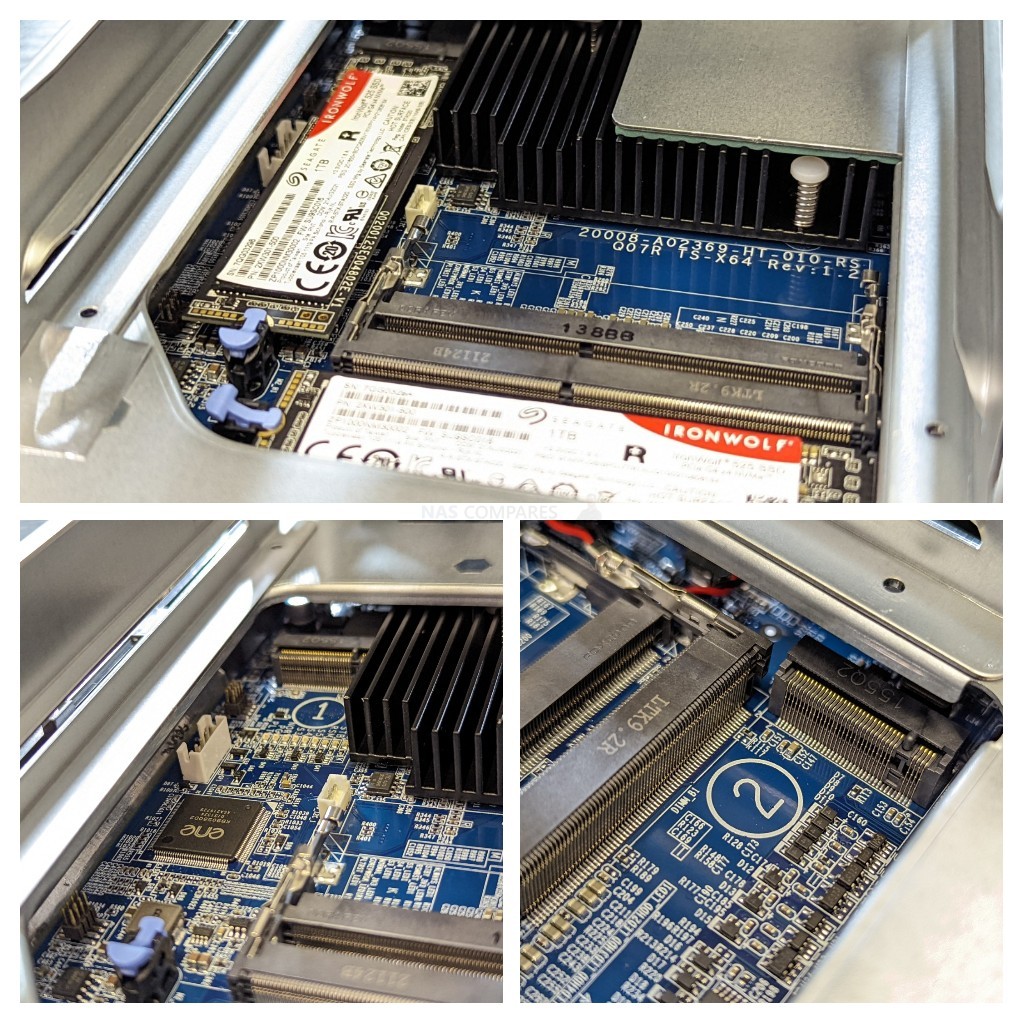 However, as good as all that sounds about the NVMe SSD bays, it is worth also factoring that (much like the PCIe Upgrade slot) in order to provide these bays and still provide the rest of the system hardware from a relatively simple Intel Celeron processor, QNAP has had to narrow down the architecture of these bays for reasons of physical profile and available PCI lanes+chipset. The result is that the m.2 nays are PCIe 3×1 in architecture, or 1,000MB/s in bandwidth each between the installed m.2 and the system. That means that if you are buying PCIe 3×4 SSDs for your  NAS, such as the Seagate Ironwolf 510 or WD Red SN700, they will be somewhat bottlenecked to 1GB throughout each (though they can be RAID'd). It is still better to have these bays in this somewhat streamlined fashion than to not have them at all, but it is worth keeping this in mind when considering the future upgradability of the QNAP TS-464 NAS.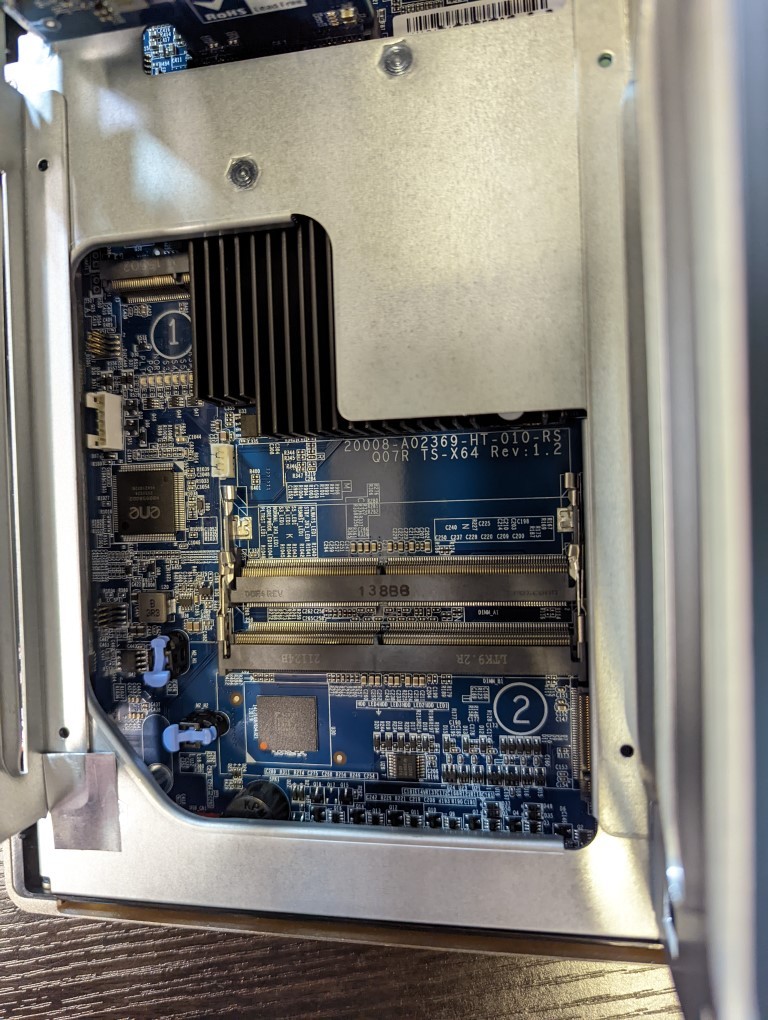 The internal hardware of the TS-464 is by FAR the best example of a prosumer/SMB 4-Bay NAS in this price tier from both QNAP and any other brand. Yes, they have had to make a balancing choice between providing a multitude of upgrade and scaling paths in the hardware architecture vs the CPU available, but overall I really cannot challenge them on the range of ports, connections and internal hardware that is available here. I am a little surprised by how much hardware is inside the TS-464 and so close together (leading me to imagine that this system with a fully populated 4-bay storage RAID, 2x NVMe SSD, 16GB memory and a PCIe card would get really hot, i.e. fans going NUTS!) but you cannot really argue with the wide range of options available to the end useR in terms of the day 1 level of hardware on offer, as well as the many ways and means you can change this system in it's lifespan to best suit your storage and network requirements. Let's discuss the software included with your TS-464 NAS.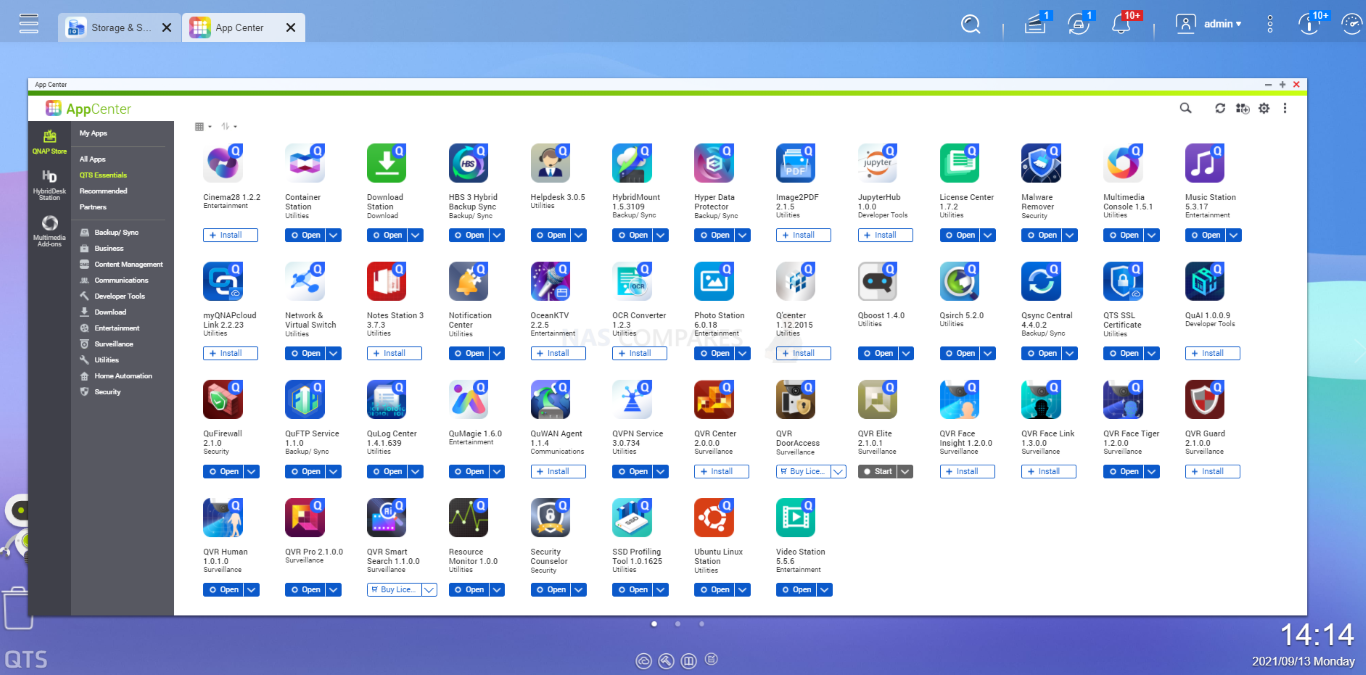 QNAP TS-464 NAS Review – Software & Services
Alongside the hardware of the TS-464 NAS, you also receive the complete software and services package of QNAP QTS (currently in version 5.0). This is a complete operating system. similar in design and presentation to Android OS, it runs hundreds of applications, services and functions, as well as arriving with many mobile and desktop client applications that allow you to interact with the data on your NAS in a much more tailored way. Alongside this, the QNAP QTS software on the TS-464 also includes a few extra SSD tools for anti-wearing on SSDs, better SSD profiling and even options to separate the media into storage, caching or tiered storage where appropriate. The performance and services of QTS have been covered many times on this channel, so reviewing it's individual performance on the TS-464 NAS is a difficult task, as we have to look at two key things. Is QTS a good software platform and is QTS 5.0 a substantial update on QTS 4.5?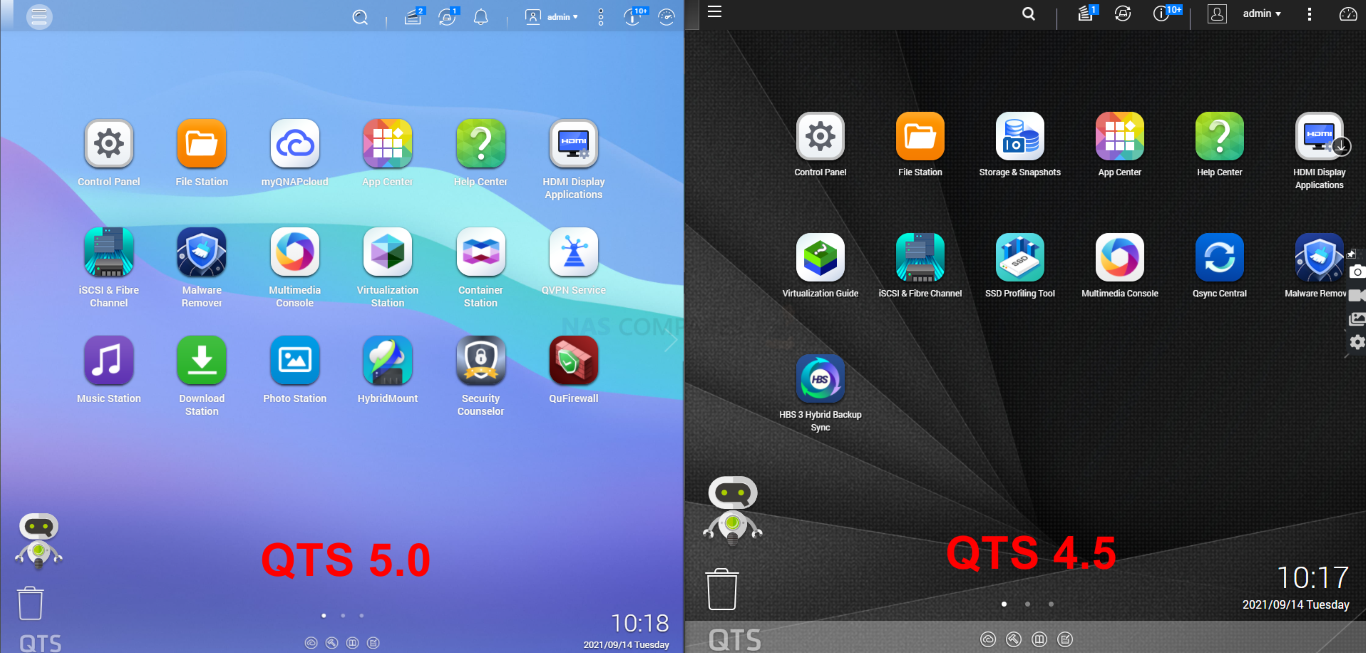 On the first score, I can comfortably say that QNAP NAS software and services have truly come into their own and the balancing act of supplying the end-user with the flexibility to use the system 'their way', whilst still keeping it user friendly is the best it has ever been. Is it perfect, no. In its efforts to make itself customizable in every way possible, QTS develops an inadvertent learning curve that may catch some novice users unaware. Likewise, although QTS 5 has done a lot of work on its presentation of information and notifications, there is still the odd moment of 'TMI' when switching between services on the fly. QNAP's NAS software is still easily one of the most adaptable in the market right now and allows users to have a truly unique storage environment if they choose and although not quite as user-friendly as Synology DSM, it counters this by being fantastically flexibly by comparison (from file/folder structure to 3rd party services support and connectivity). That said, 2020-2021 were a bumpy road for the brand and a series of ransomware attacks were targetted at the brand that was caused by a combination of vulnerabilities in Linux (which practically all NAS and Android software is built upon) but also in how applications in the QNAP platform were allowed to have external access. In previous revisions of QTS, customization and guidance for changing settings on the system was made very easy and open but lacked a lot of the gravitas and significance that these changes ade to the system being highlighted to less experienced users (such as allowing the QNAP to adapt remote ports on your router over UPnP and how the HBS3 program allowed remote access. These omissions, vulnerabilities and communication issues in QTS have seemingly been resolved and QTS 5 seems to be a much tighter system on the whole (as much as anything can be once you open it to the internet). But many users still feel that the brand needs to do more and therefore until QNAP can remove the lingering stories of ransomware and malware over time, this si always going to be an existing sensitive issue for buyers. In order to see the extent of the latest version of QNAP TS 5.0 use the links below to the written review and video below released in late 2021:
| | |
| --- | --- |
| FULL Written QNAP QTS 5 Review | FULL Video Review of QNAP QTS 5 |
| | |
Although the full review of QNAP QTS is available in the article and video linked above, let's discuss the highlights of the platform. First off there are the software and services for managing files and folders on the fly. QTS includes several tools for managing files in your web browser (with full copy, paste, archive, extract, sharing, etc options built-in), as well as smart system/file search functionality.
This slideshow requires JavaScript.
Then security when using your TS-464 NAS (again, a continued area of contention and criticism for QNAP in the past) in customization and alerts have been noticeably improved and upgraded in both their deployment and presentation in QTS. These range from a multi-layered security advisor to control anti-malware scans, anti-virus schedules, firewall monitoring and more. There is also a range of access and security credential tools that are quite far-reaching all built-in. With QNAP having to prove their platform is safe more than most, there is a bit shift positively in this direction in the latest versions of QTS.
This slideshow requires JavaScript.
Overall storage management, access, mounting and how this factors into backups have also been massively diversified in QTS and along with numerous means to create a very unique storage system (factoring RAID, multi-stage 1-2-3 backups, connecting with cloud drive/objects and how this is presented to the end-users are incredibly deep. It can lead to a situation in which the end-user is a pinch overwhelmed, but you cannot say that QNAP is not providing the tools – they are just almost TOO numerous in their presentation.
This slideshow requires JavaScript.
The same goes for multimedia handling on the QNAP TS-464, with a wide range of tools for handing photos, music and video in a tailored GUI to each media type. This is made considerably easier with QNAP's multimedia console tool that provides a single GUI that can be used to handle all the backend setup of all your individual media apps. QNAP also provides AI photo recognition to allow decades of photos to be searched intelligently for people and subjects to quite an impressively deep degree (not needing internet access to do so, with the AI onboard the system). Then you have support for a wide range of 3rd party multimedia tools such as Plex media server, Emby, Twinky and Kodi (unofficially).
This slideshow requires JavaScript.
Then you have business tools (small, medium or even enterprise) included that can range from the deployment of multiple virtual machines across many platforms and a dedicated 1st party container deployment tool. One very unique feature of QNAP QTS compared with other NAS brands in their deployment of VMs is that they include 2-3 click download options in their respective applications that allow you to download ready to use VM in Windows 7,8 and 10, as well as a VM market place for more enterprise virtual clients and even a Ubuntu 18/19/20 VM deployment tool that allows you to quickly set up a VM and then access remotely OR use the HDMI+KVM set up locally. The container station tool also has its own pre-built tool repository too.
This slideshow requires JavaScript.
Finally, for surveillance use, the TS-464 arrives with QVR Pro which allows you to have a business class surveillance platform hosted on your NAS. This platform has its very own GUI that supports thousands of IP Camera brands, as well as the software arriving with 8 camera licenses with the TS-464, a multi-camera feed display, intelligent alerts, AI services (hardware appropriate), multiple client tools for mobile/desktop clients, integration of 3rd party system management tools and you can even attach USB cameras to your QNAP NAS and have local cameras fed into the NAS too.
This slideshow requires JavaScript.
So, software on the QNAP TS-464 is pretty diverse and although the brand has seen its fair share of security complaints in the past, I think that it would be hard for me to ignore the range of NAS hardware configuration, services and tools that are included.  Tests of the QNAP TS-464 on how it performs as a Plex Media Server, host for Virtual Machines and more will be conducted shortly over on NASCompares YouTube channel. I recommend visiting there to learn more. Below is the video review for the QNAP TS-464 NAS
QNAP TS-464 NAS Review – Conclusion & Verdict
The TS-464 comfortably arrives with the best hardware in its tier of the NAS market and that is something that QNAP has always been quite good at. Even if you rewind just 5 years, the level of hardware scalability and ease of upgradability that the TS-464 provides is frankly incredible and, fast forward to 2022, is still pretty unmatched. A Desktop 4-Bay NAS (eg Prosumer RAID 5 storage) has always been the next confident step for users who are tired of their hands being tied by subscription cloud services from Google, OneDrive and DropBox, who are looking for their own competent, flexible and fully-featured private server. In the TS-464 NAS, you find a system that is unquestionable the best hardware for your money you can possibly get right now. In software, things are a little less straightforward. QTS 5, although massively software and service-rich, arrives as a complete operating system in your web browser with multiple mobile/desktop clients and hundreds of applications and apps that can be installed at the touch of a button – which can all too often be something of a steep learning curve for many. Lacking the chewable, user-friendly nature of many of their rivals, QNAP and its software/service still have a tendency to be a bit of an information overload that can quickly intimidate the novice. However, for those that are looking for a system that is completely customizable in how/when/where you want data presented to you, as well as a wide degree of 3rd party support, QNAP and QTS 5 still manages to provide a huge degree of brand-unique service that are simply not available elsewhere. Just be prepared to invest your time wisely in its setup and more time ensuring the system is perfect for your needs.
PROs of the QNAP TS-464 NAS
CONs of the QNAP TS-464 NAS
Very compact chassis design, despite large storage potential

A BIG jump in hardware and scale from the TS-453Be and TS-453D, but with a largely identical RRP at launch

Easily one of the most hardware packed SMB/Mid-range 4-Bay on the market

Up to 16GB of Memory is fantastic

m.2 NVMe SSD Bays AND a PCIe Upgrade Slot (no need to choose one upgrade path)

8x Included Camera Licenses

Includes Anti-virus, Firewall Tool, VPN client tools, Malware Remover, network manager and Security Councilor Tool

3 Different Container/VM tools that also feature image download centers

10Gb/s (1,000MB/s) USB Ports will be incredibly useful

Large range of expansion options in the TR/TL series in 2, 4, 6, 8 and 12 Bays

The PCIe Slot is PCIe 3×2 and the M.2 SSD Bays are PCIe 3×1 (likely limitations of all this H/W on a Celeron+chipset

QNAP Has had 3 ransomware hits in 2019-2021 (Qlocker, Qsnatch and Deadbolt). Lots of Security app/changes since, but people remember and QNAP needs to win back that trust in 2022/2023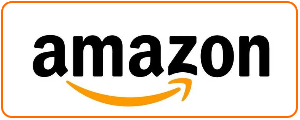 📧 LET ME KNOW ABOUT NEW POSTS 🔔
Join 1,577 other subscribers
Get an alert every time something gets added to this specific article!
This description contains links to Amazon. These links will take you to some of the products mentioned in today's content. As an Amazon Associate, I earn from qualifying purchases. Visit the NASCompares Deal Finder to find the best place to buy this device in your region, based on Service, Support and Reputation - Just Search for your NAS Drive in the Box Below
Need Advice on Data Storage from an Expert?
We want to keep the free advice on NASCompares FREE for as long as we can. Since this service started back in Jan '18, We have helped hundreds of users every month solve their storage woes, but we can only continue to do this with your support. So please do choose to buy at Amazon US and Amazon UK on the articles when buying to provide advert revenue support or to donate/support the site below.

Finally, for free advice about your setup, j
ust leave a message in the comments below here at NASCompares.com and we will get back to you.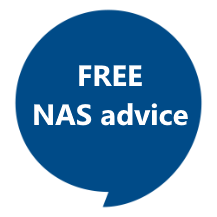 Need Help?
Where possible (and where appropriate) please provide as much information about your requirements, as then I can arrange the best answer and solution to your needs. Do not worry about your e-mail address being required, it will NOT be used in a mailing list and will NOT be used in any way other than to respond to your enquiry.
Support What We Do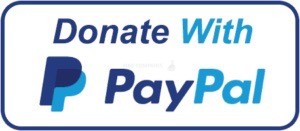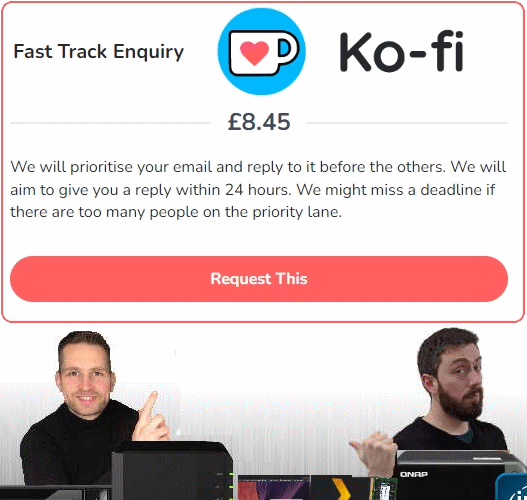 Terms and Conditions
Alternatively, why not ask me on the
ASK NASCompares forum
, by clicking the button below. This is a community hub that serves as a place that I can answer your question, chew the fat, share new release information and even get corrections posted. I will always get around to answering ALL queries, but as a one-man operation, I cannot promise speed! So by sharing your query in the
ASK NASCompares
section below, you can get a better range of solutions and suggestions, alongside my own.
Summary
Reviewer
Review Date
Reviewed Item
QNAP TS-464 NAS Drive Review
Author Rating