Choosing a WD SSD – Get it Right First Time
When did SSD technology become so complex? Choosing an SSD was once very easy – they were all SATA and they were all ROUGHLY the same price per terabyte. But in the last few years, SSD technology and development have evolved incredibly rapidly and now an SSD buyer needs to know terms such as NVMe, PCIe, DWPD, TBW and M.2! Solid State Drive (SSD) technology is something that, though once considered out of the reach of the average consumer, is now very, very common. Considerably faster than the much older HDD technology, SSDs are now featured inside almost every commercial technology device that we use today in some large or small form. One of the biggest brands in the world of storage in 2023 is Western Digital and unsurprisingly, they have an impressive selection of SSDs available to buy in their product portfolio. This combined with WD being connected with SanDisk and UltraStar, has resulted in their range of SSDs for sale being incredibly diverse and confusing. So, if you are in the market to buy a new SSD from WD, it can be awfully confusing and you can spend hours trying to narrow down the literal hundreds of SSDs on offer to the right one, losing hours along the way. Never fear, I have taken the time to break down the key product families (WD Blue, Green, Black, Red and Gold) and separated them into what each one is designed for, what each one can do, what it cannot and ultimately help you decide the best SSD for your storage needs. However, before we start, it is worth taking a moment to learn about the key buying factors that affect the performance and suitability of any SSD compared with another.
A Guide to the Terminology Used in SSDs – Know Your DWPD from your TBW
Before we discuss each of the WD SSD family members, it is worth highlighting some of the most common buying factors that affect the performance and durability of an SSD. It is with these that you can measure the suitability of the SSD with your own personal/business needs. Often the higher the capacity of an SSD, the lower the durability (unless you go towards exceptionally high-end NAND), or the fact that the most expensive SSD does not always guarantee the highest IOPs, or negate the lower drive writes per day. Below ar the key factors that you should keep an eye on when looking at the specifications and build of an SSD.
NAND Types (the Cells/Chips used in the SSD) –
SLC: 

Single-level cell NAND flash supports 50,000 to 100,000 write cycles

MLC: 

The 2-bit data multi-level cell (

MLC

) flash generally takes up to 3,000 write cycles. eMLC (enterprise MLC) sustains up to10,000 write cycles, and can reach 35,000 cycles on 3D NAND

TLC: 

Triple-level cells (3-bit) NAND flash is low at 300-1000 write cycles, and can achieve 1500-3000 write cycles with 

3D NAND

QLC: Quad Layer Cells, featuring 4 Bit flash – Highest Capacity available at the lowest price, but lower durability overall. Requires improved controllers for stability
3D NAND Technique – Method of stacking/writing data vertically on chips, resulting in even faster retrieval and more efficient space utilization. Often featured with TLC and MLC NAND
eXLC – Often featured as eMLC, eTLC, and eQLC, it is an enterprise-quality build and utilization of the existing MLC/TLC/QLCNAND usually featured for improved consistent speeds and more write cycles on balance
TCO – Total Cost of Ownership, In a TCO calculation, cost per gigabyte still has a role, but it's only a very small part of a much bigger picture. Other metrics – such as IOPS per watt and capacity and performance per rack – also come into play. The truth is that TCO can't be measured with any single metric; it's a mix of several measures that should be weighted according to the unique workloads of the storage system.
IOPS – Input/output operations per second – (IOPS, pronounced eye-ops) is an input/output performance measurement used to characterize computer storage devices like hard disk drives (HDD), solid state drives (SSD), and storage area networks (SAN).
TBW – Terabytes Written – measures how much you can write cumulatively into the drive over its lifetime
DWPD – Drive Writes Per Day – specification of a drive to calculate the number of times that the user capacity of a drive can be written per day over the warranty period
TBW ÷ (warranty years × 365 days/year× Drive Capacity in GB) = # DWPD
MTBF – Mean Time Between Failures, is a popular measurement for HDDs but not as meaningful for SDDs.
ECC – (error correction code) software corrects random bit errors that are quite common in NAND flash, and helps to correct bit errors from wear. By correcting both types of errors, ECC lengthens the lifetime of a block.
TRIM – These commands are not typically error-checking tools, but do improve performance by immediately wiping deleted pages or blocks. Without TRIM, the SSD controller does not actually wipe deleted data until it is ready to write new data to the same location.
WD BLUE & SN550 NVME SSD – For Home, Domestic and Standalone Use
DIY and PC SSD Upgrades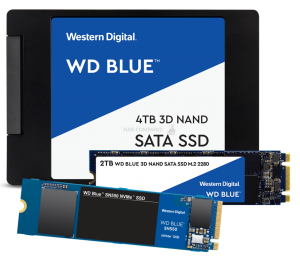 We start with the BEST cost vs hardware SSD drive of all, the WD Blue SSD series. These are designed with day-to-day access and long-term use in mind, as well as arriving in both a SATA and NVMe form. Once these would have been recommended for use for your operating system inside a non-mission-critical PC (general browsing etc), but now with the inexpensive of SSD even at 1TB and it becoming ideal for your operating system, start-up and primary apps, the WB Blue SSD moved into being more than just a bog-standard SSD and is now an impressively scaled drive, with the SN550 NVMe SSD serving as a good commercial/SMB drive for PCIe equipped user devices.
WD Blue 3D NAND SSD Highlights
WD 3D NAND – 250GB-4TB, SATA 2.5" and M.2 SATA, 530 MB/s R/W, 95K/81K IOPS R/W, 0.3 DWPD, 5YR WARRANTY, 1.75Million MTBF
WD Blue 3D NAND SSD – 250GB-1TB, NVMe PCIe Gen 3, 2,400/1,950 MB/s R/W, 410K/400K IOPS R/W, 0.37 DWPD , 5YR WARRANTY, 1.7Million MTBF
---
WD Blue SN570 Mainstream NVMe SSD
With read speeds up to 3,500 MB/s, your system can run up to 5X faster than our best SATA SSDs so you can stay in your creative moment.
Interface
Form Factor
Capacity
TBW
Warranty
Model #
PCIe
Gen3
NVMe
M.2 2280
2TB
1200
5 Years
WDS200T3B0C
1TB
600
WDS100T3B0C
500GB
300
WDS500G3B0C
250GB
150
WDS250G3B0C

---
WD Blue SA510 SATA SSD – Mainstream SATA
Breathe new life into your PC so you can push your work further and grow your creative potential.
Interface
Form Factor
Capacity
TBW
Warranty
Model #
SATA III 6Gb/s
2.5 inch /
7mm
1TB
400
5 Years
WDS100T3B0A
500GB
200
WDS500G3B0A
250GB
100
WDS250G3B0A
M.2 2280
1TB
400
WDS100T3B0B
500GB
200
WDS500G3B0B
250GB
100
WDS250G3B0B

---
WD Blue 3D NAND SATA SSD – High Capacity SATA
Ready for your high performance computing needs, a WD Blue™ SATA SSD offers high capacity, enhanced reliability, and blazing speed.
Interface
Form Factor
Capacity
TBW
Warranty
Model #
SATA III 6Gb/s
2.5 inch /
7mm
4TB
600
5 Years
WDS400T2B0A
2TB
500
WDS200T2B0A

---
WD RED SA500 SATA SSD – For NAS Server Use in Caching and/or Live Access
High Speed SSD Caching for NAS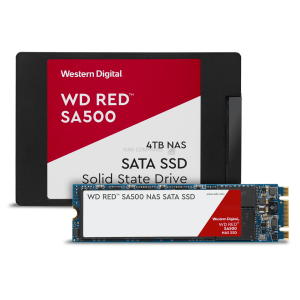 Possibly the most well know WD HDD Color we will talk about today, WD Red is the Drive you need for your NAS Server. If you are looking at buying a brand new Synology NAS for your home or a beefed-up QNAP NAS for your business, then it is paramount you get media that is designed to not only be ready for sporadic and irregular read and write (as your access to the NAS Server will differ constantly) but also media that is designed to be on 24 hours a day, 7 days a week. Alongside the popularity of WD Red in the work of NAS, WD have invested heavily in SSD technology and presented an SSD that is tailored for use in NAS drives, both as a means of adding caching to improve performance in/outside of your system, as well as for raw data access over connections like 10Gbe and Thunderbolt 3 NAS. In this environment, a regular SSD is just no longer suited and though will perfect the job, will do so much slower in Read/Write MB/s, have a lower endurance rating, less than ideal TBW and worse of all have a lower IOPs rating than you need – which for caching, can be critical. Lastly, WD Red SA500 NAS SSDs are concurrently available in M.2 SATA format, but with more and more NAS drive manufacturers involving the faster NVMe SSD cache into their systems (Synology DS1621XS+, QNAP TVS-872XT and Asustor LockerStor 10 Pro to name just a few), it will not be long before WD Move into this area of SSD NAS Storage.
WD RED SSD Highlights
WD 3D NAND – 500GB-4TB, SATA 2.5" and M.2 SATA, 530 MB/s R/W, 95K/82K IOPS R/W, 0.38 DWPD , 5YR WARRANTY, 2Million MTBF
---
WD Red SN700 SSD for NAS – NVMe
High Speed caching for the latest generation NAS systems with low latency and high IOPS for increased performance vs SATA
Interface
Form Factor
Capacity
TBW
Warranty
Model #
PCIe
Gen3
NVMe
M.2 2280
4TB
5200
5 Years
WDS400T1R0C
2TB
3500
WDS200T1R0C
1TB
2000
WDS100T1R0C
500GB
1000
WDS500G1R0C
250GB
500
WDS250G1R0C

---
WD Red SA500 SSD for NAS – SATA 2.5″ & M.2
WD Red SA500 500 GB SSD 2.5 inch SSD storage is optimized for caching in NAS systems to rapidly access your most frequently used content.
Interface
Form Factor
Capacity
TBW
Warranty
Model #
SATA III
6Gb/
2.5 inch /
7mm
4TB
2500
5 Years
WDS400T1R0A
2TB
1300
WDS200T1R0A
1TB
600
WDS100T1R0A
500GB
350
WDS500G1R0A
M.2 2280
2TB
1300
WDS200T1R0B
1TB
600
WDS100T1R0B
500GB
350
WDS500G1R0B

---

WD GREEN PC SSD – For Basic SSD Use in non-critical Devices
Everyday/Office Basic Computer OS SSD User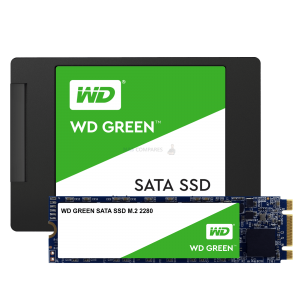 Considered the entry-level SSD, the WD GREEN SSD arrives in SATA and m.2 SATA formats. Though not as affordable as the WD Green HDDs of old, they're still considered a lower power and more discreet SSD. If you are looking for a small-capacity SSD for your hardware, on a device that is less frequently, or urgently accessed (so high IOPs and Higher Read/Write is not key), then the WD Green SSD range is the best one for you. Generally, the WD Green series, once very popular, is largely overlooked these days. This is once again largely due to the manufacturing technique of SSD 3D NAND becoming far more efficient and affordable, leading to the WD Blue and WD Black series becoming far more desirable.
WD Green SSD Highlights
SLC NAND- 120GB-1TB, SATA 2.5" and M.2 SATA, 530 MB/s R/W, 20K/15K iops R/W, 0.3 DWPD , 3YR WARRANTY, 1Million MTBF
---
WD Green SN350 Everyday NVMe SSD
Whether you're in class, shopping, chatting or surfing, the WD Green SN350 NVMe SSD can revitalize your old computer for daily use.
Interface
Form Factor
Capacity
TBW
Warranty
Model #
PCIe
Gen3
NVMe
M.2 2280
2TB QLC
100
3 Years
WDS200T3G0C
1TB QLC
100
WDS100T3G0C
960GB
80
WDS960G2G0C
480GB
60
WDS480G2G0C
240GB
40
WDS240G2G0C

---
WD Green Everyday SATA SSD
For fast performance and reliability, WD Green SSDs boost the everyday computing experience in your desktop or laptop PC.
Interface
Form Factor
Capacity
TBW
Warranty
Model #
SATA III 6Gb/s
2.5 inch /
7mm
2TB
N/A
3 Years
WDS200T2G0A
1TB
WDS100T3G0A
480GB
WDS480G3G0A
240GB
WDS240G3G0A
120GB
WDS120G2G0A
M.2 2280
480GB
WDS480G3G0B
240GB
WDS240G3G0B
120GB
WDS120G2G0B

---
WD BLACK SN750 NVME SSD – For Speed Critical and Performance Priority Tasks
High Performance and Mainstream PC Gaming Rigs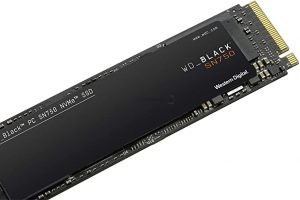 Serving as the Performance and High Intensive access SSD choice, the WD Black series has been circulation for a relatively shorter time compared with the NAS and Desktop SSD media over in both the SSD and HDD industry, as well s arriving at a steeper price point. However, this is largely down to the use of some hugely top-grade NAND, Controllers, choice of interface (one of the latest NVMe revisions you can get, though still compatible with older varients) and arrives with a unique heatsink addition where needed. Whether it is through the marketing around WD Black or the history of the WD Black HDD range previously, those with a background in PC building and Photo Editing will be aware of this product family. Outperforming the majority of the WD SSD range, it also features much higher grade NAND, so both performance and durability is impressive, though the available capacities might seem a little lower than what many would be used to for 4K projects in post-production – so use them for Live Editing, but they are wasted on your archive – so keep them sharp! They are seen as the drive of choice of large-scale media editors due to their balance of large capacity vs access speeds.
---
WD_BLACK SN850X – High Performance Gaming NVMe SSD
Storage Built for Elite Gaming – Game Mode 2.0 serves up even more PC performance-boosting features like load prediction to ready game assets for fast in-game loading
Interface
Form Factor
Capacity
TBW
Warranty
Model #
PCIe Gen4
NVMe
M.2 2280
(Heatsink)
2TB
1200
5 Years
WDS200T2XHE
1TB
600
WDS100T2XHE
M.2 2280
4TB
2400
WDS400T2X0E
2TB
1200
WDS200T2X0E
1TB
600
WDS100T2X0E

---
WD_BLACK SN770 – Mainstream Gaming NVMe SSD
High-performance SSD storage with PCIe Gen4 technology. Upgrade Your Rig. Elevate Your Game.
Interface
Form Factor
Capacity
TBW
Warranty
Model #
PCIe Gen4
NVMe
M.2 2280
(Heatsink)
2TB
1200
5 Years
WDS200T3X0E
1TB
600
WDS100T3X0E
500GB
300
WDS500G3X0E
250GB
200
WDS250G3X0E

---
WD_BLACK SN850 – Official SSD for PlayStation 5
Officially licensed for PS5 consoles, the WD_BLACK SN850 NVMe M.2 SSD for PS5 consoles allows you to store and play PS5
games and PS4 games directly from the drive.
Interface
Form Factor
Capacity
TBW
Warranty
Model #
PCIe Gen4
NVMe
M.2 2280
2TB
1200
5 Years
WDBBKW0020BBK
1TB
600
WDBBKW0010BBK

---
WD GOLD u.2 NVME SSD -For Enterprise and High-End Flash Use
Enterprise-class storage systems and Data Centers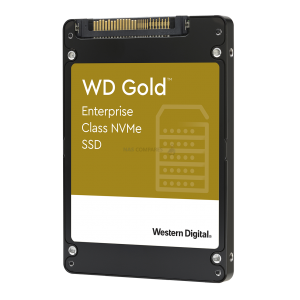 However, if it is a high-end performance at a hyper-scale level (so large servers, flashstation and data centers) you are looking for, the WD Gold SSD range, with its utilization of PCIe NVMe Gen 3.1 x4 via U.2 is almost certainly the one you need to be looking for. Although purely U.2 equipped servers are very, VERY much at the top end of the market, the WD Gold is pretty much the GO-TO drive in their SSD portfolio you need to consider. It is worth highlighting that at this point, you should also be looking at UltraStar SSD (acquired in the WD/HGST merger in recent years). But, with Secure Data Erasing featured, as well as SED and FIPS level encryption on the table (it's a recent release, so always growing), the WD Gold SSD range is by FAR their best performing SSD as far as IOPS, DWPD and TBW come in, and if you are looking for a data center SSD in 2022/2023 without the fuss, then look no further!
WD Gold U.2 NVMe SSD Highlights
3D NAND SSD – 250GB-2TB, NVMe PCIe Gen 3.1 x 4, 3,100/1,800 MB/s R/W, 465K/65K IOPS R/W, 0.8 DWPD, 5YR WARRANTY, 2Million MTBF
Interface
Form Factor
Capacity
DWPD
Warranty
Model #
U.2 NVMe
0.96TB
0.8DWPD
5 Years
WDS960G1D0D
1.92TB
WDS192T1D0D
3.84TB
WDS384T1D0D
7.68TB
WDS768T1D0D

---
📧 LET ME KNOW ABOUT NEW POSTS 🔔
Join 1,468 other subscribers
Get an alert every time something gets added to this specific article!
This description contains links to Amazon. These links will take you to some of the products mentioned in today's content. As an Amazon Associate, I earn from qualifying purchases. Visit the NASCompares Deal Finder to find the best place to buy this device in your region, based on Service, Support and Reputation - Just Search for your NAS Drive in the Box Below
Need Advice on Data Storage from an Expert?
We want to keep the free advice on NASCompares FREE for as long as we can. Since this service started back in Jan '18, We have helped hundreds of users every month solve their storage woes, but we can only continue to do this with your support. So please do choose to buy at Amazon US and Amazon UK on the articles when buying to provide advert revenue support or to donate/support the site below.

Finally, for free advice about your setup, j
ust leave a message in the comments below here at NASCompares.com and we will get back to you.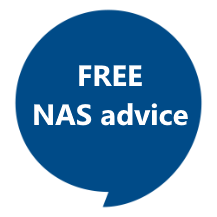 Need Help?
Where possible (and where appropriate) please provide as much information about your requirements, as then I can arrange the best answer and solution to your needs. Do not worry about your e-mail address being required, it will NOT be used in a mailing list and will NOT be used in any way other than to respond to your enquiry.
Support What We Do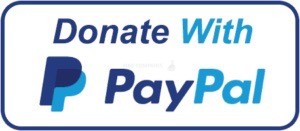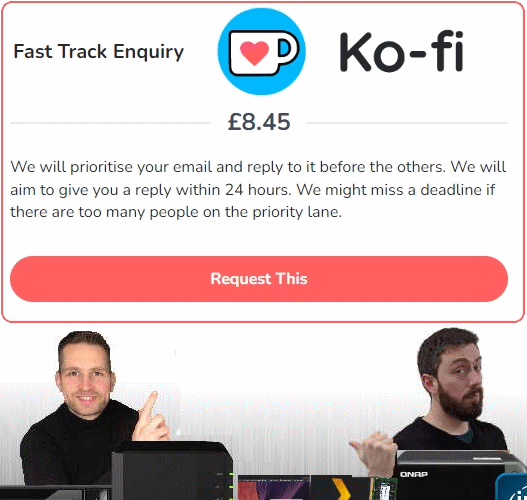 Terms and Conditions
Alternatively, why not ask me on the
ASK NASCompares forum
, by clicking the button below. This is a community hub that serves as a place that I can answer your question, chew the fat, share new release information and even get corrections posted. I will always get around to answering ALL queries, but as a one-man operation, I cannot promise speed! So by sharing your query in the
ASK NASCompares
section below, you can get a better range of solutions and suggestions, alongside my own.