The Synology DS923+ vs DS1522+ NAS Comparison
Synology Diskstation NAS in the 2022/2023 generation saw a surprising overhaul in the traditional hardware specifications of the brand's 4-Bay and 5-Bay series, ditching Intel Celeron processors and deciding to make the switch to AMD's Embedded Ryzen series of CPUs. This change, along with it's effect on the rest of the hardware architecture available and the performance of Synology DSM services, has resulted in a considerable amount of debate by users on the right NAS for their needs. Despite the near half a year release difference between them, the Synology DS1522+ 5-Bay and DS923+ 4-Bay NAS have drawn particular comparison, as the price difference between them is surprisingly small – especially when you factor in the difference in hardware provided by both devices. The DS1522+ is certainly the more expensive of the two, but once you start crunching the numbers of what you get for the money – Does it end up being better value than the DS923+ NAS? That is the aim of today's article, to figure out which NAS is best for you and your data from 2023 onwards. Let's begin.
Just $126.28 Price Difference (click below for the latest price)
The Synology DS923+ vs DS1522+ NAS – Internal Hardware
I already touched on this, but these two relatively new NAS systems (at the time of writing) are both built using the AMD Embedded Ryzen family of processors. More precisely, they both arrive with the dual-core, four-thread R1600 x86 64bit CPU, which arrives with a 2.6Ghz clock speed that can burst up to 3.1Ghz when needed. Many users were a little disappointed by a lack of integrated graphics (both because these product families from Synology had always arrived with either an Intel Celeron or Pentium processors, but also because there is an integrated graphics chip in the AMD R1000 family). Although the SMB tier of the 5-Bay generations from Synology (DS1517+, DS1515+, etc) had featured more traditional server-grade file system processors around 5 years ago from Intel, this tier was re-addressed after success in the 6-Bay market by the brand. Although this CPU lacks integrated graphics and is a dual-core, as opposed to a quad-core, it DOES make up for it a much higher base clock speed than previous diskstations in this family, support of ECC memory (error correcting code, checking write actions for inconsistencies and repairing where appropriate) upto 32GB and an increase from PCIe Gen 2 lanes to PCIe Gen 3 Lanes (effectively doubling the internal bandwidth) and this in term allowing a network upgrade option that was sorely absent in the previous generation. Aside from ths, the bulk of the hardware architecture and design remained largely unchanged compared to the last gen, with the advantages being more in how well they ran of how much bandwidth was afforded to them (eg PCIe Gen 3 NVMe SSD Bays, as opposed to PCIe Gen 2). Let's see how the DS923+ and DS1522+ NAS directly compared in the internal hardware:
How do the Synology DS1522+ and DS923+ NAS Compare in Internal Hardware?
NAS Model
Synology DS923+ NAS
Synology DS1522+ NAS
Front Design
CPU Model
AMD Ryzen R1600
AMD Ryzen R1600
CPU Architecture
64-bit
64-bit
CPU Frequency
2-core 2.6 (base) / 3.1 (turbo) GHz
2-core 2.6 (base) / 3.1 (turbo) GHz
Hardware Encryption Engine (AES-NI)
Yes
Yes
Vents
Memory
System Memory
4GB DDR4 ECC
8GB DDR4 ECC
Memory Module Pre-installed
4GB x1 Module
8GB x1 Module
Total Memory Slots
2
2
Maximum Memory Capacity
32GB (16GB+16GB)
32GB (16GB+16GB)
Moving slightly away from the subject of storage (which we will cover in the next section), there is really only ONE difference between the DS923+ and DS1522+ NAS in terms of internal hardware – that extra 4GB of memory. It's a small, but (in context) quite important difference. 4GB of DDR4 SODIMM memory would normally set you back around $25-35. However, Synology is pretty strict in terms of their compatibility and support lists for their systems and insist on use of their own branded memory models (with specific ECC and NON-ECC modules for different Diskstation/Rackstation system. The DS1522+ and DS923+ are no exception to this and, when looking at how much it would cost to buy 4GB of ECC DDR4 SODIMM Synology memory, the price point jumps up to $80-100 a module! See Below:
This slideshow requires JavaScript.
Now, there IS the argument that Synology is in charge of the price difference between these devices, the cost of their own memory and therefore technically the ones who are quantifying the difference here. But still, nonetheless – give the $100-120 current price difference between these two NAS devices (and we have ALOT more than memory differences to cover). this 4GB ECC default memory increase in the DS1522+ is already a very compelling reason to pick it over the DS923+. Let's discuss the storage differences between these two NAS systems (don't worry, there is alot more to it than an extra drive bay).
The Synology DS923+ vs DS1522+ NAS – Storage Options
Both the DS923+ and DS1522+ NAS support SATA hard drives and SSDs in the main storage bays, as well as supporting the traditional RAID configurations (RAID 0, 1, 5, 6, etc) and even Synology Hybrid RAID (SHR) for fluid storage pools. They also both have PCIe Gen 3 M.2 NVMe SSD bays that can be used for SSD caching (with one difference on this coming up in a bit) and can also both have their storage pools expanded with the official JBOD expansion enclosure – the DX517. DSM has a wide range of storage services and features that can be used by home and business users to really make the most of their server (you can find out more on all the services and tools of the platform in my massive Synology DSM 7.1 NAS Software Video Review here), but from this point onwards, there is DEFINITELY some core advantages in storage that are exclusive to either system over the other. Here are the storage specifications:
How do the Synology DS1522+ and DS923+ NAS Compare in their Storage Options?

| | | |
| --- | --- | --- |
| NAS Model | Synology DS923+ NAS | Synology DS1522+ NAS |
| M.2 NVMe SSD Bays | | |
| Drive Bays | 4 | 5 |
| Maximum Drive Bays with Expansion Unit | 9 (DX517 x 1) | 15 (DX517 x 2) |
| M.2 Drive Slots | 2 (NVMe) | 2 (NVMe) |
| M.2 NVMe Services | SSD Caching and Storage Pool Use | SSD Caching Only |
So, the most straight forward advantage clearly goes to the DS1522+ NAS, with its additional SATA storage bay allowing you to either add an additional drive to your total potential storage pool, increase your redundancy from 1 drive to 2 in a RAID 6/SHR-2 configuration or been have the additional drive bay for a hot spare 24×7. Yes, you are paying extra for the privilege and will have to add the cost of a drive in order to use it (though there ARE some savings to be made on large # of drives in a smaller capacity vs fewer drives of larger capacity with the right RAID config) but that extra bay will can be useful both on day 1 and day 1000!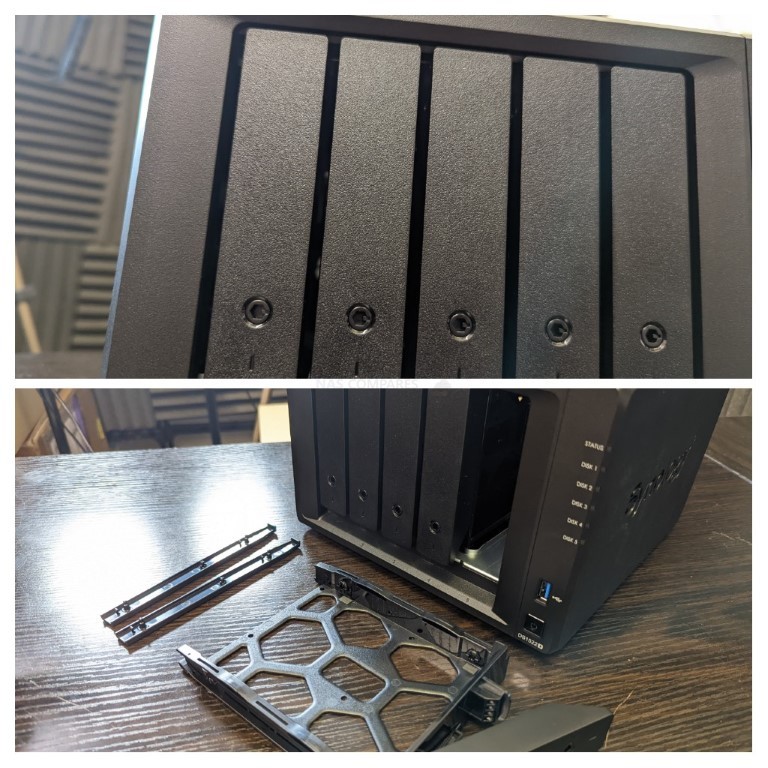 Talking of Day 1000 and the future, there is the question of expandability. As mentioned, they both support the DX517 JBOD expansion from Synology, but the DS923+ can support 1x expansion and the DS1522+ supports 2x. That means that alongside that extra SATA bay on day 1, the DS1522+ can scale upto 15 bays of SATA storage, whereas the DS923+ caps at 9 Bays. Focusing on the latest generation (at the time of writing) 22TB Hard drives from WD Red and Seagate Ironwolf, that means a total potential capacity of 198TB storage on the DS923+ and 330TB on the DS1522+! Again, all of this is going to cost you more to occupy/populate this additional storage potential, but better to have that option than not at all! So, what on earth can the DS923+ NAS throw up in its defence against the high-level storage potential of the DS1522? Well…
| | |
| --- | --- |
| | |
Three Words (technically)… NVMe Storage Pools! The Synology DS923+ NAS is the FIRST Synology NAS to allow its M.2 NVMe SSD Storage pools to be used for either caching OR M.2 NVMe SSD Storage pools! This is a big, BIG deal and kinda shocking that it is NOT available on the DS1522+ NAS (given the incredible similarity in their hardware internally). M.2 NVMe SSDs are around 4-5x more expensive than traditional SATA HDDs (and around 2-3x more expensive than SATA HDDs), as well as NVMe SSDs not being quite as durable as mechanical HDDs – so why is this such a big deal in favour of the DS923+? Well because of PERFORMANCE! Whereas SATA HDDs tend to cap at 200-250MB/s top performance on average and SATA SSDs can hit close to 500MB/s (factoring consistent and sustained performance), M.2 NVMes can hit THOUSANDS of MB/s. Having drives of such high performance restricted to JUST caching use has always been something of a pain for Synology users and they have been the tiniest bit jealous of brands such as QNAP, Asustor and even the value brand Terramaster, which all allow M.2 NVME SSD bays for use in caching or storage pools. This feature ONLY being available on the DS923+ NAS does give it a significant draw in the eyes of users who want to run larger databases, edit photo/video on the NAS or want to host higher-performing VMs. However, it is also worth highlighting that the use of M.2 NVMe SSDs as storage pools on the DS923+ does arrive with a catch! The first catch is that the M.2 NVMe SSD bays on the DS923+ NAS have been capped at PCIe Gen 3 x1 (despite their architecture being PCIe 3×4). This drops their potential bandwidth from 4,000MB/s to 1,000MB/s (remember, bandwidth is the size of the pipe, it's still up to the SSD t pump the 'water' fast enough). There are several theories/official-statements that are floating around online regarding the reason for this, with the most repeated one being that Synology are concerned about the heat generated by the SSD at full speed in this rather compact chassis, so have throttled it to avoid this – but regardless of the reason and it's validity, it still means that SSDs in this slot cannot really exceed 1,000MB/s (despite many PCIe Gen 3 NVMes hitting 3,000MB/s+ quite easily).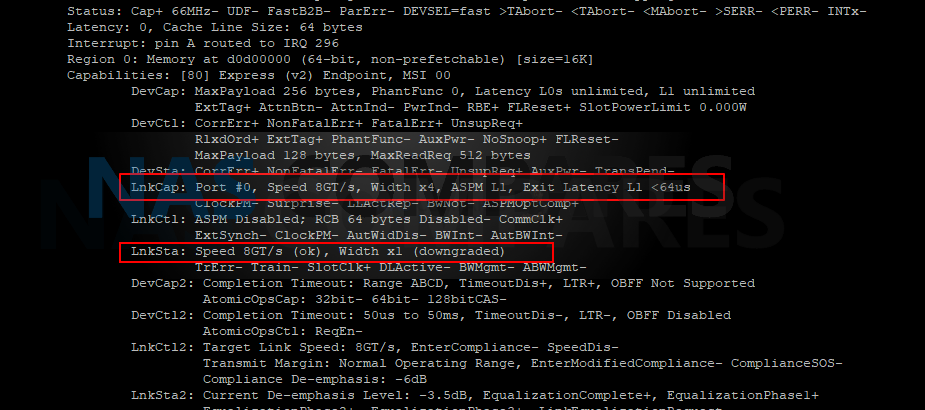 Next up, at the time of writing, ONLY Synology SNV3400 and SNV3410 NVMe SSDs can be used with this feature. If you use non-Synology branded SSDs in the DS923+ NAS, the system will only allow you to use them for SSD caching (listing the non-synology drives as un-verified by the brand and unsupported). Much like Synology memory (discussed earlier), Synology branded SSDs are noticeably more expensive than similarly designed SSDs of the same controller+NAND+Capacity. Synology state this is because these drive's firmware are designed in parallel with Synology systems, as well as also allowing particular features (firmware updates, more responsive and efficient running, etc) to be possible inside DSM. Regardless of how you look at it, it still means that although this feature of NVMe SSD storage pools on the DS923+ NAS is tremendously appealing, it is being delivered with a degree of compromise.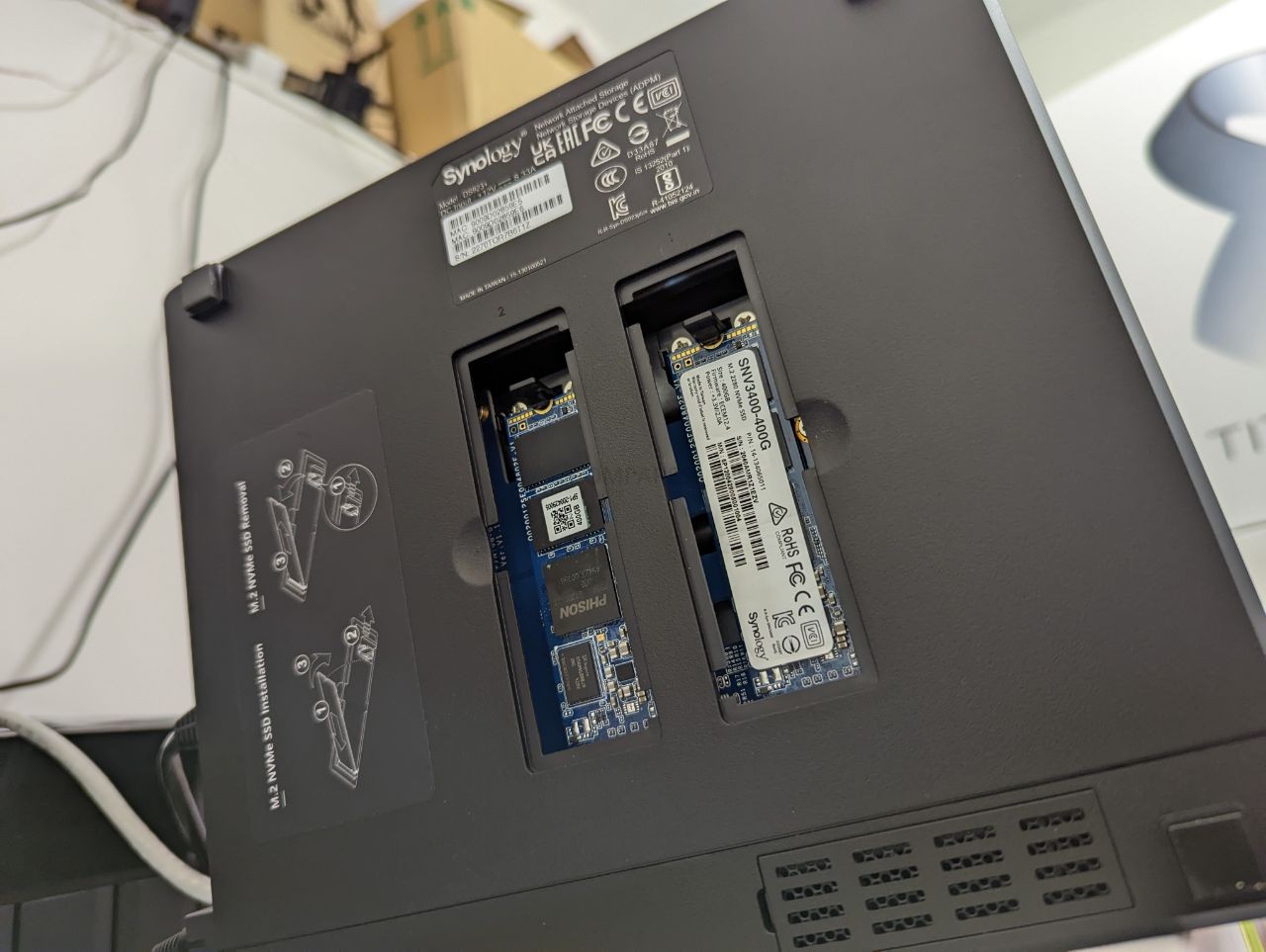 Overall, although the NVMe SSD Storage pool feature of the DS923+ NAS is really appealing, the DS1522+ just provides a greater degree of storage scalability with its extra bay and two the expandability (remember, just $100-120 difference, which also has the 4GB extra memory). It is looking increasingly slim that the DS1522+ NAS will have an update to allow M.2 NVMe SSD storage pools (though never say never! Plus it can also be done unofficially), but overall I would still heavily recommend the DS1522+ over the DS923+ NAS in terms of storage. Next up, let's discuss external connectivity.
The Synology DS923+ vs DS1522+ NAS – Ports and Connections
The DS923+ and DS1522+ NAS are extremely similar in terms of external connectivity. Both systems are still sporting 1GbE network ports (though the DS923+ has 2x and the DS1522+ has 4x – so twice the potential network bandwidth with LAG/Port-Trunking/Multi-Channel), but they also now both arrive with the option to upgrade the external network connectivity to 10GbE, thanks to that increased bandwidth/lanes of the AMD CPU over the Intel Celeron in the 2020 generation. Both systems also have USB 3.2 Gen 1 (5Gb/s) connectivity, which can be used for USB storage, UPS' and a handful of peripheral devices in DSM 7/7.1/7.2, both systems use an external PSU and of course, there are the eSATA expansion ports on either NAS that we have already covered. Let's see how they compare:
How do the Synology DS1522+ and DS923+ NAS Compare in their Ports and Connections?

| | | |
| --- | --- | --- |
| NAS Model | Synology DS923+ NAS | Synology DS1522+ NAS |
| Rear Ports | | |
| RJ-45 1GbE LAN Port | 2 (with Link Aggregation / Failover support) | 2 (with Link Aggregation / Failover support) |
| USB 3.2 Gen 1 Port | 2 | 2 |
| eSATA Port | 1 | 2 |
| PCIe Expansion | 1 x Gen3 x2 network upgrade slot | 1 x Gen3 x2 network upgrade slot |
| System Fan | 92 mm x 92 mm x 2 pcs | 92 mm x 92 mm x 2 pcs |
| Power Supply Unit / Adapter | 100 W | 120 W |
The network upgrade slot can be populated with the optional E10G22-T1-mini 10GbE adapter (Copper), which costs around $139-149 currently. It is a little expensive for a 1 port upgrade and does mean that a traditional half/full-height PCIe card cannot be installed, but on the plus side, it is a VERY easy installation (slots right in) and the drivers are inside DSM – so no need to download anything extra upon rebooting. At this time, there are no other modules/upgrades supported by this slot, though Synology might look into an SFP+/Fiber alternative or even alternative network ports (its a PCIe 3×2 slot) down the line. Of course, the real question when upgrading these NAS' is whether a 4-Bay or a 5-Bay can actually saturate (fill) a 1,000MB/s connection – especially when you factor in the RAID configuration?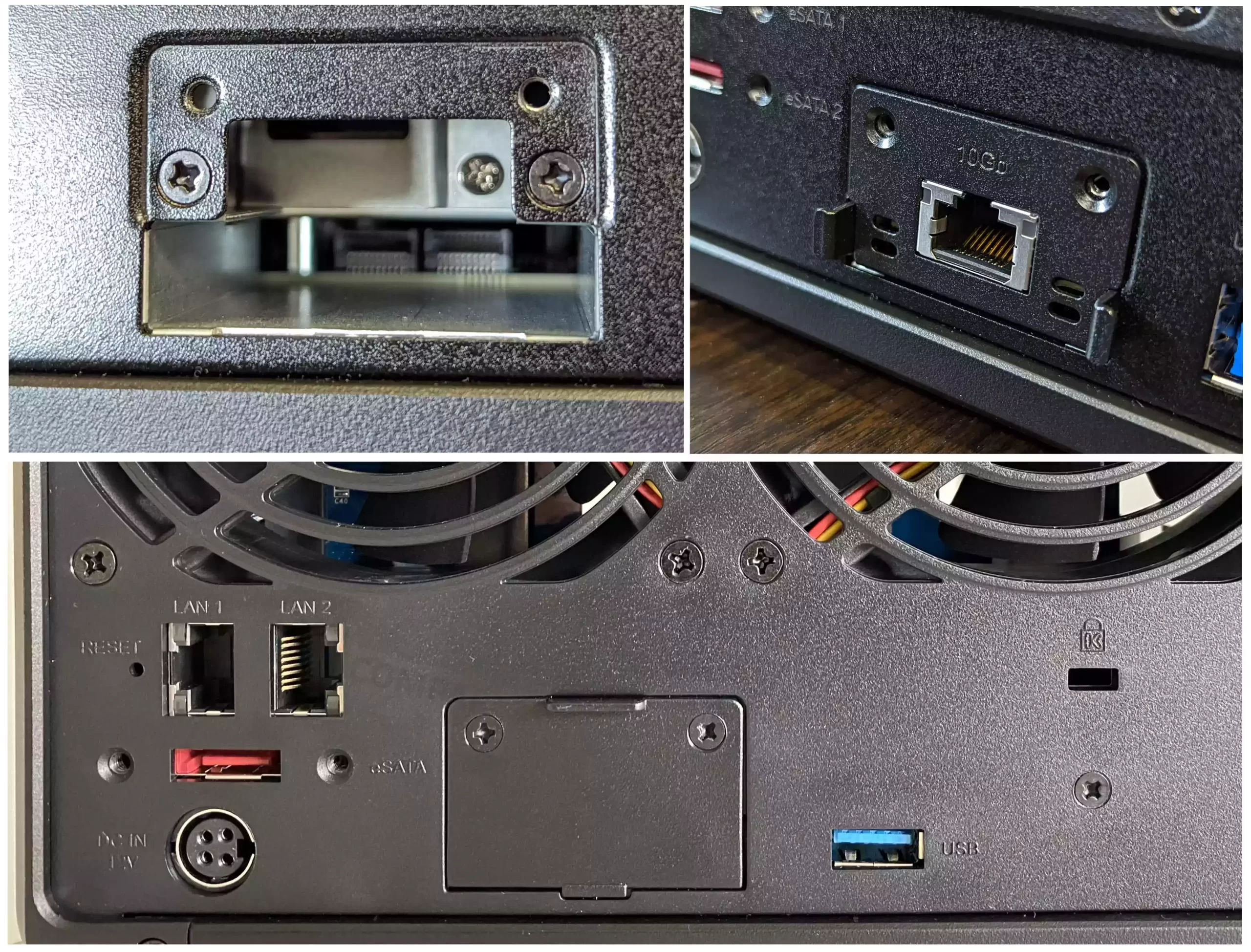 Short answer, absolutely YES. I have already performed 10GbE testing on the DS1522+ NAS HERE and further 10GbE testing on the Synology DS923+ NAS HERE. In both cases, in full population and with select file sizes, you could hit 1,000MB/s. However, the extra drive bay in the DS1522+ NAS clearly means that you can hit it easier (as well as increase your capacity and/or RAID redundancy level). Then there is the support of M.2 NVMe SSD Caching on the DS923+ NAS. With two M.2 NVMe SSD storage bays, SURELY you can max out a 10GbE connection. Well, yes! However, the fact that these two bays are still capped at PCIe Gen 3×1 does mean that even if you DID have a greater than 10GbE external connection available, you would only really see performance benefits of the drives from a RAID R/W bonus, than from the drive's own performance levels.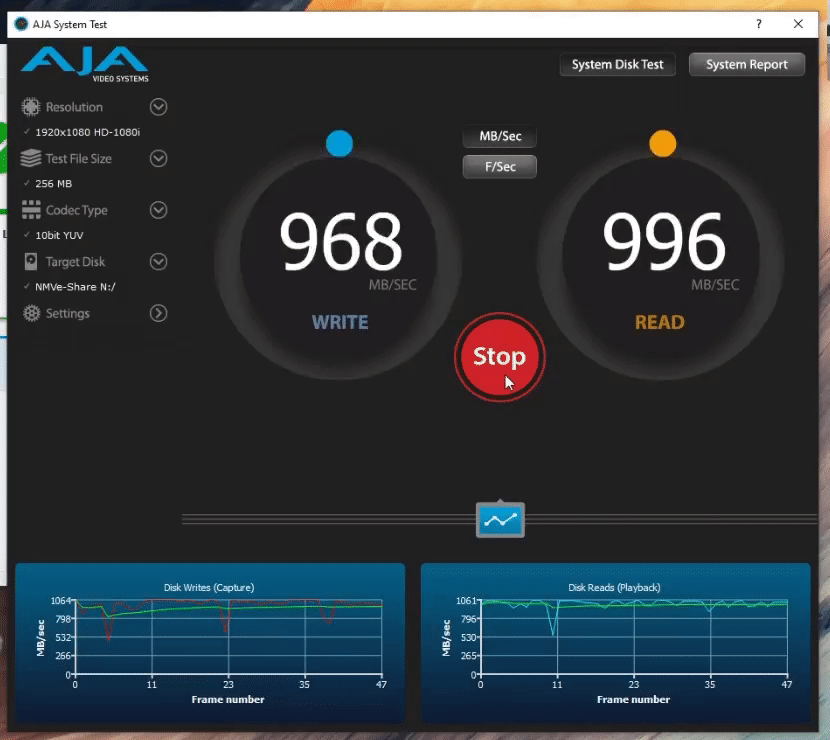 Once again, it will not come as a huge surprise to know that, overall, I think the DS1522+ NAS is the better choice in terms of external connectivity. The additional 2x 1GbE network ports (still kinda bummed that they are 1GbE and not 2.5GbE like most other brands in 2023) and it's resulting increased Performance vs Capacity vs Redundancy that it brings is just going to be more useful. M.2 NVMe SSD Storage pools and therefore largely guaranteeing 1,000MB/s for a storage pool and volume on them WILL be useful to those planning on working on the NAS for post-production or raw editing over 10GbE will be desirable for many users, but even then the limits to only Syn SSDs right now will undermine any savings you might make rather than just putting in 4-5x Pro/Ent HDDs and editing on those!
The Synology DS923+ vs DS1522+ NAS – Software Performance
Threre is very little to say in terms of DSM Software differences between the Synology DS923+ NAS and DS1522+. Aside from the advantages that the extra storage bay and memory of the DS152+ will bring in terms of 'max active users/processes' and storage pool/volumes sizes, Diskstation Manager 7.1/7.2 will run practically the same on either system unless you REALLY push it! Even the added M.2 NVMe SSD Storage pool support of the DS923+ will only add 2-3 more choices in the storage manager, but not effect the rest of the system. You cannot install DSM on the M.2 NVMes (at the time of writing) and although you can create a volume and then install Synology apps on that particular volume, that will only change their running marginally (unless yo really have heavy use). Synology DSM 7.1 on with NAS still runs great and if you want to learn more about it, you can watch my HUGE review of DSM 7.1 in 4K in the video below from late 2022:
The Synology DS923+ vs DS1522+ NAS – Plex Media Server
For those of you looking at the Synology DS923+ or DS1522+ NAS as a plex media service, they perform near enough IDENTICALLY! Previously, I have compared both them with the 2020 released DS920+ NAS (which featured that Intel Celeron CPU with integrated graphics). You can watch my DS920+ vs DS923+ Comparison HERE or my DS1522+ vs DS920+ 4K Plex Comparison HERE. Either way, the results are largely the same, as these two 2022/2023 generation devices have the same Ryzen R1600 CPU. You can watch the videos below to see how each NAS independently handled 10 different 4K Files in HEVC/H.264 in numerous formats.
| | |
| --- | --- |
| 4K PLEX PERFORMANCE DS923+ NAS | 4K PLEX PERFORMANCE DS1522+ NAS |
Overall, as long as you are not planning on using server-side conversions/transcoding (i.e the NAS needs to change complex files, dense/large media files or convert HEVC to H.264 for licencing reasons), either NAS work pretty much identically. The additional 4GB of memory in the DS1522+ NAS did not really provide any kind of advantage, as Plex Media Server runs perfectly well on a NAS with just 4GB. If you plan on running multiple apps that are a little memory hungry at the same time as plex (a bunch of IP cameras in surveillance station, a VM, containers, etc), then the DS1522+ NAS is probably the better choice. Though, if you are planning on scaling towards this later down the line, the DS923+ NAS is still fine and will just need a memory upgrade later on. Let's conclude.
The Synology DS923+ vs DS1522+ NAS – Conclusion
It will likely come as no shock that, overall, the DS1522+ NAS is just the better Synology NAS choice when compared with the DS923+ NAS. If the price difference is/was more vast, then it might not be such a clean sweep – however the DS923+ only being $100-120 cheaper than the DS1522+ just highlights how much better value the 5-Bay is! With an extra storage bay on day 1, twice the expandability, twice the network connectivity and all this in a similarly sized package means that the DS923+ ends up looking much less desirable. The support of M.2 NVMe SSDs for storage pools on the DS923+ DOES go a little way towards making it more justifiable over the DS1522+ NAS, but given the BIG demand there has been for this feature from their user-base and how it has been presented (oddly capped and drive limited at the moment), it just isn't a compelling enough case to fight against the scalability, value and future-proofing that is evident in the DS1522+ NAS.
Shoud You Buy the Synology DS1522+ or DS923+ NAS?
NAS Model
Synology DS923+ NAS
Synology DS1522+ NAS
Front Design

Reasons to Choose

M2 NVMe SSD Support as Storage Pools

More Affordable

Lower Power Consumption

Lower Potential Noise when in Operation

Extra Bay of Storage and 2x Expansion Add-ons Supported

8GB Memory by Default

4 default 1GbE LAN Ports

Better Value for Money in terms of hardware
asasa
📧 LET ME KNOW ABOUT NEW POSTS 🔔
Join 1,468 other subscribers
Get an alert every time something gets added to this specific article!
This description contains links to Amazon. These links will take you to some of the products mentioned in today's content. As an Amazon Associate, I earn from qualifying purchases. Visit the NASCompares Deal Finder to find the best place to buy this device in your region, based on Service, Support and Reputation - Just Search for your NAS Drive in the Box Below
Need Advice on Data Storage from an Expert?
We want to keep the free advice on NASCompares FREE for as long as we can. Since this service started back in Jan '18, We have helped hundreds of users every month solve their storage woes, but we can only continue to do this with your support. So please do choose to buy at Amazon US and Amazon UK on the articles when buying to provide advert revenue support or to donate/support the site below.

Finally, for free advice about your setup, j
ust leave a message in the comments below here at NASCompares.com and we will get back to you.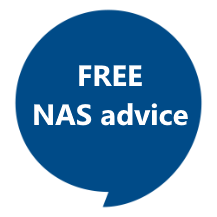 Need Help?
Where possible (and where appropriate) please provide as much information about your requirements, as then I can arrange the best answer and solution to your needs. Do not worry about your e-mail address being required, it will NOT be used in a mailing list and will NOT be used in any way other than to respond to your enquiry.
Support What We Do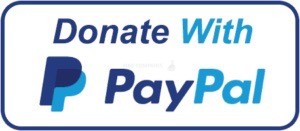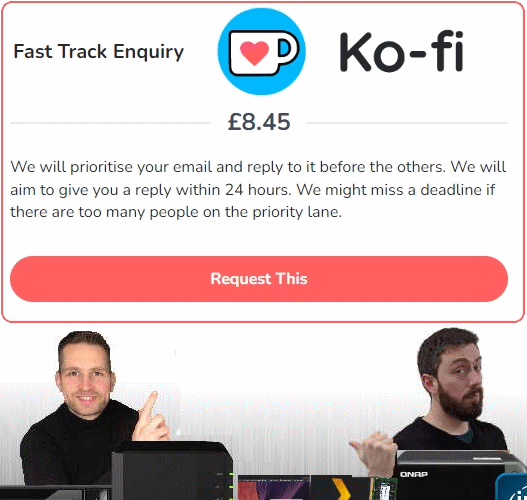 Terms and Conditions
Alternatively, why not ask me on the
ASK NASCompares forum
, by clicking the button below. This is a community hub that serves as a place that I can answer your question, chew the fat, share new release information and even get corrections posted. I will always get around to answering ALL queries, but as a one-man operation, I cannot promise speed! So by sharing your query in the
ASK NASCompares
section below, you can get a better range of solutions and suggestions, alongside my own.