Review of the Terramaster F2-212 NAS Drive
This year has seen all the big players in the world of network-attached storage bring their latest solutions to market! Maybe it's because people's concerns over their data have never been higher, perhaps it's the growing affordability of a number of key components, or simply that the advances in what we can do with our data have grown so fast that NAS brands are running to keep up! Whatever the reason, the Terramaster F2-212 NAS really does give you a phenomenal bang for your buck. Arriving with an RRP of £169 and likely regularly on sale at key promotional events, this might be the most affordable tool by now that I've ever discussed here on the channel! But what corners did they have to cut to keep it this cheap? Can you trust this device to hold onto your data long-term, and ultimately can something be too cheap? Let's find out.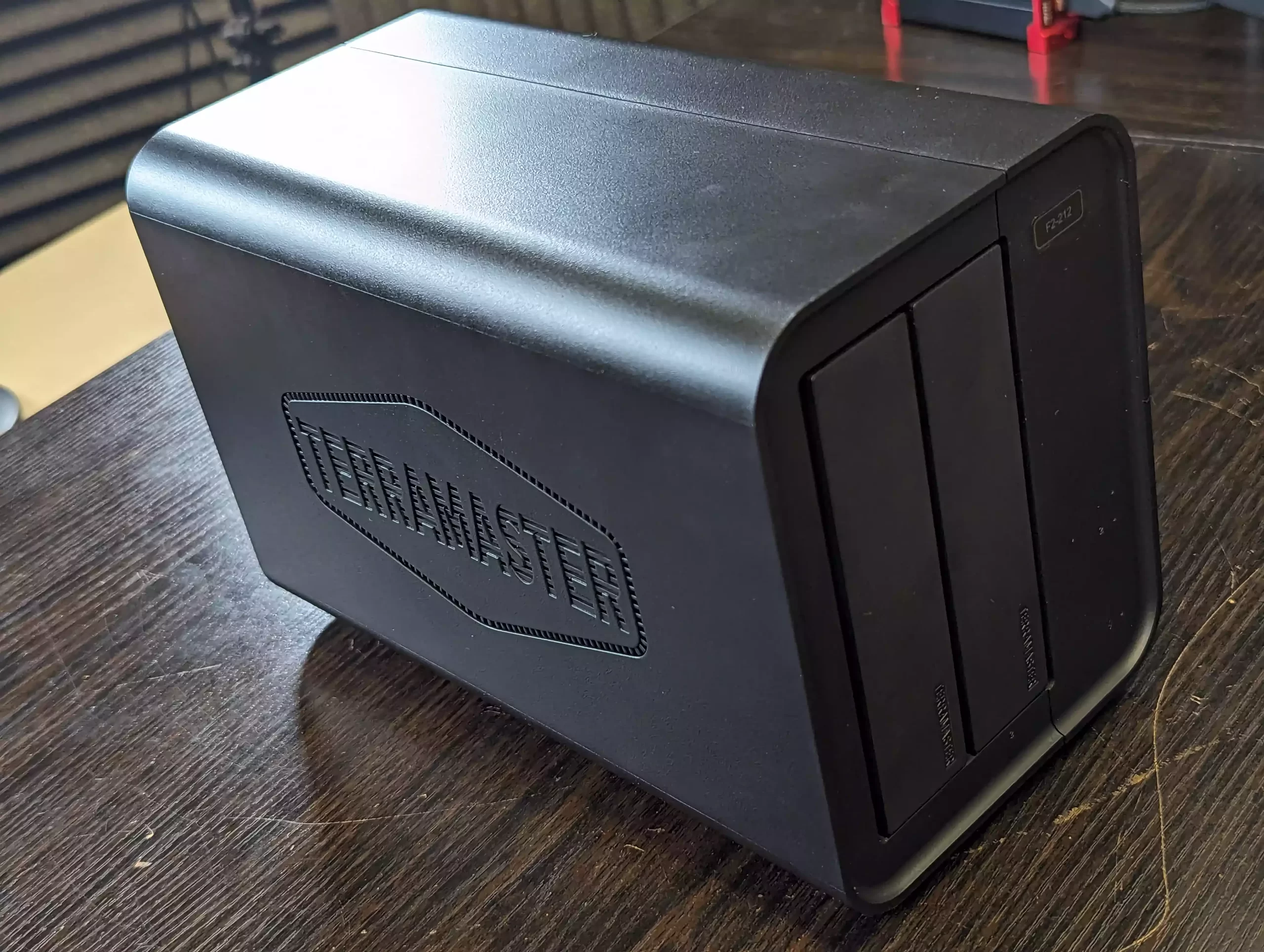 Terramaster F2-212 NAS Review – Quick Conclusion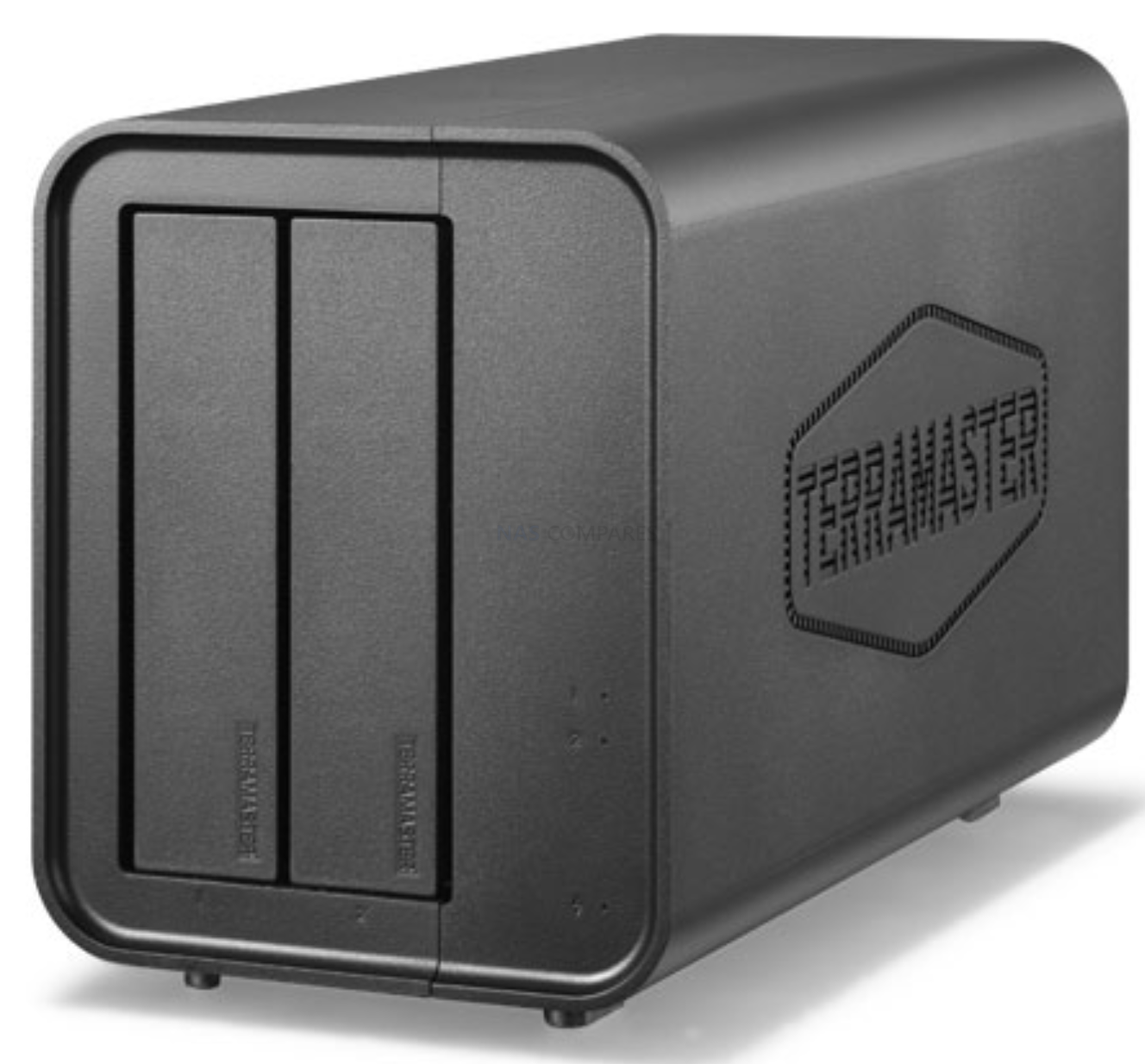 The Terramaster F2-212 is a solid entry-level NAS for the price. It provides a good balance of hardware, software, and features, though some may find its 1GB of memory and single 1G network connection limiting. However, given its target market—those transitioning from cloud storage or seeking their first NAS—this model offers excellent value for money. What makes the F2-212 stand out is its flexibility. Its support for USB to 2.5G network adapters provides an affordable way to upgrade the system's network connectivity. Additionally, its modern ARM CPU, improved software, and a variety of features tailored for beginners make it an attractive option for those new to the NAS world. For experienced NAS users or those seeking more advanced features, the F2-212 might feel underwhelming. But for its price, it's hard to argue against its value proposition. In conclusion, the Terramaster F2-212 provides a reliable entry point for those new to the NAS world. While it may have its limitations, it offers commendable features for its price range. Those who prioritize affordability without sacrificing essential features should consider this model.
Terramaster F2-212 NAS Review – Packaging and Retail Kit
The retail packaging for the Terramaster F2-212 is fairly standard stuff and isn't really going to blow you away. It arrives in a combination of recyclable and non-recyclable packaging combo. The external box is plain but adorned with the brand logo, and a rigid foam internal structure protects the device in transit.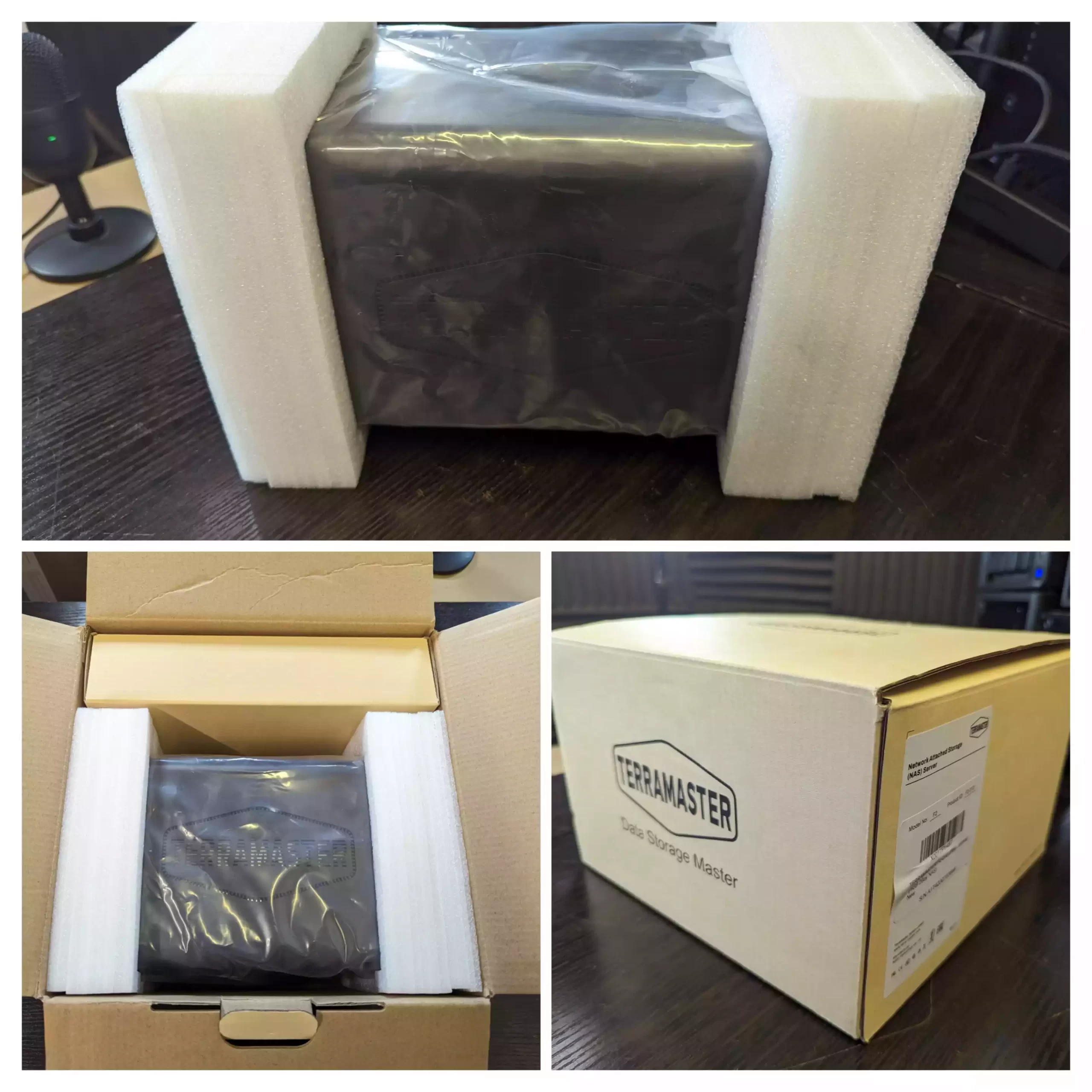 Alongside the F2-212 NAS, the retail kit includes an external power adapter that is a straight-to-plug mini adapter, details on the 2-year hardware warranty, additional screws for SSDs, construction manual, and cat 6 Ethernet LAN cable.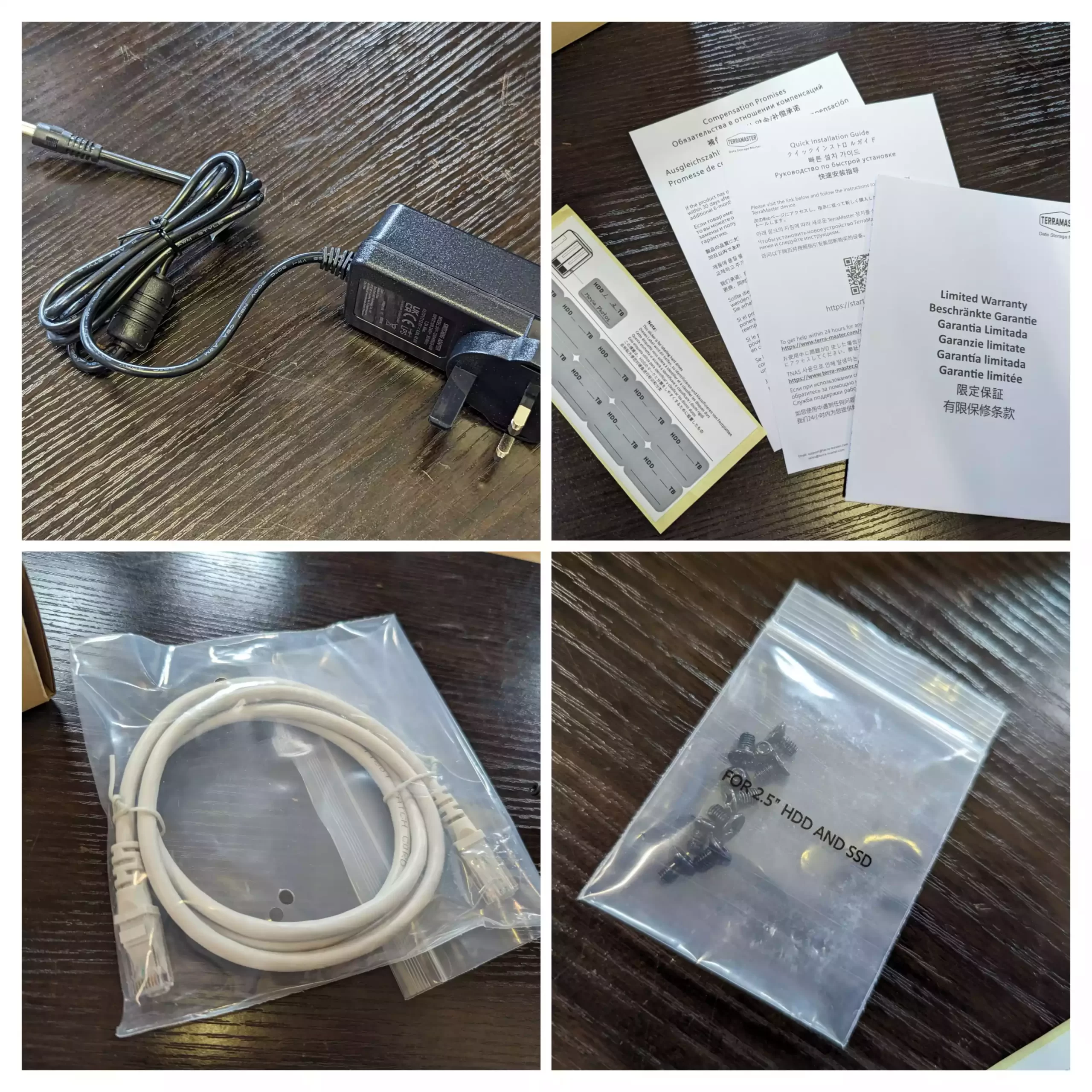 Again, not exactly hair-raising stuff. I will add though that given the low price point of this device, one area I would have assumed a brand would cut corners in would be the retail packaging in terms of protection and range of included accessories. There is none of that here, and although it may seem a little drab, everything you need (with the exception of storage media) is here for your first-time setup.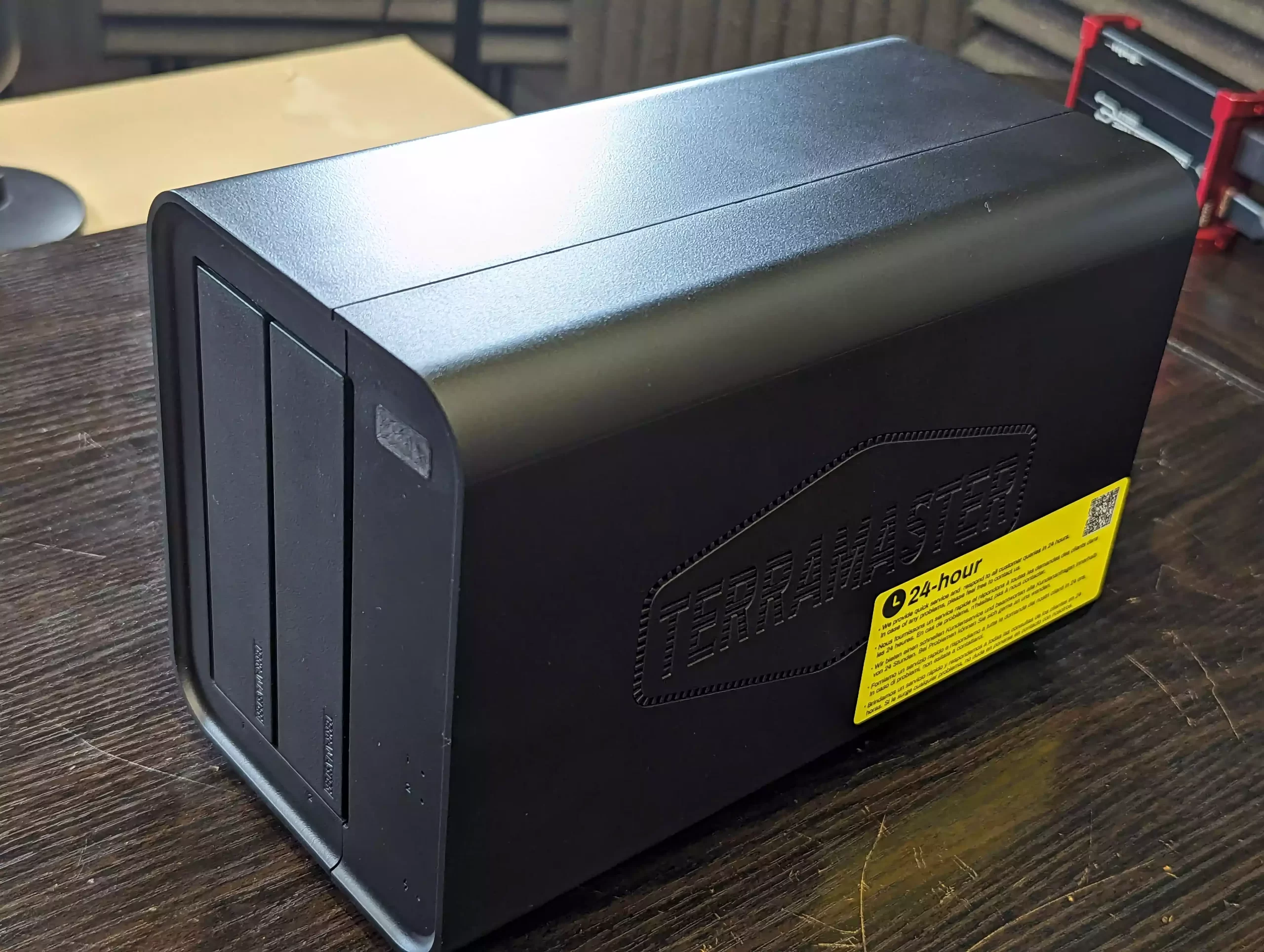 Terramaster F2-212 NAS Review – Design
Of all the brands that I talk about here on the channel, few have been more underwhelming in terms of the design of their devices than Terramaster. Although they have made minor tweaks to the chassis design on their desktop devices in the last few years, these have been rather minor. All that has changed with this new F2-212 NAS system, arriving in a largely completely new chassis design than any other 2-bay from the brand.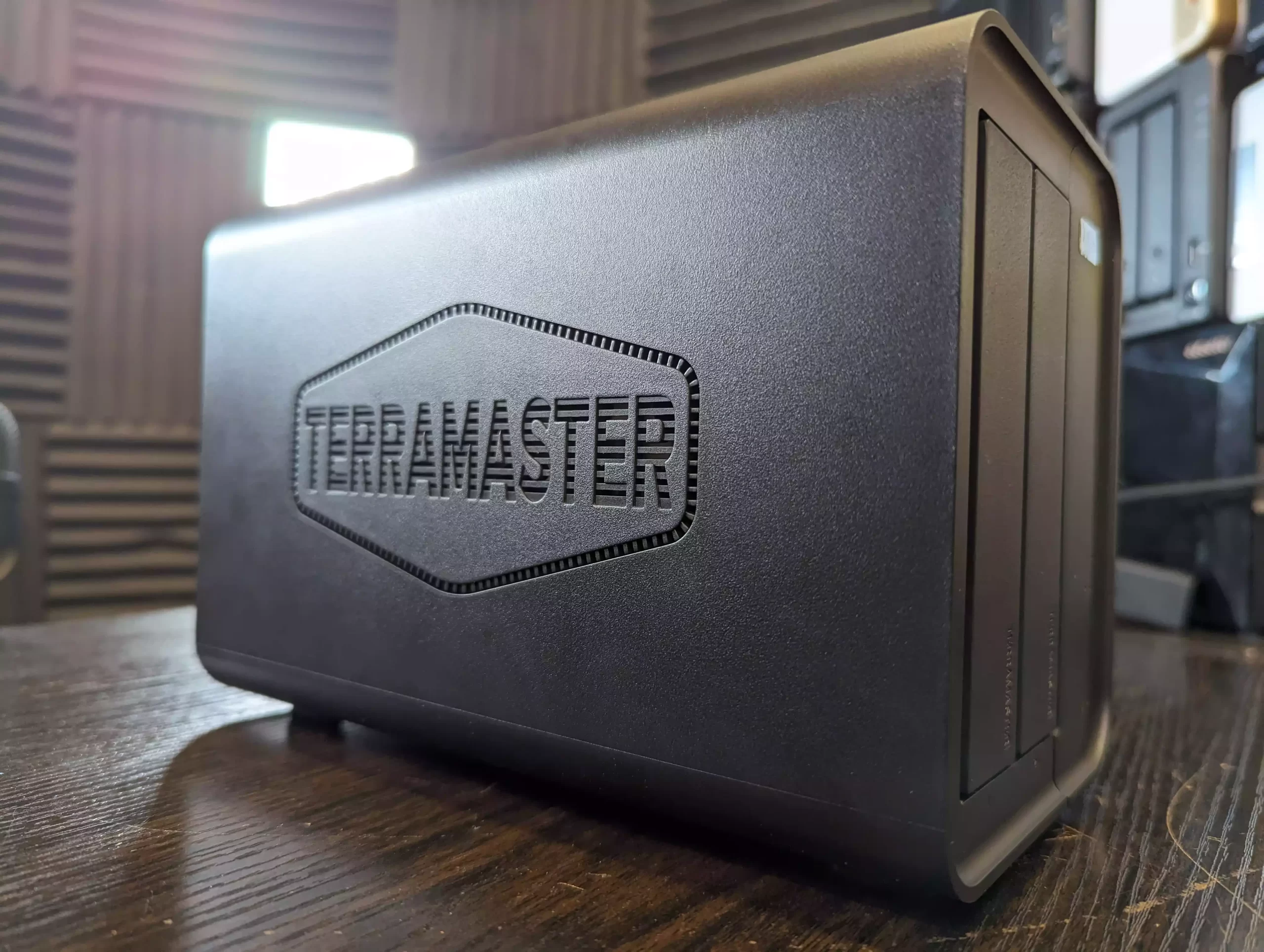 I think it would be charitable to say that they have looked at the chassis design choices of competitors like Synology and QNAP, and been inspired by them. It might be fair to say that they have emulated a number of the design choices of those brands and combined them into their new chassis for the F2.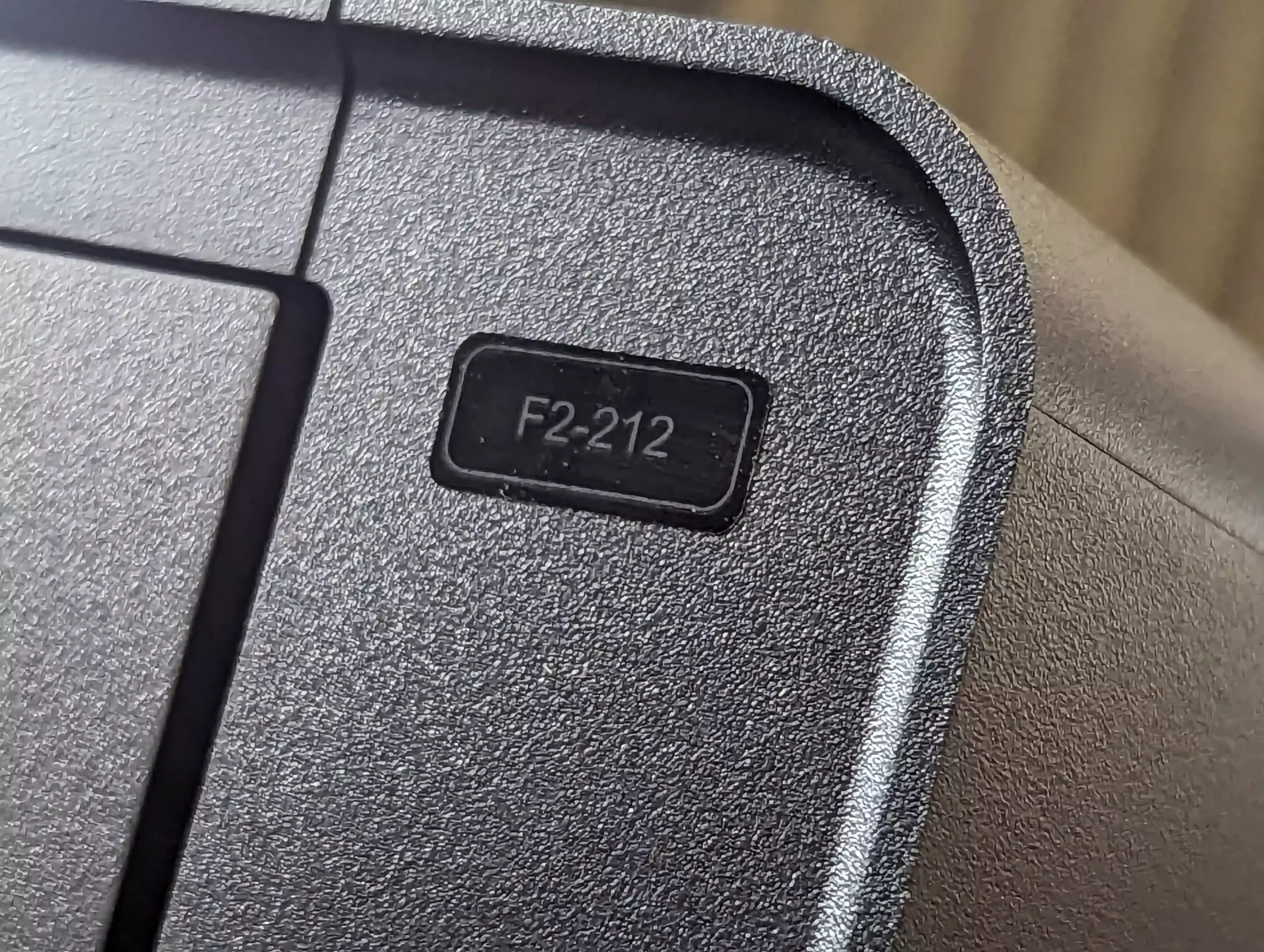 For a start, they have clearly emulated the rounded edges featured on recent QNAP desktop releases. The old chassis design was always a bit silver, shiny, and blocky – feeling dated. However, this new chassis design seems a great deal more sleek and will blend in much better with other hardware on your desktop setup. They have also looked at the matte black finish and branded logos featured on Synology desktop hardware and incorporated this into the new F2-212 chassis design prominently. This added level of passive ventilation, while still appearing very modern and brand-aware, has always been beneficial for Synology and, if inspired by them, is a smart move to replicate here. Passive ventilation, especially on more economical ARM CPU systems, is crucial for a system running 24/7 at its best, so the more ventilation, the better!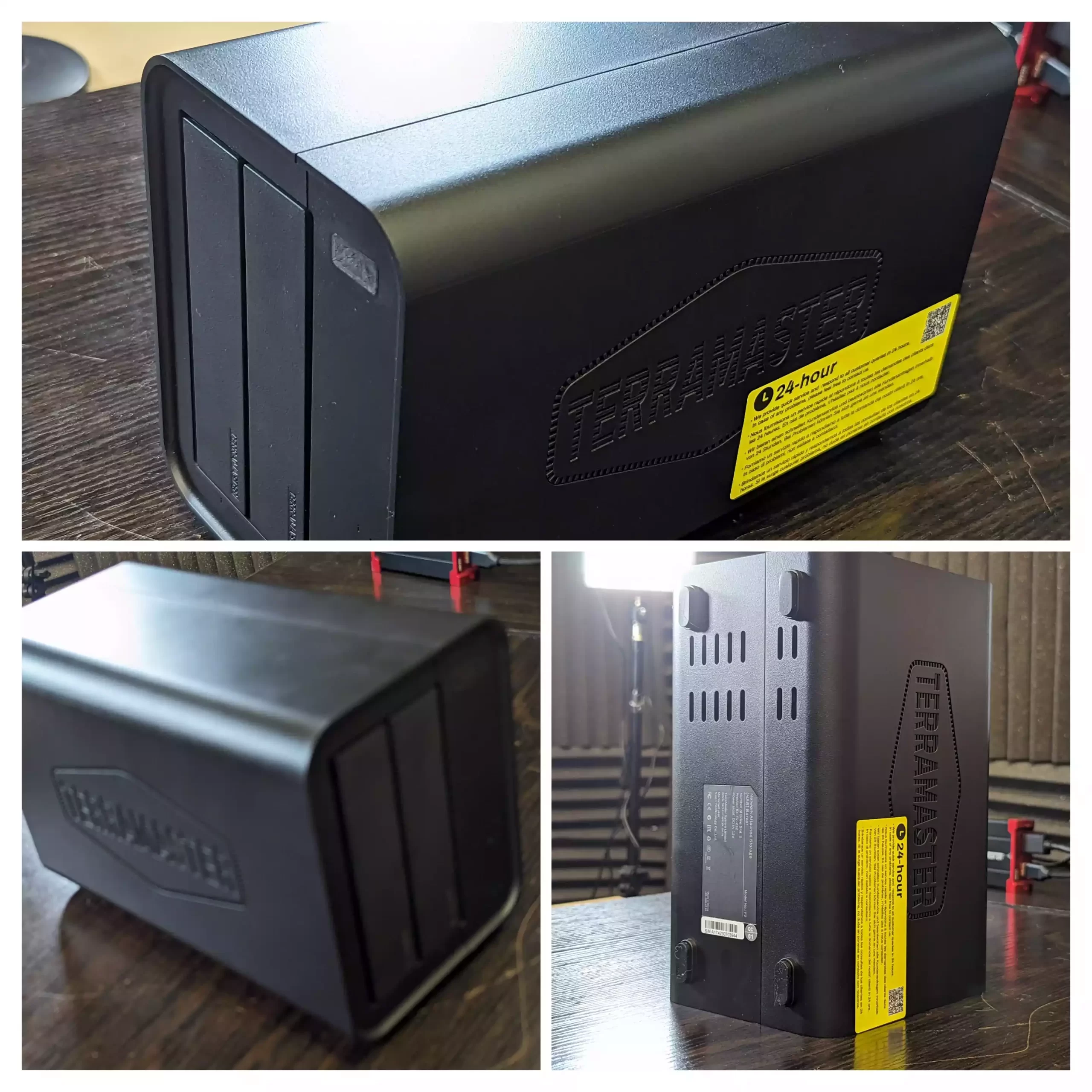 The system also features two removable 3.5-inch SATA bays. This is particularly commendable when you realize most other NAS brands producing value series devices at a similar price point do not support this feature. The system runs on a single drive if you choose, but thanks to its support of numerous different RAID configurations that also include their flexible T-RAID system, you have a decent level of base storage to set up on day one.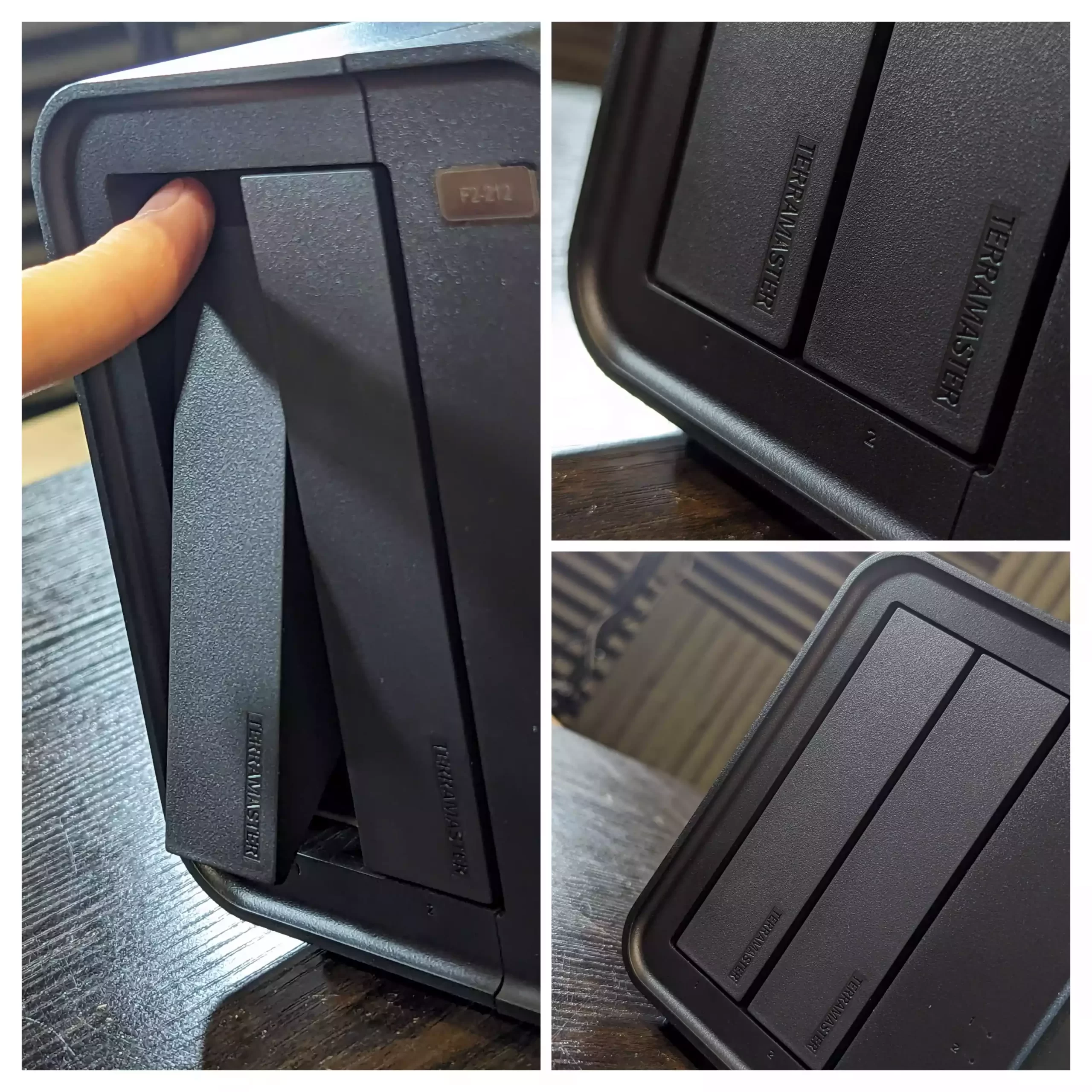 The main storage bays are ejected by pressing the top panel and pulling each tray out. There's a spring-loaded element to each of the handles, and while each bay cannot be locked, they do support click and load installation, meaning that you can install 3.5-inch SATA drives exceedingly quickly. This, combined with the support of hot-swapping, is exceedingly convenient.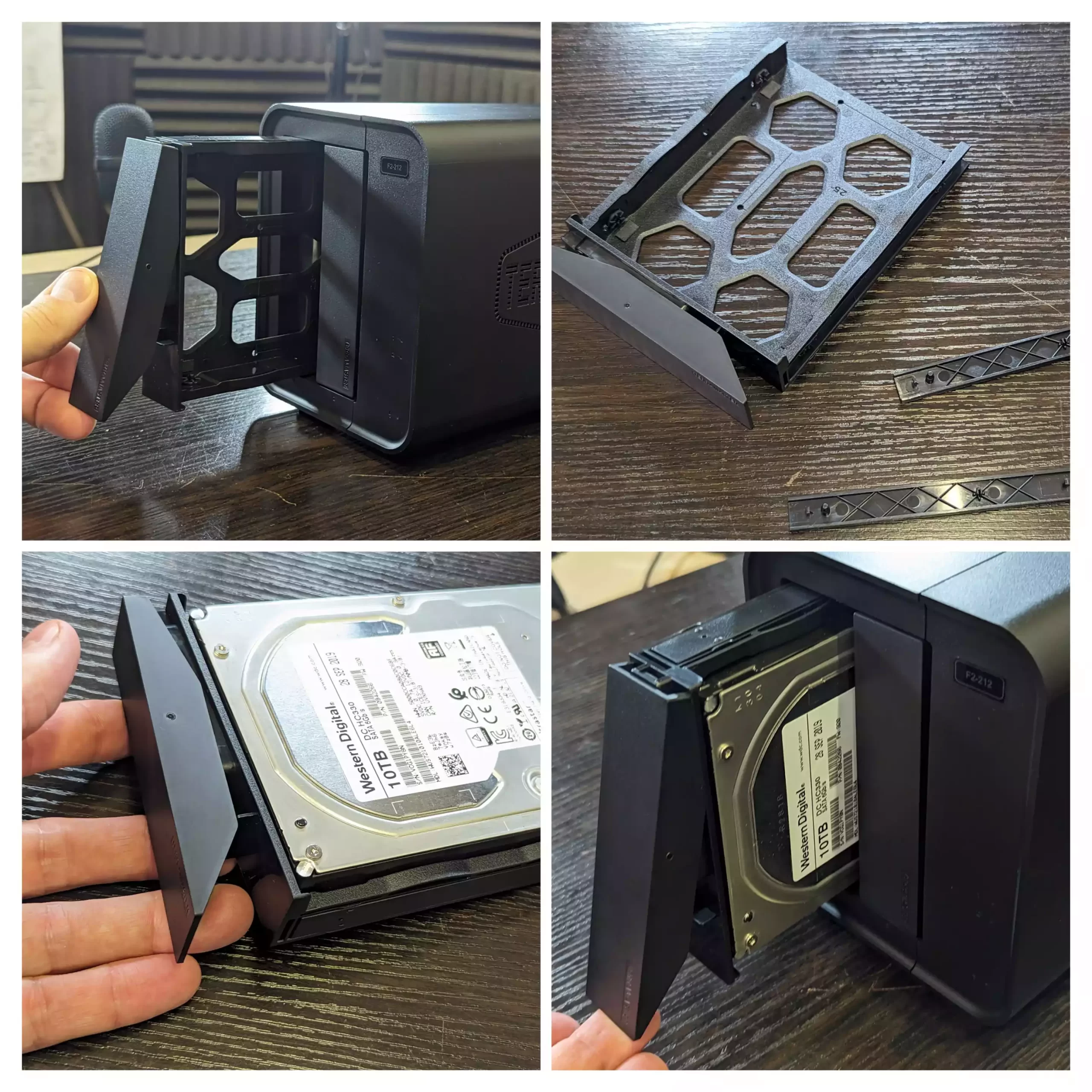 Additionally, it's worth highlighting that Terramaster has one of the most extensive lists of compatible hard drives on their support lists, supporting up to the recently released 22 TB hard drive capacity from both Seagate and WD. This shouldn't be surprising, given the relative similarity all SATA hard drives have. However, in recent years we've seen some brands be more selective about the range of hard drives they list on their compatibility pages, so it's reassuring to know there are virtually no limits to the drives you can use in the F2.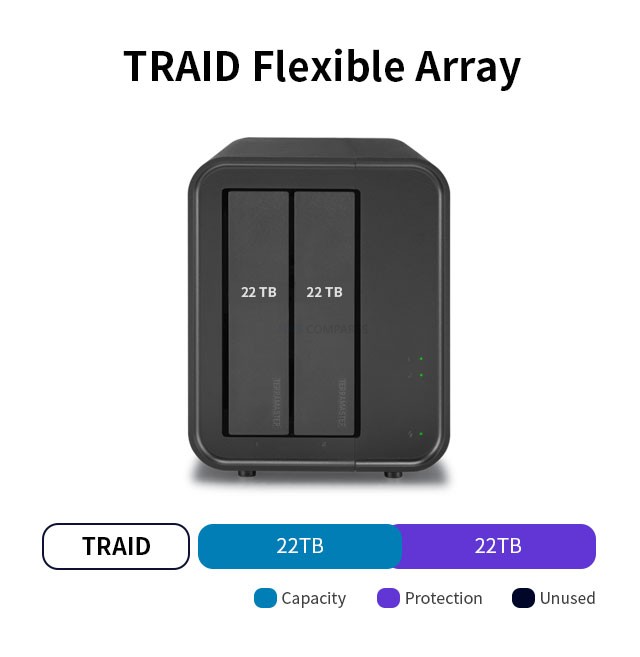 Sadly, the system does not feature a front-mounted USB port, as found in the majority of other NAS brand systems of this scale. It's a minor detail, especially when there are two more USB ports on the rear of the device, but the convenience of a front-mounted USB for ad hoc drag and drop backups and creating a customized local USB backup routine for smaller user groups is notable. I've always been surprised that Terramaster hasn't embraced this feature.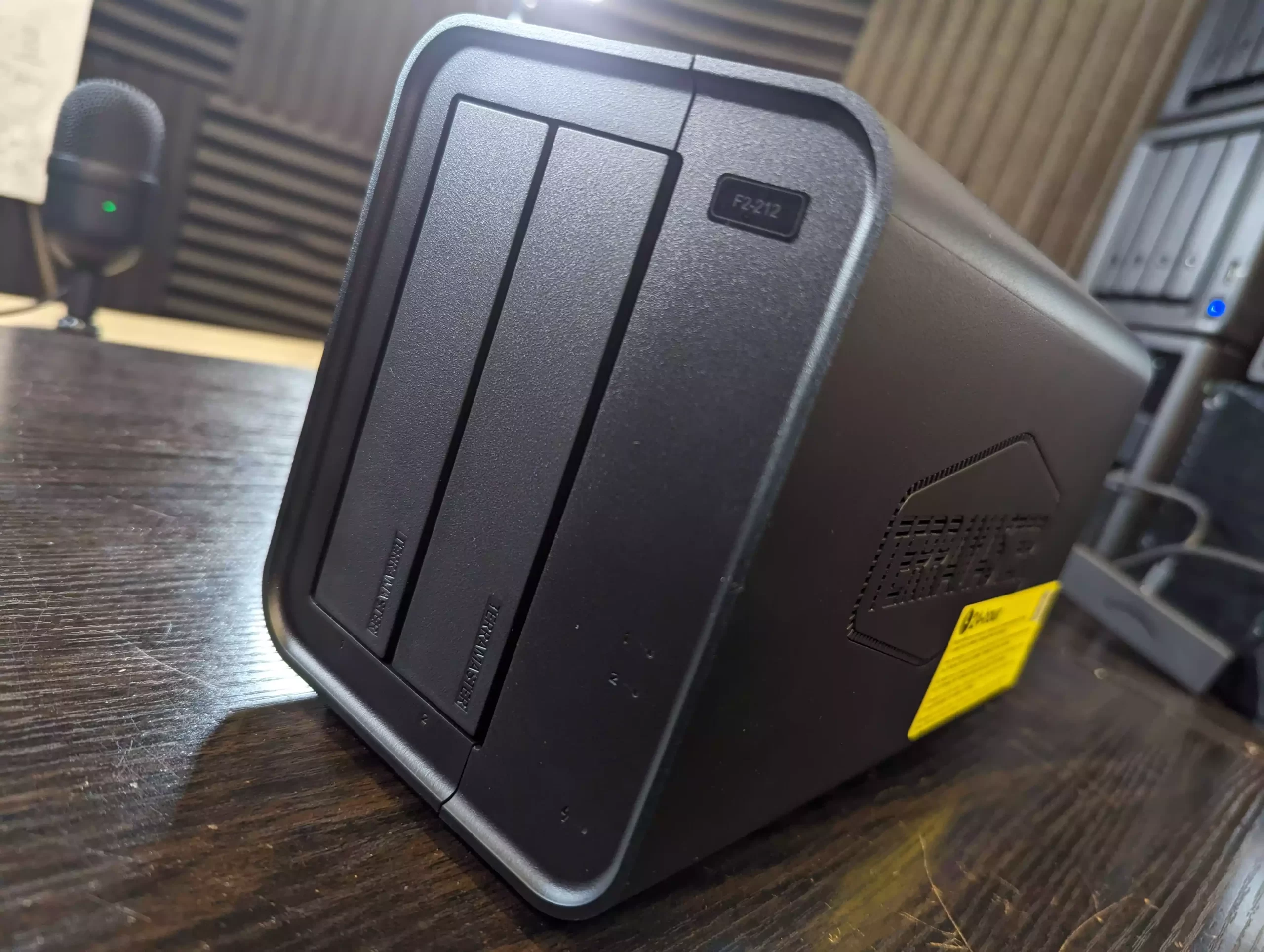 The F2-212 also features LED lights to denote system and drive activity when in operation, as opposed to an LCD panel. This is fairly standard these days in NAS systems of this scale.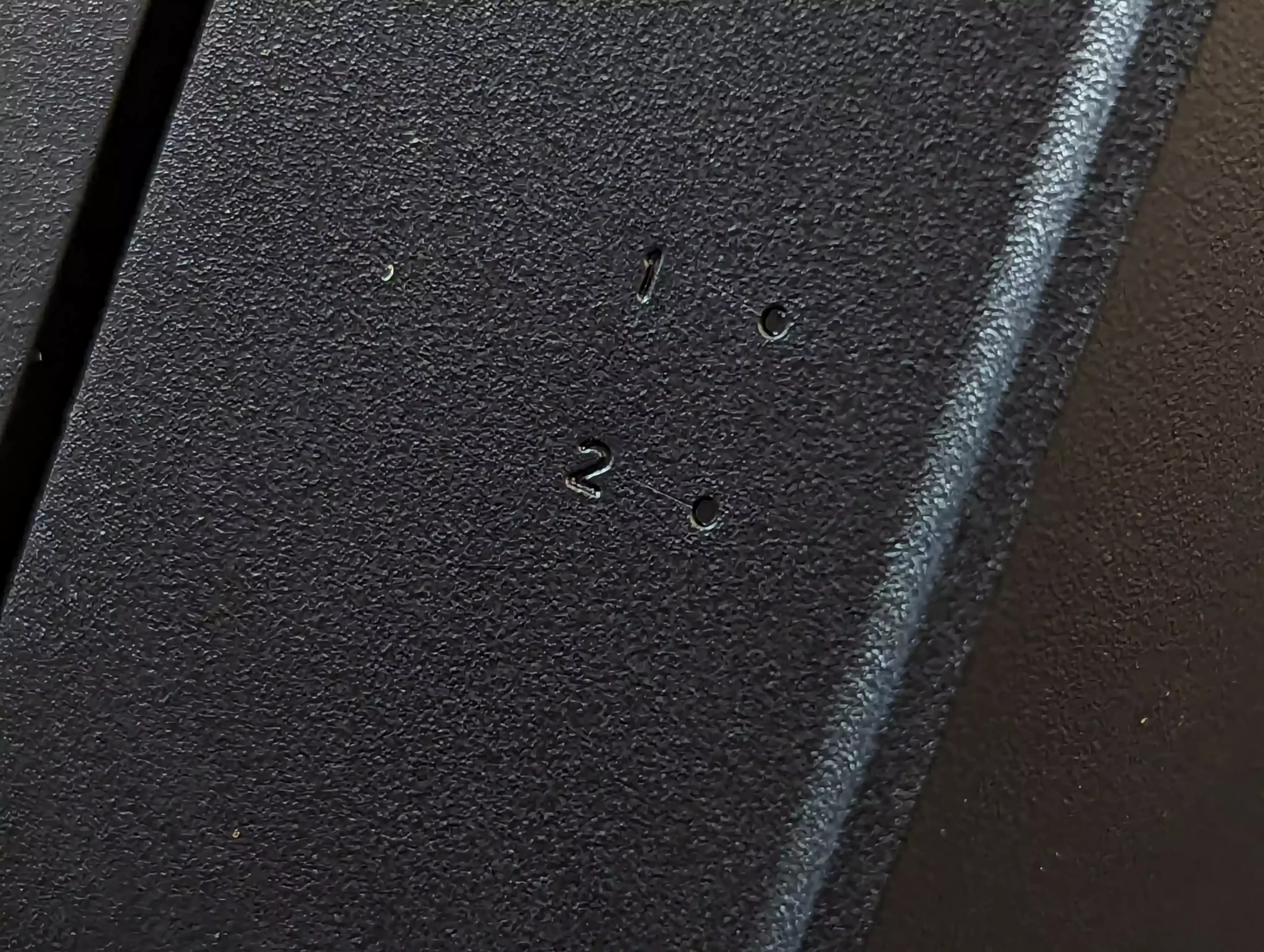 Overall, I quite like the new chassis design that Terramaster has opted for here. The previous chassis design's ventilation was a bit lackluster compared to some competitors, and this change of casing certainly improves the visual appeal of their range. Next, let's discuss the ports and connectivity, as this is where the limited price point of value series devices like this one starts to become evident.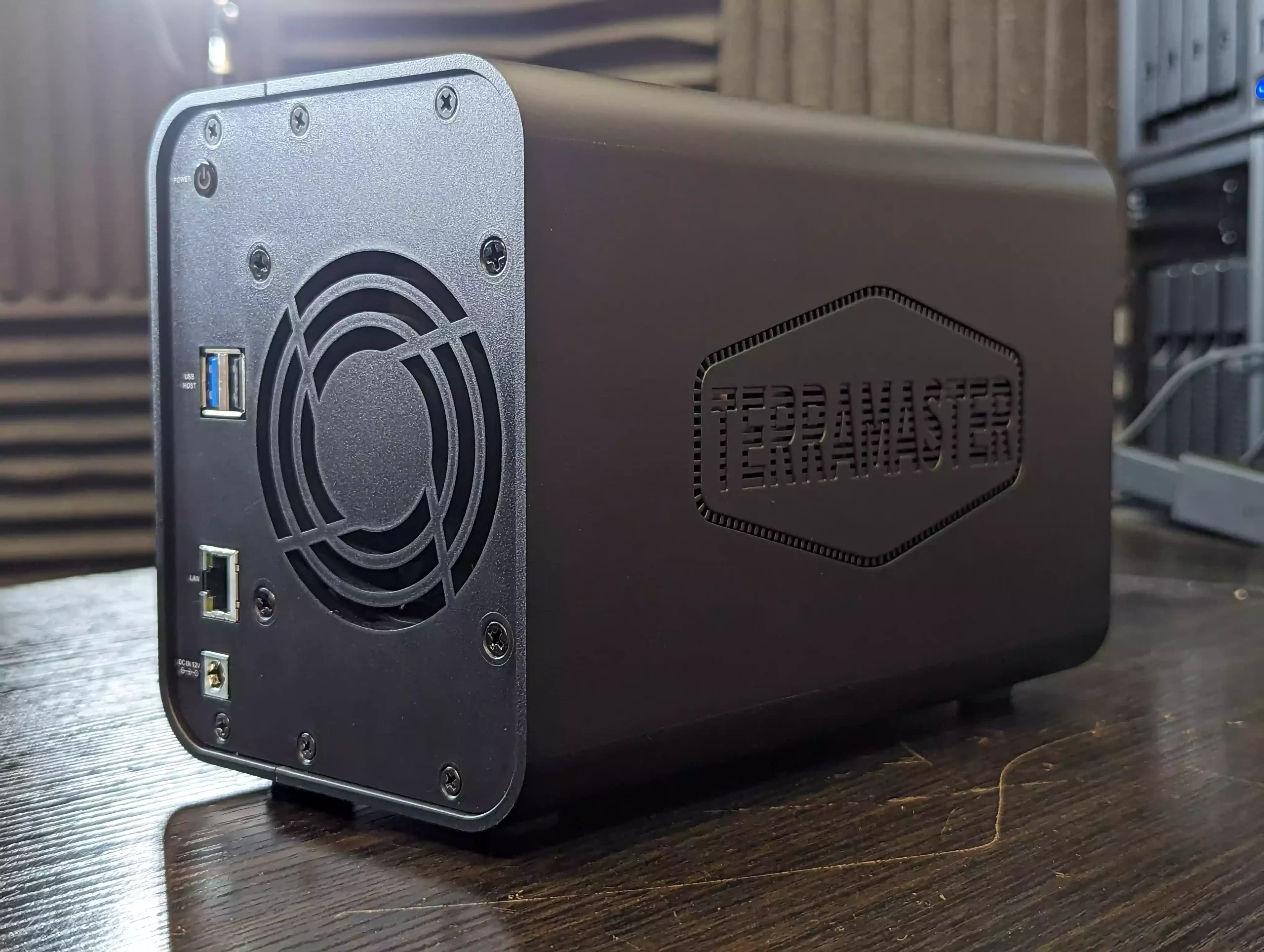 Terramaster F2-212 NAS Review – Ports and Connections
Let's not mince words; the ports and connections that the F2-212 comes with are fairly standard. This isn't a huge insult by any means, as the system is designed to be an exceptionally affordable entry-level NAS. What you get here will certainly meet initial requirements. However, if you've been looking at the more advanced ports and connections in recent releases from Terramaster, including enhanced bandwidth options, faster USB, and an affordable gateway into 10G… you won't find them here!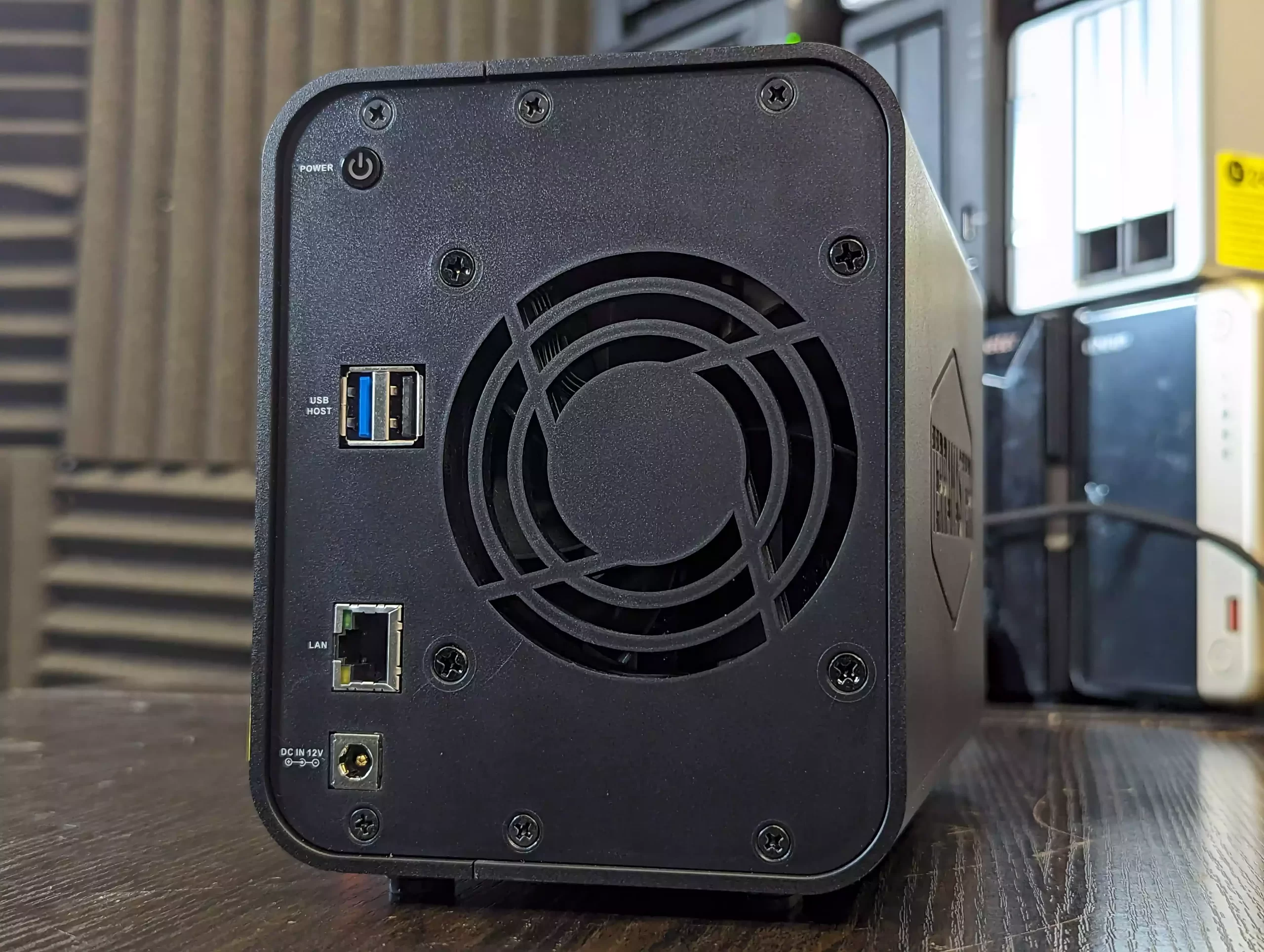 The system has two USB Type-A ports. While the USB 2.0 port feels outdated and somewhat unnecessary on a system that would traditionally pair these with an HDMI output, the USB 3 port (5Gb/s) offers much greater functionality and compatibility with the F2.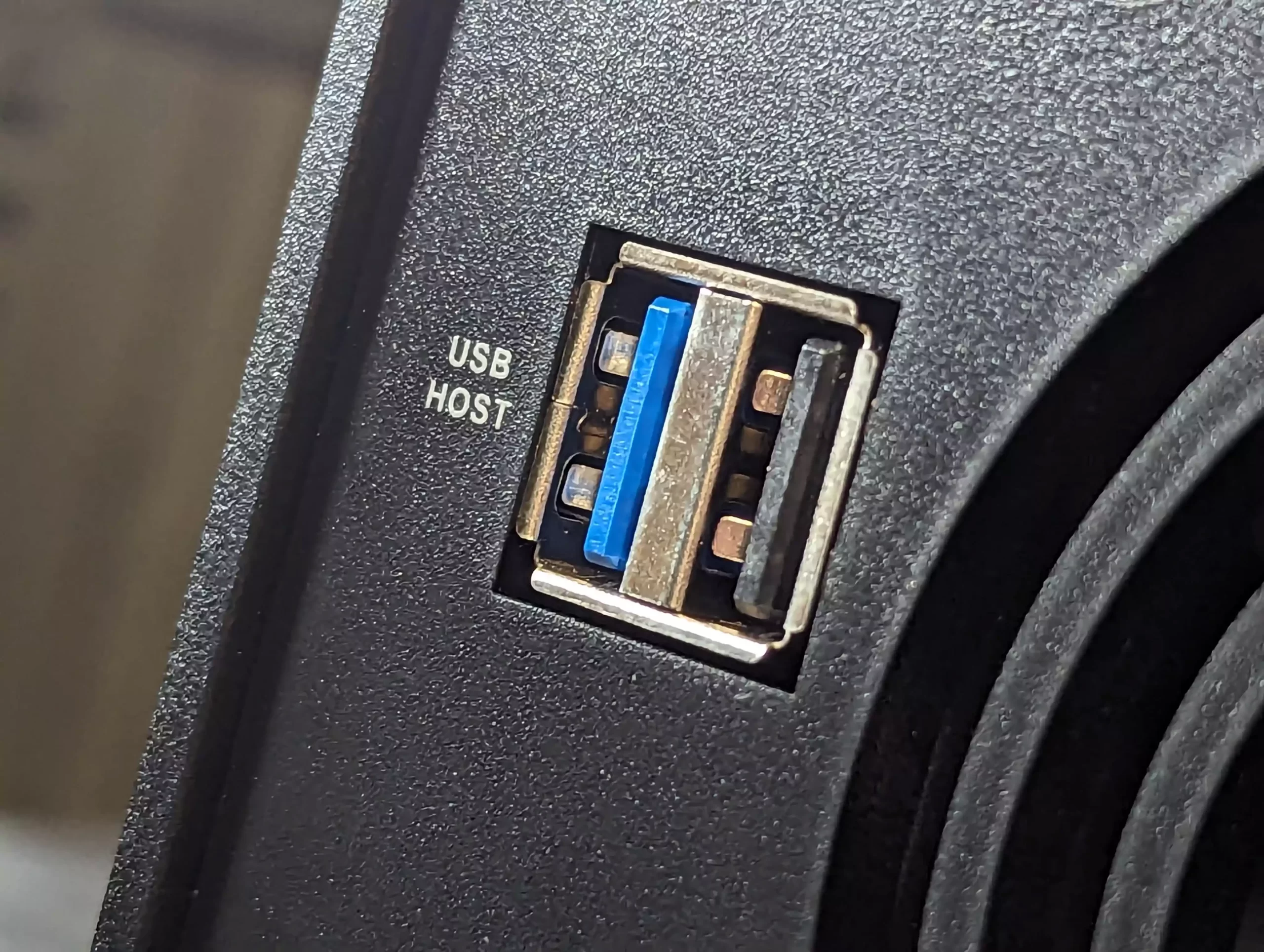 Besides the expected support for USB external storage drives and office peripherals (printers, scanners, UPS, etc.), the USB port also supports Terramaster's direct-attached storage devices (available in both RAID-enabled and JBOD forms). Intriguingly, the F2-212 also supports USB to 2.5G network adapters, enabling users to boost the system's network bandwidth to approximately 269 megabytes per second with a simple $15 upgrade on the NAS side (potentially on the client side too).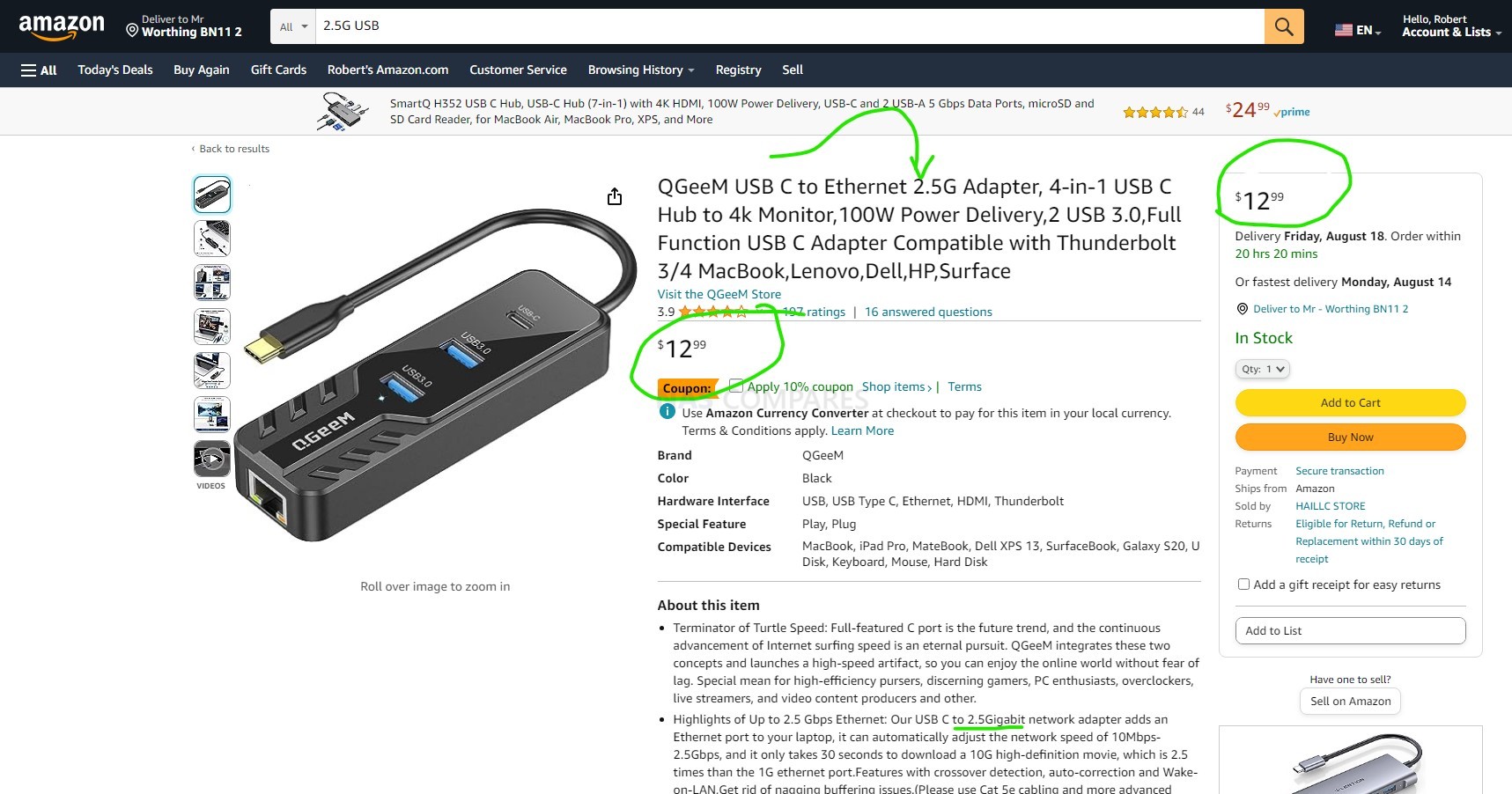 This upgrade will enhance the Terramaster F2's network connectivity from a single 1G connection to an additional 2.5G. This improvement will extend the system's lifespan as your data storage needs increase. The existing one gigabit Ethernet connection does seem outdated in 2023, but this could be a result of prioritizing affordability. Currently, no systems on the market offer 2.5 gigabit Ethernet at this price point, so its absence isn't a significant drawback.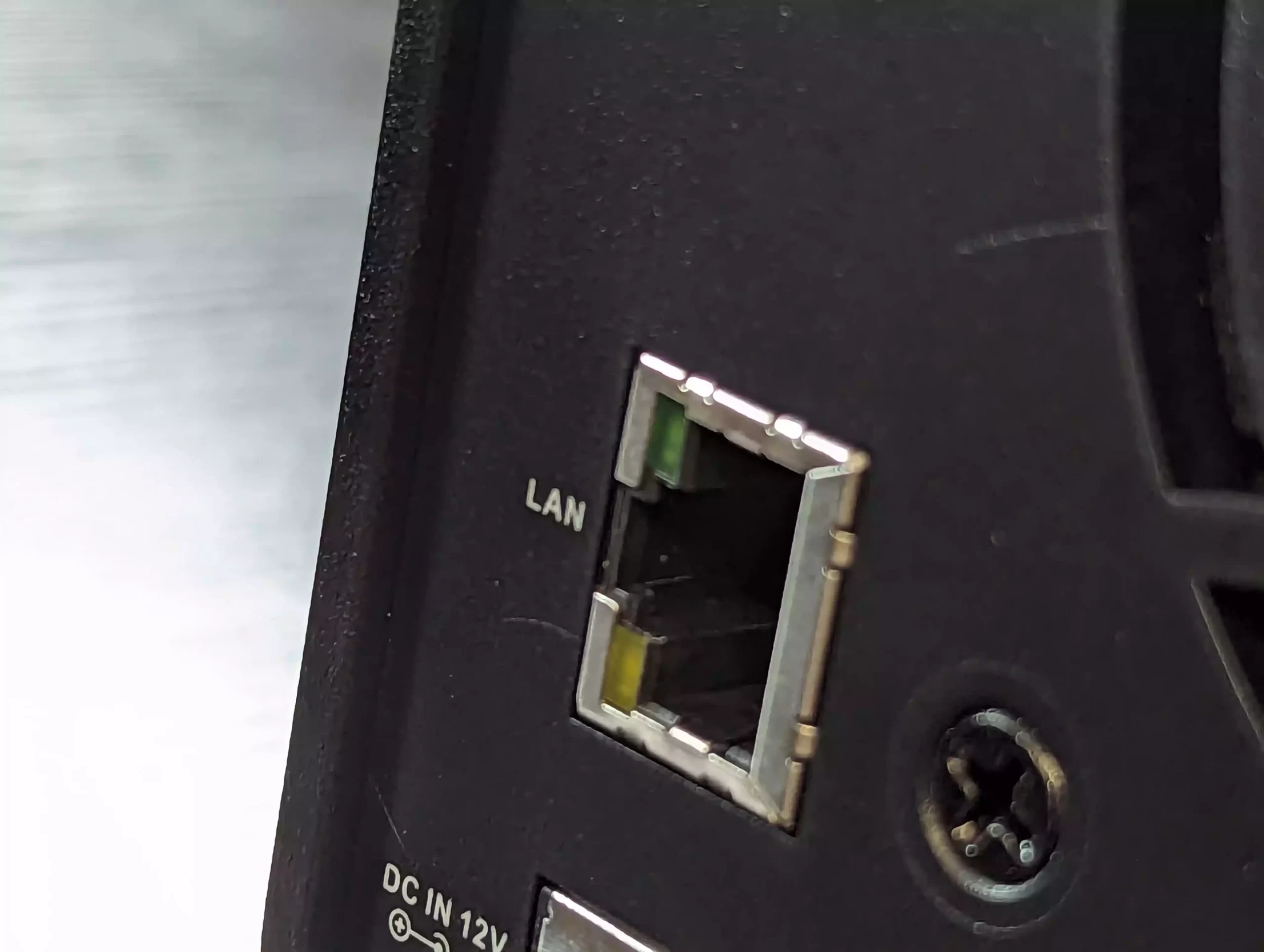 Even so, this affordable ARM processor and a typical starter hard drive might overwhelm this network connection, potentially restricting external connectivity. If this is your first NAS system and you've solely relied on cloud services, you'll likely see this as a major upgrade. However, those accustomed to using gigabit servers in their homes or businesses might find it lacking. The system lacks internal M.2 SSD ports, commonly found in pricier Terramaster systems, and doesn't support PCIe upgrades that enhance network connectivity. However, regarding external hardware, you have a functional yet well-constructed affordable NAS. Let's delve deeper into its internal hardware and other features.
Terramaster F2-212 NAS Review – Internal Hardware
There's an ongoing debate among PC enthusiasts regarding the basic hardware in most NAS systems. Many users argue that entry-level NAS systems are underpowered and overpriced compared to traditional PCs. Nonetheless, NAS systems are designed for continuous operation—days, weeks, even years at a time. Hence, they require energy-efficient components durable enough for this always-on environment. This explains the growing trend of entry-level NAS systems equipped with ARM-based CPUs—processors typically found in phones, netbooks, and tablets. These CPUs deliver considerable processing power while maintaining a low energy footprint. The Terramaster F2-212 follows this trend, boasting an efficient yet modern ARM processor architecture.
| | |
| --- | --- |
| Processor Model | Realtek 1619B |
| Processor Architecture | ARM V8.2 Cortex-A55 64-bit |
| Processor Frequency | Quad Core 1.7 GHz |
| CPU Single-Core Score | / |
| Hardware Encryption Engine | √ |
| Hardware Transcoding Engine | / |
| Memory | |
| System Memory | 1GB |
| Pre-installed Memory module | / |
| Total Memory Slot Number | / |
| Maximum Supported Memory | 1 GB |
The CPU inside the Terramaster F2-212 is the Realtek RTD1619b. We've seen this CPU in slightly pricier QNAP and Synology systems in 2023, so it's unsurprising that Terramaster adopted it. It strikes a balance between handling the NAS's daily operations and managing ad-hoc requests from users. While it lacks the advanced capabilities of x86 AMD or Intel processors, it also doesn't have their higher price tags or energy consumption. Being ARM-based, this CPU compresses commands to use less power, and with ongoing advancements in software, ARM processors have become increasingly effective in NAS systems.
The Realtek RTD 1619b processor, a quad-core CPU with a 1.7 GHz clock speed, is impressive for a NAS priced just over $150. This CPU supports both BTRFS and EXT4 file systems, snapshot functionality, and even Docker applications. However, it does have limitations, particularly with complex commands and some multimedia formats. Furthermore, while light container deployment is possible, traditional virtualization is not. The fluctuating cost of NAND Flash has impacted the pricing of many NAS systems. Despite this model's affordability, its default 1GB of non-upgradable memory may soon prove limiting. For light multimedia use and a few backups, 1GB of memory combined with this CPU will suffice. Beyond that, however, users might find memory consistently operating at around 70-80% capacity due to the system's basic operational requirements.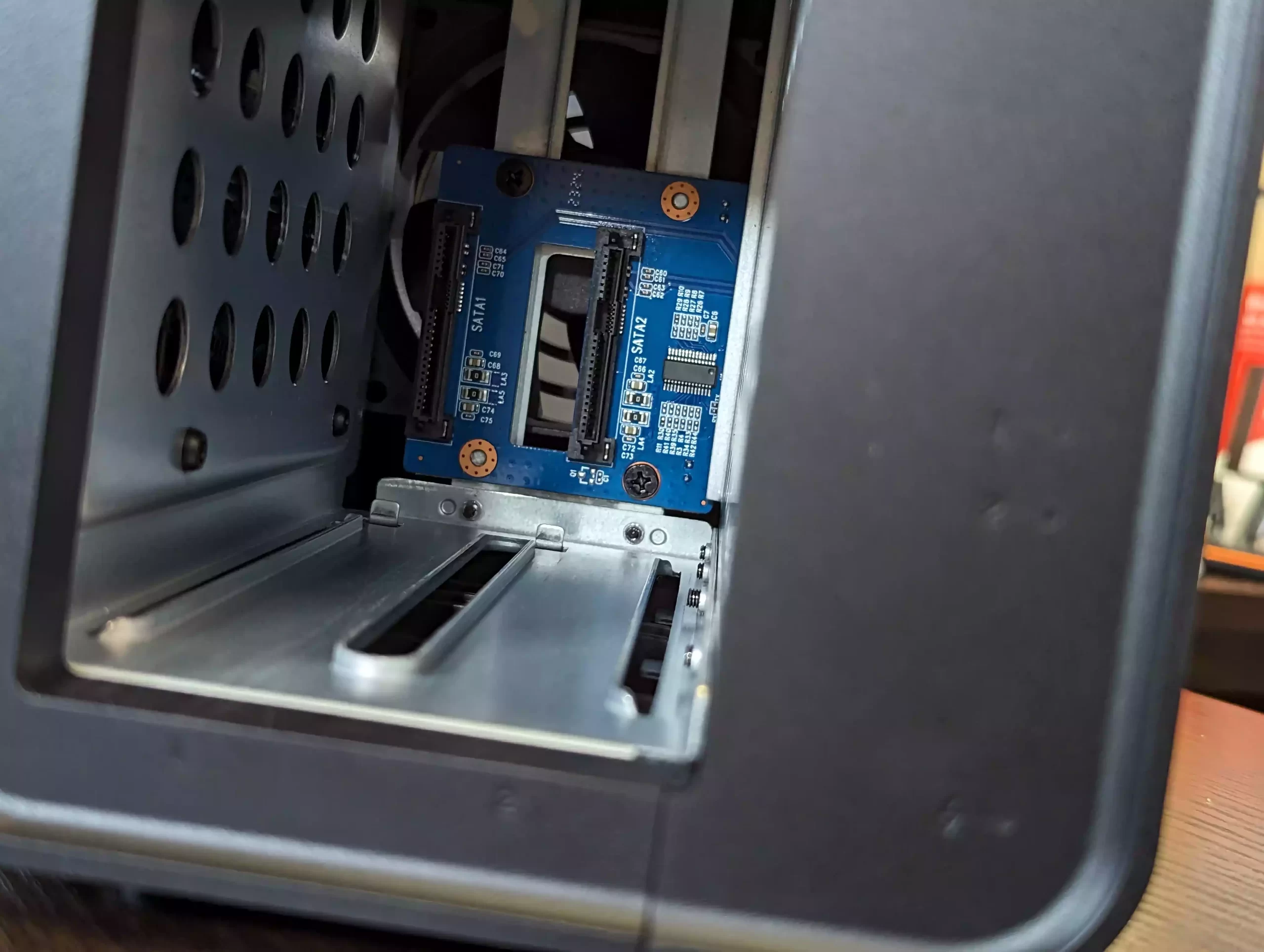 Many entry-level, ARM-powered NAS systems come with 1GB of memory—a standard for nearly five years. However, the demands on NAS systems have grown significantly during that time. Considering this system comes with the same memory as 2016 models, it's somewhat disappointing. For true entry-level users transitioning from the cloud, 1GB of memory will suffice. Those aiming to expand their system's usage, however, will encounter its limitations. Next, we'll discuss the TOS system software accompanying the F2.
Terramaster F2-212 NAS Review – Software
Historically, one area where Terramaster NAS has fallen short is its software. Roughly 18 months ago, their software, TOS, was considered inferior compared to industry counterparts. Past security issues and a perceived lack of features, especially when compared to platforms like DSM and QTS, didn't help their reputation. However, TOS 5.1 represents a significant improvement, being more responsive, visually consistent, and packed with premium apps even for their basic models. This software overhaul, combined with additional features unique to the F2, has significantly improved the system's appeal.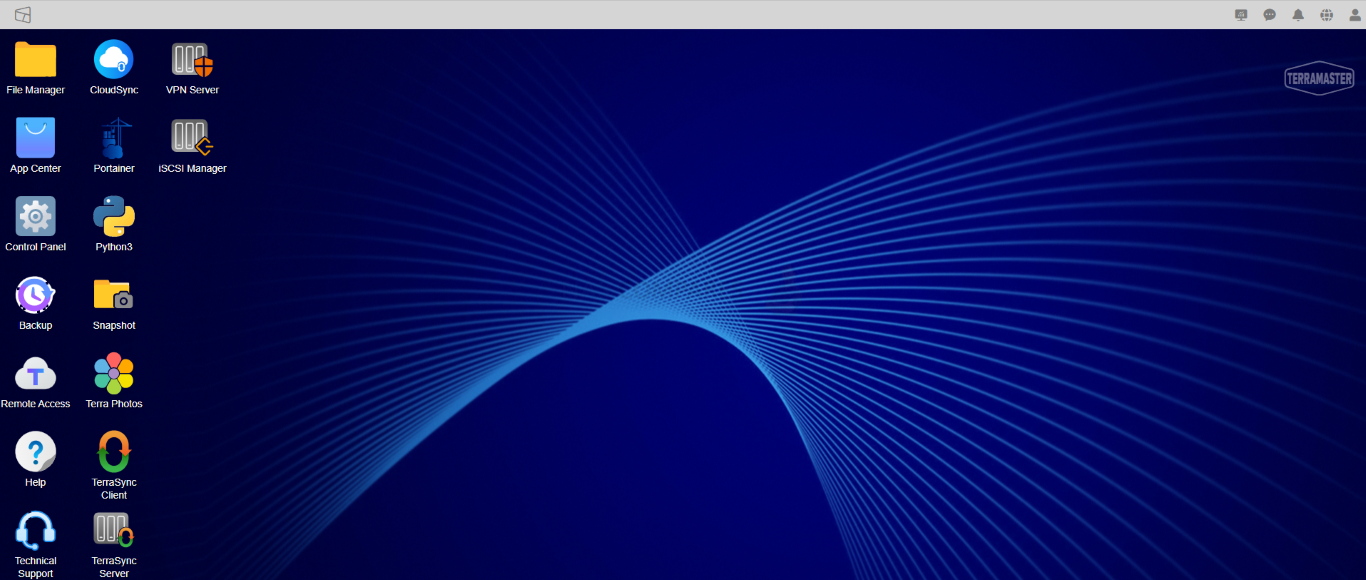 The addition of new apps, faster execution, and support for popular third-party software means that TOS 5.1 is rapidly gaining ground against its more well-established competitors. Its interface, while still a bit behind in terms of polish, is functional and intuitive. Regarding safety, Terramaster has made security a priority, with multiple layers of encryption, including AES-256. Additionally, their two-step verification process has now become more refined, further improving security. The software now supports snapshots, providing added insurance against potential data loss. Key Software and NAS tasks that are supported are:
Apple Time Machine Backup
Cloud Migration and Synchronization
NAS to NAS Rsync Support
Plex Media Server
Docker
Mail Server
Web Server
DLNA Media Server
WordPress Server
Download Server
Snapshot Support
TOS 5.1 has several features supporting advanced surveillance, an aspect often neglected in budget-friendly NAS options. IP camera support, motion detection, and email notifications help transform the F2-212 into a comprehensive surveillance solution for small businesses and homeowners. With BTRFS support, file self-healing, and instant snapshots, Terramaster ensures the F2-212 is a reliable, long-term data storage solution. For beginners, TOS offers user-friendly guides and tool tips, making the software accessible even to those unfamiliar with NAS systems. In TOS 5, not only have the storage structure and data interaction mode been reconstructed but also, compared with the previous generation, it adds more than 50 features and 600 improvements. The new features meet more business requirements, as well as significantly improve response speed, security, and ease of use.
Browser Access to TOS is Now 3x Times Faster
TOS 5 adopts progressive JavaScript language and a lightweight framework with a faster loading speed. TOS 5 features bidirectional data binding, easier data manipulation, and automatic synchronous response to data changes in the page; UI, data, and structure separation make it easier to change data without the need to modify logic codes. Using progressive JavaScript language, TOS 5 has a more lightweight framework. In addition, through two-way binding of data, the view, data and structure are separated. When the page is operated, it automatically responds to changes in data, which makes the system "lighter" and achieves a faster loading speed.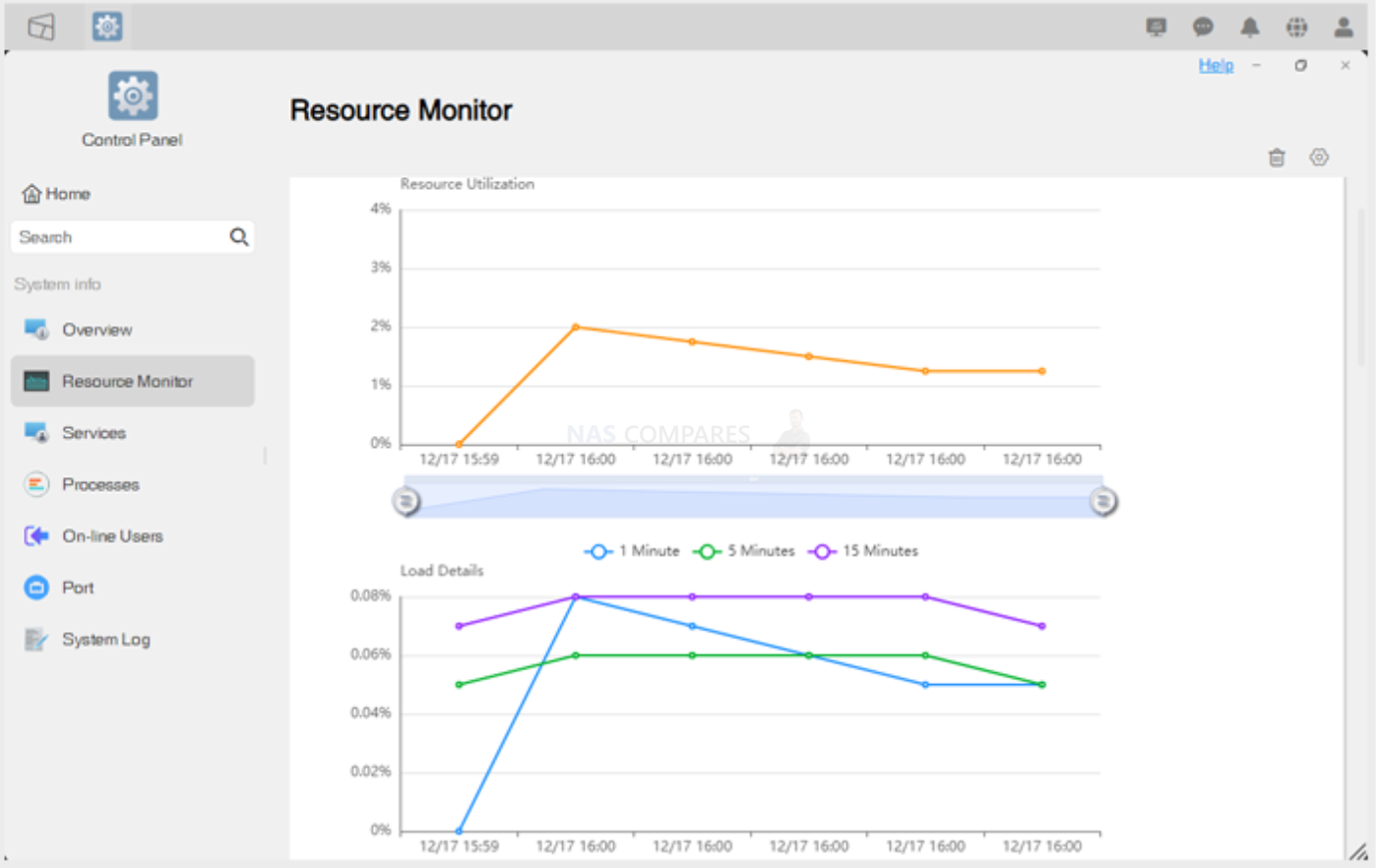 New caching technology avoids network round trips between the server and the database, bypasses the calculation that occupies resources, saves server resources, and improves response time and waiting time, so TOS 5 has the fastest response time in the current TOS family. Compared with the last generation, the TOS 5 response speed has increased by 300%! Use WASM to optimize the calculation method and execute the back-end complex calculations on the front-end, thereby reducing the calculation pressure on the server. In addition, TOS 5 uses the most popular back-end language at the moment, which can support high concurrent requests. Compared with traditional interpreted languages, the compilation speed is faster.
Improved Resource Monitor in TOS 5
The new iconic resource monitor board allows you to grasp the operating status of your TNAS comprehensively and intuitively in real-time; at-a-glance visibility of system load, CPU and memory usage, network traffic, disk I/O, device temperature, storage, processes, online users, listening ports, and system resource occupancy. Historical records of up to 30 days can be easily traced back.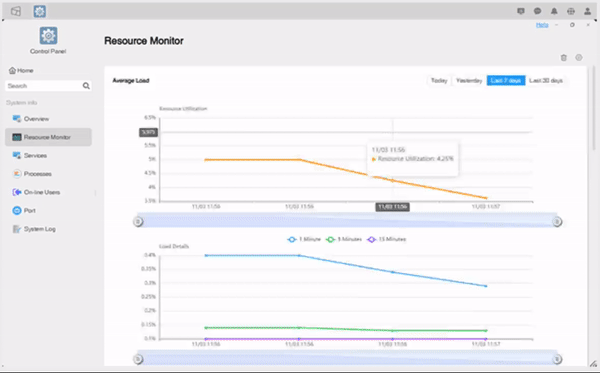 Full One Button System Isolation Mode Available in TOS 5
TerraMaster's unique security isolation mode completely isolates your TNAS device from the external network through network isolation, digital signature, and file format restriction, providing a safer operating environment and effective protection against virus and ransomware attacks.

Improved Storage, Backup & Sync Features in Terramaster TOS 5
TOS 5 features optimized storage architecture to reduce the system space occupation. The file deduplication system, file system compression, TRAID elastic array, and other functions also save you up to 40% of storage space
Single Portal Folder Level Backup for Home and SMB Users
Reduce complexity and embrace simplicity. All backup needs can be completed through a single portal, providing one-stop backup solutions including Central Backup, TerraSync, Duple Backup, Snapshot, USB Copy, CloudSync, and other comprehensive backup tools. This meets your clients' disaster recovery and restoration requirements, as well as backup policies and destinations.
New Flexible RAID Support in TRAID in TOS 5
By optimizing the traditional RAID mode, TerraMaster RAID (TRAID) gives you flexible disk array configuration, flexible online migration, capacity expansion, and redundancy policies. As well as improving disk space utilization, it also provides solutions and security protection for storage space changes caused by new business requirements. Much like Synology Hybrid RAID (SHR) in that you can mix drive capacities for improved storage after the RAID redundancy calculation. I reached out to Terramaster directly on this and they confirm that this function is supported in TOS 5.
Multiple Client Sync with TerraSync in TOS 5
TerraSync, a TerraMaster self-developed synchronization tool, realizes data synchronization between multiple users and multiple devices. It efficiently implements data sharing among branch offices and data synchronization between individuals on multiple devices and platforms, which assists employees in collaborative work and improves work efficiency.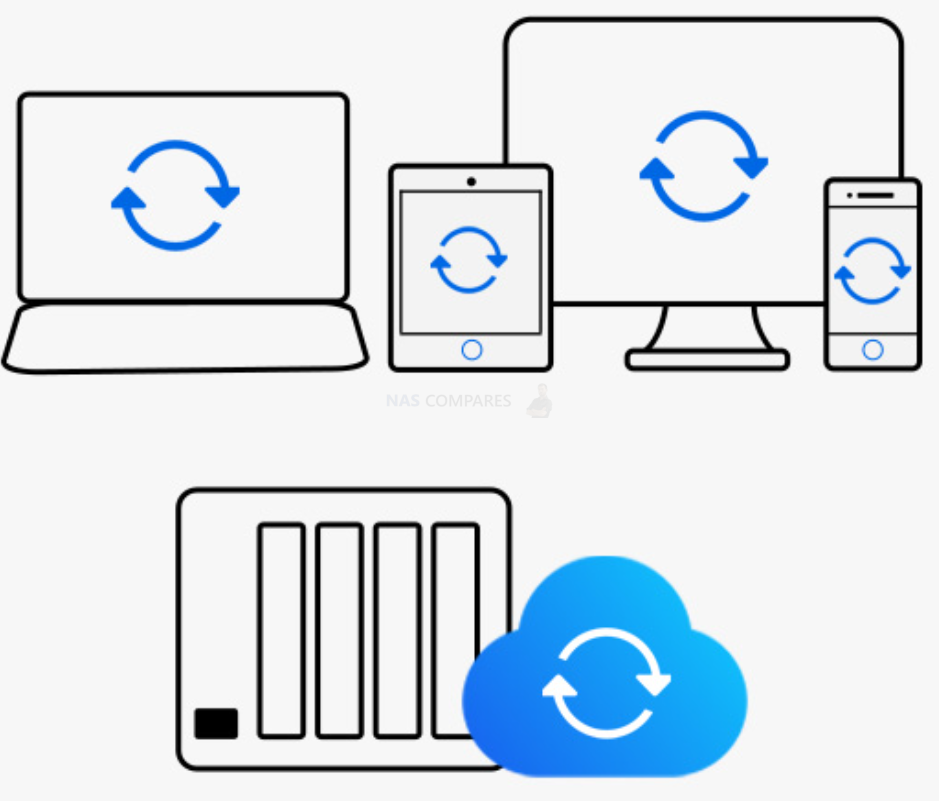 New CloudSync Application for Bare Metal-to-Cloud Live Sync in TOS 5
The new CloudSync app integrates multiple cloud drives and syncs them into one application, including Google Drive, One Drive, Amazon S3, Backblaze, Box, Dropbox, Koofr, OpenDrive, pCloud, Yandex disk, and Aliyun. This allows users to centralize the management of multiple synchronization tasks and add a variety of cloud disk synchronization options including Aliyun and Rackspace. A more flexible, stable, and efficient solution for data synchronization between your TNAS and cloud drives is facilitated by your choice of customized synchronization strategies, such as traffic control, scheduled tasks, and encryption.
Docker Added to Existing Container Tools in TOS 5
Combined with docker-compose and portainer, the new Docker Manager features an optimized operation interface, with multiple new features which provide visual management that meets all your requirements for container customization and flexible configuration.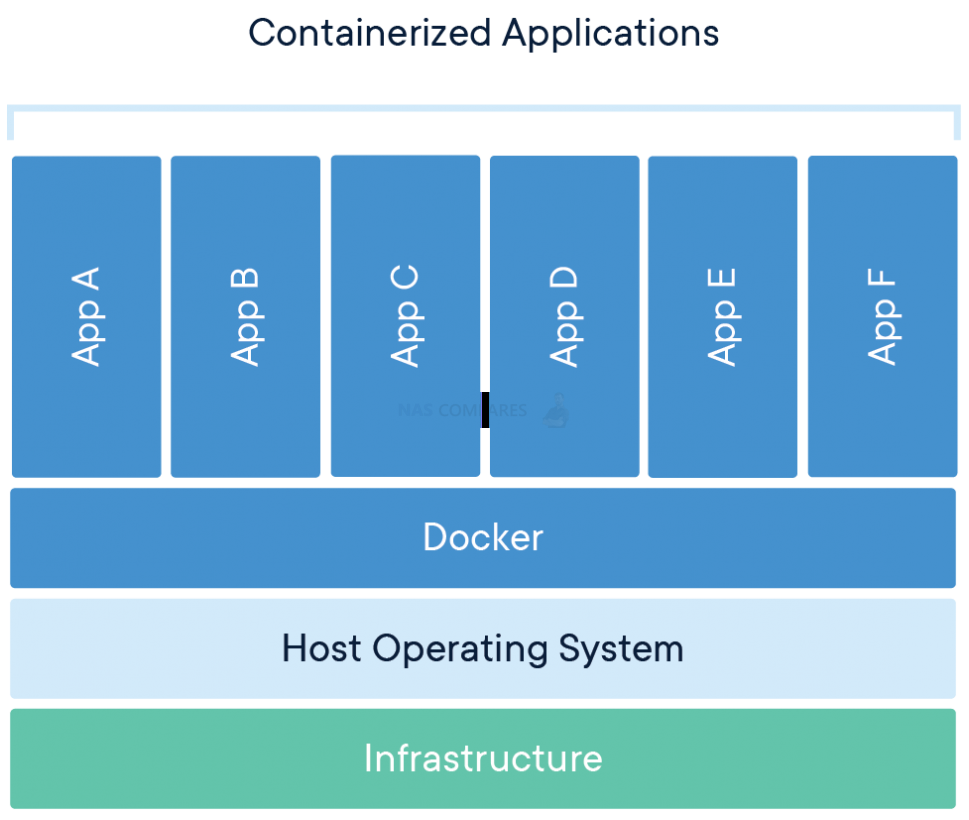 With a good range of applications to choose from, as well as the support of modern NAS applications in the mix, the TerraMaster F2-212 does give you a good base with which to start your NAS journey, though it may feel a little streamlined for those with greater NAS experience and the baseline hardware on offer in this more affordable NAS certainly limits the overall scope.
Terramaster F2-212 NAS Review – Conclusion and Verdict
If you look at the Terramaster F2-212 in the wrong light, you aren't really going to appreciate what has been crafted here. If you expect this device to perform as well as devices two to three times its price in the marketplace, you're bound to be disappointed! While this might be the lowest-priced, fully-featured NAS I've reviewed here, it's indisputable that compromises had to be made to achieve this price point. This is not a NAS for someone wanting everything done instantly for them and 50 of their friends. The Terramaster F2-212 offers an affordable entry point into the world of NAS for those transitioning from third-party clouds to self-hosted remote storage. In that context, if you're only going to use baseline applications for small groups of users and services, this system will excel. However, if you're seeking more advanced applications, business or enterprise-level services, or lack patience when the system requires time to manage its memory cache for the long-term, this might not be the system for you.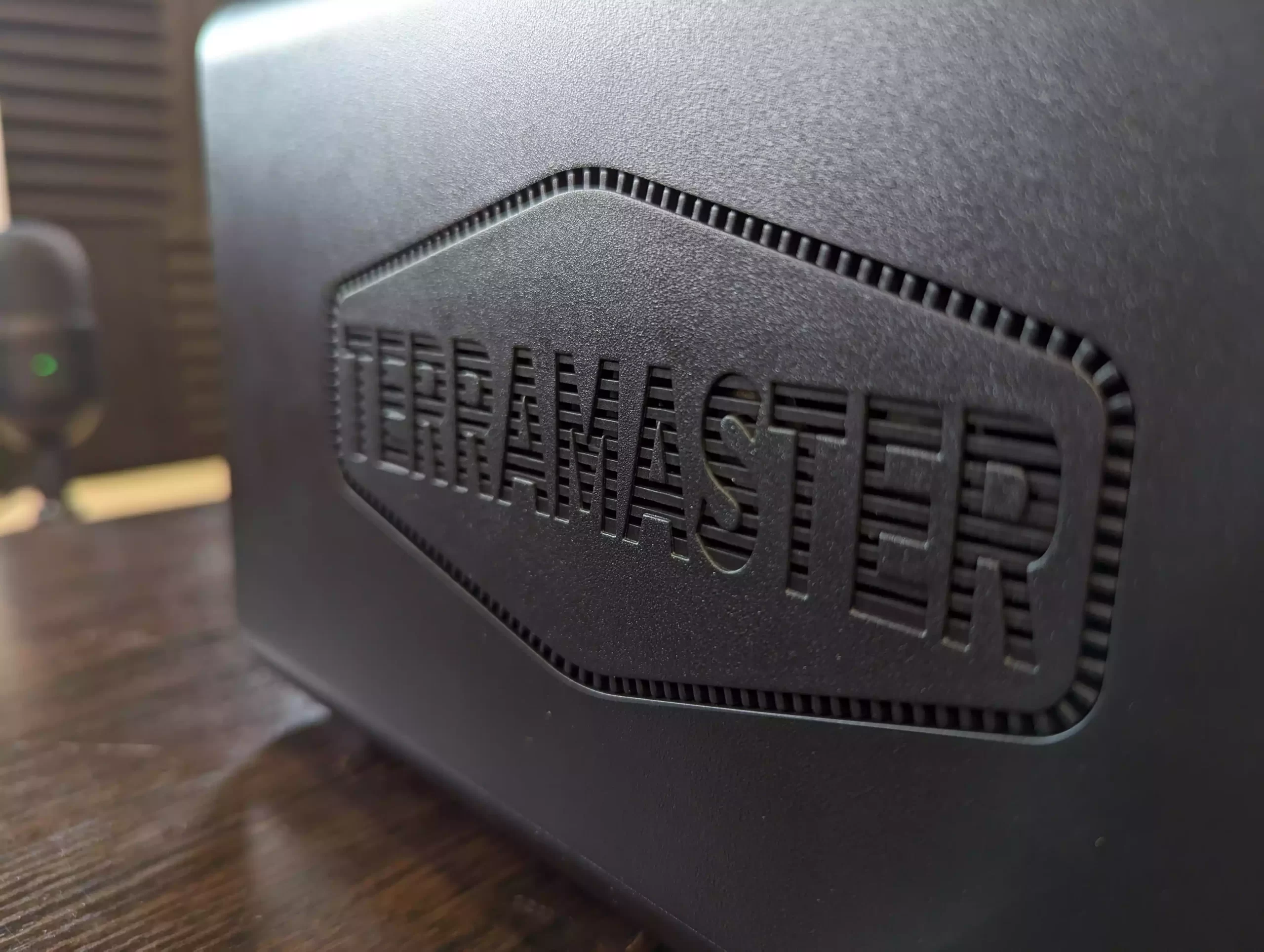 Above all, small enhancements to the Terramaster F2's hardware configuration could have made a significant difference. The default and non-upgradable 1GB of memory is a limiting factor, with a significant portion consumed by the standard operation of TOS in the background. An additional $10 or $20 to bolster the base memory could have truly made an impact. Likewise, many of Terramaster's notable advancements to their platform may not be fully realized on this modest 2-bay system due to its physical scale or architecture. Features like RAID, AI photo recognition, and Docker might seem out of reach. But that's not the point; this is an entry-level system. Concerns about expandability and adapting storage to multi-client setups are primarily for users who might consider investing more in their NAS solutions. If you recognize the Terramaster F2-212 for the budget, entry-level NAS it's designed to be, it offers solid value for its cost. However, remember it comes with inherent limitations right out of the box.
PROS of the Terramaster F2-212
CONS of the Terramaster F2-212

Affordable price.
ARM-based CPU ensures energy efficiency and reliable performance.
TOS 5.1 software has seen significant improvements, bringing it closer to industry standards.
Flexible upgrade options with USB to 2.5G network adapters.
TRAID Flexible RAID is great stuff!
Good CPU for the Price Point
Supports Current 22TB HDDs from WD and Seagate
Snapshot Replication
BTRFS Support if preferred
4K Video natively

Limited 1GB of non-upgradable memory.
Only a single 1G network connection.
Lacks M.2 SSD ports and PCIe upgrade options.
Although TOS 5 has seen some big improvements and more AAA+ apps and services added, it is still not as polished as DSM or QTS from their competitors
Click the link below to take you to your local Amazon store and where to buy the terramaster F2-212 NAS.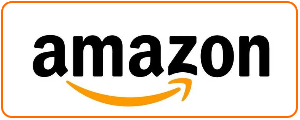 📧 SUBSCRIBE TO OUR NEWSLETTER 🔔
🔒

Join Inner Circle
Get an alert every time something gets added to this specific article!
This description contains links to Amazon. These links will take you to some of the products mentioned in today's content. As an Amazon Associate, I earn from qualifying purchases. Visit the NASCompares Deal Finder to find the best place to buy this device in your region, based on Service, Support and Reputation - Just Search for your NAS Drive in the Box Below
Need Advice on Data Storage from an Expert?
Finally, for free advice about your setup, j
ust leave a message in the comments below here at NASCompares.com and we will get back to you.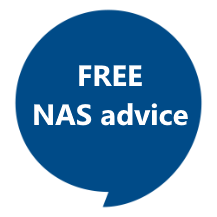 Need Help?
Where possible (and where appropriate) please provide as much information about your requirements, as then I can arrange the best answer and solution to your needs. Do not worry about your e-mail address being required, it will NOT be used in a mailing list and will NOT be used in any way other than to respond to your enquiry.
TRY CHAT
Terms and Conditions
If you like this service, please consider supporting us.
We use affiliate links on the blog allowing NAScompares information and advice service to be free of charge to you.
Anything you purchase on the day you click on our links will generate a small commission which is
used to run the website. Here is a link for
Amazon
and
B&H
.
You can also get me a ☕
Ko-fi
or old school
Paypal
. Thanks!
To find out more about how to support this advice service check
HERE
If you need to fix or configure a NAS, check
Fiver
Have you thought about helping others with your knowledge?
Find Instructions Here

ASK NASCompares forum
, by clicking the button below. This is a community hub that serves as a place that I can answer your question, chew the fat, share new release information and even get corrections posted. I will always get around to answering ALL queries, but as a one-man operation, I cannot promise speed! So by sharing your query in the
ASK NASCompares
section below, you can get a better range of solutions and suggestions, alongside my own.