Racked Synology NAS + NVMe Cache

Is there currently a racked Synology NAS 3.5″ 12+ disk product with NVMe SSD cache support, Xeon processors and 10Gbe?
The answer is no unless you get one with an expansion. Synology has two models with NVMe SSD card support and 10GbE built in, but CPU will be Atom:
RackStation RS2818RP+ 16bay and RackStation RS2418+ / RS2418RP+ 12bay
Intel Atom C3538 Quad Core 2.1 GHz
4 GB DDR4
But you can get an RS1619xs+ for   (and expansion RX1217/RX1217RP for ) with built-in dual NVMe slots and PCIe slot for a 10GbE card.

+

Intel Xeon D-1527 Quad Core 2.2 (base) / 2.7 (turbo) GHz
8 GB DDR4 ECC UDIMM
Compatible 10GbE/ 25GbE / 40GbE cards
| | | | | | |
| --- | --- | --- | --- | --- | --- |
| Brand | Model Number | Product Code | Ports | Connector | Interface |
| Synology | E10G15-F1 | | 1 x 10GbE | SFP+ | PCIe 2.0 x4 |
| Synology | E10G17-F2 | | 2 x 10GbE | SFP+ | PCIe 3.0 x8 |
| Synology | E10G18-T1 | | 1 x 10GbE | RJ45 | PCIe 3.0 x4 |
| Synology | E10G18-T2 | | 2 x 10GbE | RJ45 | PCIe 3.0 x8 |
| Emulex | OneConnect OCe11102-FM | | 2 x 10GbE | LC Connector | PCIe 2.0 x8 |
| Emulex | OneConnect OCe11102-NX | | 2 x 10GbE | SFP+ | PCIe 2.0 x8 |
| Intel | Ethernet Converged Network Adapter X520-DA2 | E10G42BTDA | 2 x 10GbE | SFP+ | PCIe 2.0 x8 |
| Intel | Ethernet Converged Network Adapter X520-SR2 | E10G42BFSR | 2 x 10GbE | LC Connector | PCIe 2.0 x8 |
| Intel | Ethernet Converged Network Adapter X540-T2 | X540T2 | 2 x 10GbE | RJ45 | PCIe 2.1 x8 |
| Intel | Ethernet Converged Network Adapter X550-T2 | X550T2 | 2 x 10GbE | RJ45 | PCIe 3.0 x8 |
| Intel | Ethernet Converged Network Adapter X710-DA2 | X710DA2 | 2 x 10GbE | SFP+ | PCIe 3.0 x8 |
| Intel | Ethernet Converged Network Adapter X710-T4 | X710-T4 | 4 x 10GbE | RJ45 | PCIe 3.0 x8 |
| Intel | Ethernet Network Adapter XXV710-DA2 | XXV710DA2 | 2 x 25GbE | SFP28 | PCIe 3.0 x8 |
| Intel | Ethernet Server Adapter I350-T4 | I350T4 / I350T4BLK | 4 x 1GbE | RJ45 | PCIe 2.0 x4 |
| Intel | Gigabit ET Dual Port Server Adapter | E1G42ET / E1G42ETBLK | 2 x 1GbE | RJ45 | PCIe 2.0 x4 |
| Intel | Gigabit ET2 Quad Port Server Adapter | E1G44ET2 / E1G44ET2BLK | 4 x 1GbE | RJ45 | PCIe 2.0 x4 |
| Mellanox | ConnectX-3 Pro EN MCX312B-XCCT | | 2 x 10GbE | SFP+ | PCIe 3.0 x8 |
| Mellanox | ConnectX-3 Pro EN MCX314A-BCCT | | 2 x 40GbE | QSFP | PCIe 3.0 x8 |
| Mellanox | ConnectX-4 Lx EN MCX4121A-ACAT | | 2 x 25GbE | SFP28 | PCIe 3.0 x8 |
| Mellanox | ConnectX-4 Lx EN MCX4121A-XCAT | | 2 x 10GbE | SFP28 | PCIe 3.0 x8 |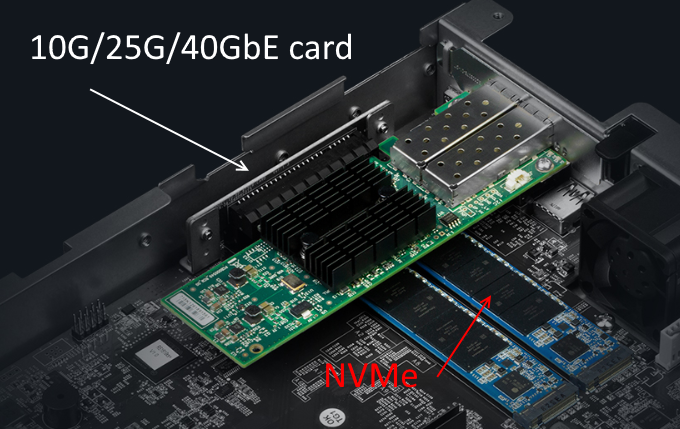 Find regulary updated NAS offers here
Of course I would prefer you choose
AMAZON UK
AMAZON USA
to buy your perfect solution, however, if you would rather buy locally, please use the links used above to take you to your local Amazon store and help support this free advice service with ad revenue. More ways of supporting the blog are described
HERE