2.5GbE Switches – Get it Right, First Time!
2.5 Gigabit ethernet is becoming increasingly prevalent in 2023, from ISP routers and gaming desktops to USB adapters and PCIe cards at $25, access to 2.5x traditional 1GbE network speeds is widely available. Many devices now come with 2.5G at the same price as 1G, or include WiFi6 capabilities which can exceed wired 1GbE. When buying hardware for your home or office in 2023, it's important to consider future-proofing and investing in 2.5Gb hardware to ensure maximum bandwidth without breaking the budget. One of the most important devices for managing a 2.5GbE network is a network switch. A network switch is similar to a plug adapter, providing more network connections from a single socket over a larger distance. However, not all network switches are equal in terms of reliability, features, and efficiency. So, today, I will be discussing the best 2.5Gb network switches currently available, broken down by price, value, scale, features, and more. Before we proceed, you might be wondering why someone should invest in a 2.5GbE network switch when they can just go for a 10GbE setup.

Why Would You Pick 2.5GbE over 10GbE in 2023?
It's a valid point that 10GbE, although still more expensive than 1GbE and 2.5GbE, has become more affordable in the last five years with the advancements in more efficient and cost-effective 10GbE network controllers. This has led to the availability of more affordable 10GbE routers and switches. Some network experts may view 2.5GbE as a temporary solution, and prefer to invest in something with more bandwidth. However, there are reasons to consider 2.5GbE, for example:
Although 10GbE switches and routers ARE in the market at a better price than ever, they are still 3-4x the price of 1GbE alternatives in the managed or unmanaged form
10GbE ports on laptops, computers and standard office hardware is still very much in low adoption. 2.5GbE featured less than 1G, but it's still ahead of 10GbE in consumer adoption by default
PCIe  upgrades with 10GbE are still very expensive (1Gb PCIe = $10, 10Gb PCIe = $80-100 minimum)
External 10GbE upgrades are limited and very expensive (Thunderbolt to 10GbE are your only option and start at $150-200, such as the Sonnet SOLO10G-TB3 or QNAP QNA-T310G1T), whereas USB-to-1G adapters are $10-12 and USB-to-2.5GbE are $20-25
10GbE arrives in both Copper and Fibre, which is useful for diverse setups, but leads to a coin toss of more expensive 10G Copper base hardware vs 10G Fibre cables/transceiver high price point and complexity. 2.5GbE uses all the same hardware in place as traditional 1GbE and allows for improved sustainability and less waste
Most client hardware is not able to take advantage of 10GbE and although having 1-2 high bandwidth devices (a NAS or SAN type server) connected over 10Gbe to the network can be beneficial to all, most client hardware devices will never be able to saturate 10Gb Connections. In those cases, a 1x10G and 8+ X 1G solution is preferable – which end up costing more than full, widespread 2.5G adoption.
While 10GbE offers more bandwidth, it comes at a higher cost for both the switch and upgrading client devices on the network. This cost can be reduced by using 10GBASE-T and reusing some hardware, gradually upgrading key clients, or choosing switches with mixed ports. But 2.5GbE is a more cost-effective option that allows you to upgrade some systems to reach 250MB/s bandwidth without overspending on 10GbE for systems that do not need the full 1,000MB/s offered.
Managed & Unmanaged Switches – What is the Difference?
One of the key factors that can greatly affect the price of a network switch is the software type. Network switches primarily come in two types: managed and unmanaged. A managed switch is a device that allows an admin or authorized user to access a control panel through a web browser or supported mobile app, to configure various settings and create a more tailored and superior network environment for their needs. This includes configuring port priorities, combining network ports for larger bandwidth (known as link aggregation or port trunking), creating security rules to prevent network invasion, and other customizable options. While these settings can be intimidating to configure, recent advancements have made it more user-friendly. However, it can still be overwhelming for a first-time user to set up their own network connection on a managed switch.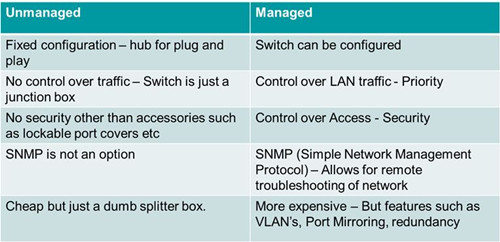 As the name suggests, an unmanaged switch does not allow users to configure the network in a unique way. Unmanaged network switches have basic internal processes with default settings for network access, security protocol, and behavior as more client hardware connects to the network. It lacks key features such as link aggregation, priority of service, quality of service, failover configurations, and more. However, an unmanaged switch is priced lower due to its cost-effective internal hardware requirements. If you're a home or low-level business user who doesn't need a unique network setup, an unmanaged switch may be suitable. Additionally, smaller unmanaged switches are often fanless and run silently. In summary, if you are not tech-savvy, on a tight budget, or running a basic setup, an unmanaged switch may suffice. But in most other cases, a managed switch is a better choice in the long run.
Learn More About Managed VS Unmanaged in the Article Below: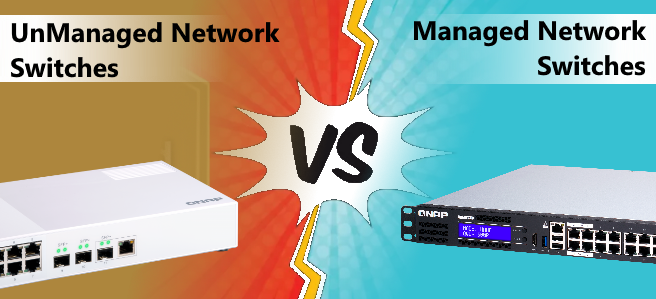 ---
Recommended 2.5GbE to USB Adapter – QGeeM 4-in-1 2.5GbE & USB C Hub –

£25.49

(currently on offer 06/22)
The 4-in-1 USB C to Ethernet hub expands the USB-C port of your laptop to six functions, including connecting to Ethernet, charging the laptop, using an external monitor, data transfer, and connecting a mouse, to enhance your work efficiency. It cleverly retains all the functions of the USB-C port, such as supporting up to 100W PD for charging your laptop at full speed, data transmission speed of up to 5Gbps, and 4K@30Hz media display in mirror and extended modes. The USB C adapter is sleekly designed, lightweight, and portable, making it ideal for use in the home, office, and during business trips, allowing for easy multitasking and increased productivity.
1x Ethernet: up to 2.5 Gbps

1x USB C: 100W Charging / 4K@30Hz Video / 5Gbps Date Transfer

2x USB 3.0: up to 5 Gbps
The USB C to 2.5G Ethernet adapter is designed for users looking to upgrade from Gigabit Ethernet speeds, providing network bandwidth of up to 2.5Gbps, which is 2.5 times faster than traditional networks, while also being backwards compatible with 10/100/1000Mbps. This adapter provides a more secure and stable connection than wireless networks and eliminates lag in video conferencing, file transfers, and gaming. It also features 100W Power Delivery via the USB C PD port, which can charge up to 100W, eliminates the worry of running out of power on your laptop, and helps reduce the number of cables on your desktop. The USB 3.0 port allows for fast file transfer speeds of up to 5Gbps, 10 times faster than USB 2.0 and is backwards compatible with USB 2.0 and earlier versions, allowing you to connect devices such as keyboard, mouse, hard drive, and USB drive to your device.
I recently upgraded my MacBook Pro and was disappointed to find that the new models no longer have USB ports. This hub allows me to connect all my devices that use USB! It's small and portable, which is great because I can easily take it with me in my backpack without adding much weight. I just tested it out using my Cricut machine and it worked perfectly! It also allows for 2.5 gig ethernet speeds where there is no port on the laptop, which is much faster for wired connections than just using WiFi. It has a USB-C port and two USB-A ports, so I still have USB available on my laptop. It works great and adds functionality to my laptop! My studio has an unreliable wifi signal, so I was looking for a portable hub that included Ethernet and a USB port for my Dell XPS. I am very happy with this tiny hub. It has worked great for the past 3 days of use. I no longer have to worry about unstable connections during my Zoom meetings. Additionally, I can connect more devices like flash drives or external hard drives to my laptop. It's very lightweight and convenient, and I can also bring it with me when I travel without any concerns.
Check if this switch is available on Amazon. This helps us at NASCompares

---
Lowest Price 2.5GbE Network Switch – QNAP QSW-1105-5T –

£80-100
The QNAP QSW-1105-5T switch delivers on its promises and is tailored for a specific user. It doesn't try to be more than it is, which allows for high performance and low power consumption for users looking to upgrade their networking without breaking the bank. This switch is an excellent choice for users transitioning from gigabit ethernet to multi-gigabit environments, especially with the increasing popularity of 2.5G, 5G, and 10Gbe in affordable hardware. However, the QSW-1105-5T may not be suitable for everyone as it may seem expensive compared to other unmanaged 1Gbe 5-port switches which are typically priced around £40-50.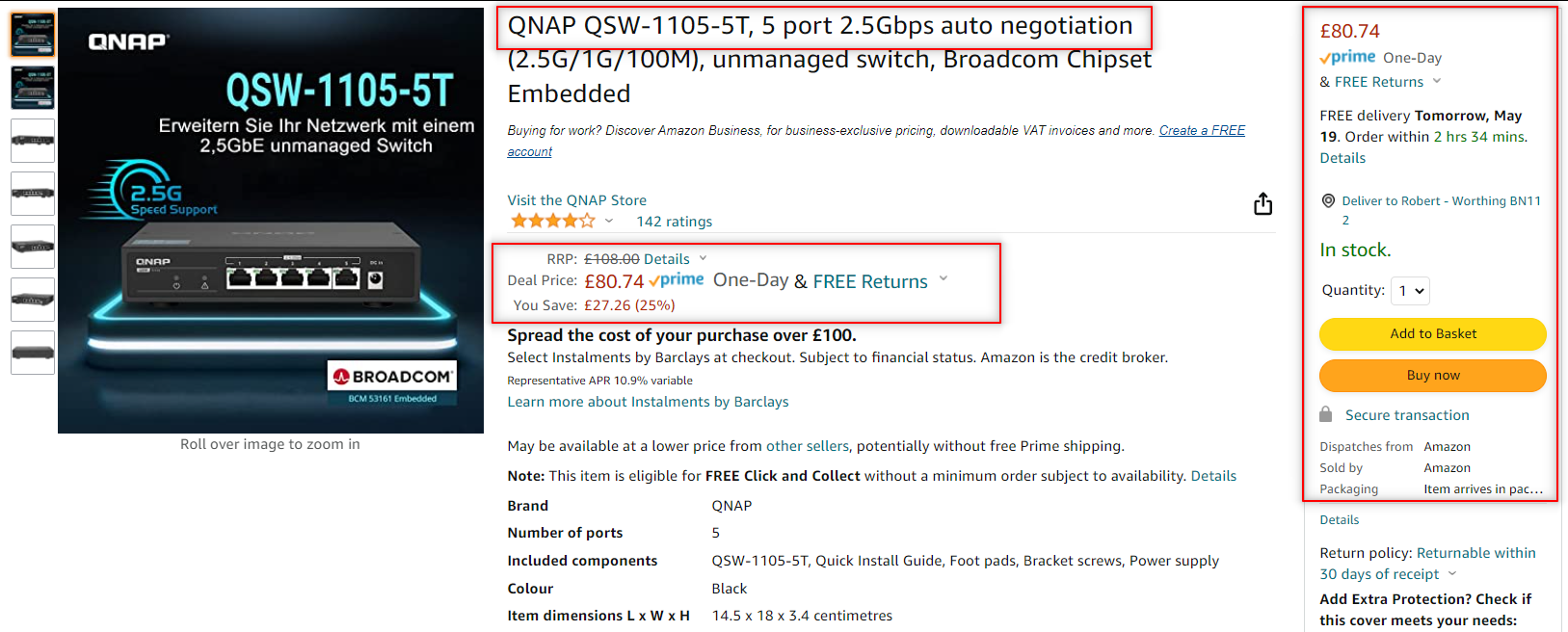 The QSW-1105-5T may not be suitable for those who already have a multi-gigabit network or require more advanced network control and priority features. However, it is important to note that the QSW-1105-5T is not designed for those needs and QNAP offers other switch options for more advanced users. By the end of 2022/23, QNAP will likely have a switch that caters to a variety of needs and budgets. Overall, the device is good, but it may not be suitable for YouTubers or users who require more advanced network features.
This slideshow requires JavaScript.
It is clear that the QNAP QSW-1105-5T switch is not a high-powered device that is intended to rival more advanced models in the QNAP QSW range. However, this is not a disadvantage, as it targets users looking for easy upgrades to their home/office PC/Client machines with USB adapters (such as the QNA-UC5G1T) and networks that prioritize WiFi 6 and upcoming WiFi 6E. In this category, the QSW-1105-5T has little competition and is a well-made product. The price point of over $100 for an unmanaged 5-port switch may be a concern, especially when compared to 1Gbe unmanaged switches that can be purchased for $40-50. However, it should be noted that the next tier (10Gbe) typically costs around $200 for the same unmanaged architecture. The only downside is that it would be nice if a managed version was available to take advantage of 2.5Gbe LAG connectivity that is widely available in multi LAN QNAP solutions in 2023
Check if this switch is available on Amazon. This helps us at NASCompares

---
Most Value for Money PoE+ 2.5GbE Switch – TRENDnet TPE-TG350 –

$184
TRENDnet's Unmanaged 2.5G PoE+ Switches are a great solution to expand network bandwidth and alleviate traffic congestion. These switches are equipped with 2.5GBASE-T RJ-45 ports, which provide faster gigabit speeds of up to 2.5Gbps over existing Cat5e or better cabling. The switches come with durable metal enclosures and can be mounted on the wall for easy installation. The fanless design ensures low energy consumption and eliminates operating noise. These reliable and cost-effective 2.5G PoE+ switches can increase your network's performance. Additionally, this PoE+ switch has a 55W total PoE power budget, which can supply up to 4 PoE+ devices with up to 30W per port.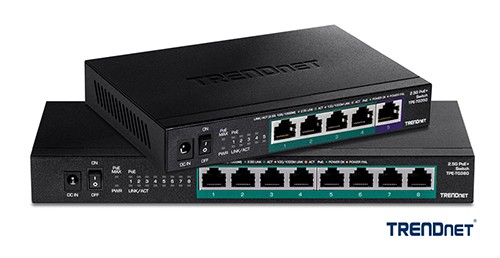 5 x 2.5GBASE-T ports
55W PoE power budget
IEEE 802.3bz (2.5G) compliant
Supports IEEE 802.3at/af PoE standards
Backwards compatible with 10/100/1000Mbps devices
25Gbps switching capacity
Fanless design eliminates noise
Wall mountable for installation flexibility
Check if this switch is available on Amazon. This helps us at NASCompares

---
Recommended Prosumer/SMB 8-Port 2.5GbE Switch – TRENDnet TEG-S380 – $179
Despite its growing popularity among hardware manufacturers, 2.5G technology is often overlooked. This is unfortunate, as it is becoming more common in computers and motherboards and is a cost-effective way to upgrade to multi-gigabit speeds. For example, 2.5G cards and dongles are reasonably priced, and 2.5Gbps speeds can be achieved with existing Cat5e cabling. TRENDnet has released an affordable unmanaged 2.5G switch, called the TEG-S380, which is an 8-port Unmanaged 2.5G Switch and part of the brand's Multi-Gigabit Networking Solutions family.

Both switches come with 2.5GBASE-T RJ-45 ports, which allow users to achieve up to 2.5Gbps over existing Cat5e (or better) cabling. These switches are a cost-effective means of increasing network throughput and reducing or eliminating network bottlenecks. They are built with durable metal housing and feature a fanless design for quiet operation and can be mounted on the wall or placed on a desktop. These TRENDnet switches are IEEE 802.3bz compliant and are backward compatible with legacy technology hardware. No special configurations are required to connect and network devices to high-speed 2.5G Ethernet, making them convenient and easy to use.
Check if this switch is available on Amazon. This helps us at NASCompares

---
Best Value Smart/Managed 2.5GbE and 10GbE Switch – QNAP QSW-M2108-2C or QSW-M2108-2S – $279-309
The question of "who actually has 2.5Gbe these days?" is a valid one. However, with the rise of WiFi 6 (802.11ax), many router solutions now come with 2.5G ports. Additionally, there are several affordable USB-to-5Gbe and USB-to-2.5Gbe adapters available in the market as an alternative to upgrading to 10Gbe via a PCIe card. Furthermore, some compact systems such as Raspberry Pi, MacBook, ChromeBook, Laptop, Surface Pro, etc do not have the ability to upgrade their network ports conventionally. QNAP introduced the budget +Gigabit ethernet switch QSW-2108-2C in 2023, which combined 8x 2.5Gbe with 2x10G, allowing for a compact and affordable way for businesses to step towards this network bandwidth but still unsure about the investment.
This slideshow requires JavaScript.
The switch has a unique multi-port combo system that allows users to combine copper and fibre environments and offers a large degree of flexibility at an affordable price point. Although it doesn't have the lifetime warranty of some more expensive NETGEAR solutions, it has an intuitive management panel and ease of design that borrows heavily from the QTS NAS software, making it more user-friendly than most of its competitors. In conclusion, the QSW-M2108 is a capable solution that delivers on all of its promises and may make you rethink using 1Gbe switches again.
Check if this switch is available on Amazon. This helps us at NASCompares

Recommended 2.5G/10G Switch for Gamers – D-Link DMS-106XT – $140
Throughout this guide to 2.5G switches, it's clear that I have found it difficult to find faults in the D-Link DMS-106XT network switch considering its price and wide range of network connectivity options. There may be a few design choices that are divisive, such as its all-metal build, LEDs, and unconventional shape, but they are relatively minor issues in the grand scheme of things. The price tag of this switch, even as an unmanaged switch, is quite attractive to many buyers and has become more flexible over time as it has gained more exposure and reviews.
This slideshow requires JavaScript.
D-Link could be clearer about the benefits of the turbo mode feature and customization options for the LEDs are limited, but overall, it is a sturdy, solid, and high-performing piece of equipment. Additionally, with the increasing affordability of 10GbE and the widespread use of 2.5GbE ports in WiFi 6 client hardware, this switch has a wider audience than it would have had just a couple of years ago. Overall, it is a great piece of equipment and I highly recommend it.
Pros – 10G + 2.5G arriving at the same/cheaper price than many 2.5G-only switches right now.  Unique and Attractive Design. Unmanaged BUT the Turbo Mode adds Priority of Sevice features.  Fanless + Ridged Metal design assists heat dissipation. LED and lighting are quite cool looking
Cons – LED lighting controls are practically zero
Check if this switch is available on Amazon. This helps us at NASCompares

---
Recommended Unmanaged 2.5GbE and 10GbE Switch – QNAP QSW-2104-2T or QSW-2104-2S – $210
The QNAP Systems introduced the QSW-2104 series of unmanaged switch models, including the QSW-2104-2S and QSW-2104-2T. The QSW-2104-2T is an easy-to-use unmanaged switch with 2 10GbE RJ45 ports and 4 2.5GbE RJ45 ports, allowing you to upgrade your network environment by connecting a wider range of devices with different bandwidth requirements. The switch features a near-silent fanless design and is compliant with IEEE 802.3az (Energy Efficient Ethernet, EEE), operating quietly and with optimal power usage. It's high performance and superb functionality make it the ideal choice for creating an affordable high-speed network environment in your home or workplace. The QSW-2104-2S and QSW-2104-2T are both six-port switches with two 10GbE ports and four 2.5GbE ports, but the QSW-2104-2S has 10GbE ports routed to SFP+ fiber-optic transceivers, while the QSW-2104-2T model has connectors designed for copper twisted pair connection.
This slideshow requires JavaScript.
Note that in the first case, speeds of 10 Gb/s and 1 Gb/s are supported, and in the second – 10 Gb/s, 5 Gb/s, 2.5 Gb/s, 1 Gb/s and 100 Mb/s. The 2.5GbE ports in both cases are designed for twisted pair connections and support speeds of 2.5 Gbps, 1 Gbps, and 100 Mbps. The QSW-2104 series supports auto-negotiation that optimizes transfer speeds and performance for each connected device and features network loop detection that automatically locks looped ports to ensure the network environment quickly resumes normal operations. With plug-and-play support, near-silent, passively cooled design, IEEE 802.3az compliance, and automatic loop detection and blocking, the QSW-2104 series unmanaged switch is an affordable but tremendously capable piece of kit!
Check if this switch is available on Amazon. This helps us at NASCompares

---
📧 LET ME KNOW ABOUT NEW POSTS 🔔
Join 1,669 other subscribers
Get an alert every time something gets added to this specific article!
This description contains links to Amazon. These links will take you to some of the products mentioned in today's content. As an Amazon Associate, I earn from qualifying purchases. Visit the NASCompares Deal Finder to find the best place to buy this device in your region, based on Service, Support and Reputation - Just Search for your NAS Drive in the Box Below
Need Advice on Data Storage from an Expert?
We want to keep the free advice on NASCompares FREE for as long as we can. Since this service started back in Jan '18, We have helped hundreds of users every month solve their storage woes, but we can only continue to do this with your support. So please do choose to buy at Amazon US and Amazon UK on the articles when buying to provide advert revenue support or to donate/support the site below.

Finally, for free advice about your setup, j
ust leave a message in the comments below here at NASCompares.com and we will get back to you.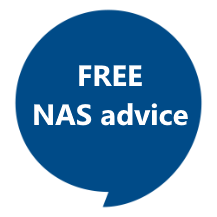 Need Help?
Where possible (and where appropriate) please provide as much information about your requirements, as then I can arrange the best answer and solution to your needs. Do not worry about your e-mail address being required, it will NOT be used in a mailing list and will NOT be used in any way other than to respond to your enquiry.
TRY CHAT
Support What We Do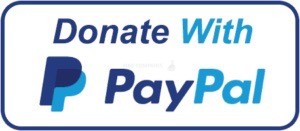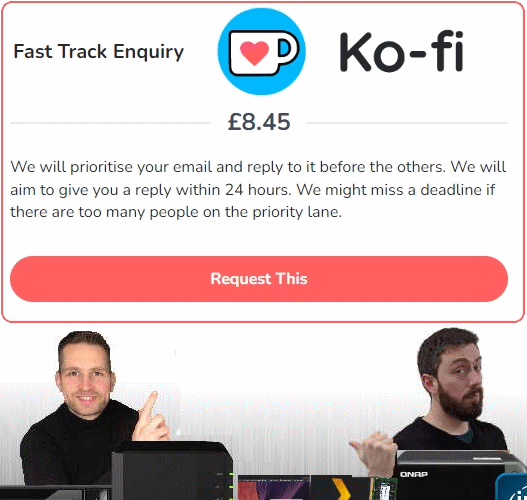 Terms and Conditions
Alternatively, why not ask me on the
ASK NASCompares forum
, by clicking the button below. This is a community hub that serves as a place that I can answer your question, chew the fat, share new release information and even get corrections posted. I will always get around to answering ALL queries, but as a one-man operation, I cannot promise speed! So by sharing your query in the
ASK NASCompares
section below, you can get a better range of solutions and suggestions, alongside my own.