Terramaster NAS Introduce a Flexible RAID System into TOS 5
With several NAS brands in the market, it can often be the small features that one brand offers over another than can be the deciding factor for many in choosing the right solution for their needs. One feature that current NAS favourite Synology have offered on their solutions in the last few years was SHR (Synology Hybrid RAID) and this was a feature that many people desired enough to choose their premium platform over others. This is about to change however with the news that TOS 5 from Terramaster (the software that is included with their NAS systems) features a new fluid/flexible RAID system too, known as TRAID. This is a very appealing feature for many that are already looking at Terramaster NAS' affordability. TOS has revealed several new features (isolation mode, Surveillance Camera software, AI Photo recognition and more) and the TRAID configuration to allow flexible and fluid RAID storage is going to be very popular indeed.
Why Are Flexible/Fluid RAID Configurations Popular?
RAID flexibility in configurations such as TRAID and SHR have always been appealing to home/SMB users, as it allows the end-user to fully or partially populate their NAS systems with mixed capacity HDD/SSDs. Few people will want to do this on day 1, but years into their NAS drive's life, when they want to add newer, bigger hard drives (as the cost of HDDs per Terabyte drops over time) and this is where mixing drive capacities and still getting the benefits of larger available capacities becomes increasingly desirable. Traditional RAID (RAID 1, 5, 6, etc) will measure each drive in an array by the smallest available drive. Therefore, for example, if you have 7x 10TB Hard drives and 1x 10TB in a RAID 5 carry, traditional RAID systems will class all eight of those drives as 1TB each. Fluid RAID's allow the system to only be concerned with ensuring 1 drive's worth of redundancy (i.e 1x of the biggest drive available) and then presents the whole of the rest of the storage to the end user. In short, by optimizing the traditional RAID mode, TerraMaster RAID (TRAID) gives you flexible disk array configuration, flexible online migration, capacity expansion, and redundancy policies. As well as improving disk space utilization, it also provides solutions and security protection for storage space changes caused by new business requirements.
What is Terramaster TRAID?
TRAID is the abbreviation of TerraMaster RAID. TRAID is a flexible disk array management tool developed by TerraMaster. It has features such as the automatic combination of disk space, hard disk failure redundancy protection, and automatic capacity expansion. All these features do not require manual configuration by the user, and the system will automatically complete the configuration according to the properties of the hard disk. TRAID provides users with an optimized, flexible and elastic disk array management solution, especially suitable for new users who are not proficient in how to configure a disk array.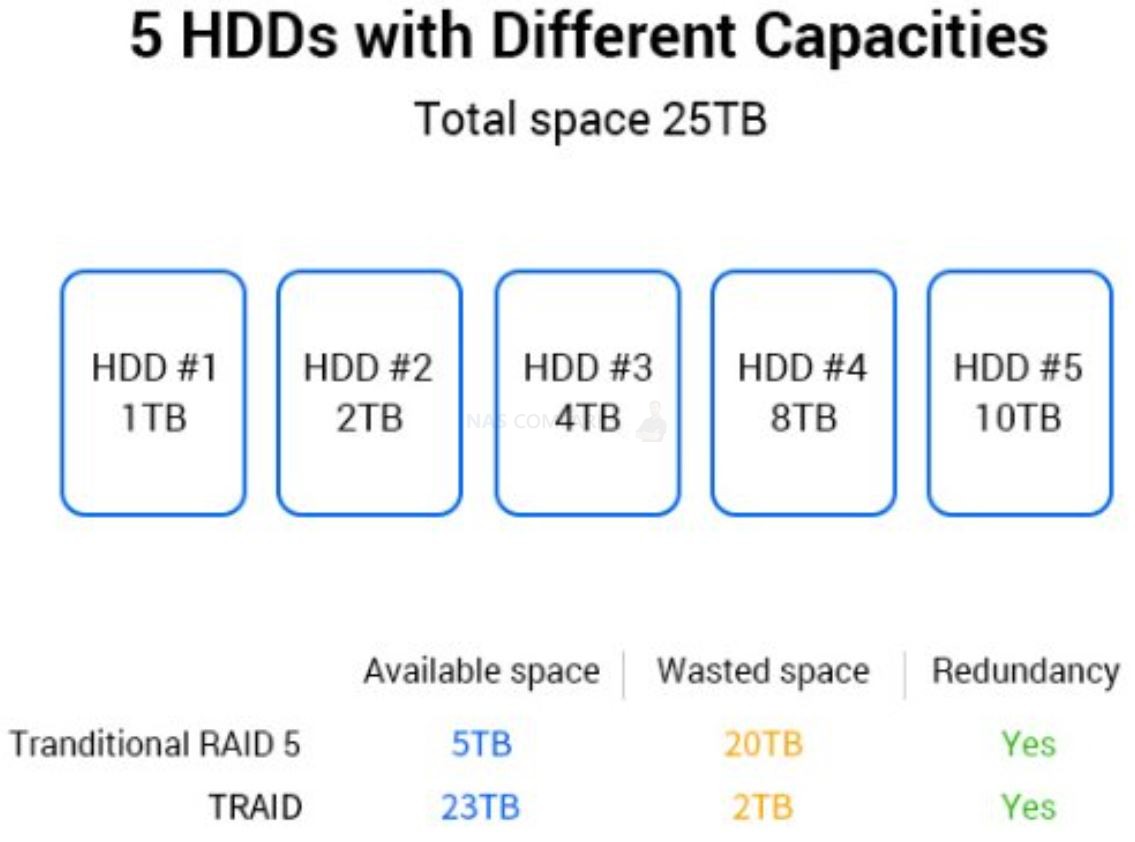 Note – Once you have selected TRAID as your array type, you cannot convert TRAID to a traditional array type unless you delete and recreate the array. If you want to manage the array type manually, it is recommended that you use the traditional type when building your array, such as Single, RAID 0, RAID 1, RAID 5, RAID 6, RAID 10, etc.
Higher disk space utilization options for TRAID
In the digital age, the amount of our data is increasing rapidly, and the capacity of hard disks is also increasing rapidly at a rate of almost doubling every 3 years. When we purchase larger capacity hard drives, we also hope that the old hard drives can continue to play a role, but the traditional array mode cannot meet this demand. TerraMaster TRAID array solves this problem very well. With TRAID flexible management strategy, you can continuously add hard disks to your array to expand the storage capacity, even if the hard disk capacity is quite different. For examples. Let's say, you want to combine 1TB, 2TB, 4TB, 8TB, 10TB 5 hard drives with different capacities to form a disk array with redundancy protection. In traditional RAID mode (RAID 5), you only get 5TB of usable space. To give that a little perspective, here is how the traditional RAID works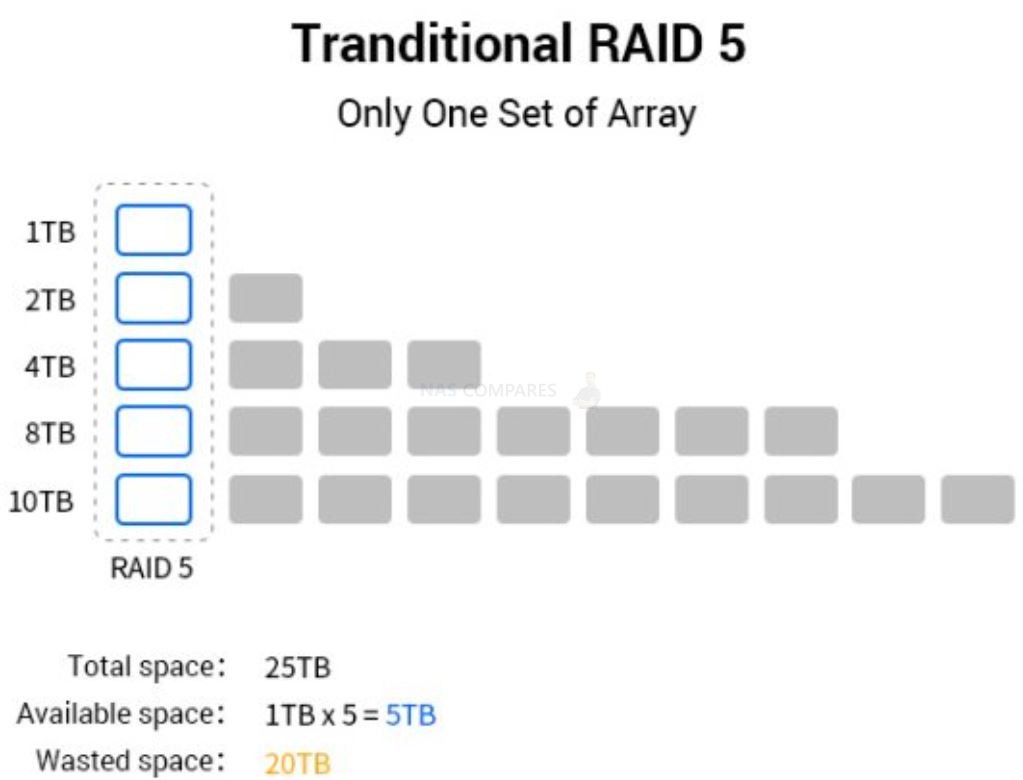 How TRAID works versus RAID 5
With TRAID's elastic strategy, you can get 23TB of usable space. TerraMaster uses the Linux disk management tool to subtly divide the hard disk space of different capacities into smaller partitions, and then combine the redundancy strategy to recombine the partitions. Once the TRAID is formed, users can still replace larger capacity hard disks or add more hard disks to expand the storage space of the array according to their needs. Compared with traditional arrays, in addition to redundancy protection, TRAID can significantly improve the utilization efficiency of disk space. At the same time, compared with traditional arrays, TRAID arrays have higher efficiency when expanding capacity. Here is the same HDD setup you saw previously in the RAID 5 diagram and how it would result in TRAID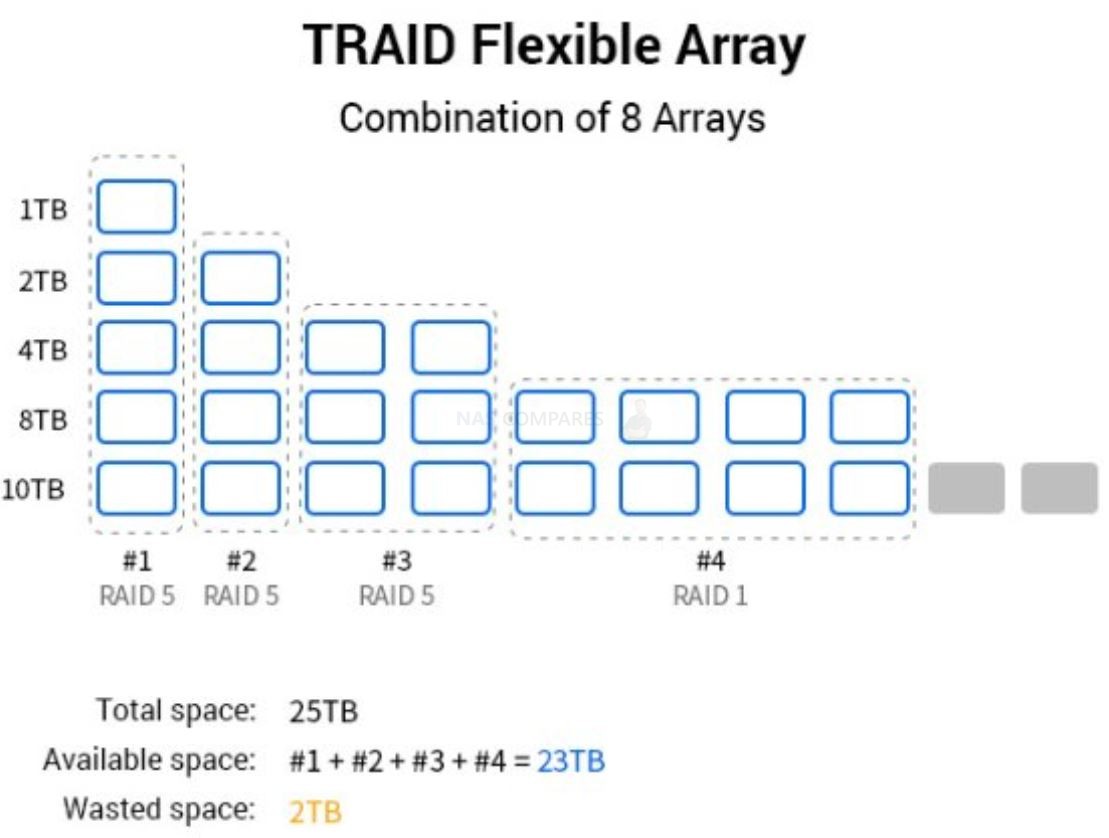 How to expand the storage space of TRAID?
After the TRAID is formed, you can expand the storage space through the following 2 methods.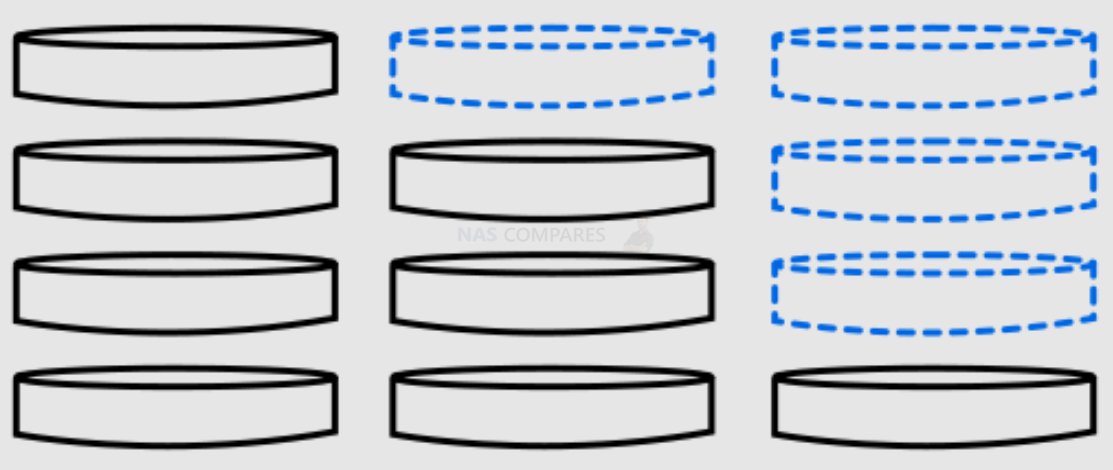 1. Replace the hard drive with a larger capacity
Note: Replace only one hard drive at a time, and make sure that the newly added hard drive meets the requirements.
Operation method: Keep the TNAS powered on, remove one of the drives, and insert a larger capacity drive, go to Control Panel > Storage Management > Storage Pool > Edit, and select "Repair". After the array is repaired, use the same method to replace other hard drives.
2. Increase the number of hard drives
Operation method: Keep the TNAS powered on, insert a new hard drive, go to Control Panel > Storage Management > Storage Pool > Edit, and select "Expand". Make sure that the newly added hard drive meets the requirements and you have enough spare disks slots.
Hard disk failure redundancy protection
TRAID can provide you with redundant protection against a hard disk failure, allowing a maximum of one hard disk to fail. Ensure your data is not lost in the event of a hard drive failure in the array.
Note: You only need one hard disk to create a TRAID array, but TRAID of one hard disk cannot provide redundancy protection. If redundancy protection is required, you need at least 2 hard disks.
TRAID+ with redundant protection of 2 hard drives
If you wish to provide 2 hard disk failure redundancy for the array, a maximum of 2 hard disk failures are allowed. Please choose a higher level TRAID: TRAID+. Note: At least 4 hard disks are required to form a TRAID +.
How to migrate TRAID to TRAID+?
You can migrate TRAID to TRAID+ by adding the number of hard drives.
Note: TRAID can be migrated to TRAID+ only when there are 3 or more hard drives.
How to do it: Keep the TNAS powered on, insert a new hard drive, go to Control Panel > Storage Management > Storage Pools > Edit, and select "Migrate". Make sure that the newly added hard drive meets the requirements.
Find out more about the planned updates and improvements to TOS for Terramaster NAS in the Beta update below:
Terramaster NAS TOS 5 Beta Now Available – Learn More Below
📧 LET ME KNOW ABOUT NEW POSTS 🔔
Join 1,406 other subscribers
Get an alert every time something gets added to this specific article!
This description contains links to Amazon. These links will take you to some of the products mentioned in today's content. As an Amazon Associate, I earn from qualifying purchases. Visit the NASCompares Deal Finder to find the best place to buy this device in your region, based on Service, Support and Reputation - Just Search for your NAS Drive in the Box Below
Need Advice on Data Storage from an Expert?
We want to keep the free advice on NASCompares FREE for as long as we can. Since this service started back in Jan '18, We have helped hundreds of users every month solve their storage woes, but we can only continue to do this with your support. So please do choose to buy at Amazon US and Amazon UK on the articles when buying to provide advert revenue support or to donate/support the site below.

Finally, for free advice about your setup, j
ust leave a message in the comments below here at NASCompares.com and we will get back to you.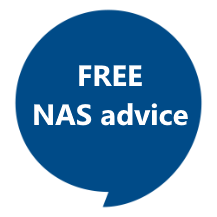 Need Help?
Where possible (and where appropriate) please provide as much information about your requirements, as then I can arrange the best answer and solution to your needs. Do not worry about your e-mail address being required, it will NOT be used in a mailing list and will NOT be used in any way other than to respond to your enquiry.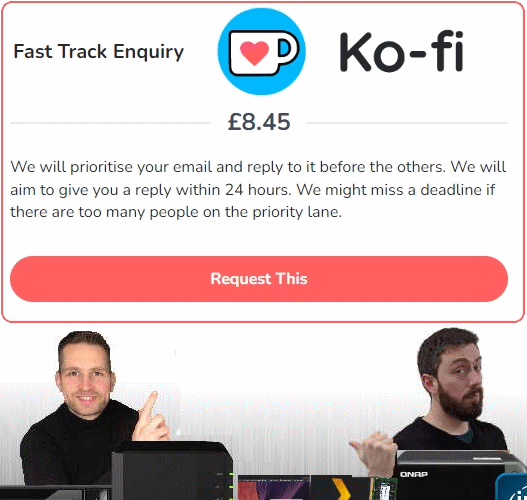 Terms and Conditions
Alternatively, why not ask me on the
ASK NASCompares forum
, by clicking the button below. This is a community hub that serves as a place that I can answer your question, chew the fat, share new release information and even get corrections posted. I will always get around to answering ALL queries, but as a one-man operation, I cannot promise speed! So by sharing your query in the
ASK NASCompares
section below, you can get a better range of solutions and suggestions, alongside my own.
If you like this service, please consider supporting us.
We use affiliate links on the blog allowing NAScompares information and advice service to be free of charge to you.
Anything you purchase on the day you click on our links will generate a small commission which is
used to run the website. Here is a link for
Amazon
and
B&H
.
You can also get me a ☕
Ko-fi
or old school
Paypal
. Thanks!
To find out more about how to support this advice service check
HERE
If you need to fix or configure a NAS, check
Fiver
Have you thought about helping others with your knowledge?
Find Instructions Here