The QNAP HS-264 NAS Review – Sensibly Silent?
I think it would be fair to say that QNAP has quite a few different NAS ranges in their portfolio. From hefty enterprise rackmounts and thunderbolt machines, to compact prosumer desktops and modest entry-level systems, the majority of their solutions all seemingly share the same physically architecture – a desktop or rackmount enclosure that has changed really only aesthetically in the last 10-15 years. However, QNAP's Silent NAS series (started back in 2014/2015) has always been a very different beast and even in its earliest iterations was breaking the rules of what we thought a NAS is supposed to look like and (more importantly) sound like. The QNAP HS-264 is the latest release in the HS NAS series of devices (previously HS-251+ and HS-453DX) that has the bold claim to be 'silent'! Now, of course, that is not strictly true. It IS a fanless NAS that is designed in a horizontal profile to promote increased heat dissipation into a unit heatsink system (that is how the use of a fan is avoided) along with the physical spreading of the system also dispersing vibration much better. This results in a reported active noise level with traditional NAS hard drives under 8TB to produce a lower rating than other 2-Bay systems in idle/standby (can't switch off HDD spin and actuator noise). Plus, QNAP state that using SSDs results in the system being genuinely silent. Now for those that want their own NAS service for multimedia, plan on working in close proximity with the system or have a small office where this system will be working hard 24×7 in – the thought of a silent NAS is dream come true. However, hold your horse, just because the HS-264 is going to be quieter than the average NAS/bear, doesn't mean it is automatically a 'good NAS'. So, today I want to review the QNAP HS-264 NAS, go through the design, the hardware architecture, the supported software, explore how quiet it is and ultimately help you decide if it is the right NAS for you.
Highlights of the QNAP HS-264 NAS
Fanless silent design. SSD use is silent, HDD use is quiet (drive dependant)
Intel N5105/N5095 Quad Core Celeron, 2021 Q2 Release
8GB DDR4 Memory
2.5GbE Network Ready
USB 3.2 Gen 2 (10Gb/s) Equipped
SATA HDD/SSD Bays and RAID Support
QNAP HS-264 NAS Review – Quick Conclusion
Overall you cannot say that QNAP has not been a pinch more mature and sensible (perhaps to a fault) in the design and architecture of the HS-264 NAS. Living slightly in the shadow of the more bandwidth equipped but more expensive HS-453DX, the HS-264 is still a solid entry in the QNAP x64 series and if you are looking for a truly silent NAS that includes all the tools and services that a modern NAS system should feature, the HS-264 is unquestionably a great NAS system. As long as you factor in the noise of HDDs in 2022 (an often overlooked detail I would add), the HS-264 NAS is a system that focuses it's abilities and power internally, which being by far the most 'power and heat' aware system that the brand has ever released in this series. Concerns about QNAP and recent ransomware attacks are always going to dog the brand for a while yet, but nevertheless, that does not undercut the achievement in hardware and design that this system provides. Perhaps if QNAP could have released a modernized version of the HS-453DX, buyers would be fully satisfied, but in it's absence, the HS-264 and what it brings to the table ticks most of the important hardware boxes for me.
QNAP HS-264 NAS Review – PACKAGING & ACCESSORIES
The retail box for the QNAP HS-264 NAS is fairly standard stuff, arriving a fraction smaller than its HS-453DX predecessor, the chassis shape that this system arrives in is pretty clearly a slight change of scene from traditional 2-Bay and 4-Bay systems in the rest of the brand's portfolio.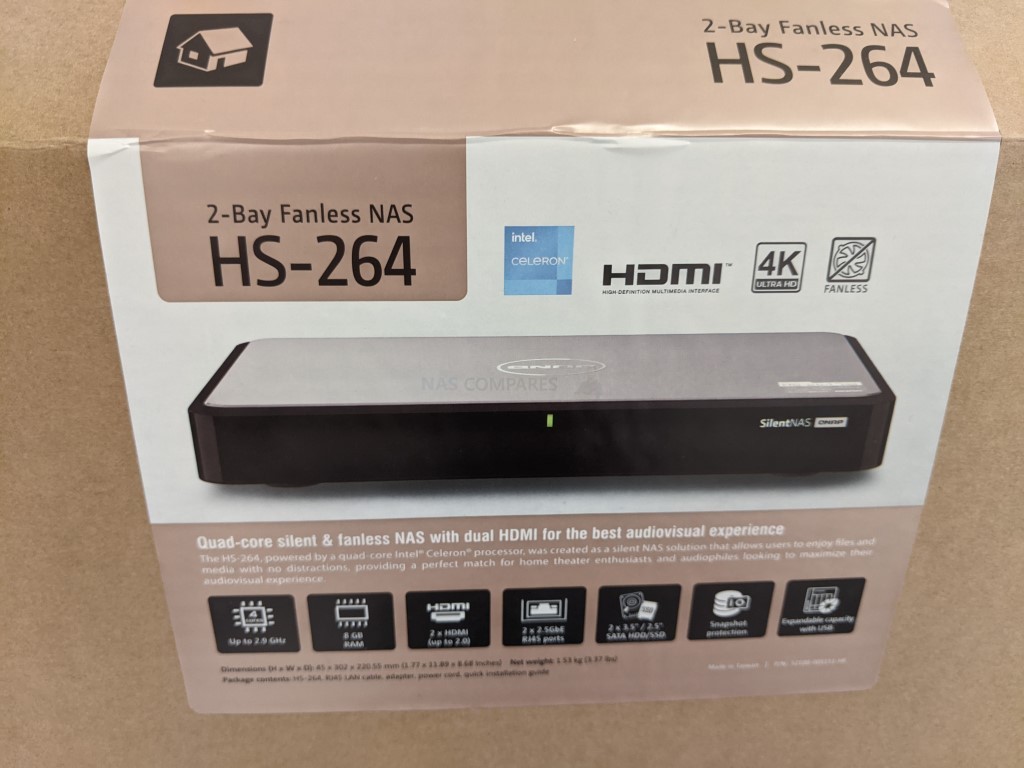 The box is a slightly generic brown box, with branding prints and the specific model ID logo. This is a system that, to say it is niche, would be an understatement. NAS already is a niche corner of the tech market, but a silent NAS is a niche within a niche and therefore the chances of this being an 'off the shelf' highstreet purchase (as you might find with the more affordable TS-233 or TS-251D systems from QNAP) is are close to zero. Therefore, opting for slightly generic packaging for this almost certainly eSShop purchase makes sense. Still, it's a little bland. Opening the box however, shows that a large amount of effort has gone into protection in transit – something I am always keen to highlight on the blog (as silent damage from motion/shock on the controller board etc – even if the system is shipped unpopulated) is a genuine factor and one that gets overlooked.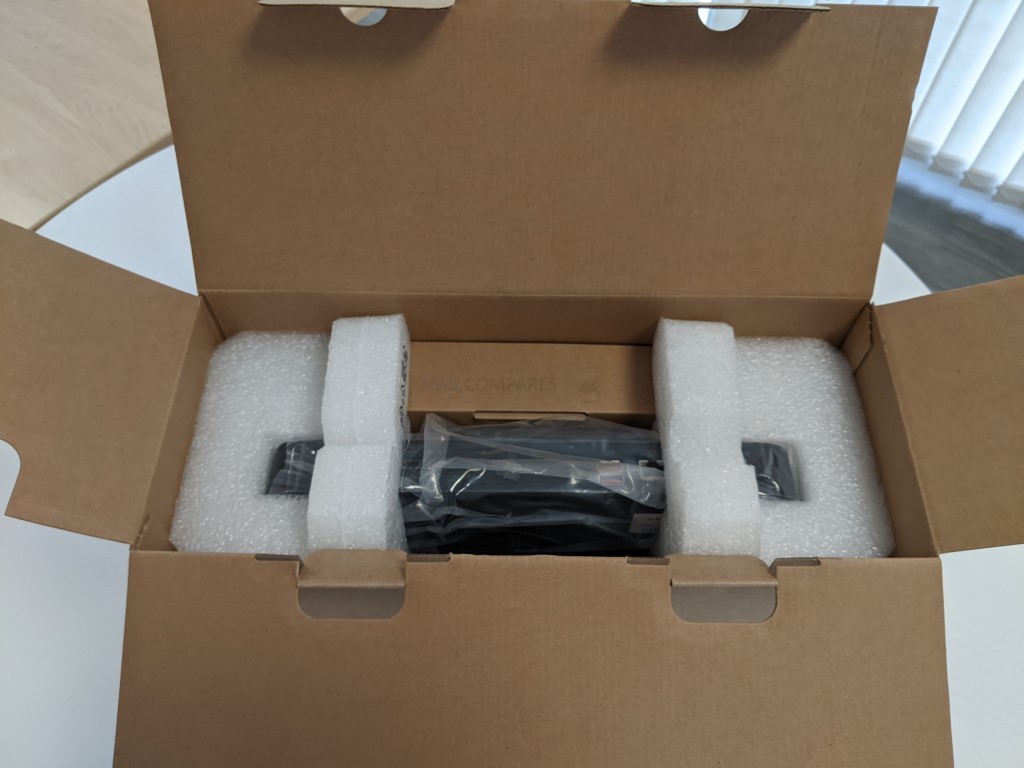 The system arrives encased in a rigid foam skeleton structure of quite high quality, as well as the accessories packaged in their own kit box. Again, very minor details I know, but I have seen quite a few sub-£1k systems arrive for review over the years that have arrived in nothing but cardboard and flimsy styrofoam – so I think it's always important to highlight this when a brand doesn't cheapen out on protection!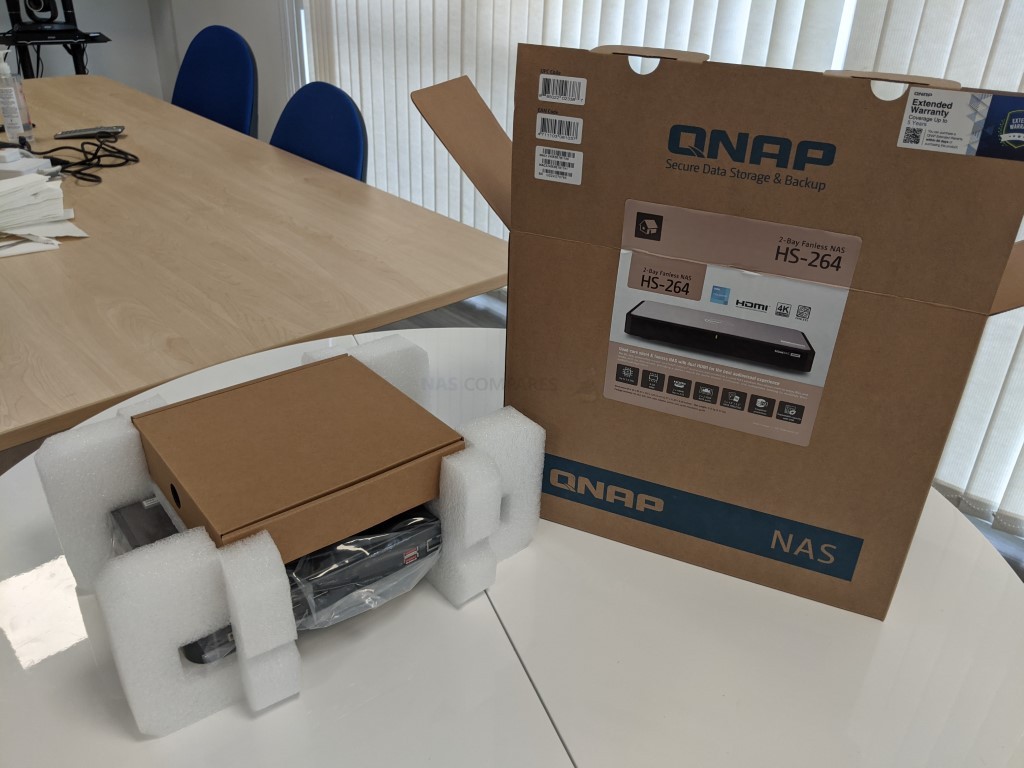 The contents of the HS-264 kit are all fairly standard stuff. With the system arriving with the accessories that you would expect. This includes:
HS-264 itself (obviously)
External PSU and region mains power cable
Screws for 2.5″ and 3.5″ HDD/SSDs
1x Cat 5e Cable (as this is not a 10GbE solution, I am ok with this – only 1 cable though)
First-time setup manual
Details on the included 2 Year Hardware Warranty and details on how to extend to 5yr
All fairly regular stuff and as the HS-264 does not feature any m.2 SSD bays (as seen in the HS-453DX), there are no heatsinks or thermal pads included.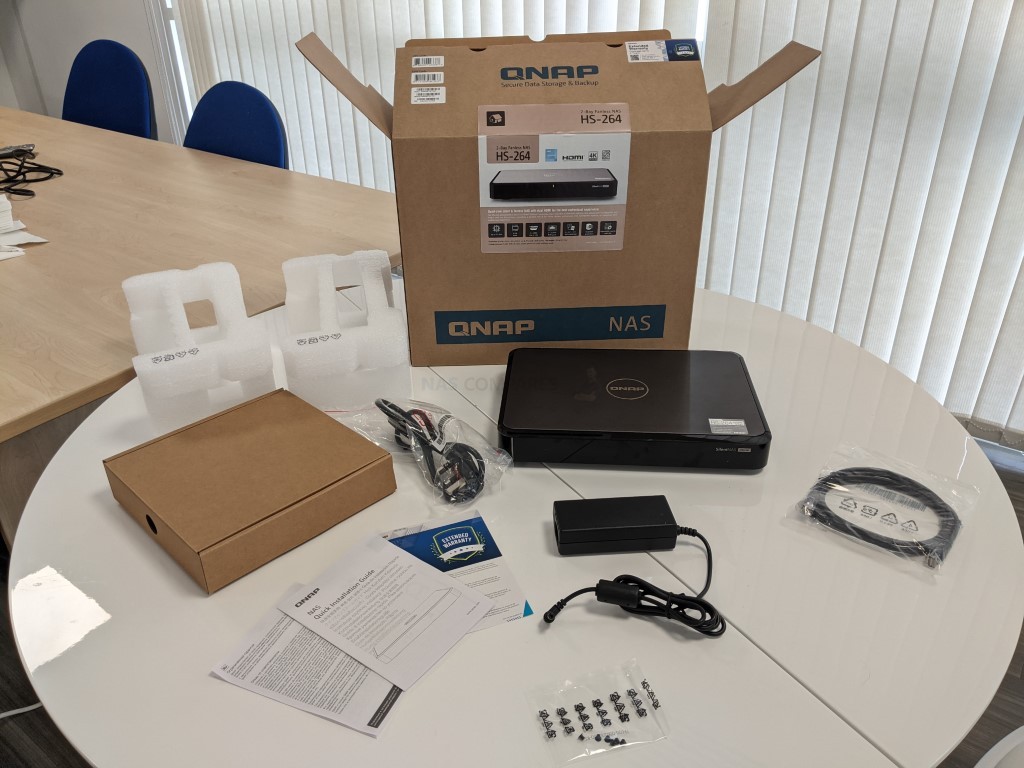 The external PSU of the QNAP HS-264 is a 60W block and this is to ensure that the additional heat or possible assisted fan that an internal PSU would need can be avoided. External PSUs get a bit of a mixed reaction, with some users thinking an external power unit is just waiting to be accidentally knocked out or tripped on, however personally I think (as PSUs are the 2nd most fragile part of any NAS system – with HDDs being #1) that the ease of replacing an external PSU is about 100x easier, is included in your warranty and you can keep a spare/buy an off-the-shelf alternative easier. Thanks to the system not using internal fans, relying on heat dissipation to maintain its operating temperature and being designed with high efficiency in mind, the PSU is reported to operate (rated by QNAP themselves) at 11.31W Standby (idle) and 24.99W Active use, which for a 2-Bay is pretty standard.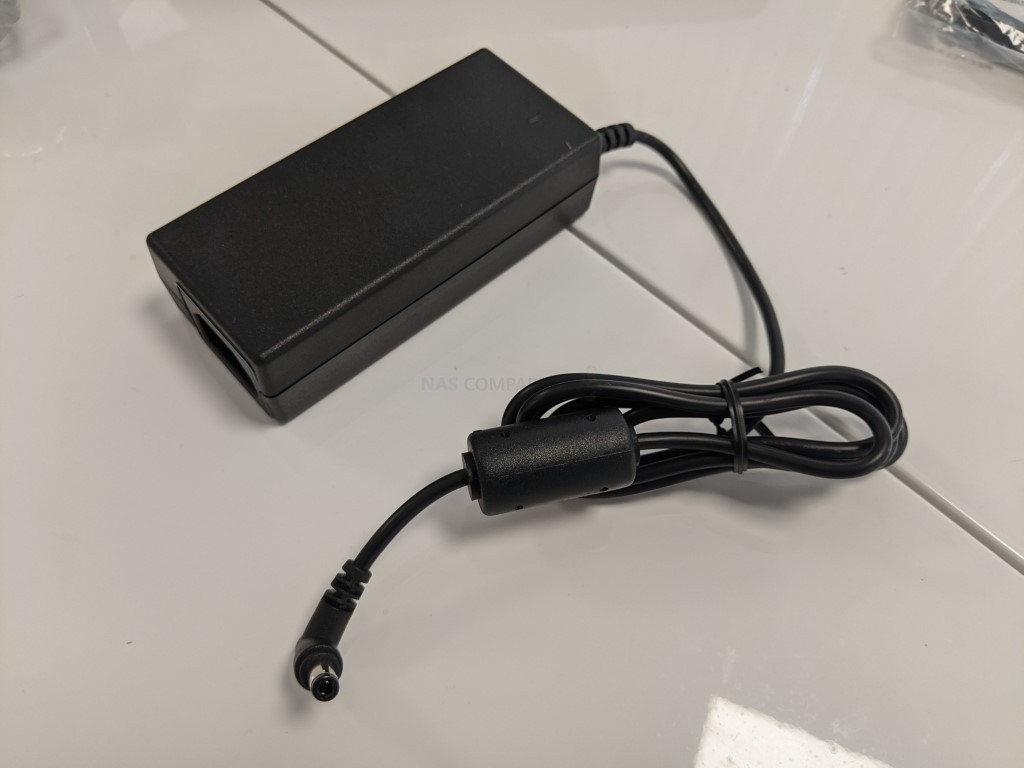 Overall, the presentation and contents included with the HS-264 are all fairly standard and although nothing especially stands out, short of HDD/SSDs, there is nothing else you are going to need to deploy this QNAP NAS on Day 1. Let's discuss the unique design of the HS-264 and how this NAS can claim to be 'silent'.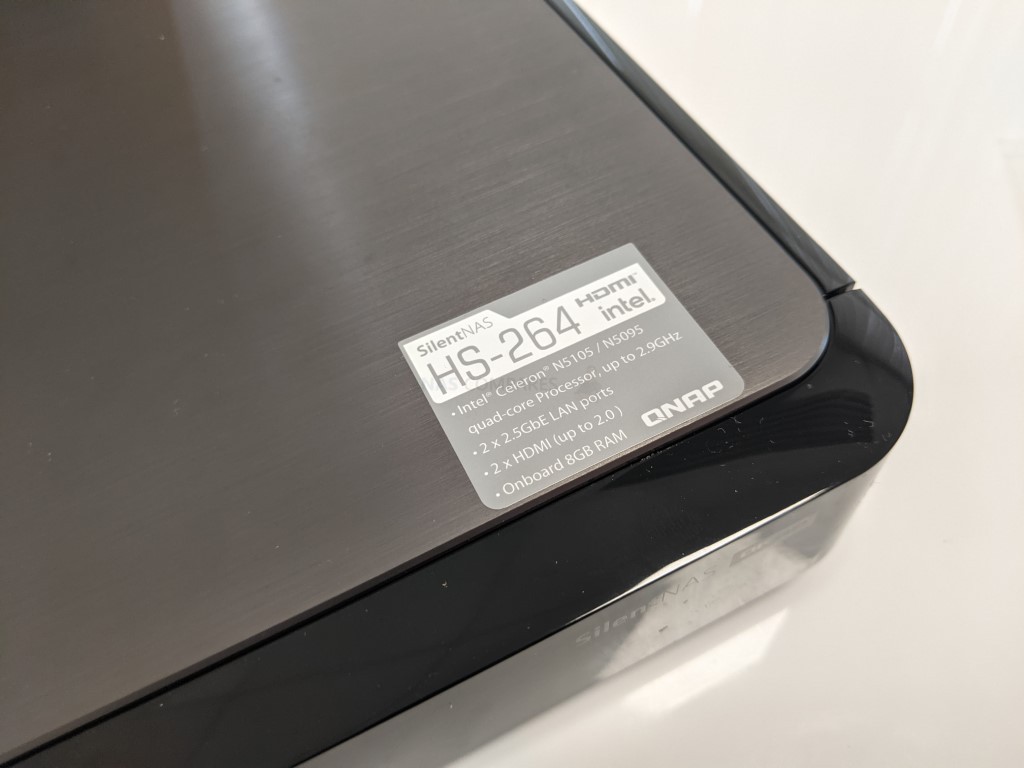 QNAP HS-264 NAS Review – Design
The first thing that hits you about the design of the QNAP HS-264 NAS is that is larger in width and depth than you might think, at 4cm in height, 30cm in width and 22cm in depth. It has an incredibly low profile at 4cm (1.6 inches) and you are not going to struggle in that department to find space, but that 30cm (12 inch) width makes it easily the widest 2-bay you can buy right now (approx the same width as an 8-Bay enclosure and about the same depth front to back). So, we are talking DVD/Bluray player kind size here, which will be great for an entertainment center or discreet office shelf deployment, but on a standard desktop, that is going to be a large rectangle of space disappearing. However, I will also add that the HS-264 is actually not quite as wide as the HS-453DX that was released back in 2018 (aka the 'surfboard' NAS) and alongside the promised silence of this NAS, it also has (in physical volume) one of the smallest scale of any 2-Bay I have deployed. The front panel of the HS-264 is incredibly understated too, which I have mixed feelings about. On the one hand, the front of the QNAP HS-264 (much like the previous HS/Silent-NAS systems) is a very sleek, modern and attractive chassis that will easily blend into the rest of the equipment in your media setup or modern editing suite, which I like. On the other hand, I am less keen on the lack of a front-mounted USB port. Maybe it is a physical space limitation or a wish not to hurt that unblemished front panel design, but given the fact all over 2/4 bay systems at this hardware level and target audience, the demand/desirability for an easy-access USB port for backups etc, it is a shame it is not present here.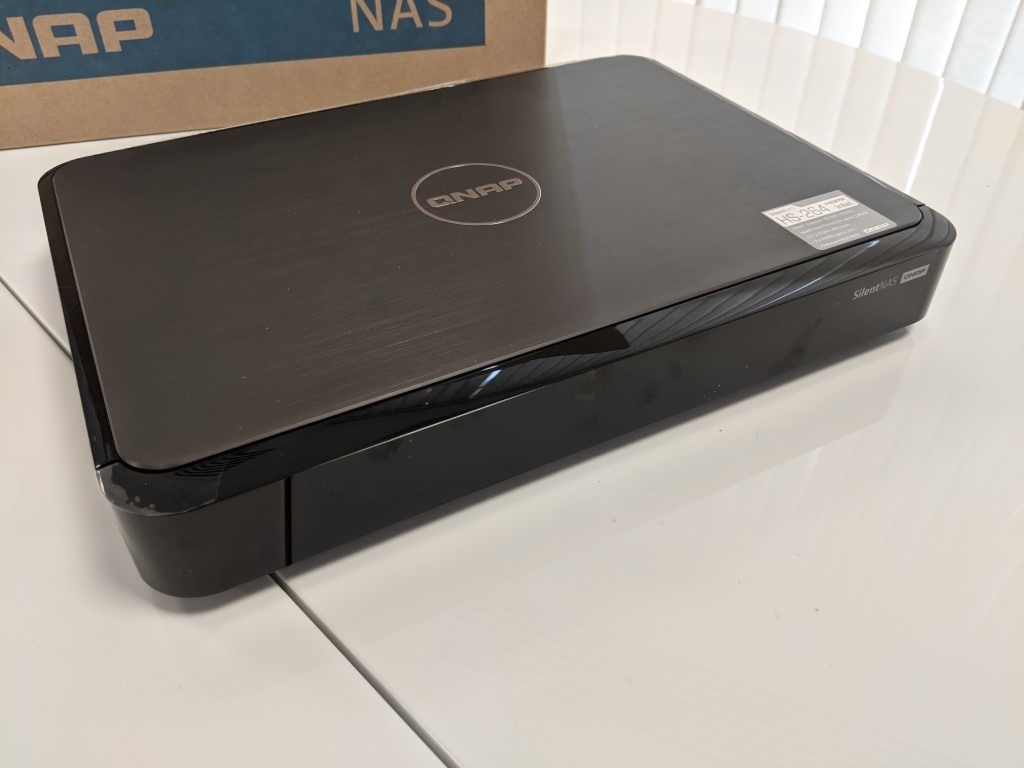 The means of accessing the individual storage bays on the QNAP HS-264 is done so by removing the front panel (no screwdriver needed, as it is magnetically attached in two small areas (far from the drives and nowhere near powerful enough, don't worry). Removing this bar reveals the two 3.5″ media bays in removable trays.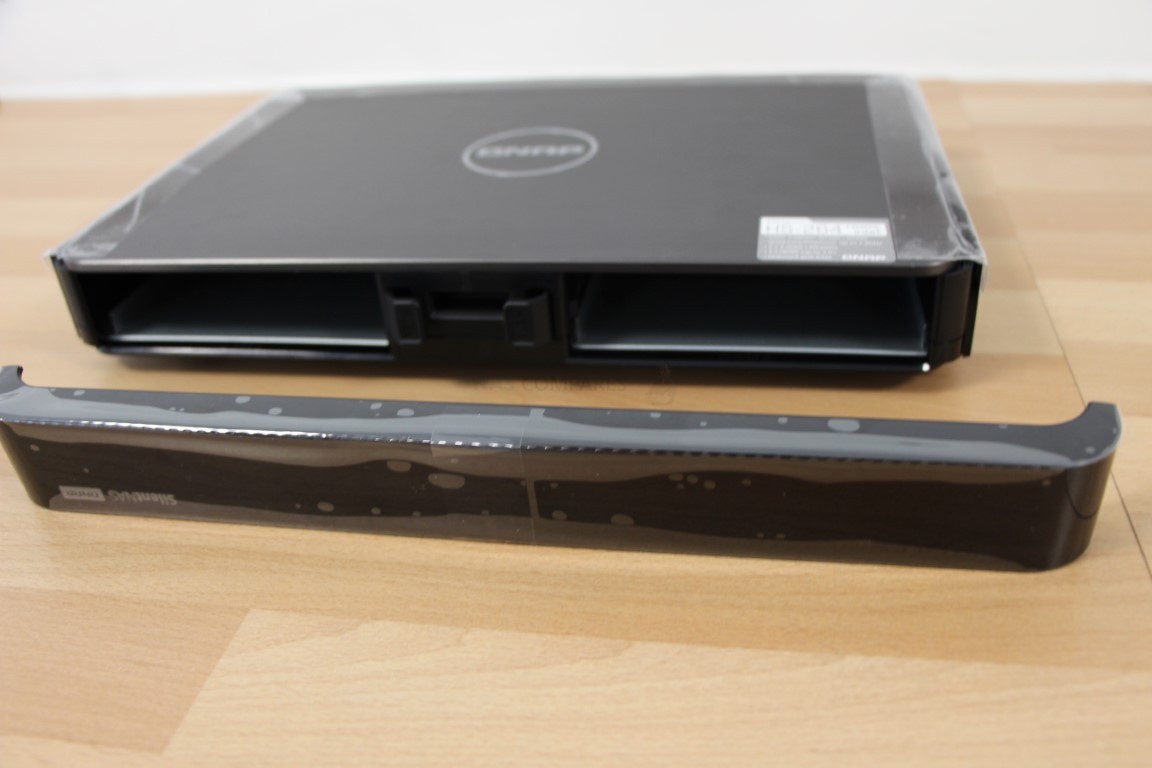 These trays are the same design as those found in the previous two generations of the Silent NAS series, allowing the installation of both 2.5″ and 3.5″ SSDs. As mentioned earlier, the 'Silent' part of the series title in the HS-264 NAS is something that comes with a caviat for the user to keep in mind. The running of the HS-264 NAS itself is genuinely Silent – no internal or external system fans, an external PSU (so no need for a power fan either) and the system components are designed around a wide variety of strategically placed heatsinks around the system. Equally, if you plan on running the HS-264 NAS in conjunction with 2.5″ SATA SSDs (which can scale all the way upto 8TB commercially, and much higher in 15mm SSDs), then the system will continue to be silent, as SSDs have zero moving parts. However, if you plan on running the HS-264 with 1-2 NAS Hard drives (such as WD Red or Seagate Ironwolf HDDs), then these drives involve internal moving parts in their operation, lightly hum in vibration when in use and make small noises when the drives are being accessed. The HS-264 (and indeed all NAS) cannot hide/muffle this noise (doing so with internal insulation would affect airflow and significantly raise internal system temperatures. Equally, there are factors beyond all NAS manufacturers control, such as larger than 8TB HDDs typically being noisier in operation, faster 7200RPM HDDs being a pinch noisier and some HDD brands making noiser drives at different capacities than others. However, even with 2x WD Red 4TB, ambient noise level of the HS-264 was significantly lower than any other 2 Bay NAS in the market and a different league of quiet versus 4/6-bays and their larger HDD arrays and twin fans). QNAP rate the HS-264 with 2x HDDs in FULL access operation at 23.1db(A), which is lower than the majority of NAS out there with the same HDDs in idle/standby. I do think that QNAP can say that the HS-264 is silent, but it is important for users to understand where the noise of a NAS system ends and the noise of modern HDDs starts.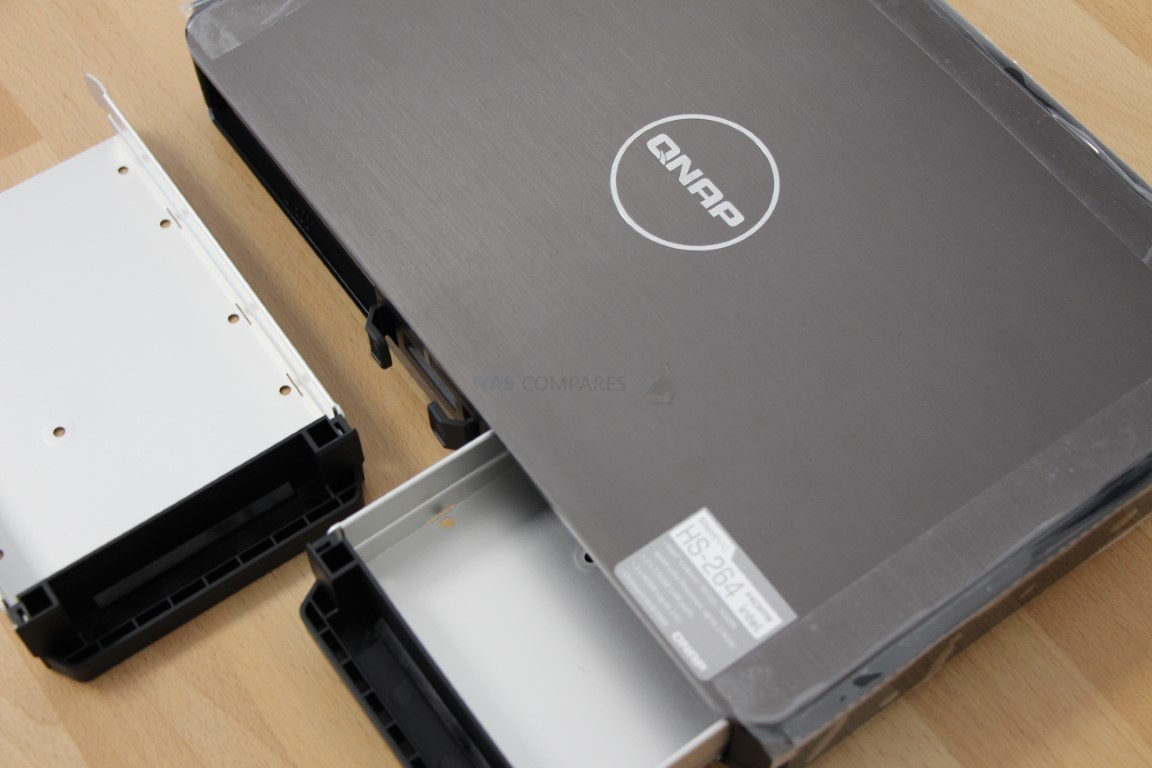 The twin media bays are connected by SATA 6Gb/s, with most modern HDDs providing around 160MB/s to 250MB/s (capacity and build quality dependant), so these two drives in a RAID 0 (combined) or RAID 1 (mirror) configuration will allow a good 300-400MB/s. Of course this translates to internal performance  (with HDDs, even in a RAID configuration being less versatile in multi-user/software access simultaneous) and we will get onto the external performance in due course, but this is still good base of storage. I will add though, that (in a continued theme of comparing the HS-264 vs its overreaching predecessor the HS-453DX) the HS-264 lacks the additional 2x M.2 SATA or NVMe SSD bays of other QNAP releases. That is a real shame, as alongside these allowing an additional faster storage pool or system caching advantages, the CPU of the HS-264 doesn't seam as stretched in the PCI lanes as it is in the likes of the QNAP TS-464 or TBS-464 (I will go into more detail on this later).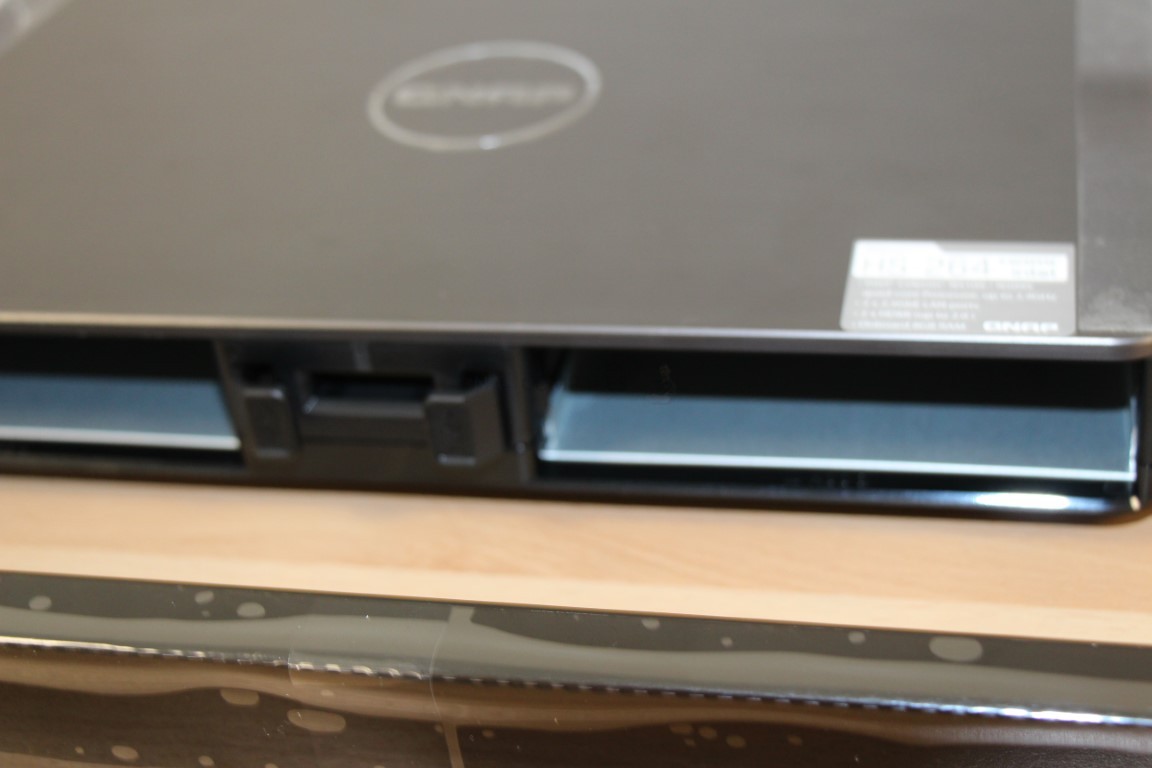 The main way that the HS-264 NAS is able to dissipate all the heat that is going to be generated by those storage drives, components and network management is done by the top panel of the system acting as a giant heatsink. Yes, the individual key components also feature their own mini heatsink's respectively, but the Silent NAS series achieves its aims by using the entire top of the system to draw heat from the internal components (with thermal pads and paste) to release it into the ambient air. Now, this is has been proven to work in the older HS-251+ and HS-453DX before it, but this system of system temperature control by the HS-264 does mean that the average internal system temperature (lacking the assisted cooling of an active fan and vents) will be a few degrees higher, that if use the systems extensively and in a sustained manner there is no means to combat it from a hardware control stance and that the top of the system can get quite warm. Not 'burning' or 'fry an egg' hot, that would be ridiculous. It just gets warm in a way that in most conventional systems would leave you alarmed. You have to keep in mind that the top of the HS-264 is not just aN aesthetical design choice, but it has a job to do. So, placing the system in an air of restricted airflow or placing items on top of the plate will tremendously negate how this system maintains optimal efficiency and performance.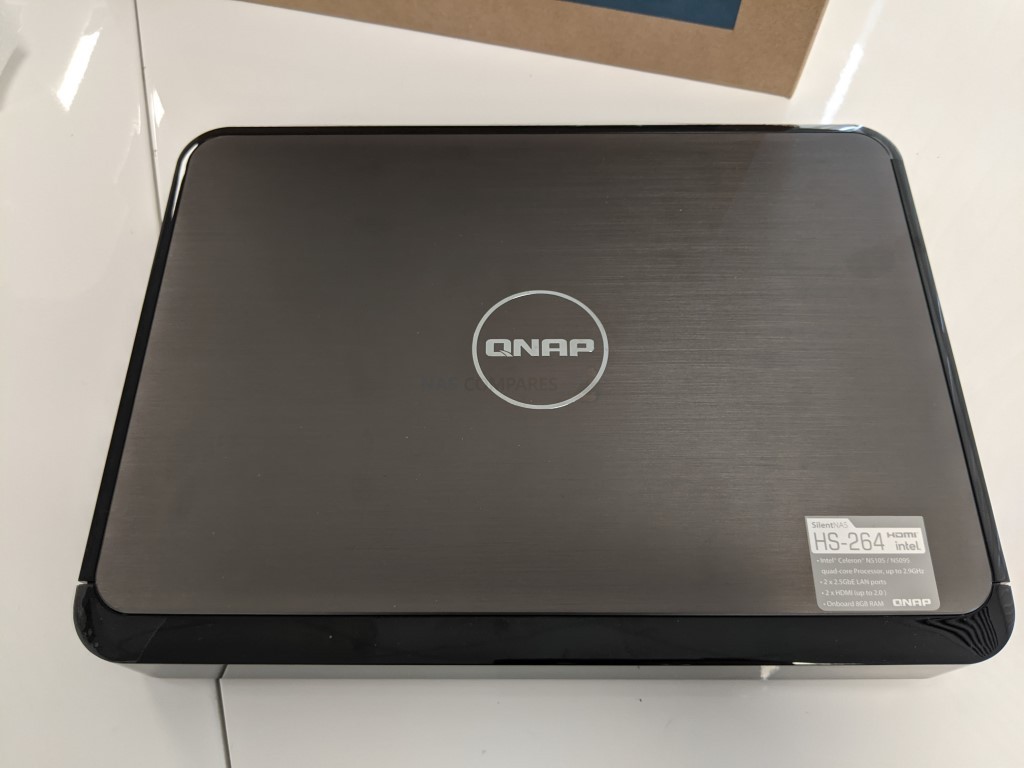 The base of the system features four larger than normal rubberized feet and practically no ventilation. This is because the system needs to direct the heat that is being generated by the internal system components towards the greater heat dissipation panel at the top. These larger rubberized feet assist in dissipating surface vibrations from the HDDs inside the HS-264 and the surface of wherever you deploy it. The feet also cove the screws that allow you to access the internals of the system (which we will do later), however as this system does not support memory upgrades, does not feature the m.2 bays of its predecessor and relies on heat dissipation rather than ventilation and fans, you will not really be needing to access the internals of the HS-264 for storage upgrades, cleaning or maintenance.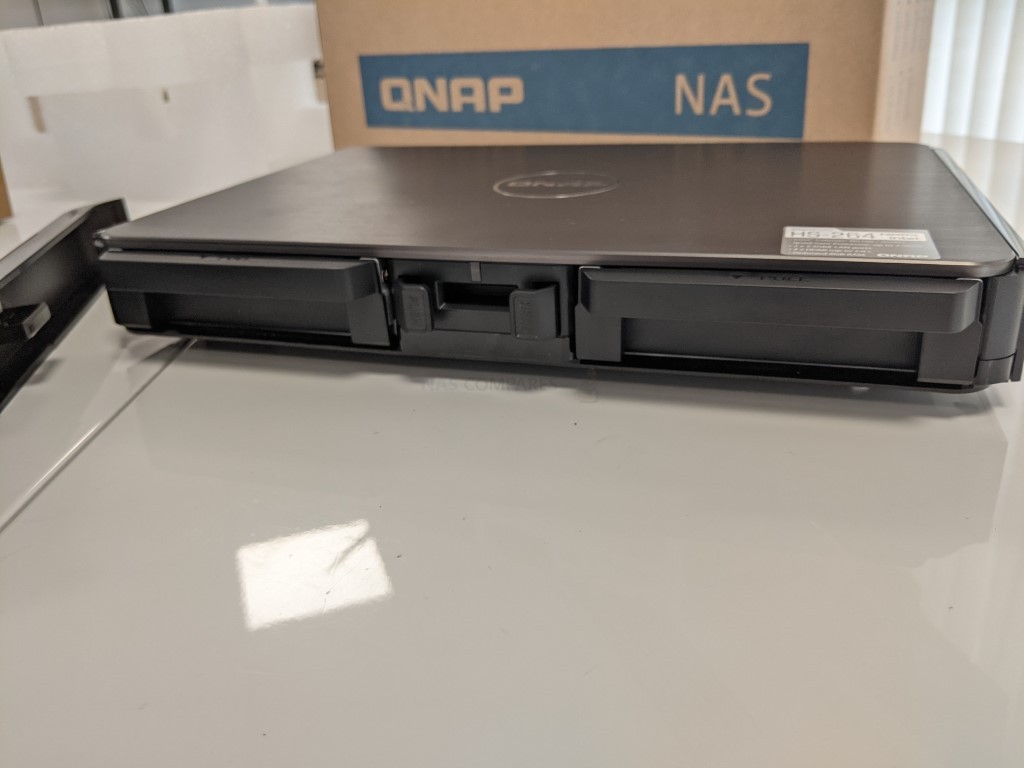 The full information on system activity is obtained from LEDs at the front of the HS-264 chassis. This is a remarkably discreet NAS chassis (significantly more so than most) and I think those that want to set up and forget their NAS, wanting to remove all impact on their physical and audible close environment will appreciate this. Additionally, the HS-264 has a pronounced change in its design over previous silent NAS releases, with the heatsink that covers half of the internal controller board protruding from the plastic base in order for it to greater dissipate the heat. It's a smart decision and gets rid of a % of the gathered heat. The CPU is located on the other side of the controller board and that works in conjunction with the large metal top plate to get rid of its own generated heat.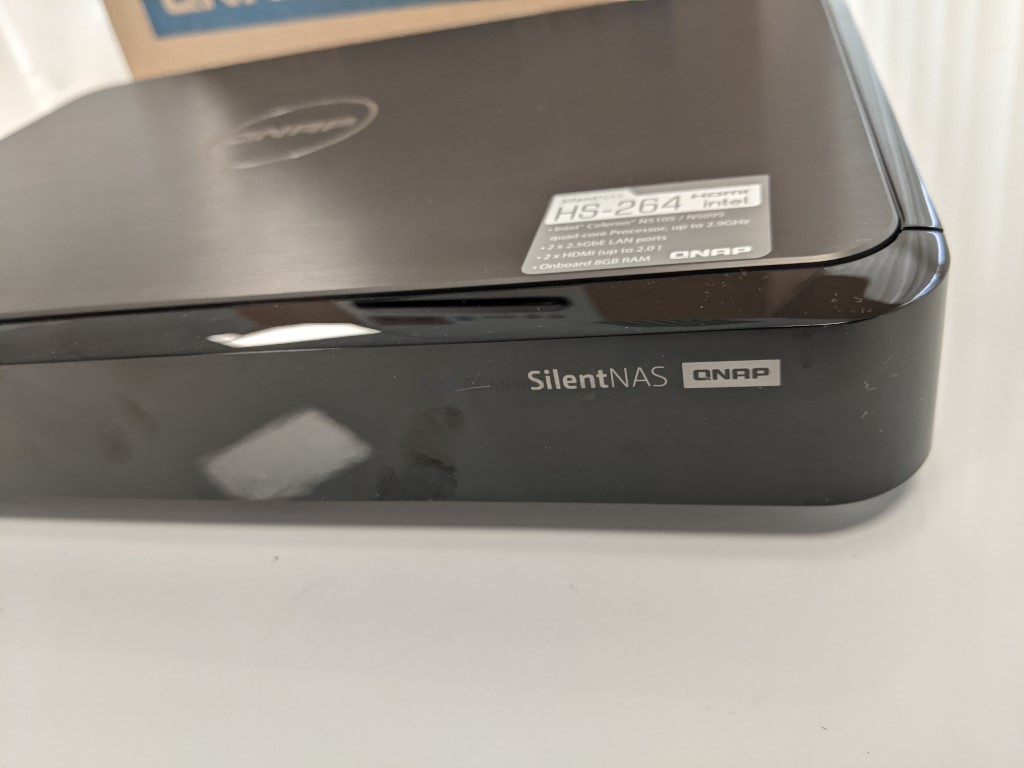 Overall, the design choices of the HS-264 are focused on making this Silent NAS as invisible as possible, whether that is hearing it OR seeing it. As long as users factor in that silence in modern 24×7 hardware is not without it's hurdles/barriers, I think this might well be one of the nicest designed NAS systems I have seen in years. Let's discuss the ports and connections of the QNAP HS-264 NAS.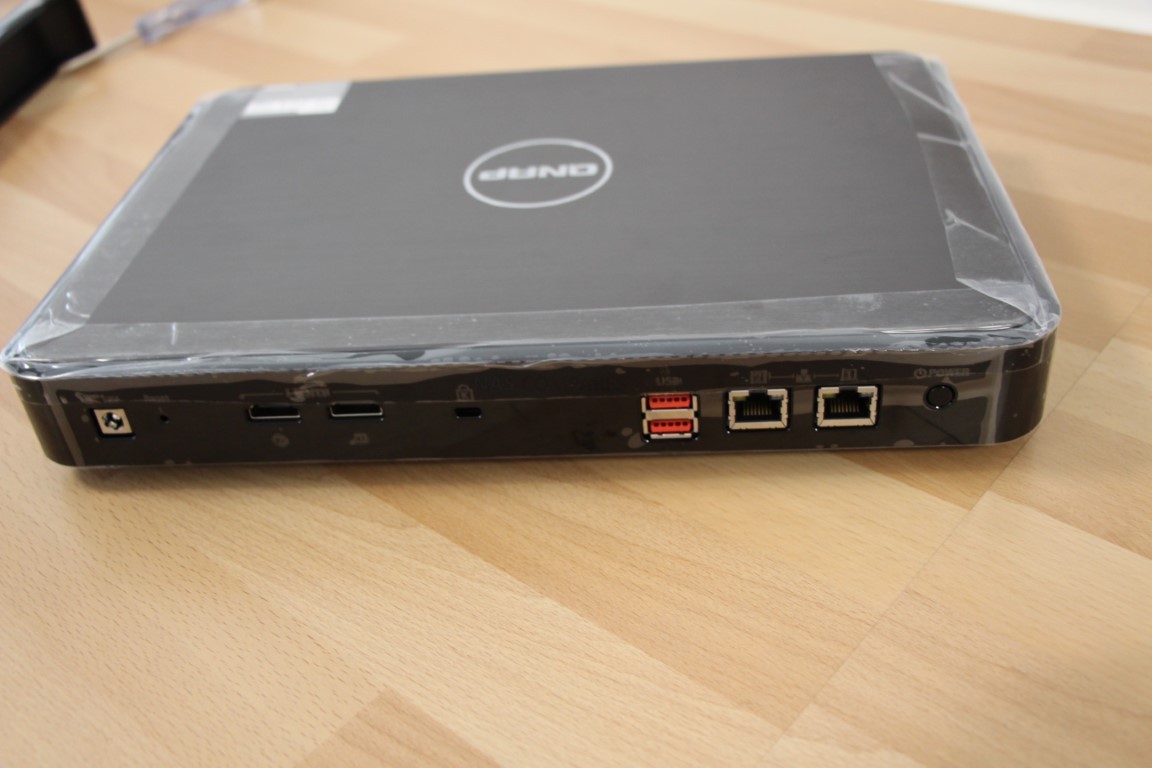 QNAP HS-264 NAS Review – Ports & Connections
Now, the ports and connections of the QNAP HS-264 NAS are always going to be something that those who looked/considered the 2018 released HS-453DX are going to pick issues wIth. Rewind to 2018 and (for good or for bad – you decide) there were so, SO many solutions released in that year by QNAP that were considerably more future proof than anything before it (the TVS-872XT, the TS-453B, the TBS-453DX to name just a few) and as good as that was then, it made releases that came 2-3 years later look a little underwhelming (as this level of future proof design towards NVMe, 10GbE, unique DAS connectivity over USB or TB3, etc was absent). The HS-264 is a system that on its own has some very solid ports and connections, but when you compare it against it's predecessor does seem to lack a few hardware features and one very early example is in network connectivity. Whereas the older HS-453DX featured 10GbE, the QNAP HS-264 features 2x 2.5GbE network ports.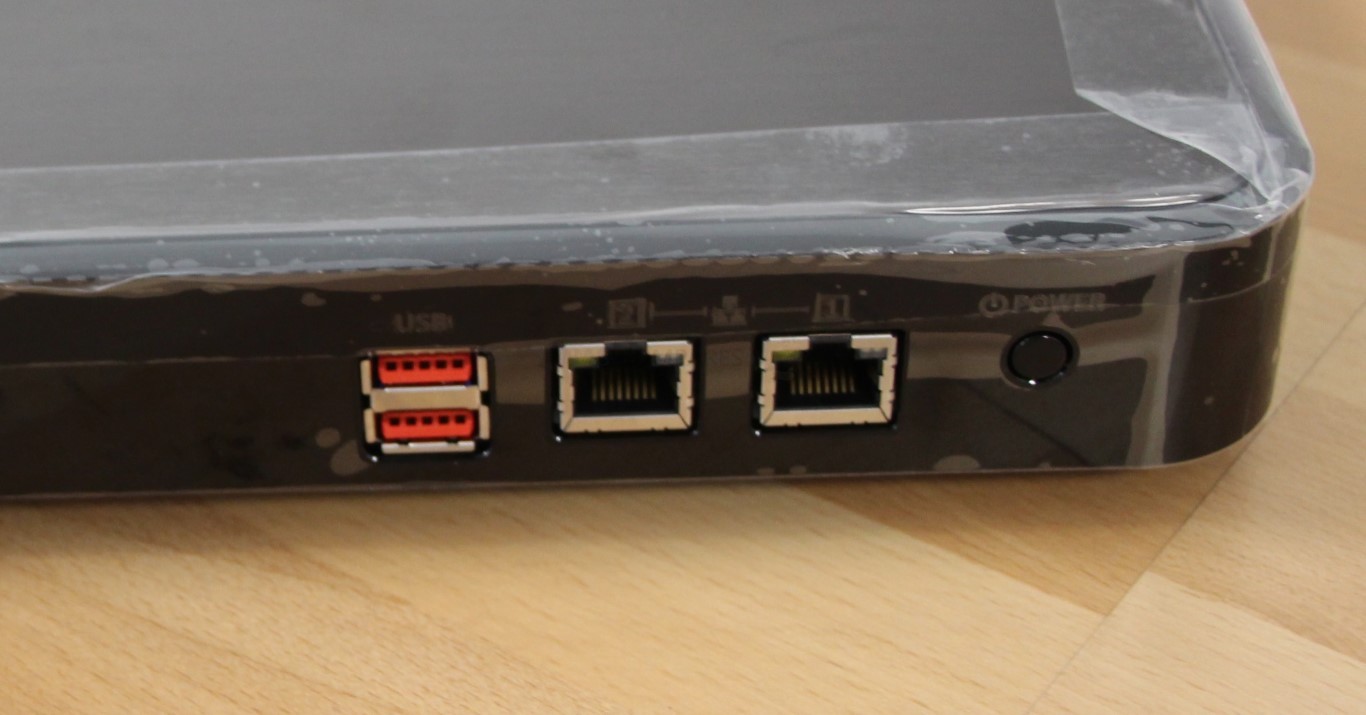 Now, the fact that this system arrives with 2.5GbE at a price point similar to that of the HS-251+ from 2016 which has 1GbE is still very good. Equally given the fact that this is a 2-Bay NAS, you would never be able to fully saturate 10G/1000MB/s (even with 2x 2.5″ SSD) means that the potential maximum 650MB/s that this system can output external (if you add link aggregation/port trunking to the mix with a smart switch) is still impressive. We will discuss the CPU later and how that impacts the system architecture, but I think it is important for those comparing the HS-453DX with the newer HS-264 that 1) the older NAS was/still-is $200 more expensive AND it featured 2x HDD and 2x m.2 SSD bays, so it had a greater chance to more fully saturate that 10GbE in a way that the HS-264 will never be able to. The HS-264 NAS also features HDMI out (moderately common among QNAP hardware releases) which is HDMI 2.0 (so maximum output at 4K 60FPS) which will be of interest to a good chunk of HS-264 buyers as this system is quite a focus for multimedia users who want to enjoy their videos and audio in their home cinemas/sofas and not have to think about the system making fan noise.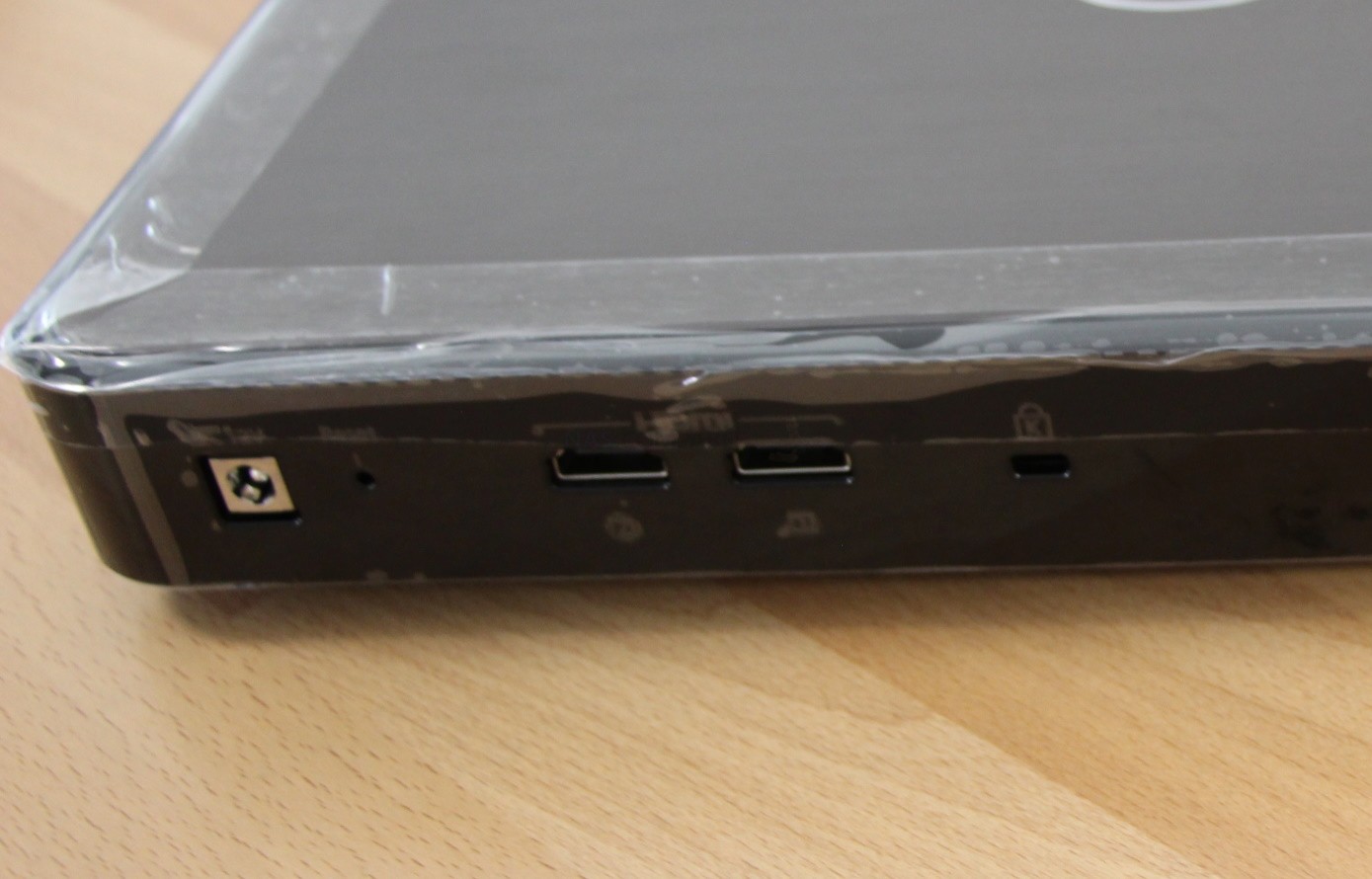 The fact the HS-264 NAS has 2x HDMI is still a bit of a mixed blessing (allowing you to connect two HDMI visual devices, however, that 2nd can only be used to 'extend' the screen or mirror the 1st) but the HD Station application is still a great software tool. For those unaware, HD Station is a completely parallel and independent GUI (it doesn't just copy/mirror the browser GUI interface for QTS) and this is controlled with an infrared remote control, network remote control (such as QRemote and a bunch of 3rd party ones) or a keyboard and mouse if you choose. There are around 10-12 officially included applications in the app center, but HUNDREDS are available from 3rd parties and homebrew over on QNAPClub.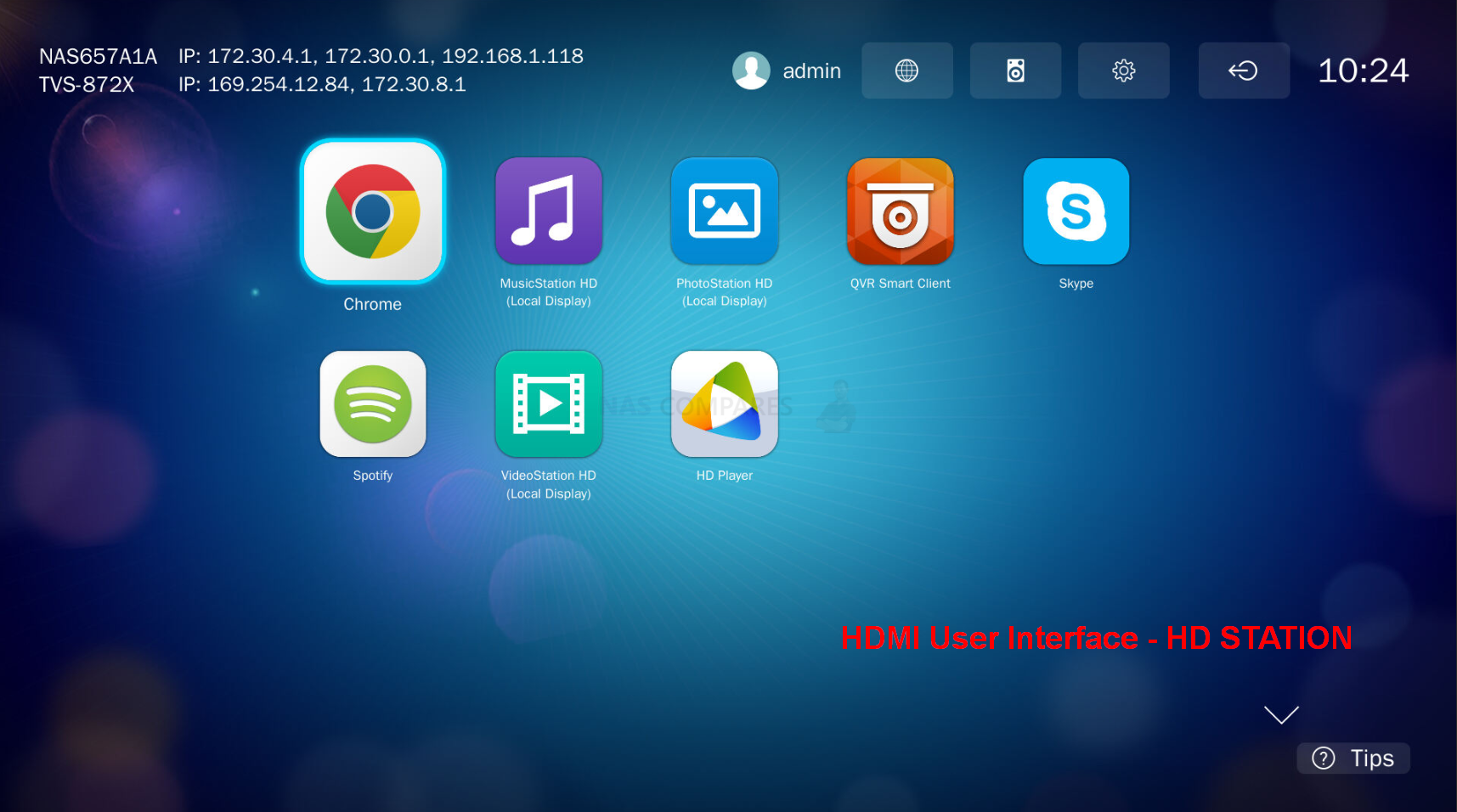 The range of existing Linux or Windows applications, tools, games and appliances that have been converted into QNAP versions (both using and outside of HD Station) is surprisingly vast and although I will be revisiting HD Station and QNAP HDMI applications later in 2022, below is my 2020 video on the platform, services and what it can/cannot do.
I still massively support the HDMI applications and hardware support on QNAP devices and in the current NAS market, it is only them and Asustor that continue this level of NAS interaction. Along with the 4K 60FPS output of the HS-264, the system is also the first 2-Bay NAS system in the market to arrive with USB 3.2 Gen 2 ports. These ports allow the connection of USB devices to communicate with upto 1,000MB/s performance (not the 5Gb/s/500MB/s+ of the USB 3.2 Gen 1 found on most other systems). Although this may seem a little wanted on a 2-bay system (which will likely not be about to backup to an external USB drive greater than around 500-680MB/s even with SSDs) it still means that system backups are going to be much faster. Equally, it allows you to connect much, MUCH faster external SSDs or larger RAID enabled HDD boxes to your NAS and bolster your storage considerably. These ports can also be used for printers, UPS', scanners, network dongles and KVM hardware such as mice and keyboards in conjunction with the HDMI out). Indeed, there is the 5GbE to USB 3.2 adapter from QNAP that allows you to add a 5GbE network connection to your system easily – though this system is going to already barely saturate those 2.5GbE as it is. These ports can also be used for the wide range of QNAP expansion chassis in the TR (hardware RAID) and TL (JBOD, client-NAS built RAID) ranges in 2, 4, 6, 8 and 12 Bay configurations – so expanding the storage on your HS-264 is easier and very scalable.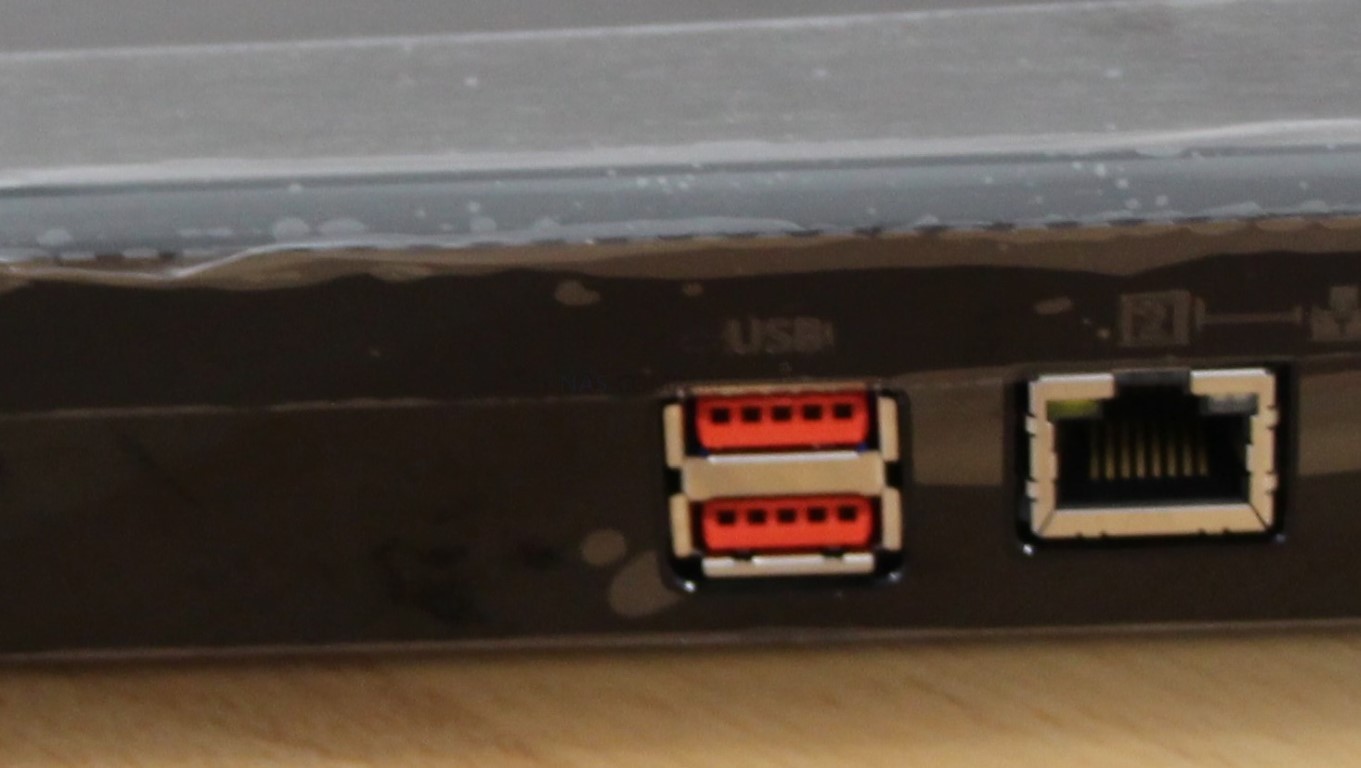 Those 2x USB 3.2 Gen 2 ports on the HS-264 are also accompanied by 2x USB 2.0 ports. Normally I would complain about such 'dinosaur' ports being included, but I am happy to overlook this here when the system has the 2x 10Gb USB ports and these 2x USB 2.0 ports can be used for a KVM setup in surveillance/standalone PC usE/Multimedia or for low-level office hardware and freeing up the USB 3.2's for the REALY hardware. The ports on the HS-264 overall are a little tame compared with the HS-453DX but still manage to make sense for the scope and price of the device in comparison. Let's discuss the internal hardware and get into how this system has had to make some tough choices for good or bad in its overall specifications.
QNAP HS-264 NAS Review – Internal Hardware
The HS-264 Silent NAS is built on the same hardware architecture as the rest of the QNAP TS-x64 series of devices released in later 2021/2022 (currently including the TBS-464, TS-364, TS-464 and TS-664 so far) and although that means that in many respects, you are getting a well-powered Prosumer/SMB solution that is comparable to those which remaining silent, in order to maintain that low heat and high efficiency, the system has had to be a little more constructive with the PCI lanes and chipset afforded to the x64 series of NAS and the rest is that the internal hardware of the HS-264 is different in a few key areas. Accessing the inside of the HS-264 is made possible by removing the base screws to reveal the incredibly small and unusual t shaped controller board.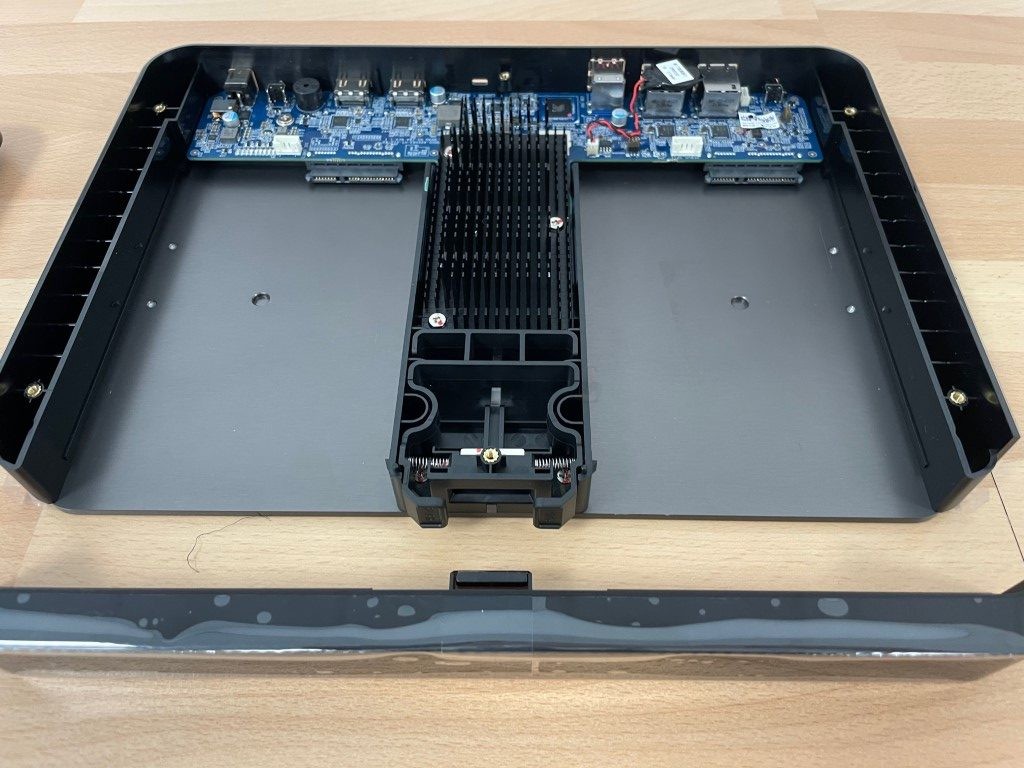 Now most NAS systems, when you open them up, use a 2 piece internal build with 1 controller board mounting all of the storage bays to a single board that connects with a greater system board (with the CPU, memory and ports) via a PCIe connector. The HS-264 however has everything on a single board and is a uniquely 2 sided board. As the large black heatsink that covers a large % of the board is protruding from the base of the HS-264 casing, there is no need for any further kinds of heat dissipation (thermal pads, paste, etc) to be featured on the removed HS-264 panel and it is a plastic panel that features the gaps for the heatsink and metal plates on top of where the media bays live.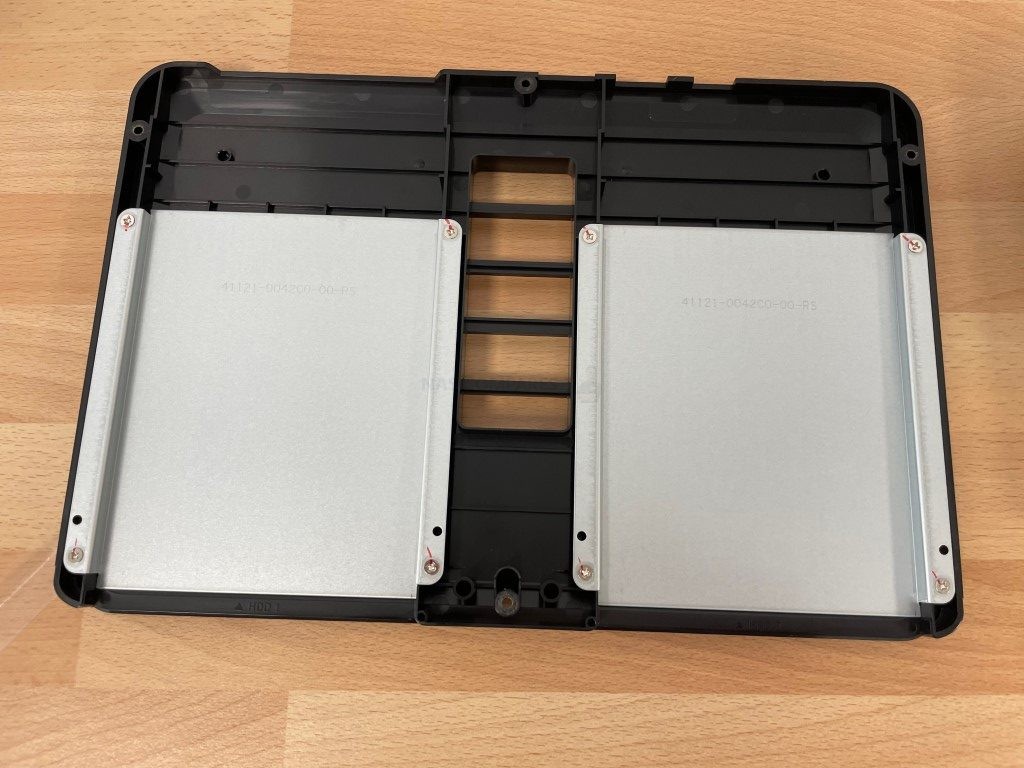 The ports of the HS-264 along with their respective controllers and transistors are all on the mainboard and do not feature their own heatsinks. This is ok as they are not really going to be pushed especially hard and unlike if this system featured a 10GbE connection (which likely would have had its own controller from the likes of Aquantia or Marvell that needs to factor heat dissipation) they can get by on ambient air flow.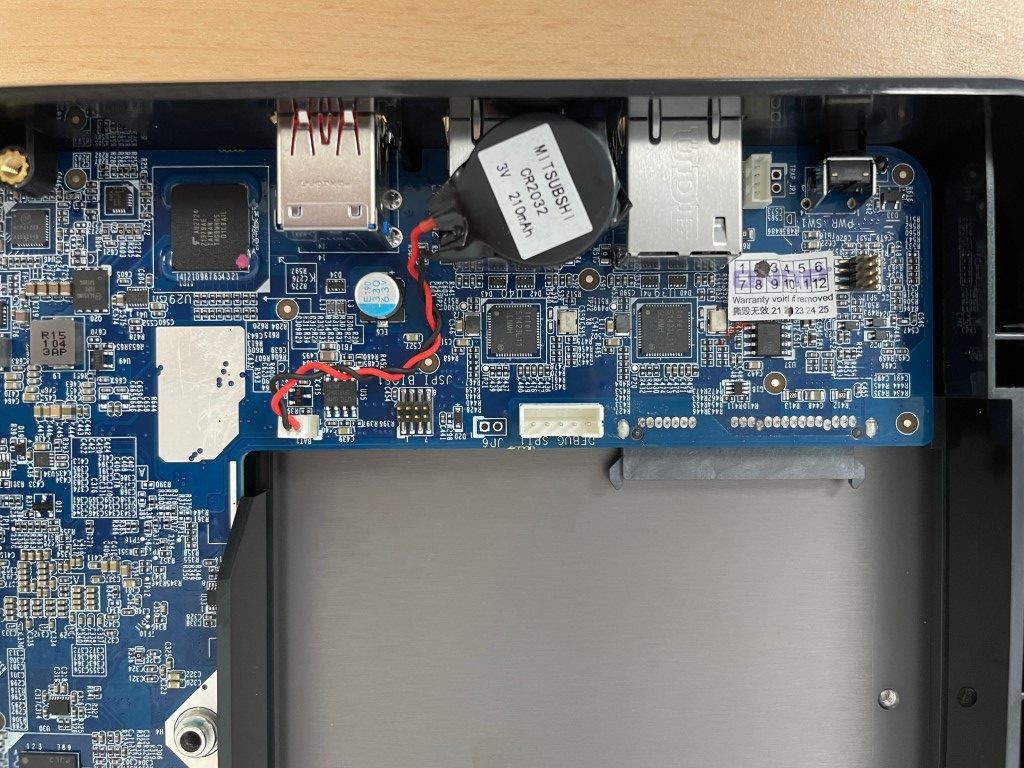 The big chunky heatsink in the middle of the T shaped controller board however is a different story though. The HS-264 spreads the CPU and memory of its hardware on different sides of the controller board and although the CPU is directly connected with the large metal top panel of the system in conjunction with thermal pads, the memory of the HS-264 is a different story. In fact, the memory of the HS-264 is going to be a mixture of sadness and joy for some users. Let's remove that heatsink.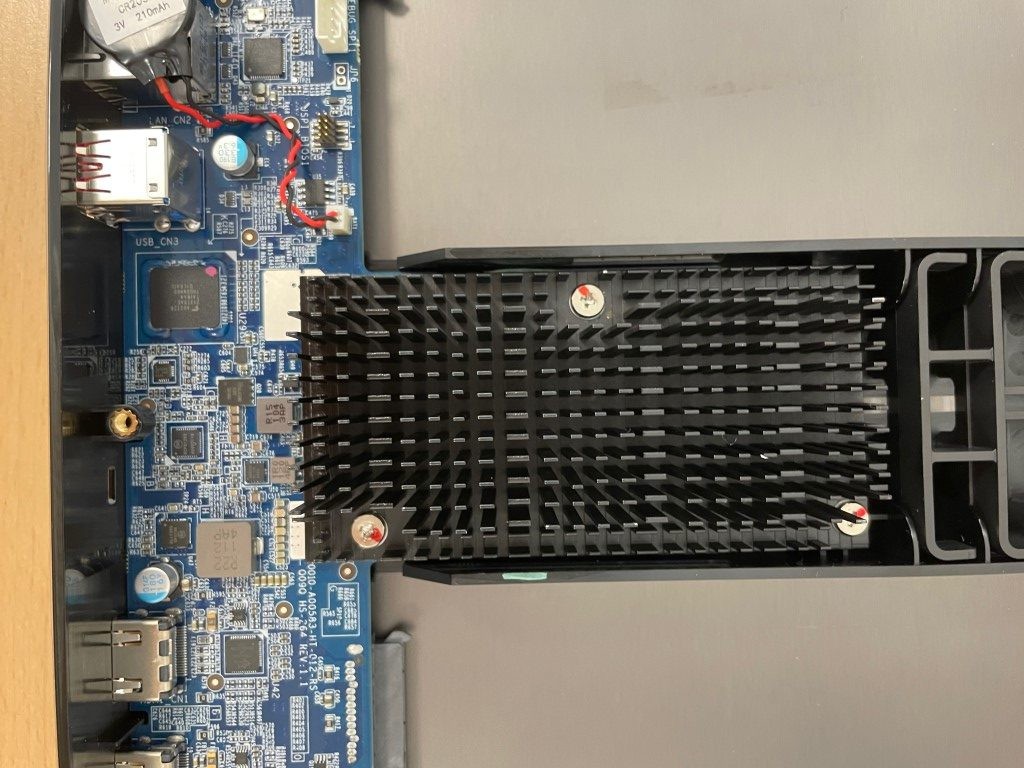 Removing the heatsink shows us that this large heatsink (with a tonne of thermal padding) was covering a large number of components for network management and system hardware. However the most surprising of which is the memory modules.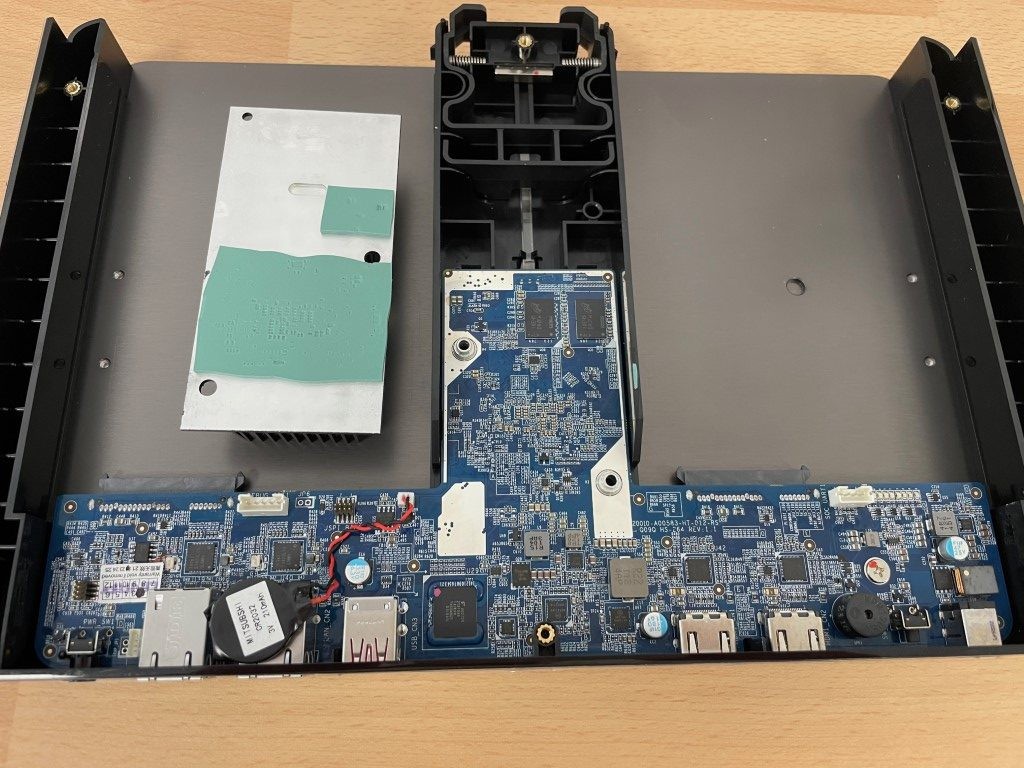 The reason this is worth zooming in on is that the HS-264, because of that silent architecture and design, is a little different to the rest of the QNAP TS-x64 released hardware. On the plus side, the NAS arrives with 8GB of DDR4 2666MHz memory (Micron SD RAM) which is double or even quadruple that of the other 64 releases. HOWEVER, that is also the maximum memory, which is a bit of a shame when the rest of the 64 series NAS can go as high as 16GB memory. This is because the memory of the HS-264 is soldered to the controller board (i.e it does not use SODIMM slots that allow adding/changing the modules). This was likely another decision to ensure system efficiency and generated temperature when in operation and including 16GB of memory by default on 4x 4GB chips would have pushed the price up noticeably. However, it is still a real shame that you cannot upgrade the memory on the HS-264 beyond that default 8GB later.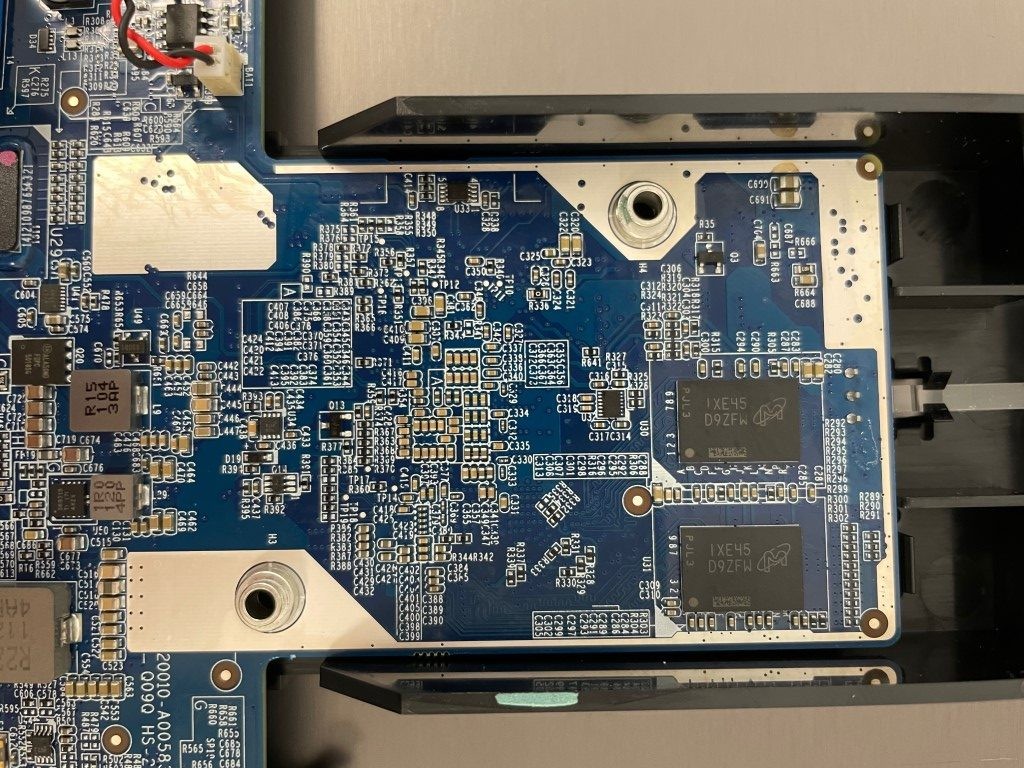 This brings us to the CPU inside the HS-264 and that is the same N5105 or N5095 that is featured on the rest of the x64 series hardware from QNAP. Now, first off, yes these are technically two different CPUs. Due to factors such as the pandemic, changes in manufacturer levels, semiconductor shortages, droughts in Taiwan (where the world's bulk of semiconductors are still produced) and more on how Intel produce and refresh their ranges of processors, this has led to the significant overlap in the units they have produced in separate ranges and whereas previously the newest generation of a CPU would exist for 2-3 years and then be refreshed at the factor level (then NAS brands release a new unit in line with that), there are 2-3 different versions of this CPU in the market and they are almost identical (short of a tiny encode/decode difference). Now, on the plus side, this CPU is a noticeable jump from the J4115, J4025 and J4125 that were featured on the 2018 and 2020 releases from QNAP in their 53D series of hardware – higher in burst clock speed, graphics handling, encryption performance and power use vs efficient input. Likewise, this CPU features a greater number of PCI lanes to bring to the internal chipset, which means that a NAS using it can attach more hardware services and connections (eg 2.5GbE, more storage bays, etc). Indeed the score from CPU benchmark is over 1000 points higher (currently rated as 4161 vs 3011).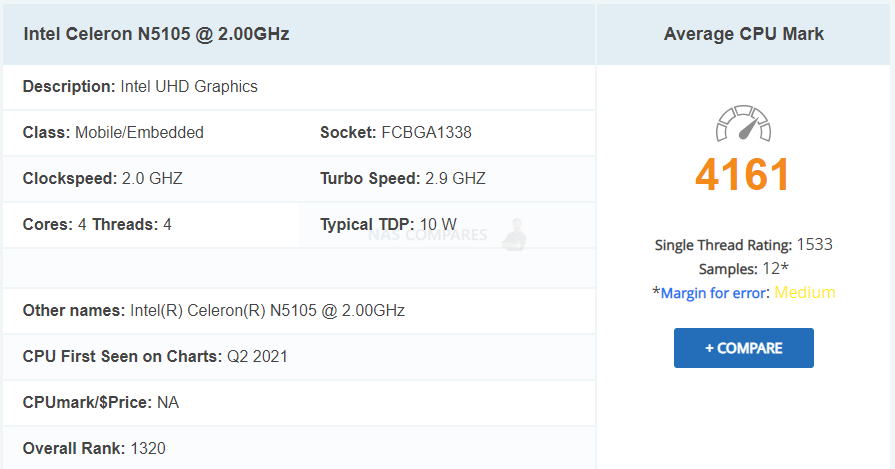 However, in an effort to ensure that this system remains silent in operation and efficient in power use and temperature in 24×7 deployment, you cannot help but feel that the expanded hardware integration available to this CPU is not being fully captured. To put it into perspective, if we look at the QNAP TS-X64 desktop NAS series (which is NOT silent), that system has the same CPU, connections and 2 bays of SATA storage as the HS-264 – but that traditional desktop 2 bay has the 2 SODIMM memory slots to allow up to 16GB memory, 2x NVMe SSD bays at 3×1 and a 1x PCIe 3×2 slot too. It is obvious that this is because the HS-264 needs to be more efficient, but it is a shame that this scope of hardware open to this CPU is not being capitalized on here. The hardware inside the HS-264 IS good and it is still the most powerful internal hardware for a Silent NAS to date, but unlike previous generations, it compares a little weaker vs non-silent NAS alternatives in the brand's portfolio. Let's discuss the QNAP HS-264 NAS Software and services.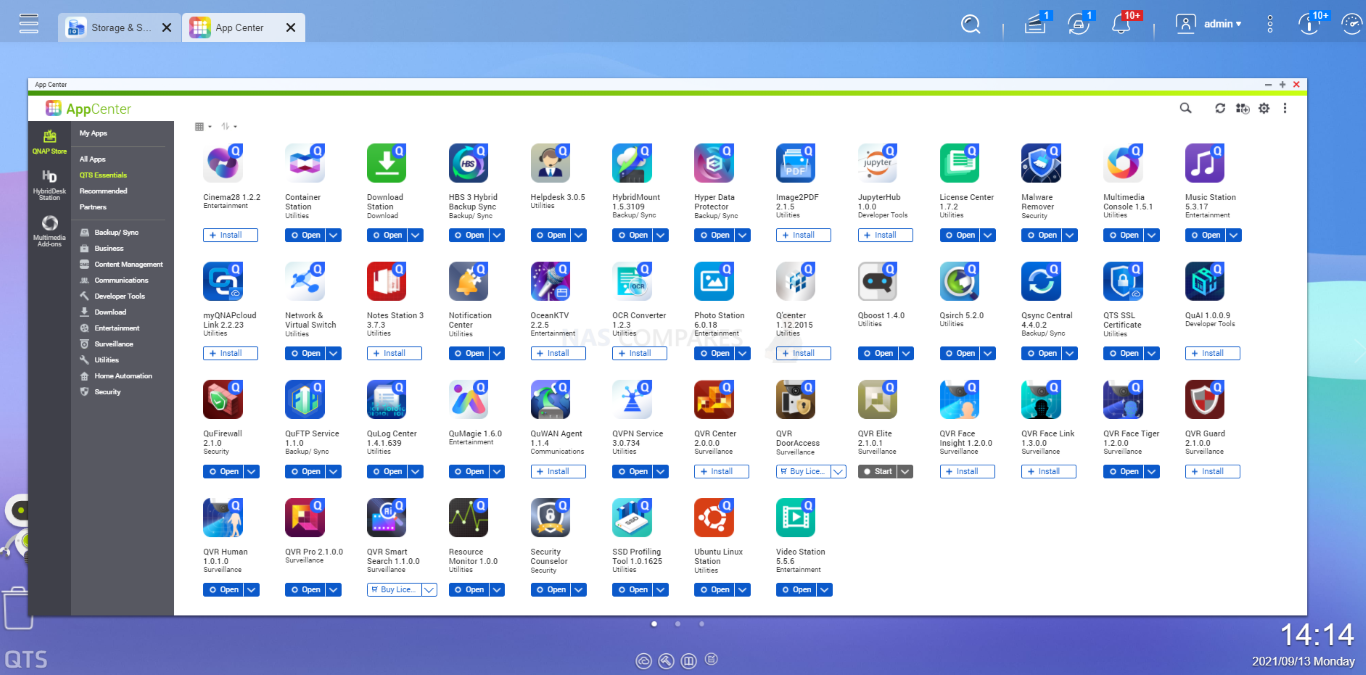 QNAP HS-264 NAS Review – Software & Services
Alongside the hardware of the HS-264 NAS, you also receive the complete software and services package of QNAP QTS (currently in version 5.0). This is a complete operating system. similar in design and presentation to Android OS, it runs hundreds of applications, services and functions, as well as arriving with many mobile and desktop client applications that allow you to interact with the data on your NAS in a much more tailored way. Alongside this, the QNAP QTS software on the HS-264 also includes a few extra SSD tools for anti-wearing on SSDs, better SSD profiling and even options to separate the media into storage, caching or tiered storage where appropriate. The performance and services of QTS have been covered many times on this channel, so reviewing it's individual performance on the HS-264 NAS is a difficult task, as we have to look at two key things. Is QTS a good software platform and is QTS 5.0 a substantial update on QTS 4.5?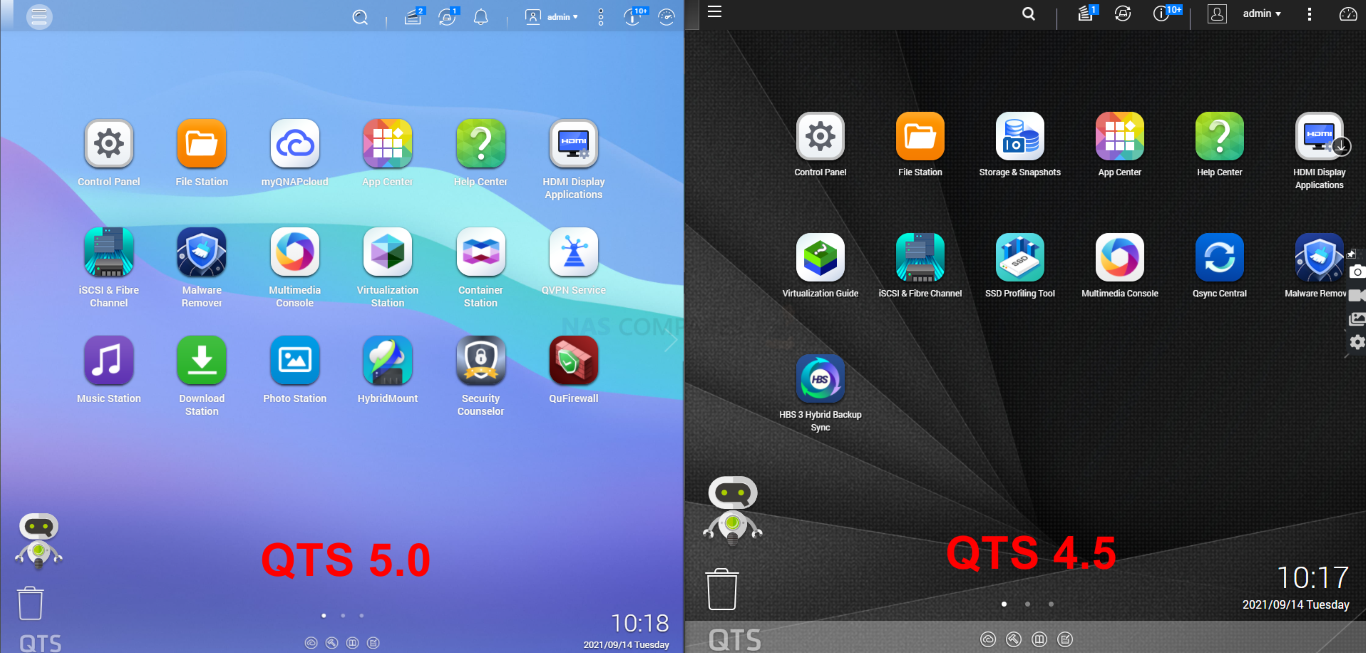 On the first score, I can comfortably say that QNAP NAS software and services have truly come into their own and the balancing act of supplying the end-user with the flexibility to use the system 'their way', whilst still keeping it user friendly is the best it has ever been. Is it perfect, no. In its efforts to make itself customizable in every way possible, QTS develops an inadvertent learning curve that may catch some novice users unaware. Likewise, although QTS 5 has done a lot of work on its presentation of information and notifications, there is still the odd moment of 'TMI' when switching between services on the fly. QNAP's NAS software is still easily one of the most adaptable in the market right now and allows users to have a truly unique storage environment if they choose and although not quite as user-friendly as Synology DSM, it counters this by being fantastically flexibly by comparison (from file/folder structure to 3rd party services support and connectivity). That said, 2020-2021 were a bumpy road for the brand and a series of ransomware attacks were targetted at the brand that was caused by a combination of vulnerabilities in Linux (which practically all NAS and Android software is built upon) but also in how applications in the QNAP platform were allowed to have external access. In previous revisions of QTS, customization and guidance for changing settings on the system was made very easy and open but lacked a lot of the gravitas and significance that these changes ade to the system being highlighted to less experienced users (such as allowing the QNAP to adapt remote ports on your router over UPnP and how the HBS3 program allowed remote access. These omissions, vulnerabilities and communication issues in QTS have seemingly been resolved and QTS 5 seems to be a much tighter system on the whole (as much as anything can be once you open it to the internet). But many users still feel that the brand needs to do more and therefore until QNAP can remove the lingering stories of ransomware and malware over time, this si always going to be an existing sensitive issue for buyers. In order to see the extent of the latest version of QNAP TS 5.0 use the links below to the written review and video below released in late 2021:
| | |
| --- | --- |
| FULL Written QNAP QTS 5 Review | FULL Video Review of QNAP QTS 5 |
| | |
Although the full review of QNAP QTS is available in the article and video linked above, let's discuss the highlights of the platform. First off there are the software and services for managing files and folders on the fly. QTS includes several tools for managing files in your web browser (with full copy, paste, archive, extract, sharing, etc options built-in), as well as smart system/file search functionality.
This slideshow requires JavaScript.
Then security when using your HS-264 NAS (again, a continued area of contention and criticism for QNAP in the past) in customization and alerts have been noticeably improved and upgraded in both their deployment and presentation in QTS. These range from a multi-layered security advisor to control anti-malware scans, anti-virus schedules, firewall monitoring and more. There is also a range of access and security credential tools that are quite far-reaching all built-in. With QNAP having to prove their platform is safe more than most, there is a bit shift positively in this direction in the latest versions of QTS.
This slideshow requires JavaScript.
Overall storage management, access, mounting and how this factors into backups have also been massively diversified in QTS and along with numerous means to create a very unique storage system (factoring RAID, multi-stage 1-2-3 backups, connecting with cloud drive/objects and how this is presented to the end-users are incredibly deep. It can lead to a situation in which the end-user is a pinch overwhelmed, but you cannot say that QNAP is not providing the tools – they are just almost TOO numerous in their presentation.
This slideshow requires JavaScript.
The same goes for multimedia handling on the QNAP HS-264, with a wide range of tools for handing photos, music and video in a tailored GUI to each media type. This is made considerably easier with QNAP's multimedia console tool that provides a single GUI that can be used to handle all the backend setup of all your individual media apps. QNAP also provides AI photo recognition to allow decades of photos to be searched intelligently for people and subjects to quite an impressively deep degree (not needing internet access to do so, with the AI onboard the system). Then you have support for a wide range of 3rd party multimedia tools such as Plex media server, Emby, Twinky and Kodi (unofficially).
This slideshow requires JavaScript.
Then you have business tools (small, medium or even enterprise) included that can range from the deployment of multiple virtual machines across many platforms and a dedicated 1st party container deployment tool. One very unique feature of QNAP QTS compared with other NAS brands in their deployment of VMs is that they include 2-3 click download options in their respective applications that allow you to download ready to use VM in Windows 7,8 and 10, as well as a VM market place for more enterprise virtual clients and even a Ubuntu 18/19/20 VM deployment tool that allows you to quickly set up a VM and then access remotely OR use the HDMI+KVM set up locally. The container station tool also has its own pre-built tool repository too.
This slideshow requires JavaScript.
Finally, for surveillance use, the HS-264 arrives with QVR Pro which allows you to have a business class surveillance platform hosted on your NAS. This platform has its very own GUI that supports thousands of IP Camera brands, as well as the software arriving with 8 camera licenses with the HS-264, a multi-camera feed display, intelligent alerts, AI services (hardware appropriate), multiple client tools for mobile/desktop clients, integration of 3rd party system management tools and you can even attach USB cameras to your QNAP NAS and have local cameras fed into the NAS too.
This slideshow requires JavaScript.
So, software on the QNAP HS-264 is pretty diverse and although the brand has seen its fair share of security complaints in the past, I think that it would be hard for me to ignore the range of NAS hardware configuration, services and tools that are included.  Tests of the QNAP HS-264 on how it performs as a Plex Media Server, host for Virtual Machines and more will be conducted shortly over on NASCompares YouTube channel. I recommend visiting there to learn more. Below is the video review for the QNAP HS-264 NAS
Alternatively, you can watch my video on the QNAP HS-264 NAS where we explore just how 'silent' this system can be when it is populated with SSDs, Regular NAS hard drives and Data Center class Hard drives. These tests were measured on noise when the NAS first booted up, when the system switched to 'idle' and when the system was in intense/heavy usage. Watch that video below:
QNAP HS-264 NAS Review – Conclusion & Verdict

Overall you cannot say that QNAP has not been a pinch more mature and sensible (perhaps to a fault) in the design and architecture of the HS-264 NAS. Living slightly in the shadow of the more bandwidth equipped but more expensive HS-453DX, the HS-264 is still a solid entry in the QNAP x64 series and if you are looking for a truly silent NAS that includes all the tools and services that a modern NAS system should feature, the HS-264 is unquestionably a great NAS system. As long as you factor in the noise of HDDs in 2022 (an often overlooked detail I would add), the HS-264 NAS is a system that focuses it's abilities and power internally, which being by far the most 'power and heat' aware system that the brand has ever released in this series. Concerns about QNAP and recent ransomware attacks are always going to dog the brand for a while yet, but nevertheless, that does not undercut the achievement in hardware and design that this system provides. Perhaps if QNAP could have released a modernized version of the HS-453DX, buyers would be fully satisfied, but in it's absence, the HS-264 and what it brings to the table ticks most of the important hardware boxes for me.
PROs of the QNAP HS-264 NAS
CONs of the QNAP HS-264 NAS
The Silent NAS series has always been impressive and unique

Very unique and discreet at just 4.1cm in height

8x Included Camera Licenses

Includes Anti-virus, Firewall Tool, VPN client tools, Malware Remover, network manager and Security Councilor Tool

3 Different Container/VM tools that also feature image download centers

10Gb/s (1,000MB/s) USB Ports will be incredibly useful

Large range of expansion options in the TR/TL series in 2, 4, 6, 8 and 12 Bays

Comes across as a less impressive package than the HS-453DX (though the HS-264 is $200 less)

Sustained high power use makes the top panel noticeably hot

8GB of Memory Max, despite the CPU and other 64 series QNAP's supporting upto 16GB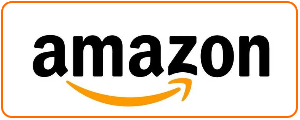 📧 LET ME KNOW ABOUT NEW POSTS 🔔
Join 1,415 other subscribers
Get an alert every time something gets added to this specific article!
This description contains links to Amazon. These links will take you to some of the products mentioned in today's content. As an Amazon Associate, I earn from qualifying purchases. Visit the NASCompares Deal Finder to find the best place to buy this device in your region, based on Service, Support and Reputation - Just Search for your NAS Drive in the Box Below
Need Advice on Data Storage from an Expert?
We want to keep the free advice on NASCompares FREE for as long as we can. Since this service started back in Jan '18, We have helped hundreds of users every month solve their storage woes, but we can only continue to do this with your support. So please do choose to buy at Amazon US and Amazon UK on the articles when buying to provide advert revenue support or to donate/support the site below.

Finally, for free advice about your setup, j
ust leave a message in the comments below here at NASCompares.com and we will get back to you.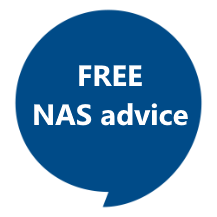 Need Help?
Where possible (and where appropriate) please provide as much information about your requirements, as then I can arrange the best answer and solution to your needs. Do not worry about your e-mail address being required, it will NOT be used in a mailing list and will NOT be used in any way other than to respond to your enquiry.
Support What We Do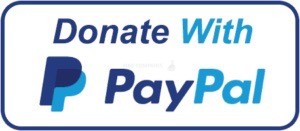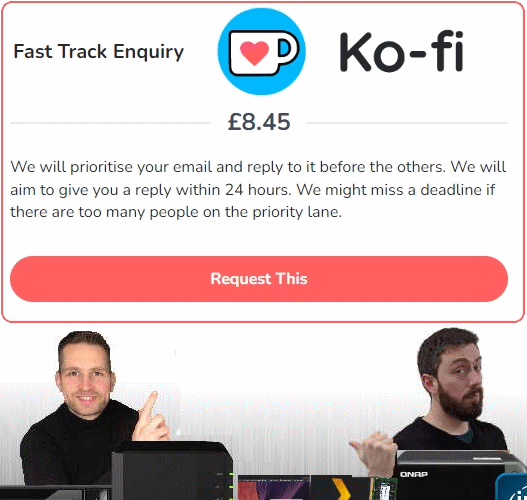 Terms and Conditions
Alternatively, why not ask me on the
ASK NASCompares forum
, by clicking the button below. This is a community hub that serves as a place that I can answer your question, chew the fat, share new release information and even get corrections posted. I will always get around to answering ALL queries, but as a one-man operation, I cannot promise speed! So by sharing your query in the
ASK NASCompares
section below, you can get a better range of solutions and suggestions, alongside my own.