The QNAP TS-453E NAS Drive Review
Why would you consider the QNAP TS-453E? Arriving in an oddly efficient and affordable, yet very capable form with its Intel Quad Core, 2.5GbE and 8GB memory architecture – this device stands out from the rest of the band's value tier. For most users looking at buying their first Network Attached Storage (NAS) device, a 4-Bay system is the perfect blend of storage, ability and value. A four-drive (HDD or SSD) system opens the door to RAID 5 configurations, throughput of 500-600MB/s and it is also where brands tend to begin stretching their wings in terms of the hardware they choose to include in their systems. Now, the QNAP TS-X53 series of devices (previously in X53 Pro, X53A, X53B and X53D) was always considered the Prosumer/SMB tier of their portfolio. However, that convention changed with the release of the TS-x64 series, with the TS-464 4-bay arriving as the best example of the brand's prosumer tier NAS to date. So, when the TS-453E arrived, it was really surprising that QNAP was planning to continue this product family. It was also very, VERY surprising when you learned that this value-tier device (following in the architectural footsteps of the 2016 TS-451+) it has a number of hardware choices that might actually result in it challenging the TS-464 higher tier by quite a degree! In many ways, the TS-453E is a little too good to be true and certainly more than the dual-core and/or ARM-equipped systems one would have expected here. So, let's review this new NAS, discuss what sets it apart from other prosumer/value NAS from the brand and ultimately decide if it deserves your data?
Highlights of the QNAP TS-453E NAS
Intel Celeron 64-bit x86 J6412 4-core/4-thread processor, burst up to 2.6 GHz
Onboard Intel UHD Graphics, 400Mhz Base Frequency (Burst to 800Mhz)
8GB of DDR4 Memory (cannot be upgraded)
4x SATA Storage Bays and 2x m.2 NVMe SSD Storage Bays (PCIe Gen 3×2 Bandwith)
2x 2.5GbE Network Connectivity
USB 3.2 Gen 2 (10Gb/s) Connectivity and 2x USB 2.0
Compact design at 177 × 180 × 235 mm
90W External PSU (Power brick in 2 parts)
2x HDMI Ports (1.4b Revision and can be used for mirror/extended screen) at 1080p @60FPS and 4K @30FPS
Reported Power Consumption at 15.78W in sleep mode and 33.88W when in operation
EXT4 File System, QTS System Software and Services included
2 Surveillance Software Platforms (2/8 Cam licenses), a VM platform, Container App, Office tools, Multimedia streaming/cataloguing applications, AI Photo recognition tools and several Backup/Sync tools
Supports 2x 2/4-Bay Expansion devices or 1x 8/12 Bay Expansion from QNAP
3 Year Manufacturers Warranty

QNAP TS-453E NAS Review – Quick Conclusion
The QNAP TS-453E NAS is a device that really grew on me! With these home/business server companies releasing refreshes of their ranges every 2-2.5yrs or so, it is easy to see them fall into repetitive patterns when it comes to how the hardware is picked at each tier/price-point. The TS-453E NAS on the other hand manages to carve a new tier into the brand's portfolio right now in 2022, managing to give you some really solid internal/external hardware that most would have assumed would be half of what it is at this level of QNAP's 4-bay portfolio (i.e Quad-Core, 8GB, NVMe M.2s, 2.5GbE, 10G USB, 3yr warranty, etc) and it will certainly make some buyers wonder about whether the current Prosumer/flagship TS-464 is as necessary to their home or office as they once thought. The fixed memory, even at 8GB default, is rather annoying and a lack of PCIe slot means that 10GbE will remain out of reach – but look at this NAS sandwiched between the TS-451D2 & TS-464 and it makes alot of sense. This is for those not really looking at expandability years from now and although that plastic case still looks a little dated/cheap, this is not a device designed to be noticed day-to-day. For those looking to make their first tentative entry into the world of NAS a decent one or looking to upgrade cautiously from an ARM system, the QNAP TS-453E is an excellent shout!
Amazon UK 32.14 OFF (WAS 1319)
[LINK HERE]
QNAP TS-453E NAS Review – PACKAGING & ACCESSORIES
The retail box for the QNAP TS-453E is fairly normal stuff, with a decent amount of effort being made toward protection and presentation. As this solution is almost completely an 'online' purchase item, then you can understand why the brand does not exactly 'reinvent the wheel' when it comes to designing the external retail packaging here. However, what we have here is clear and still conveys plenty of information about this device.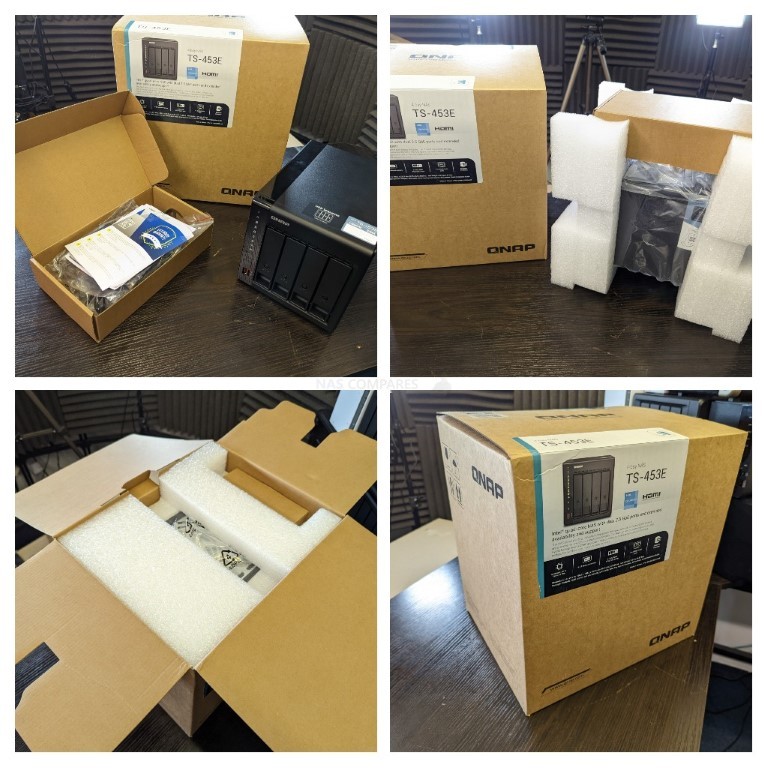 The unit arrives in plenty of hard foam packaging and although this may seem a bit overkill (given that this device arrives unpopulated), it is worth highlighting that this device will be travelling for thousands of miles logistically and shock and motion damage that manifests as cracks in the PCBs or loosened transistors can go noticed for years and could result in a sudden fail of your data storage device down the line. You might be surprised how many companies overlook/underestimate potential transit damage in efforts to save a few quid. In the case of the QNAP TS-453E NAS, I cannot fault it, especially for such an affordable 4-bay NAS system, where the profit margins for the brand must be quite tight!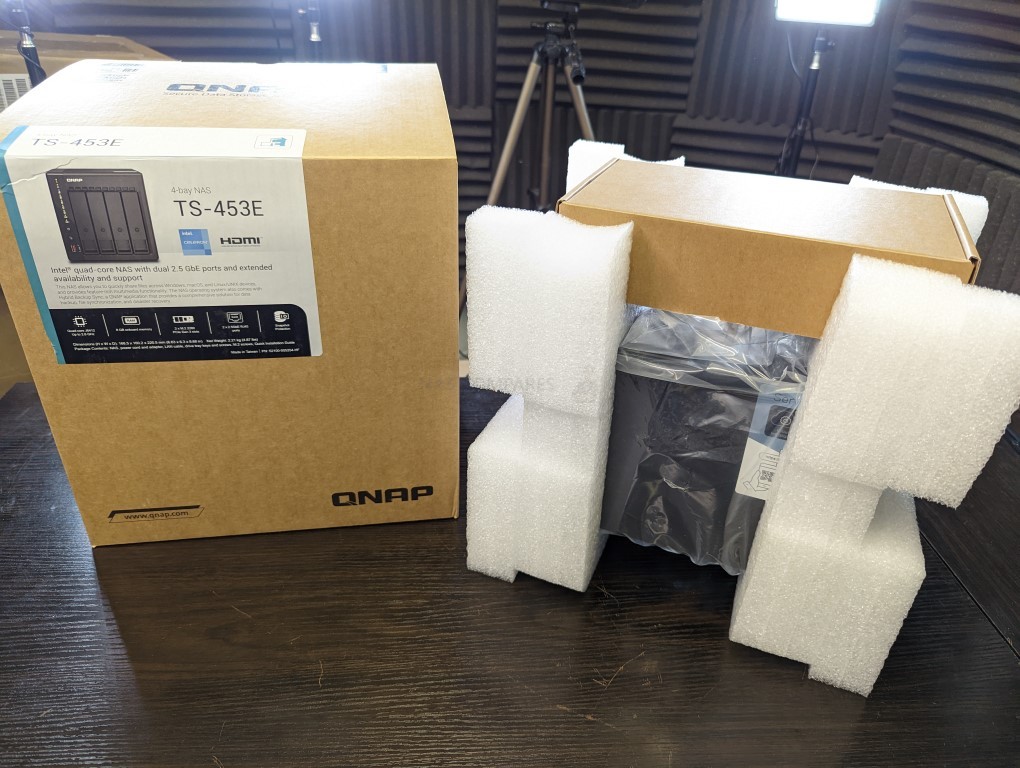 The QNAP TS-453E NAS arrives with its accessory kit that contains the bulk of things needed to deploy the NAS (though, not the storage media, unsurprisingly). This includes a PSU, Cat 5e network cable, screws for 2.5″/3.5″ storage media (though 3.5″ HDD media can be installed with toolless click'n'load trays), keys for the media bays, documentation for first-time setup and breakdown of the 3yr warranty (extendable to 5yrs for an optional fee). All fairly standard stuff, but it is worth highlighting a couple of bits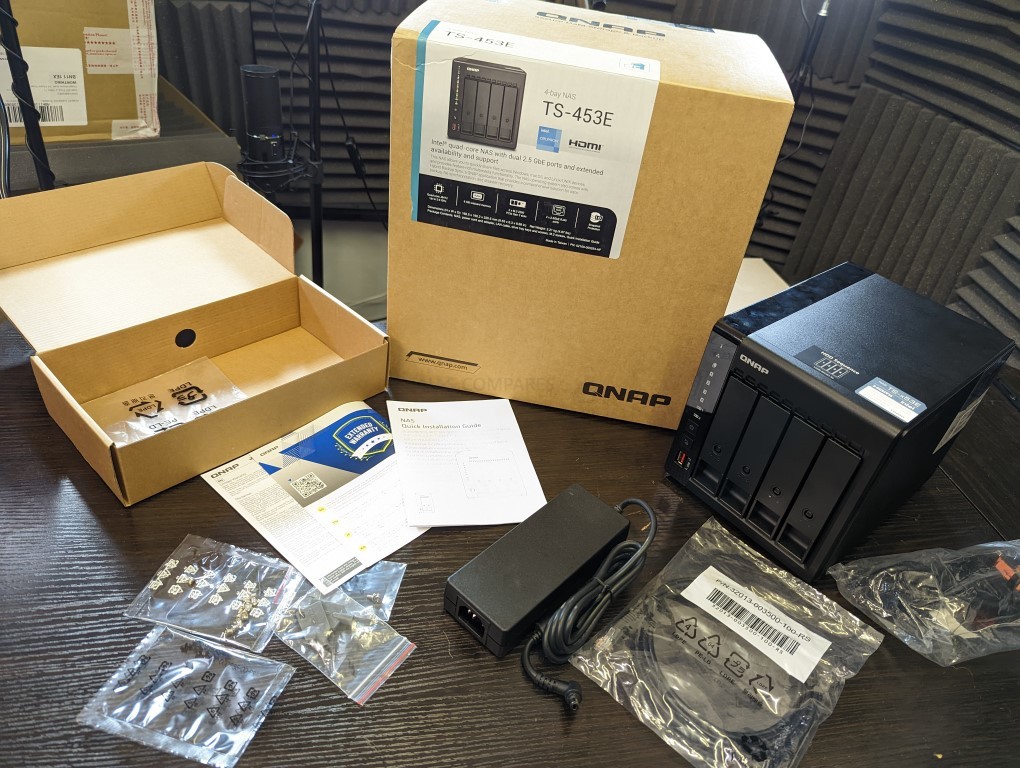 The power supplier for the TS-453E NAS is an external 90W power brick, that QNAP reports results in the system's power consumption at 15.78W in sleep mode (i.e idle) and 33.88W when in operation (i.e Access). The use of an external power brick at this scale makes sense, with the more efficient CPU compared with an Intel Core, Pentium or Embedded Ryzen in higher tiers of 4-bay. Additionally, an external CPU means a lower system running temp and allows the NAS to be more efficient with it's internal cooling/ventilation.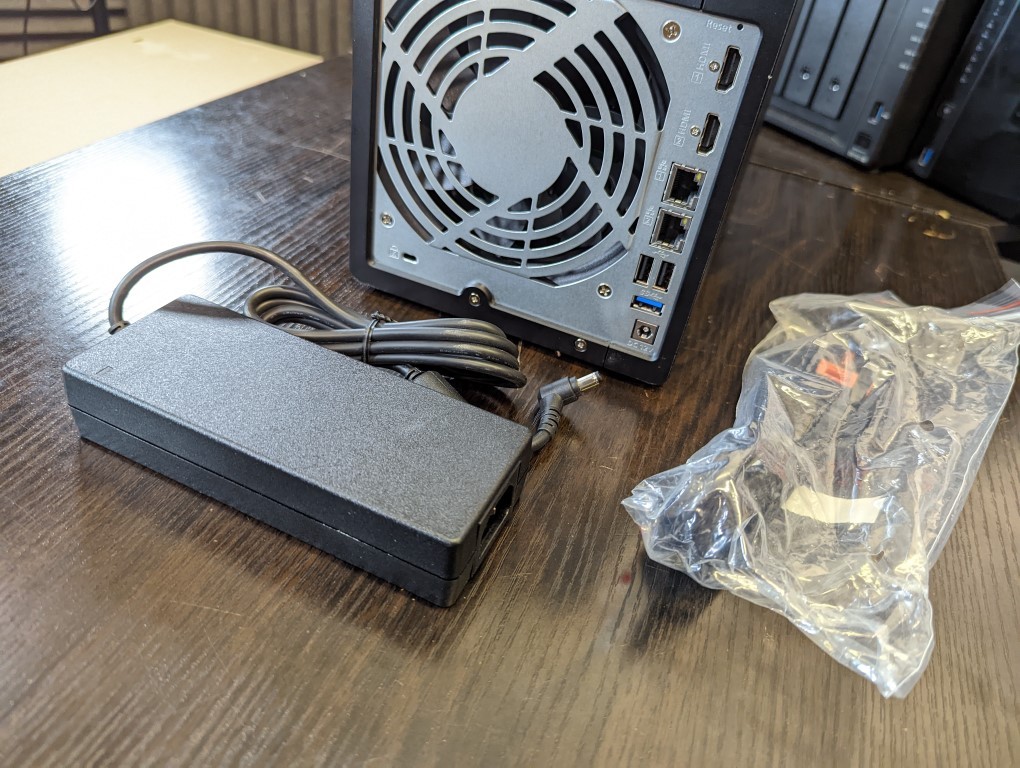 One thing that did surprise me though was the lack of m.2 NVMe heat sink pads. It's a very, VERY small point of contention, but I think it is worth highlighting. I will go into more detail on the m.2 NVMe slots of this device later in the review, but in bigger/more-powerful 4-Bay from QNAP (TVS-472XT and TS-473A for example), these systems have m.2 slots and also adhesive heatsinks that you can attach to the SSDs to improve heat dissipation when the drives are in heavy use. In the case of SSD caching on heavier-use 24×7 storage arrays, heat dissipation on SSDs is a big part of sustained performance and drive durability (M.2 NVMes get hot, pretty quick, eventually being throttled/bottlenecked at around 70 degrees). So why do QNAP include these on the more expensive models, but not smaller domestic units like these? The heatsinks are incredibly low price and even though the space afforded to them in the TS-453E NAS is a little tighter, it's still an odd omission by the brand and the accessory kit (picture below from the TVS-x72 Series accessories).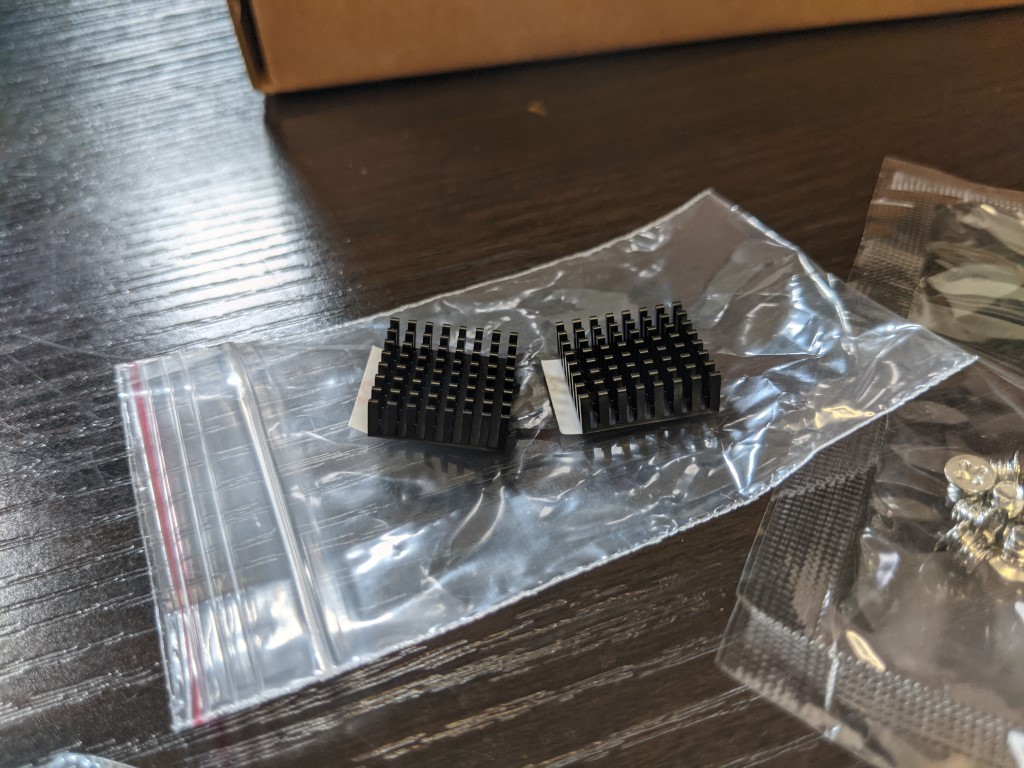 Aside from the missing SSD heatsinks, the rest of the QNAP TS-453E NAS retail kit is pretty much exactly what you will want/need. Let's discuss the design of the TS-453E and what sets it apart from the rest of the QNAP portfolio of 4-Bay devices.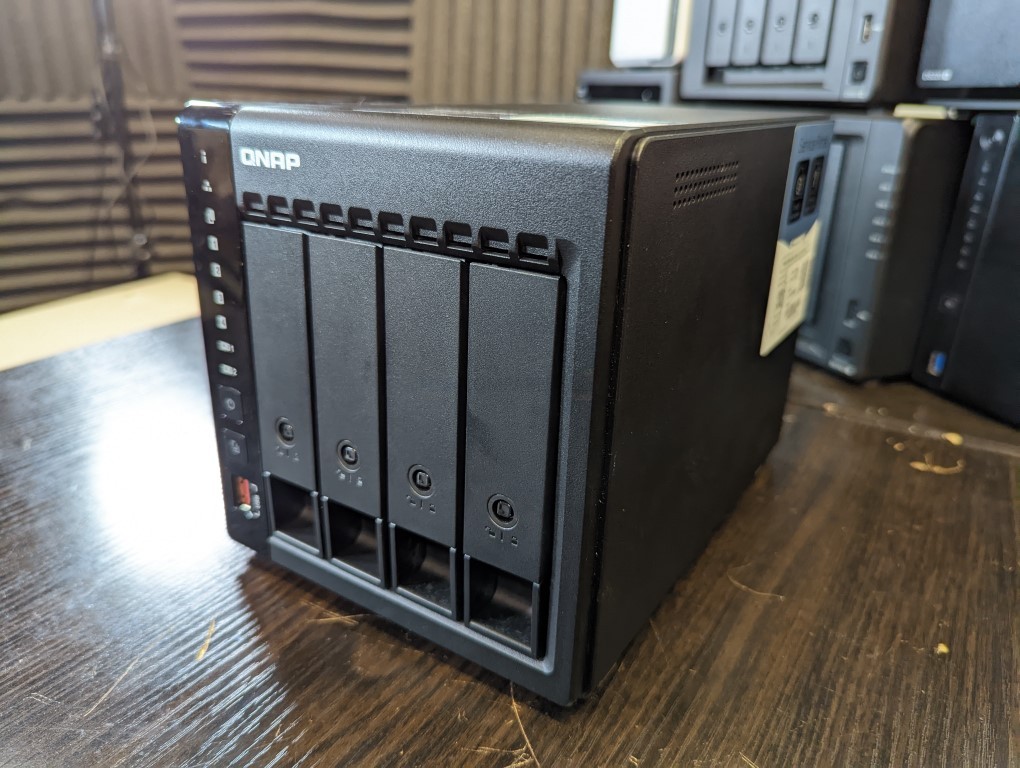 QNAP TS-453E NAS Review – Design
The TS-453E NAS arrives in a very familiar chassis design that is a slightly modified version of the standard Value/Cost effective plastic case that we have been for many years now. I say modified because this new revision has improvements in the passive ventilation (perhaps due to those NVMe M.2 slots inside). There is no LCD slot and the casing itself is very compact at 177 × 180 × 235mm. This is a very small physical footprint in your home/office.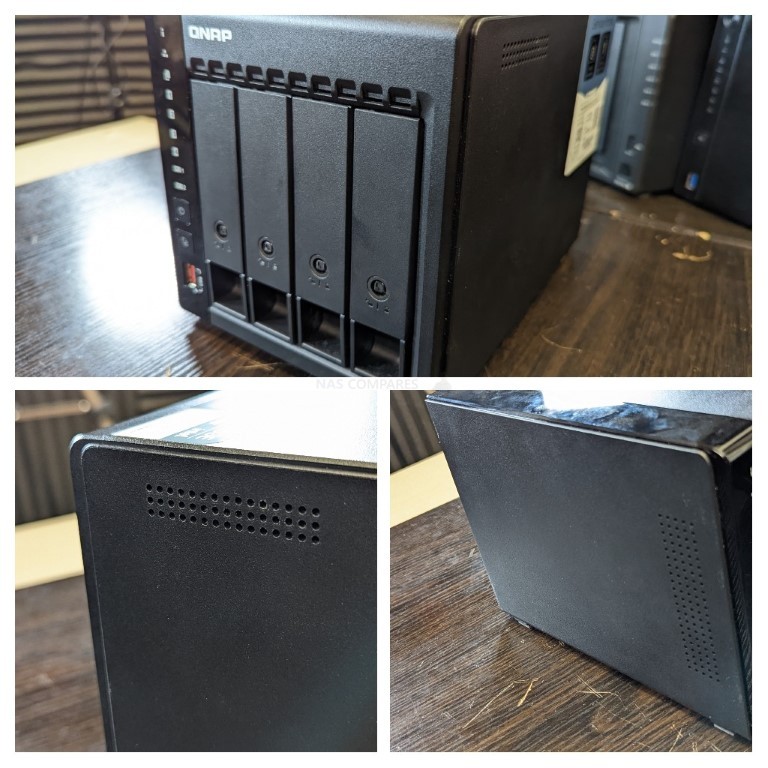 The depth of the TS-453E NAS is a little shallower than more recent 4-Bays, such as the TS-462 and TS-464, but only a fraction. Either side of the chassis has an area of passive ventilation that works in conjunction with the NAS' own active cooling fan, but it's quite small and there are no additional logos aside from the front of the system. Indeed, the ventilation on the QNAP TS-453E NAS is particularly good for such as compact system, with those two sides of ventilation joined with vents on the base of the system under the HDD/SSD bays, air space between each drive bay and an additional strip of vents above the trays. Although the system runs on a single large active fan on the rear, it needs the airflow to pass over all the internal components and media, so these vents are pretty vital and in a 24×7 deployment, essential.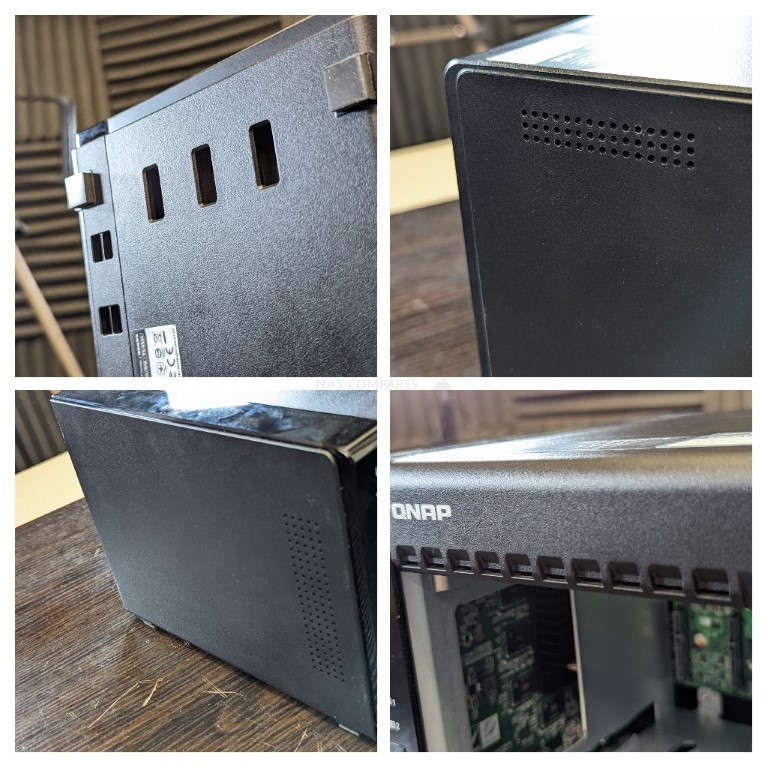 The 4 main media bays are designed for 2.5″ and 3.5″ media (with the former requiring the included screws and a screwdriver) with individual locks that ensure drives are not removed in error (though these locks will not stand up to much if someone REALLY wants to get in!). The system supports SATA drive media and capacities up to the latest 20TB and 22TB hard drive media from WD and Seagate.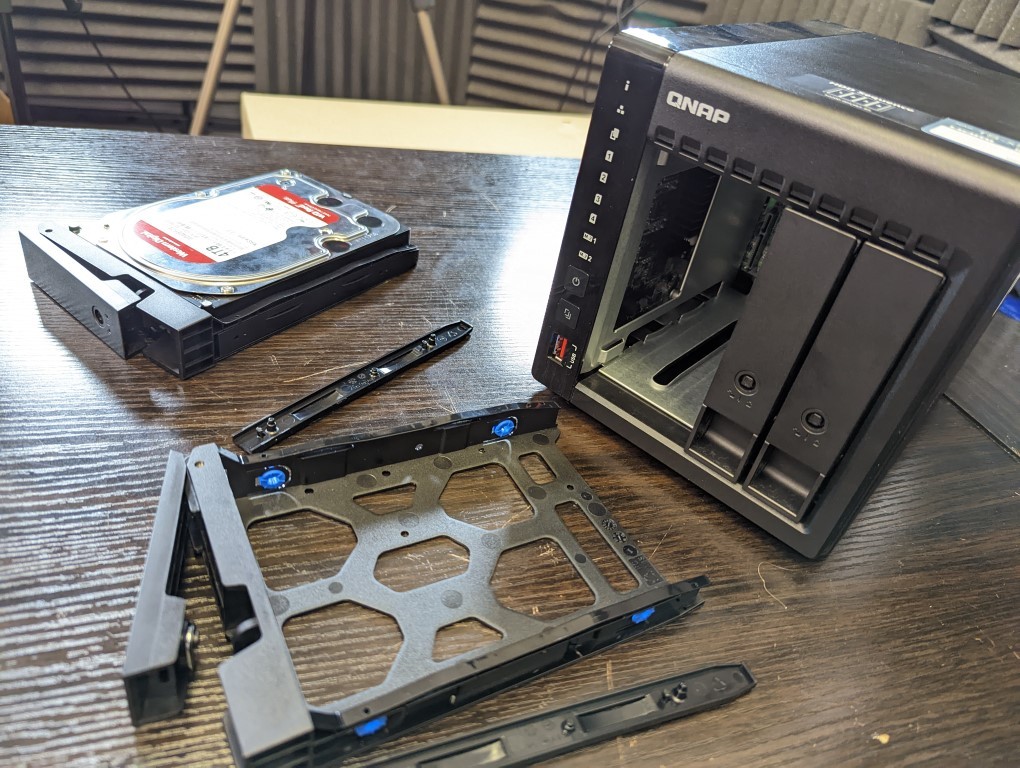 As this is a 4-Bay system, it means that you can take advantage of configurations such as RAID 0 (combine all the storage), RAID 1 (mirror the storage) RAID 5 (combine the drives and have 1 drive of redundancy/safety-net) and RAID 6 (same as RAID 5 but 2 drives of safety). It is also worth mentioning that the TS-453E NAS can be deployed with as little as a single HDD/SSD and then you can add drives one by one later (though adding to an existing RAID storage pool will depend on the actual RAID config (i.e. JBOD > RAID 1 > RAID 5).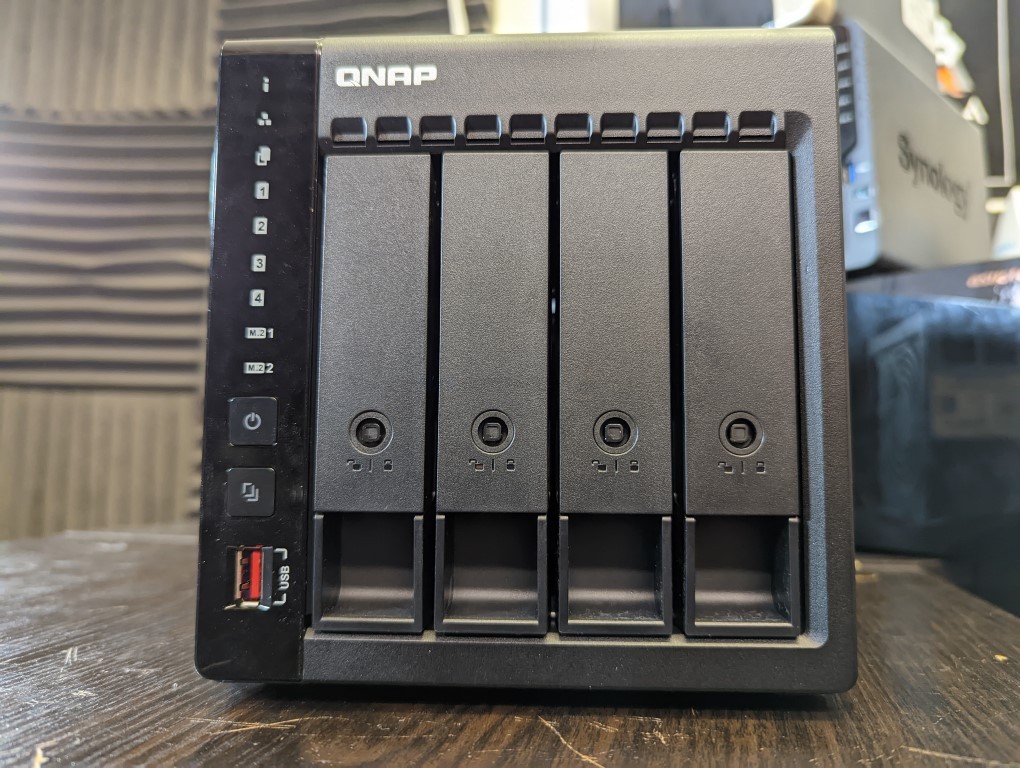 Removing the trays shows us that the inside of the main storage area is completely clear, with plenty of ventilation on all sides/around the drives and the connectors are on a separate PCB from the backboard that has four individual SATA power+data connections. No wires hanging around and a very clean setup internally, with many of the internal heatsinks and transistors visible.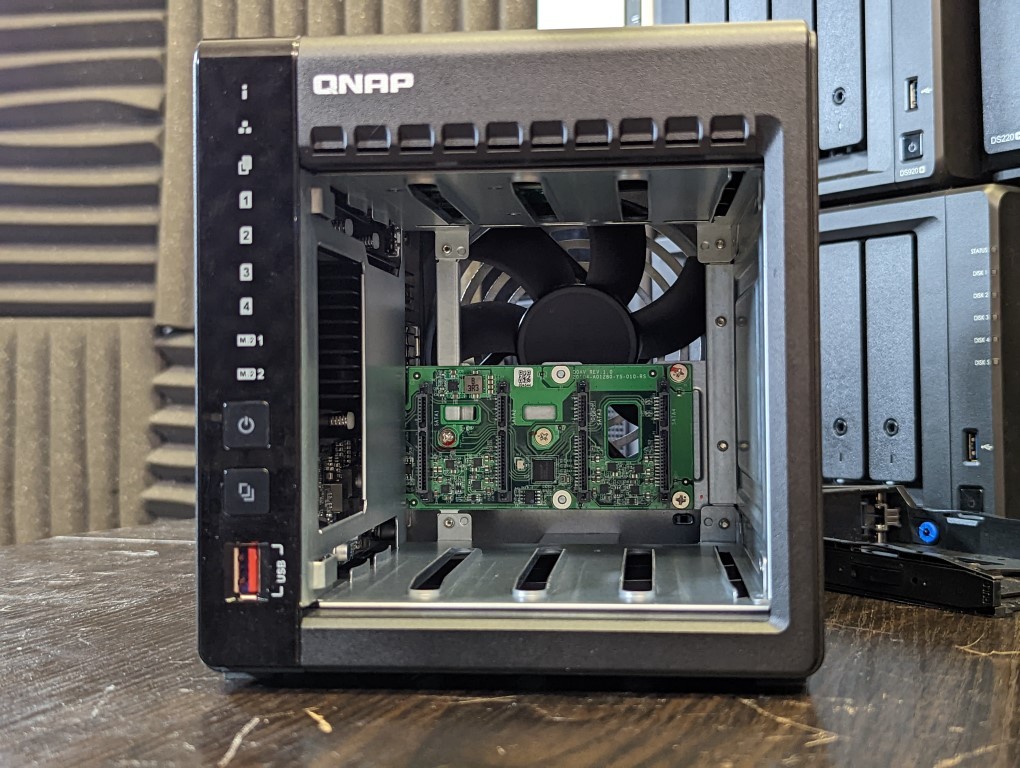 The front of the system has ALOT of LEDs that are used to denote the system activity and health. Unlike beefier systems from QNAP such as the TVS-472XT, the TS-453E does not have an LCD screen that tells you information such as temps, IPs and more precise information on the nature of the alerts. These LEDs cover the HDD bays, m.2 SSD bays, network connection and USB copy activity (3-tone colour system of red, amber and green). For the easily annoyed, these can be dimmed/switched-off in the QTS system control panel or mobile app very easily.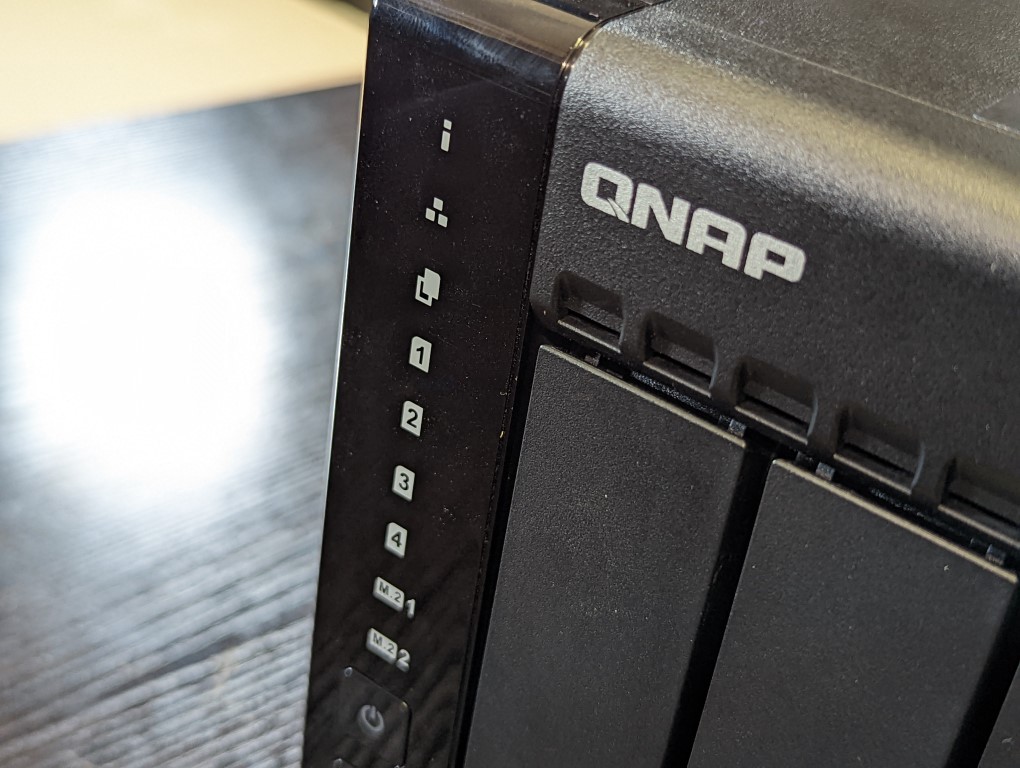 Another neat little feature of the TS-453E NAS that I did not expect QNAP to include in the value tier of their portfolio is the inclusive USB 3.2 Gen 2 10Gb/s Type-A port and copy button on the front. This means that not only do you have the convenience of a physical one-touch copy button that can be used when a drive is connected (which can have the method, filters and metrology of backup created the first time in the system menu), but also that it send/receive data at 1,000MB/s from an appropriate USB 3.2 Gen 2 drive. Backups from this port can be configured to work in either direction, as well as rules for differential backups, file size/type/date limits and rules on what to do in the event of an error/failure. You do not NEED to use a physical button if you want (you can set up an automated routine that kicks off when a specific drive is connected immediately if you want), but the one-touch backup support will always be favoured by the old skool who NEED to know that the backup is actioned appropriately (and it's own LED light too to denote activity).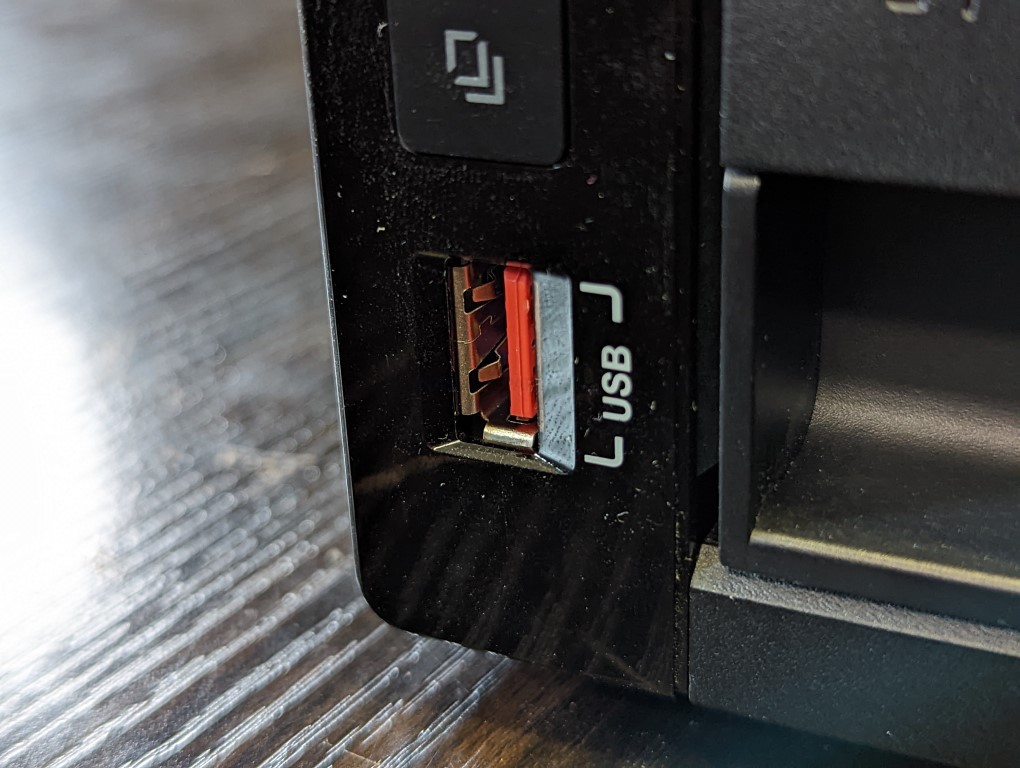 Overall,the design of the TS-453E NAS is pretty much everything that QNAP has put out there in their desktop 4-Bay systems these last few years, but improved/tweaked with faster and more efficient design choices. Let's discuss the connectivity of the QNAP TS-453E NAS.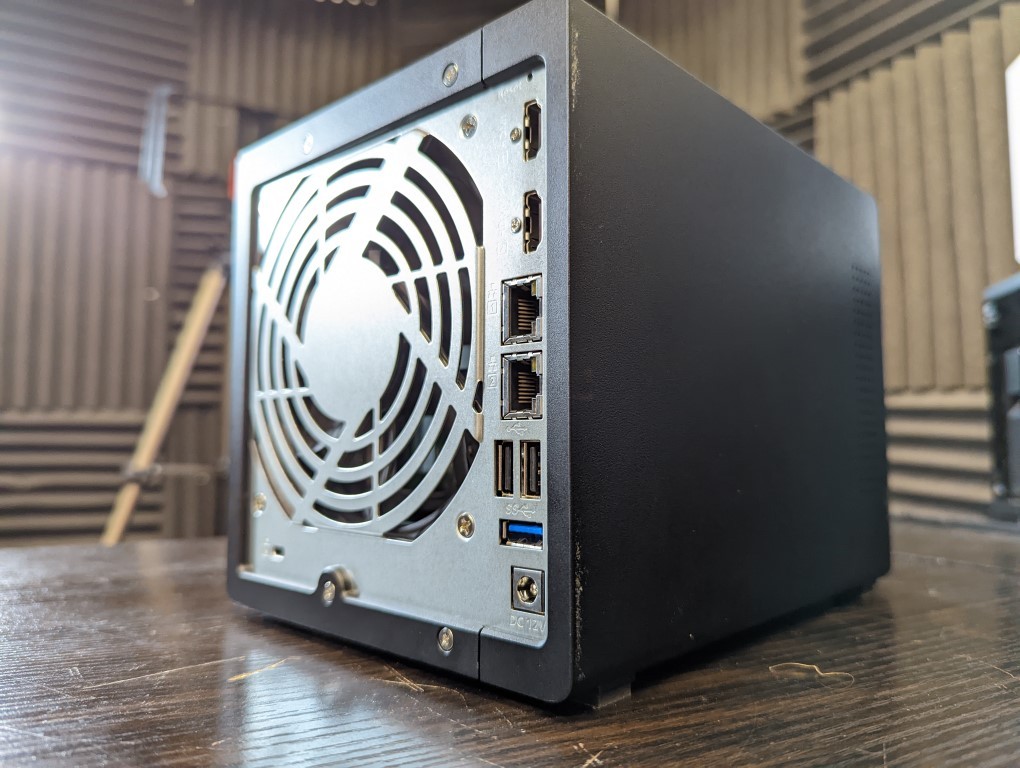 QNAP TS-453E NAS Review – Ports & Connections
The rear of the QNAP TS-453E NAS is surprisingly densely packed, with plenty of connectivity options available. The single rear fan takes up like 85% of the available space of course, with its 120mm diameter. This fan can have its RPM (rotations per minute) adjusted up/down as needed, but it's always recommended that you keep it on the automatic settings for reasons of system temp and efficiency. As the chassis is largely plastic externally, over an internal aluminium internal frame, the system will not run too loud unless you use HDDs that are particularly industrial (Pro/Enterprise drive media) or capacities above 8TB.
This value NAS interesting arrives with two 2.5GbE network ports (so 2.5x that of traditional gigabit ethernet) and that means that you have the potential of between 109-570MB/s external network connectivity. Of course, that depends on your existing network being 'greater-than-gigabit' and supporting link aggregation via the NAS' two ports, but as 2.5GbE continues to appear on more and more devices, it's nice that you will have considerably less of a bottleneck externally on the HDD/SSDs inside this device. Currently, there has been the counter-argument online that 2.5GbE is something of a fad, with 1GbE still ubiquitous. However, given most modern CPUs support 2.5G, as well as the production cost of 2.5GbE being close/identical to 1GbE (depending on the hardware), I think adding 2.5G to a NAS without it costing more than 1GbE is nothing but a win for the consumer. With 10GbE, though more affordable in 2022/2023 than ever, still costing several times more than 1/2.5G, I think the inclusion of these 2.5BASE-T ports is more than amply compromise towards future-proofing.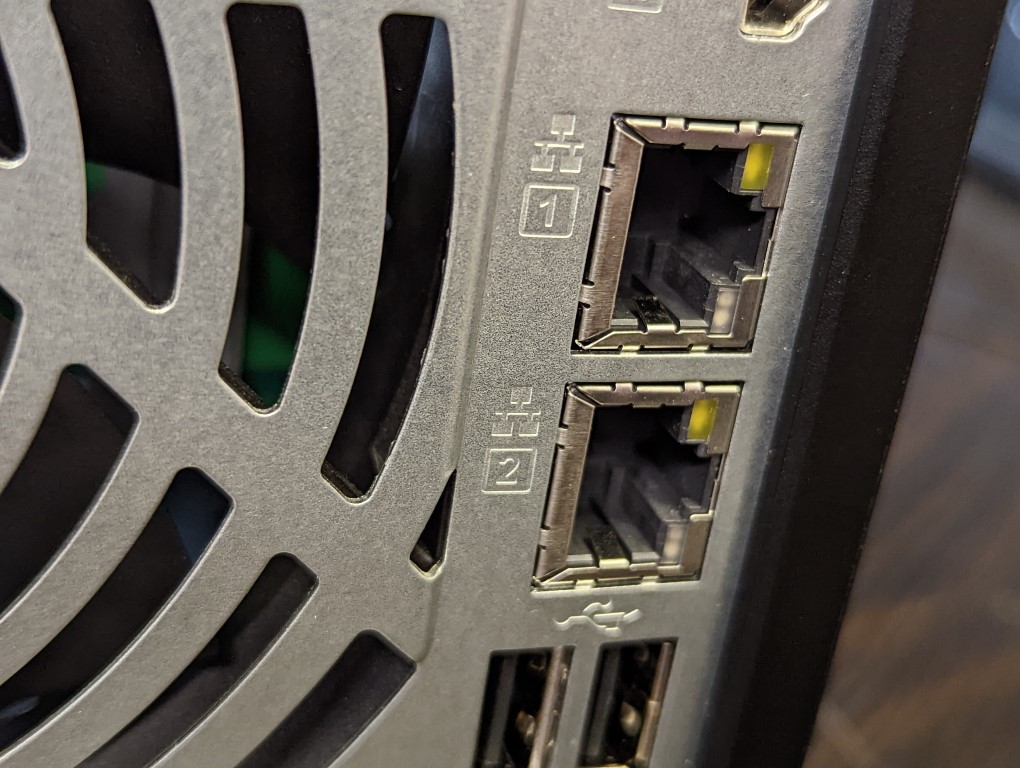 The QNAP TS-453E NAS also benefits from featuring two HDMI ports. Now there is good news and bad news on these. First, the good news. These ports support both native 4K and 1080p visual output, the NAS has a parallel HDMI GUI that can be controlled with an IR remote and/WiFi remote/KVM with USB keyboard and mouse and there are lots of applications available for home and business. The bad news is that they are HDMI 1.4b (so only 1080P is 60FPS and 4K is 30FPS), that the 2nd port can only mirror or extend screen the 1st port and that the QNAP HDMI application (HD Station) has not been anywhere near as regularly updated as the rest of the apps and services from QNAP.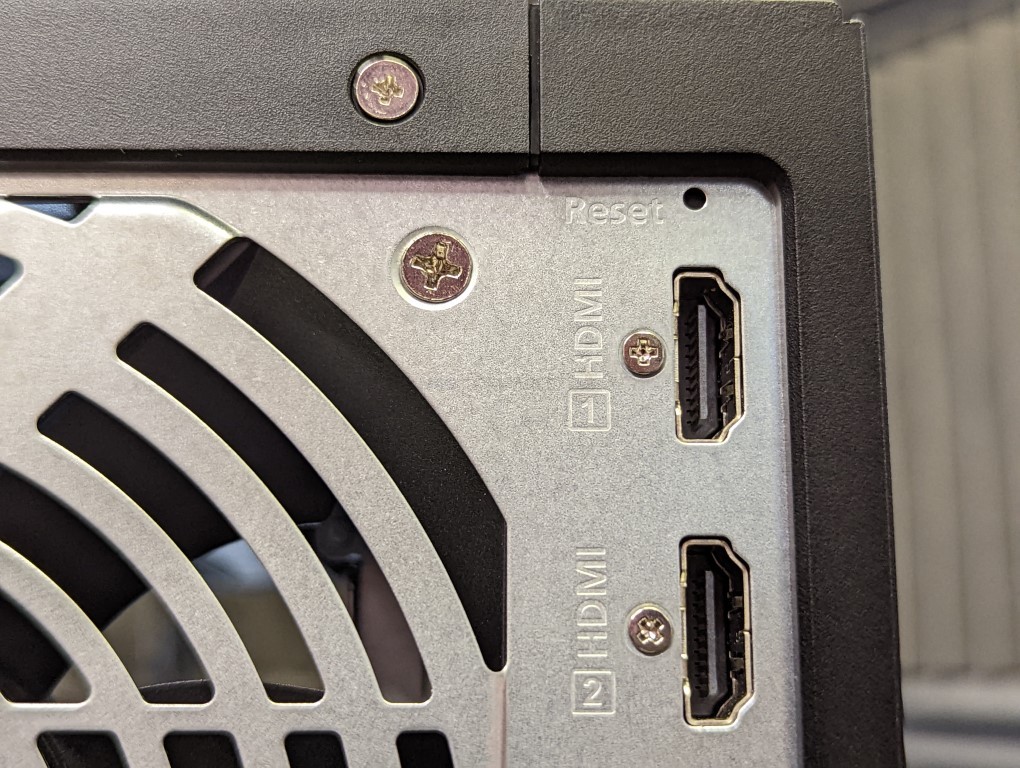 The HDMI output IS useful for Surveillance and there ARE 1st/3rd party multimedia applications available to download and install in the systems on app storage and 3rd party app store QNAP Club (so Plex, Kodi, RetroArch and more). I plan on revisiting the subject and current state of HD Station on QNAP NAS later in 2022/2023, but below is my original review of the service from back in Summer 2020:
The USB ports on the QNAP TS-453E NAS (already covered the front one for one-touch backups) are another USB 3.2 Gen 2 10Gb/s port and two USB 2.0 ports. The 3.2 port can be used for 2.5/5GbE-to-USB adapters, WiFi 6 dongles (with the right github driver), general storage accessories, select TV tuners and 1-2 of the 2/4/8/12 bay Expansion chassis from QNAP. The USB 2.0 ports are mainly for UPS devices, office client hardware such as printers and scanners and USB keyboards and mice for a KVM setup with the HDMI output. All nice and decent enough; I cannot fault them aside from a lack of USB-C.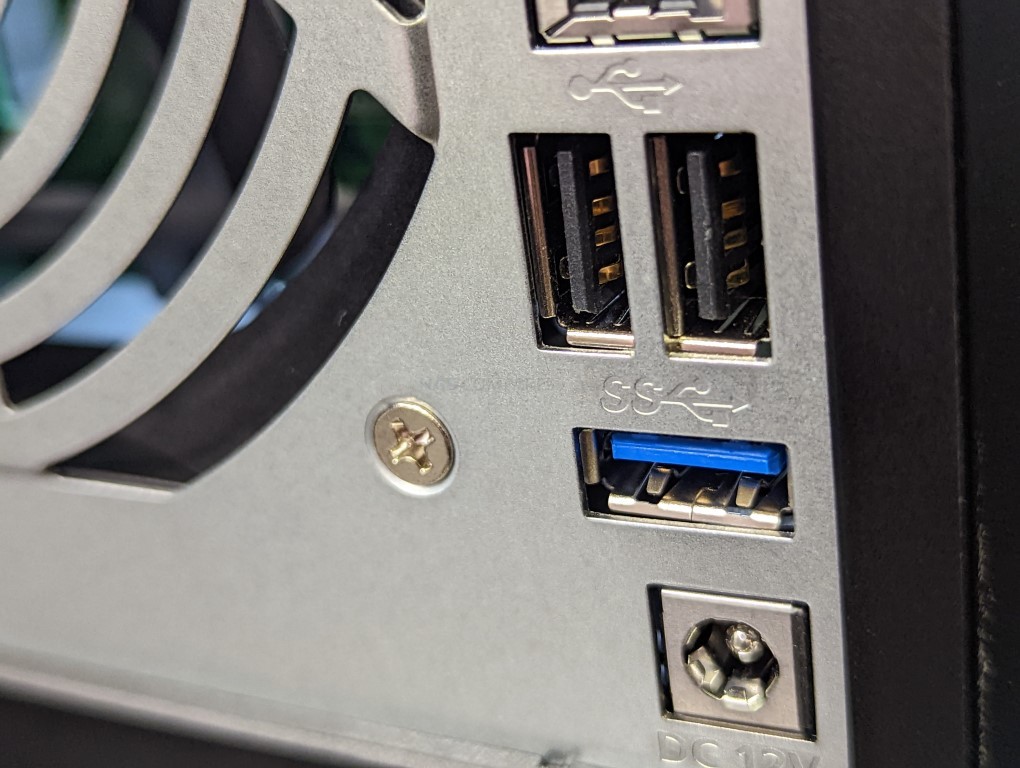 The ports and connections of the QNAP TS-453E NAS are all very good for the price tag, as well as actually giving enough external bandwidth for some users to query why they would spend noticeably more on the QNAP TS-464. Let's discuss the internal hardware of this NAS. The CPU, Memory, SSD bays and whether what is under the bonnet will be enough for your needs.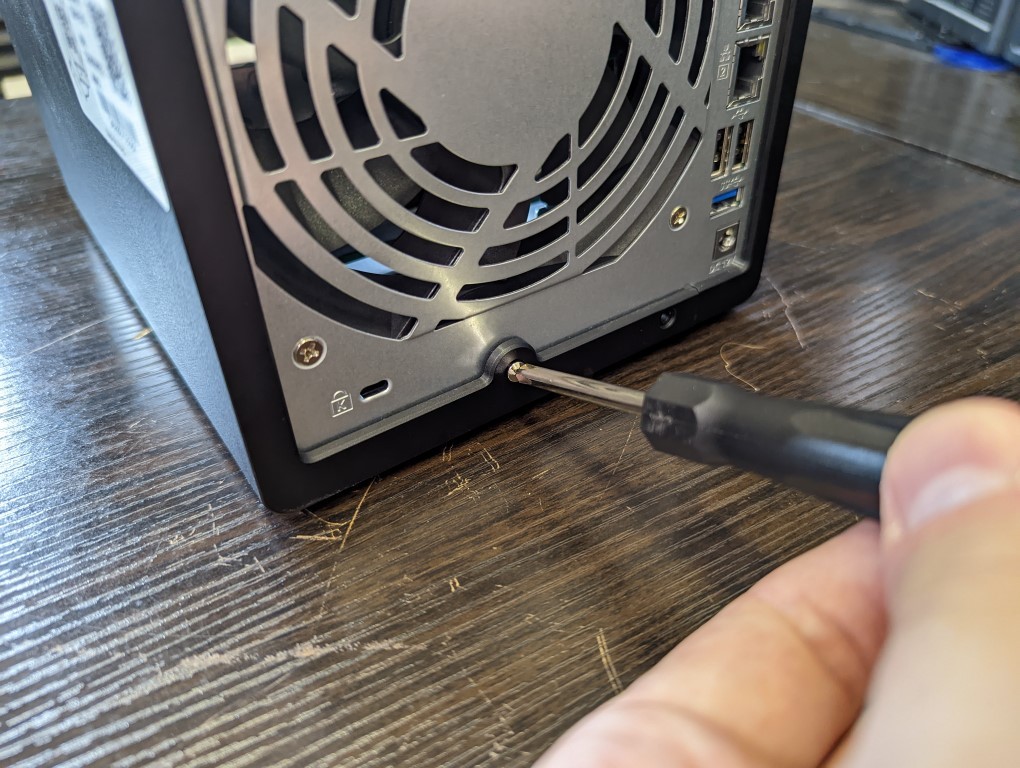 QNAP TS-453E NAS Review – Internal Hardware
This rather compact 4-Bay NAS chassis is surprisingly easy to access the inside of! The rear of the chassis has two screws that, when removed, allow you to slide about 70% of the external chassis away and access the internal frame and controller board. Now, you are almost certainly NEVER going to do this with the TS-453E unless you are adding SSDs to those internal slots. You can see that the internal system's physical architecture is clear and modest, with plenty of vents and cavities for that rear fan to pass air through.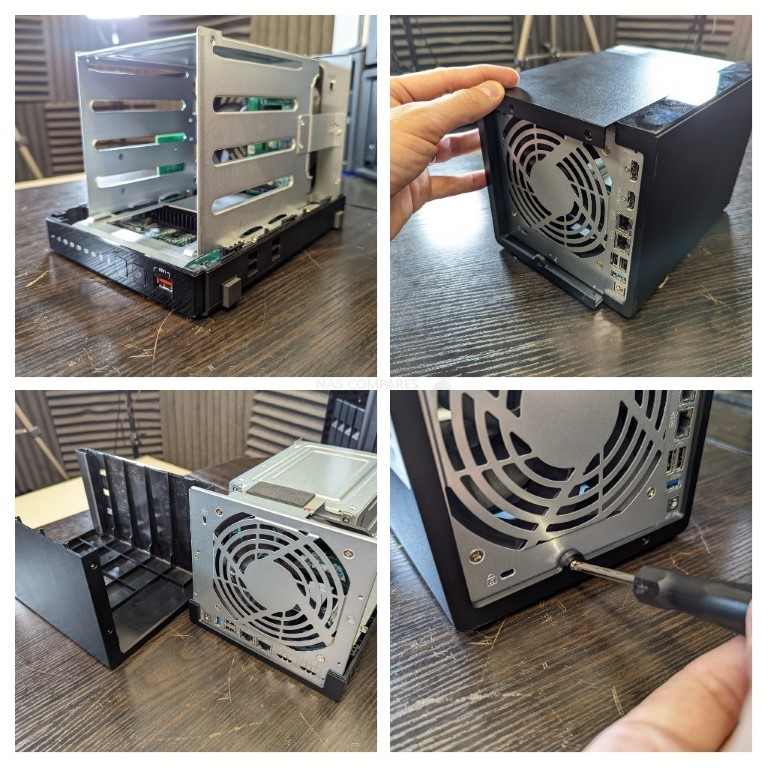 The first thing to discuss here is the CPU of the QNAP TS-453E NAS. Now, as this is effectively the follow-up to the TS-451+ (and, frankly, severely hammering down on the TS-451+D2 NAS by the way), you will be unsurprised to see that it arrives with an Intel Celeron Processor. However, this system arrives with an Intel J6412 Quad Core Processor. This power/energy efficient CPU lives on the board, under a fanless heatsink.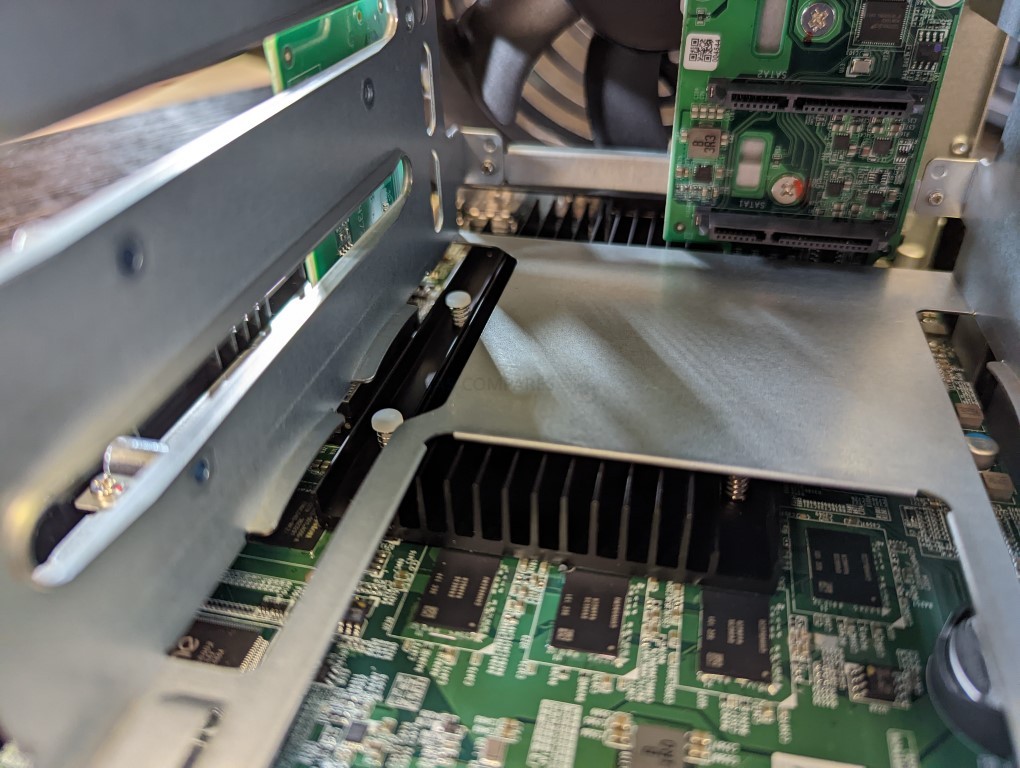 Now, the reason I am both surprised and impressed by this CPU is two-fold. First off, considering this system is designed to be the more affordable/less powerful and scalable alternative to the TS-464, this is still a processor that is comparable in power to most Prosumer 4-Bays in the market released in 2020, 2021 and 2022. It has a 2.0Ghz baseline clock speed that can burst to 2.6Ghz when needed (the TS-451+D2 is a dual-core 2 gen older J4025 CPU and the TS-453D had a quad-core 2 gen older J4125 processor). It also has quite respectable graphics handling with onboard Intel UHD Graphics, with a 400Mhz Base Frequency (Burst to 800Mhz) that is going to be great for light VM use, Plex, Surveillance and more.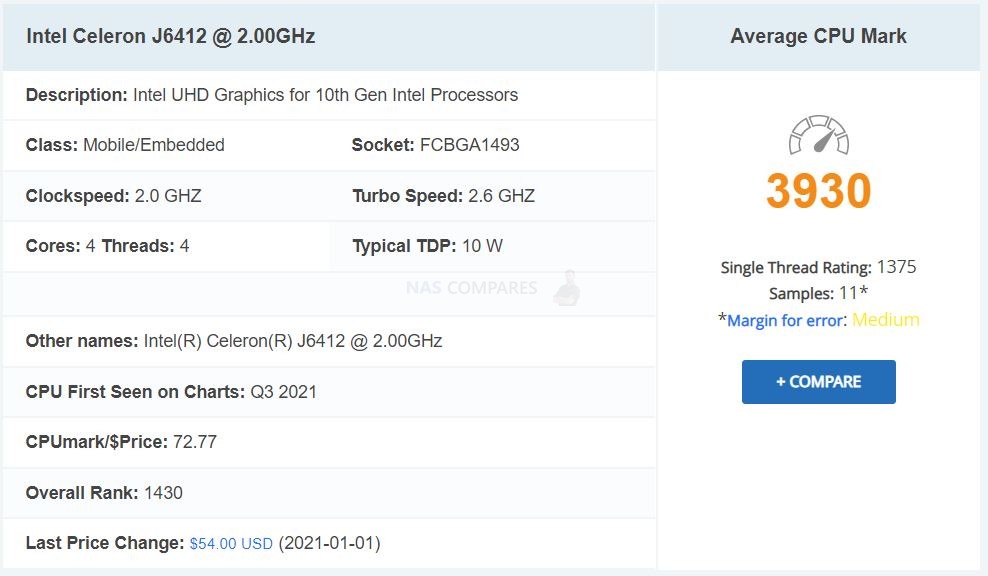 Even if you compare that J6214 CPU in the more affordable TS-453E vs that of the N5105 in the Prosumer/Flagship TS-464, they are extremely comparable and CPU benchmark only gives the N5105 a small advantage of 4116 over 3930. The J6412 even arrived in the market later in the Intel CPU refresh and likely benefits from small energy efficiency improvements too. Overall, the CPU in the TS-453E is an excellent choice for this tier of the QNAP portfolio.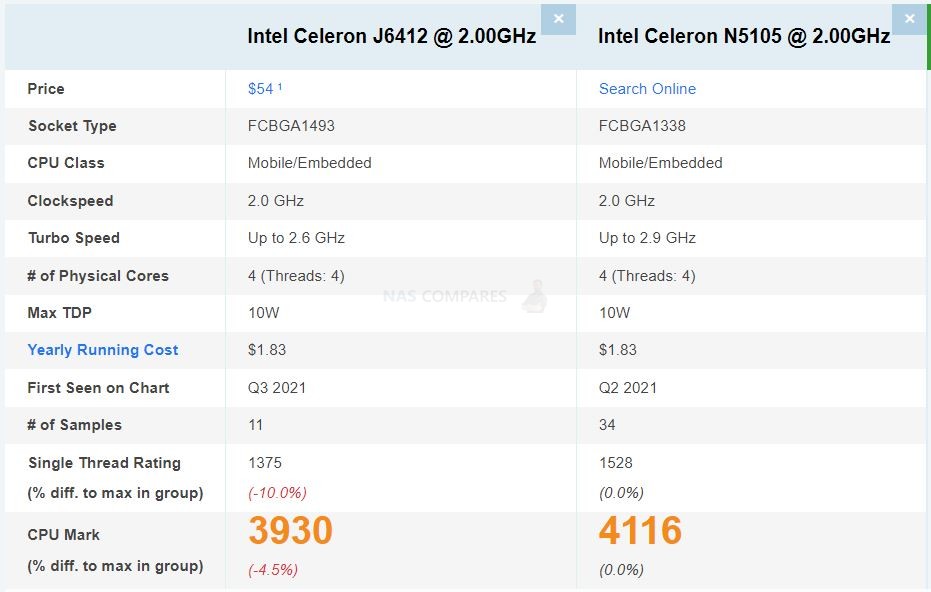 One other area of good and bad news that the QNAP TS-453E NAS arrives with is regarding the memory available. Unlike the rest of the Intel-powered QNAP 4-Bay portfolio, this system CANNOT have it's baseline memory upgraded – It does NOT have accessible SODIMM slots and the default memory is immovably attached to the controller board. On the plus side though, it DOES arrive with 8GB of DDR4 memory by default. This DOES mean though that 1) the price is adjusted to include this when you compare it against the default 2GB TS-451+D2 and TS-451+, as well as 2) you are not able to use the maximum 32GB (4x 8GB) that this CPU is able to support. Now, likely this is related to PCI limitations and supporting those other services, but still, that 8GB is really giving me mixed feelings. Regardless, 8GB is a decent-sized amount of default memory for a 4-Bay and you can get a whole lot of things running at once with the CPU and Memory combo here.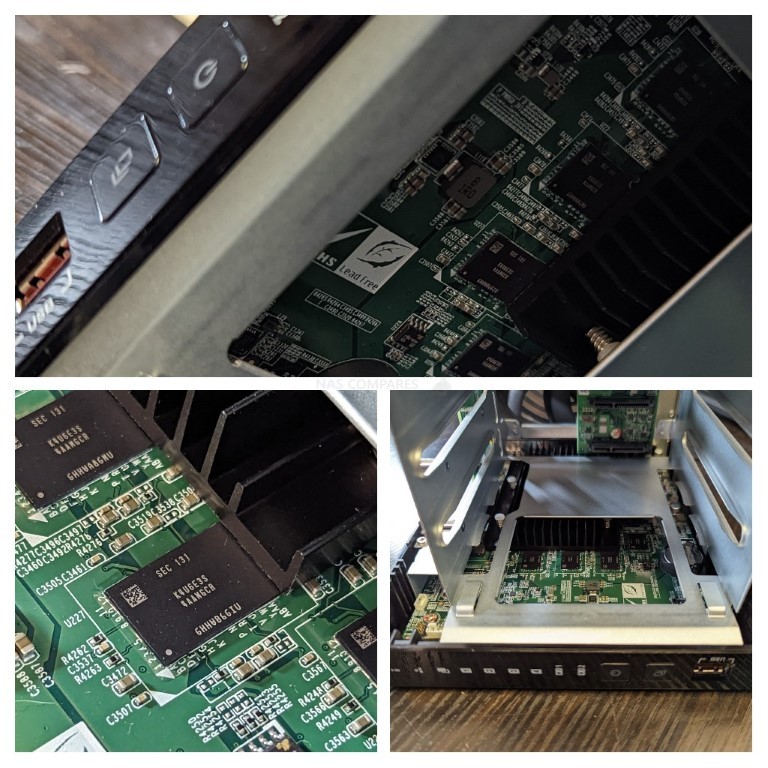 As mentioned earlier, you can also add additional SSDs to the QNAP TS-453E NAS, in the form of two M.2 NVMe SSDs. This is something that QNAP has only tended to provide on their higher tier rackmount systems and much higher-end desktop solutions till about 2021, despite their biggest rival Synology providing this for almost 5 years now at the same hardware tier. Now as good as this sounds (i.e to have a PCIe upgrade slot AND the m.2 NVMe SSD slots) there is good and bad news. The good news is that unlike Synology and its inclusion of M.2 NVMe SSD slots, the 2280 slots inside the QNAP can be used for more than just read/write caching.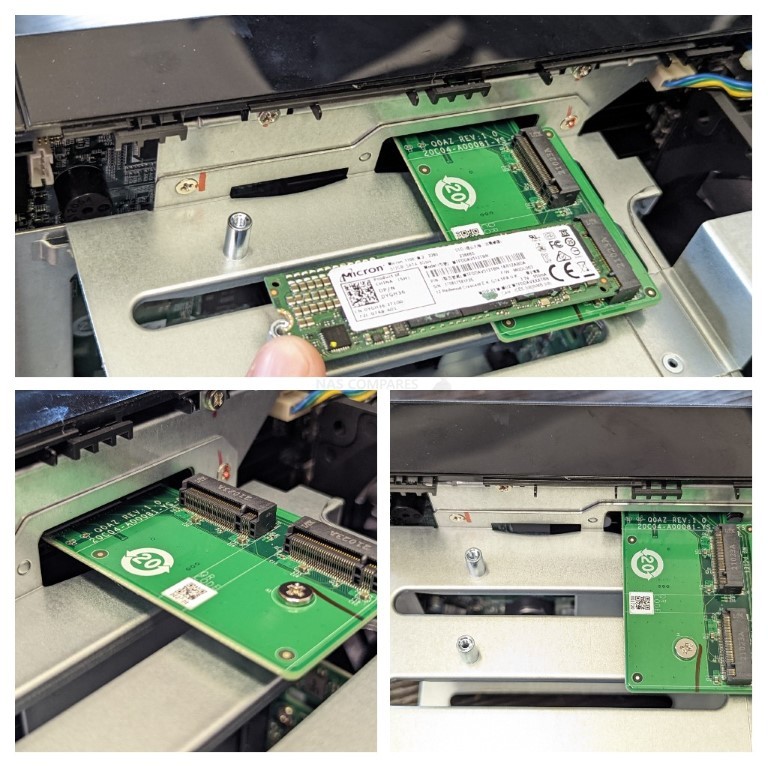 The use of SSD caching to provide performance benefits to a slower, but larger and more affordable Hard Drive RAID away are quite well established in the NAS industry, using the SSD space to either write files to the system faster (acting as the primary write area, before moving the data) or increase the speed of accessing commonly requested files on the NAS (making copies of those files onto the SSDs, though largely tiny files are optimized and do not really affect larger block/sequential data). However, though the QNAP TS-453E supports SSD caching on these bays, it also supports their use in QTier. This is similar to caching but in QTier the available HDD and SSDs are combined into a single storage area and it intelligently moves files periodically to the appropriate storage media as it analyzes their access and requests. Finally, if you wish, you can use the NVMe SSD bays for just a fast accessing and performing storage pool and volumes of it's own. These two bays, plus the main SATA HDD bays, plus adding a PCIe SSD storage card in an available slot means that the TS-453E has enormous storage potential. These m.2 bays can also be used for system upgrades, but these are still quite few in reality and it is only the google TPU m.2 upgrade that increases AI system processes that are recommended in 2022 so far.

However, as good as all that sounds about the NVMe SSD bays, it is worth also factoring in that in order to provide these bays and still provide the rest of the system hardware from a relatively simple processor, QNAP has had to narrow down the architecture of these bays for reasons of physical profile and available PCI lanes+chipset. The result is that the m.2 bays are PCIe 3×2 in architecture, or up to 2,000MB/s in bandwidth each between the installed m.2 and the system. That means that if you are buying PCIe 3×4 SSDs for your  NAS, such as the Seagate Ironwolf 510 or WD Red SN700, they will be somewhat bottlenecked to 1GB throughout each (though they can be RAID'd). It is still better to have these bays in this somewhat streamlined fashion than to not have them at all, but it is worth keeping this in mind when considering the future upgradability of the QNAP TS-453E NAS.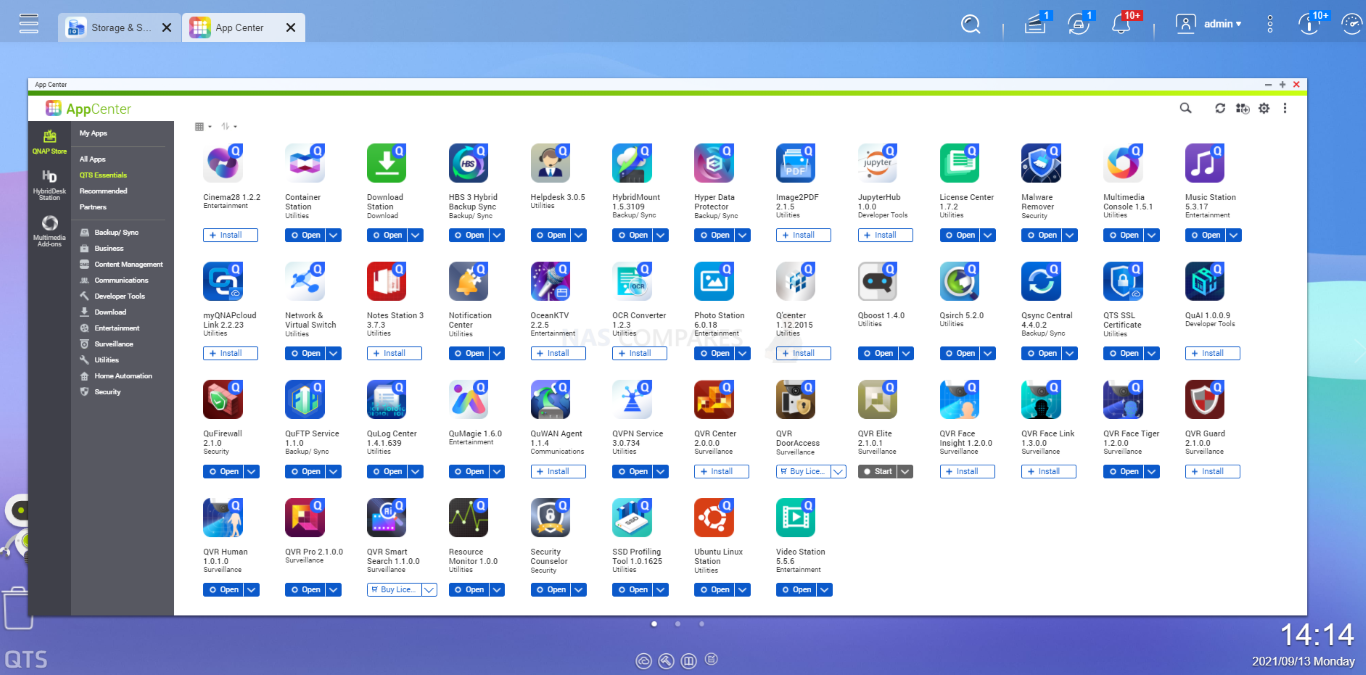 QNAP TS-453E NAS Review – Software & Services
Alongside the hardware of the TS-453E NAS, you also receive the complete software and services package of QNAP QTS (currently in version 5.0). This is a complete operating system. similar in design and presentation to Android OS, it runs hundreds of applications, services and functions, as well as arriving with many mobile and desktop client applications that allow you to interact with the data on your NAS in a much more tailored way. Alongside this, the QNAP QTS software on the TS-453E also includes a few extra SSD tools for anti-wearing on SSDs, better SSD profiling and even options to separate the media into storage, caching or tiered storage where appropriate. The performance and services of QTS have been covered many times on this channel, so reviewing it's individual performance on the TS-453E NAS is a difficult task, as we have to look at two key things. Is QTS a good software platform and is QTS 5.0 a substantial update on QTS 4.5?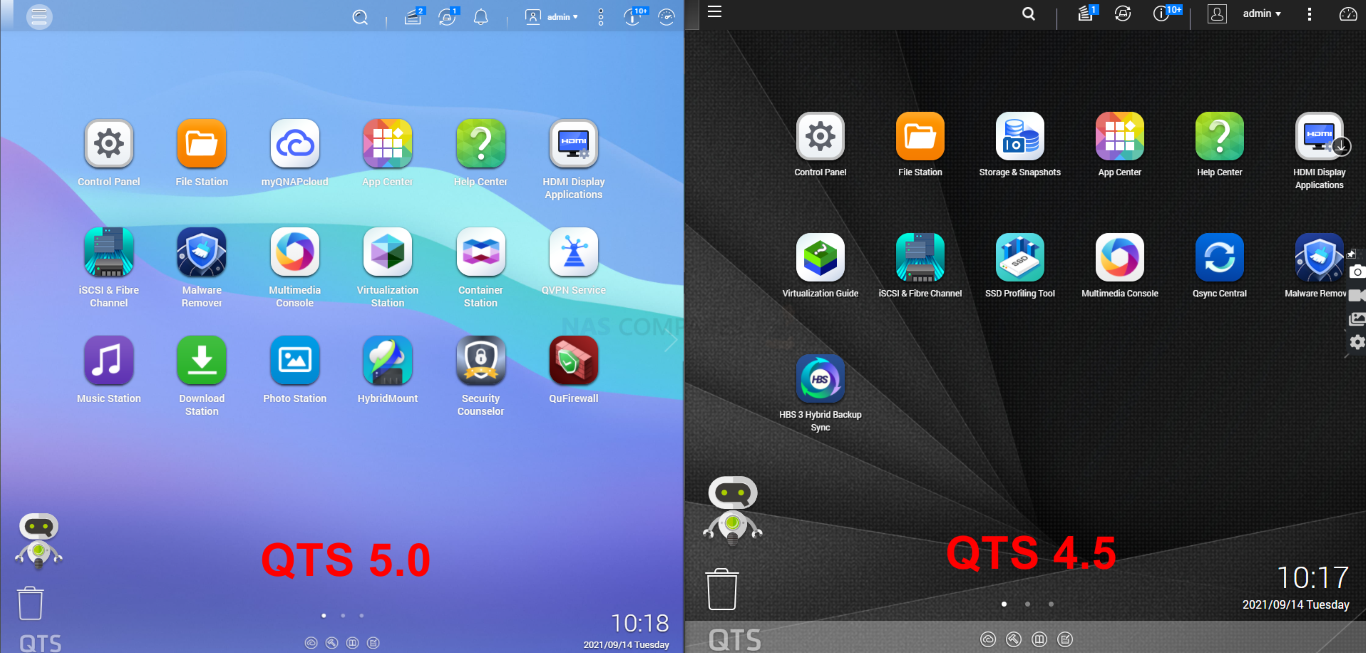 On the first score, I can comfortably say that QNAP NAS software and services have truly come into their own and the balancing act of supplying the end-user with the flexibility to use the system 'their way', whilst still keeping it user-friendly is the best it has ever been. Is it perfect, no. In its efforts to make itself customizable in every way possible, QTS develops an inadvertent learning curve that may catch some novice users unaware. Likewise, although QTS 5 has done a lot of work on its presentation of information and notifications, there is still the odd moment of 'TMI' when switching between services on the fly. QNAP's NAS software is still easily one of the most adaptable in the market right now and allows users to have a truly unique storage environment if they choose and although not quite as user-friendly as Synology DSM, it counters this by being fantastically flexibly by comparison (from file/folder structure to 3rd party services support and connectivity). That said, 2020-2021 were a bumpy road for the brand and a series of ransomware attacks were targetted at the brand that was caused by a combination of vulnerabilities in Linux (which practically all NAS and Android software is built upon) but also in how applications in the QNAP platform were allowed to have external access. In previous revisions of QTS, customization and guidance for changing settings on the system was made very easy and open but lacked a lot of the gravitas and significance that these changes ade to the system being highlighted to less experienced users (such as allowing the QNAP to adapt remote ports on your router over UPnP and how the HBS3 program allowed remote access. These omissions, vulnerabilities and communication issues in QTS have seemingly been resolved and QTS 5 seems to be a much tighter system on the whole (as much as anything can be once you open it to the internet). But many users still feel that the brand needs to do more and therefore until QNAP can remove the lingering stories of ransomware and malware over time, this si always going to be an existing sensitive issue for buyers. In order to see the extent of the latest version of QNAP TS 5.0 use the links below to the written review and video below released in late 2021:
| | |
| --- | --- |
| FULL Written QNAP QTS 5 Review | FULL Video Review of QNAP QTS 5 |
| | |
Although the full review of QNAP QTS is available in the article and video linked above, let's discuss the highlights of the platform. First off there are the software and services for managing files and folders on the fly. QTS includes several tools for managing files in your web browser (with full copy, paste, archive, extract, sharing, etc options built-in), as well as smart system/file search functionality.
This slideshow requires JavaScript.
Then security when using your TS-453E NAS (again, a continued area of contention and criticism for QNAP in the past) in customization and alerts have been noticeably improved and upgraded in both their deployment and presentation in QTS. These range from a multi-layered security advisor to control anti-malware scans, anti-virus schedules, firewall monitoring and more. There is also a range of access and security credential tools that are quite far-reaching all built-in. With QNAP having to prove their platform is safe more than most, there is a bit shift positively in this direction in the latest versions of QTS.
This slideshow requires JavaScript.
Overall storage management, access, mounting and how this factors into backups have also been massively diversified in QTS and along with numerous means to create a very unique storage system (factoring RAID, multi-stage 1-2-3 backups, connecting with cloud drive/objects and how this is presented to the end-users are incredibly deep. It can lead to a situation in which the end-user is a pinch overwhelmed, but you cannot say that QNAP is not providing the tools – they are just almost TOO numerous in their presentation.
This slideshow requires JavaScript.
The same goes for multimedia handling on the QNAP TS-453E, with a wide range of tools for handing photos, music and video in a tailored GUI to each media type. This is made considerably easier with QNAP's multimedia console tool that provides a single GUI that can be used to handle all the backend setup of all your individual media apps. QNAP also provides AI photo recognition to allow decades of photos to be searched intelligently for people and subjects to quite an impressively deep degree (not needing internet access to do so, with the AI onboard the system). Then you have support for a wide range of 3rd party multimedia tools such as Plex media server, Emby, Twinky and Kodi (unofficially).
This slideshow requires JavaScript.
Then you have business tools (small, medium or even enterprise) included that can range from the deployment of multiple virtual machines across many platforms and a dedicated 1st party container deployment tool. One very unique feature of QNAP QTS compared with other NAS brands in their deployment of VMs is that they include 2-3 click download options in their respective applications that allow you to download ready to use VM in Windows 7,8 and 10, as well as a VM market place for more enterprise virtual clients and even a Ubuntu 18/19/20 VM deployment tool that allows you to quickly set up a VM and then access remotely OR use the HDMI+KVM set up locally. The container station tool also has its own pre-built tool repository too.
This slideshow requires JavaScript.
Finally, for surveillance use, the TS-453E arrives with QVR Pro which allows you to have a business class surveillance platform hosted on your NAS. This platform has its very own GUI that supports thousands of IP Camera brands, as well as the software arriving with 8 camera licenses with the TS-453E, a multi-camera feed display, intelligent alerts, AI services (hardware appropriate), multiple client tools for mobile/desktop clients, integration of 3rd party system management tools and you can even attach USB cameras to your QNAP NAS and have local cameras fed into the NAS too.
This slideshow requires JavaScript.
So, software on the QNAP TS-453E is pretty diverse and although the brand has seen its fair share of security complaints in the past, I think that it would be hard for me to ignore the range of NAS hardware configuration, services and tools that are included.  Tests of the QNAP TS-453E on how it performs as a Plex Media Server, host for Virtual Machines and more will be conducted shortly over on NASCompares YouTube channel. I recommend visiting there to learn more. Below is the video review for the QNAP TS-453E NAS
QNAP TS-453E NAS Review – Conclusion & Verdict
The QNAP TS-453E NAS is a device that really grew on me! With these home/business server companies releasing refreshes of their ranges every 2-2.5yrs or so, it is easy to see them fall into repetitive patterns when it comes to how the hardware is picked at each tier/price-point. The TS-453E NAS on the other hand manages to carve a new tier into the brand's portfolio right now in 2022, managing to give you some really solid internal/external hardware that most would have assumed would be half of what it is at this level of QNAP's 4-bay portfolio (i.e Quad-Core, 8GB, NVMe M.2s, 2.5GbE, 10G USB, 3yr warranty, etc) and it will certainly make some buyers wonder about whether the current Prosumer/flagship TS-464 is as necessary to their home or office as they once thought. The fixed memory, even at 8GB default, is rather annoying and a lack of PCIe slot means that 10GbE will remain out of reach – but look at this NAS sandwiched between the TS-451D2 & TS-464 and it makes alot of sense. This is for those not really looking at expandability years from now and although that plastic case still looks a little dated/cheap, this is not a device designed to be noticed day-to-day. For those looking to make their first tentative entry into the world of NAS a decent one or looking to upgrade cautiously from an ARM system, the QNAP TS-453E is an excellent shout!
PROs of the QNAP TS-453E NAS
CONs of the QNAP TS-453E NAS

Exceptional CPU choice for the Scale/Tier
8GB of DDR4 Memory
2.5GbE (x2) Ports on Day 1
Two USB 3.2 Gen 2 (10Gb/s) Ports!
2x M.2 NVMe Slots alongside those 4x SATA Bays for Storage (Caching, Tiered Storage or standalone Pools)
Includes VM, Surveillance (8 licenses and upto 32 Cams), Backup, Sync, Multimedia, SaaS sync/migration and office tools (some with added AI services)
3-Year Warranty (Can be extended)
VERY Compact, low-impact design
Supports 1-2x Expansions
20TB and 22TB Confirmed Compatibility

Memory Cannot be Upgraded
M.2 NVMe SSD Slots are Gen 3 x2
Chassis is still a little dated looking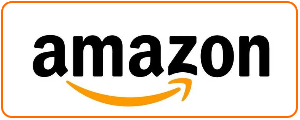 📧 LET ME KNOW ABOUT NEW POSTS 🔔
Join 1,468 other subscribers
Get an alert every time something gets added to this specific article!
This description contains links to Amazon. These links will take you to some of the products mentioned in today's content. As an Amazon Associate, I earn from qualifying purchases. Visit the NASCompares Deal Finder to find the best place to buy this device in your region, based on Service, Support and Reputation - Just Search for your NAS Drive in the Box Below
Need Advice on Data Storage from an Expert?
We want to keep the free advice on NASCompares FREE for as long as we can. Since this service started back in Jan '18, We have helped hundreds of users every month solve their storage woes, but we can only continue to do this with your support. So please do choose to buy at Amazon US and Amazon UK on the articles when buying to provide advert revenue support or to donate/support the site below.

Finally, for free advice about your setup, j
ust leave a message in the comments below here at NASCompares.com and we will get back to you.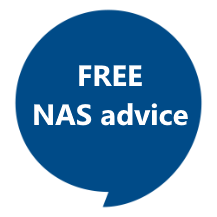 Need Help?
Where possible (and where appropriate) please provide as much information about your requirements, as then I can arrange the best answer and solution to your needs. Do not worry about your e-mail address being required, it will NOT be used in a mailing list and will NOT be used in any way other than to respond to your enquiry.
Support What We Do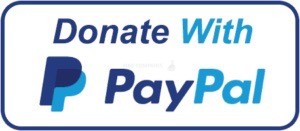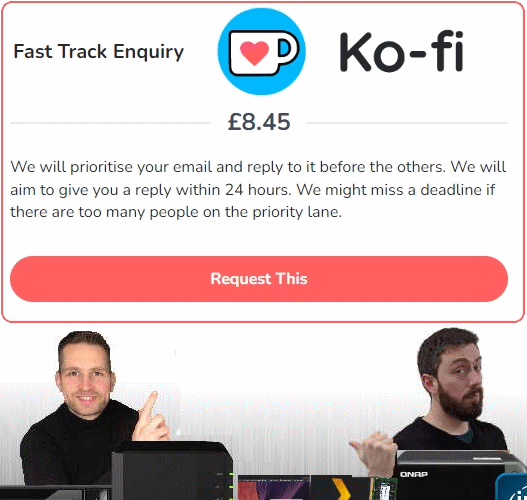 Terms and Conditions
Alternatively, why not ask me on the
ASK NASCompares forum
, by clicking the button below. This is a community hub that serves as a place that I can answer your question, chew the fat, share new release information and even get corrections posted. I will always get around to answering ALL queries, but as a one-man operation, I cannot promise speed! So by sharing your query in the
ASK NASCompares
section below, you can get a better range of solutions and suggestions, alongside my own.