Synology DS1522+ NAS Review – And Now for Something Completely Different, sort of…
Many who have been following the release strategy of the popular network-attached storage brand, Synology, have been noticing something of a shift towards premium business products this last few years. The brand still features numerous solutions that are targeted toward home, value and prosumer users, but it is undeniable that Synology has been giving a great deal of attention to top-tier business and enterprise above all else in 2022. So far, the new Synology DS1522+ NAS is a solution that on the face of it is something a little bit more SMB and Prosumer, arriving in a 5 Bay desktop chassis and mid-range server CPU form. This new system has striking differences in a few key areas though compared with the DS1520+ predecessor and with little mention of a new DS922+ or DS923+ from the brand in any form, many are wondering if the new DS1522+ is what the shape of the smaller end of the Synology portfolio is going to look like moving forward. Today I want to review the Synology DS1522+ to find out whether this new iteration of the popular Diskstation series is a move for good or for bad, discuss its hardware and what this newer configuration of hardware is able to do. Let's find out if the Synology DS1522+ NAS deserves your data.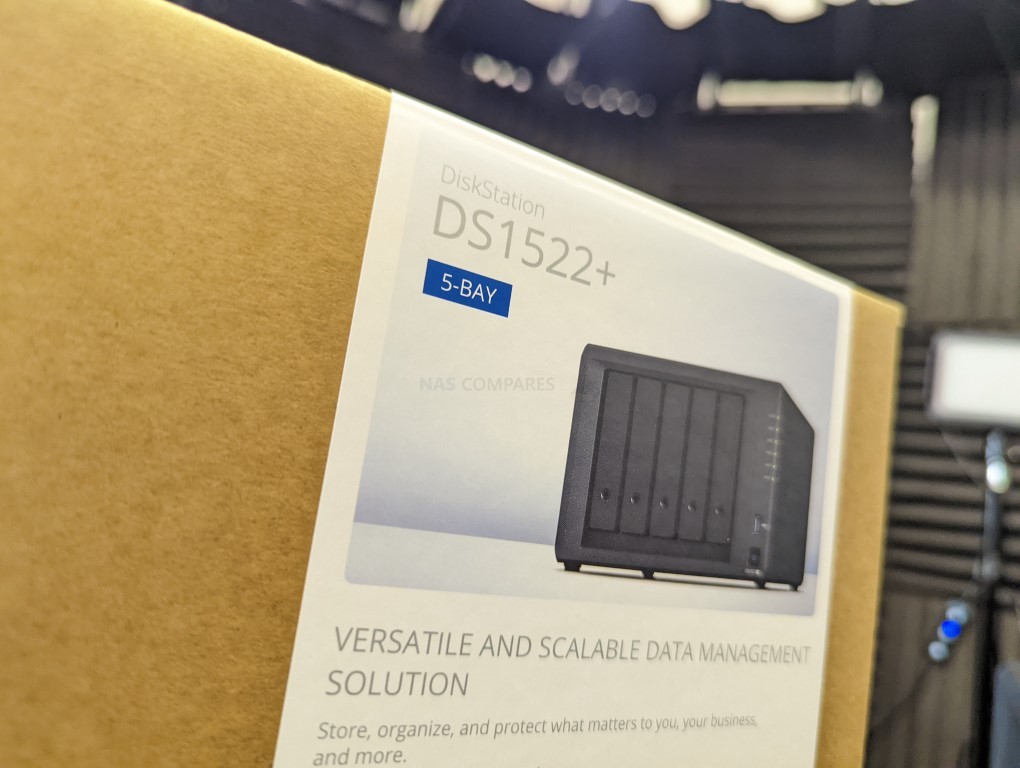 Synology DS1522+ NAS Review – Quick Conclusion
The Synology DS1522+ is a good NAS drive and most business-focused users are going to appreciate what this newer configuration of hardware is able to provide. There was never any doubt in the extent to which this new NAS would support DSM7, and given its architecture, there is virtually nothing in the popular NAS software that this system cannot do. Likewise, having the option of 10GbE on a Diskstation of this scale will be hugely attractive to some, though the proprietary means with which you need to upgrade is arguably less desirable. The R1600 CPU is a good choice of processor for file handling and simultaneous tasks, as is the 8GB of memory that this system arrives with, plus the potential to ramp it up to 32GB. After that though, the desirability of this system to home users and multimedia users is a little less compelling and with such a large audience of users who look at NAS for their media streaming, the DS1522+ not featuring a more graphically enabled chip will leave them somewhat underwhelmed. Bottom line, the DS1522+ is a solid and full DSM7 supporting system here and you cannot fault the design, internal/external performance and ease of use of this Synology NAS. However, there will always be users wondering why this NAS never arrived with an Intel chip.
Synology DS1522+ NAS Review – Packaging
As always with Synology Diskstation NAS, The DS1522+ arrives with familiar two-tone livery-covered brown box packaging. It's an attractive presentation indeed and I have always appreciated Synology's approach to providing what looks like generic packaging that when you take a closer look is clearly specifically designed for this system with neat finishing touches. It is a small detail but for a brand that I believe heavily stars itself on Mac presentation, these small image details do all add up.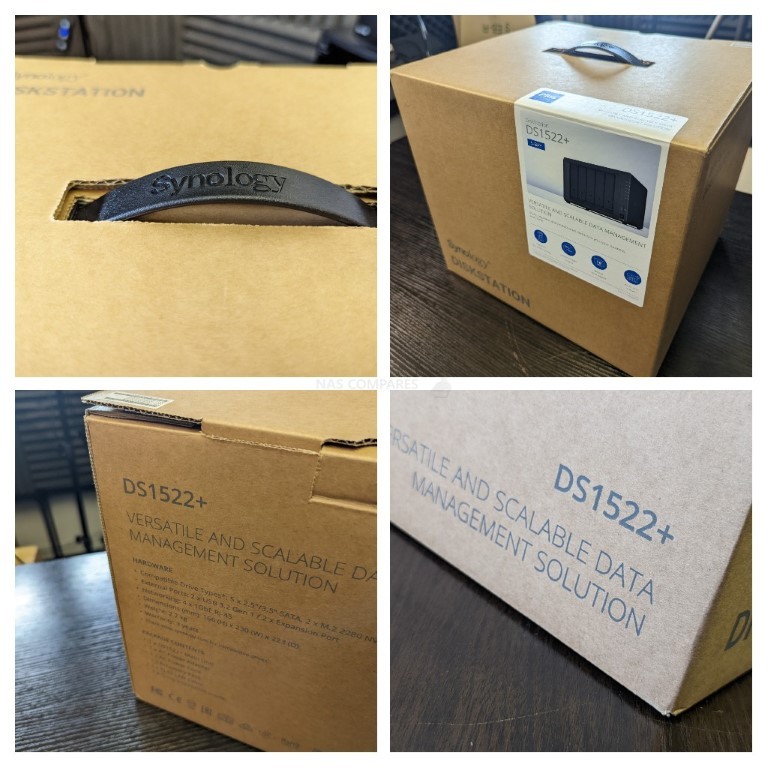 With regard to protection in transit, this system arrives a little less protected than some of the bigger desktop NAS systems. Featuring a predominantly cardboard internal frame, with foam panels, this system arrives in a moderately protected fashion in terms of movement in transit. Additionally, as the systems are always shipped unpopulated, this is less of an issue.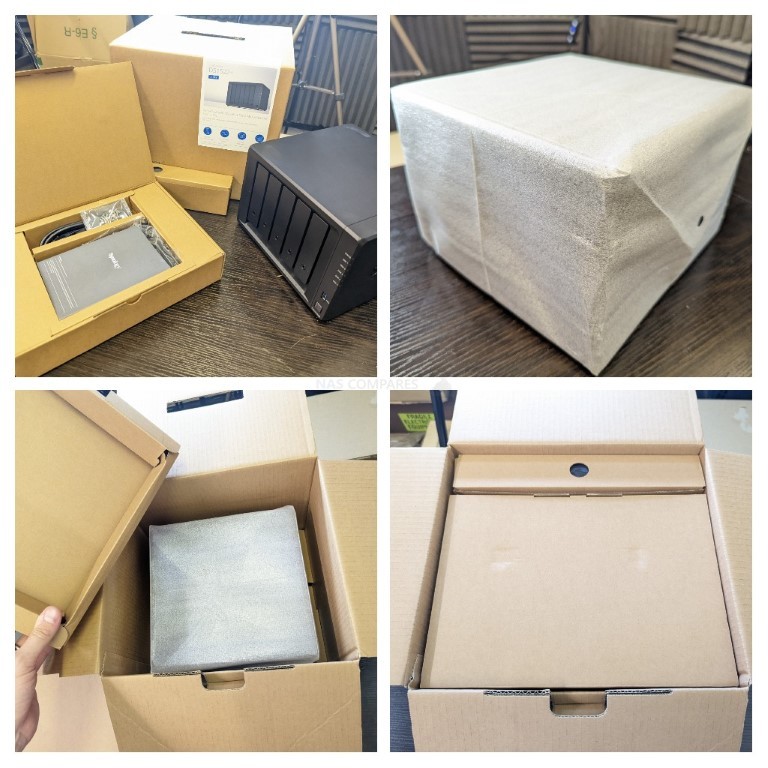 Inside we find the usual Synology retail kit and although the system does not arrive with media, it does feature pretty much everything else you're going to need to deploy this product for the first time. Inside we find the unit itself, an external PSU, details on the first-time setup, information on the 3 years of warranty (that can be extended to 5 years), screws for 2.5 in media, keys for the hard drive trays and an ethernet cable.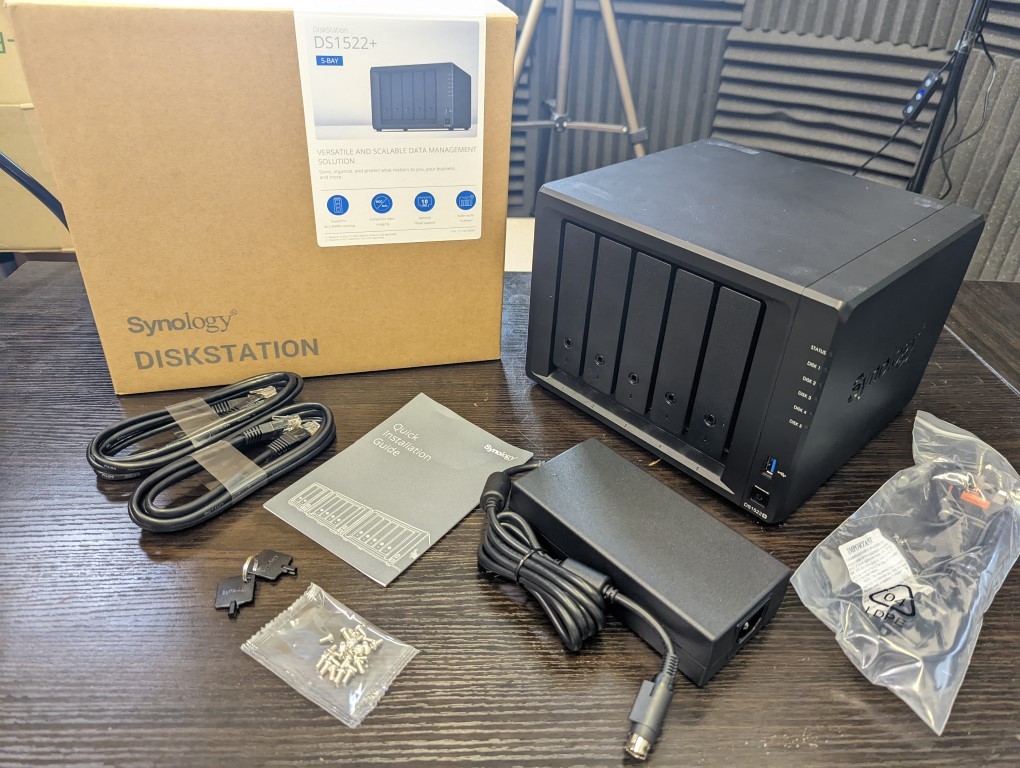 Taking a closer look at that external PSU, it is a Synology branded 120W power block with separate mains power connector. Five-bay NAS systems tend to be the tipping point when it comes to internal or external power suppliers. Personally, I always prefer an external PSU for reasons of speedy replacement, when in a pinch and less warranty hassle.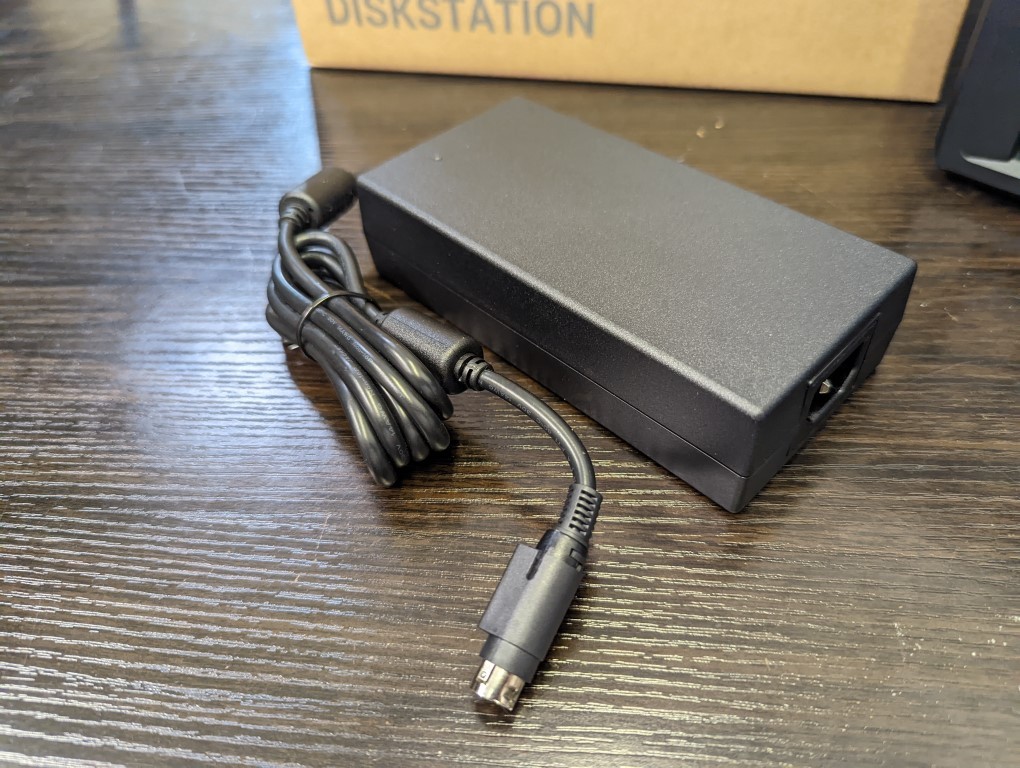 The system also arrives with a single RJ45 cat 5e ethernet cable. I know this system features multiple ethernet ports but only a small percentage of users will likely take advantage of link aggregation, failover or load balancing and it would be wasteful to include cables for this smaller percentage of users. Likewise, as this system is gigabit ethernet by default, cat 5e is perfectly acceptable here.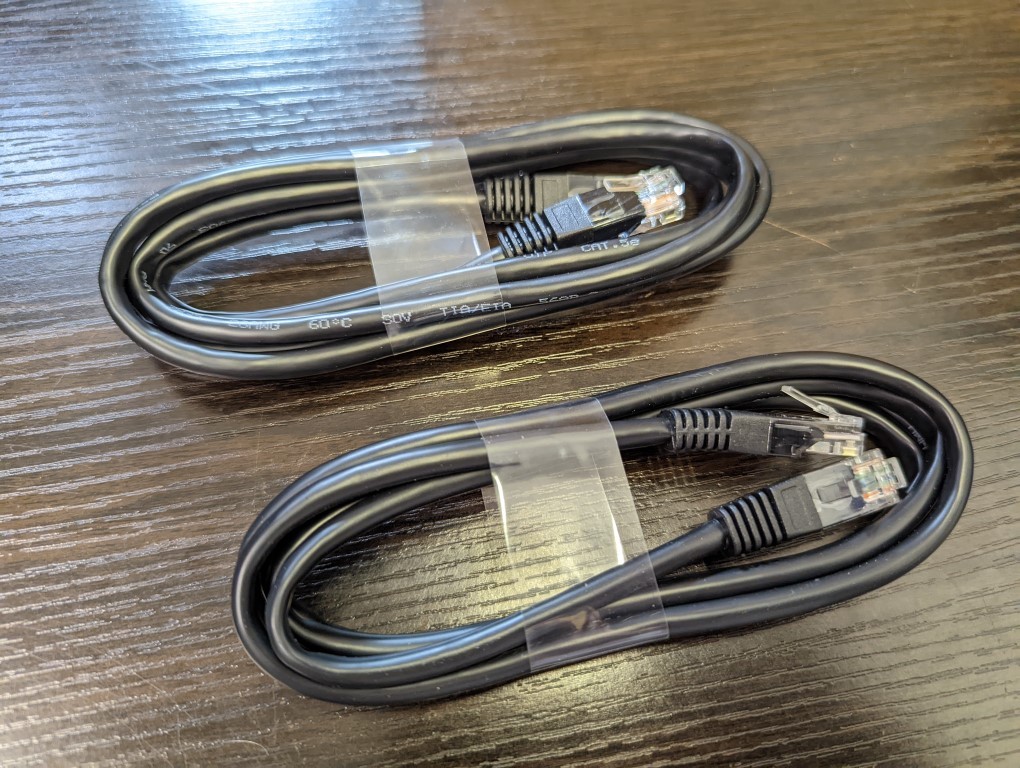 Overall, the presentation of the Synology DS1522+ retail kit is pretty much everything you would expect. All fairly standard stuff that is presented neatly and securely. Let's dig a little deeper and discuss the design of the new Synology DS1522+ Diskstation NAS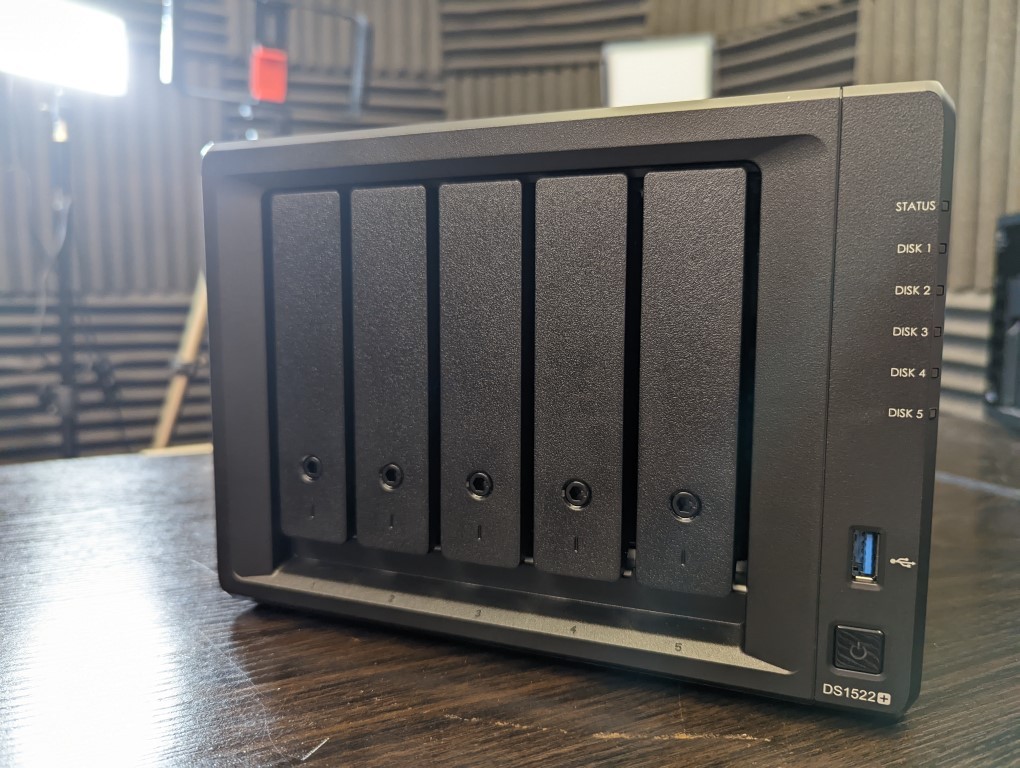 Synology DS1522+ NAS Review – Design
The design of the Synology DS1522+ has changed very little in this now third generation of the popular compact 5-Bay Diskstation from the brand (not inc the DS1513/15/17/etc which were especially more business-focused). Taking advantage of a larger and modified version of the familiar chassis found in the DS920+, this five-drive system is surprisingly small in stature given the level of storage and connectivity that it contains. Additionally, there is more ventilation dotted around the system than one might expect for its scale and although the chassis is predominantly plastic in its external casing (surrounding the internal aluminium frame), it still feels very sturdy in its build quality and is dripping in that slick Synology branding and design.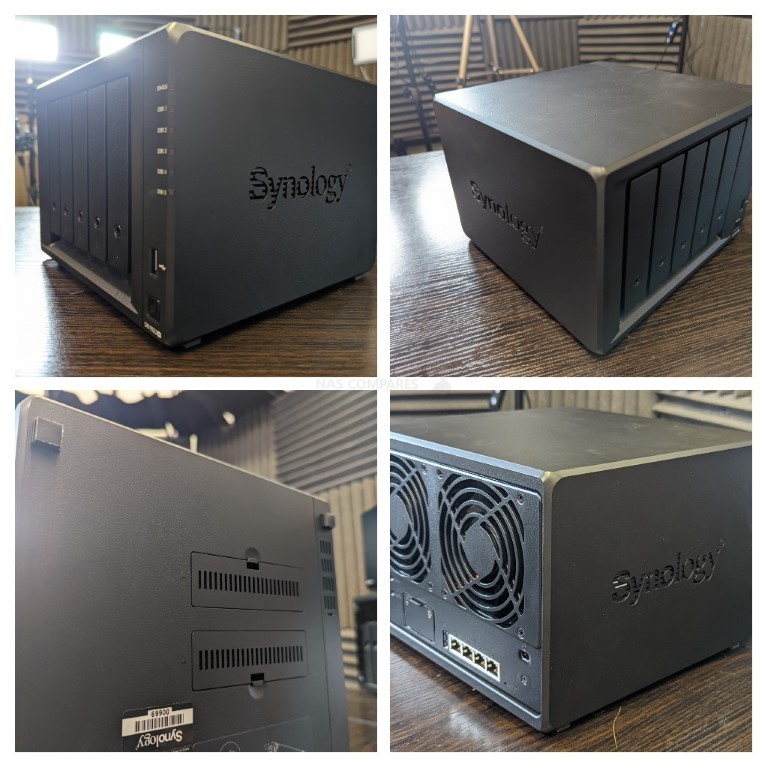 The sides of the DS1522+ square chassis have the vented Synology logo and there is additional ventilation around every storage bay from the front that all works in conjunction with the two rear active cooling fans on this system. It is a good balance between functionality and modern design here on the DS1522+ and Synology have been tweaking this design for many years now to ensure this system still looks pretty darn good on any desktop setup.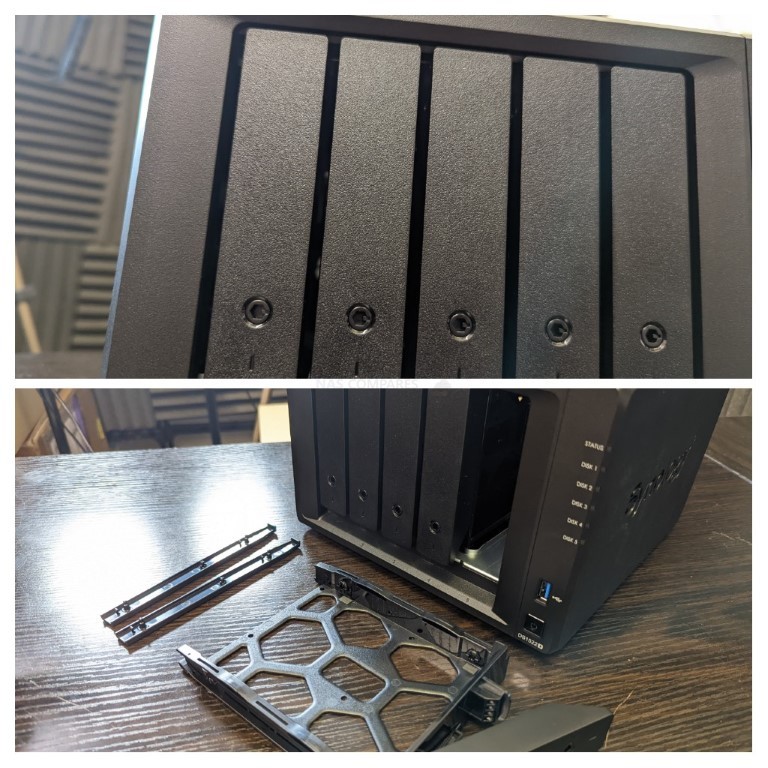 The SATA bays on the front of the Synology DS1522+ are all lockable and support 3.5inch and 2.5inch media. Additionally, the system does not require full population to operate and will easily function with as little as a single drive. The Synology Hybrid RAID (SHR) feature that allows you to take advantage of mixed capacity RAID configurations is also supported on the DS1522+ and although the compatibility list for this NAS is a little stricter than the lights of the DS920+ (oddly, Pro series HDDs from Seagate and WD Red are not here and no drive above 16TB), it is still a little bit more varied than more enterprise NAS that the brand has unveiled in 2022.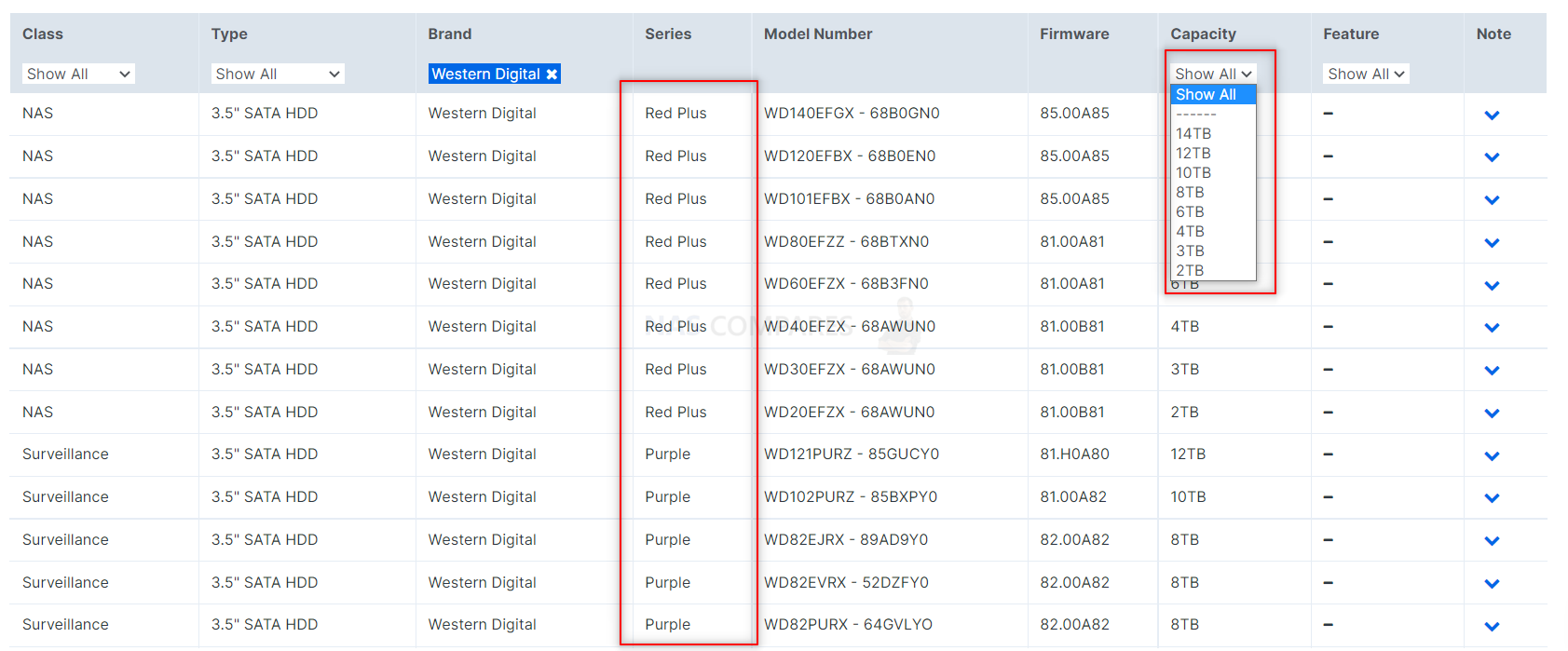 Synology has recently been changing its position on supported media in its systems and many were concerned that the DS1522+ would be similar in HDD/SSD compatibility to the likes of the DS2422+ and DS3622xs+ (i.e. only officially supporting use of their own HAT5300, SAT5210, SAT5210 and SNV3400 media). The range of drives that appear on the DS1522+ compatibility list includes several 3rd party NAS and server-grade HDD/SSDs, though there are still some glaring omissions at the time of writing (eg a number of WD drives are missing and only Red Plus and Purple present, plus drives above 16TB are absent). You can still choose to use non-Synology verified drive media in the DS1522+, but the brand does state that you are using the system in a setup that is not how it was intended and might result in support issues down the line.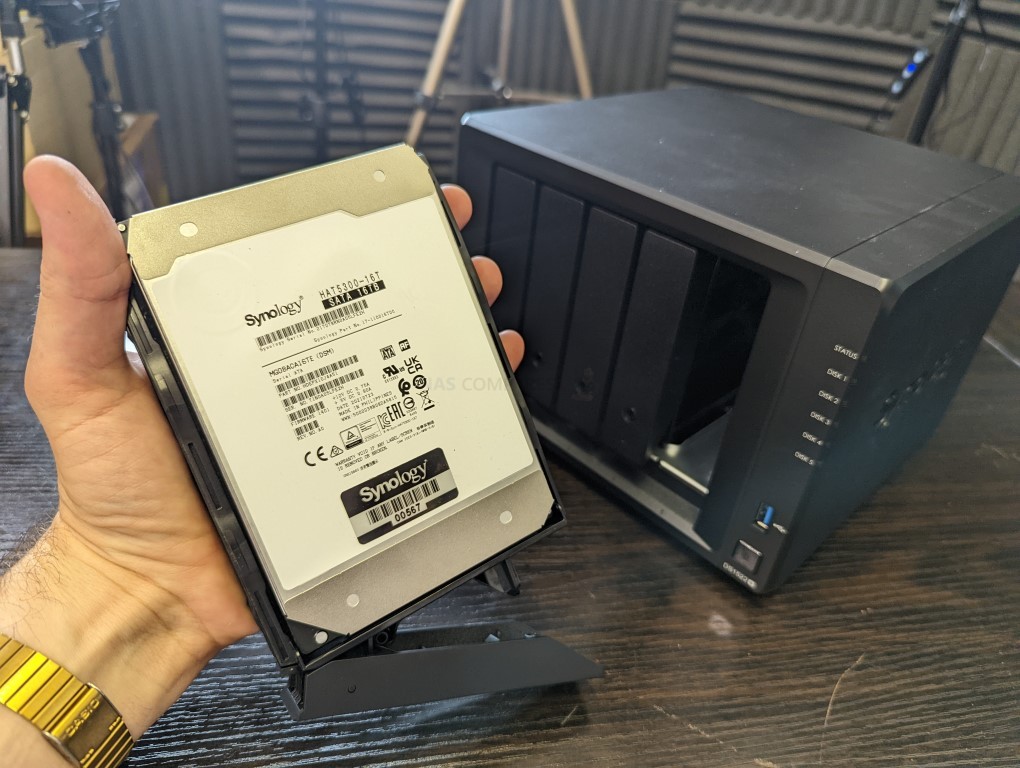 The trays of the DS1522+ themselves, much like the chassis, are plastic in material, but are click and load drives that ensure the installation of hard drive media takes just a few seconds, as well as the support of installing 2.5inch media using the included screws from the accessory kit. It is a very straightforward system to get up and running and installation of drives have come a long way since the days of having to fiddle with SATA and power connectors inside your old DiY tower desktop case.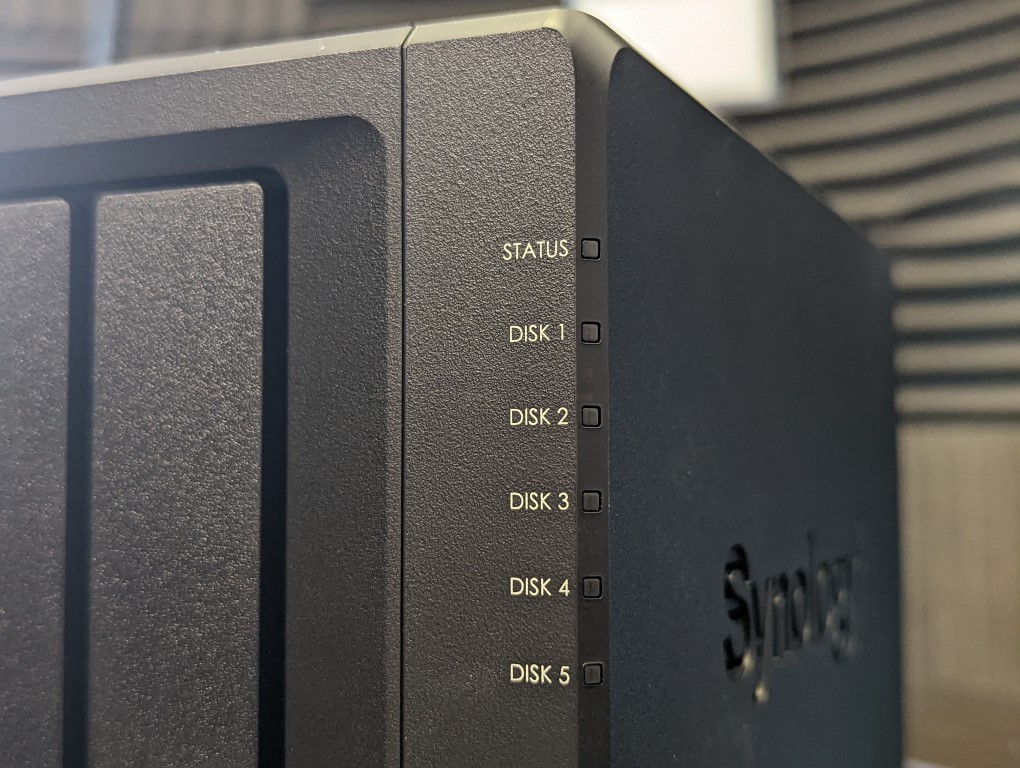 Although the Synology DS1522+ does not feature an LCD panel for real-time information on your device, it does feature numerous LEDs that denote the activity of the storage media, network connectivity, system status, and any errors that may have been encountered internally. Synology has always been rather clear that management of their systems needs to be conducted with an additional client device (computer, smartphone or larger server overseer program) with the likes of a KVM setup being largely out of the question here.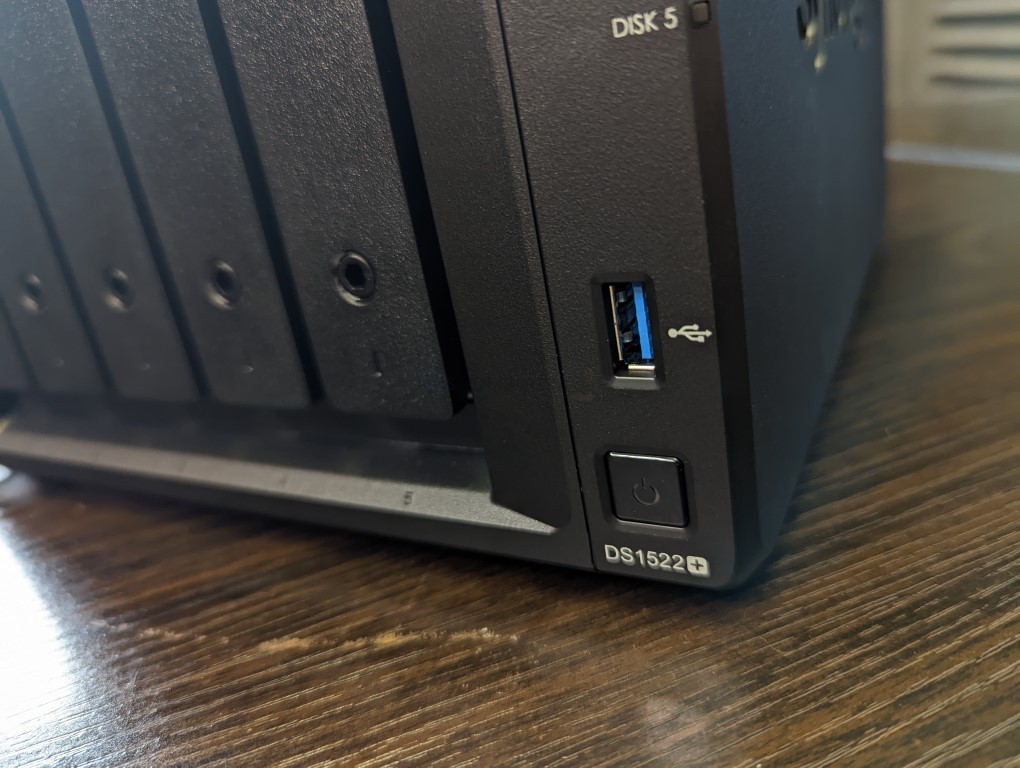 The DS1522+ also features a front-mounted USB port that allows quick and easy attachment of external storage to be utilized for backups in either direction (with a specialized USB backup tool to craft more bespoke and tailored synchronization and exchanges), as well as to simply attach a few supported accessory devices easily. It is a shame that this port is USB 3.2 Gen 1 and therefore limited to 5Gb/s, rather than the more popular Gen 2 10Gb/st connection that is becoming widely available. This may limit the speed of some backup operations quite significantly and when you are talking about a large RAID-enabled five-bay storage system that can support up to a 20TB drive in each one, we are talking serious amounts of data here.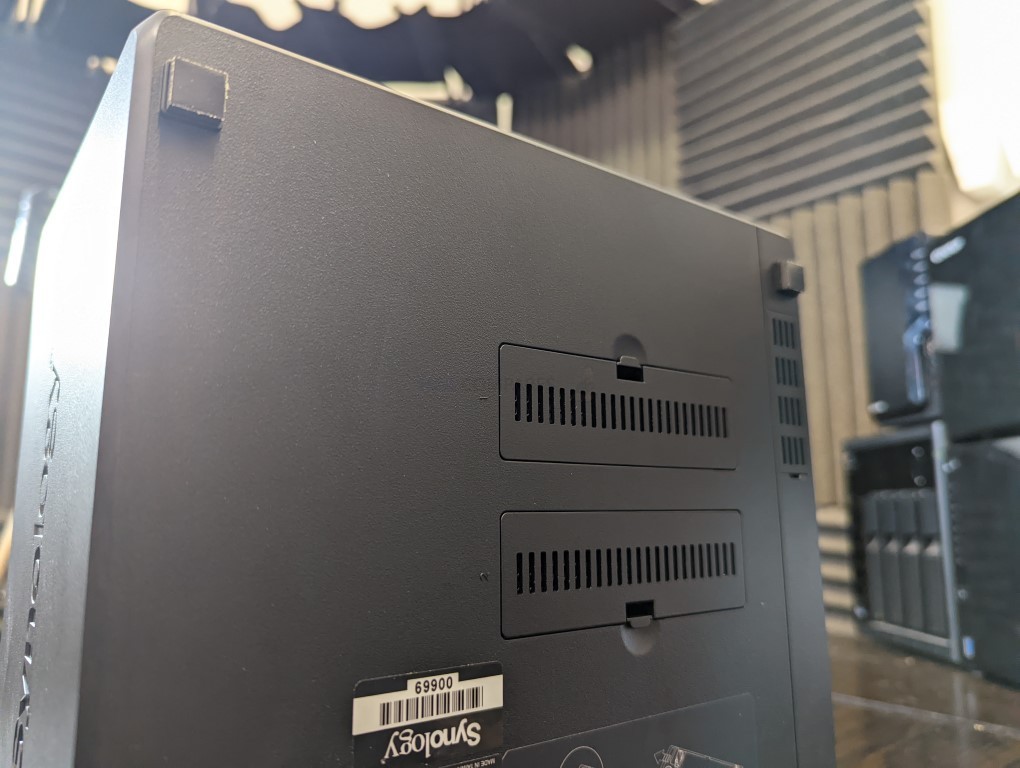 Alongside the five SATA bays of storage, the DS1522+ also features two rather useful m.2 NVMe SSD bays that allow you to install superfast m.2 PCIe performance storage drives into this modest-sized system. These bays are ventilated and allow for additional heatsinks to be attached to SSDs inside. Synology has been a keen supporter and innovator of SSD caching in storage servers. Its benefits and improvements via the many different types of SSD cache that are possible to improve the overall access and performance to the primary storage in a number of ways and I'm glad to see Synology continuing with this feature here.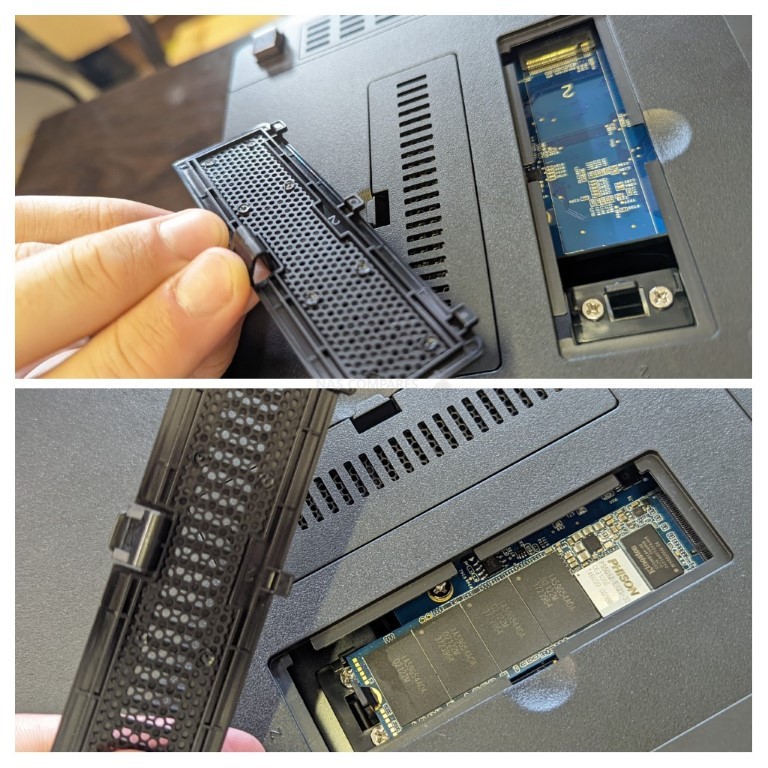 It is worth highlighting though that Synology continue with their strict use of these bays for SSD cache only and does not allow their use as independent storage pools and volume creation. This is a real shame as this system not only can benefit via the optional 10GbE connection, but also many users would like this area of super fast storage to be more directly beneficial to specific DSM applications, priority databases, virtual machines or even dense multimedia use. There are ways and means to unofficially mod your Synology NAS to allow these bays for use as storage pools, but it is not recommended, is not officially endorsed and could potentially be patched out in a further firmware update, thereby resulting in these NVMe storage pools being a touch unstable long-term.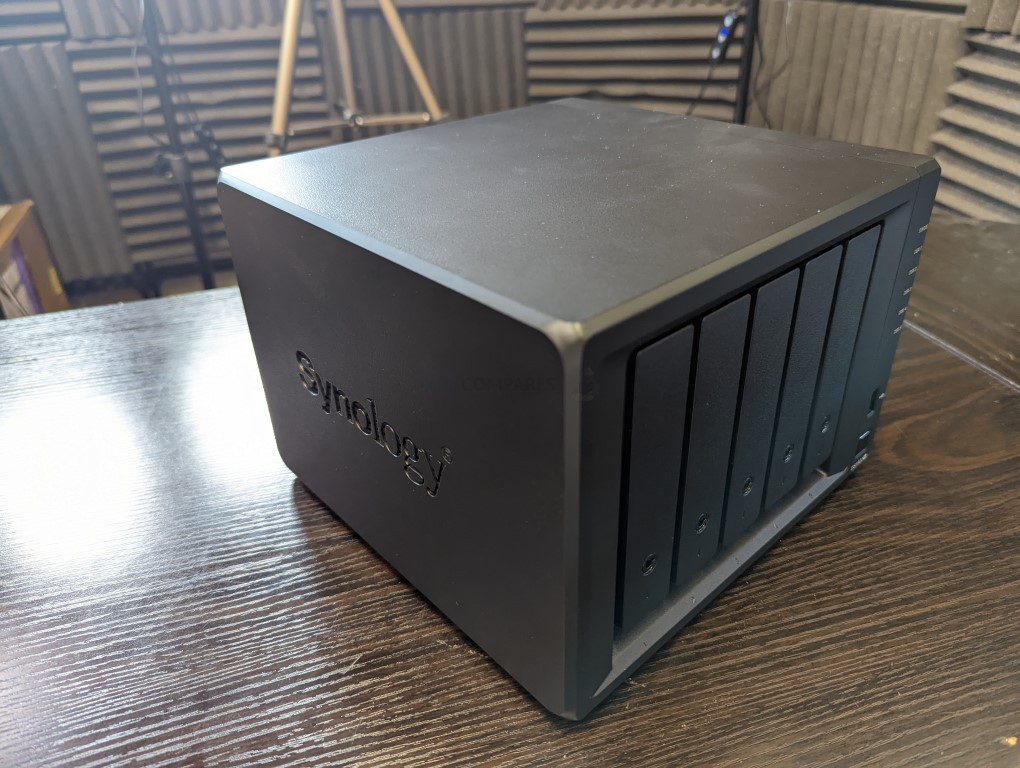 Overall, I still really like the design of Synology Diskstation devices and the DS1522+ is another great example of the brand really putting in the hours in, crafting a device that is just a huge leap from what other brands put out in physical architecture. Although it seems tremendously understated and discreet in its scale, that is kind of the whole point and often one of the main reasons people are so happy to have a Synology on their desk whilst they work. Let's take a closer look at the port and connections of the Synology DS1522+ to see how it has improved on its predecessor, as well as just how much you are going to be able to do with those five bays of RAID storage.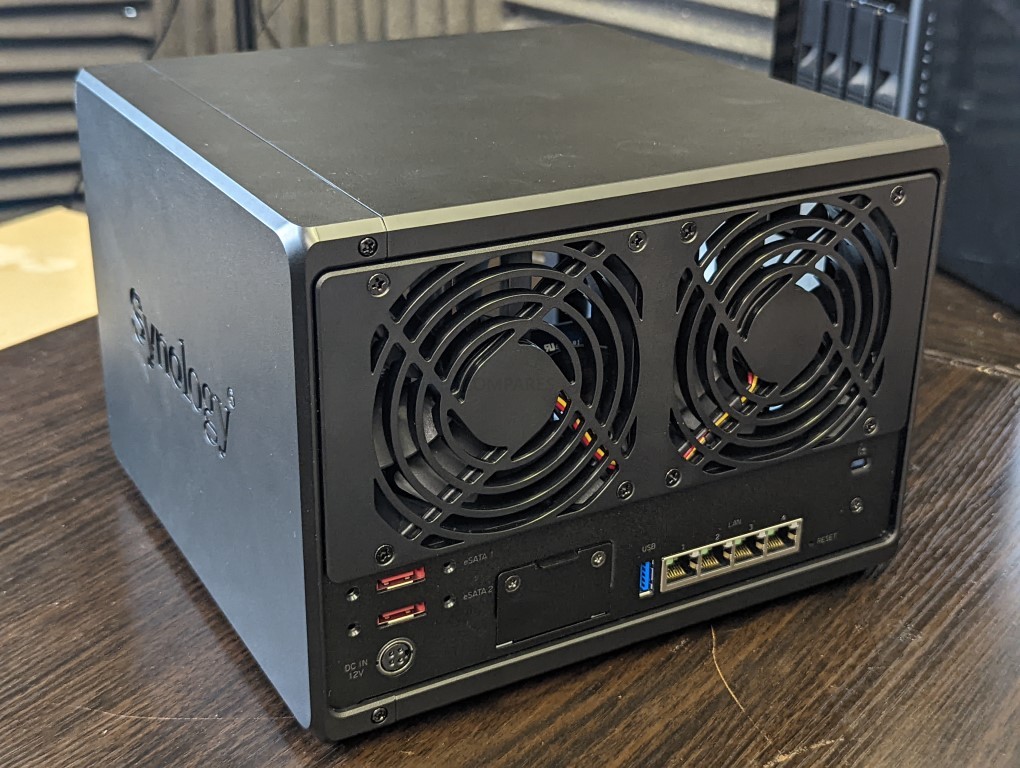 Synology DS1522+ NAS Review – Ports and Connections
The port and connections available on the DS1522+ are remarkably similar to the previous generation DS15XX+ Diskstation from Synology, but with one rather important upgrade that I will talk about later on. The DS1522+ NAS external performance, even if fully populated with SSDs, is going to be negligible (dual-core CPU and 5 SATA drives) and therefore Synology has clearly had to balance factors such as value and necessity when choosing the connectivity of this system. For the most part, what we see here is largely what we expected and perhaps a little safe, but they do manage to cram quite a lot into this tiny little box.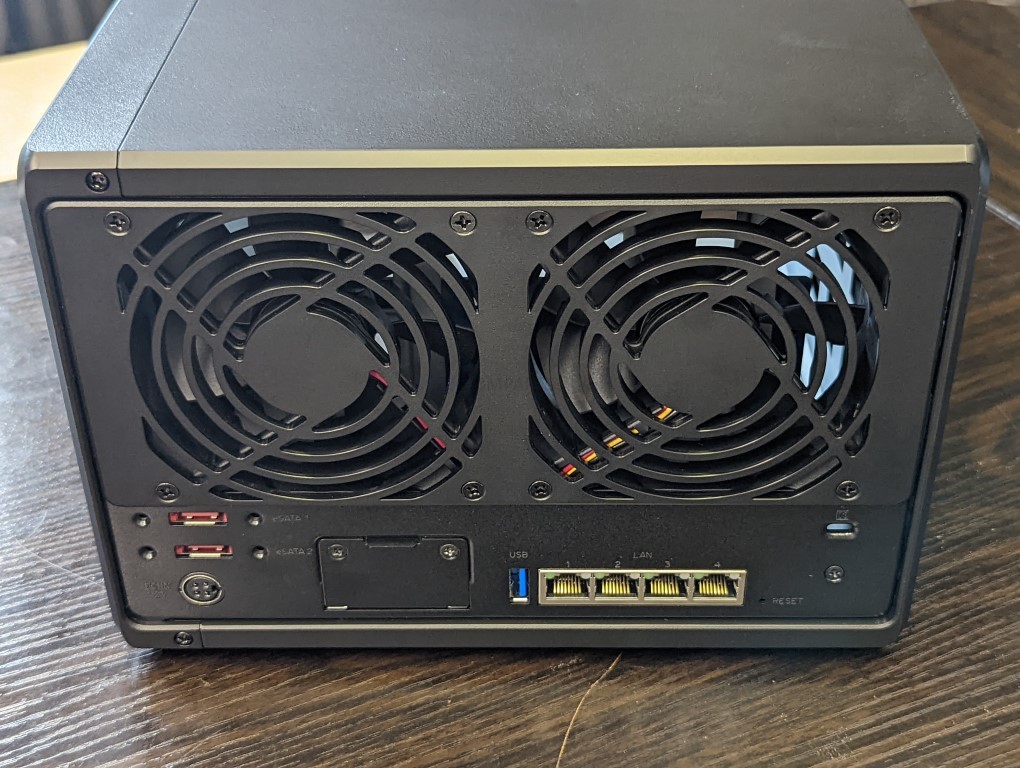 As always, with these rather compact chassis, the rear of the system has two active cooling fans that are designed to keep the internal components operating at optimal temperature efficiency. These fans can have their RPM adjusted manually or left on automatic modes to ensure they increase or decrease in speed as needed. As this system is a plastic external casing and these fans are too rather small plastic fans, noise shouldn't be too much of a problem unless you choose to install more enterprise or large capacity drives.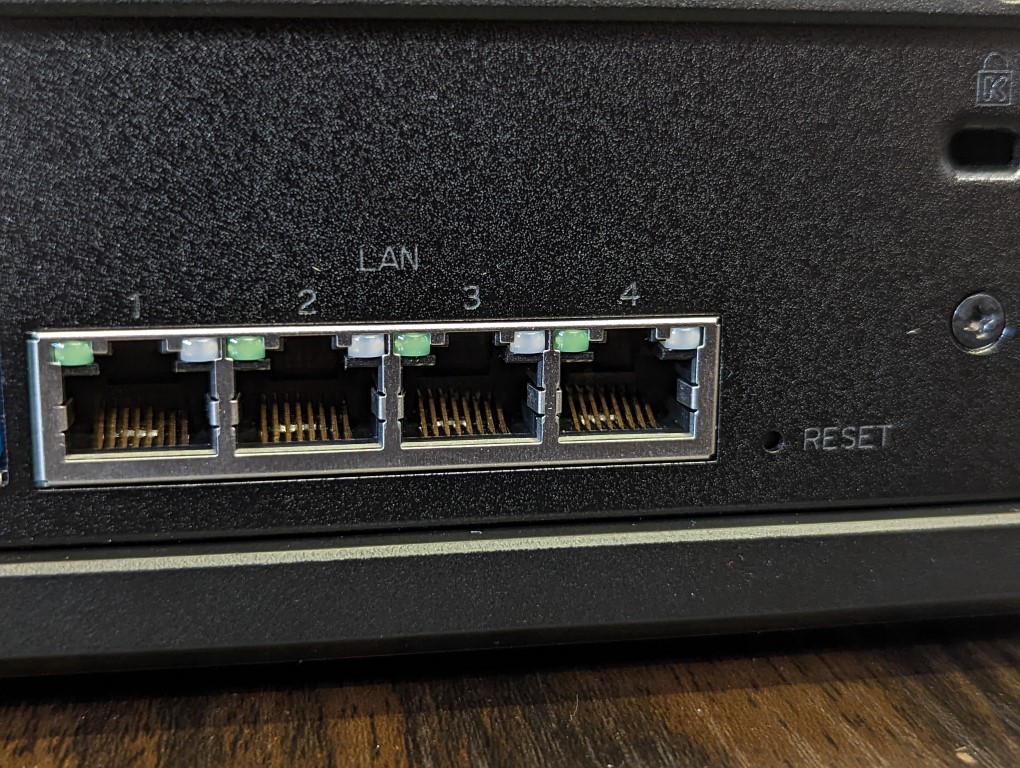 On the subject of day 1 network connectivity, there is a mixture of good and bad news. The Synology DS1522+ NAS arrives with four ethernet gigabit ethernet ports that allow users to create multiple network connections with this device at 100MB/s+ each, or link aggregate them in order to achieve 400-450MB/s+. This will of course depend on the storage media and RAID configuration you opt for, but this is a good number of network ports for such a modest-sized device. The fact that they are still gigabit ethernet in 2022 is something of a disappointment though and whilst all other NAS brands right now have already shifted gear in their latest releases to 2.5 GbE, Synology still appears steadfast to be sticking to gigabit ethernet. However, networking on the DS1522+ NAS is not quite over yet…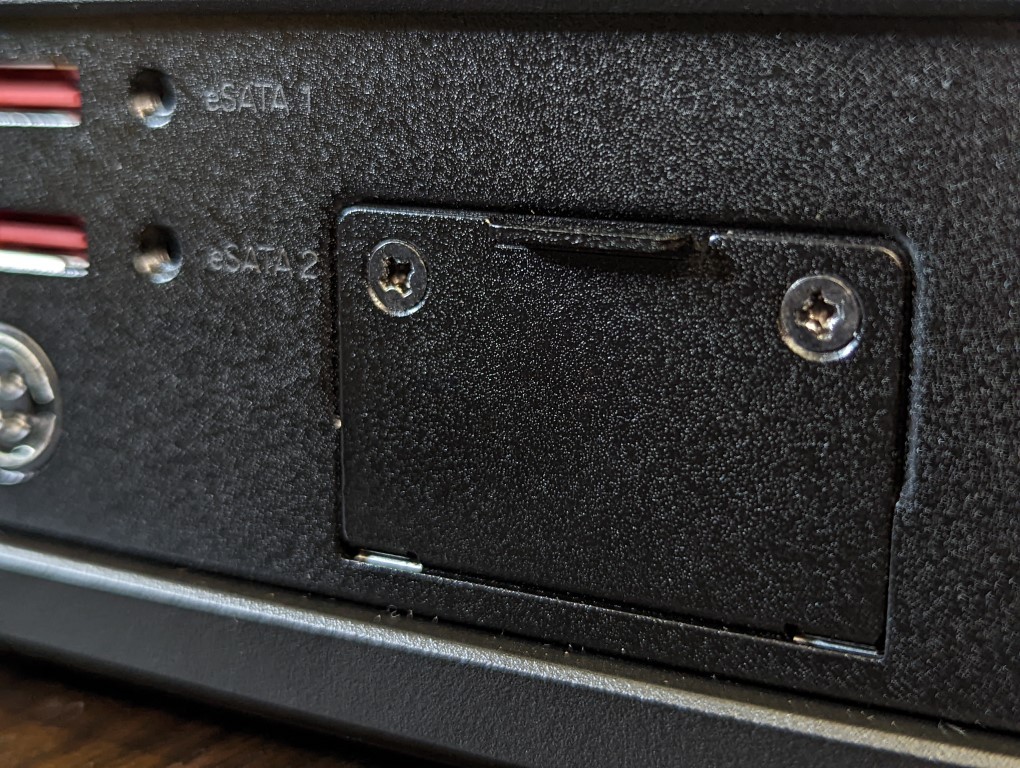 This is because the Synology DS1522+ NAS also features a network expansion port that allows users to install an optional 10GbE ethernet upgrade module. This module, although an additional purchase, is something a lot of users are going to be glad they can utilize later in the system's life to improve network performance in this device.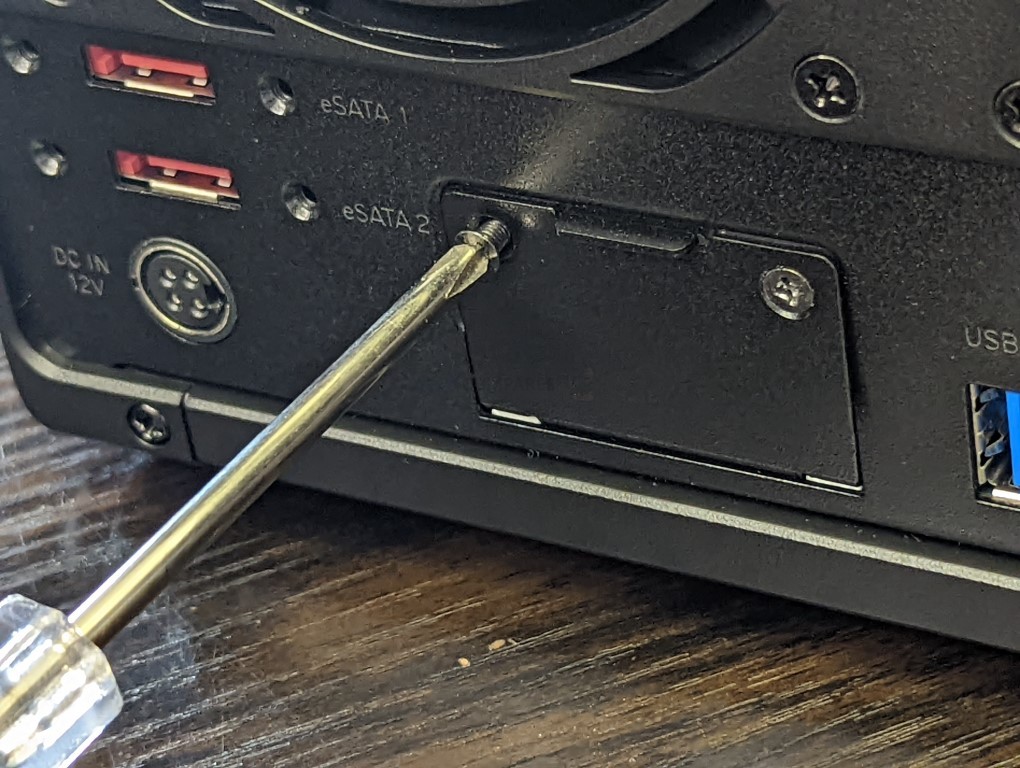 You may also have noticed that I have not referred to this upgrade as a card, but as a module. This is because the upgrade port on the Synology DS1522+ uses a unique proprietary design, which I will get onto in just a moment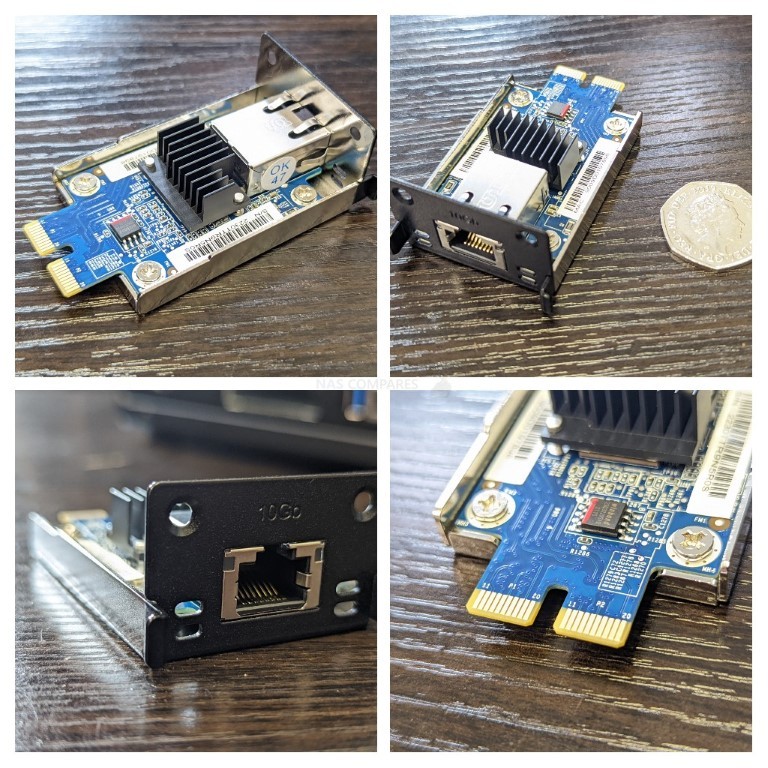 According to Synology's own reports, the DS1522+ with the 10GbE upgrade card achieved up to 736 MB/s sequential read and 796 MB/s sequential write performance. This does seem a little surprising, as I would hope that this system, if fully populated with SATA SSDs would do a better job of saturating a 10G connection, but I will be running my own tests for YouTube shortly.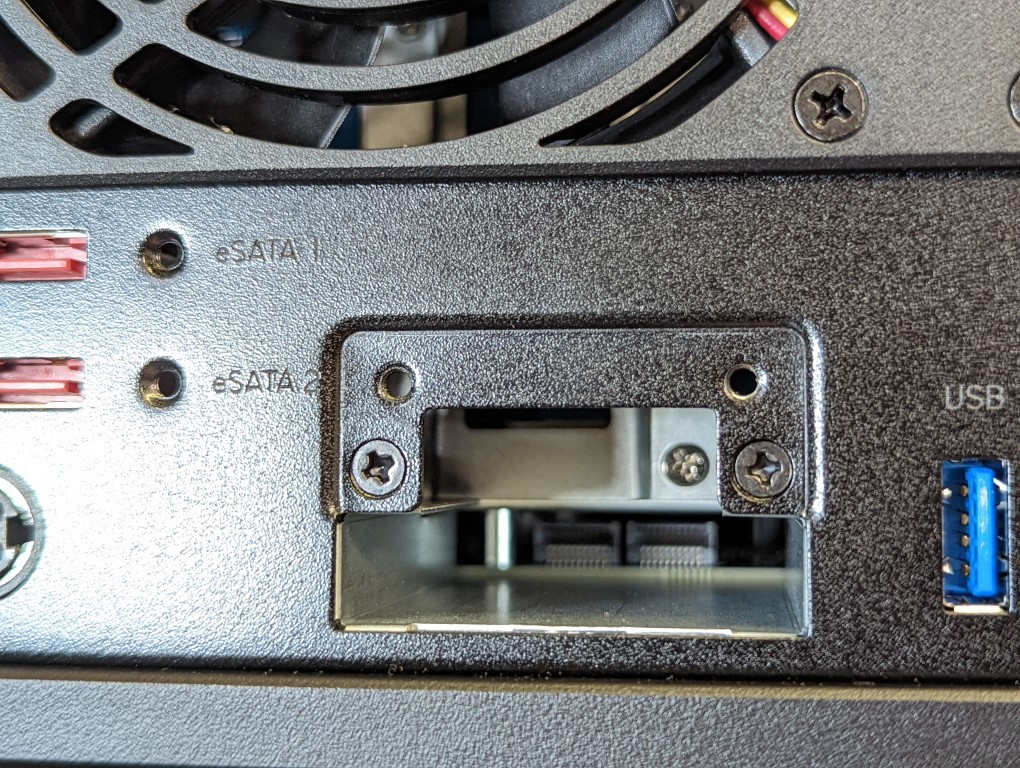 Inside the network upgrade port, you find a PCIe Gen 3 x 2 slot (so a potential 2,000MB/s bandwidth). This is not a commonly used adapter connector and this means that you cannot use off-the-shelf 10GbE ethernet upgrade cards when upgrading the system, but rather you need to use Synology's own first-party, specifically designed adapter on this system, the E10G22-T1-mini. On the plus side, that is a decent amount of bandwidth being made available to a single 10GbE connection and it will be interesting to see if Synology can flesh out a range of accessories for this adapter slot, despite its small form.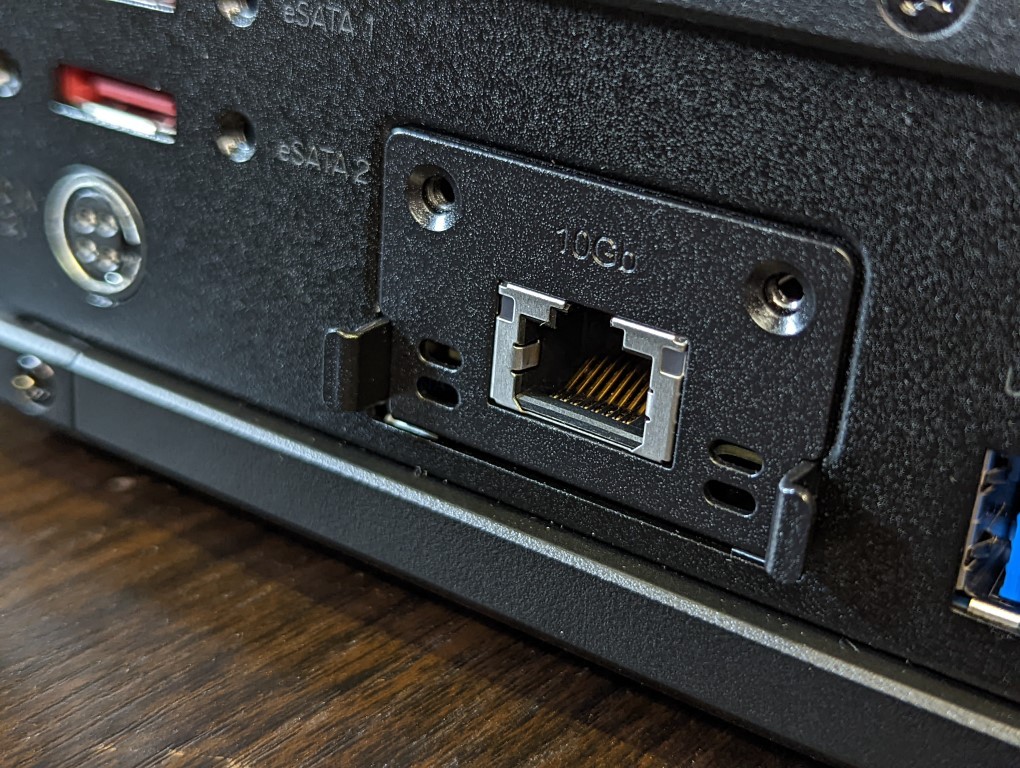 Additionally, many users will embrace the convenience of this upgrade module method compared with the slightly more hands-on and internally invasive PCIe upgrade methods that are traditionally associated with network upgrades. However, this module costs a pinch more than normal 3rd party PCIe 10GbE upgrade cards and is also a little bit pricier than their own normal PCIe 10G upgrade card Synology's own E10G18-T1).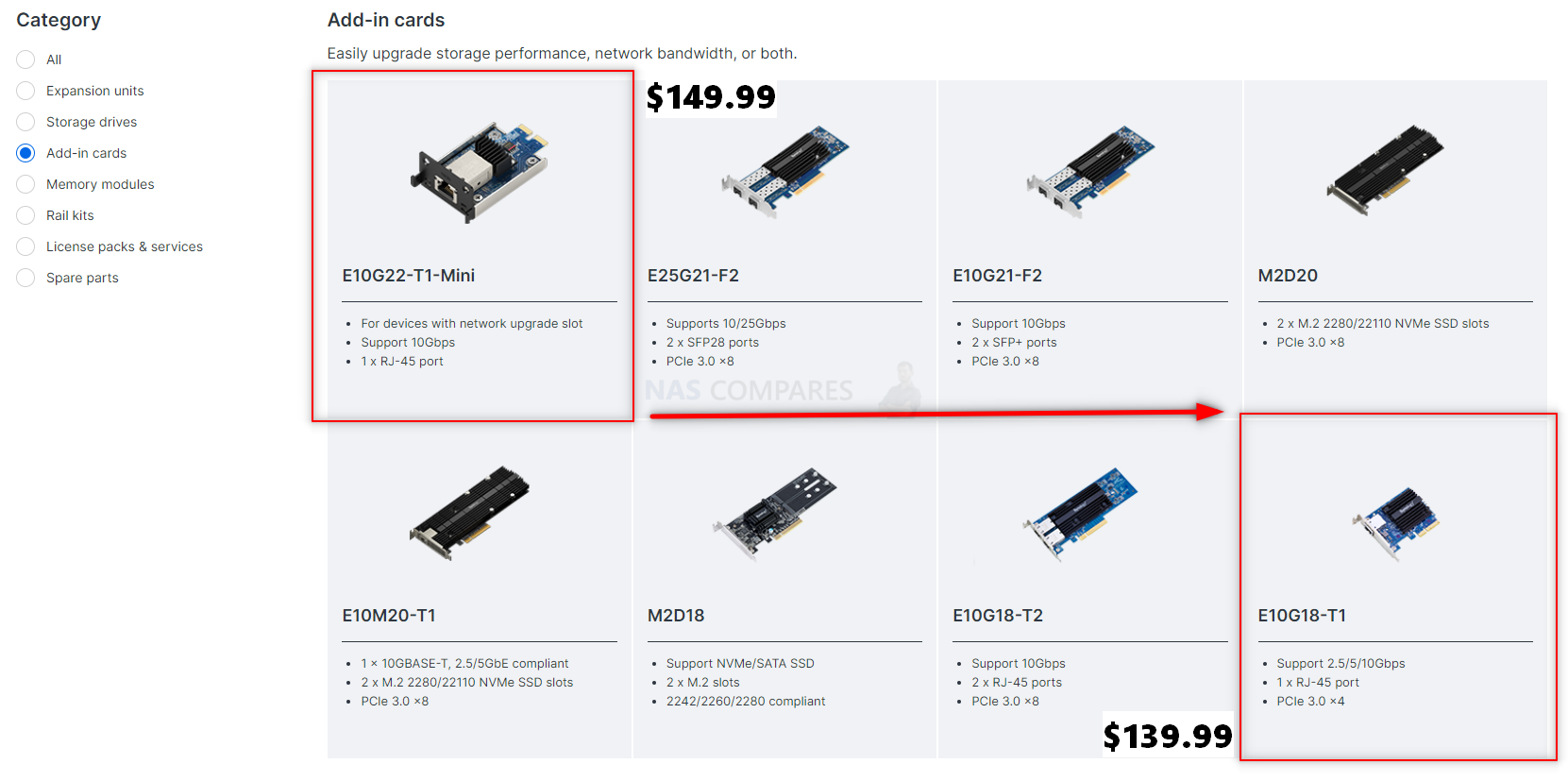 The fact that it arrives in this proprietary form is possibly another move by this brand to keep everything in a 'first-party ecosystem' which I know a number of users are less keen on. Nevertheless, having an option of 10GbE here is tremendously useful to have, but I query whether this module was the only way it could have been done.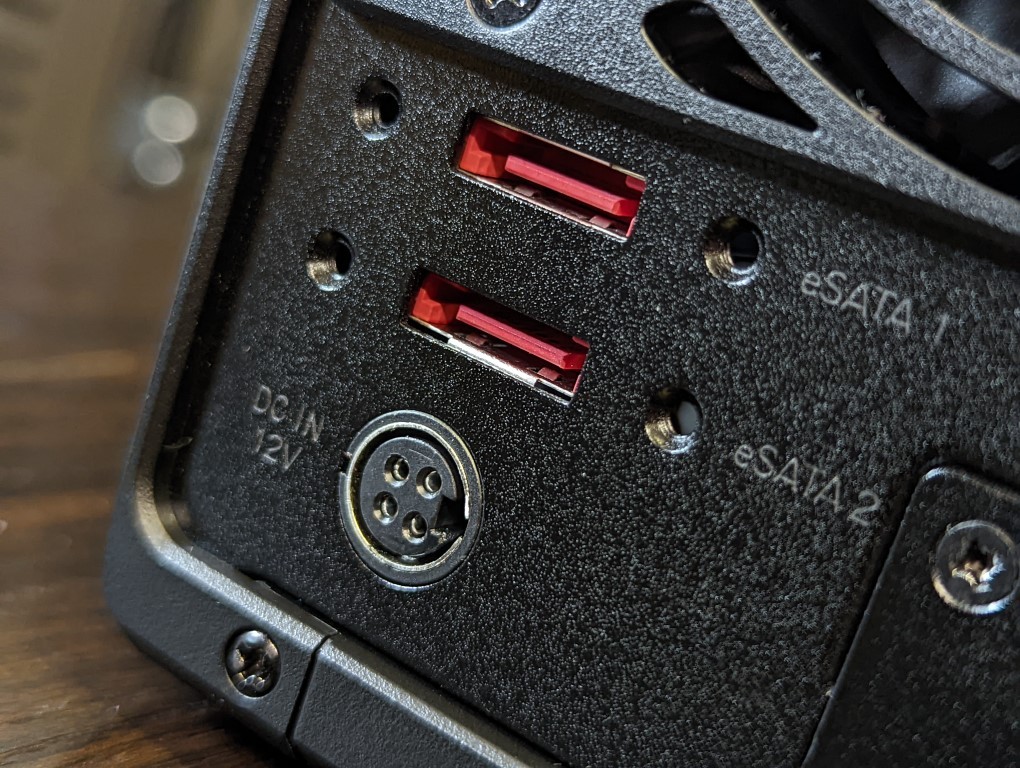 Another form of upgrade that is possible with the Synology DS1522+ is with storage expansions. This device can be connected to two official DX517 expansion chassis allowing you to store up to 15 bays of storage across the complete storage system. Although these expansions have their RAID managed by the main DS1522+ NAS, as they are JBOD (just a bunch of drives), this is still going to be tremendously useful to users who either wish to expand their existing SHR storage pool easily or wish to create mirrored storage backups with the main NAS storage. Expansions like these allow users to focus the budget they intend to spend on their NAS storage more appropriately away from day one capacity and instead towards the system power, whilst also having the option to expand existing storage pools without needing to reconfigure or create brand new pathways for existing client devices.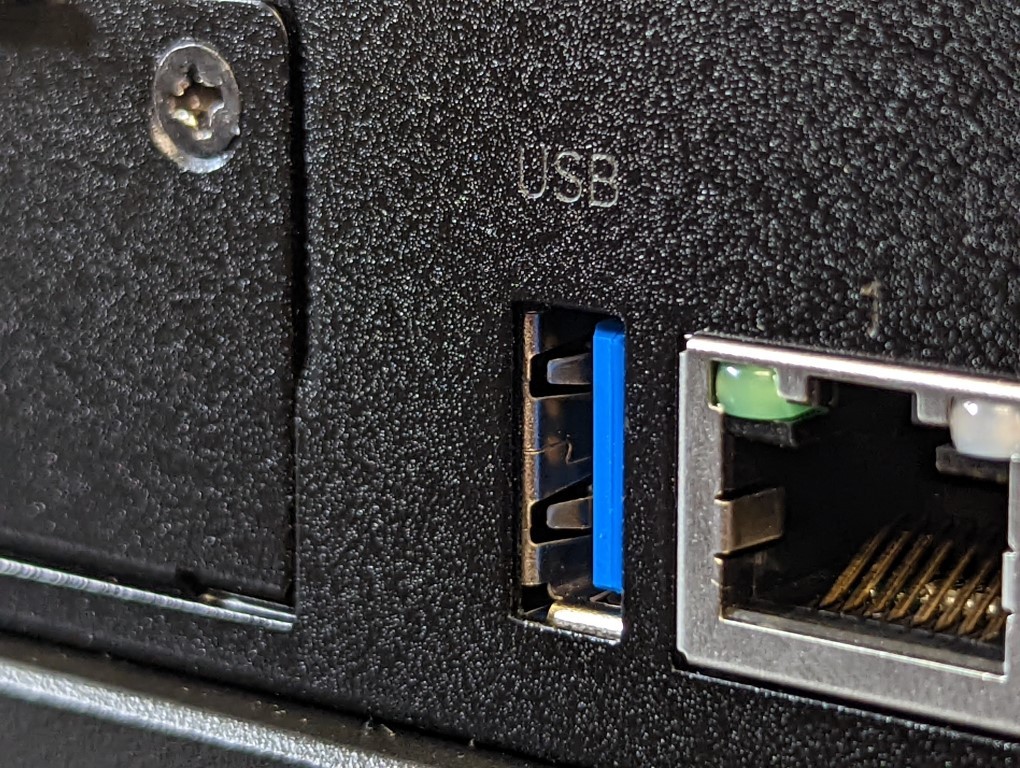 Finally, the Synology DS1522+ also has an additional USB port that allows you to attach further external storage, a UPS device, or a few other compatible USB accessories to the Synology DS1522+. DSM 7 and DSM 7.1 reduced the range of supported USB devices for reasons of compatibility.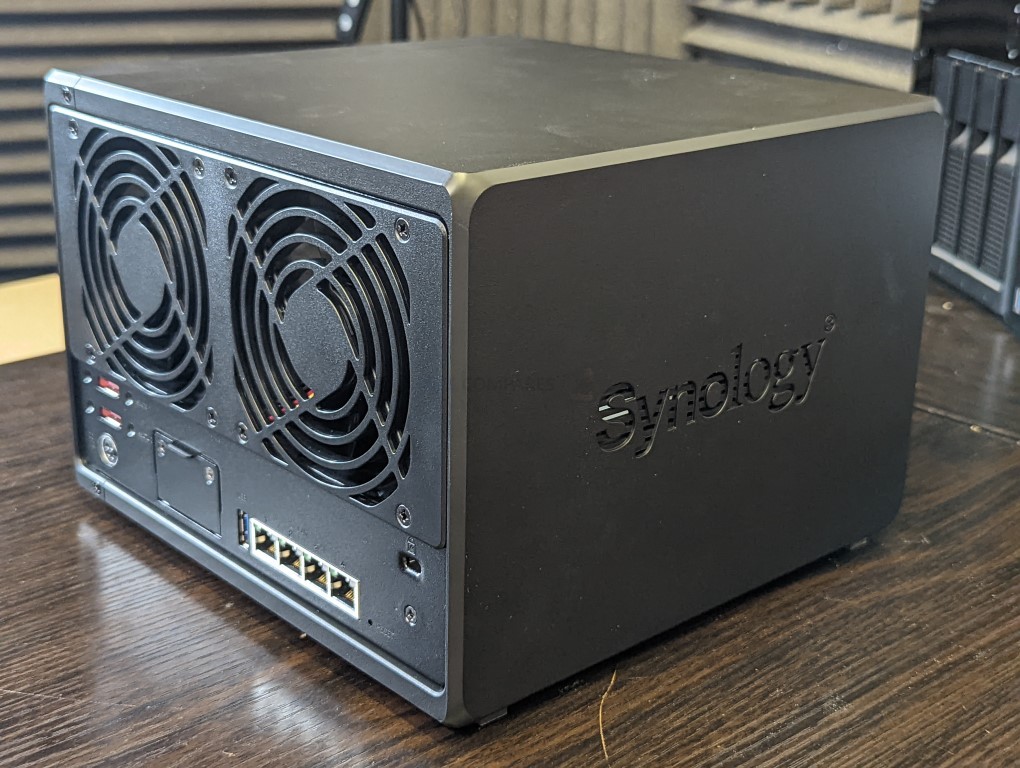 Overall, the external connectivity and available upgrades that you can attach to the DS1522+ are all moderately good for a system of this scale and despite some of my reservations about how Synology have chosen to pursue the upgrade path towards 10GbE on this system, it is still hugely important and advantageous that this is possible on this system. The rest of the connectivity present here is pretty much everything we expected, including the slightly underwhelming gigabit ethernet by default, I'm sure there is plenty here for most SMB users to sync their teeth into to make the most of the Synology DS1522+ in their network setup. Let's discuss the internal hardware and how it has changed in this latest iteration of this product family.
Synology DS1522+ NAS Review – Internal Hardware
When I first announced the Synology DS1522+ here on NAS compares, the predominant and loudest comment made by you guys was regarding the CPU choice that the brand opted for in this device. Up until this point we had gotten used to the Synology 5-Bay effectively supersizing the architecture of the 4-bay that came before it (eg DS918+ > DS1019+ and DS920+ > DS1520+) and we're all pretty convinced that this system would and should feature an Intel Celeron processor. When the hardware for the new DS1522+ NAS did arrive, many of you were quite surprised Synology had opted for another embedded Ryzen CPU, the Ryzen R1600.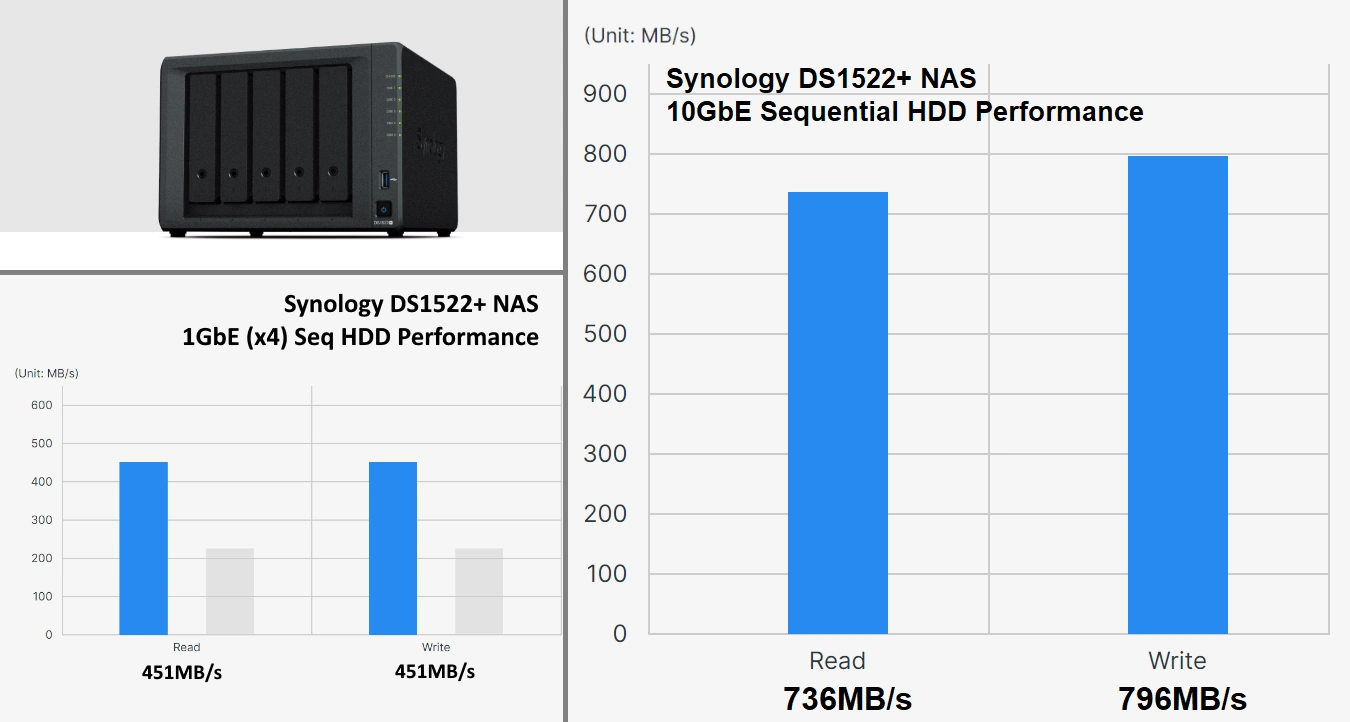 Now, let's get it out the way immediately. For a five-bay NAS device running DSM7 and with an optional 10GbE connection – the Ryzen R1600 is a good CPU. Its two-core, four-thread architecture, though a little weaker than many would have hoped, has an excellent power vs efficiency level and when combined with the support of ECC memory enables the system to get more done reliably and also whilst utilizing less raw power. Other desktop and rackmount NAS from Synology that feature a similar quad-core Ryzen (the V1500) proved that this processor is more than up to the task of managing multiple RAID pools and volumes whilst in 24/7 server use. Equally, no doubt Synology have benefited from lessons learned in the previous embedded Ryzen NAS developments that have resulted in this new R1600-equipped system benefiting in how well it runs DSM7 applications. Although industry measurements are a little few and far between on this relatively new processor, the hardware architecture behind it stands out very well.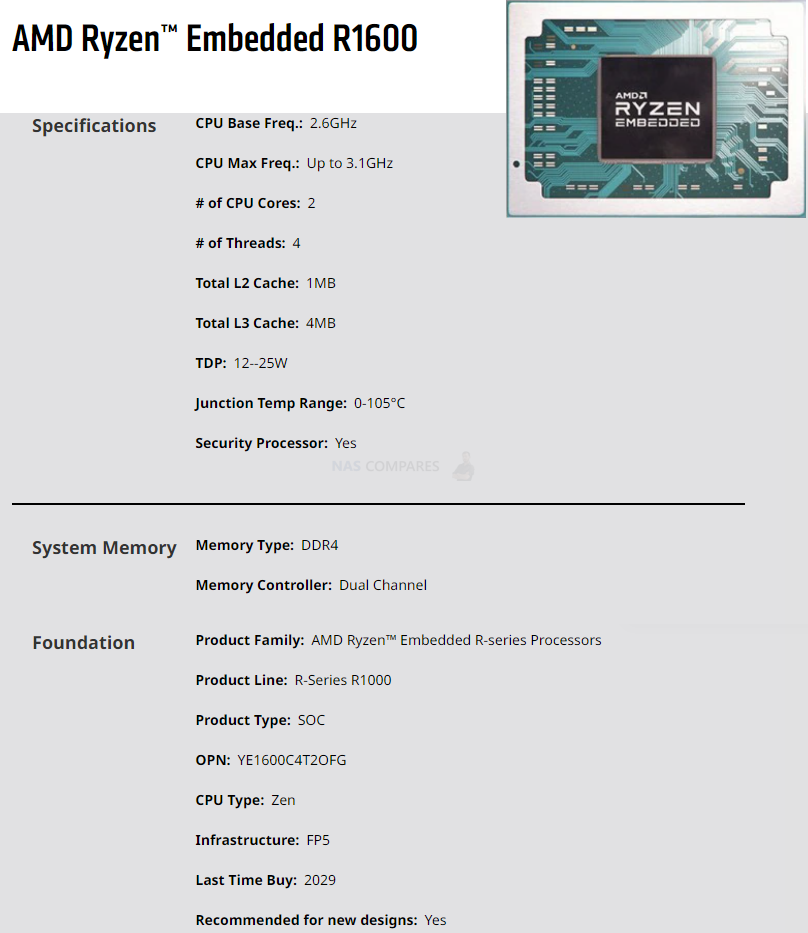 The issue for many, as mentioned earlier, is going to be that this is NOT an embedded graphics processor and many users look at this scale of solution as a mixed-use device for home and business, or just for purely enjoying multimedia, are going to be a bit underwhelmed as that is something that this processor is less suited for. The hardware architecture we have here is going to result in very high CPU utilization for even mid to low-end multimedia handling and heavier tasks such as 4K multimedia and transcoding while streaming, are going to push this process to the 100% utilization mark very quickly. Many are concerned that Synology may be in the process of reshaping the lower tiers of their portfolio to solely utilize these Ryzen processors, something I assume and indeed hope not to be the case. Additionally, it is worth highlighting that this particular family of Ryzen CPUs (The R1000 series) does feature AMD Vega embedded graphics options, so it is an odd choice by the brand to stick with this product family but opt away from more graphically proficient processors that are in the line-up.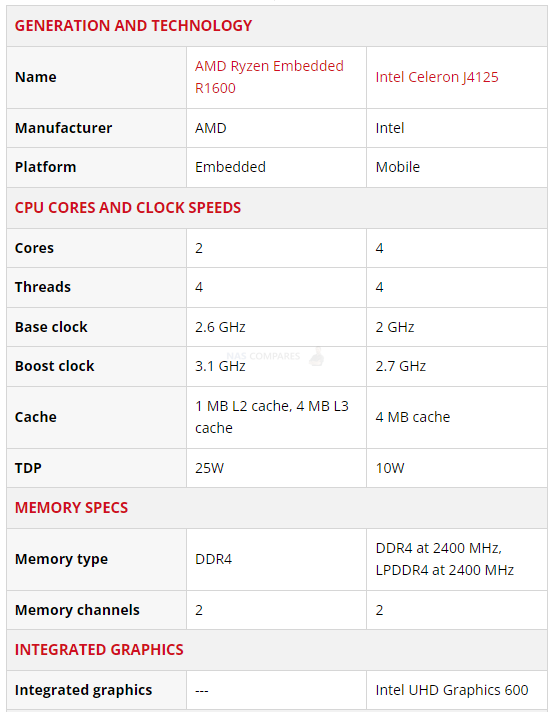 Moving forward, we can discuss the memory that is utilized by the Synology DS1522+. Much like previous five-bay NAS systems, the DS1522+ arrives with 8GB of memory by default. Arriving in SODIMM DDR4, the system can have its total available memory upgraded to an impressive 32GB across two slots. Those looking at the Synology DS1522+ for surveillance, large databases, containers or virtualization are definitely going to be pleased with this style of total memory available in the system's life.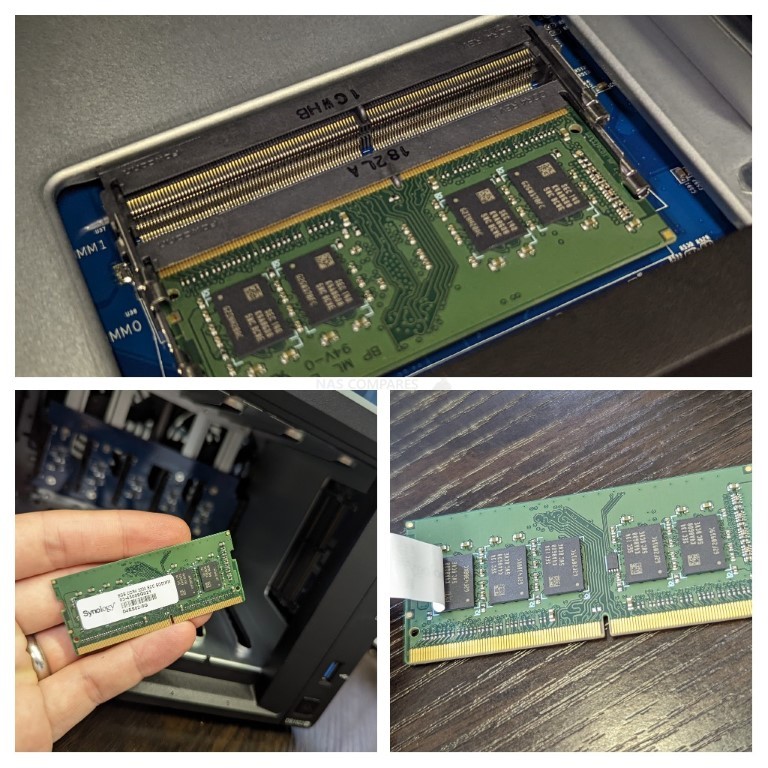 Additionally, it is worth highlighting that the DS1522+ is yet another solution from Synology that features error-correcting code (ECC) memory, which is certainly a high-end business preference for many. This type of memory benefits from an additional module on board that checks data as it enters and exits the RAM and if inconsistencies or errors occur during the write, this memory recognizes this when comparing the format of the binary at the beginning and end of its pass through, restoring the data to its integrity before it is committed to the larger NAS system during a write operation. Those that utilize larger databases or simply huge amounts of data that are high in frequency but low in volume. Will certainly see the benefit in this rather than encountering corrupted data days, weeks, months or even years down the line. This is by far the smallest NAS that Synology has released to feature this more enterprise-grade memory.

There is no avoiding that the CPU choice of the Synology DS1522+ is certainly going to divide opinion. As Synology continues down its path towards being a more enterprise and high business solution provider, I do think their shift towards more corporate storage and file management focus in its chosen hardware is only going to increase. That isn't to say that the hardware on offer inside the DS1522+ is not good. Quite the opposite, from the design of the internal components and how they are laid out in this 24×7 server, to the general quality level of both the CPU and memory. Aside from multimedia concerns, you still have a very proficient and good-value Synology server here in terms of hardware. Likewise, this five-drive NAS is with it two NVMe SSD bays working with that CPU and memory combo is going to result in some very fast, responsive and highly productive storage for you, your home and/or your business. It will be interesting to see how the Synology DS1522+ compares against the Intel-powered Synology DS1520+ that came two years before it in terms of performance. Let's discuss the level of support that the Synology DS1522+ provides towards Synology's award-winning software.
Synology DS1522+ NAS Review – Software and Services
Now, to cover the WHOLE Synology software and services that are included with the DS1522+ NAS would result in a review that is twice as long as this review so far! Synology's Diskstation Manager software that comes with this device (either DSM 7 or DSM 6.2 depending on your preference) provides a massive arrangement of services, applications (first and third party supported) and a huge number of client applications for desktop, mobile, windows, mac and linux (as well as a bunch of other more home-based tools). These allow management and access to the data on the DS1522+ in very tailored ways, as well as the web browser-based access that has the appearance, intuitive design and responsiveness of a local operating system. The DSM interface can be accessed by hundreds of users at the same time (with each user having tailored access, rights and privileges). DSM is available with ALL Synology NAS and the depth and abilities of DSM on any NAS are dependant on the hardware architecture of the NAS itself. In the case of the Synology DS1522+, it supports practically EVERYTHING (with the exception of SHR, as previously mentioned). If you want to learn about the latest version of DSM 7 and the software and services that are included with the DS1522+ NAS, watch my FULL review below (alternatively, you can read the DSM 7 Full Review HERE):
As mentioned, the DS1522+ supports pretty much the entirety of the DSM 7 and DSM 6.2 applications and services. If you are an existing user of SaaS and PaaS (Software as a service and Platform as a service) from the likes of Google Workspace and Office 365, knowing that you can synchronize these systems or choose to export away from them onto the Synology services is going to be very appealing. Key business applications that are included with your NAS are:
Synology Office – Create documents, spreadsheets, and slides in a multi-user environment. Real-time synchronization and saving make collaboration a breeze.
Synology Chat – Aimed at businesses, Synology Chat is an IM service that transforms the way users collaborate and communicate.
Synology Drive – Host your own private cloud behind the safety of your NAS with 100% data ownership and no subscription fees.
Synology Moments – Manage your photos and videos with deep-learning algorithms that automatically group photos with similar faces, subjects, and places.
Synology Calendar – Stay on track, share calendars, and schedule meetings, while ensuring sensitive information remains safely stored on company premises.
Synology Active Backup for Business (ABB) – Consolidate backup tasks for virtualized environments, physical servers, and personal computers, and rapidly restore files, entire machines, or VMs – completely license free.
Synology Hyper Backup – backup you NAS safely and efficiently to multiple destinations with deduplication, integrity checks, compression, and versioning.
Synology Surveillance Station – Safeguard your business, home, and other valuable assets with reliable video surveillance tools.
Synology Virtual Machine Manager (VMM) – An intuitive hypervisor that supports Windows, Linux, and Virtual DSM virtual machines. Its powerful disaster recovery tools help users achieve maximum service uptime.
Synology High Availability – Synology High Availability (SHA) combines two Synology NAS servers into one active-passive high-availability cluster, alleviating service disruptions while mirroring data.
Synology Central Management System (CMS) – Synology CMS allows you to manage multiple Synology NAS servers quickly and conveniently from a single location.
Synology Video Station – Manage all your movies, TV shows, and home videos. Stream them to multiple devices or share them with friends and family.
Synology Photo Station – Built to help photographers manage their photos and share them with clients for feedback or business development.
Synology Audio Station – Manage your music collection, create personal playlists, stream them to your own devices, or share with family or friends.
Synology File Station – Manage your Synology NAS files remotely through web browsers or mobile devices.
You cannot really fault the software and services that are included with the Synology DS1522+ NAS, as you are going to get the very best experience available on the platform, thanks to the hardware and architecture of this NAS. DSM 7 is an ever-evolving platform, so if you are reading this now at the time of publishing or years later, there is always going to be something in DSM for everyone.
Synology DS1522+ NAS Review – Conclusion & Verdict
The Synology DS1522+ is a good NAS drive and most business-focused users are going to appreciate what this newer configuration of hardware is able to provide. There was never any doubt in the extent to which this new NAS would support DSM7, and given its architecture, there is virtually nothing in the popular NAS software that this system cannot do. Likewise, having the option of 10GbE on a Diskstation of this scale will be hugely attractive to some, though the proprietary means with which you need to upgrade is arguably less desirable. The R1600 CPU is a good choice of processor for file handling and simultaneous tasks, as is the 8GB of memory that this system arrives with, plus the potential to ramp it up to 32GB. After that though, the desirability of this system to home users and multimedia users is a little less compelling and with such a large audience of users who look at NAS for their media streaming, the DS1522+ not featuring a more graphically enabled chip will leave them somewhat underwhelmed. Bottom line, the DS1522+ is a solid and full DSM7 supporting system here and you cannot fault the design, internal/external performance and ease of use of this Synology NAS. However, there will always be users wondering why this NAS never arrived with an Intel chip.
Synology DS1522+ PROS
Synology DS1522+ CONS

8GB of ECC Memory that can be scaled to 32GB – LOVELY STUFF

Optional 10GbE Upgrade

Continued Support of Synology Hybrid RAID on this scale

4x LAN Ports by default

Expandable with another 10 Drives down the line (2x DS517)

NVMe SSD Bays for Caching will be very useful with this 5-Bay RAID Storage

DSM 7.1 is hands down the best NAS software and services in the market right now

3 years base warranty, with optional extra 2yrs

Numerous storage service advantages inc. BTRFS, Fast RAID Rebuild and Auto-Repair

First Party Hybrid Cloud services with Synology C2

Exceptionally good surveillance software included

That CPU is going to divide opinion

HDD & SSD Compatibility list is a little thinner than I expected

Optional 10GbE upgrade is via a heavily proprietary route
If you are thinking of buying a Synology NAS, please use the links below as it results in us at NASCompares receiving an affiliate fee from Amazon: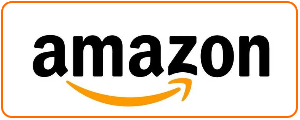 📧 LET ME KNOW ABOUT NEW POSTS 🔔
Join 1,570 other subscribers
Get an alert every time something gets added to this specific article!
This description contains links to Amazon. These links will take you to some of the products mentioned in today's content. As an Amazon Associate, I earn from qualifying purchases. Visit the NASCompares Deal Finder to find the best place to buy this device in your region, based on Service, Support and Reputation - Just Search for your NAS Drive in the Box Below
Need Advice on Data Storage from an Expert?
We want to keep the free advice on NASCompares FREE for as long as we can. Since this service started back in Jan '18, We have helped hundreds of users every month solve their storage woes, but we can only continue to do this with your support. So please do choose to buy at Amazon US and Amazon UK on the articles when buying to provide advert revenue support or to donate/support the site below.

Finally, for free advice about your setup, j
ust leave a message in the comments below here at NASCompares.com and we will get back to you.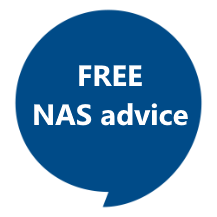 Need Help? Where possible (and where appropriate) please provide as much information about your requirements, as then I can arrange the best answer and solution to your needs. Do not worry about your e-mail address being required, it will NOT be used in a mailing list and will NOT be used in any way other than to respond to your enquiry.
Support What We Do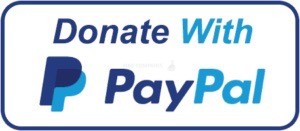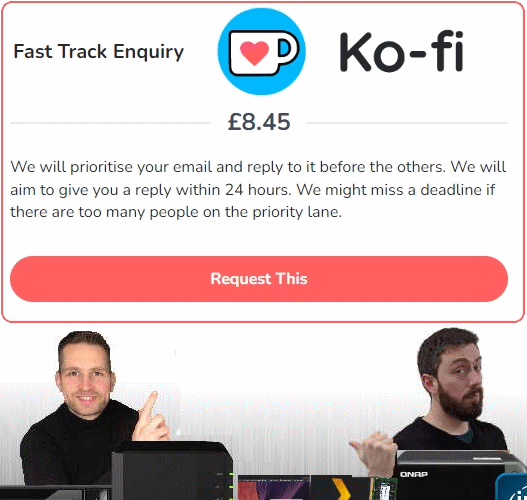 Terms and Conditions Alternatively, why not ask me on the ASK NASCompares forum, by clicking the button below. This is a community hub that serves as a place that I can answer your question, chew the fat, share new release information and even get corrections posted. I will always get around to answering ALL queries, but as a one-man operation, I cannot promise speed! So by sharing your query in the ASK NASCompares section below, you can get a better range of solutions and suggestions, alongside my own.