Synology DS3622xs+ NAS Review – Game Changer?
Reviewing the new Synology DS3621xs+ NAS is something that is going to be a little tough, given the huge range of buyers who see this particular server as the 'ultimate private desktop NAS server'. If you have been looking at moving your mid-to-high sized company data operations away from popular cloud services in the last year or so, then there is a good chance that you have been looking at Synology as your private platform of choice. The same goes for large Virtual Machine operations, multi-site surveillance setups and even Plex Media server users who want phenomenal futureproofing moving forward. The DS36XXxs series has been around for a decade or more and in that time only 4 solutions have ever been included, the DS3611xs, DS3612xs, the DS3617xs and now, the DS3622xs+ – so there is ALOT for this new powerhouse desktop NAS solution to live up to. Factors such as its internal performance, external bandwidth, its scalability and ultimately its justification in price to replace your popular 3rd party subscription services – there is ALOT to take into consideration. So, in today's review of the, I want to discuss the hardware, the software, where it shines and where it doesn't, in efforts to help you decide whether the Synology DS3622xs+ NAS deserves your data. Let's begin.
Synology DS3622xs+ NAS Review – Quick Conclusion
Unsurprisingly, the Synology DS3622xs+ is by FAR the most powerful and capable desktop NAS solution that the brand has ever produced – and that is not even a close-run thing. But we are still talking about a £2,500 box here (unpopulated) and you are going to expect that there is some serious horsepower here – So are you getting the most for your money here? Almost completely, yes. There are a few lingering things that some buyers will still not be in love with, such as the lack of M.2 caching bays, the lack of SAS support or the reduced support of 3rd party drive and network upgrade compatibility, but they do not undercut that this is a genuinely groundbreaking solution from Synology that provides the ultimate base to enjoy and make the most of the Synology DSM 7 platform in 2022 onwards. Once you breakdown everything included in this package, from DSMs software and services, to the tremendous bandwidth available here internally and externally, this compact tank-like NAS server is an absolute beast and a must for those that are keen on fully integrating a private cloud network and subscription-free SaaS-level setup across their company.
Synology DS3622xs+ NAS Review – Packaging
The shipping container that the DS3622xs+ arrives in (I know this is dull for most of you, but some people genuinely care about this) is easily one of the most protected desktop solutions in the Synology portfolio. Arriving in a double layer of cardboard carton (rugged external shipping carton, livery and branded internal packaging box), the NAS on its own is over 9KG unpopulated and you can add another kilo or two to the shipping extras. So with that kind of weight in mind, you have to make serious considerations for shock and motion protection in transit.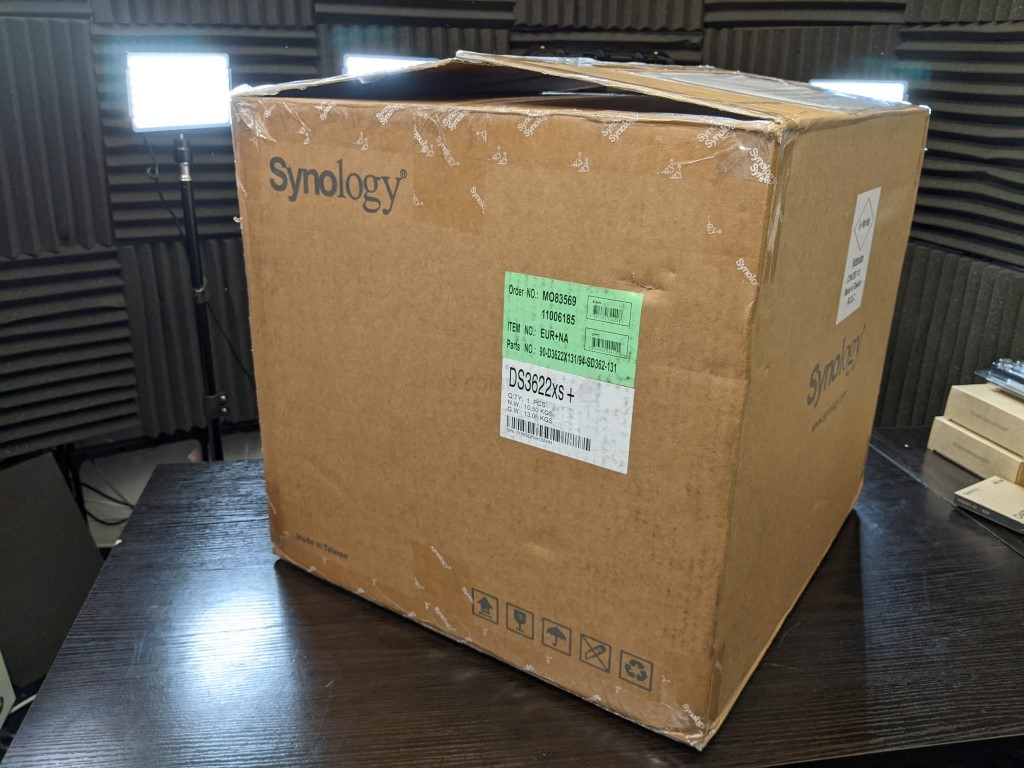 Unpacking the first couple of layers of the DS3622xs+ reveals that the NAS is also held in place with a surrounding frame of hard, rigid foam. Again, some brands might cut corners on protective shipping provisions on desktop solutions, in an effort to keep the profit margin a pinch higher. I am pleased to see that there is no evidence of that here on the DS3622xs+. Indeed, although the included accessories are a little thinner than I would have likely, I cannot fault the protection that Synology has afforded to this system in transit.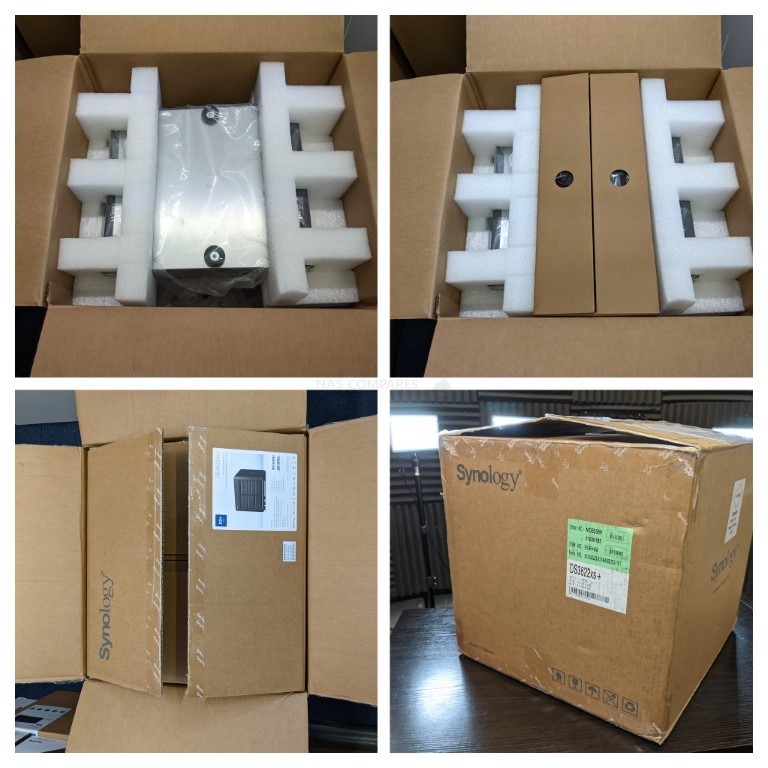 Unpacking the Synology DS3622xs+ NAS and laying out the entire contents, I was a little surprised by the accessories. Not disappointed, just a little surprised in some areas. The kit includes the NAS itself, external mains power cable (the system has a single internal 550W PSU), installation guide, screws for 2.5/3.5″ media, keys for those lockable trays and two RJ45 LAN cables.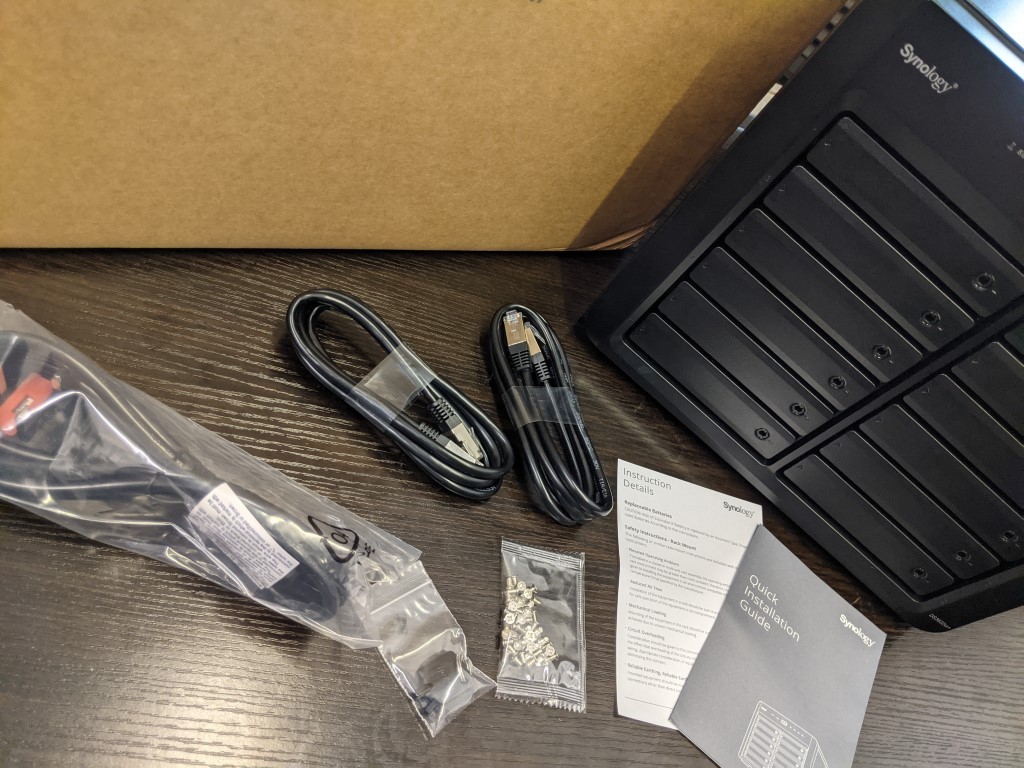 Now, this leads me to my first minor gripe – those ethernet cables. On the face of it, providing additional LAN cables is always good (the system has a possible 5 network connections by default), but the cables are Cat 5e, not Cat 6 – which is what I would expect from a 10GbE equipped solution like the DS3622xs+. This is an incredibly pedantic point I know, but it's a small thing to have been overlooked and anyone that takes their 10GbE setup seriously will want to swap these out immediately. The main difference between CAT5e and CAT6 cable lies within the bandwidth, the cable can support for data transfer. CAT6 cables are designed for operating frequencies up to 250 MHz, compared to 100 Mhz for CAT5e. This means that a CAT6 cable can process more data at the same time. Think of it as the difference between a 2- and a 4-lane highway. On both, you can drive at the same speed, but a 4-lane highway can handle much more traffic at the same time.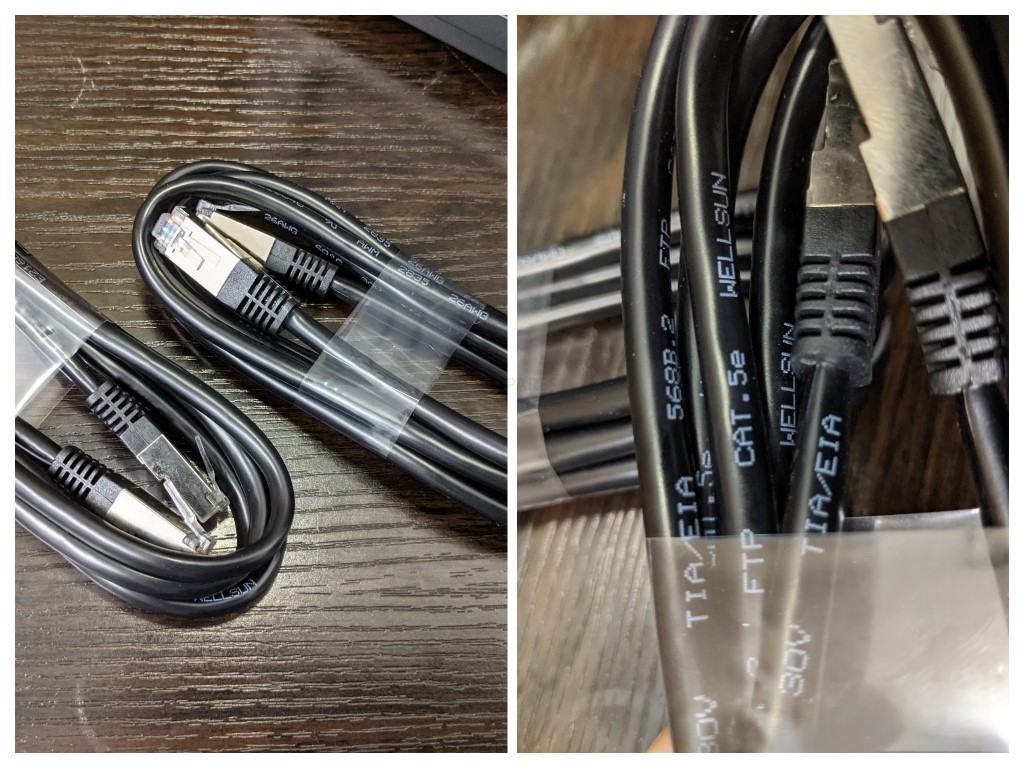 The rest o the accessories and kit are what you might expect and all agreeable. The paper manual is a little sparse, but these kinds of devices have always had a preference to push users to use online resources to setup these devices correctly and with frequent updates. The initial setup and installation of Synology NAS have always been remarkably easy and the contents of this paper manual are largely sufficient to help you through those early steps.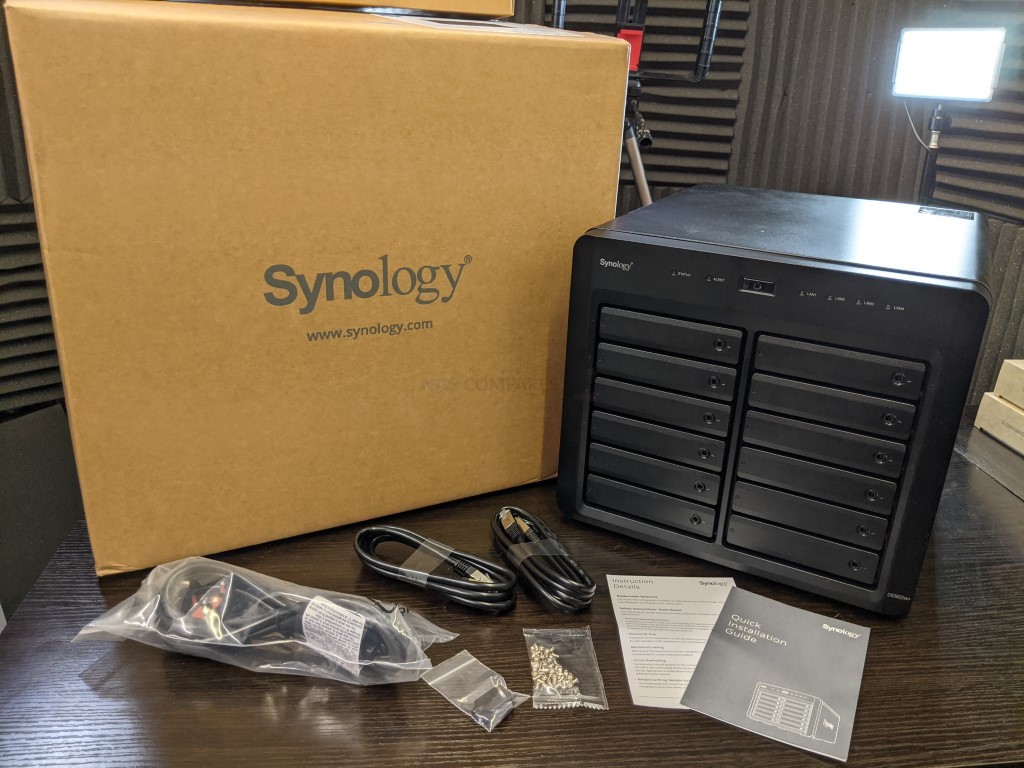 Let's move over to the design of the DS3622xs+ NAS itself and how it has managed to house such a huge amount of storage, whilst still remaining rather compact in its physical shape.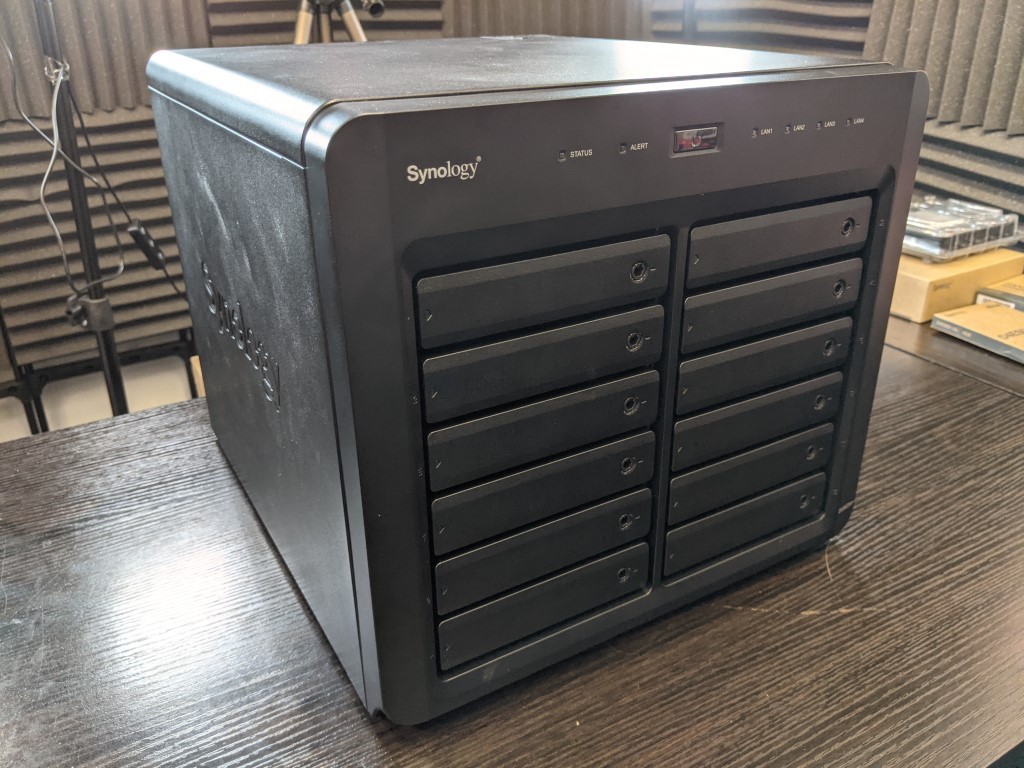 Synology DS3622xs+ NAS Review – Design
The DS3622xs+ uses a chassis that is very familiar and is one that (although tweaked in small places over time) has remained largely the same over the last 5 years throughout other releases (both in the XS family and PLUS series). It has always provided a good balance of storage, versus efficient airflow and heat dissipation.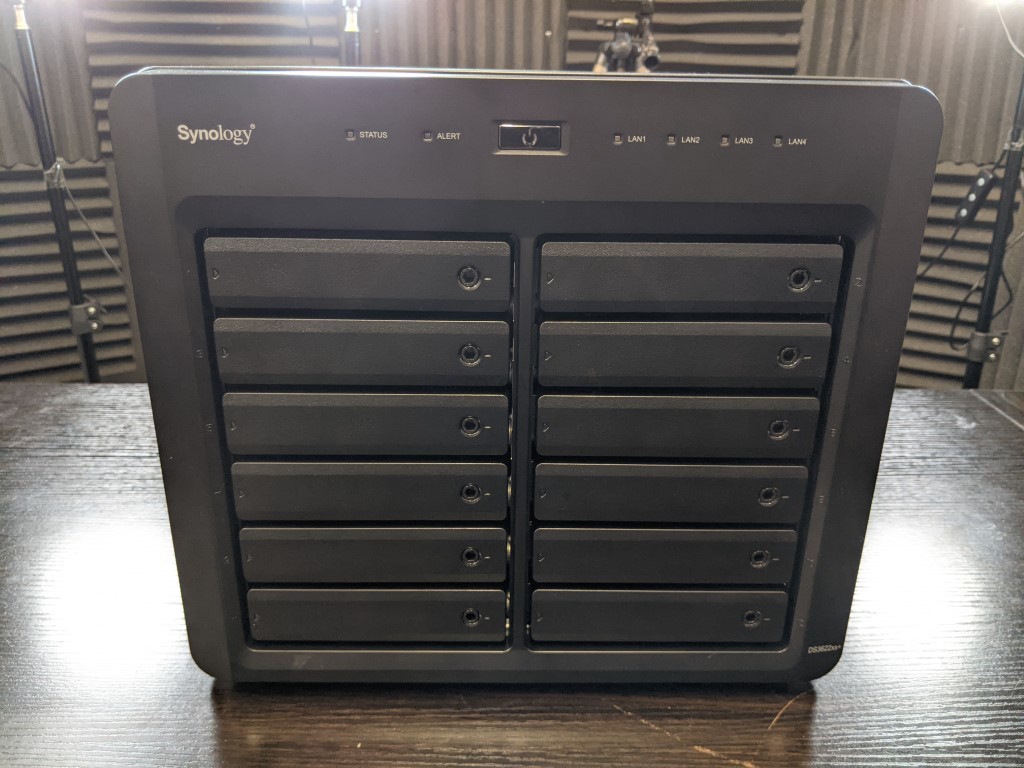 The DS3622xs+ chassis is almost entirely metal, with the only notable exception being the front panel of the desktop casing and the trays. This larger metal chassis, in conjunction with the 12 bays of SATA storage and twin rear fans results in a NAS that is most certainly going to make some noise. Although not reaching the "airplane take-off' levels of noise that a rackmount like the RS3621xs+ reaches, the DS362xs+ is still a NAS that you do not want to be in close proximity with when in full operation. the official Synology pages highlight that the noise level is a reported 25 dB(A), however, this is based on the use of 2TB Seagate Ironwolf HDDs (which do not feature on the compatibility list I might add) and not the enterprise build HAT5300 Hard drives that this system is designed to be used with, which are a noticeable degree noisier due to their high performance, workload and durability design. Below is a quick vid on their noise level:
The front of the Synology DS3622xs+ has no LCD/Display panel, but rather it has numerous LEDs for displaying system, activity and access. These can all be adjusted in brightness and activity in the DSM 7 control panel, with eat pertaining to different areas of the system hardware – Hard drives, network status, network connectivity and system health.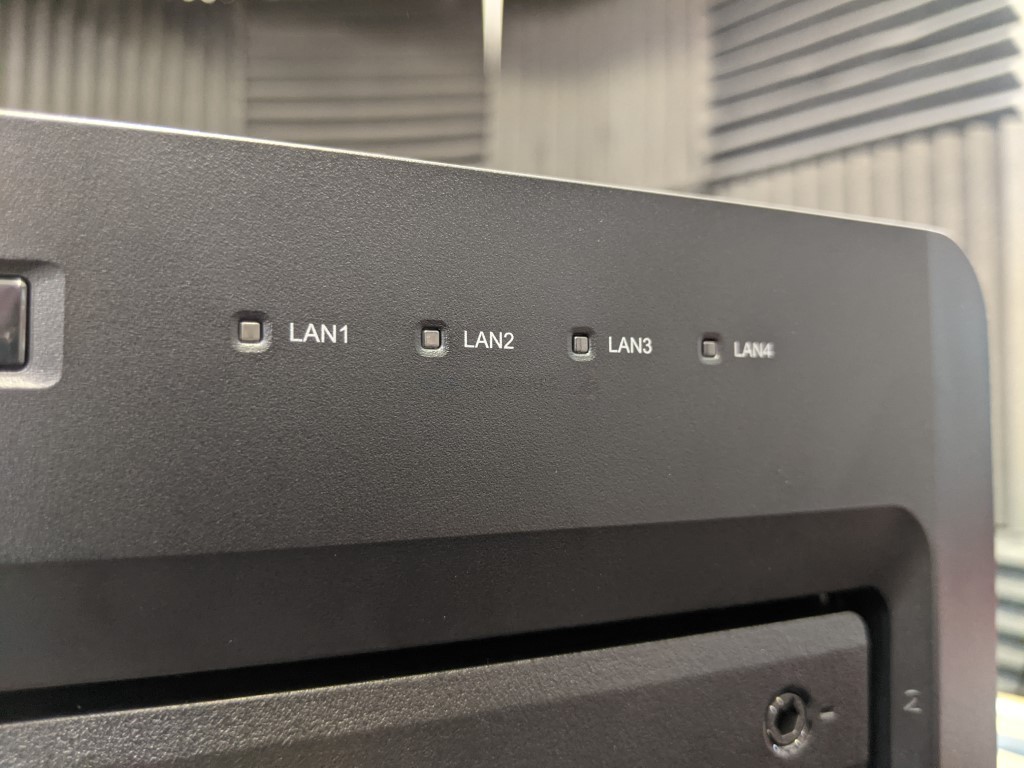 The 12 bays of storage featured on the DS3622xs+ are all well ventilated around the front oF the chassis and between each bay to allow passive airflow to flow as heat is dissipated inside. As mentioned earlier, the DS3622xs+ can run fully or partially populated, as well as be run on a single SATA HDD/SSD if need be (which would be rather daft). The system utilizes traditional RAID configurations to allow the end-user(s) to create a good balance of performance and redundancy in their storage over multiple drives. However, although the storage can be increased by adding further drives in available bays or an expansion chassis (the DX1222) the DS3622xs+ does NOT support the popular Synology Hybrid RAID (SHR) configuration that is available on the PLUS series and lower. Now, this is not a new thing and the XS/XS+ series of Synology NAS has never supported this configuration, for reasons of overall performance dip compared with traditional RAID levels (i.e. RAID 1,5,6,10,etc) on these solutions that are enterprise/big-data designed. However, the benefits of SHR in terms of scalability and adding larger capacity drives to your storage array years down the line (as larger capacities HDDs arrive and/or prices decrease per TB) has always been a compelling part of buyers who purchased the PLUS series and always a bit of a puzzler why it is not available here on an XS series solution. SHR on the DS3622xs+ is not impossible if you are migrating from an older NAS as shown here in this video, but it is still a shame it remains absent on the DS3622xs+ as a day 1 choice.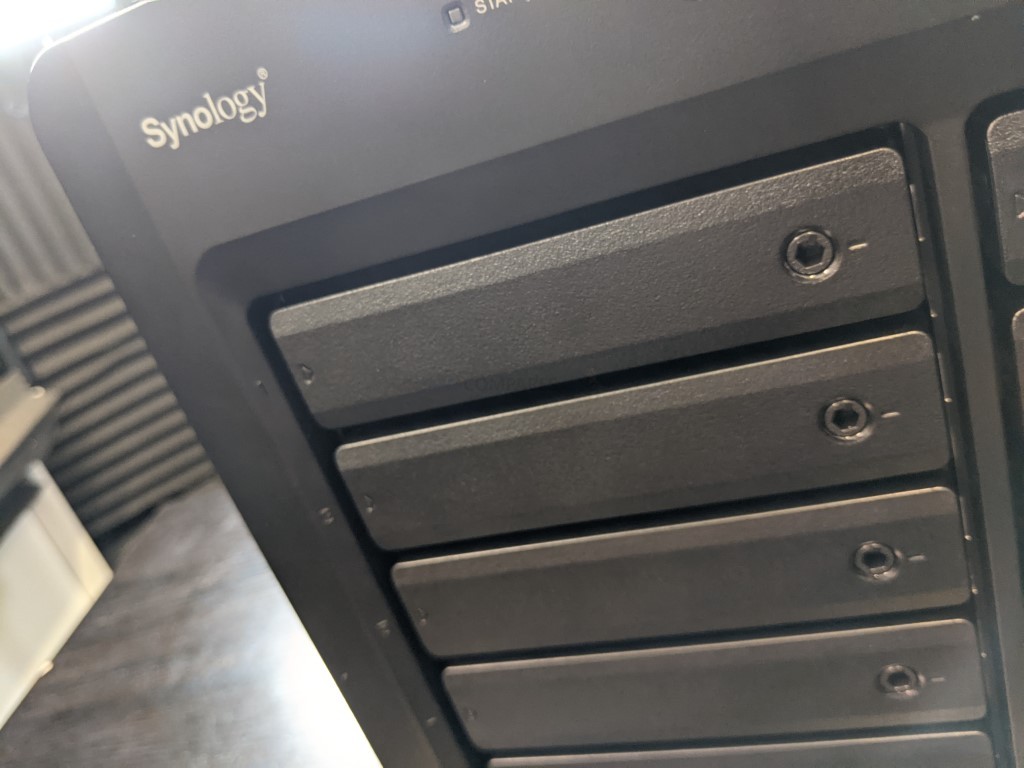 Each bay utilized a spring-loaded tray design that ensures that a drive will not be installed unless in full alignment with the internal SATA port inside. Additionally, each bay of the DS3622xs+ features a locking mechanism (with 2 keys included with your accessories pack) that ensures that accidental removal of an HDD/SSD in your NAS is not possible – this is especially useful as the DS3622xs+ does not support re-silvering and accidental removal of a drive for even just a single second can lead to hours upon hours or degraded RAID rebuilding.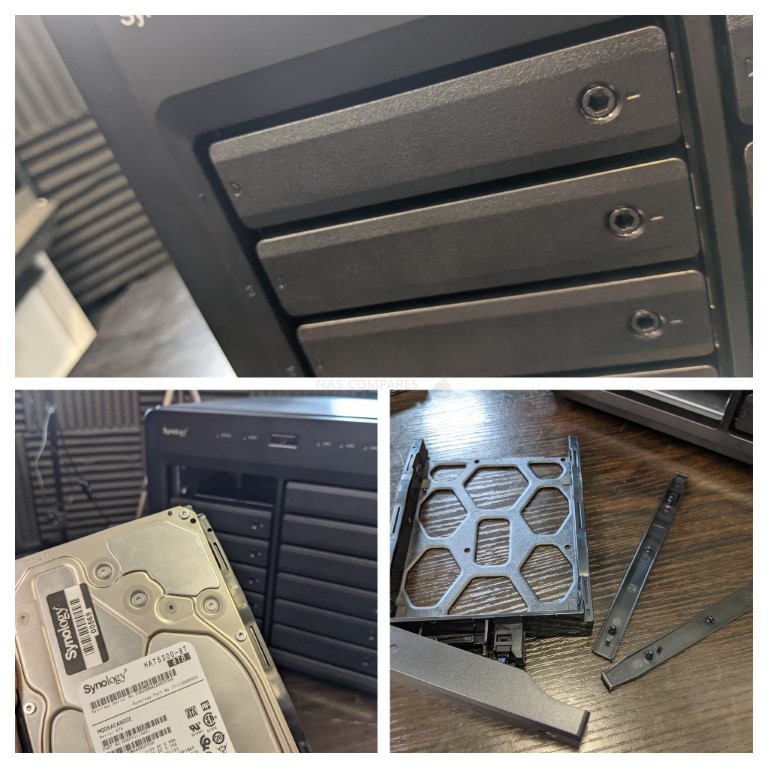 The trays themselves are plastic in design, but the days of this being a negative are largely gone now and although early versions of NAS servers have cheaper and less robust plastic trays, this new generation Synology NAS has exceptionally well made plastic trays that are sturdy enough for even excessing storage use. Each tray also takes advantage of a click n load design that allows 3.5″ media to be installed without screws/screwdriver. Alternatively, there are screws and screw-holes for the installation of 2.5″ SATA SSD media for faster storage pools and/or caching storage. However, on the subject of storage media on the DS3622xs+, we should probably address the hard drive shaped elephant in the room.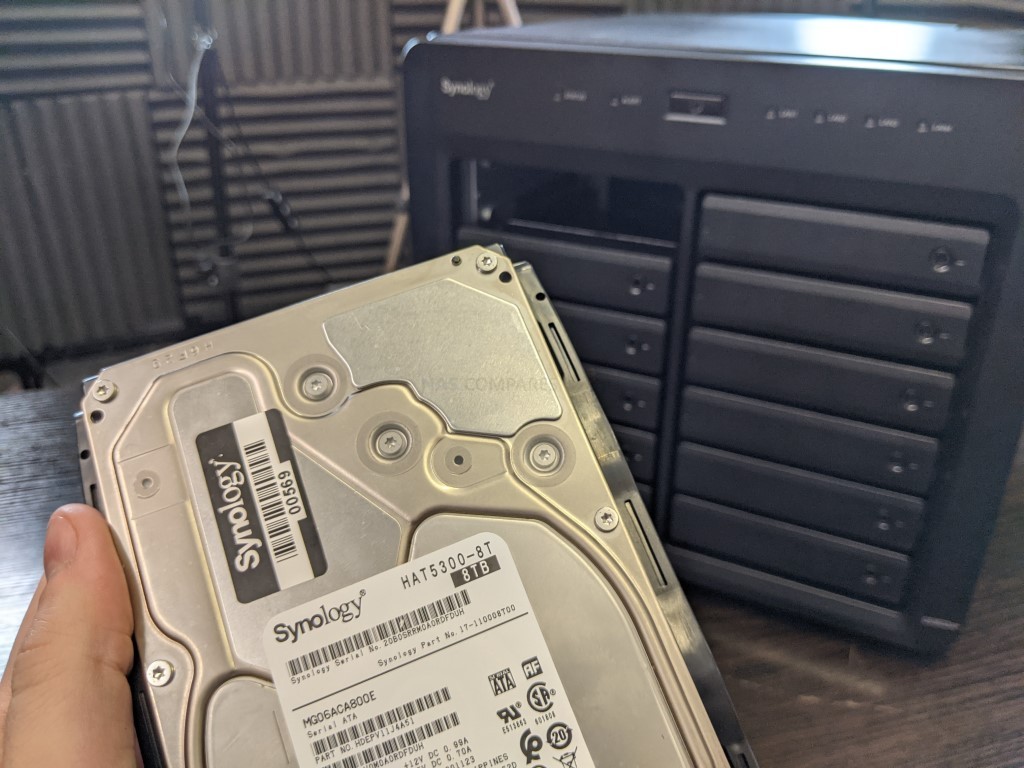 The DS3622xs+ NAS is another release in the Synology High-end/enterprise series that has opted for a much more streamlined compatibility list. This results in this NAS only being supported for use with Synology hard drives and SSDs. These include the HAT5300 and SAT5200 (along with a few others with upgrade options). Although there are a few exceptions to this, the compatibility list over on Synology.com is pretty clear on this: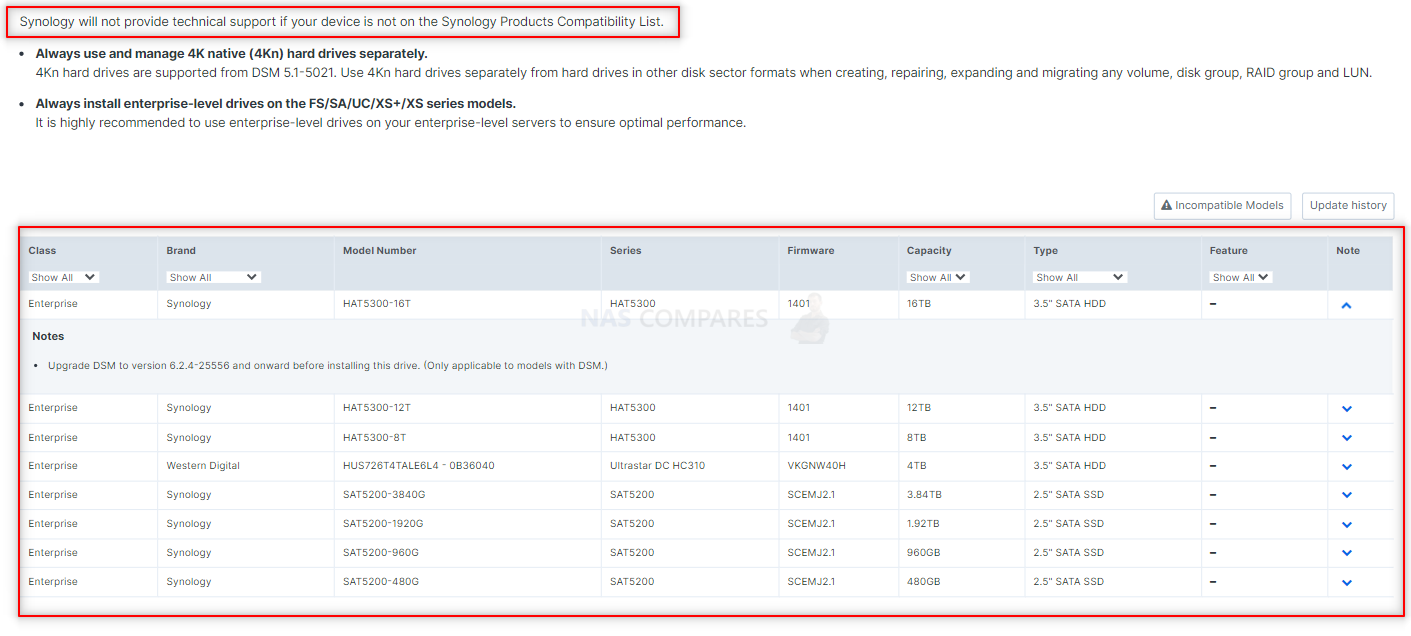 Synology's decision to only allow the use of their own branded storage media on enterprise-level solutions was met with a mixed reception when it was rolled out in early 2020. On the one hand, the HAT5300 series of drives ARE good drives, arriving at a price point similar to the likes of Seagate Ironwolf Pro and WD Red Pro Pro-class Drives BUT featuring the architecture, performance and durability of Enterprise-class drives (such as Seagate EXOs and WD Gold) – it is a pretty good deal. Likewise, those looking for a full 'one party' solution will be pleased as it allows simple installation, deployment and management (with firmware updates and drive warranties being considerably easier to manage). However, with only three capacities of HAT5300 (8, 12 and 16TB) at the moment, as well as a relatively sudden pull on the support of other hard drive brands on this system, it has left quite a few users unhappy. Likewise, the decision in DSM 7 for the storage manager to prevent the use of non-compatible (i.e non-Synology) hard drives to be used in a storage pool completely, seems a touch aggressive in its presentation. As I have mentioned previously, I do actually quite like the HAT5300 series of hard drives, but the push by the brand to over-simplify the compatibility and support of 3rd party drives is something that I am less keen on and definitely do not want to see being extended to the rest of the PLUS/SMB line up lower down the portfolio in 2022.
nevertheless, the HAT5300 and SAT5200 series are still exceptionally good drives for this system and its XEON CPU, 16GB memory and twin 10GbE ports to sink its teeth into and when fully populated and equipped with 4x10GbE connections banded together (2x on-board 10GBASE-T + 2x 10GBASE-T on the E10G18-G2) has been reported to reach 4,719MB/s Sequential Read and over a quarter of a million 4K random Read IOPS.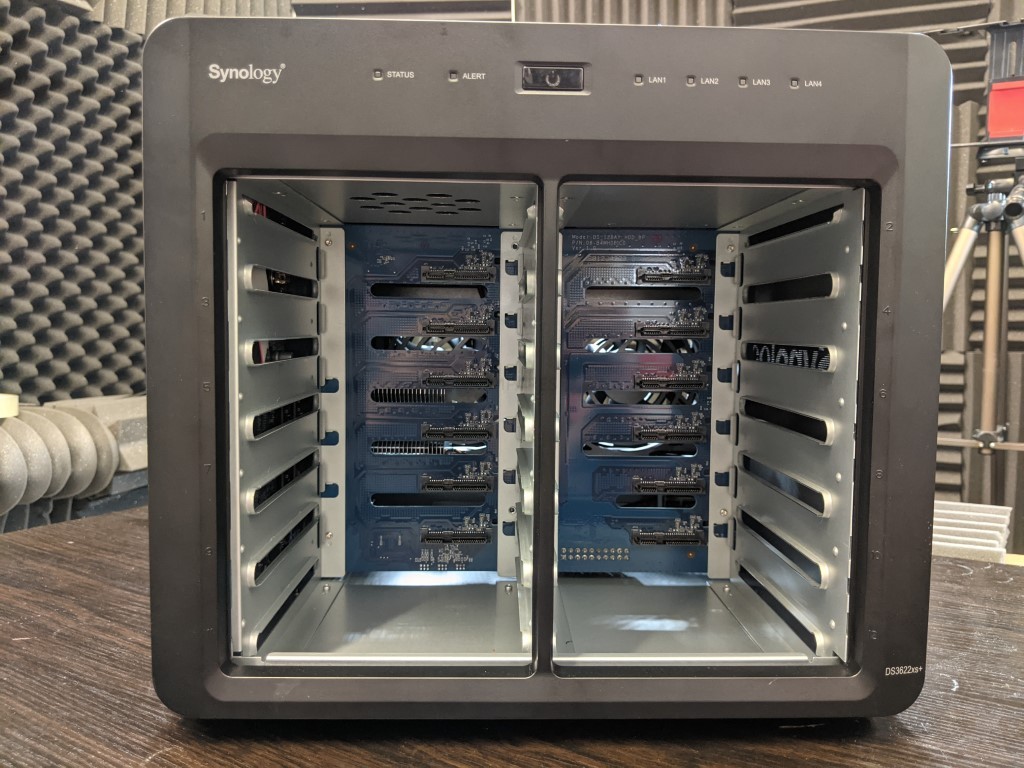 Removing all the stays shows that all 12x SATA connectors are all combined data/power as you would expect. I did wonder, given the launch of Synology HAS5300 SAS Hard drives two months or so ago, that the next generation of this enterprise 12-Bay would factor in combined SATA/SAS connectors, but I guess the PCI lanes of this XEON were already fairly well spread and am much happier with the two 10G and PCIe 3×8 slot instead (if there WAS a choice there with resource architecture).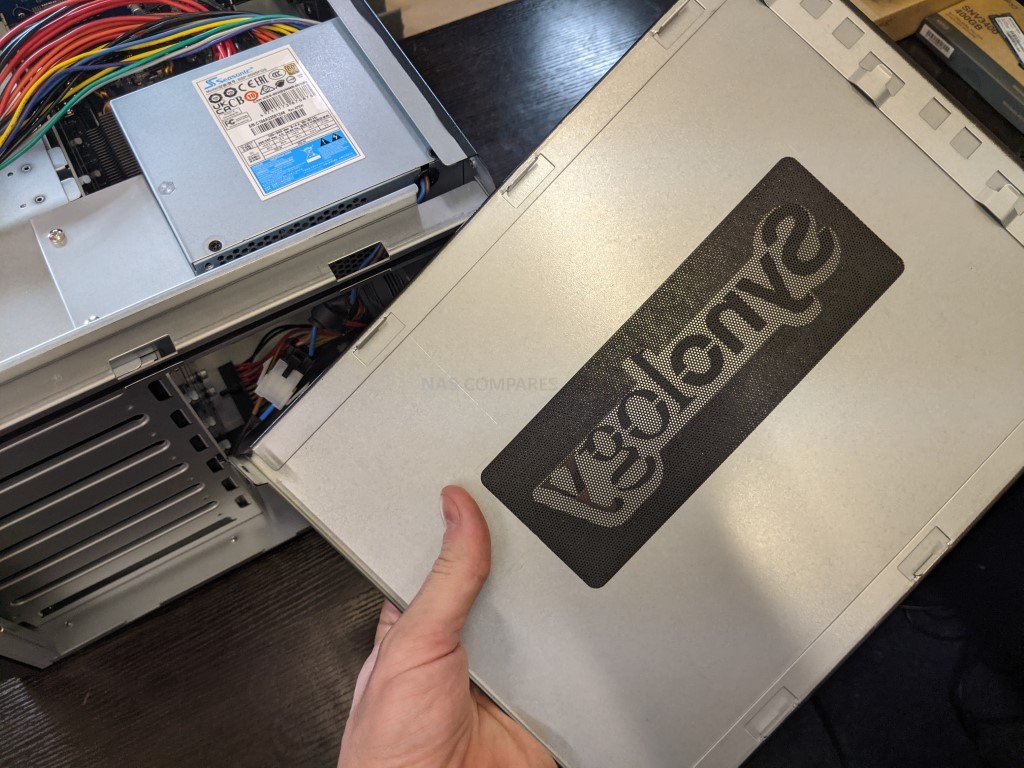 The DS3622xs+ NAS also features the neat and well-branded Synology ventilated/mesh logos on either side. Speaking as someone who has deployed a few Synology NAS solutions personally and professionally over the years, I can say these vents capture a lot more dust than you might expect and definitely help to assist passive airflow internally and assist dissipation. it is one of those slick design points that Synology are fond of,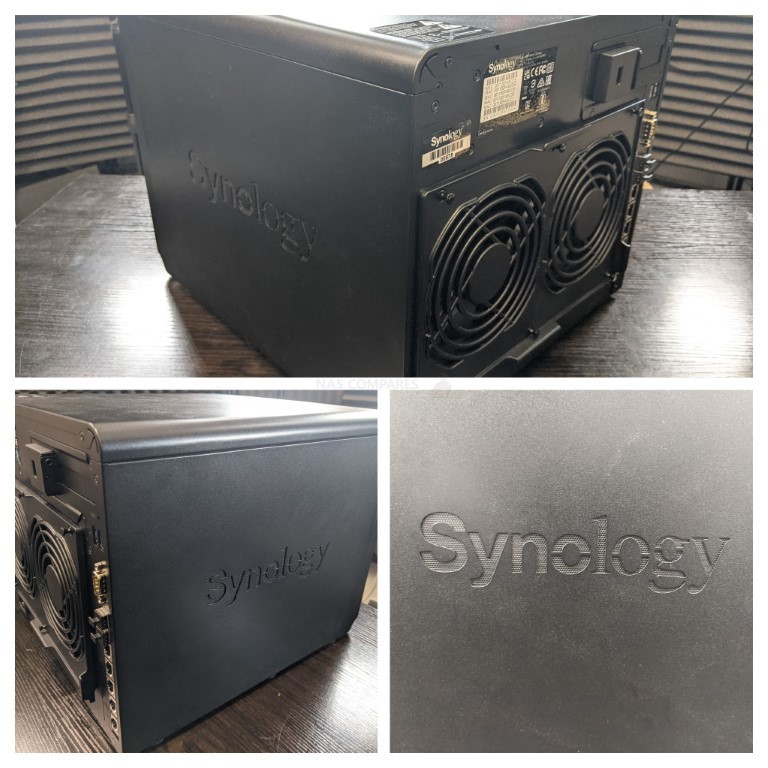 The physical design of the DS3622xs+ is largely unchanged since the DS3617xs and DS2419+ that came before it, but that is no bad thing. It manages to balance large storage potential vs compact deployment, as well as maintaining that Synology branded modern design. The lack fo a front-mounted USB is a bit odd, given the numerous convenient advantage this would provide, but it's a minor gripe and given that this NAS is designed with remote/out-of-office deployment in mind, it's not a big loss. Let's talk about the connectivity and accessibility of the DS3622xs+ NAS and how it will provide physical access to your data.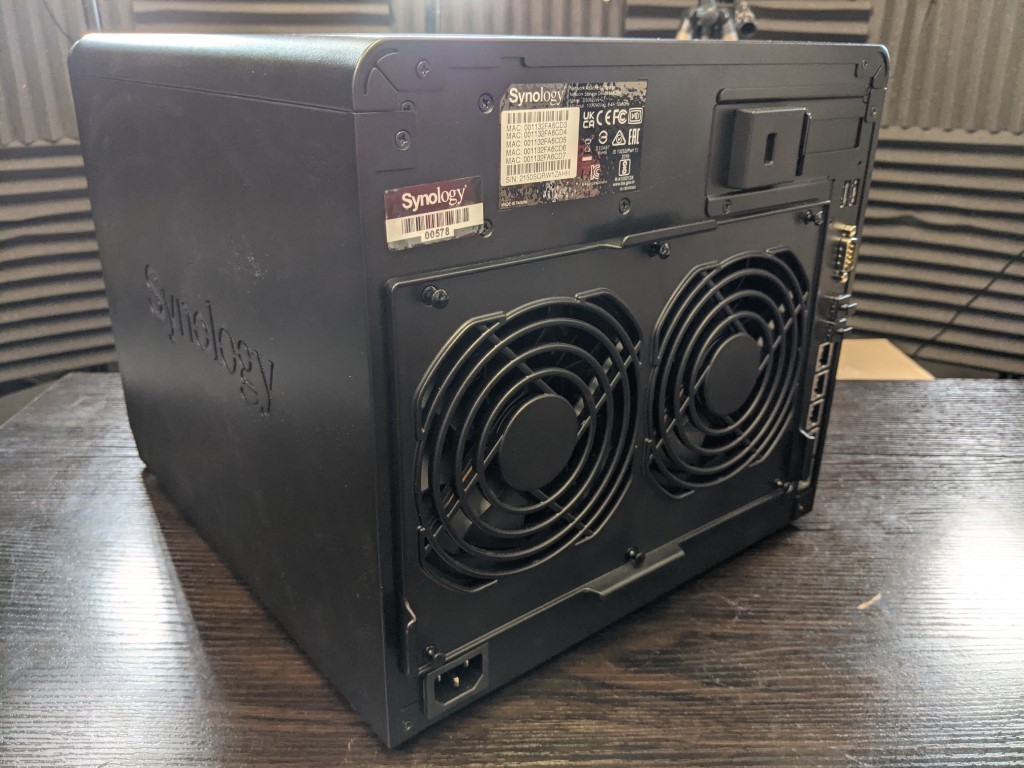 Synology DS3622xs+ NAS Review – Ports and Connections
I don't think it would be an overstatement to say that the DS3622xs+ is easily the most well-provisioned Synology Diskstation NAS in terms of ports and connectivity that the brand has ever produced. When it comes to balancing the external connectivity of a NAS, there is a fine line that needs to be balanced between providing enough external bandwidth to let the internal storage media spread its wings a bit and saturate multiple connected clients with data throughput. For the most part, the DS3622xs+ absolutely and positively SMASHES IT and provides an unparalleled level of bandwidth on day 1 and in expandability.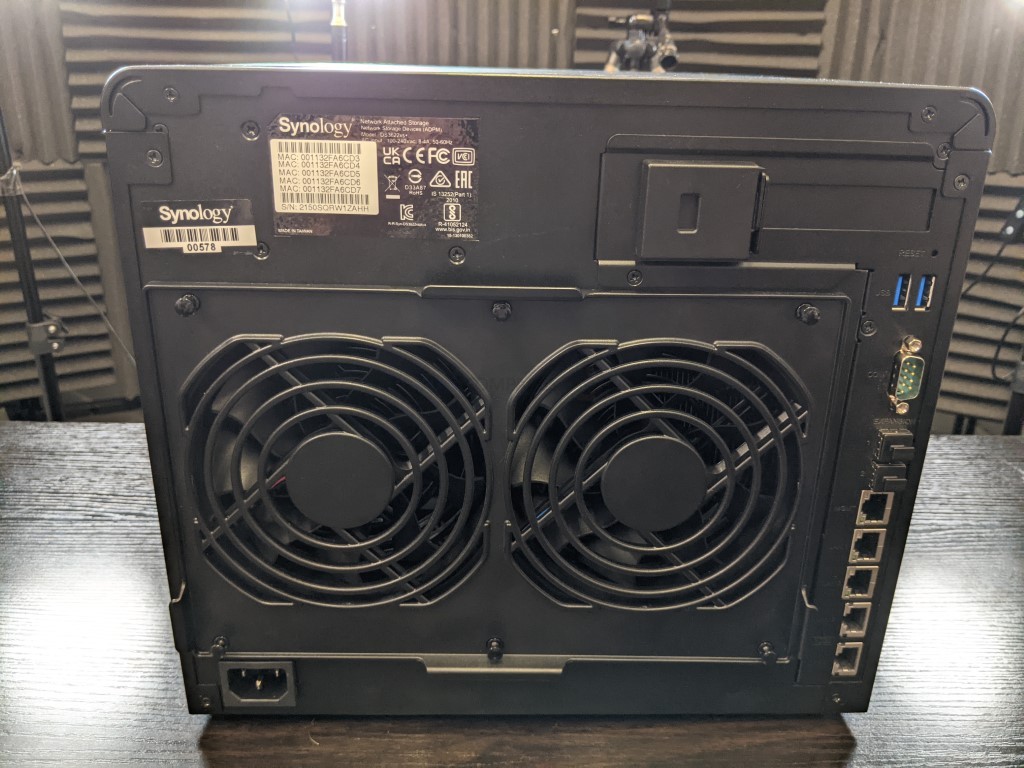 The two rear fans on the DS3322xs+ are 120mm in diameter each and can be fully controlled in the DSM control panel or left to automatically adjust as needed to maintain optimal system efficiency. Drawing air over the multiple heatsinks and storage bays inside, these fans are also not the quietest either. This isn't a huge surprise, given the scale of the chassis they are ventilating though.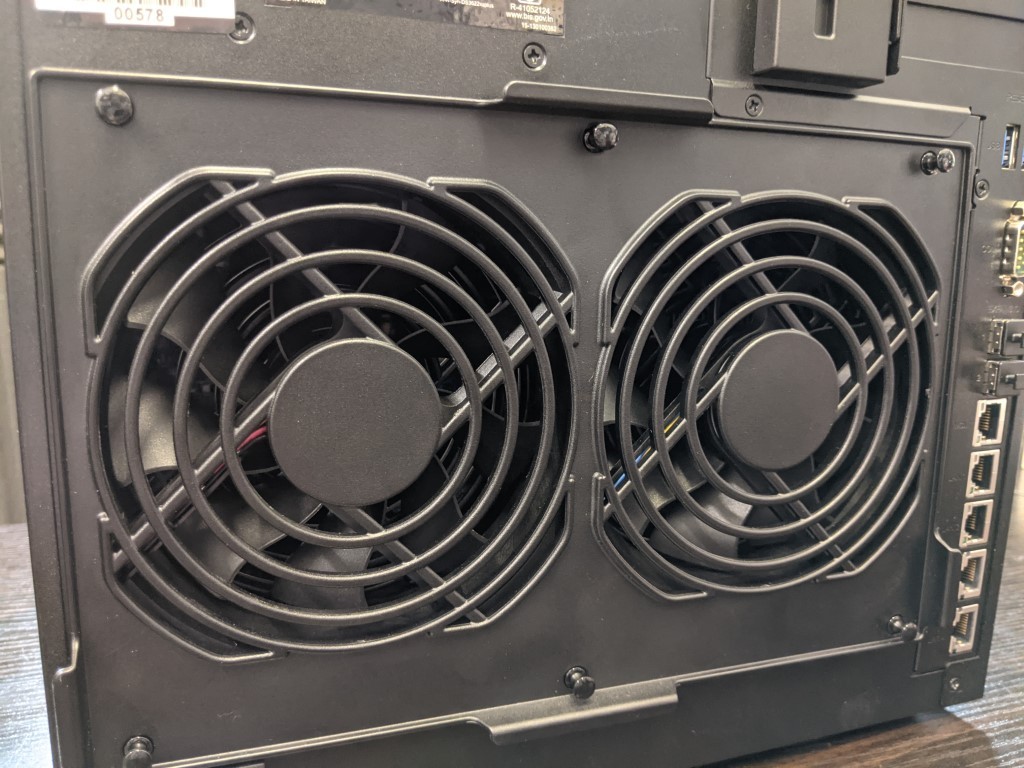 This rear panel can also be removed by pulling the 6 thumb pins on the rear of the chassis and this allows you to perform cleaning as needed. This is something that you would usually find on rackmount solutions, but welcome addition, given the scale of the storage available in this 12 bay solution. Likewise, the same goes for those logo branded side panels. which can also be removed for cleaning (as well as accessing some upgrade areas of the device).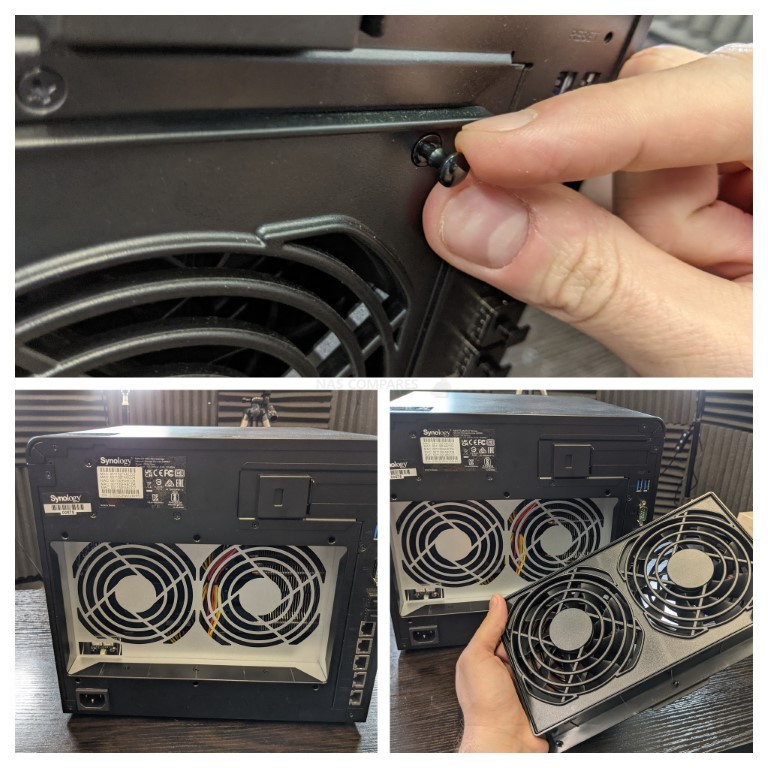 One of the biggest improvements of this device over the DS3617xs that came 4-5 years before it is the addition of TWO copper/RJ45 10GbE network ports on the DS3622xs+. These 10GBASE-T connections are exactly what buyers have been demanding in the high end of Synology's Diskstation solutions for years now and although there have been a few desktop 10GbE solutions in their portfolio, they have always arrived with a whiff of compromise or arriving with nowhere near the mass storage potential that this 12-Bay solution can offer. Not only in those 12-Bays, but also with featured expansions adding more storage media.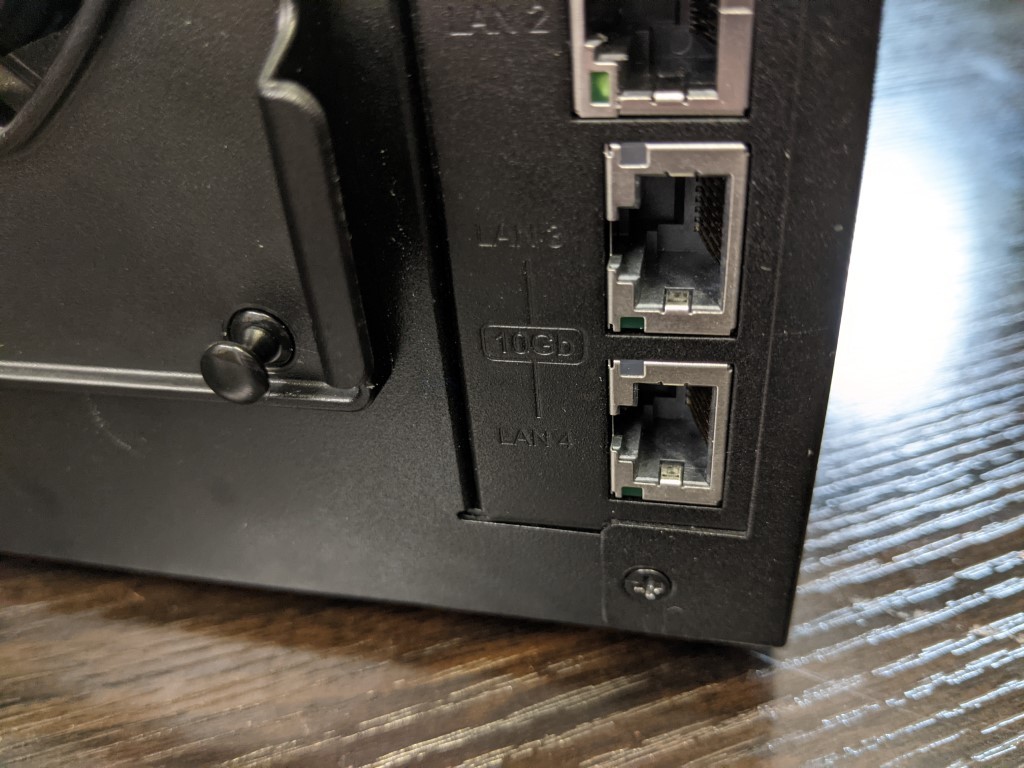 Unsurprisingly, these two 10G ports can be link aggregated/trucked to allow a possible 20Gb/s (2,000MB/s+) bandwidth connectivity – something that 12 Bays of enterprise-level storage media certainly has the potential to do. Add to that the PCIe upgrade slot (will touch on that in a bit) in conjunction with Synology' range of 10Gbe upgrade cards, Combo 10G+Cache card and recently released fibre channel (FC) cards and you have some SERIES external bandwidth potential and saturation possible here – especially if you factor in the Synology SAT5200 SSD series. Below is the reported performance of the Synology DS3622xs+, fully populated with SAT5200 SSDs and an additional 2x 10GbE network card (2 slides, featuring RAID 5 and RAID 6):
This slideshow requires JavaScript.
Sequential performance was rated at 4,720MB/s read and 2,621MB/s write in RAID 5. Then you have the random 4K IOPS benchmarks, with the same fully populated SSD, 4x 10GbE and RAID /RAID6 setup. This reached highs of 262K Read in RAID 5.
This slideshow requires JavaScript.
Of course, this is a maximum level setup that required an additional PCIe upgrade card and full SSD population, however, even with the HAT5300 HDDs, you will likely comfortably saturate the available twin 10GbE ports available by default. Along with these, the DS3622xs+ also arrives with two regular 1GbE ethernet ports. Although these seem a tad unnecessary after the two previously mentioned ports, even a mid-level deployment of this NAS will mean you do not want to waste the higher bandwidth ports on regular less-than-gigabit internet connectivity and these ports still have their uses for low priority connectivity.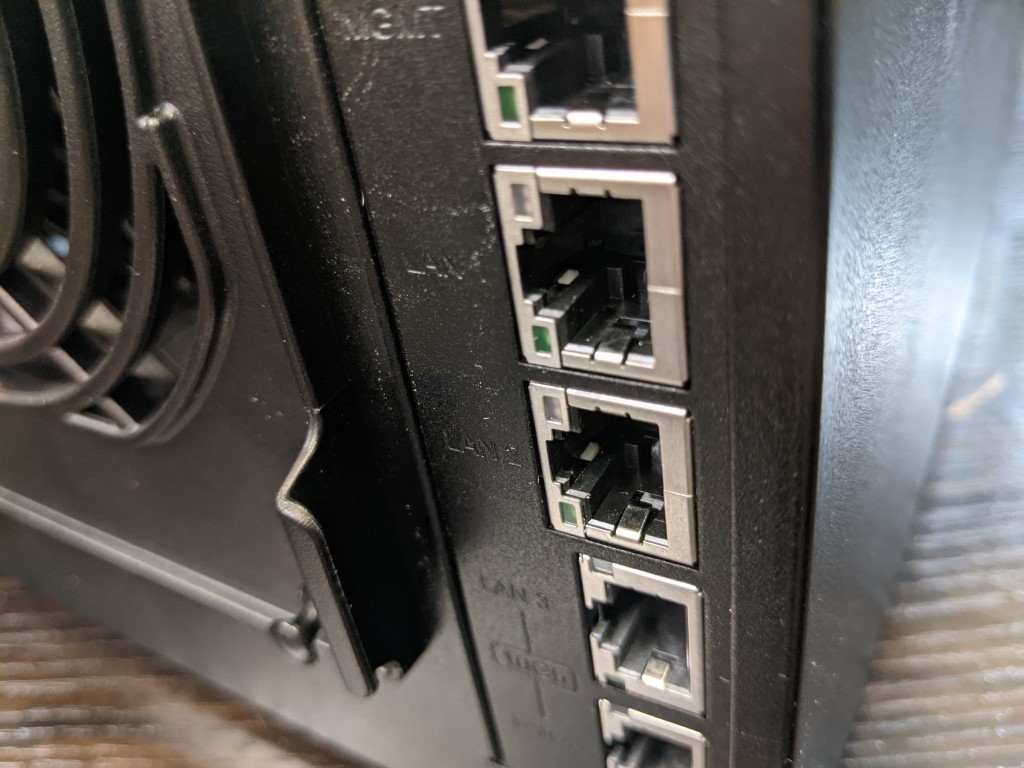 Interesting, the Synology DS3622xs+ also arrives with a further 100MB/s copper network port, however, this one is a relatively new inclusion to the Synology NAS hardware portfolio and is a much more useful alternative to the coms port usual found on this product series.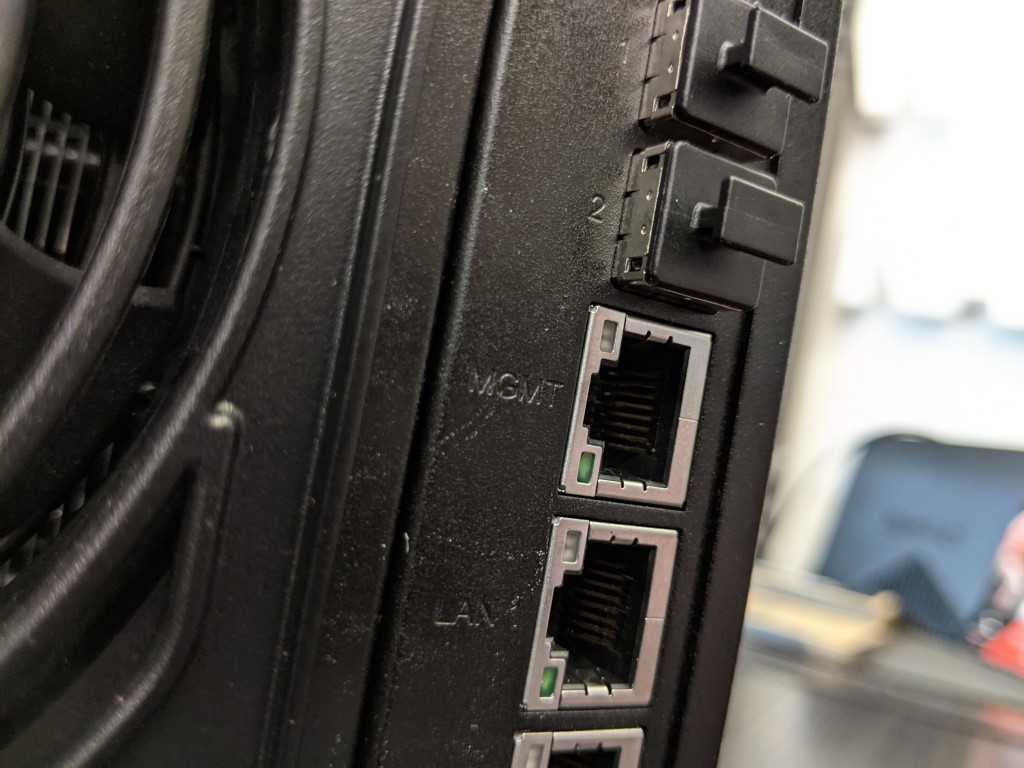 This additional network port provides a direct maintenance and control access point (with usual security and access control as usual) known as  Out of Bands management (OOB). In the event that you have a critical network failure and need to interface with the system directly (even remotely when set up correctly) this is a useful recovery point for those that need to get into the system 'around' the existing network protocol in the event of connection difficulties to make repairs internally. Interfacing directly with the NAS directly via an RJ45 point-to-point connection is not new, but not in a way that would simplify the troubleshooting and management of powered-down devices remotely and accessing critical logs through a dedicated interface. It's going to be a fairly rarely used feature I imagine, but kudos to them for including it as an extra and not expecting you to lose one of the existing ports to this access point. Talking of access points, let's talk about another way in which you can scale up the DS3622xs+ in the system's lifespan, that PCIe slot.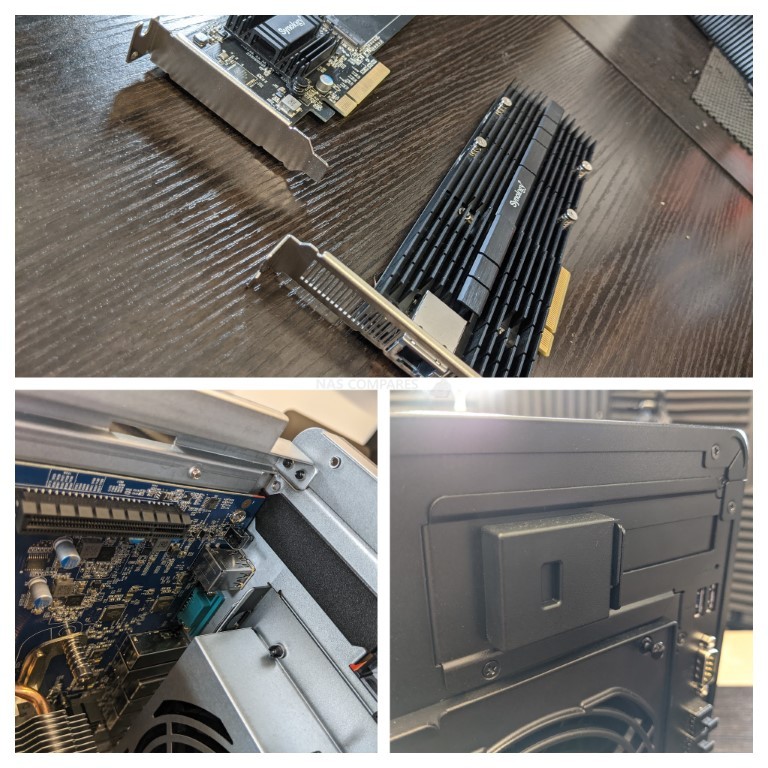 The DS3622xs+, like many of the enterprise and business class NAS solutions in Synology's portfolio, arrives with a PCIe upgrade slot that allows you in upgrade the system with numerous internal and external performance expansion cards. This range quite extensively from single/twin port 10G cards (copper and fibre) and m.2 NVMe SSD caching cards to Combination cards that carry both features and a 25GbE two-port card. One impressive thing that Synology has managed in their upgrade cards and last 2-2.5 years of solutions is to ensure that ALL cards are PCIe Gen 3 x8 in architecture AND the slots on all their upgradable PLUS, XS, SA and FS systems are ALL PCIe Gen 3 x8 too. This means that no card will ever be throttled or bottlenecked by the PCIe slot and the potential 8000MB/s possible bandwidth allows you to push as much performance through as possible. Installation of cards requires the removal of one of the side panels (held in place by a couple of screws) and is a very straightforward installation.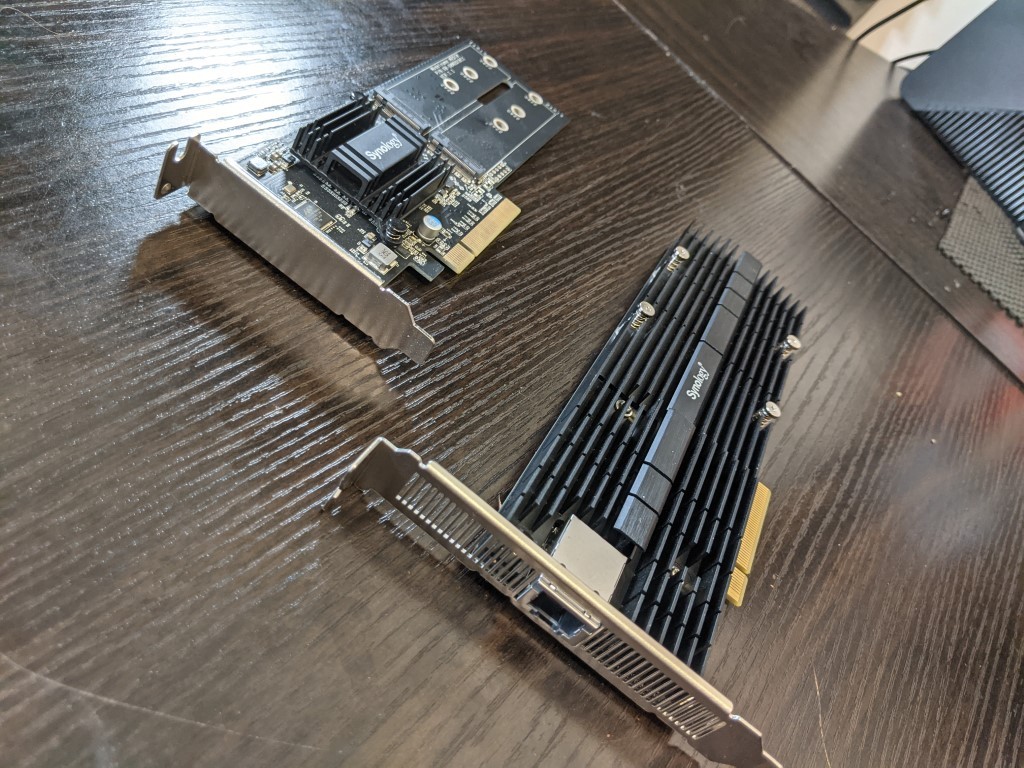 Though it is also worth noting that, much like the compatibility list of hard drives and SSDs, the supported compatible network upgrade cards list on the official site is heavy first-party focused (though with a little more flexibility this time around). See below: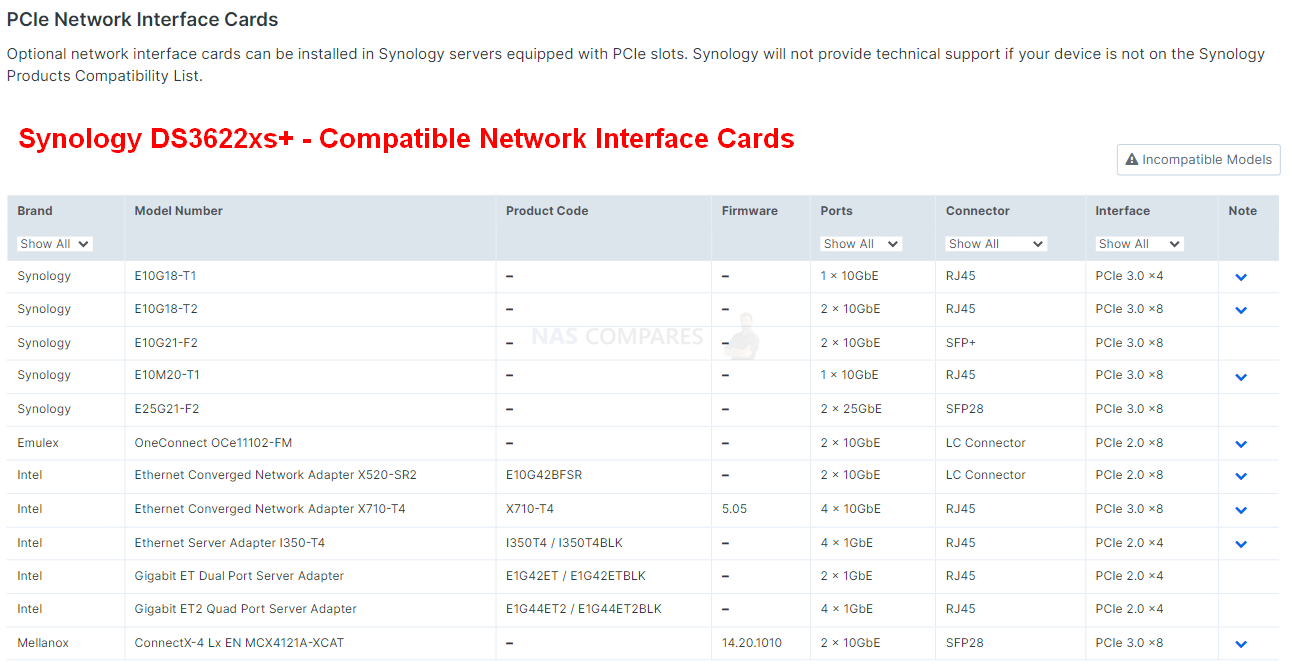 The final connections available are two of the best and (arguably) two of the worst. Let's go upwards. The USB ports on the DS3622xs+ are a little bit of a disappointment for a few reasons. Firstly, Synology scaled back a lot of the abilities of USB ports in recent years and although standard external HDD/SSDs can be connected, along with UPS' and a few encryption key devices, they have dropped the support of USB dongles, USB printers and Scanners. Although utility of most of these has reduced over the years, it has largely reduced the use of these ports. Add to that the fact that these ports are USB 3.2 Gen 1 (5Gb/s) Type-A, when USB 3.2 Gen 2 (10Gb/s) (in Type A and C) is available practically everywhere else and the idea of using these ports as any means of creating a local back of this 12-Bay particularly quickly are significantly reduced. It is certainly better to have these than no ports at all, but they are a little bit of a letdown when you look at how much the rest of the system has been upscaled since its predecessor.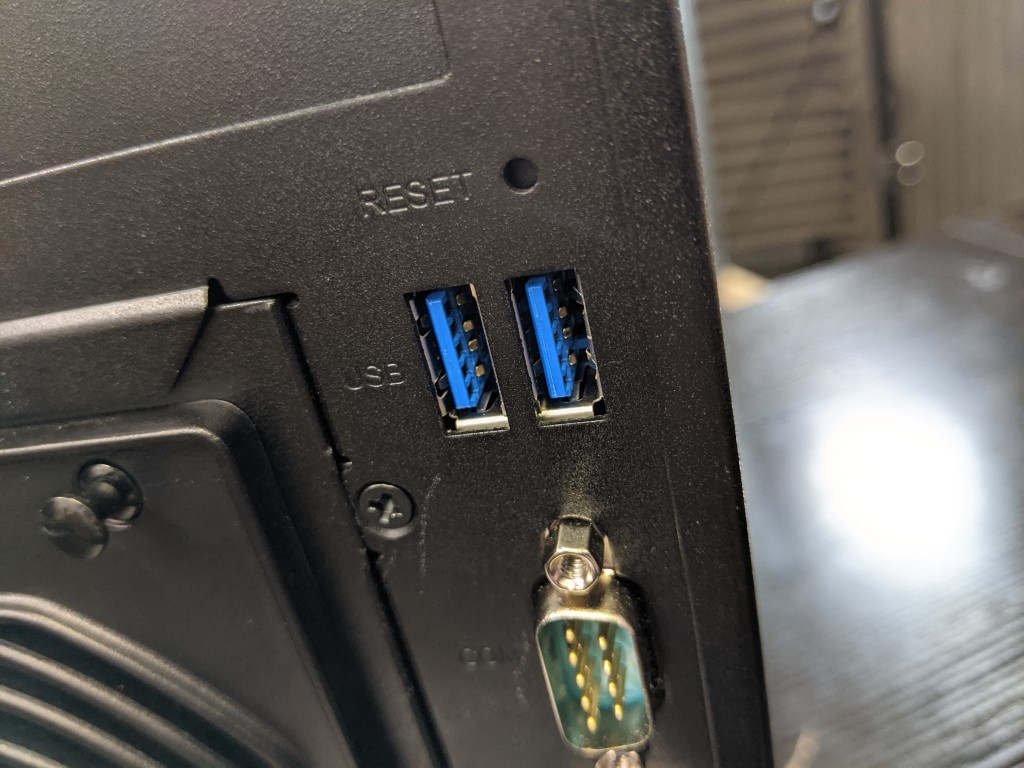 On the other hand, the inclusion of two expansion ports on the DS3622xs+ is definitely something I can get behind! The DS3622xs+ is not the first 12 bay desktop solution that has been produced (going back practically a decade now since the DS3612xs), with this new NAS also supporting a newer gen 12-Bay expansion (the DX1222) and allows you to have up to a possible 36 bays of storage. This is especially useful when you factor in that the DS3622xs+ has both those 10GbE network ports AND a PCIe upgrade slot to add even more. Therefore the potential to get the most out of so many bays of storage in terms of capacity AND in performance is highly possible in this NAS.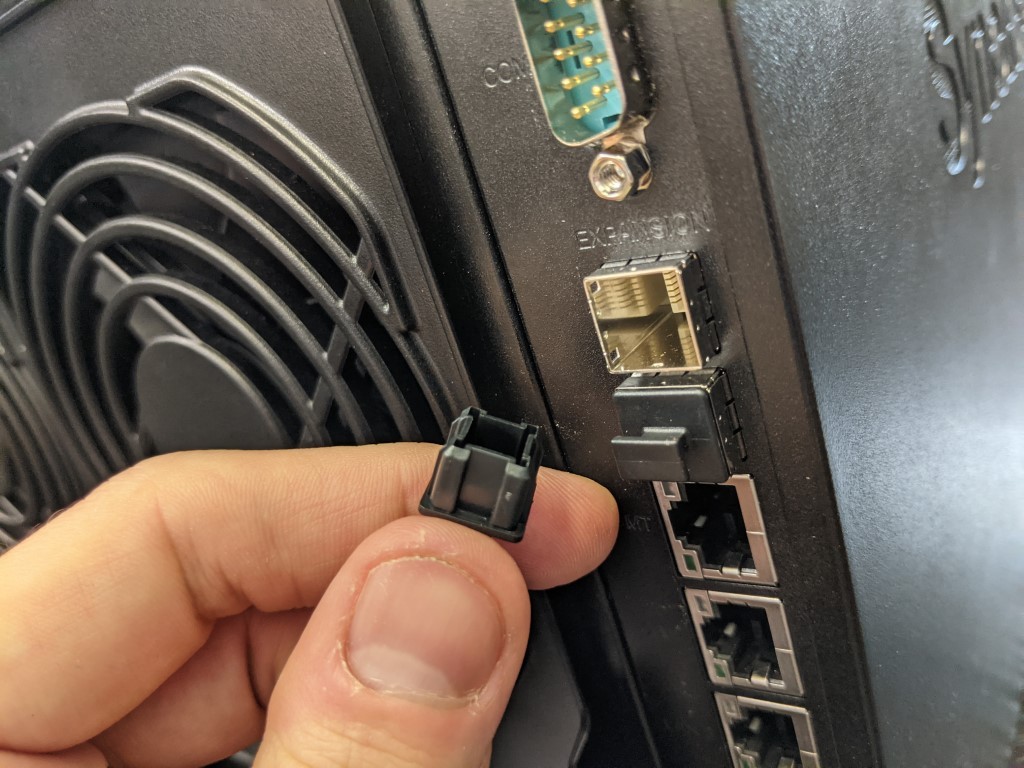 Despite the lack of SHR (Synology Hybird RAID) support on this box, that does restrict you from expanding your existing RAID pool and volumes over multiple chassis (thereby allowing you to increase the available storage capacity without needing to change/adapt your existing shares/targeted LUNs/VM directories/camera feeds). Although I would largely recommend not to spread your RAID outside of a single chassis, having that option can be useful to some and if not, you can always use the expansion(s) to create huge volumes that are connected eternally, but fully accessible via DSM and your existing network clients.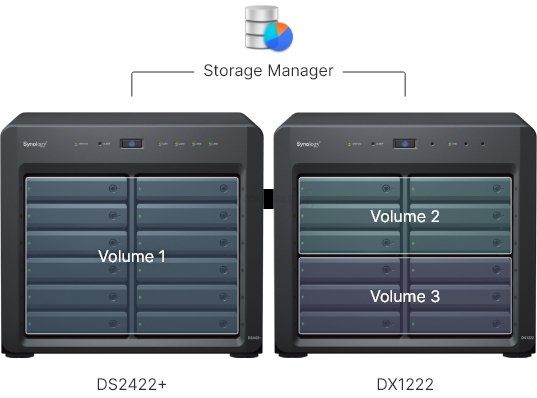 So, as you can see, the DS3622xs+ is a particularly impressive and unique NAS in terms of external connectivity and upgradability, far surpassing taht of its predecessor (the DS3617xs) and pretty much any other desktop NAS solution in Synology's portfolio. Let's discuss the internal hardware.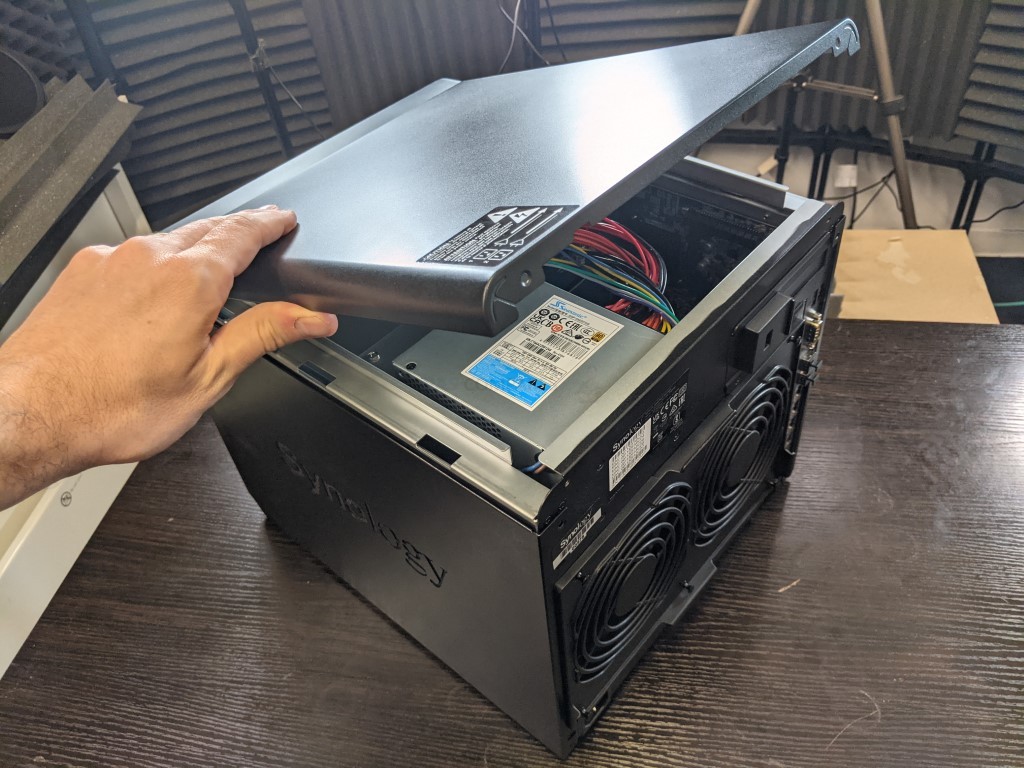 Synology DS3622xs+ NAS Review – Internal Hardware
The internal hardware of the Synolgoy DS3622xs+ is something that, for the most part, leave me impressed. It is not a HUGE jump up from the DS3617xs that came before it, with this new NAS system staying within the same CPU family series and just notching it up a few inches really. One early down point I noted was that the DS3622xs+ does not feature NVMe SSD m.2 bays inside (relying on upgrading towards this with the M2D20 or E10M20-T1 optional upgrade cards). Now, this could easily be the result of PCI lanes on the CPU and chipset being exhausted to support those 10Gbe ports, numerous bays and external HD mini-SAS architecture expansion slots. It is easy to imagine that adding m.2 slots on top of this was either an impossibility or would have resulted in capped/bottlenecked throughput on those m.2 slots. Nevertheless, this is a real shame, given the huge push that Synology has made on NVMe SSD caching on their systems and this would have been particularly advantageous to the end-users on a 12-Bay and 2x10G system that has the internal/external bandwidth potential to show the difference that caching could bring to multiple users at once. That said, let's focus on the hardware inside that is present. Removing the first side panel reveals the memory of the DS3622xs+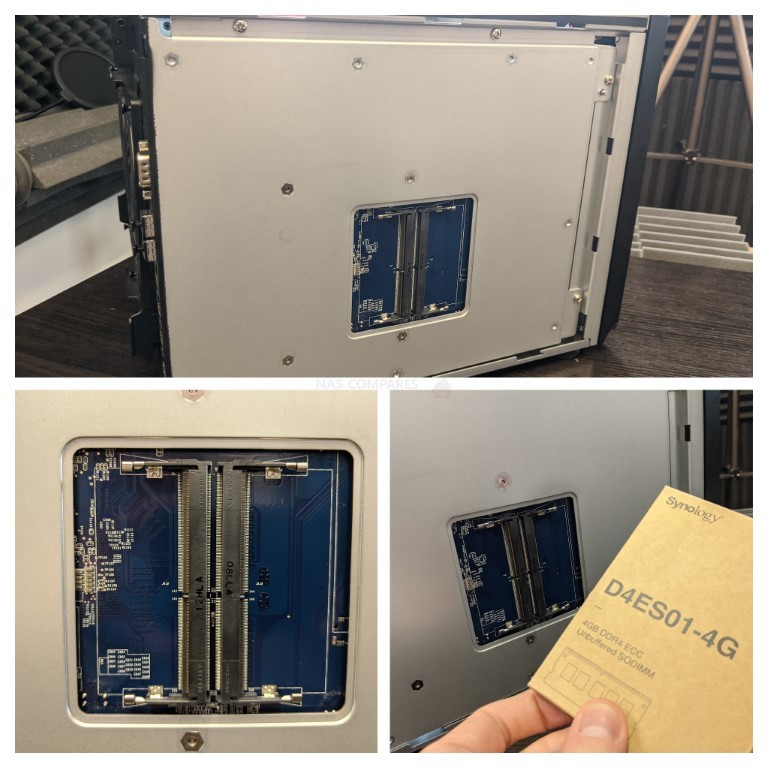 Now, it is worth mentioning that these two revealed SODIMM DDR4 memory slots are not actually the default memory of the DS3622xs+ NAS. These slots allow you to increase the default 16GB of ECC DDR4 memory to 48GB. As good as this sounds, it does require a couple of notes to be aware of. First off, the CPU inside the DS3622xs+ can actually support more than 48GB of memory and, in fact, the 48GB maximum memory on this NAS is the result of the default memory being located in a largely inaccessible slot (so they cannot be changed out for larger modules). Additionally, it is also worth remembering that Synology insist on the use of only their own branded DDR4 ECC memory inside the DS3622xs+ NAS and using alternative memory modules/brands can result in them being unable to support your warranty. This has always been a sore point for some in the smaller NAS products, but at this storage level, many business users are perfectly fine with this.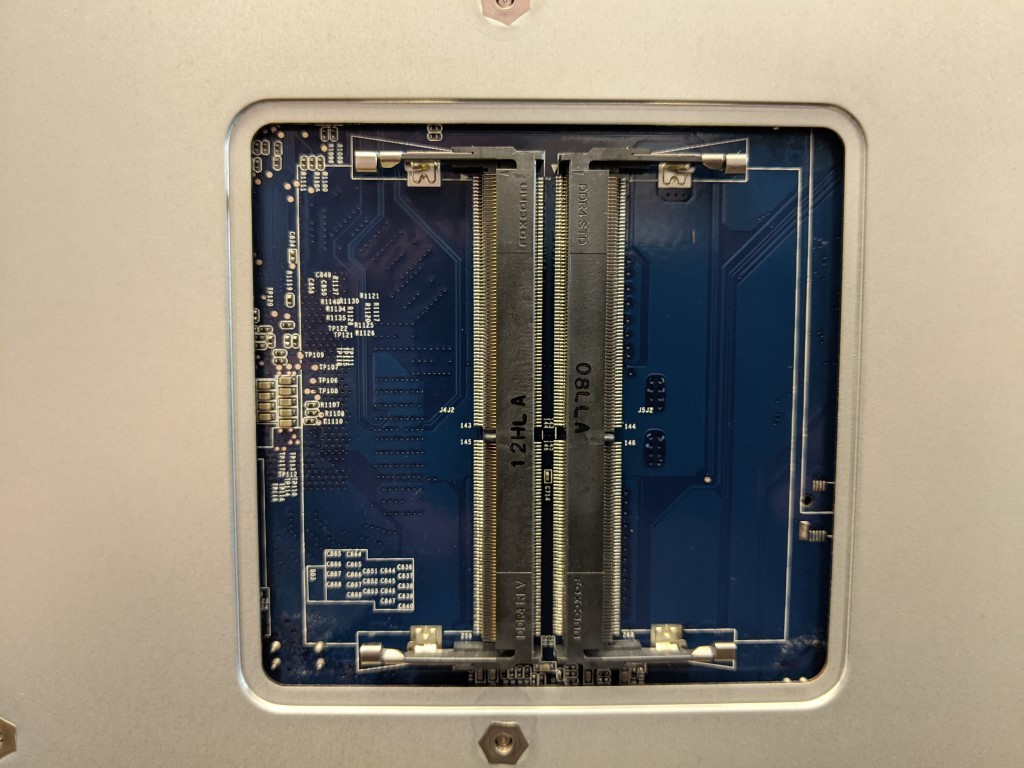 The default 16GB of memory is located next to the XEON processor inside and is installed in two SODIMM slots that are impossible to reach without fully dismantling the entire NAS. The 16GB arrives in 2x 8GB Synology DDR4 2400Mhz ECC modules. Synology has always used Error Correcting Code memory in their SMB level units and higher and it is exactly the quality of memory I would expect in an enterprise product from this brand.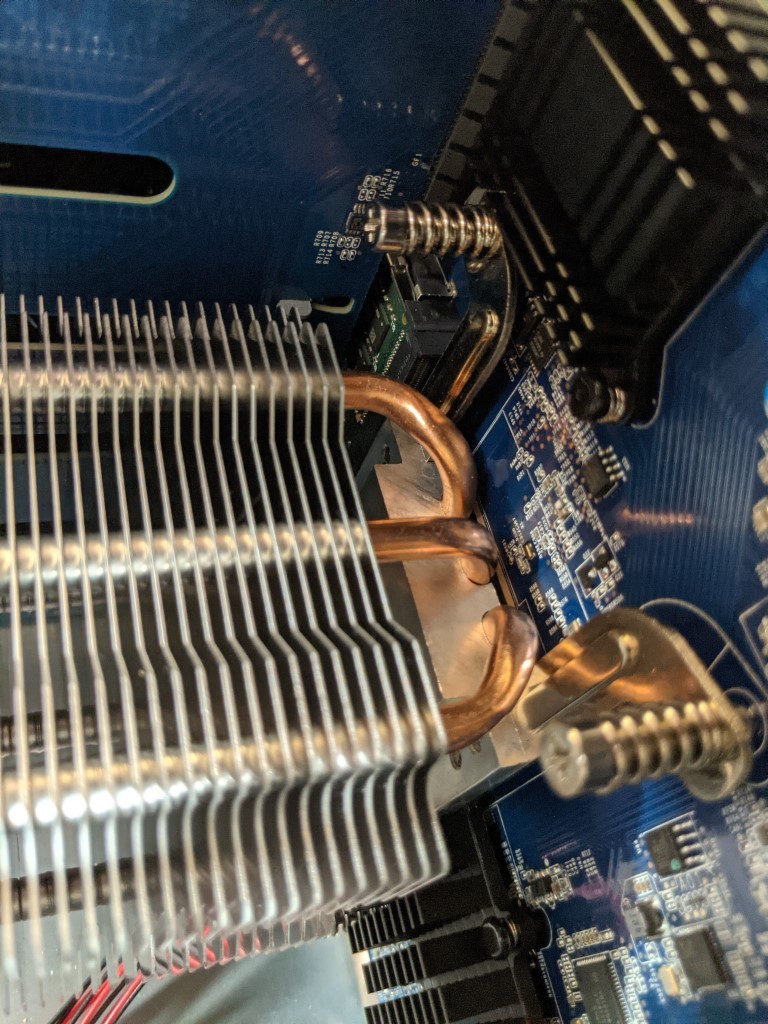 Removing the top panel reveals the access to that PCIe upgrade slot, but also a better view of the internal ventilation of the DS3622xs+. You can see that the 12 bays of storage are all fed into their own multi-ported controller board and this board feeds into the main CPU+memory controller board via its own PCIe connector. Indeed, this is a very clean setup and although the power cabling for the 550W PSU is visible, it is neatly tied and controlled. Despite a large amount of storage and a rather compact chassis, there is a tonne of airflow available to those big rear fans.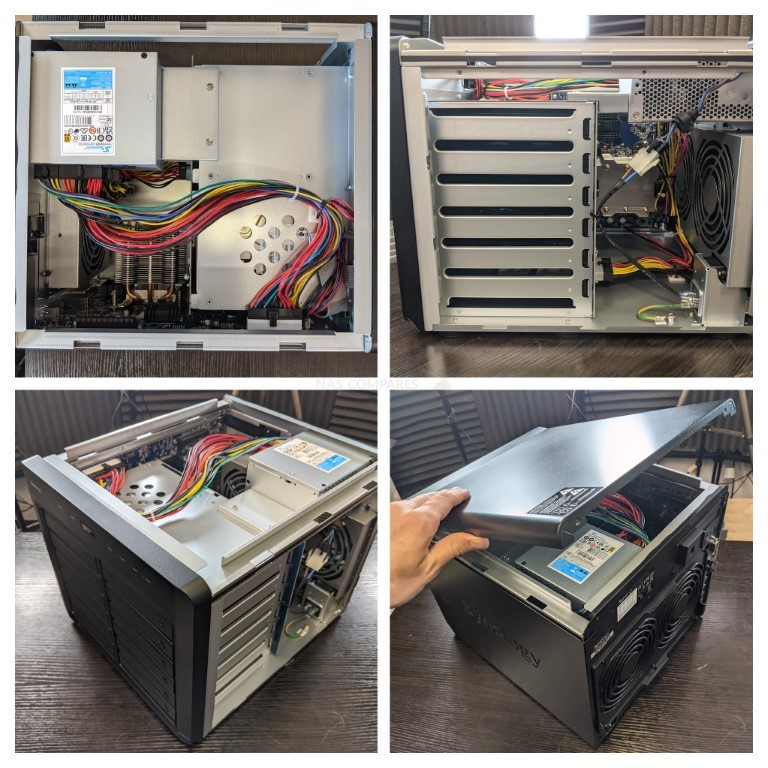 Indeed the entire outer chassis of the DS3622xs+ can be removed in 3 separate panels. This can be done for reasons of maintenance, but also for when you need to upgrade certain components. The CPU on the DS3622xs+ is not upgradable, but this kind of easy access is going to make keeping things dust-free/clear considerably easier long term. It is a feature that has existed in the 12 bay series of NAS solutions for more than a decade.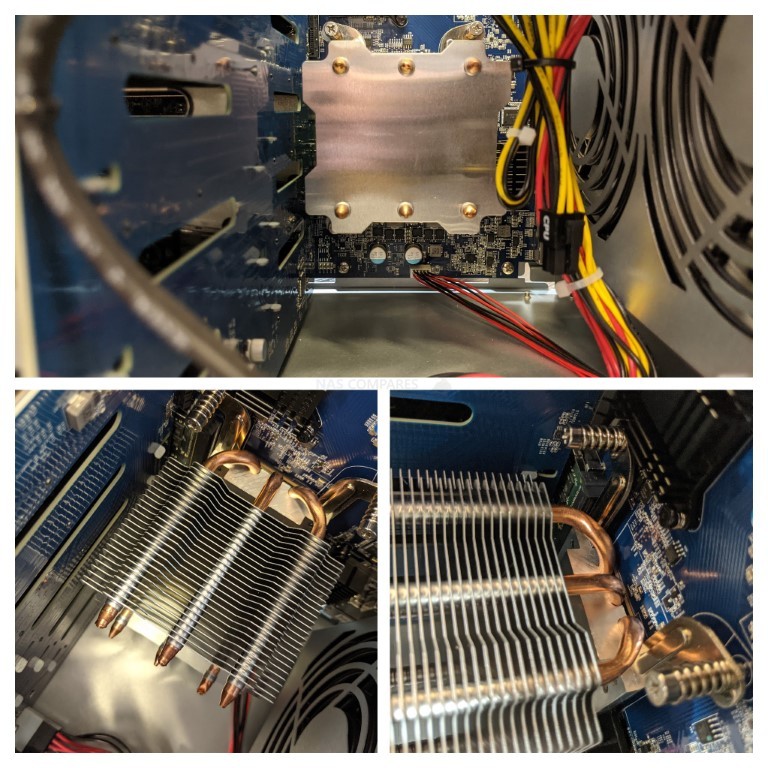 The CPU and its fanless heatsink are surprisingly compact, located on the base of that central controller board. The CPU is an Intel 6-Core Xeon D-1531. Now, in of itself, this is a powerful CPU that is going to find a great balance between high throughput, power efficiency and multi-task handling in the hundreds or thousands. However, this is still a small jump up from the Xeon D-1527 4-Core processor that came in the 54-5 year older DS3617xs predecessor.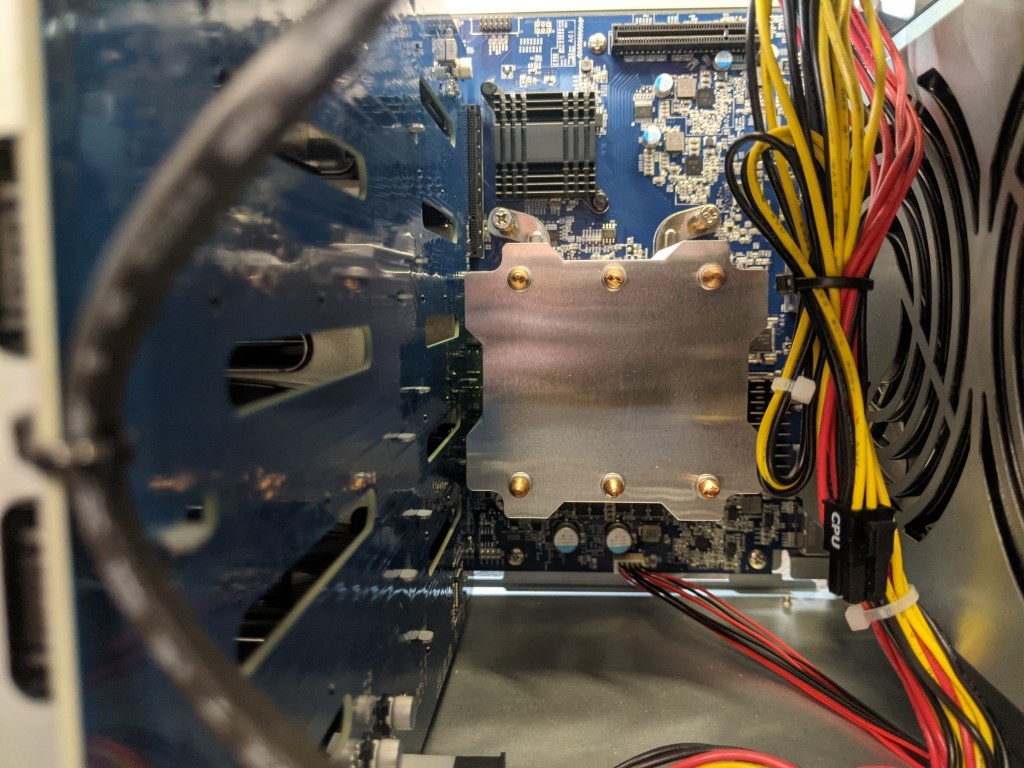 A close look at the specifications and details over on Intel for the new and old Xeon D series CPU shows you that they both have the same clock speed at the base and in turbo, both do not feature embedded graphics, both were released in 2015 and are incredibly similar architecture, though the D-1531 in the DS3622xs+ is still an improvement in a few areas.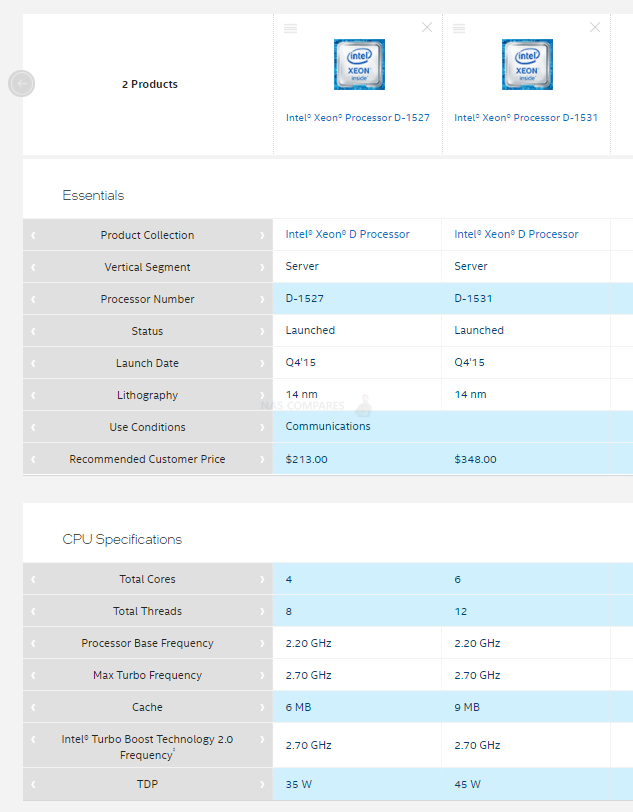 Where the Xeon D-1531 CPU in the DS3622xs+ improves over its predecessor is in smaller quality of life and 'larger use' areas that lower latency to connected users and when dealing with larger (in frequency and numerous) tasks. Aras such an the extra 2 cores, four more CPU threads to handle tasks and larger L2/L3 cache availability. Still, it would have been nice to see this CPU get the kind of upscale that we saw in the SA series, or even the 8-Core Intel Xeon D1541 that is available on the RS3621xs+ rackmount alternative to this desktop NAS.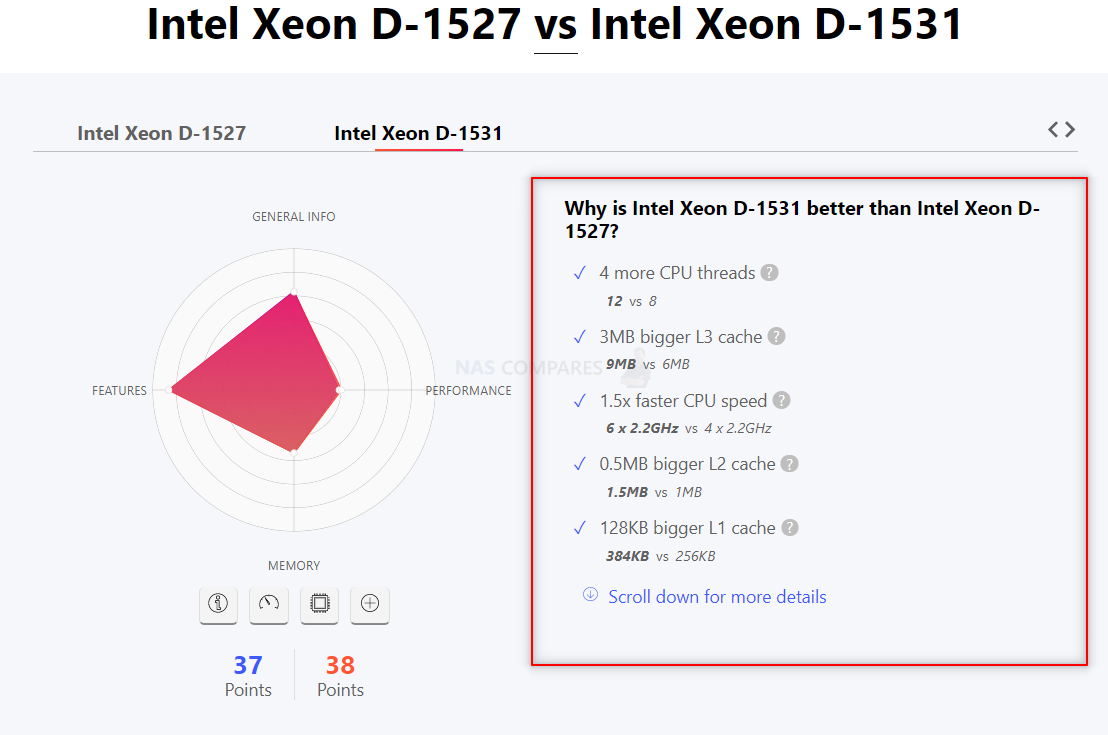 However, Synology has always been a brand that keeps a very watchful eye on its portfolio and how solutions sit next to each other, not only between each solution in the desktop series (making sure that there is little overlap), but also making sure that there is a clear price-point line between desktop and rackmount. Adding a more modern CPU may have led to the brand increasing the price of this solution significantly over its predecessor, whereas  (ex.VAT) the DS3622xs+ is only a couple of hundred pounds more than the 4-5years older DS3617xs. Not to make excuses for the slightly underwhelming CPU (in context) but I can see why Synology went with this particular Xeon. Let's talk about the software on the DS3622xs+, another big part of why buyers will be looking to install this NAS in their homes or business.
Synology DS3622xs+ NAS Review – Software and Services
Now, to cover the WHOLE Synology software and services that are included with the DS3622xs+ NAS would result in a review that is twice as long as this review so far! Synology's Diskstation Manager software that comes with this device (either DSM 7 or DSM 6.2 depending on your preference) provides a massive arrangement of services, applications (first and third party supported) and a huge number of client applications for desktop, mobile, windows, mac and linux (as well as a bunch of other more home-based tools). These allow management and access to the data on the DS3622xs+ in very tailored ways, as well as the web browser-based access that has the appearance, intuitive design and responsiveness of a local operating system. The DSM interface can be accessed by hundreds of users at the same time (with each user having tailored access, rights and privileges). DSM is available with ALL Synology NAS and the depth and abilities of DSM on any NAS are dependant on the hardware architecture of the NAS itself. In the case of the Synology DS3622xs+, it supports practically EVERYTHING (with the exception of SHR, as previously mentioned). If you want to learn about the latest version of DSM 7 and the software and services that are included with the DS3622xs+ NAS, watch my FULL review below (alternatively, you can read the DSM 7 Full Review HERE):
As mentioned, the DS3622xs+ supports pretty much the entirety of the DSM 7 and DSM 6.2 applications and services. If you are an existing user of SaaS and PaaS (Software as a service and Platform as a service) from the likes of Google Workspace and Office 365, knowing that you can synchronize these systems or choose to export away from them onto the Synology services is going to be very appealing. Key business applications that are included with your NAS are:
Synology Office – Create documents, spreadsheets, and slides in a multi-user environment. Real-time synchronization and saving make collaboration a breeze.
Synology Chat – Aimed at businesses, Synology Chat is an IM service that transforms the way users collaborate and communicate.
Synology Drive – Host your own private cloud behind the safety of your NAS with 100% data ownership and no subscription fees.
Synology Moments – Manage your photos and videos with deep-learning algorithms that automatically group photos with similar faces, subjects, and places.
Synology Calendar – Stay on track, share calendars, and schedule meetings, while ensuring sensitive information remains safely stored on company premises.
Synology Active Backup for Business (ABB) – Consolidate backup tasks for virtualized environments, physical servers, and personal computers, and rapidly restore files, entire machines, or VMs – completely license free.
Synology Hyper Backup – backup you NAS safely and efficiently to multiple destinations with deduplication, integrity checks, compression, and versioning.
Synology Surveillance Station – Safeguard your business, home, and other valuable assets with reliable video surveillance tools.
Synology Virtual Machine Manager (VMM) – An intuitive hypervisor that supports Windows, Linux, and Virtual DSM virtual machines. Its powerful disaster recovery tools help users achieve maximum service uptime.
Synology High Availability – Synology High Availability (SHA) combines two Synology NAS servers into one active-passive high-availability cluster, alleviating service disruptions while mirroring data.
Synology Central Management System (CMS) – Synology CMS allows you to manage multiple Synology NAS servers quickly and conveniently from a single location.
Synology Video Station – Manage all your movies, TV shows, and home videos. Stream them to multiple devices or share them with friends and family.
Synology Photo Station – Built to help photographers manage their photos and share them with clients for feedback or business development.
Synology Audio Station – Manage your music collection, create personal playlists, stream them to your own devices, or share with family or friends.
Synology File Station – Manage your Synology NAS files remotely through web browsers or mobile devices.
You cannot really fault the software and services that are included with the Synology DS3622xs+ NAS, as you are going to get the very best experience available on the platform, thanks to the hardware and architecture of this NAS. DSM 7 is an every evolving platform, so if you are reading this now at the time of publishing or years later, there is always going to be something in DSM for everyone.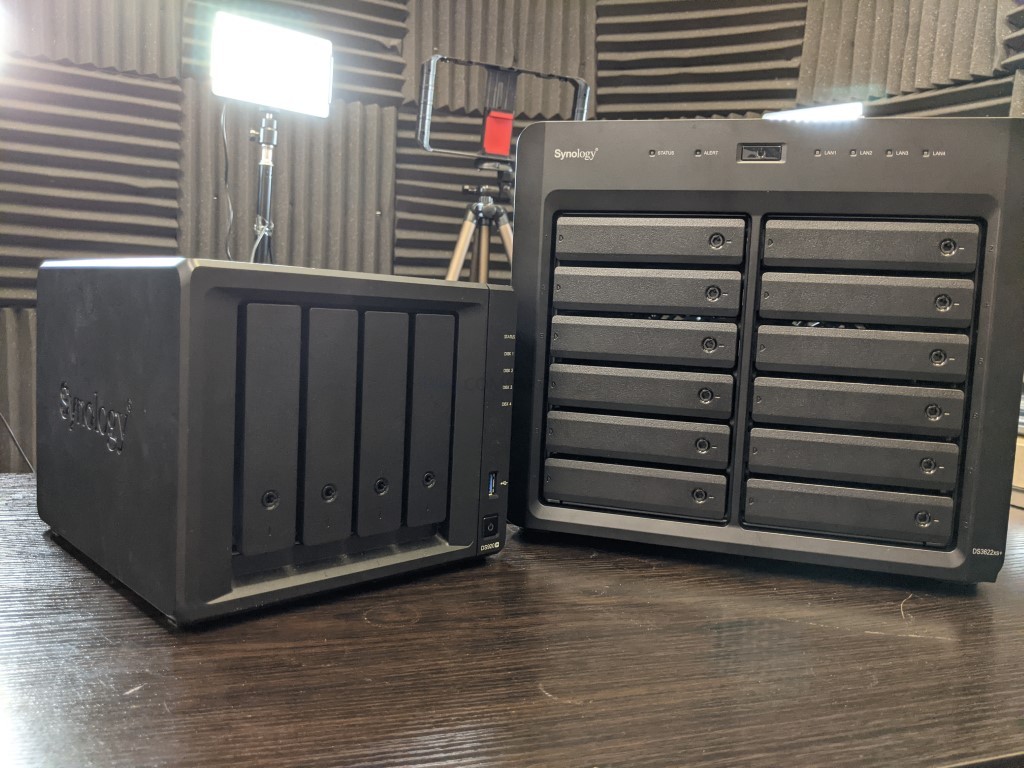 Synology DS3622xs+ NAS Review – Conclusion & Verdict
Unsurprisingly, the Synology DS3622xs+ is by FAR the most powerful and capable desktop NAS solution that the brand has ever produced – and that is not even a close-run thing. But we are still talking about a £2,500 box here (unpopulated) and you are going to expect that there is some serious horsepower here – So are you getting the most for your money here? Almost completely, yes. There are a few lingering things that some buyers will still not be in love with, such as the lack of M.2 caching bays, the lack of SAS support or the reduced support of 3rd party drive and network upgrade compatibility, but they do not undercut that this is a genuinely groundbreaking solution from Synology that provides the ultimate base to enjoy and make the most of the Synology DSM 7 platform in 2022 onwards. Once you breakdown everything included in this package, from DSMs software and services, to the tremendous bandwidth available here internally and externally, this compact tank-like NAS server is an absolute beast and a must for those that are keen on fully integrating a private cloud network and subscription-free SaaS-level setup across their company.
UNIT
Synology DS3622xs+ PROS
Synology DS3622xs+ CONS

6-Core Xeon Processor

Two 10GBe Connections as Standard

Lots of PCIe Gen 3 x8 PCIe Upgrade Options

Surprisingly Compact for 12 Bays

Excellent choice of Apps

Exceptionally Expandability

No need to fully populate, so VERY scalable

Huge Virtualization Support

Storage Can be Expanded to 36 SATA Drives

5yr Warranty

NVMe SSDs Ports not available, unlike smaller PLUS series units

Reduced Hard Drive Supported (Largely ONLY Synology HAT5300 series)

48GB Memory Maximum Seems odd over 4 slots

Lack of Synology Hybrid RAID (SHR) is still a bit of a blow
📧 LET ME KNOW ABOUT NEW POSTS 🔔
Join 1,461 other subscribers
Get an alert every time something gets added to this specific article!
This description contains links to Amazon. These links will take you to some of the products mentioned in today's content. As an Amazon Associate, I earn from qualifying purchases. Visit the NASCompares Deal Finder to find the best place to buy this device in your region, based on Service, Support and Reputation - Just Search for your NAS Drive in the Box Below
Need Advice on Data Storage from an Expert?
We want to keep the free advice on NASCompares FREE for as long as we can. Since this service started back in Jan '18, We have helped hundreds of users every month solve their storage woes, but we can only continue to do this with your support. So please do choose to buy at Amazon US and Amazon UK on the articles when buying to provide advert revenue support or to donate/support the site below.

Finally, for free advice about your setup, j
ust leave a message in the comments below here at NASCompares.com and we will get back to you.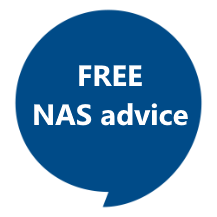 Need Help?
Where possible (and where appropriate) please provide as much information about your requirements, as then I can arrange the best answer and solution to your needs. Do not worry about your e-mail address being required, it will NOT be used in a mailing list and will NOT be used in any way other than to respond to your enquiry.
Support What We Do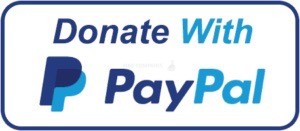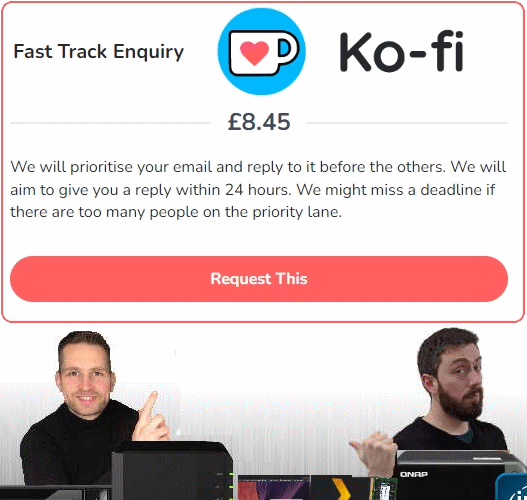 Terms and Conditions
Alternatively, why not ask me on the
ASK NASCompares forum
, by clicking the button below. This is a community hub that serves as a place that I can answer your question, chew the fat, share new release information and even get corrections posted. I will always get around to answering ALL queries, but as a one-man operation, I cannot promise speed! So by sharing your query in the
ASK NASCompares
section below, you can get a better range of solutions and suggestions, alongside my own.