Synology unveil the data sheets and PDF of DS1817+ NAS for 2017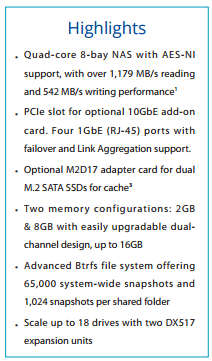 Synology DiskStation DS1817+ features a quad-core processor with AES-NI hardware encryption engine, providing outstanding performance even with encryption. Supercharge your storage with the optional M.2 SSD adapter card for dual SSD cache drives. DS1817+ is the ideal storage solution for centralizing data backups, protecting critical assets, and sharing files across different platforms. Synology DS1817+ is backed with Synology's 3-year limited warranty
High Performance & Easy-to-Scale use with DS1817+
Synology DS1817+ is a 8-bay network attached storage solution with great performance and scalability. DS1817+ is equipped with an Intel quad-core 2.4 GHz processor and two memory options: 2GB or 8GB, with the flexibility to expand up to 16GB for even more intensive workloads. With dual-channel memory design, it provides outstanding sequential throughput at over 1,179 MB/s reading and 542 MB/s writing under a RAID 5 configuration with 10GbE Link Aggregation is enabled1 . DS1817+ supports up to 18 drives with two Synology DX5172 Expansion Unit attached, allowing you to start small and easily to scale up on demand. The PCIe slot supports the optional PCIe M.2 SSD adapter card M2D173 for dual M.2 SATA SSD slots to be used as SSD cache for greatly enhanced storage performance without using the 3.5″ drive bays.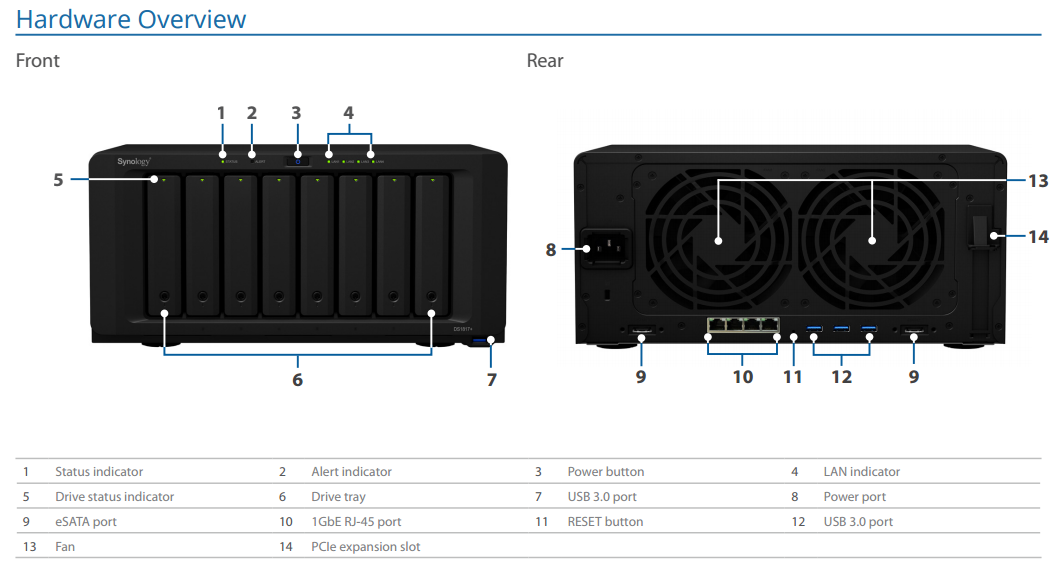 Synology and DS1817+ featuring Btrfs: Next Generation Storage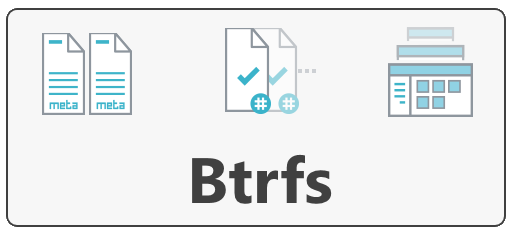 DS1817+ integrates the Btrfs file system, bringing the most advanced storage technologies to meet the management needs of modern large-scale businesses: • Flexible Shared Folder / User Quota System provides comprehensive quota control on all user accounts and shared folders. • Advanced snapshot technology with customizable backup schedule allows up to 1,024 copies of shared folder backups and 65,000 copies of system-wide snapshots without occupying huge storage capacity and system resources. • File or folder level data restoration brings huge convenience and saves time for users who wish to restore only a specific file or folder. • File self-healing: Btrfs file system is able to auto-detect corrupted files with mirrored metadata, and recover broken data using the supported RAID volumes, which include RAID 1, 5, 6, and 10
The Synology DS1817+ is Virtualization Ready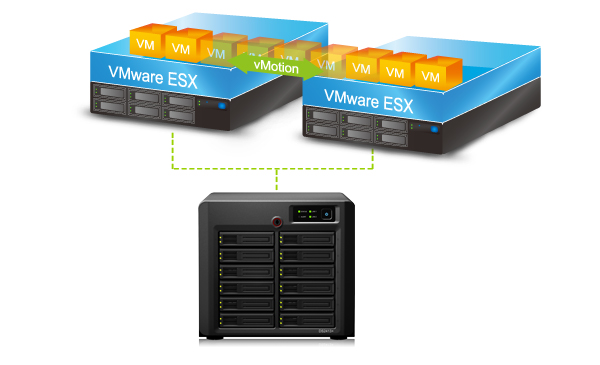 DS1817+ provides seamless storage solutions for virtualization environments, including VMware, Citrix, Hyper-V, and OpenStack. With VMware vSphere 6 and VAAI integration certified, DS1817+ helps offload specific storage operations and optimizes computation power for unparalleled performance and efficiency in VMware environments. As the centralized storage of a virtual environment, DS1817+ enables virtual machine migration, allowing movement from server to server whilst eliminating service downtime and disruption to users. Windows Offloaded Data Transfer (ODX) and Synology Advanced LUN support greatly improves the efficiency on massive data transfer and migration. With OpenStack support, DS1817+ can be used as a block-based storage component for servers complying with the Cinder API.
The Synology DS1817+ NAS features Comprehensive Business Applications
Powered by the innovative Synology DiskStation Manager (DSM), DS1817+ comes fullyequipped with applications and features designed specifically for large-scale business: • Windows® AD and LDAP support allows easy integration with existing business directory services without recreating user accounts. • Windows ACL support provides fine-grained access control and efficient privilege settings, allowing DS1817+ to fit seamlessly into current infrastructure. • Application privileges controls access to applications and packages based on each individual account, user group, or IP address. • MailPlus allows your business to set up a secure, reliable, and private mail server while giving your employees a modern mail client for receiving and sending messages • Powerful collaboration suite with Synology Office, Calendar and Chat for secure and high performance private communications and content organization that your organization can easily manage and control.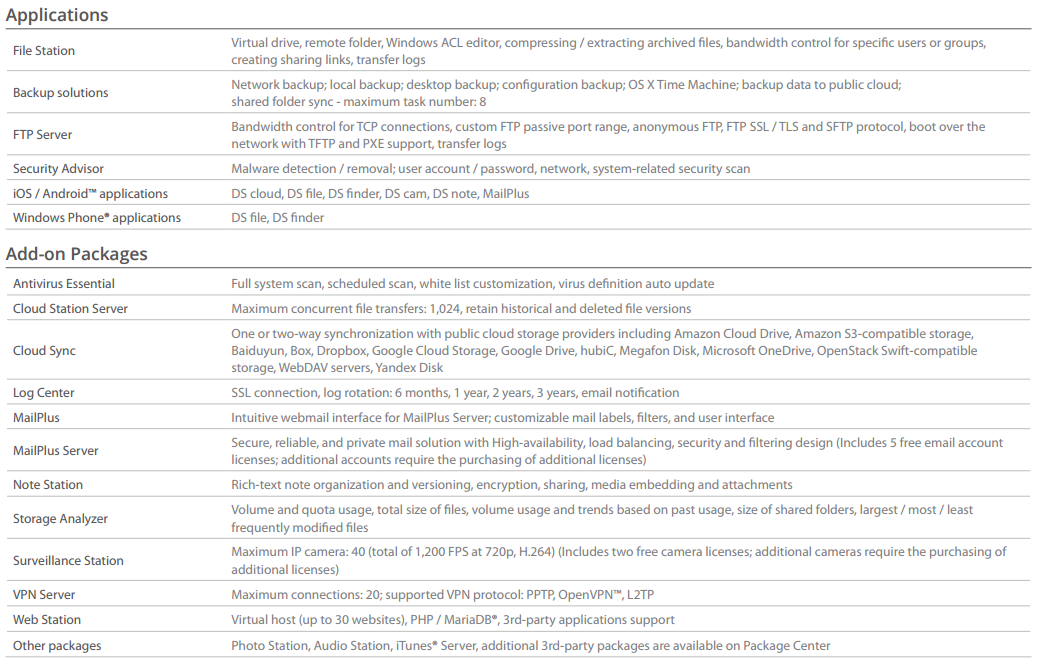 Robust Scalability with DS1817+ and Synology DX517 RAID expansion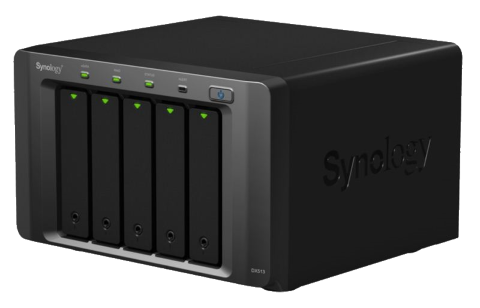 Management of the storage space on DS1817+ is simple and flexible. Multiple Volumes on RAID allows you to create more than one volume on a RAID structure, providing a flexible and efficient way to manage your storage across all available hard drives. When the need for more space arises, the volume can be easily expanded without any service disruption. DS1817+ provides the ability to seamlessly expand a single volume up to 108 TB on the fly. When the storage capacity of DS1817+ nears its limit, expansion is easily accomplished with up to two Synology Expansion Unit DX517 to support up to 18 SATA drives.
Reliability, Availability & Disaster Recovery System reliability is of paramount importance to businesses which depend upon their commercial servers every day. DS1817+ responds to these concerns with wide-ranging availability and redundancy features: • Synology High Availability ensures seamless transition between clustered servers in the event of server failure with minimal impact on applications. • Snapshot Replication provides schedulable, near-instantaneous data protection, ensuring business documents in shared folders, virtual machines in iSCSI LUNs, or dockerized application data remain safe and available in the event of a disaster. • Redundant system fans and network ports with failover support ensure continual service uptime.