A new and exciting NAS for 2017 with the QNAP TVS-882BRT3 Thunderbolt3 NAS
Internet sharing Blu-ray burning application Thunderbolt ™ 3 NAS, a machine backup, burn, play and share. TVS-882BRT3 uses the latest Intel® 7-generation 14nm process multi-core processor to provide Thunderbolt ™ 3 40 Gbps high-speed transmission and Thunderbolt-to-Ethernet (T2E) 10GbE conversion for high-performance video online editing and high-speed sharing The TVS-882BRT3 CD-ROM expansion slot can be installed to install the appropriate Blu-ray burner, you can also choose the built-in Blu-ray burner models to enjoy the immediate use of disc applications. Simply install, you can quickly back up the CD file to the NAS storage and sharing, can also NAS data in the CD-ROM, to extend the data retention period.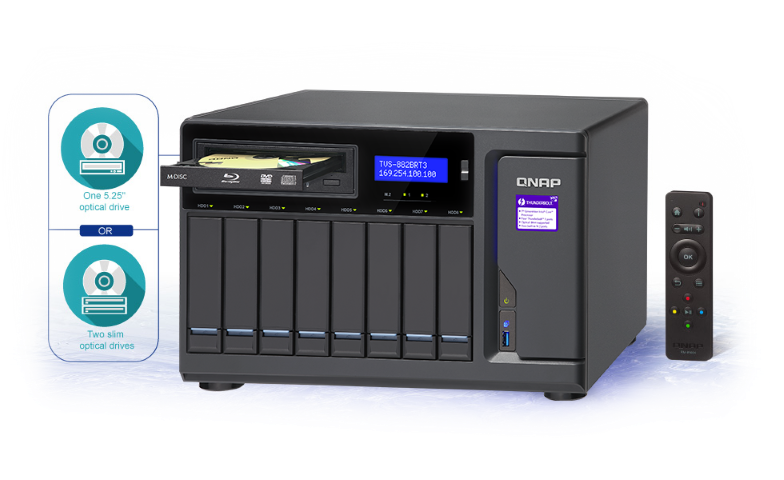 What can the QNAP TVS-882BRT3 NAS do?
Use QNAP exclusive virtual machine technology, but also directly connected to the big screen to play Blu-ray audio and video discs (need to install third-party playback software, may need to purchase authorization). TVS-882BRT3 provides three PCIe Gen.3 expansion slots, two slots have been pre-installed dual port Thunderbolt ™ 3 expansion card, another slot can choose to install 10GbE / 40GbE card, SAS expansion card, and USB 3.1 external card, flexible expansion To meet multiple applications.
Provides four Thunderbolt ™ 3 transport interfaces and 10GbE dual network mode for online editing and high-speed sharing

Equipped with a 5.25-inch SATA interface expansion slot, you can install the internal Blu-ray burner or two thin burner; TVS-882BRT3 also supports USB external burner

Built-in 2 M.2 SATA 6Gb / s SSD cache port, with Qtier automatic tiered storage, improve storage efficiency

Three HDMI output port, with QNAP virtual machine technology to play high-definition video discs

Support Qfiling intelligent archiving disc information, can be used with Qsirch full text search for key information

Support QRM + remote computer server integration management, QvPC technology, virtual machine applications, software container applications, and storage virtualization

Network and virtual switch support network diversion management, different applications enjoy the best bandwidth

Support network virtual storage expansion cabinet (VJBOD), flexible expansion of available storage space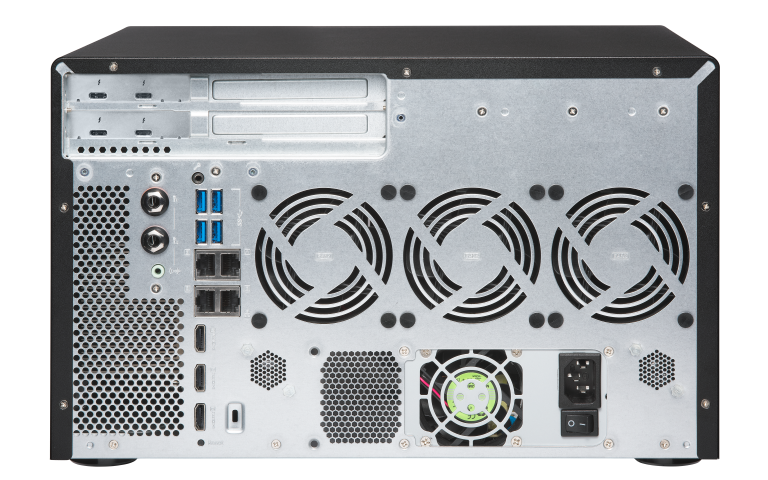 Optical Media Access and ISO burning fluidity with the QNAP TVS-882BRT3
TVS-882BRT3 support Blu-ray disc burner, so you do not need to be through the computer to CD files quickly backup to the NAS, CD-ROM data backup and management difficult to solve the problem. With a number of QNAP applications (such as: Qfiling automatic archiving, Qsirch full-text search engine, etc.), take you to experience the convenience of flying information on the clouds. Continued evolution of the disc preservation technology, so that important files in the NAS can be burned to the disc, enjoy a long save life, to ensure the safe preservation of important information. Diverse application scenarios include: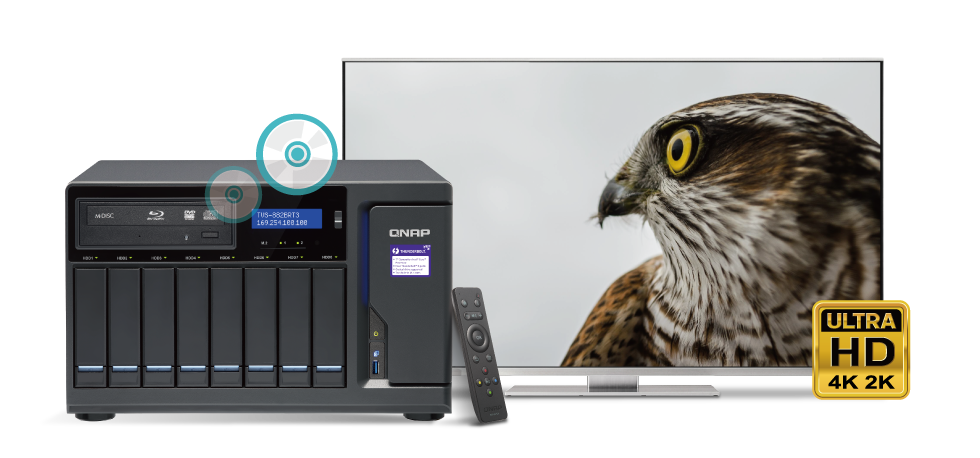 Note:
1. You must install Linux Station or virtual machine to use the burning and playback functions. When playing with a virtual machine, it is recommended to use an external display card for optimal playback performance.
2. Install the burner specifications may affect the burning performance, please confirm before buying TVS-882BRT3 support your burner specifications.
How would you use the QNAP TVS-882BRT3 Optical Media 5.25″ bay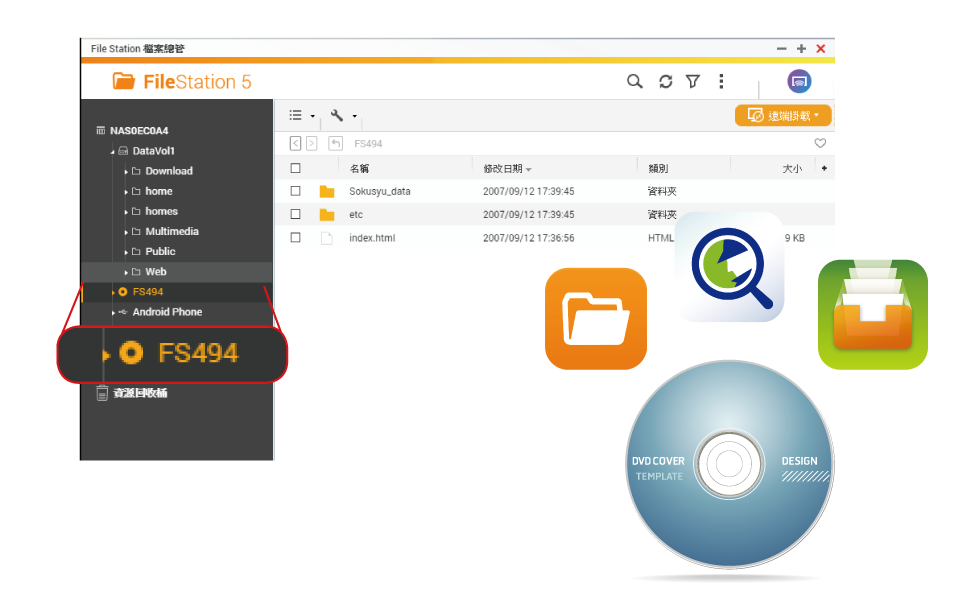 Install the burner specifications may affect the burning performance, please confirm before buying TVS-882BRT3 support your burner specifications.
● Old CD access:
Through the File Station directly read the CD and instantly share, with Qfiling enable file archiving and Qsirch full text search search, quickly find the required information.
● Sealed confidential information:
Through the virtual machine or Linux Station will be important information burned into a long time to save the disc, or use the disc to share information at once, low cost and does not affect the local system security.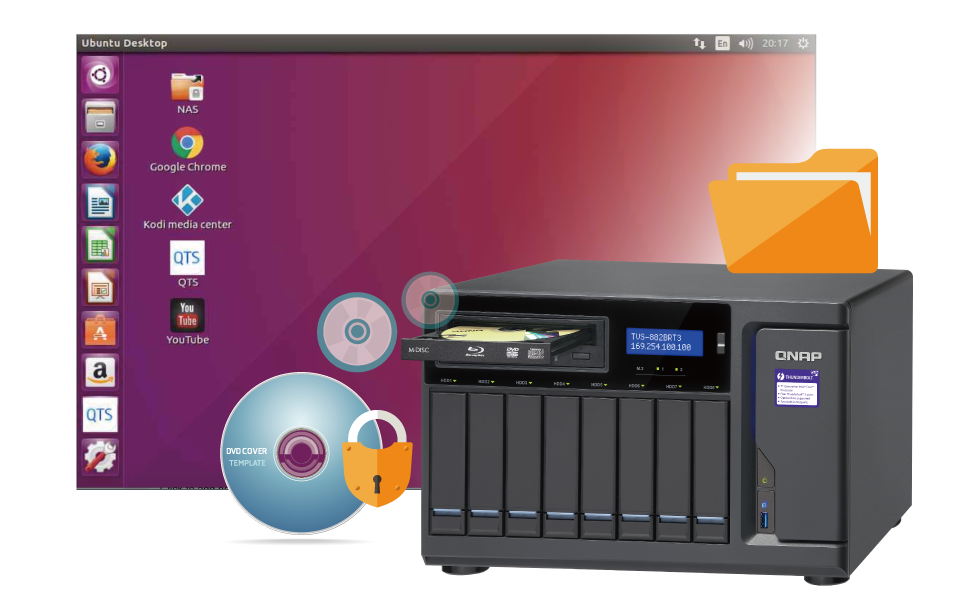 ● NAS is also a disc player:
Use Linux Station to play disc movies directly from HDMI.
● Collaborative image editing
Through the Thunderbolt ™ 3 high-speed transmission or use PCIe expansion slot to install QNAP 10GbE / 40GbE card, through the 10GbE share device to achieve high-speed cooperation.
The QNAP TVS-882BRT3 provides Easy installation, quick backup and sharing
TVS-882BRT3 with SATA interface CD burner expansion slot, you can install a 5.25-inch SATA or two Slim SATA disc burner, and support USB external burner. QNAP also provides preloaded Blu-ray burner models, allowing you to quickly enjoy the disc-related applications. Easy installation of the burner, through the TVS-882BRT3 on the File Station folder, you can clearly browse the CD-ROM audio or data files, and easy backup data to the NAS, no longer need to read the disc data via the computer and then transfer To NAS, easy to manage and save computer space. Multi-file sharing mode (email, social networking platform, build sharing link, share to other NAS users), so you can easily share information to solve the CD file backup and sharing the inconvenience of the problem.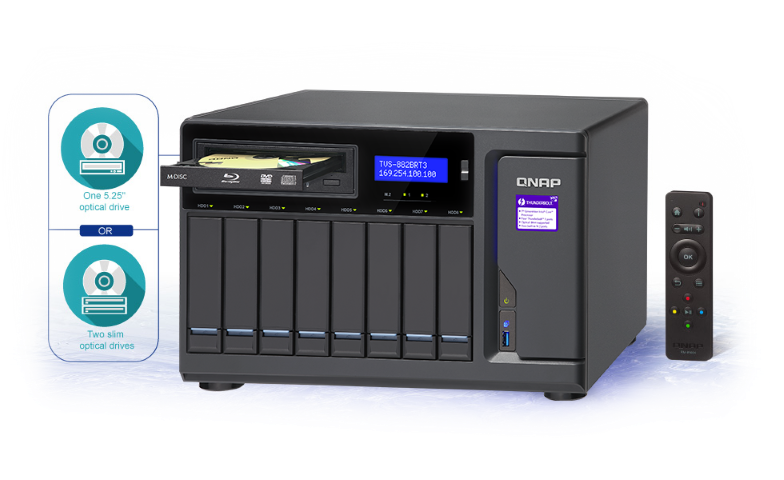 DVDFab for all-round data backup in the TVS882BRT3
DVDFab provides complete data backup and a friendly interface for easy backup or production of discs. You can easily back up the disc file to the NAS, so that file management and search more convenient; or use DVDFab burning function, the NAS files on the disc to share. With the TVS-882BRT3 CD burner, so you do not need to use the computer can easily complete the backup and burn.
Note: DVDFab develops software for third-party companies, users are required to purchase additional licenses. DVDFab is not built into the QTS application. Please use it yourself to install it yourself and use it via Linux Station or virtual machine.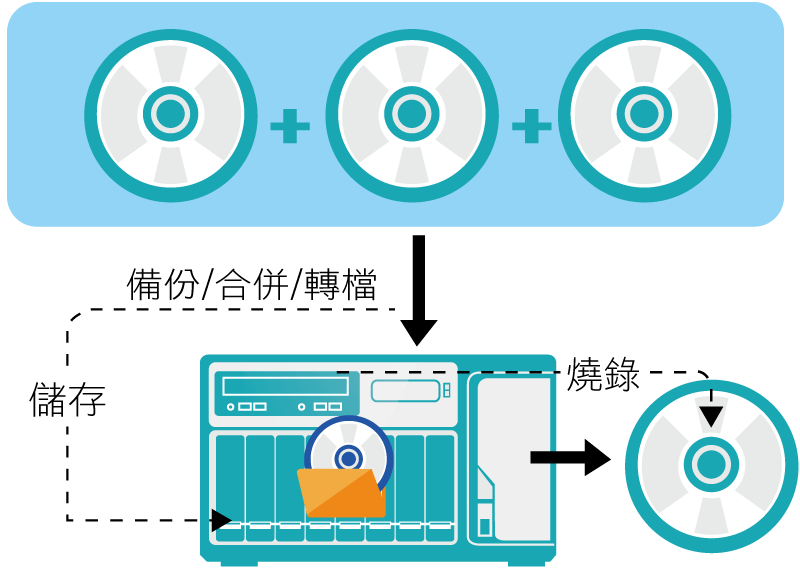 Thunderbolt ™ 3 NAS, with extraordinary performance
TVS-882BRT3 powered by ultra-high efficiency Intel® Quadruple Multi-Core Core ™ i5 / i7 processor gives you the flexibility to choose from; the full range of DDR4 2133 MHz memory, up to 64GB. TVS-882BRT3 built-in 4 Gigabit network port, SATA 6Gb / s transmission interface, can provide up to 447 MB ​​/ s continuous read performance, so that the task is smooth and fast. TVS-882BRT3 built-in Intel® AES-NI acceleration engine, in the NAS machine or folder encryption, can maintain up to 443 MB / s data read and write speed. The Thunderbolt ™ 3 port of the TVS-882BRT3 provides up to 40 Gbps of bandwidth for high-speed access, with multiple USB Type-C devices and USB 3.1 Gen.2 up to 10 Gb / s transfer rates. You can also quickly through the USB interface, audio and video media and other large file transmission, wider application, more efficient.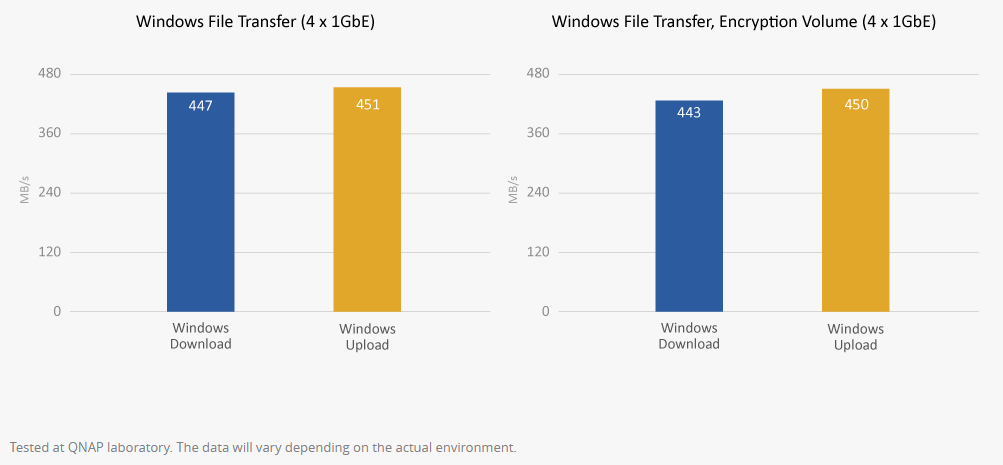 TVS-882BRT3 is a high-performance multimedia collaboration environment for Mac and Windows
The TVS-882BRT3 is the best device for MacBook Pro® users with the Thunderbolt ™ 3 interface and is also compatible with devices such as the Mac Pro® and iMac® devices that support the Thunderbolt ™ 2, with a significant increase in bandwidth Editing and sharing has a greater advantage, especially for photographers, filmmakers, image designers and 4K and 3D content creators use. The latest version of Final Cut Pro® X 10.3 supports file sharing for SMB agreements where you can easily store your files in the TVS-882BRT3 for Windows® users to be efficient with other devices from Thunderbolt ™ 3, 10GbE, or GbE To join the audio and video editing workflow. TVS-882BRT3 can connect four Thunderbolt ™ devices, while dealing with real-time audio and video editing without affecting the performance of the NAS system; through the HDMI port to connect 4K screen, immediately play 4K image content. Large storage space TVS-882BRT3 is not only an ideal file storage center, so that Mac computer plug and play, but also provide extraordinary extraordinary performance, improve work efficiency with less. With the Blu-ray disc burner to design results made CD-ROM quick sharing, so that TVS-882BRT3 your studio as a shared disc application center.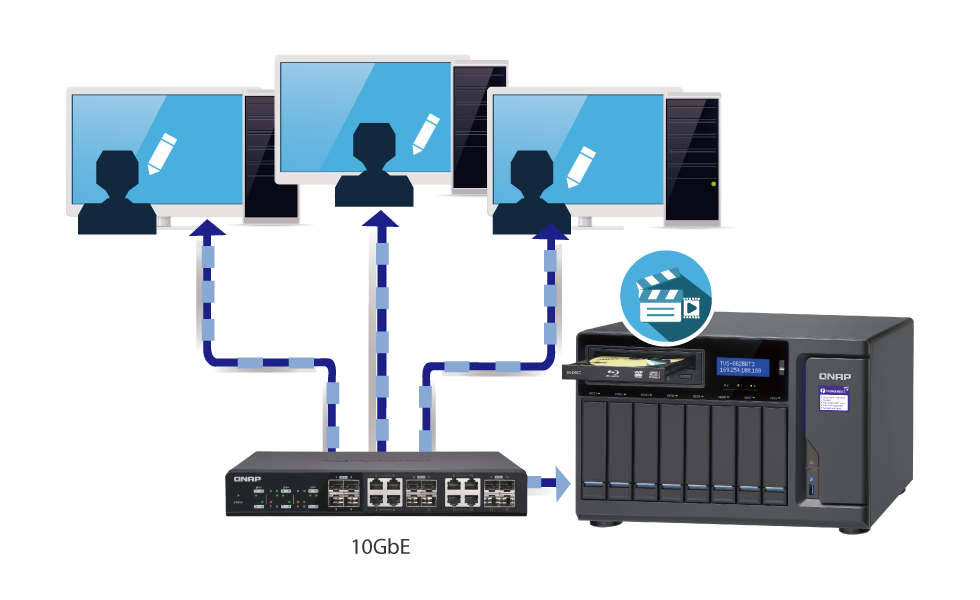 Thunderbolt-to-Ethernet (T2E) converter, direct access to 10GbE network resources
For Apple computers that lack 10GbE of network connectivity, Mac® users often need to purchase Thunderbolt-to-Ethernet converters for high-speed Internet access. The TVS-882BRT3 offers an innovative T2E Converter design that bridges the Thunderbolt ™ and Ethernet network interface, meaning that the Mac® device is interconnected with the TVS-882BRT3 and is flexible via the NAS's Thunderbolt ™ interface directly connected to the 10GbE high-speed network, Convenient and efficient data transfer, and save the purchase of Thunderbolt-to-Ethernet converter additional costs.
Note: After the T2E connection is converted by a virtual switch, it may affect the network transmission speed. QNAP will continue to improve and optimize this.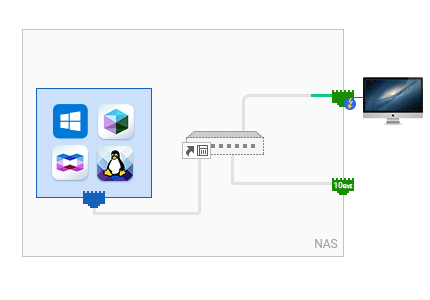 M.2 SATA 6Gb / s SSD cache extension
The TVS-882BRT3 is equipped with two M.2 SSD ports as a cache application to provide high access speed and stability, greatly improving system operational efficiency, suitable for applications requiring high IOPS (per second access speed) : Virtualization operations.
With QNAP Qtier automatic tiered storage technology, so that frequent access to the data moved to the higher performance of the disk class (SSD), and less access to the data moved to low-cost, high-capacity disk class (HDD) To achieve the best storage configuration.
PCIe flexible expansion, to meet the multi-storage applications
The TVS-882BRT3 offers three PCIe Gen.3 expansion slots, two of which have been pre-installed with two Thunderbolt ™ 3 transport cards, and one slot for flexible expansion of multiple applications. You can install PCIe 10GbE / 40GbE network card expansion high-speed network, USB 3.1 10Gbps external storage device, configure the compatible wireless network card to become a wireless network base NAS, unlimited application potential.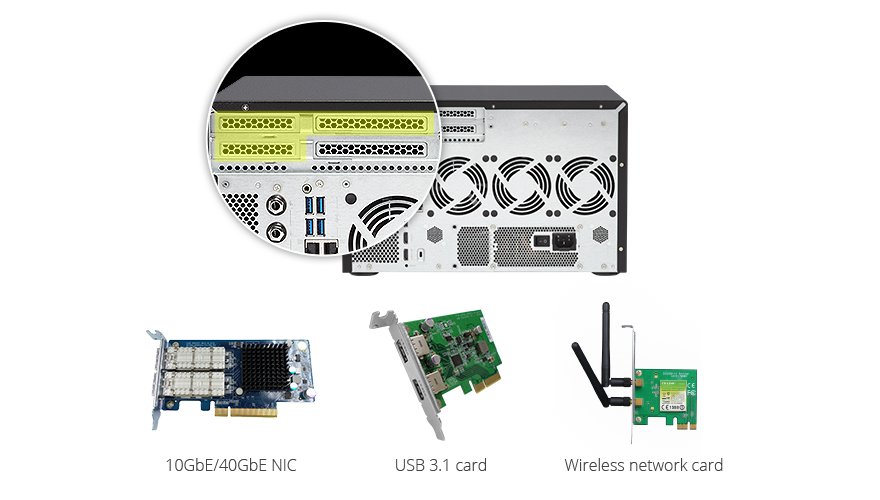 Three HDMI output, enjoy the best audio-visual feast
TVS-882BRT3 provides three HDMI output port, support "mirror" or "extension" two output modes. With Ubuntu® Software Center, you can download audio and video files from the Ubuntu® Software Center, such as Plex Media Server, KMPlayer, LibreOffice, VLC, and other audio and video files on NAS or Blu-ray Disc. HD Player in HD Player or third-party player (such as Plex Home Theater), watch high-quality 4K audio and video files ***. TVS-882BRT3 package comes with QNAP remote control , allows you to directly on the big screen through the remote control easy operation NAS, watch your favorite audio and video files.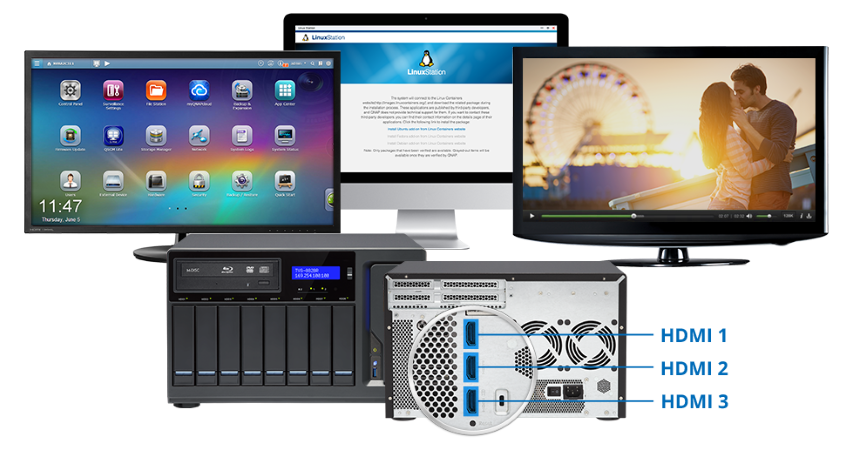 Order number

TVS-882BRT3-i5-16G

(Optical BD Writer NOT Included)

TVS-882BRT3-ODD-i5-16G

(Optical BD Writer Included)

TVS-882BRT3-i7-32G

(Optical BD Writer NOT Included)

(Optical BD Writer Included)

processor

Intel® Core ™ i5-7500 Quad Core 3.4 GHz (up to 3.8 GHz)

Intel® Core ™ i7-7700 Quad Core 3.6 GHz (up to 4.2 GHz)

Graphics

9 th Intel® HD Graphics

System memory

16GB DDR4




(8GB x 2)

32GB DDR4




(8GB x 4)

Number of memory slots

4 (up to 64GB)

Flash memory

512MB DOM

CD expansion slot

1 x 5.25 "burner or 2 x compact burner




* ODD series comes preloaded with a Blu-ray burner

Preloaded CD player

LG WH16NS58D

M.2 port

2 x M.2 2242/2260/2280/22110 SATA 6Gb / s SSD




* Shipping without M.2 SSD

Support hard drive

8 x 2.5 "/3.5" SATA 6Gb / s, 3Gb / s HDD or SSD

Thunderbolt port

4 x Thunderbolt ™ 3 port

USB port

1 x USB 3.0 port (front)




4 x USB 3.0 port (back)

Network port

4 x GbE RJ45

HDMI port

3 (HDMI 1.4b)

Extended interface

3 * PCIe Gen3 x8;




Processor Area 2 * PCIe Gen3 x4) Note: 2 * PCIe Gen3 x4 comes preloaded with two dual ports Thunderbolt ™ 3 expansion cards

Audio input

Audio In: 2 x 6.3mm MIC In

Source output

Two built-in speakers with a 3.5mm Line Out

Size (H x W x D)

234.6 (high) x 369.9 (width) x 319.8 (deep) mm




9.23 (high) x 14.56 (width) x 12.59 (deep) inch

weight

Net weight: 11.55kg / 25.46 lb




Packing: 13.65 kg / 30.09 lb




Preloading CD player: 0.63kg / 1.4 lb

Noise (dB) *

Sound pressure (LpAm) (by standing position): 21.6 dB




(with 8 Seagate ST2000VN000-1HJ164 hard drive)

power supply

ATX 100-240V ~, 3-1.5A Output 250W

fan

System area: 3 x 8 cm cooling fan Processor




area: 1 x 9 cm fan
* Noise level Test
environment: Reference standard: ISO 7779; Maximum number of hard disks loaded by Bay number; measured in Bystander Position; averaged data at one meter in front of the machine