Is this the most exciting QNAP Thunderbolt NAS Yet? Thunderbolt 3 NAS TS-453BT3 for Home and SMB
Many, many new NAS Servers have been uncovered at Computex 2017 from the big brands at Synology and QNAP, We have already uncovered the Synology DS918+ and DS718+ but now it is QNAP's turn to show off their exciting new technology. They already DOMINATE the NAS Server market with their Thunderbolt NAS Servers for Windows and Mac devices, but now we can finally see a much, much more cost effective and affordable Thunderbolt 3 NAS Server – Say hello to the QNAP TS-453BT3 Thunderbolt 3 NAS and DAS enclosure for home and small business.
What is so special about the QNAP TS-453BT3 NAS for 2017?
First and foremost, this is not the first QNAP NAS to feature Thunderbolt 3. There have already been several Thunderbolt 2 and Thunderbolt 3 NAS servers released and freely available from QNAP. NAS devices such as the QNAP TVS-1282T2 and TVS-1282T3 are already available. However they start at around £2000+ and in some cases if you go for the full spec versions, reach the upper limits of £3000 ex.VAT in some places. This extremely high price tag can put a number of users off. THIS is where a number of users will be VERY interested in the TS-453BT3 4-Bay NAS. It uses the TS-453B NAS chassis (mostly plastic) and is both compact and of a lower build expense. Likewise the CPU and RAM inside, unlike the DDR4 and I5/I7 featured in the enterprise level Thunderbolt NAS devices, is the Intel J Series CPU and DDR3 memory that is already popular and highly used in more common home and SMB NAS solutions (from both QNAP and Synology NAS).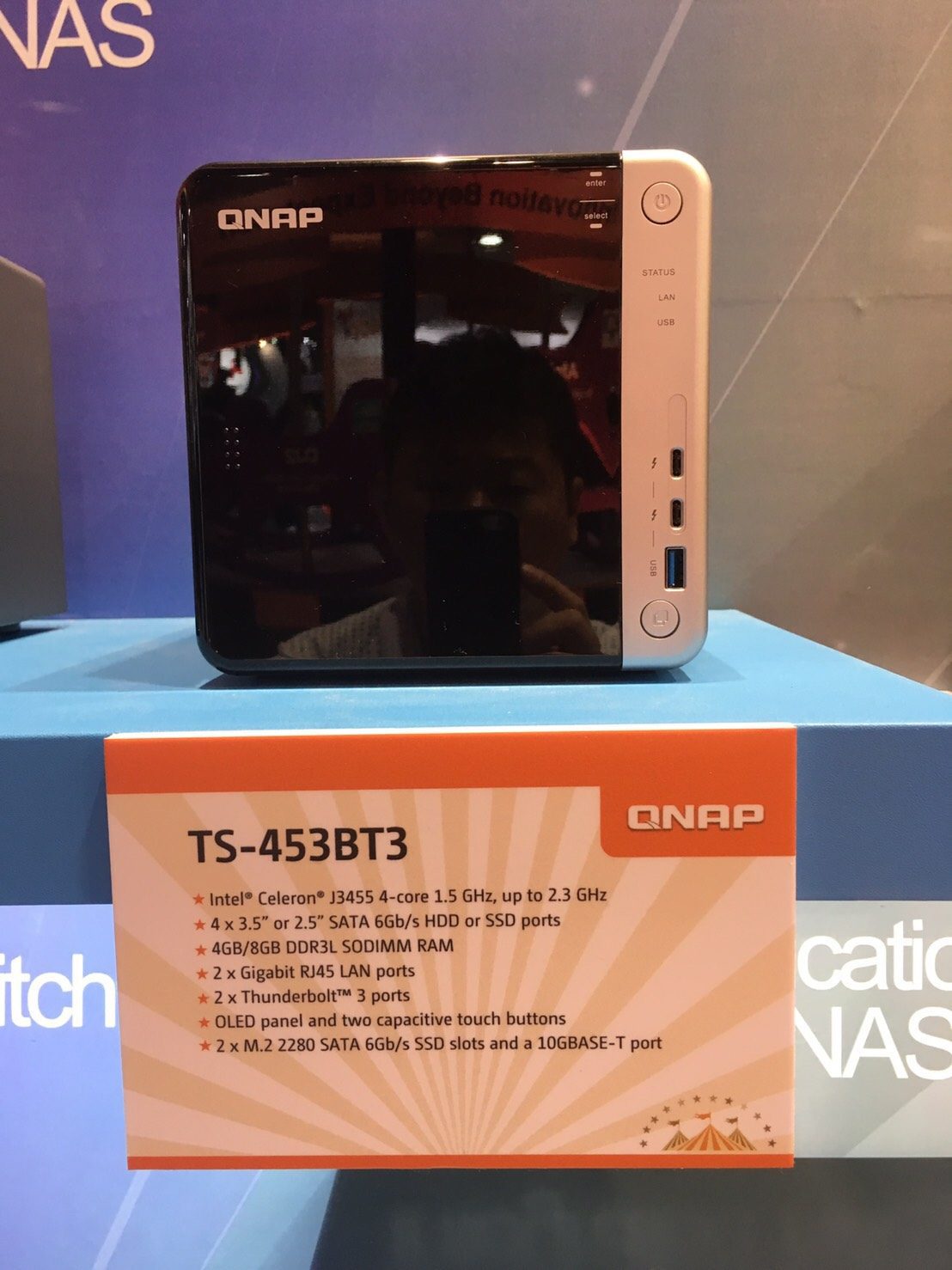 What are the specs of the QNAP TS-453BT3 Thunderbolt 3 NAS?
The specs and hardware details are still being released by QNAP NAS and should be all available by the end of Computex 2017. However, below is what we can surmise (treat all details with a pinch of salt until data sheets and product PDF are officially released):
Intel® Celeron® J3455 quad-core 1.5 GHz (burst to 2.3GHz)

2/8GB DDR3 Memory

2x Front Mounted USB-C Thunderbolt3 Ports

2x m.2 SSD SATA Ports for SSD Cache

10GBe Ports

LCD Screen

Remote Control (New Style)

Removable Front Panel

Tooless Trays for HDD and SSD

LED Lights for each Drive and System Status

Rear Speaker

Dual HDMI (TBC)

USB 3.0 Throughout

Front Mounted 1-Touch Copy Button