The Business Class File Server 8-Bay 10GBe NAS from Synology  is finally approaching release – Here are the details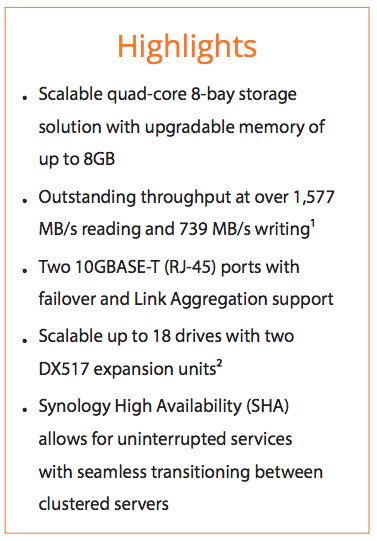 Synology DiskStation DS1817 is the first value series model featuring two built-in 10GBASE-T ports and upgradable RAM module, and is powered by quad-core processor with hardware encryption engine and expandable scalability of up to 18 drives. DS1817 is the ideal solution for centralizing data backups, protecting critical assets, and sharing files across different platforms. Synology DS1817 is backed by Synology's 3-year limited warranty.
DS1817 arrives with optimal Performance & Affordable Price
Synology DS1817 is a 8-bay network attached storage solution with great performance and scalability. DS1817 is equipped with a quad-core 1.7 GHz processor, pre-installed 4GB RAM, and two built-in 10GBASE-T LAN ports, delivering sequential throughput at over 1,577 MB/s reading and 739 MB/s writing under a RAID 5 configuration with 10GBASE-T ports link-aggregated1. The built-in 10GBASE-T and 1GBASE-T ports support failover and Link Aggregation. DS1817 is a reliable and cost-effective storage solution suitable for home and business.
Flexible Scalability to expand your storage on the DS1817 NAS
DS1817 can support up to 18 drives with two Synology DX517 expansion units attached, hosting up to 180 TB of raw capacity. Storage capacity can be easily expanded according to corporate or personal needs.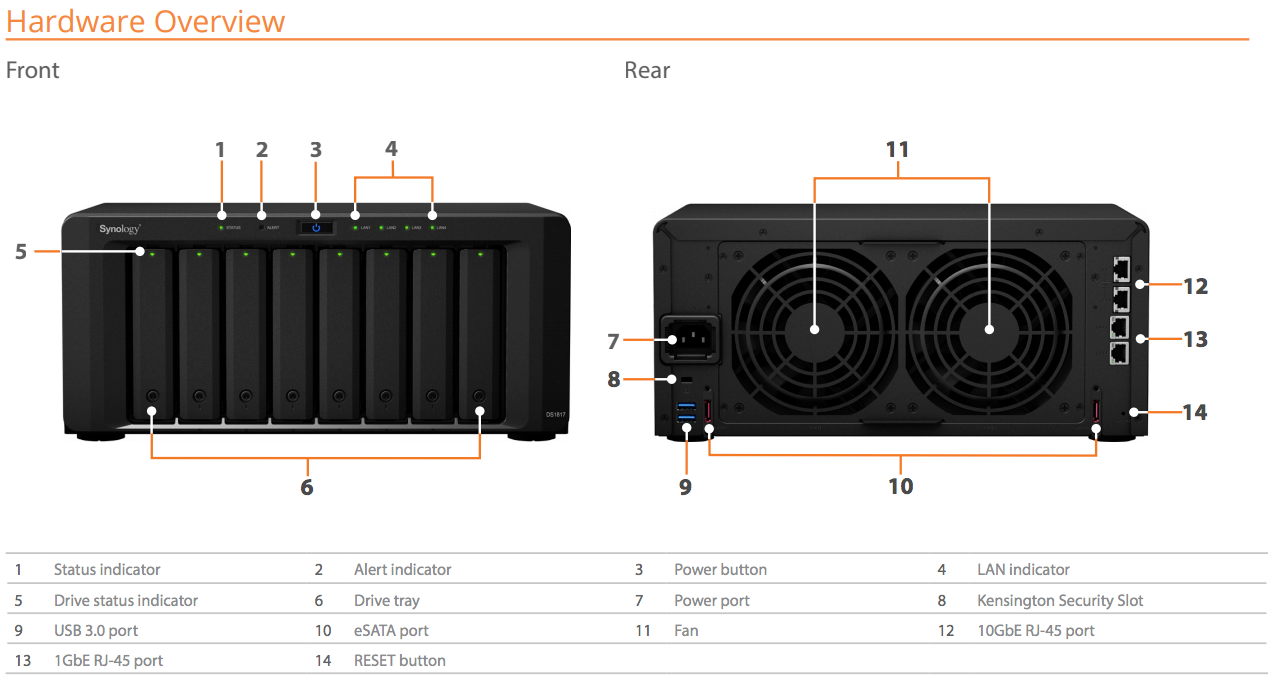 Comprehensive Business Applications available at the Synology App Center via the DS1817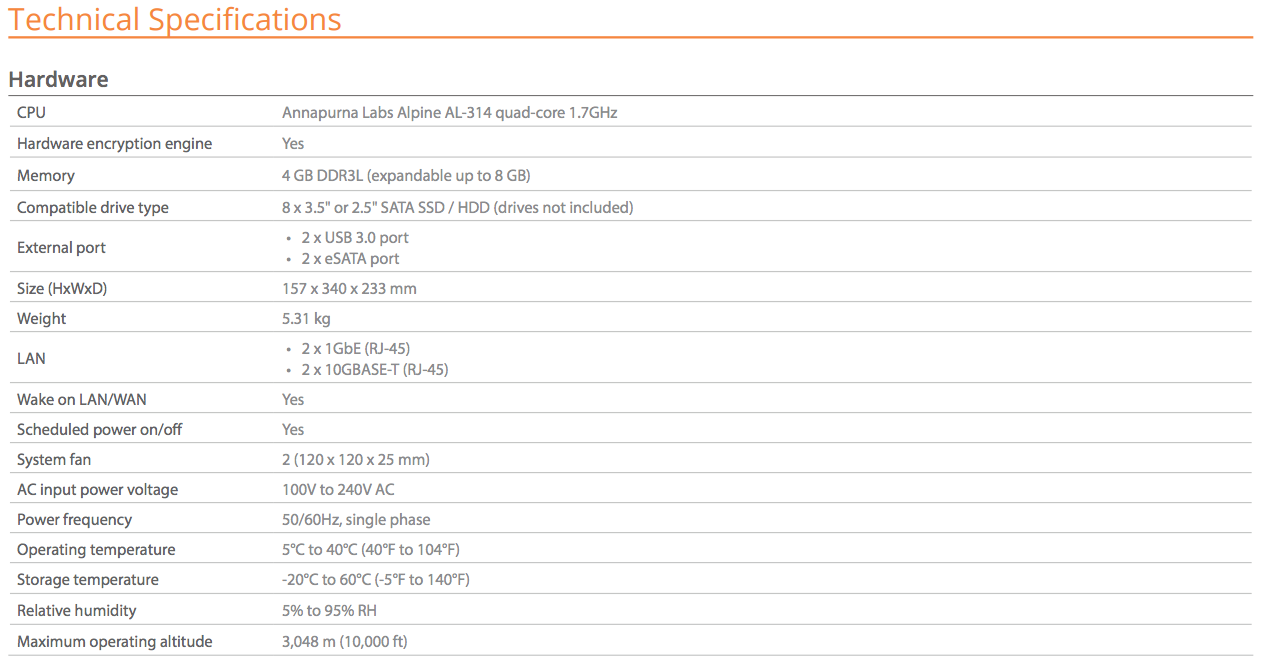 Powered by the innovative Synology DiskStation Manager (DSM), DS1817 comes fullyequipped with applications and features designed specifically for growing businesses:
• Windows® AD and LDAP support allow easy integration with existing business directory services without recreating user accounts.
• Windows ACL support provides fine-grained access control and efficient privilege settings, allowing DS1817 to fit seamlessly into current infrastructure.
• Internet file access is simplified by the encrypted FTP server and Synology File Station, which is a web-based file explorer. HTTPS, firewall, and IP auto-block support ensure file sharing over the Internet is protected with a high level of security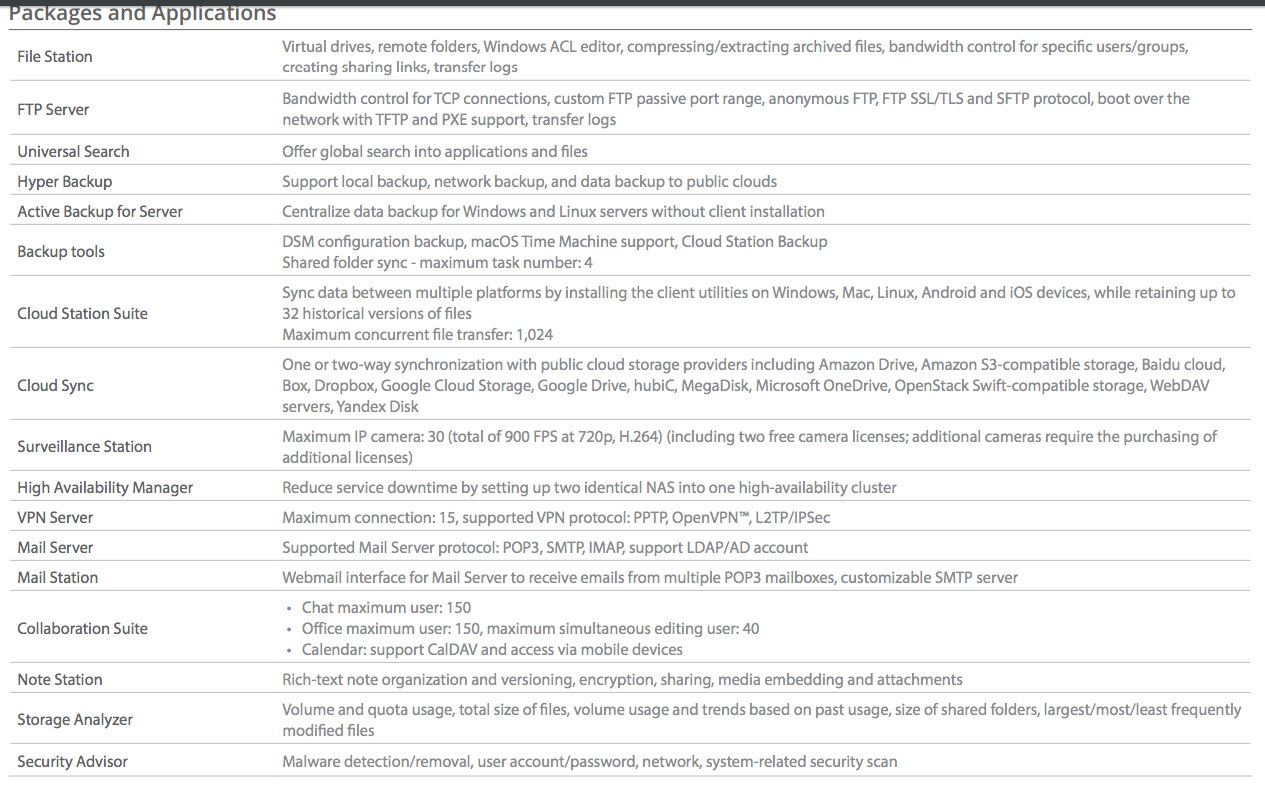 The Synology DS1817 arrives Virtualization Ready with improved support in the latest DSM for 2017
DS1817 provides seamless storage solutions for virtualization environments, including VMware, Citrix, Hyper-V, and OpenStack. With VMware vSphere 6 and VAAI integration certified, DS1817 helps offload specific storage operations and optimizes computation power for unparalleled performance and efficiency in VMware environments. As the centralized storage of a virtual environment, DS1817 enables virtual machine migration, allowing movement from server to server whilst eliminating service downtime and disruption to users. Windows Offloaded Data Transfer (ODX) and Synology Advanced LUN support greatly improve the efficiency of massive data transfer and migration. With OpenStack support, DS1817 can be used as a block-based storage component for servers complying with the Cinder API.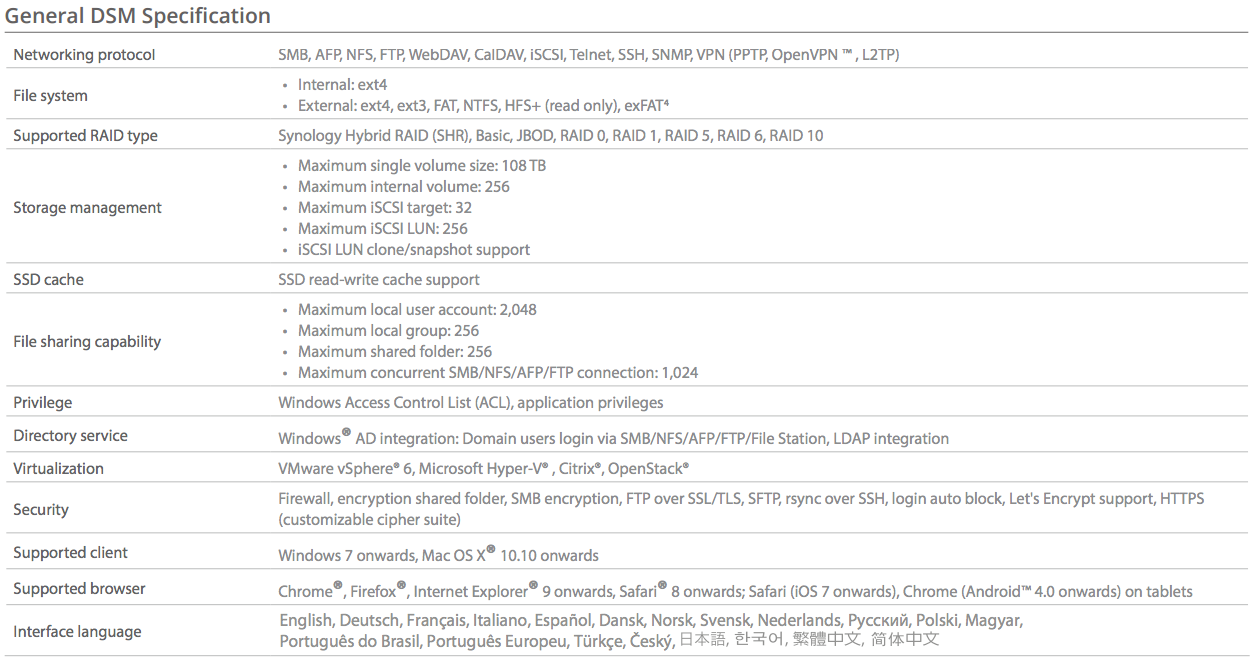 Effective Synchronization & Backup Solution for your devices with the DS1817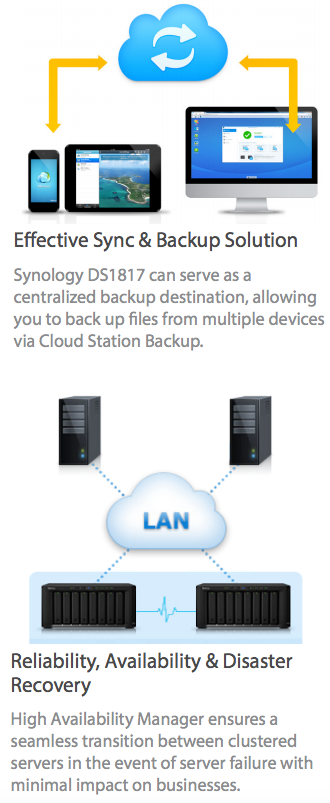 DS1817 can serve as a centralized backup destination, making it easy to create a personal private cloud. Cloud Sync keeps your Dropbox, Google Drive, Microsoft OneDrive, Baidu, and Box storages in sync with DS1817 at home. Cloud Station Suite allows you to sync files among multiple devices, including Windows PC, Mac, Linux, and Android/iOS tablets and phones, effortlessly keeping everything up-to-date. With block-level incremental backup and cross-version deduplication, Synology Hyper Backup provides multi-version backup with optimized storage utilization and allows data to be backed up to multiple destinations, including local shared folders, external hard drives, network shared folders, rsync servers, and public cloud services.
A 24/7 Smart Security Solution with Surveillance Station on DS1817
Featuring user-friendly video management tools and an intuitive desktop-like interface, Synology Surveillance Station is a reliable private-security solution that can support multiple IP cameras connected to DS1817. Surveillance Station features optimized live view together with streamlined real-time monitoring. Its powerful analytics, such as motion detection and alert notification, allow you to stay informed of any suspicious activity with triggers sent via SMS, e-mail, and DS cam mobile application.
Reliability & Availability for your files where and when you need them on the DS1817
The 10GBASE-T and 1GBASE-T LAN ports of DS1817 support failover and Link Aggregation, and the LAN ports are resilient against unexpected network or cable failure. Hot swappable drives minimize system downtime by allowing simplified and rapid drive replacement. Uninterrupted availability is a critical goal for all businesses. Synology High Availability (SHA) ensures seamless transition between clustered servers in the event of unexpected disasters and ensures that your services remain online. Optional 5-year warranty3 is available in select regions