BVE 2018 at the Excel London Round Up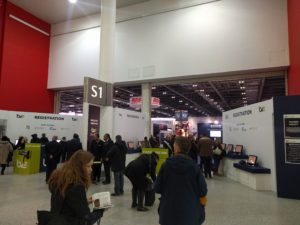 What a day, my brain hurts. For those that visited the BVE expo today, it was quite the bombardment of hardware and software, all working together in order to improve your workflow and ultimately your productions from A-Z. With so many familiar brands at the event, it was good to see them all showing their own versatility and importance in the field of multimedia production. One common theme that both I and @eddiethewebguy just kept encountering when talking to visitors at BVE 2018 was finding the right keywords to explain where different devices fit into their respective workflow. Whether it was where you would fit a Sonnet Breakaway eGPU Into an existing system in order to speed up the results, or why a person would pick between G-Tech and LaCie, time and time it was finding the terms which with the manufacturer needed in order to better explain their product to the photo or video editor end user. Below is a breakdown of the stalls that stood out for us and what we thought they did right and what they could have done better.
QNAP at BVE 2018
It would be fair to say that this is where we spent the lion share of our time. With a growing interest in both thunderbolt technology and the viability of Thunderbolt NAS to live editors everywhere, we really wanted to see the impression users had on this technology and have dedicated a whole article to it HERE.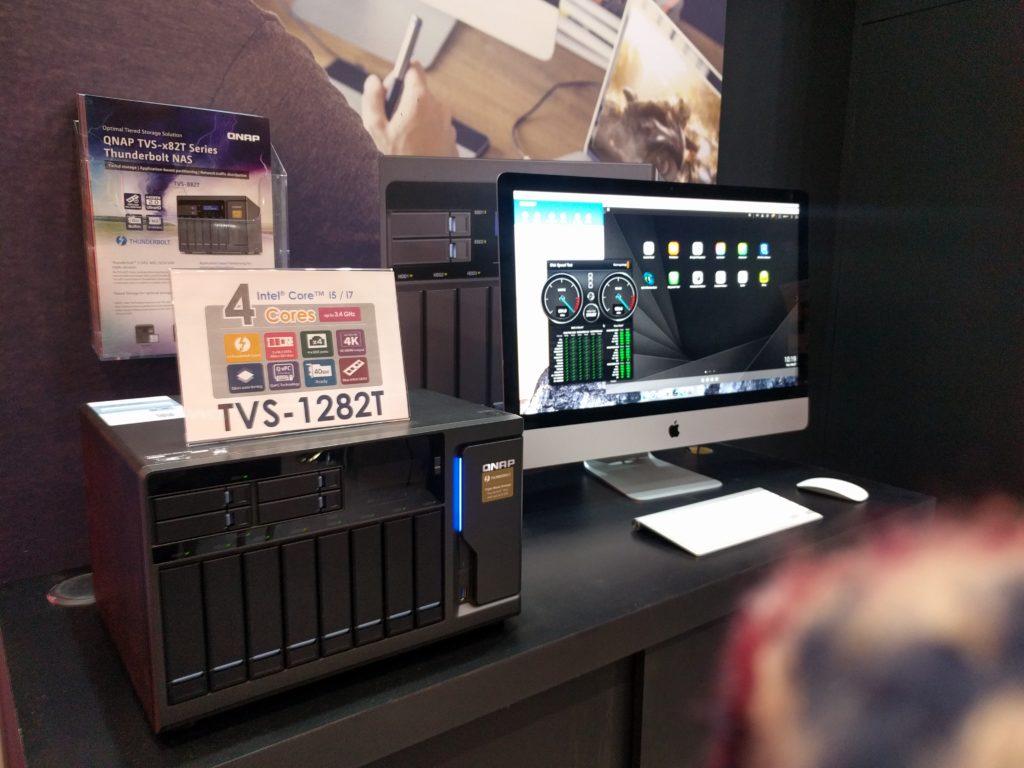 What they did right – They had units up and running, focused on the things that mattered most to content creators (production, 4K, distribution, fast deployment, thunderbolt and 10GBe)
What they did wrong – Bit of a shame the TS-453BT3 was not up and running. If only as a basis of comparison against the TVS-1282T
Sonnet Technologies at BVE 2018
Always a popular name in both the Mac and the Post Production community, they really, REALLY put their thunderbolt 3 range on show, if there is one thing that I can rarely fault, it is their attention to detail and all too often they leave me in their dust when it comes to the technical know-how. For a start, almost the entire Breakaway series of external ePGU solutions were available to see and with statistics and information readily available too.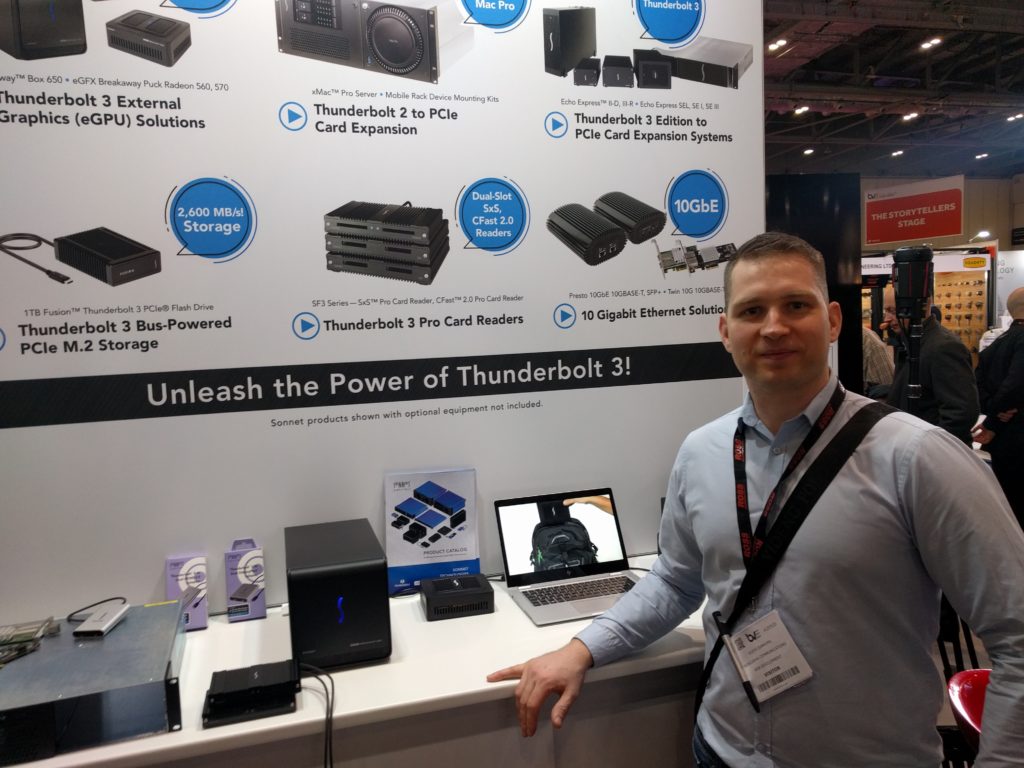 We have already mentioned here and on the YouTube channel just how versatile the Sonnet puck is and with increased compatibility and it's simple plug and play interface, it drew plenty of attention. We hope to better cover these devices in the coming months as with the popularity of Thunderbolt 3 growing and thunderbolt 2 getting gradually left behind, it is going to be companies like Sonnet that stand to gain the most.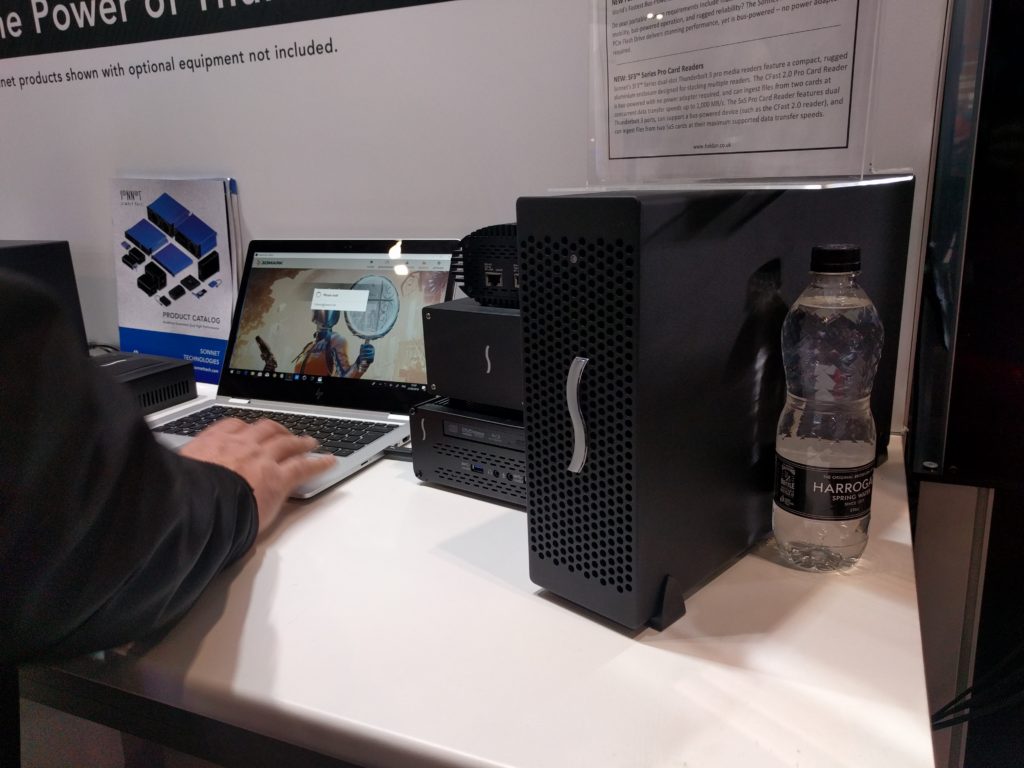 Yes, they are not the only ones making solutions for content creators, but they easily have the biggest and most upto date collection of Mac compatible products.
What they did Right – They featured almost the entire TB3 range of ePCIe, Storage and more and didn't struggle with a single damn question!
What they did Wrong – would have been nice to see more of their range up and running
G-Technology at BVE 2018
As previously touched on here at NASCompares, G-Tech is a brand that is rarely mentioned. I would love to say that there is a good reason for this, but quite simply it is because, with a blog that is more involved in NAS, a brand that only currently has a single NAS server device available is tough to fit into our busy website.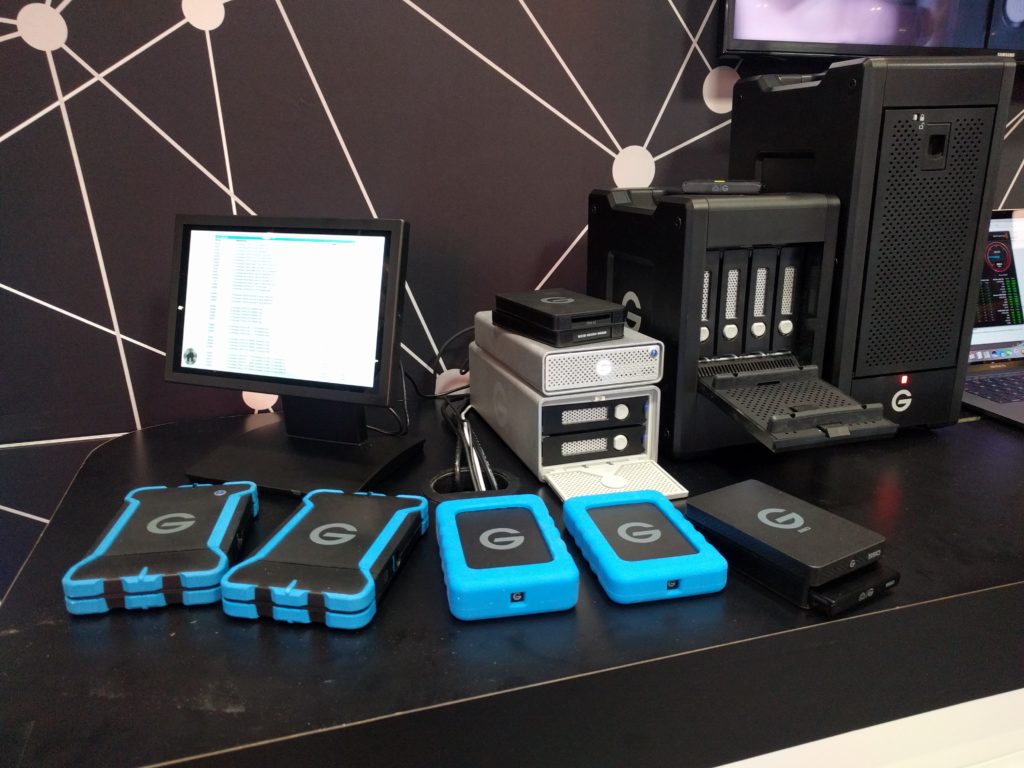 However with this new and evolving range of Thunderbolt 3 devices, it is fast becoming a necessity to connect a super fast TB3 USB-C storage device in that chain of devices, and THIS is very much in G-tech's wheelhouse! We have mentioned the G Dock, G Shuttle and more previously, but what really caught my eye was their new RAID enabled, portable (for easy deployment) 4-Bay RAID device. Not only are these device's visible when connected to a QNAP Thunderbolt device, but also they can be purchased fully populated with HGST Enterprise drives (with the Helium drives on show at the event).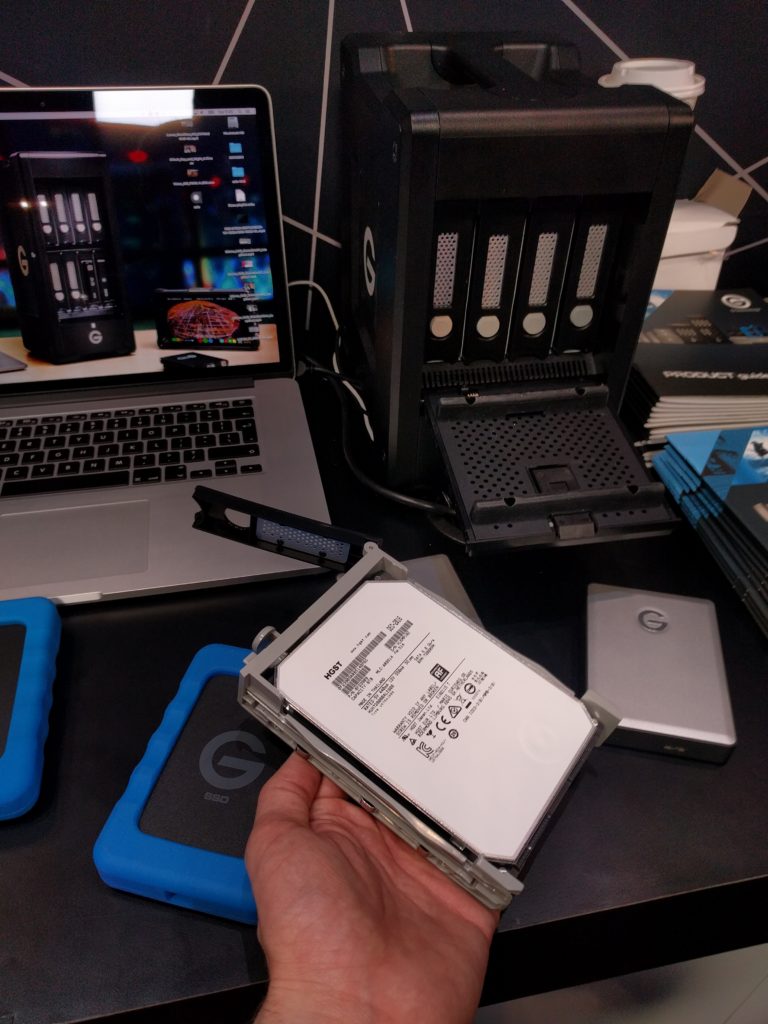 There will always be a bit of contention between WD and Seagate buyers, and where you will find that LaCie uses Seagate, G-Technology will be HGST/WD. I am not gonna call one better than the other (many have tried and internet flaming trolls will argue either way) but this is definitely a deciding factor for some.
What they did Right – they know what they specialize in and they had some seriously beefy storage on show, giving punters full access to the ins and outs
What they did Wrong – I know I keep complaining about it, but only just the single NAS server on show and with distribution and anywhere-access becoming so vital, this still makes me a little sad.
Synology, Seagate and LaCie at BVE 2018
I know it may seem odd that I bunched all three of these big brands into a single section BUT that was my exact reach when I found that all three were combining their teams for a stand at BVE 2018.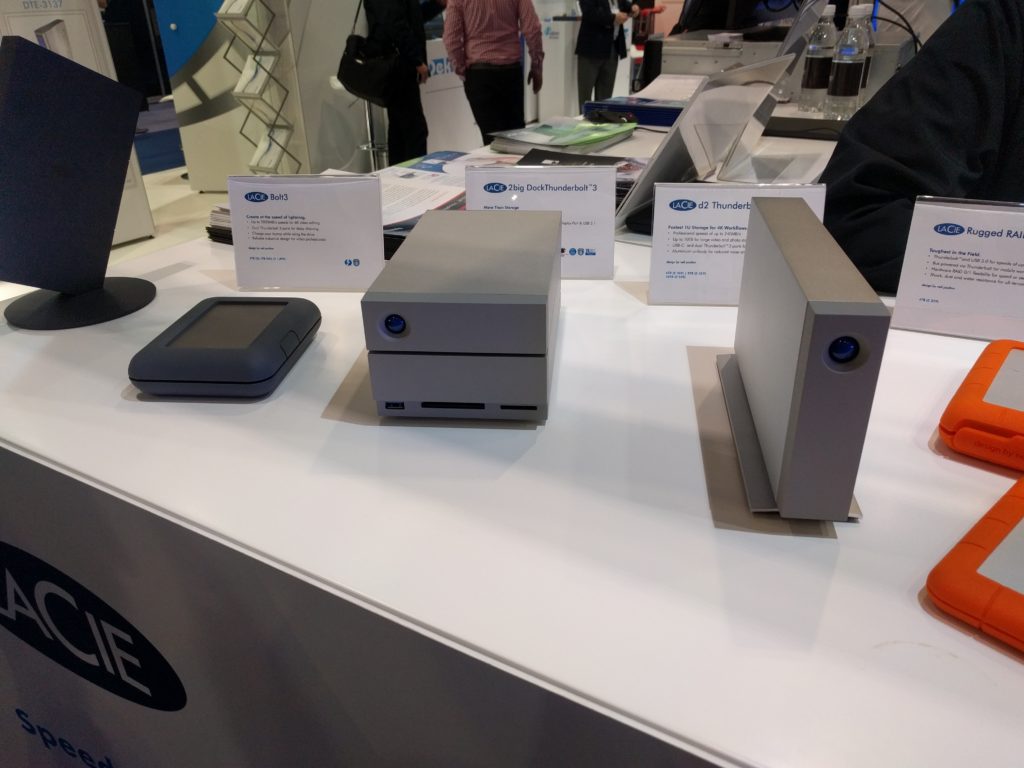 Seagate and their range of task designed hard drives, though not new, is always good to hear about and given they are still currently able to champion their 12TB NAS and Enterprise class hard drive as the only commercially available unit of its kind in the world, they made sure to highlight this. Additionally, they were sure to underline the Rescue and Recovery service that is included with a number of their drives.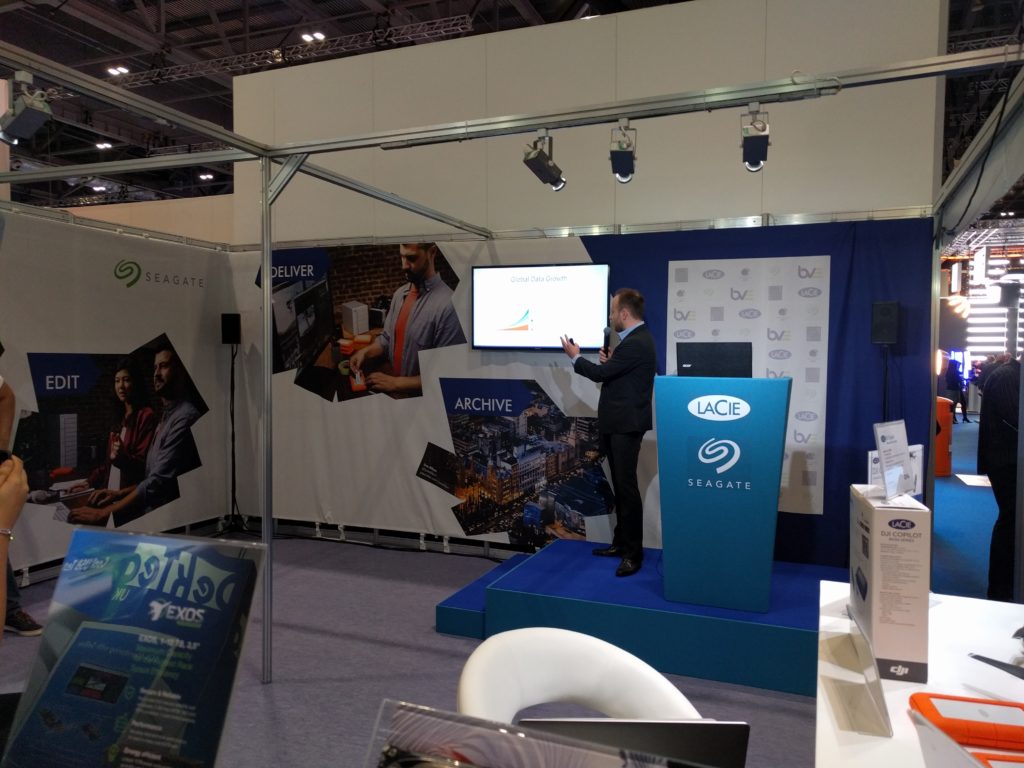 This brings me to Synology NAS, who still managed to team me a thing or two regarding speculated data growth (163 Zettabytes by 2025 – which makes alot more sense in context) and an added benefit of using Seagate drives in their NAS, so it is able to utilise the improved drive health information via the DSM interface. These combined with highlighting Synology C2 means that they were able to local and cloud-based solutions that they have on offer. None of this was new exactly, but definitely worth considering and something I intend to bear in mind next time I am asked to recommend HDD for a Synology. Finally, we can talk about LaCie. We have started delving more into their product range on YouTube and it was good to finally get to grips with both the DJI CoPilot (mentioned a wee while ago on this blog and YouTube).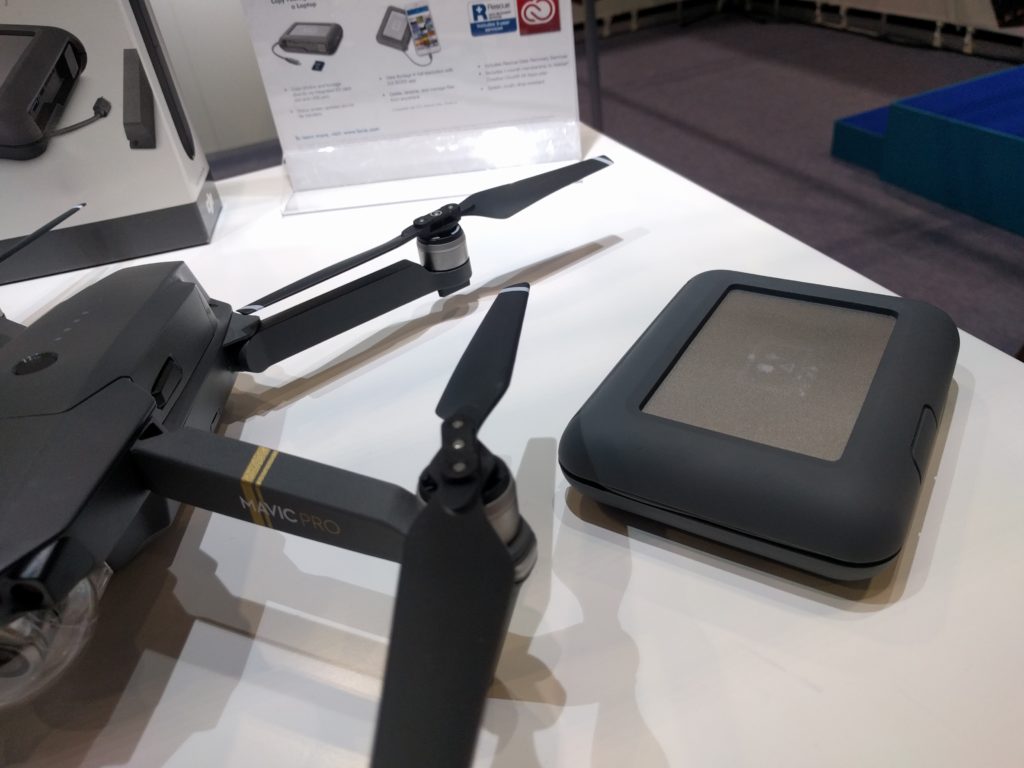 LaCie has always had a long-standing reputation with the photo and video production industry and it was nice to see a few of the more evolved solutions (the 12big especially was a neat, if somewhat towering surprise).As mentioned before, as they are teamed with Seagate, they are able to include impressive warranty periods, as well as data recovery services included in a wide variety of RAID-enabled storage devices in Thunderbolt 3.
What they did Right – Combining the Storage Media Provider, Local RAID Storage Manufacturer and Network/internet Based RAID Storage Manufacturer in one stand was a smart move. All too often at BVE I was talking to a manufacturer that was only supplying 1 part in a chain/workflow and once asked about another part of the production equipment, would be met with vague suggestions or a lack of commitment. I wish we saw more cooperation and/or collaboration between brands in this way as it will be of tremendous benefit to consumers who do not want to waste any more time than they have to arrange their perfect solution.
What they did Wrong – No Diskstation Synology Products on hand to show how you can change your local portable storage into network/internet accessible data. NAS is not new to me, but for many content creators, the limits or abilities of data is still unknown and it would have gone a long way to show just how easy it would be to save editors time, energy and money with this technology. There were several rackmount devices on show throughout the event from multiple vendors, but you'd be surprised how many top end production firms still stick with tower-based design even now.
Everything else at BVE 2018
Another brand that made a lasting impression on me was OWC SOlutions.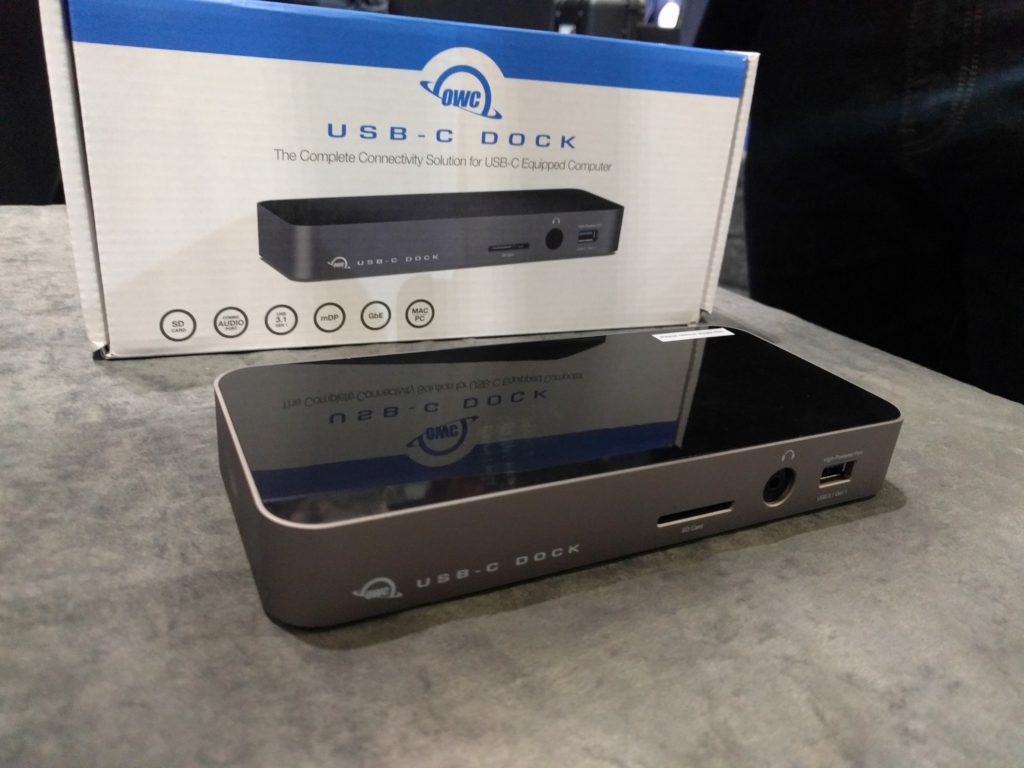 A company relatively unknown to me, they are a growing brand in the media industry that had products ranging from Thunderbolt 3 and USB 3.1 Docking stations (the later really impressing me, to be honest) as well as their own NVMe external SSD Thunderbolt 3 Drive and their own brand of SSD. I am looking forward to talking more about them on the channel in the next couple of months, but their range is DEFINITELY worth a look.
Elsewhere I spent a little time at the AWS and Google Cloud stands to discuss using the cloud as your main post-production platform and although I agreed in principle, I still maintain that it is a little difficult to imagine this becoming industry-wide until internet speeds are vastly improved. Even with access to the servers at Google which as insanely powerful (so a project encoded locally that could have taken an hour or two, is done in minutes) is still required to either synchronize your library and archive, so the edit file you work with locally can be carried over to the cloud for actioning. So that means you STILL need a local storage platform with which to mirror/sync, as well as physical media to record to on site. The idea clearly works, but I still think it is a pretty premium method that requires a pretty premium connection.
Remember that @BVExpo is still on until the end of Thursday 1st March. Get your free ticket HERE
📧 SUBSCRIBE TO OUR NEWSLETTER 🔔
🔒

Join Inner Circle
Get an alert every time something gets added to this specific article!
This description contains links to Amazon. These links will take you to some of the products mentioned in today's content. As an Amazon Associate, I earn from qualifying purchases. Visit the NASCompares Deal Finder to find the best place to buy this device in your region, based on Service, Support and Reputation - Just Search for your NAS Drive in the Box Below
Need Advice on Data Storage from an Expert?
Finally, for free advice about your setup, j
ust leave a message in the comments below here at NASCompares.com and we will get back to you.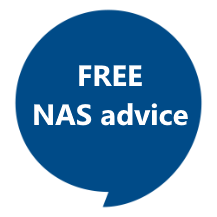 Need Help?
Where possible (and where appropriate) please provide as much information about your requirements, as then I can arrange the best answer and solution to your needs. Do not worry about your e-mail address being required, it will NOT be used in a mailing list and will NOT be used in any way other than to respond to your enquiry.
TRY CHAT
Terms and Conditions
If you like this service, please consider supporting us.
We use affiliate links on the blog allowing NAScompares information and advice service to be free of charge to you.
Anything you purchase on the day you click on our links will generate a small commission which is
used to run the website. Here is a link for
Amazon
and
B&H
.
You can also get me a ☕
Ko-fi
or old school
Paypal
. Thanks!
To find out more about how to support this advice service check
HERE
If you need to fix or configure a NAS, check
Fiver
Have you thought about helping others with your knowledge?
Find Instructions Here

ASK NASCompares forum
, by clicking the button below. This is a community hub that serves as a place that I can answer your question, chew the fat, share new release information and even get corrections posted. I will always get around to answering ALL queries, but as a one-man operation, I cannot promise speed! So by sharing your query in the
ASK NASCompares
section below, you can get a better range of solutions and suggestions, alongside my own.
This description contains links to Amazon. These links will take you to some of the products mentioned in today's video. As an Amazon Associate, I earn from qualifying purchases