Could this be the Best Mac Mini for Content Creators Yet?
Good news for Mac users, as well as all content creators, worldwide today with the official unveiling of the new Mac mini for 2018/19. For those unfamiliar with the product family line of Apple's flagship desktop systems, the Mac mini has always been designed to be a more affordable and compact alternative to the giant powerhouse Mac Pro Systems. As with previous iterations of the Mac mini family, this new release features frankly astonishing hardware inside and out, yet contained in an incredibly compact chassis.
As one would expect, the CPU, memory, ports and abilities of the new Mini Apple system are cutting edge and this could potentially be the biggest jump forward in terms of hardware, of the entire Mac Family yet. So why has the new Mac mini system got me excited when all I ever talked about is NAS? Let me explain.
Hardware Specifications of the Mac Mini and why should you care

As mentioned the hardware inside and on the back of the Mac mini 2018 really does deliver. The Intel i3, i5 or i7 CPU available in 4 or 6 cores means you will have some groundbreaking production performance available to you.

This is supported with between 4 and 64GB of 2666MHz DDR4 SO-DIMM memory and with the enhanced Intel UHD Graphics 630 support, 128GB to 2 TB of stock NVMe SSD storage and improved cooling (you will need it with that kind of hardware) you really are getting a lot of bang for your buck this year.

However, it is the ports and connections of this device that really, REALLY have me interested. Two NAScompares two things we have spoken about more than anything else in 2018 have been 10Gbe and Thunderbolt 3. Between these two pivotal and vital connections, photo and video editors have been able to maximise workflow, speed up production time and centralise the entire editing process. Add to this the fact that 4K resolution grows increasingly mainstream and 1080p is considered the bare minimum for finished productions, the result is that a content creator not using Thunderbolt 3 or 10 Gbe to edit mass works is going to be left at a significant disadvantage.

The new Apple Mac mini 2018/2019 arrives with four Thunderbolt 3 ports and 10Gbe as an optional extra. This is HUGE! thanks to these two connections becoming more mainstream, simple tasks such as fast Apple Time Machine backups remotely over the network and grander tasks such as non-linear editing (NLE) via a network attached storage (NAS) device have become hilariously easy and remarkably desirable.
Why should Mac Mini buyers care about 10Gbe and Thunderbolt 3
Aside from the fact that Thunderbolt 3 and 10 gigabit ethernet are available with the Mac mini 2018, there are multiple reasons why users should get excited about these connections. For a start, 10-gigabit ethernet is exactly what it says on the tin – namely it is 10x the network speed that you normally have at home or in the office. 10G networks have become incredibly popular over the last 2 years and have likewise become increasingly affordable. Even a mediocre 10Gbe network for video editing, as little as 5 years ago, would have cost you thousands of pounds just for the network equipment. Now in 2018, you can enable a 10Gbe home or office for at least 8 machines for less than £500. Of course, the real long-term cost goes into adding 10Gbe to each Mac/PC on your network with PCIe upgrade cards, or TB-to-10Gbe adapters (each around £100-200 a go). The fact that the new Mac mini has this connection as an option AND 4 Thunderbolt 3 USB-C ports for local fast access devices, means that your are 10Gbe editing ready that much sooner!
When it comes to storing, editing, rendering, distributing, archiving and backing up projects for popular programs like Final Cut Pro X, Da Vinci and Photoshop, most of the work that is handled in post-production is performed on external storage. This is because of factors such as:
Size of projects accumulated
Portability
Easing of system hardware
Distribution
Long term archival
For these reasons, storing on your local C:/ or Home drive is not ideal. In smaller 1-2 person operations, a thunderbolt 3 external drive is used. It provides the theoretical speed of 40Gb/s max. However it does have its downfalls. First off, only 1 user can access the drive at any one time, so only one user can use it for editing/backing up/archiving at any given time. Second, the 40GB/s speed is only possible with the right media and if you populate a Thunderbolt 3 external drive with traditional hard drives (in a RAID 0) you will likely only see around 500 to 800 Megabytes per second maximum. You will need to fully populate a RAID-enabled thunderbolt storage device with solid-state drives in order to get anything even close to the advertised speed of Thunderbolt 3. That isn't to say that Thunderbolt 3 is not important, it enables incredible hi-res displays and low latency peripherals, but when it comes to editing work on an external storage device you cannot beat the viability, utility and usability of 10gbe in content creation.
Why should Mac Mini users use 10Gbe
Because of the ease and affordability of 10-gigabit ethernet, you are able to achieve a great deal of output, for much less with 10Gbe when it comes to photo video editing. Multiple Mac mini users with 10Gbe connections can all connect to a 10G switch and add to that a 10Gbe enabled NAS drive. These can cost you as little as £400+ ex.VAT without the media inside and with it, it enables considerably more options to optimise your workflow compared with Thunderbolt. With a 10Gbe NAS, connected to multiple 10Gbe Mac mini devices, via a 10Gbe switch you can:
Enable multiple users to edit the files on a single NAS at the same time
Enable NLE (non-linear editing) to ensure that the changes and edits you make to your Media do not affect the original copy.
Access your files over 10Gbe networks and 1Gbe alike, then use the same network to distribute work to other connected users fast.
Use the internet enabled facilities of the NAS to then distribute completed work to selected clients or the world, directly from the NAS
Use the 10Gbe NAS backup and migration options to send copies of important data for backup to select location automatically off-site
Store multiple Apple Time Machine images, from multiple Mac mini machines to the 10Gbe NAS fast. Thereby creating a master business backup!
Most importantly, you will be able to do all of these things with multiple users at once.
Lastly, you can populate a 10Gbe NAS with multiple hard drives or SSD and in the right RAID, still get the 600-1000MB/s write speeds you need to edit the densest of files.
Recommended 10Gbe and Thunderbolt 3 NAS for Mac Mini
As mentioned, both thunderbolt 3 and 10 GB have been around now for at least a couple of years in the commercial market. Because of this, there are literally hundreds of different NAS devices that you can purchase and each has its own advantages and disadvantages, as well as compatibility pros and cons. Below are the top Thunderbolt 3 and 10Gbe NAS devices I recommend from Synology, QNAP and more.
When will the Mac Mini be release and how much will it be?
The Mac Mini will be available for shipping on the 6th November 2018 with 3.6 GHz Quad Core processor, 128 GB of storage space and 8 GB of RAM is sold from around 900 euros. The Mini with 3 GHz, Core processor (Turbo Boost up to 4.1 GHz), 8 GB of RAM and 256 GB of storage space costs 1,250 euros. If you want more equipment, you have to pay a bit more. So cost 16 GB, 240 euros more, 32 GB, 720 euros and 64 GB is equal to 1,680 euros extra. The 512 GB SSD will be sold for 240 euros more, 720 euros will cost the 1 TB SSD and 2 TB for fantastic 1,680 euros. 10 Gigabit Ethernet costs 120 euros extra.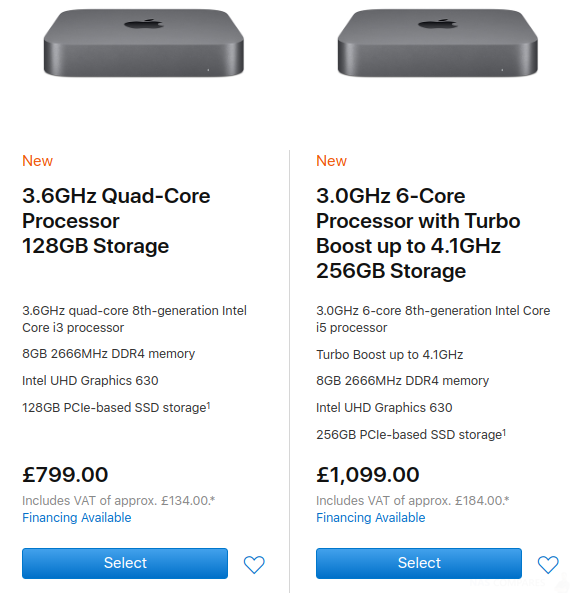 Articles Get Updated Regularly - Get an alert every time something gets added to this page!
This description contains links to Amazon. These links will take you to some of the products mentioned in today's content. As an Amazon Associate, I earn from qualifying purchases. Visit the NASCompares Deal Finder to find the best place to buy this device in your region, based on Service, Support and Reputation - Just Search for your NAS Drive in the Box Below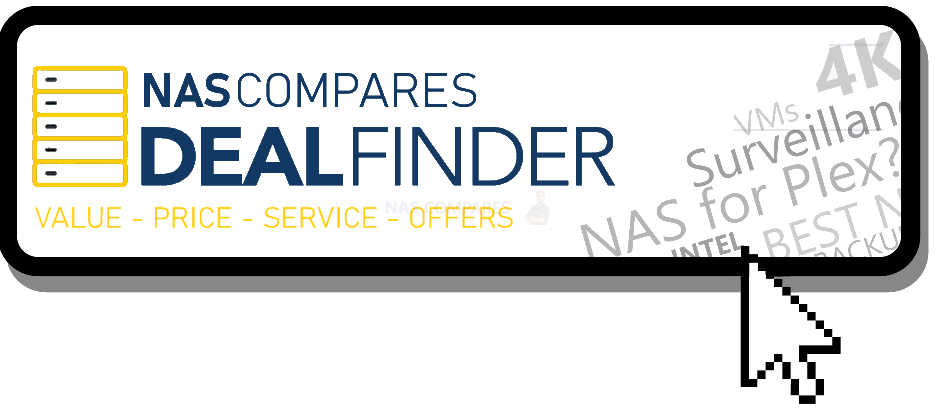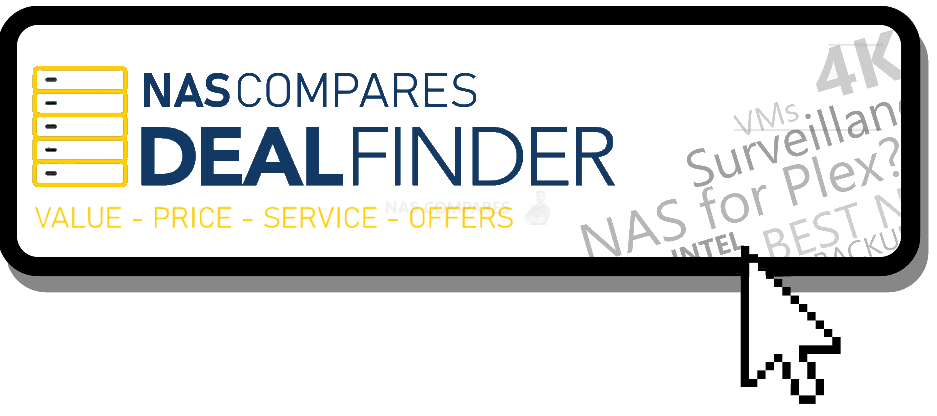 SEARCH IN THE BOX BELOW FOR NAS DEALS
Need Advice on Data Storage from an Expert?
We want to keep the free advice on NASCompares FREE for as long as we can. Since this service started back in Jan '18, We have helped hundreds of users every month solve their storage woes, but we can only continue to do this with your support. So please do choose to buy at Amazon US and Amazon UK on the articles when buying to provide advert revenue support or to donate/support the site below.


Finally, for free advice about your setup, j
ust leave a message in the comments below here at NASCompares.com and we will get back to you.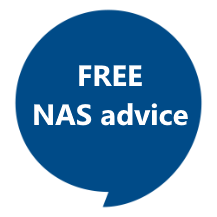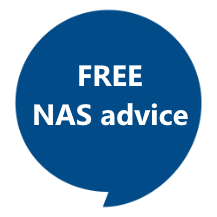 Need Help?
Where possible (and where appropriate) please provide as much information about your requirements, as then I can arrange the best answer and solution to your needs. Do not worry about your e-mail address being required, it will NOT be used in a mailing list and will NOT be used in any way other than to respond to your enquiry.
Terms and Conditions
Alternatively, why not ask me on the
ASK NASCompares forum
, by clicking the button below. This is a community hub that serves as a place that I can answer your question, chew the fat, share new release information and even get corrections posted. I will always get around to answering ALL queries, but as a one-man operation, I cannot promise speed! So by sharing your query in the
ASK NASCompares
section below, you can get a better range of solutions and suggestions, alongside my own.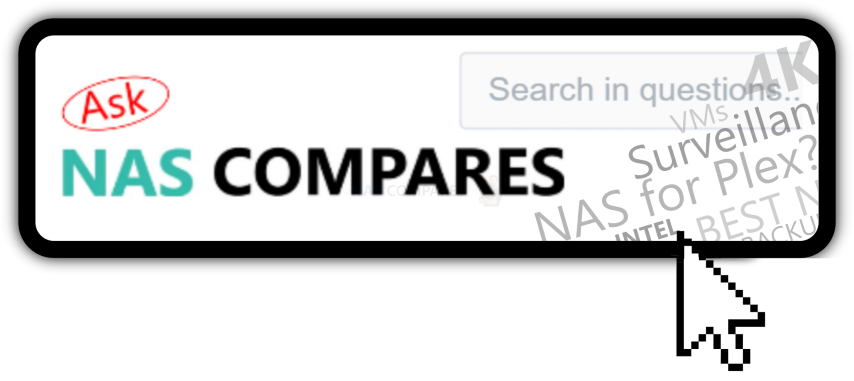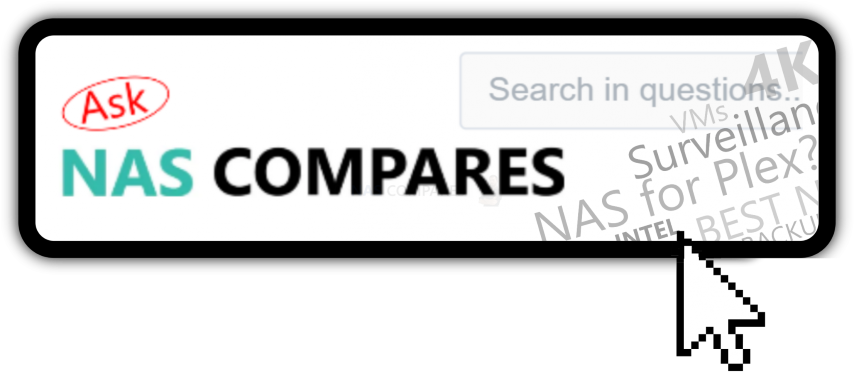 This description contains links to Amazon. These links will take you to some of the products mentioned in today's video. As an Amazon Associate, I earn from qualifying purchases