Most Powerful NAS to Buy in 2019
Network attached storage is not a new concept and in fact, NAS systems have existed in one form or another for the better part of a decade. Once you remove all the fancy talk about reliable/stable DDNS internet access and a multitude of RAID storage options, stripping it right down to the bare bones, almost all NAS devices are identical to a desktop computer. Yes, NAS server devices are designed to use less power, be on 24×7 and generate less heat noise and dust that a desktop PC case, but bottom line is that a NAS and a computer are very similar indeed. So this must be why, when many users are considering investing in a new NAS server for home or business, they want a powerful NAS. Many people judge a NAS server with the same benchmarks and specifications that they use to choose their next gaming PC, therefore get disappointed when they see a NAS seems to cost a lot of money for hardware specifications that are a little mid-range in PC terms.
This is because a NAS is engineered to deliver data fast/easily far more than typical desktop PC would at any given time and is designed to be considerably more enduring in the long term. A desktop PC is not designed to be left powered on constantly for months at a time and is also not designed with storage reliability and access as its primary task. A PC is designed to use the data in tasks/applications, not the distribution. It is like comparing spending £50,000 on a new car or a truck – £50K buys you a fast car, or a big, reliable truck! It is about what the device is used for, not the hardware keeping it moving. That said, in 2018 there have been numerous examples of NAS server devices that are insanely powerful, even by PC terms and are designed to run everything!!! Think of these as the 'truck' with a Ferrari engine inside). These NAS devices can run:
Multiple virtual machines

A 4K Plex media server

A live photo video editing suite

Large-scale multi-device backups

Graphics rendering of files over 10G

Multiple RAID volumes and sharing storage internally

…And all of this at the same time whilst providing network and internet storage to many users.
Today I'm going to talk about those most powerful NAS of 2018 and why they should be you should buy if the first thing you care about when buying a NAS is what's under the bonnet.
1st Place – QNAP TVS-1282 Powerhouse NAS
0-112TB ,Hardware Transcoding Engine, Plays and Transcodes pretty much ANYTHING 1080p and 4K, Intel® Core™ i7-6700 Quad-core 3.4 GHz,16-64GB DDR4 Memory, 2 year warranty, 5 USB 3.0, LCD, 4 SSD Bays, 2x PCIe slot, Audio In/Out, Speaker, 4 LAN, 3  HDMI (1x 2.0 2×1.4b), Remote Control, Thunderbolt 3 Option, GPU Card Support – £2100 + ex.VAT
Although it has been released for over a year, the QNAP TVS-1282 is still one of the most powerful and impressive NAS server devices in a very, very long time. It has appeared in several 'Top  NAS of the year lists in 2017 and 2018' for everything that is enterprise and modern in NAS. The device even branched out into numerous versions that further improved the hardware abilities of this NAS, such as: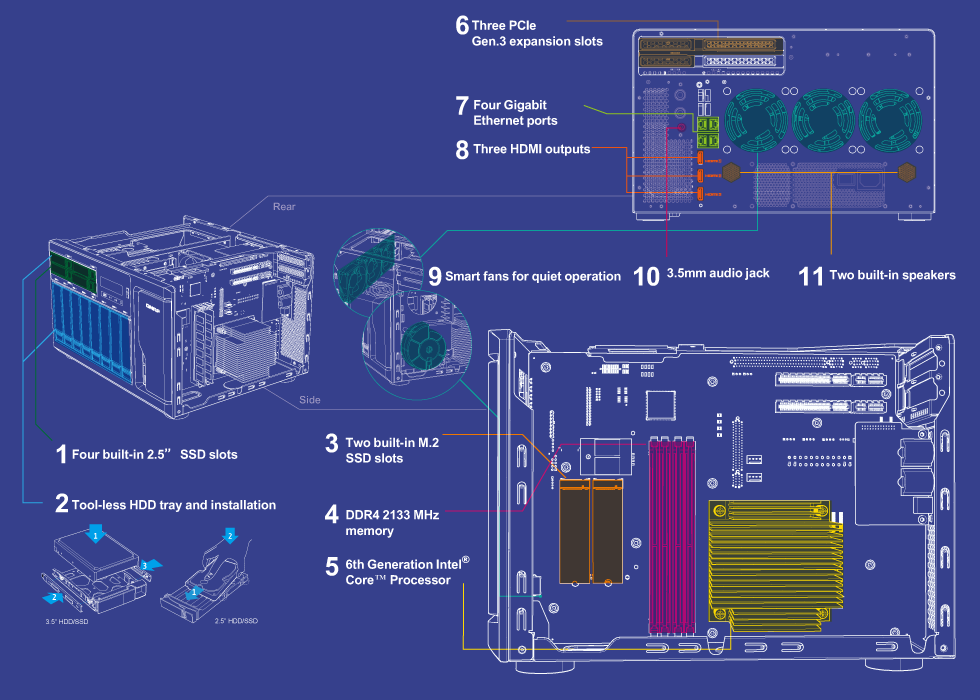 Thunderbolt 2 NAS

Thunderbolt 3 NAS

10Gbe NAS

Blu-ray read and write Optical Media NAS

Compact SSD NAS

Tape loader based NAS
In short TVS-1282 is a NAS that is constantly surprising. In fact, there is even an Easter Egg like quality to this NAS in that more recent units with recent serial numbers have had an improved CPU installed of a 7th Gen i5 or i7 CPU (due to shortages of that desirable CPU) that QNAP did not even advertise to consumers. So this means that buying now, even a year+ after official release can be an advantage!
This slideshow requires JavaScript.
For those more interested in the storage capabilities of this NAS than anything else, then you will be pleased to know the system features three kinds of storage media in hard drives, 2.5" SSD and M2 SSD. With this varied media populating the device and tiered storage enabled, the system is intelligent enough to identify which media needs to be moved or copied to the right layer of storage. This combined with the link aggregation across for LAN ports or Utilising 10Gbe or thunderbolt options, means that any bottleneck, both internally and externally being removed. This combined with an exceptional CPU and memory options, as well as an insanely well-ventilated desktop chassis keeping things cool, means you are looking at some truly insane throughout for handling all kinds of environments.
Oh, and did I mention you can install graphics card?!? Perfect for Deep Learning and AI applications.
Look up the Best Price for your NAS Here: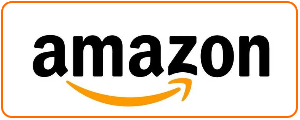 Support this site with Ad Revenue


---
2nd Place – Synology DS3617xs 12-Bay Tower NAS
0-168TB, Software Transcoding ONLY but can pretty much play ANYTHING 1080p and 4K, Intel Xeon D-1527 Quad Core 2.2 GHz (2.7 GHz turbo), 16-4GB DDR4 ECC Memory, 5 year warranty, Synology Replacement Service, 2 USB 3.0, 2x expansion slot for upto 36 HDD, 4 LAN, PCIe upgrade slot- £1900+ ex.VAT
The Synology DS3617xs NAS is now almost 2 years old and it is still the most capable and powerful NAS that Synology has ever released for desktop users. Synology is not a brand that is widely known for its hardware and in fact has a much, much better reputation for its software. The first party applications available to even a mid-range powered Synology NAS is pretty impressive indeed, with their own brand alternative to every function you should hope to need in a desktop computer, such as:
This slideshow requires JavaScript.
Synology office – Alternative to Google Docs

Synology mail – Alternative to Gmail, Outlook, etc

Synology calendar – Alternative to Google Calendar

Synology chat – Alternative to Skye and Whatsapp

Synology drive – Alternative to Google Drive, Dropbox, etc

Synology moments – Alternative to Google Photo and Picasa

and many backup applications covering USB local network and internet cloud-based provisions when needed.
The reason that Synology prioritises software over hardware is this means they can gear that software to eek every last inch of efficiency and productivity from the hardware that is on offer. In real terms that means that a Synology with it first party apps can provide greater output than most other NAS can with the 3rd party apps using the same hardware. What makes the Synology DS3617xs different though is that you have those great first party apps and third-party application support but this time on an absolutely insanely powered 12-Bay NAS. Over 2 years old, the DS3617xs features the Quad Core Xeon D-1527 CPU that, although more common now in enterprise NAS, was very rare when released 2 years ago. Additionally, the unit arrives with error correction memory (ECC) at 2400MHz frequency. it is also one of the first Synology desktop NAS to feature PCIe expandability. Unsurprisingly, the Synology diskstation manager software pushes this hardware to its most efficient and Powerful and what you have here is a powerhouse of storage ability for hundreds/thousands of users.
Look up the Best Price for your NAS Here: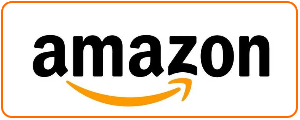 Support this site with Ad Revenue


---
3rd Place – TS-1677X Ryzen 7 8-Core NAS for HDD and SSD
0-168TB, Software Transcoding ONLY but can pretty much play ANYTHING 1080p and 4K, minorly struggles with the highest bitrate media (very, very top end), AMD Ryzen 7 1700 Eight-core / 16-thread 3.0 GHz processor, Turbo Core 3.7 GHz, 16-64GB DDR4 Memory, 2 year warranty, 6 USB 3.0, LCD, 12 HDD Bays, 4 SSD Bays, m.2 Slots, 2x PCIe slot, Audio In/Out, Speaker, 4 LAN, 2x 10Gbe, 2x USB 3.1 Gen 2, PCIe GPU Card Support- £2400 + ex.VAT
When it comes to a NAS that involves cutting-edge hardware and connectivity, of course, it comes from QNAP. They have proven time and time again over the last 5 years that they are the genuine innovators of hardware in network attached storage, introducing new ways to think about how you can connect with your data. They may seem a touch behind Synology in terms of first party software, but they more than makeup for it by providing some of the most powerful hardware for network storage available in 2018. Released half-way through 2018, the QNAP TS-1677X incorporates every high-end hardware option developed in NAS over the last 10 years (except redundant PSU – always room for improvement) and manages to squeeze them all into a desktop chassis. Alongside the first party applications for content management that QNAP provide, there are few NAS server devices that can provide this level of hardware support for 3rd party software. A few key examples of how this hardware can be utilized are:
This slideshow requires JavaScript.
Large-scale 10/20/40G data storage networks with the potential for 6 link aggregated 10Gbe ports or 4x 40Gbe Ports

HUGE potential for a desktop AI/Deep learning solution across varied media types

Large Capacity, fast and easy to deploy VM network in a single contained desktop solution

Multi-tiered storage device for a comprehensive database for companies with varied forms of data handling (small, large, fast, archive, etc)

Large-scale, enterprise-grade surveillance

Entire 4K Video Editing workflow device (Capture, backup, edit, encode, distribute, package, distribute, archive, etc) all within a single device, across itS storage layers
These are some of the more enterprise and corporate users that a person would buy an insanely powerful NAS such as this device, and all of them are possible in the TS-1677X NAS. You will need to make need to make an exceptionally large space on your desktop in order to take advantage of it and you will not want to be in close proximity to it, as even though it is s desktop device, it easily produces as much noise as a rackmount. A solid, if incredible OTT piece of kit.
Look up the Best Price for your NAS Here: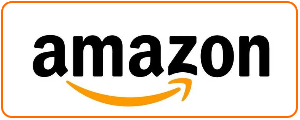 Support this site with Ad Revenue


---
📧 LET ME KNOW ABOUT NEW POSTS 🔔
Join 1,462 other subscribers
Get an alert every time something gets added to this specific article!
This description contains links to Amazon. These links will take you to some of the products mentioned in today's content. As an Amazon Associate, I earn from qualifying purchases. Visit the NASCompares Deal Finder to find the best place to buy this device in your region, based on Service, Support and Reputation - Just Search for your NAS Drive in the Box Below
Need Advice on Data Storage from an Expert?
We want to keep the free advice on NASCompares FREE for as long as we can. Since this service started back in Jan '18, We have helped hundreds of users every month solve their storage woes, but we can only continue to do this with your support. So please do choose to buy at Amazon US and Amazon UK on the articles when buying to provide advert revenue support or to donate/support the site below.

Finally, for free advice about your setup, j
ust leave a message in the comments below here at NASCompares.com and we will get back to you.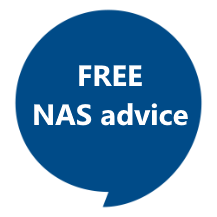 Need Help?
Where possible (and where appropriate) please provide as much information about your requirements, as then I can arrange the best answer and solution to your needs. Do not worry about your e-mail address being required, it will NOT be used in a mailing list and will NOT be used in any way other than to respond to your enquiry.
Support What We Do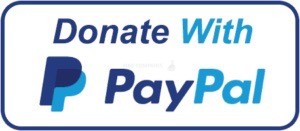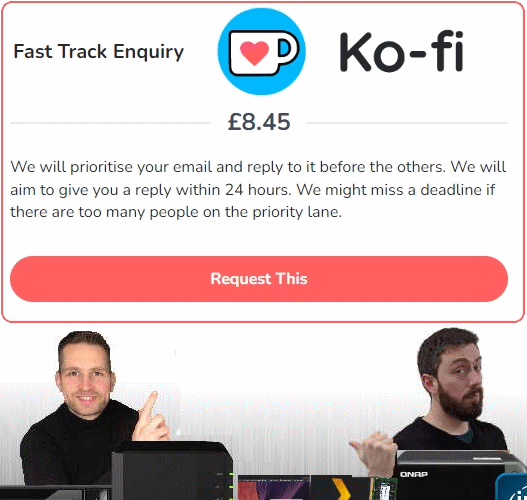 Terms and Conditions
Alternatively, why not ask me on the
ASK NASCompares forum
, by clicking the button below. This is a community hub that serves as a place that I can answer your question, chew the fat, share new release information and even get corrections posted. I will always get around to answering ALL queries, but as a one-man operation, I cannot promise speed! So by sharing your query in the
ASK NASCompares
section below, you can get a better range of solutions and suggestions, alongside my own.
This description contains links to Amazon. These links will take you to some of the products mentioned in today's video. As an Amazon Associate, I earn from qualifying purchases