Best NAS Drives you can Buy for under £1,000 including storage
If you have been considering buying a NAS drive as your perfect Plex media server, you will be all too familiar with the fact that there are a lot of different NAS drives and brands out there. Perhaps you have an existing library of high-definition media, or have purchased impressive 4K output devices and mobiles for the home and daily commute, a high-performance Plex media server NAS will cost you a good chunk of money. For those that want to invest well in this area of their home entertainment, they will need to spend up to £1000 including storage media and your local tax. even if you accept that this cost is justified, that still means choosing one of the thousands of possible NAS drives. You want something fast and able to handle the dense media that you have collected over the years. The 4K UHD, the 1080p, and all that high spec media at 60 frames per second. Getting this kind of performance both directly and via transcoding on a Plex media server for under £1000 (inc tax and media) is a lot harder than you think. Luckily today I have recommended be top three drives for a Plex media server that will cost you under that killer £1000 price point and even leave you with a little leftover for popcorn and a few good boxsets.
What kind of Plex NAS Drive will £1,000 Buy Me?
Straight away it is worth highlighting that the ultimate Plex NAS that will do absolutely everything (insanely high bitrate media, 4K H.264, 100FPS) will probably cost you more than £1000 and closer to £4000 on its own. This is because you will need to take into consideration concepts such as future-proofing and transcoding of the very dentist high bitrate 4K media. However, there are still numerous fantastic Plex NAS devices that you can purchase for under the aforementioned £1000 that is almost as good as these more expensive alternatives, they just need you to make a few tiny compromises. The three NAS drives I recommend below for the best Plex media server for under £1K all provide the following key features:
Complete worldwide access to your Plex NAS, for you, friends and family while still maintaining full security
Full transcoding of multiple 1080p standard HD streams or one lower-end 4K Video at the very least
RAID and Multiple Backup options for ease of storage and options for expanding storage at a later date
Intuitive and user-friendly graphical interface, as well as mobile and desktop support via the network and internet.
Many tasks and applications supported outside of plex for your home or business such as backups, surveillance, file sharing, DLNA and business CRM and CMS systems
Arriving with at least 4GB of memory and the capacity to increase memory and improve performance years down the line
Support for SSD caching and SSD tiering that allow you to further improve performance in and out of Plex with small upgrades later down the line if needed, spreading the cost much more easily to the consumer.
Use the FREE ADVICE Button to contact me directly for a recommendation on the Best Plex NAS for your Setup/Budget. Please bear in mind that this is a one-man operation, so my reply might take a little bit of time, but it will be impartial, honest and have your best interests at heart.
So, regardless of which NAS Drive you choose for your Plex Media Server, you will an impressive and very capable Plex Media Server at your disposal.
Click Below for the Best

PLEX NAS

Drives for Under £500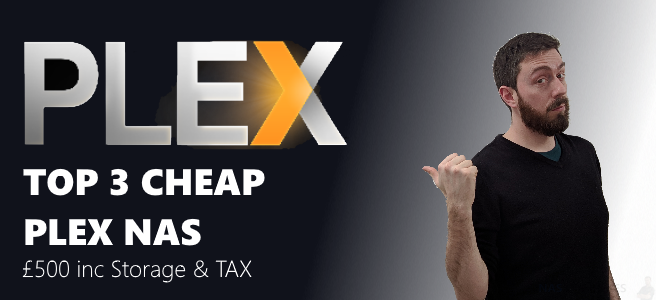 Best £1,000

Plex Media Server

NAS for Beginners – Synology DS918+ and Seagate 16TB Seagate Ironwolf
Synology DS918++, Intel J3455 1.5-2.3Ghz CPU, 4GB Memory, NVMe SSD Slots, BTRFS, SHR, 3yr Warranty, Seagate Ironwolf NAS Hard Drive (4x 4TB)

= £940 TOTAL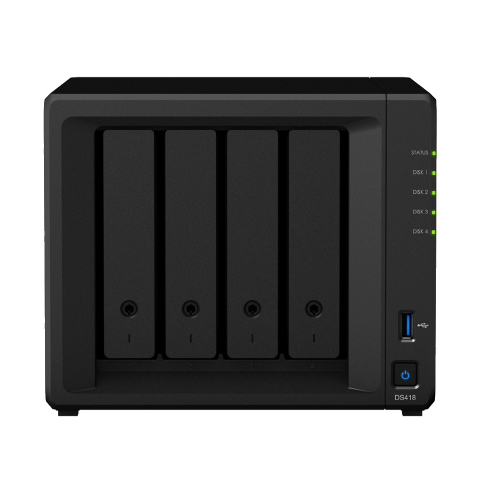 Although the Synology DS918+ is fast approaching 2 years old, it is still one of the very best Plex NAS' for under £1000 that the company has ever produced. Looking at a NAS drive that is much older is not always some kind of compromise, but more that it has really stood the test of time, beating other would-be contenders In the meantime, bearing in mind that I am attempting to tell you guys the very best NAS and storage including tax options for £1000, the DS918+ with three or four 4TB hard drives will arrive well within this budget, and with change! So why has the DS918+ maintained its popularity? Well, it's a number of factors. Firstly the CPU that this Synology NAS features, the J3455 Celeron, is a fantastically capable processor that not only transcodes 4K and 1080p media natively, but also allows the Plex media server application to utilise this transcoding engine. This is a lot rarer than you would think, as a number of NAS drives are not able to supply Plex with access to embedded graphics or transcoding, so these other devices use significantly more CPU power to perform these tasks. Because the DS918+ gives Plex this access, not only does it use less power but it also can transcode a hell of a lot more, even at this price point 2 years on.
Other hardware advantages that this device provides is 4GB of DDR3L memory that can be expanded to 8GB officially and 16GB unofficially. For such a compact and affordable solution for Plex, that amount of memory goes a long way and is something that user's with multiple family members or colleagues accessing the device will see the advantage in. On top of this, the DS918+ when it was released was one of the only commercial NAS servers out there that featured twin NVMe SSD bays for adding super-fast SSD drives, enabling caching. This means that if the DS918+ starts to show signs of lagging, you can install some PCIe-based SSD and greatly improve internal operations. Even now, almost two years after release, the DS918+ is still one of only 9 or 10 commercial NAS drives that I know of that arrive with this feature and easily the most affordable.
Finally, although not strictly related to Plex media server, the DS918+ plus arrives with BTRFS support for a more resource-aware platform, as well as Synology Hybrid RAID (SHR) making it a much more flexible and evolving RAID configuration for your storage. Synology is a brand that has a big reputation for its software integration and has a history of pushing the limits of the comparatively modest hardware typically found there. In the case of the DS918+, they have really pushed the boat out on the hardware front and possibly give you more from that CPU than any other brands, in and outside of PLEX. we have still yet to see a DS920+ right now at the time of writing, but I struggle to see what more they can give. maybe a Pentium or Gemini Lake J4105 CPU, but we will have to wait and see.
Best £1000

Plex Media Server

NAS for Full Access -QNAP TS-453Be and Seagate 16TB Seagate Ironwolf
QNAP TS-453Be, Intel J3455 1.5-2.3Ghz CPU, 2/4GB Memory, 2x HDMI 1.4b, Audio In/Out, PCIe Slot, 2yr Warranty, Seagate Ironwolf NAS Hard Drive (4x 4TB)

= £955 TOTAL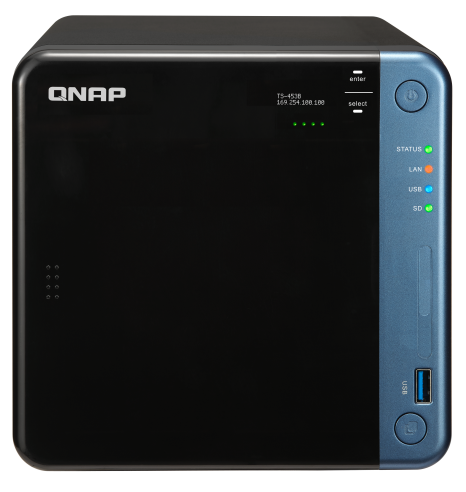 Although the QNAP TS-453Be is similar in internal hardware, it is genuinely a very, very different NAS for Plex than the Synology entry. iI you are looking for a decent media server for under £1000, but want a good balance between internet, network and direct access to your multimedia, then you will struggle to find a better NAS drive for Plex than the QNAP TS-453Be. Arriving with the same Intel J3455 processor found in the previous entry, as well as to 2/4GB of memory, the QNAP TS-453Be has a myriad of hardware options that are rarely available from any other brand. This coupled with a software platform that supports plex in a number of ways outside of the traditional app, you have a solution for Plex that is a great deal more hardware flexible than most. If you have a background in IT or have even a pinch of network knowledge, you will be able to configure the ultimate Plex media server NAS, as well as as a pinch of extra time to optimise it it, you would be hard pushed to find a better NAS for Plex than the TS-453Be.
Along with featuring the same hardware inside as found in the Synology DS918+, this Plex NAS features twin HDMI out ports that can be used to directly output your Plex media library to a TV or HDMI monitor. This means that if you want to enjoy 1080P at 60FPS or 4K media at 30 frames per second on your brand new TV, you will not have to rely on your network bandwidth and will have close to zero latency time (the time between data going from one end of the transaction to another). Direct access to the media on your NAS inside and outside of Plex is something that QNAP has a long-established pedigree of supporting and this same combination of local and network access even goes a little further, thanks to the PCIe slot. This upgrade slot allows users to utilise a number of storage upgrades that will benefit you in your Plex media environment now and in future. The fact that this slot is available in a NAS at this price level allows you to spread the cost of fully upgrading this Plex NAS gradually throughout its lifetime, possibly even extending its usability by years. This is because of the simple fact that file sizes are getting bigger, yet our demand for data grows – standard network protocol is just not sufficient to maintain these standards over time and the option of upgrading your NAS in an effort to keep up with growing demands is always a good thing for Plex and more.
On the face of it, the difference between the TS-453Be and the DS918+ seem minimal in terms of CPU and memory. But the QNAP NAS gives you better options for accessing your Plex media server directly, locally, and via the internet. Although this is available in a number of other QNAP NAS devices, it is rarely provided so well and at this price level. If these options are of no interest to you, then you may not see this QNAP NAS as right for your Plex library, but in terms of swiss-army knife access and upgradability, you will struggle to find better.
Best £1000

Plex Media Server

NAS for Power – Nimbustor 4 and Seagate 16TB Seagate Ironwolf
Asustor AS5304T, Intel J4105 1.5-2.5Ghz CPU, 4/8GB Memory, HDMI 2.0a, Audio In/Out, 2×2.5Gbe, 3yr Warranty, Seagate Ironwolf NAS Hard Drive (4x 4TB)

= £910 TOTAL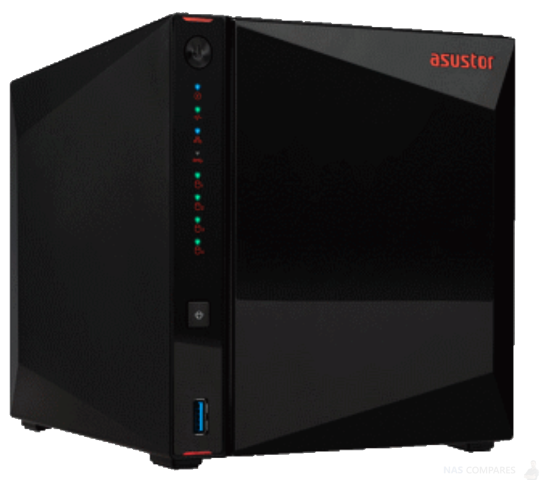 Easily one of the newest NAS drives to feature on my Top 3 Plex lists, the Asustor AS5304T also happens to be one of the most powerful NAS drives in its price bracket and in terms of Plex performance, a real tough one to beat. Featuring almost all of the hardware advantages of both the TS-453Be and DS918+, the Nimbustor 4 from Asustor is a NAS with little or no compromise. £1000 will buy you the Asustor 4 and 16 terabyte of storage including tax, which once you know what it is capable of, will genuinely impress you. Arriving with the significantly improved Intel Celeron J4105 CPU, this quad-core 1.5 2.5Ghz processor achieved over 2800 on CPU benchmark and transcodes 1080p and lower End 4K media in Plex remarkably well. This processor is supported by 4GB of DDR4 memory that can be upgraded to 8GB. So straight away, in terms of traditional CPU/RAM, this is the heaviest hitter on today's list.
However, the Asustor Nimbustor 4 also challenges Synology with BTRFS support and it's price-tag, meanwhile challenging QNAP with its direct access style of architecture. the Nimbustor NAS features an HDMI 2.0a port that allows you to connect it to a monitor or TV, just like the QNAP. However, whereas the TS-453Be features HDMI 1.4b, this newer and more efficient variant allows 4K at 60 frames per second, to be displayed from Plex to the visual display. Although the means to access your media server application via the Asustor HDMI portal is not quite as fluid as that found on the QNAP NAS (featuring HD Station), the performance of the Asustor AS5304T Plex beats it hands down. Alongside this visual port, we can discuss the upgraded RJ45 LAN connections. Both the previous Synology and QNAP NAS drive for Plex previously mentioned arrive with standard 1-gigabit (1Gbe) ethernet, and the QNAP has an option to upgrade at an additional cost, The Asustor AS5304T arrives with two RJ45 2.5Gb Ethernet ports. These twin, backwards compatible, ports allow you to utilise your existing 1Gbe connection and take advantage of greater speed further down the line. So, whereas the QNAP Plex NAS offered this as an optional extra, the Nimbustor 4 includes this in its budget and even arrives a pinch lower in price comparatively. That said, all three Solutions today arrive at under £1000, inc TAX and include 16 terabytes of storage (4x 4TB Seagate Ironwolf NAS HDD), so the price is less of a factor.
Ultimately, though the AS5304T Nimbustor 4 NAS' software us not quite as polished as the respective Synology and QNAP platforms, the Asustor still performs incredibly well as a Plex media server over the network and internet, often outperforming the DS918+ and TS-453Be. as well as providing great future-proofing in the form of that 60 frames per second 4k output and more evolved, future-proof LAN ports within your purchase. Definitely the best NAS drive on this list for those looking for a Plex media server with the best value for money, without worrying about having to buy more resources later
---
Best

Plex Media Server

NAS for £1000 – Conclusion
So, there you have it. The Top 3 NAS Drives for a Plex Media Server, for under £100 including hard drives and tax. All three have their own strengths and weaknesses in plex, so be sure to choose the right NAS Drive for you.
NASCompares Top 3 £1,000 Plex NAS for £500 (including Drives and Tax)

Synology DS918+ NAS

+ Seagate Ironwolf NAS Hard Drive (4x 4TB)

= 

QNAP TS-453Be NAS

+ Seagate Ironwolf NAS Hard Drive (4x 4TB)

= 

Nimbustor 4 NAS

+ Seagate Ironwolf NAS Hard Drive (4x 4TB)

= 
It is worth highlighting that regardless of which NAS drive you buy as the perfect £1000 Plex media server, all three of these devices can do so much more than that, providing you with the following additional software and support options to you, your family and colleagues:
– Multi-tiered backup options for Windows, Mac, Android and Linux devices.
– Synchronisation and migration options for NAS to NAS, cloud to NAS, USB to NAS and Apple time machine.
– DLNA media support for enjoying all your media across all your devices
– Multiple user support that allows simultaneous file access and control over the network and internet.
– Privilege, time limit, password and remote share options for sending files to those that need them
– A wide range of third-party apps support from dedicated app centres via the NAS GUI
– Multiple mobile apps available from iOS and Android, that are free and tailored to different file requirements
– Dedicated surveillance software that allows you to connect access and control multiple pan tilt zoom IP cameras in your network environment and record footage, Taylor alerts and set recording rules
– all arrived with two to three years of manufacturer's warranty worldwide.
So there you go, those are the best NAS drives for used as a Plex media server for you right now. Still unsure? Not quite ready to spend the money? Never fear, you can always
contact me directly for free advice
using the form below. This is a free service and only manned by myself (with the odd bit of support) so my reply might take an extra day or two, but my advice will be impartial and with your best interests at heart! If you want to support, you can always donate (on the right) or you can click an ad banner and that goes straight to supporting the site!
📧 LET ME KNOW ABOUT NEW POSTS 🔔
Join 1,570 other subscribers
Get an alert every time something gets added to this specific article!
This description contains links to Amazon. These links will take you to some of the products mentioned in today's content. As an Amazon Associate, I earn from qualifying purchases. Visit the NASCompares Deal Finder to find the best place to buy this device in your region, based on Service, Support and Reputation - Just Search for your NAS Drive in the Box Below
Need Advice on Data Storage from an Expert?
We want to keep the free advice on NASCompares FREE for as long as we can. Since this service started back in Jan '18, We have helped hundreds of users every month solve their storage woes, but we can only continue to do this with your support. So please do choose to buy at Amazon US and Amazon UK on the articles when buying to provide advert revenue support or to donate/support the site below.

Finally, for free advice about your setup, j
ust leave a message in the comments below here at NASCompares.com and we will get back to you.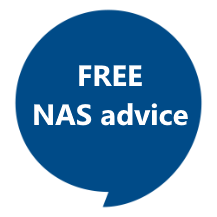 Need Help?
Where possible (and where appropriate) please provide as much information about your requirements, as then I can arrange the best answer and solution to your needs. Do not worry about your e-mail address being required, it will NOT be used in a mailing list and will NOT be used in any way other than to respond to your enquiry.
Support What We Do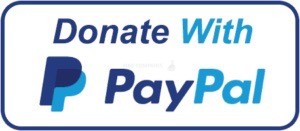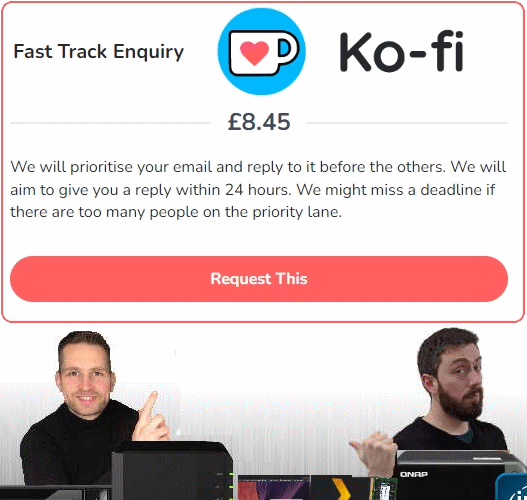 Terms and Conditions
Alternatively, why not ask me on the
ASK NASCompares forum
, by clicking the button below. This is a community hub that serves as a place that I can answer your question, chew the fat, share new release information and even get corrections posted. I will always get around to answering ALL queries, but as a one-man operation, I cannot promise speed! So by sharing your query in the
ASK NASCompares
section below, you can get a better range of solutions and suggestions, alongside my own.
This description contains links to Amazon. These links will take you to some of the products mentioned in today's video. As an Amazon Associate, I earn from qualifying purchases