Top 3 NAS for 10Gbe of the Year
The importance of 10-gigabit ethernet (10Gbe) in 2018 cannot be understated. With advances in affordability and the utility of this kind of hardware, many users are now making the jump into this faster more efficient means of improving their workflow. Not so long ago, most companies/businesses that had adopted 10G, did so for backup purposes only. However, until recently, the sheer cost of the switches, cables, port upgrades and internal cabling of 10Gbe pushed the upgrade cost into the £10,000's – a HIGH price for backups! But fast forward to the end of 2019 and not only has the cost of upgrading a home or business user to 10Gbe cost just £100's, but the utility of 10Gbe in most data environments is much broader and featured in such industries as:
Fast, high-resolution photo editing environments
Dense 1080p and 4K Video Editing suites that want to simplify their workflow and save time, staff and money
Company-wide backup solutions, supporting numerous simultaneous versions
Virtual Machine environments, where latency must be kept to a minimum over the network and internet
10Gbe is available in two popular forms, Copper (10GBASE-T) or Fiber (SFP+) and primarily designed to suit different data environments.  Learn more about the difference between 10GBASE-T and SFP below:
So, the best 10Gbe NAS solution for 2019 is more than just about having the connection. You need a CPU that can multi-task, render when needed and have a floating-point that facilitates multi-user access at once. All three of the NAS in my top 3 10Gbe NAS of 2019 have this, as well as options such as end to end encryption and network UI for admin and guest users alike.
Buffalo TeraStation 5410DN 10Gbe NAS Drive –

£

££
0-64 TB, 4-Bays, Annapurna Labs Alpine AL314 1.7Ghz 4-Core, 4GB ECC Memory, 2x 1Gbe, 1x 10Gbe, 3yr Warranty, Pre-Populated  £600+ ex.VAT

Hardware Review of the Buffalo TeraStation 5810DN NAS HERE – https://nascompares.com/review/buffalo-terastation-5810dn-10gbe-nas/
With file sizes growing constantly, the need for a faster network connection in your home or office has never seemed more important. We at NASCompares have spent a lot of 2019 telling you about the versatility of 10Gbe, the ease of 10Gbe and the advantages of 10Gbe. However, most users normally hit a common stumbling block very early on – PRICE. Despite the technology behind SFP+ (fiber) and 10GBASE-T (RJ45 LAN) becoming more common and prices decreasing, it is still noticeably more expensive to buy a 10GBe enabled NAS than a regular 1Gbe network NAS. This can be frustrating because many users want great internal specs AND speed, but in doing so find that will have to spend anywhere from £200-400 more for a fully-featured 10Gbe NAS of the same internal specs. Luckily thanks to cost-effective yet high-frequency CPU and Memory being developed, some brands are challenging this price model. A fantastic example of this is Buffalo NAS and their TeraStation series.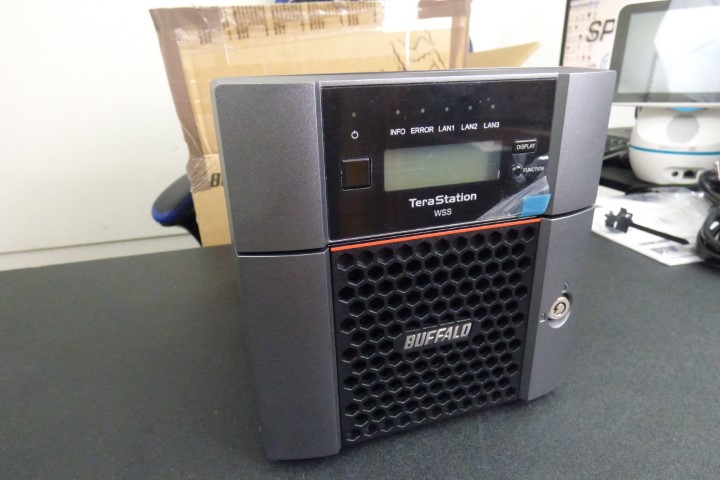 Somehow they have managed to release a business use, feature-rich NAS in 2 Bay, 4 Bay and 8 Bay that features a dedicated 10Gbe port, quad-core ARM-based CPU, dual LAN, LCD panel for real-time information about your storage and hot-swappable hard drive bays. This coupled with their 5810 range arriving pre-populated with WD Red NAS Hard drives of various capacities means that regardless of the capacity you choose or number of bays, right now in  2019 the TeraStation 5410DN is the lowest priced 10Gbe NAS you can buy.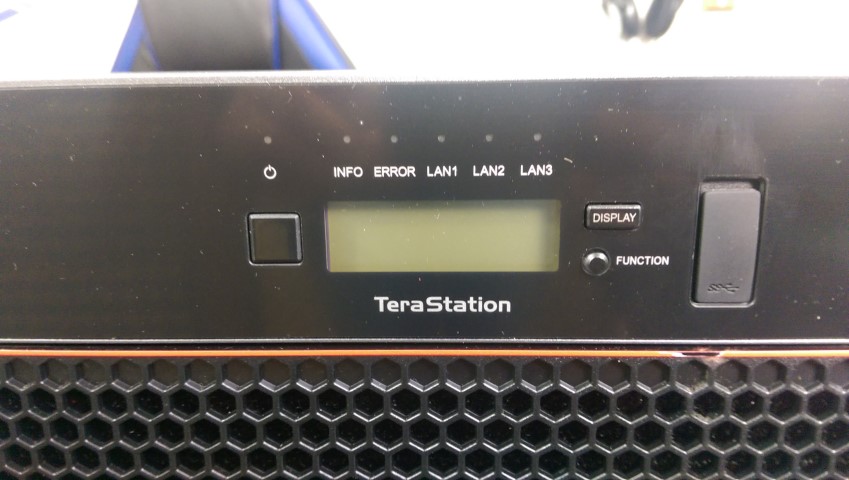 As I may have mentioned about 8 million times in the review, the Buffalo 5410DN 8-Bay is more than just another NAS. This device represents the changing tide in networking and arriving at both a price and hardware point that aggressively competes with the likes of Synology and QNAP on this growing demand for 10Gbe in 2019. However, it is this device's commitment to more than the speed that leaves me impressed. Features and support that are not available anywhere else, such as the optional 3-strike data destruction option, the 3 years all-in support, partial population options, 10Gbe at a price that competes with many 1GBe devices and genuinely a feeling of solid stability in this device that leaves me pleasantly surprised over and over again. The user interface is still less user-friendly than it's peers and the lack of 3rd party app support (outside of the inclusions of cloud provider support and NOVA backup) may leave some users confused, but in an age of data security being all-important and your private cloud needs to remain private, it is a courageous step to maintain this level of protection and should be applauded.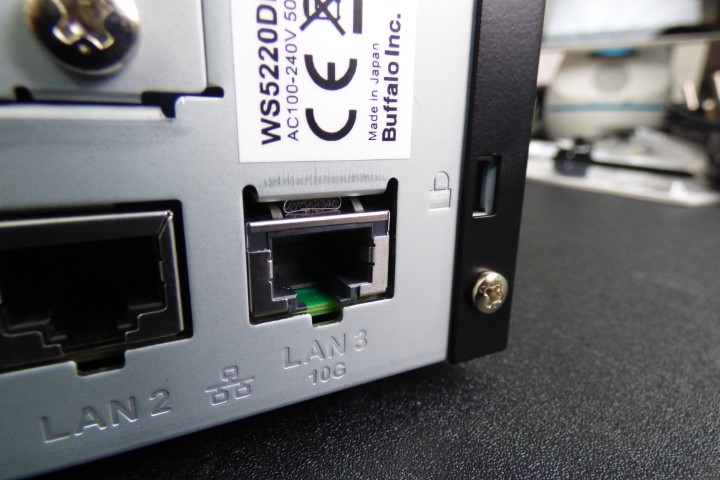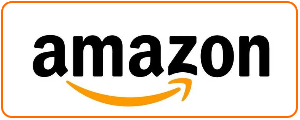 ---
QNAP HS-453DX 2/4-Bay NAS Drive –

££

£
0-32TB HDD + 0-8TB SSD, 2Xx Hard Drive Bays, 2x m.2 SSD Bays, HDMI 2.0a, USB-C, 1x 1Gbe, 1x 10Gbe, Near-Silent low noise fanless design,  £530+ ex.VAT

QNAP HS-453DX Hardware Review – https://nascompares.com/2018/11/14/qnap-hs-453dx-silent-nas-unboxing/
Ultimately the HS-453DX Silent NAS gives you more than almost any other NAS throughout 2018 for this price. If you only see this device as a 2 Bay NAS for watching media, then chances are you will never see the value in spending £500 or more on this silent NAS. however, if you intend to take advantage of two or more of the functions available, such as 10Gbe connectivity in your creative workflow where a low noise NAS is of particular appeal, or you take advantage of HDMI 2.0a to enjoy the very best 4K media, but don't want to hear a NAS buzzing in the in the background –   the QNAP HS-453DX is certainly the perfect NAS for you and with exceptionally great room for expandability in future thanks to SSD cache upgrade options and memory expandability, this is a NAS that although quiet has a lot to shout about. We will be conducting noise and heat tests later this month, along with full Plex performance tests to give you a full breakdown of the performance of the HS-453DX, but for now I can say that this could potentially be my favourite NAS of 2018.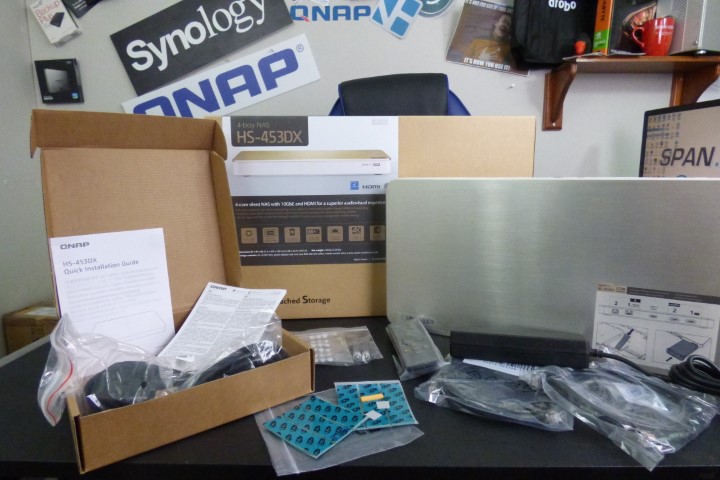 The M.2 SSD storage bays can be used in a number of ways. The most common use is as SSD read/write cache, whereby these faster storage media types are used to support the existing hard drive storage – vastly improving internal read write operations overall in typical use.  Alternatively, you can set up a separate RAID volume across these drives in a RAID 0 environment, then utilise the external 10Gbe connectivity to create a ridiculously fast internal and external storage volume for live editing photo and video files on the NAS. Once completed, you can manually or automatically transfer this completed work to the hard drive volume across the other two HDD bays in a RAID 1 or RAID 0 environment, then this work can be distributed across the network or internet to your clients customers colleagues or family as needed. A great, compact and quiet editing NAS indeed.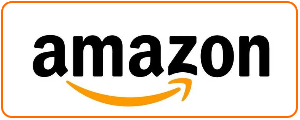 ---
QNAP TVS-872XT 8-Bay 10Gbe + Thunderbolt3 NAS Drive –

££

£
0-128TB, 8-Bays, 2x NVMe SSD Bays, 8th Gen 6-Core i5 CPU, 16-32GB DDR4 Memory, HDMI 2.0, 2x PCIe (inc TB3), USB 3.1 Gen 2, USB-C, 2x 1Gbe, 1x 10Gbe, 2x Thunderbolt 3  £1600+ ex.VAT

QNAP TVS-872XT NAS Hardware Review – https://nascompares.com/qnap-tvs-872xt-thunderbolt-3-nas-review/
The QNAP TVS-872XT newest generation Thunderbolt 3 NAS has finally arrived here at NASCompares and although we have seen alot of inventive network attached storage from these guys, pretty much as soon as we heard about the TVS-x72T series, we knew it was something special. Thunderbolt-enabled NAS drives are not new and in fact, QNAP themselves first released the original Thunderbolt NAS (the TVS-871T) back in 2014/15 and at the time it was seen as a huge gamble. NAS drives are typically designed to be accessed via the network or the internet, with occasional compensations being made for HDMI and Audio ports for media. The idea of the popular photography and video editing connection, Thunderbolt, being used as a means of connecting to your NAS storage was a popular idea but technically thought impossible. Luckily QNAP pushed through this and here we are at the closing stages of 2018 to look at the latest and possibly greatest Thunderbolt NAS yet. The QNAP TVS-872XT includes practically every new and top-tier innovation of hardware and software that they have developed in the last 5 years, coupled with a few new ones.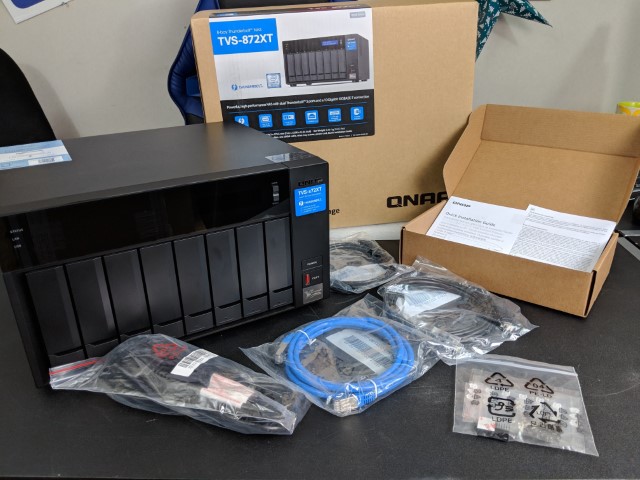 The QNAP TVS-872XT is a NAS drive that has taken the elite and overpowered attitudes that were previously the hallmarks of the Thunderbolt 3 NAS range and turn it into something a great deal more mature and accessible to mid-range users. Till now, if you wanted access to the full features and functionality of a fully equipped thunderbolt and 10Gbe enabled 4K NAS, you were forced to either compromise too much with the TS-453BT3 or break the bank with the TVS-1282T3. Thanks to this new QNAP TVS-872XT NAS however, you no longer need to compromise and have access to a much more balanced and well equipped NAS platform for photo and video editing post-production in 2019.
This new 8 bay thunderbolt equipped NAS is about quality, not quantity and although may lack the wider coverage of users that the TVS-1283T3 has, it makes up for it with a much, much better and higher dedicated performance to those fewer connected users. What the XT series brings to the NAS industry is to fill a much-needed gap in the thunderbolt NAS portfolio and gives users an important choice between the existing product family. It is worth mentioning that you lose out on the 3rd tier of storage offered by the 82T series, as well as the long-term future proofing it offers for PCIe upgrades to the GPU and adding high-speed users later – but unless you think this is a necessary possibility in the next 3-4 years, you should save your money and go for the QNAP TVS-872XT. Easily in my top 3 NAS of 2018 and going forward into 2019.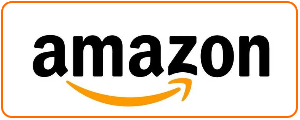 📧 LET ME KNOW ABOUT NEW POSTS 🔔
Get an alert every time something gets added to this specific article!
Want to follow specific category?

This description contains links to Amazon. These links will take you to some of the products mentioned in today's content. As an Amazon Associate, I earn from qualifying purchases. Visit the NASCompares Deal Finder to find the best place to buy this device in your region, based on Service, Support and Reputation - Just Search for your NAS Drive in the Box Below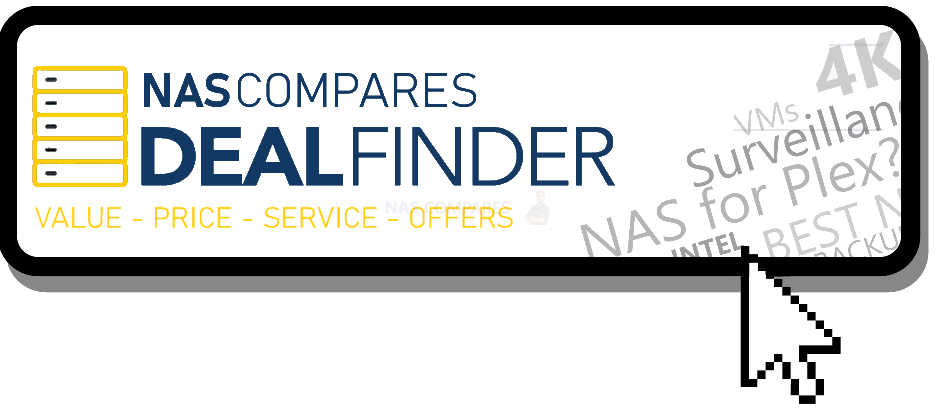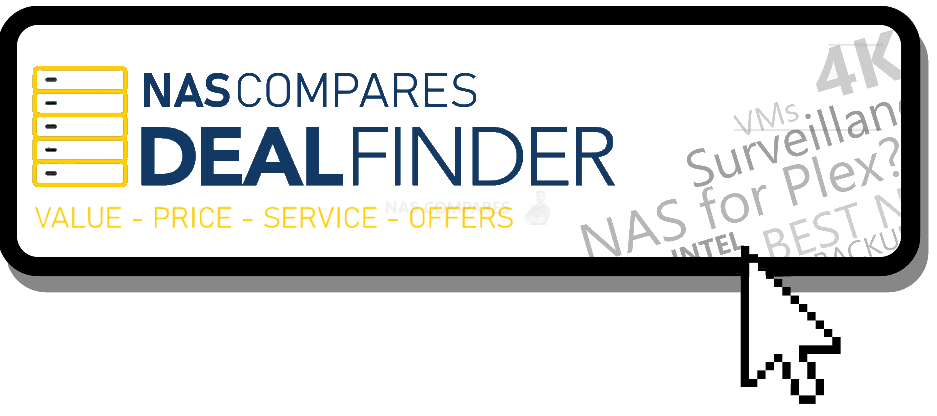 Other products mentioned on this article:
SEARCH IN THE BOX BELOW FOR ANY OTHER NAS
Need Advice on Data Storage from an Expert?
We want to keep the free advice on NASCompares FREE for as long as we can. Since this service started back in Jan '18, We have helped hundreds of users every month solve their storage woes, but we can only continue to do this with your support. So please do choose to buy at Amazon US and Amazon UK on the articles when buying to provide advert revenue support or to donate/support the site below.


Finally, for free advice about your setup, j
ust leave a message in the comments below here at NASCompares.com and we will get back to you.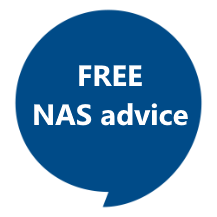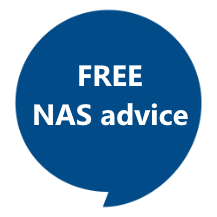 Need Help?
Where possible (and where appropriate) please provide as much information about your requirements, as then I can arrange the best answer and solution to your needs. Do not worry about your e-mail address being required, it will NOT be used in a mailing list and will NOT be used in any way other than to respond to your enquiry.
Terms and Conditions
Alternatively, why not ask me on the
ASK NASCompares forum
, by clicking the button below. This is a community hub that serves as a place that I can answer your question, chew the fat, share new release information and even get corrections posted. I will always get around to answering ALL queries, but as a one-man operation, I cannot promise speed! So by sharing your query in the
ASK NASCompares
section below, you can get a better range of solutions and suggestions, alongside my own.
Summary
Reviewer
Review Date
Reviewed Item
Top 3 10Gbe NAS of the Year
Author Rating