Top 3 NAS for Surveillance of the Year
The popularity of using a NAS drive for surveillance purposes has really grown over the last 12 months. Perhaps it is the fact it lets users maximise their investment in 2019 in a network-attached storage device beyond that of backups and streaming media, or maybe it's the fact that almost every top-tier NAS vendor has produced some top quality CCTV and general surveillance software. The idea of cameras dotted around your home or office that is accessible via the network or the internet is not new and in fact, IP cameras and IP speakers have been around for several years now. But it was only when NAS vendors decided to incorporate software and the use of these cameras into network-attached storage device that the potential was made clear to home, office and SMB users.
When you buy almost any IP camera or IP speaker for the home or business it arrives with its own first-party software. As good as the software might be, it is still terribly restrictive when wanting to do more with the footage that is captured than access it live only. In almost all cases, these devices have little or no internal storage media and therefore those cameras are little more than real-time eyes with little or no long-term retention. Using a Synology NAS or QNAP NAS for surveillance opens up the use of their own proprietary surveillance software. This software does more than just record captured footage onto the NAS device, it works as a comprehensive surveillance tool that lets you have a real-time access to recordings, even when multiple cameras are still live recording. Other cool features of using a NAS for surveillance are:
| | |
| --- | --- |
| | |
Real-time 24 x 7 access to cameras recording footage
Be able to access archive footage without interrupting the existing recording from the cameras
Tailored alert systems that notify you via SMS, email and desktop notifications
Supporting the features of smarter cameras that can recognise faces motion heat and light
Mobile access support via iOS and Android devices, with dedicated NAS surveillance applications
Linking the surveillance NAS with existing security systems for controlled doors and alarms
Connection with mobile phone cameras to live stream footage directly from portable handsets to the surveillance system within 3 clicks
Customizable recording patterns and recording quality to adjust what you record and how you record it
Customisable data retention policies that will let you overwrite old data after a customised time period for indefinite recording
Best Indoor IP Cameras – https://NAScompares.com/2018/11/11/the-best-indoor-ip-cameras-for-synology-and-qnap-NAS/
Best Outdoor IP Cameras – https://NAScompares.com/best-outdoor-ip-camera-for-synology-and-qnap-NAS/
The extent to which the NAS you buy supports these features depends both on the brand themselves and the brand you choose. Below are the very best NAS for surveillance of 2019. All 3 provide top-notch surveillance coverage, support at least 40 cameras at any given time, can be used as a standard NAS device and as a surveillance tool simultaneously, arrive with free surveillance software and licences for multiple cameras and can be ready for deployment inside 30 minutes. Let's take a look.
Synology DVA3219 GPU Optimized NVR NAS Drive –

£££
0-64TB TB, 4-Bays, Expandable to x14, NVIDIA GFX Card, Intel C3538 2.1Ghz CPU, 8 Camera Licenses, AI and Deep Video Analytics Support £1300+ ex.VAT
Hardware Review of the Synology DVA3219 NAS HERE – https://nascompares.com/2019/08/29/synology-dva3219-surveillance-nas-hardware-review/
The Synology DVA3219 is a NAS that when I heard it could be used as a surveillance station NAS and a Diskstation NAS made me very happy indeed. However, now with the benefit of hindsight, I can see that this compromise in dedicated surveillance use has led to some choices (the CPU and lack of HDMI/DVI + KVM output) that in many ways limit its complete potential. I have no hesitation in saying this is the very best and most capable surveillance NAS that Synology has ever produced, and once you take into account the inclusion of that graphics card and 8 camera licences for surveillance station, the price can even be justified for the most part. What it comes down to is whether you desperately need these features and don't mind paying more now to save lots later. A year from now Synology might allow users to install their own graphics cards or will find a way to introduce some deep video analysis features on to non-GPU NAS – of this there is no guarantee, but if you need these features in 2019/2020, this is the best NAS you can get right now, I just cannot guarantee that it will be the only Synology NAS providing this functionality 12 months from now though.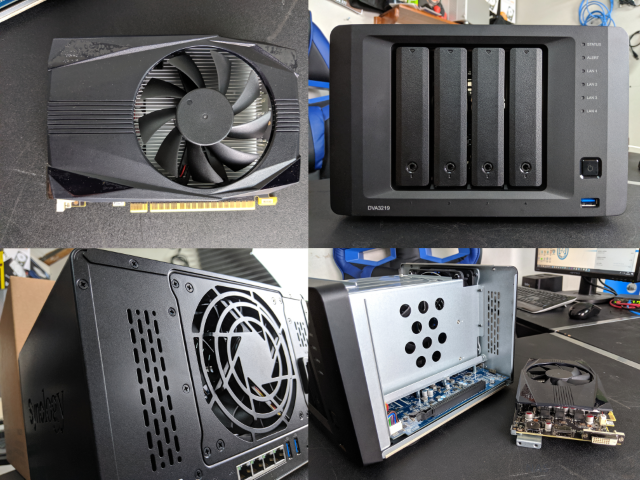 Typically, a surveillance NAS will be used as a means of being notified of and actioning security alerts. The bulk of security alerts can simply be described as 'Thing A is in the field of vision of Camera B', and should not be. The DVA3219 supports all of the control and alerts that you would find on almost any Synology NAS, such as motion detection, light detection and heat (depending on the camera in question). These alerts will almost always require you to assess recorded footage after the event you are being notified about, reviewing and assessing old footage after the fact and making a judgement on whether this is a perceived negative action. This not only takes time, but also manpower, and with so many false alarms in play (trees moving in the wind, motion detection in a busy environment or night vision tracking as LED hardware switches time of day activity, etc) this can lead to both excessive time-wasting and unreliable results.
The answer to this is DVA (Deep Video Analysis) thanks to this, that means that footage is being analysed by an AI inside the DVA3219 and false alerts and unreliable data can be eliminated instantly. The DVA3219 is smart enough to know the difference between a person and a car, a tree and a bag, and so on and so forth – as well as being able to be programmed to identify things, rather than on motion or blobs of pixels. In real terms that means that you can monitor an entire area over multiple cameras, filled with constantly moving people, and yet it can see if someone has left an unattended item or a vehicle has entered the scene. Likewise, because it can differentiate the difference between items moving in the wind and items that have their own traction, it can alert you to the movement of things without wasting your time with a leaf falling off a tree.
This system of deep video analytics goes even further though, with recognition of people and trigger zones. In real terms, that means that you can draw an area of effect, or a start and finish line digitally thanks to the surveillance station user interface that the deep video analytics AI in the DVA3219 can work with to identify if people move in and out of a given zone, as well as keep count and subtract numbers if needed. This kind of analytics can, of course, be done by humans later on and with hours, days, weeks and months of recorded footage, but it saves huge amount of time and resources to have this kind of video analysis done in real-time.
Although the post-recording analysis of the DVA3219 NAS is still in its early stages, it is easy to imagine in a further version of surveillance station that will scour recordings for people, things or discrepancies in your recordings considerably faster than a human being will with time and their eyes. These are the things make the Synology DVA3219 such an impressive device and are likewise the reasons for that price. Currently, there are no other Synology NAS devices like the DVA3219 NAS commercially available to home and business users that provide this level of support and outside of NAS, the best you will find and is subscription-based or premium software lead surveillance platforms that still require a hefty and larger hardware purchase.#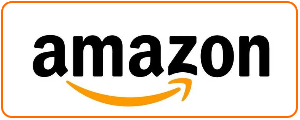 ---
QNAP QGD-1600P Guardian NAS+PoE Switch –

££

£
0-10TB, 2 Bays, J4115 4 Core Celeron CPU, 4/16GB DDR4 Memory, 16 1Gbe Ports, Managed Switch, PCIe Slots, HDMI 2.0a, SFP+ Port, QNAP QTS Software and QNAP QuManage Switch Software  £540+ ex.VAT
The Guardian QGD-1600P NAS Server. Aimed at SMB (small business) and home users who are looking for a little more power and functionality at their fingertips, as well as combining the power of a NAS with the functionality and accessibility of a PoE switch – in ONE BOX! If this is not enough, it features a brand new CPU in the NAS industry too.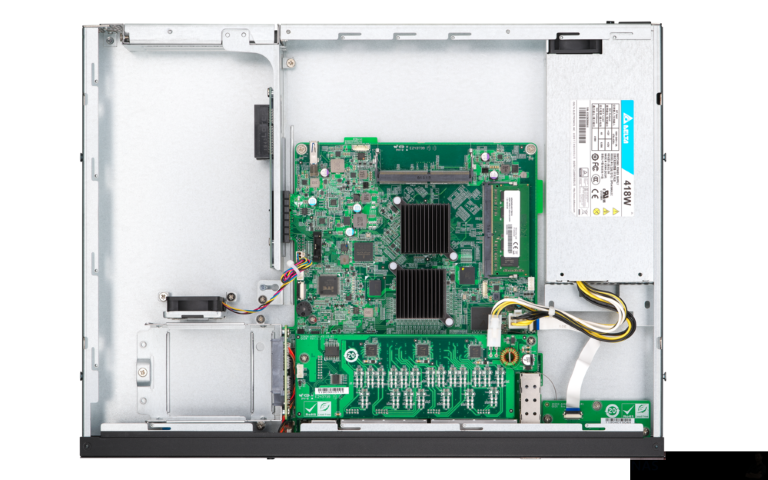 The hardware that is featured in the QNAP Guardian QGD-1600P NAS drive is a good mix of architecture found in other existing QNAP NAS and comparative upgrades of its predecessor (that CPU especially). Thanks to its appearance at Computex, we are able to share a fair-sized amount of hardware information on the Guardian QGD-1600P
CPU: Intel J4115 1.8Ghz Quad Core CPU
Memory: 4/8GB Memory
Number of Bays: 2
Drive Support: SSD 2.5″
LCD Panel:
HDMI: Yes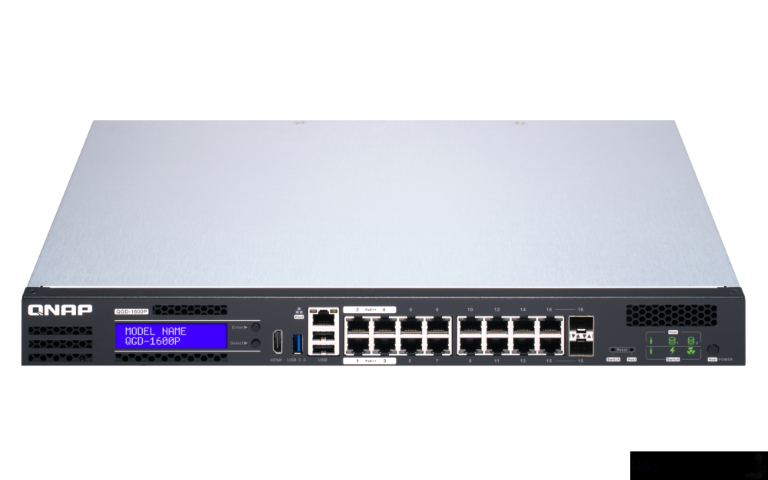 USB Ports: 2xUSB 2.0 and 1x USB 3.0
PCIe Slots: 2x
Expandable Storage: USB Based
1Gbe Ports: 12x (4x 90W Power)
SFP: 2x for combining with RJ45 Blocks
10Gbe Ports: No, but PCIe allows Many NICs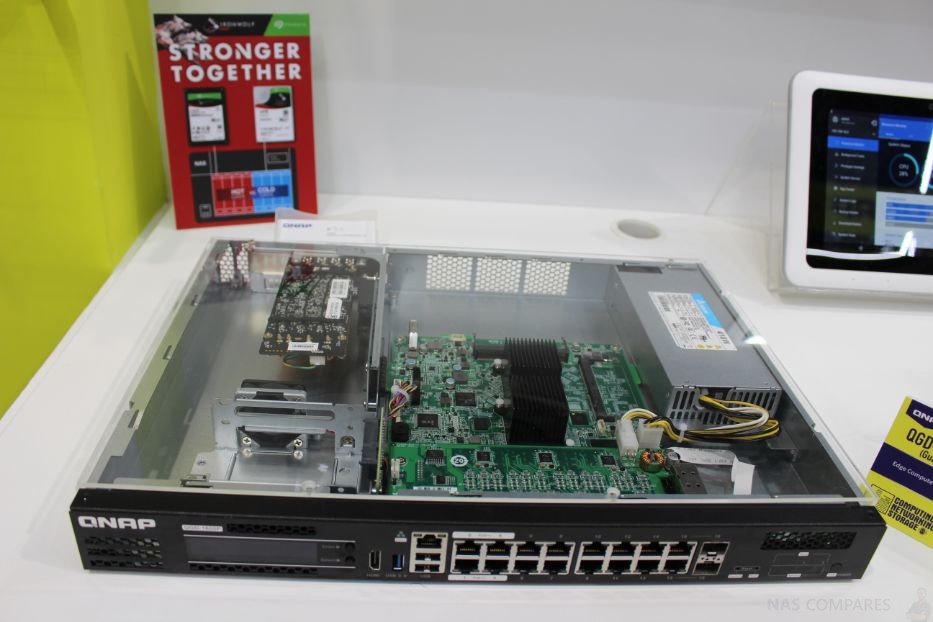 There has certainly been a move towards the more prosumer buyer from QNAP this year, with its selection of affordable 25Gbe cards and getting more out of the Aquantia controller processors, therefore the Guardian QGD-1600P makes a lot of sense in this framework. But where do YOU come in? Is this going to answer your storage needs? Does this mean you will never need a switch ever again? QNAP boosts networking efforts to roll out a refreshed Guardian QGD-1600P that integrates managed switch, Power over Ethernet (PoE) capabilities, and NAS into one device. The QGD-1600P is a 16-port managed switch based on the Microchip VSC7425 that features port-based PoE control and is IEEE 802.3bt ready with power level up to 90W, and supports VLAN and QoS. The QGD-1600P also features an Intel Celeron J4105 processor, two 2.5-inch SATA drive bays, two PCIe slots, HDMI output, and runs the QTS operating system with the App Center to realize various applications including virtual machines, containerized apps, and video surveillance. So, in short, this is a serious switch that is backed up with a serious amount of NAS – or vice-versa!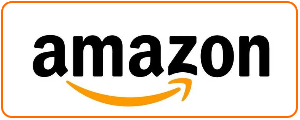 ---
0-128TB, 8-Bays, Radion R7 and Non-GPU Powered Versions, PCIe Slots, USB 3.1 Gen 2, 4 LAN, 2 Surveillance Platforms, 8 Camera Licenses  £750-950+ ex.VAT
Just like with every single device in the electronics industry there are different NAS servers aimed at different segments of the market not only due to the amount of available drive bays but also specifications and of course number of features. So although for most home users an 4 bay NAS server with a dual-core CPU, 2GB of RAM and a single RJ45 Gigabit port should be more than sufficient for their needs small business owners will most likely pick a more powerful model with at least twice as many bays paired with a quad-core CPU, 4GB of RAM (if not more) and at least 2 RJ45 Gigabit ports (for improved performance via link aggregation) or a single 10gbE port. Now if you've been following our NAS reviews then you should know that to date most models featured either ARM CPUs by manufacturers like Marvell and Broadcom or Celeron CPUs by Intel so since the very first AMD based models made their appearance not long ago we decided to take a look at one such model and specifically the brand new QNAP TVS-873e. We did not walk away disappointed! What you have, though now coming close to 2 years old in the TVS-873e, is a seriously well enabled and expandable NAS with tremendous scope for growth when needed.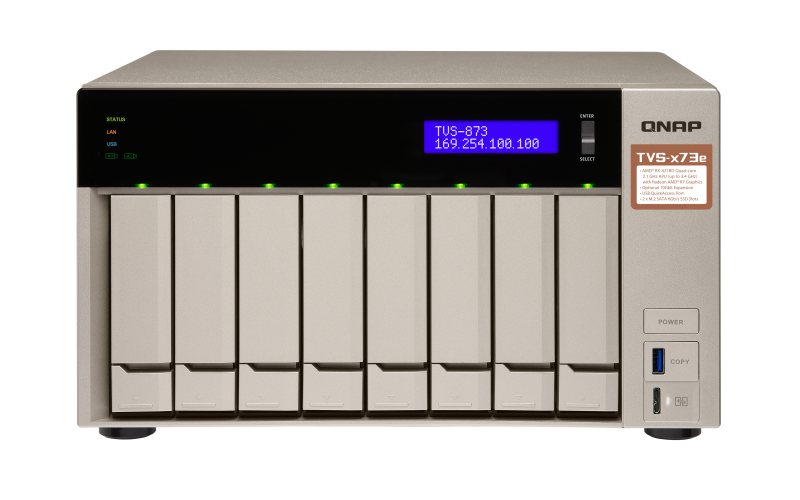 Whereas for those that need less graphical power, no HDMI or want to use a graphics card, you can look at the TS-873. Premium high-performance, a quad-core AMD RX-421ND NAS, PCIe slot expansions, M.2 SSD caching, 10GbE network and graphics card support, high computing power and 4K audio and video support – the TS-873 released in 2018 promises to make waves and delivers. It is equipped with AMD's new generation of high-end R-series processors, the RX-421ND quad-core 2.1 GHz CPU (Turbo Core up to 3.4 GHz) and can be expanded up to 64GB of DDR4 memory. If upgraded to 10GbE via the installation of a 10G network card, the performance is up to 1661MB/s. Faturing high-speed multitasking and low power consumption, as well as the AES-NI hardware encryption engine, it promises to be one fo the most affordable AES 256-bit encrypted NAS. When the NAS has encrypted use enabled, it still manages up to 1575 MB/s of data read/write speed over 10Gbe, maintaining the system's high performance and security throughout.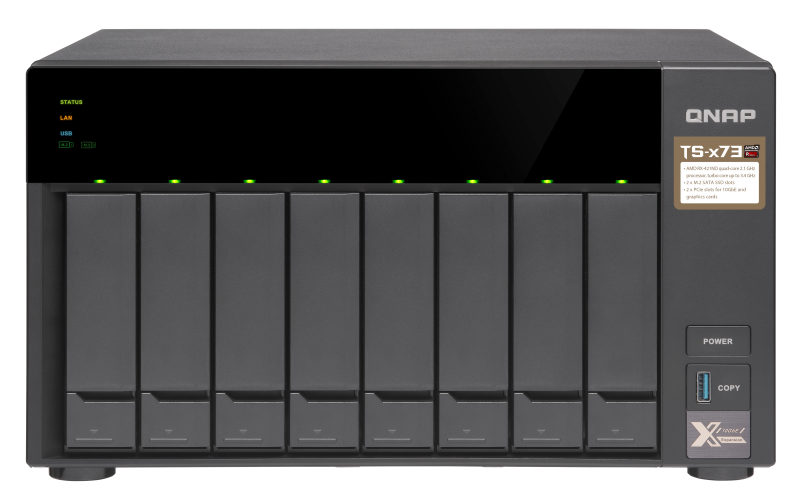 As mentioned, for graphics, we recommend the TVS-873e, but even if you go for the TS-873, you can install a graphics cards (that do not require additional power) inside the TS-473, TS-673 and TS-873, such as the NVIDIA® GeForce® GT1030 to optimize overall system performance. The excellent graphics performance of the graphics card can also bring smooth video editing workflow. And smooth 4K high-definition video archive playback performance, to bring you a great multimedia audio-visual experience.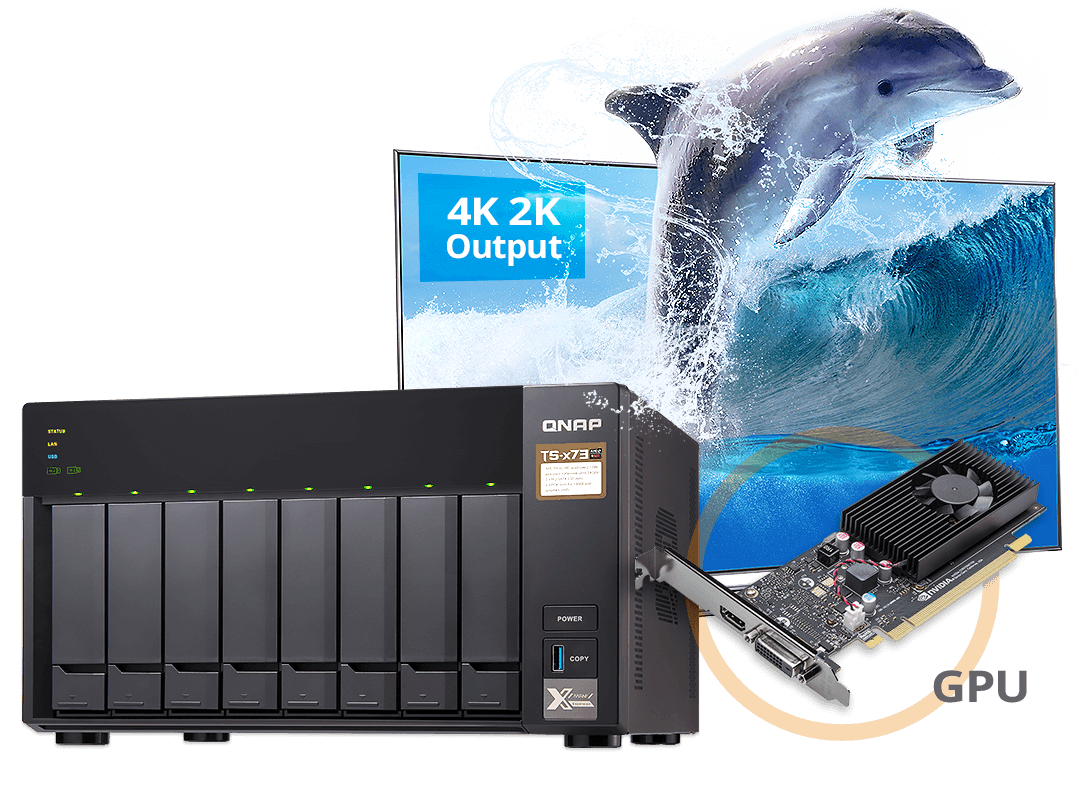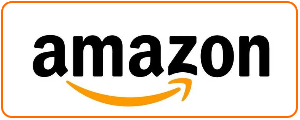 📧 LET ME KNOW ABOUT NEW POSTS 🔔
Join 1,410 other subscribers
Get an alert every time something gets added to this specific article!
This description contains links to Amazon. These links will take you to some of the products mentioned in today's content. As an Amazon Associate, I earn from qualifying purchases. Visit the NASCompares Deal Finder to find the best place to buy this device in your region, based on Service, Support and Reputation - Just Search for your NAS Drive in the Box Below
Need Advice on Data Storage from an Expert?
We want to keep the free advice on NASCompares FREE for as long as we can. Since this service started back in Jan '18, We have helped hundreds of users every month solve their storage woes, but we can only continue to do this with your support. So please do choose to buy at Amazon US and Amazon UK on the articles when buying to provide advert revenue support or to donate/support the site below.

Finally, for free advice about your setup, j
ust leave a message in the comments below here at NASCompares.com and we will get back to you.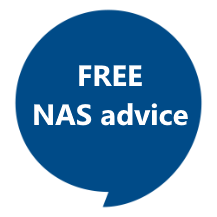 Need Help?
Where possible (and where appropriate) please provide as much information about your requirements, as then I can arrange the best answer and solution to your needs. Do not worry about your e-mail address being required, it will NOT be used in a mailing list and will NOT be used in any way other than to respond to your enquiry.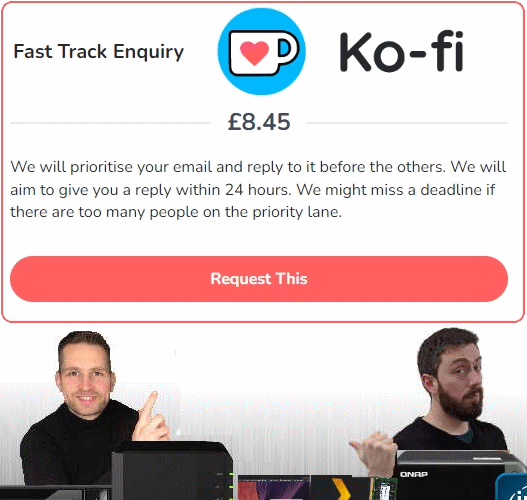 Terms and Conditions
Alternatively, why not ask me on the
ASK NASCompares forum
, by clicking the button below. This is a community hub that serves as a place that I can answer your question, chew the fat, share new release information and even get corrections posted. I will always get around to answering ALL queries, but as a one-man operation, I cannot promise speed! So by sharing your query in the
ASK NASCompares
section below, you can get a better range of solutions and suggestions, alongside my own.
This description contains links to Amazon. These links will take you to some of the products mentioned in today's video. As an Amazon Associate, I earn from qualifying purchases
Summary
Reviewer
Review Date
Reviewed Item
Top 3 NAS for Surveillance of the Year
Author Rating