More Information Confirmed on the QNAP TS-253D, TS-453D and TS-653D NAS
2020 is really turning into a rather odd and unique year, isn't it? With many businesses having to change the way they operate, creating far more elaborate virtual networks for their staff and customers to work with – it has never been a more evolving and important time for NAS and Network Storage as a whole. With the robustness, reliability and security of purely cloud-based platforms being put to the test (with many coming up short) its, an incredibly exciting time for NAS manufacturers to spread out into – with QNAP being probably one of the most active in this right now – they have continued to promote and market their hardware (and software) throughout this to new and old customers alike and few of the releases have generated the buzz of interest like the QNAP D Series. We are slowly getting this range revealed step by step and the 53D range (vaguely previewed last month here) is one that could well prove the best of the bunch (if you have the budget to accommodate it over the TS-251D, TS-451D and 53Be series). Today we have lots more information on this series due for release later in 2020, some new, some confirming what we anticipated. Take a look below and find out more about the QNAP TS-x53D series.
TS-253D-4G

2-Bay, Intel J4125 2.0-2.7Ghz CPU

4/8GB DDR4 Memory, 65W PSU

2x 2.5Gbe, HDMI 2.0a, PCIe Gen 2 x4, 5x USB

17.1 db(A) Noise Level

TS-453D-4G

4-Bay, Intel J4125 2.0-2.7Ghz CPU,

4/8GB DDR4 Memory, 90W PSU

2x 2.5Gbe, HDMI 2.0a, PCIe Gen 2 x4, 5x USB

21.1 db(A) Noise Level

TS-653D-4G

6-Bay, Intel J4125 2.0-2.7Ghz CPU

4/8GB DDR4 Memory, 120W PSU

2x 2.5Gbe, HDMI 2.0a, PCIe Gen 2 x4, 5x USB

21.3 db(A) Noise Level
The new-gen Wi-Fi 6 (802.11ax) trend has driven higher bandwidth demands for wired and wireless network connections. By integrating Intel Celeron J4125 quad-core 2.0 GHz processor and 2.5GbE connectivity, the TS-253D not only provides modern businesses an excellent NAS solution to upgrade to 2.5GbE environments for productive daily backup/restore tasks, but also provides gamers with ample storage for their vast game collections. Up to 5 Gbps transfer speeds can be made by setting port trunking with the two built-in 2.5GbE ports. The TS-253D, TS-453D and TS-653D also supports PCIe expansion, multi-cloud backup, cloud storage gateways, 4K HDMI output and real-time transcoding, alongside expandable storage capacity and feature-rich apps to perform as a cost-efficient, reliable 2.5GbE NAS. Finally, it features up to 8 GB DDR4 memory, and supports SATA 6 Gb/s drives. The support of Intel AES-NI encryption engine boosts encryption performance while also maintaining the security of your NAS data. You can flexibly install SSDs for cache acceleration to maximize network and storage performance for data-intensive applications.

Dual 2.5GbE ports accelerate file sharing across teams and devices or gaming storage applications.

PCIe expansion allows for a Multi-Gig 10GbE or 5GbE network card, or a QM2 card to add M.2 SSDs for caching

4K media playback and real-time transcoding; directly watch videos on an HDTV via HDMI 2.0 (4K @60Hz) output.

HBS provides comprehensive backup and data recovery; QuDedup deduplicates the data at the source to reduce storage space usage, bandwidth usage, and backup time

Cloud storage gateways realize hybrid cloud applications by working with the cache space reserved on NAS to ensure low-latency data access to the cloud
The TS-x53D range comes with two 2.5GbE RJ45 LAN ports that allow you to use existing CAT5e cables to upgrade network speeds from 1 Gigabit to 2.5 Gigabit. The dual 2.5GbE ports also support Port Trunking for up to 5 Gbps! By using QNAP's N-BASET/Multi-Gig USB 3.2 Gen 1 to 5GbE adapter (Model name QNA-UC5G1T) or 5GbE PCIe expansion card (Model name QXG-5G1T-111C), your laptop or desktop computer can easily connect to 2.5GbE networks with the TS-253D to benefit from higher network speeds. In Virtualization, it satisfies bandwidth-demanding applications such as virtual machines and containers. In Video Streaming it Boosts transfer speeds to improve smooth 4K video streaming and display., and in pure gaming storage, it allows you to mount an iSCSI LUN from the TS-253D to your computer to store your vast game collections.
The TS-253D, TS-453D and TS-653D 2.5Gbe NAS Media Streaming and Plex
The TS-253D has an HDMI 2.0 port that supports 4K (4096 x 2160) 60Hz output, allowing you to directly view multimedia content saved on the NAS on a bigger screen. The support of high-quality 4K video transcoding enables the NAS to convert videos to universal file formats that can be smoothly played on multiple devices. The TS-253D also can stream videos through DLNA, Chromecast, and more to satisfy versatile multimedia application needs. By installing Plex Media Server from App Center, setting up the Plex Media Server on your NAS is only a few minutes away. You can stream media files stored on the TS-253D to mobiles and media streaming devices (including DLNA, Roku, Amazon Fire TV and Google Chromecast). It's worth remembering though that a PlexPass is required for Plex Media Server hardware transcoding., though you can still take advantage of software transcoding. The TS-253D's hardware provides hardware decoding, encoding, and transcoding capabilities. However, playback quality may vary due to factors including playback software, file formats, system usage, and available bandwidth.
The TS-253D, TS-453D and TS-653D 2.5Gbe NAS – Day to Day Unique File Handling
Hybrid Backup Sync (HBS) consolidates backup, restoration and synchronization functions (using RTRR, Rsync, FTP, CIFS/SMB) for easily transferring data in the TS-253D to local, remote and cloud storage spaces (including Microsoft One Drive, Google Drive, Dropbox, and more) as a comprehensive data storage and disaster recovery plan. Supporting QuDedup technology that eliminates duplicated data at the source, HBS reduces backup data size and speeds up future backup tasks. This is also beneficial for accelerating multi-version backups for greater protection against data loss. Additional Apps for handling your files natively, or with your own existing 3rd party management tools are:
To Sync with GSuite and Office 365, Boxafe allows you to backup or sync files, emails, calendars and contacts from Google G Suite and Microsoft Office 365 into the NAS to safeguard enterprise cloud data. For Comprehensive, Tailored Organization, Qfiling automates your file organization. All you need to do is categorize your files, set a schedule, and Qfiling will do the rest. It's easy, smart, and efficient! When using QNAP NAS as centralized file storage, being able to efficiently organize these files is a fundamental principle for everyday management and usage. But when faced with a huge number of files spread through multiple folders, it becomes increasingly harder, more time consuming, and frustrating to categorize and archive them. With Qfiling organizing files is now automatic and efficient. For Fast File Searching, QNAP's powerful, Google-like search tool for quickly finding specific images, music, videos, documents, and emails by keywords, color, and more search conditions. For Photo Cataloguing and Intelligent Retrieval, you have QuMagie, an AI-powered photo management app, supporting automated photo categorization with AI Albums, iOS Live Photo display, and powerful search tool for ultimate photo management and sharing solution.
| | |
| --- | --- |
| | |
Flexibly expand your storage capacity by connecting to cloud storage. You can leverage QTS apps to manage and edit your cloud files or multimedia files. HybridMount is ideal for file server online collaboration and file-level data analysis.VJBOD Cloud supports streamlined NAS backup to object cloud storage. The block-based data transmission uploads random data and large files to the cloud in blocks, and only transmits block-based volume or LUN changes (such as addition, modification, or deletion). This is ideal for enterprise-level applications with large file transfer requirements, such as databases, VM volumes, and videos.
QUMAGIE VIDEO
Finally, fo those that plan on deploying a NAS to be accessed by hundreds of users, each with their own security credentials and permissions, the TS-253D, TS-453D and TS-653D centrally stores data and files, and support SMB/CIFS, AFP and NFS protocols for file sharing across Windows, Mac, and Linux/UNIX networks. Coupled with the Qsync utility, any file uploaded to the TS-X53D series will be made available for all linked devices (such as computers, laptops and mobiles). You can sync shared folders and team folders for group file sharing to enhance the flexibility of team projects and collaboration. With the myQNAPcloud service, you can easily and securely connect to the TS-253D via the Internet for accessing, managing, and sharing NAS files. The Windows AD and LDAP services enable system administrators to configure user permissions by using an existing Windows AD server, LDAP server, or the TS-253D's built-in LDAP service.
The TS-253D, TS-453D and TS-653D Intel NAS – Virtual Environments
For Virtual Environments, regardless of your virtualization needs, you can count on Virtualization Station and Container Station for complete virtualization support. You can use Network & Virtual Switch to allocate adequate physical network resources to virtual machines, containers, and the NAS to simplify network deployment. As well as including an HDMI 2.0 60FPS port for local, near-zero latency control. Simply connect a keyboard, mouse, and HDMI display to a QNAP NAS and use Linux/Container/Virtualization Station as if you were using a PC. You can also enable a remote desktop connection to send the display to a web browser.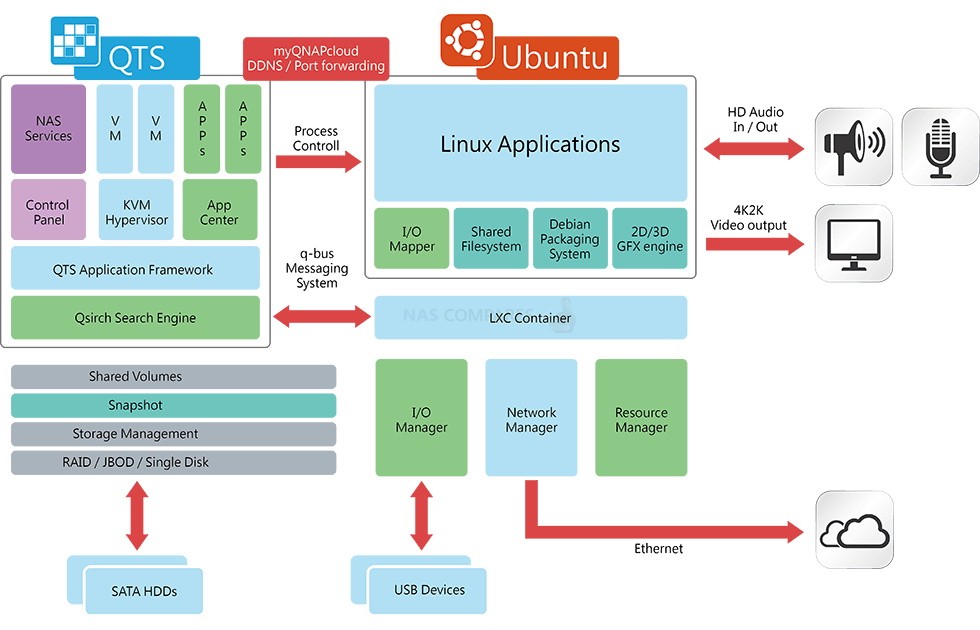 Virtualization Station and Linux Station let you run multiple Windows, Linux, UNIX, and Android virtual machines and access them via a web browser or Virtual Network Computing (VNC). Businesses can run virtualized server applications on a single NAS without the need for additional physical servers. For the more bespoke/techie virtual deployment environment though, Container Station allow you to experience LXC and Docker lightweight virtualization technologies, download apps from the built-in Docker Hub Registry, import and export containers, and create abundant microservices.
Finally, there is Linux Station, for the comprehensive service from the open-source Linux platform. QNAP offers excellent hardware design and innovative QTS-Linux dual- system applications, providing safe and reliable storage for development and Internet of Things (IoT). With Linux Station, users can directly utilize various feature-rich Linux apps, enjoying a private cloud that combines storage and IoT applications. Employing advanced virtualization technologies to seamlessly integrate Linux with QTS, enabling you to enjoy extensive applications coming from QTS App Center and Linux. Simply connect an HDMI display to a QNAP NAS to output the Linux desktop, and then you can exploit the popular open-source Linux platform to freely install and develop more apps. QNAP NAS is the ideal gateway for IoT solutions.
Work from Home – Convert your PC into a Virtual Machine for NAS, VMware, Hyper-V and Virtual Box Remote Access
The QNAP TS-253D, TS-453D and TS-653D NAS – Surveillance
QVR Pro allows you to arrange dedicated, independent storage space for surveillance data on the TS-453D and leverage the advantages of scalable NAS storage. It greatly simplifies camera management, storage space allocation, camera live view, and playback. Supporting over 5,000 IP cameras (including all standard fisheye cameras available on the market), QVR Pro provides 8 license-free channels for surveillance monitoring and the optional QVR Pro Camera Channel Extension License for more extensive security deployment. You can also use QVR Pro Client's mobile app to monitor anytime or use a USB webcam as an ONVIF network camera with the QUSBCam2 app. In the past, QVR Pro only provided event recording and event notifications for expensive cameras with integrated motion detection. QVR Pro now provides motion detection even for budget-friendly cameras and USB webcams as long as they can stream their footage to QVR Pro (e.g. through RTSP protocol). QVR Pro allows you to build a more-secure surveillance system for homes and office environments on an affordable budget.
QVR Pro supports thousands of camera models from over 140 brands and a variety of image formats, allowing you to quickly build different surveillance solutions tailored to your environments while providing convenient camera management. Check camera compatibility
Cross-network Camera Search

Easily add cameras from different networks, providing greater convenience for organizations with multi-network environments.

Add and Manage Camera by Batch

Save time when deploying large numbers of cameras by batch-adding cameras. Cameras with the same brand/model can be added with the same settings.

Open Event Platform

Record into QVR Pro by using the RTSP/RTMP link with no integration needed. Multiple video sources are possible, and are not limited to IP cameras.

Optimal Bandwidth Management

Assign dedicated bandwidth to each camera to optimize the use of NAS system resources and ensure smoother recordings.

360-degree Camera

By supporting 360-degree cameras, you can easily monitor every corner of your environment without having to deploy large numbers of cameras.
When will the QNAP TS-253D, TS-453D and TS-653D NAS be Released?
Release of the new QNAP TS-253D, TS-453D and TS-653D is a remarkably hard question to answer. Notwithstanding that this information is an unofficial leak and therefore generally subject to change, there has been no full official release information detailed on this device and the TS-253B, 453B and TS-653B are still remarkably popular NAS drives. However, the real area of question around the release date of the TS-x53D series is prompted by the effects of the Coronavirus on production in eastern regions of the world. This is currently affecting pretty much EVERY SINGLE BRAND right now (not just NAS, but in all areas of technology, given that the majority of top-end technology development and manufacture takes place in that part of the world) and could lead to shortages in existing product ranges, as well as delay launch of newer ranges. Because of this, whereas I would have originally postulated a release date of April/May 2020 for the TS-X53D series, I think we should be conservative and think it will be later in the summer – I really, REALLY hope I am wrong! However, no brand can be blamed from either shutting down production to put their staff in danger, or for being pre-emptive in avoiding issues a great deal more damaging than a drop in the profit margin!
What is the Current Alternative to the QNAP TS-253D, TS-453D and TS-653D NAS?
Unsurprisingly, if you have not got the patience to wait for the flexible release sate of the TS-253D, TS-453D and TS-653D NAS, then I would strongly recommend purchasing the existing QNAP TS-x53B and/or TS-X53Be series. These are still two of the very best product ranges I have ever seen from QNAP and will no doubt continue to be sold after the eventual release of the TS-53D series. Additionally (and I am aware I am labouring this point, but it is important), hardware availability is going to drop from ALL NAS BRANDS in the first 3-6 months of 2020 due to lower production numbers from staff shortages across the entire supply chain of goods. So, if you were going to purchase a new NAS drive relatively soon in 2020, then I recommend buying existing ranges until confirmation of the release of the more powerful TS-X53D series is solidified.
A Quick Request to You – Yes, you reading this!
If you plan on buying your NAS Drive from Amazon , save time by clicking the button below to take you there. Thank you.
| | | |
| --- | --- | --- |
| | | |
| TS-253Be | TS-453Be | TS-653B |
📧 LET ME KNOW ABOUT NEW POSTS 🔔
Join 1,410 other subscribers
Get an alert every time something gets added to this specific article!
This description contains links to Amazon. These links will take you to some of the products mentioned in today's content. As an Amazon Associate, I earn from qualifying purchases. Visit the NASCompares Deal Finder to find the best place to buy this device in your region, based on Service, Support and Reputation - Just Search for your NAS Drive in the Box Below
Need Advice on Data Storage from an Expert?
We want to keep the free advice on NASCompares FREE for as long as we can. Since this service started back in Jan '18, We have helped hundreds of users every month solve their storage woes, but we can only continue to do this with your support. So please do choose to buy at Amazon US and Amazon UK on the articles when buying to provide advert revenue support or to donate/support the site below.

Finally, for free advice about your setup, j
ust leave a message in the comments below here at NASCompares.com and we will get back to you.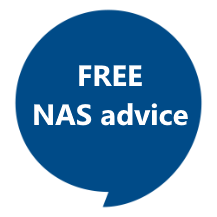 Need Help?
Where possible (and where appropriate) please provide as much information about your requirements, as then I can arrange the best answer and solution to your needs. Do not worry about your e-mail address being required, it will NOT be used in a mailing list and will NOT be used in any way other than to respond to your enquiry.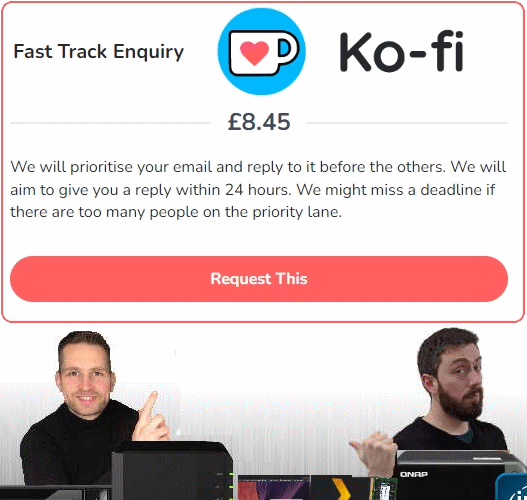 Terms and Conditions
Alternatively, why not ask me on the
ASK NASCompares forum
, by clicking the button below. This is a community hub that serves as a place that I can answer your question, chew the fat, share new release information and even get corrections posted. I will always get around to answering ALL queries, but as a one-man operation, I cannot promise speed! So by sharing your query in the
ASK NASCompares
section below, you can get a better range of solutions and suggestions, alongside my own.
This description contains links to Amazon. These links will take you to some of the products mentioned in today's video. As an Amazon Associate, I earn from qualifying purchases