Why Should You Buy the New Synology DS1821+ NAS?
As many of you are no doubt aware, there is a brand new Synology solution available to buy for those looking at a robust, affordable and Powerful 8-Bay solution. The recently revealed Synology DS1821+ NAS is a reimagining of the popular 8 drive plus series from the brand and and and pulls numerous influences from previous releases on different 2020/2021 series diskstation devices and combines (almost) all of them into this new solution. Highly comparable to the likes of the DS1819+ and DS1621+ NAS, the DS1821+ is a great middle-ground for those of you that have been looking for a feature-rich system that is ready for photography, multimedia collections, virtual machine use and large-scale backup and surveillance for small and medium business users. So let's take a moment and talk about whether this new NAS deserves your data. I want to tell you 5 reasons that you should buy the new Synology DS1821+ and five reasons you shouldn't. Let get started.
5 Reasons You SHOULD Buy the Synology DS1821+ NAS drive
Here are five key reasons why the Synology DS1821+ should be your next NAS drive.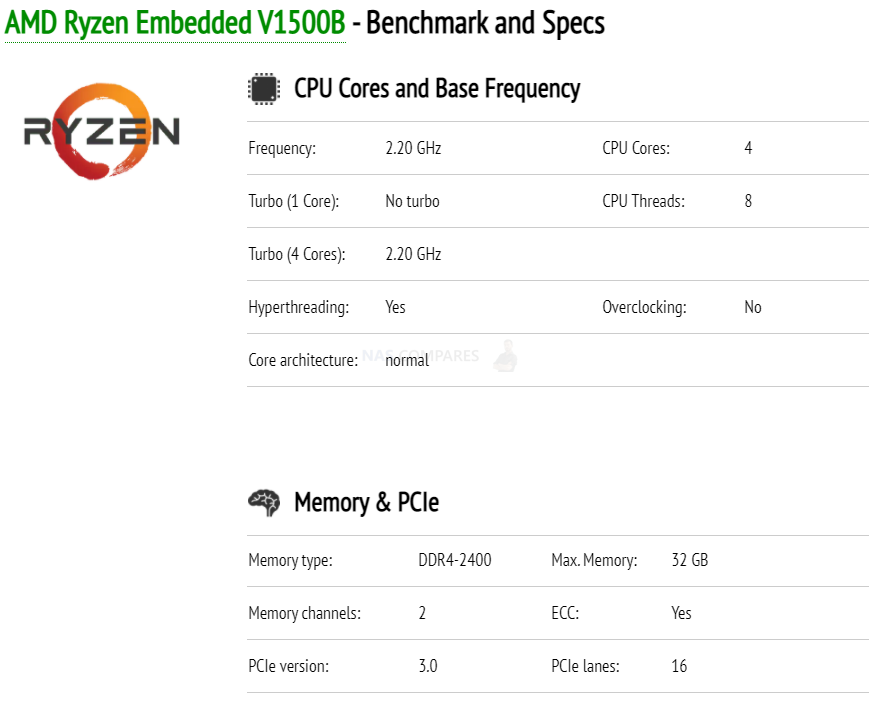 The Synology DS1821+ NAS Has Embraced the Ryzen Processor
Although the DS1821+ is not the first Synology NAS to embrace the Ryzen embedded V1500B processor (that would be the 6-Bay DS1621+), it is still very welcome as an update from the arguably tired Intel Atom C3538 that has appeared in the last two generations of this product series. The quad-core 2.2Ghz CPU inside the DS1821+ is a big jump up in ability and although it does not feature embedded graphics (as you might find in an Intel Celeron) it DOES handle files remarkably well, despite the conservative price point. This processor has performed remarkably well in our testing of the Synology application suite, as well as with 3rd party tools like Plex Media Server and as a 10Gbe equipped (card sold see[erately of course) target LUN in previous videos. This processor is a 64bit x86 chip, so it can run the entire range of applications in the Synology Diskstation Manager platform (currently 6.2 and 7.0 pubic beta soon) and even supports error code correction (ECC) DDR4 memory all the way up to 32GB for all those VMs and business class database/server usage.
| | |
| --- | --- |
| | |
The Synology DS1821+ NAS Supports Synology Hybrid RAID (SHR)
One key feature that many buy Synology systems for is their fluid RAID configuration, known as Synology Hybrid RAID – or SHR. This allows the user to be a lot more flexible on Day 1 or Day 1000 about the storage media they want to install inside the device. Traditional RAID configurations, such as RAID 1, 5 and 6, will insist that you use drives of the same capacity, otherwise, it will class each drive in the array as the smallest available drive present. Most users will not see the benefits of SHR when they set up their device, but if you partially populate your NAS or years down the line want to start adding bigger drives, SHR will allow you to add/mix larger capacity drives and will be able to use the extra storage as more drives are added. You would think that such a popular feature would be on ALL Synology NAS, but the brand feels (see Q&A at the bottom) that because SHR has a slightly lower performance than traditional RAID (to calculate the more flexible storage array) and that most higher end-users will fully populate on day 1, that SHR is only available on home/prosumer devices. Luckily, it IS present on the DS1821+ NAS and with 8-Bays, it will be VERY useful to those that want to gradually populate their device and spread the cost of the storage investment over the years as they need to.
The

Synology DS1821+ NAS Includes Two

NVMe SSD bays
Although technically not new technology anymore, Synology is still one of the most avid supporters of NVMe bays on NAS systems for improved internal performance. Allowing you to leverage the high IOPS and general fantastic throughput of SSDs to buffer the existing slower hard drives in the RAID array, the fact the DS1821+ arrives with NVMe's on board is an excellent addition and exactly what I would expect from the new Synology 2020 series. Additionally, I feel the DS1821+ will make better use of NVMe SSD caching bays than many of the other xx20+/21+ units, as it has both larger base storage available and a more considerable degree of maximum drive supported in its lifespan. Finally, there is the fact that NVMe cache requires a certain amount of memory available to scale against the available storage RAID it is caching, and the DS1821+ arrives with 4GB of DDR4 ECC by default (upgradable to 32GB too) which is perfect in the long-term as your storage grows.
The Synology DS1821+ NAS Features a PCIe Gen 3 x8 Upgrade Slot
Many users were a pinch saddened by the lack of greater than gigabit connections on the DS1821+ NAS (see the 5 reasons against in a bit) but this system DOES arrive with a very impressive upgrade slot that allows you to install a range of network interface cad upgrades. What is especially impressive is that the system features PCIe Gen 3 x8 (so, up to 8000MB/s throughout between the card and the system on that lane) which means much larger than 10Gbe cards are possible here, across multiple ports. Yes, this is an 8-Bay device and therefore there are limits to the saturation you can have of that bandwidth BUT it is still a nice option to have and allows you to go all the way upto 40GbE cards if you really want too (if you factor in those 2 eSATA expansion slots and having a total 18 HDD/SSDs).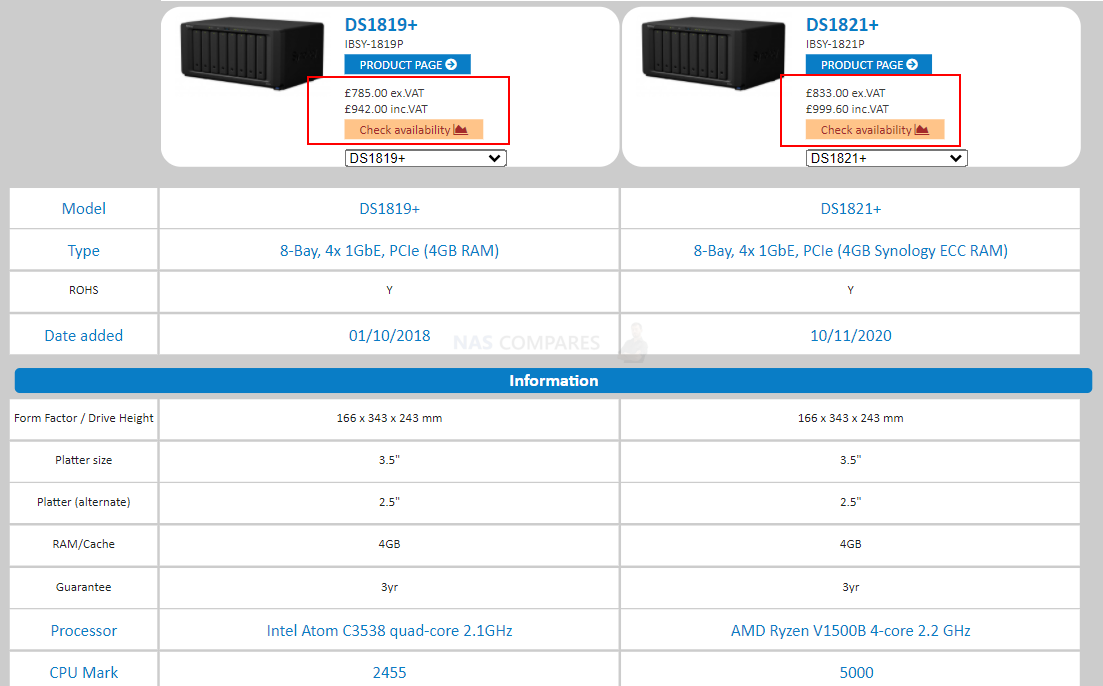 The Synology DS1821+ NAS is at a Good Price Point in the Range
This is more of a broader point for those who have already decided that Synology is the brand they definitely want to invest in your their NAS solution and have a predetermined budget, but the placement of this 8-Bay NAS in the product portfolio is better than it has been for a number of years. If you look at the Disktation NAS range, the gaps between each tier are now much smaller and with each tier, it is much clearer what your money is going towards – which means you can be a lot more precise about what features and services you are paying for. So, for example:
DS920+ 4-Bay +4

4 Core Intel / 4GB / 2 LAN

£550+

DS1520+ 5-Bay +10

4 Core Intel / 8GB / 4 LAN

£700+

DS1621+ 6-Bay +10

Ryzen 4 Core / 4GB / 4 LAN /

PCIe –  £825+

DS1821+ 8-Bay +10 Ryzen 4 Core / 4GB / 4 LAN

PCIe – £970+

DS3018XS 6-Bay +24Xeon 2 Core / 8GB

PCIe

– £1300+


DS2419+ 12-Bay +12Intel 4 Core / 4GB / 4 LAN

PCIe – £1500+

DS1621XS+ 6-Bay +10Xeon 4 Core / 8GB / 10G LAN

PCIe

– £1600+
As little as 2 years ago, there were some pretty huge product gaps between the Synology business Desktop Diskstation series and although it is still not perfect, it is way, way easier to see which NAS you should look at for your business data storage business needs.
5 Reasons You SHOULD NOT Buy the Synology DS1821+ NAS drive
As good as I think the DS1821+ is, it is still not perfect, and there are several factors about this device that may convince you to buy another machine. Such as: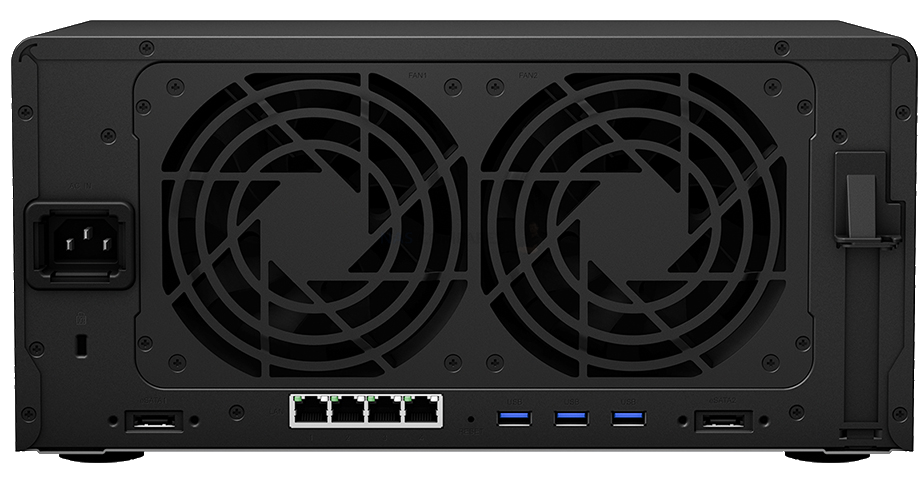 The Synology DS1821+ NAS Only Features 1Gbe
This is something that a number of buyers of new Synology NAS in 2020 are getting a little glum about, that they are 1-Gigabit ethernet devices. Yes, the DS1821+ does feature four 1Gbe LAN ports and therefore there is the potential, with a supported managed switch, to reach 4Gbe. However, with many of their competitors producing hardware reaching 2.5Gbe and 5Gbe by default, as well as numerous 10Gbe solutions becoming available thanks to a growing trend for greater than gigabit environments, even at this price point, 1Gbe does seem a tad underwhelming. In fairness, not all people are going to take advantage of 1Gbe in the lifespan of this product, but it does somewhat limit the future potential of this NAS system to know that even if your network hardware environment gets bigger, you cannot exceed 1Gbe in a typical one-to-one connection on the DS1821+.
The Synology DS1821+ NAS NVMe Bays Are For Caching ONLY
The fact that the Synology DS1821+ only allows you to use the NVMe SSD bays for caching is something of a policy of Synology across the majority of their ranges. affecting more than just the DS1821+. If you were planning on using the dedicated SSD bays for raw storage, you will be disappointed. It is understandable why a DS1821+ NAS user will want to use this super-fast PCIe we based media for more high priority data and still curiously something that Synology does not allow, favouring the idea that users can use this SSD storage for improved internal performance. Once again, it may well be that the PCIe lanes of the CPU and chipset in the DS1821+ would somewhat bottleneck PCIe performance and therefore Synology may have restricted its use for this reason. Nevertheless the growth and popularity of NVMe's increase every year and therefore I do think it's high time that Synology reconsidered their position on this policy, especially on more powerful now solutions.
The Synology DS1821+ NAS ONLY Supports the DX517 Expansion, not the DX1215
A slight shortfall of the Synology DS1821+ that has been a long-running complaint for some in this product family, is that although the system can have its storage expanded, it is done with two eSATA ports on the rear of the system. Each expansion port allows you to connect a DX517 expansion device (5 bays) and therefore allows you to potentially store 18 bays of storage. However, there is ALSO a 12-Bay expansion chassis (the DX1215) that uses an external technical SAS type connection that you CANNOT connect to the DS1821+. For many, the idea of using 2 extra chassis, each with their owns mains power and connected cables (admittedly screw-locked) in order to get 10 more bays is much less desirable than a single expansion chassis that can storage 12 more bays and the lack of flexibility in expansion options is one that has been noted previously. There are arguments for this, of course, it allows a more gradual upgrade option, allows each 5 bays to have a better share of the 6GB/s they each have with the system, but it is less convincing for many. Even the option of a PCIe upgrade card to connect the 12 Bay expansion (perhaps sold as a bundle) would be nice one day.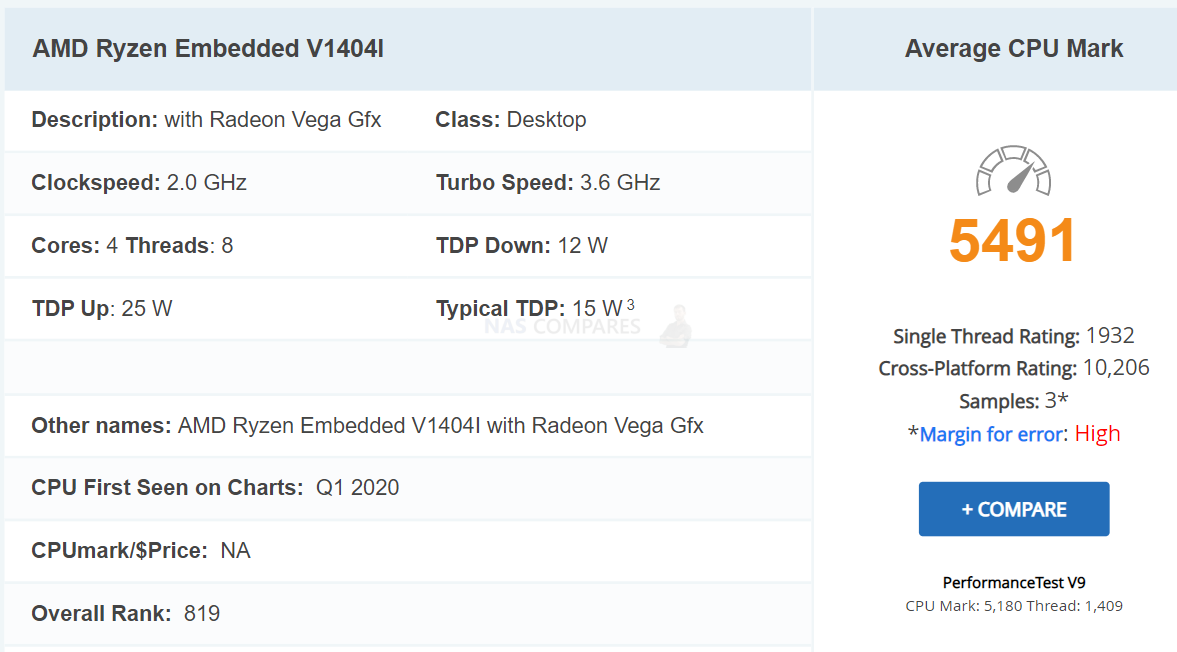 The Synology DS1821+ NAS Processor does NOT feature Embedded Graphics
As much as I applaud the use of that Ryzen processor in the DS1821+ NAS, it is a shame that we are not seeing the graphically enabled alternative to this processor (The AMD Ryzen Embedded V1404I with Radeon Vega Gfx that several official and unofficial sources brought to my attention). It would have been a pinch more expensive and might well have brought buyers remorse/conflict between the Celeron CPUs of the 2/4/5-Bay Diskstation devices, but this would have been a much more suitable processor for those looking at multimedia use in the DS1821+, or those who are going to use the surveillance station software multi-camera live feed to a greater extent. The Ryzen V1500B is indeed a great file handing chip, but
The Synology DS1821+ NAS Arrives in a Metal Chassis
For those of you that will be in close proximity to the Synology DS1821+ NAS, there is simply no avoiding that the metal chassis will generate that slight bit more operation noise. This is going to be only a fraction above the ambient noise level of other devices around it but will amplify in conjunction with the media inside – so larger RAID arrays and those that use greater than 8TB Hard Drives will be especially noticeable. Alot of this is more the fault of the hard drive manufacturers and even in plastic chassis, the noise would be noticeable (the clicks, hums and whirs of the mechanical platters and arm etc), but it is just that bit more noticeable in the DS1821+. There are positive arguments for the metal casing, such as assisted heat dissipation and a much more robust hardware design – but there is simply no avoiding that those who are particularly sensitive to noise might want to give this a miss.
And there you have it, 5 reasons to buy the new Synology DS1821+ and 5 reasons not to. I hope you found this helpful and it helps you to choose the right NAS system for your home and business data storage.
Synology DS1821+ vs DS1819+ NAS Drive – Buy or Wait?
If you are looking to buy a NAS drive from Synology right now, then (despite the DS1821+ NAS early appeal) a number of the key hardware specifications of the Synology DS1821+ NAS are available in the DS1621+ and DS1819+, and if the safety and integrity of your data are at stake in the short term, is just not worth waiting for. Below is how those NAS compare:
Synology DS1621+ NAS

Synology DS1819+ NAS

Synology DS1821+ NAS

Synology DS1621xs+ NAS

AMD Ryzen V1500B Quad Core
2.2Ghz
4GB DDR4 ECC SODIMM (32GB Max)
6-Bays (Supporting up to16x with 2x 5-Bay Expansion)
4x 1Gbe
3x USB 3.0
PCIe Gen 3 x8
SHR Support
BTRFS Support
3 Year Warranty (Can be Upgraded to 5yrs)

Intel Atom C3538 Quad Core
2.1Ghz
4GB DDR4 SODIMM (32GB Max)
8-Bays (Supporting up to160x with 2x 5-Bay Expansion)
4x 1Gbe
4x USB 3.0
PCIe Gen 3 x8
SHR Support
BTRFS Support
3 Year Warranty (Can be Upgraded to 5yrs)

AMD Ryzen V1500B Quad Core
2.2Ghz
4GB DDR4 ECC SODIMM (32GB Max)
8-Bays (Supporting up to18x with 2x 5-Bay Expansion)
4x 1Gbe
4x USB 3.0
PCIe Gen 3 x8
SHR Support
BTRFS Support
3 Year Warranty (Can be Upgraded to 5yrs)

Intel Xeon D-1527 Quad-Core CPU
2.2Ghz (can be burst to 2.7Ghz)
8 GB DDR4 ECC SODIMM (32GB Max)
6-Bays (Supporting up to 16x with 2x 5-Bay Expansion)
1x 10Gbe
2x 1Gbe
3x USB 3.0
PCIe Gen 3 x8
No SHR Support
BTRFS Support
5 Year Warranty
Learn more about Synology in 2020/2021 from our Q&A earlier this year:
Click Below to Read the Full Q & A with Synology Taipei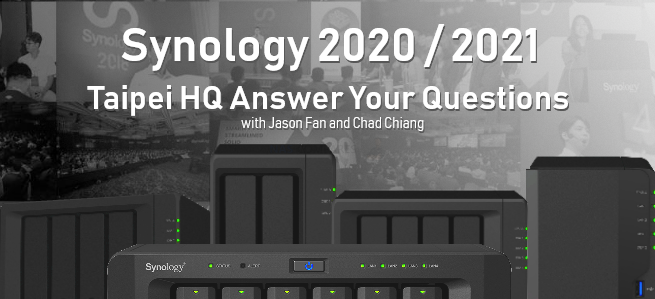 📧 LET ME KNOW ABOUT NEW POSTS 🔔
Join 1,461 other subscribers
Get an alert every time something gets added to this specific article!
This description contains links to Amazon. These links will take you to some of the products mentioned in today's content. As an Amazon Associate, I earn from qualifying purchases. Visit the NASCompares Deal Finder to find the best place to buy this device in your region, based on Service, Support and Reputation - Just Search for your NAS Drive in the Box Below
Need Advice on Data Storage from an Expert?
We want to keep the free advice on NASCompares FREE for as long as we can. Since this service started back in Jan '18, We have helped hundreds of users every month solve their storage woes, but we can only continue to do this with your support. So please do choose to buy at Amazon US and Amazon UK on the articles when buying to provide advert revenue support or to donate/support the site below.

Finally, for free advice about your setup, j
ust leave a message in the comments below here at NASCompares.com and we will get back to you.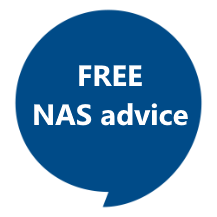 Need Help?
Where possible (and where appropriate) please provide as much information about your requirements, as then I can arrange the best answer and solution to your needs. Do not worry about your e-mail address being required, it will NOT be used in a mailing list and will NOT be used in any way other than to respond to your enquiry.
Support What We Do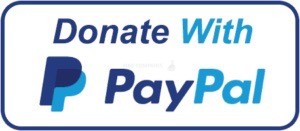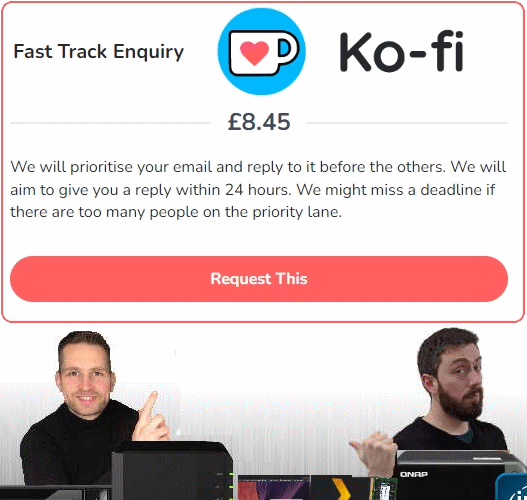 Terms and Conditions
Alternatively, why not ask me on the
ASK NASCompares forum
, by clicking the button below. This is a community hub that serves as a place that I can answer your question, chew the fat, share new release information and even get corrections posted. I will always get around to answering ALL queries, but as a one-man operation, I cannot promise speed! So by sharing your query in the
ASK NASCompares
section below, you can get a better range of solutions and suggestions, alongside my own.
This description contains links to Amazon. These links will take you to some of the products mentioned in today's video. As an Amazon Associate, I earn from qualifying purchases
Summary
Reviewer
Review Date
Reviewed Item
Synology DS1821+ NAS – Should You Buy It?
Author Rating