The Synology DS1621+ vs QNAP TS-673A NAS Compared
The choice for businesses that are making the move away from third-party cloud services, or those looking to add a NAS to the existing multi-tier data strategy, has never been larger than in 2021. Right now, for businesses looking at a reliable desktop solution to wrap their business data around it's pretty exhaustive, with many brands and hundreds of distinct solutions all vying for your money. Two brands that have maintained a comfortable dominance in this SMB tier of the storage industry are Synology and QNAP, so today I want to take a closer look at their two respective 6-bay NAS solutions, the Synology DS1621+ and QNAP TS-673A. Each one providing the full range of software services advertised by each brand, they also provide very similar hardware architecture at a comparable price point. However, each brand has a markedly different understanding of what they think business users look for in a 6-bay NAS solution in 2021 and it is in HOW they provide that hardware and software to the end-user that really separates these two NAS solutions. So today, I want to compare the DS1621+ and TS-673A NAS, show where your money goes and ultimately help you decide which one deserves your data.
Synology DS1621+ vs QNAP TS-673A NAS – What Can They Both DO
Despite each brand taking a very different stance on what you need for your storage in 2020/2021, there is still a large amount of cross over in the software and utilities that each provides with your NAS purchase. With their own respective first-party applications for backups, multimedia, surveillance, VMs and more, you are going to get a remarkably well-featured device, whichever one you choose to invest in. Both Synology DS1621+ and TS-673A systems provide/support:
Both units feature the AMD Ryzen V1500B processor for a good price vs hardware balance
Both can Stream and Transcode on the fly (so, live) 1080p HD or 4K media, with superior performance natively and mid-range performance in Plex, however, both do this by using software transcoding, as the main processor is not graphically embedded
Both the Synology DS1621+ and TS-673A NAS support AI-supported photo and 'thing' recognition supported to a very high degree from the free branded software included
For Business users who currently enjoy the use of G Suite or Office 365, both of these NAS provide excellent means to backup your mass cloud accounts (as well as natively sync, dupe and configure rules on the fly)
Both the TS-673A NAS and DS1621+ NAS support snapshots, for more incremental and version protecting failsafe in efforts to protect you from Malware and Ransomware attacks, by allowing multi-versioning storage history to browse through and restore
Both units are DLNA certified so can be accessed, browsed and played from by popular DLNA devices, such as Amazon Firestick, Alexa, Google Home, Chromecast, DS1621+ TV, Bose, Sonos, iPads, etc, as well as connectivity between these platforms with IFTTT
Both are multi-bay, RAID enabled devices NAS devices that support JBOD, RAID 0 and RAID 1, RAID 5, RAID 6 and RAID 10 (as well as Synology Hybrid RAID too for their Plus series range), as well as supporting the very latest SATA based 16TB and 18TB NAS Hard Drives from brands like WD Red, Seagate Ironwolf, Western Digital UltraStar and Seagate EXOs media. As well as the Synology solution supporting their own first-party HAT5300 HDDs.
Both devices run on their own proprietary operating system that can be accessed remotely or locally. These include regular updates to the firmware, security patches, applications and more. Ranging from multimedia, home and multi-tiered backup applications, to more business end tools such as Surveillance software, Virtual Machine deployment and business-class backup and synchronization tools.
Both the TS-673A and DS1621+ use and can be accessed equally by a multitude of mobile applications such as DS File, DS Video, Moments, DS Photo, DSCam and DS Music that are created by and constantly improved by Synology. As well as QFile, QMusic, QuMagie and QManager from QNAP for iOS and Android.
Both NAS are completely compatible with Windows, Android and Mac systems, as well as acting as a bring between software platforms to share and distribute files for migration and file sync (with improvements in newer DSM 7.0 later in 2021 to Mac Finder file streaming and file pinning
Both units can be used as a mail and/or business servers, providing excellent 3rd party CRM and first-party CMS systems. There is the Synology collaboration Suite of applications Chat, Drive, Mail, Calendar, Office and Active Backup Suite. Whereas on QNAP there is the QMail, Hybrid Backup Sync 3, Virtualization station and BoXafe tools
Both systems support the NVR use with QVR Pro and Surveillance Station applications, support numerous cameras and arrive with at least 2 camera licenses with your purchase (8 Camera Licenses with the QNAP)
So, regardless of whether you buy the TS-673A or DS1621+ NAS, you are going to have a remarkably functional NAS drive. But, let's dig a little deeper into the differences between these two devices.
Synology DS1621+ vs QNAP TS-673A NAS – DESIGN
The physical design of a NAS is far less important than that found in a PC, laptop, phone or indeed any device that is regularly seen/interacted with, but it still has to be said that a number of users will keep a NAS system in their local office environment and in line of sight. The design of a NAS, aside from vague factors of appearance, also has to factor in elements such as cooling, general ambient noise and physical space. Once again, Synology and QNAP go in very different directions in terms of physical design, with the DS1621+ and TS-673A utilising familiar hardware design found in the portfolio of each brand.
This slideshow requires JavaScript.
The Synology DS1621+ features a much more understated and discreet chassis, as well as being the physically less imposing of the two by a small percentage. The Synology has a design that blends easily into the background of other hardware devices in your environment, as well as being the lower noise level option of the two in this comparison full. All real-time information from the system at a glance (so, outside of logging in remotely with a client) is provided via a limited, but still useful selection of LEDs that denote system activity, access and drive utility. The chassis that is featured on the Synology DS1621+ has been used in numerous other releases in the last few years and although shows little change throughout all of those versions, is still a very popular model aesthetically and it's understandable why Synology would be reluctant to change this recognisable brand chassis. In fact, the front panel aside from LEDs and drive bays is tremendously understated, aside from a USB 3.2 Gen 1 port (5Gb/s) for adding backups over a DAS connected drive to your storage strategy. 
This slideshow requires JavaScript.
The QNAP TS-673A by comparison to the DS1621+ is noticeably more rugged and industrial in its aesthetic. Although both devices are predominantly metal in design, the QNAP is that little bit more metallic overall. The system uses a modified version of their popular 6-bay chassis design and on this enclosure, along with LEDs, it features a Real-Time LCD panel to provide system information at the touch of a button to the end-user. This panel provides information on network interfaces, storage health, system temperature along with a few others. Much like the Synology DS1621+, the TS-673A also features that front-mounted USB port, however, this one includes a fractionally more interactive one-touch copy button and also impressively is USB 3.2 Gen 2 in architecture (10Gb/s). The design of the QNAP TS-673A is certainly noticeably bulkier and arguably more industrial than that of the Synology DS1621+. Ultimately, despite more hands-on and direct access options being built into the design of the QNAP TS-673A chassis, I feel that the understated and discrete Synology DS1621+ provide the better design. Likewise, the QNAP TS-673A solution is seemingly the more typically power-hungry and marginally louder in ambient noise level when in operation in like-for-like hardware environments. This is still a minor point however when comparing these two chassis and involves a large degree of consideration to the network environment of most SMB users.
Result – You Should Buy the Synology DS1621+ NAS
Synology DS1621+ vs QNAP TS-673A NAS – INTERNAL HARDWARE
The internal hardware featured inside the Synology DS1621+ and QNAP TS-673A system again are rather similar and both devices are using a similar degree of component choice in their architecture. Though there are a couple of notable differences internally that show how each brand has prioritised the available PCIe lanes (x16) from that Ryzen CPU. Below is a breakdown of the internal/external hardware and we will go through those main key differences between them.
Core Hardware
Model
SYNOLOGY DS1621+ NAS Drive

QNAP TS-673A NAS Drive

Processor model
AMD Ryzen V1500B
AMD Ryzen V1500B
Processor architecture
64-bit
64-bit
Processor clock
4-core 2.2 GHz
4-core 2.2
Hardware encryption engine (AES-NI)
YES
YES
Memory
System memory
4 GB DDR4 ECC SODIMM
8 GB DDR4 SODIMM
Pre-installed memory modules
4 GB (4 GB x 1)
8 GB (8 GB x 1)
Total memory slots
2
2
Maximum memory capacity
32 GB (16 GB x 2)
64 GB (32 GB x 2)
Storage device
Number of Disk Slots
SATA 3.5″ & 2.5″
SATA 3.5″ & 2.5″
M.2 disk bay
Yes, NVMe (Caching)
Yes, NVMe (Caching or Storage)
Disk hot swap support
YES
YES
External port
RJ-45 Network ports
4 x 1Gbe
2 x 2.5Gbe
RJ-45 10GbE network port
N/A
N/A
USB 3.2 Gen 1 5Gbps port
3
1
USB 3.2  Gen 2 10Gbps port
0
3 (2x A and 1x C)
eSATA port
1
0
PCIe
PCIe expansion
1 x Gen3 x8 slot
2 x Gen3 x4 slots
Noise value*
25.2 dB(A)
20.3 db(A)
Timer switch
YES
YES
Wake on LAN
YES
YES
Power supply/transformer
250W
250W
Power consumption power*
51.22 W (Access)

25.27 W (HDD Hibernation)

45.89 W (Access)

21.89 W (HDD Hibernation)

Warranty
3 years, which can be extended to 5 years coverage
3 years, which can be extended to 5 years coverage
Although both have tremendous similarity in their specifications above, the QNAP has clearly made a more diverse range of hardware choices with the available architecture. The first big stand out are those M.2 NVMe bays found on the DS1621+ and TS-673A. In either case, these devices enable you to install two superfast NVMe SSD inside the system that allows you to leverage their high-performance, high IOPS and low latency to improve access and I/Os in a number of ways inside the slower but larger capacity hard drive RAID array in the main 6 SATA storage bays. However, although both the btrfs Synology and ZFS QNAP both hugely take advantage of improvements in SSD caching, only the QNAP TS-673A allows you to also use these NVMe bays as a raw storage pool instead. The benefits of using super-fast NVMe SSD for raw storage inside the system, as well as allowing faster potential bandwidths connections (10G, 25G) externally to be further saturated, are going to be hugely appealing to content creators and those that work in the media industry. It should be highlighted that you will still need to factor the specific PCIe architecture on these ports and RAID considerations in your hardware setup in the TS-673A, to take advantage of this performance though. Likewise, because the PCIe lanes of this CPU, the NVMe slots on the QNAP are PCIe Gen 3×1 (1000MB/s), so if you do use them for raw storage, remember that you will only see a maximum 2000MB/s performance with a pair.
Likewise, in further upgradability, both systems feature a PCIe upgrade option to improve hardware in the TS-673A and DS1621+ in the lifespan of the system. The Synology DS1621+ has the higher-performing PCIe connection at Gen 3 x8 (8000MB/s potential card-to-host throughput), but the QNAP has two PCIe slots at PCIe Gen3 x4 each (so, 2x 4000MB/s cards). User preference will obviously play a part, but it is worth remembering that without expansions, a 6-bay will only really saturate a single 10Gbe port card with maybe a little more in the tank to justify a 2x 10G NIC (with expansions enclosures, 2000MB/s would be possible). Additionally, it's worth remembering that the DS1621+ largely supports the Synology first-party range of cards more than any other (along with a handful of intel and Mellanox). Whereas the QNAP TS-673A supports a much larger range of PCIe upgrade cards (3rd and 1st party) that along with standard network cards, even include graphics cards, SSD storage cards and Wi-Fi 6 upgrades.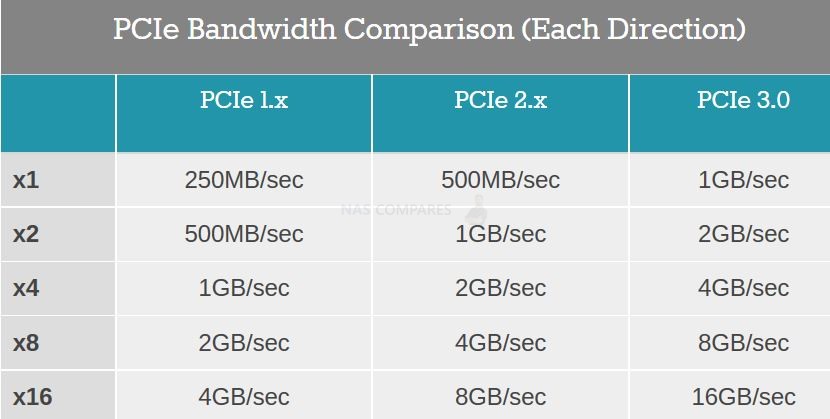 The TS-673A is clearly the better internal hardware option overall compared with the DS1621+. The simple fact that the QNAP provides everything that the Synology does internally, then provides them more so is inarguable and for me, the QNAP TS-673A wins this round.
Result – The QNAP TS-673A wins for better overall available internal hardware
Synology DS1621+ vs QNAP TS-673A NAS – EXTERNAL HARDWARE
When I say external hardware, I really mean the ports and connections of these two devices. How you plan to interface with the Synology DS1621+ or QNAP TS-673A NAS in your home or business environment may well impact which of these two solutions is best suited to your needs. Both systems can be accessed via the internet and via the network by multiple users at any one time, as well as arriving with numerous third-party client applications and first-party tools to utilise your data in the best way possible. But external connectivity of the Synology or QNAP NAS does differ quite a lot on both (again, on Day 1 and Day 1000) and later in the systems life, once you introduce peripherals on your client devices, the way you use the NAS might well change.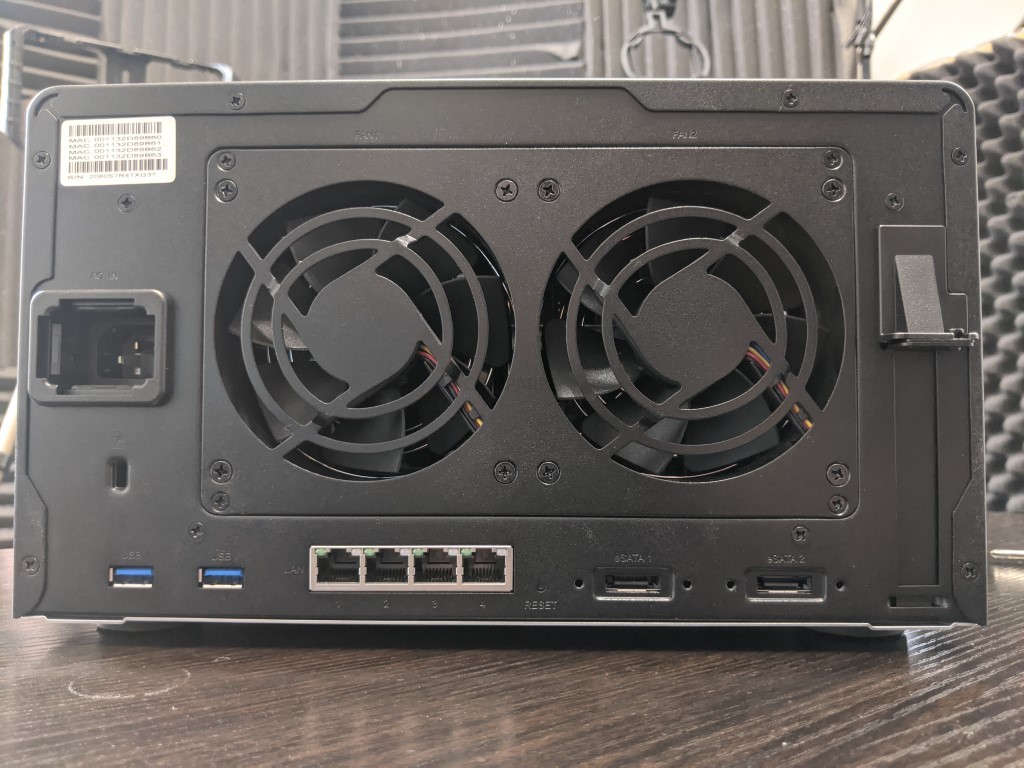 In terms of network connectivity, the Synology DS1621+ arrives with four individual Ethernet ports at one-gigabit each. That means that you can utilise these ports for separate connections, failover architecture and link aggregation to combine the total network bandwidth up to a potential 4Gbe maximum. For those that want greater than this level of network connectivity, you will have to look at occupying that available PCIe expansion slot with something a little more hardcore down the line (10Gbe, 25Gbe, etc), but as it stands the system will a maximum for 400MB/s+ out of the box. Alongside this, the DS1621+ also features two USB 3.2 Gen 1 ports (5Gbps) for external storage and a small range of network peripherals. Finally, we find eSATA expansion ports that allows you to connect two of the official five-bay DX517 expansion chassis and allows a total 16 bays of storage across the whole system once attached.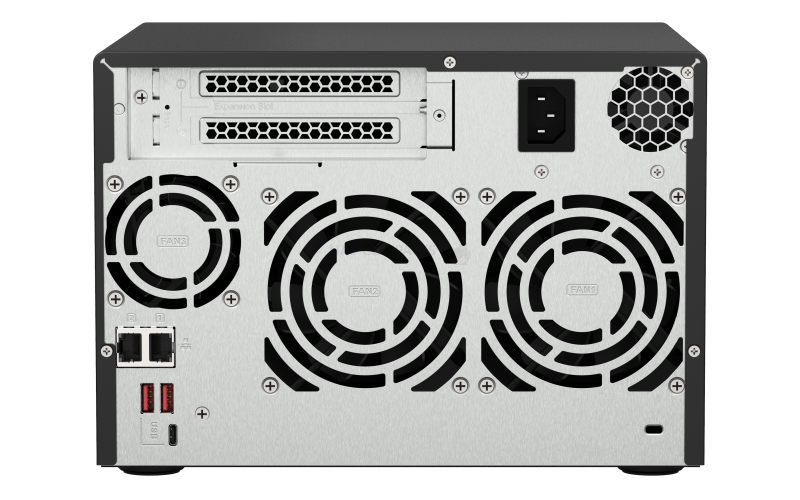 The QNAP TS-673A on the other hand provides similar yet greater levels of connectivity compared with the DS1621+, but does it in a noticeably different way. For example, the QNAP TS-673A features just two network interface ports, but these are 2.5Gbe and translate to 2.5x the ones found in the Synology, resulting in a maximum 500MB/s+ external throughput. The TS-673A also features several USB ports in USB 3.2 Gen 2 & 1 architecture, allowing you to connect a larger selection of both storage and network adaptors. These USB ports (as well as the PCIe slots) are also used for expansion devices and allow the QNAP TS-673A to attach several supported expansion devices (4/8/12/16 Bay chassis) and to a larger total number of drive bays than the maximum available on the Synology DS1621+. Ultimately, in terms of network connectivity, the Synology provides a familiar and standard range of external ports and connections, whereas the QNAP provides a more modern and higher performing selection of connections that nonetheless may not be completely supported by your existing hardware environment. On balance, I think the QNAP TS-673A provides more in this section than the Synology DS1621+
Result – You Should Buy the QNAP TS-673A NAS
Synology DS1621+ vs QNAP TS-673A NAS – Performance
The performance of each of the NAS systems can be measured in a few separate ways and, once again, the Synology and QNAP ethos towards internal and external architecture is very, very present here in the DS1621+ and TS-673A. In terms of traditional 1Gbe external performance, these two NAS systems are near enough identical, as both have both the general internal architecture to push through 100MB/s+ with ease. Though it should be highlighted that although both systems have the internal drive space of 8 Drives in a RAID to saturate their respective 1Gbe and 2.5Gbe connections with a supported switch via Link Aggregation, the QNAP provides a better single cable connection overall. With the use of sufficient drive media and the combining of all available network connections in link aggregation, the Synology DS1621+ will max out at 400MB/s+ with 4 ports, whereas the QNAP will provide 500MB/s+ with 2 ports.
Things are quite different in terms of 10Gbe support however. Neither system arrives with a dedicated 10Gbe port and requires the installation of a 10Gbe network upgrade card. As these are 6-bay NAS systems, there is not quite the throughout to justifying a 2x 20 Port setup, but over 1x 10Gbe, the Synology DS1621+ NAS seemingly provides a solid 1000MB/s over both Read and Write, thanks to that PCIe Gen 3 x8 support. The QNAP TS-673A arrives with a solid 10Gbe performance also that will like in the 1000MB/s in both read and write too, however, the winning factor once again is that the QNAP also can reach 500MB/s read and write WITHOUT a 10Gb upgrade, thanks to those 2x 2.5Gbe ports.
Memory utilisation between the two systems is noticeably different too, as the TS-673A features the resource-hungry ZFS platform and its impact on memory consumption. That said, the QNAP arrives with twice the memory by default at 8GB and although this is not ECC class memory, that will not inhibit performance internally. If you are going to rely on third-party software and the NAS as a target to drive for your in-house software, the QNAP is the better for internal performance (the same goes for throughout on btrfs vs ZFS). However, if you are purchasing the NAS system for its performance in its own first-party applications, the Synology DS1621+ will be the more desirable and long-term choice. Of course, you will need sufficient external network hardware in your home/office environment to take advantage of 10G, 2.5G or link aggregation at all, but ultimately it means that in a base level 1Gbe setup, things are pretty even and in a perfect setup, the QNAP TS-673A will win overall in performance externally.
Result – You Should Buy the QNAP TS-673A NAS
Synology DS1621+ vs QNAP TS-673A NAS – STORAGE
This is probably the biggest and clearest distinction between these two devices and Synology and QNAP have clearly drawn a line in the sand with what they are prepared to offer at this £850-950 price tag. Both systems allow the installation of hard drive and solid-state drive media, as well as supporting expansion devices that allow you to add further storage to your system storage pool. But the media types supported, range of performance and extend to which you can use that storage is wildly different comparing these two devices. The Synology DS1621+ provides 6 SATA hard drive bays that can also support 2.5 inch SATA SSD. This main storage area allows you to create any one of a range of traditional RAID configurations, as well as their own fluid proprietary configuration known as Synology Hybrid RAID (SHR). The core system utilizes btrfs as the de facto file system and although you can switch the system to ext4, a number of key Synology applications demand btrfs running. Btrfs presents a number of unique benefits to the system that includes file self-healing, faster-shared folder duplication and reduced impact made on the system resources when generating snapshots, allowing a greater number of snapshots of your storage to revert to, as well as less system slow down when they are created. As mentioned, you can attach expansion devices and the DS1621+ allows the connection of two eSATA expansion devices that are JBOD and cost around £300 to £400 each. Finally, you find internally the two m.2 NVMe SSD bays that allow you to install M2 superfast PCIe 3×4 SSD and utilise their fast performance, high IOPs and low latency towards the main RAID storage array with a sophisticated NAS storage intelligent caching. Synology has been improving their internal caching system for a number of years and has reached the point where the bulk of their new generation hardware all include NVMe M.2 SSD bays to improve that internal slower but larger and more affordable hard drive array on their systems. Unfortunately, Synology does not allow these NVMe bays to be used for raw storage pools and those of you that wanted to use this super-fast storage in conjunction with perhaps a 10Gbe upgrade card will be left disappointed. There is a huge amount of storage potential here and the benefits of upgrading the performance with NVMe are desirable, if optional. And let's not forget about Synology hybrid RAID and the benefits that it brings to a more scaled approach to populating your NAS over the years.
Unlike Synology and btrfs, QNAP has provided TS-673A with the ZFS (Zettabyte file system) version of their software, QuTS hero. ZFS presents a number of huge improvements to that of ext4 and is considerably more industry-supported at the enterprise level than btrfs, which is seen to still be a little young by comparison. Benefits of ZFS include considerably faster performance, RAID building and RAID rebuilding thanks to the filesystem removing the volume layer in its architecture and allowing data to be directly written to the storage pool. There are also many real-time file benefits with inline data compression and inline deduplication across the whole file and folder structure, though remember you will need 16GB to take advantage of deduplication. Many of these benefits of inline file transmission are promised in updates to DSM 7.0 (currently in beta) but seem to be more app-specific to Synology Drive and less about the system as a whole.
 There is no fluid RAID system comparable to SHR but you do have all of the traditional RAID configurations, as well as RAIDZ and triple parity options that allow up to 3 disks of disaster redundancy. Expansions on the QNAP TS-673A are connected via the available USB port which although on the face of it does not sound as fast as eSATA on the Synology, thanks to a range of USB 3.2 Gen 2 (10Gb/s) JBOD and SoC RAID expansions in the TR and TL series, it means that expandability is technically larger, and faster thanks to the majority of their NAS expansions featuring hardware RAID. Overall, in terms of storage, you will be unsurprised to hear that I choose the QNAP TS-673A over the Synology DS1621+. There is just a larger degree of flexibility available both in terms of hardware and the filesystem on offer. You cannot fault these Synology Hybrid RAID and I wish Synology would let users access those M.2 NVMe bays as a storage pool, but the DS1621+ is still a good NAS for storage. It just does not bring the larger degree of fluidity and media support available in the TS-673A currently.
Result – The QNAP TS-673A – Both Have Similar Day 1 Storage, but the QNAP has better long term storage options
Synology DS1621+ vs QNAP TS-673A NAS – PRICE
Regardless of whether you are buying the DS1621+ or TS-673A for home or business use, the matter of price will always play some part in your decision. Once again, it has to be noted that the Synology has been available to buy for several months longer than the QNAP, which has given the DS1621+ enough time to develop slightly more flexible pricing. That said, even at launch, the Synology DS1621+ still arrived at around $100-140 less than the QNAP TS-673A did when revealed. Of
| | |
| --- | --- |
| SYNOLOGY DS1621+ NAS Drive | QNAP TS-673A NAS Drive |
course, this price difference can still be reflected in the greater network connections (2.5G over 1G), ZFS and 50% more available memory in the base model of the TS-673A. Therefore this becomes less about price and more about value, to see which one gives you the most for your money. In terms of value, I think the QNAP brings you a more noticeable degree of hardware for your money over software development, where is Synology has directed more of that into the impressive software of the SMB, arguable playing a tad safe on the hardware.
Result – IT'S A TIE! The QNAP for Long Term Value, Synology for Software vs Hardware Balanced Value & Price
Synology DS1621+ vs QNAP TS-673A NAS – CONCLUSION
Despite the fact that the Synology DS1621+ and QNAP TS-673A were released 3 to 4 months apart, they really do bring a different hardware focus to the end-user. The Synology DS1621+ brings a sense of simplicity, ease and familiarity in their solution, with a big focus on keeping things both user-friendly and highly functional. It does this with a greater focus on first-party software and hardware decisions that may not be for everyone. In contrast, the QNAP brings more innovation, scalability and upgradability in their systems life, whilst allowing their focus to be a tad more balanced towards third-party and first-party 50/50 utilisation. However, this can all too often lead to confusion or less focused/intuitive software design than that found in the Synology platform. So, ultimately it comes down to whether you want to use your own pre-existing third-party services or want a solution that delivers a complete hardware + software solution in 2021
Best NAS for Plex Media Server = Synology DS1621+ NAS
Best NAS for Surveillance = Synology DS1621+ NAS
Best NAS for Virtual Machines = QNAP TS-673A NAS
Best NAS for Photographers = Synology DS1621+ NAS
Best NAS for Video Editors = QNAP TS-673A NAS
Best NAS for Business = QNAP TS-673A NAS
📧 LET ME KNOW ABOUT NEW POSTS 🔔
Join 1,411 other subscribers

Get an alert every time something gets added to this specific article!



This description contains links to Amazon. These links will take you to some of the products mentioned in today's content. As an Amazon Associate, I earn from qualifying purchases. Visit the NASCompares Deal Finder to find the best place to buy this device in your region, based on Service, Support and Reputation - Just Search for your NAS Drive in the Box Below
Need Advice on Data Storage from an Expert?
We want to keep the free advice on NASCompares FREE for as long as we can. Since this service started back in Jan '18, We have helped hundreds of users every month solve their storage woes, but we can only continue to do this with your support. So please do choose to buy at Amazon US and Amazon UK on the articles when buying to provide advert revenue support or to donate/support the site below.

Finally, for free advice about your setup, just leave a message in the comments below here at NASCompares.com and we will get back to you.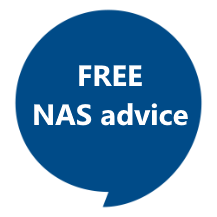 Need Help? Where possible (and where appropriate) please provide as much information about your requirements, as then I can arrange the best answer and solution to your needs. Do not worry about your e-mail address being required, it will NOT be used in a mailing list and will NOT be used in any way other than to respond to your enquiry.
Support What We Do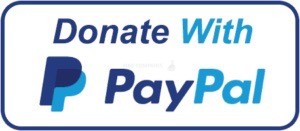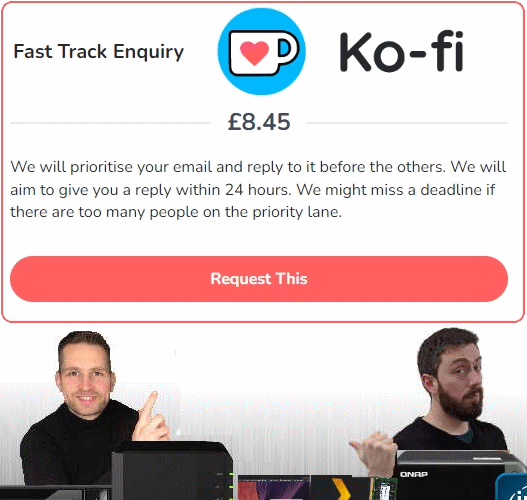 Terms and Conditions Alternatively, why not ask me on the ASK NASCompares forum, by clicking the button below. This is a community hub that serves as a place that I can answer your question, chew the fat, share new release information and even get corrections posted. I will always get around to answering ALL queries, but as a one-man operation, I cannot promise speed! So by sharing your query in the ASK NASCompares section below, you can get a better range of solutions and suggestions, alongside my own.
This description contains links to Amazon. These links will take you to some of the products mentioned in today's video. As an Amazon Associate, I earn from qualifying purchases

Summary

Reviewer

Review Date

Reviewed Item

Synology DS1621+ vs QNAP TS-673A NAS Drive Comparison

Author Rating