Synology DSM vs QNAP QTS NAS Software & Hardware Comparison
We continue with our comparison of the two biggest brands in Network Attached Storage (NAS) and after comparing how each brand presents their platform, how they differ in releases and hardware, then finally the web-based GUI. Today we are going to cover how Synology and QNAP NAS systems storage/configure your data storage, how they can be accessed via mobile devices and how each brand handles multimedia, shares files and presents that information in their range of applications. Both brands have evolved MASSIVELY in these areas as the hardware and software demands of NAS buyers have increased, with Synology once again choosing the streamlined, user-friendly and premium feeling (if a little limiting at times) approach, whilst QNAP is taking the customizable, configurable and wider supporting (if occasionally confusing for newbies) approach. So, let's crack on with Part 2 in this Synology DSM and QNAP QTS NAS comparison.
If you missed part I or Part III, you can find them here below:
LINK to PART I – The GUI, Control, Customization and Brand Focus
LINK to PART III – Backup Tools, Surveillance, Virtual Machines and Conclusion
Synology DSM vs QNAP QTS NAS Software – Mobile Based GUI and Apps
Both Synology and QNAP have a wide range of mobile applications for iOS and Android – this should not be at all surprising! However, we are not just talking backup tools to make sure you do not lose your photos (although both have that backup tools, sync tools and file management tools that make mobile phone-based NAS access exceptionally easy and intuative), as both Synology and QNAP have applications that allow you to have tailored access to the NAS system depending on your access needs at the time (i.e a app specifically for photos, music, video, surveillance etc. The most popular apps are:
NAS Access Type
System Management
DS FInder
QManager
NAS File Management
DS File & Synology Drive
QFile, QSirch
General Phone Backup
DS Cloud
QSync Pro
Photography
DS Photo, Moments & Synology Photos
QPhotos & QuMagie
Video Streaming
DS Video
QVideo
Music Streaming
DS Audio
QMusic
Surveillance
DS CAM & Synology LiveCam
QVR Pro Client,
Downloading
DS Get
QGet
eMail
Synology MailPlus
QMail Client
Notes & To-Do Lists
DS Note
QNotes3
NAS-VPN Manager
Synology VPN Plus
QVPN
NAS Router Manager App
DS Router
QuRouter
Other/Misc
Synology Secure Sign in – Login 2 Step Authentication

Synology Chat – Synology Chat Service App

OceanTV Client – Karaoke Mobile Client

QContacts – Contacts and Connections Database

QRemote – HDMI enabled NAS Remote Control

DJ2 Client – Livestream NAS Manager

QMiix – Alternative to IFTTT client

KoiCast & Koi Talk – Video and Internet Call Client
Over the years, I have reviewed the majority of the core applications for system management, file management, backups, photos, music and video. Here are how each one faired and each video should give you a better understanding of how Synology DSM and QNAP QTS allow you to access your NAS drive o nthe go via your mobile in a much for data relevant way (click the video title to open in a new window on Youtube or watch them here in the article)
NAS Control and Accessibility
NAS Control and Accessibility
NAS File Management
NAS File Management
Photography
Photography
Video Media
Video Media
Music Media
Music Media
Surveillance and Camera Access
Surveillance and Camera Access
Even at a casual glance, it is clear that the Synology applications are more uniform across the board and have a greater degree of similarity to 3rd party applications (eg Synology Drive and Google Drive, Synology DS Video and Plex, Synology Chat and Skype), whereas QNAP applications (more recent apps are similar) seem to have noticeable differences in GUI and layouts that then require a pinch more time to learn individually. However, the QNAP mobile applications are almost all more customizable and allow a greater degree of control and customization – both in the individual applications and how they allow the end-user to control the NAS too. Despite the pros and cons in how each NAS brand has developed and executed their mobile applications, I would say the BIGGEST deciding factor for the end-user will be which platform they will predominantly access the NAS with – Desktop users will find the QNAP platform more geared towards desktop access, whereas the Synology Platform has spent more time bringing the mobile and desktop application experiences to the same standard and an exclusively mobile-based user or even one who will access 25% vs 75% mobile vs desktop will find the Synology platform considerably more intuitive and smooth.
Why Choose Synology NAS? – Intuative and Streamlined UI
Why Choose QNAP NAS? – More Apps and Greater Control
Synology DSM vs QNAP QTS NAS Software – Storage Options and GUI
Synology and QNAP are both storage targeted platforms. Sure, they have different ways of displaying that information, different ideas on how the user can control and access it and even differ pretty wildly on the whilst storage trends they choose to support in their ecosystems BUT they are both going to give you a remarkably evolved and capable network storage system for keeping your data safe. Much like the apps, GUI and access discussed up to this point, Synology and QNAP have shaped the storage options and configurations on their system very different in recent years and now have several unique and brand-specific factors to their systems that might well make the decision between them 10x easier.
Both QNAP QTS and Synology DSM NAS Drives Provide the following Storage Features:
Both NAS Systems Support Snapshots
Both NAS Systems Support Rsync, RTRR and Multi-Platform Backup Setups (Cloud, USB, NAS, etc)
Both NAS Systems Support Redundant Array of Independent Disks (RAID) on all hardware (Brand Differences though)
Both NAS Systems Can Connect to the Cloud
Both NAS Systems Support USB Drives
Both NAS Systems have Varied Expansion Options (Brand Differences though)
Both NAS Systems support SSD Caching (Brand Differences though)
Both NAS Systems Support SATA Hard Drives up to 18TB and 20TB
Both NAS Systems SATA SSDD Storage Pools
Both NAS Systems Support EXT4 amoung others  (Brand Differences though)
Both NAS Systems support RAID Hot Spare Automation, which is when a spare HDD/SSD is initialized by the system but is unavailable for storage. Then, in the event of a drive failure, the system will automatically integrate the spare drive into the RAID for rebuilding
So, regardless of whether you buy Synology or QNAP NAS, you have a great deal of storage support available. However, there are a large number of brand SPECIFIC storage services and options that ONLY one brand of the two have. Let's start with the Synology NAS DSM exclusive options.
Synology NAS, its Services and Features Provide the Following:


Synology Hybrid RAID – SHR is the fluid RAID system that allows you to mix the drive sizes and types in order to get the best possible capacity and storage as you upgrade the drives in the system lifespan
Synology systems for the most part (CPU and Memory dependant) arrive with BTRFS that is a file system that supports lower resource-consuming background snapshots, file self-healing and faster-shared folder cloning (other benefits too)
Synology C2 – Synology has its own first-party cloud service that can be synced with your Synology NAS with HybridShare (DSM 7.0) and allows a disaster recovery backup (subscription-based)
Synology Active Insight (Subscription Based) allows intelligent storage health and Synology monitoring send to admins and appropriate users with recommendations on resolution, repair or replacement
Synology has its own range of HDDs and SSDs in the HAT5300 (SATA 3.5″ hard drives), SAT5200 (2.5″ SATA SSDs) and SNV3400/SNV3500 (M.2 NVMe SSDs) that feature east firmware updates, high endurance. Some recent 2021 systems have compatibility largely reduced to just the Synology HDD range
So, as you can see, a large range of first-party prioritize storage that is still quite a capable list of support services, formats and hardware in terms of storage in a Synology NAS. None fo the above is currently supported/available from QNAP NAS, however, they have their own range of very unique and QNAP-ONLY available storage options. They are as follows.
QNAP NAS, its Services and Features Provide the Following:


QNAP NAS QTS and QuTS allow users to use NVMe SSDs for storage pools and volumes
QNAP NAS QuTS here allows ZFS as a file system choice which includes triple parity RAID, RAID 5/6 builds that take minutes, RAID ReSilvering, inline data compression (space saver) and inline data deduplication (saves 1 copy of files that are located in multiple locations in realtime)
QNAP Hybrid Mount and vJBOD allows you to connect many, many cloud storage providers (Synology HybridShare only allows Synology C2 cloud at the time of  writing)
QNAP allows installation of HDDs/SSDs from Seagate, WD, Toshiba, etc on ALL of their NAS systems
QNAP has DA Drive Analyzer for real-time storage hardware health reports and automated background RAID repair with connected media drives (still in beta at the time of writing)
QNAP NAS QTS allows QTier, which allows the user to create a single storage pool that is comprised of HDD+SSD media and then the NAS system learns which files are accessed most and moves them to the fast storage media internally (not the same as caching with copies the files and more suitable to smaller files)
Much, MUCH larger degree of storage expansion chassis on QNAP, both in terms of the number of NAS hardware systems that CAN be expanded AND the range of expansions that arrive with USB 3.2 Gen 1, USB Gen 2 and a range of external SAS based connections that can go up to 5,000MBs+ externally
The QNAP Storage options unsurprisingly are a great deal more open (wider HDD/SSD support on all their hardware, wider cloud support on their cloud gateway software, expansion chassis and connections), however, Synology and its focus on the 1st party R&D results in stronger and more evolved 'in house' results (such as Synology Hybrid RAID, their own range of media that has unique options, btrfs integration on all apps, etc).
Why Choose Synology NAS? – BTRFS, Synology Hybrid RAID and Ease of Use
Why Choose QNAP NAS? – ZFS, Better Encryption Options, HybridMount/vJBOD and Better Expansion Options
Synology DSM vs QNAP QTS NAS Software – Multimedia
Alot of home user and Prosumer users will look at purchasing a NAS for their multimedia collection. With digital media being largely mainstream and the decline of optical media in the last 15-20years (with the ease of transferring your DVDs and Blurays being incredibly easy and affordable), the appeal of buying a NAS as your very own 'Netflix' is pretty appealing! Unsurprisingly both Synology and QNAP have evolved a great deal in the area of multimedia streaming and sharing in recent years and although the core business of 'playing files on your DLNA Smart TV, Amazon firestick, phone, home cinema, etc) is technically very similar on both QNAP and Synology, each brand has definitely gone their own way with regard to presentation, 3rd party hardware support and how photos/music/video are handled internally. I will also add that both Synology and QNAP support Plex Media Server, Emby, Jellyfin, iTunes and traditional file/folder level DLNA media streaming to a largely identical degree (with a few differences simply down to the hardware in each NAS release). Below are guides on both Synolgoy and QNAP and how they compare in terms of photography, music playback in the GUI and video streaming.
First, here is how Synology DSM and QNAP QTS compare with Photography:
Synology Advantages

Support of Live Photos/Gifs in the Browser/Apps

Excellent Cross-App Support with Drive

Synology Photos (beta) merges Photo Station & Moments

Very Attractive and Easy to Control GUI

Better Geo Location Recognition/Map View

Better Multi Face Tag Searching

QNAP Advantages

Album+File/Folder Browsing in QuMagie

Better AI Recognition in QuMagie

Allows Custom Photo Directories

Multimedia Console Allows Better Indexing/Thumbnail Generation

Better Cross-Software Tag Support
Next, this is how Synology DSM and QNAP QTS compare with Music and the browser GUI:
Synology Advantages

Support of DS Audio Skill on Amazon Alexa Voice Recognition

GUI Very Appealing

Better Config Options

Better Album Thumbnail Utilization (especially Mobile)

QNAP Advantages

Album/File+Folder Browsing

Better DLNA Streaming

Support of Local Speaker Connections

More 3rd Party Audio Applications

Support of more Formats, codecs and Compressions
Finally, we have how both Synology DSM and QNAP QTS compare with Video Media in the GUI:
Synology Advantages

Video Station/DS Video have VERY easy to use GUI

DS Video App available on FireTV / Amazon Firestick

Comparable to Plex and Emby

Intuative Setup for Libraries and Metadata resource connections

QNAP Advantages

Supports HDMI Out

More Media Server Players available

Better offline Transcoding Options

Cayin player option for H.265/HEVC 10bit Support
There is no avoiding that QNAP (for the most part) have a more 'meat and potatoes' user interface when it comes to music and video media, which is something that Synology have really poured money into with Synolgoy Video Station and Audio Station being comparable to Freemium services like plex Media Server and Whatsapp (thanks to enhanced metadata scraping and 1st party apps on Amazon FireTV and Alexa voice support in DS Video and DS Audio). In Photography, I think QNAP overall do a better job with their QuMagie platform allowing a greater degree of control, recognition, file/folder access and keeping it as 2 separate apps – at least at the time of writing!). Likewise, the multimedia console application on QNAP QTS is an absolute winner for me as the means to completely control ALL multimedia indexing, sharing and transcoding from a single portal point. It comes down to simply what kind of media you plan on watching, what device you want to watch it on and how much customization you plan on making!
Why Choose Synology NAS? – Video Station, DS Audio Alexa Voice Support – Choose for Amazon FireTV, Alexa and 'Netflix-level' video streaming
Why Choose QNAP NAS? – Multimedia Console control is Unparalleled, QuMagie provides better AI recognition and Custom Directories as standard. Also, H.265/HEVC 10bitplayback better with CAYIN player option
Click Below for PART III – Backup Tools, Surveillance, Virtual Machines and Conclusion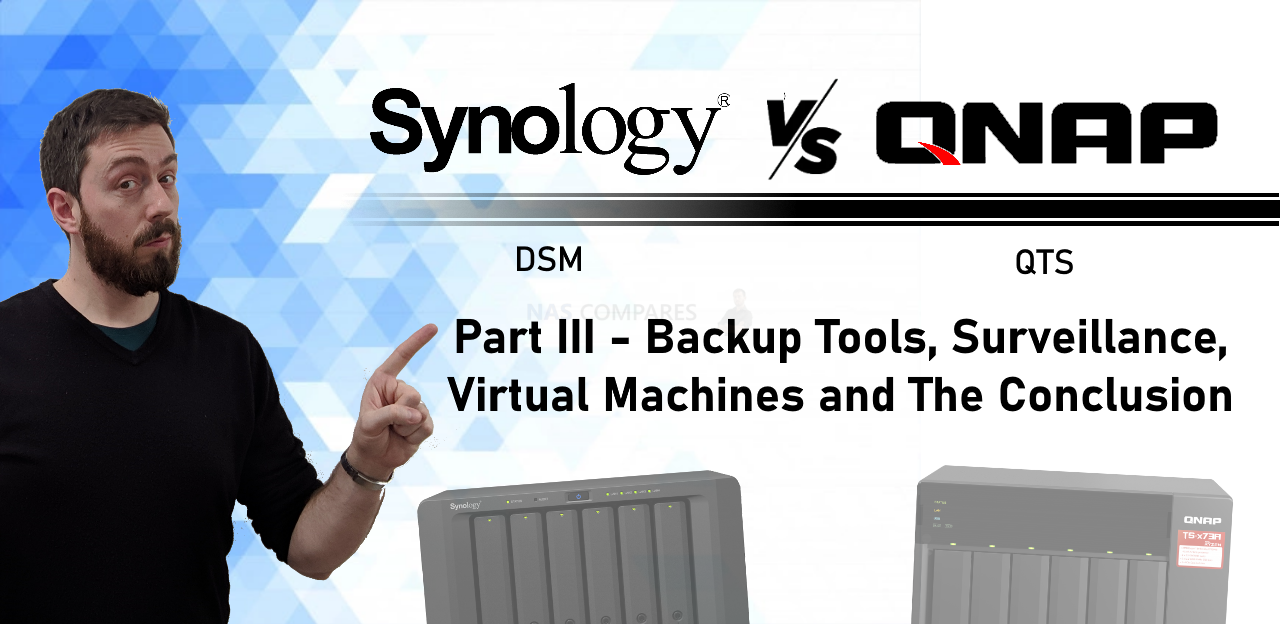 Why Choose Synology NAS?

Better Surveillance Software

More Intuative and User-Friendly Design

EXCELLENT 1st Party Alternative Apps to Existing 3rd Party Tools

(including Synology Chat, Mail, Office, Drive, Calendar and more)

Greater Support/Migration with VMware & Hyper-V

Better Redundant System Options (SHA)

Greater Support on Amazon Home Hardware

Synology Hybrid RAID for flexibility in Media Upgrades

BTRFS on Most systems

Longer Warranty Available on More Systems

First Party SSD and HDDs Available

Typically Quieter Operation

If you are thinking of buying a Synology NAS, please use the links below

Why Choose QNAP NAS?

Better 1st Party/Hosting Virtual Machines

Better Plex Media Server NAS

More Adaptable and Customizable

Wider Support of Surveillance using AI Recognition

EXCELLENT KVM Support

More Camera Licenses

ZFS or EXT4 File System Choice on many systems now

2.5Gbe Network Interfaces at 1Gbe Cost

Allows NVMe SSD Storage Pools and Volumes

Support of QTier for intelligent Data storage for Access

Greater 1st and 3rd Party Hardware Upgrade Compatibility

(including Graphics Cards, WiFi 6 and Thunderbolt)

If you are thinking of buying a QNAP NAS, please use the links below
Need More Help Choosing Between Synology or QNAP NAS?
Choosing the right data storage solution for your needs can be very intimidating and it's never too late to ask for help. With options ranging from NAS to DAS, Thunderbolt to SAS and connecting everything up so you can access all your lovely data at the touch of a button can be a lot simpler than you think. If you want some tips, guidance or help with everything from compatibility to suitability of a solution for you, why not drop me a message below and I will get back to you as soon as possible with what you should go for, its suitability and the best place to get it. This service is designed without profit in mind and in order to help you with your data storage needs, so I will try to answer your questions as soon as possible.
📧 LET ME KNOW ABOUT NEW POSTS 🔔
Join 1,582 other subscribers
Get an alert every time something gets added to this specific article!
This description contains links to Amazon. These links will take you to some of the products mentioned in today's content. As an Amazon Associate, I earn from qualifying purchases. Visit the NASCompares Deal Finder to find the best place to buy this device in your region, based on Service, Support and Reputation - Just Search for your NAS Drive in the Box Below
Need Advice on Data Storage from an Expert?
We want to keep the free advice on NASCompares FREE for as long as we can. Since this service started back in Jan '18, We have helped hundreds of users every month solve their storage woes, but we can only continue to do this with your support. So please do choose to buy at Amazon US and Amazon UK on the articles when buying to provide advert revenue support or to donate/support the site below.

Finally, for free advice about your setup, j
ust leave a message in the comments below here at NASCompares.com and we will get back to you.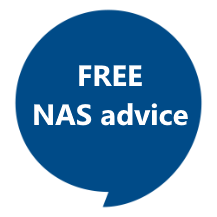 Need Help?
Where possible (and where appropriate) please provide as much information about your requirements, as then I can arrange the best answer and solution to your needs. Do not worry about your e-mail address being required, it will NOT be used in a mailing list and will NOT be used in any way other than to respond to your enquiry.
Support What We Do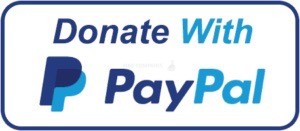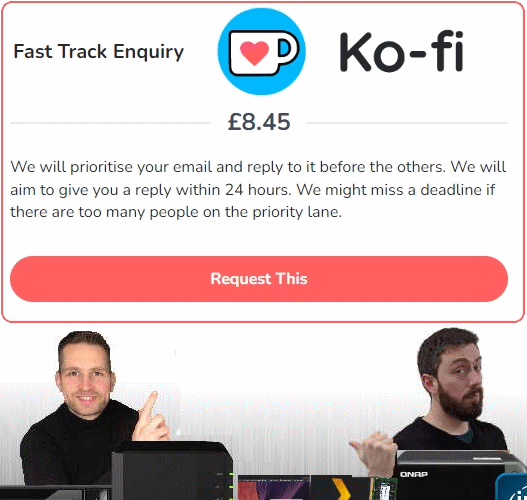 Terms and Conditions
Alternatively, why not ask me on the
ASK NASCompares forum
, by clicking the button below. This is a community hub that serves as a place that I can answer your question, chew the fat, share new release information and even get corrections posted. I will always get around to answering ALL queries, but as a one-man operation, I cannot promise speed! So by sharing your query in the
ASK NASCompares
section below, you can get a better range of solutions and suggestions, alongside my own.
This description contains links to Amazon. These links will take you to some of the products mentioned in today's video. As an Amazon Associate, I earn from qualifying purchases
Summary
Reviewer
Review Date
Reviewed Item
Synology DSM vs QNAP QTS NAS - Storage Control, Mobile Apps and Media Streaming
Author Rating