QNAP QMiroPlus-201W & QMiro-201W Mesh Router+NAS System Review
Of all the devices that I talked about here and on YouTube, there is one device that I would wager is inside 99% of people's homes these days, namely a router. For most users, the router provided by their internet service provider is more than proficient for the day-to-day handling of network and internet traffic in their home. After that, you enter the realm of prosumers, businesses and enterprise whereupon the typical low-level ISP router just will not cut it. It is at this point when premium and fully-featured routers enter the market and it is with this audience that we find QNAP launching their latest mesh router and combined NAS system. I say latest, as this is in fact the second router that QNAP has ever launched (the first being the QHora-301W – Review HERE) and the QMiroPlus-201W and QMiro-201W router systems are an impressive entry into this slowly growing product family. With the primary hub unit arriving with Intel-powered NAS architecture alongside RAID storage options and expandability, combined with the mesh connection and business class router software available in the QMiro-201W satellite pods, this is clearly something a little different to the mesh routers discussed throughout 2020/2021. QNAP has a long-established reputation in the NAS market and has expanded it noticeably with a significant range of network switches now in their portfolio. Are this new mesh router and NAS combination system a smart move by the brand or are they stretching themselves too far? Does the QNAP QMiroPlus-201W and QMiro-201W mesh system deserve your data?
QNAP QMiro-201W Mesh Router+NAS Quick Conclusion
QNAP has presented a fantastically unique router here and included hardware features that are genuinely unavailable from any other brand in the world like this right now in a single package. As mesh router systems go, it does seem a little pricey and given its lack of Wi-Fi 6 as available in the Qhora-301W, this may struggle with beating other solutions that support 802.11ax to the checkout. However, the QNAP QMiroPlus-201W and QMiro-201W mesh router system is at its best when it is purchased and deployed as a combined NAS storage system and intelligent mesh router. Indeed, an Intel quad-core 4GB memory 2-Bay NAS system will already set you back around $300-400 on its own and looking at this system in terms of purchasing it as an alternative to a NAS and router separately does makes that price tag a little bit more palatable. The QNAP QMiro-201W satellite modules on their own are perhaps a little underwhelming, but utilising them in conjunction with a QMiroPlus-201W unit, with its advantages in QTS for backups, multimedia, Plex media server, containers, surveillance and more 4K media and you'll find that QNAP has really built something fantastically unique here. I just wish it had Wi-Fi 6…
QNAP QMiro Mesh Router+NAS – Packaging
Understandably, QNAP has put a little bit more presentation into the retail packaging of the QMiroPlus-201W and QMiro-201W, given that this system is more likely to be sold on the shelf of your local I.T shop than many of their primary NAS solutions. Arriving with plenty of brand livery, product images and descriptions, this is all fairly standard and tells you plenty about the product's hardware and software capabilities.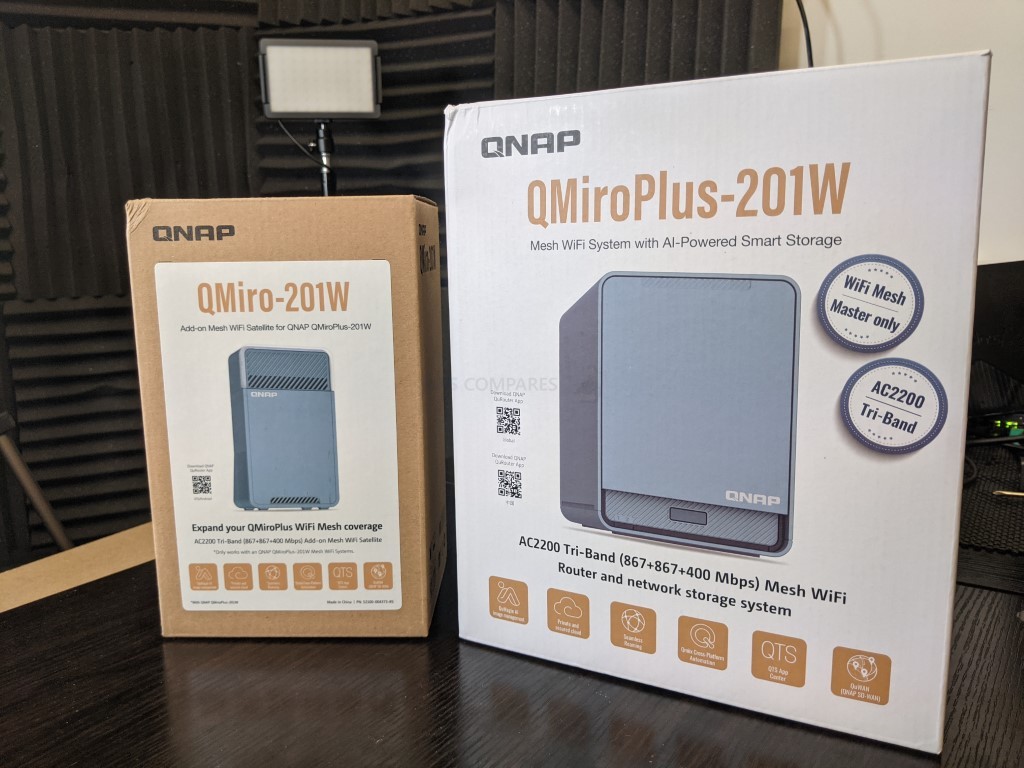 Removing the outer packaging, we find that QNAP has packed the QMiroPlus-201W and QMiro-201W in exactly the same way that most routers are packed (thin card moulded frame box) which bears stark contrast against how their NAS drives are packaged. Is this some kind of industry-standard or just the most effective way to package items like these? Who knows.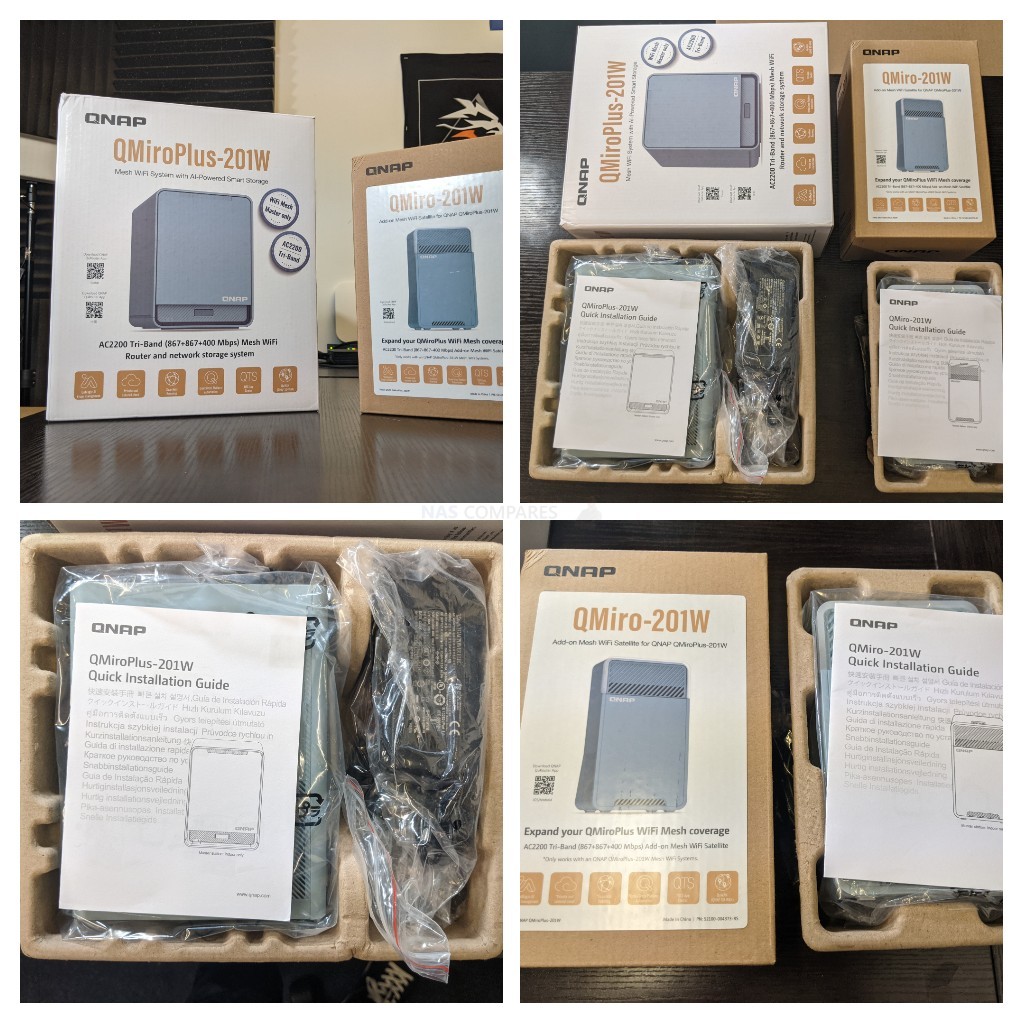 The included accessories for the QMiroPlus-201W and QMiro-201W are similar but with certain distinctions that are relevant to the scale of each device. The QMiroPlus-201W unit arrives with a cat5e 1M cable, screws for 2.5″ SATA drive installation, information on first-time setup incl, information on the inclusive 2-year warranty and an external PSU rated at 60W.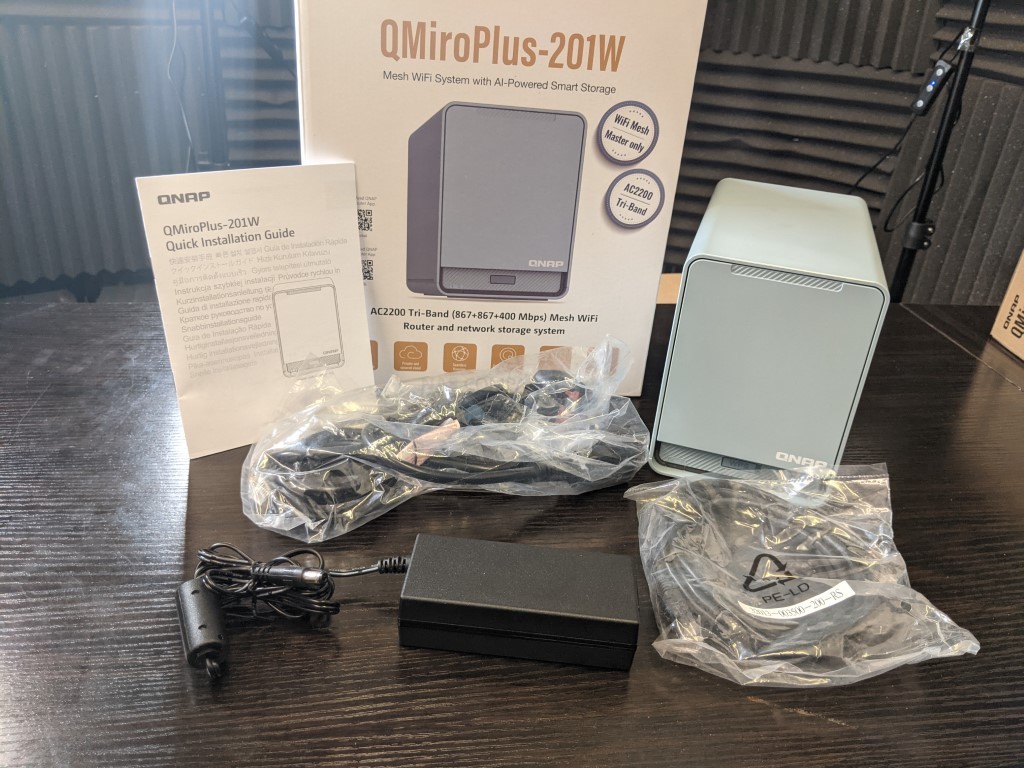 The QMiro-201W has near enough identical accessories, though understandably this unit does not feature the ability to install storage media aside from USB, the QMiro-201W simply has as the manuals, Ethernet cable and more modest external PSU at 24W.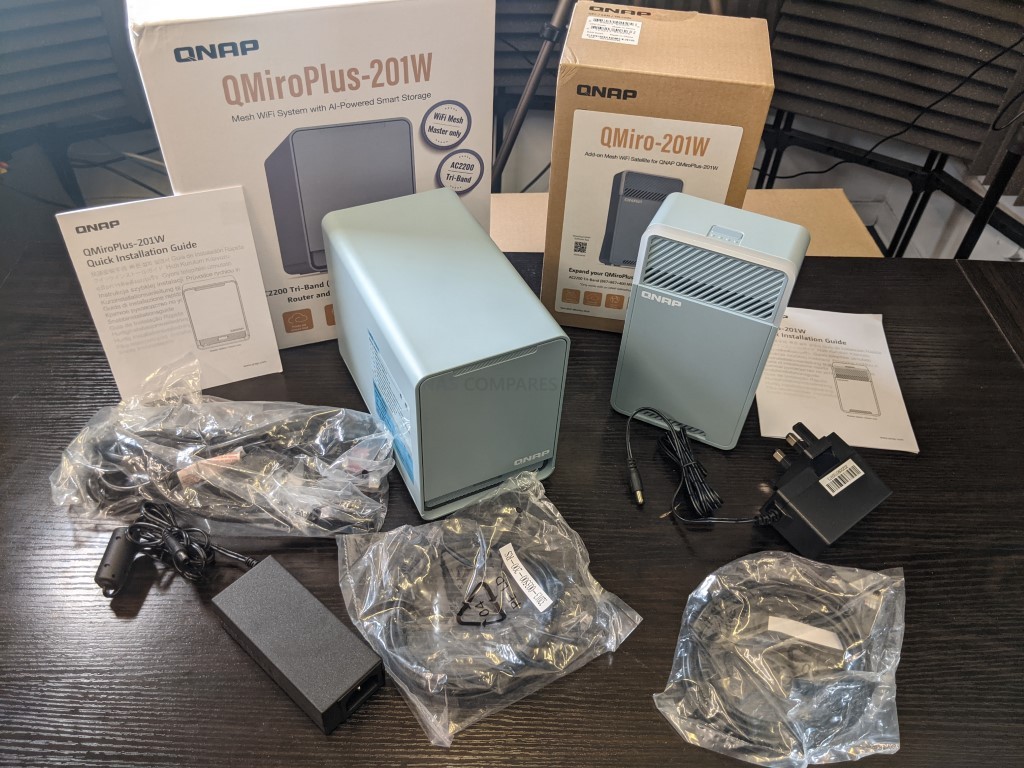 As mentioned earlier, the QNAP QMiroPlus-201W allows you to install two hard drives or SSD inside the main chassis. This storage media needs to be purchased separately and QNAP has no plans to include the storage media in the system by default, which I think most users will be pleased with as it allows a certain degree a flexibility in its deployment. Additionally, as the QMiro-201W lacks the SATA storage bays, it is noticeably smaller in size. Let's take a look at the design of the QNAP QMiro-201W and QMiroPlus-201W mesh router NAS combo systems.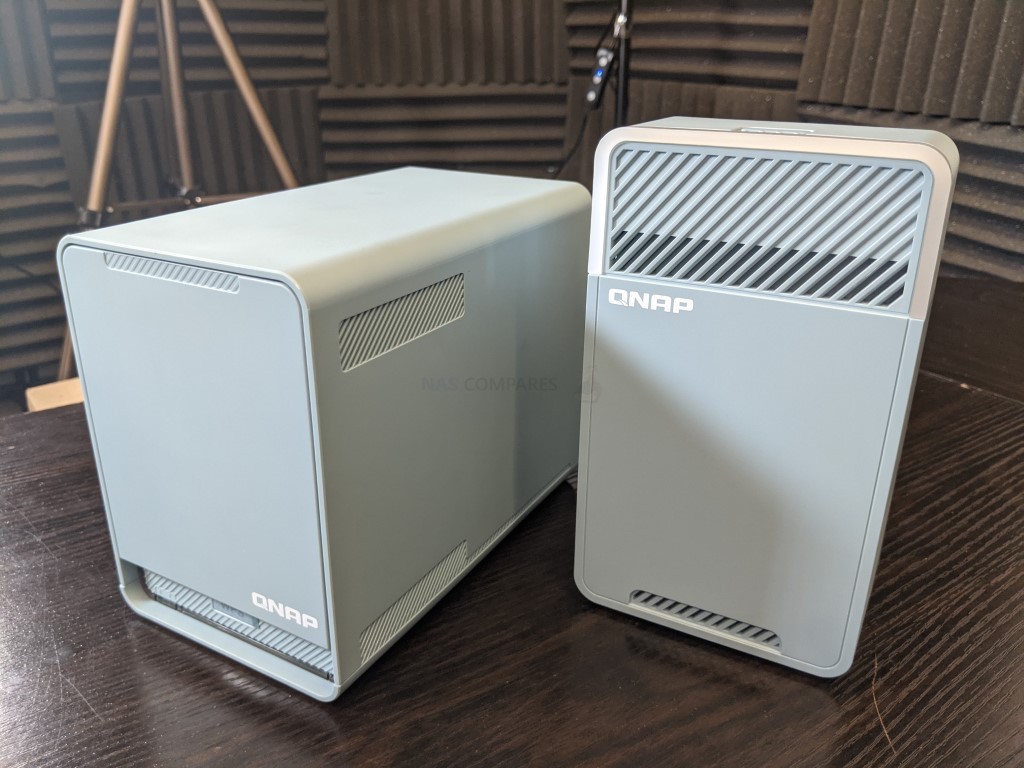 QNAP QMiro Mesh Router+NAS – Design
Taking a closer look at the design and casing of each QNAP mesh router, you can see that it bears more than a striking resemblance to a number of their systems. Featuring a huge degree of ventilation to help maintain system temperature throughout the fanless QMiro-201W modules and fan-assisted QMiroPlus-201W hub, each unit is quite boxy in design and arrives at roughly the same height and width as a traditional hard drive. Though noticeably deeper. I'm still not a huge fan of the light blue colour scheme, but I know I am very much in the minority.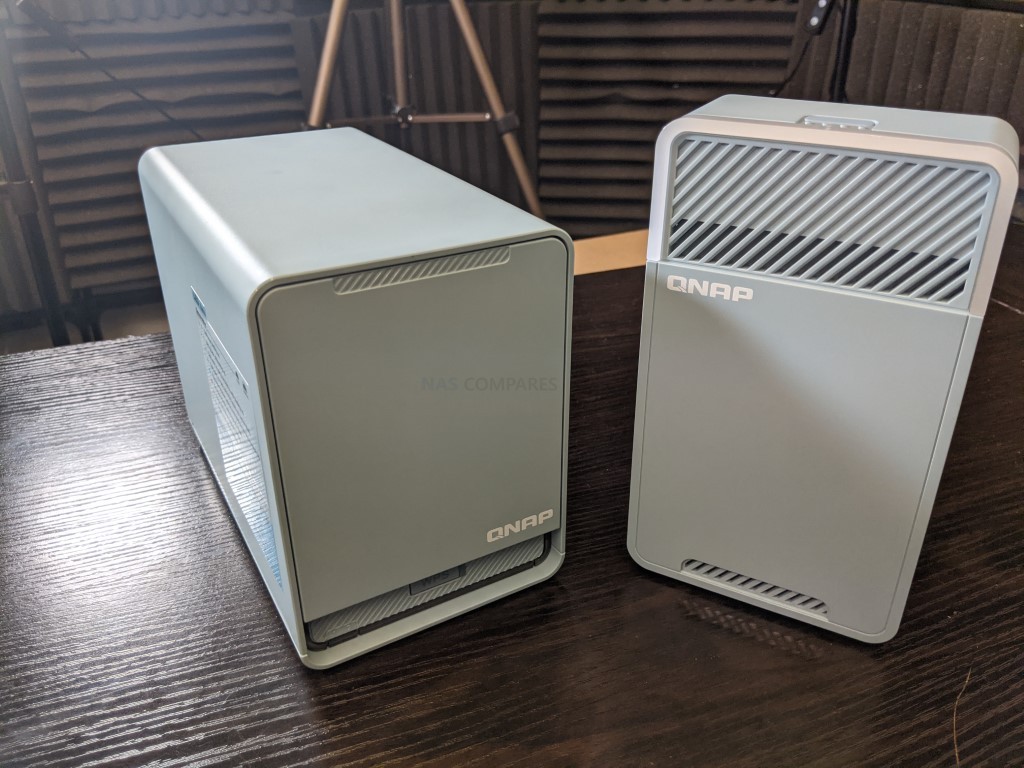 Taking a look at the QMiro-201W first. In all likelihood, this is the unit that will be most visible throughout your home or business if you deploy this system. There are no external antennas and the system is fanless. With a lot of mesh router providers creating much rounder and smaller mesh node points, QNAP has opted for a tall and narrow chassis design, likely because unlike a lot of other mesh node points, this has a noticeably larger degree of local connectivity over LAN and USB available.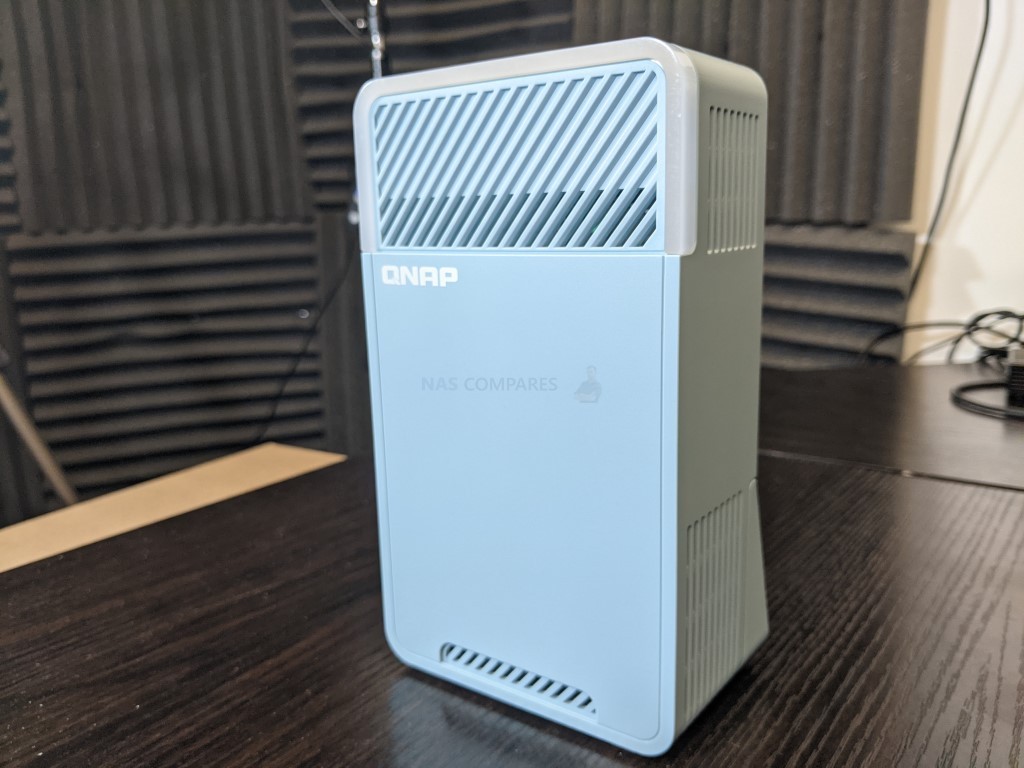 The main QMiroPlus-201W unit however is significantly more capable and arrives in a larger chassis. This central unit features the same internal network processor and memory, but also features the parallel NAS storage system with its own dedicated CPU, memory and storage bays. Although the general design and shape on each unit are similar, the pub unit is around 3x larger in-depth and also features active calling internally.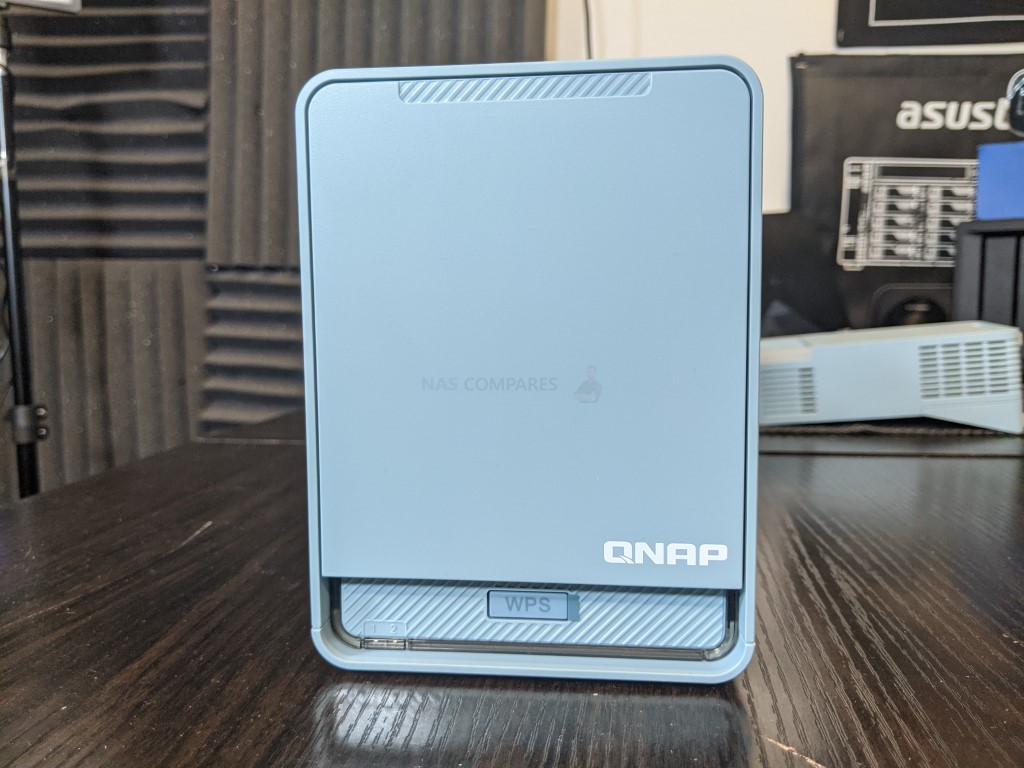 The internal active cooling is assisted throughout the entire system by plenty of passive cooling throughout the entire external casing, with vents on almost every side. Indeed, the removable front panel only serves to cover the internal storage media days and does not cover any ventilation even when applied.
The QNAP QMiro-201W unit on the other hand relies exclusively on passive cooling due to its fanless design, with even more vents and physically large heatsinks internally. As mentioned, the individual QMiro-201W units may seem a tad larger than average mesh router points but there is a lot contained within each unit and needs appropriate heatsink coverage to maintain optimal efficiency one would assume.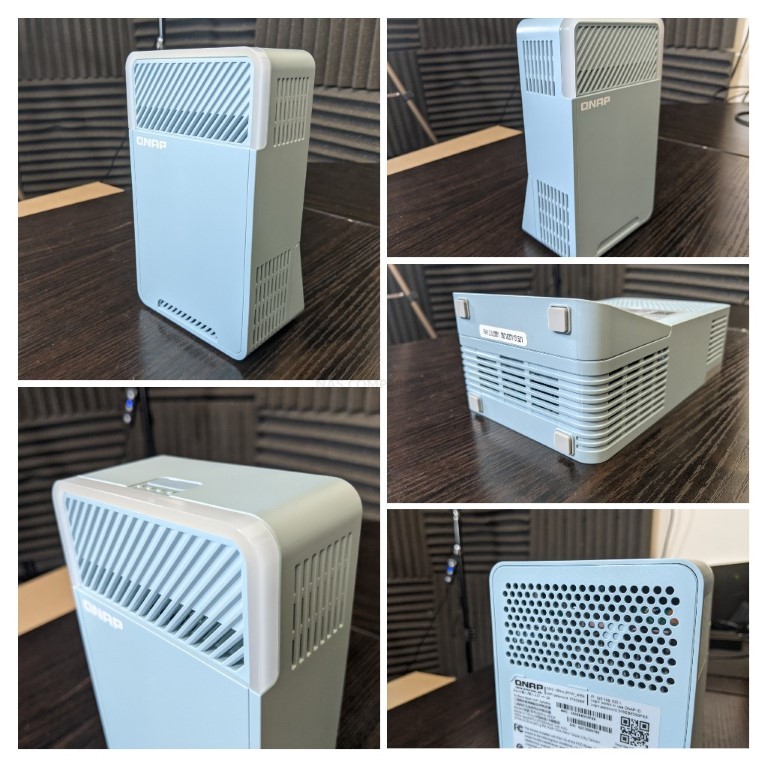 The difference in scale between the QMiroPlus-201W and QMiro-201W is actually quite noticeable and the larger QMiroPlus-201W unit is as big as a regular NAS system.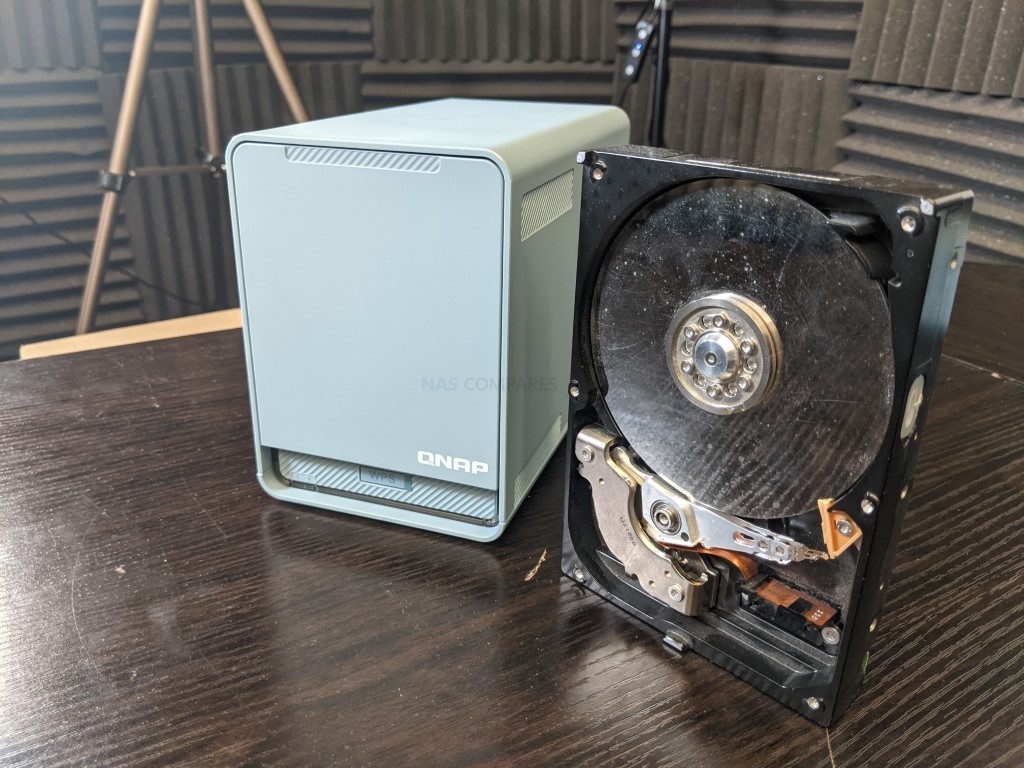 Removing that front panel shows us the twin removable SATA storage bays. One main difference between this and most typical 2-Bay NAS' is that this system utilizes more compact 2.5″ in storage media, which although more power-efficient and makes less noise, means that it does limit the available storage capacity that this system will be able to support at maximum. That said, this system does support 15mm height drives and therefore means it will support noticeably larger small form factor drives, as well as bulkier SATA SSD which marginally makes up for the total reduced capacity.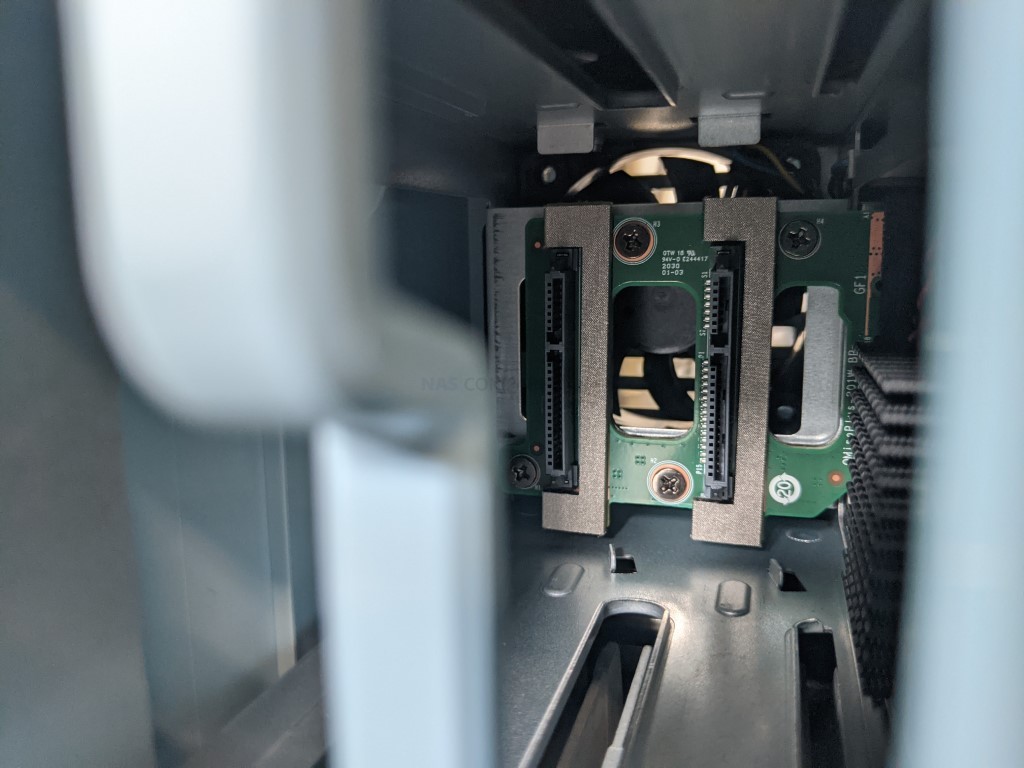 Inside these two storage bays, we find combined SATA power connectors and no unnecessary loose wires for installation. Indeed when installing the storage media inside, the system allows utilisation of individual drives or combined drives in a RAID 0/1 set. The storage media in these bays is primarily used by the parallel QTS NAS software for hundreds of different modern NAS purposes, as well as supporting snapshots and multiple types of backup operation between this, the router and other storage platforms like cloud, USB, cloned directory, other NAS and other client devices.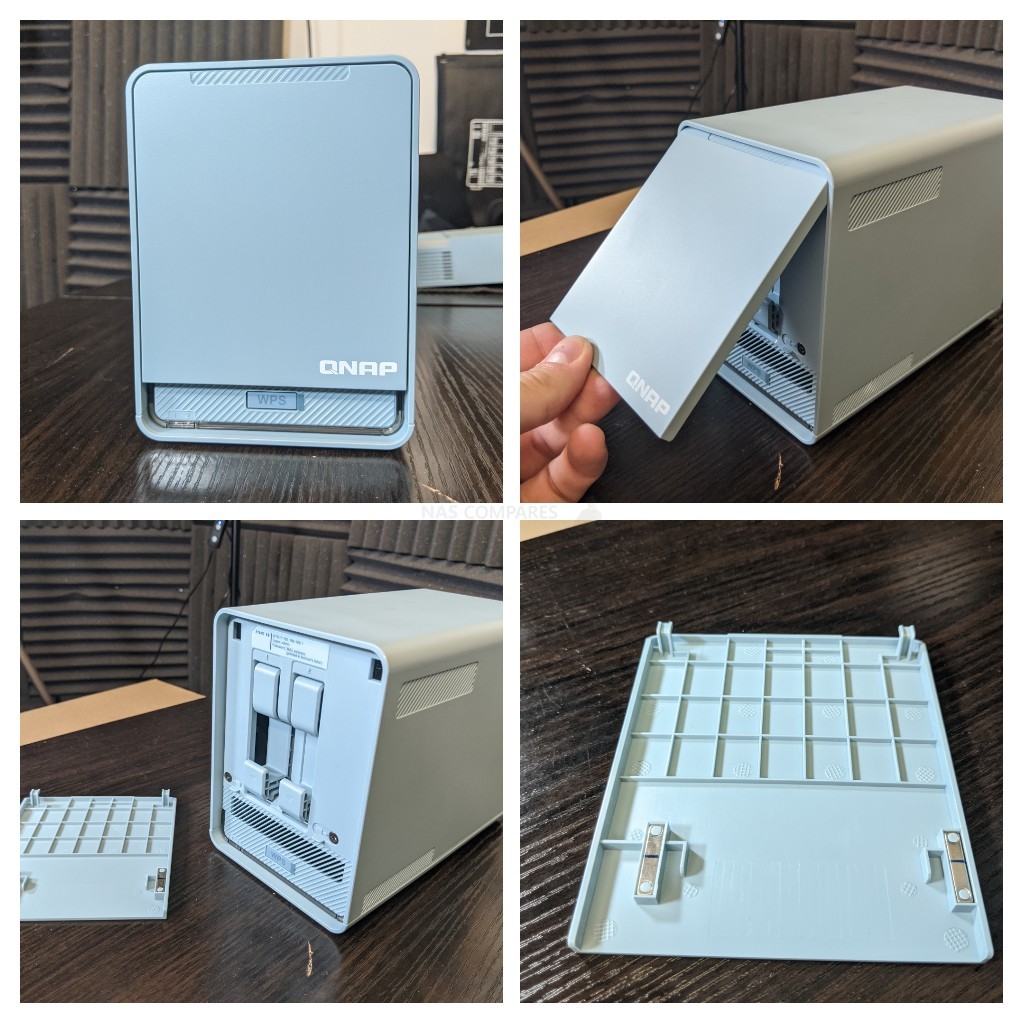 Although the use of 2.5 in SATA drives is a little underwhelming, it kind of makes sense in the stature of this device and the low-level discreet build of your average router. Also, 15mm height 2.5″ drives are pretty affordable these days and available from numerous brands. Personally, I would probably install a couple of SATA SSD in this system as then you can really take better advantage of the NAS architecture internally.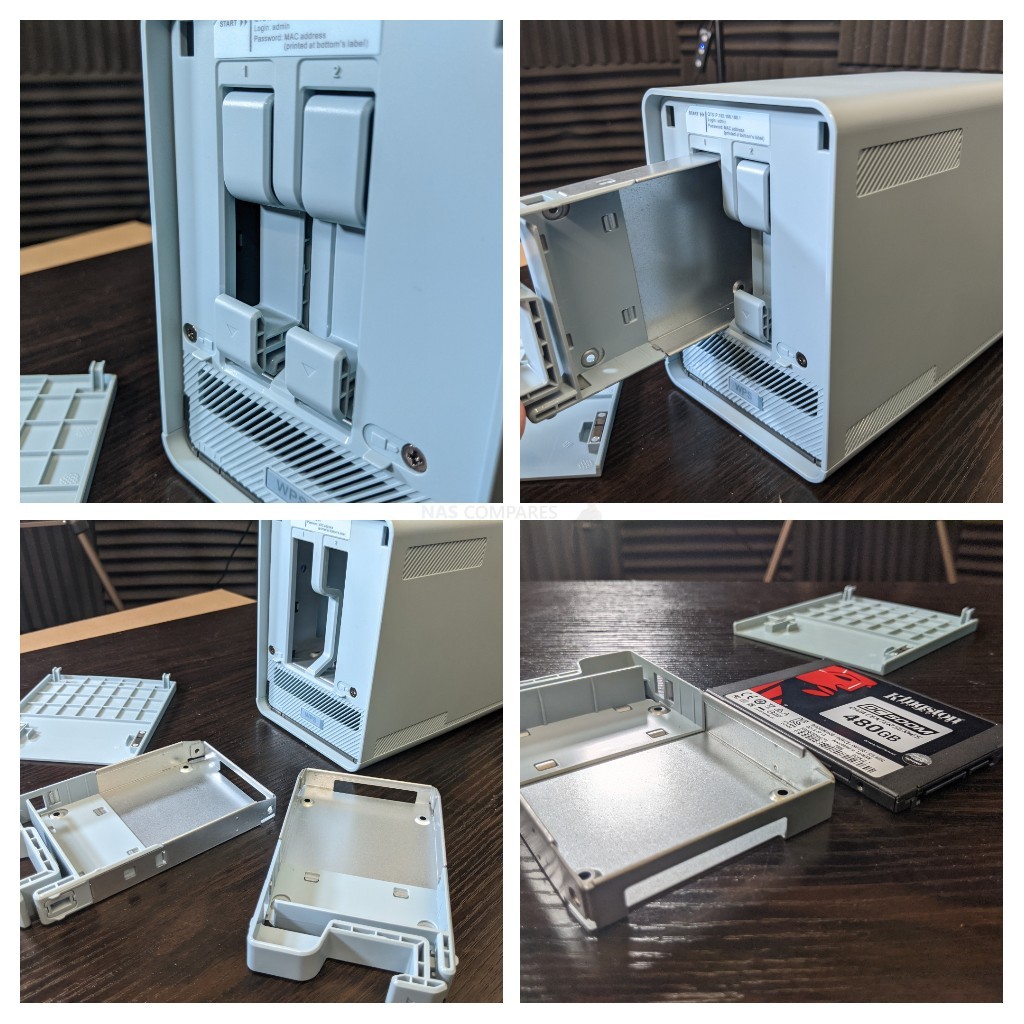 QNAP QMiro Mesh Router+NAS – Connections
Taking a look at the rear of the QNAP QMiroPlus-201W and QMiro-201W, not only can we see plenty of ventilation but we can also see far more familiar connectivity as is found on typical QNAP systems. Even the relatively understated mesh satellite node QMiro-201W unit is a little bit more upscaled in design on the rear than a lot of other mesh router extras. Once again, I am still not a tremendous fan of the colour scheme, but I do like tonnes of passive ventilation and the good balance of functional yet compact design. It might be a little boxy for some, but I like it.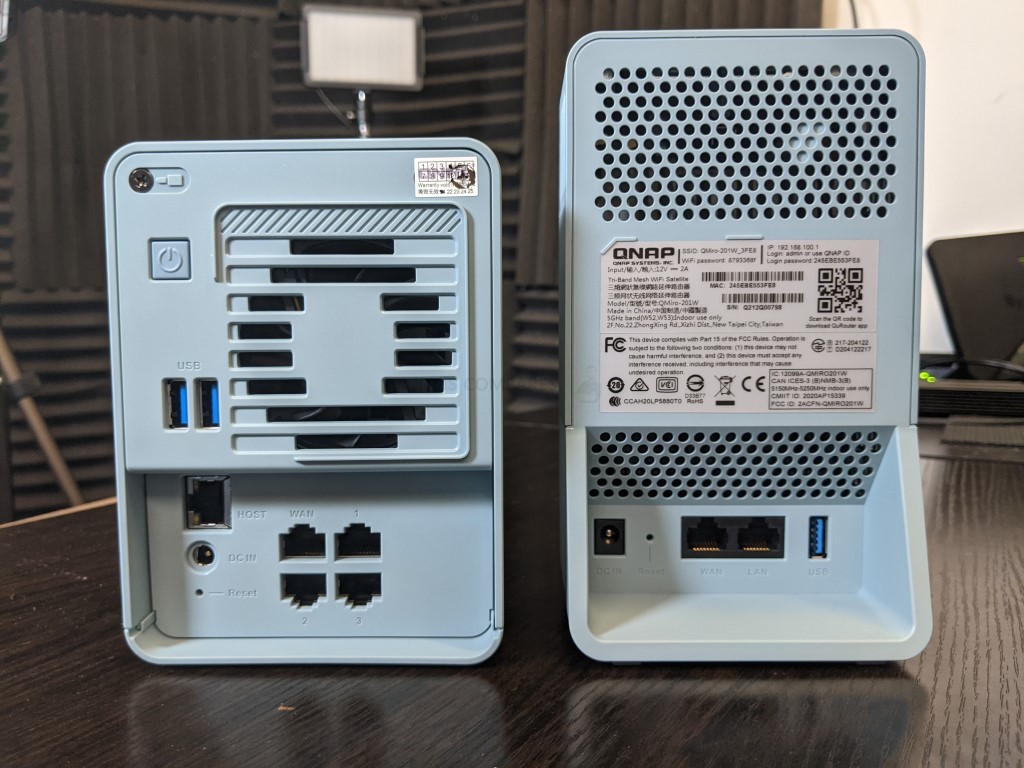 Taking a closer look at the QNAP QMiro-201W module on its own we find and that it arrives with multiple gigabit connections and the option to make local USB storage network accessible. Indeed, I like the fact that this system features twin RJ45 ethernet ports, one for WAN and another for LAN (though both can be used for typical LAN if preferred), it allows a decent depth of coverage across the three-band frequencies over Wi-Fi and these two local wired connections. Of course, giving this is Wi-Fi 5 in architecture and that this is going to be a mesh node point, it is pretty unlikely that this system could fully saturate both 100 Megabyte wire connections, but nevertheless, with the right port priority settings and the right mesh node layout in the environment, these would still prove very useful.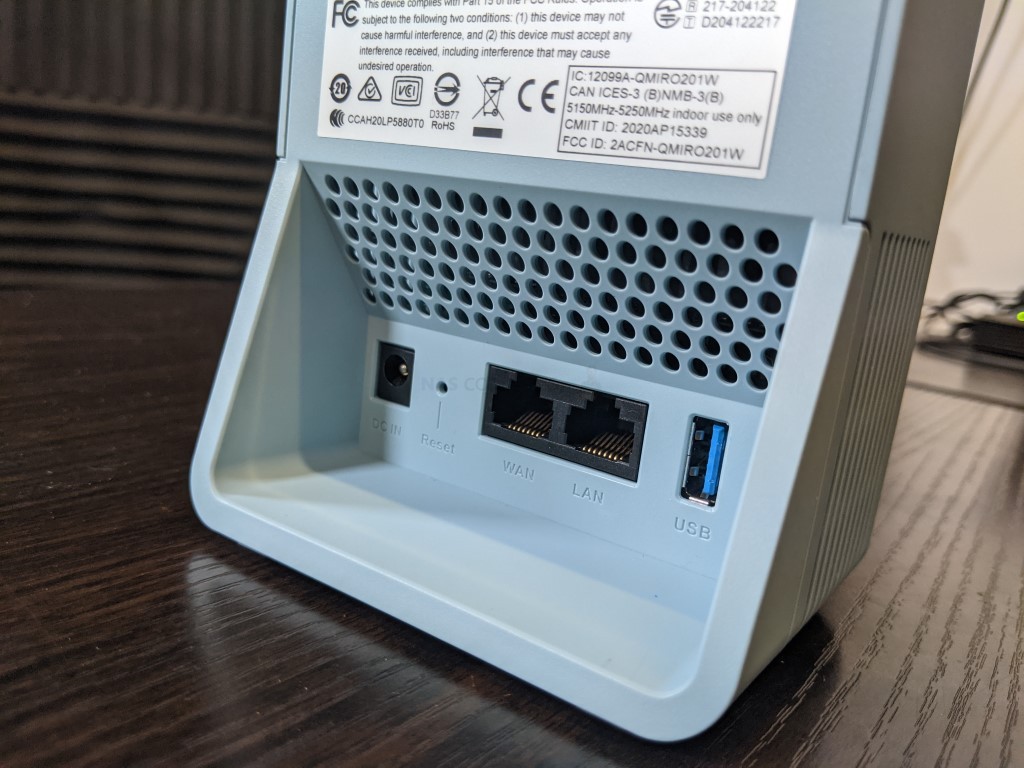 The system also arrives with USB 3.2 Gen 1 connectivity at 5Gb, which allows you to attach an external drive to be accessed via the QNAP QMiro-201W network. However, it is worth highlighting that when utilising just the QMiro-201W router, access to this drive is a great deal more limited than in the NAS software and hardware equipped QMiroPlus-201W system. Utilizing just QuRouter on the QNAP QMiro-201W will result in only having low-level breadcrumb style browser access to the USB drive and definitely not anything approaching the slick layout of File Station.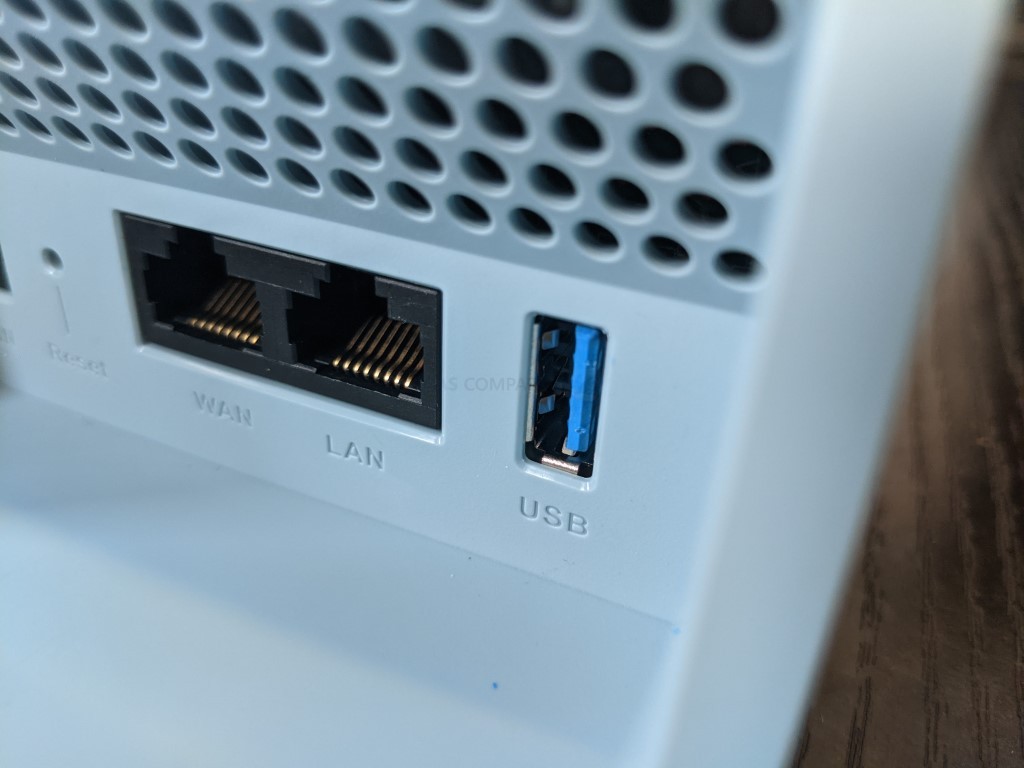 Switching over to the QNAP QMiroPlus-201W and things are noticeably ramped up in terms of port and connections. The system features a great combination of NAS and router style connectivity, from significantly more ethernet ports to local storage connectivity improvements. There is the active cooling fan, of course, something that is absent from the QMiro-201W unit, but this does not make much noise when in operation thanks to the system using rather modest style hard drives. The fans certainly ramped up when system was first initialising, but this soon passed.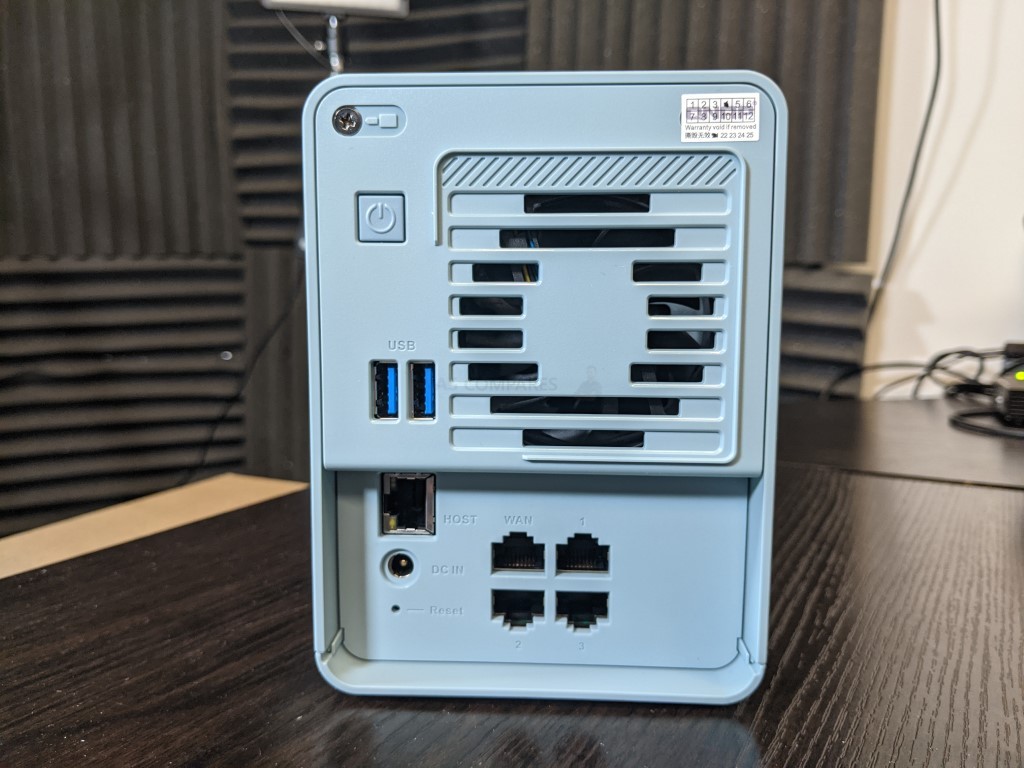 Additionally, the main QMiroPlus-201W system arrives with two USB ports that are once again 5Gb in architecture, but this time the drives you attached can be utilised in creating a wider backup strategy, for use in virtual machines and containers on the NAS router, can be used for external storage and additional ethernet adaptors up to 2.5GbE and 5GbE. Lastly, QNAP also provides a range of USB expansion devices that allow you to add additional bays of storage to Venus and expand the storage pools and raid options available to you. Once again this is a significant jump over the available additional storage options available on most router systems and even a lot of 2 bay NAS systems in the market.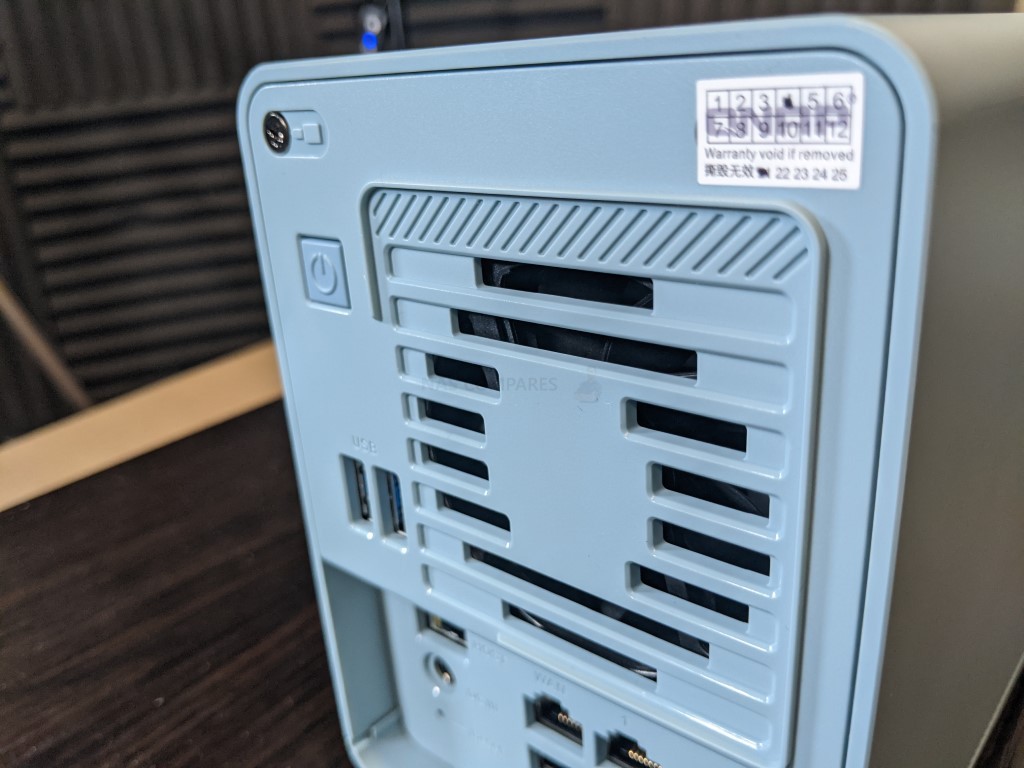 In terms of network connectivity, the QNAP QMiroPlus-201W has 5 available Ethernet ports. These can be broken down into 1 port for the NAS and 4 ports for the router, however, the router ports still allow complete access to the NAS GUI and system in general. The internet ports are all gigabit ethernet in architecture which is fairly predictable, however, the single dedicated NAS ethernet port is a 2.5GbE port, allowing connectivity of up to a potential 270MB/s per second. It is worth highlighting that both the NAS and router run parallel and both systems can be powered down or restarted for updates etc without it automatically affecting the other, something that will be hugely useful and relieve potential frustration in busier moments.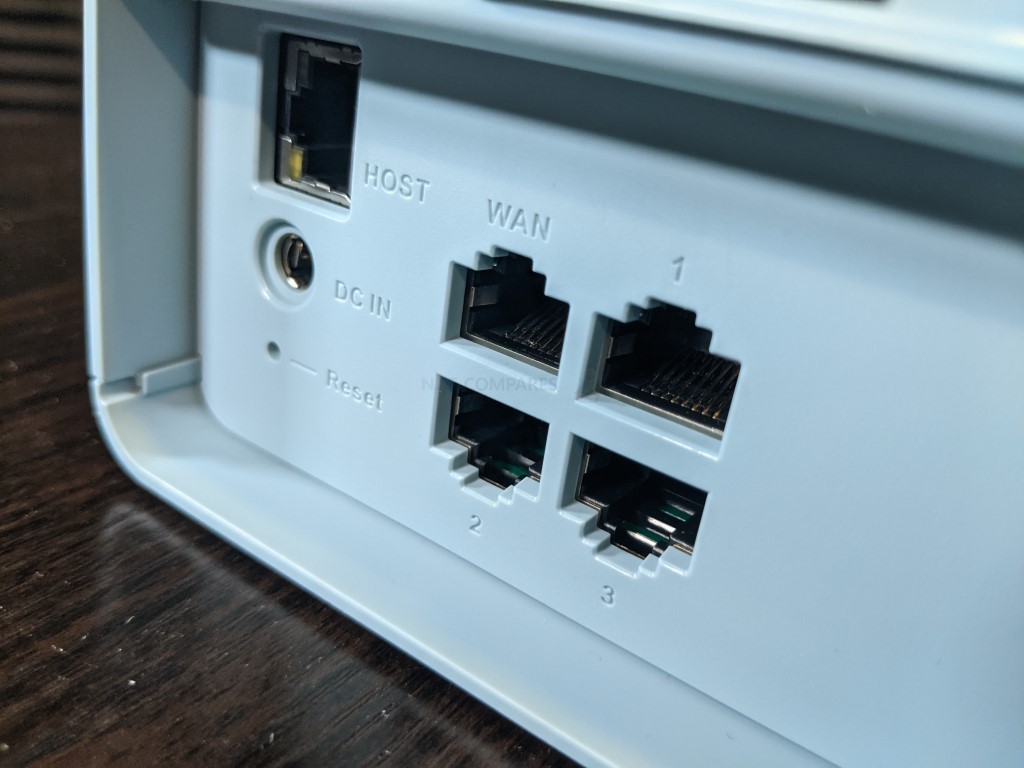 The active cooling fan mentioned earlier can have its RPM adjusted on the fly quite easily but it is recommended to leave the system running at automatic to ensure the system maintains perfect internal working temperatures. Also, we have to be realistic here and know that this is both a router and a NAS system, the latter of which can generate an impressive amount of heat whilst on for days, weeks and months at a time. This is made infinitely more important when you consider the system utilizes an Intel Celeron processor, which works at its best when the system has a clear and well-ventilated working environment.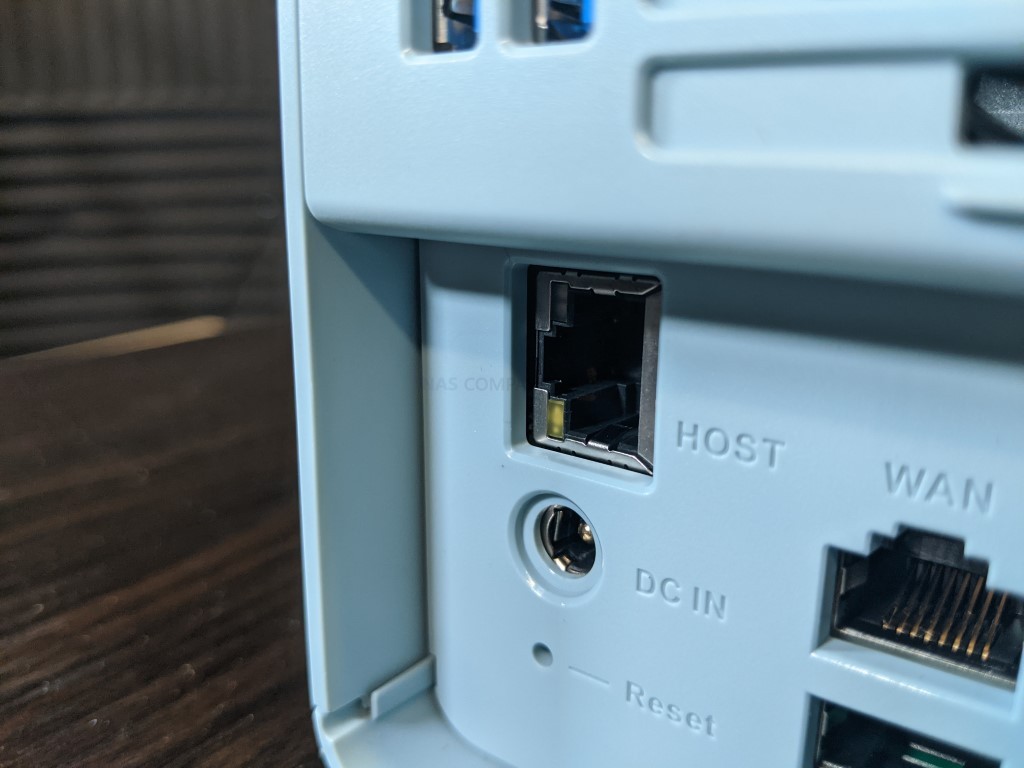 That's about it for the external connectivity on this rather innovative device and now I want to take a little look at the insides, the antenna and see how well organised the QNAP QMiroPlus-201W is internally.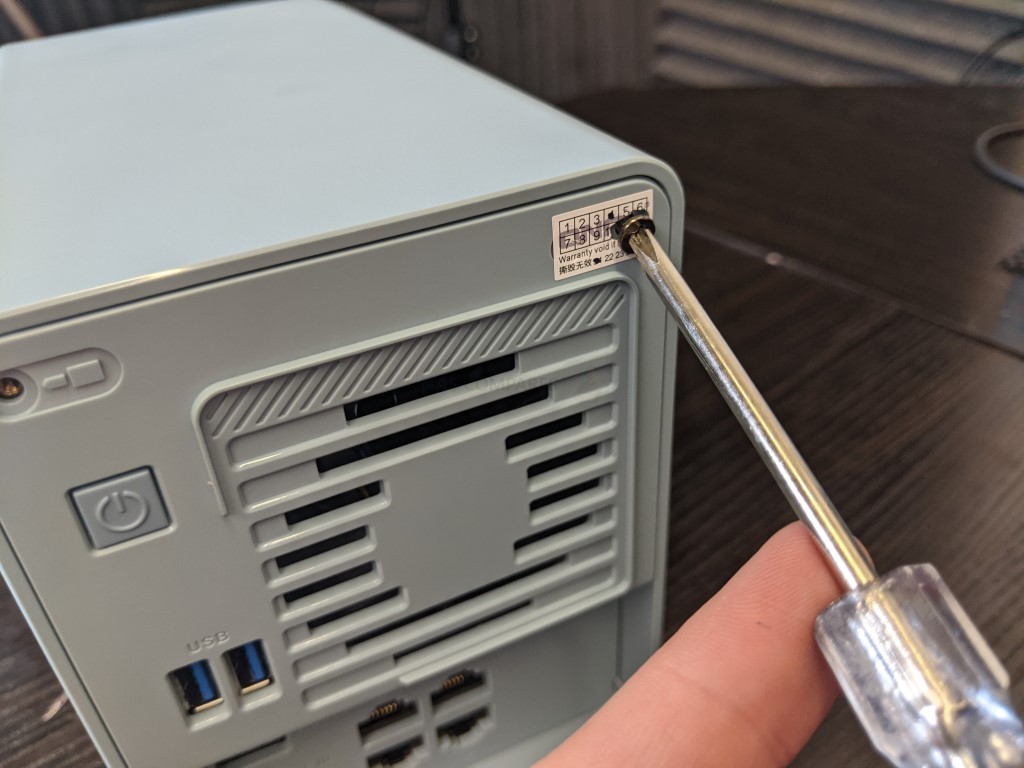 QNAP QMiro 201W Mesh Router+NAS – Internal Hardware
Unsurprisingly, once we removed the external chassis of this rather compact NAS router combo, we find that the internals are packed together quite neatly in order to maximize available space. There are numerous smaller heatsinks around the system that cover the important dual CPU design and the storage media area, just above this large baseline heatsink for the controller board.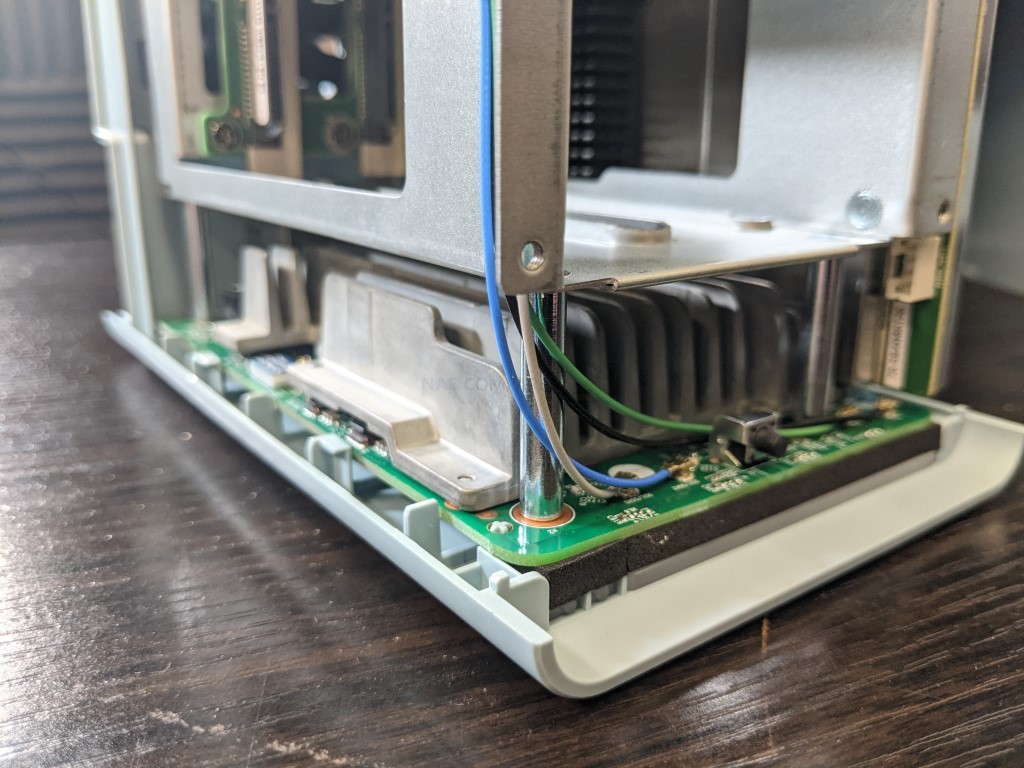 A closer look at the top of the device reveals the four antennas that provide full coverage across this system when in operation, not external antenna that allows a more customisable area of coverage control, which may disappoint some users. Alongside this, there is a slight concern about the heat and efficiency of a system like this in such a compact chassis with the antennas so close by. However, this is largely ignorable as even early testing of this system both in and outside of mesh setups proved very stable and in our software review, we were able to test this further with file uploads to the NAS. The lack of Wi-Fi 6 is still a bitter pill to swallow though.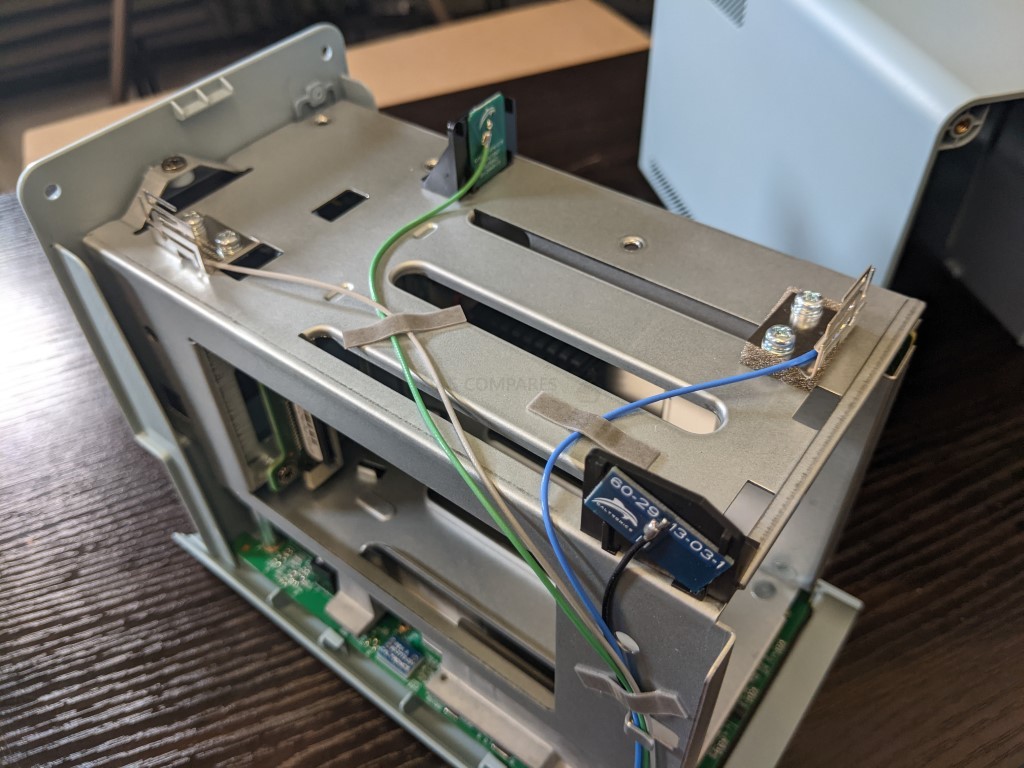 The large silver heat sink that occupies the majority of the base of the system is where the bulk of the performance components are located. Considering the scale of the unit, it seems rather aggressive but given that you have the active cooling fan drawing are over this and the twin SATA storage bays, the more cooling, the better!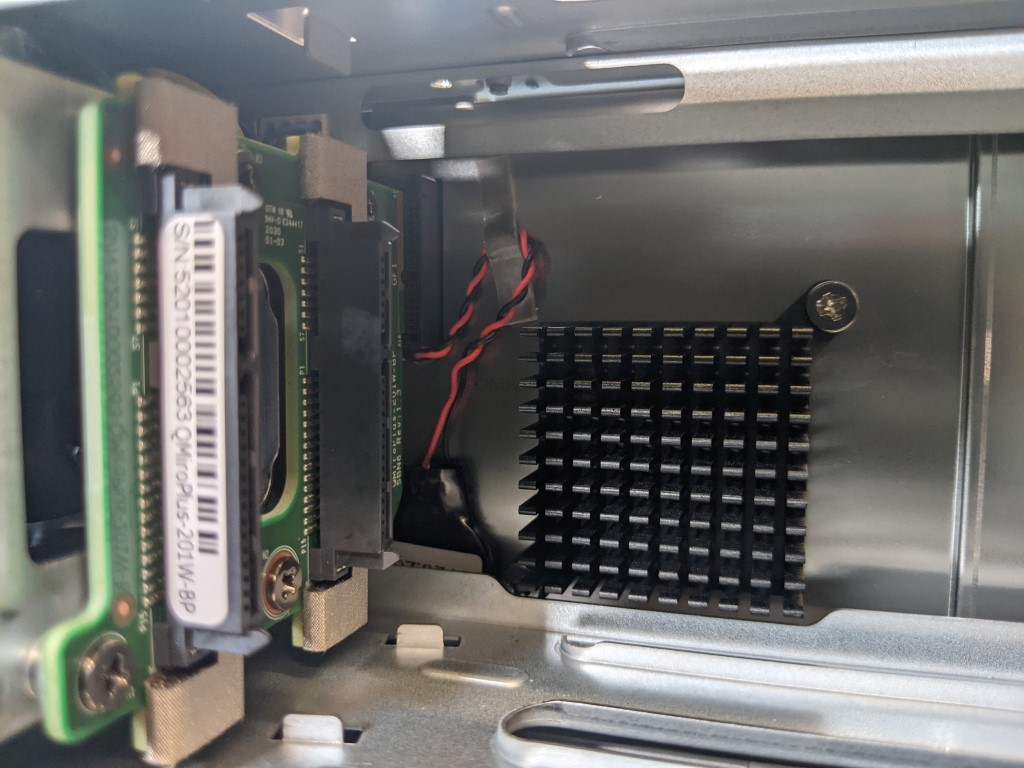 Both the QMiroPlus-201W and QMiro-201W use the same Qualcomm quad-core processor for handling the router operations, which also features 512MB of DDR3 memory too. As meagre as this might sound, this is pretty impressive for just handling the router side of things and along with the support of multiple SSIDs, different LANs supported and configuration options available in the QuRouter software for MAC Address/client device handling/IP tracking, that means this system can handle a decent number of simultaneously connected clients with ease and your network environment can be adjusted on the fly quite well.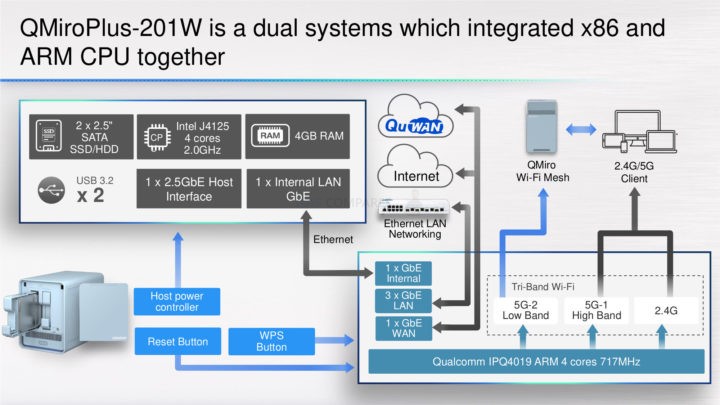 The network-attached storage side of the QMiroPlus-201W on the other hand uses that Intel J4125 processor that hugely popular at the moment in a number of SMB NAS systems, with integrated graphics for 4K and 1080p video, handling of virtual machines and containers, supporting several surveillance applications and of course all of the multifaceted means with which to create a multi-tier backup strategy, there is a lot that this system can do and that this CPU supports in QTS. This CPU is further improved with the inclusion of 4GB of DDR4 memory to keep things running across multiple users and multiple services at once. Though it is worth highlighting that despite the fact that this CPU support up to 8GB of memory, the system cannot be upgraded from the standard 4GB in the baseline model. Not a huge deal breaker, but those of you that will expand the business utilities found in the NAS software may find 4GB a limiting long-term.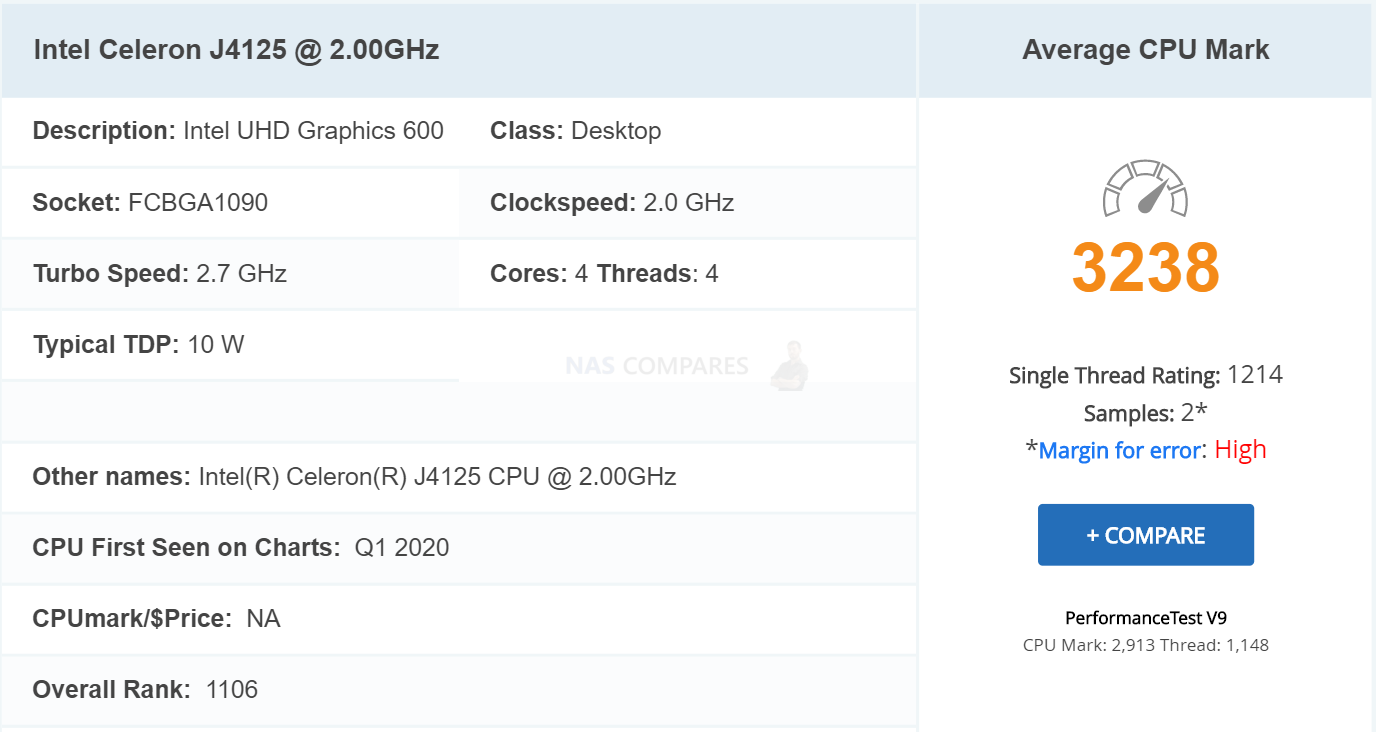 Overall, the internal hardware of both the QMiroPlus-201W and QMiro-201W is fairly impressive, though clearly the QMiroPlus-201W has the lion's share of innovative internal tech. Arguably the QMiro-201W units are much less impressive when seen as stand-alone units, but the integrated hardware of the QMiroPlus-201W and then its scalability used in conjunction with one or more QMiro-201W units changes thing is dramatically for the better. However, good hardware is nothing without decent software and the new QNAP mesh router and NAS system are technically two parallel operating systems in one. So let's take a look at both QTS and QuRouter.
QNAP QMiro 201W Mesh Router+NAS – Software
The QuRouter software that is included on both the QMiroPlus-201W and QMiro-201W is functional if arguably fairly standard router control deck. There are a few features such as easy remote access, VPN integration, profile control and file management with the connected USB drive that are quite unique to the system and presented very well. But the rest of the features presented here are all quite standard for a paid router compared with that of your bog-standard ISP router. I have touched on the software side of things on the QNAP QMiroPlus-201W a little already, but to go into them in more detail, you need to look at them from two different end-user perspectives, home and business (enterprise really). Tools for both and the services are available to both, but each certainly has appeals to its own audience. The QMiroPlus-201W's primary interface for most small-mid level users will be the new QuRouter software it arrives with. I will certainly go into more detail on the software review coming soon on the QMiro on Youtube, but even in this short stint of time using it, I am impressed by the GUI. Compared with the Netgear router management (looking remarkably 2000s even now in 2020) and my Virgin ISP router (fantastically limited UI), the QuRouter software is very clear, arriving with guides, tips and pointers – each allowing the user to create a very unique and secure setup that fits their needs. This software controls and manages all 4 of the LAN/WAN ports, allowing you to create quality of service protocols, priority assignment to ports and devices, as well as create virtual NETWORKS (vLANs) inside your main network, so you can group devices appropriately to their status in your home/business. Though the biggest question for many users looking at this system is not the LAN connectivity, but the choice to NOT include WiFi 6.
WiFi 5 vs WiFi 6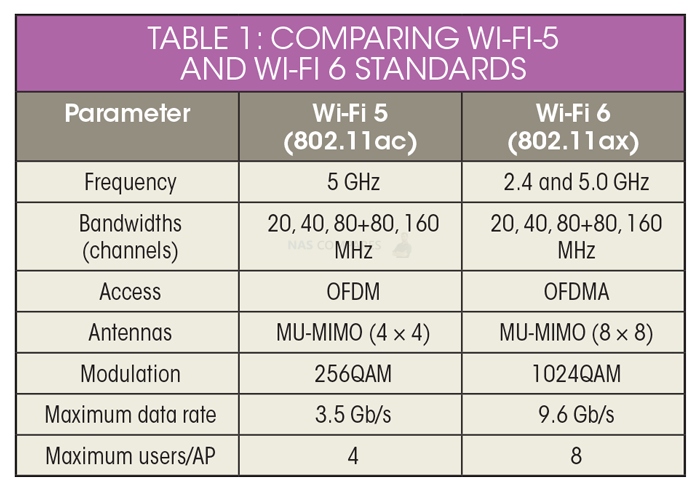 The QMiro is advertised as a AC2200 router which (as already touched on) means that you have blanket wireless coverage of a shared 220MB/s. This does not include the 400MB/s wired coverage via the 4x 1Gb LAN potential, but it is worth noting that no single band 5Ghz A/C/N connected client over wireless can get higher than 768Mb/s (76MB/s). The benefits of WiFi 6 in terms of data packet handling, both in rapidity and simultaneously are quite well noted, though the distance is not quite as broad as the older wireless protocol. Additionally, that wireless coverage in the QNAP Qhora-301W released last year is spread across multiple bands, with the system supported 3x 2.4Ghz and 3x 5Ghz bands, over MU-MIMO. It is still a tremendous achievement and still comfortably meets the WiFi 6 standard. So if QNAP could include it in the QHora, then why not the QMiro? Who knows. Another handy advantage of the QMiroPlus-201W is the ability to create 3 separate SSIDs (wireless networks) each with its own wireless connection name and security login credentials. The separate wireless networks use separate frequency/bands with 1 on the 2.4GHz band and 2 on the 5GHz band. Most routers include the ability to create a 'guest' SSID on the single lower 2.4GHz band, but on the QMiroPlus-201W, you can create fully featured wireless networks and give them appropriate security privileges and access to the selected wired networks and vLANs you create via QuRouter.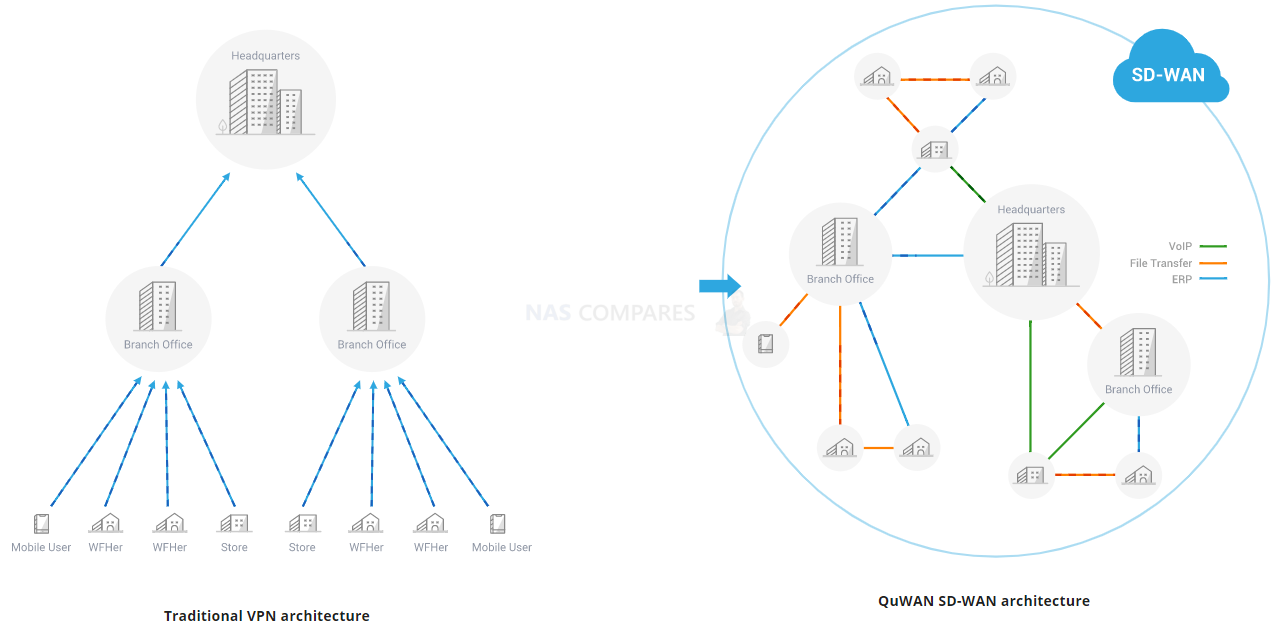 Under the traditional enterprise network architecture, multi-site connections must be connected back to the head office, which often suffers from insufficient bandwidth. In addition, the price of VPN equipment on the market is expensive, which is far from the load of ordinary SMEs. With QNAP SD-WAN technology (QuWAN), multi-point units can flexibly form a network at any point, realizing a low-cost and highly flexible network deployment architecture.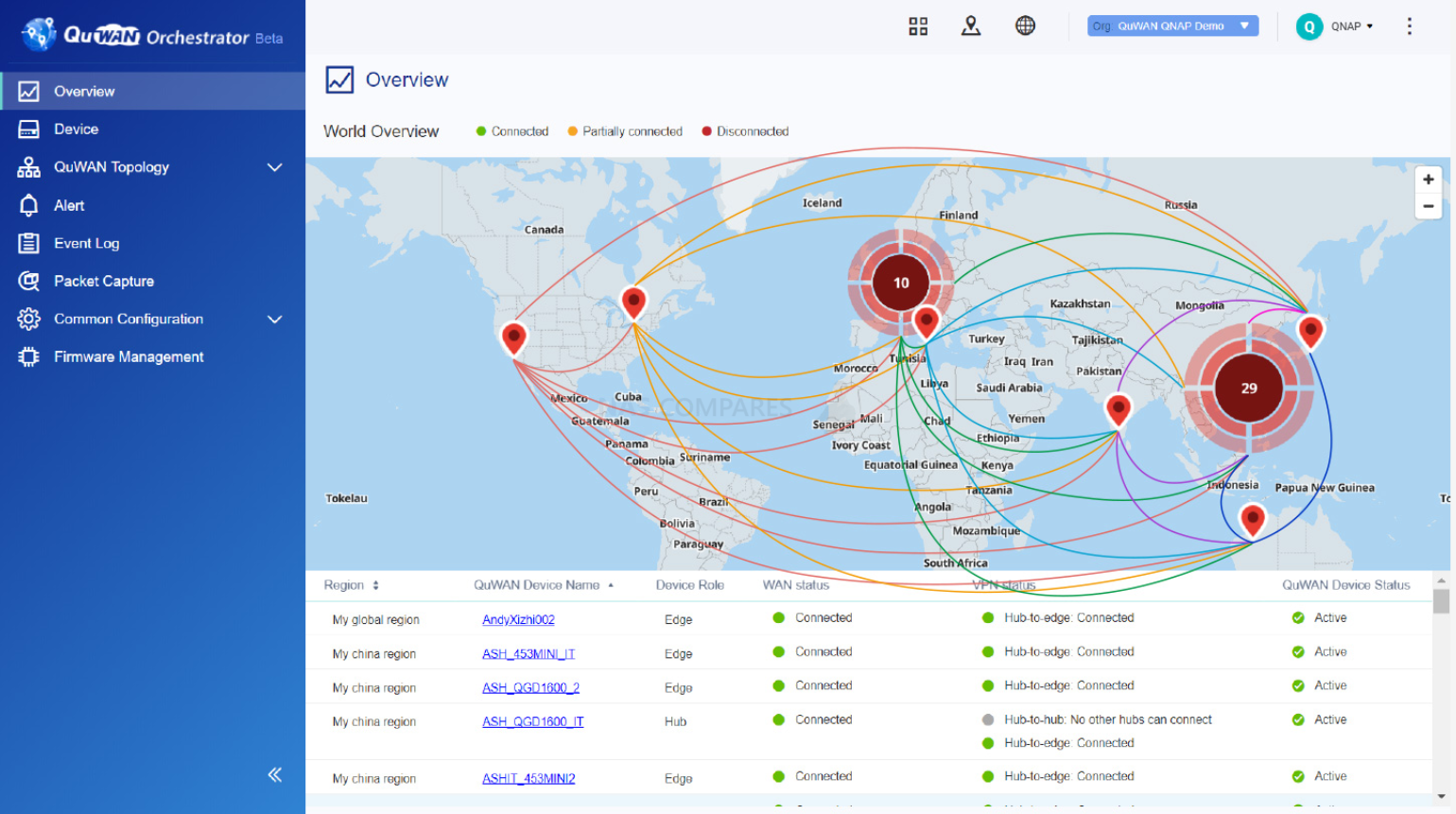 QuWAN Orchestrator provides a convenient and powerful cloud network centralized deployment and management platform. IT personnel can remotely deploy all local network equipment at each branch in the headquarters, without having to travel to various locations The network deployment of ZTP truly achieves zero-touch deployment (ZTP, Zero Touch Provisioning), and can perform multiple functions such as bandwidth monitoring, parameter setting, and traffic analysis on a single platform. Endpoint devices can directly connect to QMiroPlus-201W via wireless or wired LAN, and easily join the SD-WAN network. This is achieved with the three first-party tools: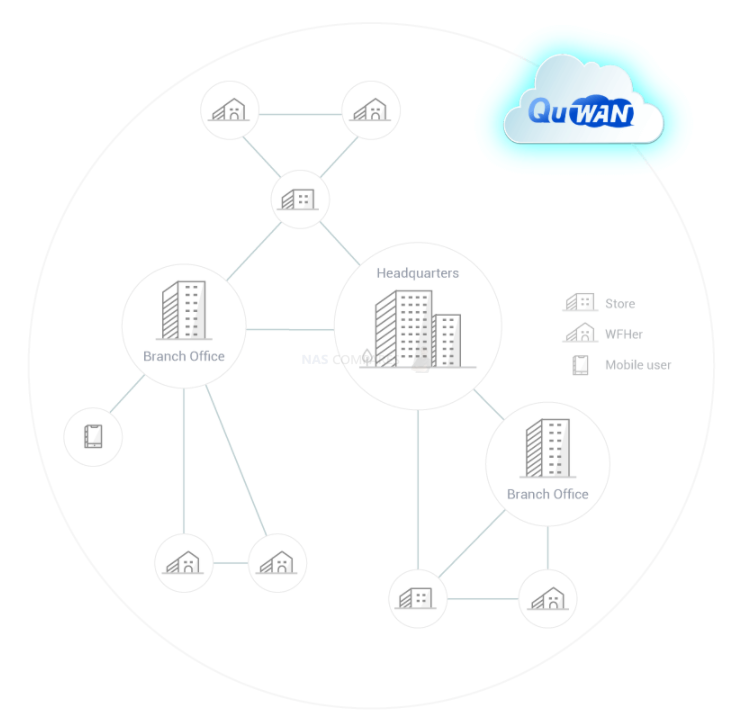 QuWAN Orchestrator
Log in to quwan.QNAP.com , you can view the connection status of all devices that have joined the network, and apply network settings to all devices in batches. You can also set up real-time notifications for real-time remote troubleshooting and control connection problems
QuWAN Agent
You need to enable QuWAN Agent on the QNAP device and add your device to the Mesh VPN networking environment (that is, join QuWAN Orchestrator).
QVPN Client
After installing QVPN Client on mobile phones and computers, and connecting with QHora-301W, you can access multipoint intranet resources.
In addition to being built in QMiro and QHora routers, QuWAN is actually FREE and can also run on compatible devices such as QNAP NAS, QGD switches and QuCPE series servers. It also works with exclusive QVPN Client software to enable teleworkers/WFHers to pass Terminal devices such as computers, laptops, and mobile phones are connected to SSL VPN, which facilitates the formation of a micro-segmentation network architecture that is separated by different departments as large as a state or country, as small as a single site, and through the central cloud Unified management of the platform. QuWAN is now available for free in QNAP App Center, and the license fee is free of charge.
And the rest:
Dynamic Frequency Selection (DFS) channels (Auto, custom)
RTS/CTS (Request to Send/Clear to Send) function
Guest wireless options
Wireless scheduler
Protocol-based firewall (TCP, UDP, ICMP, TCP+UDP)
Firewall rules based on domain names and IP addresses
Port forwarding and Network Address Translation (NAT)
Support FTP ALG, PPTP ALG and SIP ALG
Secure remote access with L2TP, OpenVPN and QBelt (QNAP proprietary) protocol
VPN client management
USB Settings: FTP Server, Device User, USB usage condition
So, the QMiroPlus-201W really is a fully-featured router for home and business. This review is primarily centred on the hardware of course, but the software review below should give you a better understanding of what the QMiroPlus-201W and QMiro-201W can do in both router services and NAS:
The QTS NAS software included on the QMiroPlus-201W, on the other hand, is a great deal more unique and despite its rather modest stature and the fact that it shares billing with the router OS, this is not a pared-down version of the fully-featured NAS Software. The QMiroPlus-201W arrives with QTS 4.5 and access to all of the software and services that you would have in a prosumer class system. There are a few small differences such as the use of QVR elite and not QVR Pro for reasons of hardware efficiency, but all in all, this is a complete system server and cloud management user interface. For those unfamiliar with the QNAP operating system, it arrives with hundreds of free applications, can be accessed from a web browser or desktop client, arrives with many, many apps for mobile on IOS and Android and is definitely in the top two operating systems you can get for network-attached storage devices. Often compared with their biggest rival Synology NAS and DSM, QNAP QTS GUI is designed in a way that will definitely appeal more to Android and Windows users, giving you everything you will need from a network-attached storage device in 2021 and arrives with constant updates for added features and security.
QNAP File Management Highlights
File Station – File Browsing and Management Tool
QSirch -Intelligent and Fast System-wide search tool
QFiling – Smart and customizable long term storage and archive tool
SSD Caching Monitor and Advisor – Allowing you to scale your SSD cache as needed, or get recommendations on how much you need
Microsoft Active Directory– Support and cross-platform control of Active Directory processes
Access-Anywhere with myQNAPcloud – Safe and secure remote access over the internet to your storage systems, apps or just file storage
Qsync for multiple hardware environment backups and Sync – Client applications that can be installed on multiple 3rdparty devices and create a completely customizable and scaled back up network between your devices
Then you have KEY applications that are used on the QNAP NAS system that moves into tailored data access and use, such as:
Hybrid Backup Sync 3 – Allows you to Backup and Sync with Amazon Glacier, Amazon S3, Azure Storage, Google Cloud Storage, HKT Object Storage, OpenStack Swift, WebDAV, Alibaba Cloud, Amazon Drive, Amazon S3, BackBlaze B2, Box, Dropbox, OneDrive, Google Drive, HiDrive, hubiC, OneDrive, OneDrive For Business, ShareFile and Yandex Disk. As well as backup to another NAS over real-time remote replication (RTRR) and USB connected media. All scheduled and all accessible via a single app user interface.
vJBOD and Hybrid Mount – Gives you the ability to mount cloud storage as a visible drive within the NAS (and the apps access it as if it was local) or mount a % of space from your NAS onto another as a virtual chunk of space to use
Multimedia Console – one portal access point to manage media access, searching, indexing and transcoding on your NAS device.
Photo, Video and Music Station – Multiple file type tailored applications to access data in the best possible way that is suited to their output – along with smart searching, playlists and sharing
Virtualization Station – Used to create virtual computers that can be accessed anywhere over the network/internet with the correct credentials. Supporting Windows, Linux, Android and more. You can import an existing VM image to the NAS, or you can even download Linux and Windows VMs directly to the NAS for trials for free
Container Station – much like the VM app, Container station lets you mount and access smaller virtual tools and GUIs, then access them over the network or internet.
Linux Station – Handy application to deploy multiple Linux based Ubuntu VMs from the NAS, all easily and within a few clicks
QVR Elite and Surveillance Station – Surveillance applications that allow you to connect multiple IP cameras and IP speaks to your network and manage them with the applications. Arriving with 4 camera licenses for Surveillance Station and 2 licenses for QVR Pro (the better one IMO), QNAP is constantly updating this enterprise-level surveillance application – adding newer security hardware and software tools for 2020 (see QVR Face and QVR Door)
QuMagie – Facial and Thing recognition application to help you retrieve, tag and catalogue photos by its use of AI to actually 'view' all your years of photos and let you search by the contents of them, not the file names.
Download Station – A download management tool that can handle HTTP, BT, FTP and NZB files in bulk to be downloaded to your NAS drive and keep safe. As well as keeping an eye on your RSS feeds and keeping your podcast downloads automatically updated with every episode
Malware Removers and Security Councillor – Along with Anti Virus software trials on the app centre, QNAP also provide numerous anti-intrusion tools and even a whole app interface to monitor in/outgoing transmissions with your NAS. It can make recommendations to beef up your security and keep you safe
You cannot really fault the level of software and service available in this single package solution. The fact that you only have access to QNAP QTS software platforms on the QMiroPlus-201W and not the QMiro-201W is disappointing but understandable. And the QuRouter software, despite still falling behind in a few key areas compared with Synology Router Manager, is still an excellent and functional router management software platform.
QNAP QMiro 201W Mesh Router+NAS – Conclusion
It is genuinely hard to dislike or write-off the QNAP QMiroPlus-201W system, giving it wide-ranging software abilities and impressive hardware available on both the router and NAS side. The capability, design and features of the QMiroPlus-201W do somewhat overshadow the QMiro-201W module, clearly leading to this system only really reaching its potential when purchased as a multi-node kit, but it is still a capable and functional system independently. The QuRouter software, although clear, user-friendly and functional, has perhaps not evolved as much as I would like in the six months since I first saw it, but QTS for NAS runs on this system beautifully and delivers everything I expected. Much like the QNAP guardian series that combined NAS and switches to relative success, the QMiro's attempt to merge a separate private server and router purchase into one is still yet unproven in the eyes of the public, so its effectiveness will likely vary from user to user. Clearly, the lack of Wi-Fi 6 on this system is going to be a deal-breaker for many and the choice of media drives and inability to upgrade memory is definitely an area that QNAP dropped of the ball on here but nevertheless, I do recommend the QNAP QMiroPlus-201W and QMiro-201W as certainly your next NAS and as a viable alternative to separate hardware in your home or office.
PROS
CONS

Router & NAS solution in one
Slick Router GUI with easy access
Mesh Support with Easy Connect
NAS has 2.5Gbe
FAST setup and inc wall brackets
Satellites are fanless/noiseless and 'Plus' is quiet
USB 3.2 Gen 1 Ports on Plus and Nodes
Works straight out of the box
Free SD-WAN software and services included
QTS on the PLUS is a FULL version and Intel Powered

Design and colour will split opinion
2 Year Warranty is shorter than 53D with similar hardware
Nodes (non-Plus) are pretty underwhelming as standalone routers without PLUS hub
If you are thinking of buying a QNAP Solution, please use the links below
📧 LET ME KNOW ABOUT NEW POSTS 🔔
Join 1,570 other subscribers
Get an alert every time something gets added to this specific article!
This description contains links to Amazon. These links will take you to some of the products mentioned in today's content. As an Amazon Associate, I earn from qualifying purchases. Visit the NASCompares Deal Finder to find the best place to buy this device in your region, based on Service, Support and Reputation - Just Search for your NAS Drive in the Box Below
Need Advice on Data Storage from an Expert?
We want to keep the free advice on NASCompares FREE for as long as we can. Since this service started back in Jan '18, We have helped hundreds of users every month solve their storage woes, but we can only continue to do this with your support. So please do choose to buy at Amazon US and Amazon UK on the articles when buying to provide advert revenue support or to donate/support the site below.

Finally, for free advice about your setup, j
ust leave a message in the comments below here at NASCompares.com and we will get back to you.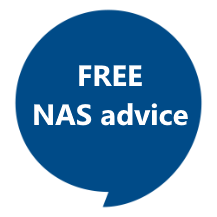 Need Help?
Where possible (and where appropriate) please provide as much information about your requirements, as then I can arrange the best answer and solution to your needs. Do not worry about your e-mail address being required, it will NOT be used in a mailing list and will NOT be used in any way other than to respond to your enquiry.
Support What We Do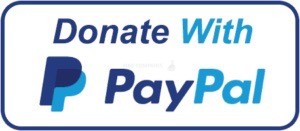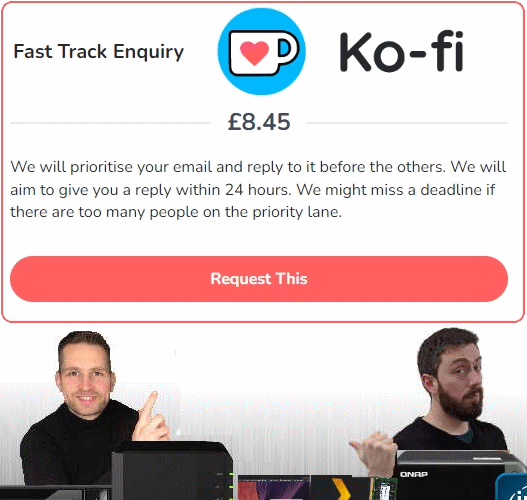 Terms and Conditions
Alternatively, why not ask me on the
ASK NASCompares forum
, by clicking the button below. This is a community hub that serves as a place that I can answer your question, chew the fat, share new release information and even get corrections posted. I will always get around to answering ALL queries, but as a one-man operation, I cannot promise speed! So by sharing your query in the
ASK NASCompares
section below, you can get a better range of solutions and suggestions, alongside my own.