A Guide to the Best 4K Plex NAS Drives to Buy Right Now
If you have been looking at buying a Synology or QNAP NAS drive in 2023 for use as a Plex Media Server, then chances are you are doing this because you are sick of paying for a bunch of online streaming services OR you have an enormous physical library of discs that you own in your home that you want to watch conveniently on an Amazon FireTV, Roku Box or home Console, disc free! It's not a big ask, is it! Do you remember when watching movies and boxsets from your sofa was easy? You owned a few hundred DVDs or Blurays, you popped in the disc for what you wanted to watch, then you watched it. It had a few extra steps that Netflix, Hulu, Prime Video and Disney+, BUT you owned what you watched and you were in control of what you wanted to see. The dominance of subscription streaming services was unquestionable and for a while, it genuinely felt like it was the best option for ease of access to a huge library of multimedia that you only really wanted to watch once or twice anyway – all for just $5-10 per service. However, it got complicated. We went from 3-5 media streaming services, to suddenly HUNDREDS, with Films/Boxsets appairing on exclusive platforms (in some cases actual tv seasons being divided across different services too). This also led to TV shows being available/featured on a streaming service considerably shorter, due to the show-owner realising that timed exclusivity and switching streamingly platforms is much more lucrative in the long run. So, the streaming services STOPPED being so convenient, stopped being such good value – with most households now having/needing 3-4 different subscription services (so, in most cases Netflix, Prime Video, Disney+ and the cable TV/Sky provider service) and spending $400-500 a year, and not owning a single piece of media or having control of when things are not available. Add to that the rather bias search abilities of these platforms pushing 'suggested' content and you cannot help but pine for those simple days of sitting on the sofa and watching that DVD. It is for this reason that many have made the jump over to Plex Media Server. To find out more about what Plex, a Plex Media Server NAS are and what they do, watch the video below:
A free service that allows you to stream the media YOU own, but still features slick graphics, user-friendly GUI, descriptions, trailers, thumbnails, reviews and more. Today I want to discuss the best three NAS drives for use as a Plex Media Server. There are literally thousands of different NAS devices on the market that can be used for Plex (it is a fairly low resource demanding tool in its smallest form) but the extent to how much you will use it, the number of users you want to share with, the volume of media and the quality of the content (e.g 4K, 1080p, etc) make a HUGE difference to which NAS you should choose for your Plex Media server. So my five PLEX NAS recommendations for 2023 are based on the best Budget 1080p Plex NAS, the best 4K Plex NAS and finally, the Best EVERYTHING Plex NAS for 2023. Let's begin.
What Have All the Best Plex NAS Drives Have in Common?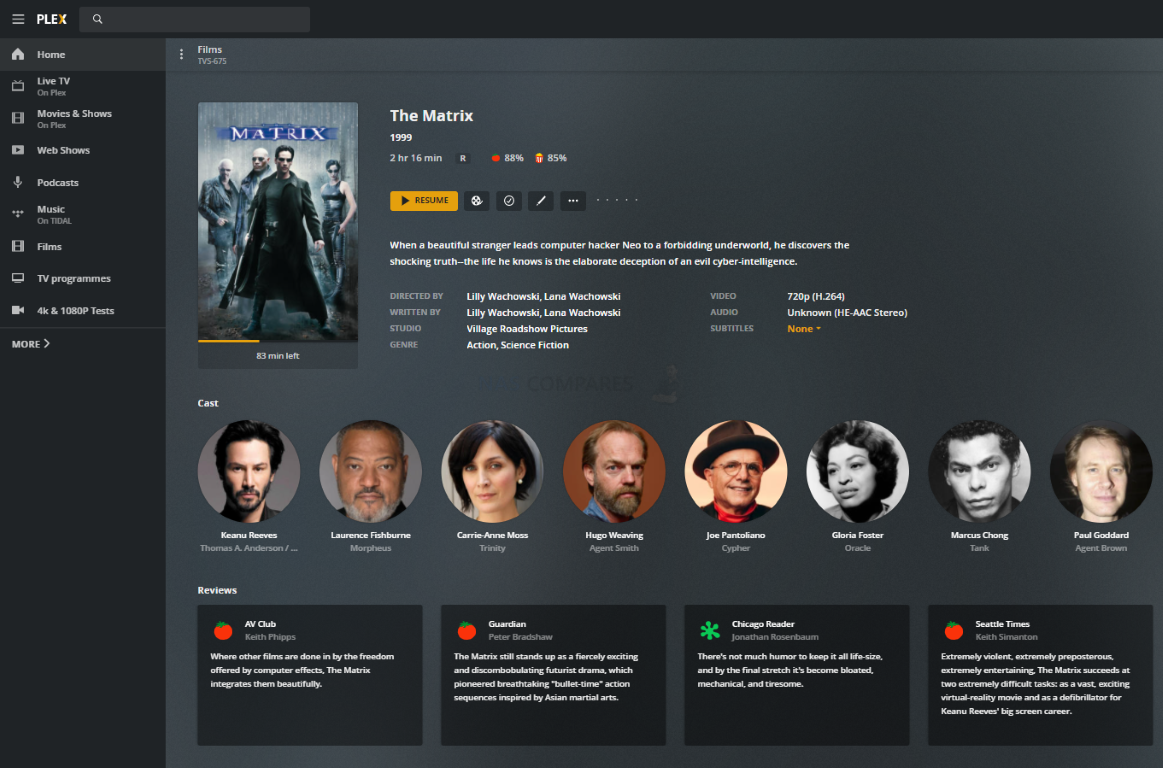 It is worth remembering that although there are ALOT of different Plex NAS drives available to buy, they are by no means created equal! With numerous super-budget brands popping up online, it can be tempting to consider these alongside the premium NAS brands. However, all too often they offer solutions righty seem 'too good to be true' and then are gone from the web before your warranty even gets cold! So, whether you are looking at the three best Plex solutions that I am recommending below OR are looking at another Plex NAS you saw on offer/recommended elsewhere – the best NAS system ALWAYS include the following software and services:
Combined Hardware & Software Solution – That means that you are buying the hardware, but it ALSO includes a web browser GUI, mobile apps and desktop client apps (including backup, media, streaming, surveillance and file management software)
All NAS systems in this guide are compatible with (and can be accessed by) Windows, Mac, Android and Linux operating systems
All NAS Solutions arrive with between 2-3 years Warranty (with the option to extend to 5 years)
All NAS drives can be accessed locally over the network, as well as secure remote access is possible with brand supported services (at no additional cost)
The most modern and regularly updated NAS systems will support the very latest 20TB NAS hard drives (such as the Seagate Ironwofl 20TB and WD Red 20TB)
All the recommended solutions support multiple drive configurations (RAID) for drive failure protection and performance enhancements
All solutions receive regular updates to their security, features and services
All recommended NAS drives can connect and synchronize with cloud services (Google Drive, DropBox, OneDrive, etc), as well as Business/Enterprise services such as AWS, Azure, Backblaze and more
All NAS solutions (regardless of brand) feature the ability to host a shared drive on your PC/Mobile/Laptop systems that are synchronized with the NAS via the network/internet, but is shown in your native operating system file manager (i.e Mac Finder or Windows Explorer)
All the NAS solutions listed can be accessed DIRECTLY via an ethernet/network cable being connected from your PC/Mac system, to the NAS RJ45 port for 100MB/s and higher connectivity
All the best NAS solutions (regardless of brand) feature backup and sync tools that can be installed on your local client computer and allow regular backups of your files and system data
So, make sure that if you are looking at a NAS solution that is NOT recommended below, that it includes all of the above. As these are some of the clearest areas that brands all too often cut orders to produce cheaper by ultimately inferior NAS servers for home and business. So, let's discuss the very best Plex NAS to buy now in 2022/2023.
---
Best All Round 4K PLEX NAS Drive – QNAP TS-464 NAS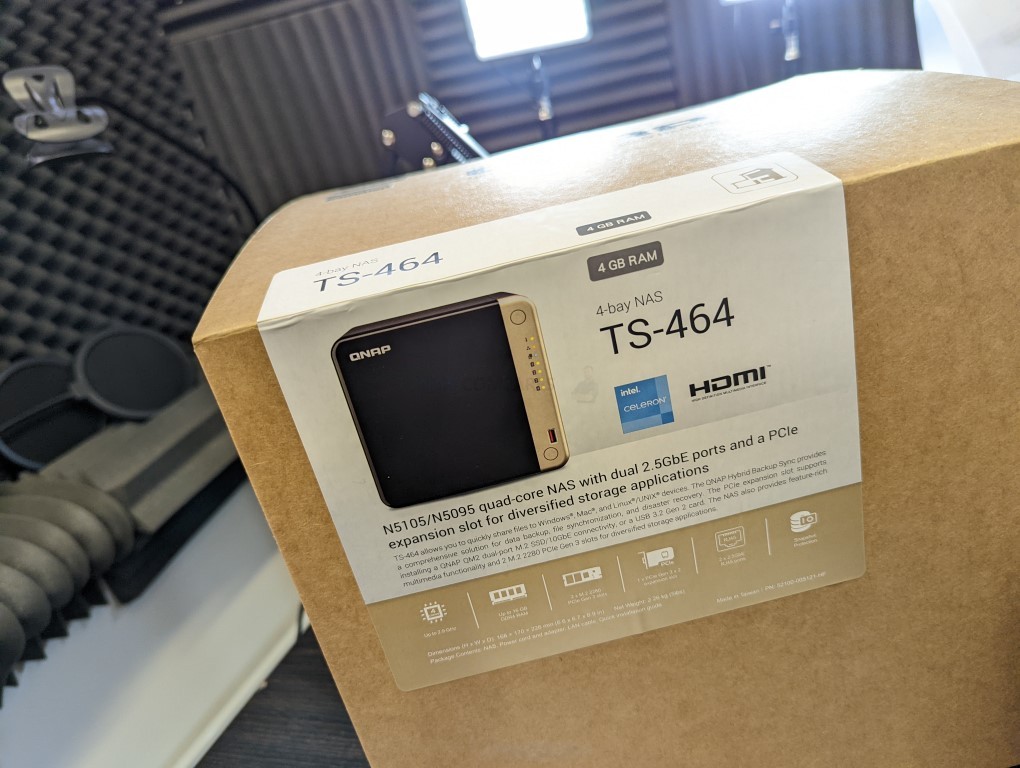 0-88TB, 4-Bays, 2x PCIe Gen 3×1 M.2 NVMe 2280, Intel Celeron N5105 CPU, 4-16GB Memory, 2x 2.5Gbe Port, 1x PCIe Gen 3×2 Slot, 1 HDMI 2.0 4K 60FPS, 3-5yr Warranty
Current Price/Availability on Amazon – $550
Hardware Review – LINK
YouTube Video Review – Watch
What I said in my review April '22:
The TS-464 comfortably arrives with the best hardware in its tier of the NAS market and that is something that QNAP has always been quite good at. Even if you rewind just 5 years, the level of hardware scalability and ease of upgradability that the TS-464 provides is frankly incredible and, fast forward to 2022, is still pretty unmatched. A Desktop 4-Bay NAS (eg Prosumer RAID 5 storage) has always been the next confident step for users who are tired of their hands being tied by subscription cloud services from Google, OneDrive and DropBox, who are looking for their own competent, flexible and fully-featured private server. In the TS-464 NAS, you find a system that is unquestionable the best hardware for your money you can possibly get right now. In software, things are a little less straightforward. QTS 5, although massively software and service-rich, arrives as a complete operating system in your web browser with multiple mobile/desktop clients and hundreds of applications and apps that can be installed at the touch of a button – which can all too often be something of a steep learning curve for many.
Lacking the slightly chewable, user-friendly nature of many of their rivals, QNAP and its software/service still have a tendency to be a bit of an information overload that can quickly intimidate the novice. However, for those that are looking for a system that is completely customizable in how/when/where you want data presented to you, as well as a wide degree of 3rd party support, QNAP and QTS 5 still manages to provide a huge degree of brand-unique service that are simply not available elsewhere. Just be prepared to invest your time wisely in its setup and more time ensuring the system is perfect for your needs.
---
Best Low Noise 4K PLEX NAS Drive – QNAP HS-264 NAS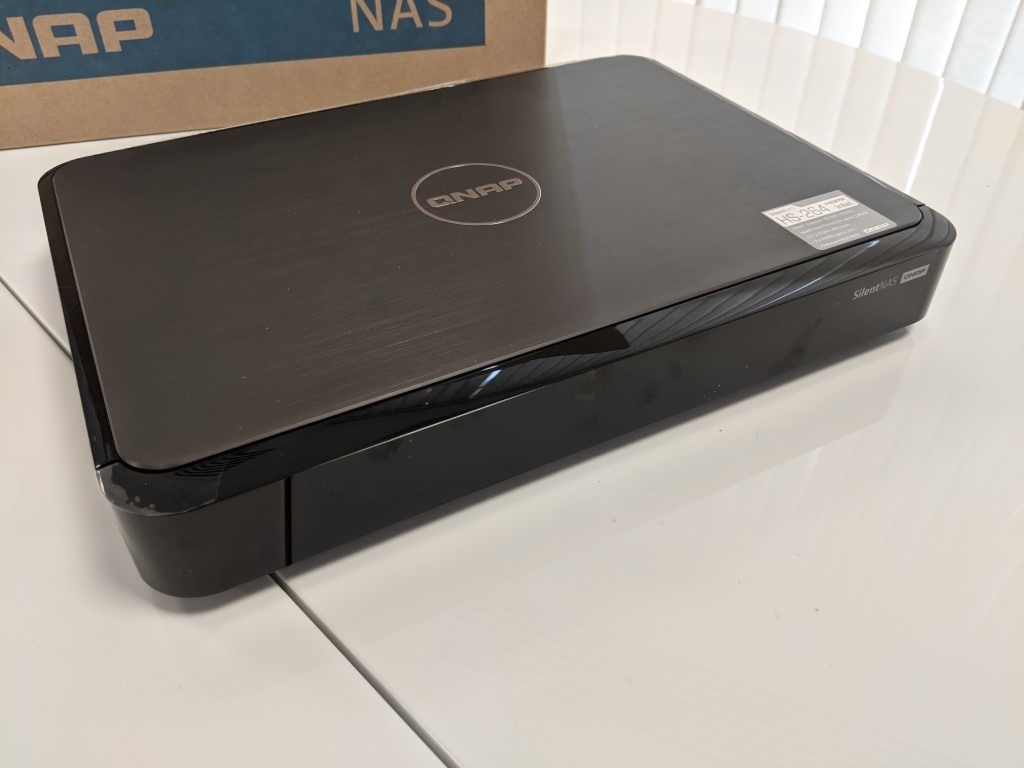 0-48TB, 2-Bays, Fanless Design, Intel Celeron N5105 CPU, 8GB Memory, 2x 2.5Gbe Port, 2x HDMI 2.0 4K 60FPS, KVM Support, 3-5yr Warranty
Current Price/Availability on Amazon – $549
Hardware Review – LINK
YouTube Video Review – Watch
What I said in my review April '22:
I think it would be fair to say that QNAP has quite a few different NAS ranges in their portfolio. From hefty enterprise rackmounts and thunderbolt machines, to compact prosumer desktops and modest entry-level systems, the majority of their solutions all seemingly share the same physically architecture – a desktop or rackmount enclosure that has changed really only aesthetically in the last 10-15 years. However, QNAP's Silent NAS series (started back in 2014/2015) has always been a very different beast and even in its earliest iterations was breaking the rules of what we thought a NAS is supposed to look like and (more importantly) sound like. The QNAP HS-264 is the latest release in the HS NAS series of devices (previously HS-251+ and HS-453DX) that has the bold claim to be 'silent'! Now, of course, that is not strictly true. It IS a fanless NAS that is designed in a horizontal profile to promote increased heat dissipation into a unit heatsink system (that is how the use of a fan is avoided) along with the physical spreading of the system also dispersing vibration much better. This results in a reported active noise level with traditional NAS hard drives under 8TB to produce a lower rating than other 2-Bay systems in idle/standby (can't switch off HDD spin and actuator noise). Plus, QNAP state that using SSDs results in the system being genuinely silent. Now for those that want their own NAS service for multimedia, plan on working in close proximity with the system or have a small office where this system will be working hard 24×7 in – the thought of a silent NAS is dream come true. However, hold your horse, just because the HS-264 is going to be quieter than the average NAS/bear, doesn't mean it is automatically a 'good NAS'.
Overall you cannot say that QNAP has not been a pinch more mature and sensible (perhaps to a fault) in the design and architecture of the HS-264 NAS. Living slightly in the shadow of the more bandwidth equipped but more expensive HS-453DX, the HS-264 is still a solid entry in the QNAP x64 series and if you are looking for a truly silent NAS that includes all the tools and services that a modern NAS system should feature, the HS-264 is unquestionably a great NAS system. As long as you factor in the noise of HDDs in 2022 (an often overlooked detail I would add), the HS-264 NAS is a system that focuses it's abilities and power internally, which being by far the most 'power and heat' aware system that the brand has ever released in this series. Concerns about QNAP and recent ransomware attacks are always going to dog the brand for a while yet, but nevertheless, that does not undercut the achievement in hardware and design that this system provides. Perhaps if QNAP could have released a modernized version of the HS-453DX, buyers would be fully satisfied, but in it's absence, the HS-264 and what it brings to the table ticks most of the important hardware boxes for me.
---
Best Value 4K PLEX NAS Drive – Asustor Lockerstor 4 Gen 2 NAS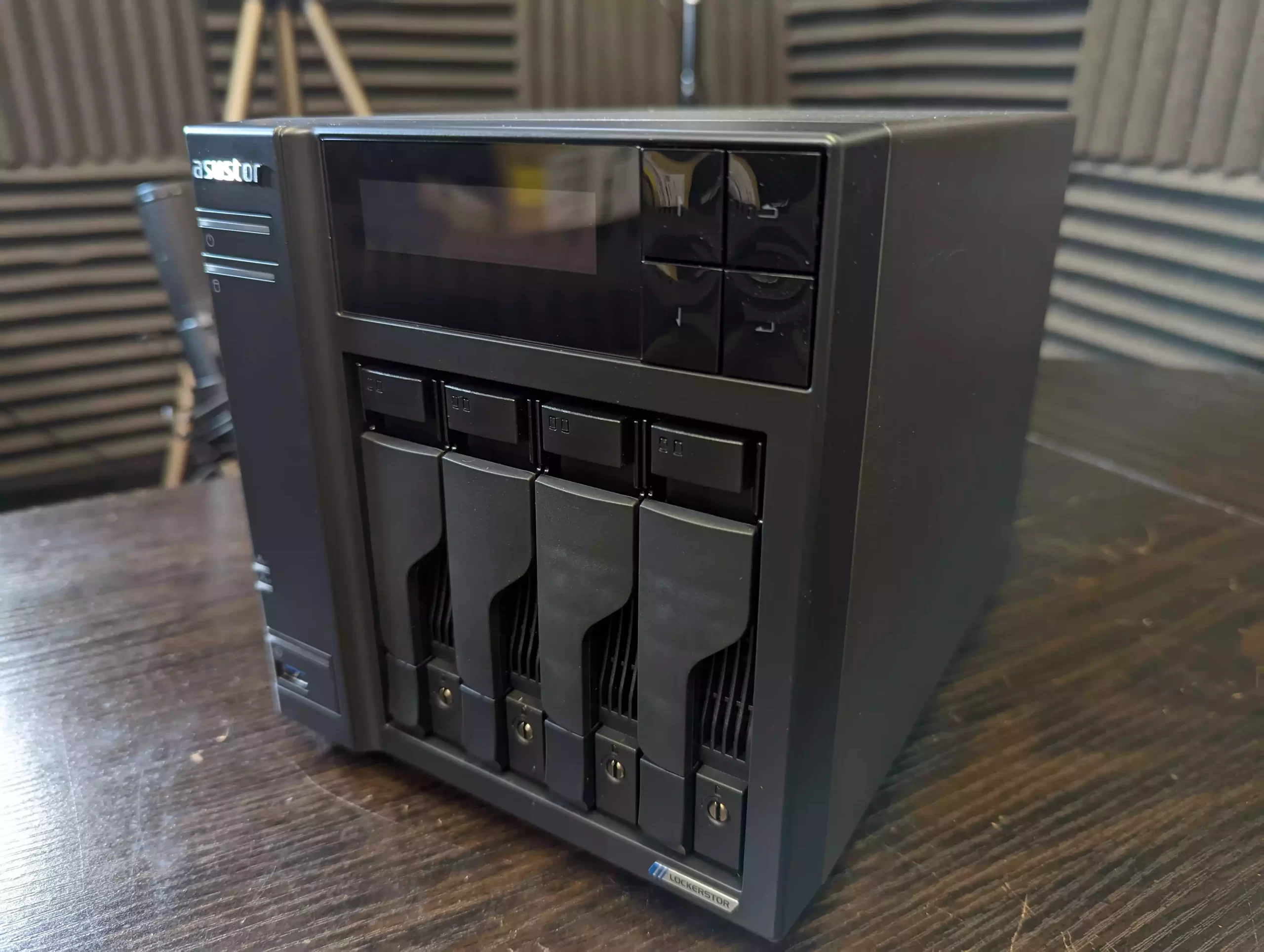 0-88TB, 4-Bays, 4x PCIe Gen 3×1 M.2 NVMe 2280, Intel N5105 CPU 4-Core Integrated Gfx, 4-16GB DDR4 Memory, 2x 2.5Gbe Port, 1x HDMI 2.0b, PCIe Upgrade Slot, 3-5yr Warranty
Current Price/Availability on Amazon – $579
Hardware Review – LINK
YouTube Video Review – Watch
What I said in my review Nov'22:
The Lockerstor 4 Gen 2 NAS is a respectable piece of kit! Indeed, the hardware here is almost faultless! Unless you are particularly noise sensitive (and therefore the metal chassis adding a few dBa to the ambient sound), there is almost nothing I can fault here on the devices hardware. The scaling up of practically all hardware over the Gen 1 Lockerstor, such as Better CPU, Better Memory that goes higher, HDMI 2.0b, USB 3.2 Gen 2, a 10GbE upgrade option and THOSE FOUR M. 2 NVMe SSD SLOTS – you simply cannot fault how much is getting included here at the price point vs it's competitors. The software is a little less compelling, with a smaller range of 1st party applications on offer, more of a reliance on 3rd party services and the absence of a few AAA+ features that are present on other devices in the market (AI services, Cloud Bolt on live synchronization, 1st Party SaaS native sync with Google Workspace/Office365, etc).
That said, ADM does run very well, is clear and still quite user-friendly. The addition of choice of file systems EXT4 or BTRFS, flexibility on the use of those M.2 NVMe SSD bays and the Asustor HDMI portal still bring fantastic flexibility to the Lockerstor 4 Gen 2 NAS too. Ultimately, this is a system that is clearly making big waves on it's hardware more than it's software, but as long as you keep your feet on the ground and appreciate that this system is more of a 70/30 purchase of hardware vs software, you will come to respect and rely on this Asustor NAS as the backbone of your data storage setup.
---
Lowest Priced 4K Plex NAS Drive – Terramaster F4-423 NAS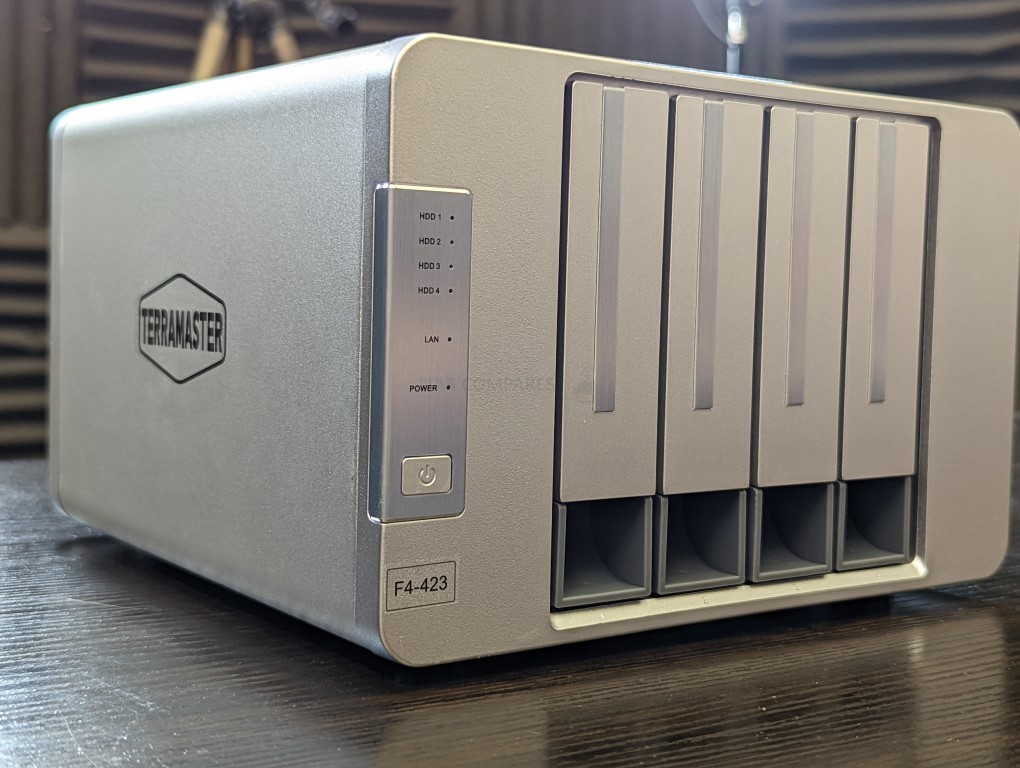 0-88TB, 4-Bays, 2x Gen 3 x1 M.2 NVMe 2280, Intel N5105 Celeron CPU Quad-Core Integrated Gfx CPU, 4-16GB Memory, 2x 2.5Gbe Port, 3yr Warranty
Current Price/Availability on Amazon – $500
Hardware Review – LINK
YouTube Video Review – Watch
What I said in my review May'22:
Terramaster still continues to be the most affordable fully-featured provider of the whole NAS market and although a number of their solutions have always felt a little rough around the edges, you always got the impression that you were getting a good deal for the hardware that was available from QNAP and Synology. Now in 2022/2023, the same continues to be true but in the F4-423 NAS' case, you are actually getting some pretty top tier (for the Home/Prosumer) market at a price tag that is really tough to argue with. Terramaster has clearly been watching their bigger competitors and cherry-picked the features that people have been asking for (2.5GbE, USB 3.2 Gen 2, M.2 NVMe SSD bays, etc) for this new generation.
In terms of software, things are a little less convincing and although TOS 5 (currently in Beta at the time of writing) still continues to evolve into something genuinely fully featured and impressive, TOS 4 that the F4-423 includes at launch is usable (if unexciting) platform that provides the base level services that a new NAS user would want, but lacks killer apps that their competitors are offering right now (File Streaming, AI photo recognition, Surveillance, etc). Most of these ARE included in TOS5, but until it arrives much later in 2022 in a full release, the F4-423 feels like a powerful NAS that doesn't have the software to show off its strengths yet. If you are reading this later in 2022 or 2023, this might well be irrelevant though, as the brand rolls out their bit firmware update to ALL Terramster NAS devices. Overall, I definitely CAN recommend the F4-423 NAS for its hardware, for Plex Media server or as an affordable multi-tier backup solution, but if you are looking for a NAS for more tailored data access or in a much more fully-featured package – hold out a little longer till TOS 5 gets released first.
---
ULTIMATE 4k and 8K Plex NAS Drive – QNAP TVS-h874 NAS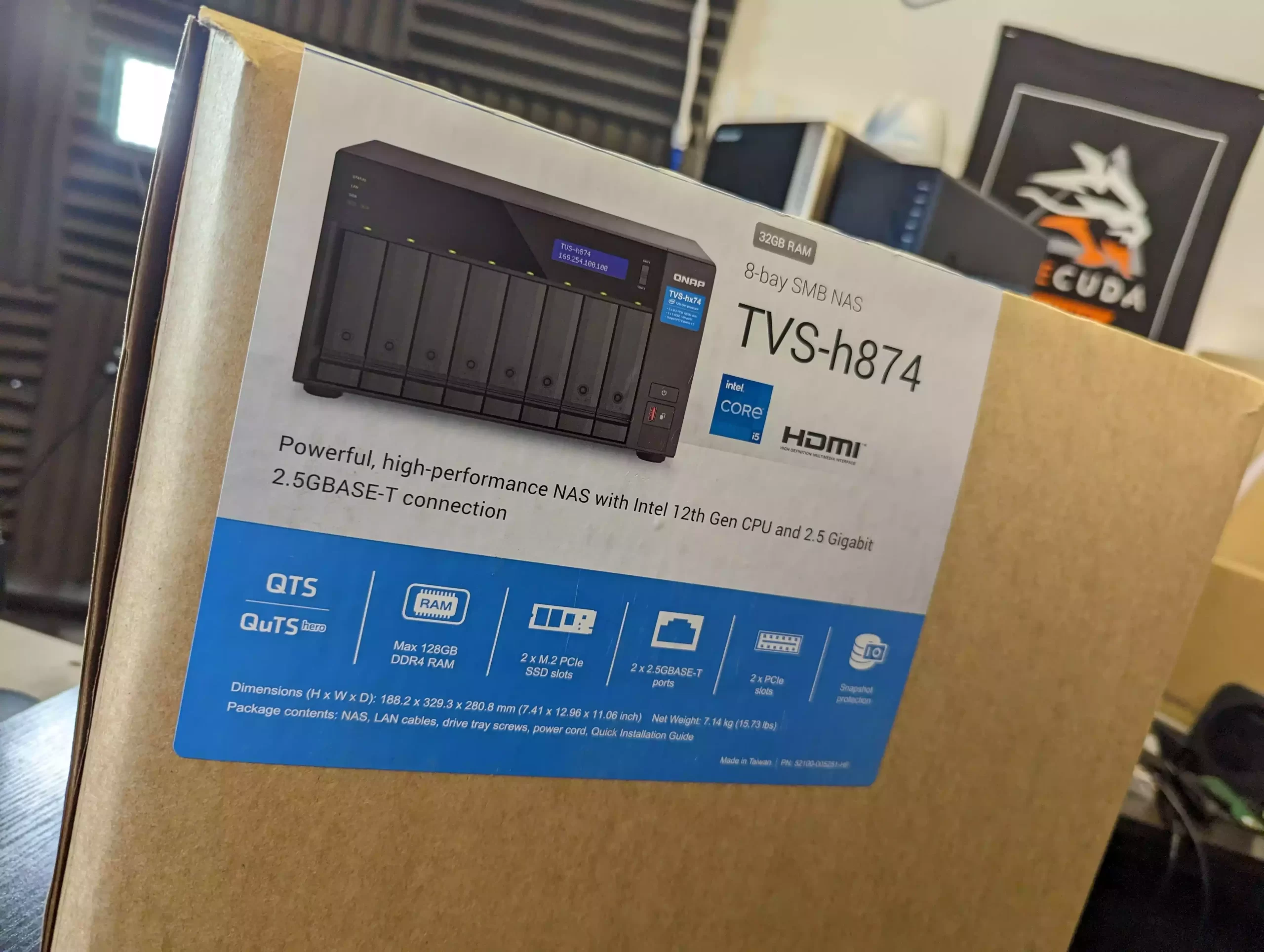 0-176TB, 8-Bays, 2x PCIe 4 M.2 NVMe 2280, PCIe Gen 4×16 Upgrade Slot, Intel Core 12th Gen i5/i7/i9 CPU, 16-64GB DDR4 Memory, 2.5Gbe Port, 10Gb x2 Prots (Intel i9 Version), KVM, ZFS or EXT4 Setup, 3-5yr Warranty
Current Price/Availability on Amazon – $2000-2500-3000
Hardware Review – LINK
YouTube Video Review – Watch
What I said in my review Dec '22:
The QNAP TVS-h874 NAS is easily one of the most hardware-capable desktop NAS systems that I have ever seen (as you would expect for £2500+) and has clearly been designed with phenomenal future proofing in mind! If you are concerned about the longevity of this NAS, this hardware architecture will still be top tier 5 years from now, with the added support of PCIe 4 meaning that high capacity and performing micro upgrades throughout its life also ensuring it remains relevant long after. It's price tag clearly moves this purchase out of the home and squarely into the business market (though likely those that take their media seriously will add it to the cart) and the TVS-h874 will function as a solid solution for Video editing (even at 8K), high frequency and performing VMs, large scale AI powered Surveillance setup, hybrid cloud/on-prem alternative to Office 365/Google Workspace services and as the center point for all your data storage operations. Crucially though, it is that the hardware on offer here will be able to do ALL of these at the same time, therefore maximising the investment for most businesses that want to move aware from their cloud dependant ops. In terms of software,t things are a little less absolute, with QTS and QuTS still getting a little busy at times, with a steeper learning curve than its big rival DSM from Synology. That said, die-hard fans of ZFS (Zettabyte File System) will adore the inclusion of benefits in RAID handling, management and recovery that are exclusive to that platform, whilst enjoying the wide range of applications and service benefits in QuTS that are often restricted to Linux platforms.
| | |
| --- | --- |
| 8K PLEX TESTS – QNAP TVS-h874 | 4K PLEX TESTS – QNAP TVS-h874 |
| | |
The slightly conveluded approach to release hardware that does complicate the selection process (different CPUs in the Intel 12th Gen family changing the rest of the system architecture) is something that I hoped this brand would graduate from (for the sake of simplicity), but for many, this level of choice in hardware and budget will be welcome. As is QNAP's position on the support of 3rd party hardware (drives, PCIe upgrades, etc) and software, something that we have seen a worrying trend in the last few years against elsewhere in the industry but some other brands, to err towards 1st party/proprietary compatibility more and more. There are still lingering doubts by some on the security of NAS, with ransomware attacks on the rise and ALL brands and ALL platforms being targetted (NAS, Cloud ,etc), finding a middle ground between ease of use and depth of security being a tricky tie rope walk indeed. The TVS-h874 arrives with a wide range of Day 1 tools, further rigid defaults in QTS/QuTS in 2022/2023, considerable security settings to configure and multiple system scan tools for recommendations & preventative measures available. The QNAP TVS-h874 is probably the most powerful desktop/tower NAS drive I have ever reviewed and if you are looking for a system that can legitimately do anything server-side, but you are also willing to put in the time to configure it correctly – you will genuinely be hard pushed to find a better system in 2022, 2023 and likely 2024 at this price point and scale.
---
And there you have it. Those are the three best Plex NAS drives available right now at the end of 2022 and going into 2023. thought it is always worth remembering that these systems typically have a refresh (i.e manufacturers release a new version/follow-up) every 2-3 years on average. Therefore although these systems are all still great Plex NAS drives, they might have been upgraded in a newer released version, or recently released alternative Plex's may have arrived on the scene that provides better pricing, value or features. If you are in doubt about whether to buy a Plex solution from my recommendations, want to check if a newer system has been released recently OR are simply looking for some free expert advice, then use the free advice section below over. Just enter in a few details of your setup, storage requirements and (in the case of buying a new solution) your budget – then me and Eddie the Web guy can help you with your question. This is a completely free service, is NOT provided with profit in mind and is manned by two humans (no bots, no automated replies, etc). Assistance might take an extra day or two (the service gets a lot of visitors) but we do try to answer every message. If you want to support this service, you can find out how to donate HERE. Otherwise, you can still jsut message us for free advice anyway!
📧 SUBSCRIBE TO OUR NEWSLETTER 🔔
🔒

Join Inner Circle
Get an alert every time something gets added to this specific article!
This description contains links to Amazon. These links will take you to some of the products mentioned in today's content. As an Amazon Associate, I earn from qualifying purchases. Visit the NASCompares Deal Finder to find the best place to buy this device in your region, based on Service, Support and Reputation - Just Search for your NAS Drive in the Box Below
Need Advice on Data Storage from an Expert?
Finally, for free advice about your setup, j
ust leave a message in the comments below here at NASCompares.com and we will get back to you.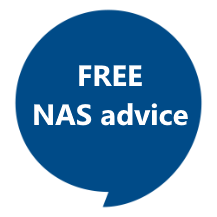 Need Help?
Where possible (and where appropriate) please provide as much information about your requirements, as then I can arrange the best answer and solution to your needs. Do not worry about your e-mail address being required, it will NOT be used in a mailing list and will NOT be used in any way other than to respond to your enquiry.
TRY CHAT
Terms and Conditions
If you like this service, please consider supporting us.
We use affiliate links on the blog allowing NAScompares information and advice service to be free of charge to you.
Anything you purchase on the day you click on our links will generate a small commission which is
used to run the website. Here is a link for
Amazon
and
B&H
.
You can also get me a ☕
Ko-fi
or old school
Paypal
. Thanks!
To find out more about how to support this advice service check
HERE
If you need to fix or configure a NAS, check
Fiver
Have you thought about helping others with your knowledge?
Find Instructions Here

ASK NASCompares forum
, by clicking the button below. This is a community hub that serves as a place that I can answer your question, chew the fat, share new release information and even get corrections posted. I will always get around to answering ALL queries, but as a one-man operation, I cannot promise speed! So by sharing your query in the
ASK NASCompares
section below, you can get a better range of solutions and suggestions, alongside my own.