Synology DS723+ NAS Drive – Does It Deserve Your Data?
The Synology DS723+ NAS is one of the most capable 2-Bay systems that the brand has ever released, featuring a number of series-firsts in terms, yet still maintaining largely the same price point as the other two bays in the plus series to date. However, there is no avoiding that this is not going to be a system that suits everyone and although I waxed lyrical and was largely positive about its features in my Synology DS723+ NAS Review, there are definitely going to be some elements of the DS723+ NAS that will convince you to opt for a different solution. So, today I want to discuss the five things about the Synology DS723+ that make it a must-have NAS in 2023 and five things that will possibly convince you that your money and data should go elsewhere. Let's begin.
Note – You can find my full 'Before You Buy' video on the Synology DS723+ NAS here. It covers mostly the same points, but also touches on a few more.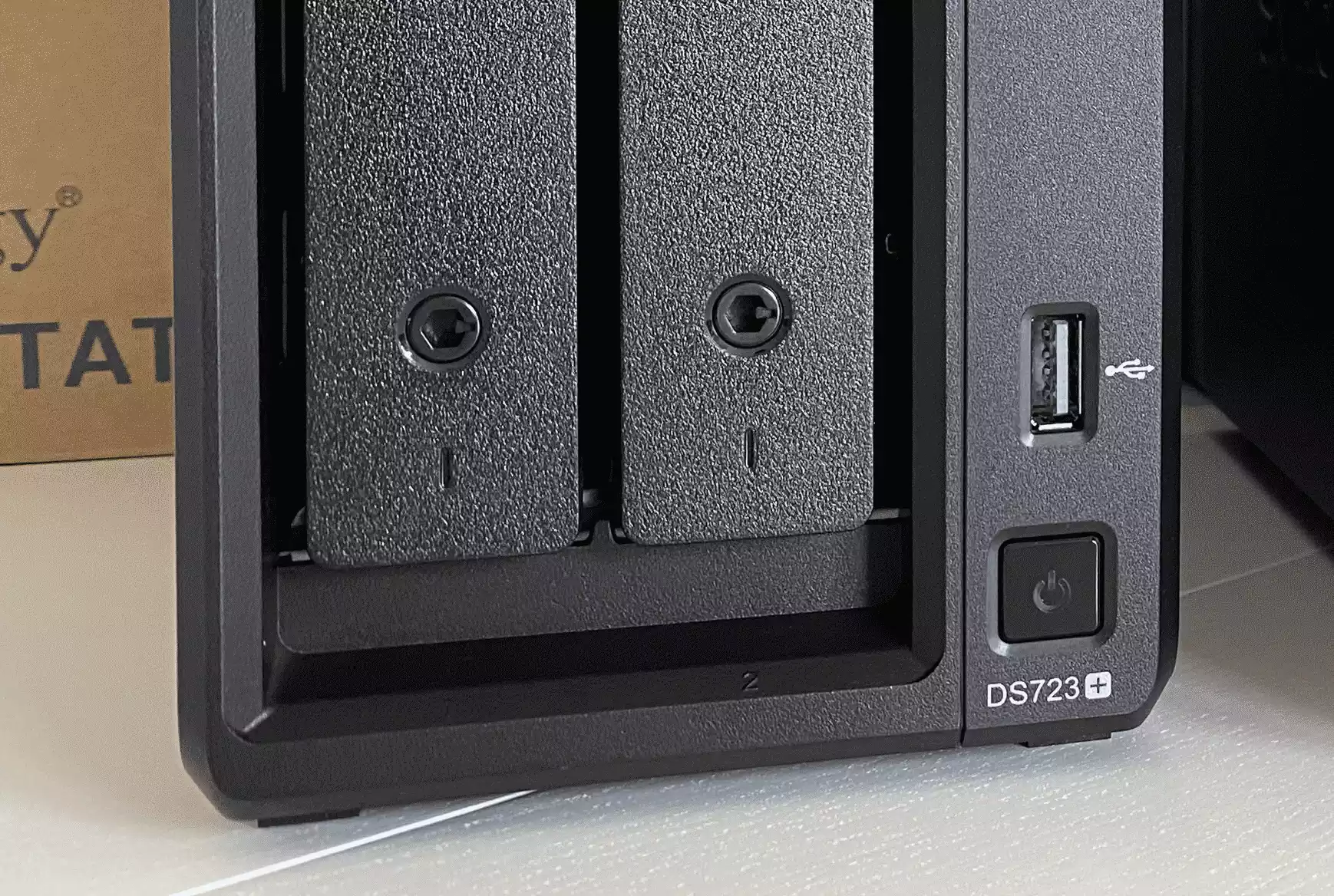 Reasons You SHOULD Buy the Synology DS723+ NAS
So, first things first! Here are five reasons why the Synology DS723+ NAS might well be exactly the private desktop server that you have been waiting for.
The 10GbE Upgrade on the DS723+
It may seem especially unusual for Synology to provide the option of 10GbE on a 2-Bay NAS (as the brand has been oddly reluctant to provide greater than gigabit connectivity on their smaller devices till now) but this was a feature in one form or another that users who have been looking at the expandable 2-Bay and 4-Bay diskstation series (DS716+, DS718+ and DS720+) have been requesting for YEARS! The Synology DS723+ NAS arrives with an upgrade slot on the rear of the chassis (PCIe Gen 3 x2) that allows the installation of a 10GbE (10GBASE-T) network upgrade module that allows the system to upgrade towards a 1,000MB/s network connection! With the DS723+ NAS running on a very competent and fast-file-service internal architecture AND supporting 2 drives in a RAID environment to increase internal performance, the option to scale up the external connectivity to 10x that of traditional gigabit is fantastic. Although there is a question of whether it is possible to fully saturate a 10GbE/1,000MB/s connection with a 2x SATA drive NAS, you also need to factor in the option to expand the system by 5 more bays with the DX517, or by running a storage pool on one or more of the M.2 NVMe SSD bays. Either of these options will allow that 10 Gigabit connection to be fully saturated with ease.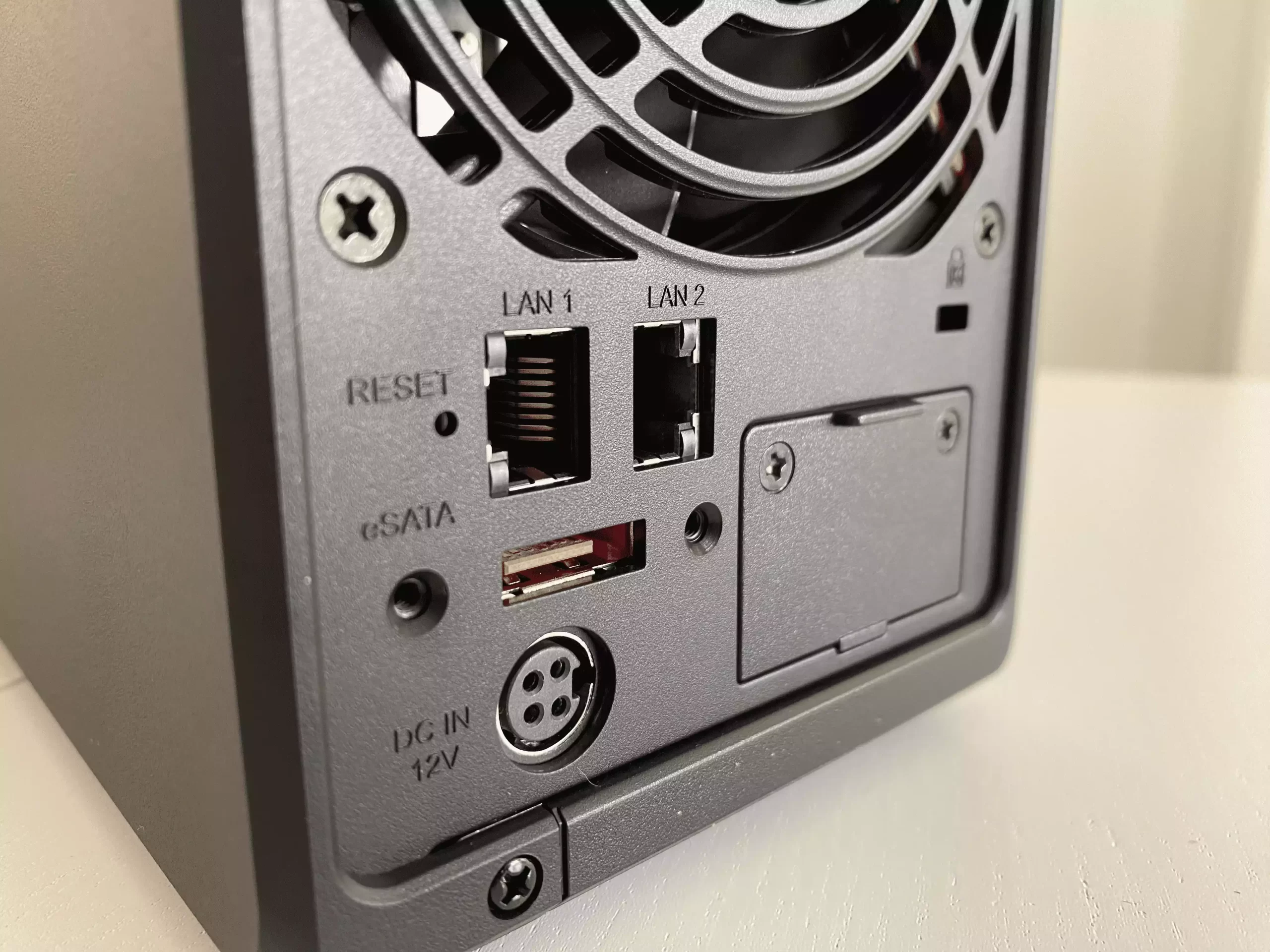 The network upgrade choice on the DS723+ is delivered via an optional purchase of the Synology E10G22-T1-mini (find the Synology E10G22-T1-MINI here on Amazon), and it is a 1x Port 10G card, with its own onboard controller and heatsink attached. The module is also by far the easiest 10GbE/Network upgrade I have ever installed in a NAS, as it can be installed by popping it in the available slot on the back – as opposed to needing the chassis be partially dismantled in order to access a PCIe slot). The PCIe Gen 3×2 bandwidth that is afforded to it is more than enough for the 10G connection. Currently, the E10G22-T1-mini is the only upgrade option that is supported by the network upgrade slot on the DS723+ NAS (as well as the DS923+, RS422+ and DS1522+), but I would not be surprised if Synology roll out an SFP+/Fibre option in due course, though the jury is still out if they were to also add a 2.5G/5GBe option.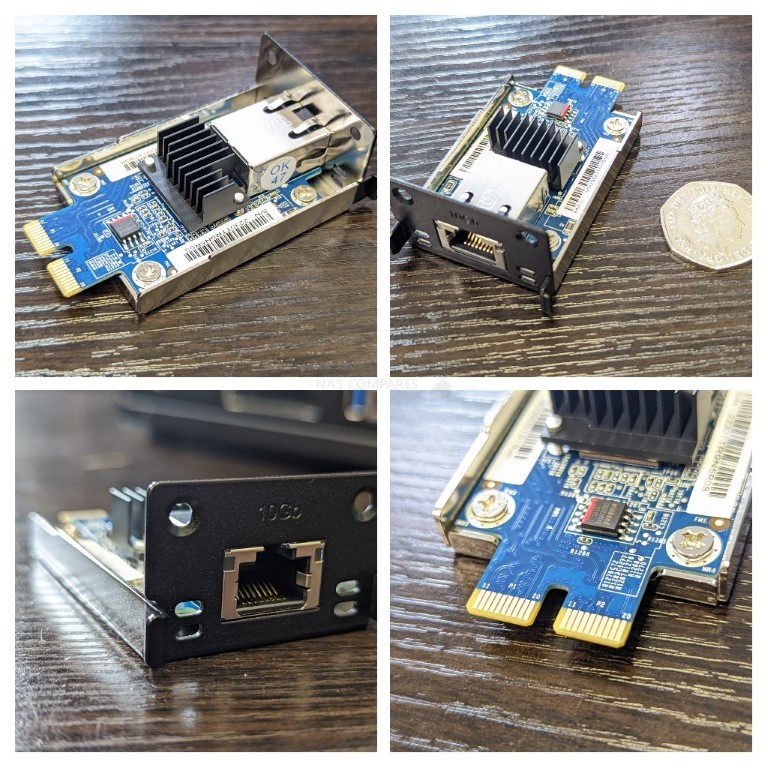 ECC Memory Type and Maximum Scalability of the DS723+
Another one of the expectations of the expandable 2-Bay diskstation hardware that the DS723+ goes ahead and smashes is in the area of Memory. Previous generations of this series have arrived with 2GB of Memory which can be upgraded to 6GB of memory (in some cases, with the initial 2GB of memory being soldered to the main controller board). The DS723+ NAS makes a couple of significant changes by providing the same amount of memory at 2GB (which is a little disappointing), BUT it can support upto 32GB of memory across two SODIMM slots! that is more than FIVE TIMES the maximum of any other system in the series' history and that is going to allow ALOT of apps to stretch their muscles a bit with that much RAM to share out!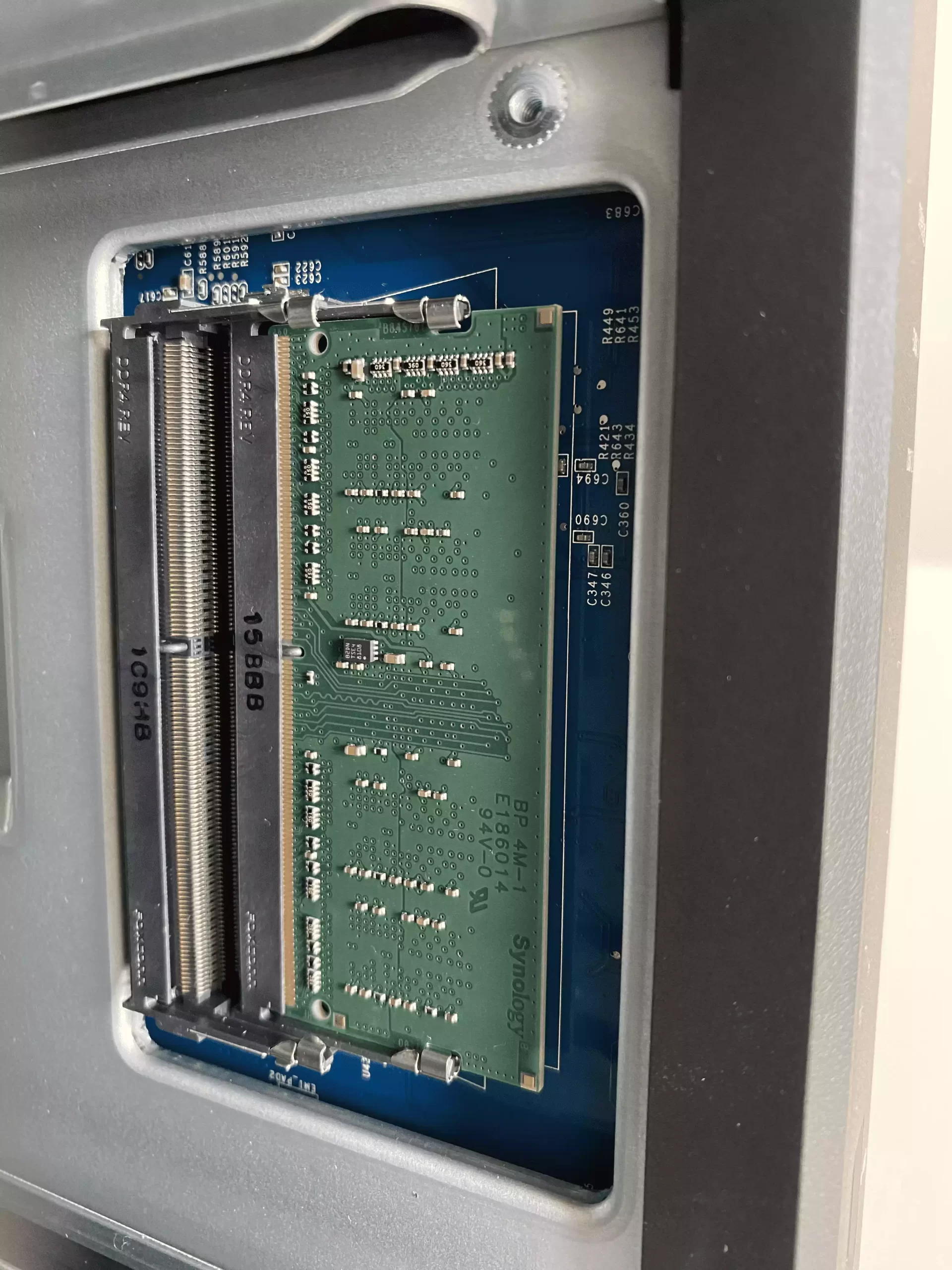 This memory in the DS723+ improves further on its predecessors by virtue of being ECC memory (Error Correcting Code), something that you would never ordinarily find on a 2 Bay system. ECC memory arrives with an extra memory chip per module on board that (in caveman terms) allows the system to have a blueprint of the data that is passing through the memory on the way to being written/sent to the disks and then, at the end of the memory processes, it is compared against the blueprint and if errors/inconsistencies are observed, the memory repairs the data. ECC has always been proven invaluable at the business level as it ensures data that has been stored on the NAS for warm or cold storage has no silent inconsistencies that down the line could result in invalid/corrupt data (e.g bitrot). Synology has been championing the use of ECC memory in their systems and slowly but surely, all of their product ranges in PLUS and above (i.e XS, SA, etc) are arriving with this enterprise-class memory by default.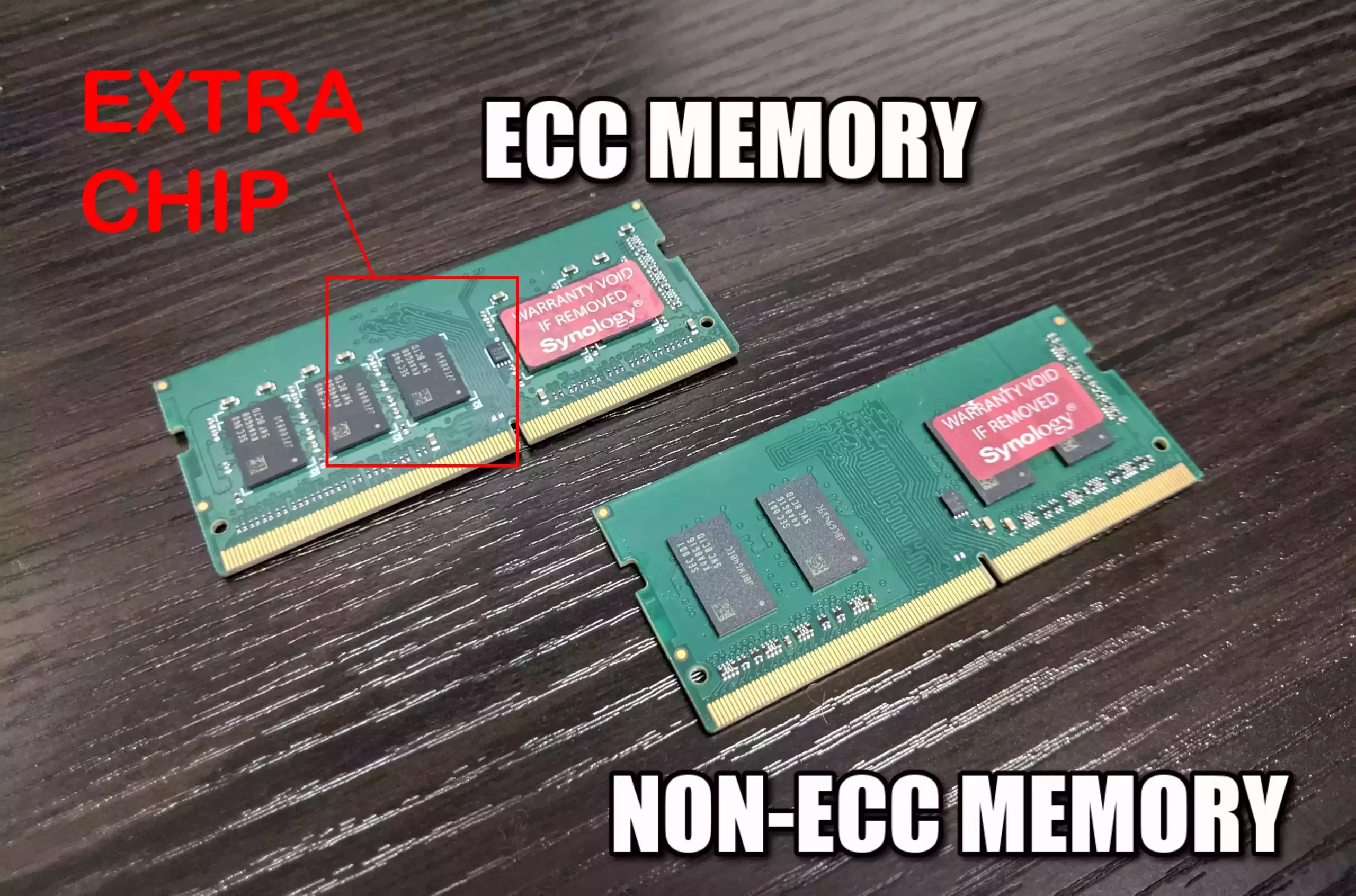 The DS723+ NAS featuring ECC memory DOES mean that official Synology memory upgrades are going to be more expensive, but the RRP of the DS723+ NAS (with the original 2GB of ECC Memory) already arrives at a very, very similar price point to its predecessor's RRP when they were released, so any extra cost down the line is optional.
Low Noise, Small Power Use and Compact Design
This is a point that will appeal to a very specific % of NAS buyers, but the D723+ NAS arrives in the same 2-Bay Diskstation chassis as the DS720+ and DS718+ before it (with tweaks here or there), which was very low impact in it's design. What I mean by that is that it is quite a compact casing that is very easy to deploy, very well-ventilated on almost all sides (even the official logos on either side are ventilation panels) and is surprisingly low noise when in operation. The DS723+ has a single rear active fan and is a low-noise fan too. The huge amount of ventilation that passes over the internal heatsinks (no internal CPU fans or a PSU fan, as that is external) is assisted by the copious ventilation and the result is a NAS that has had alot of time in R&D to balance between internal system temps in 24×7 operation AND having low ambient noise/space impact to the end user. HERE is my noise testing of the Synology DS920+ NAS (using a similar chassis, but in 2 bays) using different kinds of HDD and SSD media to show the noise levels that were hit.
| | |
| --- | --- |
| | |
All that said, do keep in mind that the Hard Drives that you choose to use will make an impact on noise. Any NAS HDDs (WD Red or Seagate Ironwolf) of 8TB or lower capacity will be lovely and quiet (only really making noticeable noise in periods of high access frequency), but larger capacity HDDs or enterprise class/industrial built Hard Disks will make more ambient noise (vibration hum, clicks of the internal arm/actuator and spinning disk platters) and these will be easily noisier than the DS723+ noise when in operation.
FULL DSM 7.1 and DSM 7.2 Support
At Launch, the DS723+ NAS arrives with the latest version of Synology software, DSM 7.1. However, this does not stop evolving as soon as you get your Synology NAS. DSM has been in continues to be the dominant force in the world of NAS software, providing a massive arrangement of services, applications (first and third-party supported) and a huge number of client applications for desktop, mobile, Windows, macOS and Linux (as well as a bunch of other more home-based tools). These allow management and access to the data on the DS723+ in very tailored ways, as well as the web browser-based access that has the appearance, intuitive design and responsiveness of a local operating system. The DSM interface can be accessed by hundreds of users at the same time (with each user having tailored access, rights and privileges). DSM is available with ALL Synology NAS and the depth and abilities of DSM on any NAS are dependent on the hardware architecture of the NAS itself. In the case of the Synology DS723+, it supports EVERYTHING that is offered by Synology's platform. DSM is currently in version 7.1, but soon we will see the DSM 7.2 software update, which will be adding WORM (write Once Read Many) support, Volume scale encryption and numerous improvements to individual applications. If you want to learn about it, you can read the DSM 7 Full Review HERE.
As mentioned, the DS723+ supports pretty much the entirety of the DSM 7.1 applications and services (DSM 7 and DSM 6.2 are still in circulation and still receive regular service and security updates, though the DS723+ will arrive with DSM 7.1 by default and cannot be rolled back). If you are an existing user of SaaS and PaaS (Software as a service and Platform as a service) from the likes of Google Workspace and Office 365, knowing that you can synchronize these systems or choose to export away from them onto the Synology services is going to be very appealing. Then there is the increasing development of their 1st party cloud platform, Synology C2, which is slowly integrating into all the applications that are available on your bare metal NAS (allowing you to add a cloud layer of backup, synchronization and access to your data storage setup). This is a subscription platform, which can only be used with your Synology NAS system (as well as connected with some 3rd party SaaS services, but for those that are moving away from Google/Microsoft/AWS for security reasons, but still want a Cloud+Metal storage network in place, C2 covers pretty much everything. Indeed, although below I have highlighted a number of the key/best applications that are included in your DS723+ Service with DSM, most of them can be immediately integrated with Synology C2  (with even more being added in 2023 with DSM 7.2). Key business and consumer applications that are included with your NAS are: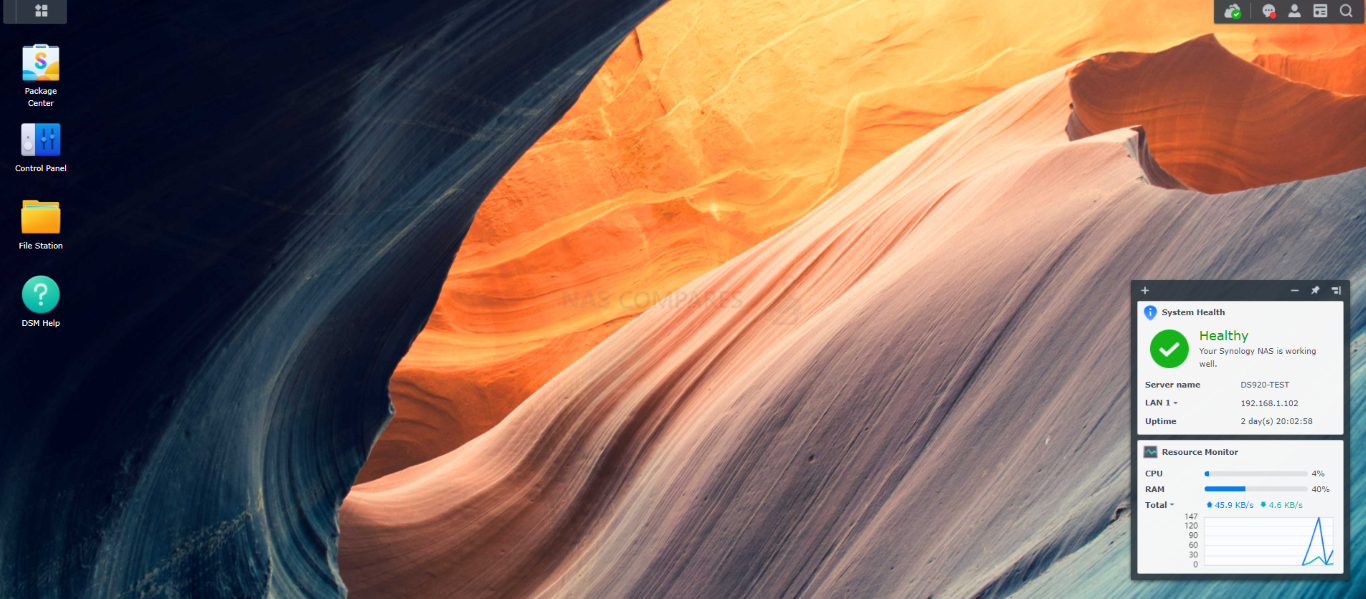 Synology Office – Create documents, spreadsheets, and slides in a multi-user environment. Real-time synchronization and saving make collaboration a breeze.
Synology Chat – Aimed at businesses, Synology Chat is an IM service that transforms the way users collaborate and communicate.
Synology Drive – Host your own private cloud behind the safety of your NAS with 100% data ownership and no subscription fees. Drive has become one of the premier applications of DSM and allows uses to create intelligent shared team folders that support versioning, file streaming+pinning, encryption, Windows AD support (soon) and native file system support with Windows and macOS.
Synology Photos – Manage your photos and videos with deep-learning algorithms that automatically group photos with similar faces, subjects, and places. Designed after the merger of Synology Photo Station and Moments, it also includes tailored folder, sharing and categorization features to help photographers manage their photos and share them with clients for feedback or business development.
Synology Calendar – Stay on track, share calendars, and schedule meetings, while ensuring sensitive information remains safely stored on company premises.
Synology Active Backup for Business (ABB) – Consolidate backup tasks for virtualized environments, physical servers, and personal computers, and rapidly restore files, entire machines, or VMs – license-free. This software also arrives as a specialised Microsoft Office 365 and Google Workspace platform to sync with those platforms and allow a bare metal tier to your cloud office services
Synology Hyper Backup – Backup your NAS safely and efficiently to multiple destinations with deduplication, integrity checks, compression, and versioning.
Synology Surveillance Station – Safeguard your business, home, and other valuable assets with reliable video surveillance tools. With improved AI services being accessible thanks to Synology BC500 and TC500 Cameras arriving in 2023. Additionally, you can connect this platform with Synology's cloud platform to use 'C2 Surveillance' and bolster the odds of recordings being maintained in the event of accidental/malicious damage to your surveillance system.
Synology Virtual Machine Manager (VMM) – An intuitive hypervisor that supports Windows, Linux, and Virtual DSM virtual machines. Its powerful disaster recovery tools help users achieve maximum service uptime.
Synology High Availability – Synology High Availability (SHA) combines two Synology NAS servers into one active-passive high-availability cluster, alleviating service disruptions while mirroring data.
Synology Central Management System (CMS) – Synology CMS allows you to manage multiple Synology NAS servers quickly and conveniently from a single location.
Synology Video Station – Manage all your movies, TV shows, and home videos. Stream them to multiple devices or share them with friends and family.
Synology Audio Station – Manage your music collection, create personal playlists, stream them to your own devices, or share with family or friends.
Synology File Station – Manage your Synology NAS files remotely through web browsers or mobile devices. This tool allows complete file management and contains all the features and services of your own native file management platform (archiving, extracting, Copy, Cut, Paste, Sharing, native file format opening, integration with the rest of the Synology applications, property/metadata access, etc)
You cannot really fault the software and services that are included with the Synology DS723+ NAS, as you are going to get the very best experience available on the platform, thanks to the hardware and architecture of this NAS. DSM 7 is an ever-evolving platform, so if you are reading this now at the time of publishing or years later, there is always going to be something in DSM for everyone. That said, Synology in recent years has been increasing its priorities towards first-party software and services. This does make sense, as they want to promote their systems and software as a complete ecosystem for your home or business data storage needs (going on in the last few years to release even more Synology alternatives to popular software AND releasing non-NAS hardware accessories such as Routers, Network Adapters, HDDs, SSDs and now IP Cameras). This can occasionally lead to the compatibility lists of hardware or software that you wish to use in conjunction with the DS723+ NAS being a little smaller/restricted than you might like. A specific 3rd party software/service or physical accessory (HDD, Memory module, Network Upgrade) might not appear on the Synology compatibility pages, but that does not mean it will not function with the DS723+ NAS. It is more a case of Synology choosing not to test/evaluate a particular setup (in their defence, there are ALOT) and therefore until stated otherwise is therefore listed as incompatible and is therefore being used without their full, guaranteed support long term. In short, you can DEFINITELY feel that DSM 7/7.1 is a fantastic NAS platform, but it comes with a certain degree of rigidity by Synology on the DS723+ NAS. A little more relaxed than entries in the Enterprise XS or SA systems, but it is definitely still there.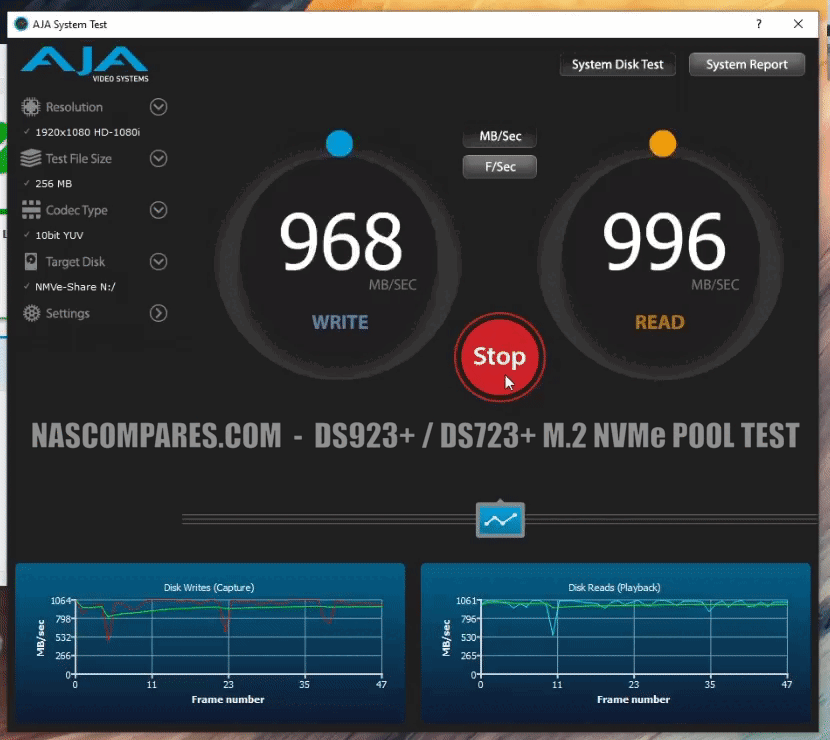 PCIe Gen 3 M.2 SSD Support and the Future of Synology Storage
Another development from Synology very recently that the DS723+ NAS benefits from is the support of M.2 NVMe SSDs as Storage Pools – something that has been demanded by new/old Synology NAS users alike for YEARS! Synology was one of the first (if not, THE first) to introduce M.2 NVMe SSD bays on to desktop 2/4-Bay NAS systems way back in 2017/18, but restricted their use for caching only (read/write). It has only been now with the release of the Synology DS923+ and DS723+ that the brand has become a little more flexible and allowed users the choice to use these much, MUCH faster (and so much, MUCH more expensive) types of storage media to be used as storage pools and volumes. With M.2 NVMe SSDs arriving with thousands of MBs of throughput (compared with the rather limiting 250-270MB/s maximum of modern high-end HDDs), this feature also effectively turns the DS723+ 2-Bay into a 4-Bay NAS system.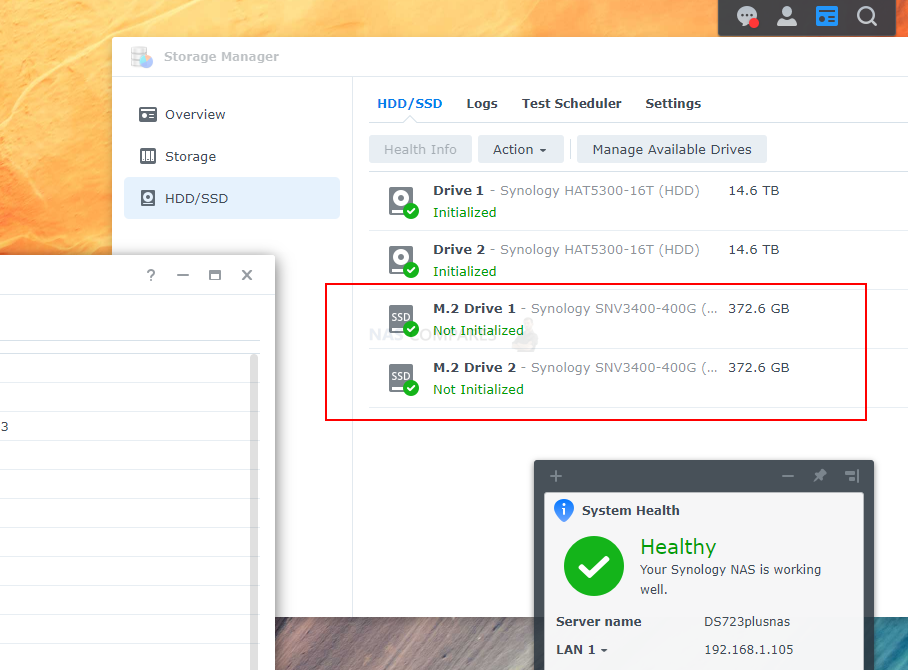 It is also worthing keeping in mind that you technically do not need to actually make a choice between these M.2 NVMe SSD Bays as storage pools. This is because the system has two 2280 M.2 NVMe bays and you can opt to use one SSD for a storage pool (for your higher performance needs in databases, VMs, etc) and the other can still be assigned as a read cache drive in it's own group, which can be assigned to the HDD or SSD storage pools if you choose. Currently, Synology DSM 7.1 does not support 'write only cache pools', but I can definitely see this as a feature in future DSM updates, as it is an often requested feature.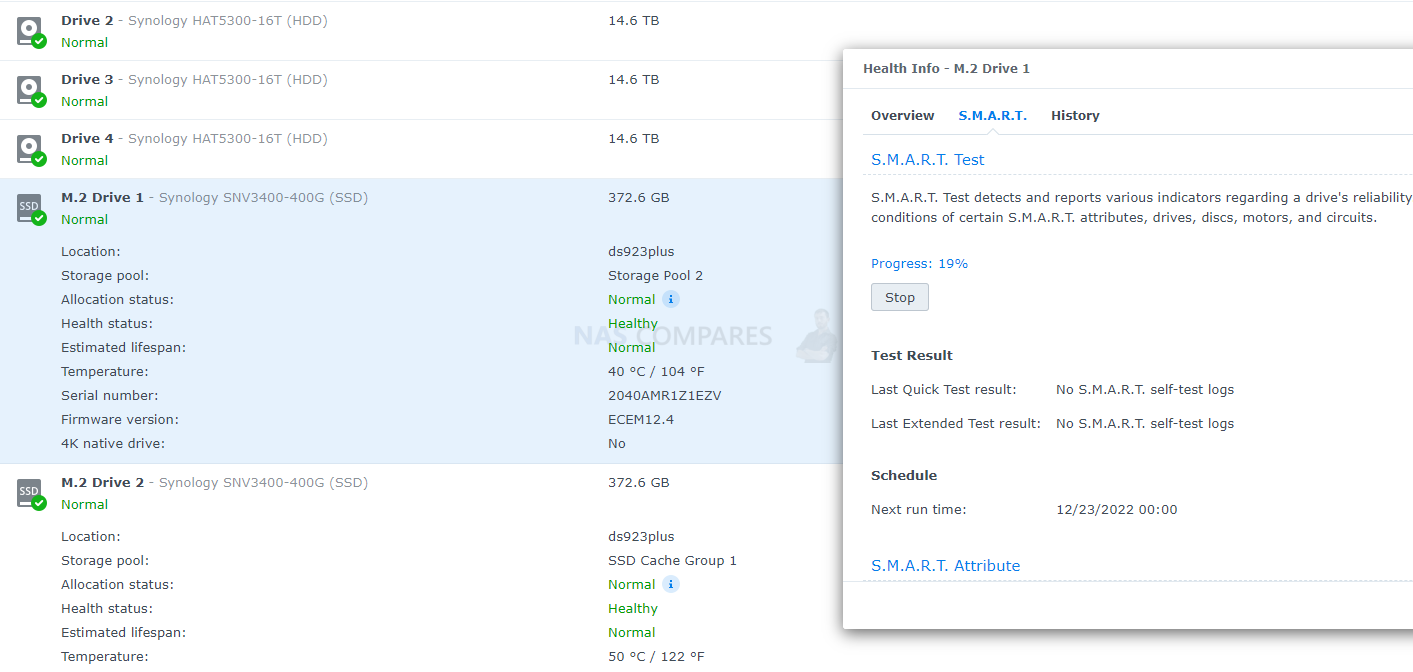 Once you have made a storage pool using 1 or 2 M.2 NVMes, this area of storage can be used just the same as the HDD equivalent in DSM. It can be used as the target storage for individual applications, as the primary storage area for VM or Container deployment, as the location of multiple iSCSI LUNS and Shared Folders and just pretty much anything. For those users looking to take advantage of the external 10GbE network upgrade option for Photo/Video editing, the use of M.2 NVMe SSD storage pools for this is going to be substantially better than the performance that the two SATA HDD/SSD bays could have ever reached.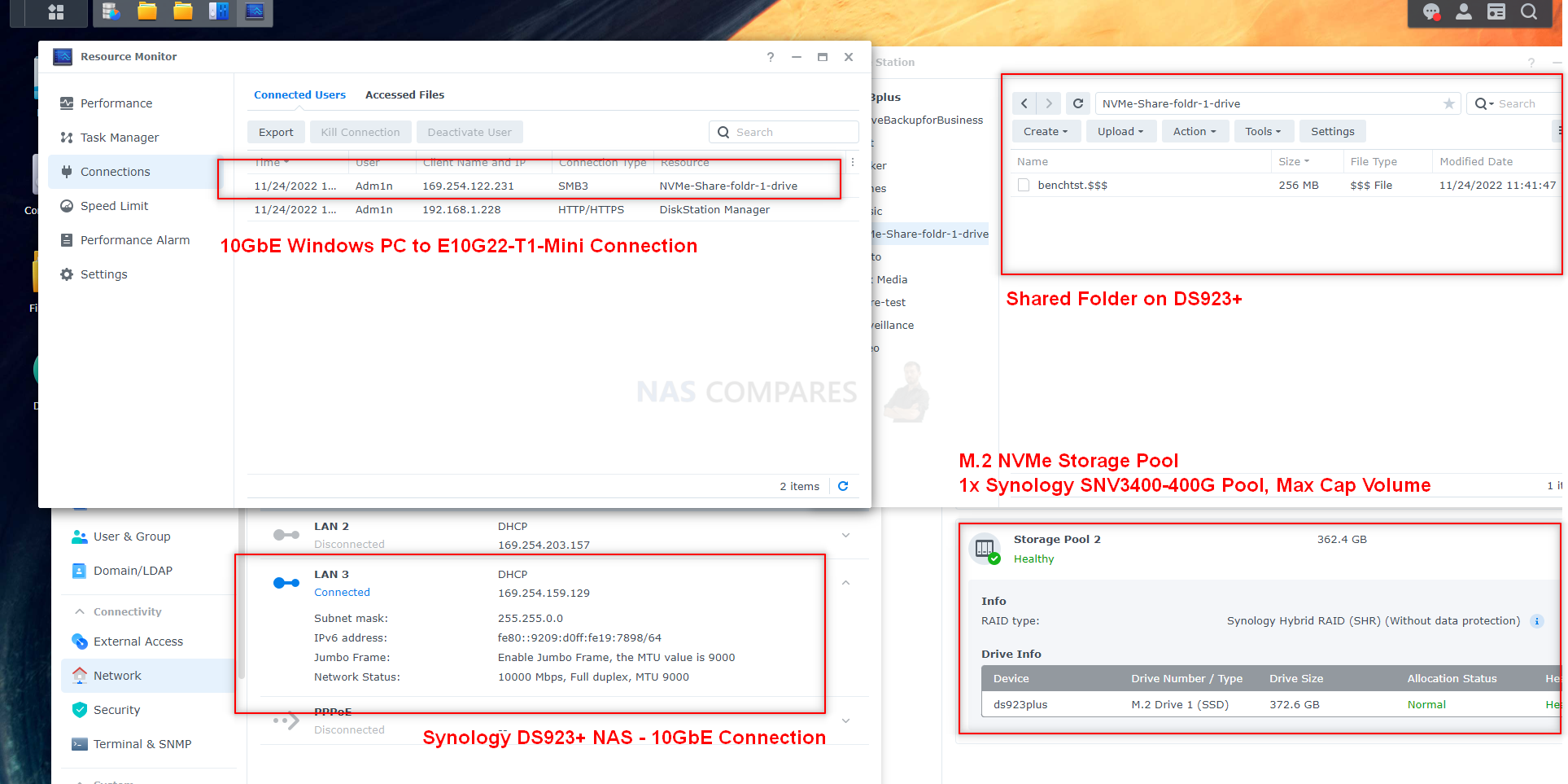 Nevertheless, it is still great to finally have the support of M.2 NVMe SSDs as storage pools in a Synology NAS, especially when you roll in that optional support of 10GbE. It's worth highlighting though that, as this feature has only JUST been added to DSM on the DS723+/DS923+ NAS, it arrives with a few limitations at this time (ones we assume/hope will change in future DSM 7.2 and above updates). For a start, you cannot initialize the DS723+ and install DSM on the M.2 NVMes as a boot drive. If you try to boot the DS723+ first time without any HDDs installed, but with the 2x M.2 NVMe Bays populated, the system will not recognize them as suitable for initializing DSM on the NAS. See below: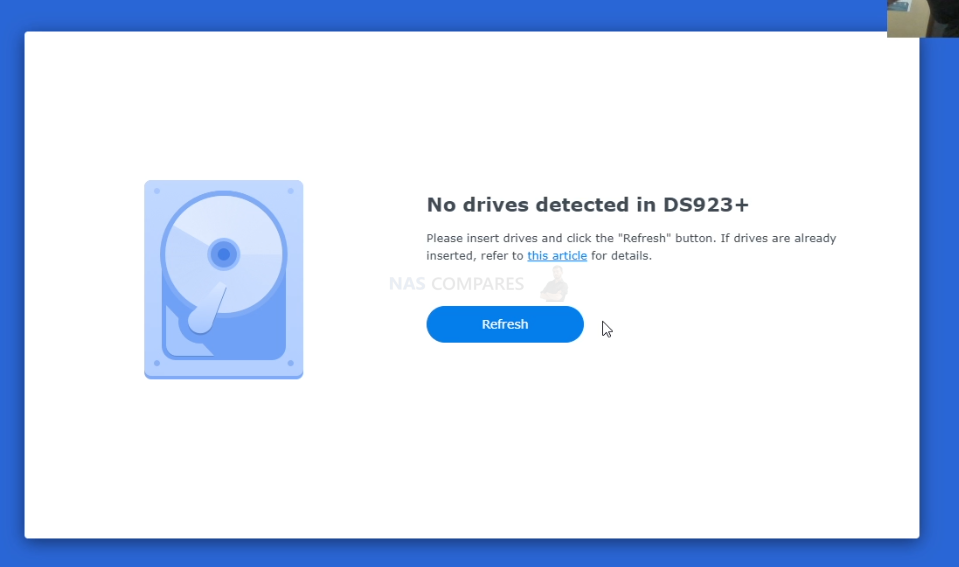 Reasons You SHOULD NOT Buy the Synology DS723+ NAS
Of course, though, the Synology DS723+ NAS is not going to be everyone's cup of tea. It is fair to say that there are some elements in this follow-up to the 2.5yr old DS720+ that have rubbed a few users up the wrong way. Let's discuss the five reasons why the DS723+ NAS (and indeed a Synology system in some cases) might not be the ideal private server solution for you.
The CPU in the DS723+ is a little divisive
The CPU inside the DS723+ is the AMD Embedded Ryzen R1600 processor, an x86 64bit Dual core, four-thread processor with an impressive base level clock speed of 2.6Ghz that can be scaled up to 3.1Ghz when needed. Now, the DS7xx+ series has always arrived with a Quad Core Intel Celeron (or Pentium) processor in the past and when it was revealed that the DS723+ was arriving with a dual-core embedded ryzen, many users were a little unhappy. This was largely down to two factors. The first was that the R1600 is a dual-core, not the four-core that everyone expected. Now the R1600's four-thread architecture does allow the CPU to spread out quite alot across tasks and services (as well as virtual CPUs in VM deployment), as well as having a higher power in both base and burst mode available, which means it isn't a bad CPU! But the bigger area of contention from some buyers is that the R1600 lacks integrated graphics. This means that for some tasks and services that are more graphical in nature, the result will be a higher typical CPU Uages % than a processor that has a more specialized graphics management component onboard.
How the Synology DS720+ Intel Celeron J4125 and DS723+ AMD Emb.Ryzen R1600 Compare: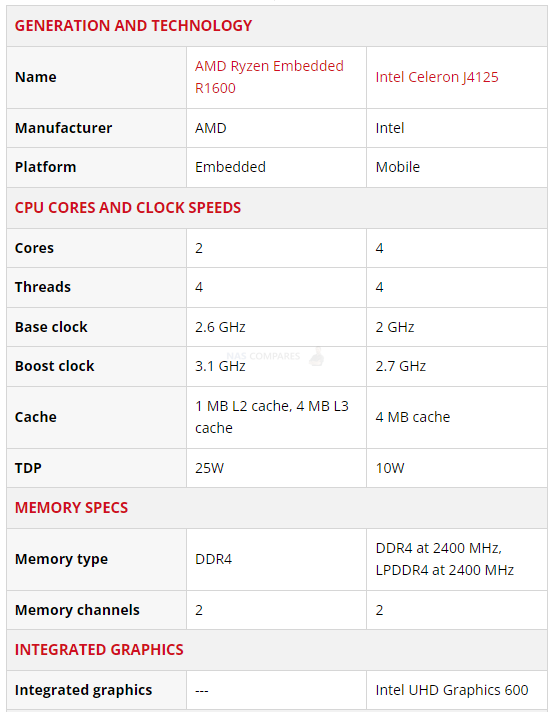 The traditional data handling of the R1600 is very good, as seen in our DS1522+ testing earlier in 2022. As far as DSM (the Synology software) is concerned it will be able to run EVERYTHING! Additionally, the general file handling and throughput internally are going to be great too, so all good news. Then you have the advantage of the newer gen CPU in the DS723+ over the DS720+ supporting PCIe3 lanes, affording greater bandwidth to the rest of the hardware (i.e those M.2 slots being higher bandwidth and enabling that network upgrade slot), all the while with the CPU having the potential to hit 3.1Ghz of power when needed. It is genuinely a good CPU and there are lots of reasons why Synology have opted for this CPU, but it is by no means perfect and some specific user setups and their concerns do have merit.
For a start, the AMD R1600 has a higher typical usage (unsurprising for the spec and generally identified as TDP, as a maximum) compared with the avg Intel Celeron being used in other NAS systems released in 2022 (such as the Intel N5105 or J6412) and in a system that will be in operation 24×7, this is going to a question mark for those affected by erratically rising energy prices right now, The difference might only be pence on the day, but those pence add up! Then there is the dual cores. Although having the four threads IS handy and will be useful, Cores will always beat threads when it comes to capabilities.
The DS723+ arrives with 1GbE By Default
Those ethernet ports. The default model of the DS723+ NAS arrives with two one gigabit ethernet ports (the same as the DS720+, DS718+ and DS716+ before it), despite almost other commercial NAS brands producing solutions at this consumer-tier/scale arriving with at least 2.5GbE. Now, the adoption of greater than gigabit connectivity in client hardware (laptops, PCs, routers, switches, docking stations, etc) is by no means as ubiquitous as 1GbE (which has been around for decades at this point), BUT it is growing. ISPs are providing fiber internet connections globally that exceed gigabit speeds, along with 2.5GbE and WiFi 6 routers. We are seeing more prosumer switches, routers and PCs with default 2.5Gb network ports (at the same/similar cost as 1GbE), $20 USB-to-2.5G adapters and even the affordability of 10GbE on some client devices has allowed users to gradually scale up their hardware environment. The fact the DS723+ arrives at the tail end of 2023 and does not feature greater than 1GbE ports by default is quite damning. Even if you have no plans for 2.5G right now in your setup and think it something of a fad (favouring 10GbE), in terms of future-proofing and the general standard or networking hardware right now, gigabit ethernet is a surprising weakness here.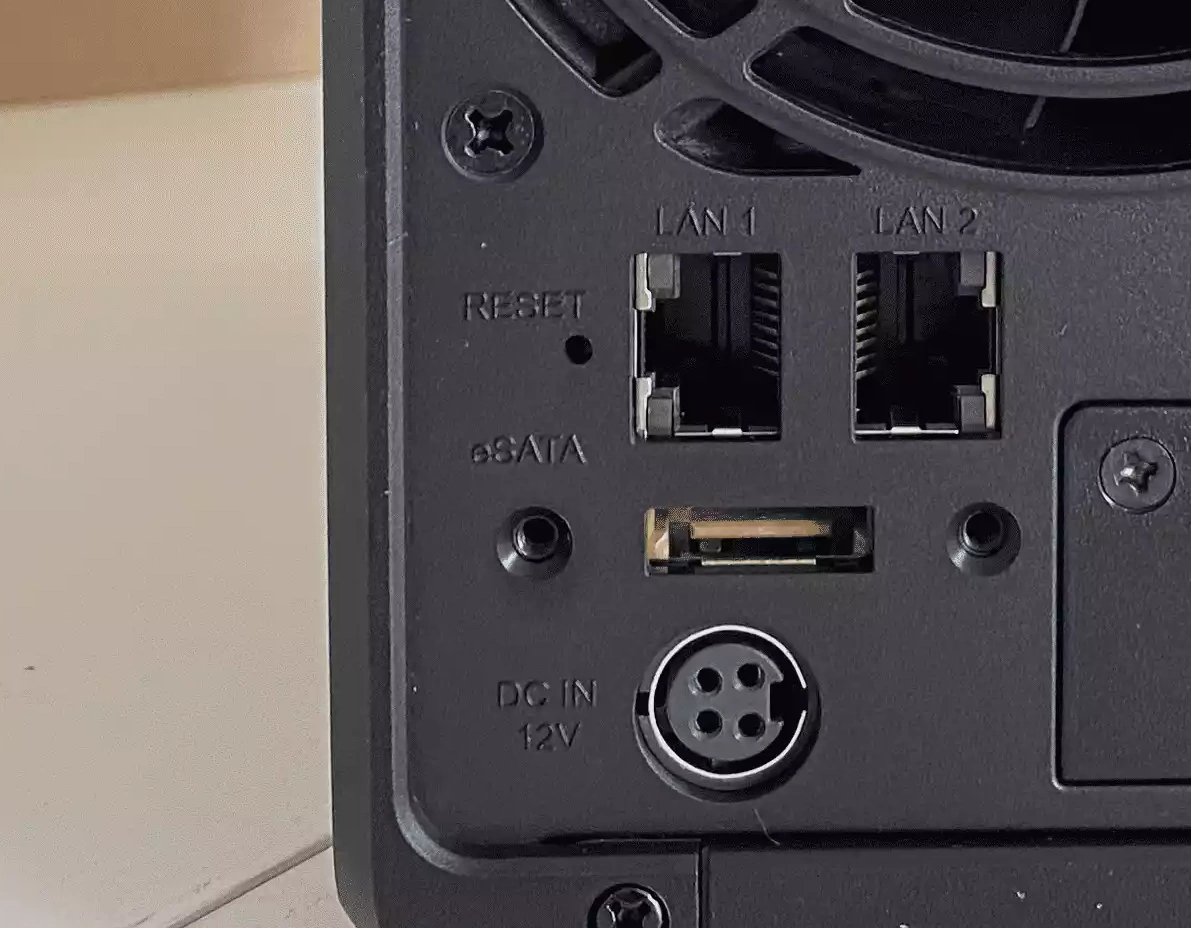 Only One USB Port and It's Functionality and Support on the DS723+ is Underwhelming
This is going to sound fantastically churlish, however when looking at a smaller scale NAS system, the importance of external connectivity (backups, migration of data, etc) grows in importance. The DS723+ arrives with just one USB Port and it is USB 3.2 Gen 1, so 5Gb/s (500-500MB/s max bandwidth). Much like the 2.5G vs 1Gb complaints I made earlier, most other NAS brands at this hardware tier have rolled in USB 3.2 Gen 2 (10G / 1,000+ MB) ports, as well as USB-C in some cases, with minimum 2-3 ports (often 4). With the ease with which a user can add a USB tier to their 3-2-1 backup strategy (allowing them to be a little more financially creative with a network/remote/cloud backup tier as well), the slightly old skool single USB port here is a little underwhelming. With significantly more affordable RAID-enabled USB solutions in the market and/or M.2 NVMe external USB drives arriving affordable to comfortably provide faster external storage for backups, this seems like a bit of a misstep by Synology to ignore. in such a small scale system.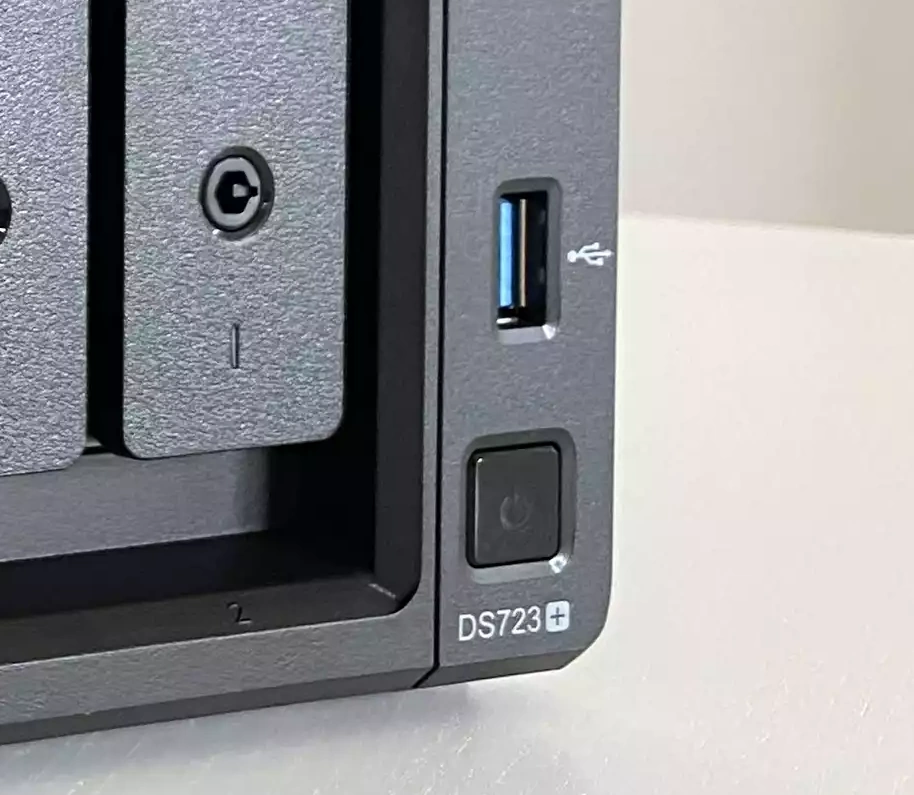 Also, DSM 7 and DSM 7.1 (with DSM 7.2 coming soon enough) have reduced the range of use of the USB ports of Synology NAS systems (removing many network adapters, DTV tuners, wireless dongles, office accessories such as printers, scanners and optical drives), and limiting them largely to storage, UPS' and assigning them to VMs. I am sure Synology has done the market research and observed reduced utilization of USB on their systems to dictate this decision, but it seems to be another move by the brand to prioritize network/remote access only with their systems.
M.2 NVMe SSD Storage Pools ONLY Support Synology SSDs and are Currently Limited to Gen 3×1
Now, I have listed this as a 'con' and/or 'reason to not buy the DS723+ NAS', but really this could well be a positive for many business NAS buyers or those that want a much easier system to manage, upgrade – especially those who do not have much technical knowledge and/or an in-house IT admin. Over the last 4-5 years we have seen Synology become increasingly focused on it's own first-party hardware and services. This is not uncommon (it would be weird if they didn't invest heavily in developing their platform!), but many have highlighted that this has been to the detriment of it's support of popular/common 3rd party hardware and software. Synology is increasingly becoming a 'one-ecosystem' platform (again, not necessarily a bad thing) that wants to provide a COMPLETE solution for a users network and data storage needs. DSM still supports a large number of 3rd party business services and platforms (SaaS and PaaS once, such as Office 365, Google Workspace, Hyper-V + VMware to name just a few) AND home/homelab ones like Plex, Docker, Emby etc. This first party priority also applied to their M.2 NVMe SSD Storage Pool support, as (see gif below) at the time of writing, you can only use Synology's own first-party M.2 NVMes for storage pools. If you choose to install alternative drives in this bay from the likes of WD, Kingston or Seagate, the result is that the system will state that it cannot proceed, highlighting that the drive is not tested by Synology for this purpose. You can still use the SSDs for M.2 NVMe SSD caching, but right now the storage pool feature appears to only be for Synology SNV3400 and SNV3410 Drives.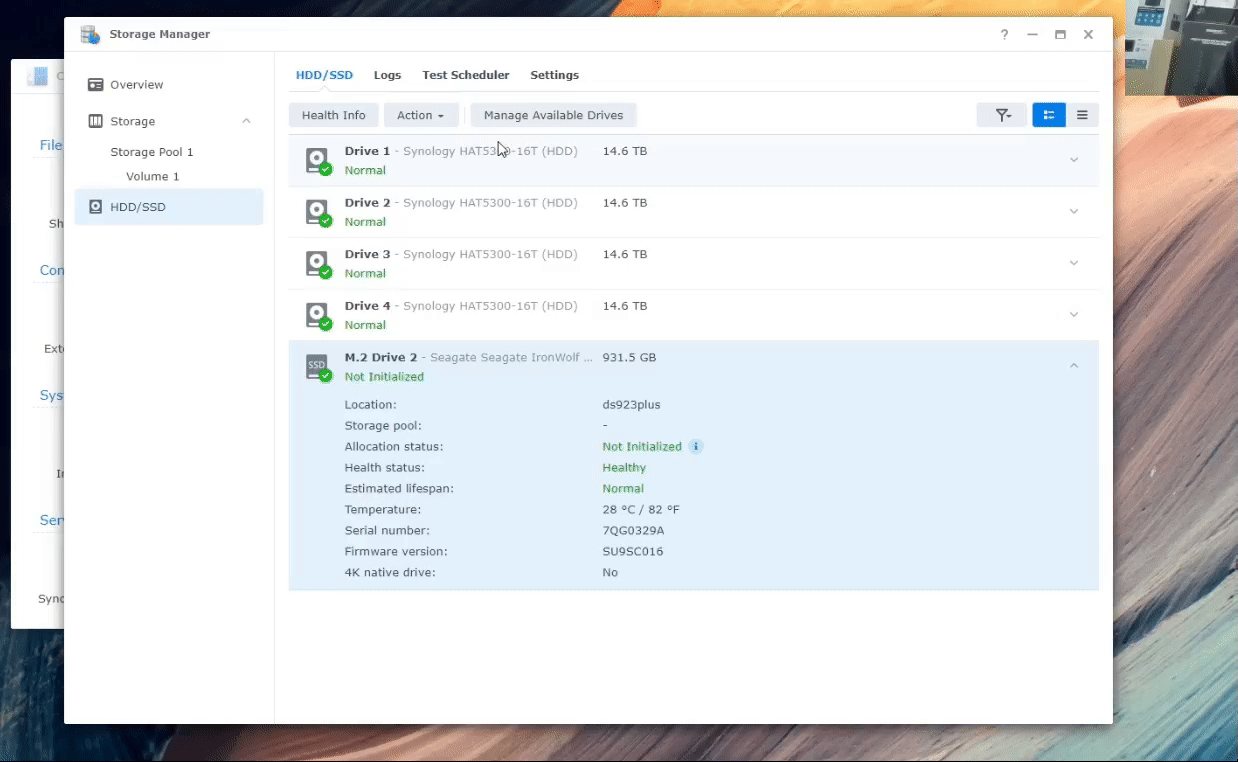 Another thing that was observed (first in the DS923+) was that although these are physically PCIe Gen 3×4 Bays (checked using Putty over SSH), they have been throttled to PCIe Gen 3×1. Now, there are several reasons for this move (appearing online from 1st/3rd party sources, as well as in communication with the brand previously) with the most recurring reason being to do with increased heat from these bays needing to be avoided. Now, though this may have merit and Synology will have little reason to do this otherwise, other NAS brands offering m.2 NVMe SSD Storage pools on their systems have not included this downgrade in PCIe speed for similar reasoning (though many use processors that lack the PCI Lane coverage afforded to the DS723+ and the Ryzen, meaning fixed 3×2 or 3×1 speeds for reasons of architecture, not heat). Its a slightly odd move and one that is also further baffling when it was confirmed that the support of M.2 NVMe SSD pools on previous Synology Diskstation releases with support of these 2280 slots (DS920+, DS1621+xs+, DS1821+ etc just to name a few) is not coming any time soon.  It is still better to have support of M.2 NVMe SSD pools rather than not, but this has been a slightly odd way of approaching the feature and hopefully one that will see revision and improvement in further software/hardware updates in 2023/2024.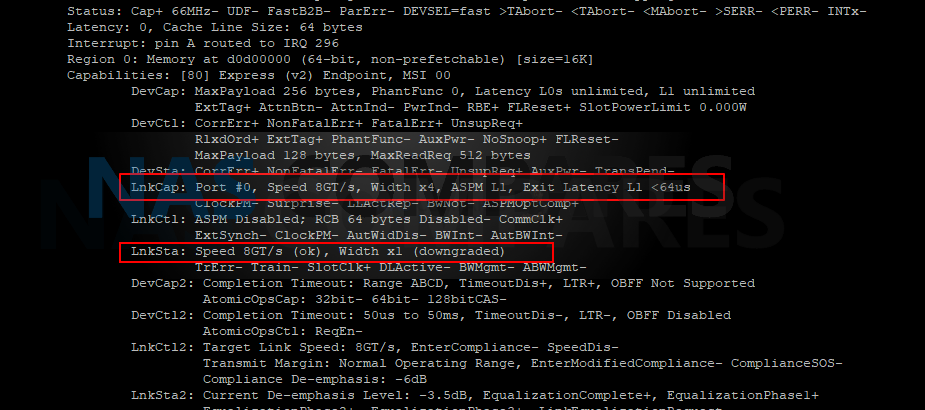 Server Side HEVC/H.265 Support and Conversions on the DS723+ are Weak
Finally, there is a lack of integrated graphics. Most users will not notice this as an issue in day-to-day use, but multimedia users and especially a large % of Plex users will notice, if they are a little more reliant on the server-side processing than on the client. For example, if your media collection contains alot of dense/complex audio media (RAW, MP4a, etc) OR alot of higher-end HEVC/H.265 Media BUT you do not have client hardware that supports these types (or allows local client conversions/transcoding), then the NAS will have to use raw horsepower to get the job done – much less efficient than embedded graphics doing the job. Again, you might not be impacted by this (your client hardware might have enough power and privileges, or you own a local HEVC-licensed device), but it IS a concern if you are running a Plex Media Server on the DS723+ and need the NAS to convert files on the fly. Earlier in 2022, I compared the DS920+ (with a Celeron) vs the DS1522+ (with this same AMD R1600) in a detailed YouTube video testing 4K Media in Plex. Here are the results:
---
Synology DS723+ NAS Review – Conclusion & Verdict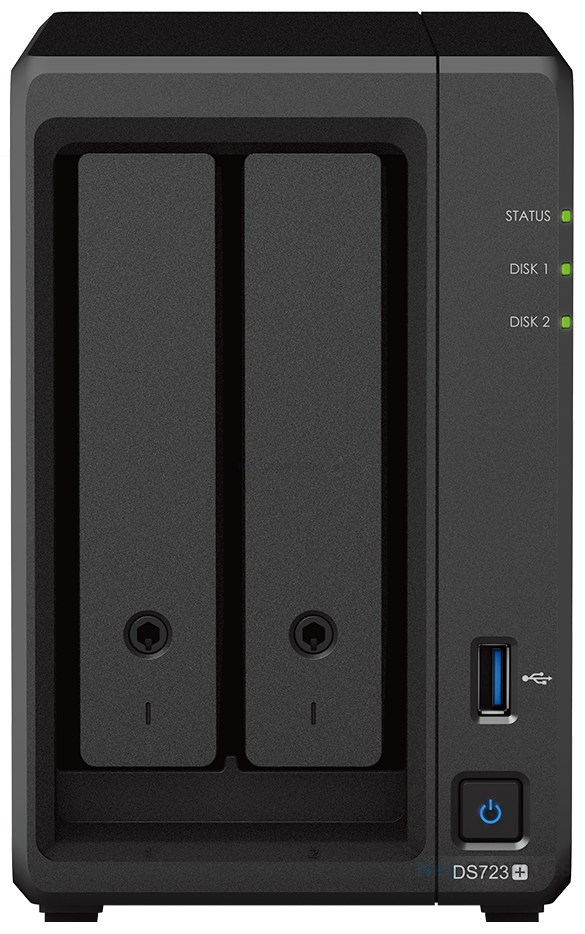 (FULL Review from 11/01/22 Can Be Found HERE) – There is no denying that the Synology DS723+ NAS is the most powerful, capable and upgradable 2-Bay that Synology has EVER released. Although the AMD Ryzen dual core Ryzen CPU is going to be a sticking point for those who wish a quad-core and/or integrated graphics CPU had been used (eg video conversions server side in Plex and the like) – the capabilities of the DS723+ NAS in it's traditional performance, handling and throughput are better than they have ever been on ANY other Synology 2-Bay before. The 10GbE optional upgrade on this system is a very welcome but surprisingly option on this device (given Synology's past reluctance to prove this on a system that may well struggle to saturate it with just two bays). Then there is the support of M.2 NVMe SSD storage pools, making the DS723+ NAS just the 2nd every Synology NAS to support this function (alongside SSD cache support of course) – though odd decisions on Gen 3×4>3×1 handling are still a touch puzzling. Support of DSM 7.1 (DSM 7.2 beta soon, at time of writing) runs beautifully on the  DS723+ NAS and is still clearly what the primary selling point of this system is, with Synology offering the system as a solution and entry point into their ecosystem, rather than a hardware/nuts-and-bolts purchase. The full range of 1st party tools (Active backup, VMM, Photos, Drive, Collaboration Suite, Hyper Backup, Surveillance Station and more) still continue to impress and to have full and (mostly) licence-free access to these from such a compact server system is genuinely fantastic. Likewise, the support of 3rd party client applications and SaaS/PaaS services (Google WorkSpace, Office 365, VMware, Hyper-V, etc) still maintains a high standard of integration with the Synology tools, though with a clear growing movement by the brand to prioritize it's own services.
Still, there is a lingering feeling that the DS723+ NAS in it's default state is crying for a defacto day one upgrade. The 2GB of base memory seems rather penny-pinching, despite the support of ECC. The 10GbE upgrade option is welcome, but largely inevitable when the default connection are 1GBe – IN 2023! I return to my point at the intro, where there DS723+ arrives (at least in terms of hardware) as practically half of the DS923+ (half the bays, half the memory, half the USBs, etc), but with a pricepoint that is certainly not half. Therefore in many ways, the DS723+ NAS serves as a compelling argument to just skip it entirely and go for the DS923+ for about £200 more and enjoy those extras and partially populate. The support and compatibility of 3rd party hardware on the DS723+ NAS is a fraction more streamlined than some might like (eg 22TB and 20TB HDDs still remain absent on the compatibility list, yet Synology branded 18TB drives are clearly available and we absent upto that point despite WD and Seagate NAS alternatives in the market), but overall the DS723+ is still a great NAS and easily cements itself as the best 2 bay offering by the brand in their 20+ year history.
Need More Help Choosing the right NAS?
Choosing the right data storage solution for your needs can be very intimidating and it's never too late to ask for help. With options ranging from NAS to DAS, Thunderbolt to SAS and connecting everything up so you can access all your lovely data at the touch of a button can be a lot simpler than you think. If you want some tips, guidance or help with everything from compatibility to suitability of a solution for you, why not drop me a message below and I will get back to you as soon as possible with what you should go for, its suitability and the best place to get it. This service is designed without profit in mind and in order to help you with your data storage needs, so I will try to answer your questions as soon as possible.
We pool the comments on this article and the videos that are featured in it to keep all the relevant comments in one place, so take a look and see if your POV is the same as everyone else's.
📧 LET ME KNOW ABOUT NEW POSTS 🔔
Join 1,468 other subscribers
Get an alert every time something gets added to this specific article!
This description contains links to Amazon. These links will take you to some of the products mentioned in today's content. As an Amazon Associate, I earn from qualifying purchases. Visit the NASCompares Deal Finder to find the best place to buy this device in your region, based on Service, Support and Reputation - Just Search for your NAS Drive in the Box Below
Need Advice on Data Storage from an Expert?
We want to keep the free advice on NASCompares FREE for as long as we can. Since this service started back in Jan '18, We have helped hundreds of users every month solve their storage woes, but we can only continue to do this with your support. So please do choose to buy at Amazon US and Amazon UK on the articles when buying to provide advert revenue support or to donate/support the site below.

Finally, for free advice about your setup, j
ust leave a message in the comments below here at NASCompares.com and we will get back to you.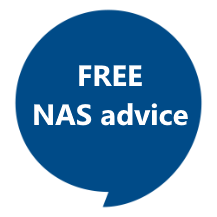 Need Help?
Where possible (and where appropriate) please provide as much information about your requirements, as then I can arrange the best answer and solution to your needs. Do not worry about your e-mail address being required, it will NOT be used in a mailing list and will NOT be used in any way other than to respond to your enquiry.
Support What We Do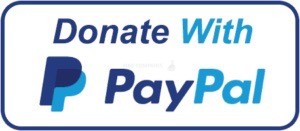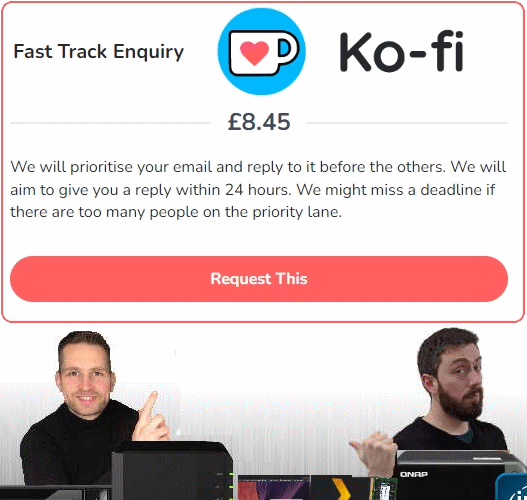 Terms and Conditions
Alternatively, why not ask me on the
ASK NASCompares forum
, by clicking the button below. This is a community hub that serves as a place that I can answer your question, chew the fat, share new release information and even get corrections posted. I will always get around to answering ALL queries, but as a one-man operation, I cannot promise speed! So by sharing your query in the
ASK NASCompares
section below, you can get a better range of solutions and suggestions, alongside my own.