Best NAS for $100-$150 of 2023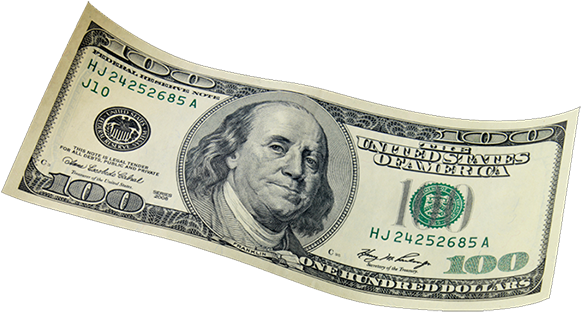 It would be an understatement to say that the sheer range and affordability of private server devices that even the most cash-strapped user can buy have grown exponentially over the last few years. It seems almost insane to think that you can pick up a NAS device from some of the biggest brands in the market for as little as $100, brand new and running the very latest software. Over the years, the argument to switch from public subscription cloud services like Google Drive and Dropbox has been mainly based on cost, with most NAS devices costing triple figures. On day one, subscription cloud services set you back between $2 and $10 per month. However, all too quickly the months turn into years, and you suddenly find that you have paid hundreds of dollars for your cloud subscription services. And you either have to continue paying for those cloud services indefinitely or bite the bullet and buy some physical local storage anyway! So why not just cut to the chase and buy the NAS device on day one and therefore not only have long-term storage for your data in-house but also have full control over remote access, local access, and the scalability of your data completely in your hands. That is why the increasing affordability of, and the sheer range of different NAS drives that you can pick up for as little as $100 to $150 is so impressive! So today I want to go through the four best NAS that you can pick up for a bargain in 2023.
Disclaimer
A couple of disclaimers right out of the way. First, none of the solutions I'm talking about today (with the possible exception of one in certain circumstances) include storage media. You will need to buy hard drives additionally to populate these NAS devices. These will generally cost you around $30 to $40 per terabyte and are completely scalable to you and your needs, with multiple different brands available. And regular sales and offers allow you to get the very best bargains. Additionally, these NAS devices have been designed to keep things affordable and efficient, and therefore the full range of apps and services that they support has been significantly streamlined to focus on the main handful of apps and services that entry-level users will want to take advantage of. Unsurprisingly, buying a NAS for just $99 will not allow you to run complex clusters of virtual machines for your business! These NAS devices are affordable for a reason, so keep your feet on the ground. The following NAS devices, despite their affordable price point, all comfortably support the following features and services:
Multi-site backups, allowing you to connect with other NAS devices as well as multiple third-party cloud servers like Dropbox, Google Drive, OneDrive, and more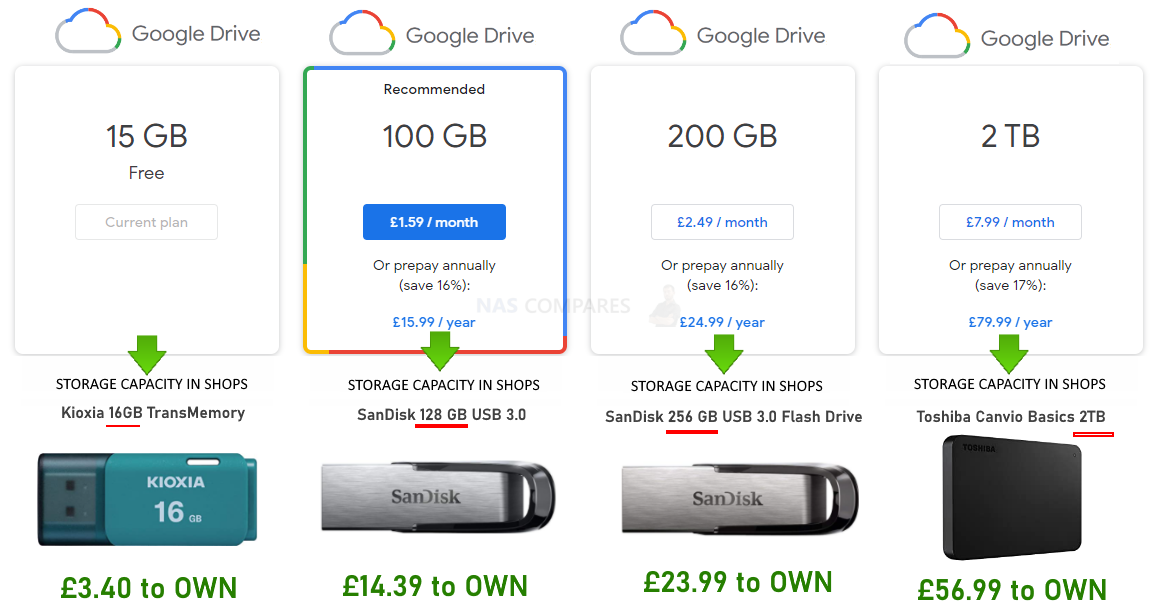 A full range of client tools for desktop and mobile devices that allow you to communicate with the NAS utilizing whichever device you prefer to use the most. Multi-user and multi-client device support allowing you to migrate data between your family devices or work colleague devices very easily.
USB backup support, as well as direct connection gigabit to gigabit port supported. DLNA and UPnP support allow you to stream your multimedia to your local home. Smart TV, supported current-gen console, and Wi-Fi home devices easily
Regular feature and security updates that will be applied to the device if you set up an automatic update as needed
Download managers, music server managers, and even WordPress database management are possible although the scope and range of this will differ from system to system.
There are a few other features worth touching on, and several others that are brand-specific, but all of these incredibly affordable $100 to $150 NAS devices support these modest entry-level features.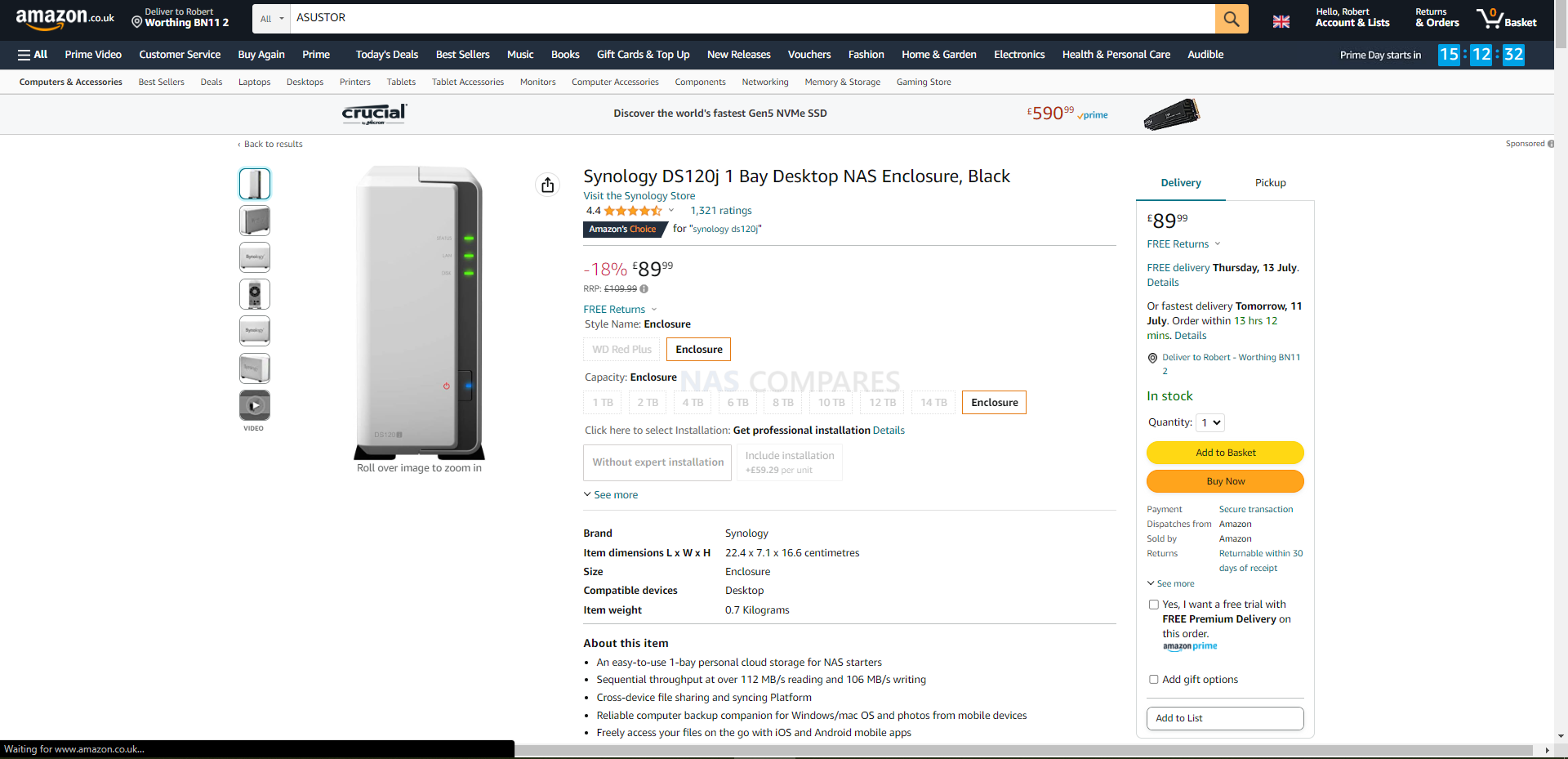 Synology DS120J NAS – Lowest Price @ $89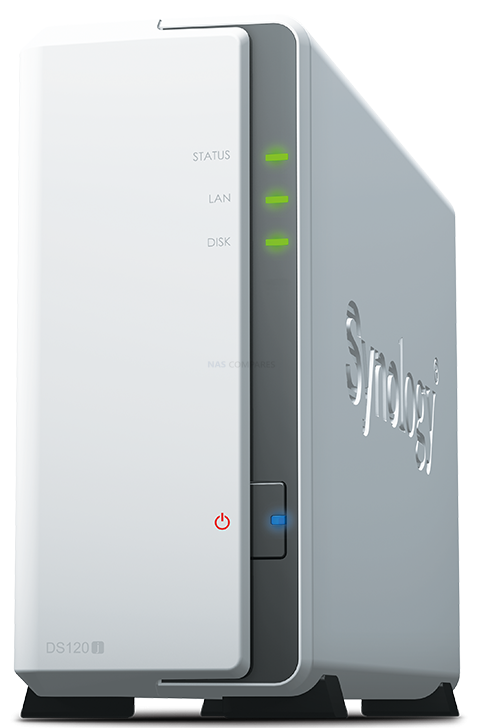 Marvel 64bit 800hz – 512MB DDR3L Memory – 1x SATA HDD/SSD – 1x1GbE – USB 2.0 – $89 (10/07)
YouTube Video Review HERE – NASCompares Written Review HERE
Although I already touched on this in the introduction, I still find it incredible that it is possible to get a Synology NAS for under $100! The Synology DS120J NAS is a 1-bay solution that was released towards the end of 2020 and despite its modest stature, still supports the latest Synology DSM 7.2 software. Arriving with a dual-core Marvel ARM 64-bit processor at a low 800 megahertz, this still manages to run more than half of the applications that Synology updates regularly. These include a number of the collaboration suite of tools that include Synology mail, office, chat, drive, calendar, and hyper backup. There are also the multimedia apps that include Synology video station that allows you to host your own equivalent to Plex or Netflix using your own multimedia. Finally, there is support for Synology surveillance station, with two camera licenses included and support of around 5 to 10 cameras depending on what else you do with the device simultaneously. Both Synology DSM 7.2 and surveillance station are by far the best examples of both NAS software and NVR software that you can possibly buy in the market and are arguably individually worth more than the $100 you are paying for this system on its own! Needless to say, though, to maintain this affordable price point, these systems have to be pretty modest in most other ways. Alongside the remarkably small 512 megabytes of DDR3 memory, the system also only arrives with a single gigabit Ethernet port and USB 2 connectivity. The result is a system that leaves very little room for expandability both in its storage, later down the line as a one-bay with no expansion port, and also in that memory not being upgradable, therefore limiting the range of apps, services, and connections you can run simultaneously. Nevertheless, this is a fantastically affordable NAS and the fact that you are getting a Synology (Still arguably the best brand in the entire NAS industry) for this price is just insane.
This slideshow requires JavaScript.
What we said in our Synology DS120j NAS Review:
Although this device will only cost you less than £175 including TAX and a 2TB hard drive, it can still perform the bulk of the standard tasks that are available in modern NAS and if you are looking for a universally supported DLNA or backup device, this is the one for you. Though definitely not aimed at the NAS experienced or 2nd time buyers, or those looking for a solid foundation to build a business around, if you are looking for a network-attached storage device to act as a network backup or just want a simple nice to do basic tasks such as media and protecting the data on your other devices, I recommend the Synology DS120j NAS. Just make sure you have an off-site backup in place (such as a study external USB drive or a third-party cloud space with which to back up your data to periodically via cloud synchronization). Lastly, as much as I recommend the DS120j, it is worth remembering that it does not multitask especially well (due to that more modest CPU and memory), so sometimes you will need to be patient.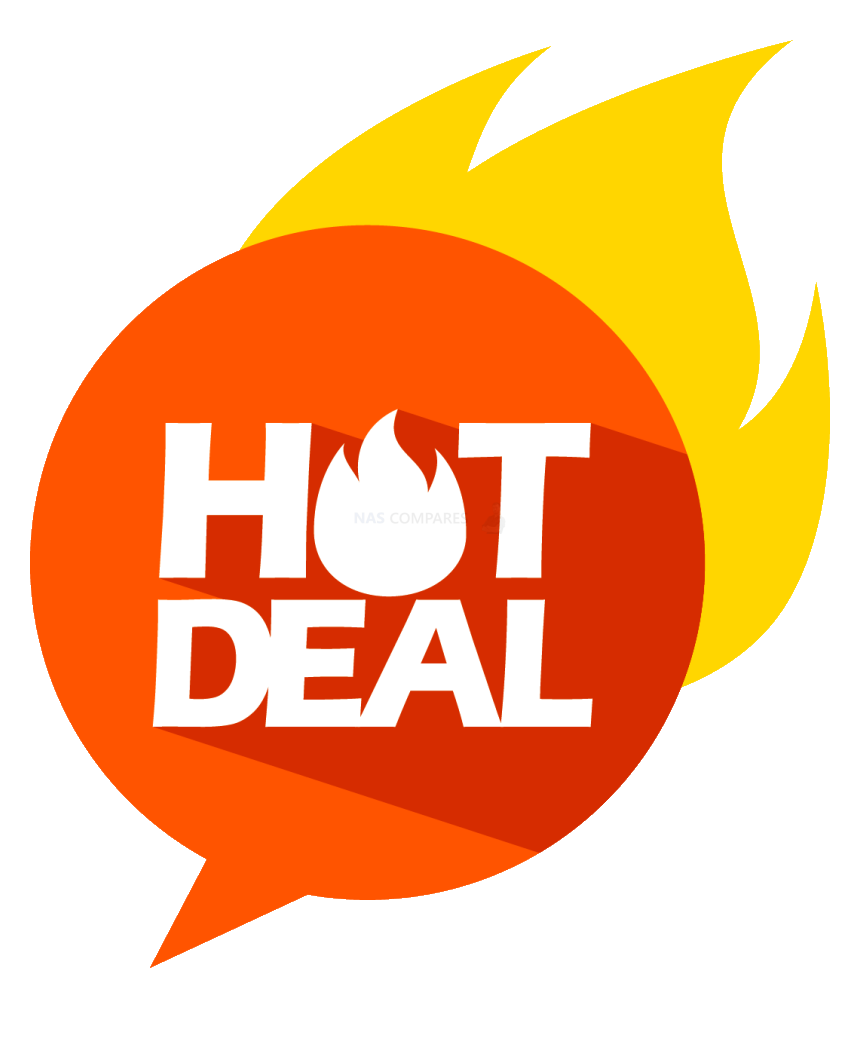 DEAL WATCH
– Is It On Offer Right Now?

Synology DS120j 3TB 1 Bay NAS Solution, installed with 1 x 3TB Seagate Ironwolf Amazon UK 36.39 OFF (WAS 249) [LINK HERE]
Synology DS120j/10TB N300 1 Bay Desktop Amazon UK 4.56 OFF (WAS 354) [LINK HERE]


These Offers are Checked Daily
---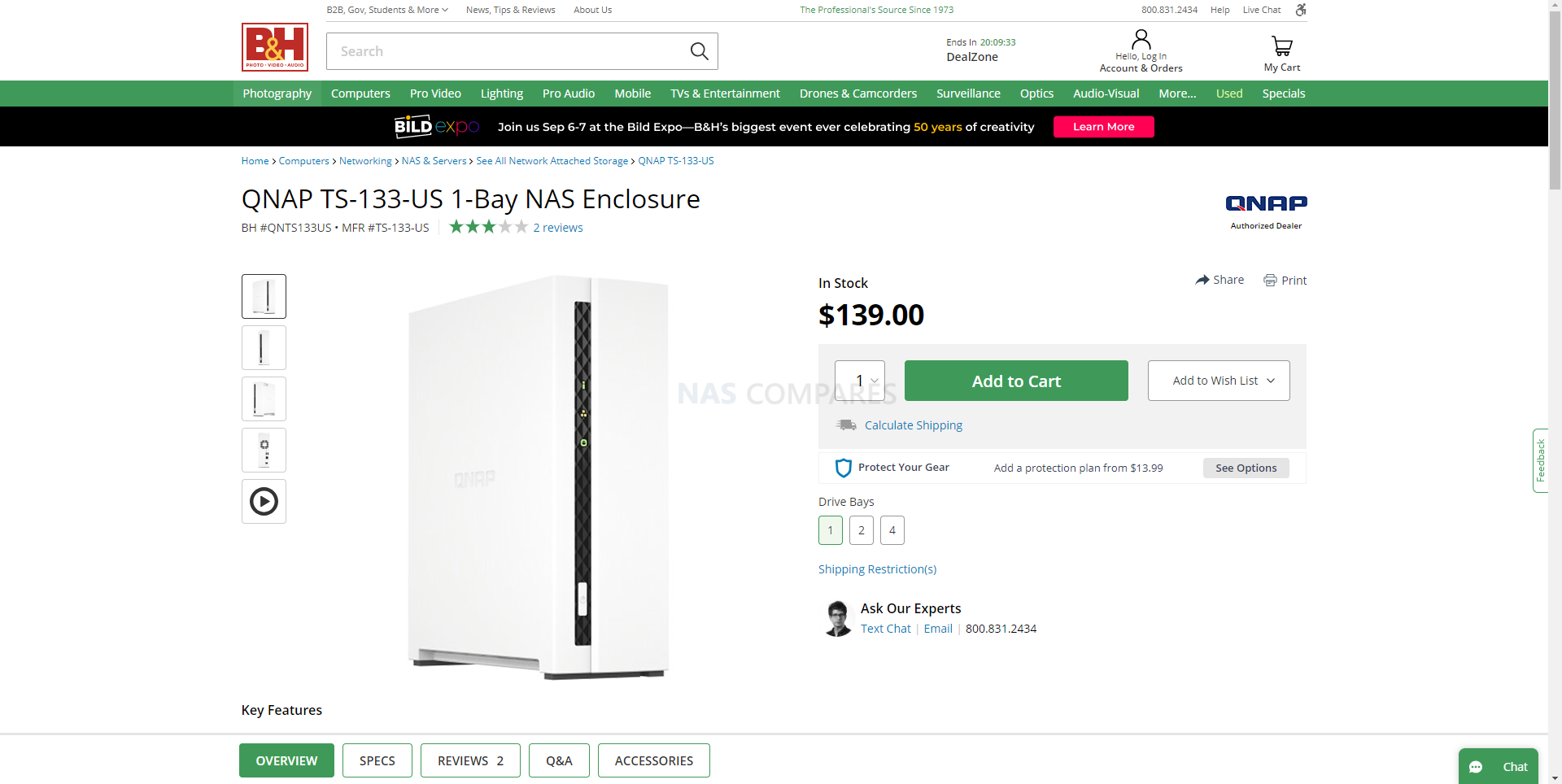 QNAP TS-133 NAS – Best Hardware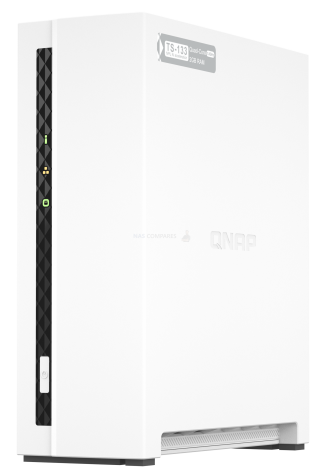 Cortax A55 4-Core 2.0Ghz – 2GB DDR4 Memory – 1x SATA HDD/SSD – 1x1GbE – USB 5G – $129 (10/07)
YouTube Video Review HERE – NASCompares Written Review HERE
The QNAP TS-133 NAS, much like the Synology device previously mentioned, is by far one of the best examples of just how much the hardware that you can buy in a NAS for a little over $100 can be stretched. Arriving, depending on which eShop you choose, at around $129 to $139, this NAS more than doubles (and in some cases quadruples) the hardware scope of the previous NAS. The TS-133 arrives with a quad-core ARM processor at 2.0 gigahertz, as well as 2GB of DDR4 memory. The system also arrives with support for more than 70% of the QTS NAS software platform from QNAP, further improved thanks to this NAS also featuring an integrated AI component. This Neural Processing Unit (NPU) allows the system to harness more specialized AI processes used in photo and face recognition, as well as within the QNAP surveillance platform QVR Elite. Also, thanks to the surprisingly high level of NAS hardware at this price point, the system also supports containers, multi-site backups with Hybrid Backup Sync, a full range of file handling services up to and including intelligent filing and intelligent system-wide searches with AI support, there is even a full range of multimedia applications each of which being tailored towards different intended media use for videos, photos, and music. Further, still, the QNAP TS-133 supports pretty much all of the wide range of client apps for iOS, Android, Mac, and Windows. Although it lacks many of the more business-oriented applications, due to its lack of an x86 CPU, it makes up for it with fantastic access to the base-level applications in QTS and is by far the lowest price 2023 series NAS from QNAP.
This slideshow requires JavaScript.
What we said in our QNAP TS-133 NAS Review:
As long as you keep your feet on the ground a little and stay realistic, the QNAP TS-133 NAS Drive is indeed a very impressive piece of kit. We are talking about a combined hardware and software solution that you can purchase with a 4TB drive from the likes of Seagate or WD inside all in for a little over $200. It can run plex media server, it has surveillance software included in QVR Elite, AI-powered photo recognition (with the system featuring a dedicated AI engine for these tasks), multi-tiered backup handing in Hybrid Backup Sync 3, host a DLNA media server, connect and synchronize with cloud services in a bunch of ways, access to a bunch of tailored mobile apps and a whole lot of other services that would take too long to mention. Also, the TS-133 NAS is the first system in the commercial NAS market to feature this new Cortex A55 processor, as well as twice (and in some cases) four times the memory of alternative systems in the same tier with it's 2GB DDR4 RAM. As long as you have realistic expectations about how busy you are going to be, how hard you intend to push the device and how much you expect it to do at any one time, I think the QNAP TS-133 NAS is easily the most powerful and capable 1-Bay NAS in the market to buy right now. The non-upgradable memory is a pain, the lack of 2.5GbE is perplexing and the continued appearance of USB 2.0 is a tad infuriating, but the TS-133 seemingly makes up for it with a wide variety of applications supported, a remarkably subtle and discreet deployment and in the hands of the right low-level user, this might well be the best NAS QNAP have produced in the value tier for years!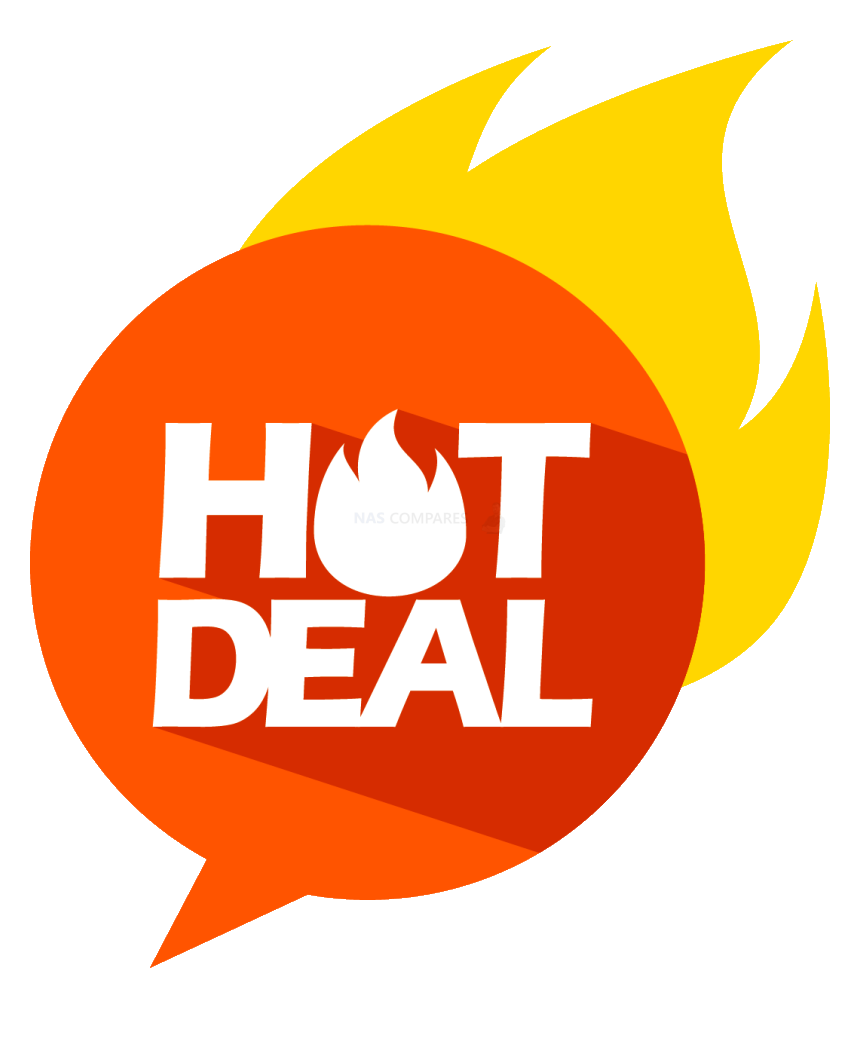 DEAL WATCH
– Is It On Offer Right Now?
These Offers are Checked Daily
---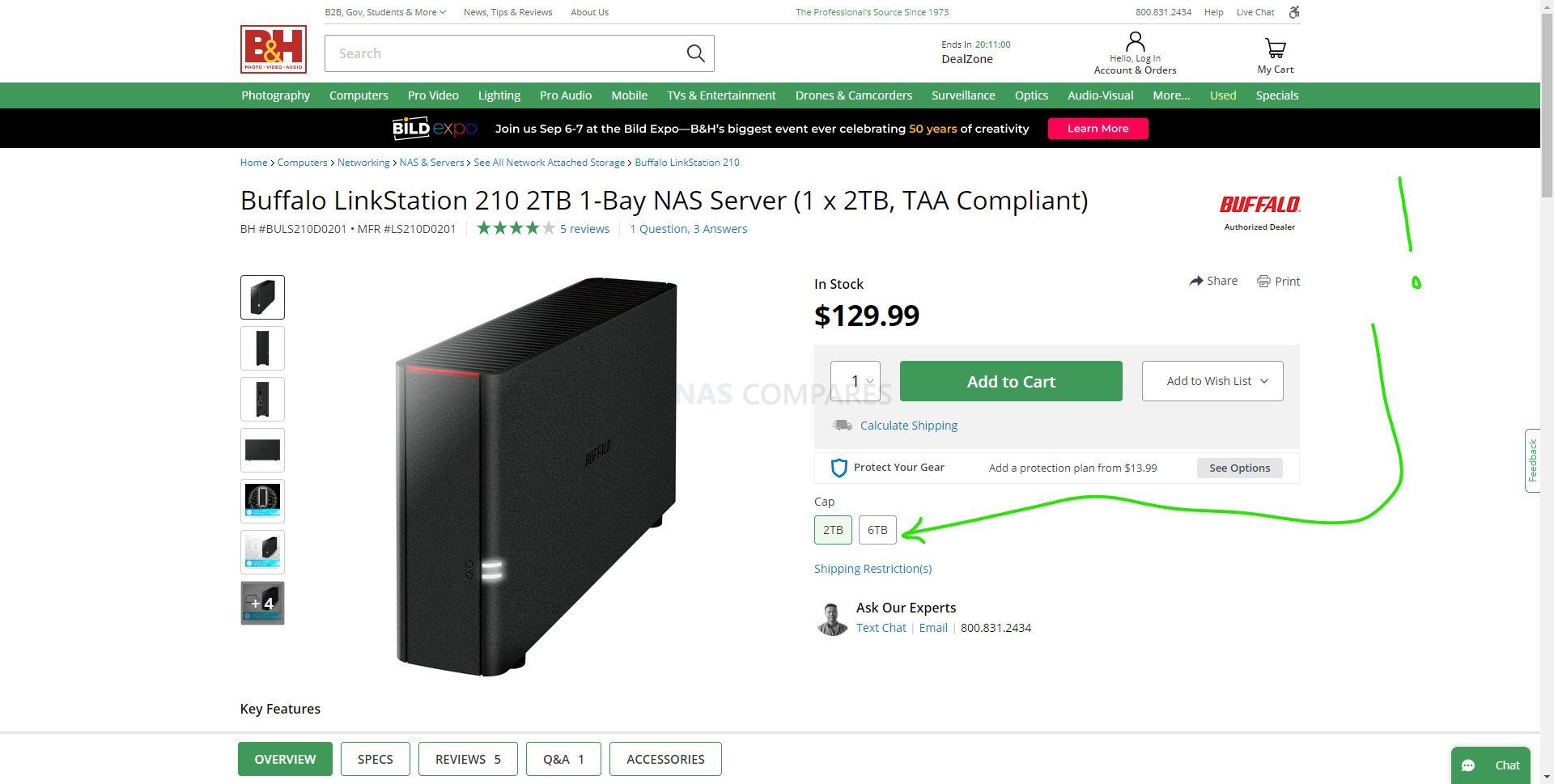 Buffalo Linkstation 210 NAS – Cheap + Includes 2/6TB Hard Drive
Marvel 64bit 800hz – 512MB DDR3L Memory – 1x SATA HDD/SSD – 1x1GbE – USB 2.0 – $129 inc 2TB (10/07)
Something of a left-field choice is the Buffalo Linkstation 210 NAS, a compact system mainly available in the US or Japan. Although it lacks many of the top-tier feature applications from the likes of Synology and QNAP, it does support a number of baseline applications very well. In terms of hardware, it mirrors that of the Synology DS120J (i.e., dual-core 800 MHz ARM processor and 512 MB memory). So, why would someone choose this over the Synology option? Well, technically this is the lowest-priced NAS available. Its base price point of $120 suddenly becomes even more attractive when you realize it actually includes a 2TB hard drive. Indeed, when it is available without the included hard drive in certain regions, it can be purchased for as little as $79. For your personal NAS server to act as your own private cloud, multimedia center, and multi-site backup, that's amazing! The Linkstation software, though a bit dated in 2023 and lacking in mobile app options, still provides a feasible entry into the world of NAS. At this price point, it could serve exceptionally well as an additional layer to your existing NAS backup strategy. To put the price into perspective, an annual 2TB Google or Dropbox subscription costs around $80 to $100. For around $120, you're getting a full NAS, with 2TB storage, apps, services, and full control permanently at your fingertips! If you just want a cheap and easy way to share your data across a tomcat network then it doesn't come much more affordable than the Buffalo LinkStation 210, and the download manager and USB port witt likely come in handy too. Just don't expect your data to be dished out at anywhere near Gigabit speeds, and you don't get much in the way of media server features either. A simple and affordable way to add network storage, but it was fairly slow in most of our tests and the competition offers more in the way of media servers.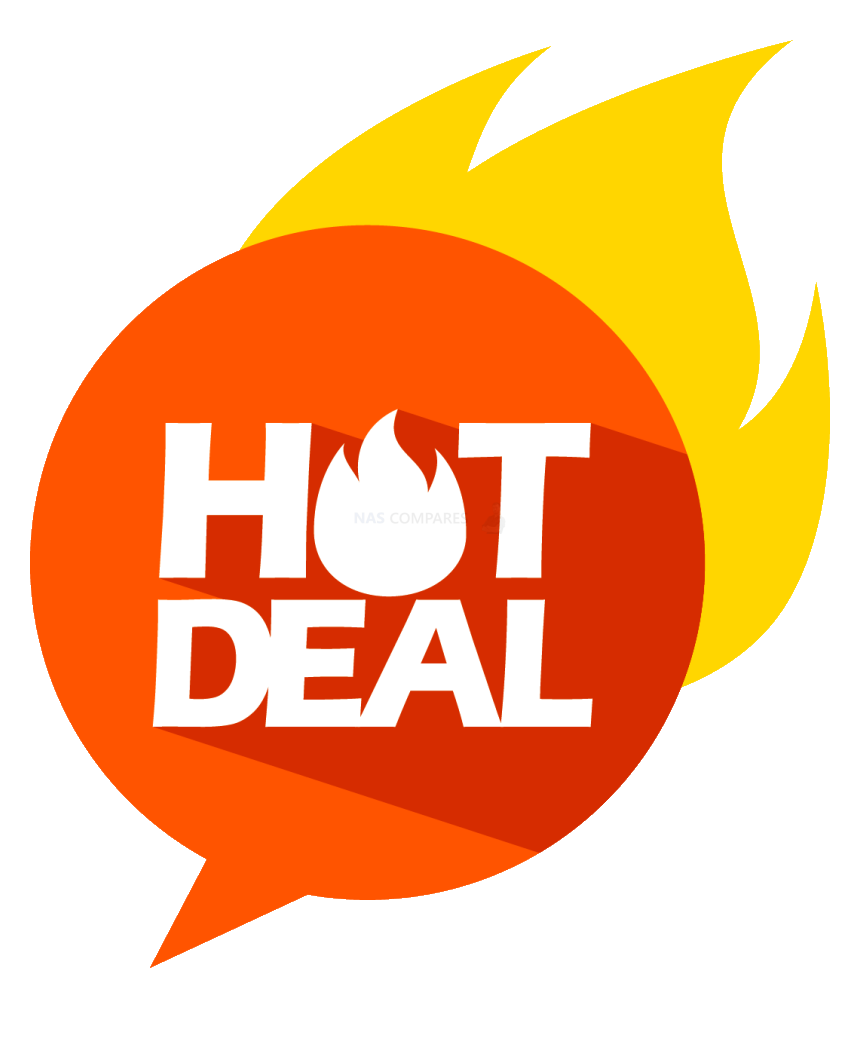 DEAL WATCH
– Is It On Offer Right Now?
These Offers are Checked Daily
---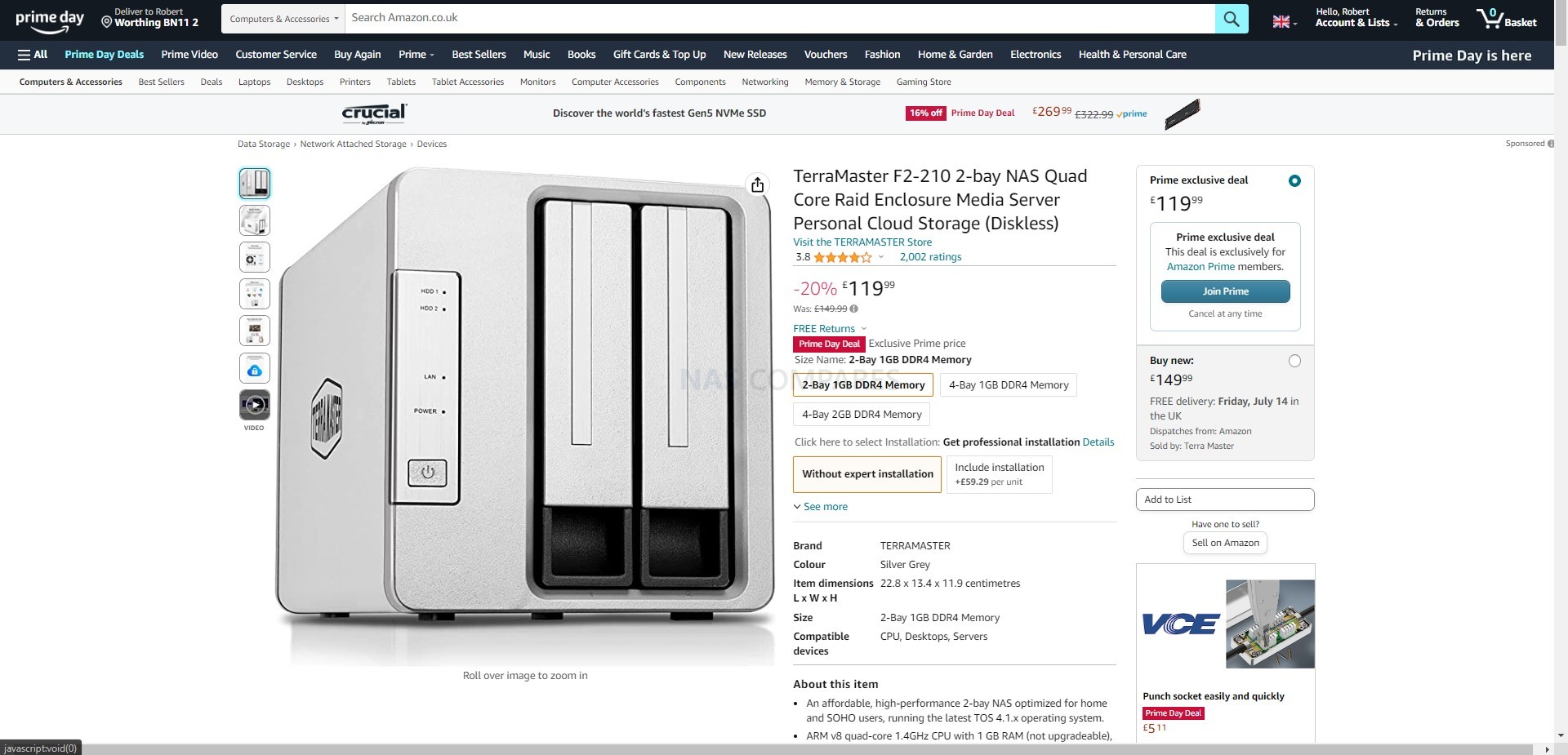 Terramaster F2-210 NAS – Best Redundancy & Expandability
Realtek RTD1296 4-Core 1.4Ghz – 1GB DDR4 Memory – 2x SATA HDD/SSD – 1x1GbE – USB 5G – $129 (10/07)
YouTube Video Review HERE – NASCompares Written Review HERE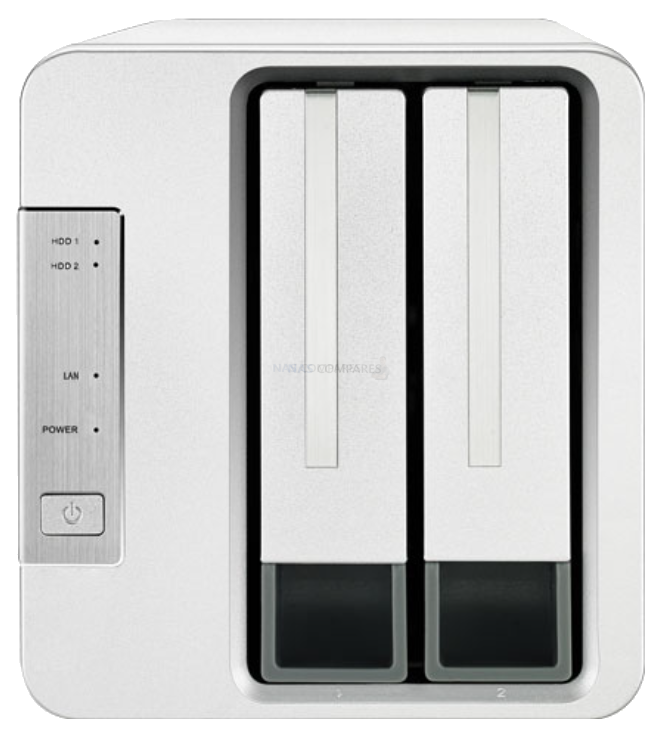 We can't discuss remarkably affordable NAS systems without mentioning Terramaster, a brand known for providing one of the best price points for hardware in the NAS market. Although the Terramaster F2-210 2-bay NAS is not the lowest-priced on this list, it does offer the best level of hardware. With a dual-core 1.4Ghz 64-bit ARM processor and 1GB of memory, it's arguably just slightly lower in hardware than the QNAP NAS mentioned earlier. Similarly, the TOS software that the system arrives with doesn't quite measure up to the Synology DSM software platform. Despite being the second most expensive NAS on this list, there are several reasons why someone might choose the F2-210. First and foremost, this is a two-disk NAS system. Unlike the other affordable solutions on this list that allow only a single drive with zero safety net in case of drive failure, the Terramaster NAS lets you take advantage of RAID architecture. You can use two drives either in a mirrored mode to ensure a safety net or combine them into a single larger storage pool and enjoy the performance benefits. This leads us to the second point: this system comes with two Ethernet ports on the rear. This allows you to enjoy link aggregation or port trunking, better realizing the external performance of the two drives inside in a way that would be strictly limited by every other NAS on this list due to their single LAN architecture. Though the TOS software isn't as evolved as the DSM or QTS platform previously discussed, it still features the majority of baseline applications for file management, backups, multimedia streaming, and more. Overall, the F2-210 NAS is more about the fundamentals than snazzy software, and if those are your priorities, then you may find a good home for your data here.
This slideshow requires JavaScript.
What it is difficult to ignore about TerraMaster gear is that it offers significantly better value than Synology while retaining much of the flexibility and performance. The F2-210 provides a simple to deploy platform that can be enhanced with software installations to perform a very wide range of functions, and TerraMaster has given it enough power and memory to achieve lots. Our only reservation is that having only two internal drive bays does limit the options should you want to expand the system and puts a lower cap on overall capacity – plus limits RAID modes in a way that a four or five drive box wouldn't. It is therefore worth spending some time thinking about how much space you might want in the future, and investing in a bigger, F2-410 perhaps, design now. Because having a drive bay unoccupied in a NAS box is less of a problem than needing an extra unavailable one. Where the F2-210 is a no-brainer, if for a home or small office user that wants basic file serving, backup and management in an inexpensive package. The cost of this box and a couple of hard drives isn't high, and you can be operational remarkably quickly with relatively little fuss. The unit is robustly made, generally very quiet and does everything that TerraMaster claims for it. It might not be the fastest system if you insist on using encrypted storage, but for those that need basic functionality on a budget, this is an excellent choice.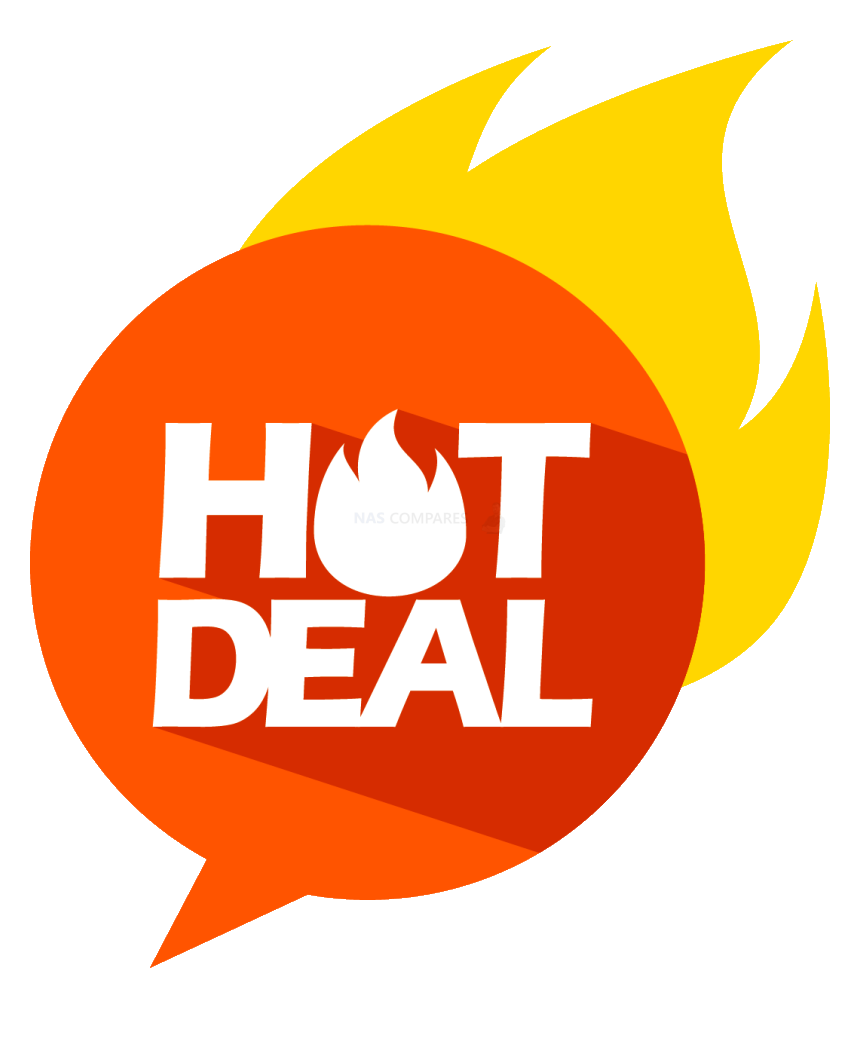 DEAL WATCH
– Is It On Offer Right Now?
These Offers are Checked Daily
---
---
📧 LET ME KNOW ABOUT NEW POSTS 🔔
Join 1,750 other subscribers
Get an alert every time something gets added to this specific article!
This description contains links to Amazon. These links will take you to some of the products mentioned in today's content. As an Amazon Associate, I earn from qualifying purchases. Visit the NASCompares Deal Finder to find the best place to buy this device in your region, based on Service, Support and Reputation - Just Search for your NAS Drive in the Box Below
Need Advice on Data Storage from an Expert?
Finally, for free advice about your setup, j
ust leave a message in the comments below here at NASCompares.com and we will get back to you.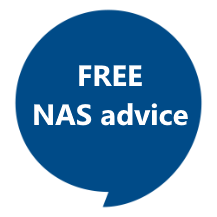 Need Help?
Where possible (and where appropriate) please provide as much information about your requirements, as then I can arrange the best answer and solution to your needs. Do not worry about your e-mail address being required, it will NOT be used in a mailing list and will NOT be used in any way other than to respond to your enquiry.
TRY CHAT
Terms and Conditions
If you like this service, please consider supporting us.
We use affiliate links on the blog allowing NAScompares information and advice service to be free of charge to you.
Anything you purchase on the day you click on our links will generate a small commission which is
used to run the website. Here is a link for
Amazon
and
B&H
.
You can also get me a ☕
Ko-fi
or old school
Paypal
. Thanks!
To find out more about how to support this advice service check
HERE
If you need to fix or configure a NAS, check
Fiver
Have you thought about helping others with your knowledge?
Find Instructions Here

ASK NASCompares forum
, by clicking the button below. This is a community hub that serves as a place that I can answer your question, chew the fat, share new release information and even get corrections posted. I will always get around to answering ALL queries, but as a one-man operation, I cannot promise speed! So by sharing your query in the
ASK NASCompares
section below, you can get a better range of solutions and suggestions, alongside my own.