Best Jonsbo Builds for $250 / $500 / $1000 (or Pounds, or Euros!)
This is a guide on building your own Jonsbo N3 NAS for less than £300, £500 or £750-1000. With many of us feeling the pinch these days due to global financial issues affecting most of our wallets, it's unsurprising to hear that many users looking to host their own private server are increasingly drawn to going full DIY. Despite the numerous alternatives out there in the market to build your own NAS drive from scratch, one brand has really built a great reputation for itself – Jonsbo, with its range of compact but exceptionally well-built NAS cases. One particular case that has drawn praise is the Jonsbo N3 case, a 5-6 Bay SATA enclosure that is very easy to build and of quite a high-quality standard, given the price tag. However, the case is only part of building your first NAS, and many users aren't quite sure of the best components to choose and the best power-to-price ratio they need to consider. Your device may need to be on for days, weeks, months, and years at a time, so choosing the right components on day one is going to be crucial. Today, I want to go through three distinct but impressive Jonsbo N3 builds, that can be built for less than 250, 500, and 1000 pounds. Let's go through some great Jonsbo N3 NAS builds.
Note – If you want to watch a FULL BUILD TUTORIAL of the Jonsbo N2 NAS with an Intel TopTon Mobo, you can watch our video HERE or use the detailed Step-by-Step Guide HERE.
Alternatively, you can find the video of this article, where we show each of the builds, plus commenting on possible alternatives – HERE on YouTube
---
Jonsbo N3 NAS Case Frequently Asked Questions (FAQ)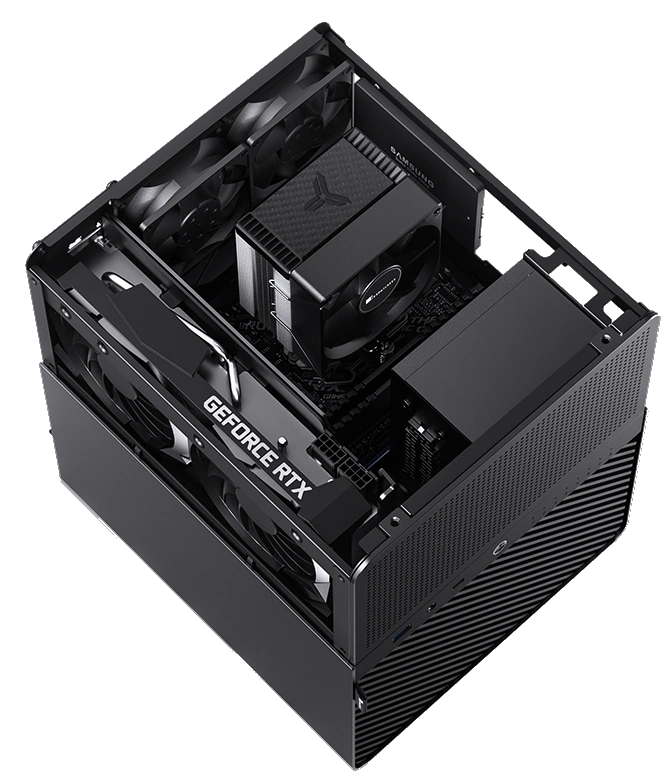 I noticed the N3 has 2x PCIe slots, can you confirm the maximum motherboard specification (ie, can this take a larger Motherboard than the N2, which is limited to M-ITX)?
The N3 can only support ITX motherboards or 20.3 x 17MM DTX motherboards.A 10.5MM increase in width compared to the N2, the depth upgrade is to put the power on the motherboard to make room for eight hard drives, and the height increase is to accommodate a higher specification CPU and heat sink as well as a mainstream specification graphics card.
Can users purchase the Jonsbo tray handles separately?
Jonsbo can provide tray handles if you message them, but but it will be slower than ordering separately and at their discretion, but the agents or sellers in different countries may not have the inventory of this part. If the users need it, most likely, they can only provide this service (I asked them).
Does the additional size of the Jonsbo N3 allow for larger CPU Fan/heatsinks than the 6.5cm/65mm limits of the N2 ? Just so I can tell users the limits/scale of the components they can use.
The N3 can be installed with a 130MM high tower radiator, and two 80*25MM fans can be installed on the rear panel. N3 can install a 130MM high small tower heat sink, and the rear panel can install two 80 * 25MM fans.
What Are the maximum Height of the PCIe Slot and Any limits on GFX/GPU/Graphics Card Installation?
CPU can support up to i7 (non-overclocking). The GPU can support up to 4060 or 4060TI dual fan graphics cards. (Graphics card size parameters: length 250MM (excluding L-shaped bending height at the tail of the graphics card), graphics card height limit 130MM from gold finger to top, thickness not exceeding 50MM). Compared to N2, the N3 application layer is not only NAS, but customers can also use it as a small multi-storage PC.
What Size is the case and fans?
---
Jonsbo N3 Build Disclaimers
$ / £ / Euro / etc – You probably already noticed that I have had to jump between currencies several times in this guide. This is because lots of users worldwide are going to read this guide. Additionally, many of the components might work out cheaper if purchased in your own region (eg Intel CPUs, especially 12th and 13th Gen are cheaper in the U.S than most of Europe). Additionally, currencies right now at the time of writing are getting closer and closer in value (thank you Global Recession…sigh). So, although the prices are going to differ from country to country, I have had to play a little fast and loose with $500 and £500. Please forgive this, but I am trying my best!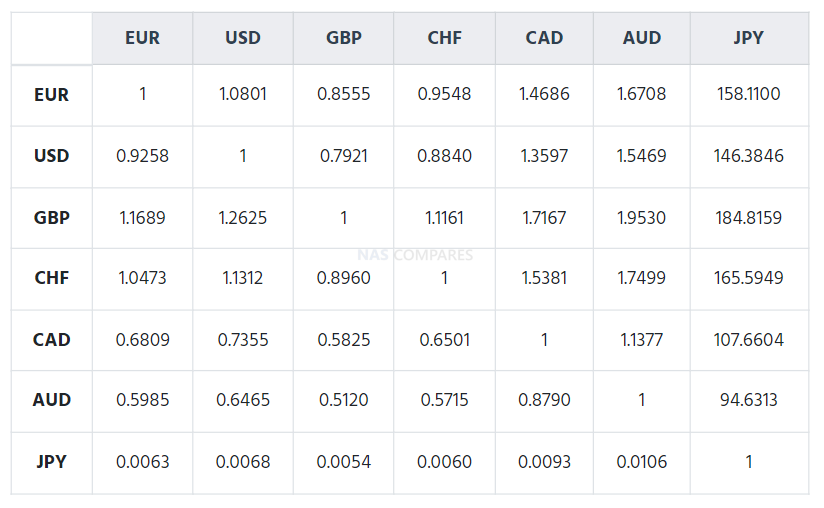 Does not include storage media – everyone's storage needs are different. Some may want to fully populate the device on day one with a couple of drives for redundancy, while others might opt for a more conservative two-drive build in a mirrored array, and then add drives gradually over the years. Therefore, it's practically impossible to include storage media in these build guides. However, if you are interested in choosing the best value storage media for your Jonsbo N3 NAS build, we recommend the Seagate IronWolf 4TB NAS hard drives ($81 at time of writing) and WD Red Plus 10 TB hard drives ($189 at NewEgg) for the best price per terabyte in the market. These two options in this 5x 3.5″ NAS Case would result in £405 for 20TB (16TB RAID5) and $949 FOR 50TB (40TB RAID5). Alternatively, you can use our price per terabyte deal calculator below, which daily checks the prices of hard drives across several retailers and helps you find the best price per terabyte for your needs:
Click Below to use our Price per TB Hard Drive Calculator: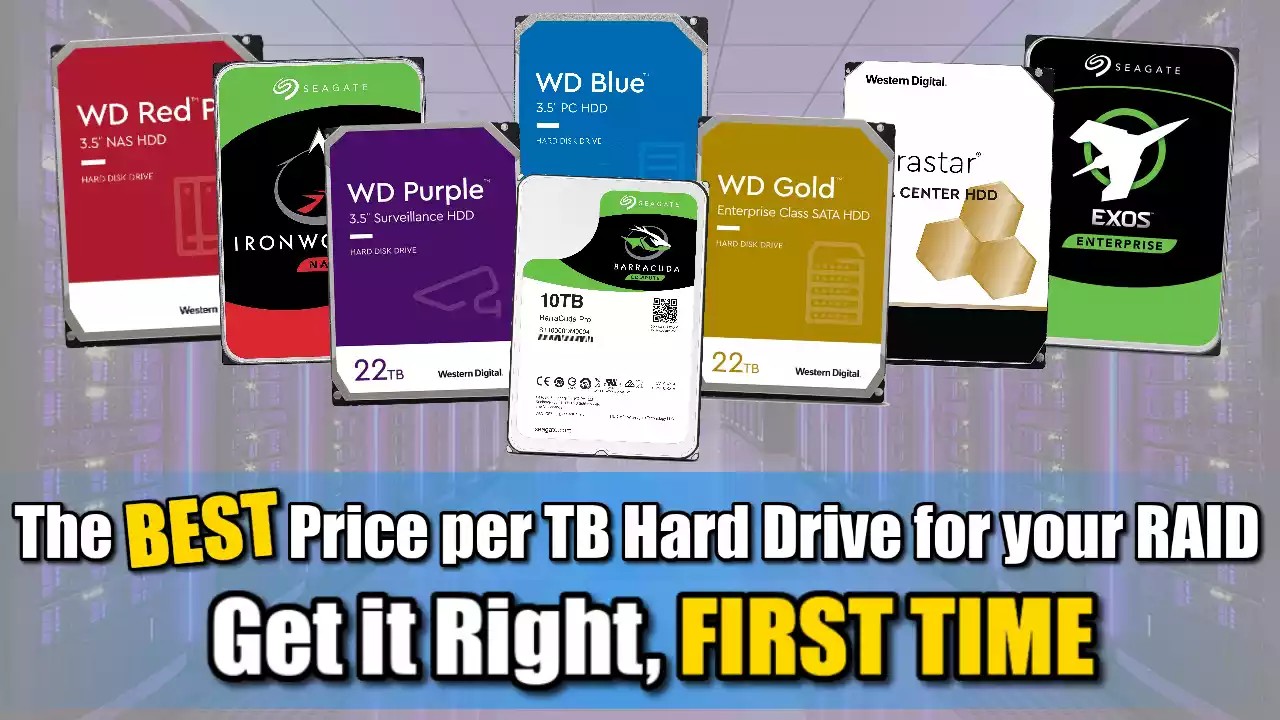 Shipping and tax not included – We weren't able to include the cost of delivery and tax in the following Jonsbo N3 NAS builds. Depending on where you live in the world, shipping and availability of the items described in these builds will differ significantly, so we can't estimate shipping costs. Tax rates and amounts will also vary from country to country. So, while we've included tax in some component prices for export reasons, not all components listed below factor in tax.
NAS software not included – The allure of DIY is often the lower cost compared to turnkey solutions like those from Synology or QNAP. But this means you'll need to find your own NAS software. While many free options are available, like TrueNAS and Open Media Vault, some are subscription-based, like UnRAID. For fairness, we haven't included the cost of NAS software, as choices will vary among users.
---
Best Jonsbo N3 Build for Under/Around £250
This is often seen as the budget build for your Jonsbo N3 system. The list below provides a reasonably powerful Plex media server, the ability to run a compact and capable UnRAID server, a few robust container applications, and even lets you set up a combined NAS server and prosumer router using proxmox and pfSense, alongside your chosen open-source NAS software.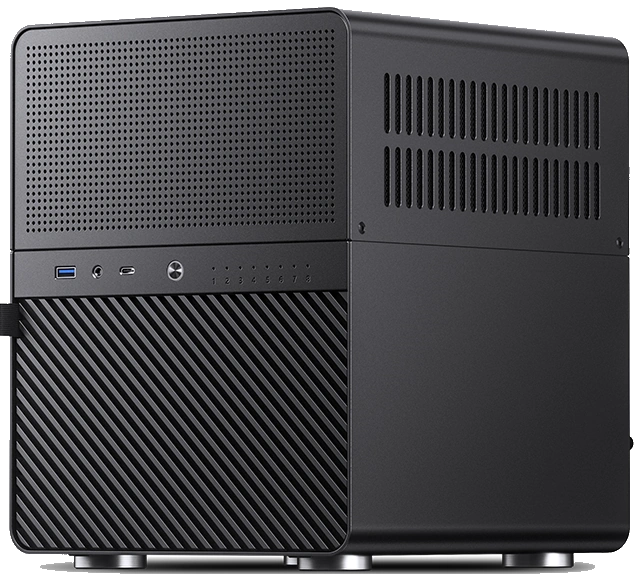 Jonsbo N3 + TopTon Intel n5105 Celeron / Pentium n6005 Build (+$35)
£284.85 (128GB M.2 NVMe + 4GB RAM + 400W PSU)
(Optional/Swap) If you want to save some money:
£247.47 (no M.2 NVMe and Cheap PSU)
Note, you need an SSD for TrueNAS OS (USB for UnRAID)
(Component Prices and eShops – 9 Images):
This slideshow requires JavaScript.
This build, just a bit over 250 pounds, offers a well-built base system, 4 GB of memory to start, and an included gen 3 NVMe SSD for your boot drive. Additionally, it has four individual 2.5G Ethernet ports that can either be solely dedicated to your NAS or divided between your chosen NAS OS and router OS. If you're on a tight budget or wish to save for storage media later, consider downsizing the PSU to a more economical 250-watt PSU and buying the memory separately. These minor tweaks might save you as much as 40 to 45 pounds, depending on the adjustments you decide on.
Pros:
Exceptionally affordable
Simple build as many components arrive pre-attached
Low power consumption
Several avenues for cost-saving
Components aren't overcrowded, reducing heat concerns
Compatible with virtually every NAS OS available
Flexibility for dual OS to cover both NAS storage and prosumer router needs
Cons:
Underpowered for TrueNAS's full feature set
Limited PCI lanes
Reduced M.2 NVMe support compared to other builds on this list
Not suited for extensive use or demanding business apps
---
Best Jonsbo N3 Build for Under £500
At this price point, things get serious! Even if you exclude storage media costs and focus on the NAS hardware itself, $500 is substantial for DIY enthusiasts, especially when considering the time spent building the device and buying components from various brands. But if you're willing to spend up to $500 on your custom-built NAS system with the Jonsbo N3 case, you'll find a decent amount of flexibility. The subsequent build balances both internal and external performance against your budget. Moreover, the configuration below is priced around $450, allowing you some leeway in either saving extra cash, adding storage, or upgrading existing components (e.g., memory or network ports).
Jonsbo N3 + Intel Core i5 12th Gen + 16GB RAM + 10GbE Build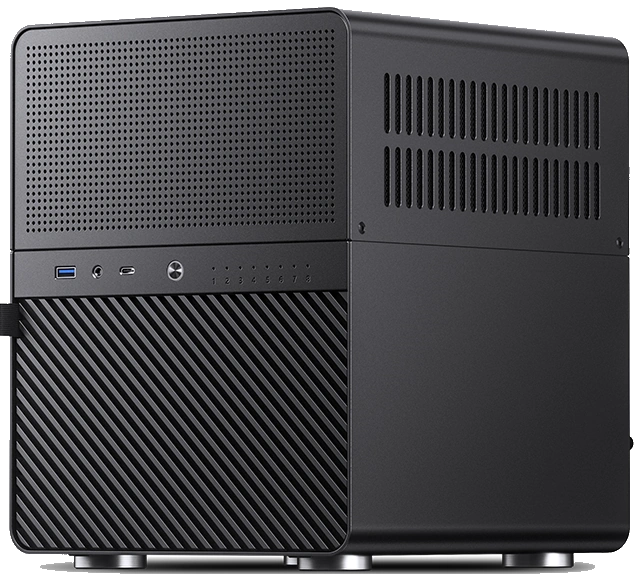 Total $410.65 (i5 CPU + 16GB RAM + 2x10GbE + 400W PSU + Case + Cables)
Note, you need an SSD for TrueNAS OS (USB for UnRAID)
(Component Prices and eShops – 8 Images):
This slideshow requires JavaScript.
This design of this build is significantly more future-proof than its predecessor, but it comes with increased power consumption. The build takes advantage of newer generation PCIe lanes, boasts more cores than the previous design, and confidently supports adding top-tier NVMe SSDs to your storage system in the future. It's essential to note that this build requires a more hands-on approach. The base network port will need an added network adapter card to expand ports or boost existing port bandwidth to 10G. Finding off-the-shelf motherboards in mITX form with numerous Ethernet and SATA ports that also support modern Intel Core processors can be challenging. Because this design demands an Intel i5 12th gen CPU, the motherboard only features four SATA connectors. The Jonsbo N3 case accommodates up to six SATA drives, so to maximize this on this motherboard, you'll need a PCIe SATA card with two additional SATA ports. Another option is to buy a different motherboard that supports more SATA connectors but sacrifices network speed, CPU support, or other features.
Pros:
Lots of power for Plex and virtual machine use
Full support for all major NAS software platforms
Great for a medium or growing Plex media server
Support for 2x NVMe SSDs for cache, Plex metadata, and even a separate SSD volume
Option to upgrade to 10Gbe networking, depending on your future needs
Lots of room for RAM upgrades
Cons:
High power consumption and increased heat concerns
Requires an additional PCIe card to maximize SATA drives
Limited PCIe expansion due to the inclusion of a PCIe x1 and PCIe x4 slot
Reduced options for processor upgrades, given the choice of the motherboard
---
Best Jonsbo N3 Build for £750-1000
For those who want to build a NAS that rivals even the best off-the-shelf models available today, the following $1000 build offers some incredible performance. With this budget, you can get a truly formidable Plex media server, a robust virtual machine host, and even full surveillance with support for over 40 cameras (assuming you're using an appropriate NAS software platform). The Jonsbo N3 NAS build is a powerhouse, providing enough capability for nearly any home or small business task.
Jonsbo N3 + Gen4/5 MoBo + Intel Core i5 12th Gen with Int Gfx + 32GB RAM + 10GbE Build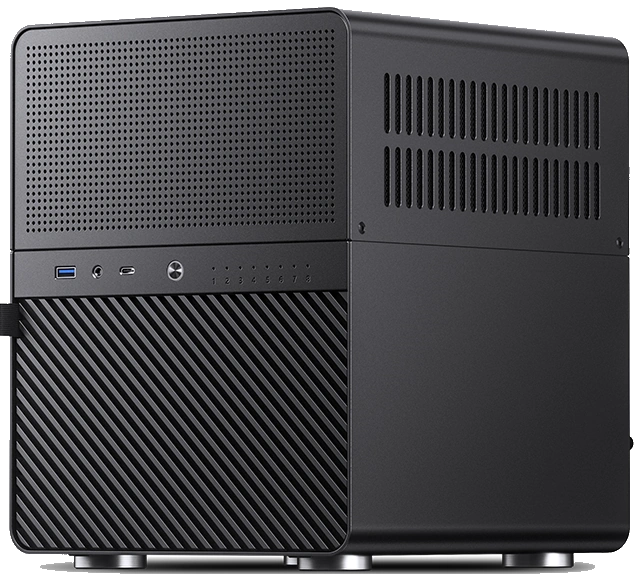 2X SATA 6 Connector £4.19 (note only need 8x, but cheaper to buy 2×6) – Check Amazon HERE – Check AliExpress

HERE

Re: CPU, features: 1 x 2.5 Gigabit LAN
802.11ax Wi-Fi 6E Module
1 x PCIe Gen5x16 Slot*
4 x SATA3 6.0 Gb/s Connectors
1 x Hyper M.2 Socket (M2_1, Key M), supports type 2280
PCIe Gen4x4 (64 Gb/s) mode*
• 1 x Hyper M.2 Socket (M2_2, Key M), supports type 2280
SATA3 6.0 Gb/s & PCIe Gen4x4 (64 Gb/s) modes*
* Supports NVMe SSD as boot disks
* Supports ASRock U.2 Kit
(better option for CPU Fan) Noctua NH-L9x65 CPU Cooler £49 – Check Amazon HERE – Check AliExpress

HERE

X540-T2 Intel Chipset PCIe x8 Dual Copper RJ45 10Gbps £39.34 – Check Amazon HERE – Check AliExpress

HERE

Tbkoly Controller Card Motherboard Expansion Card 1 To 5 Port SATA £20.45 – Check Amazon HERE – Check AliExpress

HERE
Total £586.63 (Amazon) + £144.76 (Aliexpress)
Note, you need an SSD for TrueNAS OS (USB for UnRAID)
(Component Prices and eShops – 9 Images):
This slideshow requires JavaScript.
At the core of this design is the Intel i7 12th gen CPU, boasting six cores and twelve threads. Complementing this, the motherboard has full support for up to 128GB DDR4 memory (with prices still fluctuating for such large kits). But even with 32GB or 64GB kits being relatively affordable, it provides an excellent base for this system. For networking, the base board has two 2.5GbE ports, with the option to upgrade to 10Gbe using a suitable PCIe network card. However, similar to the $500 build, you'll need to make some compromises if you want to maximize SATA drive connectivity due to the limited SATA ports on the motherboard.
Pros:
Extremely powerful for almost any task you throw at it
Full support for major NAS software platforms and high-end features
Outstanding Plex media server performance
Abundant RAM support
Flexibility in networking, from 2.5Gbe up to 10Gbe
Cons:
High power consumption
Likely overkill for casual or home users
Requires additional PCIe card to maximize SATA drives
Significant heat production, making adequate cooling essential
Expensive
This slideshow requires JavaScript.
Conclusion:
Building a Jonsbo N3 NAS system is an exciting project, allowing you to tailor the system to your specific needs and budget. Whether you're aiming for a budget-friendly media server or a high-powered machine for intensive tasks, the Jonsbo N3 case provides a solid foundation. Always remember that while building the hardware is crucial, choosing the right software and ensuring that it runs seamlessly is just as important. As the NAS market evolves, DIY solutions like the Jonsbo N3 builds will only become more prevalent, offering enthusiasts and professionals alike more flexibility and options. Happy building!
Jonsbo N3 NAS Build with TopTon Board Build (Complete Guide) – UnRAID/TrueNAS (click below)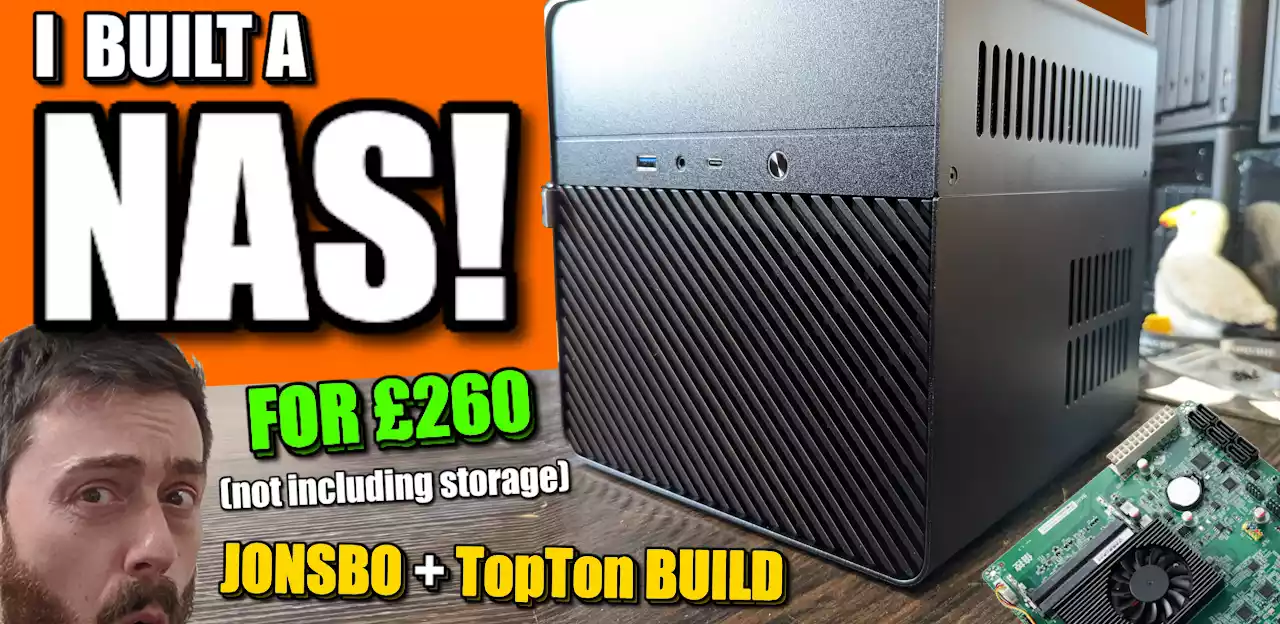 📧 SUBSCRIBE TO OUR NEWSLETTER 🔔
🔒

Join Inner Circle
Get an alert every time something gets added to this specific article!
This description contains links to Amazon. These links will take you to some of the products mentioned in today's content. As an Amazon Associate, I earn from qualifying purchases. Visit the NASCompares Deal Finder to find the best place to buy this device in your region, based on Service, Support and Reputation - Just Search for your NAS Drive in the Box Below
Need Advice on Data Storage from an Expert?
Finally, for free advice about your setup, j
ust leave a message in the comments below here at NASCompares.com and we will get back to you.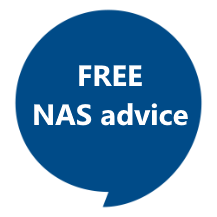 Need Help?
Where possible (and where appropriate) please provide as much information about your requirements, as then I can arrange the best answer and solution to your needs. Do not worry about your e-mail address being required, it will NOT be used in a mailing list and will NOT be used in any way other than to respond to your enquiry.
TRY CHAT
Terms and Conditions
If you like this service, please consider supporting us.
We use affiliate links on the blog allowing NAScompares information and advice service to be free of charge to you.
Anything you purchase on the day you click on our links will generate a small commission which is
used to run the website. Here is a link for
Amazon
and
B&H
.
You can also get me a ☕
Ko-fi
or old school
Paypal
. Thanks!
To find out more about how to support this advice service check
HERE
If you need to fix or configure a NAS, check
Fiver
Have you thought about helping others with your knowledge?
Find Instructions Here

ASK NASCompares forum
, by clicking the button below. This is a community hub that serves as a place that I can answer your question, chew the fat, share new release information and even get corrections posted. I will always get around to answering ALL queries, but as a one-man operation, I cannot promise speed! So by sharing your query in the
ASK NASCompares
section below, you can get a better range of solutions and suggestions, alongside my own.