Seagate Ironwolf or WD Red or Synology HAT5300 HDDs – Best for your NAS?
Choosing the right hard drive media to go inside your Network Attached Storage (NAS) server can be a lot more complicated than you might think. A long time ago (about 20 years at least) buying hard drives was much easier, as the technology was significantly less evolved. The difference between one hard drive and another could be the capacity, physical, size or the interface – that is about it! But much like any other kind of technology, over time hardware designers were able to improve it, make it more efficient, increase the storage, speed up the access and all the while sticking with the same 3.5″ physical scale. The result of all this development was that tailored/designed drives arrived that were geared internally towards specific tasks (thereby allowing designers to focus the HDDs development towards one specialization more than others). Fast forward to 2022/2023 and you find that the HDD market is considerably more diverse and brands have much more layered portfolios of drives and one big, BIG area of hard disk development was with NAS/Server HDD media. These are drives that are designed to be on 24×7, be prepared to spin up very quickly with little notice, be better suited to being deployed in larger quantities together (i.e RAID configurations made up of many drives) and all the while combating vibration and increased temperatures to maintain a healthy and stable level of use at all times. Today I want to look at three hard drives that are designed for large-scale NAS deployment (such as 8-24-bay rackmount and 8-12+ bays desktop NAS systems), as all three are the current popular choice for this kind of NAS system. There are the long-established HDD vendor drives, the WD Red Pro series and Seagate Ironwolf Pro range, and there is the NAS-brand labelled Synology HAT5300 series (built on Toshiba MG06/06/08 Enterprise series, but with Synology firmware in services included). With a new generation of NAS Hardware arriving from Synology in 2022/2023, as well as a change in support and compatibility listings by the brand in several of their releases, now is a very good time to take a look at how these three NAS HDDs compare in design, utility, performance and value. With WD and Seagate having a considerable amount of history in their Red Pro and Ironwolf Pro ranges respectively in the NAS industry, many users are still unsure about the Synology HAT5300 and whether they should make the switch, design its shift in architecture towards a more enterprise build (arguable closer to Ultrastar and Seagate EXOs, than Red or Ironwolf). Let's take a closer look at these three drives and hopefully help you decide which one deserves your data!
WD Red Pro vs Seagate Ironwolf Pro vs Synology HAT5300 – Capacity
Let's be honest, next to 'price', the overall capacity of a hard drive is going to be of importance to the majority of NAS buyers. Yes, you can take advantage of RAID and multi-bay NAS systems in order to bolster the available capacity available to you (as well as the redundancy and performance of course), but you are still going to need to factor in the capacity on offer. The Synology HAT5300, WD Red Pro and Seagate Ironwolf Pro series all arrive in multiple capacity versions (with prices scaling appropriately of course) and you will find that as the drives increase in capacity, their internal hardware and design get decidedly beefier. That said, it would be remiss not to highlight that Synology and their HAT5300 (and HAS5300 SAS drives, which we will not really factor in this comparison) have not been in the market as long as WD/Seagate and although they have made a solid start in presenting a portfolio of HDD and SSD drives, the range of capacities on offer from the HA5300 range is pretty sparse. Just to give you a little perspective on this, here is how the three HDDs compare in available drives on offer:
| | | | |
| --- | --- | --- | --- |
| Capacity | Synology HAT5300 | WD Red Pro | Seagate Ironwolf Pro |
| 1TB | ✘ | ✘ | ✘ |
| 2TB | ✘ |  ✔ | ✔ |
| 4TB | ✔ |  ✔ | ✔ |
| 6TB | ✘ |  ✔ | ✔ |
| 8TB | ✔ |  ✔ | ✔ |
| 10TB | ✘ |  ✔ | ✔ |
| 12TB | ✔ |  ✔ | ✔ |
| 14TB | ✘ |  ✔ | ✔ |
| 16TB | ✔ |  ✔ | ✔ |
| 18TB | ✘ |  ✔ | ✔ |
| 20TB | ✘ |  ✔ | ✔ |
| 22TB | ✘ |  ✔ (Revealed but release TBC) | ✔ (Revealed but release TBC) |
As you can see, the WD Red Pro and Seagate Ironwolf Pro drives current provide 10 different capacities from 2TB to 20TB for PRO NAS deployment (with the 22TB versions of their respective ranges announced and arriving soon). This does not include the non-pro versions of these series (won't touch on these further, but worth highlighting) and with that, a NAS Buyer can scale their budget quite well across multiple bays and their budget. For example, a user could opt for 4x 10TBs in a RAID 5 and get 30TB of usable space, or instead opt for 8x 6TB drives in a RAID 6 and get 36TB – this allows a buyer to spend more of their budget towards the NAS hardware than the drive media, or visa-versa. Now, Synology only currently provide 4 different capacities (with the 4TB drive being added in mid-2022) and although it makes sense that the brand would want to develop in this area in a wave-by-wave release strategy (continuing to invest and develop as the series is embraced), for many the lack of smaller capacities AND the lack of the 18TB and 20TB tier is a little problematic. Toshiba recently unveiled their MG09 18TB Enterprise HDD and in a recent roadmap reveal, plans for 20TB and 22TB HDDs in the next 12 months, but right now it is impossible to ignore that in terms of available capacities, the WD Red Pro and Seagate Ironwolf Pro and considerably more fleshed out in their respective ranges.
WD Red Pro vs Seagate Ironwolf Pro vs Synology HAT5300 – Price
Alongside capacity, the price tag that the Synology HAT5300, WD Red Pro and Seagate Ironwolf Pro hard drives arrive with is going to be a big continuing factor on which one populates your large-scale NAS server. Although all three brands have their RRPs stated on their respective product pages, there have been several factors in the last 12-24 months (the pandemic, the rise and decline of chia crypto, semiconductor shortages, droughts in Taiwan, trade wars, actual wars and more) than have led to supply levels of large scale HDDs to be significantly reduced. Unsurprisingly, this has resulted in the price points for these hard disks to significantly increase (often a noticeable degree above the original RRP). As each HDD capacity in the WD, Seagate and Synology series' have their own price based on the internal hardware to support that much data, comparing their price is a little tricky. Additionally, prices and availability differ quite wildly between countries, as stock levels and the ease of the supply chain are being affected differently by the factors mentioned earlier related to shortages. So, below I have listed the prices of each brand's drives. Note – these prices are calculated at how much per Terabyte (TB) and in order to keep it fair, I have picked the newest/largest drive from each brand as the price average (as smaller drives have a typically less accurate series-wide price per TB overall). I picked Newegg, SCAN and Amazon.de for the prices, as they had pricing AND stock of all drive capacities on all brands in stock at the time of writing for each region and therefore gave a more accurate market pricing for comparison (14/06/22 – date of writing):
The price of the Seagate Ironwolf Pro series is noticeably lower than both the WD Red Pro and Synology HAT5300 (especially in Germany and other parts of Europe) and although these prices are an average based on the largest current available drive from each brand, if you look at the lower capacities you will find that this average price per TB is still pretty accurate throughout. The WD Red Pro is reasonably proved and on offer periodically (not quite as often as the Seagate admittedly) and in the US is much more competitively priced. The Synology HAT5300 series however is consistently the highest price of the three. Now, it needs to be factored in that the design and durability of the HAT5300 (as mentioned earlier) are much more comparable to that of the Seagate EXOs and WD Ultrastar series of HDDs for data centers, which no doubt affects the price. Equally, unlike Seagate and WD who produce their HDDs internally, the Synology HAT5300 is built on Toshiba MG06/MG07/MG08 and no doubt that results in Synology having to factor in an additional profit margin into their production and sale. We WILL be shortly discussing how this more enterprise design AND the Synology NAS universal selling points benefit this drive over the WD Red Pro and Seagate Ironwolf Pro drives, but when it comes to price point, it definitely goes Seagate 1st, WD 2nd and Synology in 3rd.
WD Red Pro vs Seagate Ironwolf Pro vs Synology HAT5300 – Hardware
As mentioned in the introduction, NAS hard drives are the result of HDD development improving over the years and then splintering into multiple specialised storage deployments (eg surveillance needing heavy write, cold storage needing endurance, laptops needing low power use and NAS servers needing 24×7 use). The Synology HAT5300, WD Red Pro and Seagate Ironwolf Pro drives are all very, VERY much designed with heavy-duty NAS deployment in mind and although you CAN use them in smaller systems and even desktop PCs, it would be a tremendous waste of their utility and design (like using a chainsaw to cut a slice of bread). Now all three branded drives have specialised internal hardware/firmware that maintains the drive in particularly vigorous and large-scale deployments (all the way up to 24 bays and higher), so I won't really be giving any one brand an advantage for vibration, temperature, balance or spin up/spin down utility – all three of the Synology HAT5300, WD Red Pro and Seagate Ironwolf Pro have their own specialized components inside for this that it would be extremely difficult to compare one way or another here. The fact they have them is good enough for me. However, this is certainly going to be where the more enterprise design of the HAT5300 will stand out against the Pro design of the WD Red and Seagate Ironwolf:
| | | | |
| --- | --- | --- | --- |
| Hardware | Synology HAT5300 | WD Red Pro | Seagate Ironwolf Pro |
| Balance Control | ✔ | ✔ | ✔ |
| Vibration Sensors & Control | ✔ | ✔ | ✔ |
| Max Transfer Speed (best of range) | 272MB/s | 272MB/s | 285MB/s |
| CMR (y/n) | ✔ | ✔ | ✔ |
| Seal Method | Helium Sealed | Helium Sealed | Helium Sealed |
| Platters | 9x | 9x | 9x |
| RPM (max in range) | 7200 | 7200 | 7200 |
| Cache | 512MB | 512MB + OptiNAND Flash | 256MB |
| Workload Rating/Durability | 550TBW per yr | 300TBW per yr | 300TBW per yr |
| On/Off Cycles | 600K | 600K | 600K |
| MTBF (hours) M=Million | 2.5M | 1M | 1.2M |
| Warranty | 5years | 5years | 5years |
Now, the officially reported transfer speed of each drive is not something we are going to dwell on. 1) the difference is tiny, 2) different scale/power/RAID configs will result in varied transfer rates and 3) I have personally tested all three and even in sustained Read/Write activity, they ALL hit 260-207MB/s consistently. However, we DO need to discuss durability and on-board caching. The Synology HAT5300 arrives with a SIGNIFICANT increase in its durability rating, with almost DOUBLE the annual workload rating (eg how many Terabytes the drive can have written and re-written per year) compared with the Seagate and WD HDDs. This also means that the drive has a significantly higher mean time between failure (i.e expected failure rate between deployment>drive-dies>replacement) at more than double. Now, although a lot of durability and sustained use is why Synology seemingly opted for the Toshiba MG series as the base for their branded drive series, but the drive also has Synology specialised firmware onboard. This results in two key benefits to Synology NAS users. The first is that the drive can have it's specific spin, cache, access and load cycles tailed to Synology NAS system operations, whereas Seagate and WD have to be a little more open in their firmware to suit 'all' NAS servers. Pretty much all modern NAS drives run on one form of Linux or another (as well as TrueNAS of course, let's not overlook FreeBSD etc) but this more precise firmware gearing in the HAT5300 means it will likely always be the most efficient drive for Synology NAS of the bunch. The other benefit of the HAT5300 in Synology NAS deployment is that the drive's onboard firmware can be updated via the Synology DSM user interface and storage manager (without powering the device down), whereas the WD and Seagate HDDs require you to remove drives individually from the system (and RAID Pool of course if already in use) and update the firmware via a PC/Docking station. Although HDD firmware updates are much, much less frequent than many other types of technology and typically very small improvements, this is still something that the more data storage savvy user will want to stay on top of.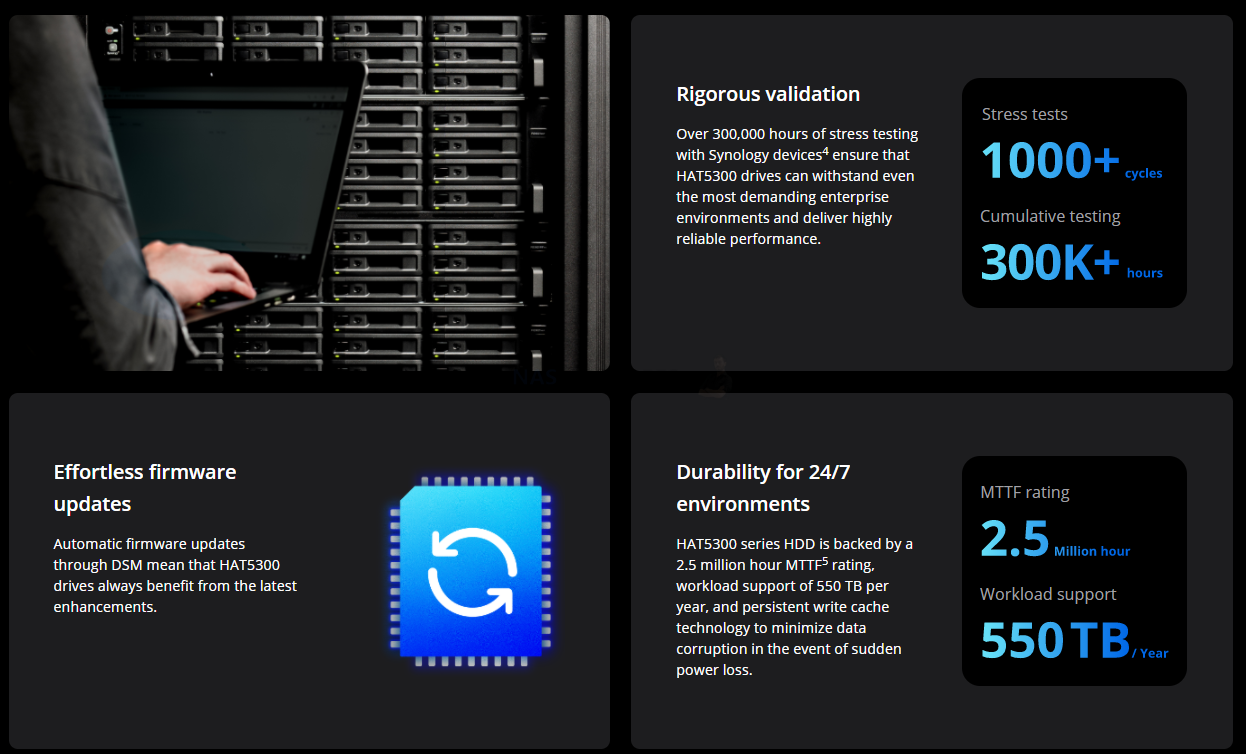 The Seagate and WD Drives on the other hand are considerably similar, with both drives having 7200RPM, 300TB annual workload and quite comparable MTBF. However, the WD Red Pro drive pulls ahead thanks to its 512MB of memory on the largest capacities and (more importantly) its inclusion of WD's new OptiNAND technology. This is a recently developed HDD design choice (being included in their larger tiers currently and likely continuing into the 22TB+ tier) where alongside the nine platters of storage, the drive also features a small area of flash storage on board that is designed to store metadata and other indexing data using by the connected client system. Not to be confused with hybrid drives (optical drives that featured a decent-sized chunk of SSD space for the likes of an OS for large-scale caching), OptiNAND means that important table and micro-associated data that the drive needs to consult when the bulk of the platter houses data is accessed is accessible much, much more quickly and when drives are getting to this large scale of 18-20TB of storage, these increases can make a small but important difference. The Seagate Ironwolf Pro SSD is still an excellent drive, but leases out to WD and Synology's branded drive, as the other drives have a largely better hardware offering included.
WD Red Pro vs Seagate Ironwolf Pro vs Synology HAT5300 – Noise
If you have EVER worked with larger-scale HDDs and enterprise-grade drive media (not just these three HDDs, but the EXOS, Ultrastar and Gold series too), then you will know that these drives can be particularly noisy. This noise stems from the larger drive needing more horsepower under the bonnet to hit that expected Read/Write performance levels sporadically – something that is particularly important when it comes to large population NAS/Server use being 24×7. The result is that these Pro and Enterprise drives will vibrate more than most, hum loudly when in operation and continuously click with the rapid movement of the arm/actuator inside as it has to rapidly access a large number of internal platters. We have discussed this at length on NASCompares previously over on YouTube and you can check out examples embedded below of noise testing that was performed on all three HDDs (you can open them in a separate TAB if you click the title or watch in the browser:
Now, the impact of noise in your home or business NAS environment is tremendously subjective. As these three drives are all too often designed for deployment in 8-12 bay desktops and 16-24 bay rackmounts (both largely metal chassis), the result is that in most cases you will NOT be able to hear the NAS HDD, as it will be drowned out by the noise of the multiple high RPM fans on the NAS or their impact on the metal chassis. However, if you plan on deploying these Pro/Enterprise drives in systems with LESS than 8-Bays and plan on being in the same room as the system, then you will DEFINITELY hear them. In order to test these drives, I took a large-scale, 9-platter version of the Synology HAT5300, WD Red Pro and Seagate Ironwolf Pro, then installed them in a modest 4-Bay NAS (as this would largely eliminate the fan noise and multiplying factor of a metal chassis) and instead opted for the largely plastic DS920+ NAS. The noise level was recorded using a phone+microphone 20cm from the DS920+ The drives were recorded during a 'Benchmark Test' selected in the DSM 7.1 Storage Manager, over 25-30 seconds, Below were the results:
| | | |
| --- | --- | --- |
| Synology HAT5300 | WD Red Pro | Seagate Ironwolf Pro |
| | | |
As you can see, the difference between them was very, very small and the Seagate and Synology were similarly noisy (though even then at this db(A) range, this is still very small. Overall, I don't think you can choose between the Synology HAT5300, Seagate Ironwolf Pro or WD Red Pro in terms of noise, as they are all ultimately very noisy drives when in single/RAID deployment regardless.
WD Red Pro vs Seagate Ironwolf Pro vs Synology HAT5300 – Verdict
Overall, the Synology HAT5300 is still the most enduring hard drive here (thanks to that enterprise tier design) and the one that will likely be the most useful in a Synology enterprise NAS drive deployment (factoring in that firmware, ease of update and potential for bundle deals). However, it is still a much, MUCH more expensive drive that is available in fewer capacities and still only hits 16TB at the time of recording. In terms of getting the job DONE, the WD Red might not be the lowest price, but with its onboard flash in the larger capacities, a larger amount of onboard cache, fastest reported warranty turnaround and larger variety of smaller capacities that cover both Pro and normal, the WD Red Pro is the middle ground choice that ticks all the boxes and will be the one you know will shut up and do the job! The Seagate Ironwolf is by FAR the best value for money, with the best price point in and out of special offers, as well as inclusive three YEARS of data recovery services thrown in, Health management software onboard and almost always releasing the biggest capacity drives first (and at the best price) – the Seagate Ironwolf Series is the most accessible and storage services choice in 2022.
Synology HAT5300

WD Red Pro

Seagate Ironwolf Pro

Synology NAS Firmware
Fewer Synology NAS Support tickets raised with the brand with HAT5300 drives vs 3rd Party Drive Setups
HDD/SSD Firmware Can be updated within Synology DSM without system power off or disconnecting HDD.
Bulk Buying & NAS+Media Business purchases are much more likely to get discounts or savings via Deal Registration with Synology Distributors

Warranty/Support/Officially Supported Use only in Synology Hardware

Higher Price Point per TB

Fewer Capacity Options

All modern/standard capacities are available
Non-Pro Drives are also available
Good Reputation online (aside from the SMR business)
Faster Warranty Replacement turnaround reported online
OptiNAND (onboard flash module) mean that vital metadata and microdata is available FASTER
Wide NAS Hardware Compatibility

Less Competitive Pricing outside of seasonal Promos (Black Friday, Prime Day etc)

WD Red Pro vs WD Gold vs Ultrastar overlap can be confusing without deep-diving into data sheets

Seagate Ironwolf Health Management onboard to add to existing drive health and S.M.A.R.T tests + Interface available in almost all NAS Brand GUI to config easily
3yrs of free Rescue Data Recovery Services (fully featured with multiple data recovery  delivery options, forensic and mechanical recovery included)
Lower Price point on all capacities overall
Non-Pro drive options
Regularly on offer

Higher Power consumption on average

Noisiest overall (when you factor in ALL capacities) in operation

If you want to check the price and availability of HDDs in your region, you can visit one of the retailers listed below. Clicking these links will result in a small % of whatever you spend going back to NASCompares, which will allow us to keep making great content. Thank you




*Stats come from Synology themselves upon request, see this article on Synology HDDs in 2022 HERE
📧 LET ME KNOW ABOUT NEW POSTS 🔔
Join 1,409 other subscribers
Get an alert every time something gets added to this specific article!
This description contains links to Amazon. These links will take you to some of the products mentioned in today's content. As an Amazon Associate, I earn from qualifying purchases. Visit the NASCompares Deal Finder to find the best place to buy this device in your region, based on Service, Support and Reputation - Just Search for your NAS Drive in the Box Below
Need Advice on Data Storage from an Expert?
We want to keep the free advice on NASCompares FREE for as long as we can. Since this service started back in Jan '18, We have helped hundreds of users every month solve their storage woes, but we can only continue to do this with your support. So please do choose to buy at Amazon US and Amazon UK on the articles when buying to provide advert revenue support or to donate/support the site below.

Finally, for free advice about your setup, j
ust leave a message in the comments below here at NASCompares.com and we will get back to you.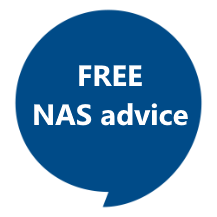 Need Help?
Where possible (and where appropriate) please provide as much information about your requirements, as then I can arrange the best answer and solution to your needs. Do not worry about your e-mail address being required, it will NOT be used in a mailing list and will NOT be used in any way other than to respond to your enquiry.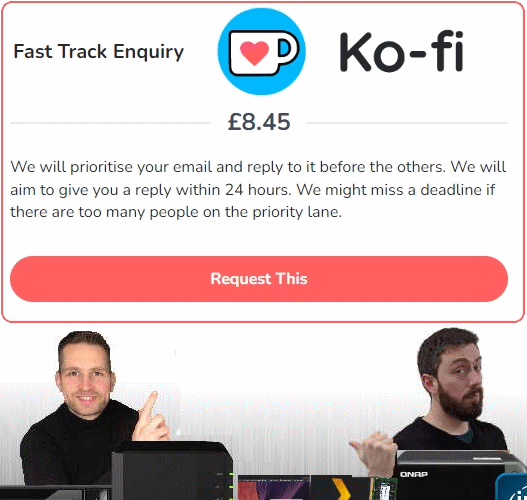 Terms and Conditions
Alternatively, why not ask me on the
ASK NASCompares forum
, by clicking the button below. This is a community hub that serves as a place that I can answer your question, chew the fat, share new release information and even get corrections posted. I will always get around to answering ALL queries, but as a one-man operation, I cannot promise speed! So by sharing your query in the
ASK NASCompares
section below, you can get a better range of solutions and suggestions, alongside my own.