The QNAP TVS-682T NAS has been released and is available to buy NOW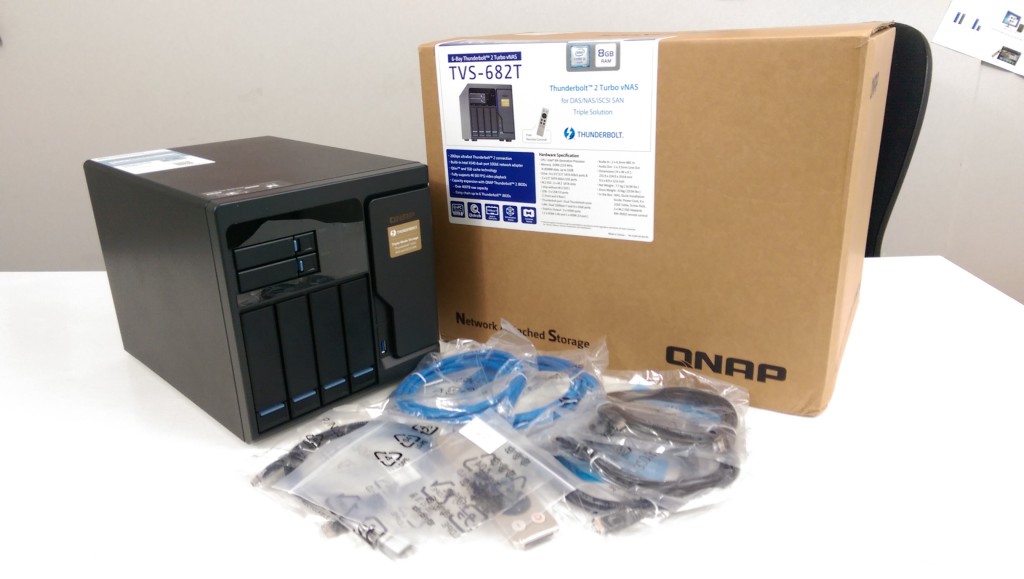 Good news for NAS users who want the latest Thunderbolt and NAS solution. The Desktop NAS 10GbE and TB2 TVS-682T-i3-8G 4-Bay (Technically 6 Bay with 4x 3.5″ HDD and 2x 2.5″ SSD slots) has been released. You can buy the unit itself for £1376 ex.VAT from SPAN.COM. Among the many features that make this NAS Server a real game changer, is more than just the TB2 and NAS combination.
Read below to find out more.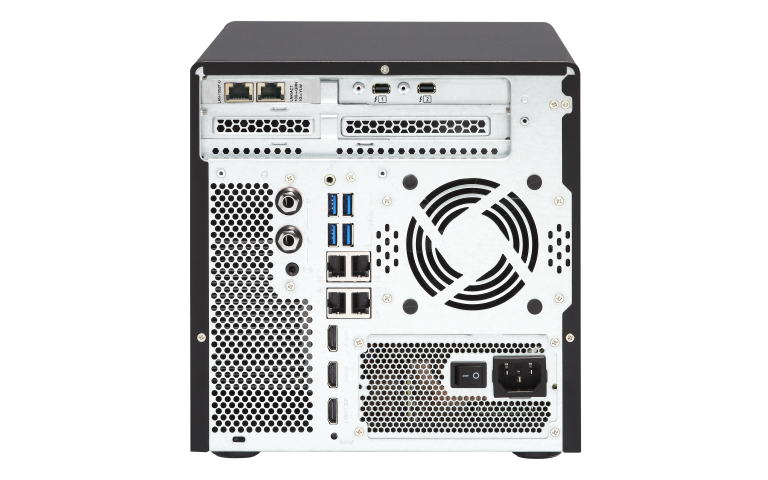 The Hardware of this device is pretty impressive. Even though it is the lowest Specification unit in the QNAP TVS-X82T range, it still packs a punch and features:
Dual-core Intel® Core™ i3-6100 3.7 GHz
8GB DDR4 RAM 2133 MHz (4 GB x2 but expandable the 32gb spread over four slots)
2 x 2.5″ SSD slots
2 x built-in M.2 SSD slots
2x TB2
2 x 10GBase-T network port
4 x Gigabit Ethernet ports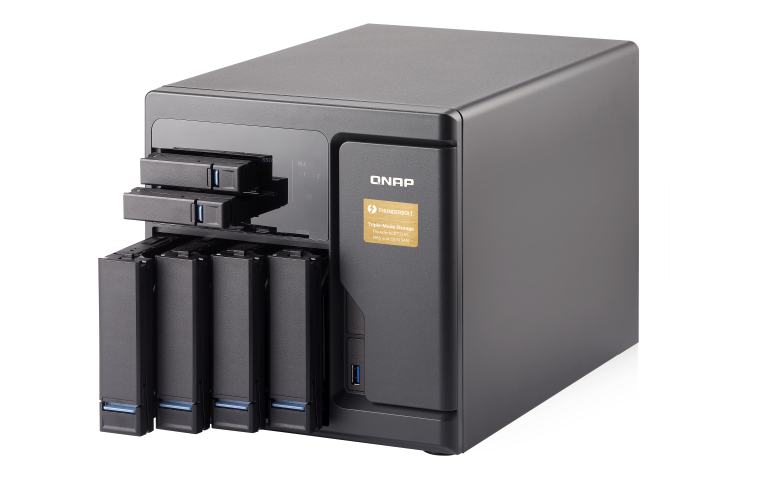 3 x HDMI outputs – One HDMI 2.0 port and two HDMI 1.4b ports; supports duplicated and extended desktop options. HDMI 2.0 increases bandwidth up to 18Gbps, and supports 4K 60 fps videos.
2 x built-in speakers – Supports direct audio output and provides verbal system warnings
AES-NI 256-bit encryption, PLUS such as encrypted access, IP blocking, 2-step verification, and more
Expandable with the TX-500P and TX-800P
PCIe Slot can be used for cards (PCIe Gen.3) port expansion cards – not graphics cards externally
PCIe Gen. 3 high-speed connection Support for 10/40 GbE adapters, PCIe NVMe SSD, external graphics cards for internal use, and USB 3.1 expansion cards
20.5 Db( 4 x Seagate ST2000VN000-1HJ164 hard drive installed)
Huge scale QVPC Technology support
Massive VM support
Unboxing the New Thunderbolt2 NAS from QNAP
Why not take a moment to check out our unboxing video for the The Desktop NAS 10GbE and TB2 TVS-682T-i3-8G 4-Bay. You can buy the QNAP TVS-682T-i3-8G now from .COM.