FULL Specifications of the New Synology

DVA3219

Surveillance NAS Drive
Good news for those who have been waiting for the new Synology Surveillance NAS drive (Formally the DS1419dva, now branded the DVA3219) as it is looking closer to release. Below is HUGE information blow out on the device, it's support of DSM alongside Surveillance Station 8.2, camera license information, what the GFX card means it can do and more. For those that need a reminder, the Synology Deep Learning NVR DVA3219 is optimized for intelligent video analysis and private surveillance solutions. DVA3219 supports up to 32 channels of camera stream, arrives with 8 Camera Licenses and is capable of running 4 real-time video analysis tasks, greatly strengthening detection accuracy. Synology DVA3219 is backed by Synology's 3-year limited warranty.
• Quad-core, 2.1 GHz CPU with AES-NI support and 4GB DDR4 memory, expandable up to 32 GB
• NVIDIA® GeForce® GTX 1050 Ti for intelligent deep video analysis optimization
• Four built-in 1GbE (RJ-45) ports with failover and Link Aggregation support
• Scalable up to 14 drives with two Synology DX517 expansion unit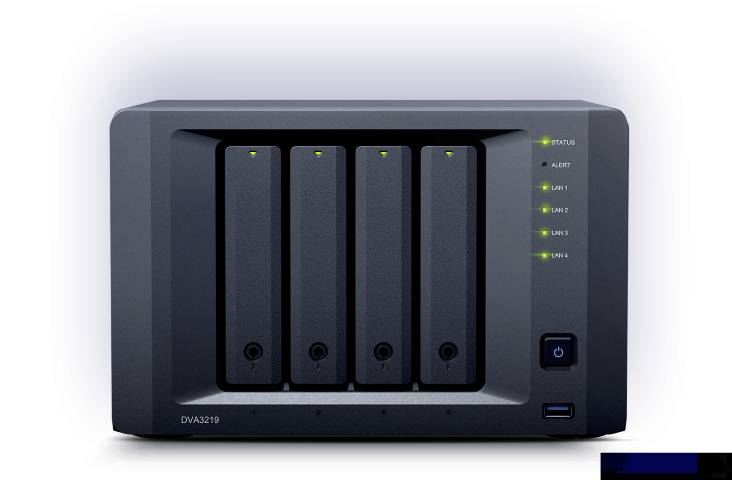 • Integrated with diverse and advanced algorithms that provide accurate detection results and minimize interference
• Server-side on-premises video analytics without privacy concerns
• Compatible with over 7,100 camera models from over 100 renowned brands
• API ready for 3rd-party integration to ensure seamless communication between various applications
• 8 device licenses included for setting up cameras, I/O modules, access controllers, and transaction devices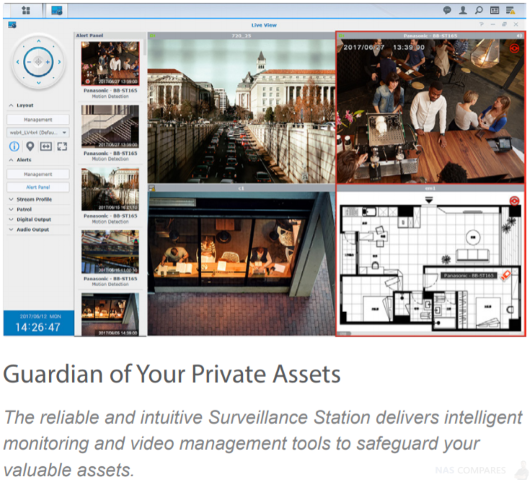 Why is the Synology

DVA3219

NAS a Powerful and Intelligent NVR Solution?
Synology Deep Learning NVR DVA3219, optimized for intelligent video analytics, improves your response time in case of critical situations. The automated video surveillance helps to secure your properties and prevent security gaps by detecting people, objects in target areas. DVA3219 is equipped with a quad-core processor, 4GB memory (upgradable to 32 GB2), and four Gigabit LAN ports with failover and Link Aggregation support. You can easily scale it up to 14 drives with two expansion unit DX517 for larger storage capacity. Featuring:
Synology Surveillance Station Flow count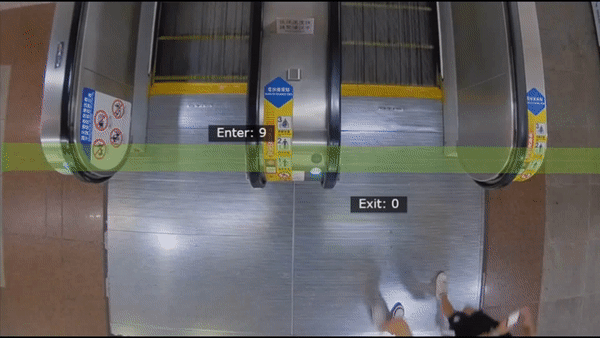 With two-way counting function, it can calculate the number of people entering, leaving and staying in the area, helping you to improve the efficiency of business and marketing, or as a basis for rent adjustment.
Server-Side On-Premises Video Analytics on the Synology

DVA3219

NAS
Powered by an NVIDIA GeForce graphics card, DVA3219 provides server-side deep learning video analytics for running four real-time analysis tasks simultaneously, greatly strengthening detection accuracy:
Privacy: Local video analysis with no trust and privacy concerns
Fit in: Easy integration to existing surveillance deployment, compatible with thousands of camera models
Real-time: Allows security operators to take immediate actions once receiving real-time notifications when suspicious events or objects are detected
One-time cost: Full-functioned video analytics tools included, no recurring fees required for future software updates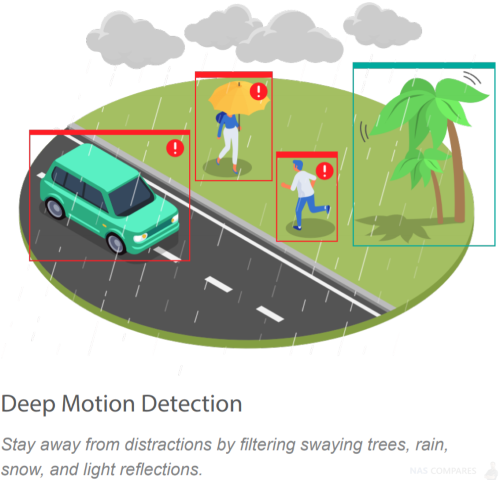 Synology

DVA3219

NAS Detection Results with GPU Powered AI
Integrated intelligent algorithms protect your precious properties. Pay attention only to what's important and let DVA3219 watch the rest. Compared to cloud analysis or webcam with built-in analysis, the Synology DVA3219 deep intelligence image analysis system has the following significant advantages: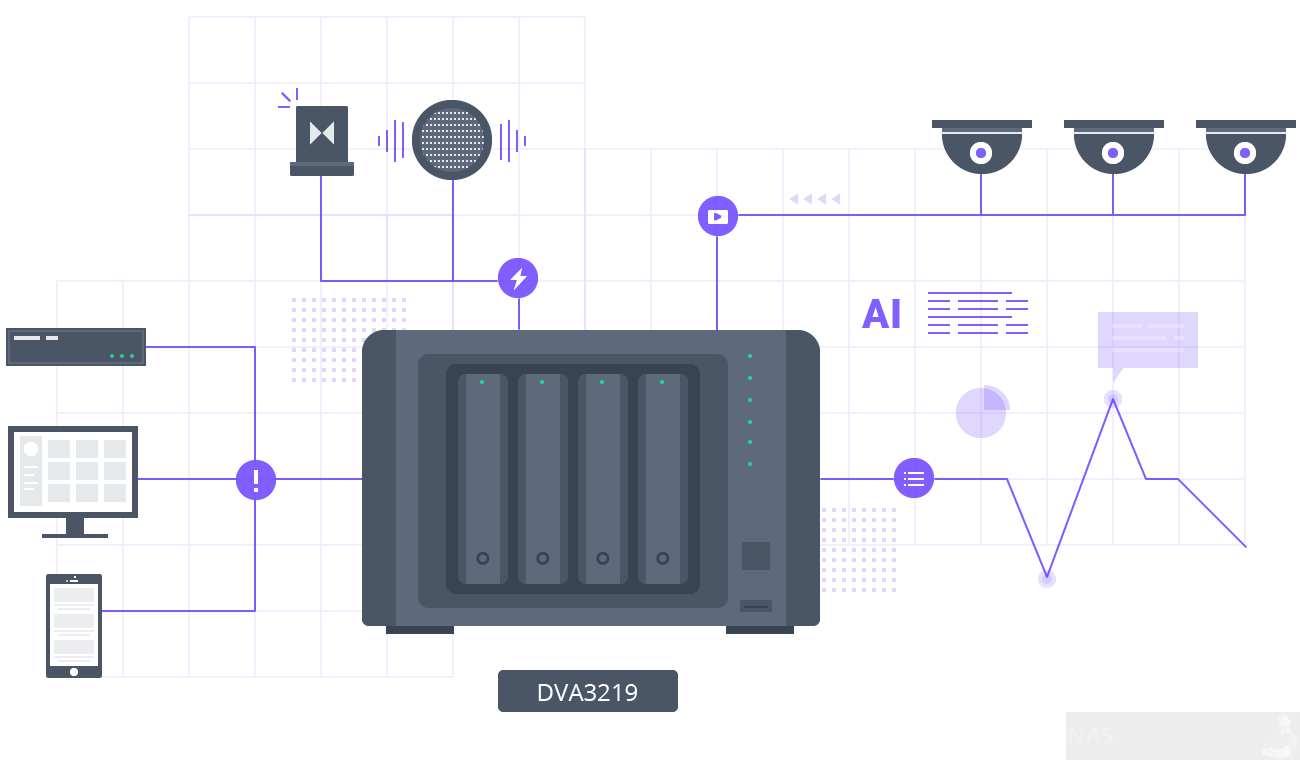 Business management optimization: People flow and crowd density information can be used for marketing intelligence purposes to optimize business decisions and management.
Perimeter protection: Proactive monitoring of security that protects your properties from intrusions and minimizes interference
Anomaly detection: Real-time proactive detection and monitoring of the predefined areas.
Synology Surveillance Station Intrusion detection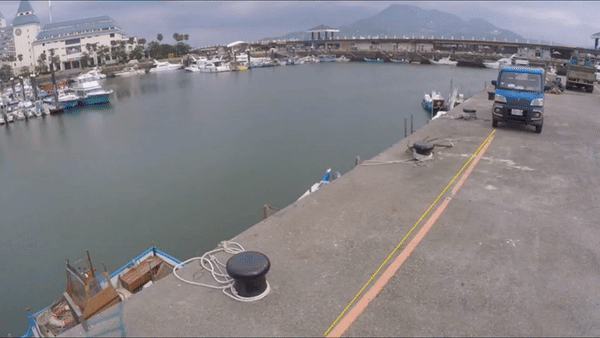 In areas where there are no security personnel, the system can be set to automatically alert when someone exceeds the warning line.With active monitoring, you can better protect your property from potential intruders.
Synology

DVA3219

NAS has Both DSM and Surveillance Station
Synology DiskStation Manager (DSM) is a web-based operating system tailor-made for every Synology NVR. Featuring an intuitive multitasking user interface, DSM provides simple desktop-like experience to minimize the efforts in exploring and managing your Synology NVR. The built-in Package Center allows you to download and install versatile packages designed specifically for your unique needs, including file backup, virtualization, productivity, safeguard security and utilities. With all the built-in and add-on features, DSM provides you with complete and fine-grained control of your DVA3219, maximizing your productivity and make the best out of your digital assets. All can be done with just a few clicks.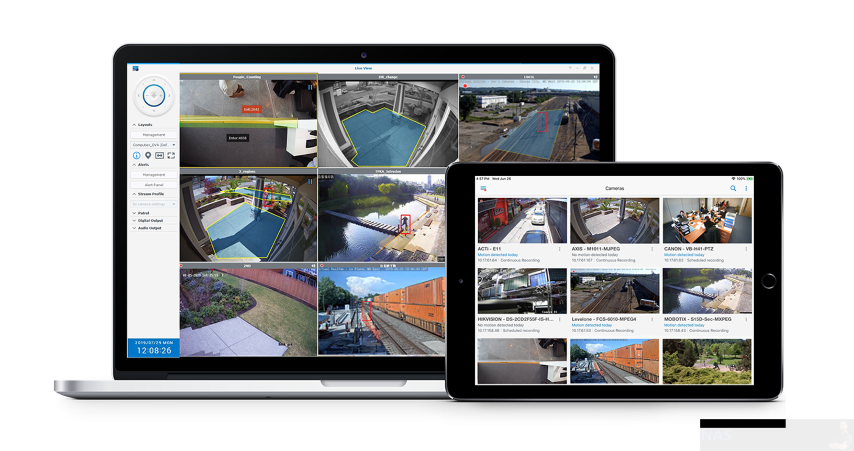 Synology

DVA3219

NAS and Surveillance Station Performance
Featuring the Unified Surveillance software platform, Surveillance Station (currently version DVA3219 is the combination of video analytics, camera management, and a solid storage device. It delivers a reliable and robust IP surveillance solution that safeguards your valuable properties.
Abundant compatibility: Compatible with over 7,100 camera models from over 100 renowned brands, flexibly fitting into your existing setup
Intuitive operation: Plugin, find your camera with ease, and start navigating various functions in Surveillance Station
Get notified when needed: Stay on top of everything through web browsers, PC clients, and mobile devices
Ready for integration: API document ready for third party integration to seamlessly communicate between various applications and devices
Streamlined maintenance: Integrated hardware and software surveillance solution that saves your time and effort with single point of support contact
Synology Surveillance Station No staying area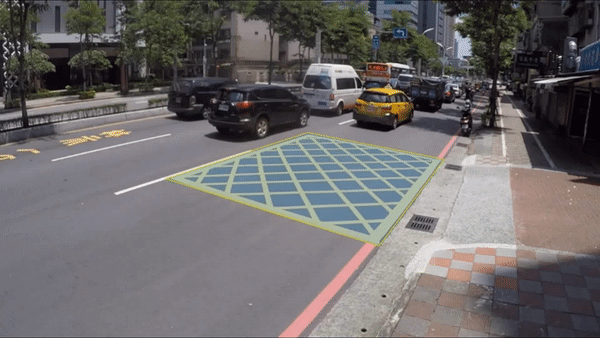 Help you to pay attention to abnormal conditions in the designated area, such as vehicles that are not allowed in the parking area or people who have wandered for more than a limited time before the entrance.
What are the Software and Hardware Specifications of the Synology

DVA3219

NAS?
The Synology DVA3219 AI-powered NAS features a completely new chassis design that, although similar to the 4 and 5 Bay Diskstation NAS devices we have seen in 2019, has been modified for the PCIe slot to support the Nvidia Graphics card inside. The physical highlights are below: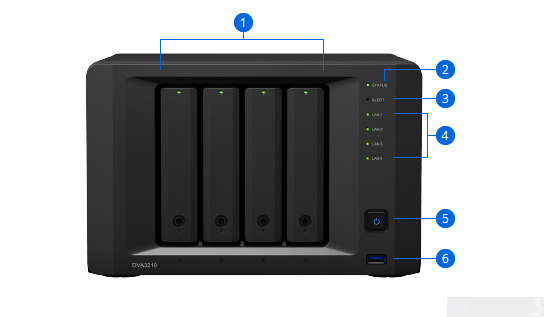 1  Hard disk tray and status indicator
2 – Status indicator
3 – Warning indicator
4 – Network indicator
5 – Power button and indicator
6 – USB 3.0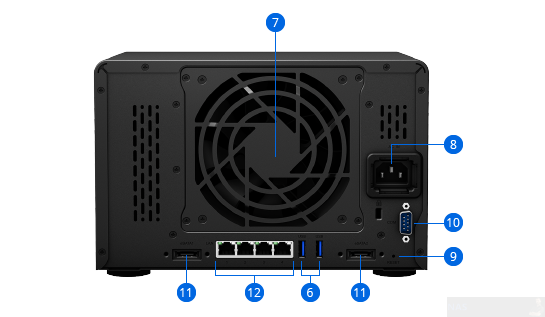 7 – fan
8 – power supply
9 – Reset button
10 – COM Port
11 – eSATA
12 – 4x 1GbE RJ-45 Network
The Full Hardware and Software DVA3219 NAS Specifications are Below:
Synology DVA3219 Surveillance NAS Specifications
Processor model
Intel Atom C3538
Processor architecture
64-bit
Processor clock
Quad-core 2.1 GHz
GPU model
NVIDIA GeForce GTX 1050 Ti
Remarks
Display output is not supported (No HDMI)
System memory
4 GB DDR4
Pre-installed memory module
4 GB (4 GB x 1)
Total number of memory slots
2
Memory can be expanded to
32 GB (16 GB x 2)
Remarks

Please purchase Synology's original memory module for best compatibility and reliability. If you are not using a Synology memory module when expanding your memory capacity, Synology will not be able to provide full product warranty or technical support.
Synology reserves the right to replace memory components of the same or higher clocks depending on the supplier's product availability. Its compatibility and stability have been tested by the same rigorous tests, please feel free to use it.

Number of disk slots
4
Maximum number of disk slots in which the expansion unit is installed
14
Compatible disk type

3.5″ SATA HDD
2.5″ SATA HDD
2.5″ SATA SSD

Maximum internal net total storage capacity
64 TB (16 TB drive x 4) (Capacity varies by RAID type)
Maximum net total storage capacity with expansion unit
224 TB (16 TB drive x 14) (Capacity varies by RAID type)
Maximum single storage capacity*
108 TB
Disk hot-swap support
Yes
Remarks

The compatible disk type refers to the type of hard disk that is confirmed to be compatible with the product after the actual measurement, and the maximum speed limit of the non-hard disk slot.
The maximum net total storage capacity is not limited by the maximum single storage capacity. Synology NAS can create additional storage space beyond the maximum single storage capacity. The maximum capacity depends on the support of each model
The internal storage space can be expanded, but the expanded single storage space cannot exceed 108TB.

RJ-45 1GbE network hole
4 (supports Link Aggregation / fault transfer)
USB 3.0 port埠
3
eSATA port埠
2
COM Port
1
Size (height x width x depth)
166 mm x 250 mm x 237 mm
weight
4.92 kg
Maximum camera support number
32 (including 8 free licenses)
Frames per second (FPS) (H.264)*
960 FPS @ 720p (1280×720), 32 channels
576 FPS @ 1080p (1920×1080), 32 channels
310 FPS @ 3M (2048×1536), 31 channels
200 FPS @ 5M (2591×1944), 20 channels
90 FPS @ 4K (3840×2160), 9 channels
Frames per second (FPS) (H.265)*
960 FPS @ 720p (1280×720), 32 channels
960 FPS @ 1080p (1920×1080), 32 channels
960 FPS @ 3M (2048×1536), 32 channels
320 FPS @ 5M (2591×1944), 32 channels
230 FPS @ 4K (3840×2160), 23 way
Frames per second (FPS) (MJPEG)*
200 FPS @ 720p (1280×720), 10 channels
150 FPS @ 1080p (1920×1080), 10 channels
120 FPS @ 3M (2048×1536), 10 channels
90 FPS @ 5M (2591×1944), 9 channels
Image format

MJPEG
MxPEG (Deep Video Analytics task is not supported)
MPEG-4
H.264

Sound format
Remarks
The Surveillance Station uses an Axis camera; the video schedule is continuous; the Surveillance Station is used as the source of the live image; the motion detection source is set to the camera; the live image and the video use the same set of video streams.
Wake on the network
Yes
System fan
120 mm x 120 mm x 1 pcs
Fan mode

Low temperature mode
Silent mode
Full speed mode

Automatic power reply
Yes
Noise value*
28.3 dB(A)
Timer switch
Yes
Power supply / transformer
250W
AC input voltage
100V to 240V AC
Current frequency
50/ 60Hz, single frequency
Power consumption*
53.78 W (access)
34.01 W (hard disk hibernation)
British thermal unit
183.62 BTU/hr (access)
116.12 BTU/hr (hard disk sleep)
Working temperature
0°C to 40°C (32°F to 104°F)
Storage temperature
-20 ° C to 60 ° C (-5 ° F to 140 ° F)
Relative humidity
5% to 95% RH
Certification body
Warranty
3 years
Remarks

The test data for power consumption was tested with a Western Digital 1TB WD10EFRX hard drive.
The warranty period begins on the date of purchase noted on the purchase receipt. (see more)

Internal disk
External disk

Btrfs
EXT4
EXT3
FAT
NTFS
HFS+
exFAT*

Remarks
exFAT Access is purchased separately from the kit center.
Maximum storage space
64
Maximum number of iSCSI targets
128
Maximum number of iSCSI LUNs
256
Support RAID disk array type

Synology Hybrid RAID
Basic
JBOD
RAID 0
RAID 1
RAID 5
RAID 6
RAID 10

RAID configuration migration

Basic to RAID 1
Basic to RAID 5
RAID 1 to RAID 5
RAID 5 to RAID 6

Expand storage with larger hard drives

Synology Hybrid RAID
RAID 10
RAID 1
RAID 5
RAID 6

Add new hard drive expansion storage

Synology Hybrid RAID
JBOD
RAID 5
RAID 6 (with expansion unit)

Global Hot Spare supports RAID types

Synology Hybrid RAID
RAID 1
RAID 5
RAID 6
RAID 10

File agreement
CIFS/AFP/NFS/FTP/WebDAV
Maximum simultaneous CIFS/AFP/FTP connection number
1,000
Maximum number of local user accounts
2,048
Maximum number of local groups
256
Maximum number of shared folders
512
Log receipts per second
800
VPN Server
Maximum number of connections
30
Environment and packaging
surroundings
RoHS compliant
Package contents

Host X 1
Kit X 1
Power cord X 1
RJ-45 web route X 2
Quick Installation Guide X 1

Optional accessories

D4NESO-2666-4G DDR4 non-ECC SO-DIMM*
D4ECSO-2666-16G DDR4 ECC SO-DIMM*
Expansion unit: DX517 X 2
Monitoring device authorization
VS360HD
VS960HD

Remarks
For more information on memory upgrade restrictions, contact Synology Inc
Synology Surveillance Station Deep motion detection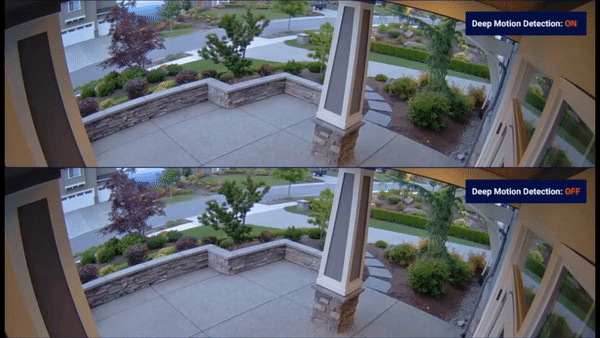 Accurately identify unusual dynamics, filtering out background noise such as raindrops, snowflakes, swaying branches, small animals, or webcam day/night mode switching.
📧 LET ME KNOW ABOUT NEW POSTS 🔔
Join 1,750 other subscribers
Get an alert every time something gets added to this specific article!
This description contains links to Amazon. These links will take you to some of the products mentioned in today's content. As an Amazon Associate, I earn from qualifying purchases. Visit the NASCompares Deal Finder to find the best place to buy this device in your region, based on Service, Support and Reputation - Just Search for your NAS Drive in the Box Below
Need Advice on Data Storage from an Expert?
Finally, for free advice about your setup, j
ust leave a message in the comments below here at NASCompares.com and we will get back to you.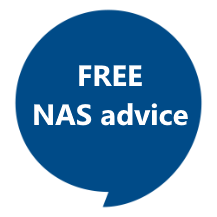 Need Help?
Where possible (and where appropriate) please provide as much information about your requirements, as then I can arrange the best answer and solution to your needs. Do not worry about your e-mail address being required, it will NOT be used in a mailing list and will NOT be used in any way other than to respond to your enquiry.
TRY CHAT
Terms and Conditions
If you like this service, please consider supporting us.
We use affiliate links on the blog allowing NAScompares information and advice service to be free of charge to you.
Anything you purchase on the day you click on our links will generate a small commission which is
used to run the website. Here is a link for
Amazon
and
B&H
.
You can also get me a ☕
Ko-fi
or old school
Paypal
. Thanks!
To find out more about how to support this advice service check
HERE
If you need to fix or configure a NAS, check
Fiver
Have you thought about helping others with your knowledge?
Find Instructions Here

ASK NASCompares forum
, by clicking the button below. This is a community hub that serves as a place that I can answer your question, chew the fat, share new release information and even get corrections posted. I will always get around to answering ALL queries, but as a one-man operation, I cannot promise speed! So by sharing your query in the
ASK NASCompares
section below, you can get a better range of solutions and suggestions, alongside my own.
This description contains links to Amazon. These links will take you to some of the products mentioned in today's video. As an Amazon Associate, I earn from qualifying purchases