Brand New RS1220+ NAS Drive from Synology Uncovered
There has been yet another new release revealed from the top tier NAS brand, Synology, at their latest event to promote both the 2020 range and almost 20years of providing NAS solutions. Today I want to tell you guys about the Synology RS1220+ NAS for home and midrange business users. Although this is not the first new release that we have featured from the 2020 launch event, it is one that has caught us a little by surprise, following jsut a year after the RS1219+ rackstation NAS. Let me explain. Synology is a brand that tends to shift it's focus periodically from home to business, from Diskstation to Rackstation, changing in line with the financial year and the demand of its audience. However, this year, we are seeing the reveal of their 2019 and 2020 series and we have been seeing alot of devices that I would consider 'somewhere in the middle', with hardware that can be utilized by both home and business users alike. The RS1220+ is another product that, like the RS820+ and RS820RP+ mentioned previously here on NASCompares, features a switch from the Intel C2538 Atom CPU, towards the higher generation C3528 as found on Synology NAS more and more in 2019. Let's take a closer look at this half-depth rackmount to see if it deserves your data.
What are the Hardware Specifications of the RS1220+ Synology NAS Drive?
As ever, I am sorry to be so 'basic', but despite the award-winning software that is included with the Synology DSM software (currently in 6.2 and 7.0 always on the horizon), the hardware will give you some idea of both what the RS1220+ NAS can do and to what extent it can do it! This can be for several reasons. It can be because Synology do not want their software poorly represented by hardware that will not run their proprietary software fluidly (the DS119j is a good example, with it's streamlined version of DSM 6.2) or that the hardware inside just does not have the architecture to support the software in question (Plex and ARM 64bit CPU were till recently, incompatible). This is why I always have to give a little focus to what we know about the hardware so far and the RS1220+ Synology NAS is no exception. Plus I think it would be remiss of me not to highlight that a number of users have their reservations about this CPU. I think it performs remarkably well and Synology have spent a great deal of time getting alot of performance from it in DSM 6.2/7.0 for their users (thereby keeping its hardware at an affordable and attractive level), but some would prefer a beefier Intel Pentium or higher at least. So, the specifications are:
CPU: Intel C3538 Processor
Architecture: x86 64bit
Cores: 4
Frequency: 2.1Ghz per Core
Memory: 2GB DDR4 ECC
Max Memory: 18GB
HDD Bays: 8-Bays

Dedicated SSD Bays: None
Expandability: Yes, upto 12 Bays Max (using the RX418)
PCIe Slot: Yes, Gen 3 x8
Ethernet Ports: 4x Copper RJ45
LAN Coverage: 1Gbe per Port, 4Gbe via Port Trunking/LAG
USB: 2x USB 3.0
Fans: 2x Controllable
Warranty: 3 Years
Of course, there is still more we do not know about the Synology RS1220+ NAS and I will be sure to update here at the link below to give you the very latest information.
Based on the Synology RS1220+ Hardware, What Software Applications Will It Support?
From what we know about the Synology RS1220+ specifications and hardware, we can make educated guesses on the extent to which it will run the official first-party software and those 3rd party applications that Synology support. I have long established that Synology and QNAP are the top two brands in the field of NAS drives, both giving you the best all-round NAS server experience, with QNAP winning on the hardware front and Synology winning on the software front. Therefore the importance of what the RS1220+ NAS can do with DSM is very key to whether you should be considering it and it looks likely that it will support pretty much everything that the RS1219+ could support, with the added bonus of that improved CPU and Memory type meaning that both the fluidity and the number of active users at once will be much larger improved. Let's take a look at what it can/cannot do:
Synology Active Backup: Yes
Synology Moments: Yes
Synology Drive: Yes
Synology Mail: Yes
Synology Chat: Yes
Synology Surveillance Station: Yes, 2 Licenses Included and Supports upto 40 Standard Class IP Cameras
Synology Calendar: Yes
Synology Virtual Machine Manager: Yes (licences included)
Synology Media Applications: Yes
4K Support: No
4K Transcoding: No
1080p Support: Yes
1080p Transcoding: Yes
Plex Media Server: Yes
Emby: Yes
Docker: Yes
Download Station: Yes
Cloud Migration: Yes
DLNA Media Server: Yes

As previously mentioned though, information on the Synology RS1220+ NAS is always incoming and I will be sure to update here  at the link below to give you the very latest information.
When Will the RS1220+ Synology NAS Drive Be Released?
No official statement has been given on the release of the RS1220+ Synology NAS (despite my questions and the definite feeling that Synology didn't like me asking this time and time again -thanks subs!). but I think this will definitely fit into that later Q4 of 2019 or very early Q1 of 2020 window. Any later and it risks treading on the toes of more enterprise only focused device, or the existing 8-Bay rackmount series and creating confusion for buyers.
If I Cannot Wait Till the Synology RS1220+ NAS, What Should I Buy Instead?
Regardless of when Synology choose to release the RS1220+ NAS, if your data storage needs are alot more current or mission-critical, then I would recommend resolving this sooner rather than later. The existing 2018/19 series from Synology is still very diverse and will support DSM 6.2/7.0 to an equal or better extent (depending on where you land on the hardware and budget). If you cannot wait for the RS1220+ NAS drive, then I recommend the following:

I mean, obviously, the alternative is the Synology RS1219+ RackStation NAS – being remarkably similar in its physical build and design (the half depth rackmount size being a key element), but also that this device may well become a pinch more affordable in the run-up to the RS1220+ NAS release date.

Where Can I Buy The Synology RS1220+ NAS Drive?
Right now, the Synology RS1220+ has only just been unveiled, so the official release is no doubt a fair way away. In the past, Synology has always made efforts to release their hardware towards the end of summer and early autumn, and we do not have any reason to see this trend changing. Information like the RS1220+ release, confirmation of the specifications and how well this device will support DSM 6.2 and DSM 7.0 in Beta will be updated.
📧 LET ME KNOW ABOUT NEW POSTS 🔔
Join 1,462 other subscribers
Get an alert every time something gets added to this specific article!
This description contains links to Amazon. These links will take you to some of the products mentioned in today's content. As an Amazon Associate, I earn from qualifying purchases. Visit the NASCompares Deal Finder to find the best place to buy this device in your region, based on Service, Support and Reputation - Just Search for your NAS Drive in the Box Below
Need Advice on Data Storage from an Expert?
We want to keep the free advice on NASCompares FREE for as long as we can. Since this service started back in Jan '18, We have helped hundreds of users every month solve their storage woes, but we can only continue to do this with your support. So please do choose to buy at Amazon US and Amazon UK on the articles when buying to provide advert revenue support or to donate/support the site below.

Finally, for free advice about your setup, j
ust leave a message in the comments below here at NASCompares.com and we will get back to you.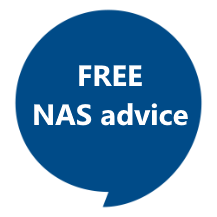 Need Help?
Where possible (and where appropriate) please provide as much information about your requirements, as then I can arrange the best answer and solution to your needs. Do not worry about your e-mail address being required, it will NOT be used in a mailing list and will NOT be used in any way other than to respond to your enquiry.
Support What We Do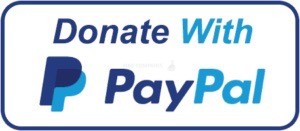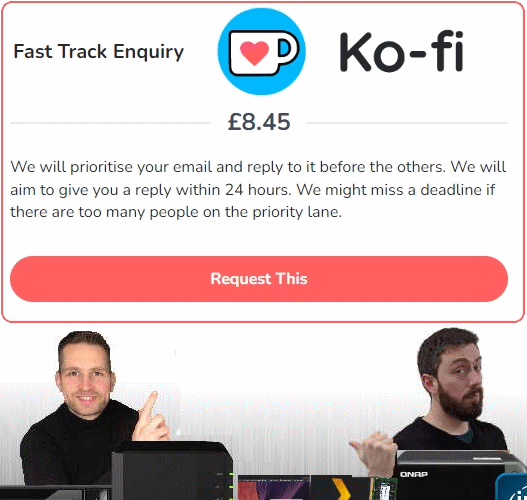 Terms and Conditions
Alternatively, why not ask me on the
ASK NASCompares forum
, by clicking the button below. This is a community hub that serves as a place that I can answer your question, chew the fat, share new release information and even get corrections posted. I will always get around to answering ALL queries, but as a one-man operation, I cannot promise speed! So by sharing your query in the
ASK NASCompares
section below, you can get a better range of solutions and suggestions, alongside my own.
This description contains links to Amazon. These links will take you to some of the products mentioned in today's video. As an Amazon Associate, I earn from qualifying purchases