The Synology
FS6400 FlashStation

, Innovation or Overkill?

When Synology first released their first entry into the flashstation NAS range (now almost 2 years ago, I have to admit I was a bit dubious. I did genuinely believe that SSD and NAS go together very well, however, more and more we are finding that NAS devices are unable to take advantage of the blistering speed of SSD because of factors like internal hardware and external connections like 1Gbe. Fast forward to 2019/2020 and not only do I completely see the need for this kind of storage but also loudly applaud Synology entering this part of the server market before all of their NAS tier rivals. Flash Optimized NAS devices take the logic behind the internals of an SSD (with multiple NAND chips on a circuit board and adding a controller to manage it) and then blows it up to a bigger scale. In a flashstation NAS, each individual SSD acts comparatively to individual NAND chips, with the NAS Motherboard (CPU, Memory, network and multi-lane controllers) harnessing that raw access speed and IOPs to create one giant super fast area of flash storage, adding 10Gbe or higher to make this tremendous bandwidth access possible. The newest Synology NAS to join this family is the Flashstation 6400, easily the most powerful, fast and impressive entry in their range. With several hardware firsts featured in this device, it really stands out. But is the £10,000 pricetag just too elite for you and your budget? Is this overkill for overkill's sake, or genuine innovation? Let's find out.
Synology
FS6400 Flashstation

– Quick Conclusion

The entry point of £10K to buy this device WITHOUT SSD media is certainly daunting, as well as this device managing to make the 10Gbe ports look a little limiting to truly get the full output. But in businesses where IOPs rule all and you need a device with currently industry heights in internal performance, the Synology FS6400 manages to stand out substantially on both a hardware and a software level. Additionally, it is worth remembering that the Synology FS6400 flashstation is very much a contained solution and included a large range of software and licences with the device to work with DSM 6.2.2 (7.0 in beta very shortly) that cover your email, documentation, sharing, surveillance, virtual machine setup, business-wide backups and more.

This combined with exceptionally robust and multi-tiered layers of storage protection in cloud synchronization, snapshots, BTRFS and Hyper Backup really make this an inclusive package. It is a shame that there is no support for the faster PCIe based SSD in NVMe or U.2, or an appearance of the dual controller nature seen in the HDD focused UC3200, but this is a product-focused on super-fast storage and breaking the rules of file access norms. For that, you gotta give them their props!
Synology
FS6400

Product Highlights
Synology all-flash server targeted at I/O-intensive and latency-sensitive applications
Over 240,000 iSCSI 4K Random Write IOPS, ultra-high performance with low latency
Dual Intel Xeon Silver 8-core processors
32GB DDR4 ECC RDIMM, expandable up to 512GB
Onboard 10GBASE-T ports, as well as capable of installing optional 10GbE/25GbE/40GbE NICs
Complete virtualization solution for VMware vSphere, Windows Server Hyper-V, Citrix XenServer, and OpenStack Cinder
Advanced Btrfs file system offering 65,000 system-wide snapshots and 1,024 snapshots per shared folder
Scale up to 72 drives with 2 x Synology expansion unit RX2417sas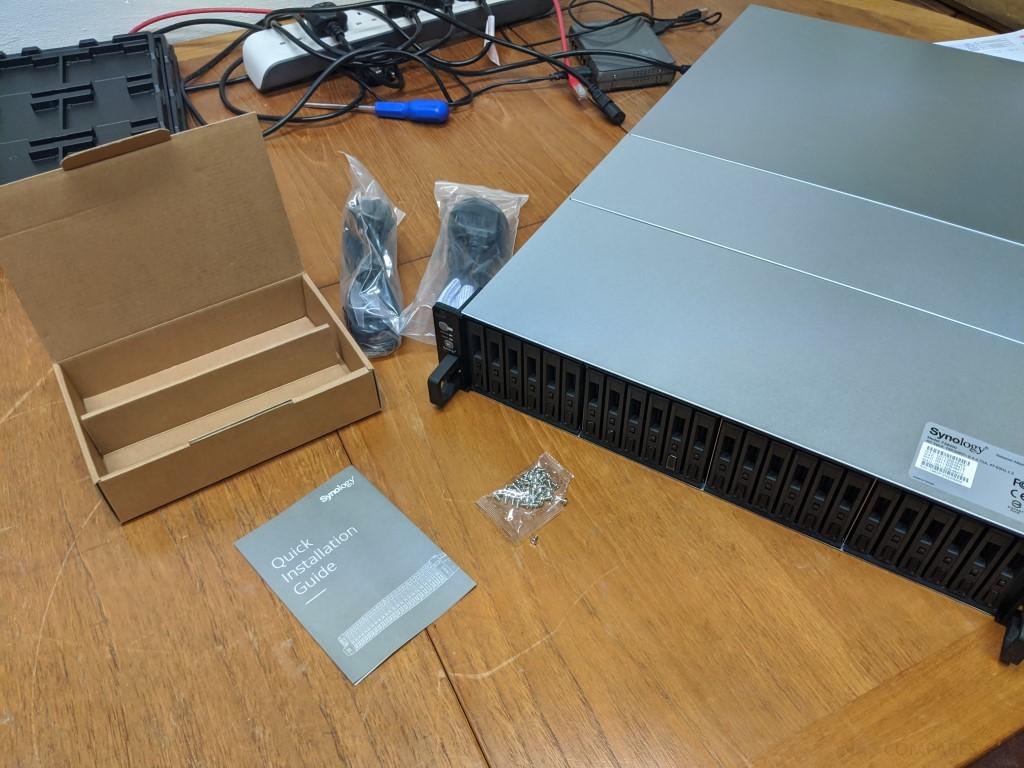 Synology sharpens its focus on the entry-level all-Flash storage market with a new desktop appliance that brings this technology well within the budgets of small businesses. The FlashStation FS6400 supports up to 24 high-performance SSDs and incorporates all of the features found in their DSM software platform. So, what makes a Flash-based NAS different to a regular rackmount server? Flash Arrays are increasingly finding their way into the SMB and enterprise markets, which demand the best performance to their end-user(s). It's not all that simple however, as SAS SSD's do come at a high price so populating an array will come at a much higher cost than just the initial hardware. Synology, the champion of the SMB NAS, makes its first move into the all-flash territory with its FlashStation FS6400 which aims to offer an affordable alternative to the high valued blue chips in the market. This 2U rack appliance supports up to 24 SFF SSDs and lets you choose high-performing, high-cost SAS or low-cost, high-capacity SATA SSDs.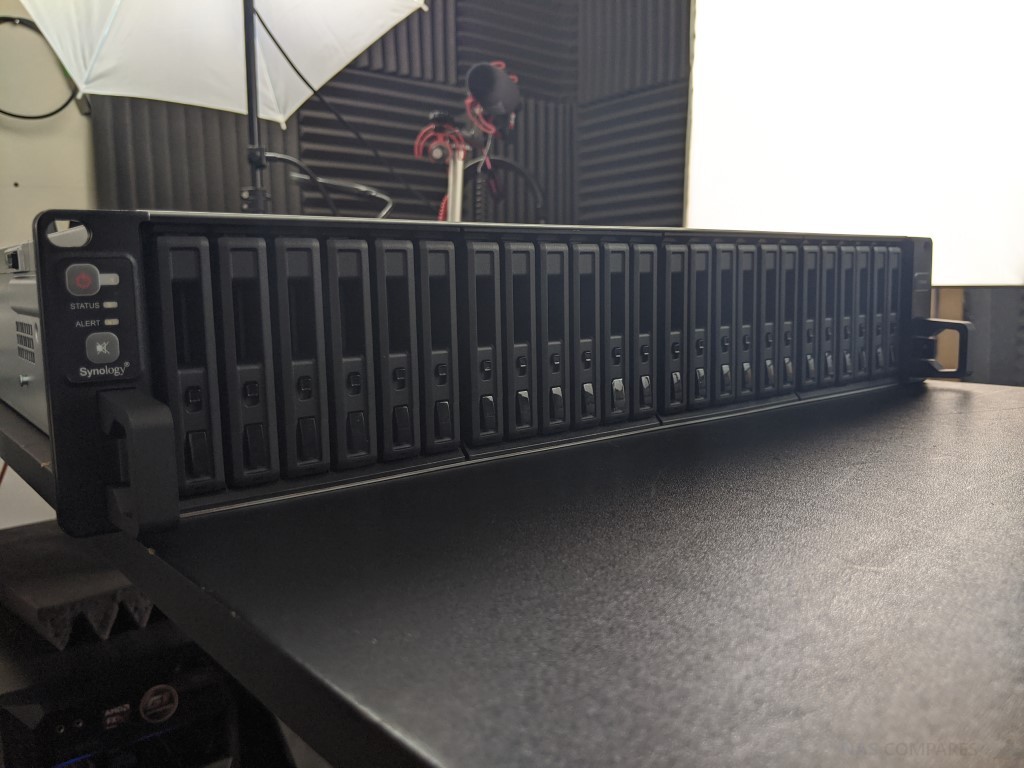 When discussing solid state drives (SSDs), many people, myself included, use the words 'Flash Storage' and 'SSD storage'" frequently and often as the same thing. It's a reasonable assumption, given how close they both are – one (flash) is the chips and storage technology that is used within the other (SSD). However, the two terms don't refer to exactly the same thing once you start delving into the subject. So in the case of the FS6400 the device houses many individual SSD drives (each comprised of flash memory – NAND), in the overall Flash Enclosure, they become something greater than the sum of their parts and in the right RAID array, become something comparable to a SUPER SSD!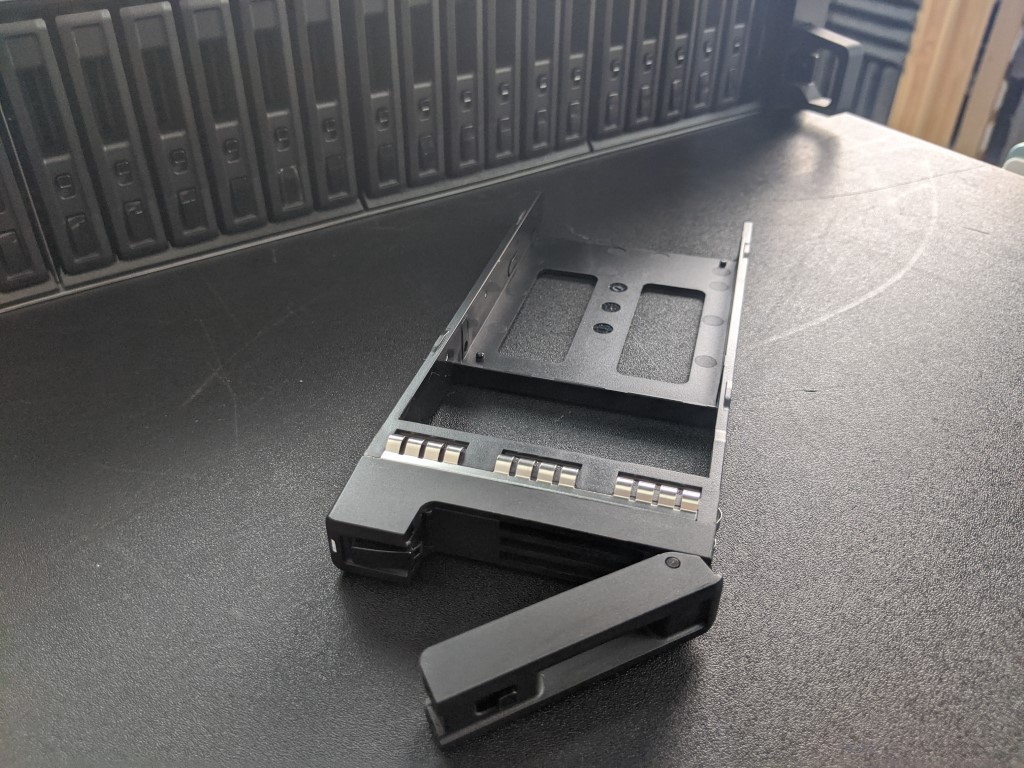 Too complex? Let's use a metaphor (that always helps, right?) One of the aptest analogies that gets used in the storage industry is that flash is like eggs and an SSD is like an omelette. In the same way that an omelette is made mostly of eggs, an SSD is made mostly of flash. And if someone asked what you had for breakfast, it would be understandable if you answered "eggs," even if what you really had was an omelette. Now, you can also do lots of things with eggs besides making omelettes. In the same way, you can do lots of things with flash besides making SSDs. But in the case of the FS6400, much like flash storage is used to construct a single SSD, they are using many SSD to create one giant area of flash storage that's RAW and ready to be used, thanks to RAID technology and fast external speeds – a Flashstation NAS.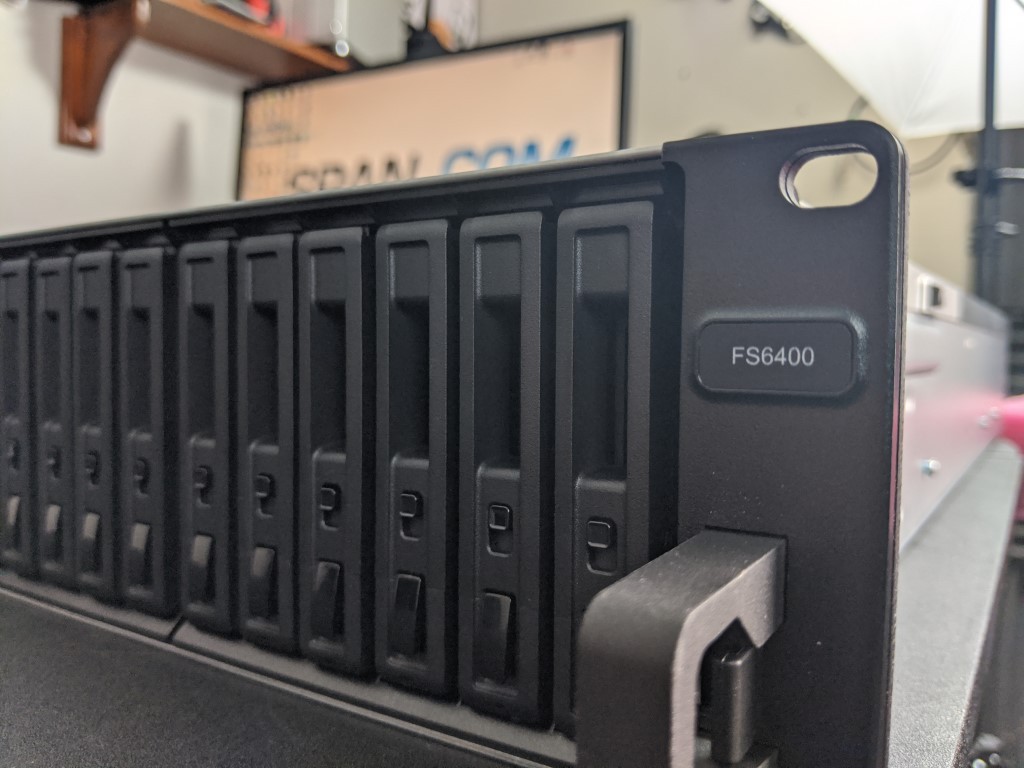 I will assume that the majority of people reading this will know about the difference between SSD storage and traditional HDD storage, but just in case. Flash is a storage medium based on silicon chips that can be written to or erased with electricity, whereas traditional storage relies on a system of moving parts and more physical implementation. The advantages, some obvious and some not, are:
Speed: Flash has some unique characteristics that make it particularly useful for storing enterprise data. First, as the name suggests, it's really fast, much faster than spinning hard disk drives (HDDs).
No moving parts: unlike spinning disks or tape, flash can be used to make drives with no moving parts. In general, that makes it less likely to break or fail, particularly in situations where the storage is being moved around (although experts sometimes disagree about the true reliability of flash).
Non-volatile: flash is non-volatile, which means it retains the information that it stores even when the power is off. That sets it apart from random access memory (RAM), which is also very fast but gets erased every time the system powers down.
Easily rewriteable: flash is easily rewriteable, so it's useful for storing data that changes frequently (unlike, for instance, a CD or DVD).
The price of the FS6400 may seem high, but the unit has superb hardware specifications with dual 2.4GHz E5-2620 v3 Xeons at the helm teamed up with a decent 64GB of ECC DDR4 memory. The motherboard also has 16 DIMM slots allowing memory to be increased to an app-busting 512GB.
The Synology
FS6400 FlashStation

– Design and Hardware

The FS6400 exhibits the sturdy build quality we've come to expect from Synology. The appliance has a pair of embedded 10GBase-T ports and provides power redundancy in the shape of dual 800W hot-plug PSUs.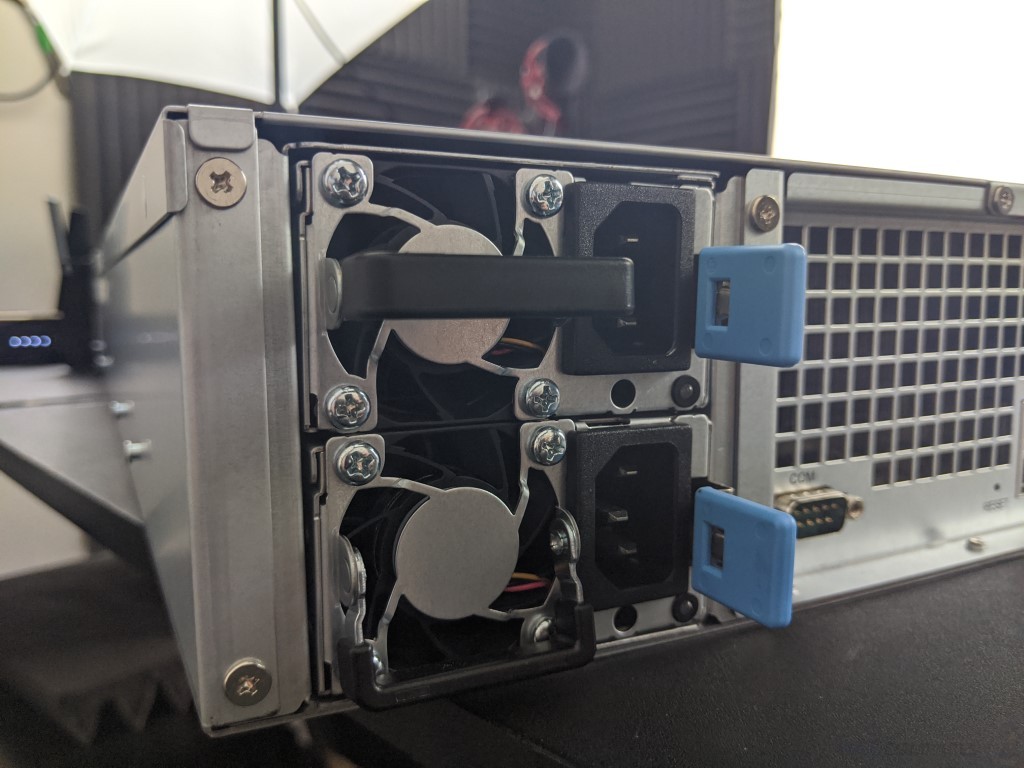 A removable cover in the lid provides access to four hot-plug cooling fans and air is directed over the motherboard by a very solid plastic shroud. The storage arrangement is unusual as Synology has deployed two LSI SAS 9300-8i PCI-Express adapter cards with six cables connecting them to the drive backplane.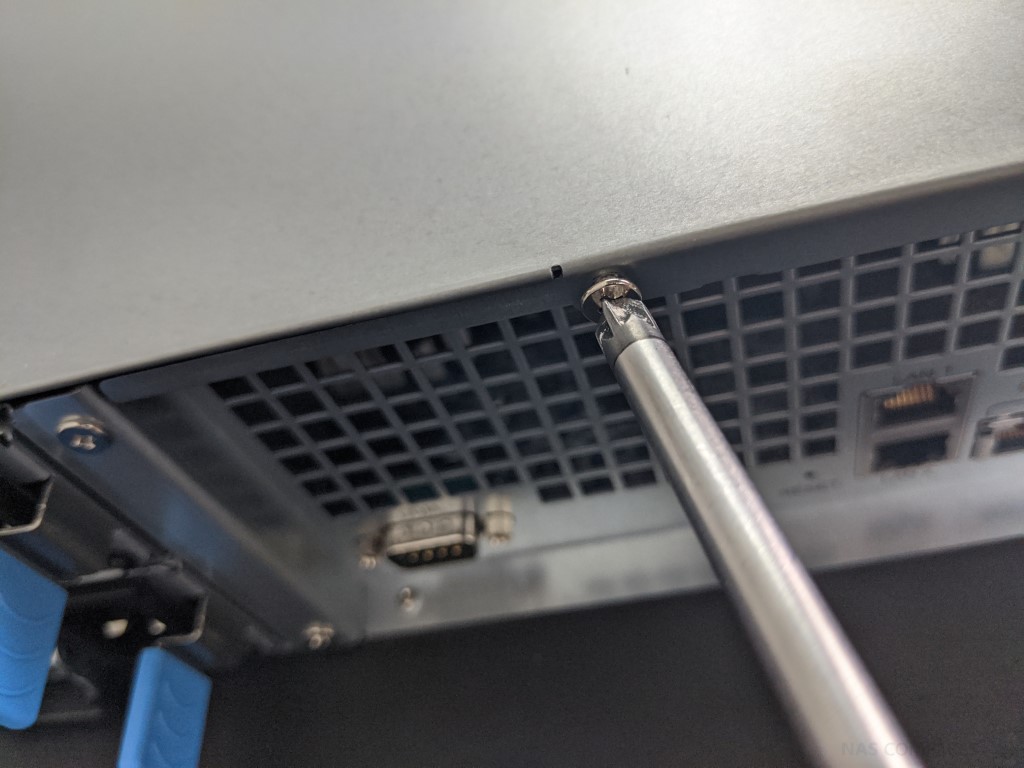 The upside is they deliver full 12Gbps SAS 3 and 6Gbps SATA III services to the backplane but the downside is they only leave two PCI-Express expansion slots free. You can increase the network port count as the FS6400 supports industry-standard single- and dual-port adapters from Intel and Emulex plus 25GbE and 40GbE Mellanox cards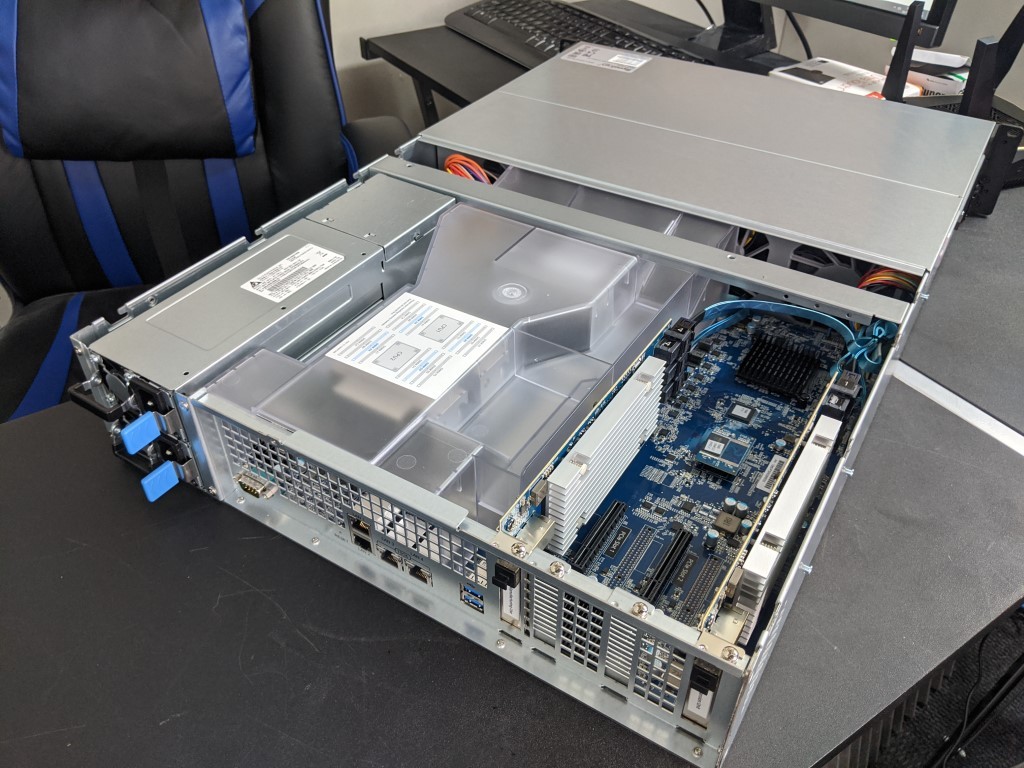 Further capacity expansion is possible as the appliance accepts two 12-bay RX1217sas or 24-bay RX2417sas disk shelves. To use them, however, you must fit Synology's FXC17 SAS 3 expansion card which has a hefty $850 price tag.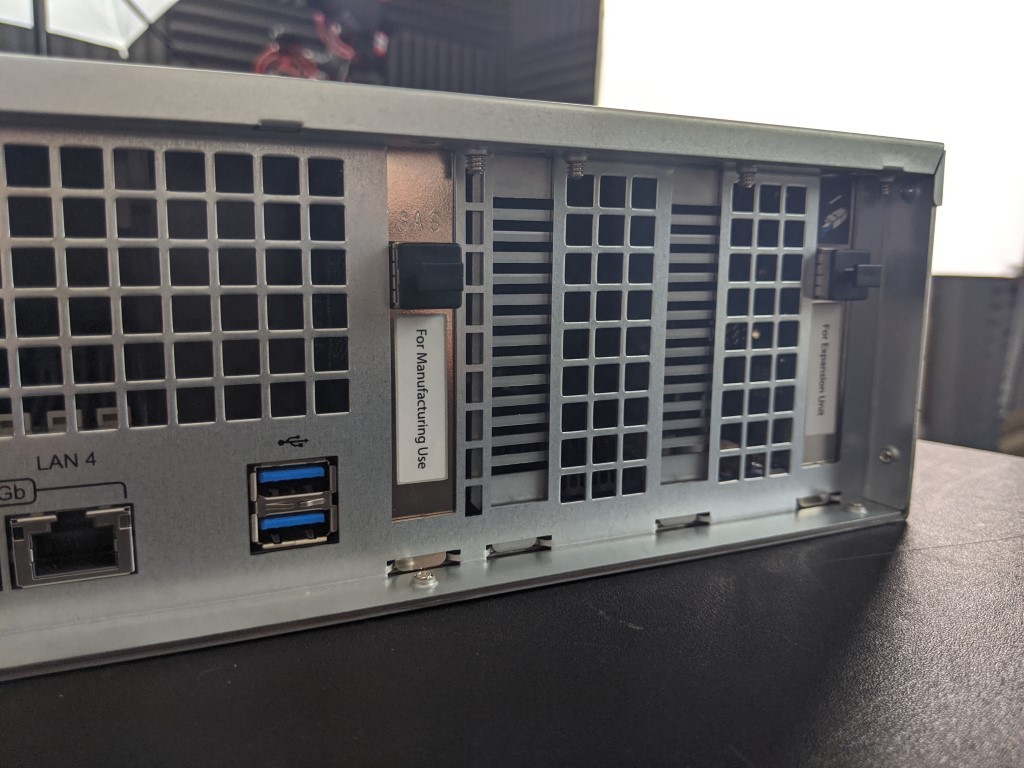 Deployment is deftly handled by the browser-based Web Assistant and wizard which downloaded and installed the latest DSM 6.2 software for us automatically. This is a new feature in DSM 6.2 and is designed to counteract potential SSD wear caused by program/erase (P/E) cycles. During array creation, the appliance nominates one SSD to receive more parity bits than the rest.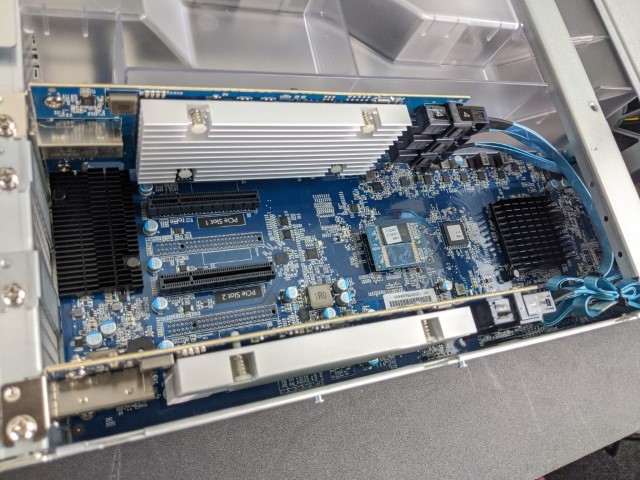 The idea is this SSD will wear out quicker than the rest and can be replaced when it reaches the end of its life. When a new SSD is installed, the array will take the next oldest one to receive the extra workload and you can keep an eye on them from the Storage Manager app which provides health information and estimated lifespan. Synology is also working on a RAID F2 version which delivers dual SSD resiliency. And if SSD wear isn't a concern, you can choose from a good selection of standard array types including RAID 5 and 6.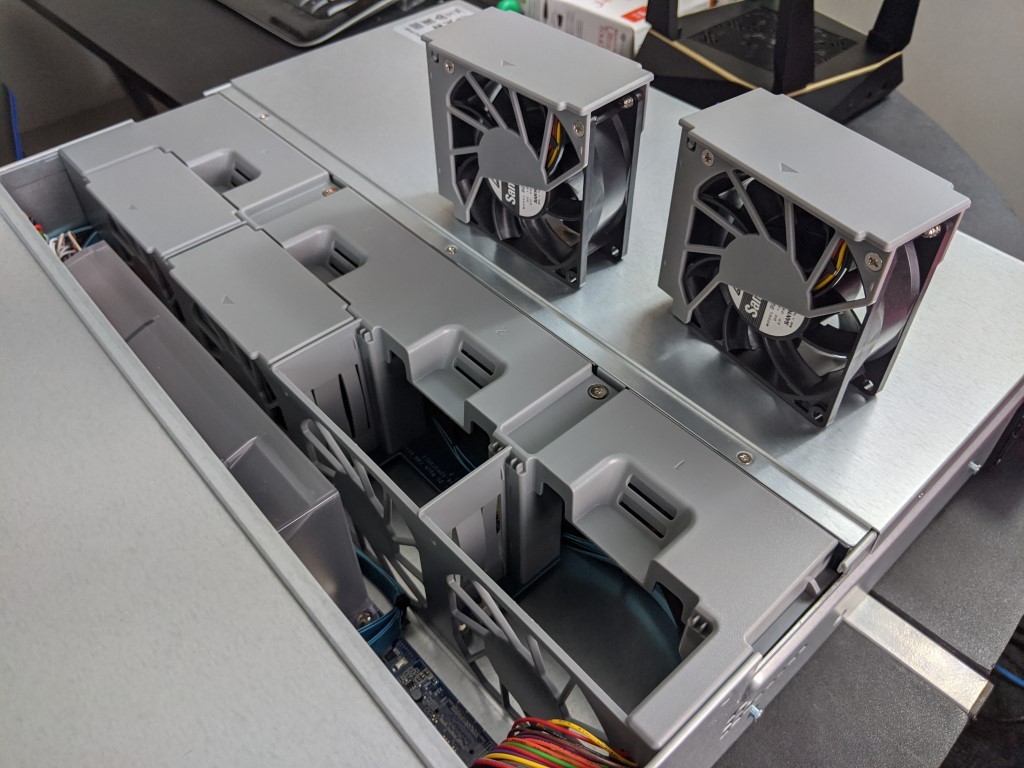 Along with the new RAID array types, Synology's DSM provides a wealth of data protection features. BTFRS volumes get NAS and IP SAN on-demand and scheduled snapshots and they can be replicated to remote Synology appliances as well. NAS snapshots can also be replicated to local volumes allowing you to hold extra on-site copies for quick restores. Recovery options are excellent as we could restore or clone a share or LUN from the selected snapshot and use the File Station app to browse share snapshots and select individual files and folders.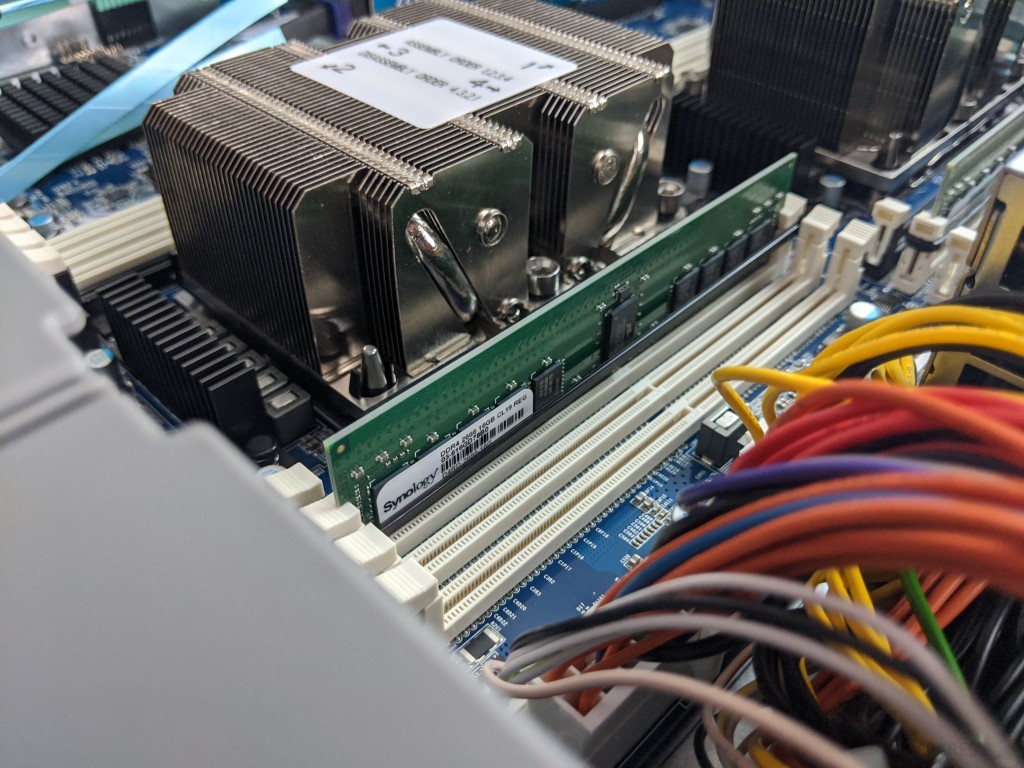 The slick Hyper Backup app gets even more useful features as along with support for 19 different types of backup tasks, it can run integrity checks on backups and offers basic file-level deduplication. Workstations can be synced to the appliance using Synology's client software but if you don't want to load these you can use the handy Active Backup app which secures Windows and Linux shared drives and directories directly to the appliance without requiring an agent.
With a dual 10GbE MPIO link in action, we saw speeds ramp up to 14.9Gbps and 10.8Gbps. Reducing the Iometer block size to 4KB returned sequential read and write throughputs of 173,000 IOPS and 154,000 IOPS dropping slightly to 170,000 IOPS and 150,000 IOPS for random operations. NAS performance is very good with a mapped share delivering sequential read and write rates of 9.2Gbps and 9.1Gbps. Random read and write throughout for a single server settled at 124,000 IOPS and 87,000 IOPS.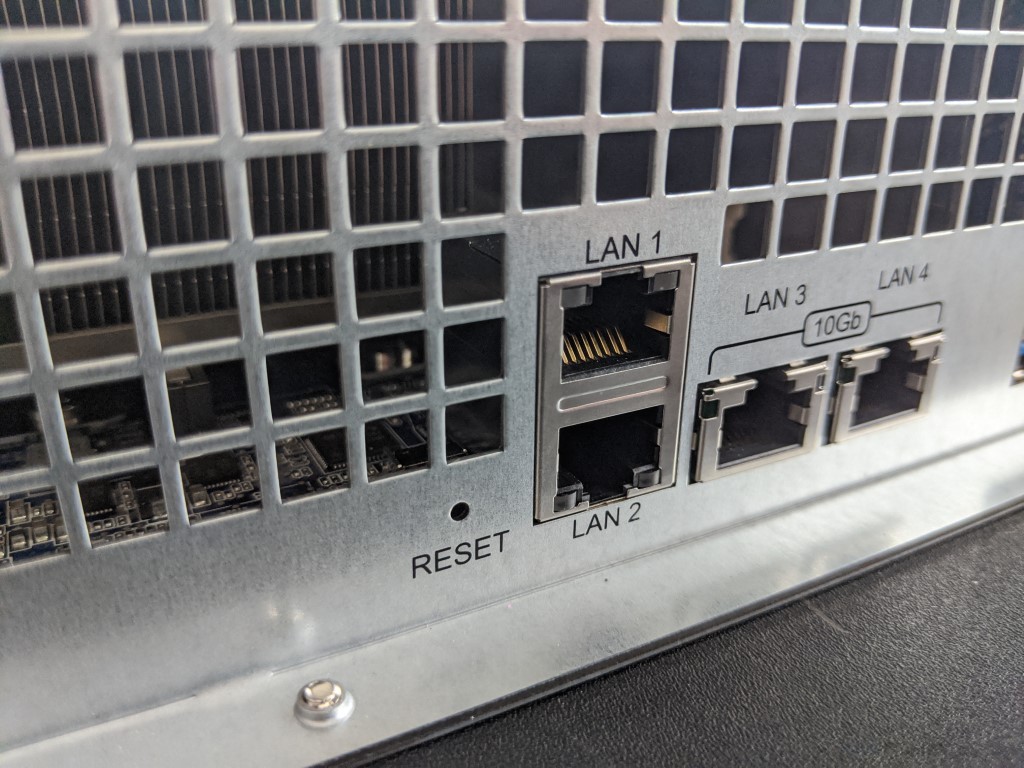 With a second Windows server mapped to a dedicated share over its own 10GbE connection, we saw cumulative read and write rates increase 18.4Gbps and 18.3Gbps. We also watched cumulative random read and write throughout top out at an impressive 220,000 IOPS and 174,000 IOPS. The FS6400 is a little powerhouse of a storage appliance that delivers excellent all-Flash performance for NAS and IP SAN services.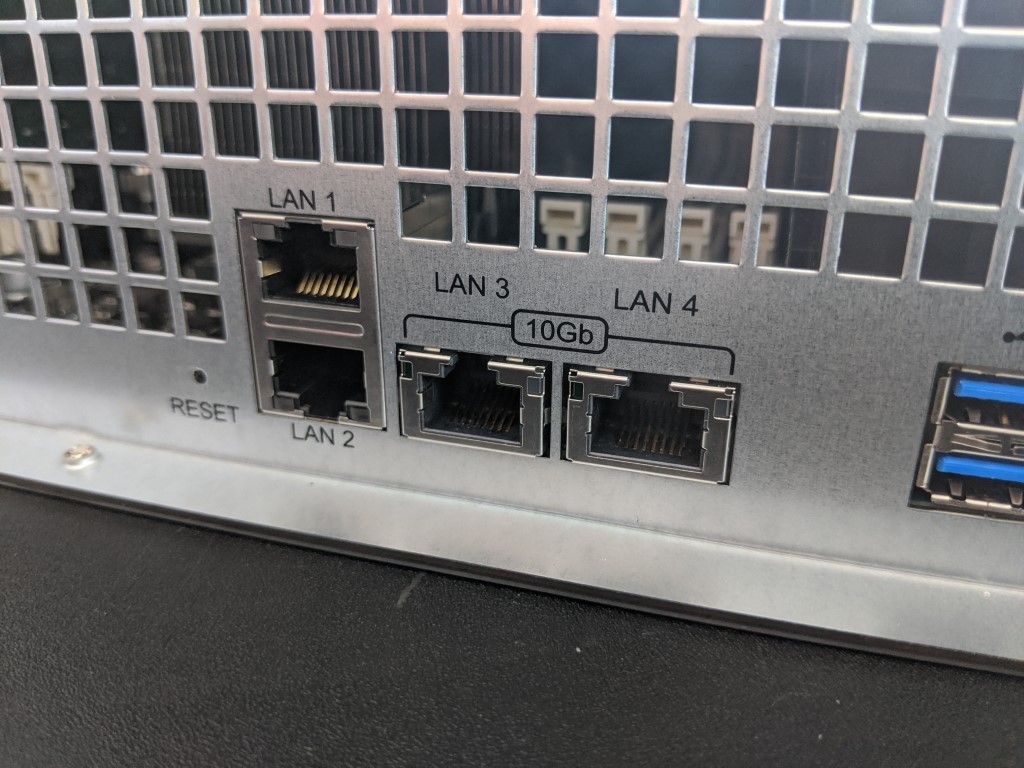 A starting price of $9,995 for an all-flash appliance without dual controller redundancy is a tad on the higher side but this is outweighed by the option to use low-cost SATA SSDs. businesses (small or large) that want an affordable all-flash solution should consider the FlashStation FS6400. The FS6400 may initially look pricey but it is good value as Synology's DSM software comes with nearly everything included so you don't need to factor the cost of additional options such as enhanced snapshots and replication. Its classy Xeon Scalable hardware package delivers great performance while support for low-cost SATA SSDs makes the FS6400 an appealing choice for budget-conscious SMEs.
Synology

FS6400

NAS Review – Conclusion
The Synology FS6400 Flashstation NAS really does give you a whole host of options for your business needs when it comes to how you store your data in a fast access environment, where you store your data and how safe your data is. With security measures such as RAID protection, F1 RAID to help circumnavigate the issue of NAND degradation AES-NI 256bit encryption, the BTRFS file platform for easy storage snapshots and background file integrity checks on all Read/Write operations and user account control with two-step verification for all of your hundreds of connected users, this NAS gives you so much than most. That said, Synology has been using this software architecture for a long enough time now, so you would expect it to be smooth and feature-rich, so there isn't a vast amount available here that is not available in multiple of the current generation of Synology NAS at a price point lower than this. The additional price point is exceptional hardware led, with its prime focus on removing al bottlenecks inside and out when it comes to data transfers, and it that area, this is a surprisingly good value for the elite-level business – but you have to view it AS A PACKAGE – hardware+software! If you plan on buying the Synology FS6400 FlashStation NAS, please use a link below to make your purchase.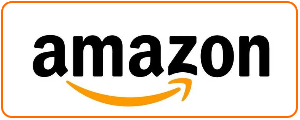 Articles Get Updated Regularly - Get an alert every time something gets added to this page!
This description contains links to Amazon. These links will take you to some of the products mentioned in today's content. As an Amazon Associate, I earn from qualifying purchases. Visit the NASCompares Deal Finder to find the best place to buy this device in your region, based on Service, Support and Reputation - Just Search for your NAS Drive in the Box Below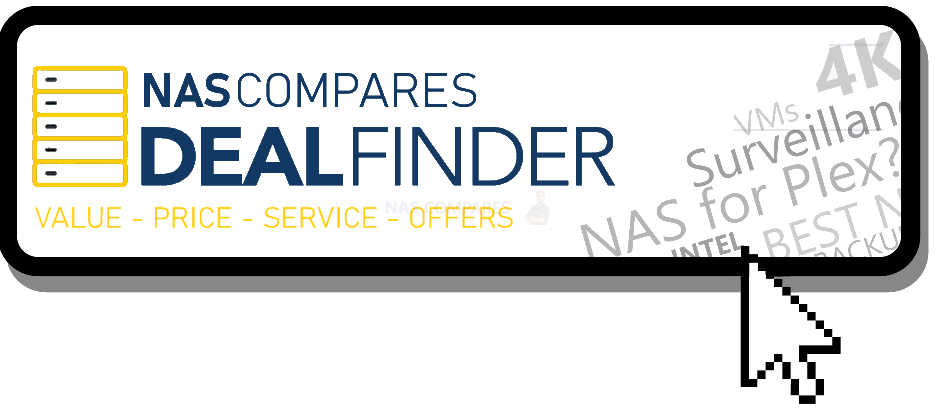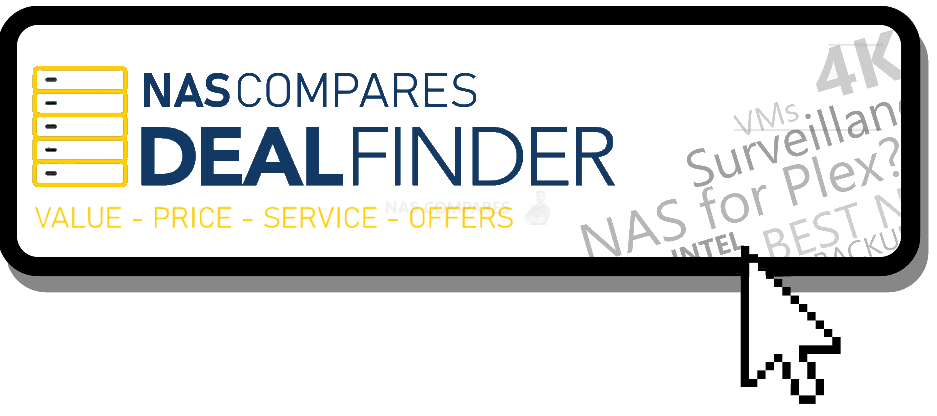 SEARCH IN THE BOX BELOW FOR NAS DEALS
Need Advice on Data Storage from an Expert?
We want to keep the free advice on NASCompares FREE for as long as we can. Since this service started back in Jan '18, We have helped hundreds of users every month solve their storage woes, but we can only continue to do this with your support. So please do choose to buy at Amazon US and Amazon UK on the articles when buying to provide advert revenue support or to donate/support the site below.


Finally, for free advice about your setup, j
ust leave a message in the comments below here at NASCompares.com and we will get back to you.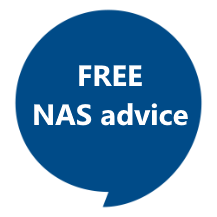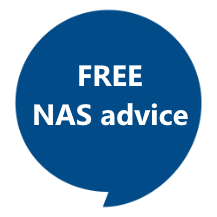 Need Help?
Where possible (and where appropriate) please provide as much information about your requirements, as then I can arrange the best answer and solution to your needs. Do not worry about your e-mail address being required, it will NOT be used in a mailing list and will NOT be used in any way other than to respond to your enquiry.
Terms and Conditions
Alternatively, why not ask me on the
ASK NASCompares forum
, by clicking the button below. This is a community hub that serves as a place that I can answer your question, chew the fat, share new release information and even get corrections posted. I will always get around to answering ALL queries, but as a one-man operation, I cannot promise speed! So by sharing your query in the
ASK NASCompares
section below, you can get a better range of solutions and suggestions, alongside my own.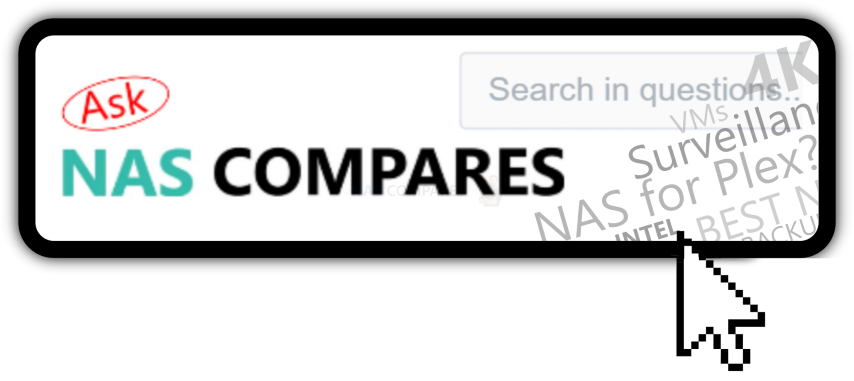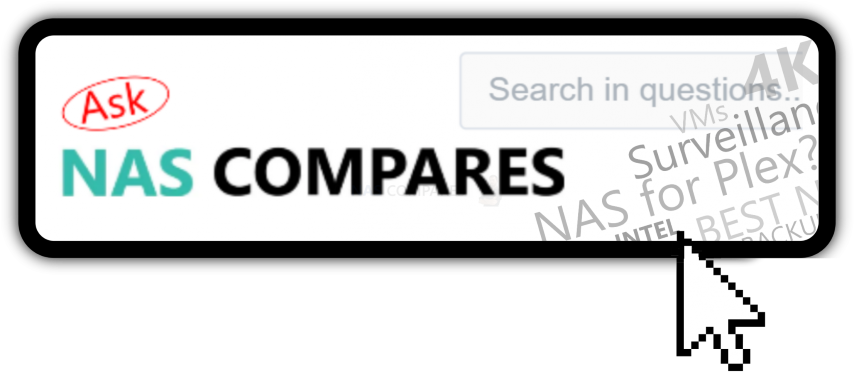 This description contains links to Amazon. These links will take you to some of the products mentioned in today's video. As an Amazon Associate, I earn from qualifying purchases
Summary
Reviewer
Review Date
Reviewed Item
Synology FS6400 FlashStation NAS Hardware Review
Author Rating