The Synology NAS 2021 Launch Event – December 7th 2020
There are few annual events on the data storage calendar that have the swish and slick appeal of the annual Synology NAS launch event, comparable to an Apple product launch (though of course at appropriate scale) the yearly event of Synology talking to their audience and detailing their plans for the coming year is something that has been covered many times here on the channel.
—————————— UPDATED 07/12/20 —————————————
Full Round-Up of the Event is available HERE – https://nascompares.com/2020/12/07/synology-2021-focus-on-dsm-7/
Or just click below: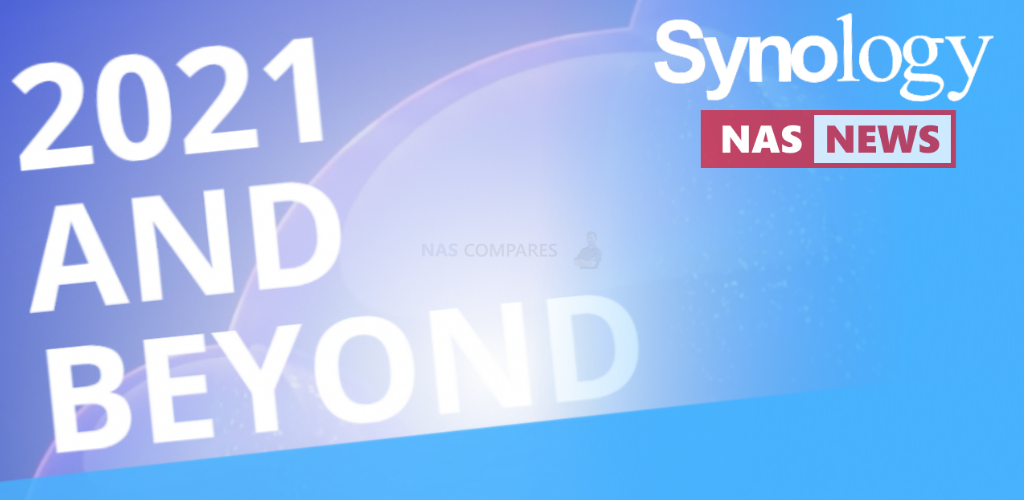 However, this year it is arguably and understandable different, with the English speaking presentation being synchronized into an online live stream event, taking place online at 12:00 GMT (Greenwich Meantime) on Monday 7th December 2020 (note – still seeking clarification on if multiple events are scheduled – TBC folks). Generally in the past, this brand portfolio (akin to a shareholders meeting, but for the general public) has taken place over the course of 1-2months in multiple regions of the world, but given the local pandemic and the majority of the world maintaining social distancing and suspending the bulk of large group gatherings, this was always a likely outcome for the event. We will, of course, be discussing the event at length after it takes place and discussing the highlights and what you should keep in your diary/budget for 2021, but for now let's discuss everything we know about the Synology 2021 hardware, software and make a few predictions too (don't worry, they will be pretty obvious!).
What Do We Expect at the Synology 2021 NAS Launch Event?
Synology has generally kept a pretty tight and reliable formula at these launch events over the years (click here for 2018, 2019 and 2020 event coverage in the past), breaking down their presentations into distinct categories. First up there is a review of the last year within the brand in terms of market share, hardware achievements and industry recognition. This will then giveaway to software presentations (interspersed with hardware) that will in all likelihood heavily feature DSM 7.0 as the big, big sell in 2021. Finally, we shall see the shift towards planned 2021 hardware and further R&D projects that are in the works. Below is what we expect to see highlighted at the event.
Synology DSM 7 Public Beta and Release
It's the big one, the update that we have been waiting for since it's first revealed at the end of 2018. Diskstaiton Manager ver. 7.0 has been in the works for quite a long time and although there has been the private beta a couple of months ago, the bulk of users have yet to take advantage of the software and it's large improvements in performance and GUI over DSM 6.2. Although we fully expect demonstrations of the new UI, applications (such as Active Insight, Synology Photos, Hybrid Share) and improvements in longstanding services (such as Synology Drive 3.0, clearer storage UI, improved CMS and the drive failure prediction that we covered previously) it will be the announcement of the public beta that many will be waiting on. It is no secret that DSM 7 coverage will largely dominate this launch event, but that is not a bad thing.
Synology DVA3221 NAS for Surveillance
Already covered and fast approaching release, the new Surveillance solution from Synology (the DVA3221) is a jump up from the previous DVA3219 in a few ways and especially that new GPU card. It will almost certainly be given a spotlight at the show, but if you are impatient, you can find out more about it here in our reveal of the Synology DVA3221 Deep Video Analysis NAS.
Synology DS1821+ & DS1621+ Diskstation NAS
Both already revealed and release, the embracing of the Ryzen embedded processor series by Synology in their flagship Small-Medium Business (SMB) range is something that is certainly worthy of note. Both arriving in the closing stages of 2020, the Synology DS1621+ NAS has been especially popular, outperforming the Intel Atom series devices in previous generations in practically every noteworthy way. We are likely to see these two units highlighted in the presentation further, as well as an expected reveal of further hardware to carry this configuration in Diskstation or Rackstation form.
Synology 2021 RackStation Series
Another keen staple of the Synology NAS launch events is the chance to reveal a number of their rackmount devices for different tiers of business. Last year we saw a large number of Xeon powered systems (such as the incredibly impressive dual controller UC3200 and expanded range of Flashstation solutions) being presented and though it would be nice to see a similar level of hardware be revealed at this level, it is more likely that we would see more attention drawn to the PLUS series of rackmounts first, given the moves we have seen in the 6/8-Bay Diskstation devices in 2020 and the move towards Ryzen over Atom. We have mentioned briefly about a potential RS1221+ and RS2421+ rackstation NAS being inadvertently referred too previously and if indeed these are real, then this event is where you are most likely to hear about them. However, maybe hold onto your seats a bit for now.
Synology HD6400 60-Bay RackStation Device
Originally revealed in both Summer and Winter 2019, this BEHEMOTH of a rackmount NAS was previewed in numerous worldwide locations. Still very much in early development at that time, this 60-BAY storage rackmount device (top load injection design) seemed unusually bold for Synology (who typically lean more into their software than their hardware) and since then we have heard only the odd, occasional squeak about this monster 4U rackmount server. It seemed a great deal further in development than a number of solutions from the brand that have come before and (credit to them) there have only been a couple of instances of them not following through on a release once premiered (CONSIDERABLY less than many other brands I might add). We will hold out on this one happening, but for now, take a look at the article from last year below to get clued up on it.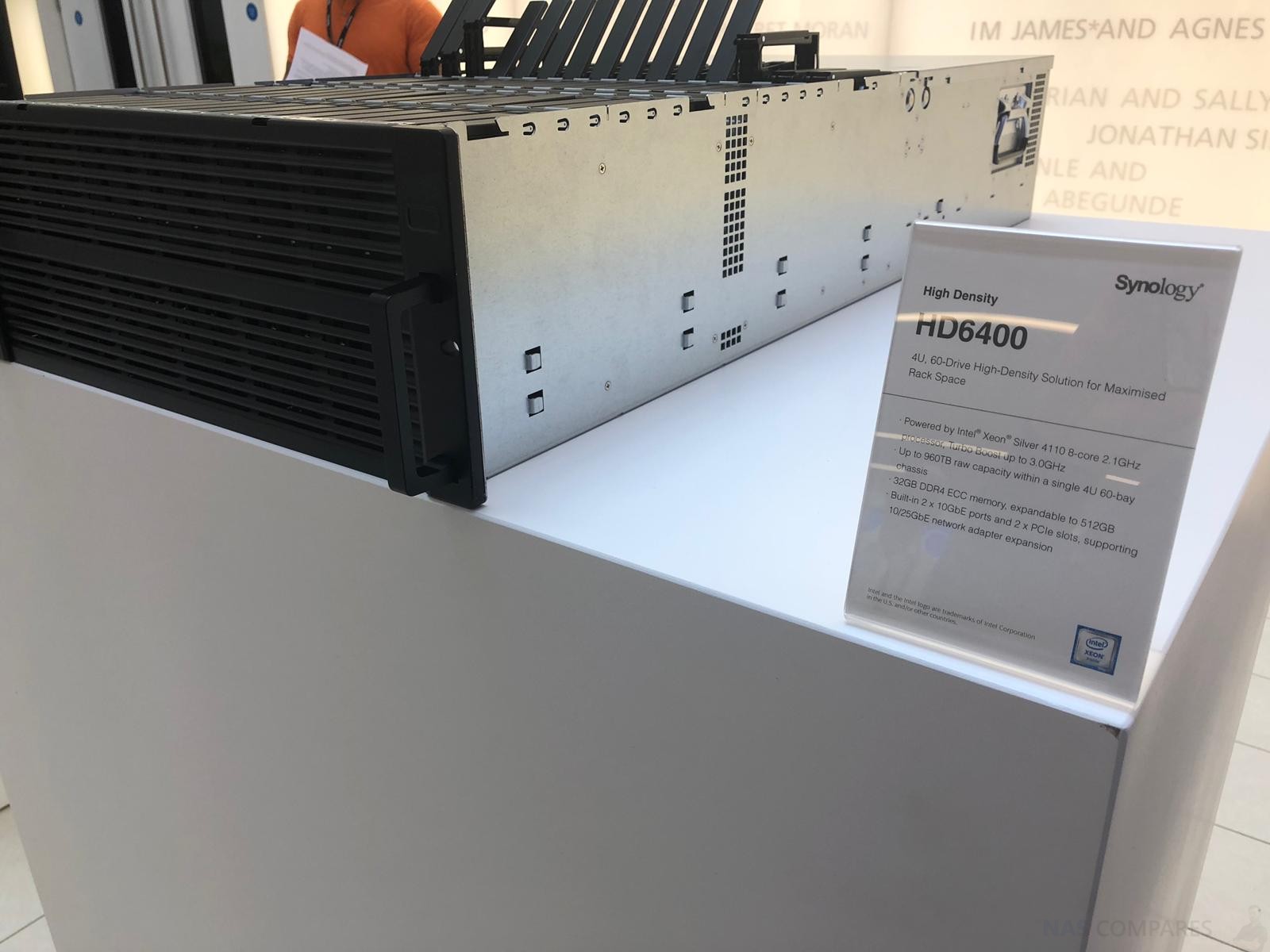 Further Synology Storage Media?
One area that Synology have heavily focused on in 2021 is that of Storage and leveraging the fast performance of caching with SSDs. In summer of 2020 we saw several strong moves on this. The release of their new range of 2020 diskstation devices (almost all of which featuring dedicated m.2 NVMe SSD caching bays), the release of two M.2 NVMe equipped PCIe upgrade cards AND the release of their own range of Solid State drives in both SATA 2.5″ and M.2 NVMe 2280/22110. They have really pushed hard on this one and although it is early days for the move, it is seemingly looking quite positive and well-adapted across their ranges. I am positive that we will see improvements on this in 2021 with larger capacity drives arriving, but also in other ways. Is this going to finally be the time that the brand makes a move into in-house hard drive media? It's something that has always been discussed and a positive move into solid-state drives will naturally raise the question if this is something that will be expanded upon?
What Are We Less Sure Will Be at Synology 2021?
As much as we can speculate and look at what we know for sure, there is always going to be heaps of guesses and supposition! So, alongside the above (where I am confident in their appearance) the following are items I am much less confident of (or even downright convinced won't be present). Let's discuss.
Synology Routers and WiFi 6
The Synology router series (currently consisting of the Synolgoy RT1900ac, RT2600ac and MR2200ac) are very popular devices and was a successful move from Synology to diversify their portfolio and get the brand into other areas of the network environment (for both home and business). I do NOT think we have heard the last of this series, despite it being around a year since a hardware release arrived and would expect a follow up to be announced soon enough. However, the big question is the embracing of WiFi 6 (also known as 802.11ax) in that new hardware. Each piece of hardware in this product series has typically taken almost a year from reveal to release to arrive in stores and even if new hardware in the Synology Router series was revealed at Synology 2021, it will likely not arrive for quite a while. But with talk of WiFi 6E being the potential preferred choice by the industry in 2021, there is every possibility that Synology might hold out for this and that is why I am less confident about Synology Routers and WiFi 6 – still, I hope I am wrong!
(Still in progress!)
Learn more about Synology in 2020/2021 from our Q&A earlier this year:
Click Below to Read the Full Q & A with Synology Taipei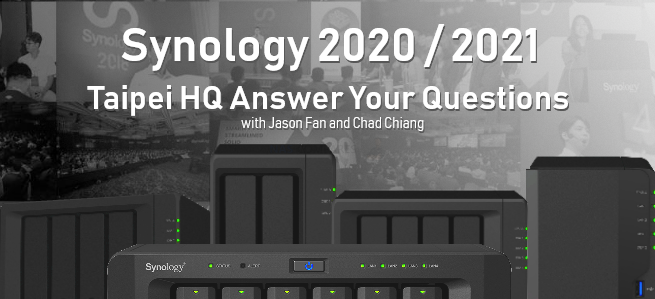 📧 LET ME KNOW ABOUT NEW POSTS 🔔
Join 1,582 other subscribers
Get an alert every time something gets added to this specific article!
This description contains links to Amazon. These links will take you to some of the products mentioned in today's content. As an Amazon Associate, I earn from qualifying purchases. Visit the NASCompares Deal Finder to find the best place to buy this device in your region, based on Service, Support and Reputation - Just Search for your NAS Drive in the Box Below
Need Advice on Data Storage from an Expert?
We want to keep the free advice on NASCompares FREE for as long as we can. Since this service started back in Jan '18, We have helped hundreds of users every month solve their storage woes, but we can only continue to do this with your support. So please do choose to buy at Amazon US and Amazon UK on the articles when buying to provide advert revenue support or to donate/support the site below.

Finally, for free advice about your setup, j
ust leave a message in the comments below here at NASCompares.com and we will get back to you.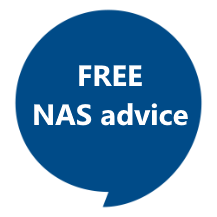 Need Help?
Where possible (and where appropriate) please provide as much information about your requirements, as then I can arrange the best answer and solution to your needs. Do not worry about your e-mail address being required, it will NOT be used in a mailing list and will NOT be used in any way other than to respond to your enquiry.
Support What We Do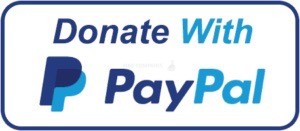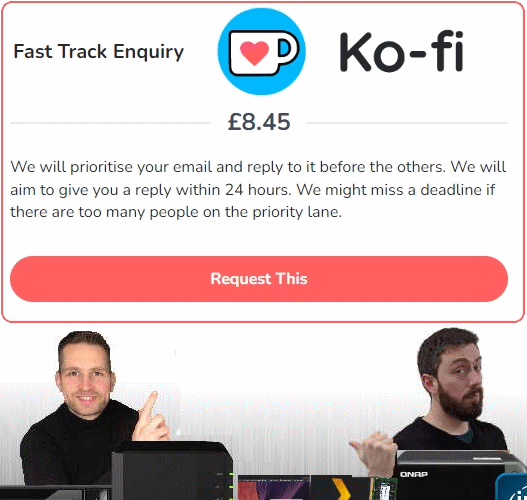 Terms and Conditions
Alternatively, why not ask me on the
ASK NASCompares forum
, by clicking the button below. This is a community hub that serves as a place that I can answer your question, chew the fat, share new release information and even get corrections posted. I will always get around to answering ALL queries, but as a one-man operation, I cannot promise speed! So by sharing your query in the
ASK NASCompares
section below, you can get a better range of solutions and suggestions, alongside my own.
This description contains links to Amazon. These links will take you to some of the products mentioned in today's video. As an Amazon Associate, I earn from qualifying purchases