Which Synology NAS Drives will we see in 2022?
Note – This article has been updated several times since its first publication (update dates in red), so scroll down if you are a returning reader and want to see what has been added
"When is the DS922+ NAS Coming?". We are barely scratching the surface of 2022 and anyone that knows how the Synology naming convention works is keen to when the DSx22+ (or even DSx23+) series is going to drop! Whether you are an existing Synology NAS drive owner, hoping to migrate from a particularly old system or just keeping an eye on the changing tides of tech at the big brand in network-attached storage, the periodic refresh of the Synology hardware portfolio is generally something that is much anticipated. Synology is a brand in the world of NAS that is heavily focused on software, with their DSM, SRM and C2 platforms more often getting the lion share of regular updates throughout the year. However, their portfolio is actually rather extensive and every 2, 3 or 5 years (depending on the product series) the brand will revisit an existing sing;e/batch of hardware solutions and update them with more ports, capable CPUs or more. The motivation for this can be pretty diverse and occasionally outside of the brand's own control (such as the CPUs from Intel having a regular refresh cycle at the point of production forcing the hand's of manufacturers to update their hardware specifications regardless), so many Synology NAS buyers who are looking at a solution to buy (eg the DS920+ or DS218play) will look at the fact that they have been in the market 12-18months and think "is there something better coming along?". It is understandable and given the frequency of Synology going this being so diverse based on the range PLUS the effects of the pandemic AND semiconductor shortages worldwide, predicting the new Synology hardware being released can be a tricksy business! Luckily a few bits and bobs of the Synology 2022 hardware coming this year have been revealed or accidentally uncovered, as well as clear motions on the movement of stock, pricing and hardware online give even further indication of things we can comfortably predict sometimes. So, today I want to go through all the things we know about, all the things we can comfortably predict and put together every single piece of Synology NAS hardware confirmed/potentially coming in 2022. Additionally, if you would rather hear more details on this and how these points were reached, there is a full Video about Synology NAS Hardware I know about or predicting can be found HERE
IMPORTANT – If you have come to this article because you are wondering about whether you should wait for a Synology DS922+ or buy the Synology DS920+ NAS, I have made a special dedicate article HERE covering that in much more detail – https://nascompares.com/answer/buy-the-synology-ds920-or-wait-for-a-ds922-nas
Let's talk hardware!
—– UPDATED September 12th 2022 —–
Now that we are well into the 2nd half of the year, Synology will be moving into releasing their planned 2023 model ID devices. A large number of these, as well as details on other hardware that is being/been released in the DSx23, RSx23 and SA series have already been leaked. We have made a whole page that is detailing new on the new Synology hardware we know so far on the page below. So far we have heard information and rumours on the DS923+, DS223+, DS223J, DS423+, DS423, SA6400, SA6200 and DS1823xs+ NAS. You can find out more by visiting and following the page below:
Click Below to Learn About Synology 2023 Releases: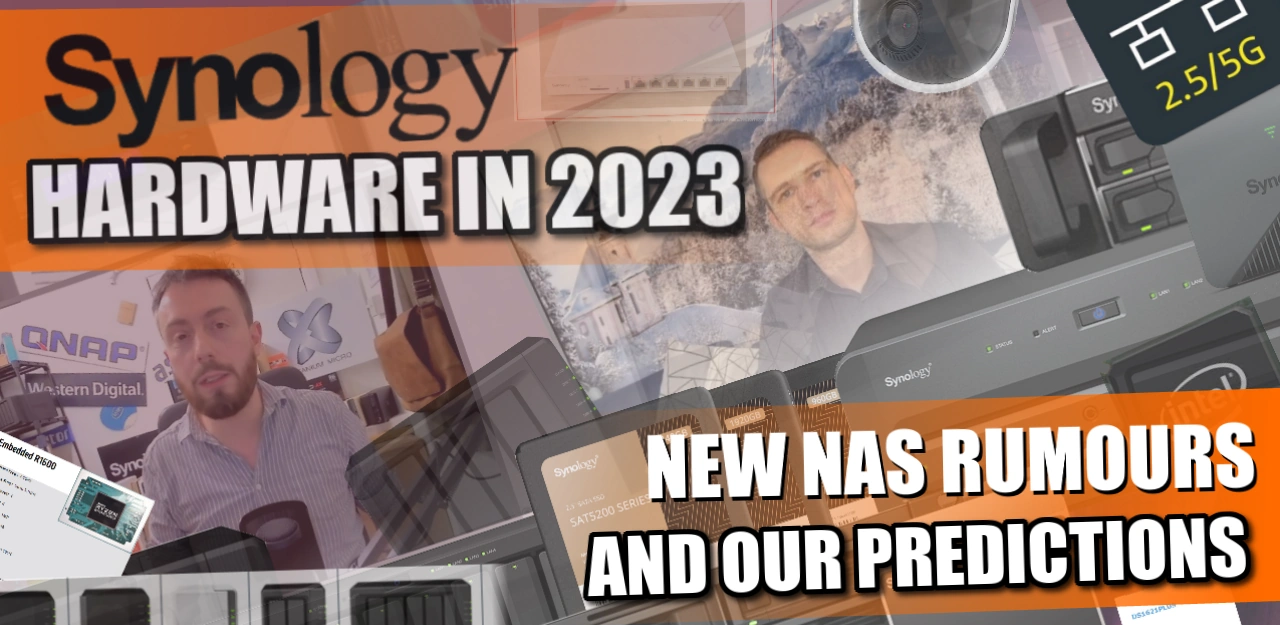 —– UPDATED APRIL 27th '22 —–
Added a few more bits to several of the hardware that was revealed around a week ago (specifications, images, etc), as well as updated the MAIN articles that each one links to. There is also information on a couple of new hardware reveals added here:
Synology E10G22-T1-mini 10GbE Adapter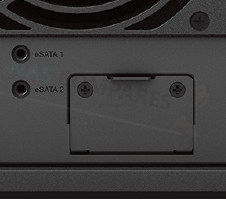 Of all the things that have been learned about Synology's hardware release plans for 2022/2023, the thing that has REALLY stood out for me is the news of a proprietary 10GbE mini adapter for a number of their 2022 Diskstaiton and Rackstation devices in the PLUS/+ series. The E10G22-T1-mini adapter is going to change ALOT of things about Synology NAS releases moving forward in the Prosumer/SMB market. I should add that 10GbE upgrades for Synology Diskstaiton/Rackstation NAS are NOT a new thing, however, up until this point they have been exclusively provided as traditional PCIe card solutions (such as the E10G18-T1 1 port 10G upgrade). This proved something of a barrier to more modest-sized NAS systems or those using more limited CPUs that lacked the PCI architecture/supported-chipset to spread out enough to allow a PCIe upgrade slot (not even factoring in the ability to saturate 10G anyway). However, these later gen CPUs that we are seeing in the 2022/2023 Synology lineup are broad enough to spare some expandability in this direction and (whilst still maintaining these systems' existing shape and scale) the mini-network expansion port has become available.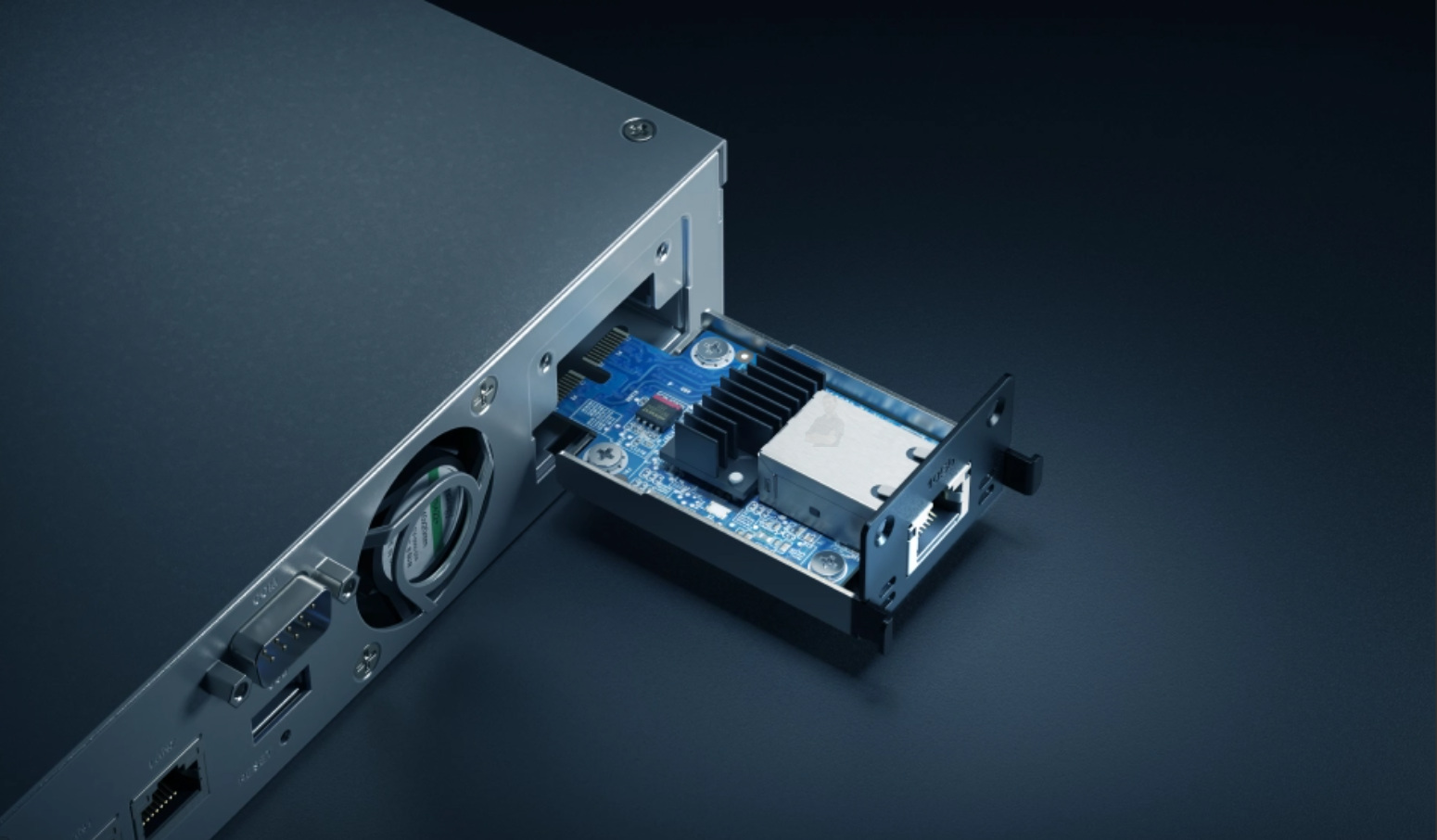 This new Synology 10GbE adapter arrives on an incredibly compact board and connects with the host Synology NAS system via a PCIe Gen 3 x2 port. It supports auto-negotiation (so, 10G, 5G, 2.5G and 1G ethernet connectivity), full-duplex transmission and 9K jumbo frames. We are still awaiting confirmation on the nature of the onboard controller (I have previously compared this adapter to an Innodisk M.2 to10GbE adapter launched in Dec 2021, but it looks like this might have been designed in a different architecture to that and in a more traditional style, but by horizontal system injection. It is clear that this adapter will ONLY work with specific Synology NAS systems (with only the DS1522+ and RS422+ confirmed at the time of writing), as it is built at the wrong angle to be used in traditional PCIe slot equipped NAS systems such as the DS1621+ and DS1821+. Likewise, the connector, being a very rare Gen 3×2 and the general shape of the board, means that its use outside of Synology NAS hardware would be difficult/impossible. The upgrade card arrive with 3 years of warranty.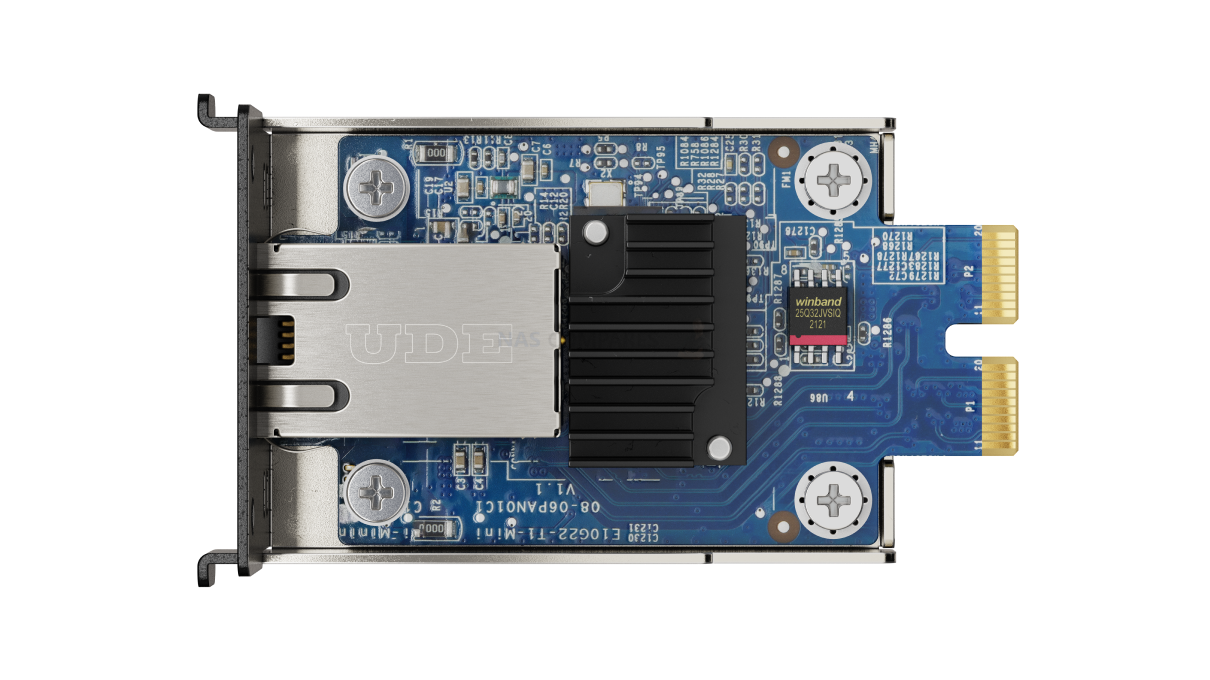 Therefore, although there is ZERO confirmation on whether this is the method that Synology is employing to build and produce the E10G22-T1-mini adapter card for the DSx22+ and RSx22+ series, it WOULD make a lot of sense. Pricing and availability on this adapter are still unknown, but we can expect it to be comparable to the current E10G18-T1 traditional 1 Port PCIe 10GbE adapter from Synology, arriving at around £120-130+.
Synology DS1522+ 5-Bay NAS Diskstation
NOTE – More information has been added on the Synology DS1522+ NAS here – https://nascompares.com/news/synology-ds1522-nas-drive-revealed
The first look at one of the more popularist focused Synology Diskstation NAS releases that we have learned about in 2022 is the new DS1522+ 5-Bay system. Serving as the latest release in the popular 5-Bay desktop series of devices, it arrives in an especially modified architecture, both internally AND externally. Although there is no confirmation if the DS1522+ is set to replace the DS1520+ or exists alongside it in the portfolio (as the hardware inside is decidedly different in areas of upgradability), it is still a remarkably different device to what many of us NAS enthusiasts were expecting. The 5-Bays in Synology's back catalogue has always been incredibly diverse with each generation (DS1517+, DS1517, DS1019+ and DS1520 for example) having very different port and upgrade choices. The DS1522+ arrives with a (new for Synology) AMD embedded Ryzen R1600 dual-core processor, 8GB of DDR4 ECC memory that can be upgraded to 32GB (!!), features the NVMe M.2 SSD caching bays that we have come to expect in this tier of storage from them and 4x 1GbE LAN ports. Now, those 1GbE ports are likely to disappoint some users who felt assured that Synology would opt for 2.5G in this generation, but it is worth bearing in mind that alongside the continued support for link aggregation/port-trunking to hit 4GbE, the DS1522+ also features a compact upgrade slot that allows you to install the soon-to-be-coming Synology E10G22-T1-mini 10GbE adapter. At the time of writing, we have still yet to see the E10G22-T1 and learn its architecture, but this system having the option to add 10GbE will certainly be of benefit down the line. Below are all the other the specifications we know:
| | |
| --- | --- |
| | |
| CPU Model | AMD Ryzen R1600 |
| CPU Quantity | 1 |
| CPU Architecture | 64-bit |
| CPU Frequency | 2-core 2.6 (base) / 3.1 (burst) GHz |
| Hardware Encryption Engine (AES-NI) | Yes, AES-NI |
| System Memory | 8 GB ECC DDR4 SODIMM over 2 Slots |
| Memory Module Pre-installed | 32 GB |
| Drive Bays | 5 |
| Maximum Drive Bays with Expansion Unit | 15 (DX517 x 2) |
| M.2 Drive Slots | 2 (NVMe) 2280 |
| Hot Swappable Drive | Yes |
| RJ-45 1GbE LAN Port | 4 (with Link Aggregation / Failover support) |
| USB 3.2 Gen 1 Port | 2 |
| Network Expansion | 1x Supported E10G22-T1-Mini 10GbE Module |
| eSATA Port | 2 |
This is a lot to unpack regarding the DS1522+ hardware specifications, such as that CPU, the way in which Synology have approached optional 10GbE, potential HDD compatibility and more. So you can head to our much more detailed article on the Synology DS1522+ NAS here – https://nascompares.com/news/synology-ds1522-nas-drive-revealed
Alternatively, you can find my video on the DS1522+ NAS Drive HERE on YouTube
Synology RS422+ 4-Bay Rackstation NAS
NOTE – More information has since been added on the Synology RS422+ Rackstation NAS here – https://nascompares.com/news/synology-rs422-rackstation-nas-revealed
Another Synology Plus series device that we have learned about for later in 2022 is the RS422+ Rackstation 4-Bay 1U Rackmount. This half depth rackmount is a middle ground in terms of hardware and scalability between the current RS820+ and RS419, as well as featuring a number of the hardware specifications of the previously mentioned DS1522+ NAS. Synology has several 1U rackmount NAS devices in their Rackstation portfolio and these typically range in price/power scale. This system has been quite clearly geared to sit slap bang in the middle of the pack, arriving with that Ryzen R1600 CPU, 2GB of DDR4 memory (still awaiting confirmation on expandability), two gigabit ethernet ports and the mini network expansion slot for upgrading the system to 10GbE with the previously mentioned E10G22-T1-mini adapter.

Details on the Synology RS422+ Rackstation are still quite thin on the ground and we are still awaiting details on whether this system will feature M.2 NVMe SSD slots (looking unlikely, despite Synology's widespread support of this). However it can be confirmed from product images and the model ID that the RS422+ is not going to be expandable with the RX418, which does give this rackmount NAS something of a low glass ceiling when compared to the RS820+, but still places it significantly higher in performance and scalability than the more affordable RS419. Here are the specifications we know so far:
CPU
AMD Ryzen™ R1600 dual-core (4-threads) 2.6 GHz, max boost clock up to 3.1 GHz
Memory
2 GB DDR4 ECC
Compatible drive types
•  4 x 3.5″ SATA HDD or 2.5″ SATA SSD
Hot swappable drives
Yes
External ports
1 x USB 3.2 Gen 1 port
Form factor
Rackmount 1U
Size (HxWxD)
•  44 x 430.5 x 295.5 mm
•  44 x 478 x 327.5 mm (with server handles)
Weight
4.38 kg
LAN ports
2 x 1GbE RJ-45
Wake on LAN/WAN
Yes
Network upgrade
Supports E10G22-T1-Mini 10GbE RJ-45 Network Upgrade Module
Scheduled power on/off
Yes
System fans
3 x (40 x 40 x 20 mm)
AC input power voltage
100 V to 240 V AC
Power frequency
50/60 Hz, single phase
Operating temperature
0°C to 35°C (32°F to 95°F)
Storage temperature
-20°C to 60°C (-5°F to 140°F)
Relative humidity
5% to 95% RH
Maximum operating altitude
5,000 m (16,400 ft)
There is still no word on hard drive compatibility and support on the Synology RS422+ NAS. Find out more about the Synology RS422+ Rackstation NAS here – https://nascompares.com/news/synology-rs422-rackstation-nas-revealed
Alternatively, you can find my video on the RS422+ NAS Drive HERE on YouTube
Synology RT6600ax WiFi 6 Router Hardware Update
One of the hottest products that was addressed that the Synology 2022 launch event in December last year, the brand's new RT6600ax WiFi 6 and Mesh enabled router looks like it will see release in the first half of May 2022 and further information regarding its hardware architecture and services have been published in different places online. The external design of the RT6600ax router is largely the same as it was shown at the online event, but further details on the coverage and bandwidth of the system are now available. This tri-band router that covers the 2.4Ghz, 5Ghz and 5.9Ghz frequencies is a big step up from the RT2600ac and MR2200ac in hardware under the bonnet, but still arrives with Synology's router management platform SRM.

As we have not formally heard Synology launch SRM 3 (in beta, provisionally or in RC), that likely means that the RT6600ax will arrive with the current fully-featured SRM software and services, with the newest version with enhanced network management, security, improved intuitive layout and enhanced mobile app soon afterwards. Below is a breakdown of all the details on the RT6600ax hardware and router services that are confirmed: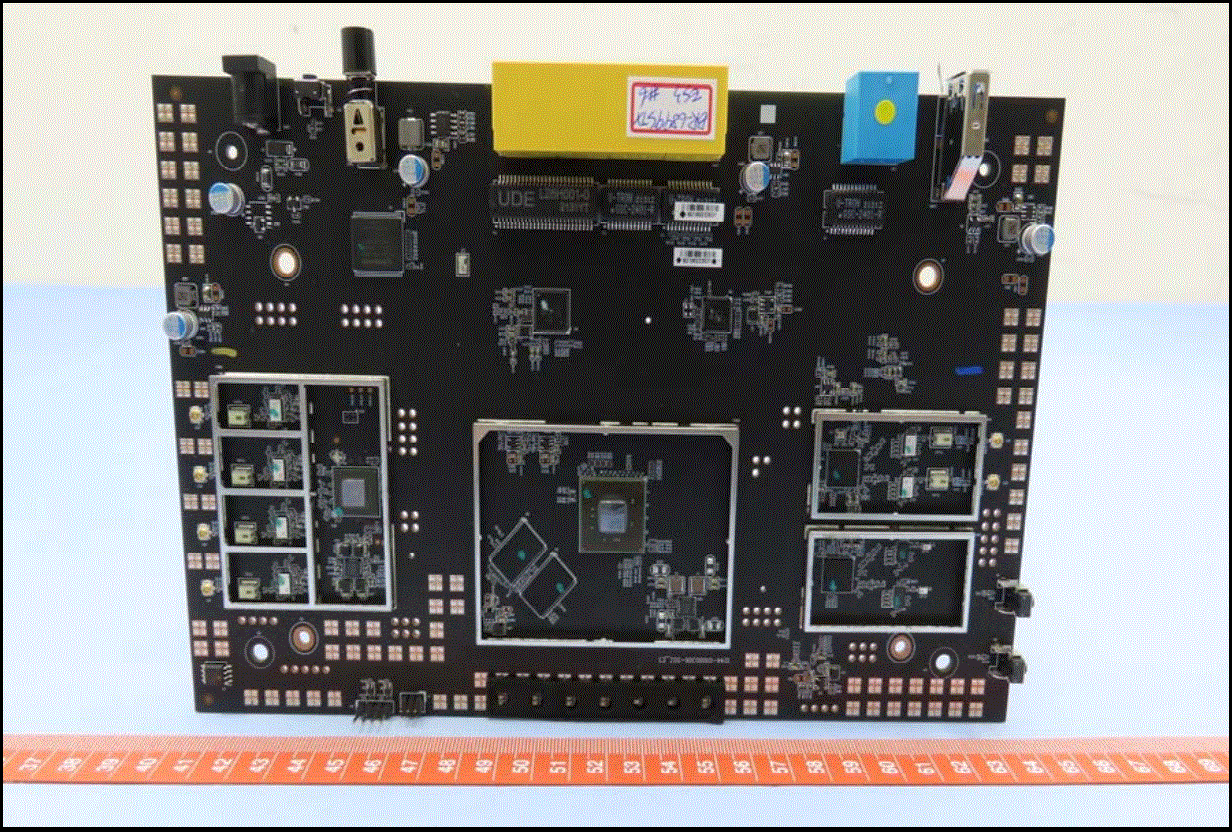 Wireless Connectivity
– Simultaneous tri-band IEEE 802.11 a/n/ac/ax wireless standards
– Roaming support 802.11k/v/r
– Maximum data rate
2.4 GHz: Up to 600 Mbps
5 GHz-1: Up to 4800 Mbps
5 GHz- 2: Up to 1200 Mbps
– Wireless Security WPA/WPA2-Personal, WPA/WPA2-Enterprise, WPA2/WPA3-Personal, WPA3-Personal/Enterprise, Wi-Fi Enhanced Open (OWE),
– Wi-Fi Protected Setup (WPS) 2.0
– Other Smart Connect wireless features for automatic band management, Wi-Fi independent scheduling on/off, guest network
Hardware Inside
– CPU: Quad-core 1.8 GHz
– Hardware L7 engine
– Memory: DDR3 1 GB
– Antenna type: 2T2R + 4T4R dipole high gain omnidirectional (2.4 GHz/5 GHz)
– RJ-45 ports
1x Gigabit WAN
1x WAN/LAN configurable 2.5GbE
3x Gigabit LAN
– External ports: 1 USB 3.2 Gen 1 (Type A)
Security Services and Settings
– Security
Denial of Service (DoS) protection and IP auto-blocking mechanism
SSL Certificates with Let's Encrypt integration
Synology Security Advisor
Two-Factor Authentication
– Network Separation Maximum number of VLANs: 5
– VPN Clients PPTP, OpenVPN™, L2TP over IPSec
– IPv6 support IPv6 DHCP server/client, DS-Lite, 6in4, 6to4, 6rd, dual-stack, DHCPv6-PD, IPv6 broadcast, FLET's IPv6
– Backup solutions –
SRM configuration backup and restore, Time Machine support (with connected USB storage device)
– Notifications Email, SMS, Push service (via DS router)
– File serving SMB, AFP, FTP/FTPS, WebDAV
– FTP Server Bandwidth control for TCP connections, custom passive FTP port range, FTP protocols, FTP SSL/
– TLS and anonymous SFTP, transfer logs
– iOS/Android™ apps DS router, VPN Plus, DS cloud, DS file, DS get (Android™ )
– Access from anywhere Synology QuickConnect, Dynamic DNS (DDNS)
– Printer support
Maximum number of printers: 1
Printing protocols: LPR, CIFS, IPP
– Advanced features: Smart WAN – dual-WAN load balancing and failover, Policy Route, Static Route,
Network Address Translation (NAT), SNMP, SSH, LAN/WLAN IGMP
Snoop, PPPoE Relay – Supported Browsers: Google Chrome®, Firefox®, Microsoft Edge®, Safari® 13 and later, and Safari (iOS 13.0 and later) on iPad,
Chrome (Android™ 11.0 and later) on tablets
Software
– DHCP Server/Client Mode, Client List, Reserved MAC Address List
– DMZ port forwarding, UPnP, VPN pass-through (PPTP, IPSec, L2TP, SIP)
– Parental control Configurable internet scheduling per device, allow/block list, DNS-based web filter with integrated database,
integration of YouTube, Google, and Bing searches, compatible with Google Safe Browsing
– Traffic control
Custom speed per device, traffic monitoring, per-app limits, and advanced usage reporting
Application layer (Layer 7) monitoring and management
– Ping network tools, Traceroute, WoL by integrating with Synology QuickConnect
Find out more on the Synology RT6600ax Router here – https://nascompares.com/news/update-on-the-synology-rt6600ax-wifi-6-router
Alternatively, you can find my video on the RT6600ax Router  HERE on YouTube
Synology HD6500 60-Bay Rackstation Server
NOTE – Much, MUCH more information regarding the hardware, software support and expandability of the Synology HD6500 Rackstation NAS has been added here – https://nascompares.com/news/the-synology-hd6500-60-bay-rackmount-nas-is-finally-coming
If you were considering buying a Synology NAS but wanted to know how big their systems can get – then the HD6500 is EASILY the biggest solution that the brand has EVER produced. In fact, although this is looking like a later 2022 (or even 2023 release), the HD6500 has actually been in the Synology pipeline since 2019, in its early concept form as the Synology HD6400. I was lucky enough to see this system at the brand's launch event's over in Berlin (see below):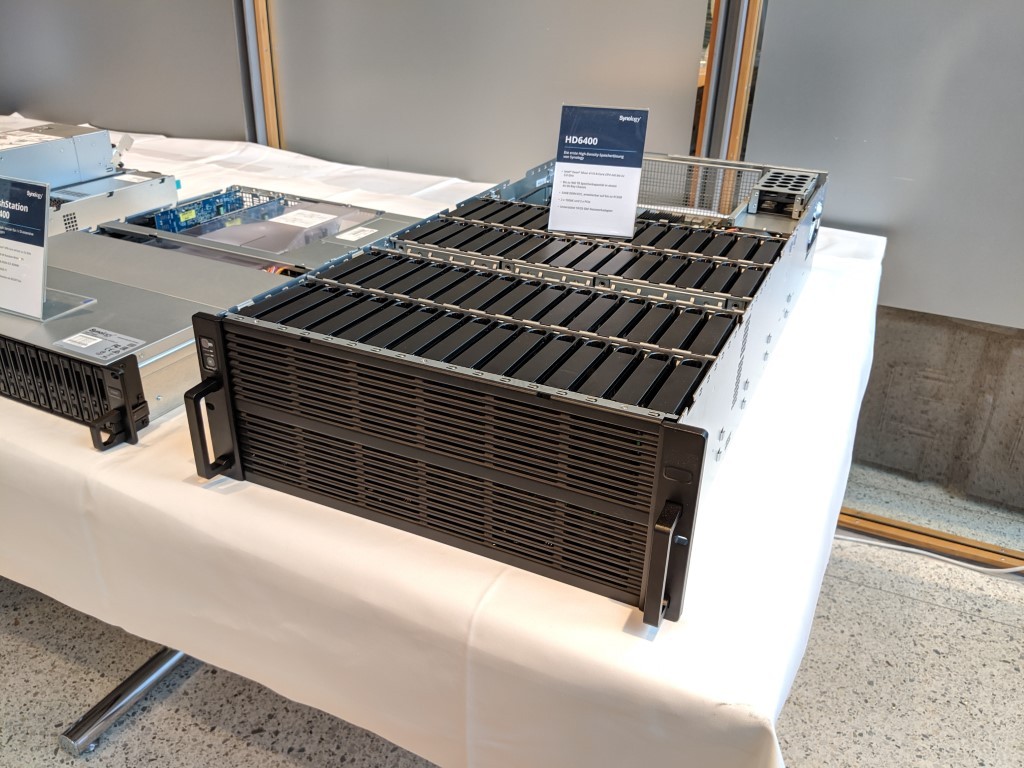 In the years since the mammoth 60-Bay rackmount system was first revealed as a development piece, Synology was spectacularly silent about the system (with many including myself thinking it has been abandoned – not unheard of and more common than you might think, even from this brand). However, it turns out that this monster 60-Bay 4U Rackstation server IS REAL, as well as the specifications for the (newly re-named) HD6500 being even more high end that originally postulated by the brand's demonstration piece.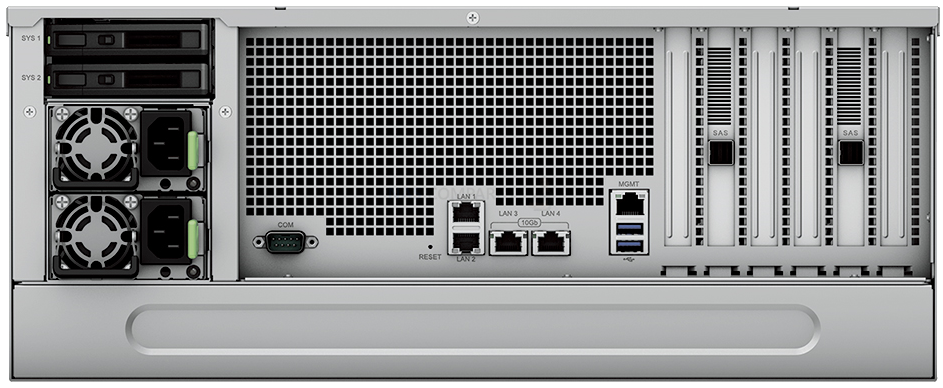 The Synology HD6500 arrives with 60 SAS/SATA top-loaded bays (four rows of 15x), features two 10-Core Xeon Silver CPUs, upto half a terabyte (512GB) of ECC memory, 10GbE ports, four PCIe upgrade slots to add further 10/25/40GbE SFP/FC ports and redundant PSUs of course. However the thing that really caught me off guard was the storage expandability of the HD6500, with Synology also allowing this system to be attached to FOUR of their new RX6022sas 60-Bay expansion chassis (also 4U in height) and results in this NAS storage system hitting a maximum 300 Drives of storage in just a 20U tower stack – that is frankly INCREDIBLE. That is pretty much all the hardware information we have on the HD6500 Rackstation NAS right now. Below is a summary of that hardware architecture:
CPU
2x Intel Xeon Silver 4210R
Architecture
10x Core / 20 Threads @ 2.4Ghz (Turbo to 3.2Ghz)
Memory Default
64 GB built-in DDR4 ECC RDIMM memory
Memory Maximum
512GB Maximum (Slot TBC, likely 8x with a 64GB RDIMM module in each)
Bays
60x SAS/SATA (Over 1 Petabyte Maximum Storage Potential)
Expandability
Yes, Connect upto 4x RX6022sas 60-Bay Expansions to total 300x Drives
Rack Profile
4U
Redundant PSU
Yes
10GbE
Yes (x2)
1GbE
Yes (x3),
OOB Port
Yes
PCIe Slots
x4
Find out more about the Synology HD6500 Rackstation NAS here – https://nascompares.com/news/the-synology-hd6500-60-bay-rackmount-nas-is-finally-coming
Alternatively, you can find my video on the Synology HD6500 Rackstation HERE on YouTube
Synology DVA1622 2-Bay Surveillance NAS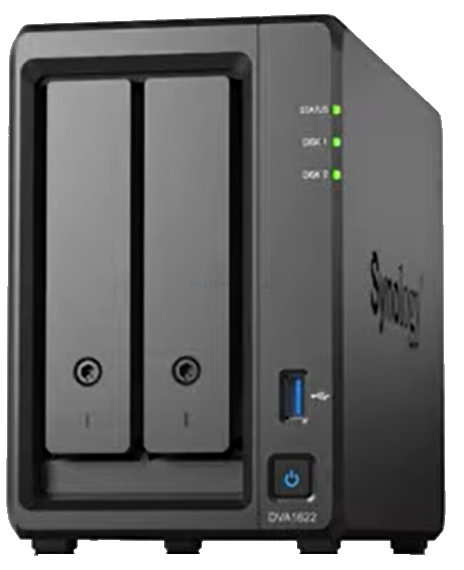 A small amount of new information has been revealed regarding the newest entry into Synology's Surveillance Station platform, the DVA1622 NAS. As mentioned, we discussed the DVA1622 back at the start of Dec 2021, after Synology revealed the system and their plans for Surveillance Station 9 at the brand's 2022 launch event. At that time, although we know a small amount about its architecture, there were still questions surrounding its internal hardware. We have since learned that this NVR system arrives with a dual-core Intel Celeron J4025 CPU, that has a 2.0Ghz clock speed that can be increased to 2.9Ghz when needed. This CPU was originally premiered on the Synology portfolio in the DS420+ and DS220+. This also means that the system will likely arrive with 4-8GB of DDR4 memory (TBC, but the larger DVA systems arrived with 8GB). This CPU feature embedded graphics and allows 4K playback and supports H.265 (aka HEVC, highly efficient video codec) decoding – which is largely the standard for hi-def IP cameras right now and will be crucial for the system when processing larger frequency streams. This CPU is a little modest, but it is also worth remembering that the DVA3221 only featured an Intel C3538 CPU and it's lack of an embedded graphics component was assisted by a NVIDIA GeForce GTX 1650 inside. Whether Synology have countered this in the more petite DVA1622 with the use of an m.2 TPU / AI module, a much more streamlined GFX card or even switched the system to a pure Surveillance station NVR NAS and therefore the embedded graphics provide enough support for those 2/1 AI tasks is yet to be confirmed.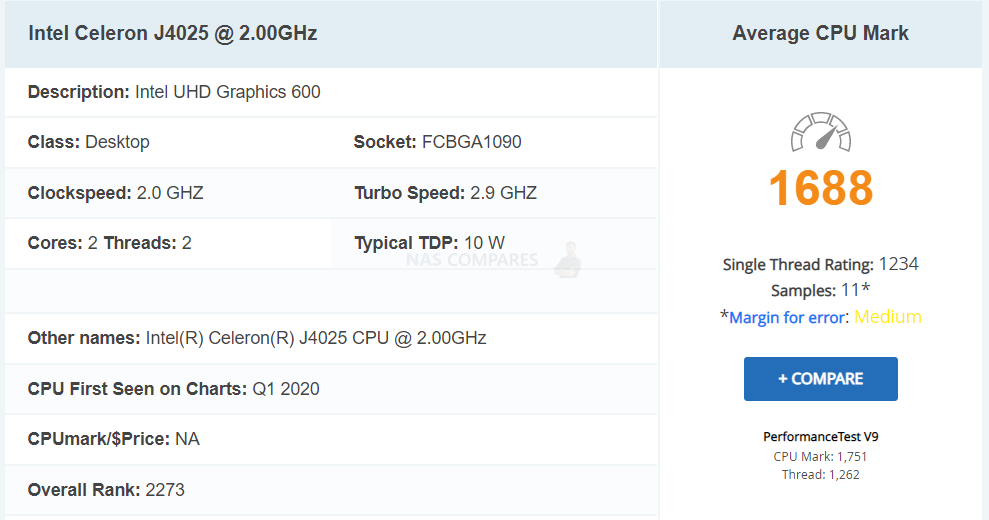 However, the fact that the DVA1622 features an HDMI is something that I do not think gets anywhere near enough praise as it should. A local output for your surveillance system can often be VITAL in the event of a network failure (not impossible during security threats) and/or simply as a direct, low latency access method to your NVR in a standalone desktop setting. The previous two DVA releases (DVA3221 and DVA3219) both lacked this feature, despite them arriving with NVIDIA cards that featured HDMI and DVA outputs. This also further indicates that the DVA1622 will be a NAS that runs ONLY surveillance station 9 and not the wider DSM platform. This is not really an issue though, as a system like this is tailor-made for surveillance alone of course. Note, image below is based on the NVR1218 system and for guidance purposes.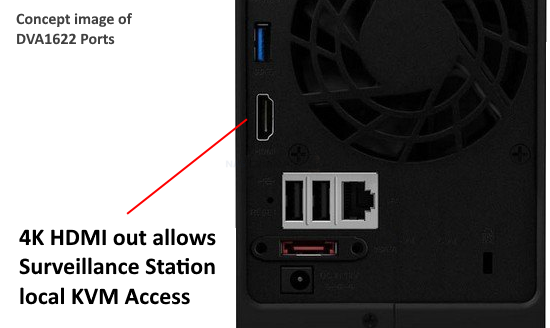 Find out more about the DVA1622 2-Bay NVR NAS here – https://nascompares.com/news/synology-dva1622-surveillance-nas-hardware-update
Alternatively, visit our original December 2021 article when this was first revealed here – https://nascompares.com/news/synology-dva1622-ai-powered-nvr-2-bay-for-business-prosumers
Alternatively, you can find my video on the Synology DVA1622 NVR NAS HERE on YouTube
Synology HAT5300-4T 4TB Hard Drive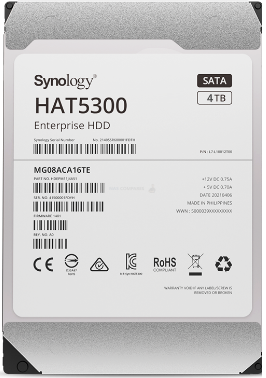 The Synology hard drive series still continues to grow with the reveal that their enterprise NAS hard drive series will have a new 4TB addition, model name HAT5300-4T. Introducing a smaller capacity to bolster the somewhat strict range of capacities in the HAT5300 series (currently 8TB, 12TB and 16TB) has been a much-requested option (though larger 18TB and 20TB options are still unconfirmed and likely linked to the Toshiba MG09 and higher roadmap/releases). The HAT5300-4T is largely the same in physical architecture as the other hard drives in the series (likely with a HAS5300 SAS version in the pipeline too) and has a 243MB/s reported sustained transfer speed (whilst still maintaining the 550TB workload, 7200RPM and 256MB cache of the rest of the product series). You cannot really question the quality of the hardware architecture featured on the Synology HAT5300 range of hard drives. We clearly find here a range of drives that have been designed by Toshiba (an HDD vendor with decades of experience and Synology is not being coy about highlighting the partnership on this media), combined with one of the biggest providers of modern NAS in Synology, with media that is tweaked for use within their NAS systems and despite arriving at a Pro series price tag, arrive with hardware far more comparable to that of Seagate EXOS and Western digital Ultrastar hard drives. With a terrifically impressive annual workload, an approach to drive firmware and upgrades relatively unseen from any other drive for NAS' and remarkable transparency from Synology in the marketing of these drives on day one certainly needs to be acknowledged. Moreover, Synology is not the first brand to champion the use of 1st party support priorities in hard drive media in their service systems and they certainly won't be the last. Overall, I am happy with the new Synology hard drives and despite possible reservations about where the logic of 'own-brand' drive support in DSM and exclusivity on this product range will be extended in the future (standard class versions? HAT3300?), I still happily recommend the Synology HAT5300 media series alongside other champions of NAS hard drive in 2022/2023
| | |
| --- | --- |
| Model | HAT5300-4T |
| Brand | Synology |
| Capacity | 4TB |
| Interface Speed | SATA 6Gb / s |
| Rotational Speed | 7200RPM |
| Buffer Size | 256MB Cache |
| From Factor | 3.5inch |
| Warranty | 5Years |
You can find our review of the Synology HAT5300 Synology NAS Hard Drive series here – https://nascompares.com/2021/02/13/synology-hat5300-hard-drive-review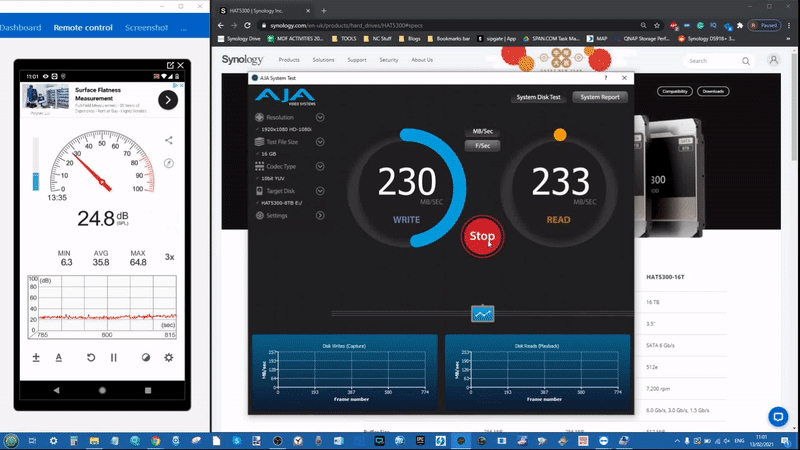 —– UPDATED MARCH '22 —–
Budget and Value J and Play Series Synology NAS Drives in 2022
Arguable the range from Synology that is by FAR the longest due for an upgrade is the Synology Value series of desktop NAS drives. The bulk of the affordable solutions that carry the ARM-based CPUs and are aimed at smaller task/user-base users, many users who are migrating away from modest WD MyBooks or WD MyClouds (some of which are no longer receiving firmware updates) and therefore looking for a device that is modest, yet still jam-packed with cool DSM features – just on a smaller scale of volume. However, even a quick look at the value end of the spectrum of solutions from Synology in this bracket reveals a sad fact – that of the 7 solutions on offer, 6 of them have the same CPU and they only deviate in the number of bays, amount of memory (2GB max) and all but one has 1x 1GbE network interfaces.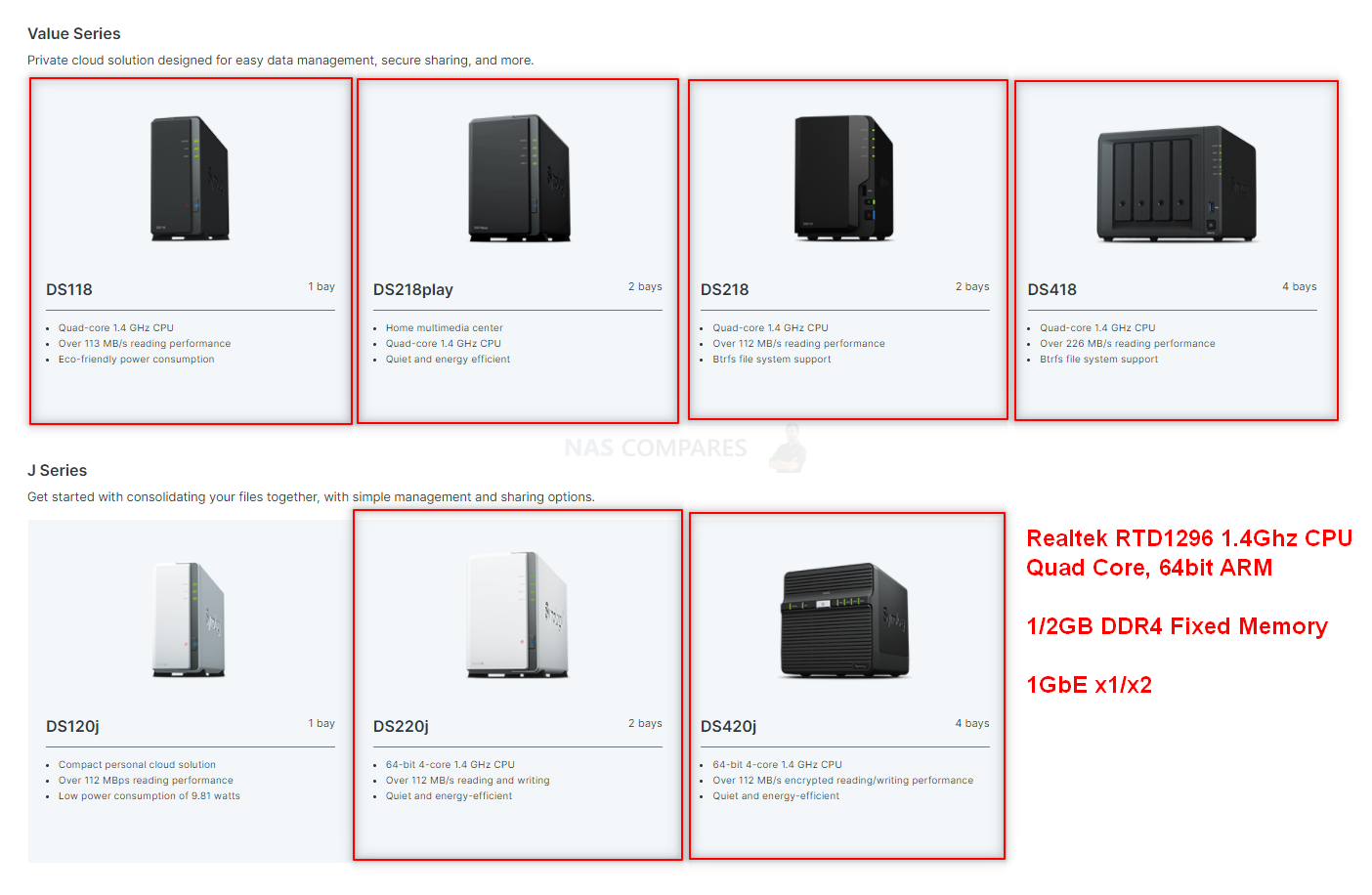 The slight 'staying on the fence' feeling is further bolstered when you see that some of these solutions were released at the tail end of 2017 (over 4 years ago) and when compared with the value J series 2/4-Bay released in 2020 are really, REALLY similar. There is certainly a feeling of bottleneck in the range and it leads you to the feeling that either the brand is going to have to phase out everything EXCEPT the J series (for fear of continued overlap) OR that the brand will be releasing more affordable solutions very soon in order to close this bottlenecked area of the portfolio.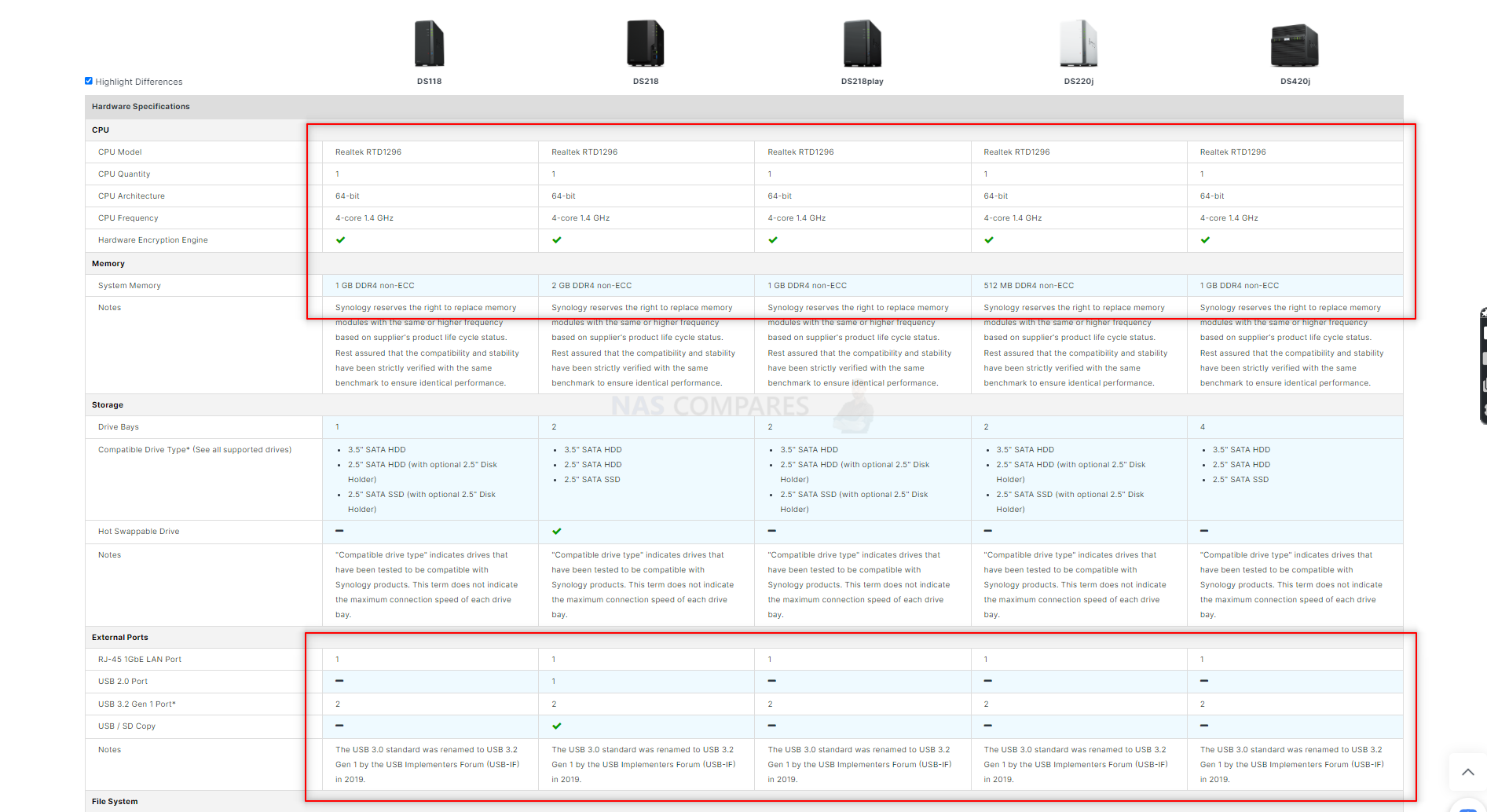 Regardless of whether Synology pushes ahead with a DS122, DS222, DS422 and DS222play follow-ups to their 2017/18 series predecessors OR they phase them out in favour of a DS222J and DS420j focused value tier, Synology will NOT abandon this tier of their portfolio/audience. Notwithstanding that it stands as an affordable entry point into the Synology ecosystem, these systems are used as partner/side systems for many for backups and more. The BIG question though will be 1) the CPU and 2) 2.5GbE? On the subject of the CPU, I think we are almost certainly going to be looking at an ARM Cortex A55 processor. Available in several revisions (with varying clock speeds and brand architecture), the CPU below is one that I have seen tremendous uptake on in the last quarter of 2021 in both component sets and arriving on other value server options. Although is understandably modest, is still a good jump on the ARM Cortex A53 of the previous generation.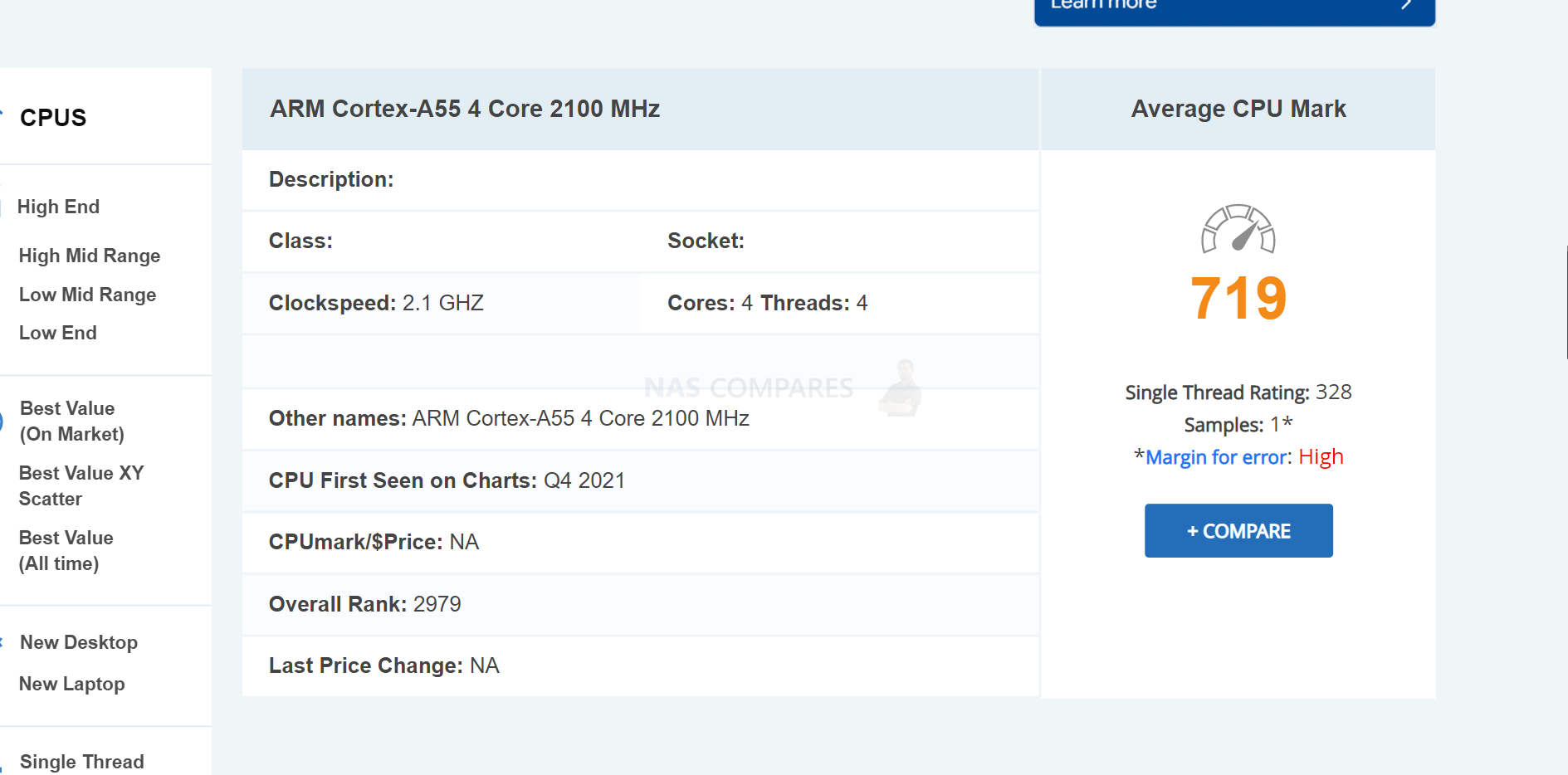 However, I would be surprised (and very impressed I should add) if Synology embraces 2.5GbE on this value tier. It is not impossible, but Synology has always been very slow in the uptake of 2.5GbE and although I DO think the brand will start finally integrating it (covering in a bit), I think that it would be very uncharacteristic of the brand to include it in the value/J series right now. Find out more about my thoughts on this from my video with Eddie the Webguy in the video linked below (will skip you to the right bit!):
03:30 – Synology Budget NAS Drives in 2022? (DS122, DS222, DS422, DS222j, DS422j, DS222play)
Synology NAS and 2.5GbE Diskstation Solutions
Back in Spring 2020 when Synology released a remarkably large number of solutions (for them, 4-5 solutions a year is fairly normal, whereas we saw 12 different hardware releases in the first half of that year), on rather big elephant in the room was the absence of 2.5GBASE-T, aka 2.5G network ports. Now, there was also the usual explanations of the lack of 10GbE of course on 2/4Bay solutions, but this can largely be ignored due to the cost of hardware, the portfolio and the lanes afforded internally to the CPUs that these systems are built around to remain in that price point. However, back then, every other brand had multiple 2.5GbE equipped solutions in the market and these were priced at their 1GbE alternatives, so this seemed like quite a large omission b the brand. Then there was the added fact that Synology was one of the FIRST brands to talk about 2.5GbE on their desktop solutions in the market way back in 2018/2019 when they revealed their prototype DS1620xs+ NAS solution at their Taipei based annual event: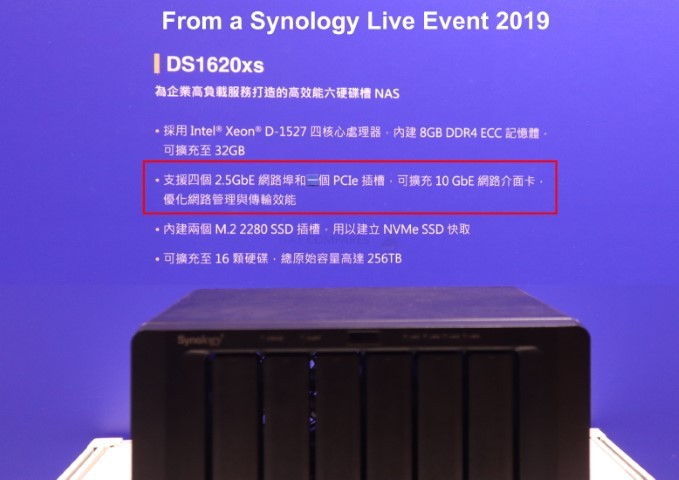 However, this would later be released as the DS1621xs+ and dropped the 4x 2.5GbE in favour of 2x 1GbE and 1x 10GbE (so, not a bad change really). So, now in 2022, many buyers want to know whether Synology is FINALLY going to integrate 2.5GbE into their potential DS922+, DS722+, DS222+, DS1522+, etc? Synology is gradually starting to talk about 2.5GbE of course. Back at their Synology 2022 event (at the end of 2021) they revealed their new Synolgo yRT6600ax WiFi 6 router and right there, loud and proud, was a 2.5GbE ethernet port. It does not exactly make their new router 'the only show in town' with that feature (the Synology Router series is more about the versatility of the software that the hardware) but it was still good to see the brand making waves in this area FINALLY.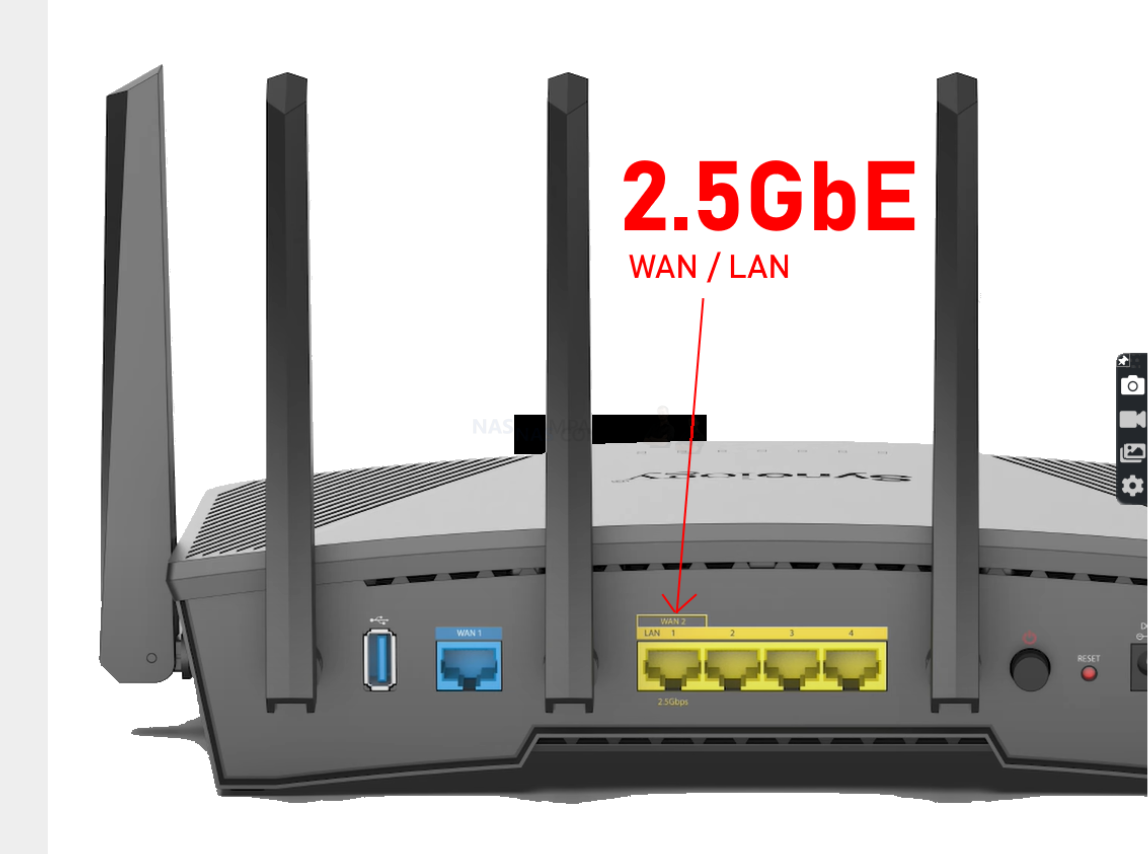 Add to this that Synology has been significantly pushing their C2 Cloud platform and services (C2 Backup, C2 Transfer, C2 Password, C2 Surveillance and more) and the idea that a number of their SMB and Prosumer solutions in the Diskstation portfolio will be used in bare-metal-to-cloud-sync setups and 1GbE/109MB/s is quite a bottleneck in this age of +1Gb internet connectivity being available in a large % of the world. So, yes, I DO think Synology will embrace 2.5GbE, but it is a question of how they implement this feature, as the brand also has a little history in creating £30-50 gaps in  between their systems 'mid series' that push the budget in different directions.
So, for example, they might include 2.5GbE on all DSx22+ systems BUT 1 port of the dual-core DS422+/DS422play and DS222+ but two ports on the quad-core DS922+, DS722+ and DS1522+ (again, all predicted hardware at this time!). Alternatively, they might use place 1GbE on the dual-core systems and 2.5GbE on the quad-core systems. A big factor in all this is going to be the CPU that the brand chooses to use in the next generation DSx22+ NAS drives. I have three CPUs in mind that I am confident the brand will opt for that I will discuss below, but the reason I bring it up in conjunction with 2.5GbE is because of their respective PCIe lanes/chipset. This is ultimately the physical hardware support that the CPU can afford (HDD Bays, LAN, USB, M.2s, etc) and as these newer CPUs will afford the larger number of lanes, it will be a question of how the brand flexes that advantage. More bandwidth on the M.2s? greater network bandwidth and quantities? Maybe even 10GbE (which would be a fantastic stretch indeed).
Find out more about my thoughts on this from my video with Eddie the Webguy in the video linked below (will skip you to the right bit!):
07:50 – The NEED for 2.5GbE, it is NOW or NEVER
WHEN and IF we Will See a Synology DS922+, DS222+ or DS722+ NAS Soon?
And there it is. Probably the most important question for many potential buyers in the whole damned article. Many users who were still using the 2017/2018 generation hardware, decided to skip the 2020 generation of Synology NAS hardware as it was not a huge jump on the existing range for the most part (the lack of 2.GbE as mentioned, USB 3.2 Gen 1, same support cache support on m.2) and with the exception of a few unique examples (the DS720+ having those M.2 Ports, the DS620slim and DS1520+ filling important portfolio gaps for example). a number of those users are now outside of warranty, their HDD/SSDs are low/out of warranty and are now looking to migrate onto a new series Synology in 2022. The reason that now feels like the right time for the brand to make the jump towards a DS922+, DS722+, DS222+ etc is largely down to the brand having a refresh cycle on its tier of around 2-2.5 years (as often indicated by the even number on the 12/14/16/18/20+ year marker in the model ID. 2020's series of releases were a rare example by the brand of releasing their series almost 3 years later (JUST scraping in on June/July of 2020 and still maintaining the same release year naming convention which more often Aug/sept = the following year naming) and although this rule is not iron-clad (eg the DS415+ or DS1019+ NAS) it is a rule that is 9/10 well observed: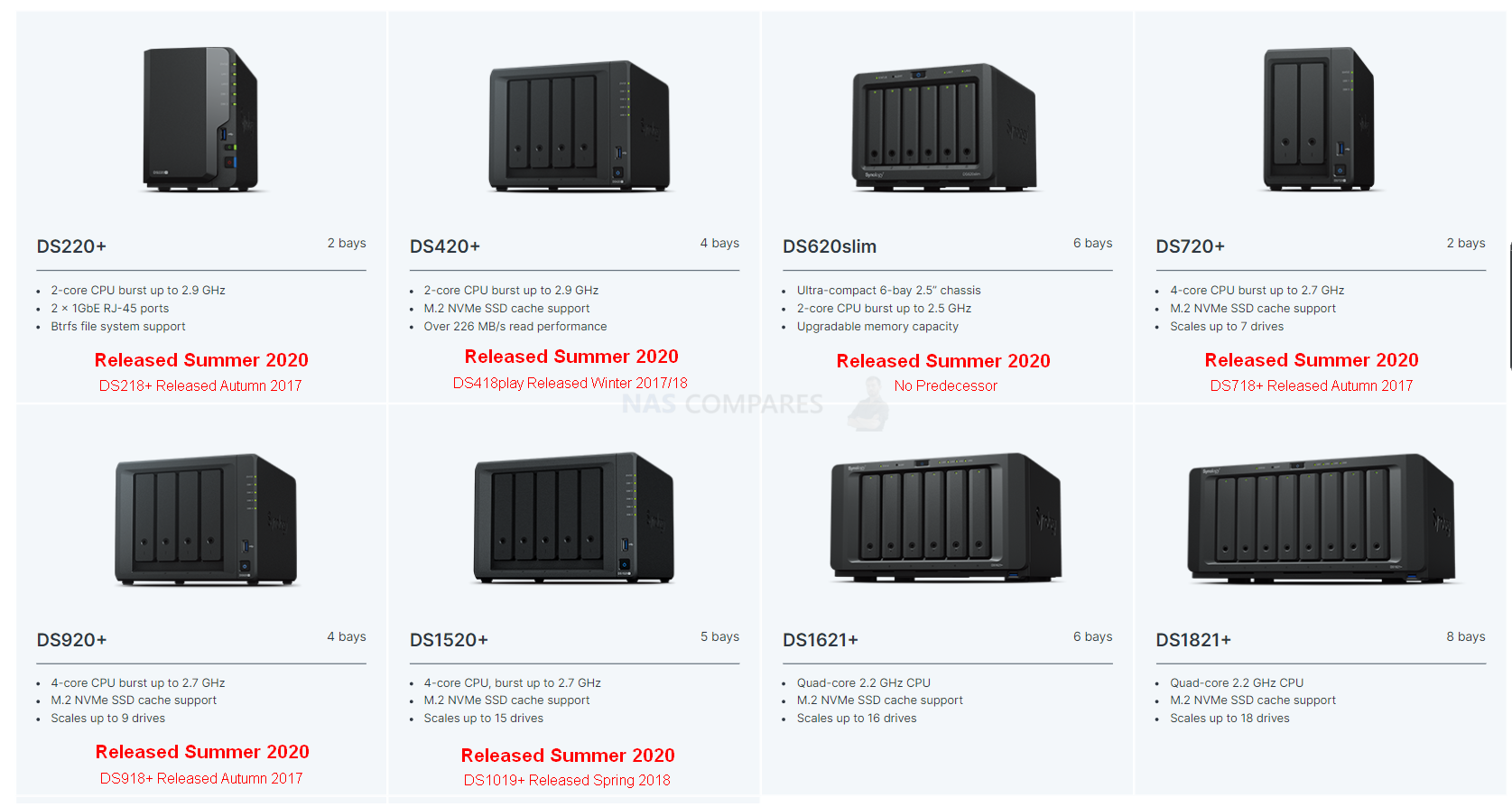 However, though the bulk of the hardware in the change from 2020 to 2022 will remain the same (1/2 network ports, M.2 NVMe SSD ports, USB 3.2 Gen 1, SATA storage bays, expandability in the quad core systems but not the dual core solutions) the biggest question, aside from 2.5GbE discussed earlier, will be the CPU. Now the BULK of the releases in the Prosumer PLUS series devices in the last 10 years have been Intel Celeron processors, as this is a great sever usage CPU that arrives with a great power performance on 24×7 deployment, embedded graphics and still allows a nicely balanced pricepoint to the end user. The brand HAVE used alternative CPU families for this series in the past (with an Intel Pentium used in the DS916+, a rare treat in the circumstances) but in the case of a new DSx22+ NAS series, the chances are that the CPU is going to be one of three popular choices in the market right now. The FIRST choice (and arguably most likely right now) is going to be the Intel Celeron N5000 series. This processor is a great follow up to the Intel J4125 in the current 2020 generation, though not without a bit fo a bump on the way. That bump is that thanks to hardware shortages and the pandemic (as well as some other supply chain and R&D hurdles) Intel have released three revisions of this processor, the Intel Celeron N5105, N5095 and N5095A. Because of this, most manufacturers that are already implementing this family of processors on their hardware are having to list all THREE processors in their data sheets, despite the three processors being VERY similar: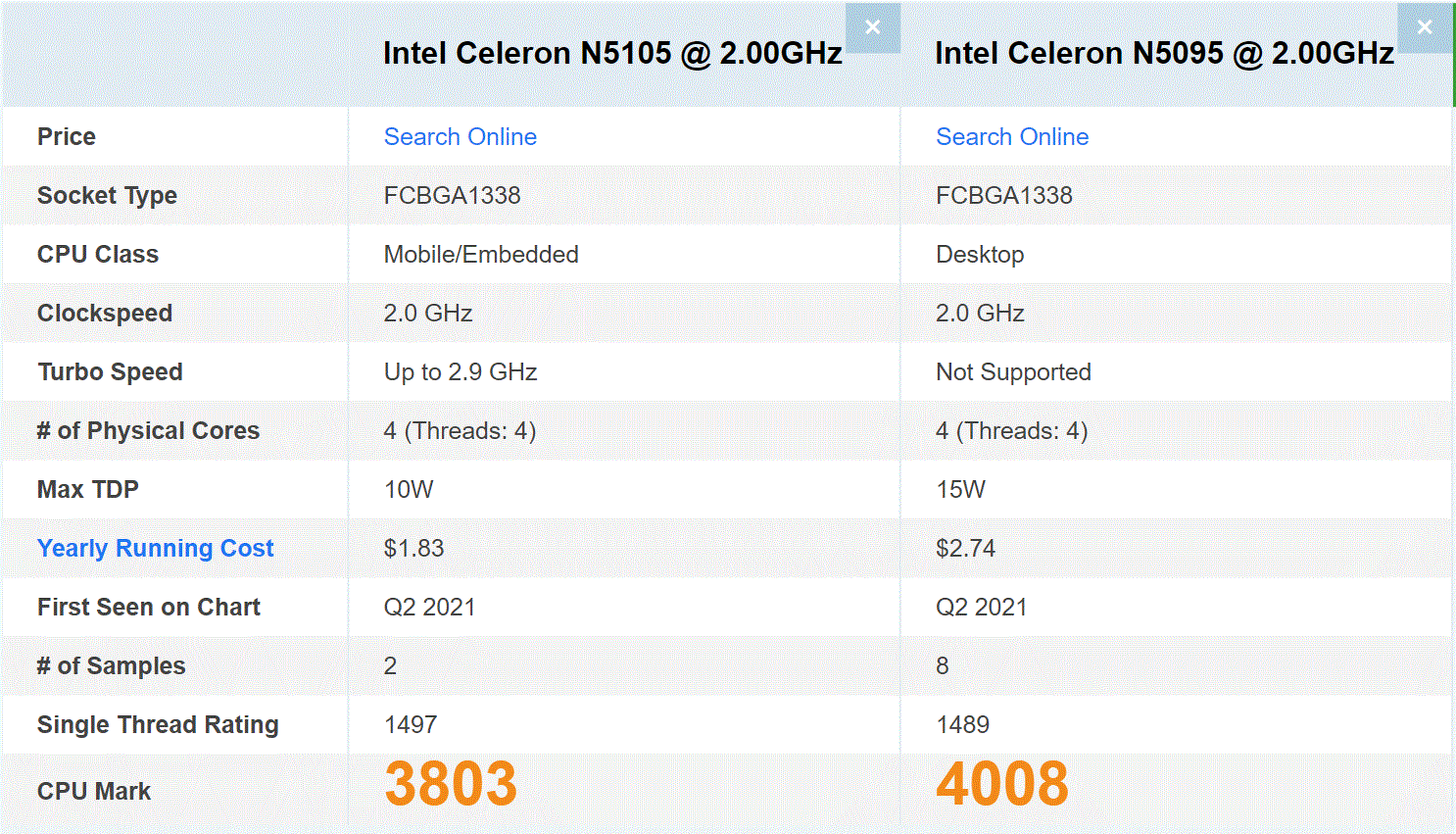 Now, IF this IS the CPU that Synology opt for in their DS922+, DS222+, DS722+ etc, then it will be understandable for some buyers to want to know if there is any meaningful difference between each CPU. Well, yes there is, but it is very small and it is centred around the embedded graphics and how many processes it can run (which in turn can result in a smaller increase in active conversion processes/encodes). Again, this difference is very small and pretty unlikely to be felt. It would not be the first time taht Synology have released a NAS series with differing CPUs in the market, but this si normally provided with the prefix 'II' (eg the DS916+II and DS216+II), which I do not think is possible in this case without making things harder for buyers (especially when expecting a retailer to check in advance before buying!). Here is how the N5105 and N5095 Intel CPUs compare: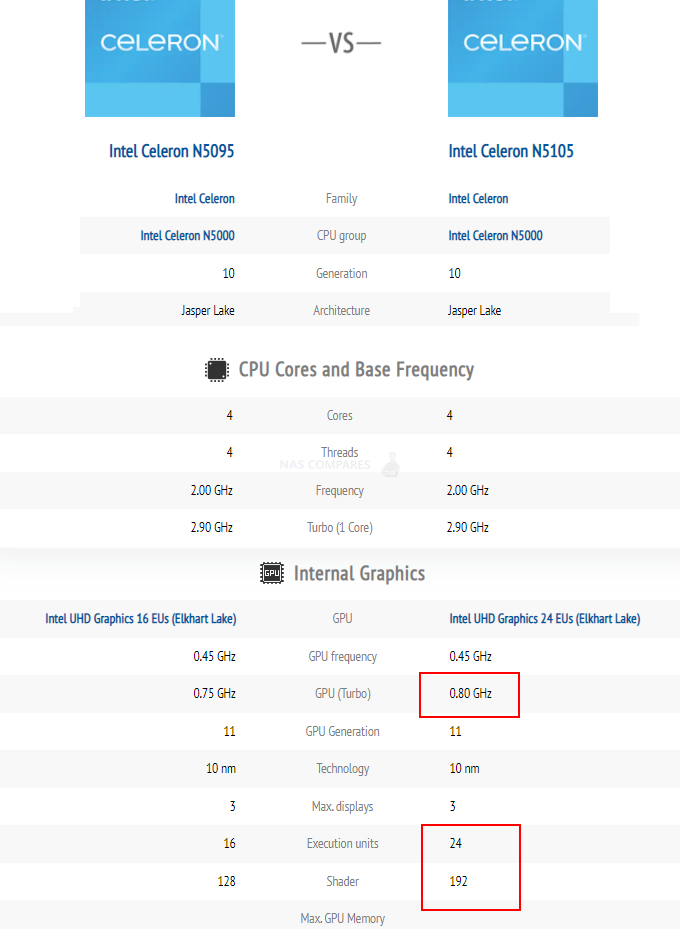 HOWEVER, Synology is a brand that is VERY aware of its USP with its existing user base. This combined with the desire for the brand to want to ensure that their hardware is presented with as little friction as possible opens the door to another CPU choice and one that is not only way, WAY easier to present to their end-user base, but also is a noticeably degree more future proof. The Intel J6412 is a noticeably more modern Celeron processor that not only allows a great degree of chipset/hardware resources to be used, but also means that in a single stoke the end-user friction that the N5000 might bring is gone AND they immediately release the best CPU for this tier in 2022 compared with their competitors (which for a software-focused brand, would be a remarkably slick move indeed). This CPU, though the better choice IMO, would still be a little uncharacteristic for the brand to choose (unless the DSx22+ series comes much, much later in the year). Here is a brief overview of the Intel Celeron J6412 CPU:
Now, how the J6412 and N5105/N5095 compare with the current DSx20+ series processor (the J4125) is actually quite an impressive jump in caching, memory frequency/quantity and efficiency across the board. Either one would be a great choice of CPU in a DS922+, DS722+ or DS1522+, but I still think that the brand might play it a little safer and opt for the N5105/N5095 (Though I want to be wrong!).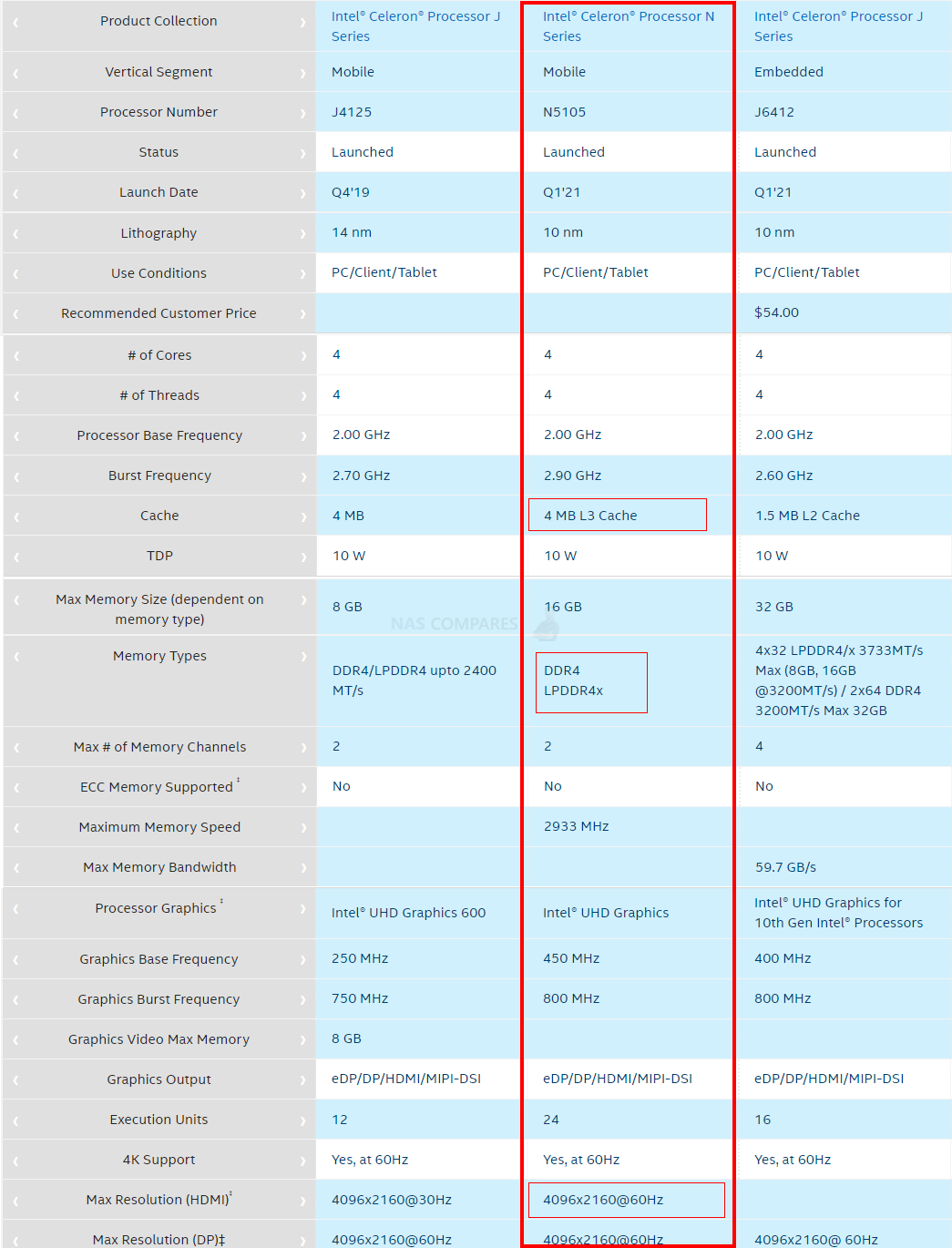 With all that in mind, I would say that the dual-core DSx22+ systems from Synology (the DS222+, DS422+ and/or DS422play for example), if the N5000 series processors are in the fold, will be the N4505 CPU. Built in a comparatively similar vein to the J4025/J4125 processors in 2/4 Core in the 2020 generation, it would be the obvious choice for Synology if they choose to go down that road of CPUs. Here is a brief overview on the specifications: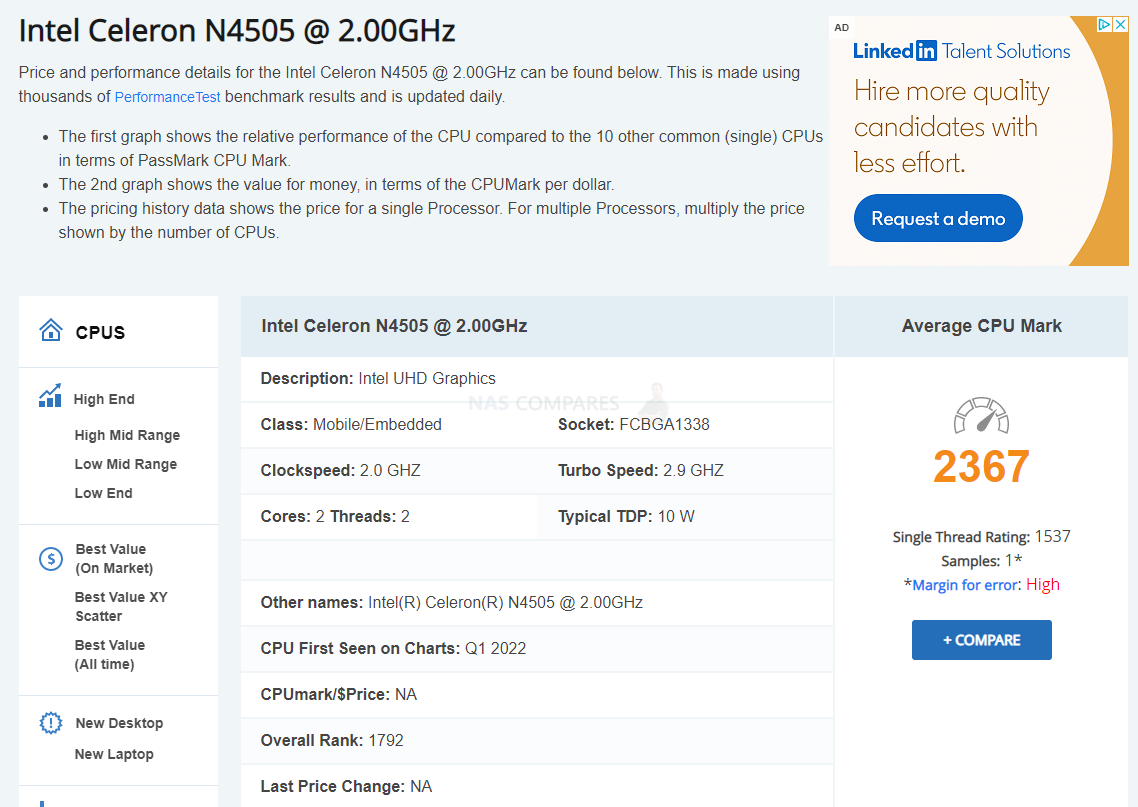 The DSx22+ Synology NAS' are always going to be the 'Reebok Classic', 'Adidas Black' or 'IBM Thinkpad' solutions from this brand, mass appeal and the regular purchase for many. So therefore it is important that Synology balance the price point of this hardware and the three CPUs above are what I feel will be the likely way forward by the brand. Find out more about my thoughts on this from my video with Eddie the Webguy in the video linked below (will skip you to the right bit!):
09:00 – The Synology DS922+, DS222+, DS1522+ and/or DS722+ NAS?
New Affordable Synology 10GbE Diskstation NAS Drive?
Moving away from the subject of 2.5GbE and onto the broadly more appealing and always growing one of 10GbE, it is 2022 and STILL, we have yet to see more affordable 10-gigabit solutions from Synology (at least as far as home and prosumer users are concerned). Synology is a lot better than it once was on the subject of 10G desktop/rackmount solutions, with several now available in their portfolio that range from 6 Bay desktops (the DS1621xs+) all the way to beastly rackmounts that arrive with 2x 10GbE out the door and optional 25GbE FC cards. They even have made a stab at more entry-level flashstation solutions like the FS2500 which is a 12 Bay 1U rackmount with 10GbE and dedicated SSD support that is a big dip in price compared with the rest of the range. Synology Rackstation users have had a fantastic degree of variety in 10g equipped solutions in the last 2-3 years that, although still are pricey, are comparatively well spread in their costs generally. Desktop/Diskstation users looking for 10GbE however are way, WAY more overlooked. In fact, short of the DS1621xs+ released in mid-2020 for £1600 and DS3622xs+ released at the tail end of 2021 for close to £3000 – there is precious little else for anyone looking for 10G for under £1200 without buying a default 1G box like the DS1621+ or DS1821+ and buying a Synology £150-200+ 10GbE upgrade card. Indeed, the last time Synology released an affordable 10GbE solution as the DS1817 back in 2017, and it's specifications of a 32bit 1.7Ghz Annapurna processor made this EIGHT BAY(!!!) NAS have to work way too hard to fully saturate that 1,000MB/s connection.
This slideshow requires JavaScript.
All the brands, I repeat ALL (I even include WD and their Business NAS series) have released an affordable 10GbE desktop NAS solution for under £1K in the last 3 years and it still surprises a lot of users that Synology has yet to do this. This is made particularly galling when there are 10GbE network controllers on the market from Aquantia AND even m.2 to 10GbE adapters on the market that make integrating a 10GbE port onto a 4/6/8-Bay system with even a mid-range 64bit ARM CPU considerably easier. Other brands have done so (several times since the DS1817 too).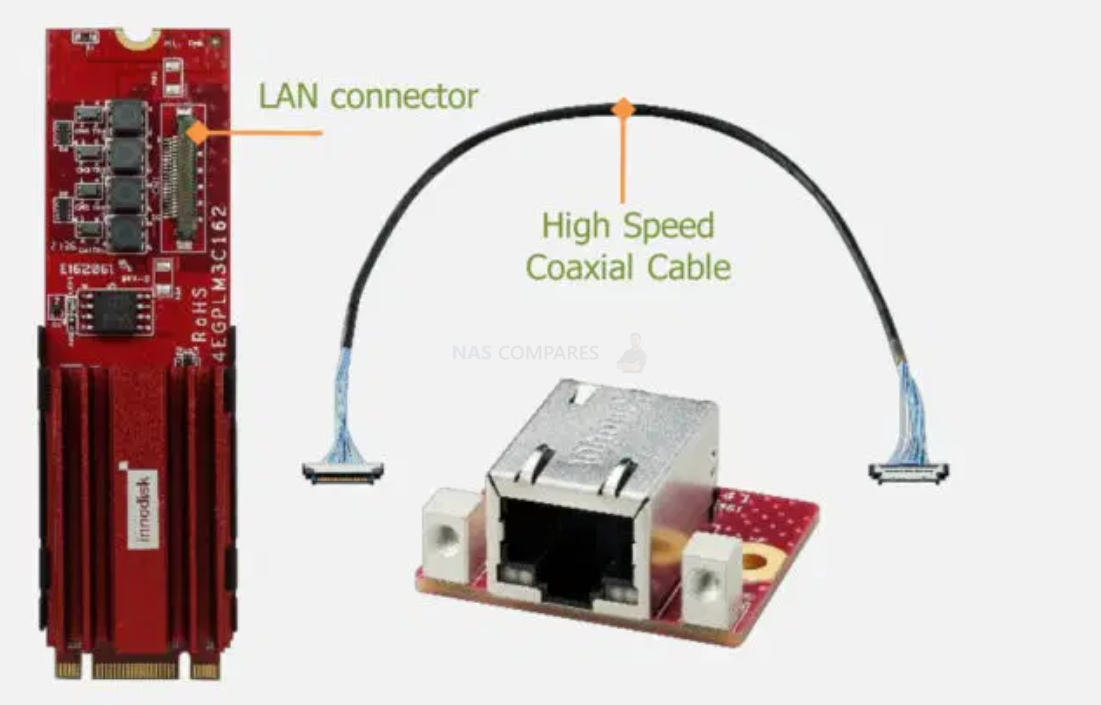 So, it is with all that in mind AND the fact Synology is strengthening its cloud sync services (as mentioned earlier with C2) that I think that in 2022 they will definitely revisit the subject of an affordable 10GbE solution for Prosumers and lighter SMBs. Logic dictates that they will repeat the chassis choice of the DS1517 and DS1817 (not + editions) as these are good base levels of storage to saturate the 10GbE bandwidth, but given the performance of modern high capacity HDDs (both Synology HAT5300 drives and 3rd party ones from Seagate and WD) means that even a 4 bay can hit the 600-800MB/s bandwidth too. Add a little caching and an option to expand (as you would in the DS920+ for example) and the idea of an affordable 4-Bay 10GbE NAS from Synology makes ALOT of sense. It is an area that I think the brand has ignored now for simply too long and instead of tackling the 2.5GbE conversation, it suddenly makes them look meteoric in the hardware things!
Find out more about my thoughts on this from my video with Eddie the Webguy in the video linked below (will skip you to the right bit!):
15:15 – The Death of 1GbE and the Affordability of 2.5GbE and 10GbE Components
New Synology Ryzen Powered Diskstation NAS Drive
For the desktop small/medium business (SMB) users, the last 18 months or so has actually been surprisingly fruitful. Synology has released a whole bunch of solutions in diskstation and rackstation that is geared much more towards throughput, VM use, Surveillance and allowing numerous means of upgradability in the hardware architecture. For a long time, Synology had a bit of a fixation with the Intel Atom/Denverton processor, with this rather old generation processor popping up on around 20 systems over 5 years. Fast forward to now and their choice of moving towards an embedded Ryzen processor for this tier of their portfolio has been received incredibly well. A more modern processor that although not arriving with embedded graphics, still provides tremendous flexibility and efficiency, whilst still supporting the full range of services that Synology have worked on in DSM 7. Indeed, the AMD Ryzen V1500B (for Synology) is still pretty new and the brand is still pushing the limits of what they can do with it.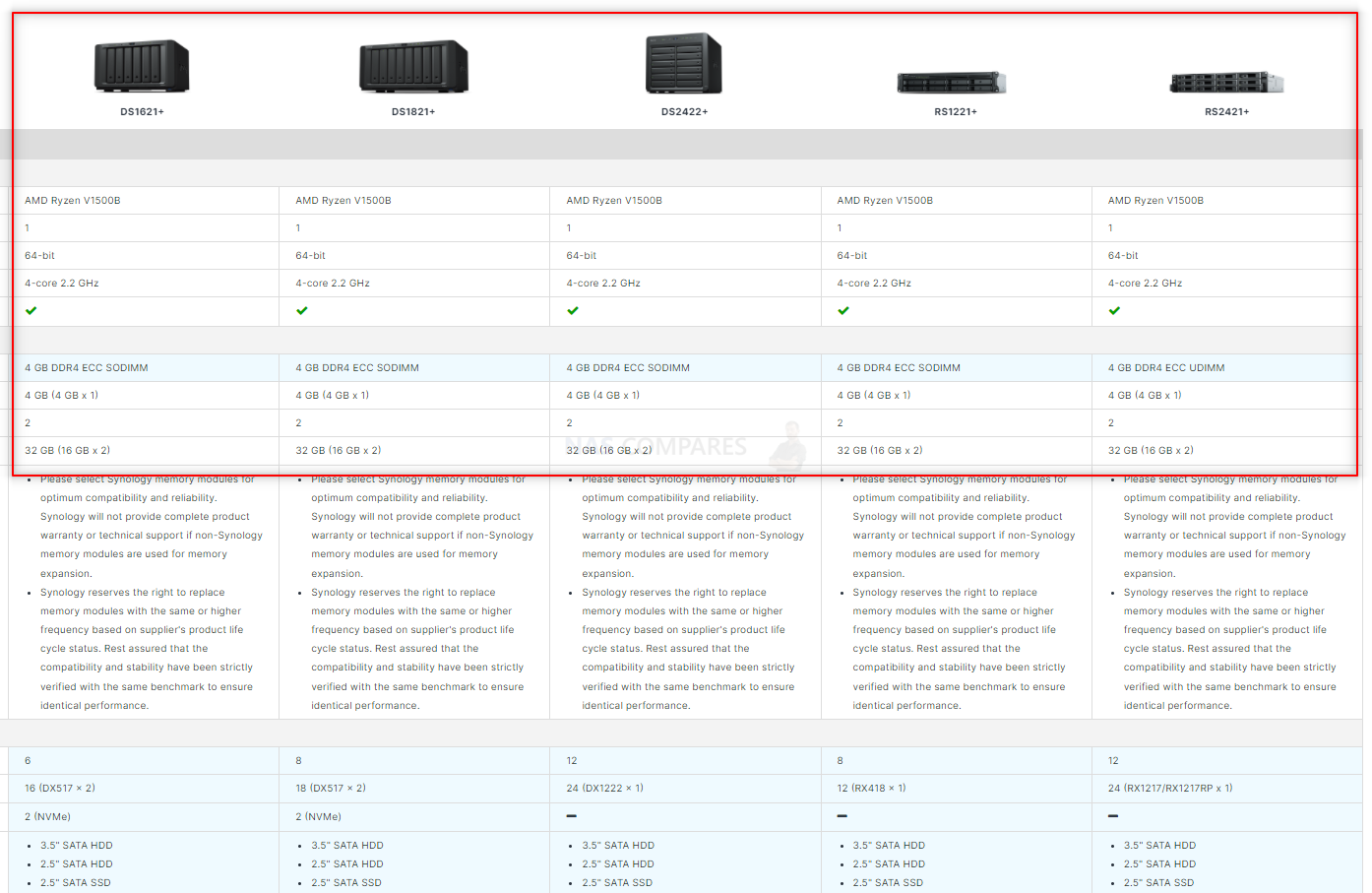 It is for these reasons that I think it will be pretty unlikely that we will see much change from Synology on systems like these in 2022. The rules of their naming conventions aside slightly, the current lineup is either still too new OR the hardware involved still not fully explored by the brand that I think they will be reluctant to push hard on a follow up anytime soon. That said, towards the END (so H2 onwards really) of 2022 might well be a different story. With the DS1623+ or a DS1823+ potentially due a refresh, I can certainly see Synology doubling down on their utility of the embedded Ryzen processors and moving up to the next tier of this processor and opting for the AMD Ryzen V1780B CPU. Comparable to the V1500B, it still brings a lot of power/efficiency advantages, whilst not changing the core architecture too much over the predecessor to make an upgrade difficult internally. It is logic like this than we saw in the Intel Atom C2538>C3538 and Intel Xeon D-1527>D-1531 already, so it would be a very much in the brands style!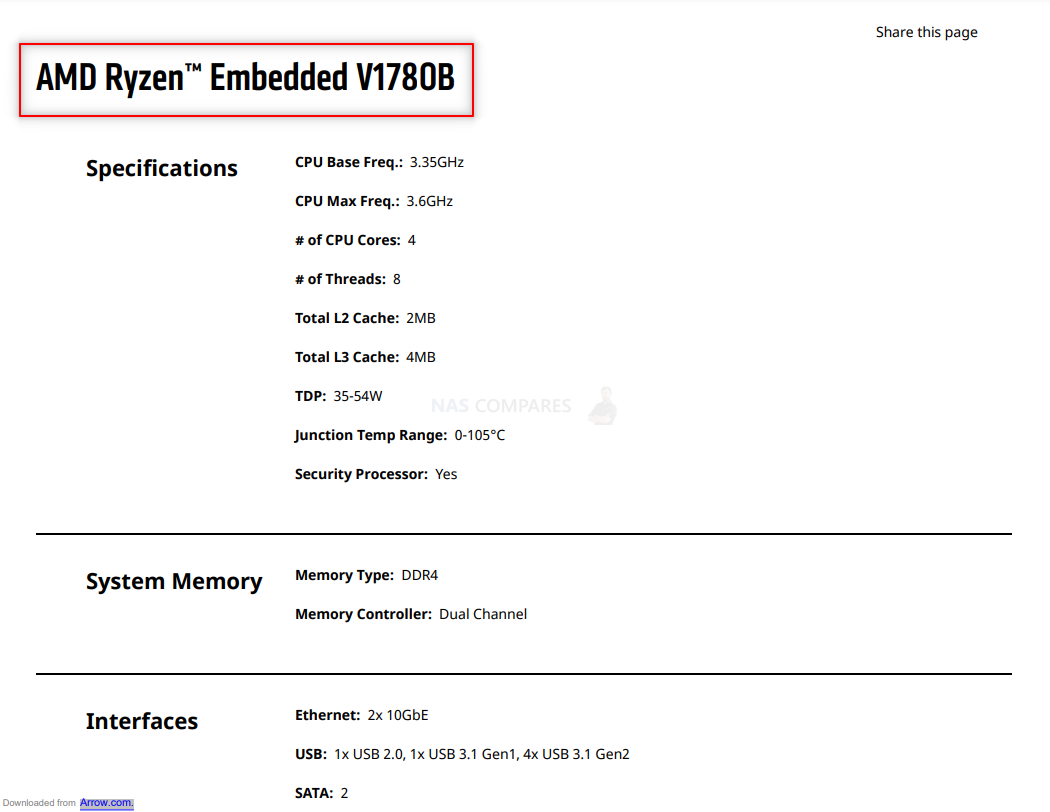 Regardless, of all the potential hardware followups, I think this is one of the less likely end of the spectrum and otherwise something that will see a follow up in the later part of 2022. Find out more about my thoughts on this from my video with Eddie the Webguy in the video linked below (will skip you to the right bit!):
18:13 – New 6-Bay or 8-Bay Ryzen Based NAS?
—– UPDATED FEB '22 —–
New Synology Hard Drives, SSD Media and Compatibility?
There are few things about the Synology platform that is more divisive with the audience than the move by the brand in 2020 to produce it's 1st party-branded SSDs and HDDs. On the face of it, it makes ALOT of sense. Many buyers do not want to concern themselves with separate warranties, different branded software/priorities and seek a single-ecosystem solution and Synology (with its DSM platform that seeks to provide the full business hardware/software suite) is looking to provide exactly that! The wrinkles on the forehead's of buyers start when systems begin to arrive with compatibility/support pages that are noticeably trimmed down to result in a Synology solution being ONLY used with Synology HDD or SSD media. This is a position that is currently only extended to the top/high end of their portfolio (with a recent exception that I will discuss in a bit) and for the most part, this seems to be accepted by the audience. One bup though for users who ARE on board with using Synology HDD/SSD media are the capacities and types that are available. Recently Synology released a small revision change in their SSDs (so the SNV3400/SNV3500 and SAT5200 ranges changed to SNV3410/SNV3510 and SAT5210) and their HAT5300 SATA hard drives branched out into a SAS version in the HAS5300, but there are still some holes in the media portfolio that are rather glaringly obvious and likely to be filled in 2022.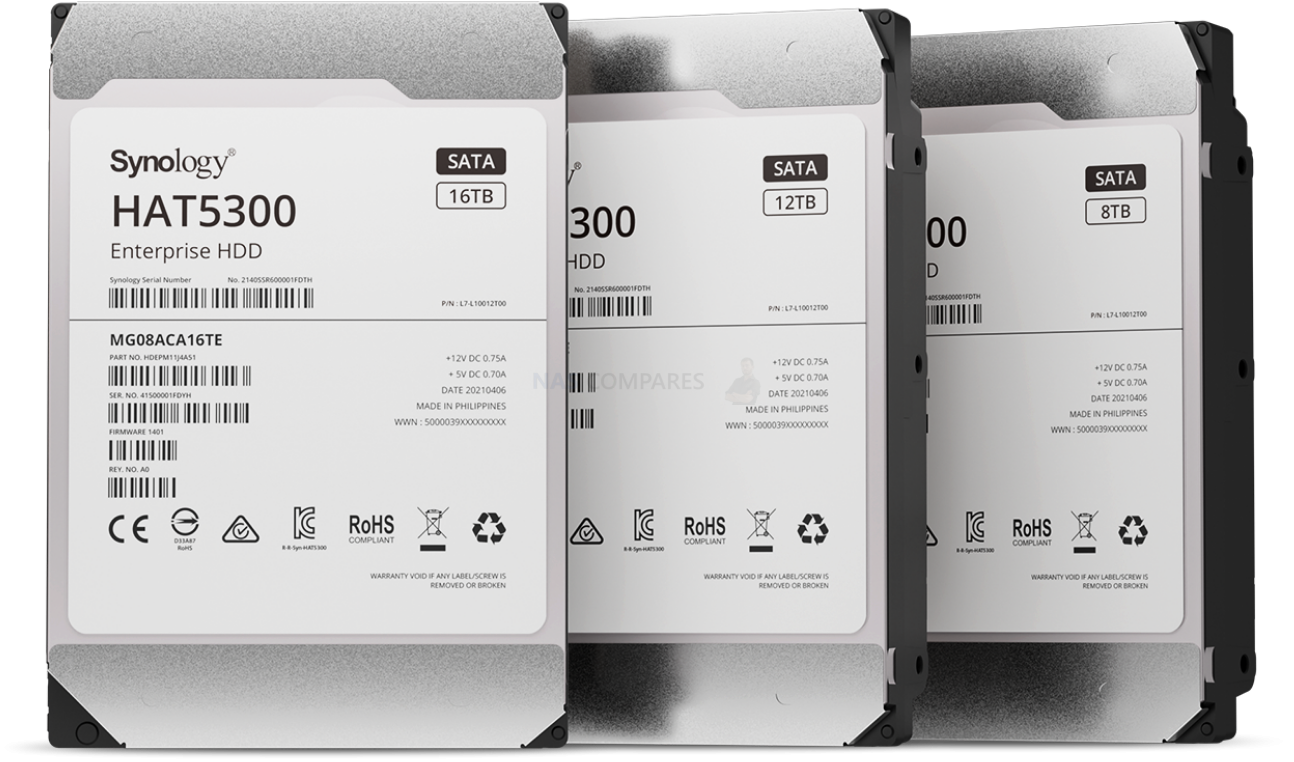 Once area that the brand has still yet to explore (despite being in a great position to do so) is with in-house SAS SSDs and/or U.2 SSDs. Synology has a number of high-end flash rackstation (flashstation) solutions available, as well as a number of SAS equipped rackmount solutions (that STILL have Synology-only-drive support limitations in place) and the fact that Synology has solutions like these, yet sub-performance drives to interfaces to populate them with is baffling! Synology NEEDS to release one of both of these as a media supported tier in their hardware portfolio in 2022, or else it potentially leaves their locked-in solutions looking a tad bottlenecked. Another of the most OBVIOUS areas that I am convinced Synology WILL improve upon in 2022 is the capacity of their HDDs and SSDs. Considering the range of solutions they have, the fact that the HDDs are only available in 8TB, 12TB and 16TB is really odd. The HAT5300 and HAS5300 SSDs are Toshiba M06, M07 and M08 enterprise hard drives and at the tail end of 2021, we saw Toshiba unveil its 18TB MG09 drive (specs below). So, that means that it will only be a question of time before Synology apply their firmware revisions and livery to this new release and a Synology HAT5300-18T arrive. This still puts them a pinch behind the 20TB and (recently) 22TB hard drives from the likes of WD and Seagate in their respective NAS HDD portfolio's, but for those looking at the bigger 21 and 22 series boxes that are locked to Synology HDDs, it is going to be good news.
Form Factor
3.5-inch
Buffer Size
512 MiB
Rotation Speed
7200 rpm
Maximum Data Transper Speed
(Sustained)(Typ.)
268MiB/s
Power Consumption
(Idle-A)
SATA
18TB/16TB
4.16W
14TB
3.77W
12TB/10TB
3.30W
SAS
18TB/16TB
4.49W
14TB
4.25W
12TB/10TB
3.76W
MTTF
2 500 000 h/0.35%
Weight (Max)
18TB/16TB
720g
14TB
705g
12TB/10TB
690g
HOWEVER, to return to the subject of Synology drive media and hardware that has more streamlined compatibility/supported media lists, when the DS2422+ NAS arrived for desktop users, many users (myself included) were surprised to see that the official compatibility lists only showed Synology HDDs and SSDs supported. This kind of thing is understandable at the enterprise tier (once again, complete/eco-system solutions), but the PLUS series was always considered a Prosumer/SMB layer by many and it left some wondering if this indicated anything changing on this in the future DSxx22+ NAS releases in 2022. I do not think Synology would lock/limit compatibility on their DS922+ or DS222+ etc releases to Synology only drives IF the HAT5300 and SAT5210/SNV3410 were the ONLY ranges that the brand provides in its portfolio. As these drives are either too Pro/enterprise (in price, design and noise level) to use in more modest NAS systems and it would significantly hurt the sale of sub-£1000 hardware if it comes with such a small pool of media to populate it with. HOWEVER, if Synology decided in 2022 to release a range of more affordable/base level HDDs for NAS (perhaps a HAT3300 that is built on the Toshiba N300 NAS class series – to follow the logic of the enterprise drives). THEN I would wonder about the PLUS series and Synology drive compatibility.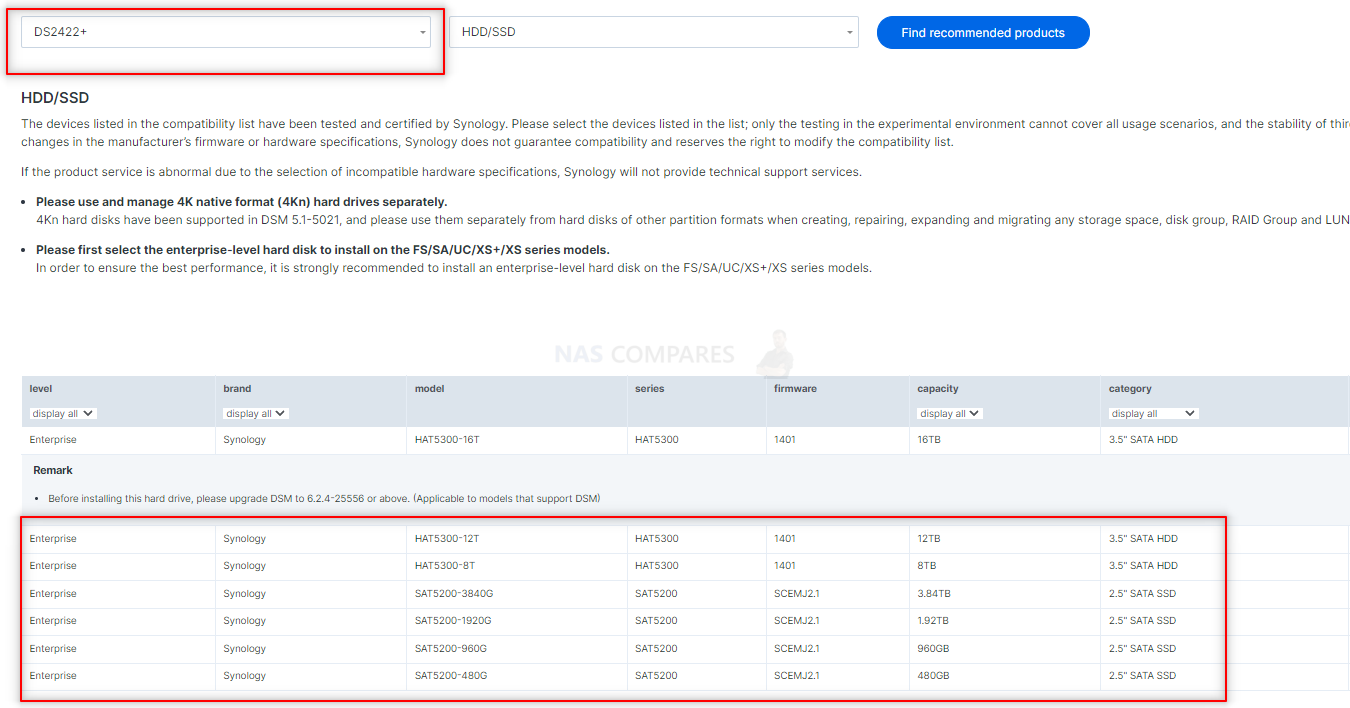 Overall though, I DO think that Synology will release some larger capacity HDDs in 2022, along with further evolving their SSD media ranges towards higher-end flash use. Any move by them to provide a HOME/SMB tier of HDDs that are built on Toshiba N300 NAS hard drives would not be outside the relms of possibility, but if they did, I hope they are a little more flexible on compatibility at the DSx22+ tier. Find out more about my thoughts on this from my video with Eddie the Webguy in the video linked below (will skip you to the right bit!):
21:10 – Synology Hard Drives and Drive Locking (limited compatibility)
Synology DVA1622 2-Bay Surveillance NAS Drive with AI Supported Services
Synology revealed quite a few interesting hardware and software plans in their recent 2022 and Beyond event, with quite an impressive amount of focus being given to their planned updates for the Surveillance station and a new piece of AI-powered NVR hardware, the DVA1622. This is by no means their first AI-assisted surveillance solution (with the DVA3219 and DVA3221 for High-end business and enterprise released in recent years), but the DVA1622 is by far the most compact and buyer accessible entry into this series yet (though almost certainly still arriving with a price tag that will push it outside the low end, home user). Arriving with Surveillance Station 9.0 at launch, the DVA1622 will feature the support of deep video analysis found in the larger 4 bay GPU equipped versions (though in lower volume instances), as well as unique local access options and easier compact deployment. So, let's take a look at everything we learned about this new NAS system for surveillance see what makes it stand out from the crowd.
Learn more in my original article on the Synology DVA1622 NAS at the end of 2021 Below: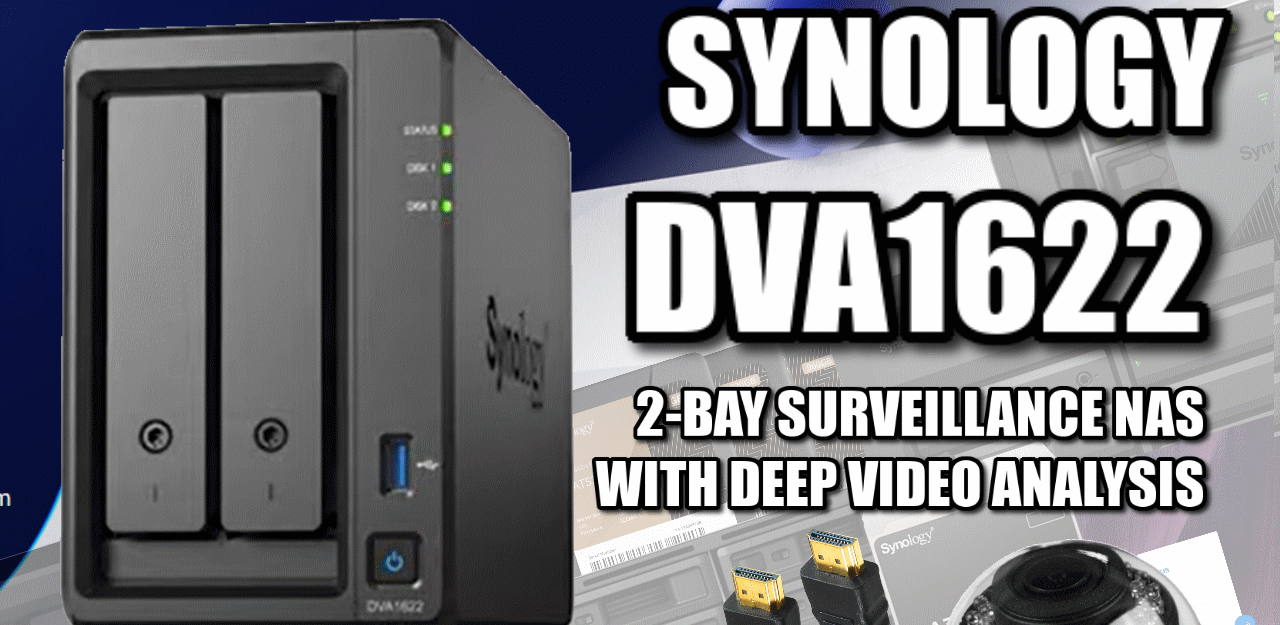 Find out more about my thoughts on this from my video with Eddie the Webguy in the video linked below (will skip you to the right bit!):
25:40 – The Synology DVA1622 AI-Powered Surveillance 2-Bay
The Synology HD6400 Rackstation NAS Drive – Still a THING?
Originally revealed way, WAY back in Summer 2019, Synology revealed a number of interesting prototypes that they were working on (alongside revealing their latest beta of DSM 7.0 at that time) and of all, the one that really stood out for me was the BEAST that was the HD6400. The HD6400 is/was a top-loaded 60-Bay Rackmount NAS Solution that featured 2x Intel Silver 8-Core Processors, upto 512GB of DDR4 ECC registered UDIMM memory that appeared at numerous tradeshows globally, but since then has gone remarkably quiet! They even covered it in the presentations by the regional Synology managers of each presentation as 'something we are working on' and of all the rackmount solutions by the brand, it was one that really stood out (remember, this was hte same event that had the first DVA3219 AI-powered surveillance system, the UC3200 Dual Controller system and their Mesh routers – so it was an event filled with a lot of high points).

However, after that…SILENCE! I have not seen or heard anything on this monster rackmount server since and although the system was physically present at the Berlin 2019/2020 Synology event I attended, it was a hollow/display model without ports or components fully in place. It is not impossible that this system will still see the light of day, but much like the SG-1000 network overview and management device (more than a switch really) that was shown in 2017/2018, I fear this incredibly rackmount may be vaporware now. I hope not, but it's not looking good!
This slideshow requires JavaScript.
You can find out everything I wrote about it in this article here from back in 2019 – https://nascompares.com/2019/09/04/synology-hd6400-60-bay-monster-nas-4u-rackmount
Alternatively, Find out more about my thoughts on this from my video with Eddie the Webguy in the video linked below (will skip you to the right bit!):
26:25 – What Happened to the Synology HD6400 60-Bay Racckstation NAS?
Synology RT6600ax WiFi 6 Mesh Router
Yes, THAT router! When Synology hosted its annual event (Synology 2022 in Dec 2021) one device that got ALOT of attention was the RT6600ax. This was a WiFi 6, 5.9Ghz frequency support, Mesh support, 6 Antennae, tri-band coverage 6,000Mb total bandwidth (shared) and even a 2.5GbE network port. It is (most) of exactly what Synology router owners had been asking for for the last 12-18 months and also arrives with compatibility with existing MR2200ac mesh routers.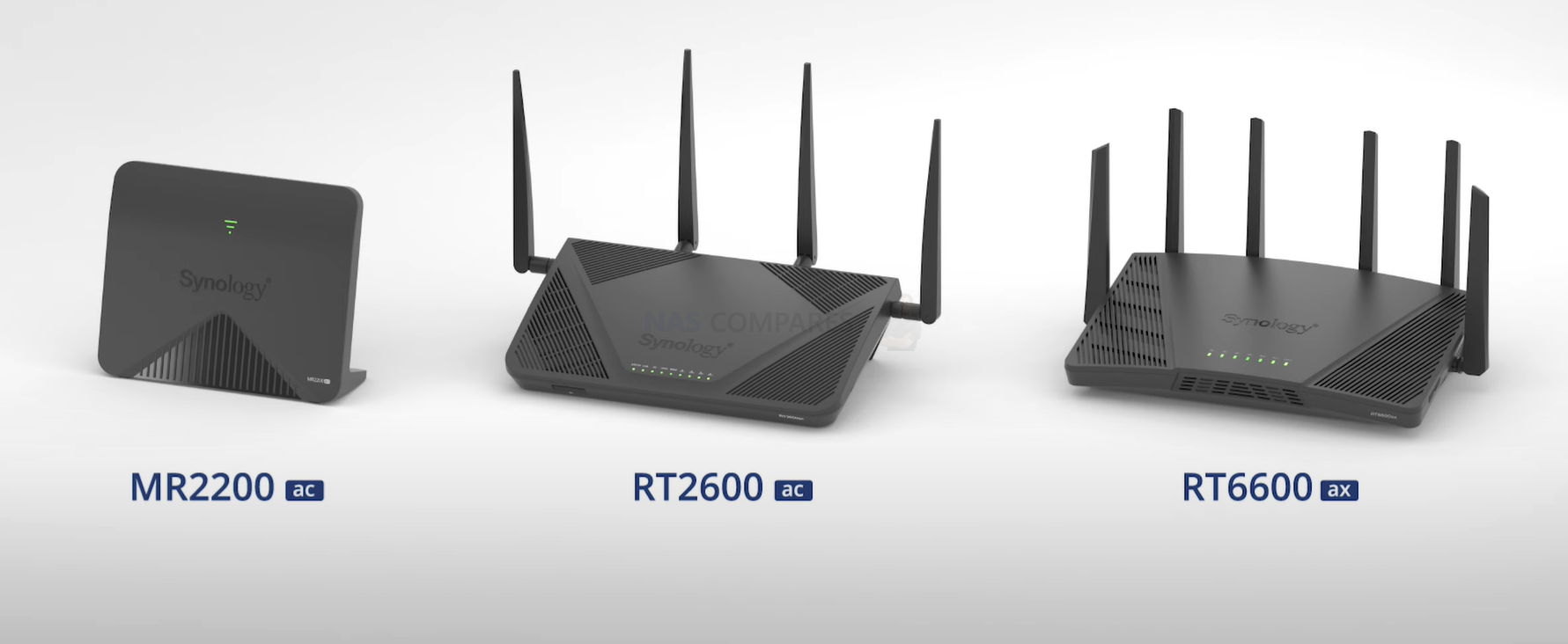 Synology RT6600ax Router Hardware Highlights
Planned to arrive in H1-2022 with SRM 1.3
Tri-Band WiFi 6 Support
6 x High gain adjustable antennae (4×4 MIMO antennas)
5.9Ghz / 160MHz channel Support
Four 1GbE (Gigabit Ethernet ports) (1x WAN 3x LAN)
1x 2.5GbE LAN/WAN Port
6600Mbs Bandwidth Potential
Multi-Network creation in SRM 1.3
Improved DS Router Mobile Application and Browser GUI in SRM 1.3 in 2022
Mesh Support with future AX devices
No word on USB Support, but almost certainly going to be featured
Alongside this, Synology has highlighted that Synology Router Manager (SRM) will be receiving a big update in 2022 that adds features such as vLAN (long overdue) and tweaks to the user interface in an effort to make it much more user friendly where they missed the mark in SRM 1.2. The release of the RT6600ax Synology router is more than likely to be Q1 of 2022 (Jan-March) as they will want to release this and SRM 1.3 together where possible (regions etc). Additionally, test documents are slowly appearing online and some of which show how far through development the Synology RT6600ax is and docs that are locked to the first week of March 2022 further highlight this.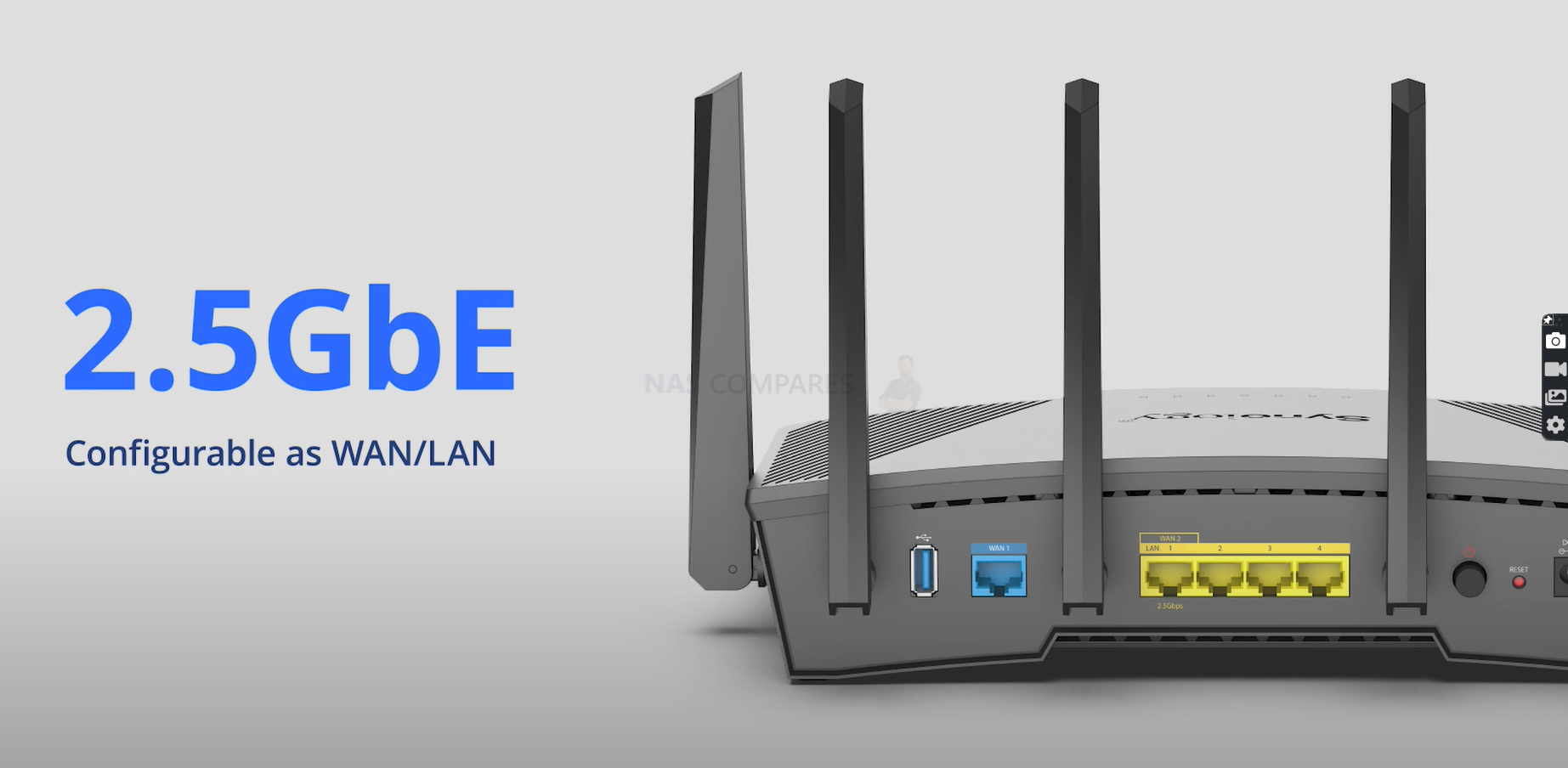 Learn more in my original article on the Synology RT6600ax Router at the end of 2021 here – https://nascompares.com/news/synology-rt6600ax-wifi-6-2-5gbe-router-revealed
Alternatively, Find out more about my thoughts on this from my video with Eddie the Webguy in the video linked below (will skip you to the right bit!):
27:10 – When will the Synology RT6600AX WiFi 6 Router be Released?
And there you go. Right now at the time of writing, these are the big things we either know are coming from Synology in 2022 or expect from them in hardware releases! I will be revisiting this page periodically to add anything further I learn as the year goes on, so I recommend that yu bookmark this page or add your email address to the notifications box (in green/blue) as then you will get an alert when I add more. Alternatively, you can always use the free advice section below to contact me or Eddie if you are on the fence about choosing a Synology NAS system and are worried that something new is imminent. Thanks for reading and have a great day, week, month or year!
📧 LET ME KNOW ABOUT NEW POSTS 🔔
Join 1,582 other subscribers
Get an alert every time something gets added to this specific article!
This description contains links to Amazon. These links will take you to some of the products mentioned in today's content. As an Amazon Associate, I earn from qualifying purchases. Visit the NASCompares Deal Finder to find the best place to buy this device in your region, based on Service, Support and Reputation - Just Search for your NAS Drive in the Box Below
Need Advice on Data Storage from an Expert?
We want to keep the free advice on NASCompares FREE for as long as we can. Since this service started back in Jan '18, We have helped hundreds of users every month solve their storage woes, but we can only continue to do this with your support. So please do choose to buy at Amazon US and Amazon UK on the articles when buying to provide advert revenue support or to donate/support the site below.

Finally, for free advice about your setup, j
ust leave a message in the comments below here at NASCompares.com and we will get back to you.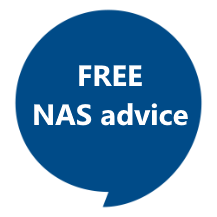 Need Help?
Where possible (and where appropriate) please provide as much information about your requirements, as then I can arrange the best answer and solution to your needs. Do not worry about your e-mail address being required, it will NOT be used in a mailing list and will NOT be used in any way other than to respond to your enquiry.
Support What We Do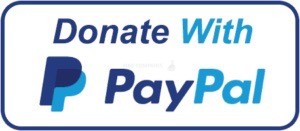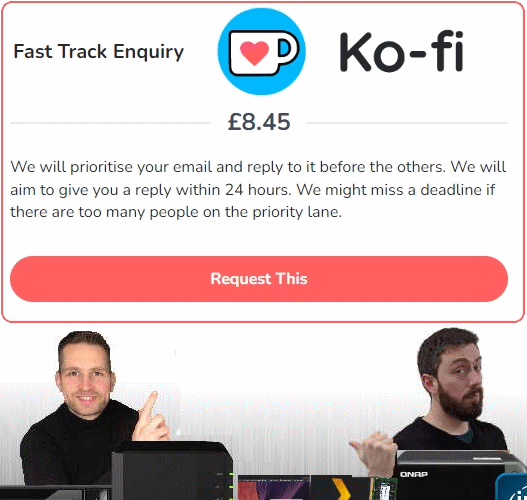 Terms and Conditions
Alternatively, why not ask me on the
ASK NASCompares forum
, by clicking the button below. This is a community hub that serves as a place that I can answer your question, chew the fat, share new release information and even get corrections posted. I will always get around to answering ALL queries, but as a one-man operation, I cannot promise speed! So by sharing your query in the
ASK NASCompares
section below, you can get a better range of solutions and suggestions, alongside my own.
Summary
Reviewer
Review Date
Reviewed Item
Synology 2022 NAS - Predictions & Confirmed Hardware Coming
Author Rating