A Guide to the Best 4-Bay NAS Drives to Buy Right Now
I think it would be fair to say that, when it comes to users who are making the jump professionally from Cloud to their own private server, the 4-Bay NAS market is often their first choice! Aside from the obvious benefits in capacity (NAS hard drives are now available at 22TB and 24TB is just around the corner) and redundancy (i.e safety nets), 4 disk servers tend to be where NAS brands introduce better hardware internally and externally. As NAS technology has improved year on year, the standard of the average prosumer/small-business 4-Bay NAS has increased quite substantially – all the while with the price point largely remaining the same at each tier (give or take a few %). So, today I want to discuss the very best 4-Bay NAS drives that you can buy right now at the end of 2022 and into 2023. I have reviewed hundreds of NAS devices in the last few years, and I can comfortably say that 2022/2023 has easily been the most competitive. We have seen the evolution of M.2 NVMe SSD use in these systems extending to caching and storage across all NAS brands, the continued growth of 2.5GbE, a new generation of processors arrive that open the doors to larger bandwidth internally and all the while, the software that all these devices arrive with become incredibly diverse and capable! So, let's get down to it, what are the best 4-Bay NAS drives of 2022 and 2023? Let's go.
What Have All the Best 4-Bay NAS Drives Have in Common?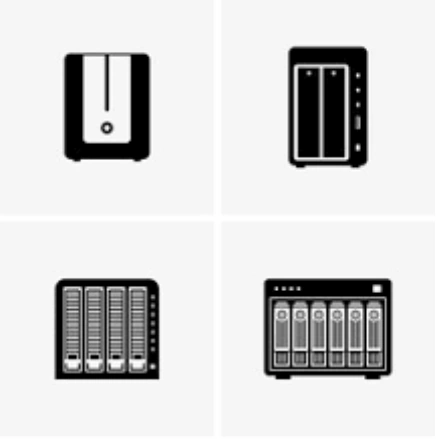 It is worth remembering that although there are ALOT of different 4-Bay NAS drives available to buy, they are by no means created equal! With numerous super-budget brands popping up online, it can be tempting to consider these alongside the premium NAS brands. However, all too often they offer solutions righty seem 'too good to be true' and then are gone from the web before your warranty even gets cold! So, whether you are looking at the three best 4-Bay solutions that I am recommending below OR are looking at another 4-Bay NAS you saw on offer/recommended elsewhere – the best NAS system ALWAYS includes the following software and services:
Combined Hardware & Software Solution – That means that you are buying the hardware, but it ALSO includes a web browser GUI, mobile apps and desktop client apps (including backup, media, streaming, surveillance and file management software)
ALL the solutions in my top 4-Bay NAS of the year feature both SATA and M.2 NVMe SSD bays (an absolute must-have right now)
All NAS systems in this guide are compatible with (and can be accessed by) Windows, Mac, Android and Linux operating systems
All NAS Solutions arrive with between 2-3 years Warranty (with the option to extend to 5 years)
All NAS drives can be accessed locally over the network, as well as secure remote access is possible with brand-supported services (at no additional cost)
The most modern and regularly updated NAS systems will support the very latest 20TB NAS hard drives (such as the Seagate Ironwofl 22TB and WD Red 22TB)
All the recommended solutions support multiple drive configurations (RAID) for drive failure protection and performance enhancements
All solutions receive regular updates to their security, features and services
All recommended NAS drives can connect and synchronize with cloud services (Google Drive, DropBox, OneDrive, etc), as well as Business/Enterprise services such as AWS, Azure, Backblaze and more
All NAS solutions (regardless of brand) feature the ability to host a shared drive on your PC/Mobile/Laptop systems that are synchronized with the NAS via the network/internet, but is shown in your native operating system file manager (i.e Mac Finder or Windows Explorer)
All the NAS solutions listed can be accessed DIRECTLY via an ethernet/network cable being connected from your PC/Mac system, to the NAS RJ45 port for 100MB/s and higher connectivity
All the best NAS solutions (regardless of brand) feature backup and sync tools that can be installed on your local client computer and allow regular backups of your files and system data
So, make sure that if you are looking at a NAS solution that is NOT recommended below, that it includes all of the above. As these are some of the clearest areas that brands all too often cut orders to produce cheaper by ultimately inferior NAS servers for home and business. So, let's discuss the very best 4-Bay NAS to buy now in 2022/2023.
---
Best All Round 4-Bay NAS Drive – QNAP TS-464 NAS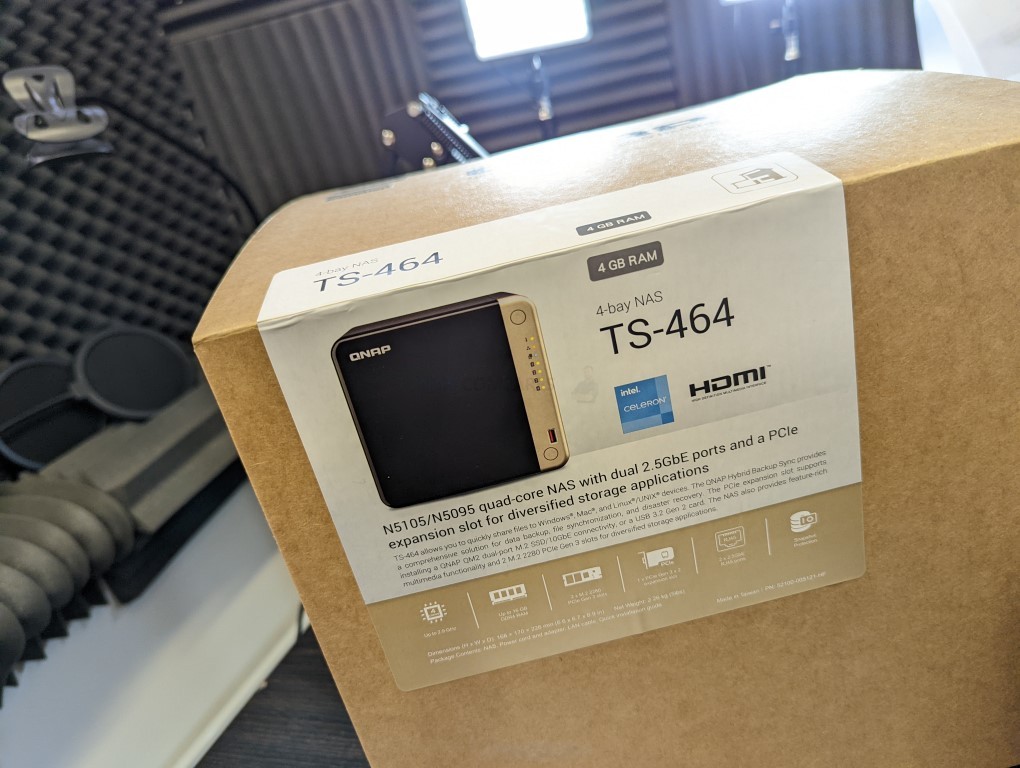 0-88TB, 4-Bays, 2x PCIe Gen 3×1 M.2 NVMe 2280, Intel Celeron N5105 CPU, 4-16GB Memory, 2x 2.5Gbe Port, 1x PCIe Gen 3×2 Slot, 1 HDMI 2.0 4K 6-FPS, 3-5yr Warranty
Current Price/Availability on Amazon – $550
Hardware Review – LINK
YouTube Video Review – Watch
What I said in my review April '22:
The TS-464 comfortably arrives with the best hardware in its tier of the NAS market and that is something that QNAP has always been quite good at. Even if you rewind just 5 years, the level of hardware scalability and ease of upgradability that the TS-464 provides is frankly incredible and, fast forward to 2022, is still pretty unmatched. A Desktop 4-Bay NAS (eg Prosumer RAID 5 storage) has always been the next confident step for users who are tired of their hands being tied by subscription cloud services from Google, OneDrive and DropBox, who are looking for their own competent, flexible and fully-featured private server. In the TS-464 NAS, you find a system that is unquestionable the best hardware for your money you can possibly get right now. In software, things are a little less straightforward. QTS 5, although massively software and service-rich, arrives as a complete operating system in your web browser with multiple mobile/desktop clients and hundreds of applications and apps that can be installed at the touch of a button – which can all too often be something of a steep learning curve for many.
This slideshow requires JavaScript.
Lacking the slightly chewable, user-friendly nature of many of their rivals, QNAP and its software/service still have a tendency to be a bit of an information overload that can quickly intimidate the novice. However, for those that are looking for a system that is completely customizable in how/when/where you want data presented to you, as well as a wide degree of 3rd party support, QNAP and QTS 5 still manages to provide a huge degree of brand-unique service that are simply not available elsewhere. Just be prepared to invest your time wisely in its setup and more time ensuring the system is perfect for your needs.
---
Best Software 4-Bay NAS Drive – Synology DS923+ NAS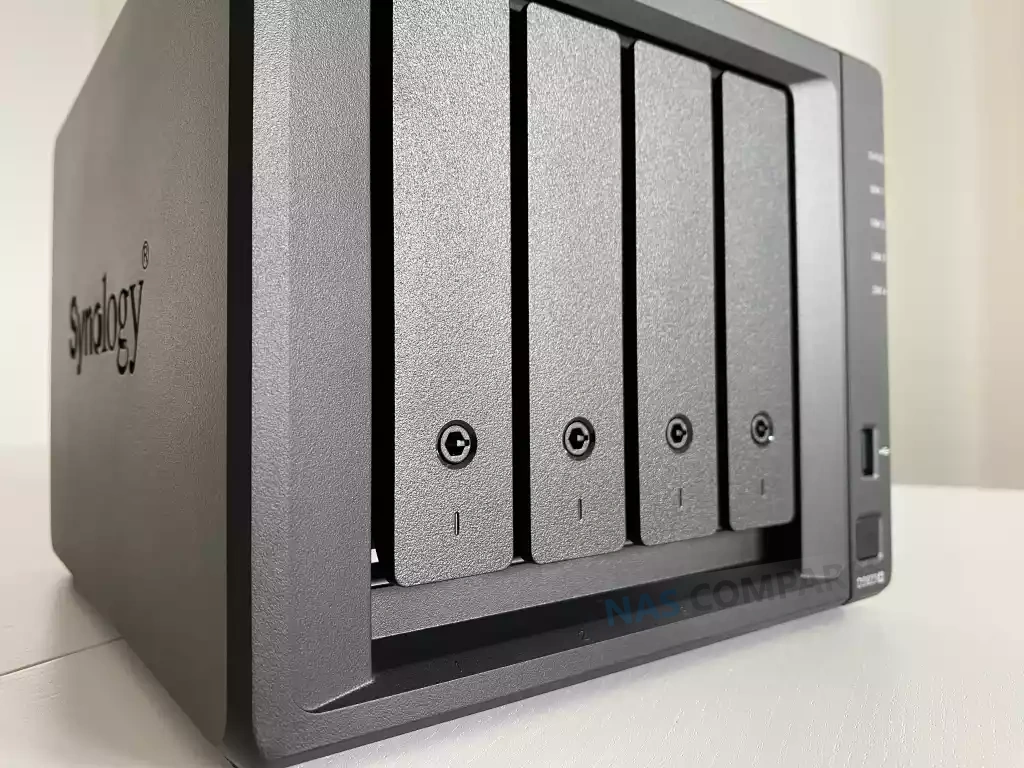 0-88TB, 4-Bays, 2x PCIe Gen 3 M.2 NVMe 2280, Dual Core AMD Emb.Ryzen R1600 CPU, 4-32GB DDR4 ECC Memory, 2x 1Gbe Port, 10GbE Optional Upgrade Slot, 3-5yr Warranty
Current Price/Availability on Amazon – $550+
Hardware Review – LINK
YouTube Video Review – Watch
What I said in my review Nov'22:
Synology has clearly made something of a gamble in the release of the Synology DS923+ NAS. There is no avoiding that making the switch from the Intel Celeron that has historically been the build choice of this product family and opting for the AMD Emb.Ryzen has ruffled some feathers! On the face of it, the R1600 here has a heck of alot of going for it over the previous generation! Higher clock speed, greater PCIe Gen 3 Support throughout, that 4-32GB of DDR4 memory in such a compact system and just generally giving you a lot more horsepower to play with, as well as better bandwidth potential inside and out! But at what cost? The 1GbE standard connectivity in the base model leaves alot to be desired, the proprietary 10Gb upgrade (though incredibly handy) limits the upgradability a tad and the lack of an integrated graphics processor is likely going to result in many long-term Synology advocates to skip this generation. Synology Diskstation Manager (DSM 7.1 at the time of writing) still continues to impress and although the brand still continues to heavily push their 1st party priorities, they have left a little more wriggle room in DSM 7.1 than DSM 7 before it in terms of media compatibility.
This slideshow requires JavaScript.
In terms of design, I cannot fault Synology on this as the DS923+ chassis still arrives as one of the best-looking and still exceptionally well-structured devices at this physical scale and storage level. As always, a Synology NAS is more about the software than the hardware (and the DS923+ delivers in spades on the software side!) and with DSM 7.2 around the corner improving things. Just always keep in mind that the Synology DS923+ NAS is a system that arrives with the slight emphasis on having to do many things 'their way'. If you are less technically versed, then you will definitely appreciate this level of user-friendly design and assistance, but more technically minded admins' main strain a pinch! In short, the DS923+ IS a good NAS drive, but its focus has certainly ebbed more towards the business user this generation than the home.
---
Most Powerful 4-Bay NAS Drive – QNAP TVS-h474 NAS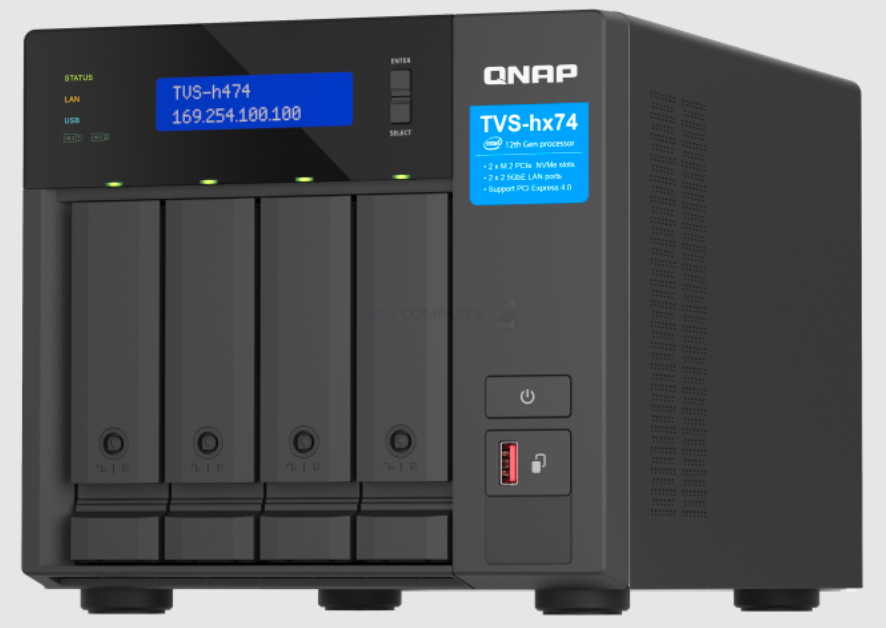 0-88TB, 4-Bays, 2x Gen 3 x2 M.2 NVMe 2280, Intel Pentium Gold G7400 2-core/4-thread 3.7 GHz CPU, Intel Embedded UHD Graphics 710, 8-128GB DDR4 Memory, 2x 2.5Gbe Port, PCIe Gen 4 x16 + PCIe Gen 3 x2, USB 10G, HDMI 2.0B, 3-5yr Warranty
Current Price/Availability on Amazon – $1,199
Hardware Preview – LINK
YouTube Video Review – Watch
What I said in my Preview Sept '22:
As previously mentioned, the QNAP TVS-h474, TVS-h674 and TVS-h874 are the follow-ups to the popular TVS-472XT, TVS-672XT and TVS-872XT released in the closing stages of 2018. In the 4 years since their initial release, that thunderbolt 3 product series ended up being diversified into a standalone 10GbE version and a 5GbE version – all of which using 2/4/6 Core, 8th Gen Intel Core processors and PCIe 3 architecture. The newer 4, 6 and 8-Bay x74 series have pretty much ramped up every element of their predecessor's architecture (even the USB ports) and although the CPU is the main reason for this tremendous upscaling of the result of the hardware architecture, you do still get some fantastic hardware under the bonnet generally. That said, it's worth highlighting that the scaling of the hardware between each capacity tier (and even sub-versions at each tier) means that depending on which system in the series you choose, some hardware options might not be available. The TVS-h874-64GB 8-Bay version is the full Intel i9 16 Core version with full PCIe4 support and 10GbE, whereas the most affordable tier is the TVS-h474-8G 4-Bay with PCIe 3/4 architecture, a Dual Core Pentium Gold and 2.5GbE. Let's quickly compare the hardware architecture of the three NAS systems and their sub-versions:
This slideshow requires JavaScript.
So, let's dig a little deeper into those CPUs.  With QNAP slowly revealing more and more PCIe 4 upgrade and expansion cards (such as the 2x10GbE+2xPCIe4 NVMe Combo card QM2-2P410G2T and the Dual Port 100GbE QXG-100G2SF-CX6), the necessity for their business class and desktop enterprise solutions to utilize these cards is going to be tremendously important. However, PCIe 4 bandwidth is what makes these cards possible, as a single PCIe4 lane provides approx 2,000MB/s compared with the 1000MB/s of PCIe3 – even when you add x4 or x16 lane multipliers that form the architecture of PCI slots, that still means a difference of 16GB vs 32GB of potential bandwidth. The barrier for many though is that PCIe4, although established in many motherboards and accessories, is not quite as widely supported in server-class CPUs till around 2021 onwards. This (alongside a hugely powerful onboard embedded graphics component) is what continues to push QNAP to utilize the Intel Core family of CPUs in this product tier over the years. With CPUBenchmark scoring for these CPUs ranging from 6,600+ to 36,000+, you have some series Xeon/EPYC challenging processors here and when you consider these are DESKTOP solutions, not rackmount, that is especially impressive!
---
Best Value Hardware 4-Bay NAS Drive – Asustor Lockerstor 4 Gen2 NAS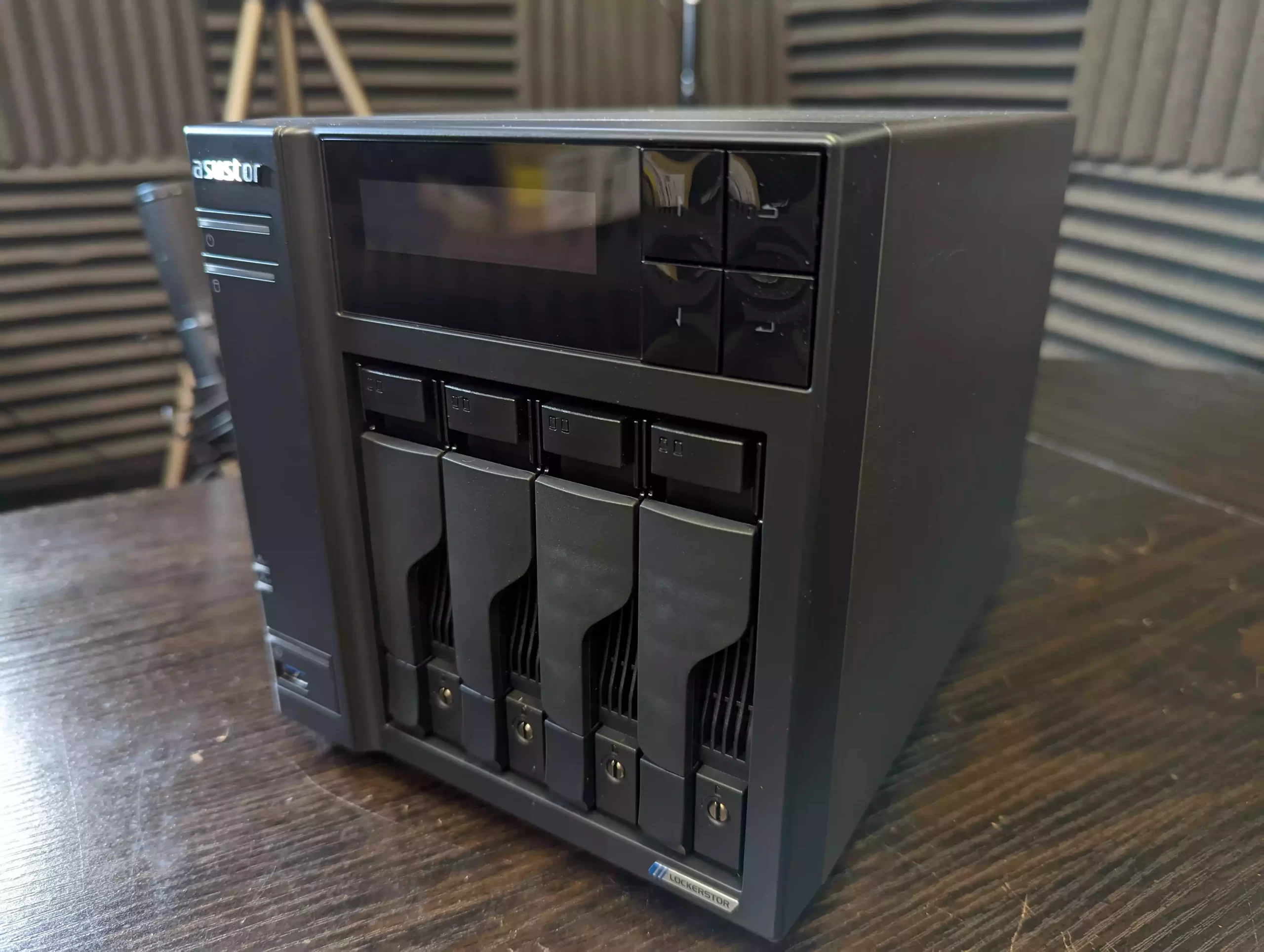 0-88TB, 4-Bays, 4x PCIe Gen 3×1 M.2 NVMe 2280, Intel N5105 CPU 4-Core Integrated Gfx, 4-16GB DDR4 Memory, 2x 2.5Gbe Port, 1x HDMI 2.0b, PCIe Upgrade Slot, 3-5yr Warranty
Current Price/Availability on Amazon – $579
Hardware Review – LINK
YouTube Video Review – Watch
What I said in my review Nov'22:
The Lockerstor 4 Gen 2 NAS is a respectable piece of kit! Indeed, the hardware here is almost faultless! Unless you are particularly noise sensitive (and therefore the metal chassis adding a few dBa to the ambient sound), there is almost nothing I can fault here on the devices hardware. The scaling up of practically all hardware over the Gen 1 Lockerstor, such as Better CPU, Better Memory that goes higher, HDMI 2.0b, USB 3.2 Gen 2, a 10GbE upgrade option and THOSE FOUR M. 2 NVMe SSD SLOTS – you simply cannot fault how much is getting included here at the price point vs it's competitors. The software is a little less compelling, with a smaller range of 1st party applications on offer, more of a reliance on 3rd party services and the absence of a few AAA+ features that are present on other devices in the market (AI services, Cloud Bolt on live synchronization, 1st Party SaaS native sync with Google Workspace/Office365, etc).
This slideshow requires JavaScript.
That said, ADM does run very well, is clear and still quite user-friendly. The addition of choice of file systems EXT4 or BTRFS, flexibility on the use of those M.2 NVMe SSD bays and the Asustor HDMI portal still bring fantastic flexibility to the Lockerstor 4 Gen 2 NAS too. Ultimately, this is a system that is clearly making big waves on it's hardware more than it's software, but as long as you keep your feet on the ground and appreciate that this system is more of a 70/30 purchase of hardware vs software, you will come to respect and rely on this Asustor NAS as the backbone of your data storage setup.
---
Lowest Priced Plex 4-Bay NAS Drive – Terramaster F4-423 NAS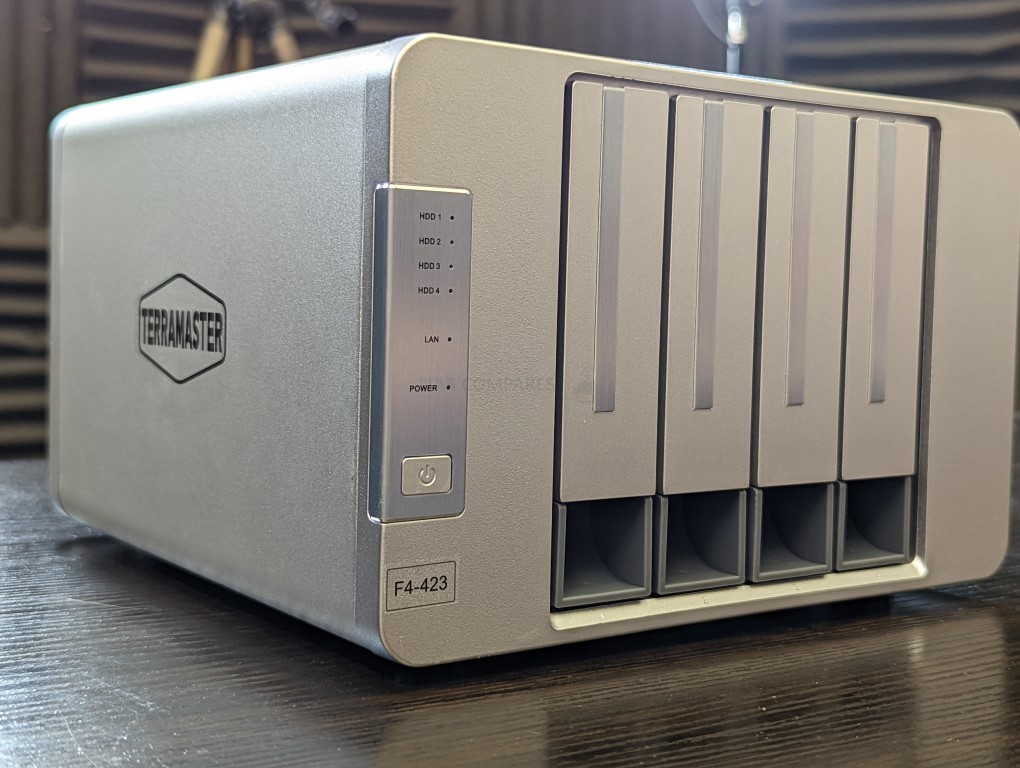 0-88TB, 4-Bays, 2x Gen 3 x1 M.2 NVMe 2280, Intel N5105 Celeron CPU Quad-Core Integrated Gfx CPU, 4-16GB Memory, 2x 2.5Gbe Port, 3yr Warranty
Current Price/Availability on Amazon – $500
Hardware Review – LINK
YouTube Video Review – Watch
What I said in my review May'22:
Terramaster still continues to be the most affordable fully-featured provider of the whole NAS market and although a number of their solutions have always felt a little rough around the edges, you always got the impression that you were getting a good deal for the hardware that was available from QNAP and Synology. Now in 2022/2023, the same continues to be true but in the F4-423 NAS' case, you are actually getting some pretty top tier (for the Home/Prosumer) market at a price tag that is really tough to argue with. Terramaster has clearly been watching their bigger competitors and cherry-picked the features that people have been asking for (2.5GbE, USB 3.2 Gen 2, M.2 NVMe SSD bays, etc) for this new generation.
This slideshow requires JavaScript.
In terms of software, things are a little less convincing and although TOS 5 (currently in Beta at the time of writing) still continues to evolve into something genuinely fully featured and impressive, TOS 4 that the F4-423 includes at launch is usable (if unexciting) platform that provides the base level services that a new NAS user would want, but lacks killer apps that their competitors are offering right now (File Streaming, AI photo recognition, Surveillance, etc). Most of these ARE included in TOS5, but until it arrives much later in 2022 in a full release, the F4-423 feels like a powerful NAS that doesn't have the software to show off its strengths yet. If you are reading this later in 2022 or 2023, this might well be irrelevant though, as the brand rolls out their bit firmware update to ALL Terramster NAS devices. Overall, I definitely CAN recommend the F4-423 NAS for its hardware, for Plex Media server or as an affordable multi-tier backup solution, but if you are looking for a NAS for more tailored data access or in a much more fully-featured package – hold out a little longer till TOS 5 gets released first.
---
Need More Help Choosing the right NAS?
Choosing the right data storage solution for your needs can be very intimidating and it's never too late to ask for help. With options ranging from NAS to DAS, Thunderbolt to SAS and connecting everything up so you can access all your lovely data at the touch of a button can be a lot simpler than you think. If you want some tips, guidance or help with everything from compatibility to suitability of a solution for you, why not drop me a message below and I will get back to you as soon as possible with what you should go for, its suitability and the best place to get it. This service is designed without profit in mind and in order to help you with your data storage needs, so I will try to answer your questions as soon as possible. Just enter in a few details of your setup, storage requirements and (in the case of buying a new solution) your budget – then me and Eddie the Web guy can help you with your question. This is a completely free service, is NOT provided with profit in mind and is manned by two humans (no bots, no automated replies, etc). Assistance might take an extra day or two (the service gets a lot of visitors) but we do try to answer every message. If you want to support this service, you can find out how to donate HERE. Otherwise, you can still just message us for free advice anyway!
📧 LET ME KNOW ABOUT NEW POSTS 🔔
Join 1,468 other subscribers
Get an alert every time something gets added to this specific article!
This description contains links to Amazon. These links will take you to some of the products mentioned in today's content. As an Amazon Associate, I earn from qualifying purchases. Visit the NASCompares Deal Finder to find the best place to buy this device in your region, based on Service, Support and Reputation - Just Search for your NAS Drive in the Box Below
Need Advice on Data Storage from an Expert?
We want to keep the free advice on NASCompares FREE for as long as we can. Since this service started back in Jan '18, We have helped hundreds of users every month solve their storage woes, but we can only continue to do this with your support. So please do choose to buy at Amazon US and Amazon UK on the articles when buying to provide advert revenue support or to donate/support the site below.

Finally, for free advice about your setup, j
ust leave a message in the comments below here at NASCompares.com and we will get back to you.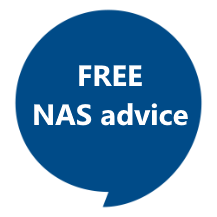 Need Help?
Where possible (and where appropriate) please provide as much information about your requirements, as then I can arrange the best answer and solution to your needs. Do not worry about your e-mail address being required, it will NOT be used in a mailing list and will NOT be used in any way other than to respond to your enquiry.
Support What We Do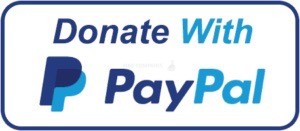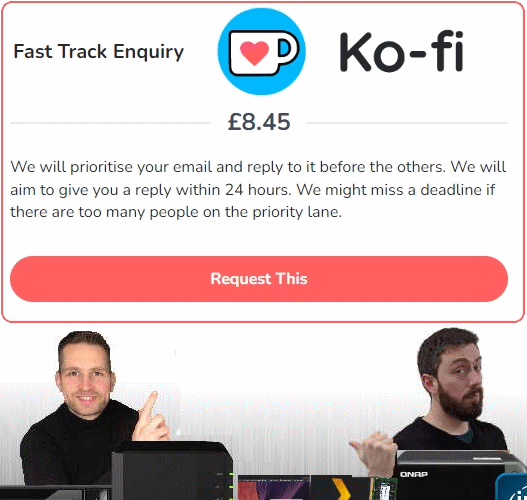 Terms and Conditions
Alternatively, why not ask me on the
ASK NASCompares forum
, by clicking the button below. This is a community hub that serves as a place that I can answer your question, chew the fat, share new release information and even get corrections posted. I will always get around to answering ALL queries, but as a one-man operation, I cannot promise speed! So by sharing your query in the
ASK NASCompares
section below, you can get a better range of solutions and suggestions, alongside my own.
Summary
Reviewer
Review Date
Reviewed Item
Best 4-Bay NAS of 2022-2023
Author Rating