World Backup Day – Get Your Data in Order!
ALERT – This is your reminder that it is World Backup Day and you should have your backups in order! It may seem like a slightly contrived event, but the motivations behind World Backup Day are arguably more generally positive than alot of manufacturer celebration days. World Backup Day's origins are more than a decade old and started over on Reddit when a user wrote about losing their data via a defunct HDD and wishing someone had reminded them about how important it is to backup data (though there is also debate that it was started around a Maxtor 'Backup Month'). The campaign started in 2011, and every year brands, tech professionals and industry bigwigs will push the subject of backups as hard as possible, as well as many popular tech news outlets writing articles SPECIFICALLY about the importance of backing up data – THAT is World Backup Day. The day when the tech industry makes as much noise as possible about people needing to have their data backed up sufficiently. You do not necessarily need to actually buy/do anything – you just need to make sure that your backup routines and 3-2-1 backup policies are all running fine. If not, well, it's easier to remedy that in times of calm than in times of crisis! In recent times, big data services/platforms such as MEGA, Amazon, Backblaze and GoDaddy have sponsored the annual event in order to increase the awareness of both the Day itself and the necessity of checking your backup routines are in order!

So, if you are reading this and your backup routines and policies are in order – you can stop right here! You are ok, go and treat yourself to another coffee and biscuit. But if you are reading this and you have unique, irreplaceable and/or mission-critical data without a backup (or just in a single other location), then maybe use this reminder as time to start bolstering those backups. Remember, the cost of the backup hardware should NOT measure the cost of a backup – it should be measured against the cost if that data is LOST! The data, the long-term damage to your workflow/business, the time spent attempting recovery and the potential cost of data recovery services. However, we have to be realistic. In alot of cases, the reason for a person/business not having sufficient backups in place can often come down to budget/cost. The more data you have, the more it is going to cost to purchase another whole new storage system to effectively clone that same amount of data. So, me and Eddie on NASCompares have been searching the popular eShops around the world and searching for the best possible deals right now in the following categories; NAS, HDDs, USB Drives, SSDs and Thunderbolt RAID Storage. It comes as no surprise that many storage brands and popular eShops will use World Backup day to highlight offers on their products (end of tax year for many, stat of the next, etc), so there are quite a few bargains to be had! But where do we at NASComapres come into this? Sure we are doing this to provide fundraising for the site, but t clarify things:
We will NOT recommend any deal that we would not personally buy or a Product that we would not use. We have reviewed hundreds of storage products and hope that validates our opinion on these recommendations. Additionally, DO NOT SPEND beyond your means! 2023 is tough enough as it is!
Sometimes buying a whole new storage system won't solve your backup needs. For some users, making small changes to your workflow/setup that introduce passive and low-cost backup options is a better and more affordable option. Message us with your setup and we can offer alternative suggestions. You can contact us directly HERE with your setup for free advice

Yes, many of the Deals and Offers below are via affiliate links. This results in me and Eddie at NASCompares getting a small % as a referral fee. This does not undermine the fact that the deal is an actual bargain, does not cost you anything extra, and this small referral fee goes directly back into helping us carry on with everything we do here at NASCompares. Ultimately, this allows you to get a real bargain and also to passively support us at the same time.
So, let's start going through the offers that are available on World Backup Day that might be the missing piece of the puzzle for your robust and/or immutable backup long term.
Note for much more general offers, head to this page HERE.
IMPORTANT – Adding Offers and Deals as they appear over the next 24 Hours
NAS Storage Deals and Special Offers this World Backup Day
If you have a significant amount of data, then more often than not a NAS system is probably the best option for your needs. A NAS can serve as a synchronized bare-metal backup to your existing cloud storage (or visa versa), as a means to backup multiple devices to a single device or even to backup another NAS device (i.e "Two is One and One is None" – The Power of Backups & Redundancy). Brands like Synology and QNAP will always make a noise on World Backup Day, reflected on both their social media and as seasonal offers of their products. Remember, ALL the NAS brands provide software internally to create the perfect scheduled and multi-tiered backup workflow (NAS-to-NAS/Cloud/USB backup routines). Here are the best deals we found on NAS devices right now:
| | |
| --- | --- |
| Synology DS120J NAS + 4TB – Down to $169.98 | Terramaster F5-422 10GbE NAS – Down to £441.99 |
| Terramaster F2-422 10GbE NAS – Down to £271.99 | Synology DS423+ NAS – Down to £441.85 |
| WD My Cloud Expert Series – Down to £249 | Synology DS220J NAS + 8TB – Down to $329.97 |
| Synology DS923+ NAS – Down to £515.89 | Synology DS923+ NAS – Down to £568.99 |
Recommended Articles & Videos
---
Hard Drive Deals and Special Offers this World Backup Day
Regardless of whether you are bolstering your existing Backup solution by increasing that RAID Storage Pool's Capacity and/or Redundancy, or just building a brand new backup target – you are going to need storage media! Much like the NAS brands mentioned above, Seagate and Western Digital are among two of the very loudest voices during world backup day! Even if you look past the obvious motivation for sales (cough I am aware of the irony in this post!), there is no avoiding that these two brands are the biggest in storage and they will ALWAYS have great HDD offers during World Backup Day. Here are the best of them:
| | |
| --- | --- |
| Seagate Ironwolf 8TB HDD – Down to £159.99 | Seagate Ironwolf Pro 20TB HDD – Down to £359.99 |
Recommended Articles & Videos
---
USB Storage Deals and Special Offers this World Backup Day
Many people who fail to back up regularly (or at all), often use forgetfulness and absent-mindedness as the main excuse. "We do want to have regular backups, but we always forget to backup at the end of the day." But you don't need to remind yourself daily to perform a backup in order to get this backup done. There are several products and online services available that can automatically perform this daily backup for you. You can choose a local backup to an external hard drive, many of which will often arrive with software to have a daily backup performed automatically at a set time locally on your client OS. Also, ALL the NAS brands have multi tiers backup software in place that includes the option to backup towards a locally connected USB (bi-directional, multi-version, filter policies, schedule, etc). Lastly, many of them also include inclusive subscription cloud back-up services for X years, such as Amazon Drive, Google Drive, DropBox or others. Lastly, many external USB drives now arrive with Data Recovery services such as Seagate Rescue, Acronis or RecoverIT. Here are the best external USB drive deals we found so far:
| | |
| --- | --- |
| WD My Passport 4TB – Down to £52.99 | WD 16TB Elements – Down to £249.98 |
| WD My Passport 2TB – Down to £34.99 | WD My Passport 1TB – Down to £27.99 |
Recommended Articles & Videos
---
SSD Storage Deals and Special Offers this World Backup Day
One of the growing recurring counterarguments that people make about not having a sufficient backup routine/workflow in place is not even the cost, but the TIME it takes for them to be conducted and it's impact on day-to-day operations on their hardware. It is a growing issue that the larger the amount of data you produce daily, the longer it is going to take to back it up to each backup tier. Time that might well take you/your hardware out of your workflow (or at the very least, decrease its abilities during busy periods). Thanks to improvements in interfaces in storage media from SATA to M.2 NVMe, as well as the growing affordability of SSDs – many creative professionals weigh up the costs of SSDs over HDD, weigh it up against the time they will save with substantially increased speed of backups, and decide it is totally worth it! So, for those users, here are the best SSD deals I could find during World Backup Day.
| | |
| --- | --- |
| WD Black SN850X 2TB PCIe4 SSD +3yr Data Recovery – Down to £149.99 | SAMSUNG 870 QVO 8TB SATA SSD – Down to £469.99 |
Recommended Articles & Videos
---
Thunderbolt Storage Deals and Special Offers this World Backup Day
Carrying on with Creative professionals, we can look at those who have big, BIG data to backup! Speak to any YouTube content creator, photo/video editor or indeed anyone who works in media and they will wax lyrical about the TBs of data that their current project takes up. Whether it's HOT DATA (i.e the data that is being worked on), WARM DATA (data that is frequently in use all the time on all projects) or COLD DATA (the archive that needs to be kept for years), it all adds up! For these users, whose career and reputation lives and dies by their portfolio/catalogue data, that is when we need to talk about Thunderbolt RAID storage. Largely adopted as the 'connection of choice in the creative community', thunderbolt reaches thousands of MB/s of connectivity and is the go-to choice for those looking to backup their RAW/4K/Desnse multimedia projects. Here are the best deals I could see for Thunderbolt storage this World Backup Day (not a huge number of them, admittedly):
| | |
| --- | --- |
| SanDisk TB3 Professional 2TB Rugged Drive – Down to £379.99 | SanDisk 1TB Extreme Drive – Down to £98.99 |
Recommended Articles & Videos
---
📧 LET ME KNOW ABOUT NEW POSTS 🔔
Join 1,671 other subscribers

Get an alert every time something gets added to this specific article!



This description contains links to Amazon. These links will take you to some of the products mentioned in today's content. As an Amazon Associate, I earn from qualifying purchases. Visit the NASCompares Deal Finder to find the best place to buy this device in your region, based on Service, Support and Reputation - Just Search for your NAS Drive in the Box Below
Need Advice on Data Storage from an Expert?
We want to keep the free advice on NASCompares FREE for as long as we can. Since this service started back in Jan '18, We have helped hundreds of users every month solve their storage woes, but we can only continue to do this with your support. So please do choose to buy at Amazon US and Amazon UK on the articles when buying to provide advert revenue support or to donate/support the site below.

Finally, for free advice about your setup, just leave a message in the comments below here at NASCompares.com and we will get back to you.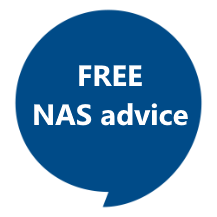 Need Help? Where possible (and where appropriate) please provide as much information about your requirements, as then I can arrange the best answer and solution to your needs. Do not worry about your e-mail address being required, it will NOT be used in a mailing list and will NOT be used in any way other than to respond to your enquiry.
TRY CHAT
Support What We Do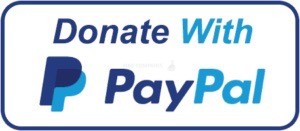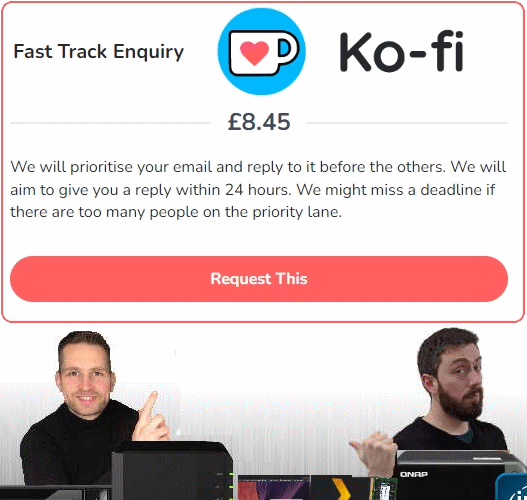 Terms and Conditions Alternatively, why not ask me on the ASK NASCompares forum, by clicking the button below. This is a community hub that serves as a place that I can answer your question, chew the fat, share new release information and even get corrections posted. I will always get around to answering ALL queries, but as a one-man operation, I cannot promise speed! So by sharing your query in the ASK NASCompares section below, you can get a better range of solutions and suggestions, alongside my own.