Jonsbo N2 NAS Case Review – Your Ideal DiY NAS Case?
Choosing the best case for your NAS DiY project can be tough! When users are looking for NAS enclosures, where functionality intertwines with design, Jonsbo presents its N2 NAS Case, a harmonious blend of aesthetic appeal, storage proficiency, and space-conscious engineering. This review delves deep into the various facets of the Jonsbo N2, from its meticulously crafted packaging to its innovative design and internal structure. As we unpack its features, we'll explore the significance of the subtle 'jonsbo' and 'N2' branding, the protective elements that guard the device during transit, and the nuances of its contemporary design that makes it stand out in a saturated market. Moreover, our exploration into its internal structure will reveal the efficiency with which it caters to the demands of compact motherboard designs while ensuring optimal performance. Whether you're a seasoned tech enthusiast or someone on the hunt for a reliable NAS enclosure, this review aims to provide a comprehensive insight into what the Jonsbo N2 NAS Case brings to the table.
Interested in Building a NAS with the Jonsbo N2 NAS Case? Use the resources below to make it easier: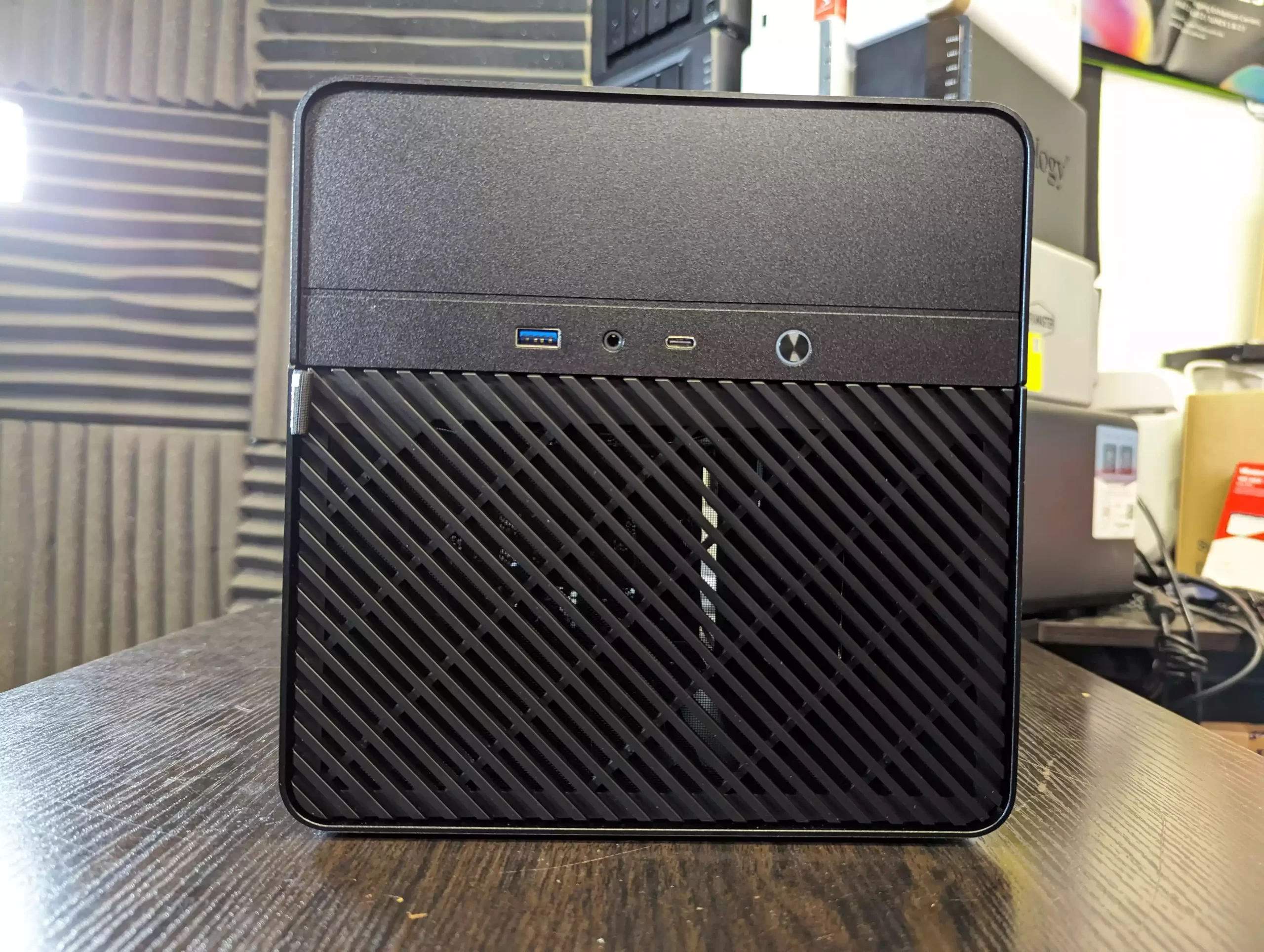 Jonsbo N2 NAS Case Review – Quick Conclusion
The Jonsbo N2 NAS Case exemplifies how aesthetic appeal and functionality can coalesce. From the outset, its thoughtful packaging and accessory provisions showcase Jonsbo's user-centric approach. The modern design, with its impressive storage capacity within a compact frame, promises efficiency without compromising on performance. While there are minor areas for improvement, like the choice of top panel screws or the lack of SATA cables, they're overshadowed by the product's overall excellence. For those seeking a reliable NAS enclosure that blends form with function, the N2 stands as a top contender. In the N2, Jonsbo has set a commendable standard for NAS cases.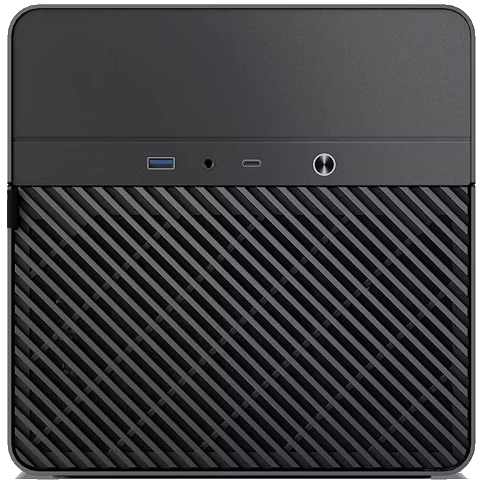 Jonsbo N2 + TopTon Intel n5105 Celeron / Pentium n6005 Build (+$35)
£264.64 (128GB M.2 NVMe + 4GB RAM + 400W PSU)
(Optional/Swap) If you want to save some money:
£247.47 (no M.2 NVMe and Cheap PSU)
Note, you need an SSD for TrueNAS OS (USB for UnRAID)
Jonsbo N2 NAS Enclosure Specifications
For those evaluating the Jonsbo N2 NAS Case, understanding its specifications is crucial. The following list provides a straightforward overview of the design, materials, and features of the N2, enabling a clear assessment of its capabilities and potential fit for various applications. Dive in to get a detailed picture of what the Jonsbo N2 offers.
Model: N2 Black / N2 White
Dimension: 222.5mm(W) x 222.5mm(D) x 224mm(H)
Material:

External cover: 2.0mm Aluminum alloy
Internal Structure: 1mm Steel

Drive Bay: 2.5SSD1 / 3.5HDD5
Motherboard: ITX
PCI Expansion Slot: 1 x Low profile single slot
Front I/O Port: 1*USB3.0 / USB3.2 Gen2 Type-C + Audio+Mic (Headset+mic combined)
PSU Support: SFX ≤150mm
Max. CPU Cooler Height: ≤65mm
Max. Display Card Length: ≤197mm long (Low profile)
Cooling System: 12015mm fan*1 (built-in)
Weight: Net 2.9kg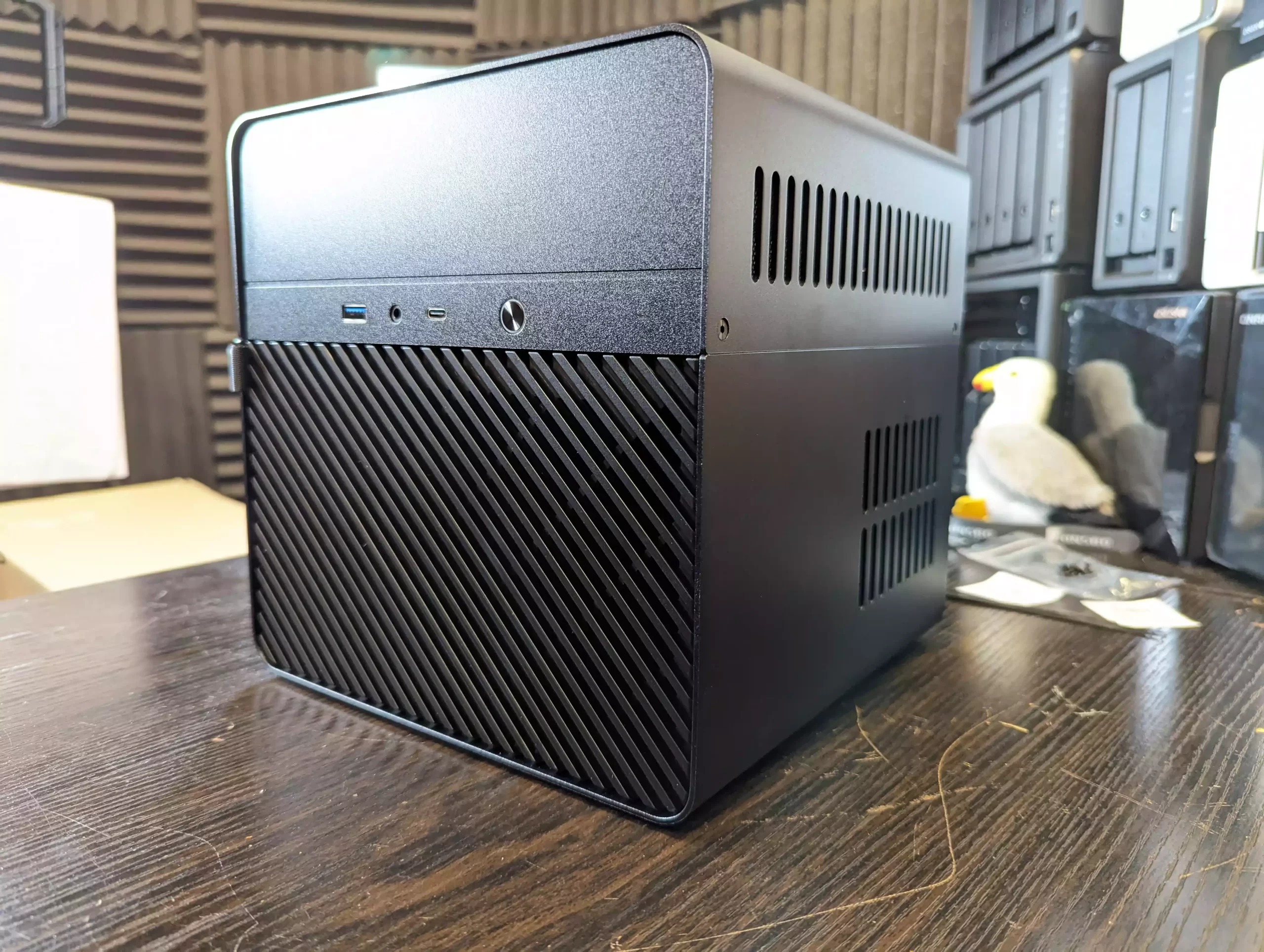 Jonsbo N2 NAS Case Review – Packaging
When the Jonsbo N2 NAS enclosure arrives at your doorstep, the first thing that you're likely to notice is its relatively unassuming shipping box. While it might not be extravagant, the presence of the 'jonsbo' branding alongside the specific 'N2' logos lends an air of professionalism and assures you of the product's authenticity.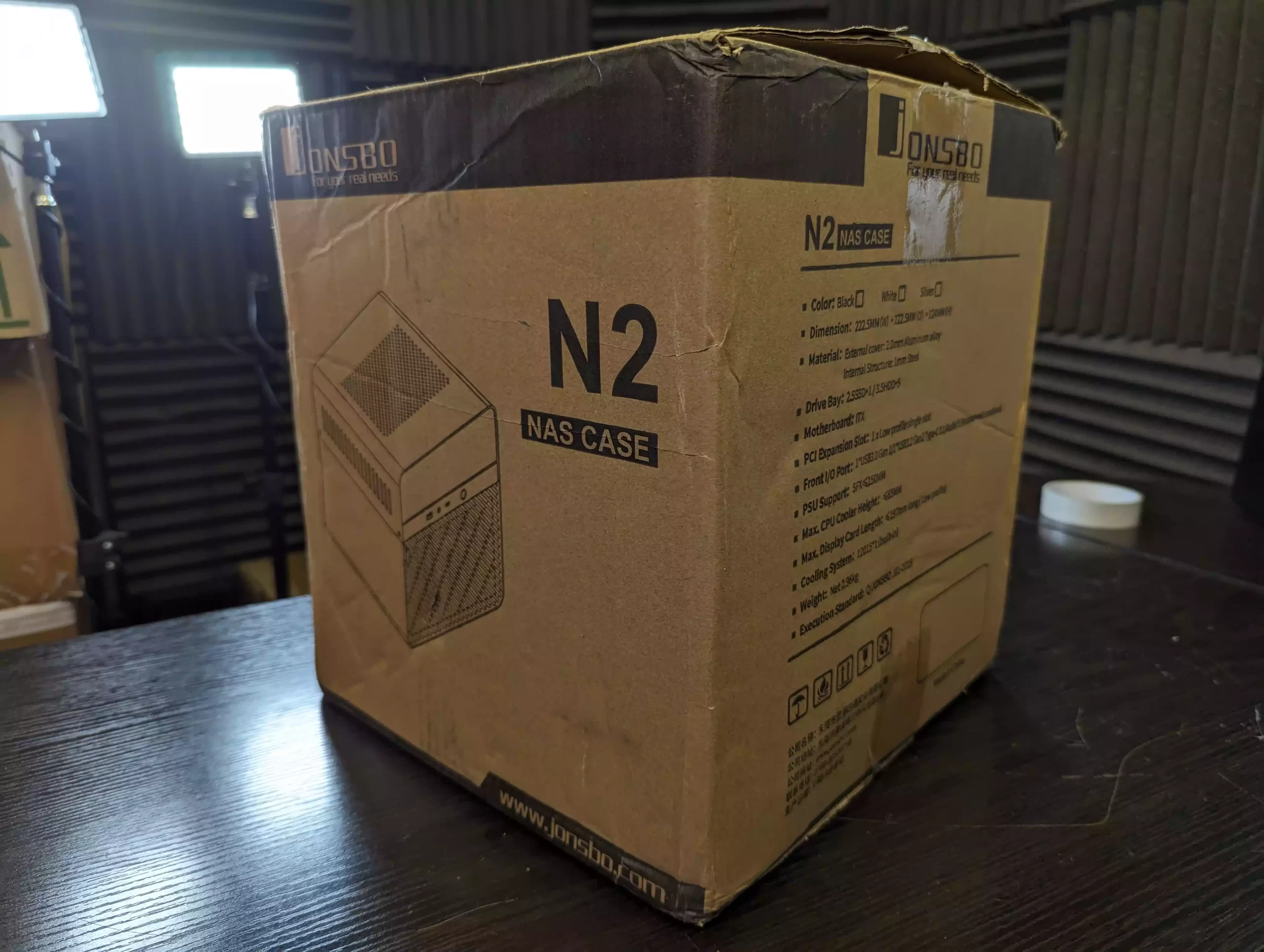 Once you open this exterior, you're immediately greeted by the sturdy protection of a dense, black foam. Not merely a filler, this foam has been carefully designed to envelop and shield the device from the rigors of transportation. It's a testament to Jonsbo's dedication to deliver their product without the blemishes and damages that can sometimes plague electronic goods, especially when you consider how many cheaper NAS enclosures neglect this critical aspect.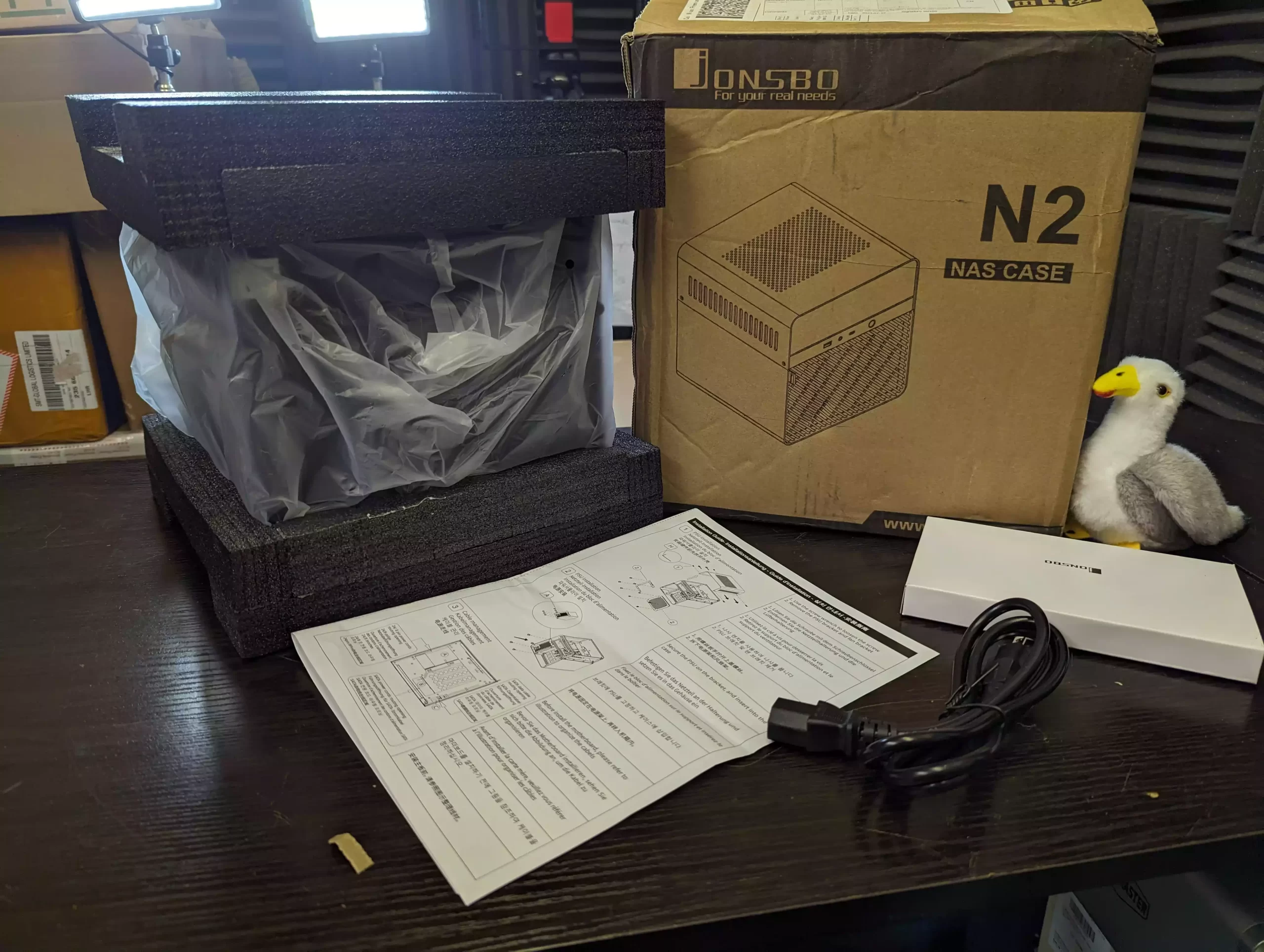 Inside this protective cocoon, you're presented with a trio of items: the main attraction, the Jonsbo NAS, a user-friendly instruction manual, and an additional box that promises a range of useful accessories.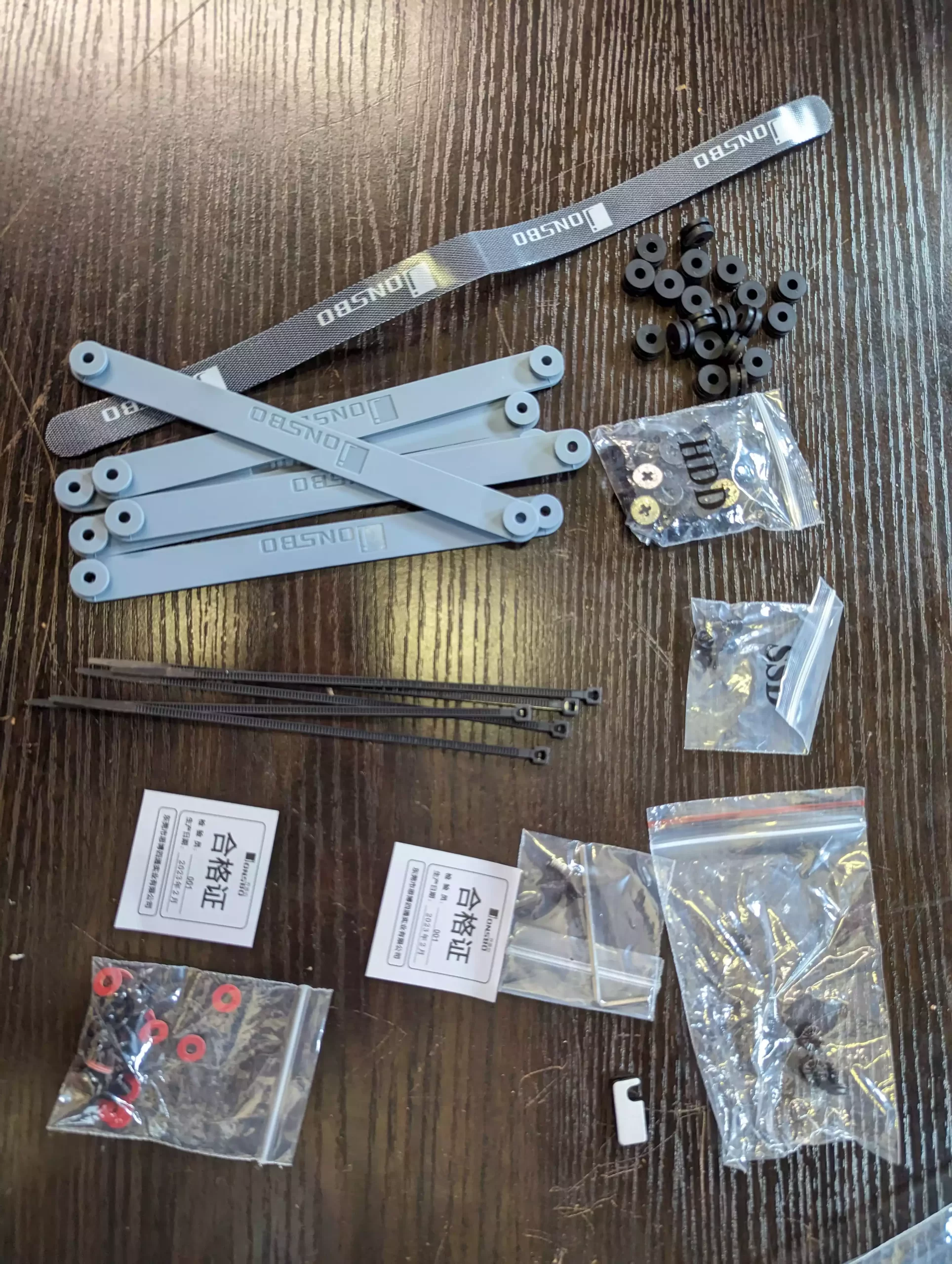 Diving into this accessory box is akin to a mini treasure hunt. It's generously filled with an array of tools and components: screws designed specifically for the storage mediums, rubber handles that promise easy handling of trays, versatile cable ties for neat organization, and an extra alan key, a clear indication that the company anticipates and caters to the user's needs, especially when it comes to potential adjustments to the NAS case panels.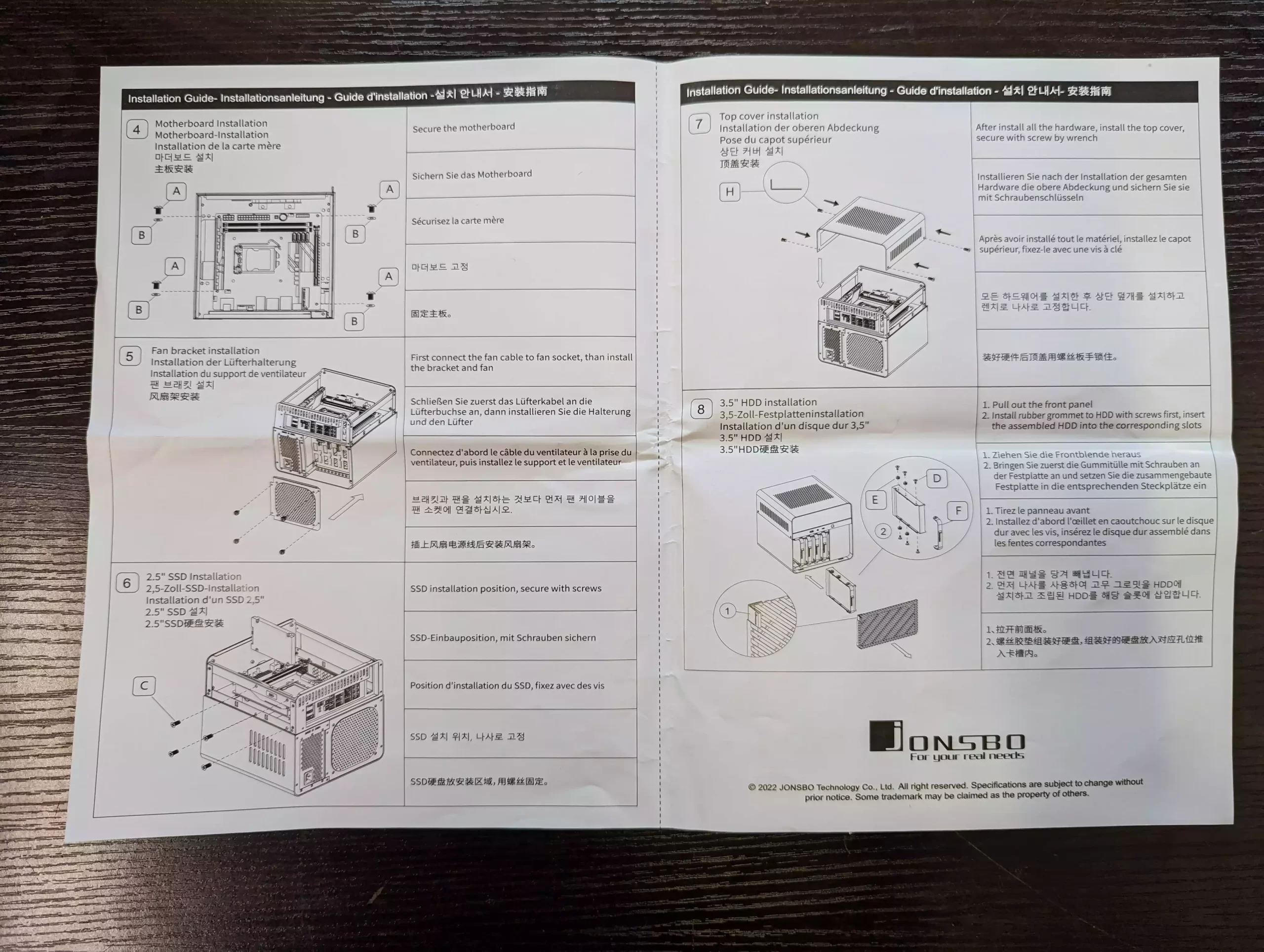 The instruction manual, while concise, is printed on a generously-sized A3 sheet, providing a clear yet brief overview of the setup. And for those who crave a more detailed guide, Jonsbo hasn't left them wanting; a thorough online guide awaits those eager for an in-depth installation walkthrough. That said, it still skips over a lot of the finer points and you have to dig into the website to get real useful information really.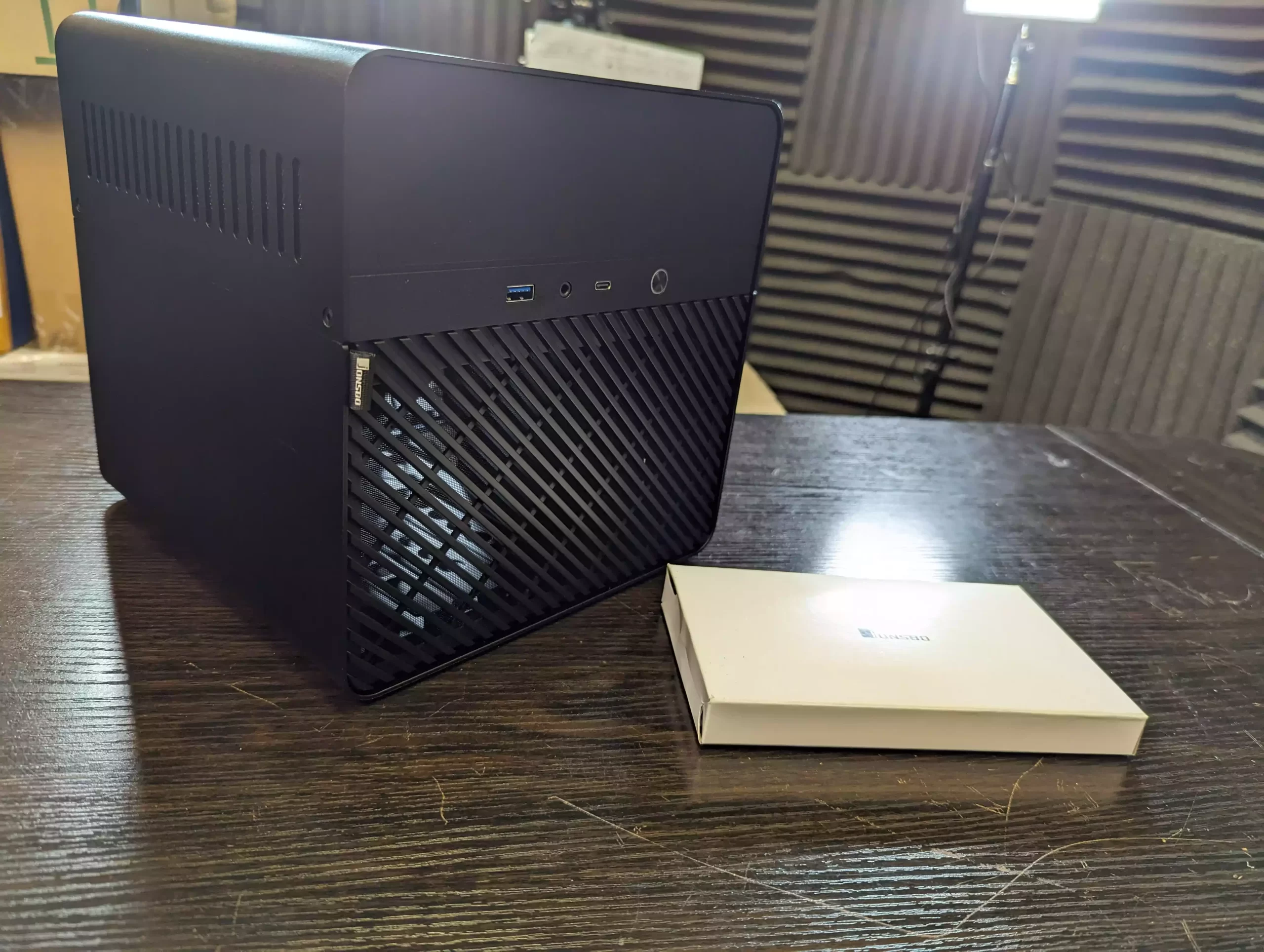 Summarizing the packaging, Jonsbo strikes a balance between simplicity and efficiency. Their focus on protective packaging is commendable, ensuring the NAS arrives in pristine condition, ready for setup.
Jonsbo N2 NAS Case Review – Design
The Jonsbo N2 NAS Case has managed to carve a niche for itself. Its blend of a sleek, modern aesthetic, combined with an impressive storage capability and a surprisingly space-saving design, has garnered it significant attention.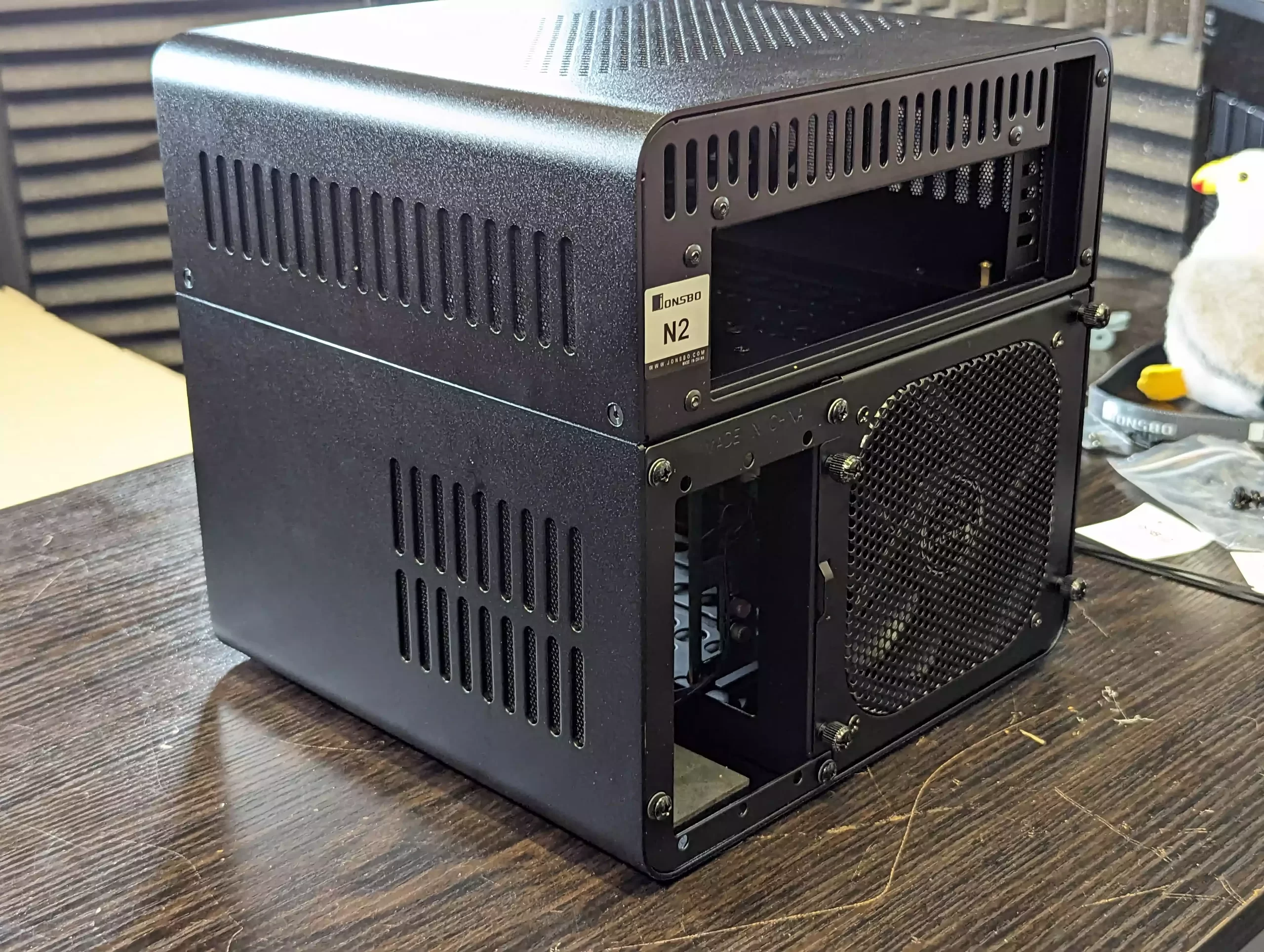 The NAS doesn't just look good; it's built for functionality. The generous ventilation is a testament to this, with perforations adorning almost every side. These are not mere design elements; they ensure a flow of air that complements the active cooling system, helping to maintain optimal temperatures for the device's smooth operation.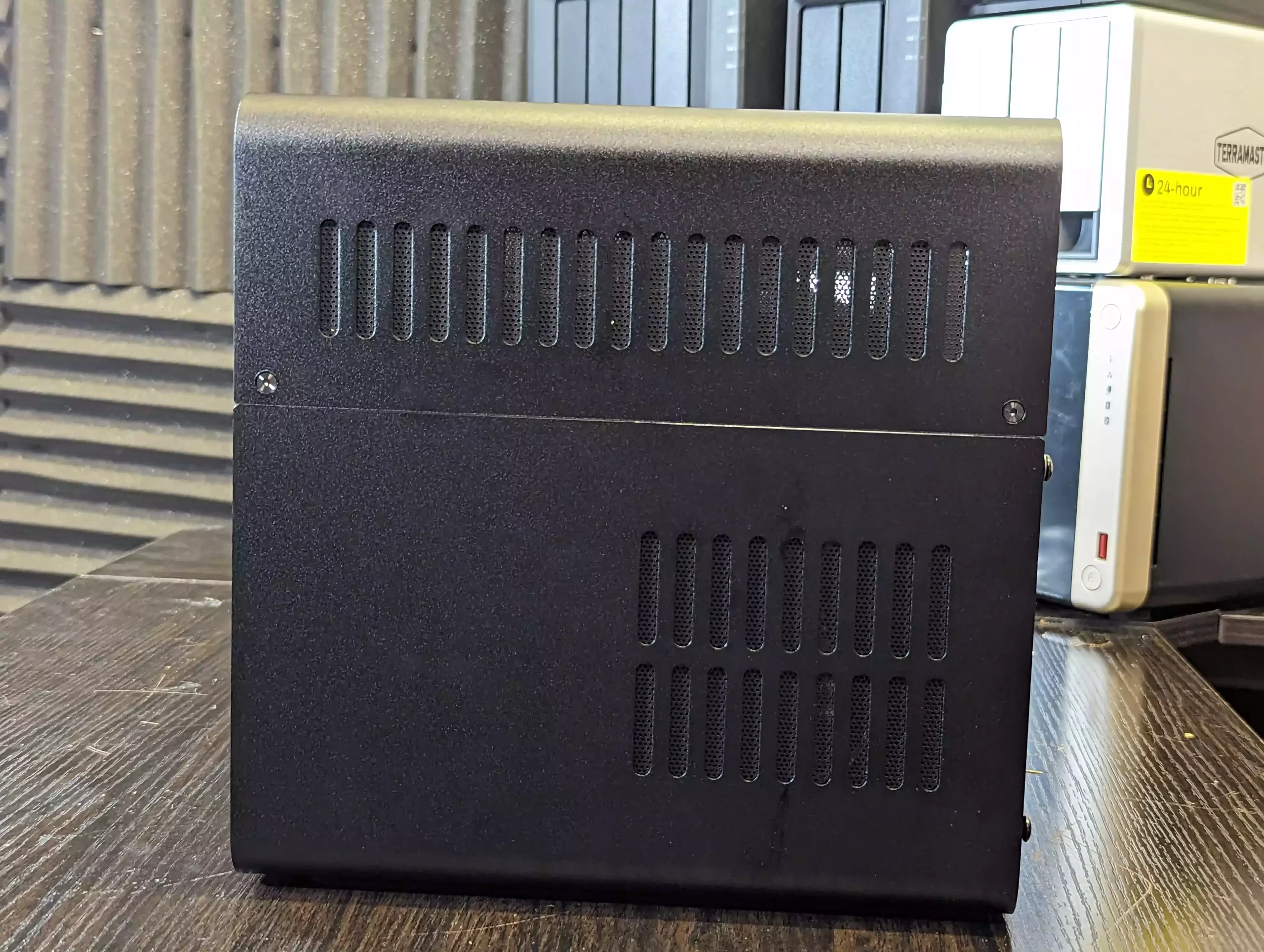 Particularly, the upper panels showcase an extensive network of ventilation, indicative of the company's commitment to ensuring that heat doesn't become an issue, even during intensive operations.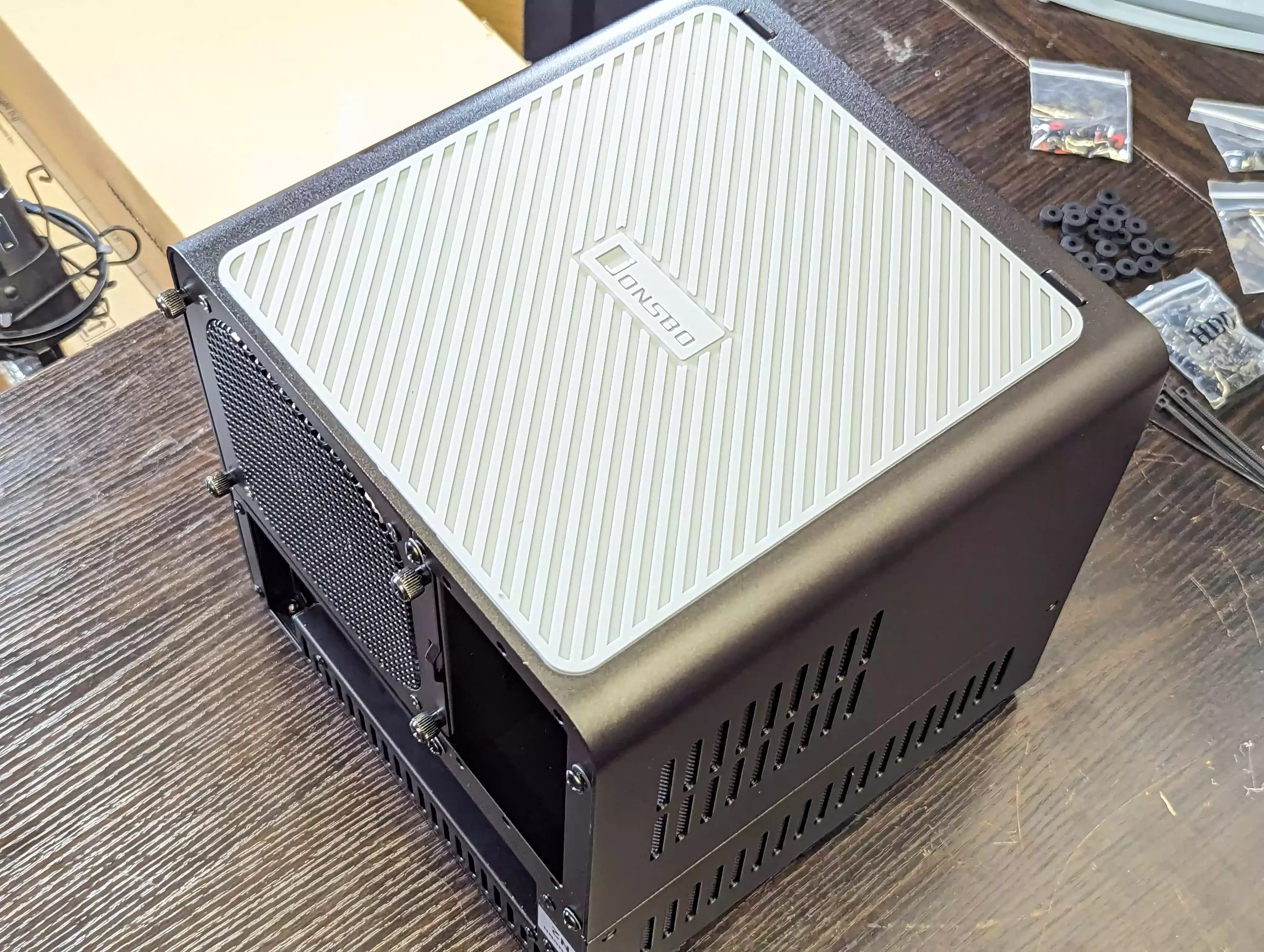 The base of the Jonsbo N2 Case has a full-sized rubber panel to dissipate the vibration of the system when it operates. This is very different to the usual individual rubber feet found on other cases. It would be interesting to compare the vibration benefits of the N2 case vs the airflow/vent benefits of the system having a few mm clearance from the table.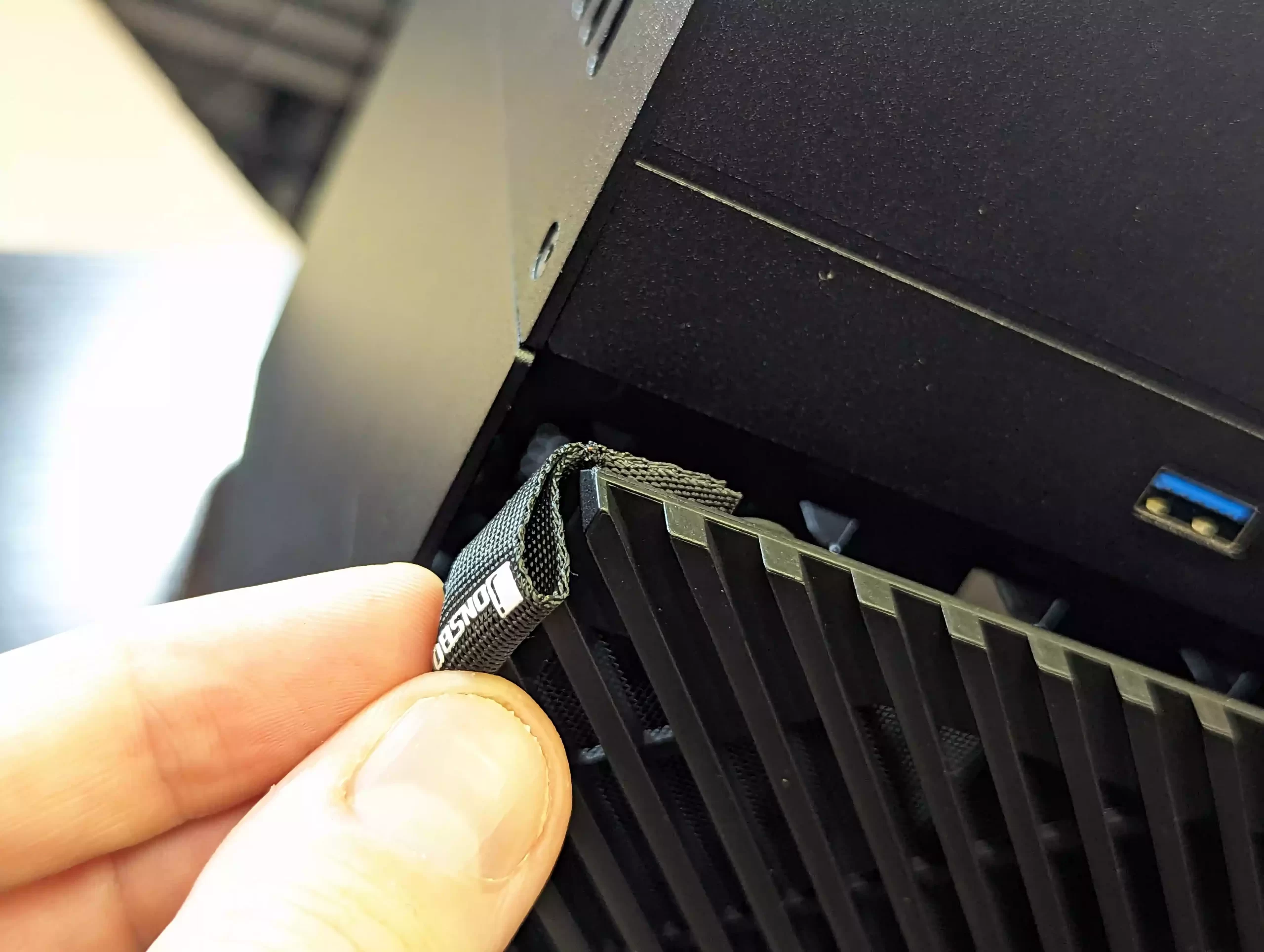 One of the standout features is the easily detachable front panel, affixed with magnets for user convenience. When removed, it provides unhindered access to the primary SATA storage areas, a boon for those who frequently need to make adjustments or check their storage components.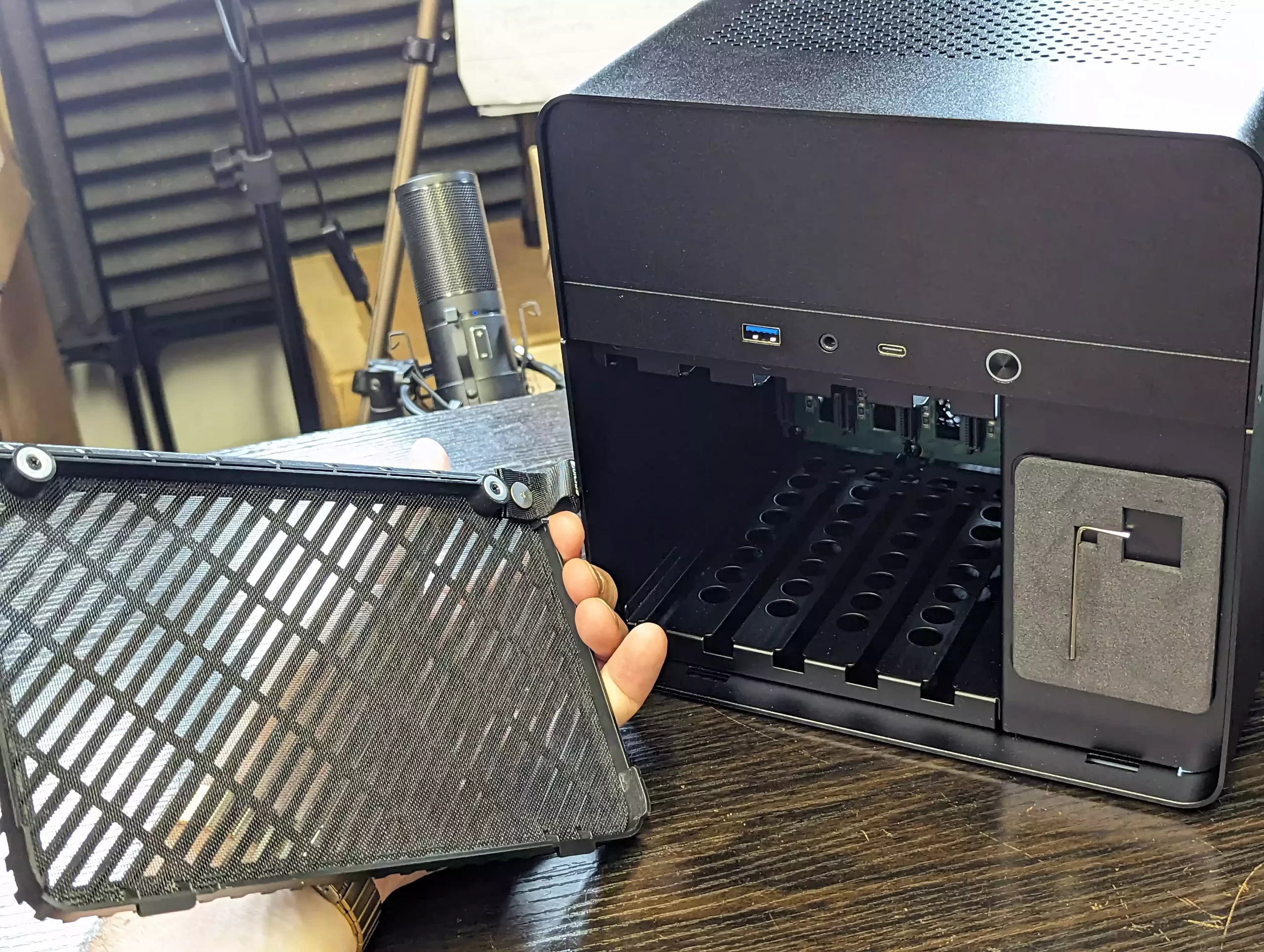 Jonsbo has innovated with the SATA bays. Instead of the traditional setup, they've incorporated combined data and power connectors, all streamlined on a single, organized back board. This board's reverse is equally impressive, housing the necessary SATA connectors and a duo of molex connectors, ensuring ample power distribution across all storage areas.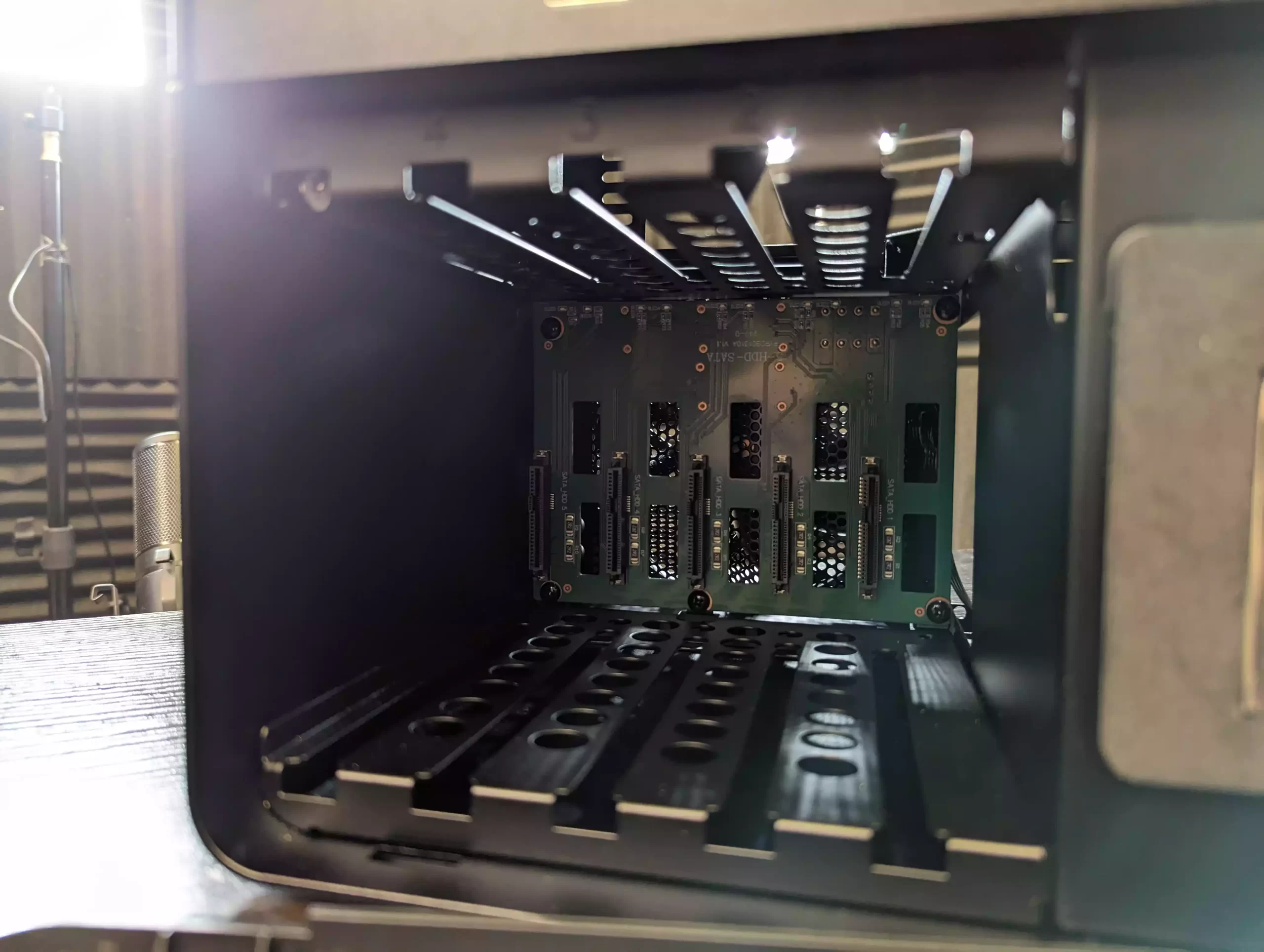 Moving away from the norm, Jonsbo introduces a unique mechanism for the drives. Instead of the common trays, drives are secured with screwable plugs and accompanied by rubber pull handles.
While this system might mitigate potential vibrations, there's a distinct tactile feedback when pulling out the drives – a sensation that some might find slightly off-putting, especially given the importance of careful handling during drive extraction.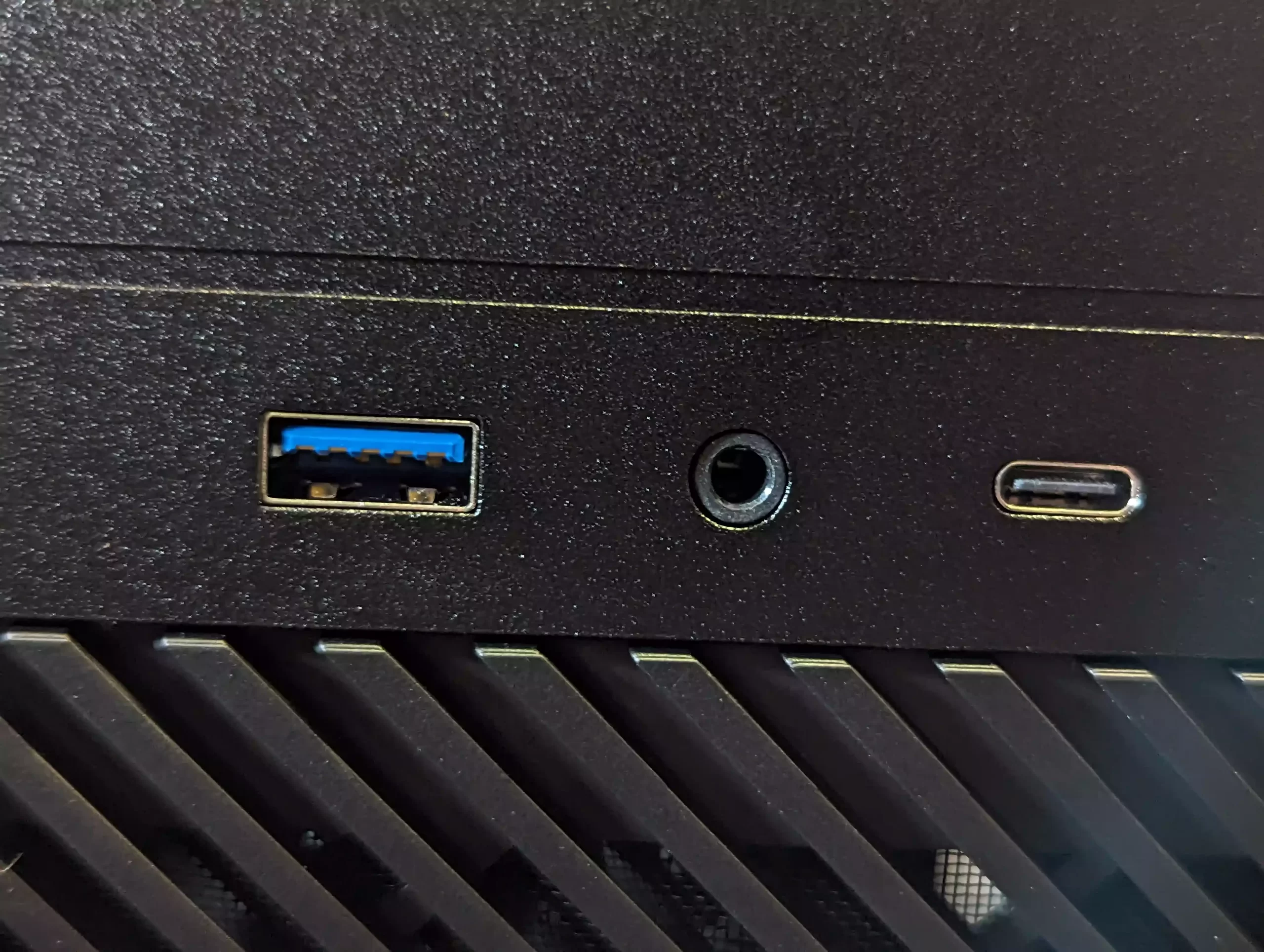 Frontal connectivity options are robust, with dual USB ports catering to both Type A and C preferences. Additionally, versatile audio input/output ports promise seamless audio connectivity.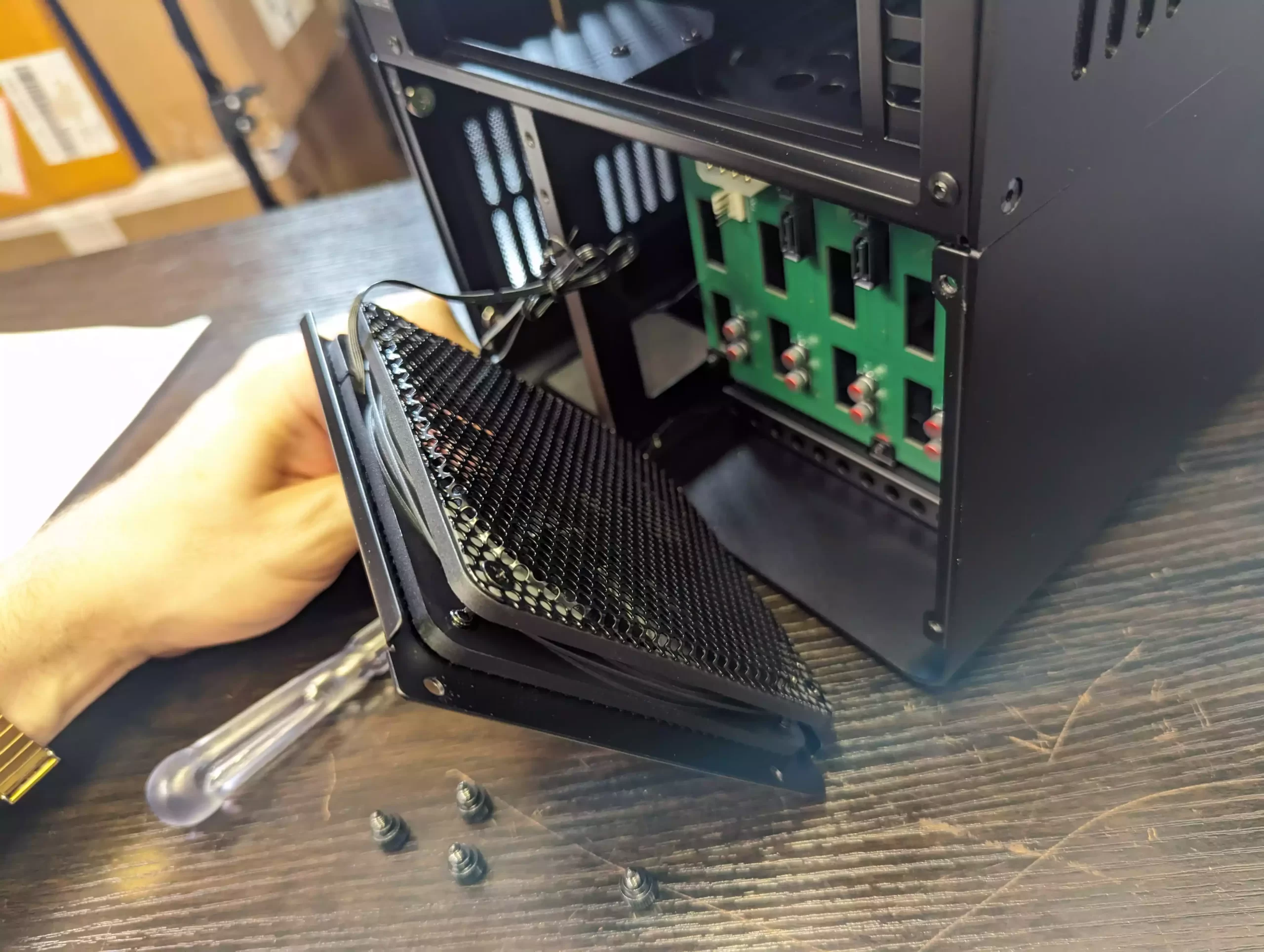 At the rear, a detachable cooling fan is secured, promising easy maintenance. This fan, proudly bearing the Jonsbo branding, draws its power directly from the primary SATA storage bay board.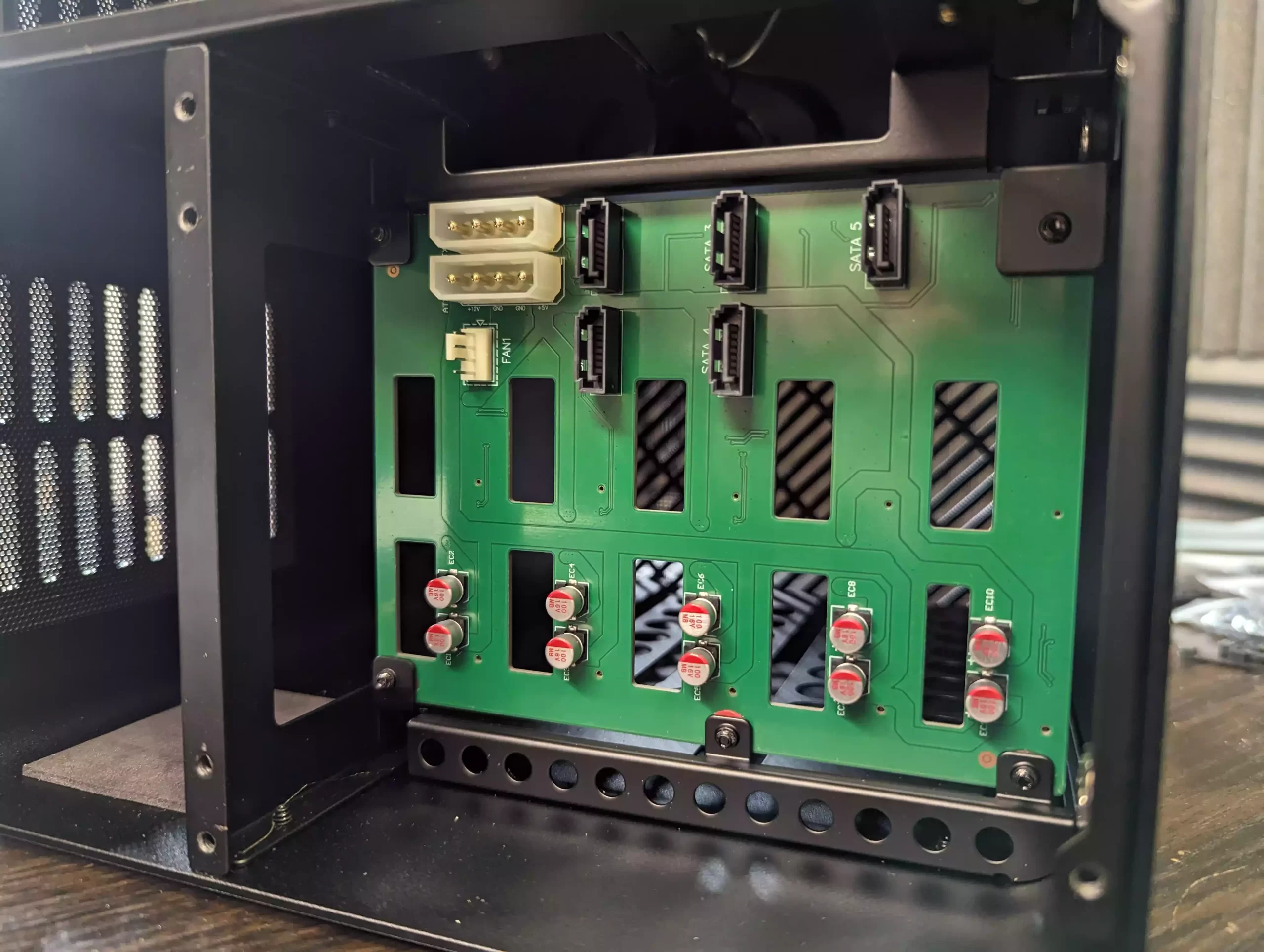 A point to note for potential users is the absence of SATA cables in the package. This necessitates an additional purchase, and angular SATA cables come highly recommended due to the spatial constraints behind the rear fan. These cables, once acquired, have a dedicated path through a discreet cavity atop the case.
SFX PSUs find a perfect match in the Jonsbo N2, which has even dedicated a removable rear plate to facilitate easy PSU access. The design intricacies extend to the plate, which latches onto the PSU as it's integrated into the system.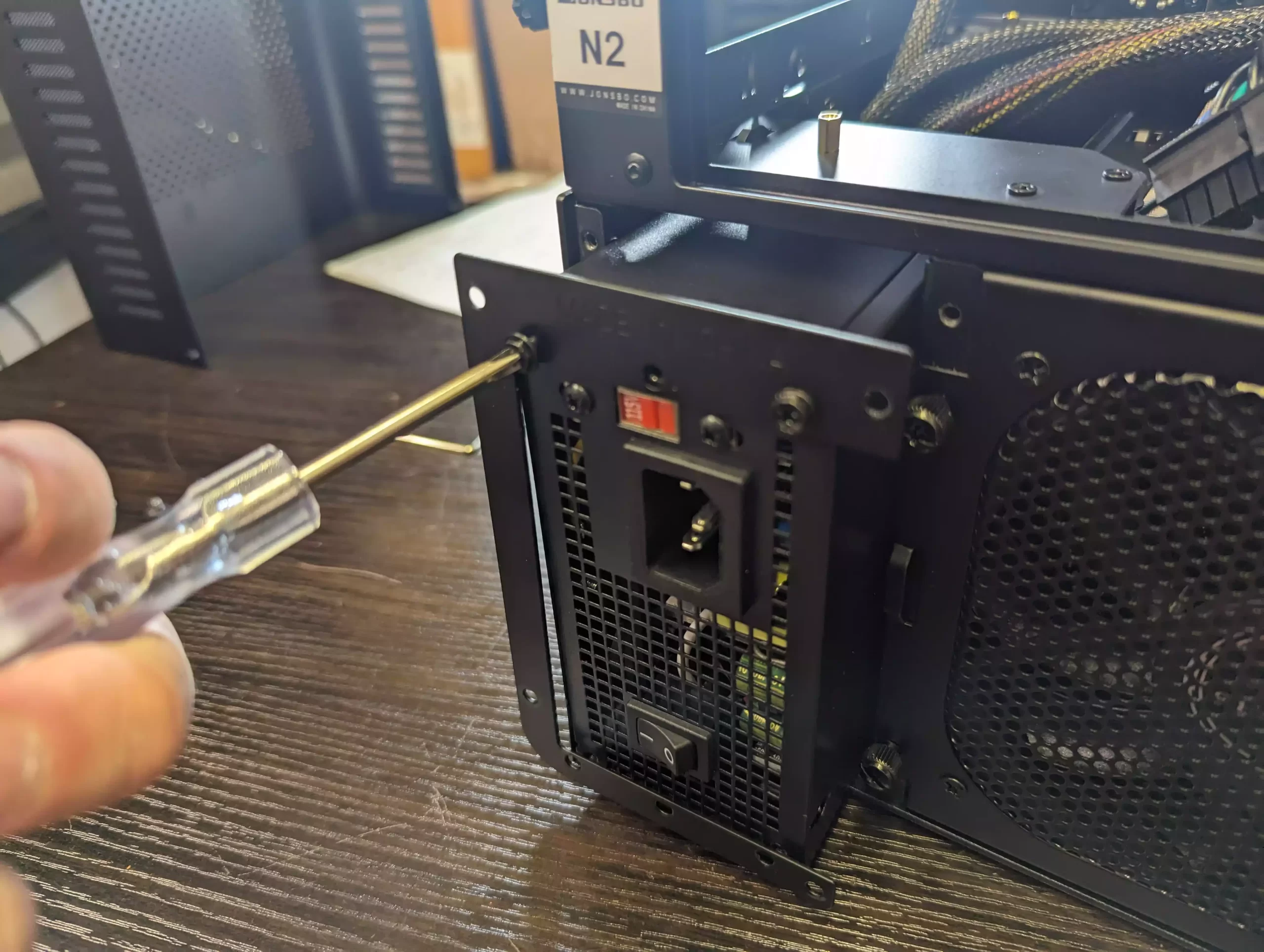 Cabling within the NAS requires a meticulous approach, given the compact spaces. But with some forethought, one can achieve a neat setup that maximizes airflow and accessibility.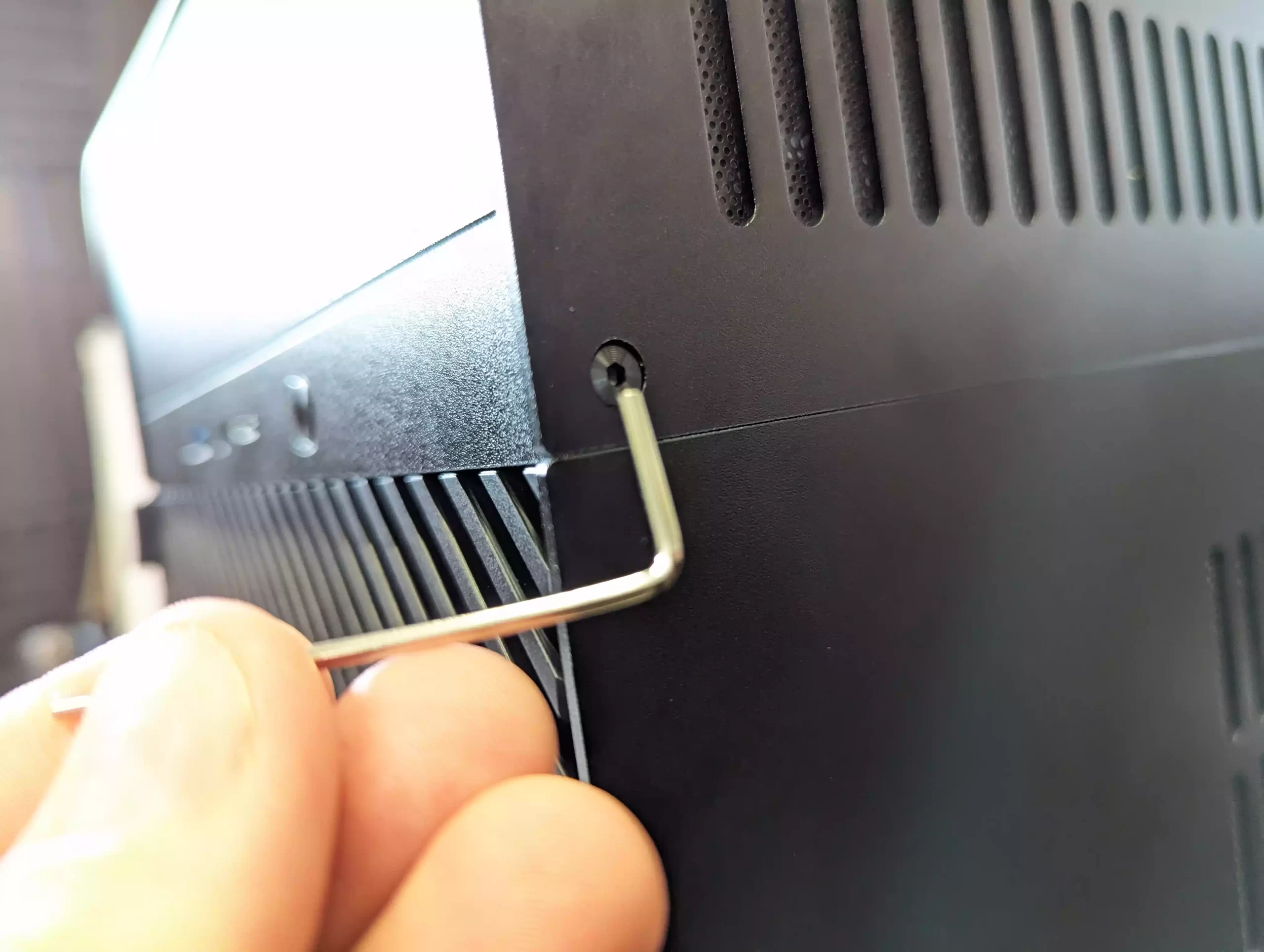 In its entirety, the Jonsbo N2 NAS Case stands as a testament to robust engineering and thoughtful design. Each component and facet feels deliberate, ensuring a seamless user experience. Some minor points of contention, like the choice of screws for the top panel, exist, but they are overshadowed by the overall excellence of the product.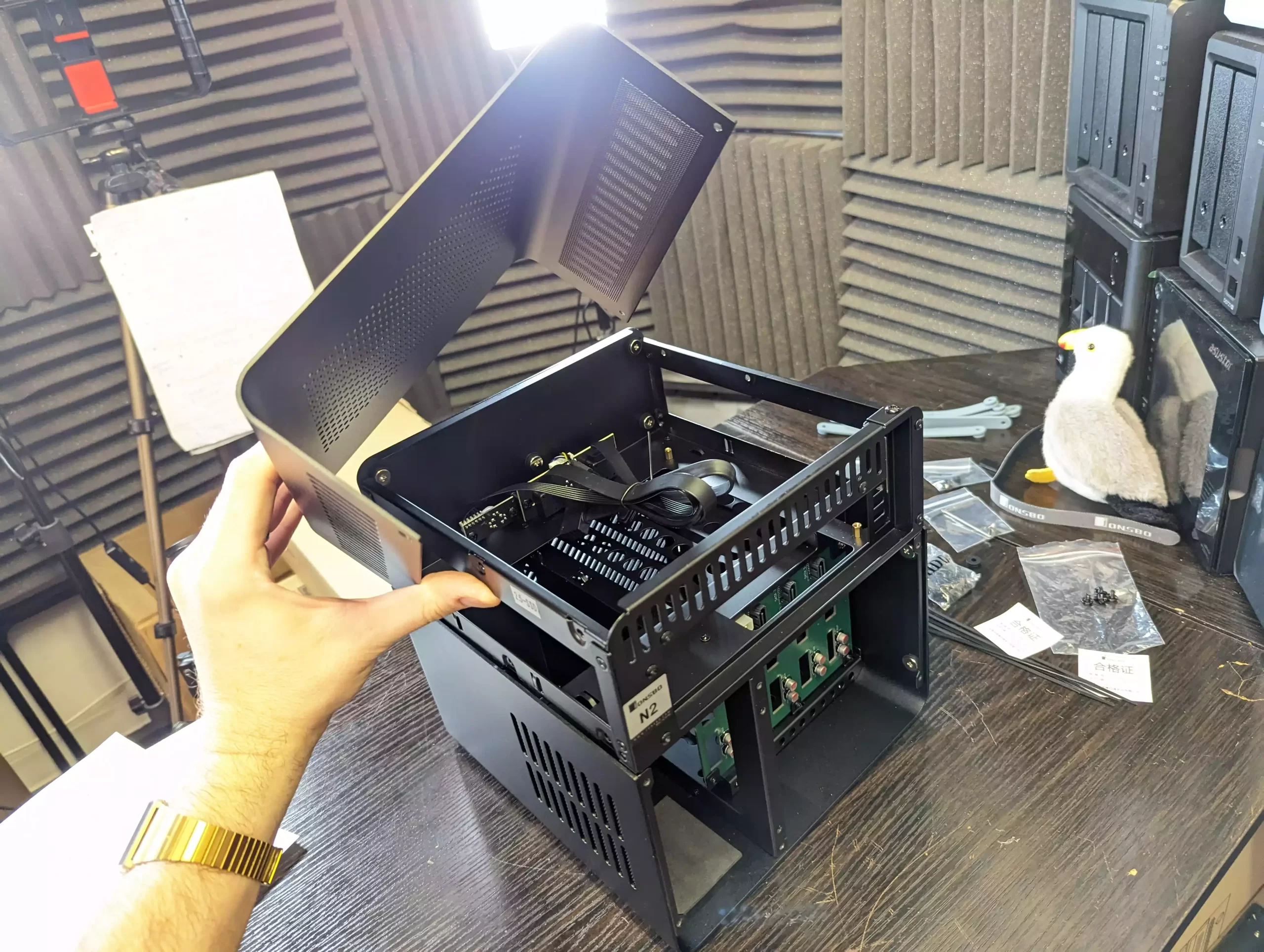 Jonsbo N2 NAS Case Review – Internal Structure
Upon removing the top panel, one is presented with a vast expanse ready to house the motherboard. The case is designed with M-ITX motherboards in mind, some of the most compact and efficient motherboards available today.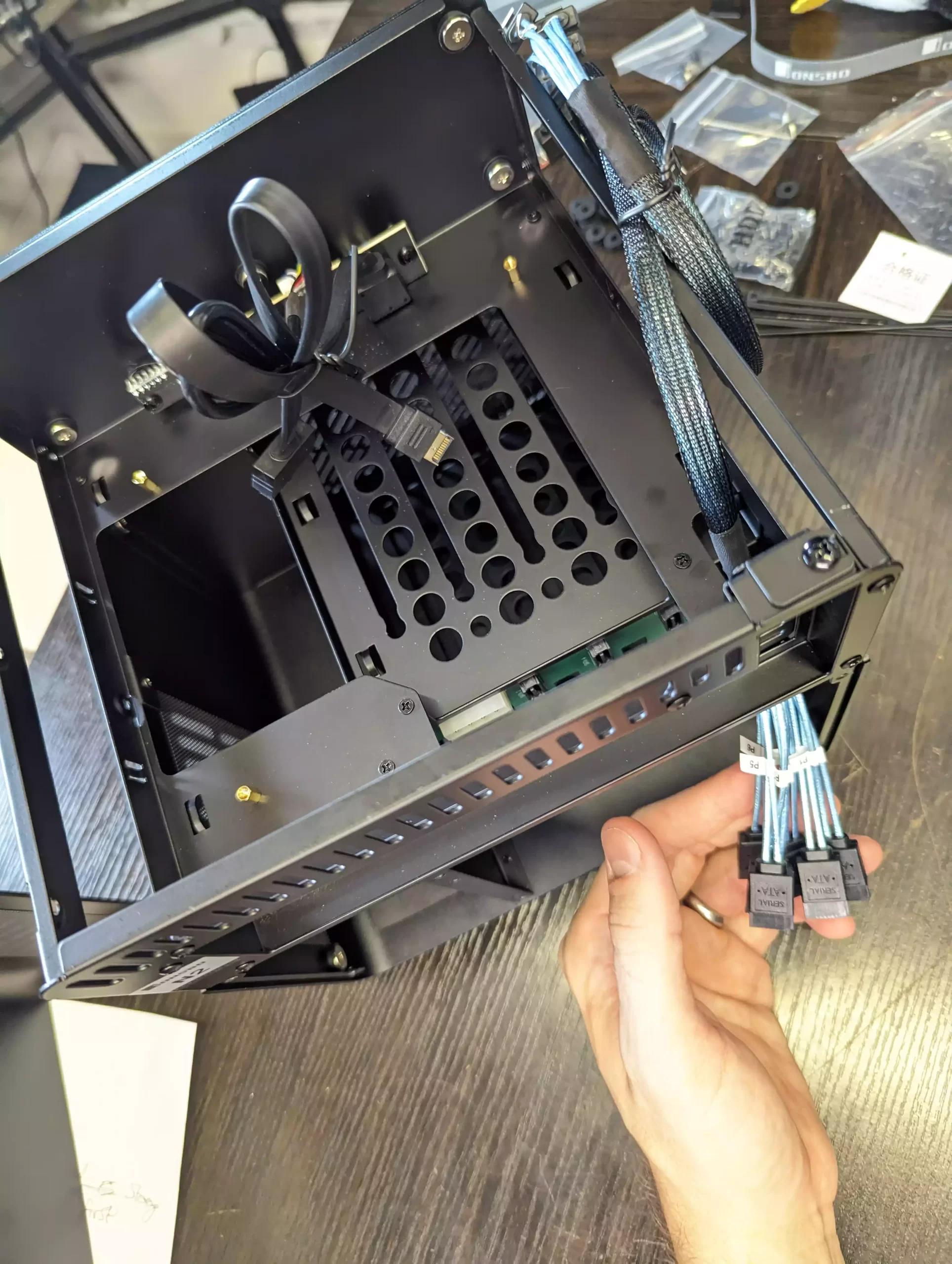 However, this compactness comes with its own set of considerations. The height restriction means that only CPU coolers below 60mm are compatible, and the width constraint limits the type of PCIe cards one can install.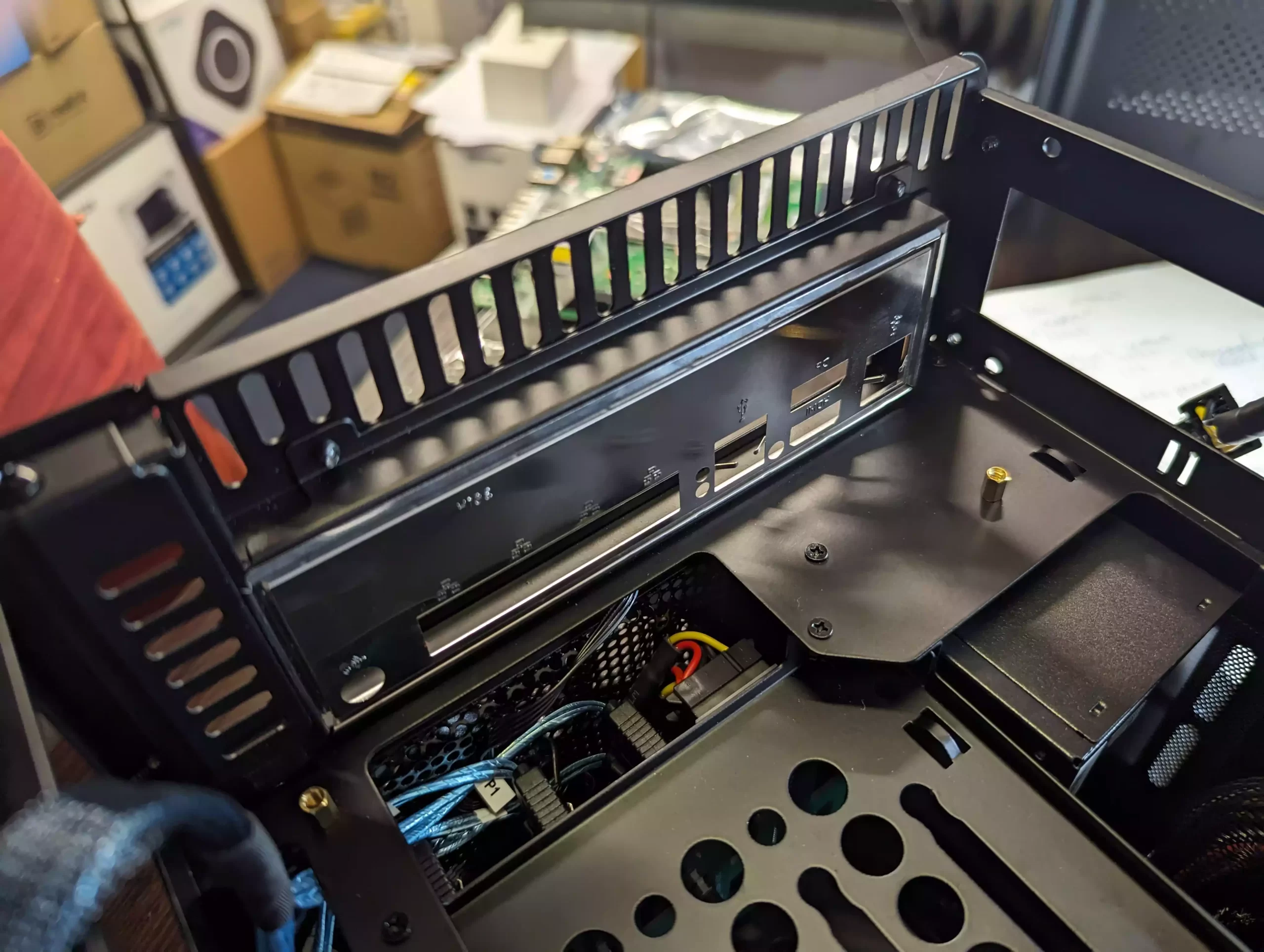 Given that M-ITX boards inherently come with a single PCIe slot, the Jonsbo N2's design mirrors this with one PCIe slot. The compact design means one has to be extra careful with cable management, especially when considering the access to SATA or PSU cables post motherboard installation.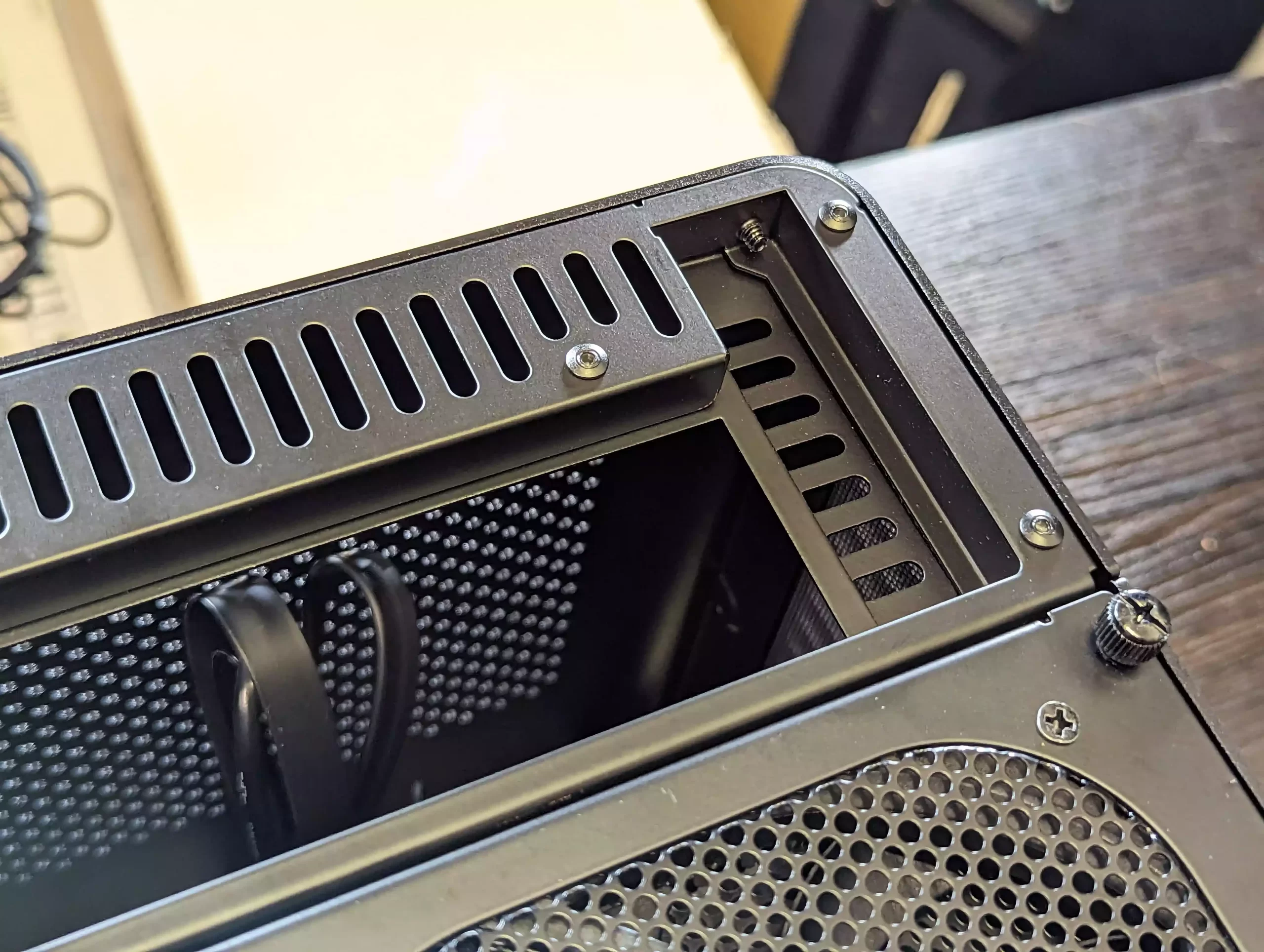 After installing the motherboard, there's a narrow but sufficient clearance for cable routing. Moreover, a dedicated 2.5" SATA niche is thoughtfully built into the side of the case, primarily aimed at housing an OS drive, showcasing Jonsbo's commitment to optimizing every inch of space.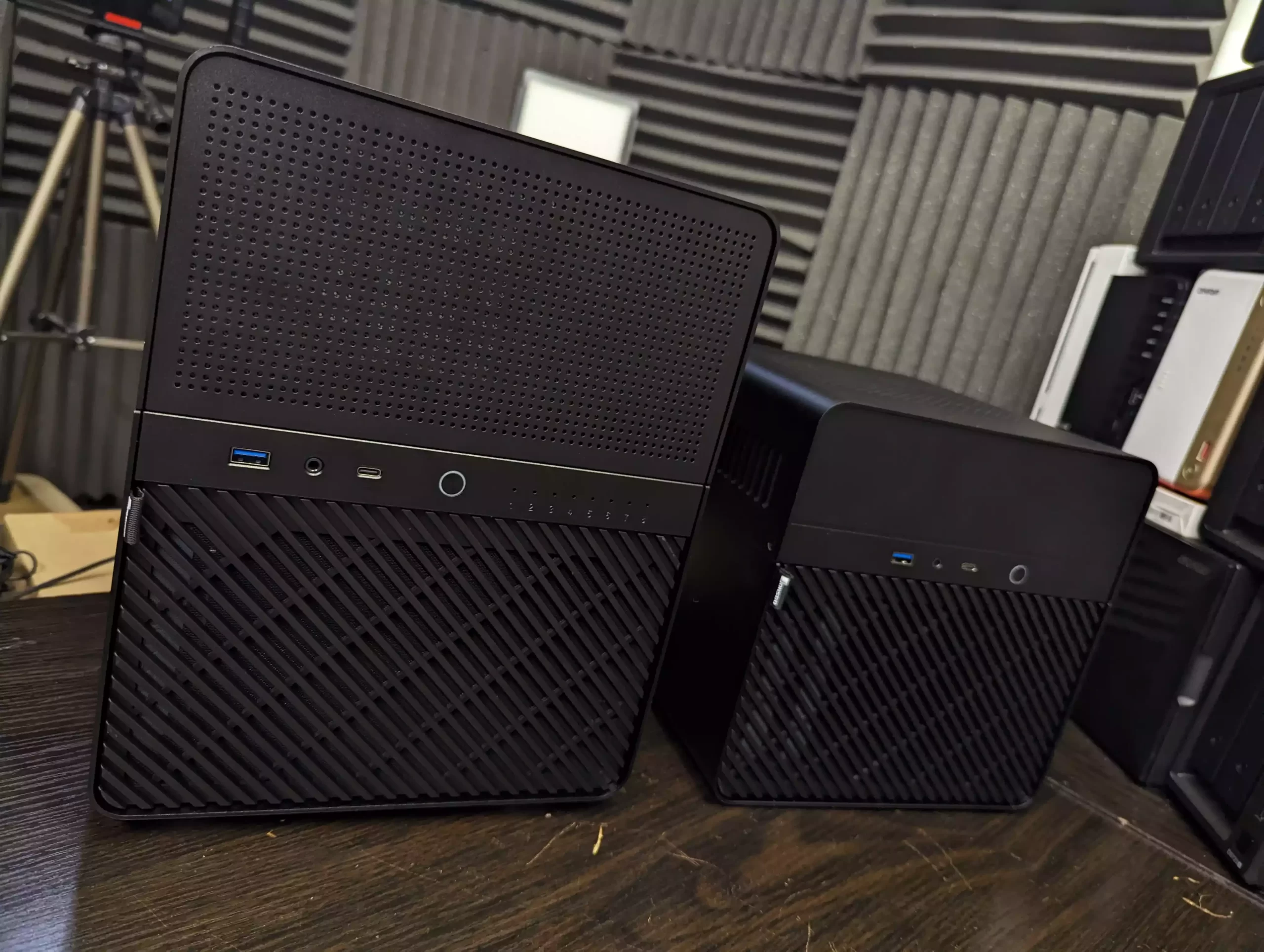 The Jonsbo N2 versus Jonsbo N3 NAS Case
The Jonsbo N2 and N3 NAS Cases both emerge from the reputable design pedigree of Jonsbo but cater to distinct user preferences and requirements. The N2, celebrated for its elegant contemporary aesthetics and efficient space usage, is an excellent choice for those who prefer a balance between form and utility. This compact design makes it perfect for setups with space constraints or for users who want their NAS system to have a more discrete presence.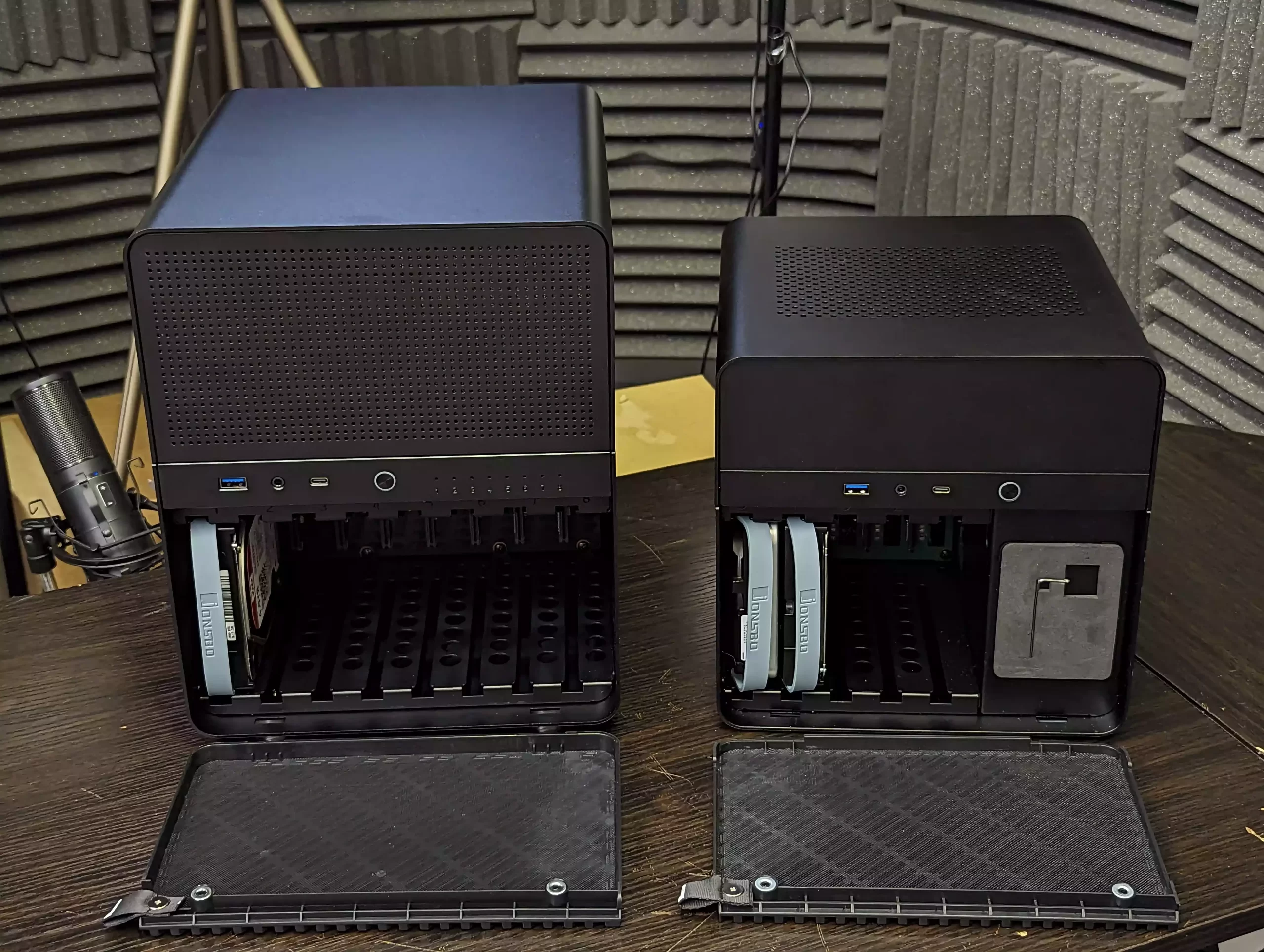 The N3, while building on the foundational principles of the N2, showcases a series of enhancements. It boasts greater storage with its 8 SATA drive bays compared to the N2's 5, larger CPU fan compatibility, support for heftier PCIe cards, and a dual rear fan setup for improved cooling. However, these enhancements, while beneficial for some, might be overkill for others. Larger systems generally consume more power and could introduce more noise, especially with the inclusion of an extra fan.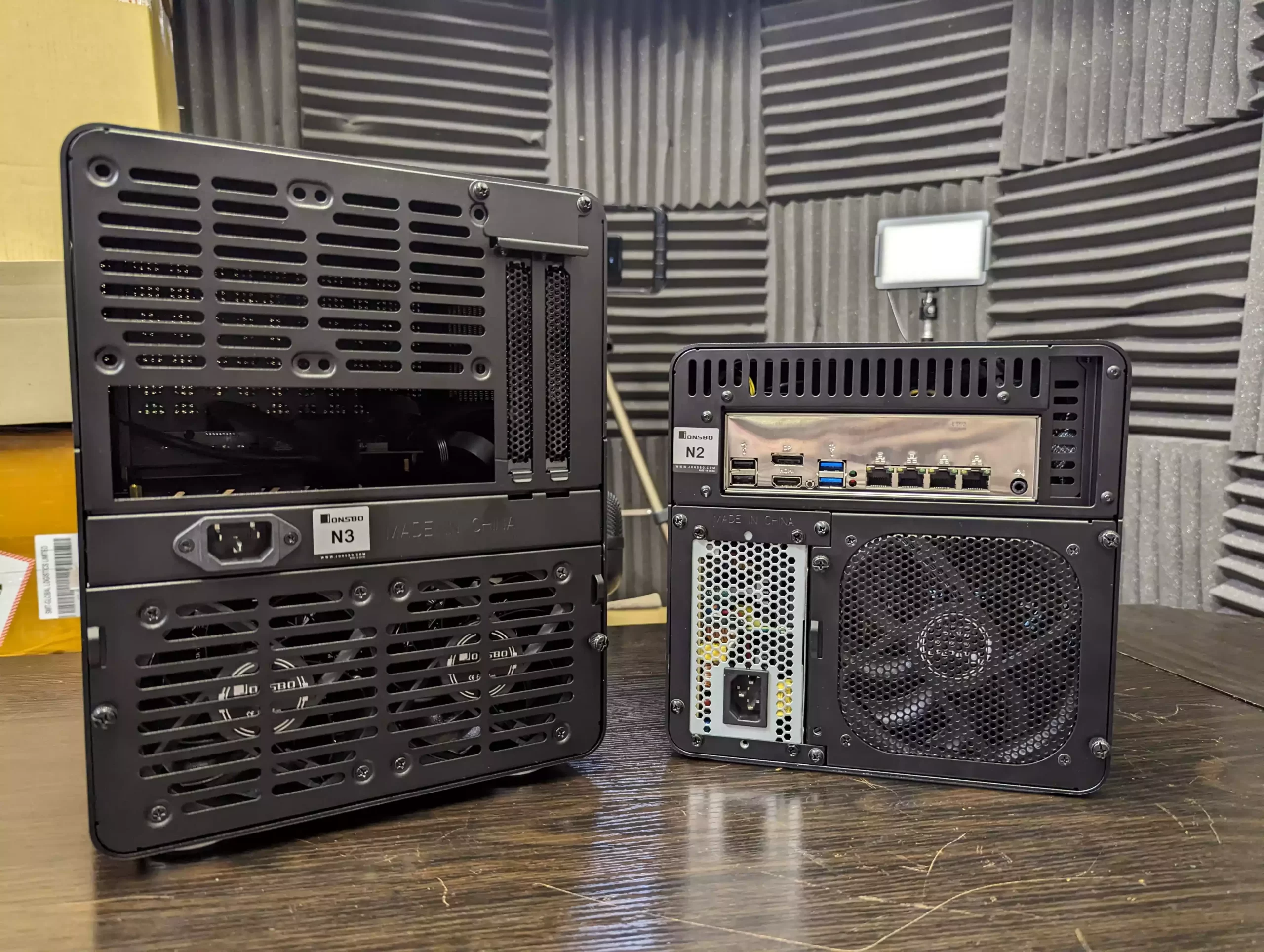 For users seeking a simple, efficient, and more silent NAS solution without the need for extensive expandability, the N2 might be more fitting. Its design ensures optimal performance for standard operations without the added complexities (and potential power consumption) that come with more extensive systems like the N3. Moreover, the N2's single fan design can offer a quieter operational experience, which is a boon for users sensitive to noise or for setups in shared or quiet spaces.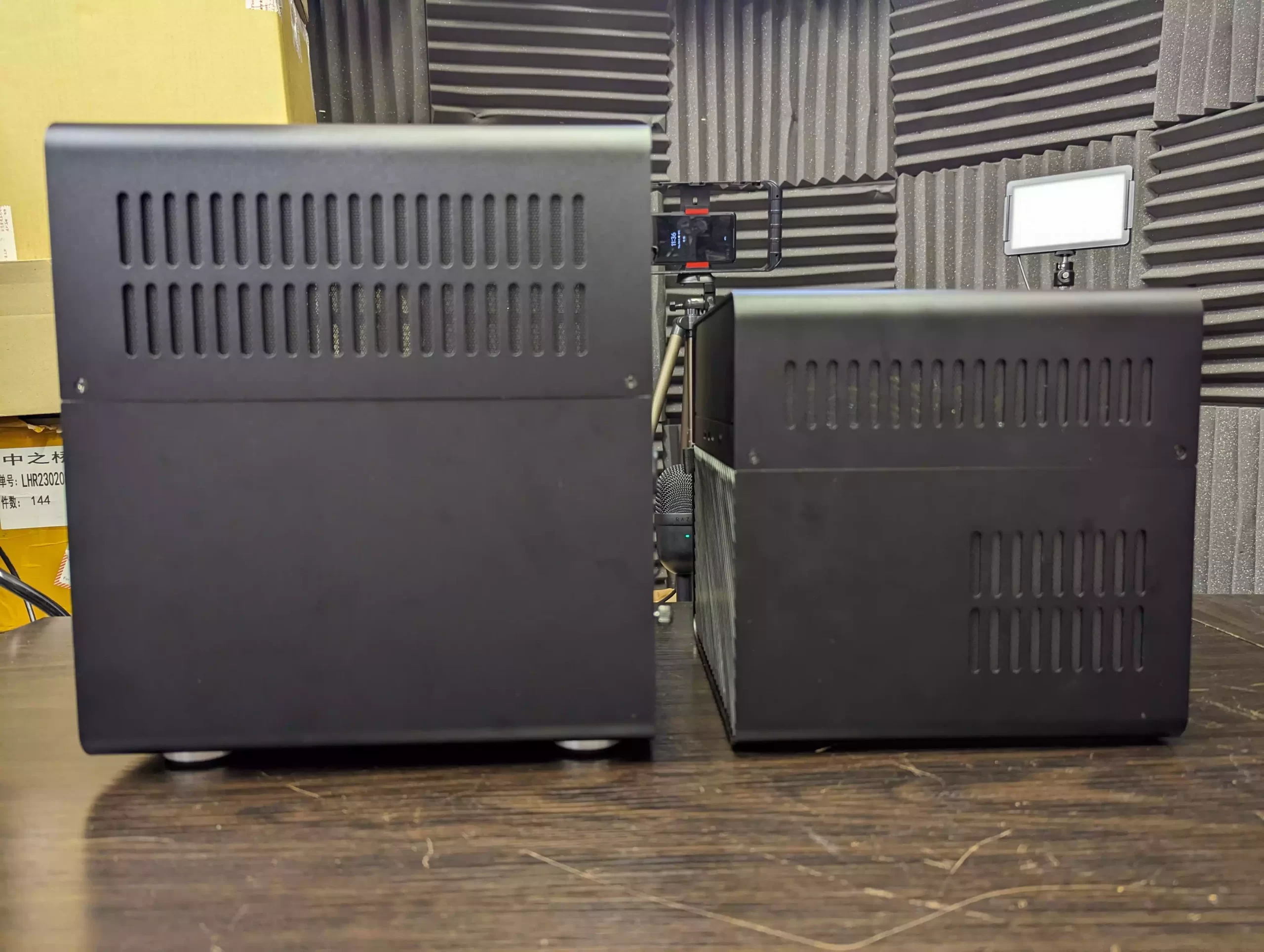 Additionally, for those who do not foresee a need for extensive storage expansion or the addition of high-end PCIe cards in their NAS setup, the N2 offers a more cost-effective and straightforward solution. Its streamlined design might also be more appealing to users who appreciate minimalist aesthetics without the additional features that, while powerful, might remain underutilized.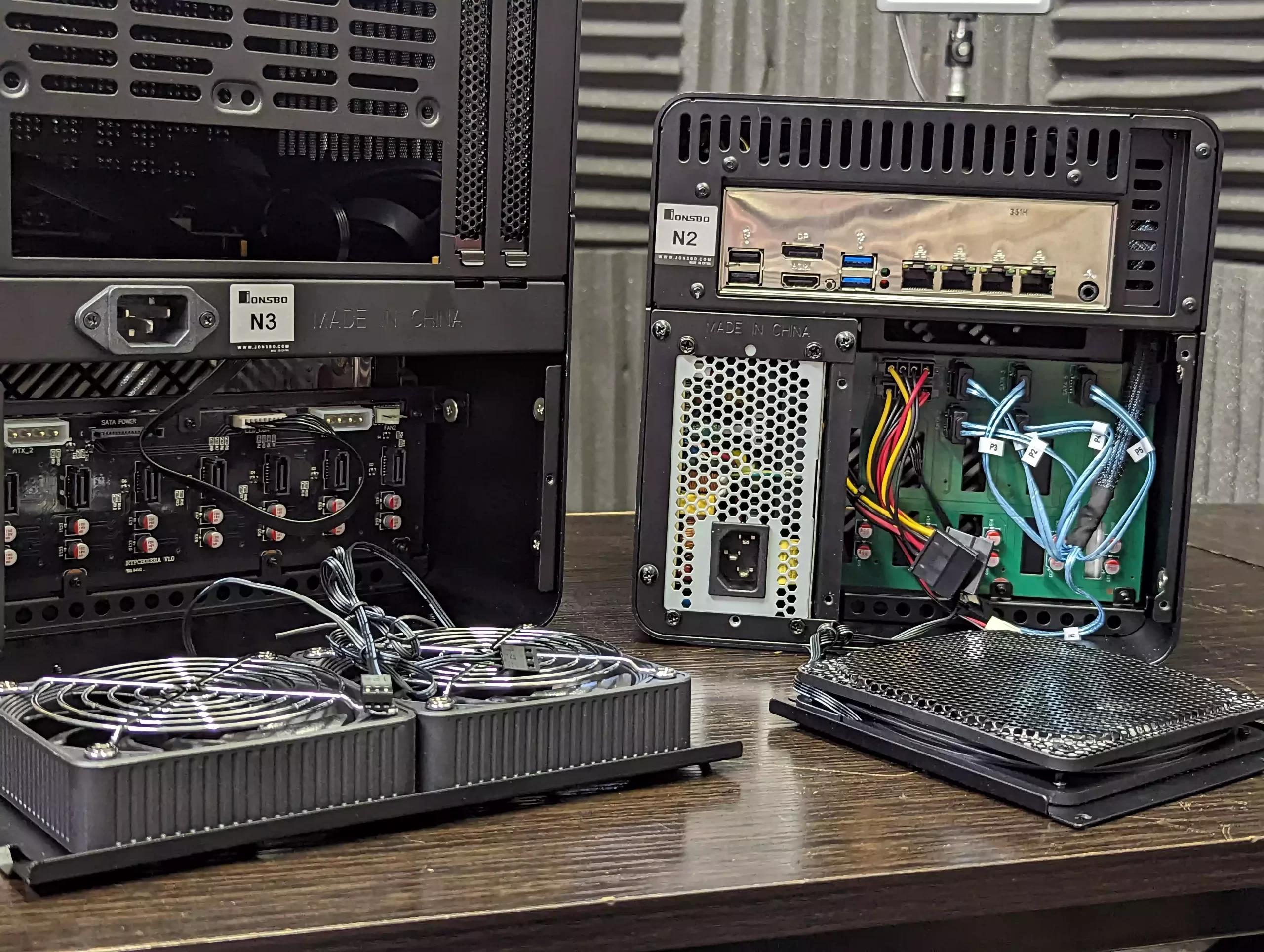 In conclusion, while the N3 is a testament to Jonsbo's innovative spirit and caters to those seeking advanced features, the N2 stands strong as a reliable, efficient, and minimalist choice. It's an embodiment of the adage that sometimes, less is more, and for many, the N2 might just strike the perfect balance between performance and simplicity.
Jonsbo N2 NAS Case Review – Conclusion and Verdict
The Jonsbo N2 NAS Case stands as a testament to how innovation, practicality, and aesthetic appeal can come together in a cohesive package. From its initial unboxing experience, marked by its protective foam shielding and the thoughtful inclusion of essential accessories, it's evident that Jonsbo pays attention to the user's entire journey. The N2's modern design balances an impressive storage capacity with a compact footprint, and its meticulous ventilation ensures optimal performance even during intensive operations.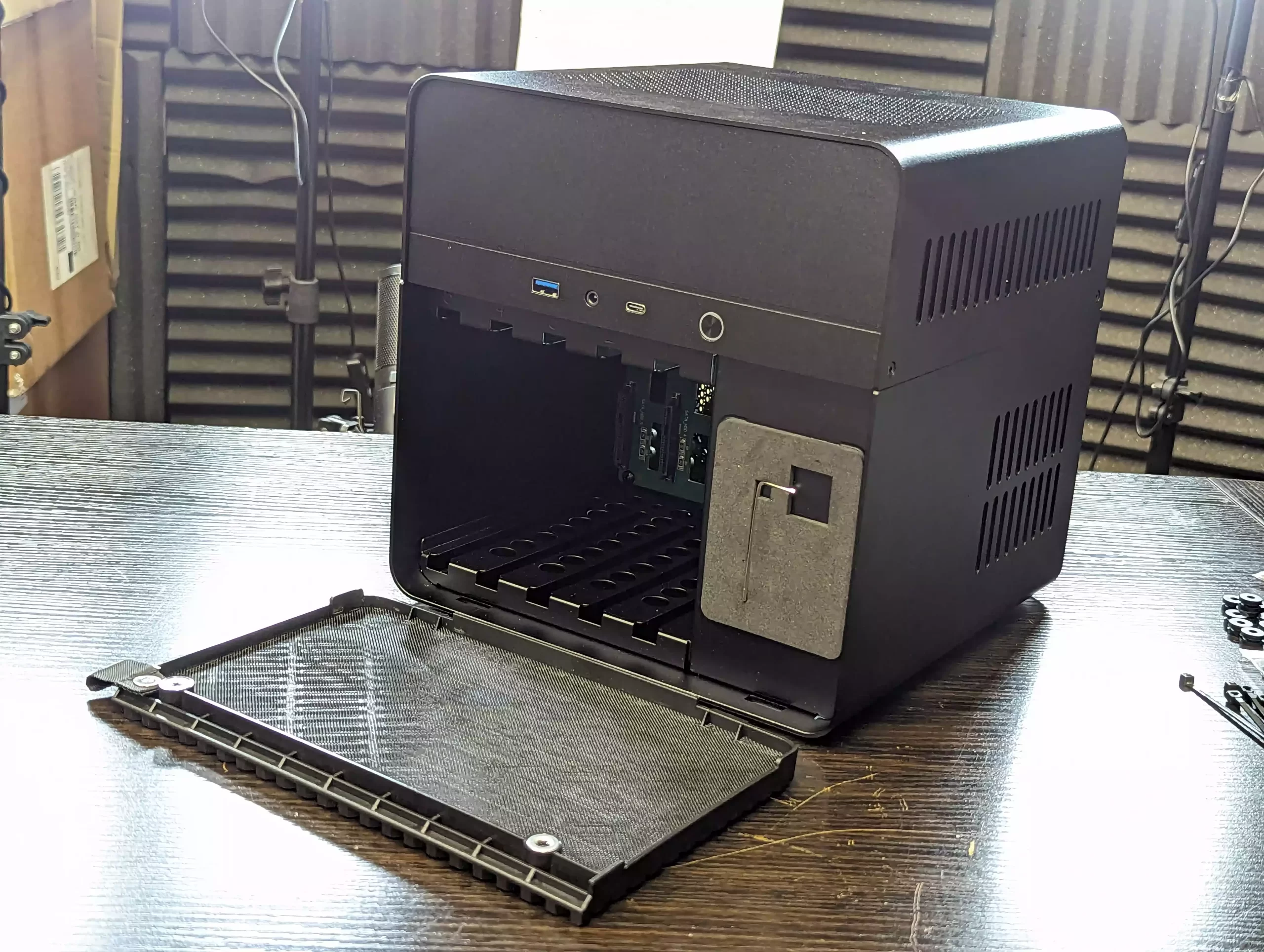 Internally, the case's compatibility with M-ITX motherboards and its strategic design decisions highlight its commitment to space optimization and efficiency. While there are certain aspects, like the choice of screws for the top panel or the omission of SATA cables, that may seem like oversights, they are minor when weighed against the overall value and functionality of the product. In essence, the Jonsbo N2 NAS Case showcases a well-thought-out design, catering to both novice users and tech aficionados. If you're in the market for a NAS enclosure that effortlessly merges form with function, the N2 emerges as a compelling choice. It's clear that with the N2, Jonsbo has not only met the standard expectations for a NAS case but has indeed raised the bar.
Amazon >>>
Aliexpress >>>
📧 SUBSCRIBE TO OUR NEWSLETTER 🔔
🔒

Join Inner Circle
Get an alert every time something gets added to this specific article!
This description contains links to Amazon. These links will take you to some of the products mentioned in today's content. As an Amazon Associate, I earn from qualifying purchases. Visit the NASCompares Deal Finder to find the best place to buy this device in your region, based on Service, Support and Reputation - Just Search for your NAS Drive in the Box Below
Need Advice on Data Storage from an Expert?
Finally, for free advice about your setup, j
ust leave a message in the comments below here at NASCompares.com and we will get back to you.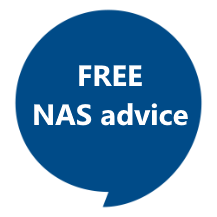 Need Help?
Where possible (and where appropriate) please provide as much information about your requirements, as then I can arrange the best answer and solution to your needs. Do not worry about your e-mail address being required, it will NOT be used in a mailing list and will NOT be used in any way other than to respond to your enquiry.
TRY CHAT
Terms and Conditions
If you like this service, please consider supporting us.
We use affiliate links on the blog allowing NAScompares information and advice service to be free of charge to you.
Anything you purchase on the day you click on our links will generate a small commission which is
used to run the website. Here is a link for
Amazon
and
B&H
.
You can also get me a ☕
Ko-fi
or old school
Paypal
. Thanks!
To find out more about how to support this advice service check
HERE
If you need to fix or configure a NAS, check
Fiver
Have you thought about helping others with your knowledge?
Find Instructions Here

ASK NASCompares forum
, by clicking the button below. This is a community hub that serves as a place that I can answer your question, chew the fat, share new release information and even get corrections posted. I will always get around to answering ALL queries, but as a one-man operation, I cannot promise speed! So by sharing your query in the
ASK NASCompares
section below, you can get a better range of solutions and suggestions, alongside my own.