New Synology NAS Information
Updated Oct 2018 – As we enter the last quarter of the year, we have a much, much better picture of what Synology NAS has in store for 2019. Alongside the units that were revealed at events earlier in the year, we now have new and rather specialized equipment coming our way in the form of the DS1419dva and UC300 Rackmount. Alongside these we have the expected DS1019+, DS1819+, DS619slim and other rather hotly anticipated NAS before the end of the year. Below we have all the information from these events on all the hardware and the updated to DSM 7.0. So grab yourself a coffee and get cosy, there's alot to get through!
June 2018 – With two of the biggest events in technology coming in just a few weeks, many NAS buyers are waiting for CeBit 2018 and Computex 2018 to see what awesome new tech they will be getting their hands on later in the year. Lucky for you, we at NASCompares have found out about several new Synology NAS devices that are going to be on show at official events in both Taiwan and Hannover in June. Here is all the information (updated) on each new Synology NAS for 2019
And here is more background information from the Synology 2019 Launch event earlier this month
Right, now let's discuss the brand new Synology NAS for 2019.
The Synology DS1019+ 5-Bay NAS
Arguably the most popular news and one that will get the most attention is the newly announced DS1019+ is a 5 Bay Plus Series Diskstation NAS. This brand new 5-Bay alternative to the DS918+, (no mention of it replacing the incredibly popular 4-Bay) is definitely going to cause a stir with the NAS server buyer market. Although details are a little thin (and most will surely be confirmed in coming weeks), what we do know is enough for me to predict that this NAS will be a real game changer.
Arriving with a newly designed chassis, a fraction wider than the DS918+, it will surely cost a fraction more than the DS918+ NAS, but what else do we know about the new DS1019+ NAS?
The Synology DS619slim Diskstation NAS
This time it is the turn of the popular compact NAS, the newly announced DS619slim 2.5″ specialised Diskstation NAS. For those that are not familiar with the slim NAS series from Synology, the DS619slim is a 6 Bay Slim Series Diskstation NAS that traditionally is designed for users who want a low cost, low power consumption NAS that makes as little noise as possible. The DS619slim continues in this tradition but also manages to include some impressive additions that you would usually associate with much bigger 3.5″ diskstation server devices.
The new DS619slim is a 6-Bay alternative to smaller 4-Bay DS416slim. It is also a big improvement in other ways. Featuring a brand new chassis, featuring hot-swap bays, as opposed to the DS416slim internal installation, it promises to provide much better RAID and storage options, as well as hopes of the newer series of Annapurna or Realtek 64-bit CPUs. Let's find out more.
The Synology DS1819+ 8-Bay Diskstation NAS
The new DS1819+ Diskstation sits on the shoulders of the popular 8-bay network attached storage that came before it, released in 2 year cycles (DS1817+, DS1815+, DS1813+, etc) and with each generation, the external changed marginally, but the internal hardware grew more and more (always maintaining a near identical price point too, which is pretty impressive in technology). With network storage drives being increasingly popular and home/business users want a good sized capacity in their NAS drive, a solid 8 HDD/SSD RAID equipped desktop NAS drive, that provides smooth storage is always in high demand.
The Synology DS1419dva 4-Bay Nvidia GeForce GPU NAS
There have already been some great advancements in the Synology Surveillance station application, with features such as LiveCam view with your mobile, YouTube camera streaming, improved time-lapse view and more. However, the Synology DS1419dva is designed to support AI these features, PLUS support new analytical and deep learning applications being introduced into Surveillance station 8. These live and archival features (such as the system recognizing an object or person in searching, then actioning as needed) require a good chunk of rendering power and the DS1419dva arrives with an NVidia GeForce GPU component to assist in Deep Video Analysis (DVA). There is still not real confirmation whether the DS1419dva is a Surveillance ONLY device (such as the NVR1218) or if it is a DSM 7.0 enabled NAS like others (as I can see a lot of functionality for that GPU in non-surveillance applications).
The Synology UC300 12-Bay Dual Controller Rackmount NAS
More than 25% of Synology enterprise users are currently using iSCSI services. To provide a more stable infrastructure, Synology has launched a new product line in the UC300 and it is the first 12-Bay iSCSI dedicated server with dual active controllers internally, with twin internal motherboards and each with its own PSU. The Active dual architecture allows enterprises users not to suffer disrupted service, in the event of a system critical event occurring (CPU failure, Memory burnout, PSU failure, motherboard damage, etc – basically the GAME OVER issues) the system has a whole second hardware system running in tandem and it automatically takes the primary lead. The result is that your RAID-enabled storage, that is already supported with a multitude of local/network/cloud backup options (as well as all the advantages of DiskStation Manager) is able to without a system-wide critical hit! That is the kind of hardware assurance that is almost unheard of in NAS.

The Synology DS119j 1-Bay Budget NAS
With the release of the new DS119j NAS, when it comes to buying your first network attached storage device there are several reasons why the Synology range appeals to many. With a diverse range of hardware and storage options across a wide series of uses, as well as an impressive range of first-party applications, Synology has fast become one of the biggest names in the NAS.
However, so many users have one tiny problem with most Synology devices, namely the price tag. In terms of overall price, you will find that a Synology NAS typically is around 15 to 20% more expensive than most other brands with the same hardware (we will leave software out of the equation for a bit). Added to this is the fact that most buyers looking to buy their first unit are nervous in spending large sums of money on a largely unexplored area of technology.
Buy from Amazon in your Region
(Clicking here supports this website)


The Synology DS2419+ 12-Bay Diskstation NAS
I want to talk about a new big storage solution, the Synology DS2419+ Diskstation NAS. This newly announced DS2419+ is a 12 Bay Plus Series NAS, which means that although details are a little thin right now, we can make some pretty informed guesses. This new NAS is the follow up to the DS2415+ 12-Bay, released quite some time again and it shares a number of its characteristics.
Luckily it also benefits from a number of new innovations that have been developed and premiered in other units since it's predecessors release.
Synology 4-Bay RS1619RPxs Rackstation NAS
This latest NAS server that will be formally revealed in Taiwan in a week or two is the latest NAS to join the elite XS series of devices. This new Synology RS1619RPxs Rackstation NAS has several rather groundbreaking features (for Synology and their rather rigid design) and has definitely warmed me towards the latest model. Unlike every new Synology 2019 series NAS we have told you about on NASCompares so far, this new 4-Bay has no predecessor. Till now the XS series was never available as a 4-Bay Rackmount NAS and until now buying an XS NAS meant that you needed to buy a powerful NAS that had a big storage option from day 1. However, this generally means that the cost is considerably higher than other 4-Bay NAS devices and creates an unpopular divide between devices when choosing. This was solved a tiny bit last year with the DS3018xs, but the Synology RS1619RPxs is a really positive step in the right direction in balancing hardware power and total storage options.
Even though the RS1619RPxs is Synology's first real 4 Bay XS Rackmount NAS, it manages to cram in almost all the features and functions of the larger XS server devices, whilst still no-doubt being much, much more powerful than the RS818+ and RS818+RP+. So, let's find out more about what could potentially be the most powerful 4-Bay Rackmount NAS Synology has ever released.
Synology RS1219+ 8-Bay Rackstation NAS
I want to discuss the brand new 8-Bay expandable NAS for later this year, the Synology RS1219+ RackStation. A Brand new 8 HDD rackmount NAS that finally fills the long-running gap that Synology have had between 4-Bay and 12-Bay Rackmount NAS for years now. So, what is going to be so special about the new RS1219+ NAS from the Synology brand?
Buy from Amazon in your Region
(Clicking here supports this website)


The Synology M2D18 NVMe SSD Cache PCIe Card
Synology M.2 SSD adapter—M2D18 is designed to supercharge your NAS I/O performance. Its dual M.2 NVMe based SSD slots allow high SSD read/write caching, reserving primary drive bays for data storage. It supports 2280/2260/2242 form factors and meets various M.2 NVMe SSD options to free you from internal performance bottlenecks.
Buy from Amazon in your Region
(Clicking here supports this website)


The Synology Mesh Router MR2200ac
Along with other hot NAS for 2018/19, Synology has also unveiled the MR2200ac mesh router, which will arrive this year, worldwide. In addition to a WAN and LAN connection, the mesh router has a USB 3.0 port on the back. Further details and further details surrounding SRM (Synology Router Manager) v1.2 are still not yet known. Synology did not yet name a price and an exact date.
Buy from Amazon in your Region
(Clicking here supports this website)


When will the Synology 2019 NAS be Released?
This is a tricky one, as normally the new units that are uncovered at Autumn Synology launch events are not released until late in Q4 or at the top of Q1 of the following year. However, there is enough interest and demand for the more specialized units like the DS1019+ and Synology MR2200ac Mesh right now that I think we might see this land in late November or even early December. Of course, this is based on hearsay and educated guesses, but at the latest, this will be available to buy at the start of 2019. Subscribe or bookmark this page to stay in the loop!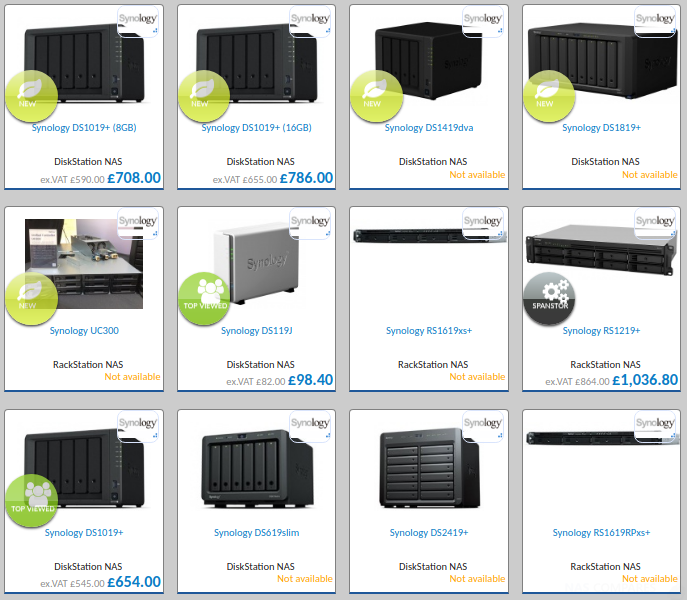 Alternatively, you can check the availability of all Synology NAS by visiting the link below to SPAN

📧 LET ME KNOW ABOUT NEW POSTS 🔔
Join 1,406 other subscribers
Get an alert every time something gets added to this specific article!
This description contains links to Amazon. These links will take you to some of the products mentioned in today's content. As an Amazon Associate, I earn from qualifying purchases. Visit the NASCompares Deal Finder to find the best place to buy this device in your region, based on Service, Support and Reputation - Just Search for your NAS Drive in the Box Below
Need Advice on Data Storage from an Expert?
We want to keep the free advice on NASCompares FREE for as long as we can. Since this service started back in Jan '18, We have helped hundreds of users every month solve their storage woes, but we can only continue to do this with your support. So please do choose to buy at Amazon US and Amazon UK on the articles when buying to provide advert revenue support or to donate/support the site below.

Finally, for free advice about your setup, j
ust leave a message in the comments below here at NASCompares.com and we will get back to you.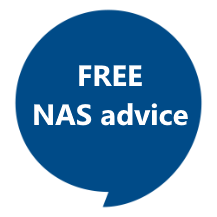 Need Help?
Where possible (and where appropriate) please provide as much information about your requirements, as then I can arrange the best answer and solution to your needs. Do not worry about your e-mail address being required, it will NOT be used in a mailing list and will NOT be used in any way other than to respond to your enquiry.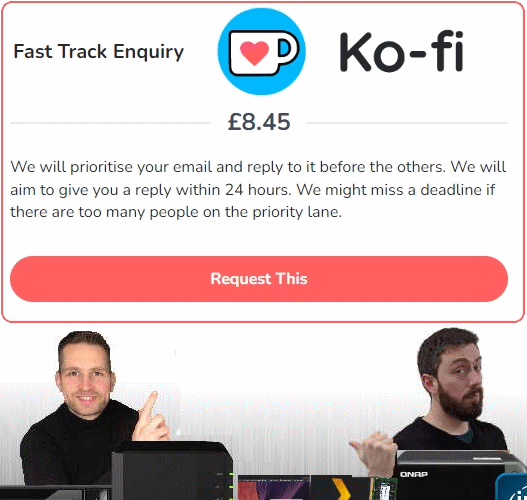 Terms and Conditions
Alternatively, why not ask me on the
ASK NASCompares forum
, by clicking the button below. This is a community hub that serves as a place that I can answer your question, chew the fat, share new release information and even get corrections posted. I will always get around to answering ALL queries, but as a one-man operation, I cannot promise speed! So by sharing your query in the
ASK NASCompares
section below, you can get a better range of solutions and suggestions, alongside my own.
This description contains links to Amazon. These links will take you to some of the products mentioned in today's video. As an Amazon Associate, I earn from qualifying purchases