A Guide to the Best 8-Bay NAS Drives to Buy Right Now
If you have been looking at getting a NAS for your business, then I think it is safe to say that 8-Bay is where things get SERIOUS. Up until this point, most NAS system can typically fall into home use, budget use, small business and effective storage for a small group of users and their data. However, 8 drive (hard drive or SSD) NAS systems are where you start to see the NAS brands flex their muscles a bit. 8-Bays have typically been the jumping-off point from Desktop to Rackmount servers (slightly less so in recent years admittedly), thanks to the larger degree of storage on offer allowing greater performance, capacity and redundancy – So you start to see hardware appearing inside/outside that can greatly enhance the system's utility. Features such as 10-gigabit ethernet, Xeon processors, considerably more memory and ultimately a system that can support a much wider number of users and processes than the systems that came before it. NAS brands very early on championed the inclusion of 8-Bay desktop servers in their portfolios, recognizing the need for a desktop server for compact deployment that could challenge the traditionally high power of rackmount solutions, so there are ALOT of different 8-Bay NAS systems on the market to choose from – all with their own distinct hardware and software capabilities, yet all at comparable pricing. Today I want to highlight to you the best three 8-Bay NAS to buy in 2022 and 2023 out of the hundreds (maybe even thousands) that are currently available on the market. These are systems that I choose, based on their value, scalability and overall power. Let's begin.
What Have All the Best 8-Bay NAS Drives Have in Common?
It is worth remembering that although there are ALOT of different 8-Bay NAS drives available to buy, they are by no means created equal! With numerous super-budget brands popping up online, it can be tempting to consider these alongside the premium NAS brands. However, all too often they offer solutions righty seem 'too good to be true' and then are gone from the web before your warranty even gets cold! So, whether you are looking at the three best 8-Bay solutions that I am recommending below OR are looking at another 8-Bay NAS you saw on offer/recommended elsewhere – the best NAS system ALWAYS includes the following software and services:
Combined Hardware & Software Solution – That means that you are buying the hardware, but it ALSO includes a web browser GUI, mobile apps and desktop client apps (including backup, media, streaming, surveillance and file management software)
All NAS systems in this guide are compatible with (and can be accessed by) Windows, Mac, Android and Linux operating systems
All NAS Solutions arrive with between 2-3 years Warranty (with the option to extend to 5 years)
All NAS drives can be accessed locally over the network, as well as secure remote access is possible with brand-supported services (at no additional cost)
The most modern and regularly updated NAS systems will support the very latest 20TB NAS hard drives (such as the Seagate Ironwolf 22TB and WD Red 22TB)
All the recommended solutions support multiple drive configurations (RAID) for drive failure protection and performance enhancements
All solutions receive regular updates to their security, features and services
All recommended NAS drives can connect and synchronize with cloud services (Google Drive, DropBox, OneDrive, etc), as well as Business/Enterprise services such as AWS, Azure, Backblaze and more
All NAS solutions (regardless of brand) feature the ability to host a shared drive on your PC/Mobile/Laptop systems that are synchronized with the NAS via the network/internet, but is shown in your native operating system file manager (i.e Mac Finder or Windows Explorer)
All the NAS solutions listed can be accessed DIRECTLY via an ethernet/network cable being connected from your PC/Mac system, to the NAS RJ45 port for 100MB/s and higher connectivity
All the best NAS solutions (regardless of brand) feature backup and sync tools that can be installed on your local client computer and allow regular backups of your files and system data
So, make sure that if you are looking at a NAS solution that is NOT recommended below, that it includes all of the above as these are some of the clearest areas that brands all too often cut orders to produce cheaper by ultimately inferior NAS servers for home and business. So, let's discuss the very best 8-Bay NAS to buy now in 2022/2023.
---
Best All Round 8-Bay NAS Drive – Synology DS1821+ NAS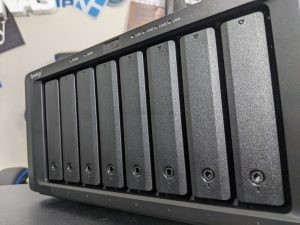 0-176TB, 8-Bays, 2x NVMe Cache Bays, Quad-Core Ryzen V1500B 2.2Ghz CPU, 4-32GB DDR4 ECC Memory, 4x 1Gbe Port, 1x PCIe 3×8 Upgrade Slot, 5yr Warranty
Current Price/Availability on Amazon – $1099
Hardware Review – LINK
YouTube Video Review – Watch
What I said in my review Dec '20:
What you have here is a solid piece of hardware that very much lives up to everything Synology promises, even if some of those promises aren't to everyone's taste. With a hardware architecture that we have already tested to notable success in the DS1621+ previously, we already knew that this NAS would be able to do everything it promised. Many users looking to spend their annual business budgets on an improved or extended data storage solution will find the balanced position of hardware vs software found by the Synology DS1821+ to be quite desirable, as well as the scaled potential to upgrade external performance via PCIe and storage via eSATA. However, there is no ignoring that despite the fact this 2020 release excels in many things, it also arrives with a little bottlenecking in a number of others. The continued default utilisation of 1Gbe on the newest generation by Synology is somewhat perplexing and although I have continued admiration for Synology's engagement with intelligent M2 NVMe cache utilisation and providing a solution that allows more flexible upgrade paths, I know that there are still users who just wish they could use that super fast NAND for raw storage pools and have better than gigabit connections out by default.
This slideshow requires JavaScript.
It has never been a secret that buying a Synology NAS solution was always a largely 'software over hardware' purchase, and the DS1821+ is still a fine example of that balance. However, with other brands closing the gap in what they can offer the SMB (Small/Medium Business) user, while still providing superior hardware and similar warranty coverage, there is the tiniest feeling that the DS1821+ is a NAS that sits on its laurels a bit. Hugely upgradable and still with that award-winning and fantastically intuative DSM software, the DS1821+ is about buying a solution you can adapt within its lifespan and not one that will knock your socks off on day one. A solid and dependable data storage solution, if a little safe, at the end of 2020.
---
Most Powerful 8-Bay NAS Drive – QNAP TVS-h874 NAS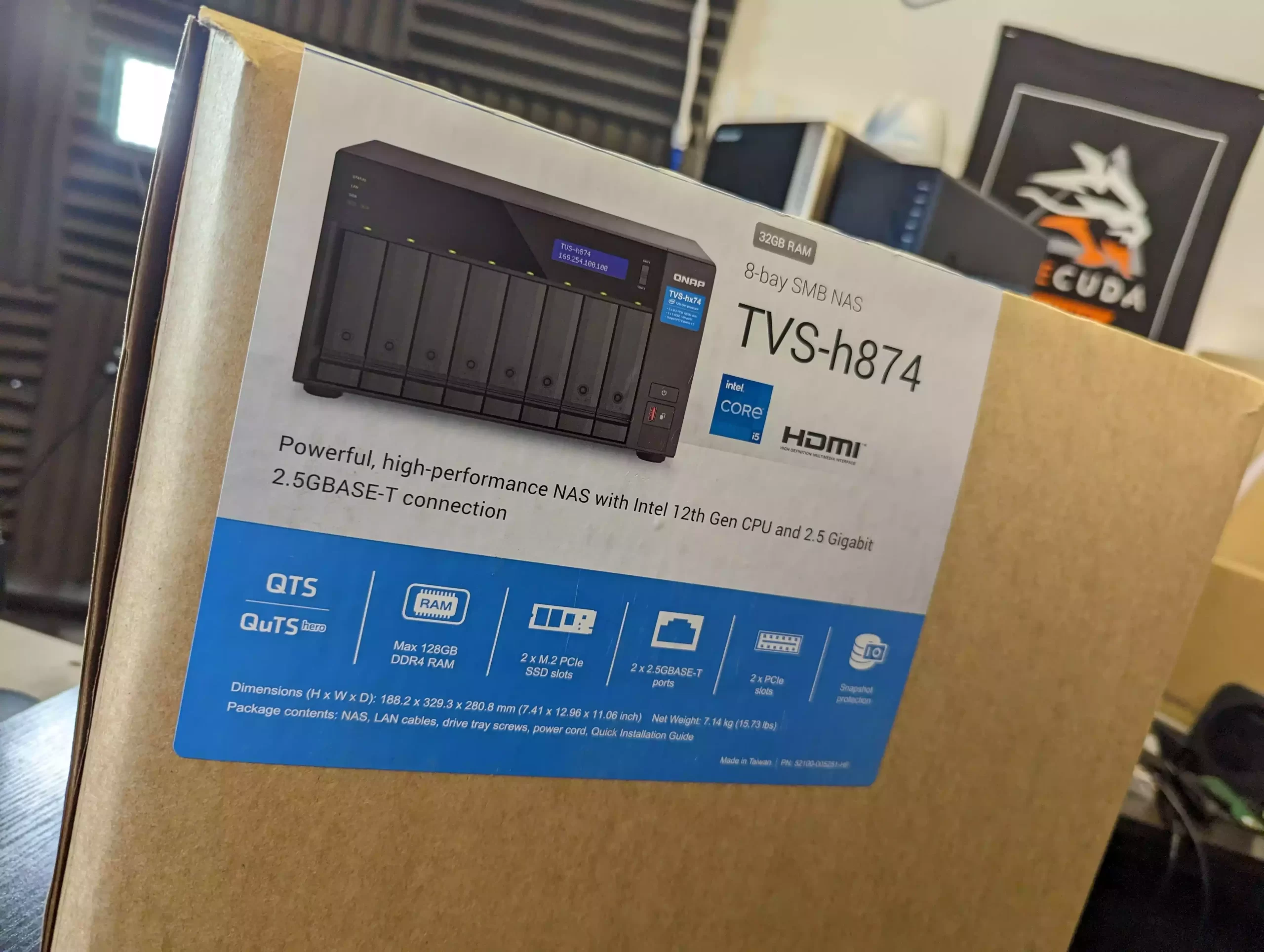 0-176TB, 8-Bays, 2x PCIe 4 M.2 NVMe 2280, PCIe Gen 4×16 Upgrade Slot, Intel Core 12th Gen i5/i7/i9 CPU, 16-64GB DDR4 Memory, 2.5Gbe Port, 10Gb x2 Prots (Intel i9 Version), KVM, ZFS or EXT4 Setup, 3-5yr Warranty
Current Price/Availability on Amazon – $2000-2500-3000
Hardware Review – LINK
YouTube Video Review – Watch
What I said in my review Dec '22:
The QNAP TVS-h874 NAS is easily one of the most hardware-capable desktop NAS systems that I have ever seen (as you would expect for £2500+) and has clearly been designed with phenomenal future proofing in mind! If you are concerned about the longevity of this NAS, this hardware architecture will still be top tier 5 years from now, with the added support of PCIe 4 meaning that high capacity and performing micro upgrades throughout its life also ensuring it remains relevant long after. It's price tag clearly moves this purchase out of the home and squarely into the business market (though likely those that take their media seriously will add it to the cart) and the TVS-h874 will function as a solid solution for Video editing (even at 8K), high frequency and performing VMs, large scale AI powered Surveillance setup, hybrid cloud/on-prem alternative to Office 365/Google Workspace services and as the center point for all your data storage operations. Crucially though, it is that the hardware on offer here will be able to do ALL of these at the same time, therefore maximising the investment for most businesses that want to move aware from their cloud dependant ops. In terms of software,t things are a little less absolute, with QTS and QuTS still getting a little busy at times, with a steeper learning curve than its big rival DSM from Synology. That said, die-hard fans of ZFS (Zettabyte File System) will adore the inclusion of benefits in RAID handling, management and recovery that are exclusive to that platform, whilst enjoying the wide range of applications and service benefits in QuTS that are often restricted to Linux platforms.
This slideshow requires JavaScript.
The slightly conveluded approach to release hardware that does complicate the selection process (different CPUs in the Intel 12th Gen family changing the rest of the system architecture) is something that I hoped this brand would graduate from (for the sake of simplicity), but for many, this level of choice in hardware and budget will be welcome. As is QNAP's position on the support of 3rd party hardware (drives, PCIe upgrades, etc) and software, something that we have seen a worrying trend in the last few years against elsewhere in the industry but some other brands, to err towards 1st party/proprietary compatibility more and more. There are still lingering doubts by some on the security of NAS, with ransomware attacks on the rise and ALL brands and ALL platforms being targetted (NAS, Cloud ,etc), finding a middle ground between ease of use and depth of security being a tricky tie rope walk indeed. The TVS-h874 arrives with a wide range of Day 1 tools, further rigid defaults in QTS/QuTS in 2022/2023, considerable security settings to configure and multiple system scan tools for recommendations & preventative measures available. The QNAP TVS-h874 is probably the most powerful desktop/tower NAS drive I have ever reviewed and if you are looking for a system that can legitimately do anything server-side, but you are also willing to put in the time to configure it correctly – you will genuinely be hard pushed to find a better system in 2022, 2023 and likely 2024 at this price point and scale.
---
Best Value Hardware 8-Bay NAS Drive – Terramaster T9-423 NAS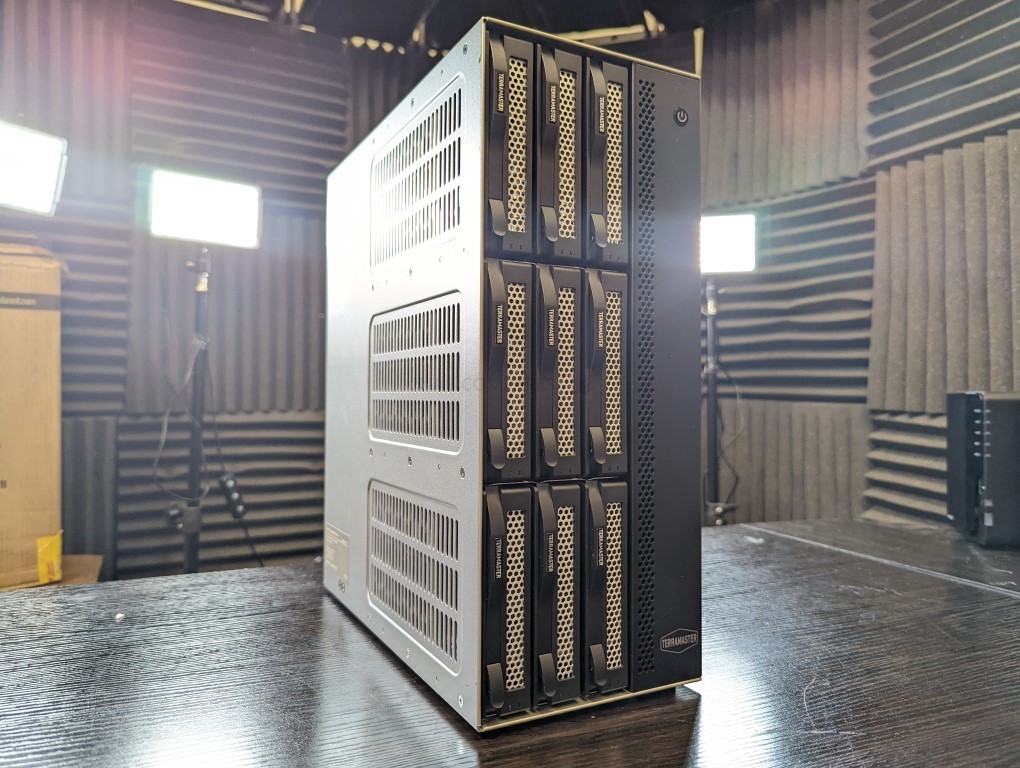 0-198TB, 9-Bays, 1x PCIe Gen 3 M.2 NVMe 2280, Intel Celeron N5105 Quad Core CPU, 8-32GB Memory, 2x 2.5GbE Port, 2yr Warranty
Current Price/Availability on Amazon – $999
Hardware Review – LINK
YouTube Video Review – Watch
What I said in my review April '22:
I like the terramaster T9-423 NAS a lot more than I thought I was going to! Over the years I have seen several quirky NAS designs appear from brands looking to find gaps in the existing market between the traditional 2-bay, 4-bay, 8-bay and rackmount systems. In most cases, these brands tend to never really hit the ground running with these systems and a lot of that is because they are either priced poorly, have bad internal hardware choices for the sake of offsetting the overall cost of a new design or simply do not read the room in knowing what people want. I'm pleased to say that the Terramaster T9-423 does not seem to suffer any of these things. This 9-Bay arrives in a chassis that is a smaller and more convenient frame than many eight-bay desktops, arrives at a price point that for the scale is reasonable and has the same or better hardware than most other mid-range desktop NAS in 2022. Alongside this, Terramaster's innovations in TOS5 to improve their platform to include many more storage services, backup methods and a few premium apps in the works means that the brand still manages to be competitive in spite of its more cost-effective reputation and hardware focus.
This slideshow requires JavaScript.
First-party app development still pales in comparison to bigger NAS brands (though popular third-party tools that already exist in the market are supported and available to download) and in terms of software, this system is still a little underwhelming, if very functional. Then you have the build quality. The construction of this chassis is particularly higher than I anticipated and unlike many of the brand's rather dated or plastic-looking cases in 2 and 4 bays, The T9-423 is remarkably well constructed with excellent considerations being made to ventilation and keeping the device compact despite its large storage potential. As long as you keep in mind that you are buying a more cost-effective or value alternative to top-tier brands, as well as having perhaps a little more patience with the software than you might like, the Terramaster T9-423 is a great NAS and an exceedingly positive move by the brand to further evolve.
---
Need More Help Choosing the right NAS?
Choosing the right data storage solution for your needs can be very intimidating and it's never too late to ask for help. With options ranging from NAS to DAS, Thunderbolt to SAS and connecting everything up so you can access all your lovely data at the touch of a button can be a lot simpler than you think. If you want some tips, guidance or help with everything from compatibility to suitability of a solution for you, why not drop me a message below and I will get back to you as soon as possible with what you should go for, its suitability and the best place to get it. This service is designed without profit in mind and in order to help you with your data storage needs, so I will try to answer your questions as soon as possible. Just enter in a few details of your setup, storage requirements and (in the case of buying a new solution) your budget – then me and Eddie the Web guy can help you with your question. This is a completely free service, is NOT provided with profit in mind and is manned by two humans (no bots, no automated replies, etc). Assistance might take an extra day or two (the service gets a lot of visitors) but we do try to answer every message. If you want to support this service, you can find out how to donate HERE. Otherwise, you can still just message us for free advice anyway!
📧 LET ME KNOW ABOUT NEW POSTS 🔔
Join 1,468 other subscribers
Get an alert every time something gets added to this specific article!
This description contains links to Amazon. These links will take you to some of the products mentioned in today's content. As an Amazon Associate, I earn from qualifying purchases. Visit the NASCompares Deal Finder to find the best place to buy this device in your region, based on Service, Support and Reputation - Just Search for your NAS Drive in the Box Below
Need Advice on Data Storage from an Expert?
We want to keep the free advice on NASCompares FREE for as long as we can. Since this service started back in Jan '18, We have helped hundreds of users every month solve their storage woes, but we can only continue to do this with your support. So please do choose to buy at Amazon US and Amazon UK on the articles when buying to provide advert revenue support or to donate/support the site below.

Finally, for free advice about your setup, j
ust leave a message in the comments below here at NASCompares.com and we will get back to you.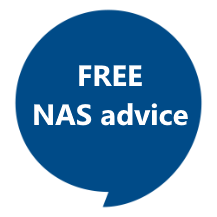 Need Help?
Where possible (and where appropriate) please provide as much information about your requirements, as then I can arrange the best answer and solution to your needs. Do not worry about your e-mail address being required, it will NOT be used in a mailing list and will NOT be used in any way other than to respond to your enquiry.
Support What We Do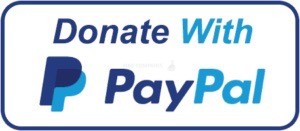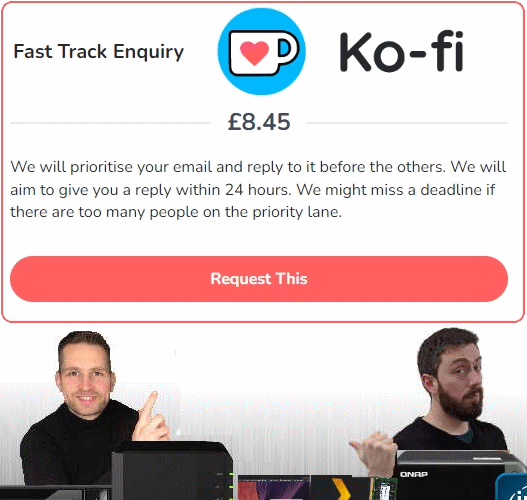 Terms and Conditions
Alternatively, why not ask me on the
ASK NASCompares forum
, by clicking the button below. This is a community hub that serves as a place that I can answer your question, chew the fat, share new release information and even get corrections posted. I will always get around to answering ALL queries, but as a one-man operation, I cannot promise speed! So by sharing your query in the
ASK NASCompares
section below, you can get a better range of solutions and suggestions, alongside my own.