The Zimacube NAS, a Crowdfunded Beast of a NAS
UPDATE – Since this video was first published, I was able to send over most of the questions below in the comments directly to the creators, IceWhale, about the Zimacube (covering PCIe, 10GbE, ECC Memory, Price and more). You can watch the Q&A video HERE or read them in full HERE )
The Zimacube NAS Kickstarter Project is now LIVE and you can find out about it HERE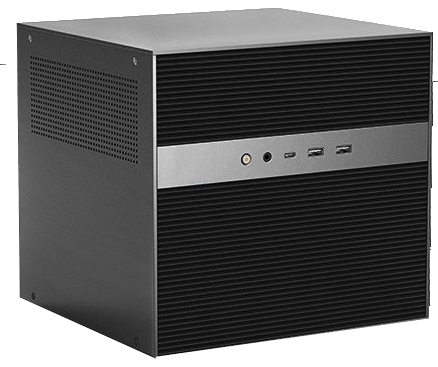 With the ever-growing market between turnkey solutions and complete DIY home service growing even larger, the expanding number of pre-built server solutions arriving in the market has become noticeably vast in 2023/2024. For a significant period, expensive and comparatively underpowered solutions from brands like Synology have faced competition from new players entering the private server scene. These newcomers are offering pre-built, server-grade solutions to consumers and small businesses, complete with software flexibility. We've discussed many of these in the past 12 months here on NAS compares. Today, however, I want to discuss possibly the most intriguing of all: the ZimaCube from IceWhale. Slated for launch on Kickstarter later this year, the ZimaCube follows the successful campaigns of the Zimaboard and Zimablade hackable solutions, both of which received considerable praise across various platforms. The ZimaCube dramatically enhances architecture, hardware, scalability, and power, promising potentially one of the most fully equipped pre-built solutions on the market. IceWhale mentions that this system will debut in two versions: the Zimablade quad and the Zimablade octa, targeting different users, budgets, and deployments. This approach ensures varied targeting but means that the campaign is managing two distinct products—something that has occasionally been challenging for other campaigns. We are discussing a crowdfunded NAS server, so expectations should remain grounded. However, this turnkey NAS solution (with its proprietary OS and support for open-source third-party systems) makes some incredibly ambitious claims. Let's delve into the hardware and capabilities of the ZimaCube and assess whether this future Kickstarter NAS is worth your data.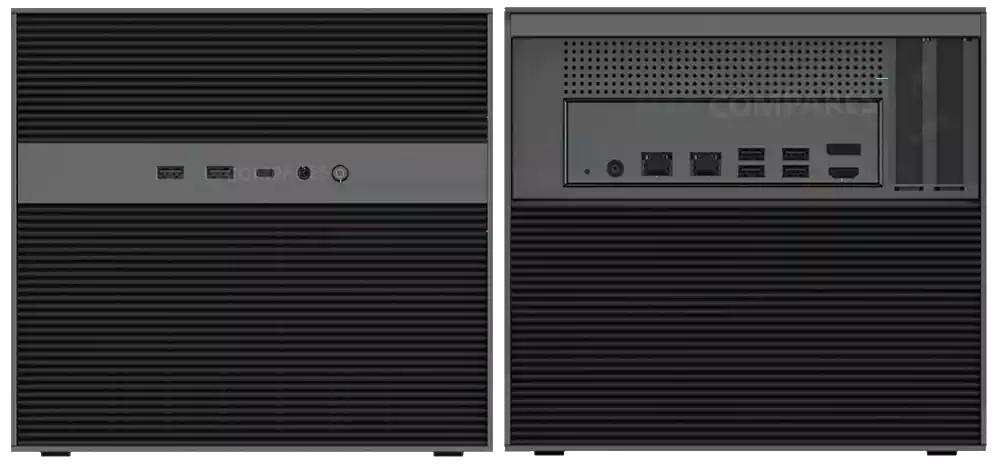 The Zimacube NAS Chassis Design
The first thing to note about this crowdfunded device is that the ZimaCube bears a striking resemblance in its hardware design to the popular Jonsbo N2 and N3 enclosures. This isn't necessarily negative, as compact server cases have been a topic of interest over the past five years. Many would concur that Jonsbo has earned a formidable reputation in the NAS market for its enclosures. From the placement of individual SATA storage bays to the modular design of the ITX motherboard and port placement, there's a clear similarity between the ZimaCube and Jonsbo N2 and N3 enclosures.
Psst.. Watch my Jonsbo N2 NAS Build Video HERE and my Jonsbo N3 Hardware Review HERE.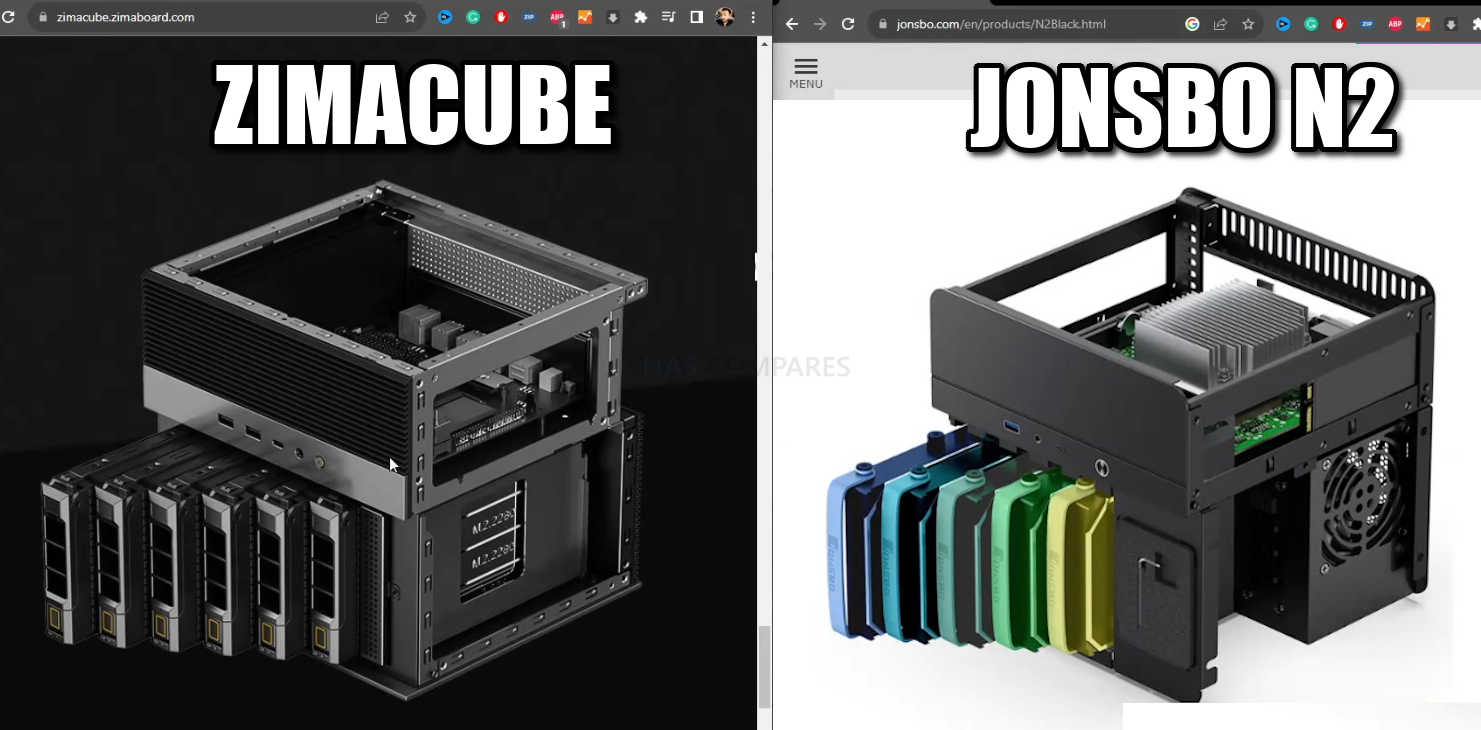 However, we should give IceWhale and the ZimaCube their due credit. Notable layout changes are evident. For instance, this system features six SATA storage bays, each accessible via a click-and-load tray, contrasting with Jonsbo's slightly quirky and sometimes annoying rubber handles and plugs. Along with the six storage bays, there's an added m.2 NVMe module that seemingly occupies what might have been a standard storage slot. Current designs don't clarify whether these m.2 NVMe slots are accessible via the front panel or only through a removable side panel, linked to the motherboard's underside via a subsidiary board. (UPDATE – IceWhale have confirmed that the M.2s are injected via a 2x/4x PCB that is loaded into a U.2/U.3 slot on the backplane, which can be removed to add/remove M.2 SSDs as needed). Still, in essence, you're observing 10 mixed media storage bays. Depending on the device's configuration, the architecture of those m.2 NVMe modules will likely differ based on the CPU and lanes allotted to the quad and octa versions. Both systems also seem to feature two additional m.2 NVMe bays on the main controller board, though their exact usage—whether occupied by SATA adapters or an OS drive for Casa OS—remains unconfirmed. With the extra PCI lanes the ZimaCube octa offers, there's a good chance this model will support gen 4 compatibility, providing increased bandwidth for those m.2 NVMe modules.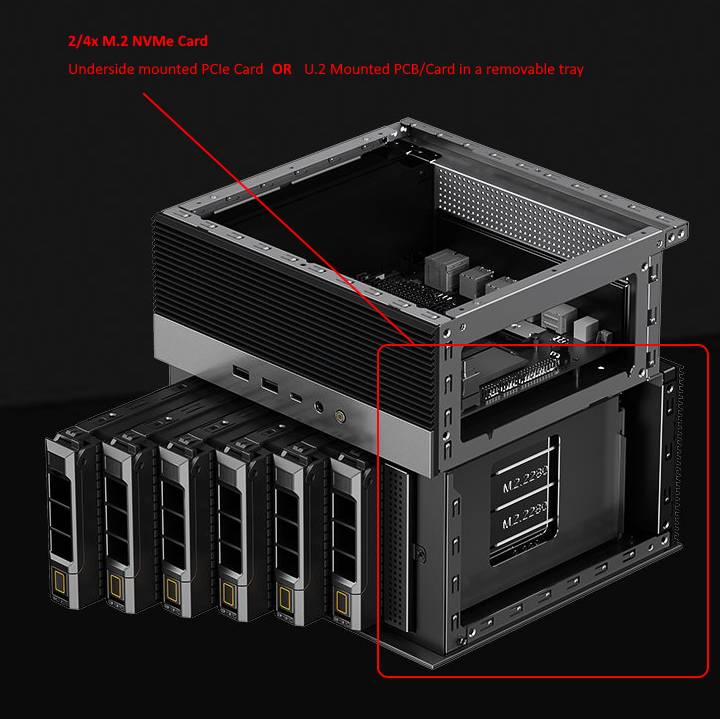 Like the Jonsbo case, the ZimaCube boasts extensive ventilation—and it certainly requires it. The system showcases a double ventilated front panel, ventilation on both sides, and 80% ventilation on the case's rear. Information on active cooling with fans and their sizes isn't confirmed yet, but there will undoubtedly be at least two fans on the case's back. However, space seems limited for extra fans at the top rear panel. Considering the high-end CPU and hardware in this device, the choice of CPU fan will be debated. There's ample hardware packed into this device. Given its relatively compact size, the heat it will generate is a concern. For instance, it wouldn't be shocking if the four m.2 NVMe modules in such a tight space were limited to x1 or x2 speed, given the potential heat generation. We should reserve final judgment until we have a physical unit, but the substantial hardware within a limited space means that efficient cooling, both active and passive, will be crucial. It's challenging to find flaws in the ZimaCube promotional materials. Although we don't have the physical device, the case appears exceptionally well-designed. However, there's a lot of hardware packed inside. Let's dive deeper into the known hardware with which the ZimaCube will be equipped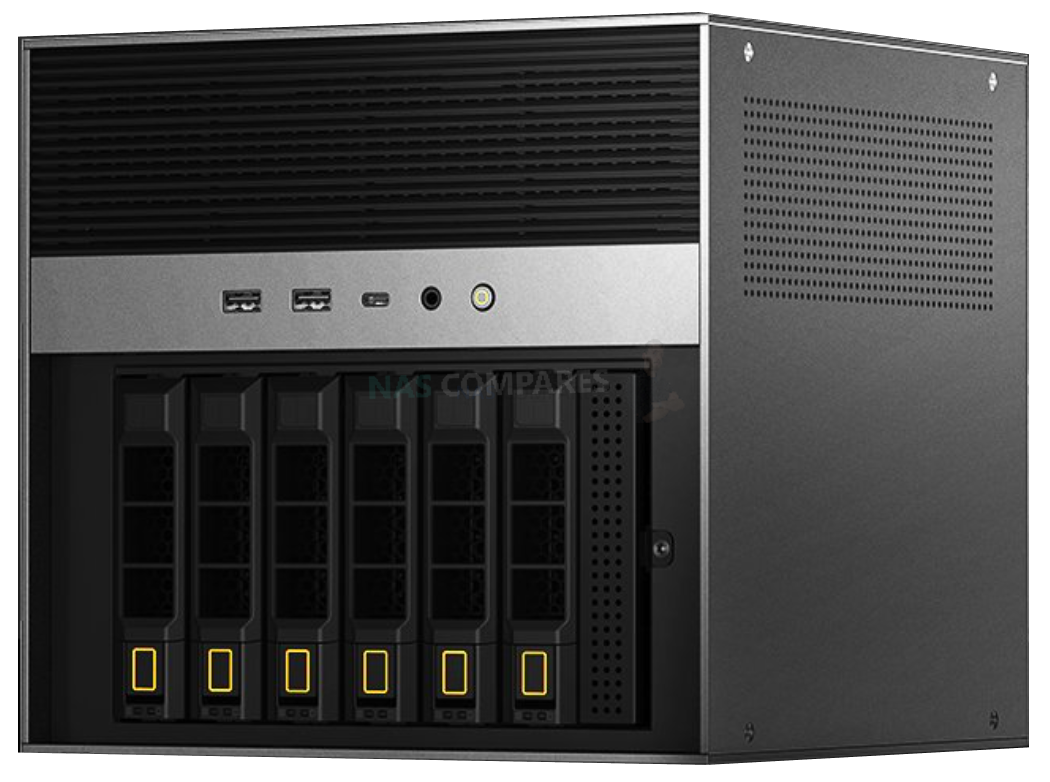 The Zimacube Hardware Specifications
Right off the bat, credit must be given to IceWhale for how they've presented the two available options proposed for the ZimaCube NAS. They offer a home and very small business option powered by the Alder Lake Intel N100 processor. Alongside this, they're presenting a powerhouse option with a comparable 12th generation i5 version of the hardware. Dubbed the ZimaCube Quad and ZimaCube Octa, these systems will likely come with different price tags to reflect their distinct hardware architectures. While we're discussing a crowdfunded NAS project still in development, it's commendable that IceWhale recognizes the appeal of a powerhouse system for some users, while others may prioritize power efficiency and a more modest setup. However, this means we're looking at a campaign promoting a single product in two different versions, and it's crucial not to confuse the hardware capabilities of one with the other. It is still very early to make any kind of judgement on this system's 24×7 operation, but (especially in the case of the Zimacube Octa) there is ALOT of hardware getting crammed into this comparatively small case and how this si going to be managing ventilation and cooling on the 4 (technically 6) M.2 NVMe SSD slots is going to be CRUCIAL! Here's a brief overview of the specifications known so far:
| | | |
| --- | --- | --- |
| Model | Zimacube Quad | Zimacube Octa |
| CPU | Intel N100 | Intel i5-1235U |
| Cores | 4 Core | 10 Core (2P + 8E) |
| Threads | 4 Threads | 12 Threads |
| Clock Speed | 1.0-3.4Ghz | 0.9-4.4Ghz |
| Integrated Gfx | Intel UHD Graphics, 750Mhx Max | Intel Iris Xe Graphics eligible, 1.2Ghz Max |
|   | | |
| Memory | 8/16GB* | 64GB |
| Memory Type | DDR4 | DDR5 |
| SATA slots | 6x 3.5"/2.5" | 6x 3.5"/2.5" |
| M.2 NVMe Slots | 4+2 | 4+2 |
| PCIe Slots | 1x Gen3x4 | 1x Gen4x16 |
| Network Ports | 2x 2.5GbE | 4x 2.5GbE |
| Thunderbolt | No | Yes, 2x Type-C |
| USB Type A | 4x USB 3.2 Gen 1 | 6x USB 3.2 Gen 1 |
| USB Type C | 1x USB 3.2 Gen 1 | 2x (TB4) |
| USB 2.0 | 2X | 0 |
| Visual Output | HDMI 2.0 and Display 1.4 | HDMI 2.0 and Display 1.4 |
| Chassis Size | 240 x 221 x 220mm | 240 x 221 x 220mm |
| Power | External 220W 19V PSU* | External 220W 19V PSU* |
The specifications are genuinely impressive, with some aspects unique in the current NAS market. Comparisons will likely be drawn to the ongoing StoreAccess Kickstarter NAS project that has been active throughout 2023. This project also promoted a unique mixed storage media build, with capabilities extending beyond a traditional NAS, encompassing a prosumer server, video editing station, and network management solution. Let's delve into the highlights of these specifications. First and foremost, the network connectivity has both strong points and areas for improvement. The ZimaCube Octa, being the more potent system with a more capable CPU, provides more internal lanes and bandwidths and comes with more network interface ports. The ZimaCube Quad boasts two 2.5G network ports, and the Octa has four 2.5G ports. As promising as this sounds, some users eyeing the advanced specs of the Octa might feel the lack of 10GbE. However, this system allows for a 10GbE upgrade via a PCIe card, which isn't unusual. There are also potential 10GbE to USB-C adapters to consider. Still, given the Octa's robust hardware, it's somewhat surprising that it didn't include 10 gigabit ethernet out of the box.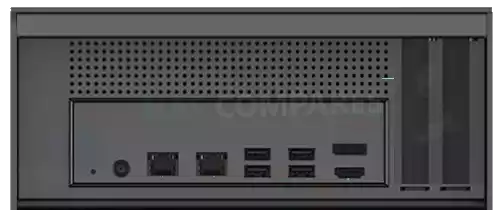 What genuinely stands out in these specs is the inclusion of Thunderbolt 4 connectivity. Given that the ZimaCube NAS is built on a more standard PC builder architecture, it's unlikely to offer Thunderbolt NAS technology comparable to the QNAP Thunderbolt NAS series. QNAP has dominated this niche, allowing users to connect via ethernet and directly interface with the system over Thunderbolt. It's doubtful the ZimaCube will provide this type of connectivity; more likely, these Thunderbolt ports are designed with the ZimaCube as the host, making them as usable as Thunderbolt ports on a typical PC or Mac system. If accurate, this means you could potentially connect expanded storage to this system at 40 gigabits per second bandwidth when needed. Additionally, external GPU cards via Thunderbolt expansion chassis and even Thunderbolt to 10GbE adapters might be supported, provided the necessary drivers can be integrated into the OS or the open-source operating system of choice. A Thunderbolt 4 NAS is rare outside of QNAP and their IP over Thunderbolt architecture, so this feature could make the ZimaCube NAS particularly appealing for some editors.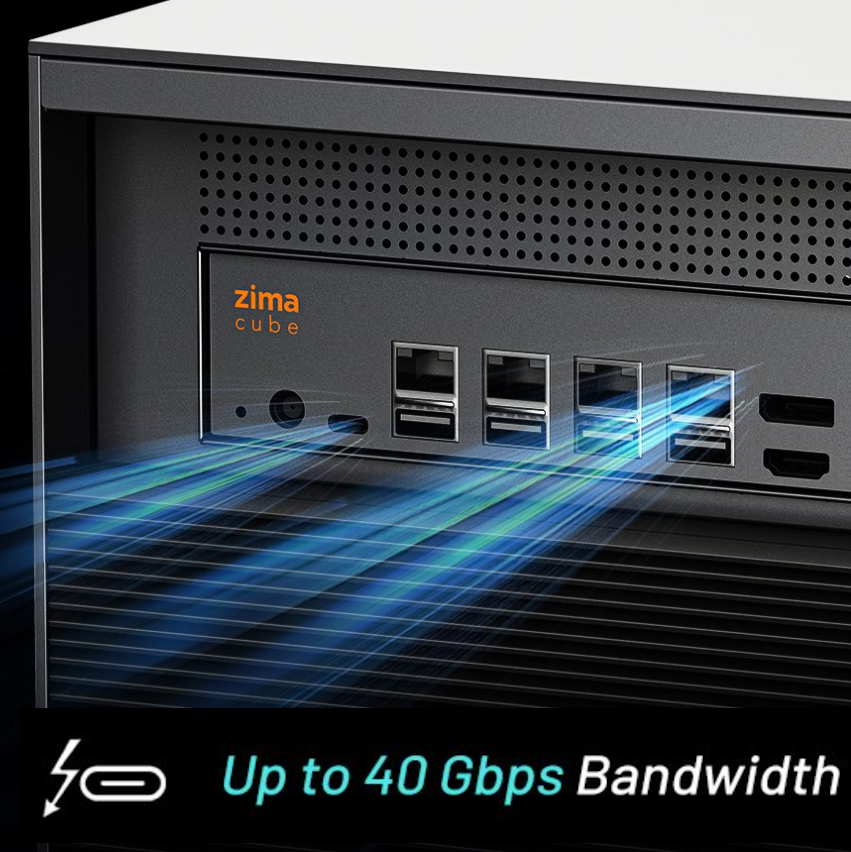 In terms of long-term expandability, the ZimaCube Octa sets its sights higher. Though both systems have a PCIe upgrade slot, they differ significantly in bandwidth and speed. Largely due to the CPU distinctions, the ZimaCube Quad comes with a Gen 3 x4 speed slot. This will permit moderate PCIe card upgrades for network performance and lighter storage cards, but the x4 speed could be limiting for more robust cards. On the other hand, the ZimaCube Octa features a Gen 4 x16 slot, offering a significant performance potential. Such a PCIe slot could be utilized for extensive M.2 NVMe storage upgrade cards, combination cards with vast gigabit network interfaces, or even high-end graphics cards. The height and length of supported cards within this chassis remain to be confirmed, but both systems offer substantial upgrade potential.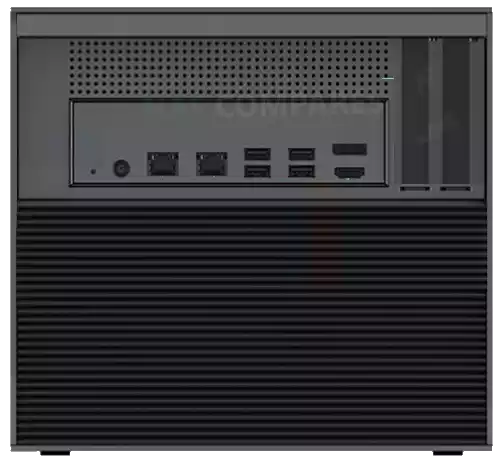 Given the system's modular PC builder architecture, it's unsurprising that it includes visual output. Both systems come with a 4K 60 frames per second HDMI 2.0 and DisplayPort 1.4 interface, facilitating local direct output for tasks like surveillance, multimedia, or even a local PC. Whether you're configuring VMs or using tools like Proxmox to run multiple VMs, this system not only provides direct interfacing for daily tasks but also has the potential to run these operations alongside 24/7 storage when necessary. However, the output capabilities will largely depend on the chosen operating system. Still, having these options is always a boon. One aspect not yet confirmed is the power supply. All images of the ZimaCube NAS indicate the need for an external PSU. It's possible that the system uses a front-loaded internal PSU, but the external power jack suggests the system might either use an internal extension or rely on a sizable external power brick. The ZimaCube won't be unique in requiring an external PSU—many similar-sized NAS devices from established brands have external PSUs. Given the ZimaCube's hardware architecture, an external PSU would need to be substantial. Instead of a small power brick, a heftier external power block, usually seen with high-end gaming laptops and Thunderbolt docking stations, would be required to maintain the high power input. Until full details emerge, the method and location of delivering the 220-watt power supply remain somewhat mysterious, potentially still in development by IceWhale during this Kickstarter NAS campaign's early stages. All of these features result in a remarkably powerful NAS system that could challenge current expectations of NAS value. 2023 has seen numerous NAS devices bridge the gap between turnkey solutions and full DIY server building, ensuring users can utilize open-source software without the hands-on hassle. Given the global economic recession, the appeal of these hardware-optimized and budget-friendly solutions is likely to grow, with or without crowdfunding platforms facilitating their creation.
The Zimacube Casa OS Software
The landscape of personal cloud solutions is rife with options, each offering unique selling points. The Zimablade, entering this highly competitive space, packages its offering with CasaOS – a solution poised to redefine the relationship between hardware and software in the NAS ecosystem. But how does CasaOS fare, especially when set against stalwarts like Synology DSM, TrueNAS, and UnRAID? It's tough to say at this stage. Objectively, it is always going to be a plus that a pre-build NAS solution arrives with it's own first-party software (therefore making it truly Turnkey, as this device should work straight out the box), plus IceWhale state that the Zimacube will arrive with an improved version of CasaOS to better harness the hardware in this newer and more powerful system (as opposed to the comparatively light version of CasaOS included with the more modest Zimablade and Zimaboard). This updated firmware revision, is scheduled to roll out on ZimaOS-ready devices from late October/Nov 2023 and will have many of the same features as CasaOS, but it will also have remote backups, Thunderbolt optimization, RAID support and GPT AI-powered chat functions.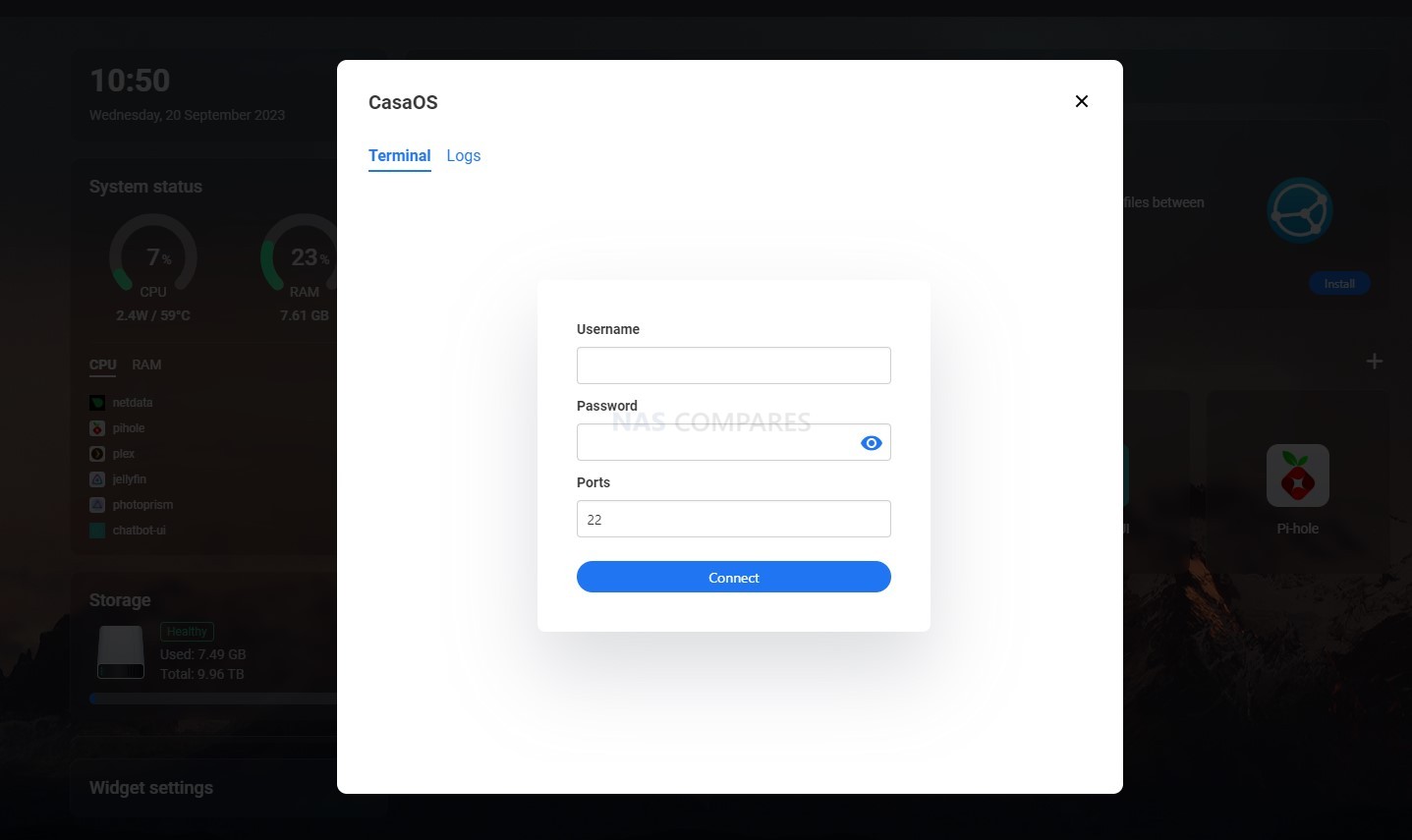 We were able to test a great deal of the features of CASA Os in our Zimablade review, as well as covering them more 'bullet-point' style in our before you buy video HERE, but some highlights came from the simplicity of container deployment and ease/speed of accessing the GUI, as well as switching to command level SSH when needed. (the following comes from our Zimablade review)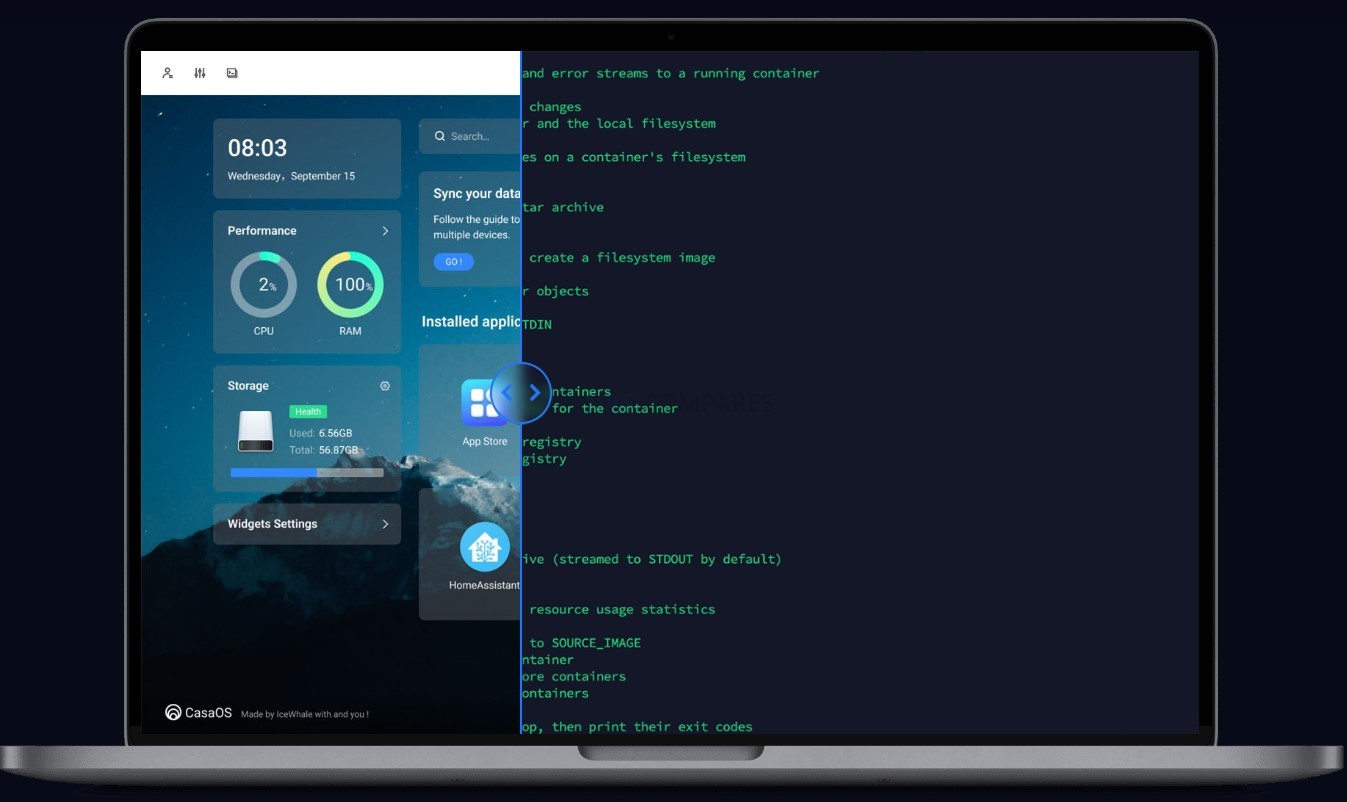 Digital Privacy at the Forefront: CasaOS, developed by the visionary team at IceWhale Technology, centers its design philosophy around safeguarding family data. Offering tools for encrypted communications, centralized multimedia storage, and smart home device management, CasaOS prioritizes digital safety in an age where data breaches are commonplace.
Unrivalled Compatibility: One of CasaOS's crowning attributes is its adaptability. The system integrates effortlessly across a multitude of hardware platforms, from x86 PCs to Raspberry Pi. With support for leading OS platforms, CasaOS promises a smooth experience, regardless of the tech ecosystem in which it operates.
Expansive Application Universe: With over 20 pre-installed docker-based apps and 50+ community-verified ones, CasaOS provides users with a veritable buffet of digital tools. Whether you're into home entertainment, require VPN solutions, or are seeking quality streaming apps, CasaOS has you covered.
Holistic Data Management: CasaOS consolidates data storage, eliminating the need to juggle between platforms like Dropbox or Google Drive. With a promise of rapid 10x syncing speed and no associated data traffic or subscription fees, CasaOS champions efficient data management.
Comparative Lightness: While CasaOS supports a plethora of container applications, when benchmarked against established players like Synology DSM, TrueNAS, and UnRAID, it does come across as lite. Features such as ZFS support and 1st party mobile applications are conspicuous by their absence, leading to a heavier reliance on 3rd party container/docker apps.
Gradual Transition to More Established Platforms: CasaOS, while robust in its offering, might be seen by many as a nascent stage in their NAS journey. As users grow accustomed to the intricacies of NAS operations, there's a likelihood they may transition to a more comprehensive NAS OS. Platforms like UnRAID, with similar ease in container deployment but richer in 1st party features, often appear more attractive in the long run.

Value Proposition: The inclusion of CasaOS with the Zimablade, zimaboard and now Zimacube, especially at its introductory price range during its crowdfunding launch, is commendable. The synergy of hardware and software at this price point offers exceptional value for beginners. However, seasoned NAS enthusiasts might crave the depth found in mature OS offerings in the market. That said, it does allow for both local easy GUI access in a web browser AND terminal level  access easily:
The Zimablade, paired with CasaOS, makes a compelling entry into the personal cloud solution domain. CasaOS, with its focus on user-centric design, data privacy, and a wide array of applications, sets a solid foundation. However, as with many products in their infancy, there's potential room for evolution and growth. Users looking for a lite, budget-friendly introduction to the world of NAS will find Zimablade and CasaOS an excellent starting point. Yet, as their needs expand and mature, migration to more established platforms might be on the horizon. Still, better to have a great 'out-the-box' OS included for day 1, than not!
Also, the Casa OS will immediately boot on day 1, so no need to muck around with Bios with a visual output+Keyboard+mouse on day 1, as it will immediately appear on the network on your first boot in a few mins and be accessible via your web browser. All in all, especially at this price point, incredibly impressive, if a little lite. If you want to test out the CasaOS software before you purchase a system to run it on (Zimablade or otherwise), you can use the link below to test the software out in your web browser:
Click Below to access Casa OS Software Demo in your web browser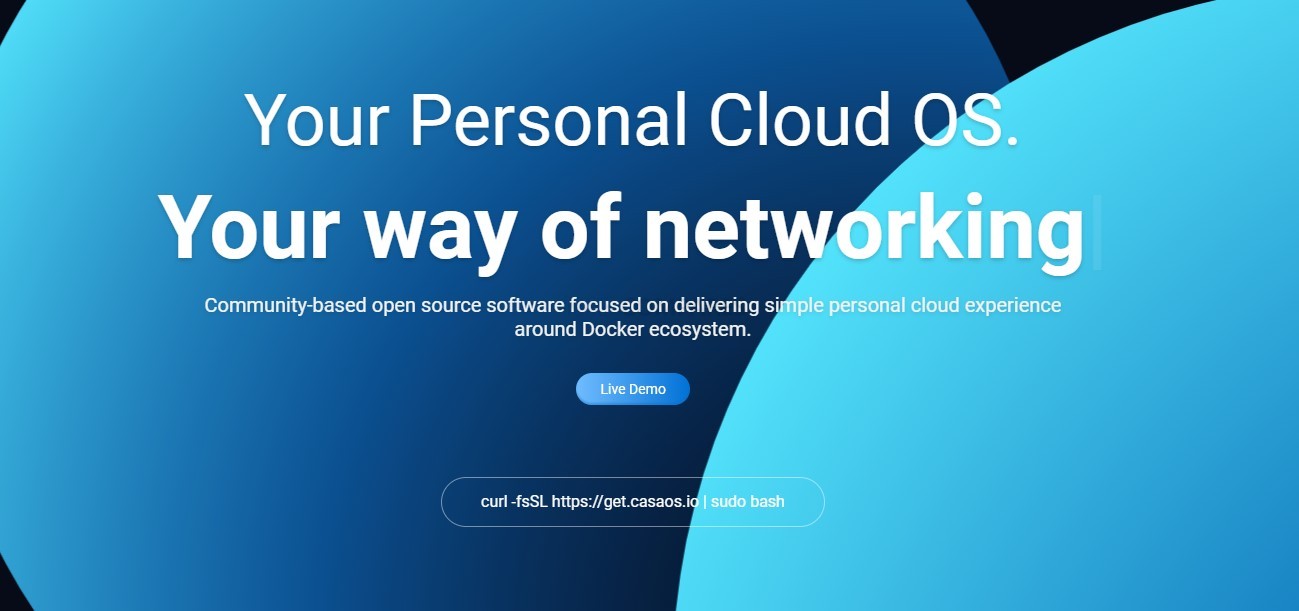 When Is the Zimacube NAS Being Released?
As of now, the ZimaCube Kickstarter campaign hasn't started, but you can register your interest via the email box on the product's official page. Pricing remains unconfirmed, but if the Zimaboard and Zimablade crowdfunding campaigns run by the company in the past 18 months are any indication, we can expect competitive pricing for both systems. While IceWhale doesn't employ a loss leader strategy, they've successfully offered early access to their last two releases at incredibly affordable rates (recall the Zimablade priced at just $64?). Thus, it's anticipated that these systems will be priced just slightly above the cost of individually sourced components, at least during the crowdfunding phase. The timeline for product delivery, inherent to many crowdfunded NAS systems, can be somewhat ambiguous, often adopting a "done when it's done" approach. However, given IceWhale's past success in crowdfunding, it's reasonable to anticipate an early to mid-2024 launch for the ZimaCube. Be sure to register your interest on the official page to stay informed about the Kickstarter's launch. We're eager to review the ZimaCube on NAS Compares when it becomes available!
(The Kickstarter link below will open in a new Tab and direct you to the ZimaCube Official Page)

---
📧 SUBSCRIBE TO OUR NEWSLETTER 🔔
🔒

Join Inner Circle
Get an alert every time something gets added to this specific article!
This description contains links to Amazon. These links will take you to some of the products mentioned in today's content. As an Amazon Associate, I earn from qualifying purchases. Visit the NASCompares Deal Finder to find the best place to buy this device in your region, based on Service, Support and Reputation - Just Search for your NAS Drive in the Box Below
Need Advice on Data Storage from an Expert?
Finally, for free advice about your setup, j
ust leave a message in the comments below here at NASCompares.com and we will get back to you.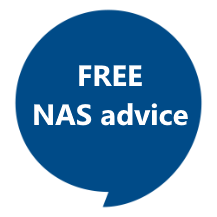 Need Help?
Where possible (and where appropriate) please provide as much information about your requirements, as then I can arrange the best answer and solution to your needs. Do not worry about your e-mail address being required, it will NOT be used in a mailing list and will NOT be used in any way other than to respond to your enquiry.
TRY CHAT
Terms and Conditions
If you like this service, please consider supporting us.
We use affiliate links on the blog allowing NAScompares information and advice service to be free of charge to you.
Anything you purchase on the day you click on our links will generate a small commission which is
used to run the website. Here is a link for
Amazon
and
B&H
.
You can also get me a ☕
Ko-fi
or old school
Paypal
. Thanks!
To find out more about how to support this advice service check
HERE
If you need to fix or configure a NAS, check
Fiver
Have you thought about helping others with your knowledge?
Find Instructions Here

ASK NASCompares forum
, by clicking the button below. This is a community hub that serves as a place that I can answer your question, chew the fat, share new release information and even get corrections posted. I will always get around to answering ALL queries, but as a one-man operation, I cannot promise speed! So by sharing your query in the
ASK NASCompares
section below, you can get a better range of solutions and suggestions, alongside my own.